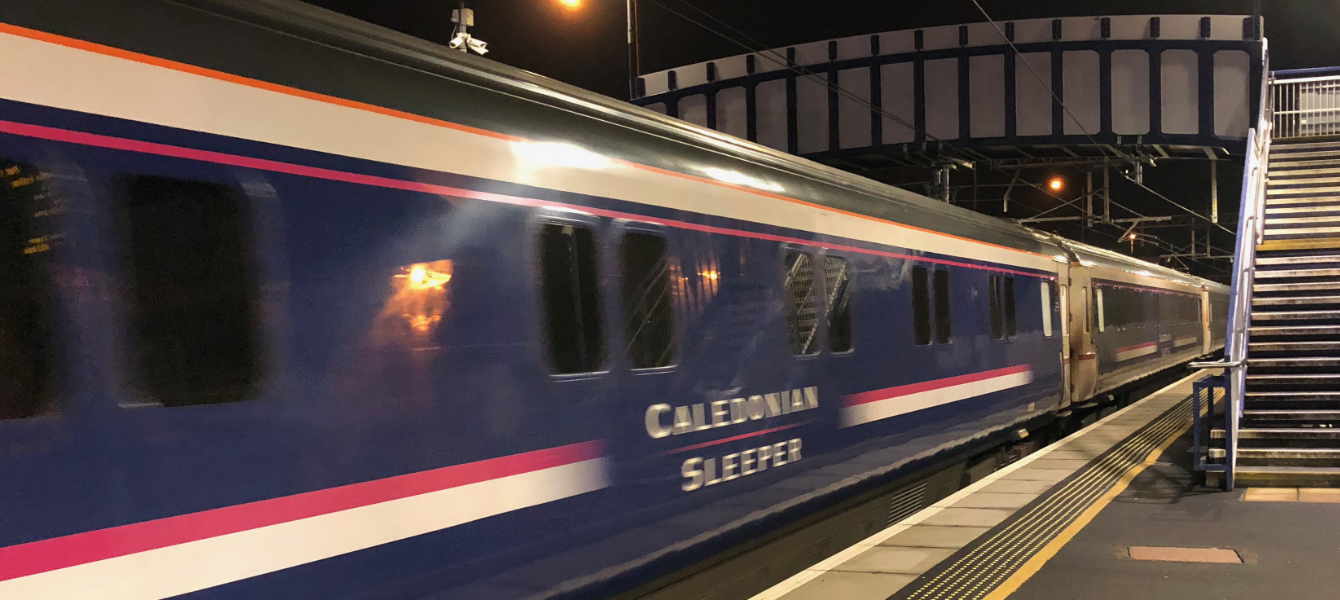 We've arrived in Southampton after a wonderful weekend in London and some fun travels by train. Excitement is mounting after our first glimpse of MSC Bellissima currently docked in Southampton's City Cruise Terminal.
Caledonian Sleeper
As you may have sensed from my previous post, I was very excited to experience the Caledonian Sleeper for the first time, allowing us to wake up refreshed and ready for a day in London. I've always imagined sleeper services as being quite glamorous for some reason. While my experience on Thursday night night not have been too glamorous, it was definitely fun to try and the convenience of waking up in London cannot be understated.
We waited on the platform unsure exactly how the boarding would work or how long we'd have to find our carriage and board. Eventually we saw the lights of the locomotive in the distance and the train slowly crept into Falkirk Grahamston train station and slowed carefully to a halt.
By some stroke of luck we happened to be standing at coach K (our coach) and the attendant was already leaning out of the window ready to open the door as the train stopped. He waved us over; "Mr Stevenson-Price?" Yes, that's us! A very personal service undoubtedly offered as a consequence of us being the only passengers scheduled to board. Still, it felt a little glamorous…
We squeezed our suitcases along the corridor and into our berth as our friendly attendant explained the morning process, offering a wake-up call and whether we'd like tea, coffee, or juice in the morning.
I wasn't quite prepared for how small the sleeper berth would be. The space between the wall and the bunk was about the width of our suitcase. The bunk itself was narrower than a standard single bed. Our suitcases filled a lot of the available floor space, but the was an overall good use of space meaning the berth was quite functional.
Getting to sleep was harder than normal and I definitely woke a few times throughout the night, but overall I got enough sleep to enjoy my Friday in London.
The carriages were old Mark 3 sleepers which are definitely showing their age now. Seeing windows that can be lowered on a mainline service feels quite strange today. Brand new Mark 5 carriages are due to arrive this year and seem to promise a drastically different standard. I look forward to trying those in the future.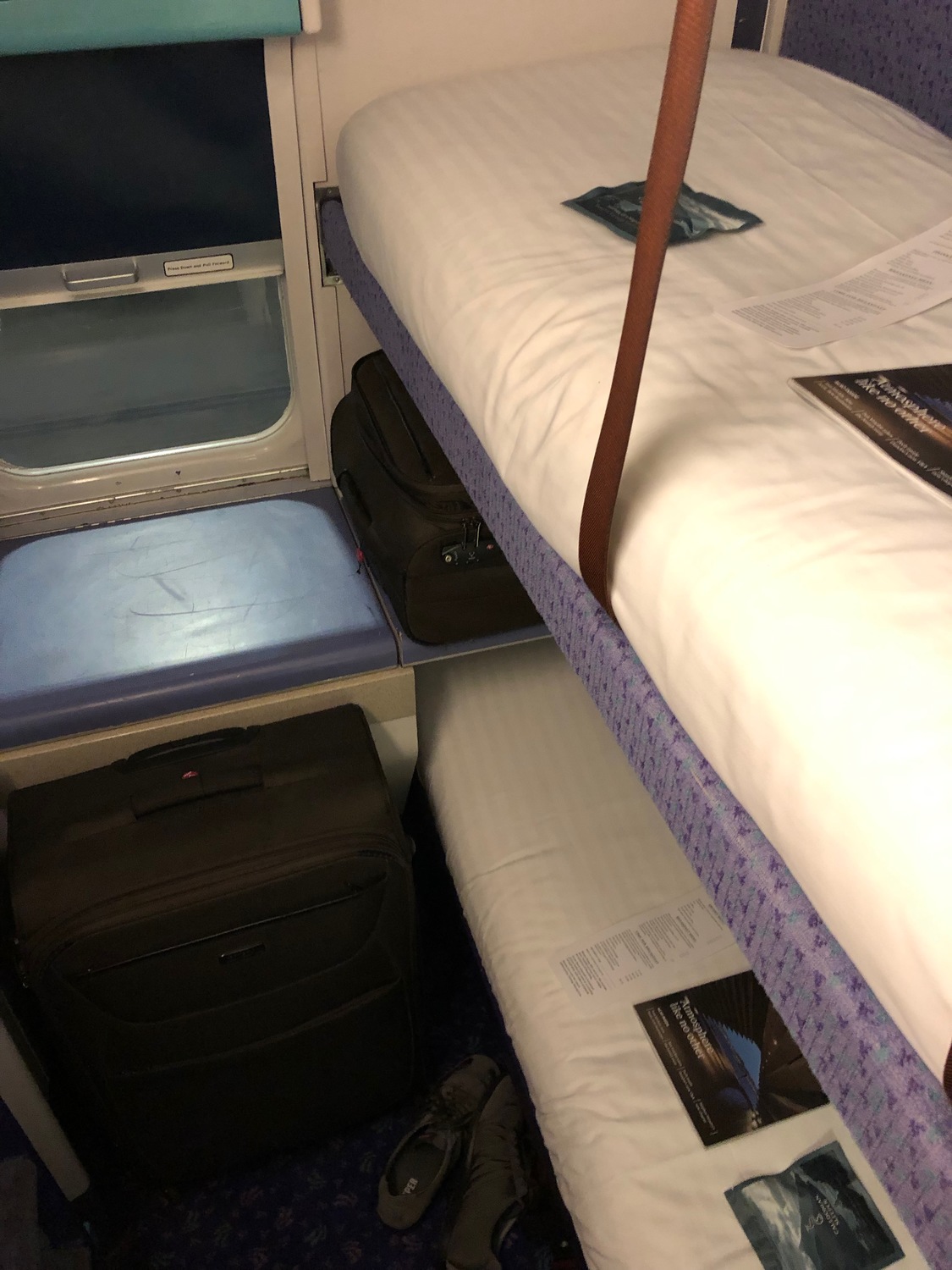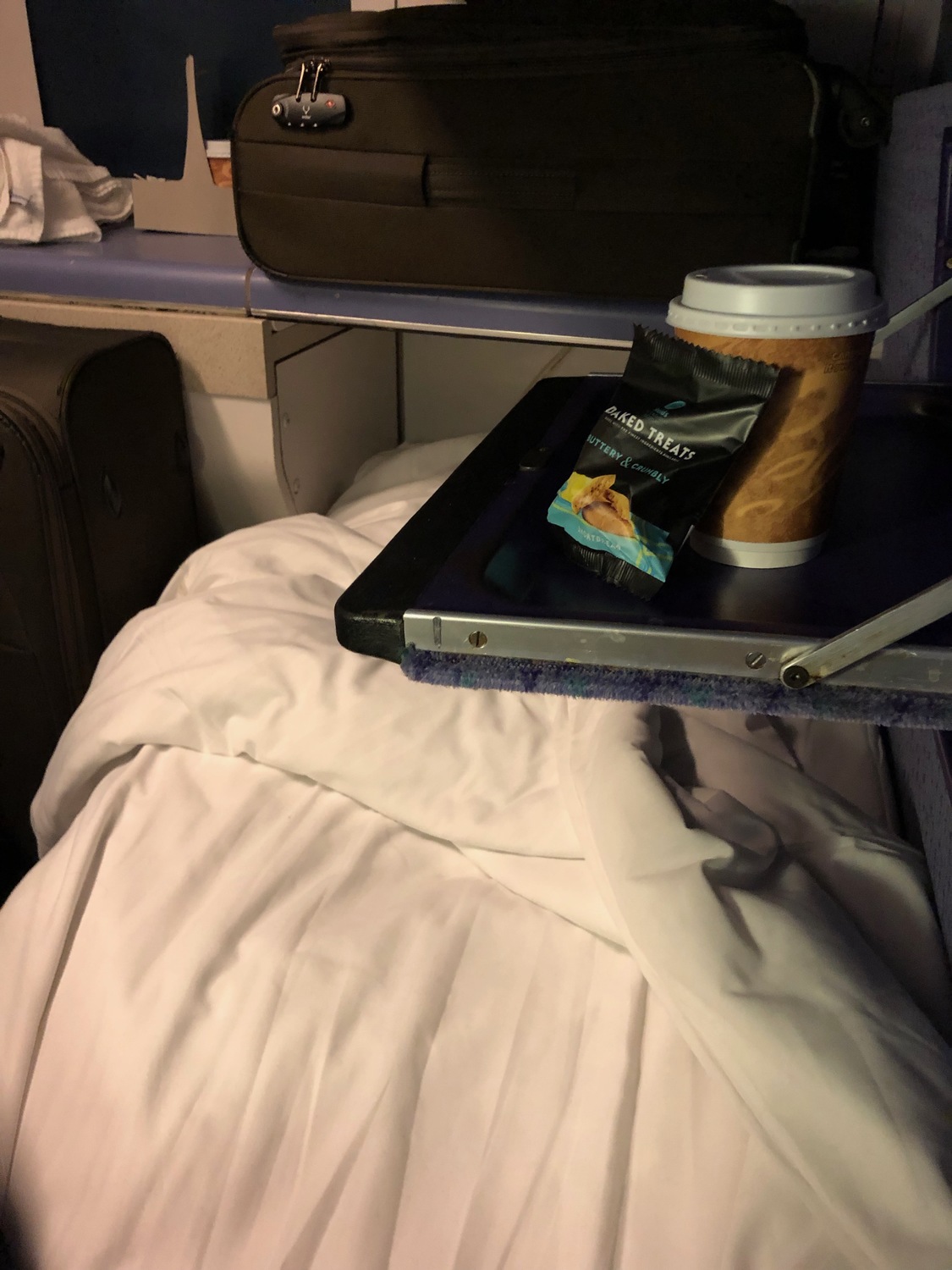 London
We're fortunate to have family in Hackney which makes visiting London easier, and we enjoyed spending our weekend with them. Some last minute shopping and walking around London was great but we mainly focused on hanging out, catching up, and enjoying each others' company.
We visited a few foodie places which have become almost traditional every time we visit. We love our visit to a proper greasy East-End caf for breakfast (served all day), as well as a trip to The Breakfast Club which is always good fun. We also enjoyed some of our favourite doughnuts in London at Crosstown Doughnuts which I highly recommend if you get the chance to visit.
Ibis Budget, Southampton
We caught an evening train to Southampton from Waterloo, and luxuriated in an empty first class carriage with plenty of room for our luggage. It was a fairly quick 1 hour 45 minute ride, and we made our way on foot to the nearby Ibis Budget hotel.
As we crossed the railway line we caught out first glimpse of MSC Bellissima sitting in the City Cruise Terminal, peeking out over the gym behind the station. She's glowing brightly in the darkness, and looks ready to take on her first proper cruise tomorrow.
The Ibis Budget is very basic, but perfectly acceptable for one night pre-cruise. We've previously stayed at the adjacent Novotel and been very happy with it, but given our late arrival into Southampton it seemed sensible to save some money here. It's a slightly odd room in that the shower is directly off the bedroom, and the sink is in the bedroom. This would make it unsuitable for all but the closest of friends to share a room, but not a problem for us. At least you can use the loo with a bit of privacy!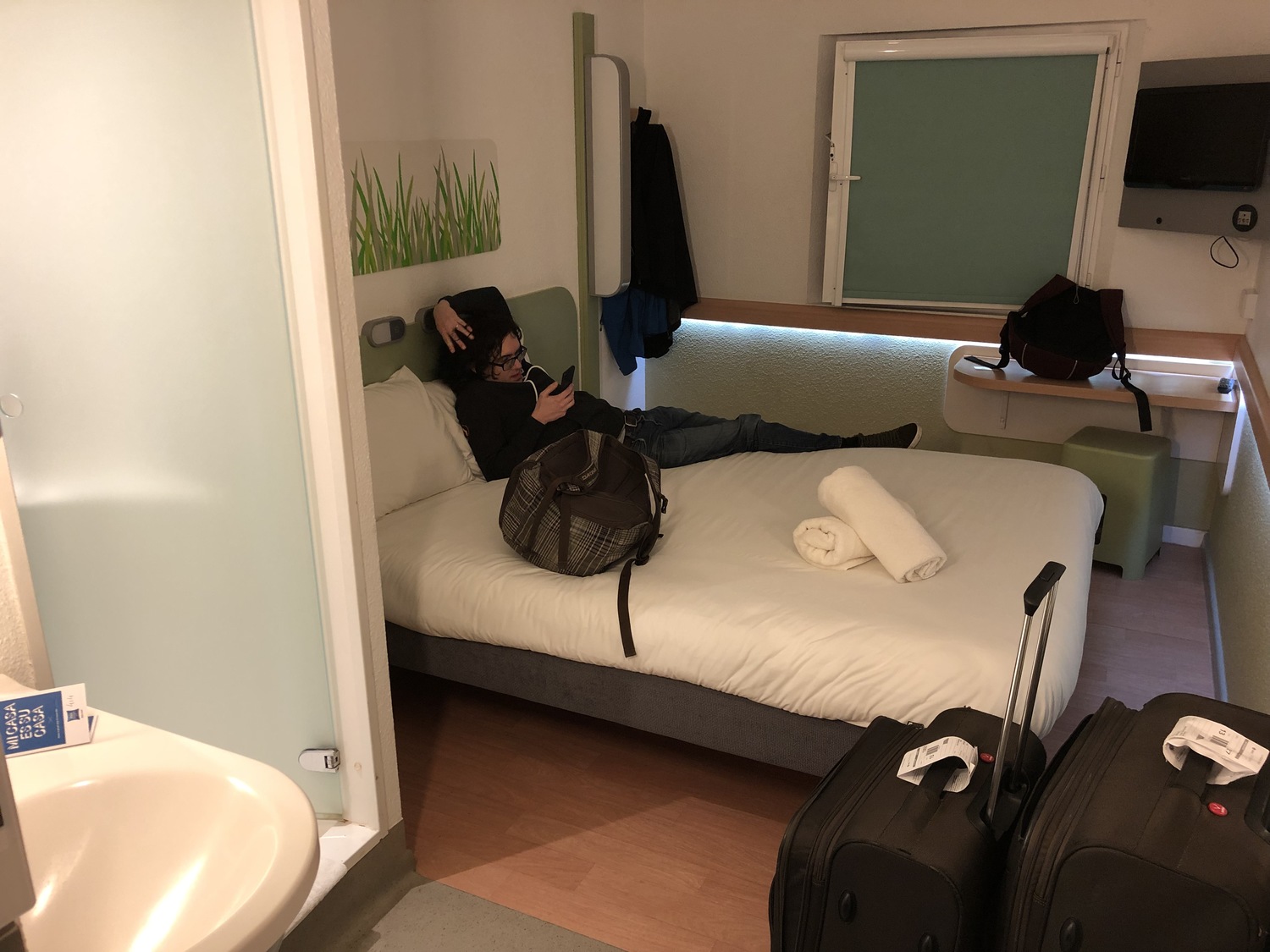 From an awkward position peering through the security-latched bedroom window I got a final glimpse of MSC Bellissima before we closed the window, shut the blinds, and get ready for a good sleep. We'll have a lot of exploring to do tomorrow.