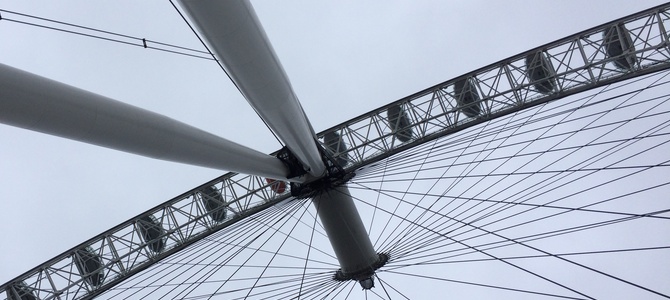 Before coming to Southampton, Alex and I spent a few days in London. It was great to have a catch up with family, and we got to take a friend of ours on a pit-stop sightseeing tour of London. Tonight we enjoyed a wonderful Cunard event in Southampton where we met some faces that some of you might be familiar with!
The Tower Bridge Exhibition
On our first day in London we decided to do something quite touristy, as I was in that sort of a mood! We decided to go to Tower Bridge, something I've not done before.
Tower bridge is the most famous bridge in London (if not the world) and was opened in 1894. The exhibition costs £9.00 per adult and gives a good couple of hours of fun.
Our visit started with a video at the top of the North tower, explaining in a very accessible way the need for the bridge and some of the pretty crazy designs people had for a crossing that could let tall ships access the Pool of London, an important part of the Port of London at the time.
The views from the walkways connecting the two towers are fabulous, and for budding photographers there are even little doors you can open to take photos without the glare of glass. The walkways themselves have a lot of interesting history of the bridge, as well as offering a detailed showcase of various famous bridges around the world (including the Forth Rail Bridge!)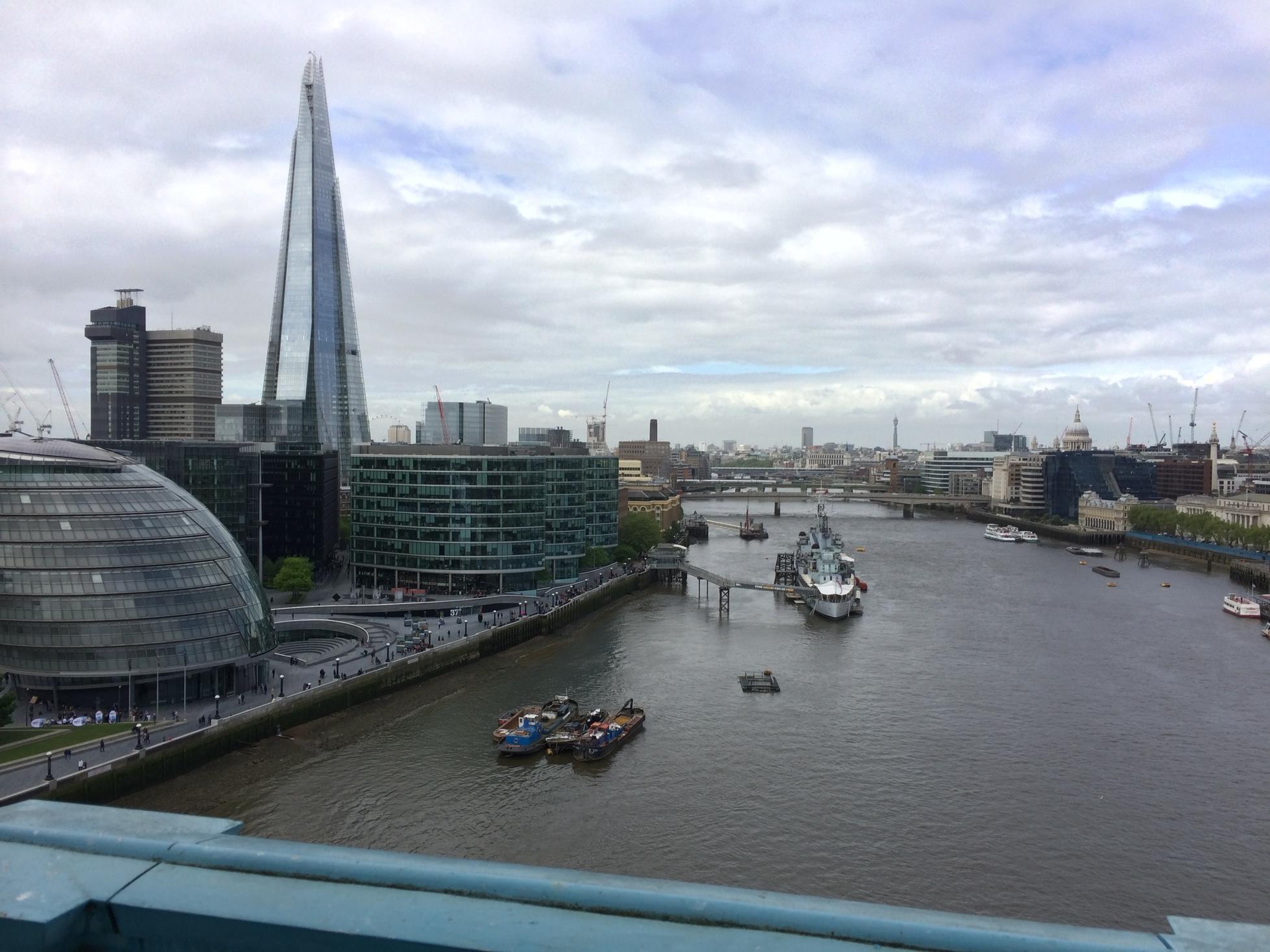 The tour finished with a visit to the original victorian engine rooms which powered the bridge at one stage (replaced with electric motors now). This was especially interesting as a good explanation was given as to how the engines generated hydraulic power which was stored under required. Well worth a visit!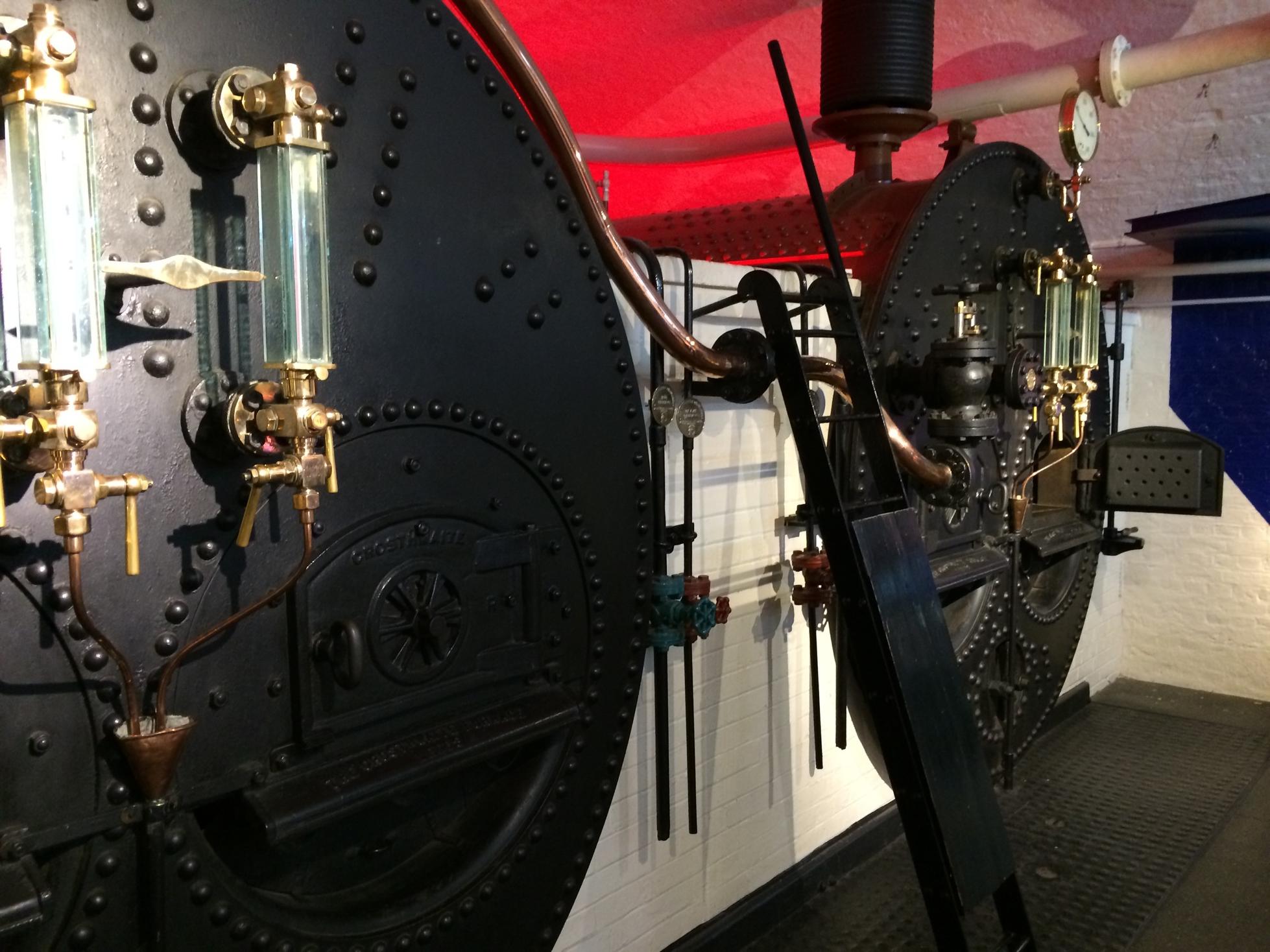 London in a Day
The following day a friend of ours arrived from Norfolk at around noon, to come with us to the theatre that night. As it had been quite some time since he was last in London, Alex and I devised a plan to see some of London in a relatively short time.
First stop was lunch, where we visited a fantastic BBQ Smoke House called Bodeans in Tower Hill. If you want to stuff yourself with various kinds of meat, this is the place to come. It was described to me as a bomb in a farmyard, a description that I consider to be fairly accurate!
From there, we took the DLR from Tower Gateway to Royal Victoria with a front seat view to satisfy all train nerds out there (the driverless nature of the line allows views to the front of the train – great fun for kids!) This route offered views of London's financial distirict.
From Tower Gateway, we walked to the Emirates Air Line which runs from here to Greenwich Peninsular and offers great views of the Thames Barrier, The O2 (formerly the Millenium Dome), and London City Airport from above. It's well worth the trip, though the stations were overstaffed and the service running greatly under-capacity. This worked in our favour, as we got a capsule all to ourselves!
We journeyed back into central London on the Thames Clipper, again offering fantastic views of London from the water. It's great to see the history of London from the river that was once it's life blood and was truly the seed of this great capital. In keeping with cruising, a German cruise ship was docked right next to HMS Belfast, just after sailing under Tower Bridge!
Our journey ended with a trip on the London Eye, which offered more fantastic views of London's famous and evolving skyline. It's a truely diverse view with grand old buildings like St. Paul's Cathedral standing alongside new glass giants like The Shard.
Our friend seemed happy. There's so much to do in London it would have been impossible to see it all in a day, but I think this route was great in that included lots of sights and I think we sampled almost parts of London's integrated transport system!
In the evening we saw the outstanding Miss Saigon. I won't go in to detail here, but if you have a free night in London I'd thoroughly recommend booking tickets as this is a show not to be missed!
Click to the next page for our day in Southampton and Hythe.