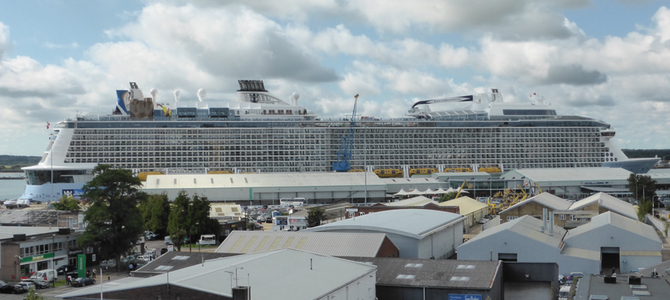 Today we boarded Anthem of the Seas and explored a few of the venues on the ship.  This is a small taste!  We had dinner in Silk and I beat Alex at a game of pool…
Today excitement woke us up pretty early so we had another lovely breakfast at Hotel TerraVina before checking out and driving to Southampton.  I'd forgotten that I'd only paid a deposit for the hotel and got a real shock when I was handed the bill – I wondered who'd been running up such an enormous bar bill!
The drive to Southampton was uneventful, and once again I didn't see any signs of the traffic hell that so many people report when sailing from this port.  We were a bit early I suppose, as we had a few bits to sort out in town first, so we parked in WestQuay shopping centre and did what we had to do.
Checking In
Arrival at the ship was fantastic.  To begin with you park and someone will help unload your bags and apply a new RFID (Radio Frequency Identification) tag to your bag, which is to stay on until you leave the ship at the end of the cruise.  This allows you to track your luggage in the RoyalIQ app.
From the car park you walk into the terminal where a number of roving check-in assistants will very quickly scan your SetSail pass, swipe your passport, ask the usual health questions, and send you on your way.  It's remarkably quick and in our case took less than 2 minutes.  I filmed the whole thing, but only a short excerpt is in the video – I can upload the whole thing if anyone would like to see it!  If you didn't check-in online, register your credit card, upload a photo etc. then you will be ushered into a different room altogether for a longer process.  I assume they'll check you in as they normally would in this case.
We were then straight through security and on to the ship, despite arriving earlier than the time on our SetSail pass.  It's worth noting that the new SetSail pass for Anthem has your cabin number and muster station etc. printed on it.  You use this to actually board your ship with one of the SeaPasses being in the mail slot outside your cabin door when you arrive.  In theory it means anyone could get into your cabin initially but as none of your stuff will be in there by then I don't think this is any real concern.
Cabins were available just after 1pm.  I have filmed a cabin review, but I will upload it on a sea day when I have less other footage!
First Impressions
Walking round the ship upon boarding you really get the impression that a lot of thought has gone into the ship, and the style and design is very modern which appeals to me, but your milage may vary.  There are lots of interesting bits of art all over the place, some of which I really like, while others are not to my taste.  I haven't seen anything as garish as some of the stuff showcased on Quantum though, with the exception of the big giraffe!
As we're going to eat in every restaurant at some point, I will video the restaurant as part of that video.  Other areas of the ship I'll get to eventually, I promise!  Sea Days will offer lots opportunity to explore properly, but I always find Day 1 on the ship a little overwhelming!
Two70º
We decided to have some lunch in Café Two70º which you'll find immediately before entering the enormous, stunning, triple height, multi-purpose venue at the rear of the ship.  The food was very good – I had the famous beef on weck which was really delicious.  Alex had a thai chicken salad which was nice, but not as nice as mine!
You actually eat your food in Two70º which has fantastic sea views from almost any seat.  There are some very sought after seats right by the windows, but these were long gone by the time we got there (noon).
We did catch a little bit of a late night show in Two70º where we saw the cruise director and a technical demonstration of the huge screens.  Unfortunately we couldn't get a seat (arriving 15 minutes before the show) and the venue doesn't really have the capacity if everyone wants to see the show.  Tonight's show was either a welcome aboard show in the theatre (which we missed because of dinner) or this show – if you wanted to see both you could, but you'd need to arrange dinner accordingly.  If you want to see a show in Two70º, get there very early.
Music Hall
The Music Hall is a really nice music venue that feels really cool.  It's over two levels with a mezzanine overlooking the stage.  In the afternoon there was some band playing, but I think they were just practicing as they did various audio checks and what not.  We played pool in here, where there are four pool tables with no charge.  These are showing some signs of wear and tear as the balls seem to be making the pockets come loose from the table – a bit concerning on such a new ship, but hopefully a quick and easy job to repair.
In the evening after dinner we saw some fantastic rock/pop cover music in the Music Hall.  People were up on stage dancing and I thought the band were really great.  The section in the video of the music hall is from the evening.
Pools
I'm not a pool guy, but we did see what was on offer on our little mini tour!  There is a large outdoor space with the kids water area (with a wave pool and other little bits) and a main pool.  There is also an indoor pool which anyone can use.  Then there is the solarium which is adults only.  By far the most impressive space is the solarium; it's over multiple levels and has huge panoramic windows looking our the front of the ship.  Everyone was favouring the outdoor pool, so if this trend continue we'll definitely make good use of the solarium!  There is a bar in all three areas.
SeaPlex
The SeaPlex was running bumper cars when we walked through earlier.  People looked like they were having a lot of fun, and I can tell this is a high energy area.  It's also the home of the SeaPlex DogHouse (serving hotdogs) and, on the upper level, lots of table tennis tables, a large Xbox area (with 4 Xbox One devices) and probably other things I can't remember.  It's such a cool venue and has an arcade area off the downstairs bit too which you can pay to play using your contactless SeaPass card – I haven't tried this yet!  They don't have any classic arcade machines or pinball tables unfortunately, though if they did it might be dangerous!
Silk
Dinner tonight was in Silk (we had a 19:45 reservation), one of the four restaurants that are included in your cruise fare. The restaurant is really nicely themed with lots of rich fabrics and interesting lighting.  The menus are beautifully designed too, and reflect the pan-Asian cuisine being served.  They do still have a 'classics' section on the menu for those who don't want the pan-Asian food, though I'm not sure why anyone would bother coming to Silk if they didn't like the food – just go somewhere else, surely?
Our server brought some delicious prawn crackers with a sweet chilli dip to our table in lieu of a bread basket.  These were dangerously moreish!  I had Shrimp Shumai to start which were like little Dim Sum parcels.  They were fantastic – totally out of this world.  Alex started with Vietnamese Tacos which were also very tasty.  My main course was Vietnamese Sea Bass while Alex opted for Asian Style Duck.  Alex didn't have a dessert, but I had mango rice pudding.
One of the things I worried about on Anthem was food quality, as it was not great on Splendour of the Seas.  I'd say that the food tonight in Silk was more or less on a par with the food I've had in the MDR on Celebrity Eclipse.
We did actually do and see a few more things today than it looks like from the video, but I have so much footage I'll come back to it all.  Plus we had some time wandering without the camera.  Included in this is our first experience of the Bionic Bar… you'll have to stay tuned for our thoughts on that!
So far so good, then!  Until tomorrow, where we have our first of two consecutive Sea Days before arriving in Gibraltar.