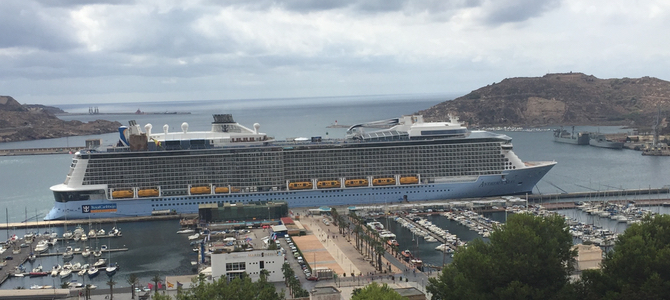 Today we visited Cartagena in Spain, had dinner in Chops Grille, demonstrated the Bionic Bar, and saw We Will Rock You on stage!  What a day!
This morning we decided to try having breakfast in the Windjammer which is the name of the buffet on board.  Some of you may know my view on buffets – I absolutely hate them.  I find them to be busy and disorganised, and I find getting a table to be a nightmare.  Unfortunately after one round of the seating area we left about as quickly as we'd arrived.
The main issue for me isn't food quality; I haven't tried it yet, but the food actually looks quite good.  The issue is stress, frustration and etiquette!  I find it very stressful wandering round in circles trying to find a table.  I find it frustrating when announcements are made that due to the busy time of day guests should leave as soon as they've finished eating… and then for nobody to move.  I hate the fact that etiquette dictates that you should get food before finding a table, but that nobody actually does this, so I find myself wanting to grab a table first too!
I do really want to try the buffet at some point, but I think it'll have to be on a quieter day when nobody else is there!  In any case we ended up trying Devinly Decadence which is part of the solarium and specialises in healthier options.
This venue was much, much quieter, and we had our pick of several tables.  The restaurant still operates as a buffet, but the selection is much, much smaller and you won't find fried bacon and eggs anywhere.  The focus was on omelettes, potatoes, and very lean protein (like lean turkey patties and lean beef patties to replace sausages, for example).  They also had a good range of cereals, yoghurts, parfaits, and fresh fruit.
The food was nice with the exception of the 'Sin-be-gone' cinnamon rolls which were dry and nasty.  Waiter service provided freshly squeezed orange juice (great use of the package – we've been enjoying fresh juice every morning instead of the horrible machine stuff).
Cartagena, Spain
I feel like I've covered most of what we did in Cartagena in the video, but I'll give a brief run-down and some extra information here.
We visited the Roman Theatre & Museum, as well as the panoramic elevator and Conception Castle.  All of the big tourist sights in Cartagena have come under one banner – Cartagena – Puerto de Culturas (Port of Cultures) – with the same ticketing, same payment processing, same management, and same signage.  This is a co-ordinated effort and it really shows!
All of the ticket offices sell tickets for all of the attractions.  All accept cash and credit card payments, including American Express.  They have a minimum card charge of €12 though, so think about what you want to do before buying one attraction.  The other benefit is that they offer a variety of ticket packages, including a full day pass offering bus tours and access to all of the attractions under the umbrella of Puerto de Culturas.
The highlight for me was the Roman Theatre Museum and site access.  It was a small but interesting and very modern museum, which takes you on a story about the theatre before finally giving access to the site itself which is nicely presented.  Supposedly this is the oldest example of a roman theatre still in existence!
The panoramic elevator is used to take you from street level up to conception castle and can be combined with the ticket for the castle.  At the top of the castle you can get excellent panoramic views across the city and port.  There is a temporary Da Vinci exhibit where they've constructed some models of his machines.   This was quite cool and included in the castle ticket.  The main castle exhibit is actually as you leave the site, leading us to believe we had paid just for the view (which I suppose wouldn't have been wholly unreasonable) but after the exit sign there were a variety of exhibits so look out for that!
Overall a nice day in Cartagena, even if we didn't do as much as we might have on a drier day on another cruise.
Michael's Genuine Pub
We got back on board and were absolutely starving, but had an early dinner booked for 18:30.  We decided to get some snacks form Michael's Genuine Pub (not to be confused with the lesser imitation pubs you might find…)  The food here was reasonable, with snacks prices at $3 and larger bites at $5.  They also have main meals at $12.50 which we haven't yet tried.
We opted for slider burgers ($5), Falafel, and devilled eggs (both $3).  We probably ordered too much food, but it was delicious!
I quite like this venue actually.  They have a few draft beers, plus a variety of bottled beers including some popular choices from Brew Dog plus Adnam's Broadside which I know is popular with many.
After our little snack for lunch we relaxed for a little while then popped to the Schooner Bar for a drink where there was some lovely live piano music being played (once again – there's something happening everywhere on this ship!) and then we went for dinner.
Chops Grille
Chops Grille was one of my favourite restaurants on Splendor of the Seas (though of course there wasn't a great deal of choice on that ship) so I was looking forward to the meal on Anthem too.
The service was, once again, excellent, and most of the food was very good.  I had a starter of scallops which didn't taste very fresh, in fact they had no real flavour to them at all.  It was a bit disappointing really!  The rest of the food was very good though – the steak was lovely and tender and the accompaniments were also great: truffled corn, fries, and little 'tater tots' which were gooey and cheesy!  Delicious!
Dessert was also very good.  I had a red velvet cake which was absolutely delicious.  Alex had a plate of freshly baked (baked to order) cookies which were nice, but seemed to not take very long to come which leads me to question the 'baked to order' part… never mind!
We Will Rock You
The highlight of entertainment on Anthem of the Seas is their full-length, fully licensed production of We Will Rock You, featuring the music of Queen.  I saw this several years ago at the theatre and enjoyed it a lot.  This production wasn't quite as good as the theatre production but still miles ahead of anything else I've seen on a cruise ship.  The set was creative and inventive, and they used these huge LED panels to make parts of the set which presumably saved space and weight, as well as being very versatile for other productions.  In addition they had some very nice physical set pieces which worked very well.
The singing was largely very good.  The girl who played Scaramouche was the best singer, but almost all of the cast were very good.  There were a few bits where the vocals didn't come through brilliantly which made it difficult to hear what was being said, but largely the show went very well.
I believe there were a couple of celebrity performers in the show.  One of them, playing 'Pop' (the hippy, slightly spaced out bohemian) was Kevin Kennedy who is perhaps best known for playing Curly Watts in Coronation Street.  I think there may have been another celebrity actor, but I can't work out who and I haven't found a cast list yet.  Let me know if you know!
After the show Alex and I went for a walk up on deck and chilled out in the Solarium (where the hot tubs were still be used, but which was otherwise deserted) before having a little drink in Michaels Pub.  I decided to try the flight of whisky which was included in my package and offered a taste of Laphroiag 10, Ardbeg 10, and Oban 14.  I like the smoky whiskies so this suited me perfectly.  When I ordered the guy must have been unfamiliar with whisky because he filled the three Glencairn glasses as if he were pouring wine!  I didn't drink all of it, but if you want value for money when not on a drinks package $14 will apparently get you, in my estimation, over 6 shots of whisky!