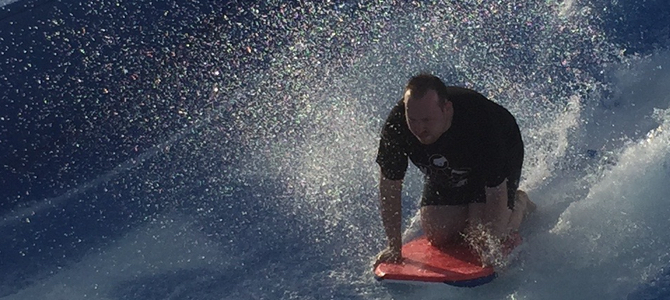 A recap of what happened on the last sea day, for which there was no blog/vlog, plus today we visited an Italian Beach, tried our hand at boogie boarding on the FlowRider, and had dinner at Izumi.
So what did you miss from yesterday's blog then?  Well it was our third day at sea, but we felt like doing very, very little and this doesn't make good video!  Unless you want to see 10 minutes of us lying down in the solarium or in the hot tubs drinking beer…  In any case it's too late now because I don't have the footage!
The only thing I did do on the sea day was try my hand at the rock climbing wall, which was quite fun and easier than you might think as you mostly use your legs rather than your arms.  I got about half way up (according to the instructor – I wasn't paying attention) then let go because I was too scared of being so high up!  Rock climbing probably isn't the best sport for me given my fear of heights, but I gave it a go and I'm glad I did; great fun!  I might do it again this cruise, because I want to see if I can push myself to go higher!
While we were at the sporty back of the ship I got checked for eligibility for the iFly Skydiving Simulator and got the green light, so look forward to that in a future video!
In the evening we dined in Chic.  This is my least favourite of any venue on the ship aesthetically because it looks quite plain and drab, but with some fairly tacky glamour added to tart it up a bit.  The chairs have chrome beads hanging around the bottom of the seat part, making a sort of glittery curtain down to the floor.  It's very odd and feels strange when sitting on the seat and putting your feet under the chair.
The food, however, was good again.  See the video for a little clip of what we had.
Civitavecchia, Italy
Having visited Rome from Civitavecchia previously, I didn't fancy a rushed tour around some of the sights sandwiched between two unpleasant 90 minute bus trips so we avoided going anywhere near Rome on this occasion.  My idea trip was to visit the Etruscan sights in Tarquinia, including the well preserved necropolises found there.  Unfortunately these are closed on Monday, so that plan was scrapped.  We decided, it being our honeymoon and all, to have a relaxing day on the beach, so we booked an Italian Beach Transfer tour with Royal Caribbean which took us to a private (pay to enter) beach in Lido di Tarquinia instead.
The bus ride was a much shorter 30 minutes, though there was a lot of debate on the bus because when many people, including us, booked online we were told the tour was until 2pm.  In actual fact we were to be picked up from the beach ready to leave at 12:30.  This didn't bother us, but for those real beach fanatics the loss of 90 minutes of beach time was, rightly, an annoyance to them – especially as we were in port until 6pm!  A call to her manager and she got us an extra 15 minutes on the beach, giving us around 3 hours in total.
To be perfectly honest, this was more than enough for me, in fact after 2 hours I would have been quite happy to pack up and head back to the ship.  We had a swim in the sea, which was quite pleasant other than the feeling of seaweed floating past your feet (gross!), the gritty sand between your toes (it gets everywhere), and the salty water (yuk!).  Sunbathing was the obvious other activity and I did read a little of my book while doing so.  We each had a reserved sun lounger and sun umbrella between two.  There were changing facilities provided, as well as showers and toilets.  There was a bar and restaurant on site too!
With the above in mind, you might be wondering why on earth I booked a beach excursion.  Bloody good question!  To be fair though, I quite enjoyed my first proper beach experience, and I'm glad I can say I've swum in the sea.  It was quite incredible having nothing but water in front of you and having only a handful of other people in the water.  I imagine during peak season it would be a different sight, but I enjoyed it nonetheless!
FlowRider
Back on the ship we had a chill out for a while in the solarium with our Kindles and a nice drink, and had a few dips in the hot tub.  The solarium is a fantastic venue on this ship, and we've even used it on occasion after dark when it's almost empty but the bar is still open.  Sitting in the hot tub at night is fabulous!
We were told that the best way to have a go on the FlowRider was to attend one of the boogie boarding sessions.  These are aimed at beginners and you spend your time on your stomach or knees on a much larger board than you'd surf on.  The session ran for about 90 minutes and we ended up staying for the whole thing – it was so much fun!
There were all sorts of different people trying it, so this is really an activity that a lot of different people can try.  You might not be any good at it, but falling off is definitely part of the fun!  There are two instructors present and they have a good laugh with you as well as giving instruction and helping you push your own abilities on the board.  I really can't tell you how much fun this was, but there are some clips in the video so watch that and decide for yourself!
After our mammoth session on the FlowRider there was just enough time to relax, change towels, and get showered & changed for dinner… actually, speaking of towels.
Royal Caribbean's Towel Policy
One notable difference between Royal Caribbean and Celebrity is the towel policy, which makes Royal Caribbean feel much less luxurious somehow, even though this is a very minor detail.
On Celebrity you take take towels from the clean bins and return them to the empty bins unsupervised.  On Royal Caribbean you need to check towels out using your SeaPass card or WOWBand and if you don't return them by the end of the cruise you get charged $25 per towel.  I can't imagine who would want to steal towels from Royal Caribbean (they're not even particularly nice or soft towels!) but obviously Royal Caribbean have decided that it's a problem.
You can exchange the towels at any time without the need to scan the card, but you do need someone to be in attendance to take towels or deposit towels otherwise.  It's a very minor issue, but cheapens the poolside experience for me!
Dinner in Izumi
We visited Izumi for dinner, which is the other speciality restaurant that I'd been to before on Splendor of the Seas.  One change I noticed this time is that they now charge $2 per person for miso soup whereas on Splendor this was free, along with the Edamame Beans.
Dinner was quite nice actually – better than I remember it on Splendor.  That said, it's probably the restaurant I'm least likely to return to.  I think I'm spoiled by the fantastic sushi places on my doorstep back home so the sushi on Splendor isn't quite as good.  I'd say it's somewhere between the quality of Yo! Sushi and a high end sushi bar.  It's far from bad – in fact it's quite good – just less impressive to me than the other restaurants on the ship.
Highlights include the tempura which were light and crispy.  Delicious and highly recommended.
Izumi is unusual in that it's priced on a per item basis, so you could go and only have a few items and not feel like you weren't getting value from the cover charge.  That said, those with a big appetite might prefer the more traditional 'all you can eat' style of speciality restaurant.
Showtime: Jonathan Clark
Tonight's theatre performance was a comedy impression show called A Lasting Impression from a British guy called Jonathan Clark.  He apparently has a show in Las Vegas.
I'll be honest:  I was absolutely shattered and could hardly keep my eyes open!  But I didn't find most of his act particularly funny (nor did the fully awake Alex, so it wasn't just me).  The theatre was very empty, so that didn't help him at all, and some of his comments were met with mild, almost sympathetic applause.  If I weren't so polite I would have left during the show unfortunately – it just wasn't my sort of act.
That said, there were plenty of people in the small audience who did enjoy the act, and some of his musical impersonations were very good indeed.  I just felt the act, overall, wasn't for me.  It may be that in a fully awake frame of mind in a full theatre, the atmosphere would have helped the show but as it stood last night it wasn't for me – sorry!