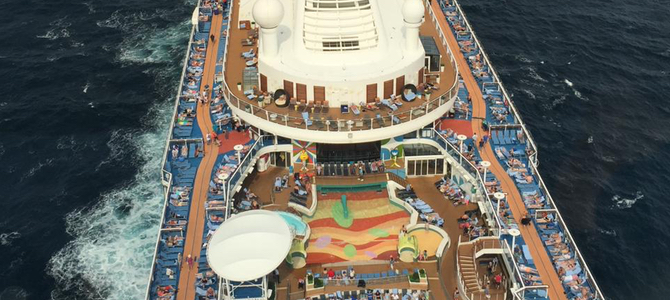 Toady we had our first sea day on Anthem of the Seas, as well as the first full day of our cruise!  We had quite a relaxed day, but enjoyed some spectacular evening entertainment and a very interesting dinner in Wonderland!
In the morning we decided not to set an alarm and just wake up when nature demanded we wake.  Nature served us an early wake up call in the form of not entirely closed curtains!  We had some breakfast in Café Two70º which was rather good, and enjoyed the first day of the progressive quiz, also in Two70º.
This quiz is hosted by our cruise director Joff Eaton and it turned out to be an absolutely cheese fest of silly and predictable jokes, but we loved it and will definitely do it again tomorrow!  We're not brilliant at it, but it's only a bit of fun and, as Joff pointed out… remember what you're playing for!  (It's just a USB stick!)
North Star
After chilling out for a little bit following our exciting quiz, we decided it would be worth trying the North Star.  This is one of the crowning features of the Quantum Class ships; a large pod (think London Eye) on a long arm that lifts guests high above the ship and out over the side, offering incredible views.
The problem is that the queue to experience this is quite lengthy.  Each trip takes around 15 minutes, and takes around 14 people at a time.  I don't think this is actually a person limit, but a weight limit.  Or maybe a combination of the two.  This will give you a good idea of how long your queue will be.
We were very unlucky because we ended up at the front of the queue, having just missed out on the flight before the one we ended up on, and when that one came back they closed the ride for about 30 minutes to do some maintenance of the locking mechanism!  Very frustrating!
What Royal Caribbean should do, in my opinion, is distribute tickets a bit like a shoe shop with a return time.  It wouldn't be difficult to manage, and they already run a similar system with tender tickets anyway.  The whole thing could be automated and the wait wouldn't be so long that people couldn't just sit by the bar or at least in the shade while waiting on their turn instead of in a queue in potentially very hot sun.
One other thing to note – there is a weight limit of 300lb (just under 21.5 stone) for this experience, and they do weigh you at the front of the queue.  Make sure you don't queue and be disappointed if you happen to exceed the weight limit.  I didn't see it happen, but I imagine it has to someone.
In any case, the ride itself if brilliant.  You're up there for 15 minutes which is impressive in itself (albeit adding to the queue time) and the views are spectacular.  See the video!
Rest of the Day
After the North Star we had a little wander to the rear of the top deck where the skydiving simulator, rock climbing wall, and FlowRider are situated.  We watched some very competent participants climb the wall and surf on the FlowRider, and decided we wouldn't be nearly as good.   I really fancy trying my hand at the skydiving simulator and the rock climbing, but I don't know how well I'd manage, nor if I meet the weight limit for the iFly experience.  We shall see!
From there we popped into the SeaPlex and had a great time on the bumper cars!  You saw a video of these yesterday, but there was no way to film the experience from our perspective because there's nowhere to attach a camera mount but it's great fun and I'd highly recommend this experience.  They look quite slow when you watch them, but they can build up a fair bit of speed resulting in some awesome 'bumps'!
We then had a go in the arcade with some shooter games which was really good fun.  They have little contactless readers where you just tap your SeaPass to add a credit to the game and go from there – priced at about $1.45 per credit.  Not the widest selection of machines, but enough to give some fun.  They'd do much better from us (and I imagine a lot of other cruisers too) if they added some pinball tables and some classic arcade game cabinets for some retro nostalgic fun!
As well as action games like shooters and driving games, there are also machines to win 'tickets' which can be redeemed for prizes at a large prize vending machine.  I say 'tickets' because I don't think any are printed out, but are just added to your SeaPass instead.
After all of that excitement the day was getting on so we went back to the cabin and washed & changed for dinner.
Stateroom Tour
Since there isn't a great amount of video from today, I thought I'd include the video tour of our stateroom too.  I've included it as a separate video because some people might only want the stateroom review, while others might not be interested in it at all!  Enjoy!
Wonderland
We had dinner tonight in Wonderland.  This restaurant is a speciality venue and as such carries an additional charge.  When we arrived there were only a few other tables in there, and the guy who seated us commented that nobody seems to be bothering to make reservations on the Royal iQ app on this particular cruise.
It probably doesn't help that the reviews for Wonderland have been very mixed.  Some have implied that the food is all style and no substance, with the quality and flavours being very strange and not at all pleasant.  I was apprehensive, but I'm a very adventurous eater and I love interestingly presented food so this was high on our hit list!
We were very impressed!  The food was all very good quality, the service was fun and attentive, and the cocktails were out of the world!  I highly recommend the Wondercumber which features cucumber and Hendricks gin.  Delicious!
Many of the dishes were small bites, while others were more substantial.  Everything was brought to share, a bit like a tasting menu, and in the spirit of the restaurant we let our server bring us whatever she wanted, so every dish was a surprise.
I'm not going to list everything here, but I thought the food was fantastic and so much fun.  The closest equivalent I can come up with is Qsine on Celebrity ships, but Wonderland was better.
The restaurant itself had a very Alice in Wonderland theme, with magic menus that require painting with 'magic paint' to reveal the offerings, staff in long velvet coats, and very funky chairs, stemware, and crockery.  So.  Much.  Fun!
Spectra's Cabaret
Tonight's show was in Two70º and was a pre-bookable event.  This was enforced quite strictly.  You scanned your SeaPass card or WoWBand on entry where your tickets were checked, and people came round after checking them again to ensure nobody was left over from earlier in the day.  You can book this online before sailing, or though the Royal iQ app while on board.  General admission is 15 minutes before the show starts, so if you have a ticket get there before this time.
The show was preceded by a video presentation called Da Vinci's Dreams, where the artists have taken sketches by Leonardo Da Vinci and turned them into wonderful visuals, bringing the machines to life.  Well worth a watch.
Spectra's Cabaret itself was incredible.  It was a truly immersive performance that had everyone open mouthed with wonder.  It was a visual feast and I would highly recommend it.  Easily the best original performance I've seen on a cruise ship, and an example of where the new technology combines to offer a truly jaw-dropping experience.  No filming was permitted during the show, but rest assured I would never have been able to capture the show in any way that did it justice!
Another sea day tomorrow… stay tuned!