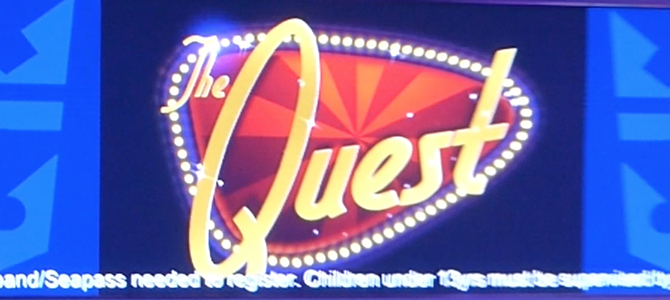 Today we did the unthinkable.  Despite docking in Lisbon, Portugal, we decided to stay on the ship and relax with our Kindles!  We had a burger for dinner, and then enjoyed the evening festivities, including Royal Caribbean's infamous gameshow: The Quest.
This morning we decided that we wanted another sea day, but one where we didn't FlowRide, SkyDive, or Bumper Car… we wanted to relax and read.  So we did!  And we had the ship largely to ourselves.
Literally nothing happened in the morning and afternoon other than me getting about 60% though my current book, the very addictive Ernest Cline sci-fi dystopian novel _Ready Player One.  _It's an absolute nerd-fest so I don't expect many to enjoy it, but I'm absolutely loving it!
We did watch the wonderful sail out of Lisbon, which is one of the best.  The ship rotated 180º to exit the port, offering sweeping views of Lisbon from our prime vantage point on loungers right at the front and centre of the solarium.  So, frozen cocktail in hand (lava flow… delicious) we enjoyed the slow trip under the bridge and out to sea.
We managed to get a FaceTime call in to Alex's sister and her family which was lovely.  She's kindly looking after our dog while we're away and it was nice to see them all.  Plus we got a very nice video and audio feed showing once again just how robust the internet connection is on Anthem of the Seas!
Steve Rawlings
Tonight's show in the Royal Theatre was a 'Comedy Juggling Cabaret' act from Steve Rawlings.  This act was fast paced and frantic… almost chaotic in fact.  He did a variety of juggling acts including juggling ping pong balls from his mouth, which was quite impressive.  He was the sort of performer who comes on stage, makes lots of noise, bounds about the stage, and leaves the stage floor covered in sweat (and perhaps the front few rows of the audience too!)
The show was definitely a cruise ship show, but it was quite entertaining.  I enjoyed it more than Alex did, so your milage may vary!
The Quest
The Quest is a traditional show done on all (as far as I'm aware) Royal Caribbean ships towards the end of the cruise once everyone gets to know each other a bit more.  It's a hilarious scavenger hunt style game show.  From reading a few reviews, different ships operate the show differently.  On Anthem, the show was held in the SeaPlex (with people over two decks participating, which was odd and added a barrier to the fun) and consisted of 6 teams which were sections of the audience captained by two team leaders chosen from that section.
It's wild & wacky, involves lots of adult humour and ends embarrassingly for some, but it's great fun to watch.  The version we saw on Splendor of the Seas was definitely more wild, with more filthy challenges for each team to complete.  Joff Eaton (cruise director & host) was brilliant as usual, but did skip challenges several times.  I don't know what these were, but perhaps he gauged the audience and decided they wouldn't go down as well?
The only thing about having The Quest in the SeaPlex is that certain heavier or more fragile items that are required will come from the balcony, but can't be thrown down.  Since there are only two sets of steps this becomes a challenge and given the time constraint on each quest means balcony attendees may struggle to participate.
Great fun though, as always!
The rest of the night we grabbed some drinks in Michael's Genuine Pub (I just love their in-house beer!) and some food from Café Promenade. Delicious!