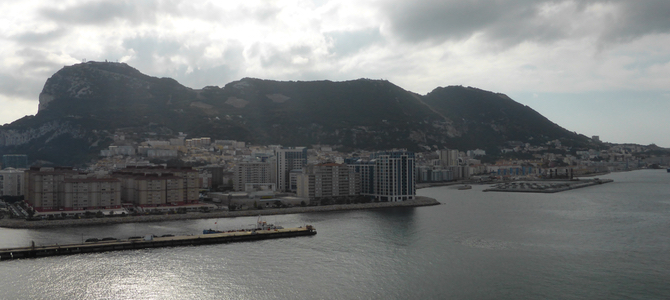 Today Alex and I had a Royal Caribbean excursion in Gibraltar, saw Jonathan Wilkes in the theatre, and watched a hilarious music quiz in Two70º!
Today we were docked in Gibraltar where, to my mind we had quite a long day.  I'm sure Gibraltar is normally a very short port, but we arrived at 9am with last boarding at 4pm.  I'm sure on previous trips this was much shorter.
As we've been to Gibraltar before, we decided to book a shore excursion this time to make it easier (it is our honeymoon after all, and we're being very lazy on this cruise when it comes to ports!)  This shore excursion was called Fortress Gibraltar, and turned out to be very good.
We had a relatively small minibus; I suppose this is necessary given the tiny, winding roads leading up to the tunnels once inside the Upper Rock Nature Reserve, which is terrifying in a bus, by the way!
Most of the details of the trip are in the video, but we saw (and crossed) the airport runway, saw the border between Spain and Gibraltar, Europa Point, The Ape Den, and the war tunnels.  All of this was guided by our bus driver who was very informative and quite funny too.  The only exception was the tour of the tunnels which was led by a different guide with that specialist knowledge.  His tour was also informative and entertaining!
If I hadn't been to Gibraltar before I probably wouldn't have done this tour, but as the war tunnels and Europa Point were the bits I felt we missed on our last visit to the rock, it just made sense to try this tour to fill those gaps!  Highly recommended!
Back on the ship we had a very late lunch at the SeaPlex DogHouse which was quite tasty – much better than the equivalent on Splendor of the Seas!  You'd think these would be the same, but they're not!
We spent the rest of the afternoon chilling out in the Solarium where we had a dip in the hot tub. The solarium really is a fantastic space, even though it's much busier now than it was on the first sea day.  There are four hot tubs looking out over the front of the ship, with a lovely tiered pool with glass dividers.  It's absolutely stunning!
Jonathan Wilkes – Royal Theatre
The main show tonight was Jonathan Wilkes who I've never heard of but who is apparently quite famous in the UK.  He was on Robbie Williams' _Swing When You're Winning _album (which I do love) and he sung a lot of musical theatre and swing songs.  He was very good and got a very strong standing ovation when he was finished.  He managed to inject some humour into his performance too which was nice.
Based on the standard so far, the entertainment on Anthem of the Seas is the best I've seen on any ship so far with only a couple of performances I've previously seen coming up to the same standard.  Absolutely fantastic!
The Grande
Dinner tonight was in The Grande restaurant which is the formal restaurant on board Anthem of the Seas.  Almost everyone was dressed in a suit, some had ties on too, while others (like us) had gone all out and donned our tuxedos!
I think the concept works well and the restaurant itself is stunning.  It felt like they were trying to emulate a traditional dining experience, with a very classic menu and the typical menu recommendations.  The service was quite friendly to begin with, but there weren't enough staff to cope, even though the restaurant wasn't particularly full.  We did dine at 9pm though, so perhaps they were a bit tired!
The downside with this system is that after dinner, when we went to Two70º and some other bars around the ship, we looked incredibly over-dressed with many people in polo shirts, shorts, etc.   Royal Caribbean have Royal Evenings (there are three on this cruise, but we didn't know the dates when we booked).  On these evenings a ship-wide formal dress code is suggested (but only suggested, and the wording is 'dress your best').  The ship did feel more formal overall on the first of these days so I would try to co-ordinate future visits to The Grande with one of these evenings so I didn't feel quite so our of place.
The food in The Grande was very good again, details of that in the video.  The desserts were a little less good, but tasty enough.  Then again I often find dessert the least interesting course of a meal, so maybe it's just me.
Music of the Night
The final highlight of the evening was The Even Bigger Music Game Show which was an absolute hoot!  Two70º was packed to see Cruise Director Joff Eaton lead a hilarious game show which started with a music quiz involving everyone (usual bits of paper) and then turned into a four-way battle for domination between the four highest scorers in the room.
The quiz was great fun, and now that Royal Caribbean have acquired the rights to Name That Tune, they're running a full theatre production of Name That Tune later in the cruise which the first and second place contestants from this quiz have automatically earned a place in – I'll look forward to that too!