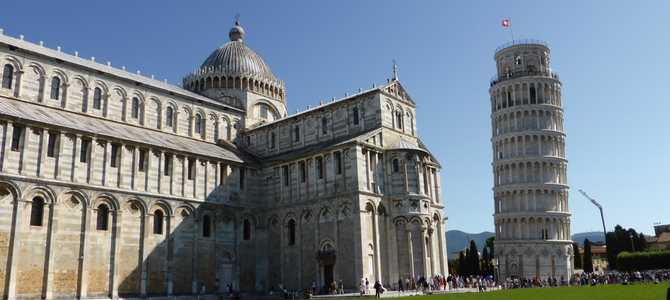 Today we docked in La Spezia for Pisa & Florence, where we had a short trip to Pisa.  Back on board we relaxed in the solarium, had another trip on the North Star, and watched a lovely sail away from port.
In keeping with our lazy honeymoon cruise, we had a short excursion booked called Pisa On Your Own, where they give you a bus to Pisa and leave you to explore on your own.
This did exactly what it said on the tin, but I felt like there wasn't enough time in Pisa.  When looking at short excursions it's worth remembering how long the drive is, because the published times are ship departure and arrival times, and the duration is from departure to arrival, not how long you'll have at the destinations.  La Spezia to Pisa is a one hour drive each way, and we ended up having 1 hour and 40 minutes in Pisa itself.  Because of this, I wouldn't recommend the tour to anyone, unless you want little more than a cursory glance at the main sights in the square… but there's more to Pisa than that!
We decided to get a combined cathedral and baptistry ticket.  The Cathedral is free, but requires a ticket – something we only discovered when we queued to get into the cathedral!  The ticket office was empty though, so we purchased tickets for the baptistry too.  If you have longer, getting a ticket for all of the buildings becomes cheaper.  We paid €5 each for the Baptistry, but you can get 2 buildings for €7, 3 buildings for €8, and a complete visit for €9, though this is currently unavailable because the Opera Museum is closed at the moment.
The leaning tower is €18 per person, and requires booking a specific time slot because they only allow up to 40 people inside at a time due to safety concerns and to ensure the structural integrity of the tower.
What we did see was very impressive and strange to see in real life rather than just in photos – they're such well known monuments (especially the tower).  I only wish the excursion had offered longer in Pisa as it would have been nice to have some lunch while we were there.  The other thing to bear in mind is the the coach park is about a 10 minute walk from the main sights.  This is advised on the tour and is totally flat, but one lady was still surprised by this and asked for a taxi to be arranged, which of course took some time from the rest of the group.
Back on the ship we relaxed for the rest of the afternoon but had another trip on the North Star.  It turns out that this has a different set of movements while in port, as the port authority doesn't allow them to extend beyond the perimeter of the ship.  This makes sense really, and you still get great views!  The only exception is the port of Labadee in Haiti, as this island is privately leased to Royal Caribbean so I guess they can do what they want!
After this we watched the sail away from the comfort of a bed in the solarium where we managed to film a time lapse which you can see right at the end of today's video.  If you don't want to watch it, just stop the video because there's nothing at the end of it – I think it's quite beautiful though.
Dinner in American Icon Grill
Tonight we had dinner in American Icon grill but I wasn't feeling 100% and was a bit wary about eating too much and drinking anything once I realised.  The service did seem quite slow and there were a few annoyances.  I had ordered a cocktail initially with wine to follow.  We waited about 10 minutes then the wine came with no cocktail, apparently they didn't have one of the main ingredients.  Fair enough, but no alternative was offered or even the chance to look at the menu and select something else.  When Alex ordered a missing beer in Silk the waitress apologised and automatically brought two alternatives for him to select between.  It's the little things.
I didn't think the bread in American Icon Grill was as good as any of the other restaurants.
I'm not going to go into detail about the food because at least partly this was me not feeling 100%.  We skipped dessert. We'll go back to this restaurant and let you know how we find it then!
Love & Marriage Gameshow
Despite feeling a little uneasy, I dragged myself to the theatre at 10:45 for the Love & Marriage gameshow which is always hilarious.  They always get a newlywed couple, a wild couple, and the longest married couple on stage (50 years).  This time they got a fourth couple too, who had been married for about 25 years.  The newest married couple in the theatre who were willing to make themselves known had been married for just over one year, so Alex and I could easily have made the cut and joined Joff on stage.  Unfortunately if I'd suggested this I would have had a divorce on my hands, so I erred on the side of staying Loved and Married, and kept my mouth firmly shut!
The idea behind the show is simple.  They remove half of each couple to a soundproof room backstage somewhere then ask the other half four questions about their relationship and they have to try and give the same answer that their parter will give – hilarity normal ensues!
Some questions are quite tame, like Where was your first kiss? and What is your wife wearing? while other questions are a little more risqué – What's the most unusual place you've had sex? 
Last night's show was made even more hilarious because a mother and daughter were both on stage separately with their respective husbands.  Much embarrassment for all I think!
Tomorrow we're in Marseille where we have an afternoon tour booked!  Watch this space!