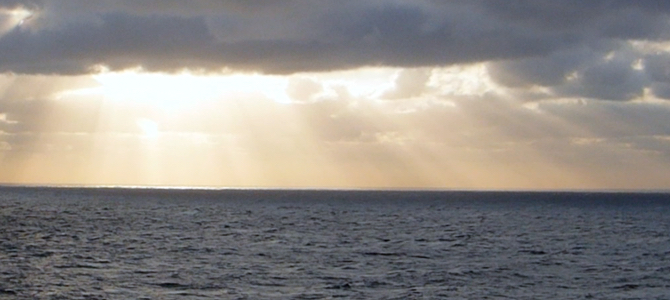 Today we had another day at sea.  We spend a bit of time relaxing in the SeaPlex as well as having dinner at Jamies Italian and had our first visit to the theatre!  I also answer some of your questions in a Q&A!
In the morning we had another late-ish start in Two70º with the second day of our progressive quiz and another tasty breakfast.
During the quiz it was announced that there had been a medical emergency on board throughout the night, and that the medical team had decided that an evacuation of the affected person would be necessary.  This helicopter transfer necessitated the closure of significant parts of the rear of the ship, and we saw the helicopter pass at the rear from the windows of the Two70º before airlifting the person to shore.  It all went successfully, the preparation was very smooth and very organised, with fire crews all through the ship with hoses and foam ready to take action in the event that anything went wrong.
It was actually very reassuring that they have such protocols in place and are prepared for any eventuality.  I hope whoever required land-based medical assistance got the care they needed and will be OK!
Interestingly we knew there had been a medical emergency because we had heard the 'Alpha Alpha Alpha' call on the PA system at about 4:30am.
SeaPlex
We had a really nice time today in the SeaPlex and tried a variety of the activities they have going on.  We started with some Air Hockey ($1.45/game, just tap your SeaPass), then moved on to some table football (no charge).  I won both games!  We had a look at the Xbox area but these were all being used, except one of them which we couldn't seem to get to work!
We also tried our hand at the roller skates.  Alex wasn't a big fan, and left fairly quickly.  I enjoyed it, but certainly wasn't very good at it!  It's been a while, and I've only ever used in-line skates before now, and only when I was much, much younger!  I'm determined to have another go before the cruise is over!
During the day when there aren't any proper events on, I think the room is mostly set up for sports with a soccer area and some basketball hoops.  All very busy when we've looked in!
I really like the SeaPlex – it's a fantastic space with lots going on, and I've heard a lot of people say it's their favourite place on the ship too.  Clearly a popular innovation from Royal Caribbean!
Questions and Answers
I asked for any questions you might have and seeing as we had quite a chilled out day I thought I'd answer some of them for you!
Johnny Rockets
We had lunch today in Johnny Rockets.  This is in the covered part of the outdoor pool area, and serves burgers, fries, onion rings, and milkshakes on a chargeable basis.  Burgers were $2.50, with fries and onion rings $1.50 each, or half and half.
I had a smokehouse burger which I found a little dry, but Alex's original burger was delicious and had all of the lovely toppings that you want in a burger.  The onions rings were pretty good too.
I don't think the burgers are that much better than the ones you can get for free on the Celebrity Eclipse pool deck, but the theming is awesome and you do get some great views of the sea.  Maybe worth a visit if you like burgers!
Personally I'd love to see a cruise line get Five Guys burgers on there – that would be much more interesting to me!
Royal Theatre
We saw two performances in the theatre tonight, with dinner in between.  The first was a comedy magician called Paul Dabek.  He was really entertaining actually, even if some of the jokes you might have heard before.  His delivery was great though, and Alex and I both loved the shadow puppet bit he did at the end.  Very good, and worth a watch!
The second performance was late-night stand-up comedy with Jimmy McGhie.  This was absolutely hilarious, and easily the best comedy I've seen on a ship.  A very funny guy – you can see clips on him on YouTube if you have a search.  One of the reviews on his website says "See him now before you have to queue around the O2" and I totally agree.  He deserves to be a big name in comedy.  Brilliant show!
Jamie's Italian
Dinner tonight was in Jamie's Italian, which is an interesting restaurant because it is open to the inside of the ship so it doesn't feel enclosed like most places (see the video to understand what I mean).  We were lucky because when we arrived the Anthem of the Seas pop-up pianist was playing outside, and we enjoyed his music for the first little bit of our dinner!
The food here was, once again, excellent.  We shared a little charcuterie board, as well as arancini and some olive tapenade.  For main courses I had a crab spaghetti and Alex had a tagliatelle bolognese.  All of the pasta was beautifully cooked and the flavours were incredible.  The pastas are all freshly made each morning in-house, just as they are in Jamie's Italian restaurants on land.
Service was fantastic, and there is a marked difference between the service we received here (and in Wonderland) compared to that in Silk (a complementary restaurant).  We're in The Grande tomorrow night which is another complementary restaurant, so we'll see how that compares too.