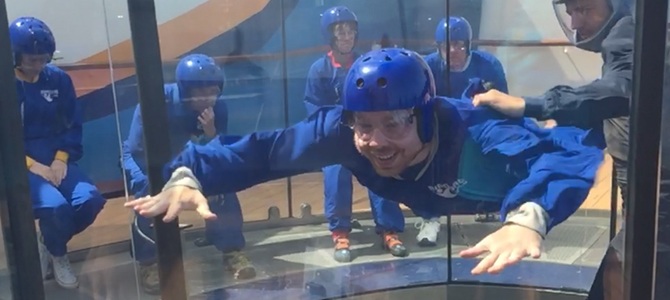 Today we had an action packed day at sea, with an All Access Tour in the morning, Ripcord by iFly in the afternoon, some time on the rock climbing wall for Alex, and dinner at Devinly Decadence (a.k.a. Solarium Bistro).
This morning we were booked on the All Access Tour offered by Royal Caribbean which is a behind the scenes look at many aspects of the ship.  The tour is led by a member of the activities team, but at each stop a member of staff from that section takes over, explains what there is to see, and answers any questions.
We started in The Grande restaurants where one of the senior chefs (Chef Jon) took us into the galley and explained how the kitchens work.  It was totally fascinating, and it was interesting to see all of the screens around the galley showing current energy usage and comparison over the last 30 days.  There is clearly a lot of thought going into saving power!  Everything is electrically generated, they use no gas cooking at all.  Interestingly they have separate galleys for each restaurant, making each one very compact, busy, and noisy!
Our next stop was the food storage areas which are huge!  There are many, many fridges & freezers and staff working around the clock to make sure each kitchen and bar gets the good required.  Quite an impressive inventory management process really!
After there we took a trip down to the engine control room where we had a talk from one of the engineers who explained how power generation works and that the ship uses electrically powered azipods rather than a traditional system (I think all modern ships use this now – Celebrity Eclipse certainly does) and that these are powered, just like all other electrical systems on the ship, by diesel generators which run from a viscous heavy oil which has to be heated to over 100ºC before being passed to the engine.
From there we visited one of the recycling centres and learned how almost all waste is recycled or incinerated.  Aluminium and other recyclables that make money are sold and the proceeds go into a crew welfare fund which encourages the proper separation of recyclables.  This money pays for pool tables, parties, and other fun stuff for the crew!  Great idea!  We also learned how grey and black water waste is separated and purified to the point that you could drink the water very safely – water that would be a higher standard than some countries' drinking water.  Though the water is NOT used for drinking, it is discarded into the sea.
All of the water on the ship is taken from the sea and purified on board – there is no water taken from shore at all!  Quite an incredible process.
Laundry was next, where we saw the latest machinery that makes washing, drying and folding clothes very efficient.  They have huge washing machines that can self load, robots that move clothes from washers to dryers, and robots that separate different types of clothes.  For pressing they have machines that press clothes semi-automatically and very quickly, and an enormous machine that automatically presses and folds bed sheets!  It's incredibly, but absolutely huge!  Dry cleaning is also offered on board where they've switched from the typical tetrachloroethylene  which is environmentally unfriendly, and quite toxic, to a much safer hydrocarbon solvent.
From there we saw behind the scenes at the theatre and saw the dressing rooms and set storage areas.  They have a very limited crew in the theatre and much of the staging is automated and very impressive too.  Every show has different choreography and staging that can be used in different weather conditions, so if the sea is particularly rough they take out complicated lifts and have the dancers do something safer instead without significantly affecting the show.  Very clever.  Also interesting is that Two70º and the theatre are run as two totally separate venues, with different crew, cast, and everything!
We saw the crew windjammer and learned how the crew can use the complimentary restaurants on board for guests, and often do on their evenings off, maybe once a week.  They can pay $3 to use the guest windjammer.
Our final stop was the bridge where we saw the various controls and digital mapping systems that are used.  They use no paper charts at all – everything is digital but they have several systems backups in place.  Perhaps they have paper charts hidden away somewhere, but I got the impression they never need them or envisage needing them.  One question asked of the bridge officer who gave us a tour was about having a backup bridge, or an alternative location the ship can be commanded for… the question was evaded on security grounds, but it would seem to be a sensible precaution!
All in all a very good and very comprehensive tour.  I enjoyed it despite having fairly few questions.  The group size is pretty small, and it's a perfect opportunity to ask technical questions to crew who are experts in that area.  Highly recommended!
After the tour we had a nice lunch in Two70º where I had another beef on weck!  I love this sandwich – it's absolutely delicious!
Ripcord by iFly
Today was my day for the skydiving simulator.  You check in and watch some safety videos and get given some hand signals to use (it's very noisy in the wind tunnel).  You have to wear tight shoes (they can provide these) and a jumpsuit, along with earplugs, a visor, and a helmet.  It's not the most comfortable or flattering outfit, and people will know that you participated for the rest of the day by the visor imprint around your eyes!
You get 60 seconds of actual flight time, but you don't really have to do anything other than allow your instructor to guide you and follow his signals.  I seemed to be a little tense and trying too hard to 'do' something, which just went wrong.  It's well worth trying if you are physically able (there are some medical exclusions, like having dislocated shoulders etc. in the past) and most people seemed to enjoy it!
Later in the afternoon we had a session in Puzzle Break booked, which is an escape room.  I talk about it a bit in the video, so I won't take up too much space here.  Unfortunately you need at least 6 people (ideally 8 to 10) and we only had four, so it didn't happen.  14 people were booked to do it, but most didn't turn up.  It's such a shame!
Alex had a go with the rock climbing wall instead, which he did quite well at – certainly better than me!
The rest of the day was spend having a couple of beers in Michael's Genuine Pub and chilling out!  Bliss!
Devinly Decadence
Tonight we had dinner in the last restaurant on the ship we hadn't tried.  It's an included venue (though I think at one point they were charging for it) and focusses on healthy dishes under 500 calories per main course.  Main course is ordered from your server, but the starters and desserts are from a buffet.
To start they have some soups and three different salads along with dressings.  Desserts were some little cakes, including a chocolate sponge cake, a couple of bundt cakes (orange and lemon) and a little chocolate raspberry cake.  I suppose the health aspect disappears when you try one of each!
The main course I had was a BBQ chicken pizza flatbread which was quite tasty.  Alex had a fillet steak which was tender and lovely!
Overall the food here is lovely for being under 500 calories.  But you do need to want to eat healthier food or there's no point and you'll be disappointed!  It's a brilliant idea for those looking to avoid temptation and eat a bit more carefully.  For those who are calorie counting, however, they could have included full calorie information for each dish, including the salads and desserts.
Tonight's Entertainment
Tonight we had two shows in the theatre.  First was a west end singer called Julie Maguire who was fantastic.  She did a whole load of songs from musicals and had a stunning voice and stage presence.  Absolutely brilliant!
The second show was Name That Tune which was done incredibly professionally like being in a real game show studio.  See the photo in the video to see what I mean!  This was also well worth a watch and was very entertaining!