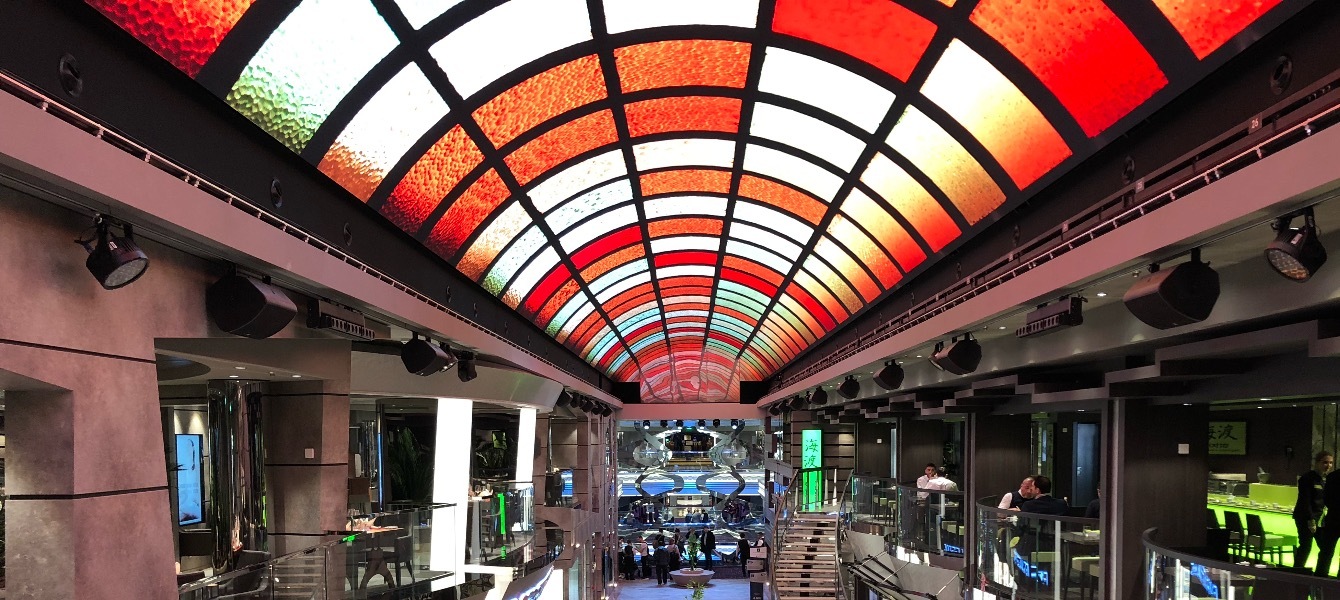 Today we boarded MSC Bellissima, started our exploration, and found some fun quirks with Zoe, MSC's virtual assistant. We also had our first meal in our included dining room, Le Cerisier.
Ibis Basic (Continued…)
We started our morning in the Ibis Basic which turned out to offer a nice sleep. The room was basic but very clean, and the shower in the room was very powerful. With checkout at noon we had plenty of time to get a cheeky wee McDonald's breakfast and find some obligatory views of the ship.
We've found that a great place to see ships docked in the City terminal is from the top floor of the IKEA car park. There were a few others with cameras in hand, so it's not exactly a well-kept secret. We then moved on to Mayflower Park to get a closer look before heading back to the hotel to check out.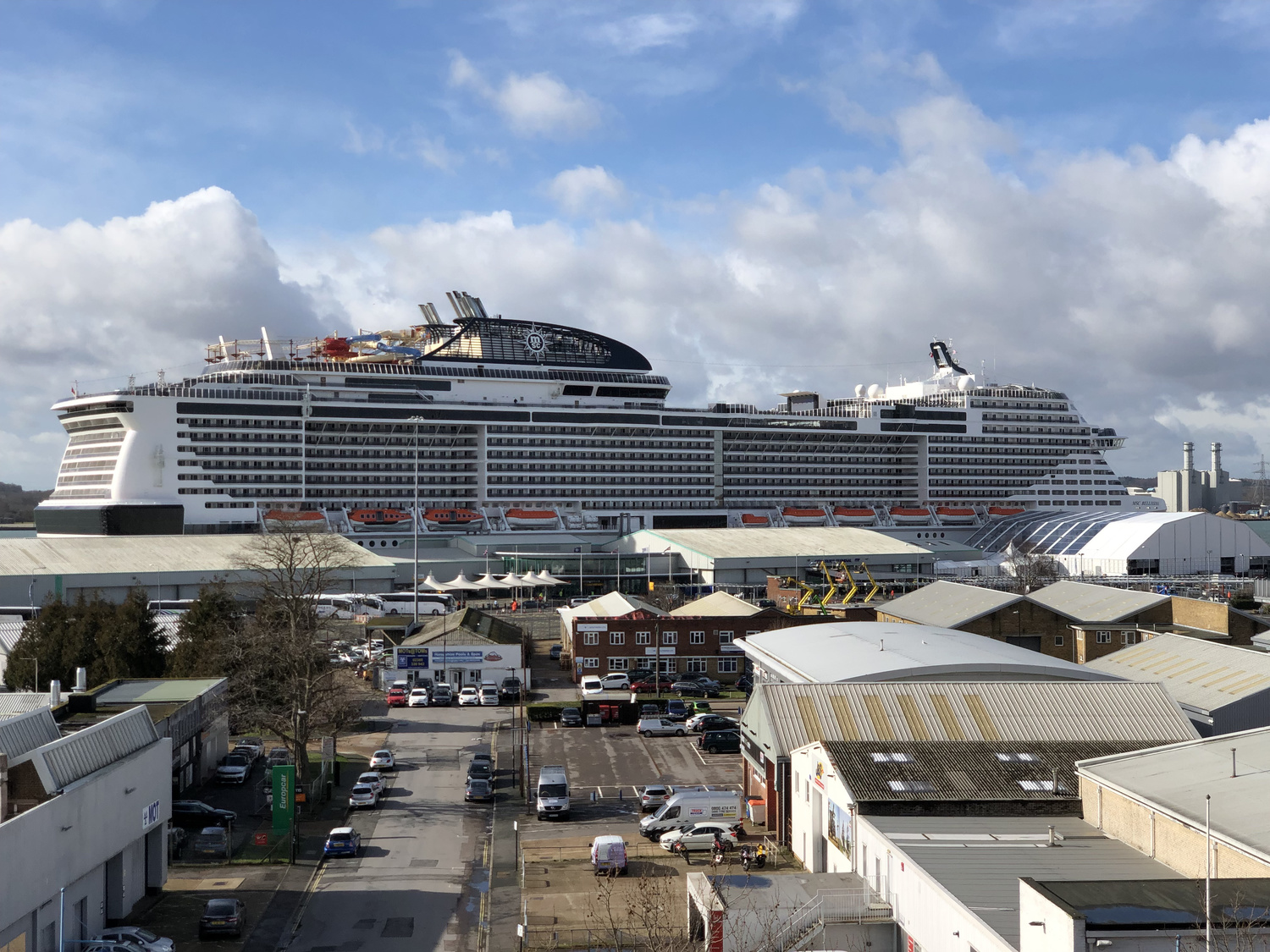 Embarkation
We decided to take the 15 minute walk to the cruise terminal and were reminded how difficult Southampton can be to navigate for new cruisers as we were asked for directions from a lost-looking couple.
Being able to walk to the cruise terminal is really handy though. Everything is flat and access on foot is available from the gate next to the Holiday Inn. Even with two large suitcases this wasn't a problem!
Our stated embarkation time was around 13:30, but we arrived at the cruise terminal just after noon. A quick security check and we were able to board immediately. Very smooth and no delays. I'm unsure how full the ship is though.
The demographic seems very different from our previous MSC cruises. The majority seem to be British, with a smattering of many other nationalities. There are a few travel agents on board.
Upon boarding we were free to explore the ship while waiting for staterooms, which were ready at around 2pm.
Packages, Packages, Packages
We decided a while back that we'd like to try all of the speciality restaurants on the ship. There are four in total, and MSC offer a package which lets you experience all four. I didn't book this in advance because I wasn't sure what the package offered, and whether it would limit our menu choices. My first goal when we boarded was to get the information and sign up.
You'd think this would be easy, but finding menus for each venue that included the special set menu was basically impossible. I managed to see the menu for the steakhouse, and this seemed reasonable, so we ended up going for the package. The fact that this information wasn't readily available was surprising give how many people were trying to sell the things. We didn't even need the sales pitch, only the basic information.
It seems that the set menu covers all of the basics at a significant discount over a la carte pricing, but we'll have to wait and see when we visit each venue.
We were also hounded to buy a drinks package which we were initially undecided on. It was the most pressured I've felt on a cruise and it was definitely a little off-putting. We eventually did decide to buy a package, no thanks to the sales people involved.
First Impressions
Wow! This ship is really something. Significantly more classy and understated than the other MSC ships I've sailed on, MSC Bellissima really feels glamorous. Part of that is undoubtedly how new the ship is, but the spacious 'Galleria Bellissima' is really something. It's a double-height ceiling with restaurants and bars on both levels. The ceiling is a curved video display and displays stunning, vibrant art and patterns.
Of course the atrium features the beautiful Swarovski Crystal staircase and this is as gorgeous as ever. When we boarded there was a small band playing some lovely, lively classical music. Very pleasant. Very glamorous!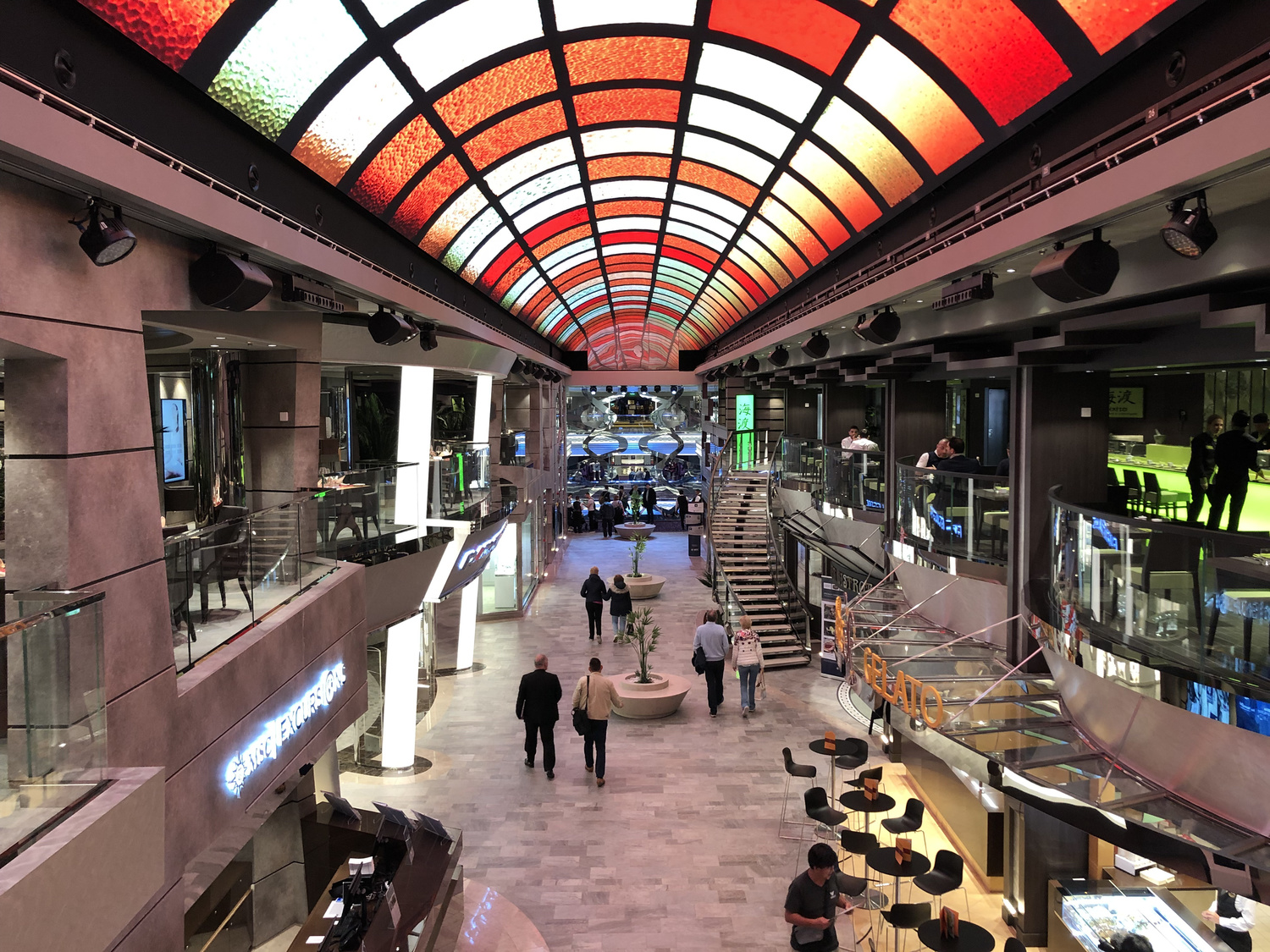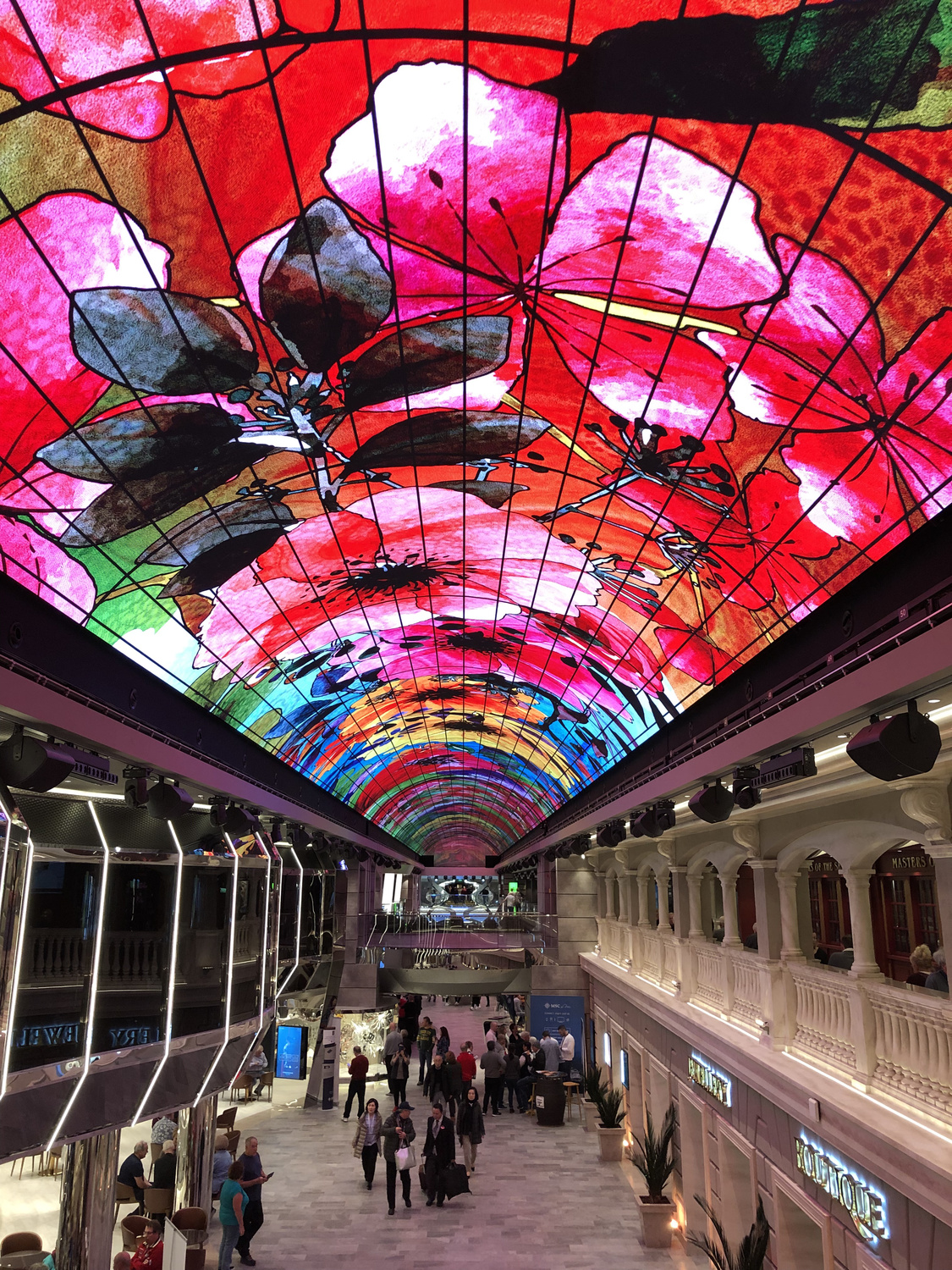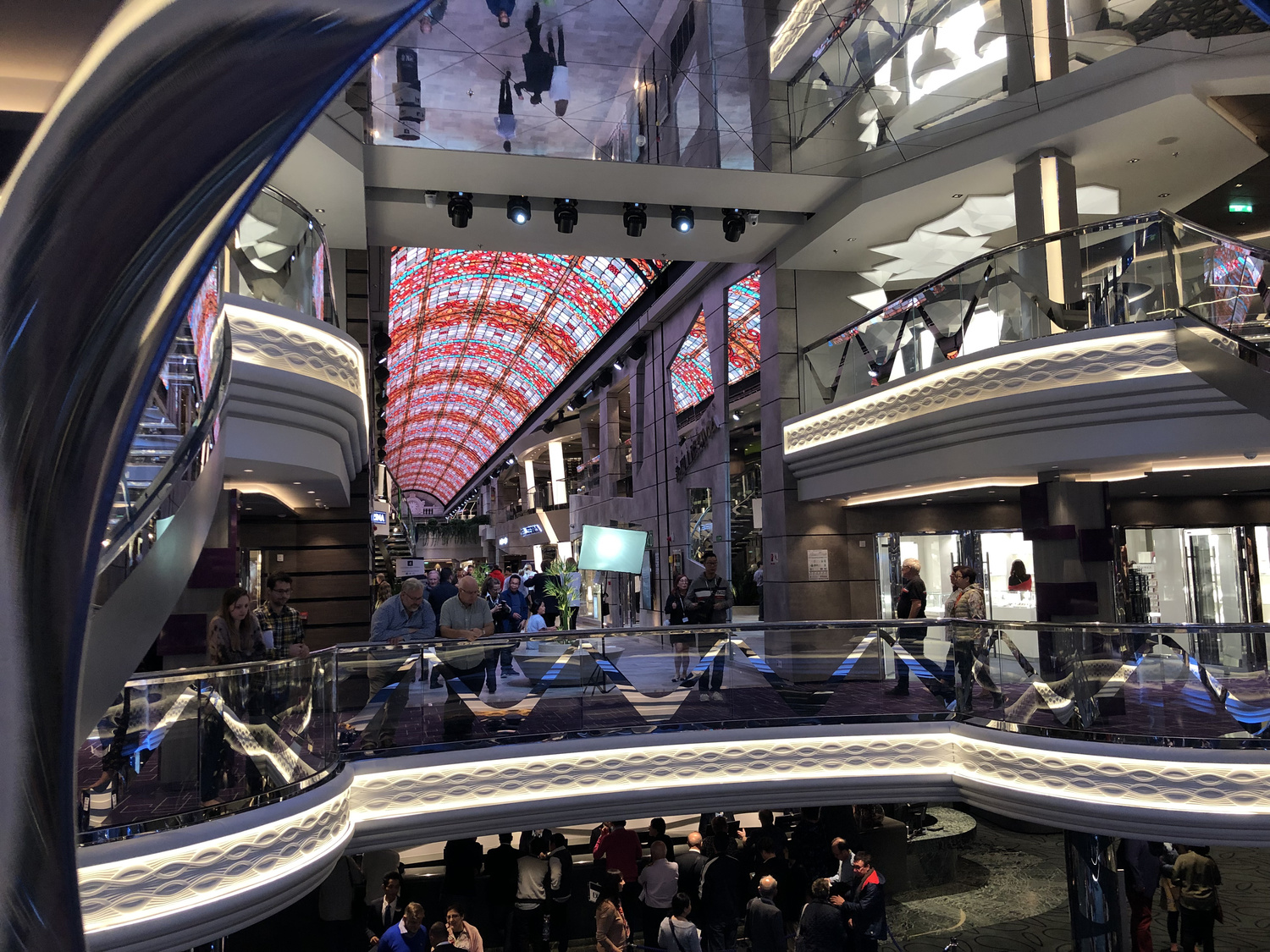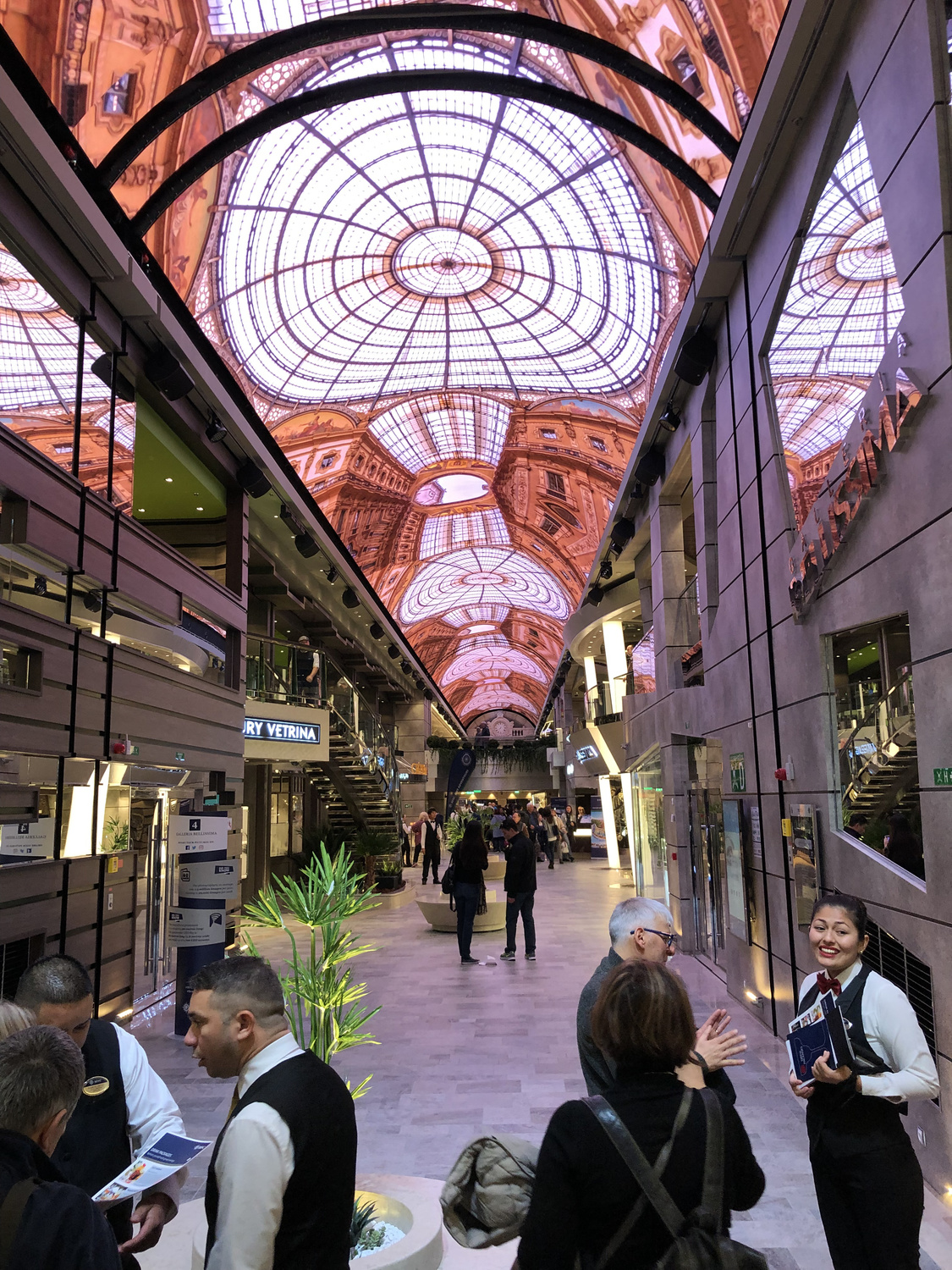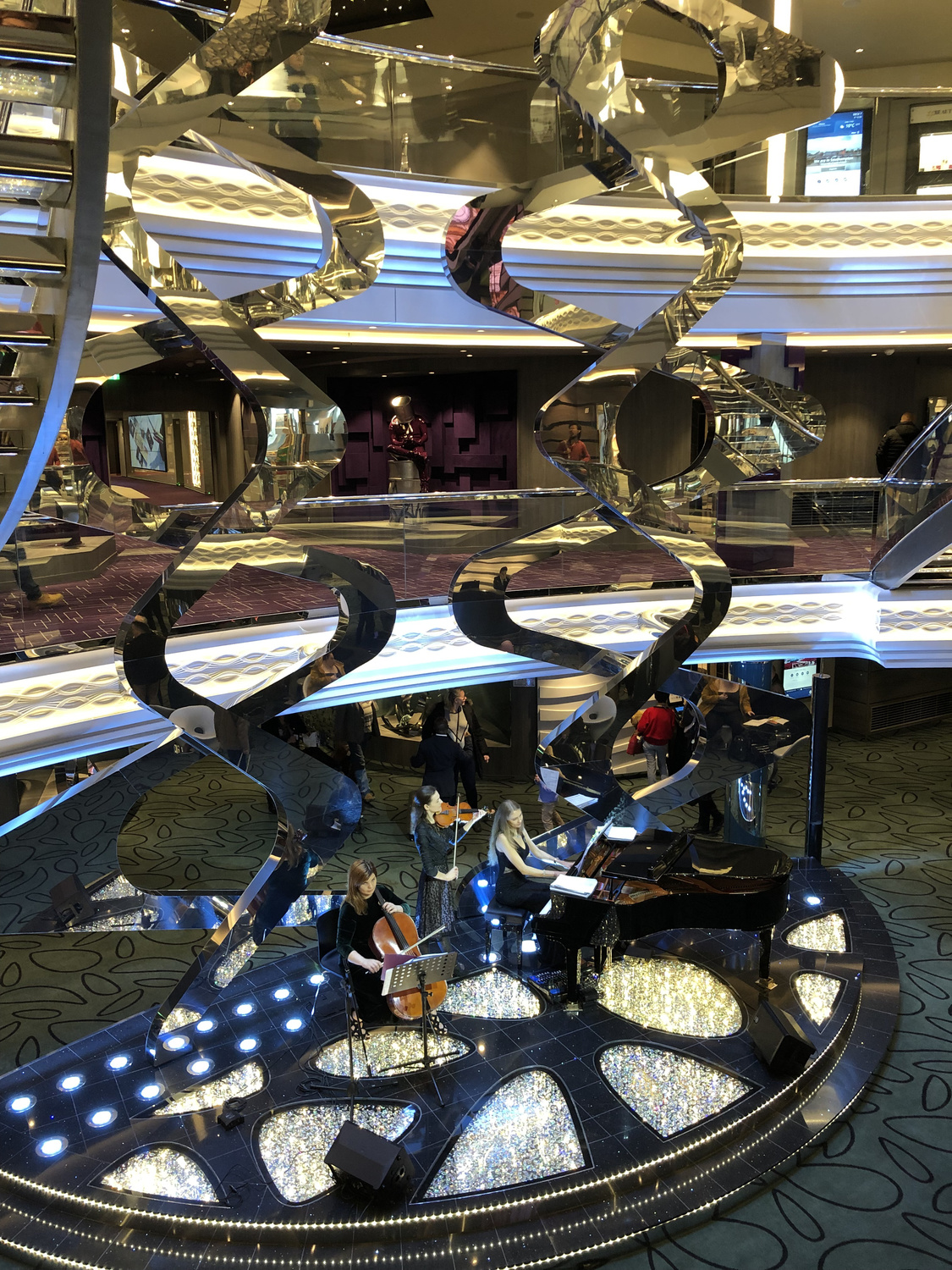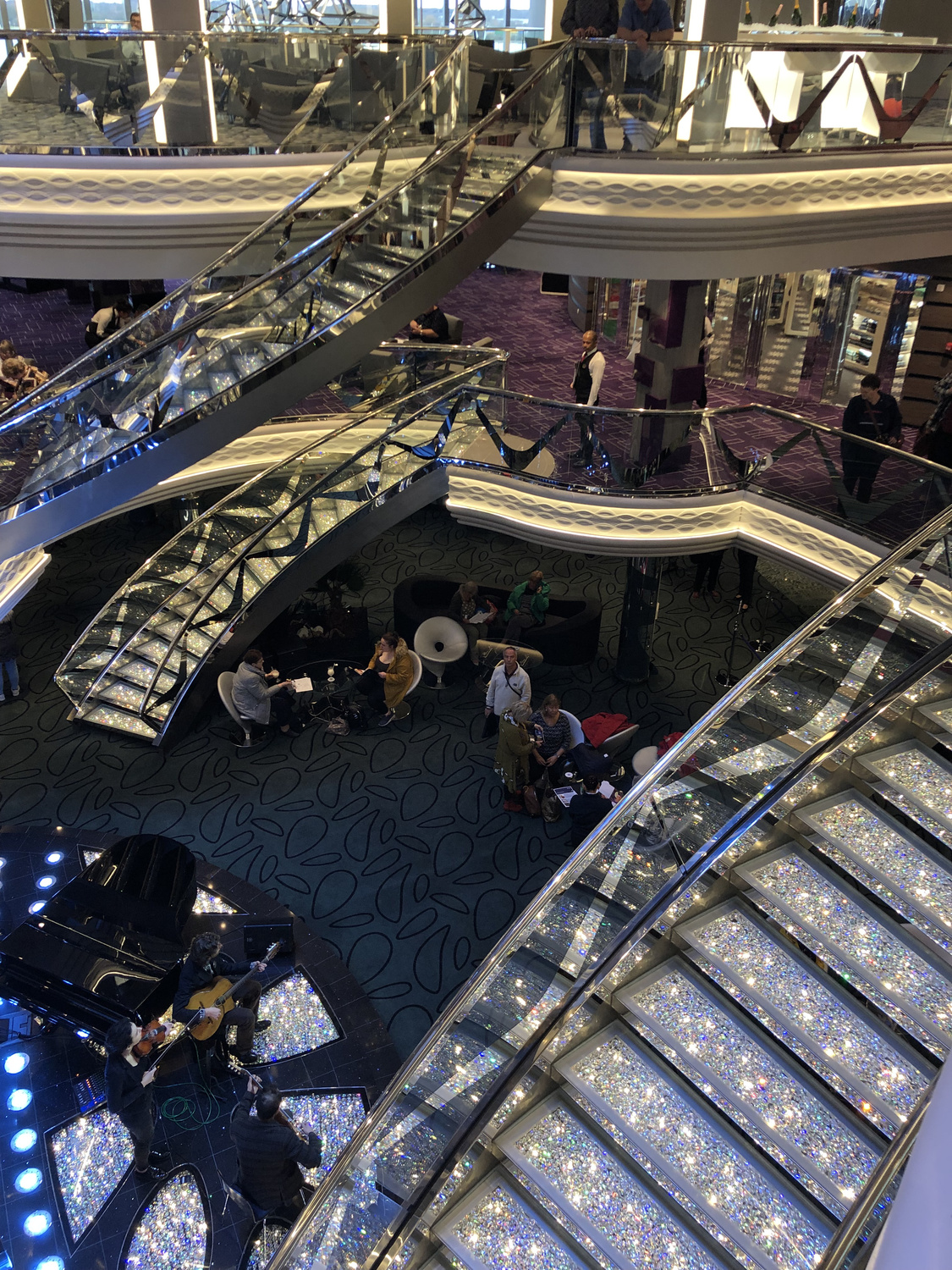 The public areas are very nicely done and the ship seems to flow much more nicely than the other MSC ships I've sailed on. I'll leave a more detailed run-down of specific bars and areas for later in the blog, but so far I'm impressed! The ship may be living up to her marketing - "The Most Beautiful Ship at Sea".
We got access to our stateroom around 14:30 and it has some very nice touches. A full review and tour will follow (probably tomorrow on the first sea day). One problem we had was that the beds were set up in twins, and the phone's quick dial buttons weren't labelled, so I had to try them all to find guest services! I suppose these are the joys of an inaugural voyage!
Say Hello to ZOE
ZOE is the virtual assistant on MSC Bellissima. I plan to cover this in more depth as the cruise continues and I get more chance to play with the features ZOE offers, though I'm not very impressed so far! As it stands, none of the questions I've asked have been answered. At all. None of them. 🤦🏼‍ I even asked how the weather was, and it couldn't manage that. The common response is to check the TV, and ZOE will offer to turn on the TV for you. This works, but sort of defeats the point of having a virtual assistant at all.
One upside, I thought for a moment she'd given us a free Yacht Club upgrade…
A Lazy Afternoon
We managed to grab a quick lunch in the buffet before the muster drill. I'll cover the buffet later in the cruise, though from what I saw the food was reasonably good and the layout fairly sensible. Buffet stations (at least for lunch) were repeated several times around the buffet which should help reduce queues. We discovered that they make their own mozzarella on the ship which is quite unique - we tried it and it was pretty tasty!
There is a bar at the front of the buffet where you can get the non-included drinks, and waters are roaming to provide table service too.
I don't normally like buffets as I find them quite chaotic. This didn't seem too bad, probably on account of us going for quite a late lunch when everyone else had eaten.
We spent the rest of the day between the lounge having drinks, and our stateroom to unpack and change for dinner. I always like to enjoy the lounge on a ship that's high up and at the front of the ship. Unfortunately MSC use that prime location for Yacht Club guests but they do have an alternative around midships for everyone else. The Sky Lounge is a lovely bar overlooking the pool, with panoramic views out to the port and starboard too. It's as good as you're going to get without booking a Yacht Club stateroom and having the joy of the Top Sail lounge.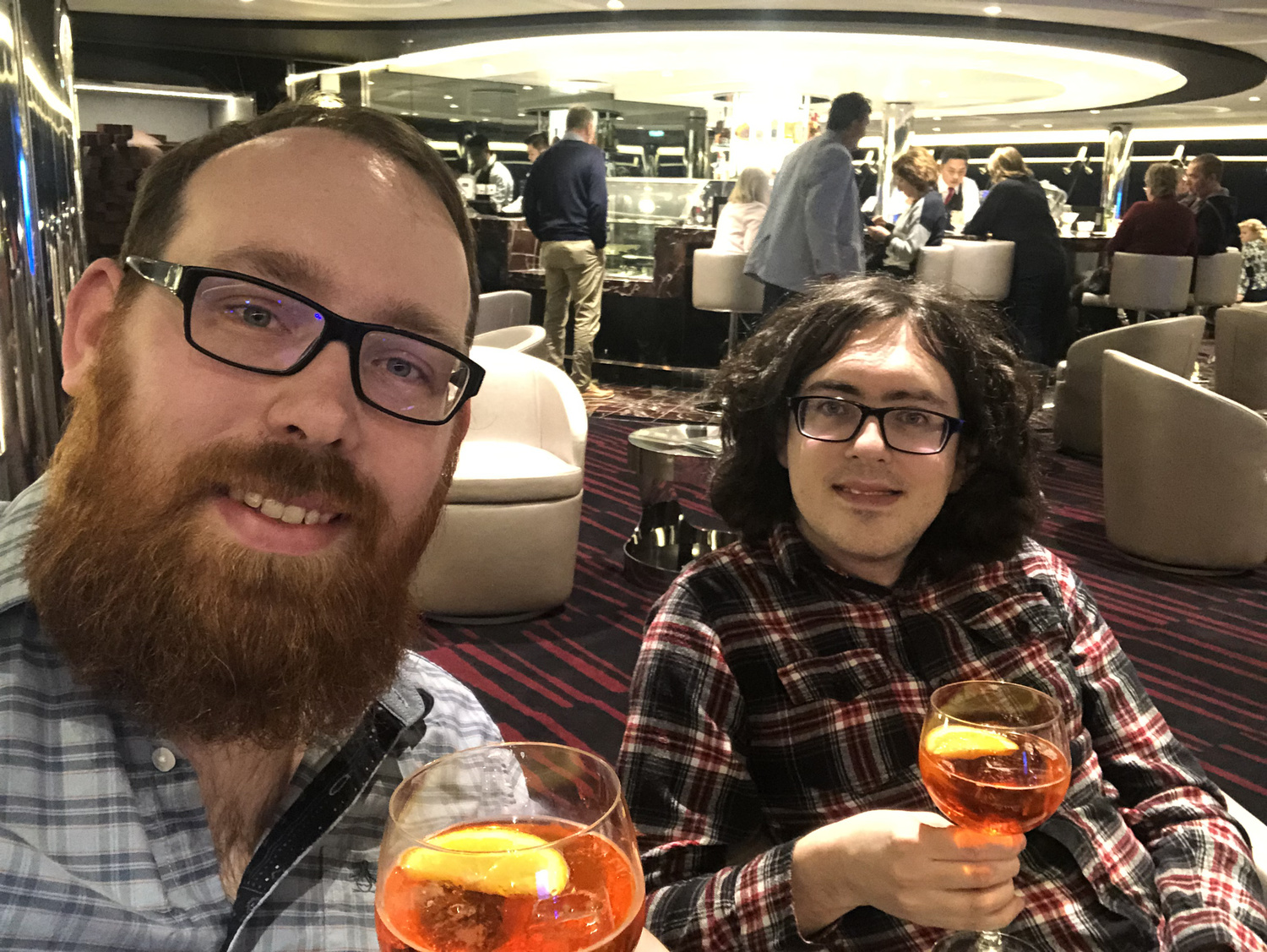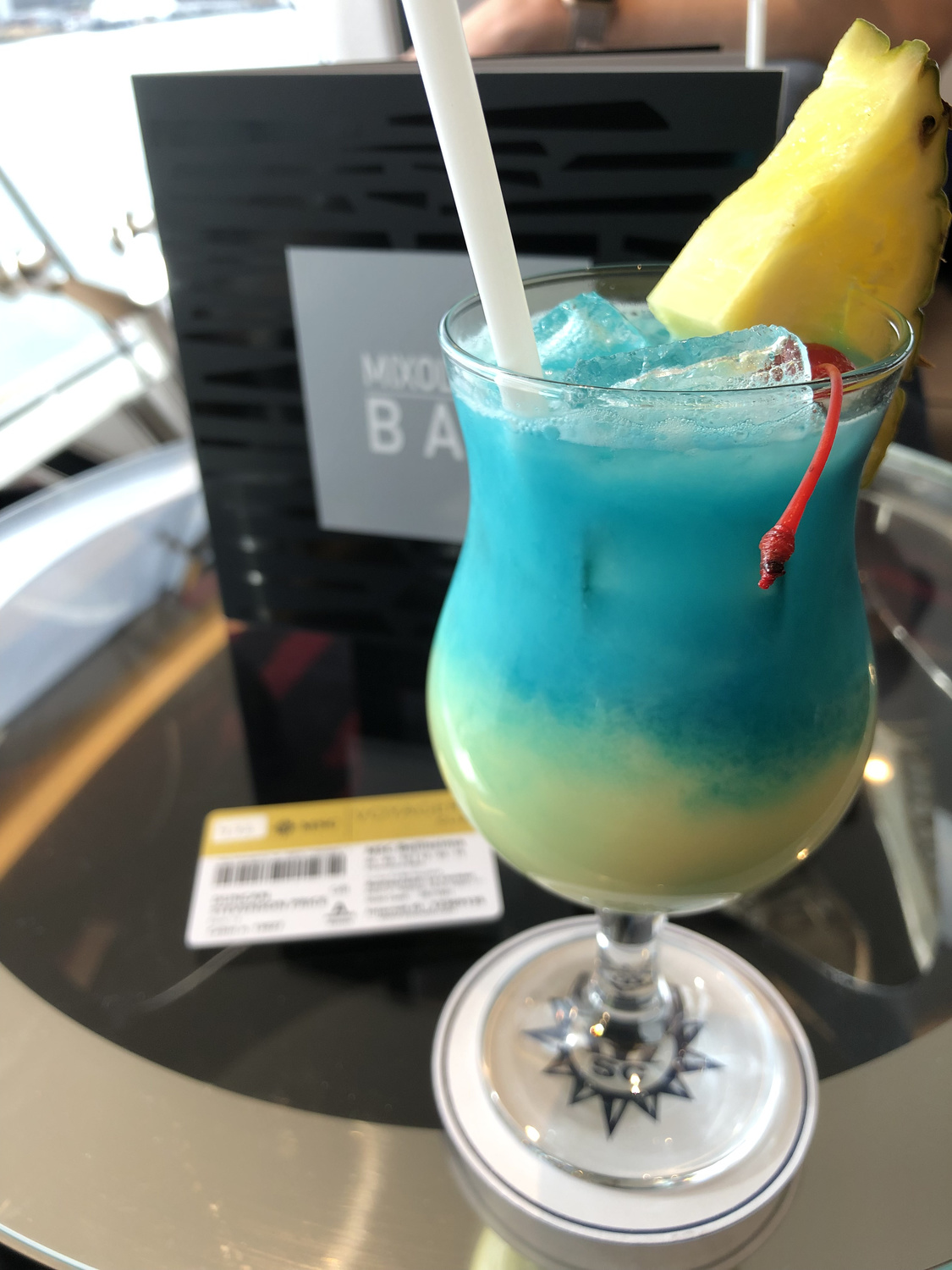 We had the pleasure of meeting TopDeck (a member of the CruiseDot forum) in the Sky Lounge, and had fun comparing notes about our experience so far.
There was a little drama with some very slow service, and this seemed to be a technology problem. Staff seem to be using new Panasonic tablet-like devices to take orders and charge customers cards, and this seems to be slowing everything down. This is very unusual as every time I've visited a bar outside of Yacht Club on other MSC ships, the service has been exceptionally fast. I suspect MSC haven't given the poor staff enough training, or long enough to become accustomed to the new system. I expect this will improve over time (and hopefully over the length of this cruise!)
Dinner: Le Cerisier
Earlier in the day we managed to change our dinner reservation to a later time and this didn't seem to be a problem at all. Our new dinner time is 21:00 and we have a nice table for two.
The restaurant is split in two which makes the dining room feel smaller and less impressive than on other ships. It is on a single level and actually feels quite dated in comparison to the rest of the ship which is jaw-droppingly modern and elegant. There seems to be an abundance of tables for two available, and these are set up fairly close together in rows. This makes it easy to create tables for four where required, and we saw this happen right next to us. It's a nice level of versatility to have.
The service here was hindered by the tablet devices again, but the staff were really working hard to work around it. Wine lists were already on the table before we started, and bread was soon served. It was nice to see oil and vinegar available which I always enjoyed in Yacht Club.
Tonight we both had the ceviche to start. This was a little bland, and quite odd - the fish seemed quite well cooked which is strange for a ceviche where the seafood should be fairly raw and cured in citrus.
My main course was pasta with a seafood sauce, and this was excellent. I think pasta is a safe choice with MSC as they always seem to do a great job of those dishes. Alex went for the veal which was served with potatoes and a rosemary sauce. It was quite nice, though not outstanding. Definitely not as good as the pasta.
For dessert I went for the sachertorte which sounded delicious and turned out to be just OK. It had a lovely apricot layer in the middle, but the sponge itself was a little dry and not as rich as I might have expected. Alex went for the apple crumble which we were sure would be the worse of the two options, but it turned out to be really nice!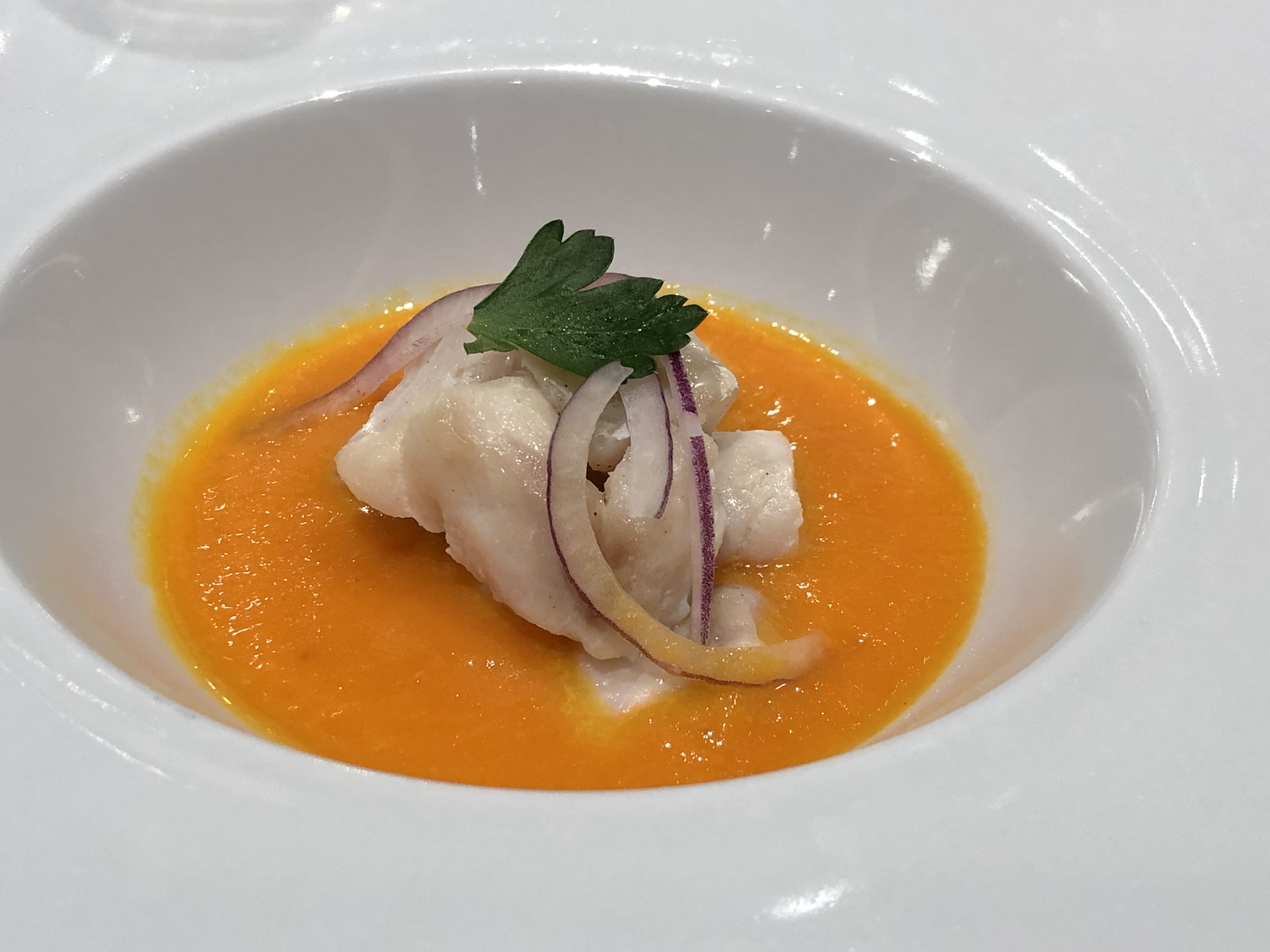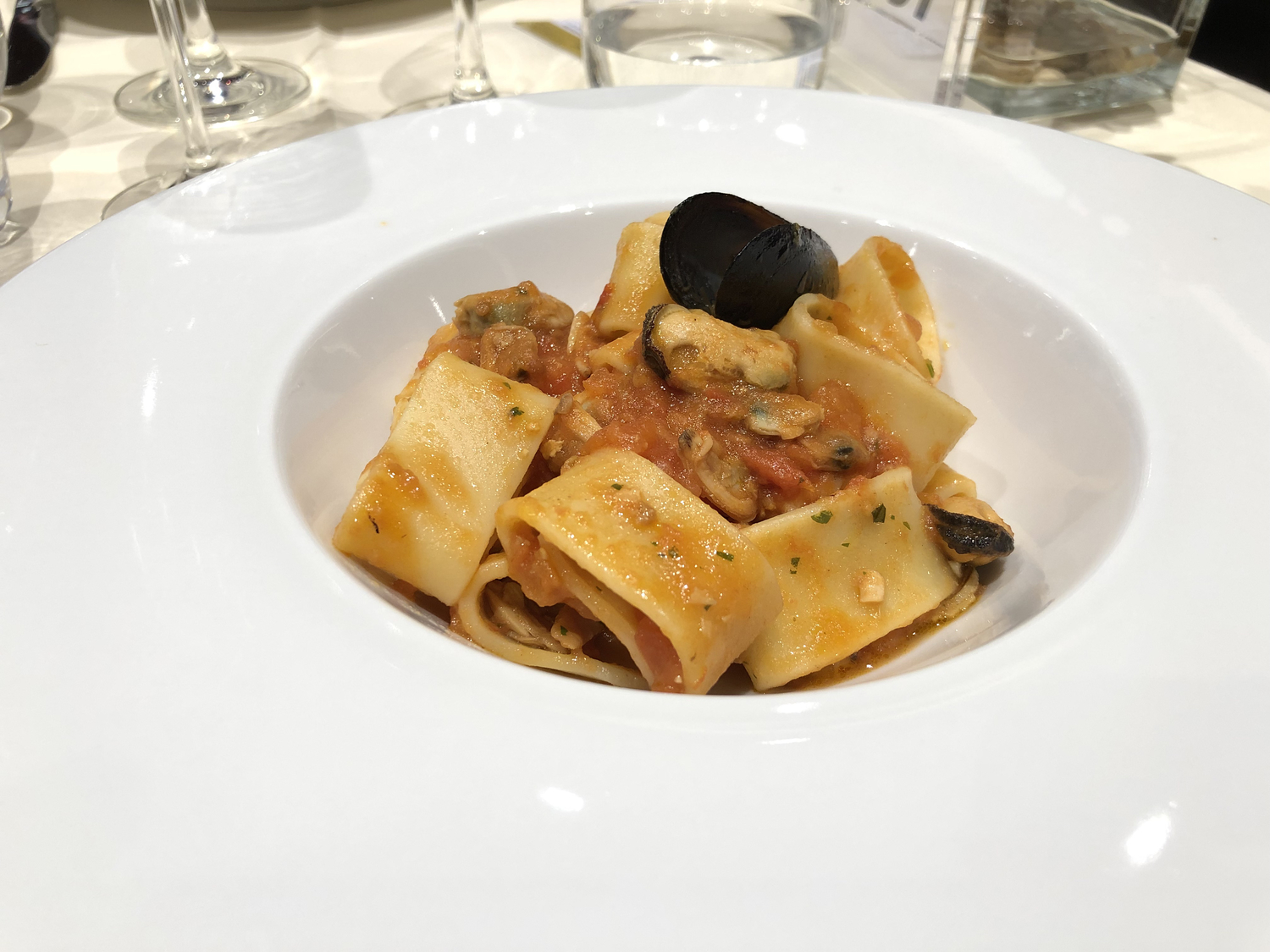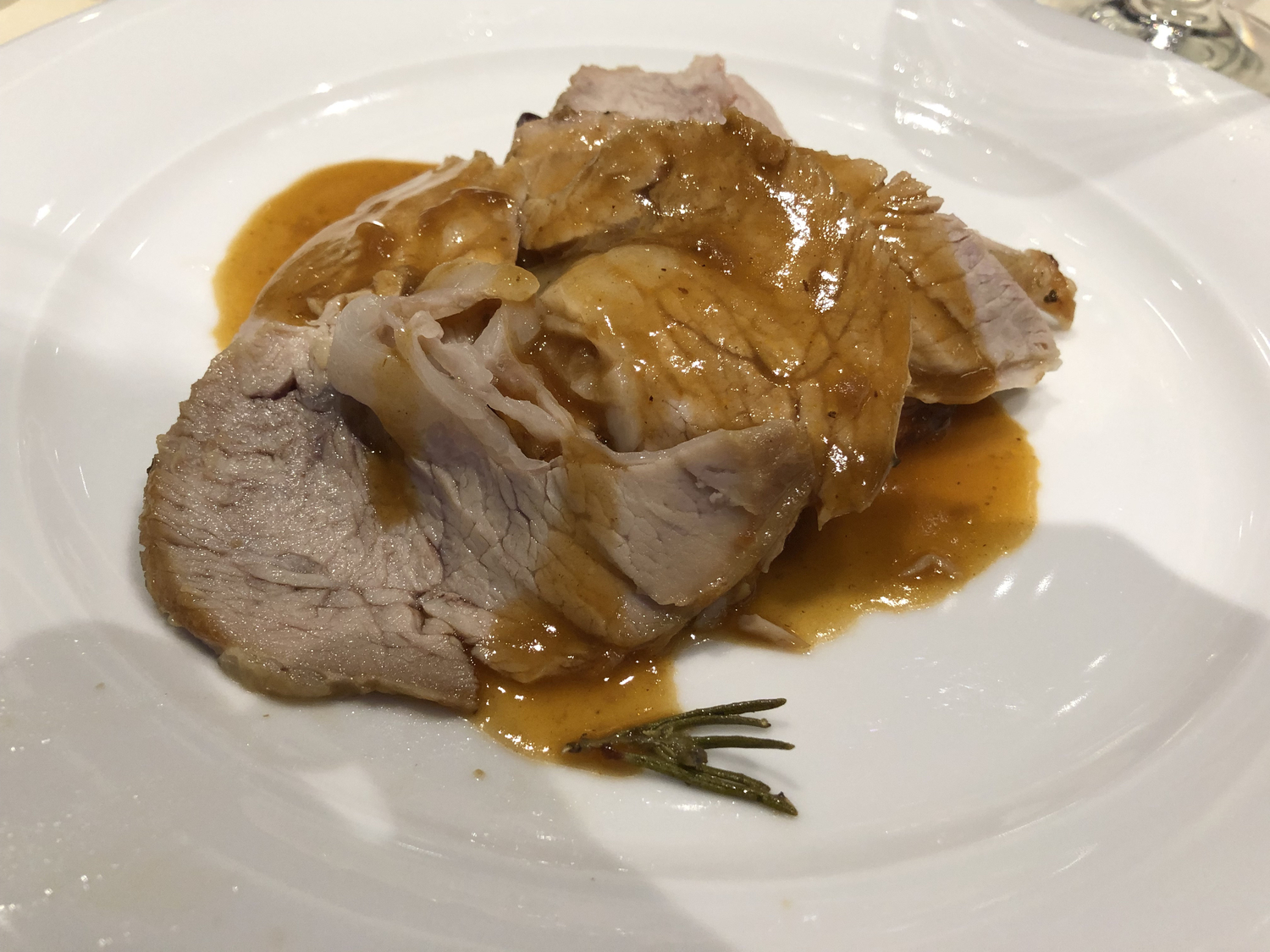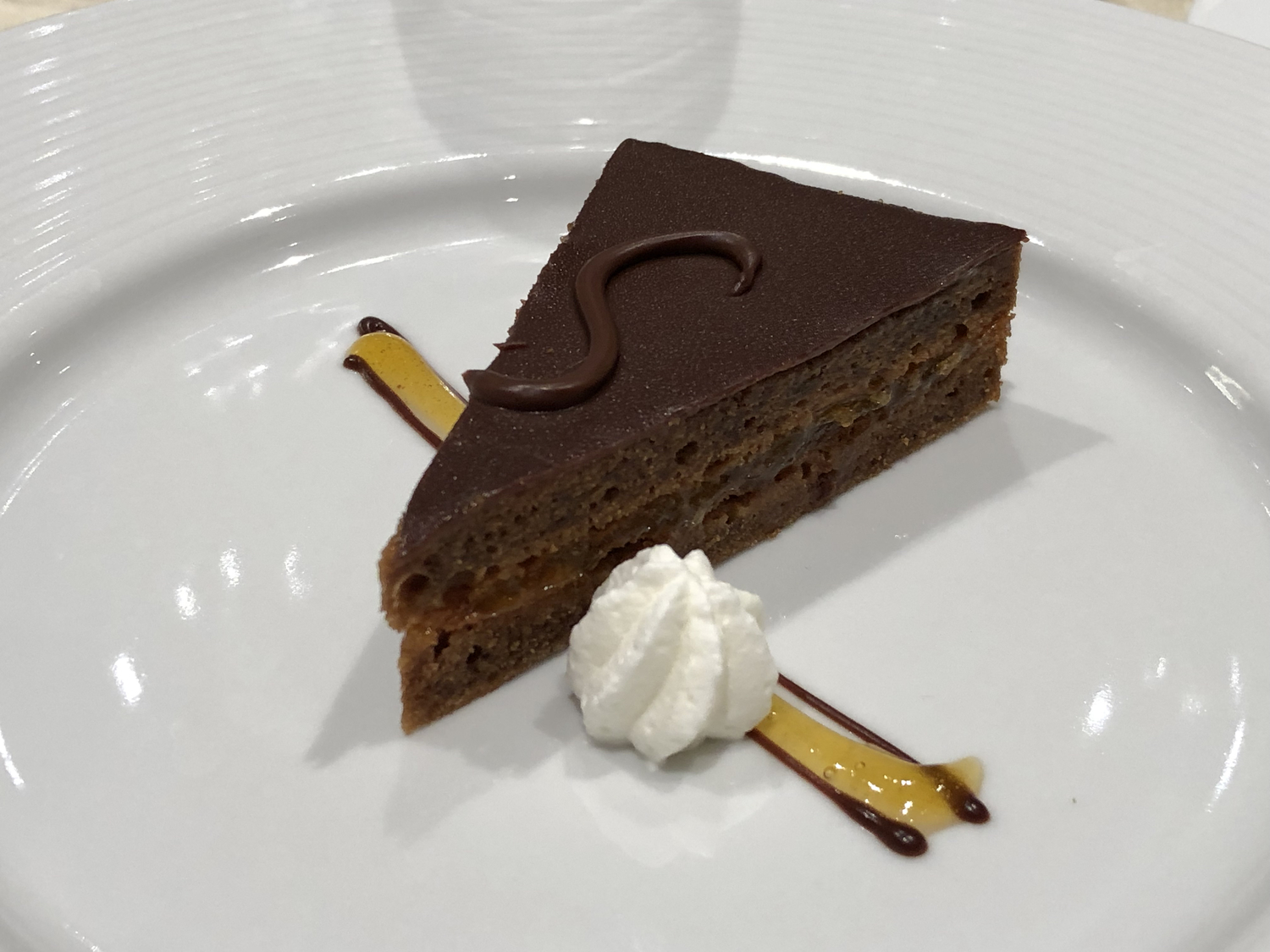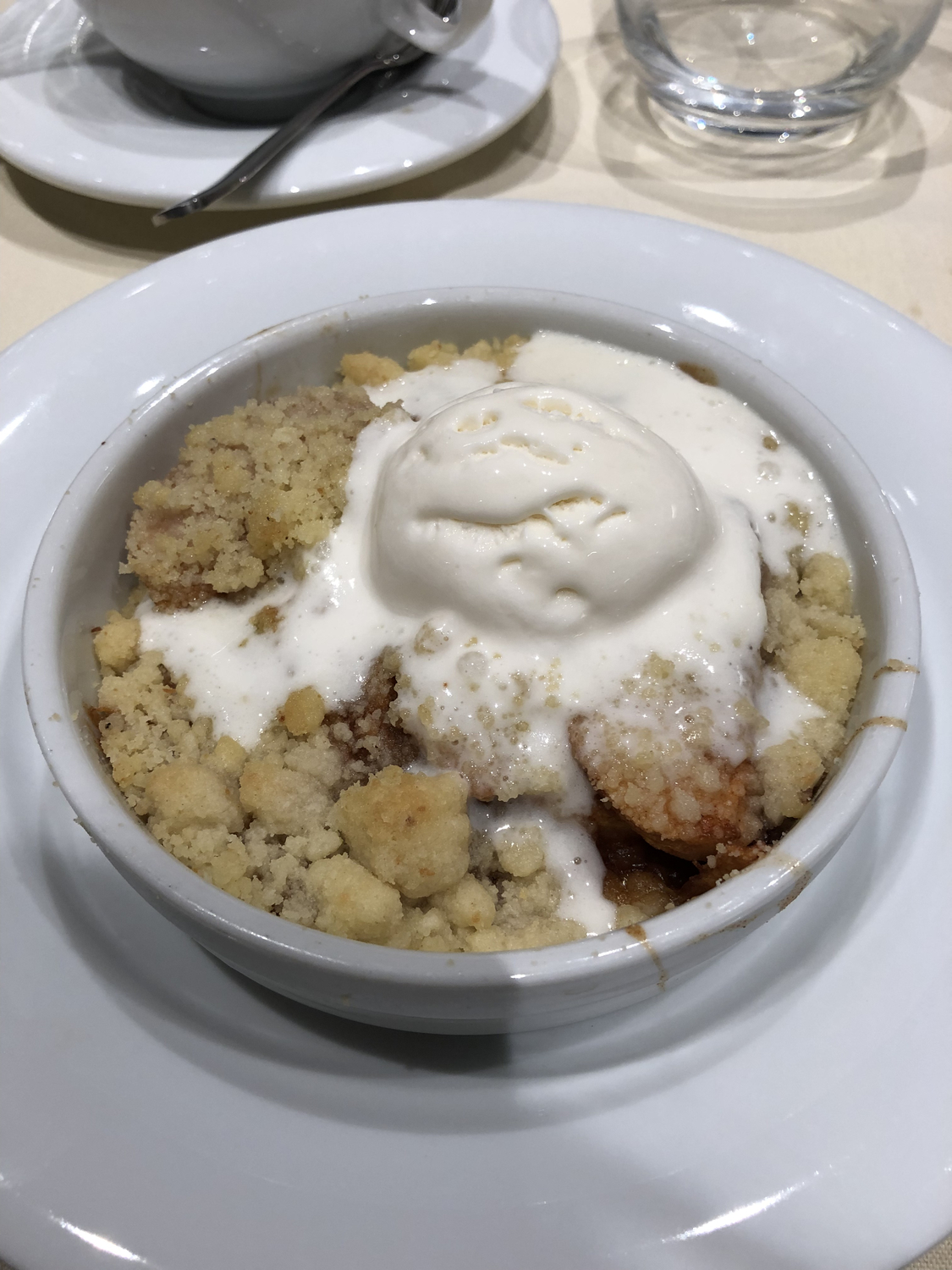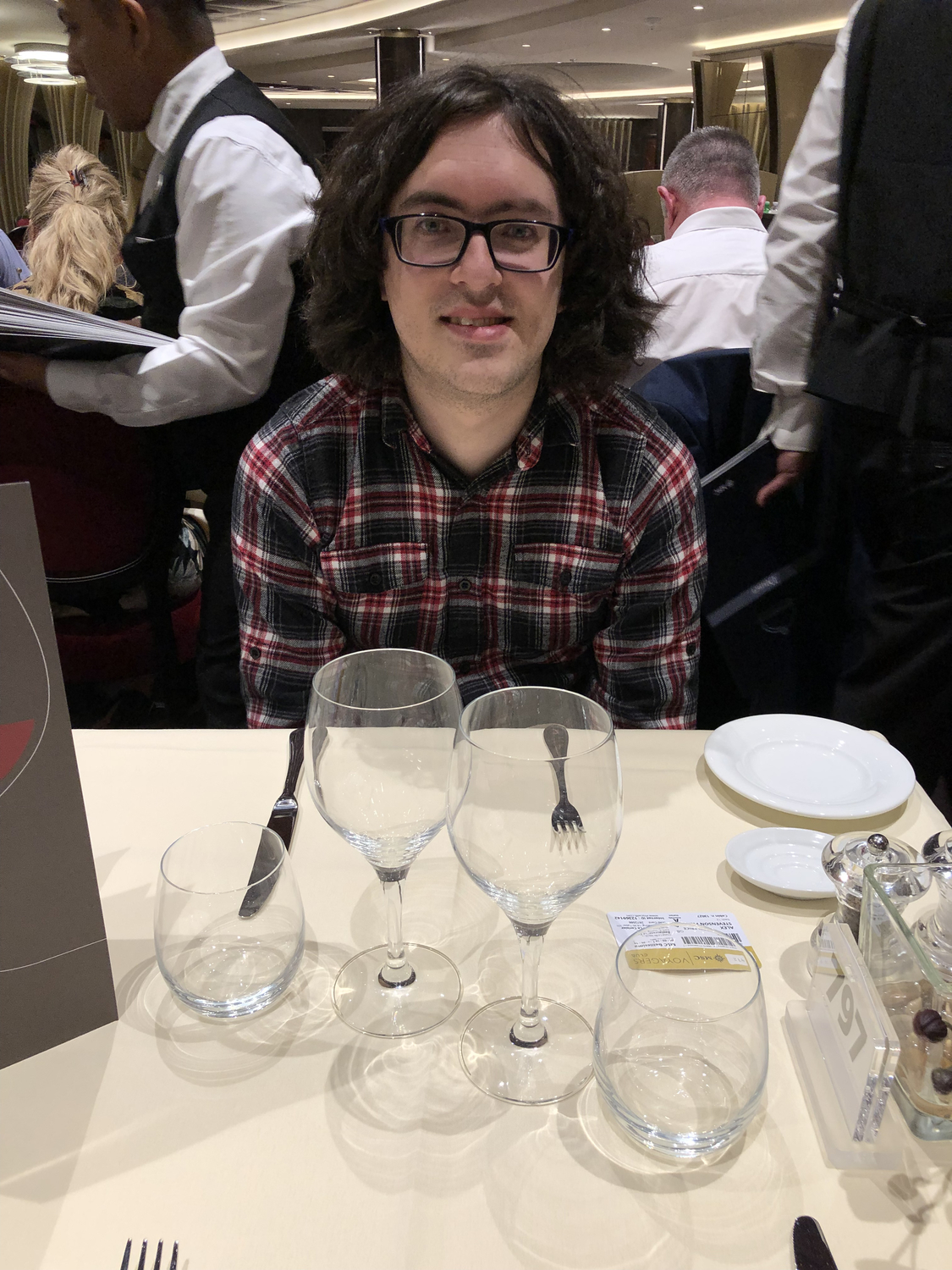 Until Tomorrow
We got back to the stateroom after dinner with a nightcap in hand ready to finish my blog. We might head out again afterwords, but after an early start and a busy day I might just call it a night! You'll have to tune in tomorrow to find out. 😉