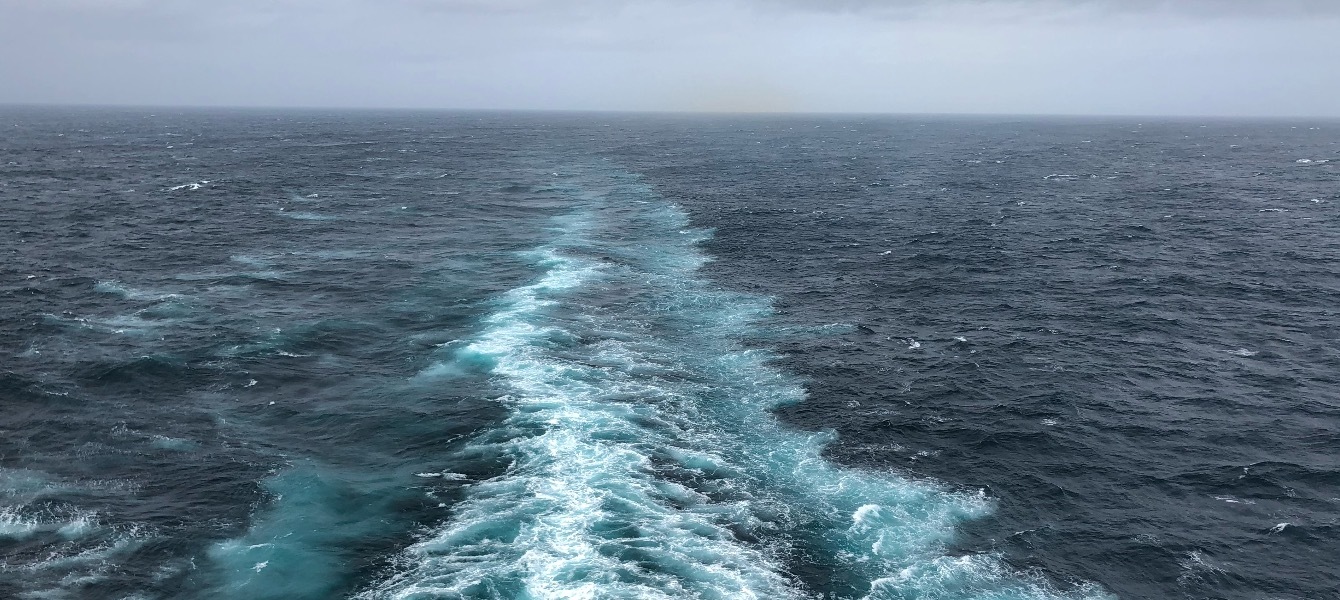 We've hit some rough seas which resulted in a slow start and a lazy day. I've taken the time to write an illustrated review of our inside stateroom with all of its modern touches. We also tried our first theatre show tonight, and had a very low-key evening as the rough seas get to Alex. A change of itinerary is also announced.
Last night we started to feel the motion of the ocean during dinner. It's been a while since we've had any notable roughness on a cruise, and Alex is especially sensitive. Unfortunately this morning things hadn't calmed down any, and even I felt a little sensitive which is unusual for me.
I'm confident that the inside cabin makes things worse, so I eventually ventured out at 10:30 to grab some breakfast from the buffet to bring back to the cabin. (Bear in mind the clocks also went forward so we lost an hour of sleep last night.)
I brought back some pastries and fruit, along with a bottle of water and some juice, so we could have a nibble and hopefully feel better. The pastries are very good - there were a lot of other options but I was on a mission and didn't spend much time exploring.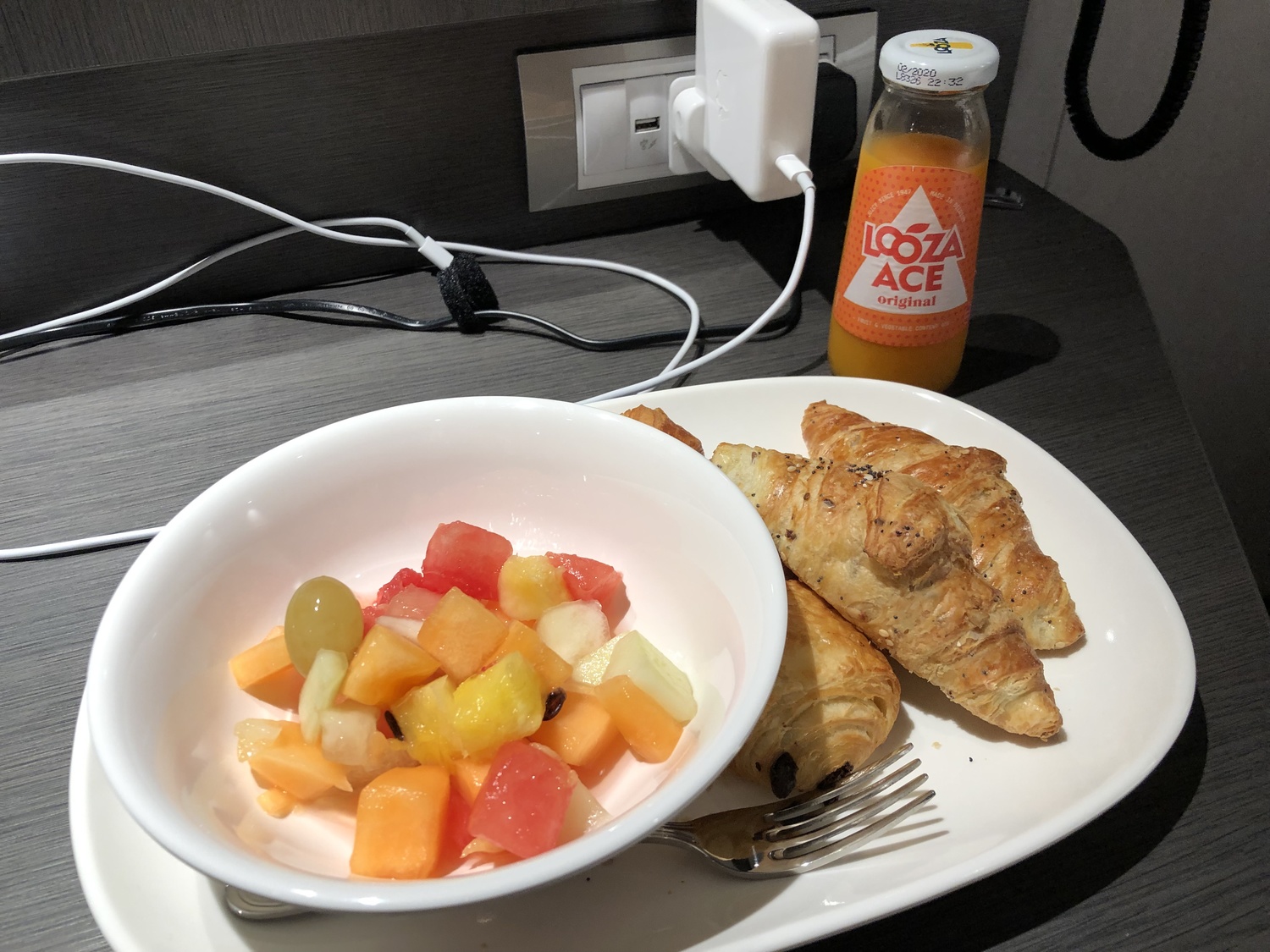 Inside Stateroom 13027
I thought I'd take the time on this lazy sea day to have a deep dive into the quirks and interesting features of our stateroom, with plenty of photos as you'd expect. One related thing to note is that your cabin number is printed on your cruise card. I've never seen this before, and it raises some security concerns if you happen to lose your card.
It feels more spacious than almost any stateroom I've sailed in before.
The inside stateroom feels incredibly spacious. In fact it feels more spacious than almost any stateroom I've sailed in before. At first we weren't sure how they'd managed it, but things soon became clear. There is very little storage space.
Storage is limited to a wardrobe with two small drawers in the bottom of one side, and a shelf above the hanging rail. This is a lot less than on any other ship I've sailed on, and explains how the cabin feels so spacious. That said, it's not just the lack of storage that contributed to this. They've been very clever with the table and chair meaning these aren't left out all of the time. The little stool fits neatly under the table, which in turn fits neatly under the desk. It's not comfortable for any length of time, but then you aren't likely to want to spend any length of time in an internal stateroom.
The desk features a small drawer with a hairdryer in it. The ice bucket and a holder for glasses is mounted on the side of the wardrobe, raised off the desk. This means that it doesn't take up any valuable desk space. The TV is wall mounted opposite the bed, and has storage for the remote control and documents / paperwork below it. This, again, is a nice way of keeping your stateroom tidy and making it feel less cluttered.
There are a number of other modern touches which should be emulated by other cruise lines. Power is provided by two European sockets, and two US sockets both at the desk. This is fairly standard, but there is also a USB type-A charging port at the desk. The wall-mounted bedside lamps also have a USB type-A charging port on each of them, making it easy to charge your phone (or any other USB-powered device) by your bedside. This is something that I'd like to see everywhere! We were able to plug in our Qi wireless chargers on the bedside - very handy!
The beds themselves seem comfortable enough, and the pillows were nice and plump and fluffy. Of course they haven't been well-used yet, so time will tell how these hold up.
One nice feature of the ZOE virtual assistant is that she also works as a fairly competent bluetooth speaker. Don't expect mind-blowing sound, but it's better than most small portable speakers, and certainly better than the speaker in the average smartphone. We like to listen to quiet music at bedtime, so this was a surprising benefit of MSC's virtual assistant.
Interestingly, the stateroom has no life jackets. These are available at muster stations (and presumably elsewhere around the ship) but removing them from staterooms certainly saves some space.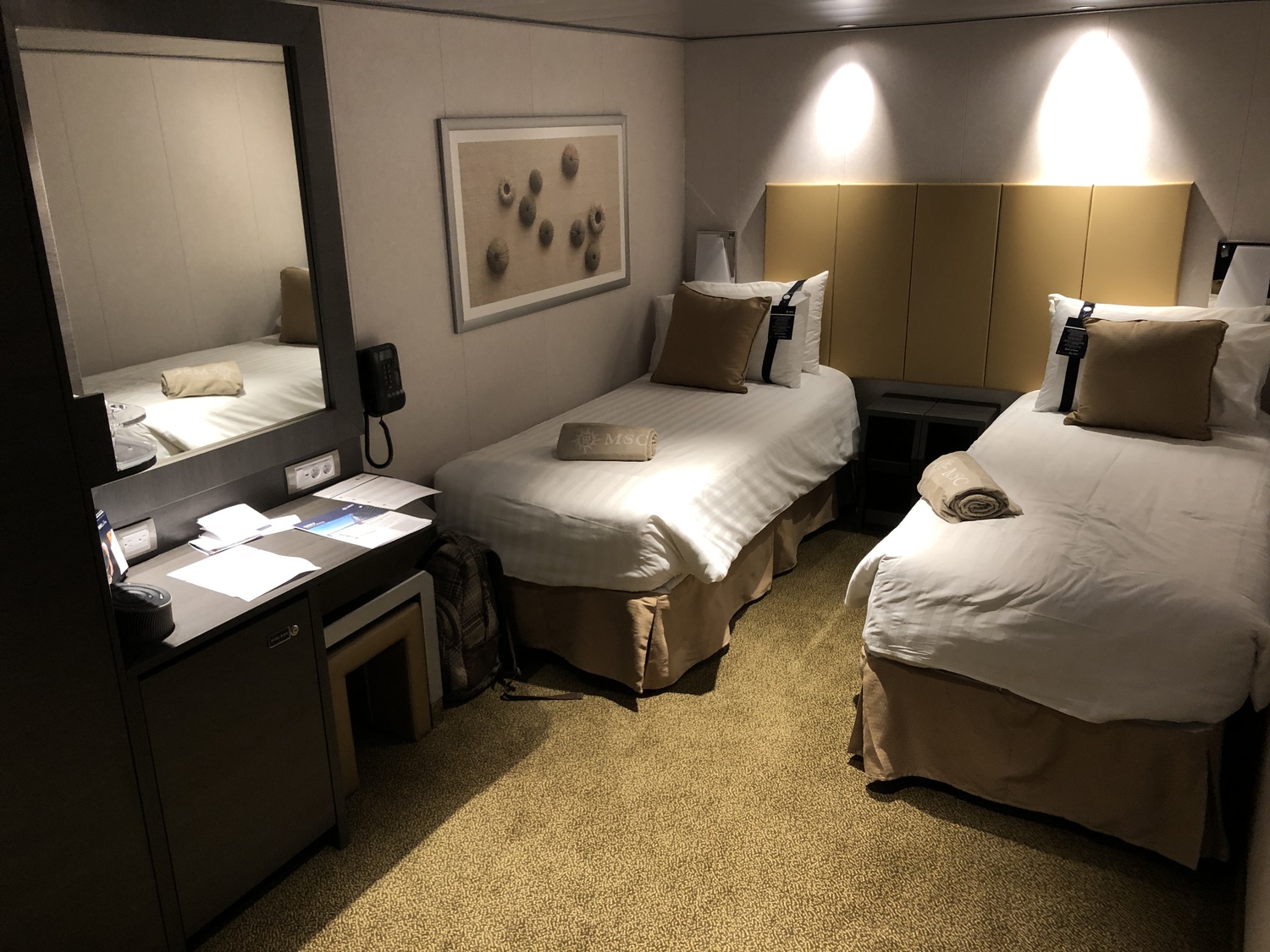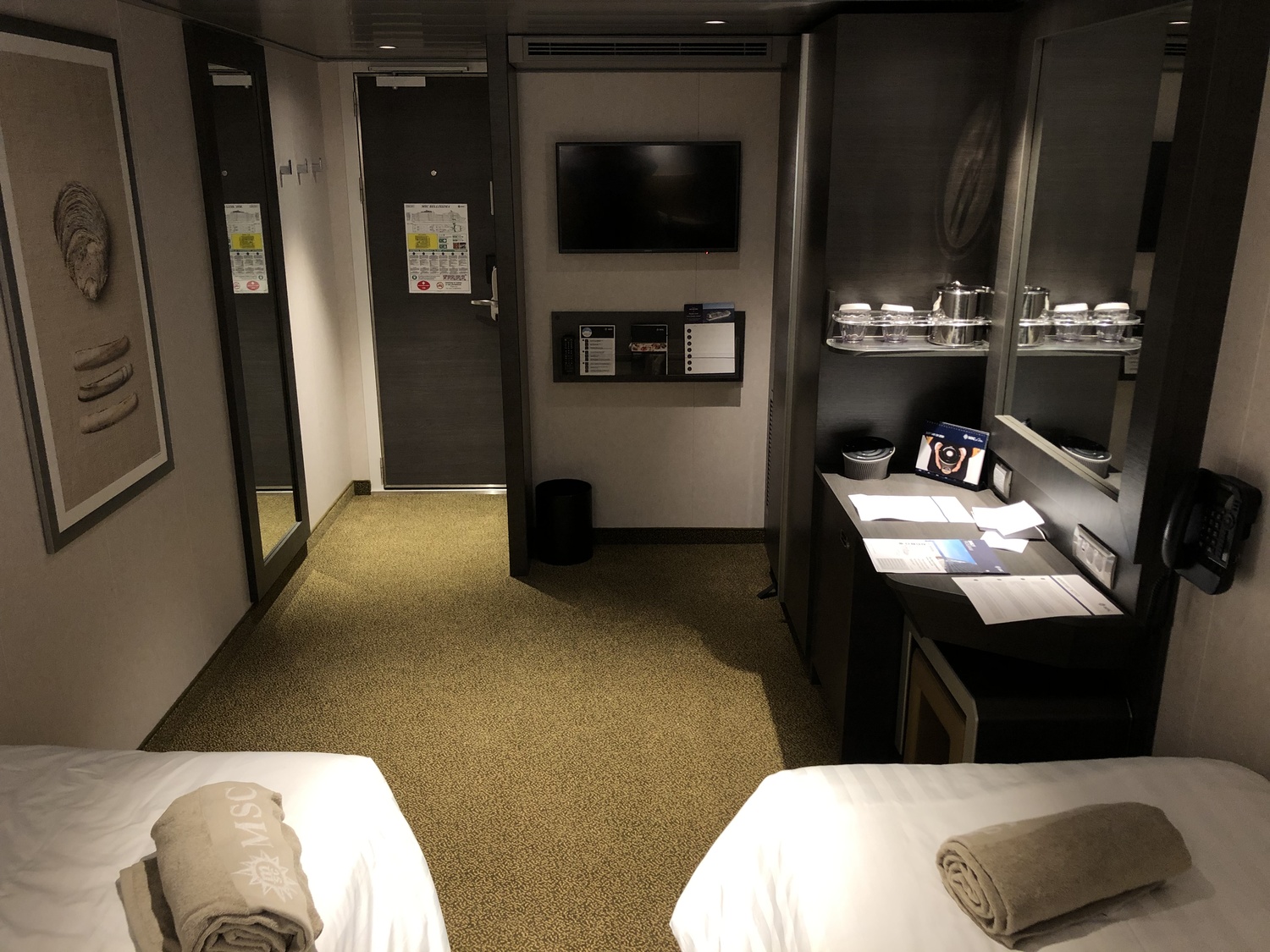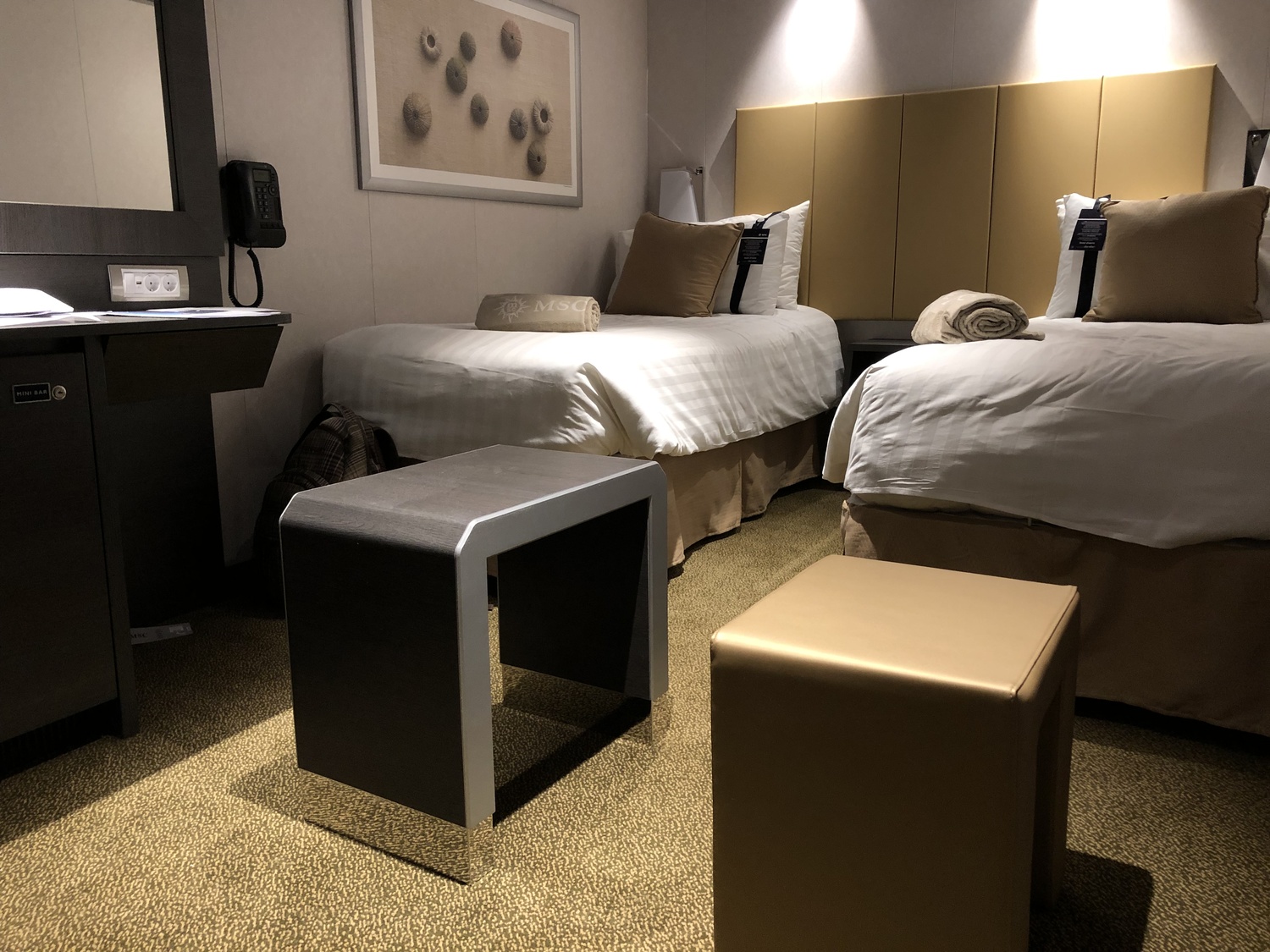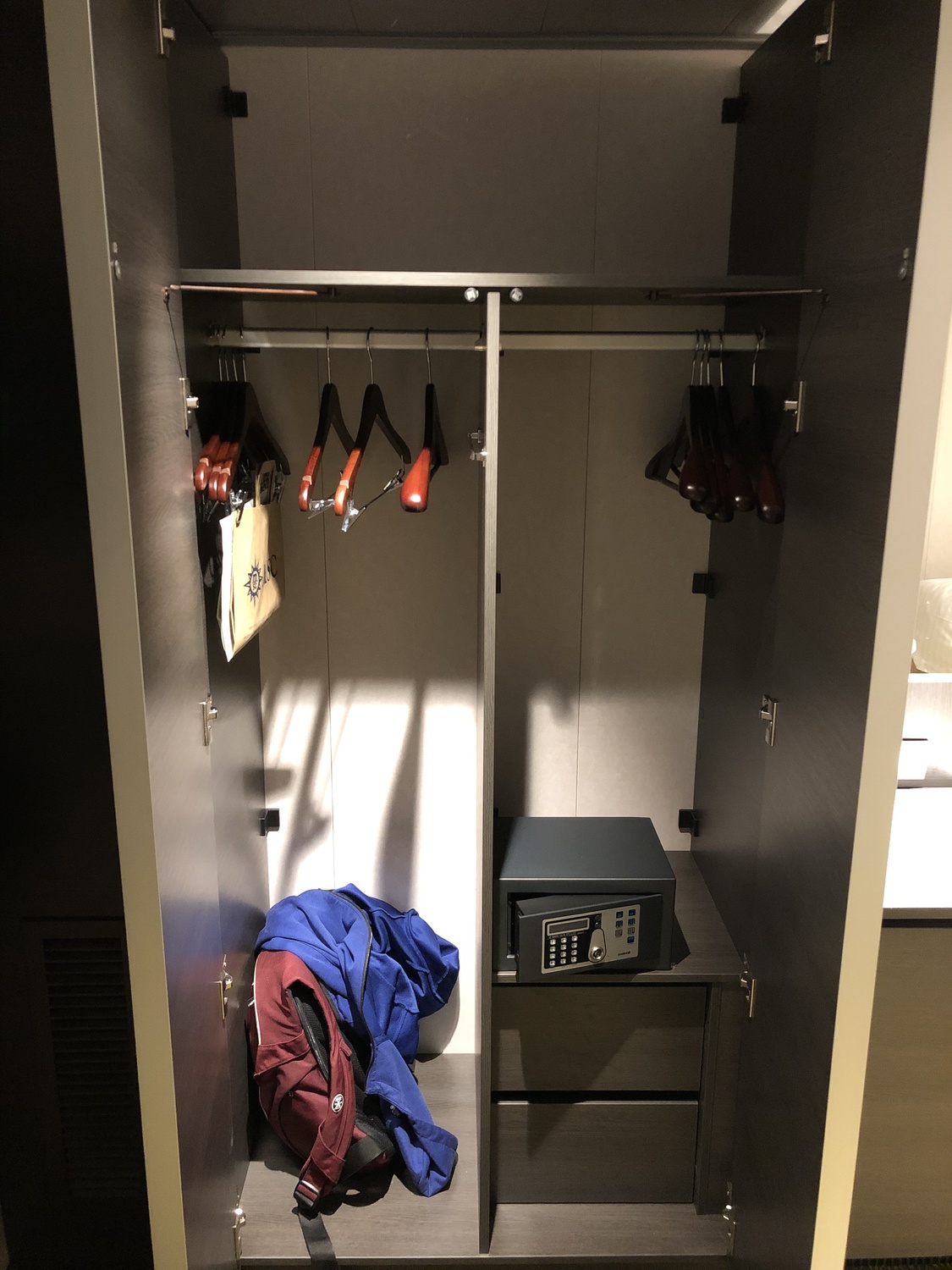 Bathroom
The bathroom on the ship is one of the best designed I've seen on any ship. What's interesting is that the the stateroom door is set back from the corridor, and the bathroom expands into the corridor. You'd be forgiven for thinking there was no bathroom at all while you were inside the stateroom!
There's a very spacious shower with glass door, featuring a shelf for any toiletries along with a wall-mounted dispenser for Med by MSC shampoo and body wash. I really like this stuff - it smells wonderful! I wasn't sure if non-Yacht Club cabins had toiletries provided, so we actually brought some Med by MSC body wash with us. Using dispensers seems like a great idea. You can still offer a nice product but in a more cost effective way. Avoiding the endless amounts of tiny bottles is also better for the environment.
The shower also boasts a little bar to rest your foot on while washing or shaving your legs, which is a thoughtful feature I first saw on Celebrity's Solstice Class ships.
The sink is a single, moulded construction making cleaning easy. It has some toothbrush holders as well as an integrated hand wash dispenser - very handy, and avoids the tiny wasteful hand soaps that almost never get fully used. The sink area also includes a shaver socket.
Towels provided were soft and fluffy, almost certainly a factor of them being brand new. Still, it was a nice touch of luxury, even if it doesn't last!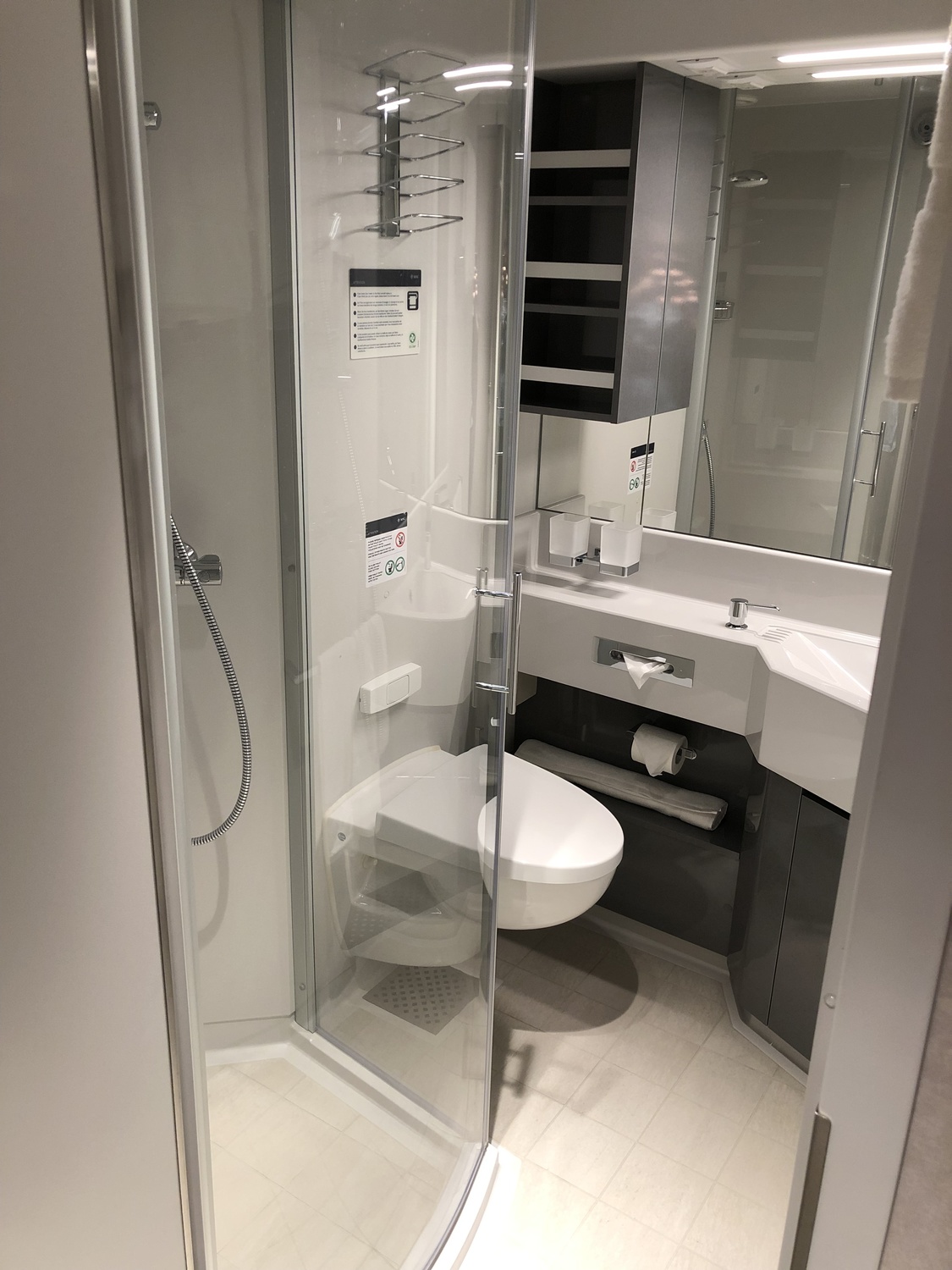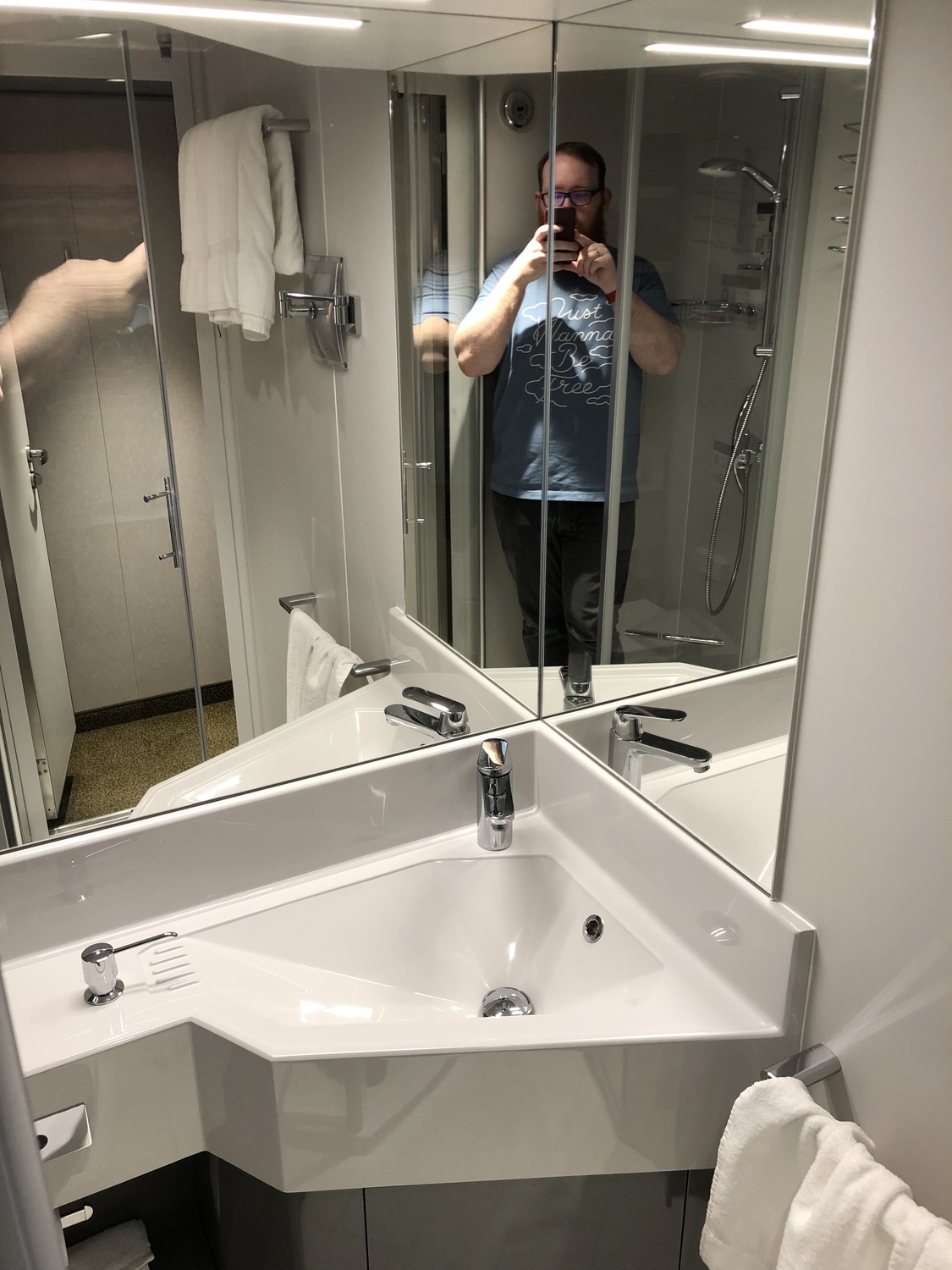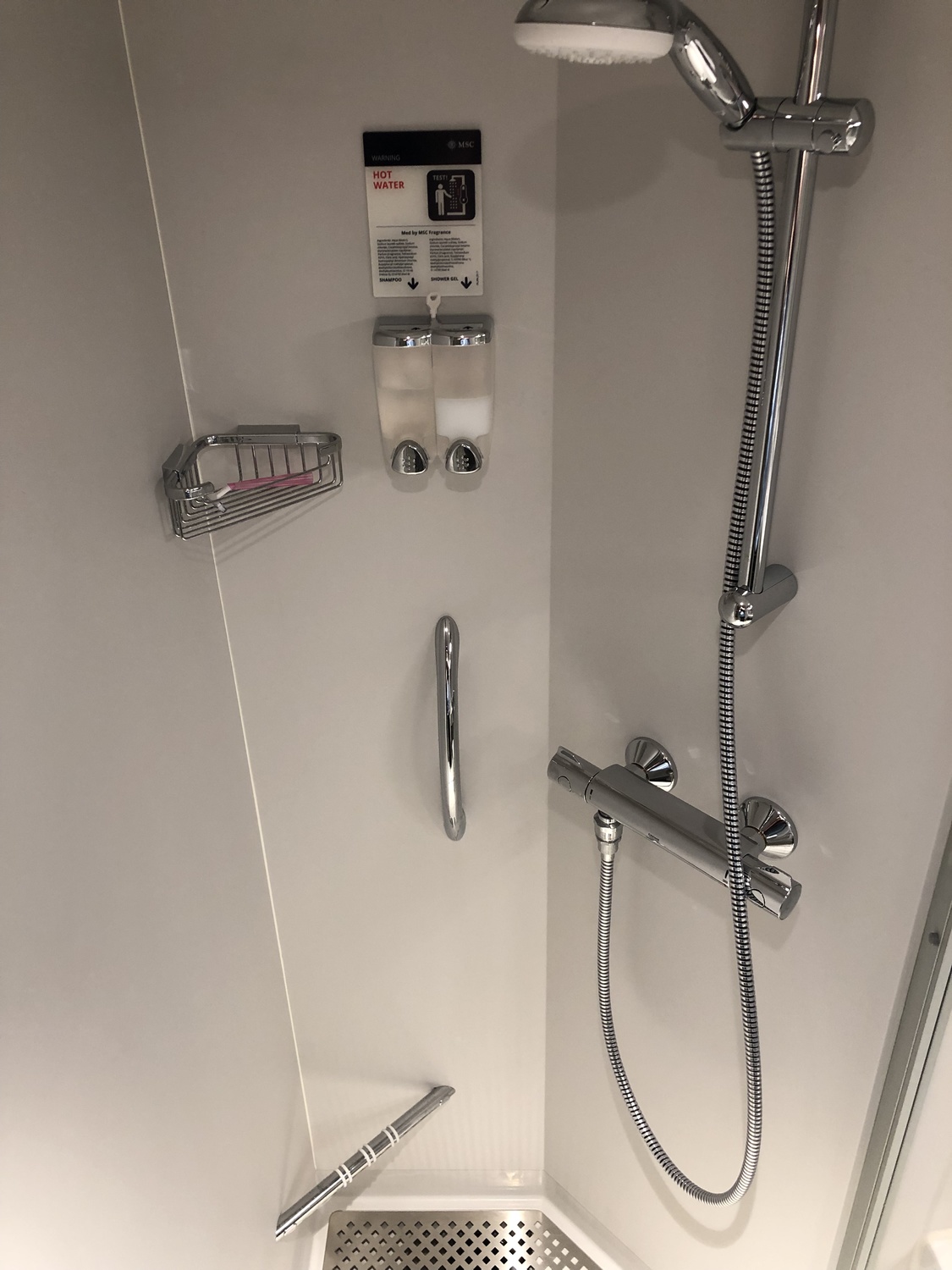 Beer, Blogging, and British Pubs
Seeing as we're having a lazy day, I've found a table outside the British pub called "Masters of the Sea", overlooking the bustling Galleria Bellissima. It's a great place to blog, with bar service and awesome people-watching. Alex is enjoying his book while I blog, and I think the movement is less pronounced here.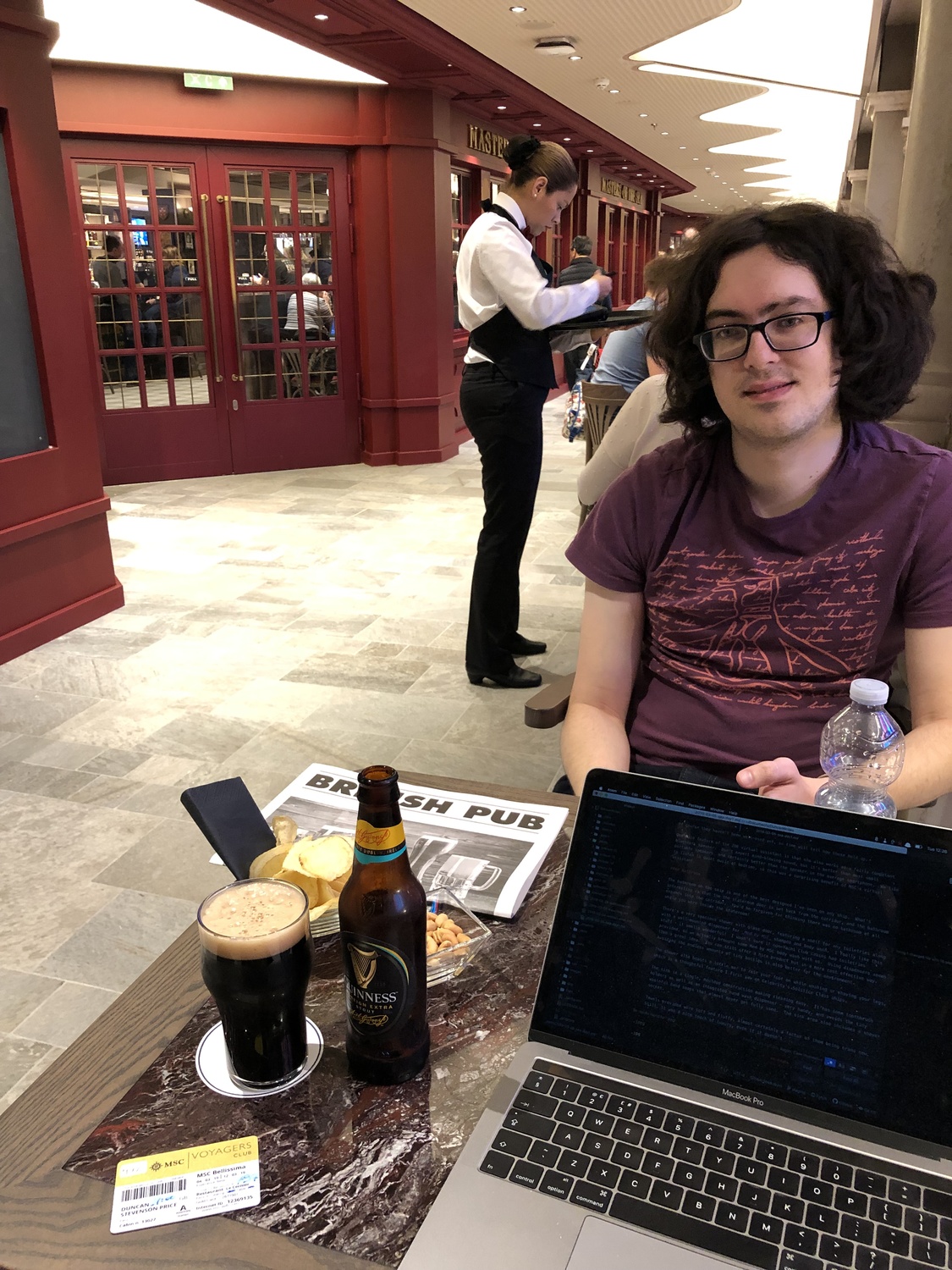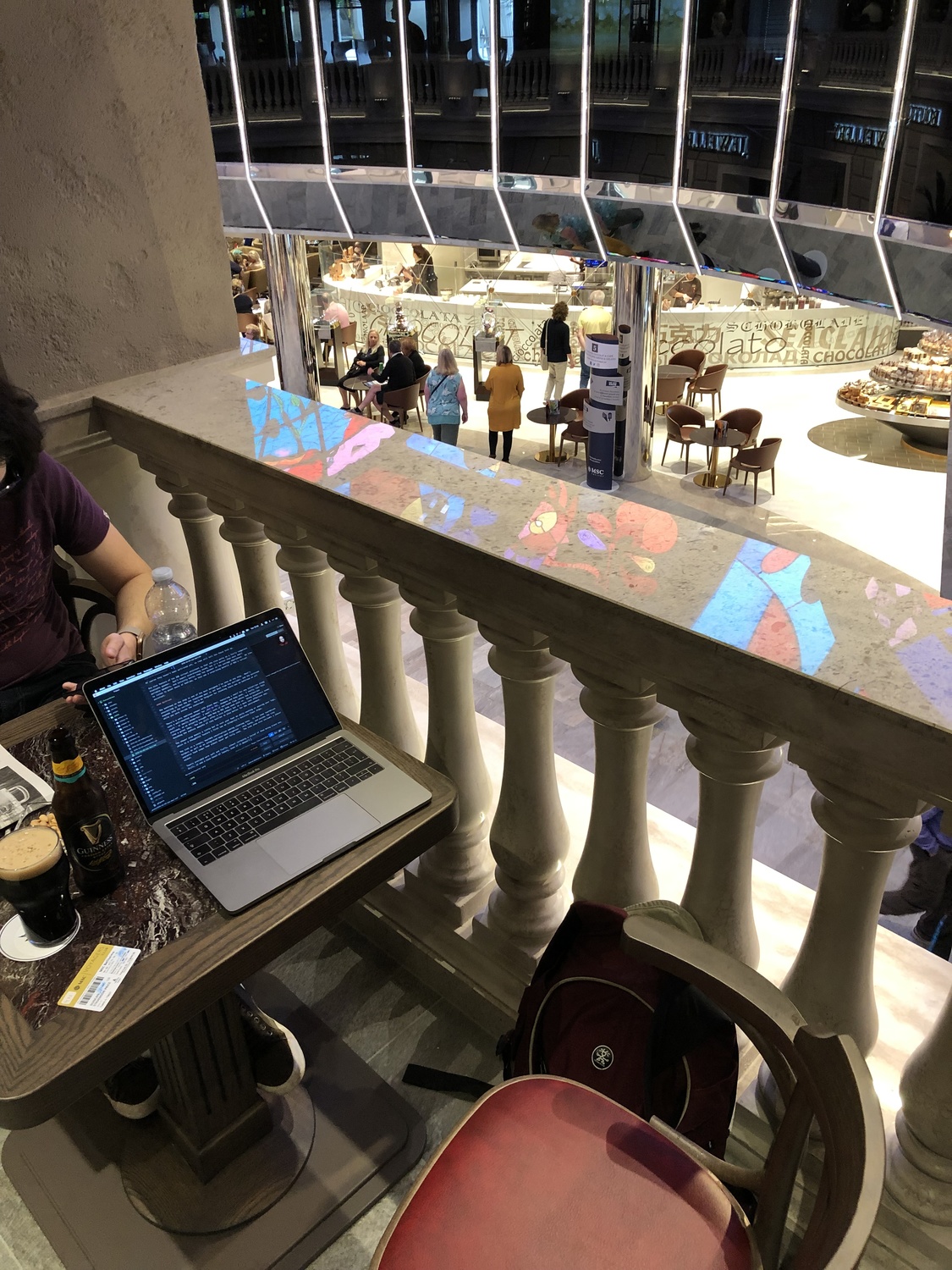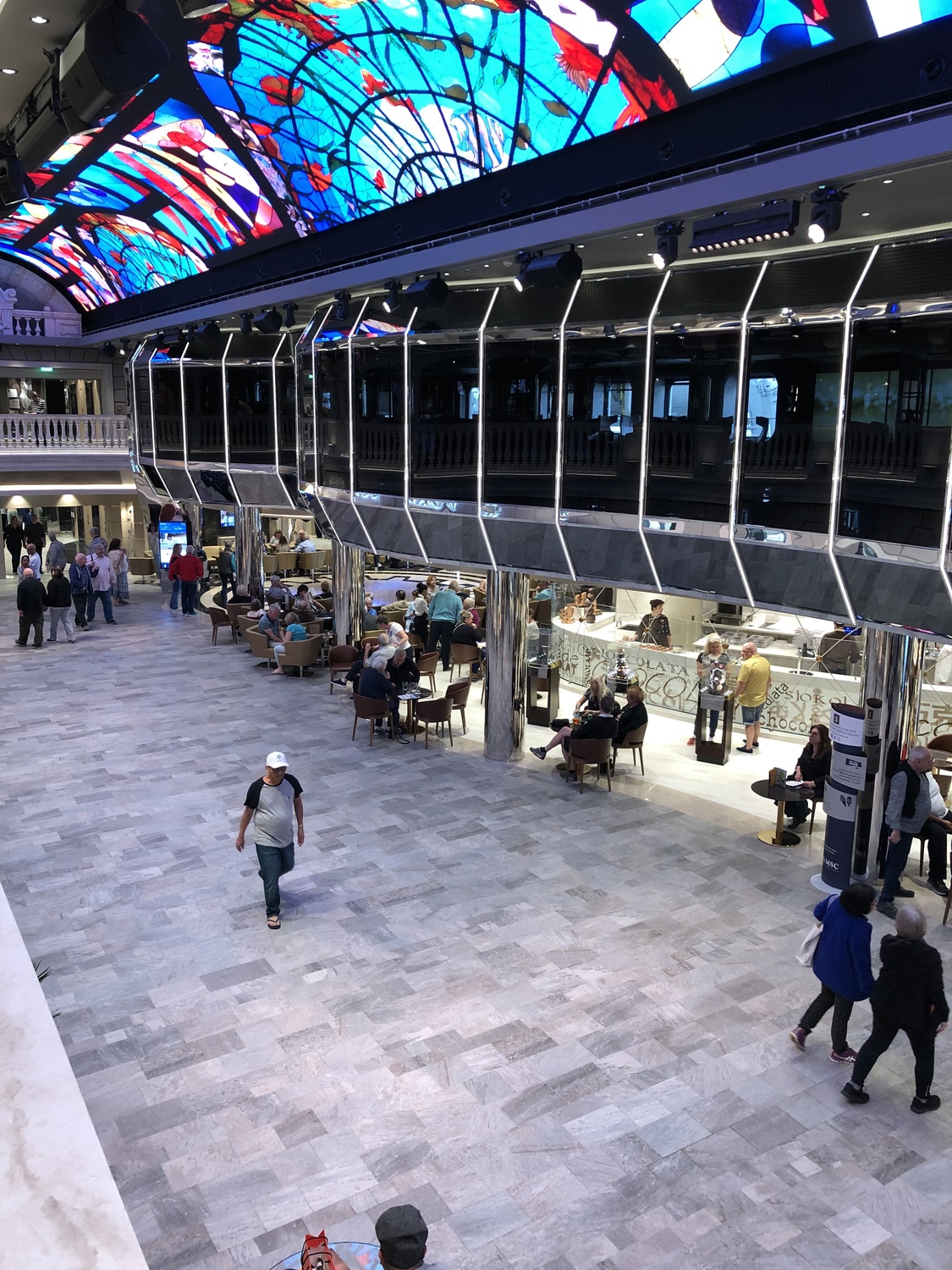 Galleria Bellissima is the long stretch in the middle of the ship featuring the beautiful ever-changing LED 'dome'. Many activities happen here, including dance classes. Overall it's a really awesome place to hang out and enjoy the atmosphere of the ship.
The pub itself is a fairly stereotypical / Disney-style version of a British/Irish pub. There are a lot of old advertising signs for beer, as well as little black and white photos of unidentified sports players. It's good fun, and clearly a popular choice with the predominantly British clientele.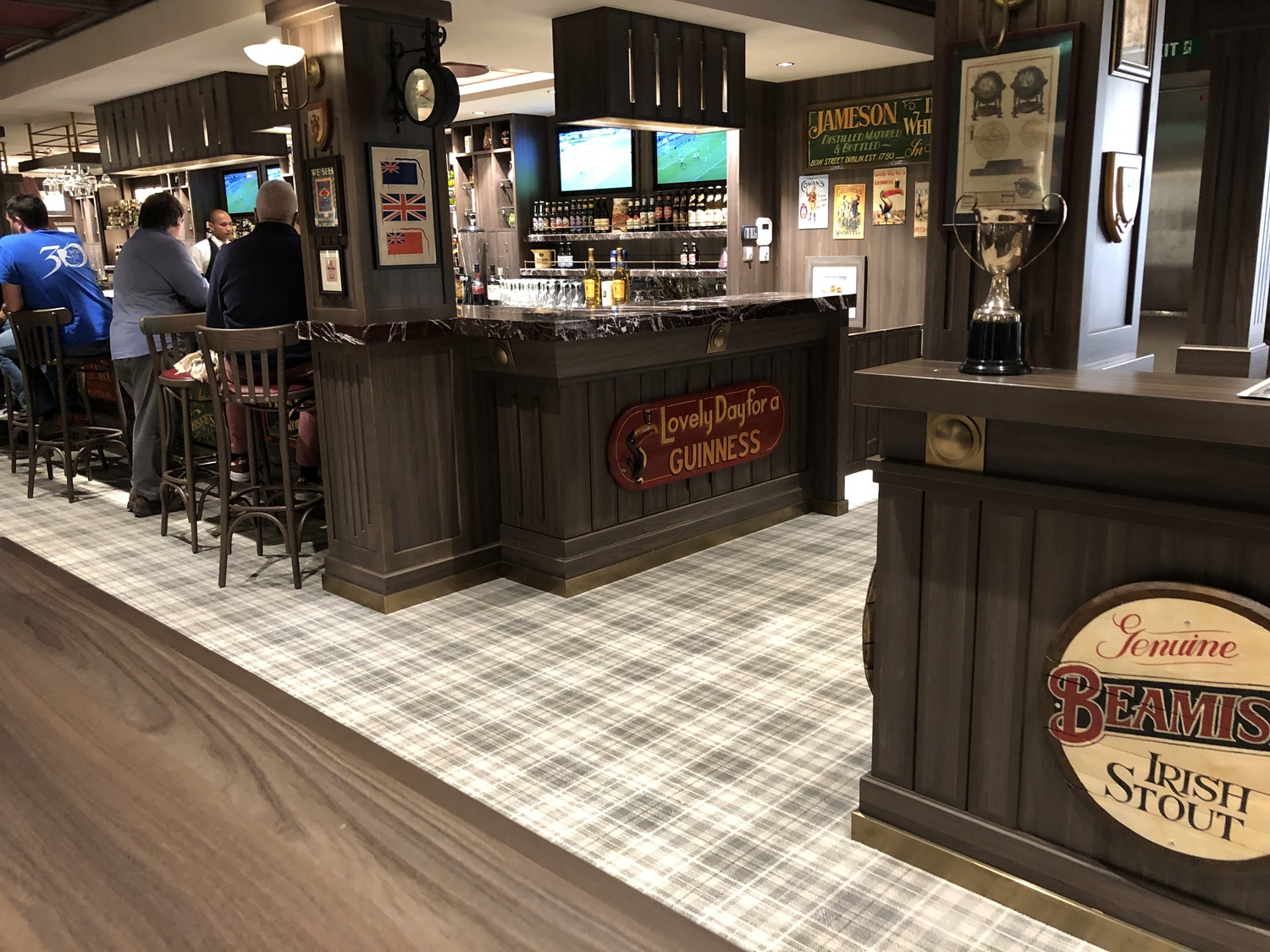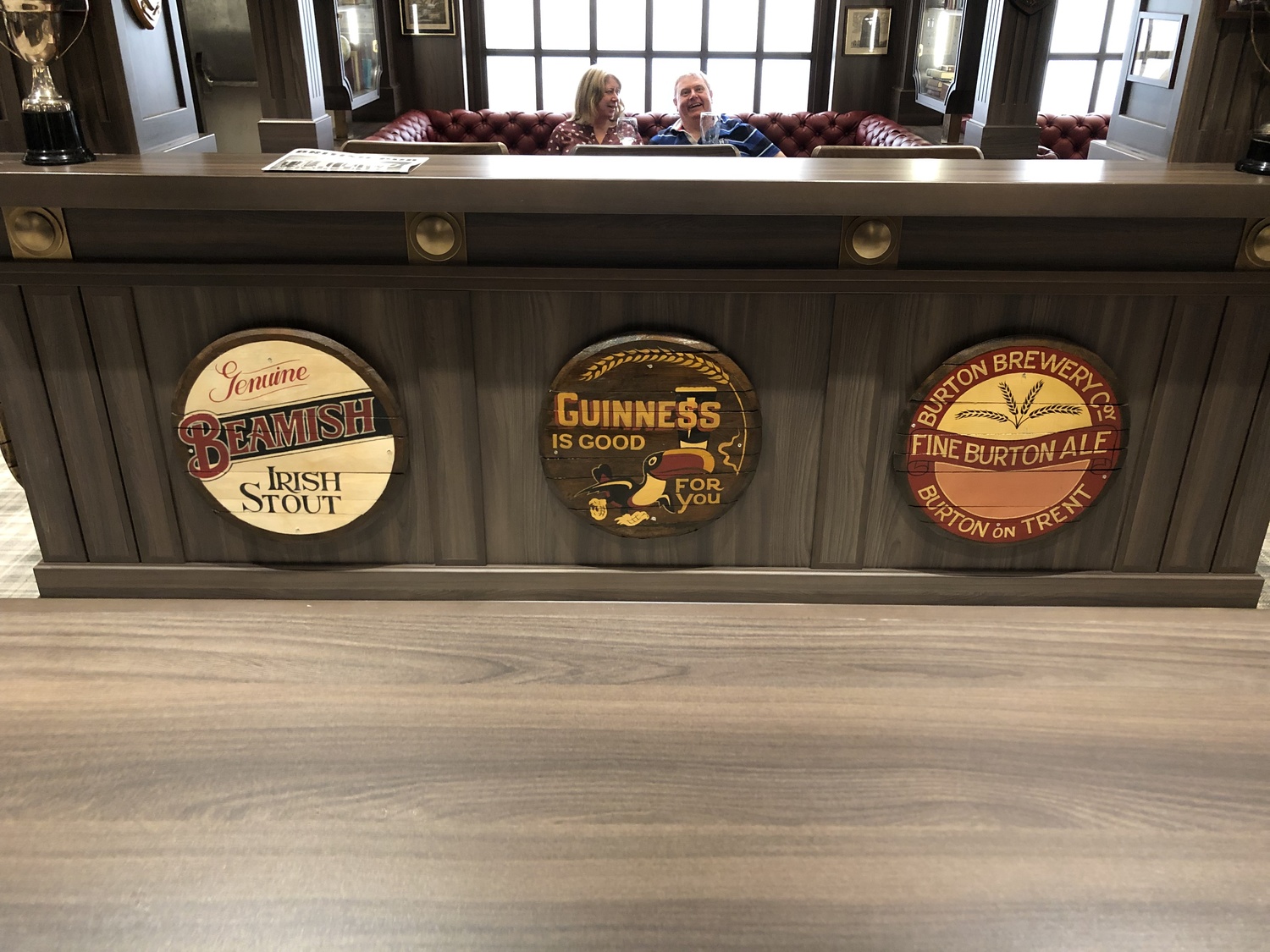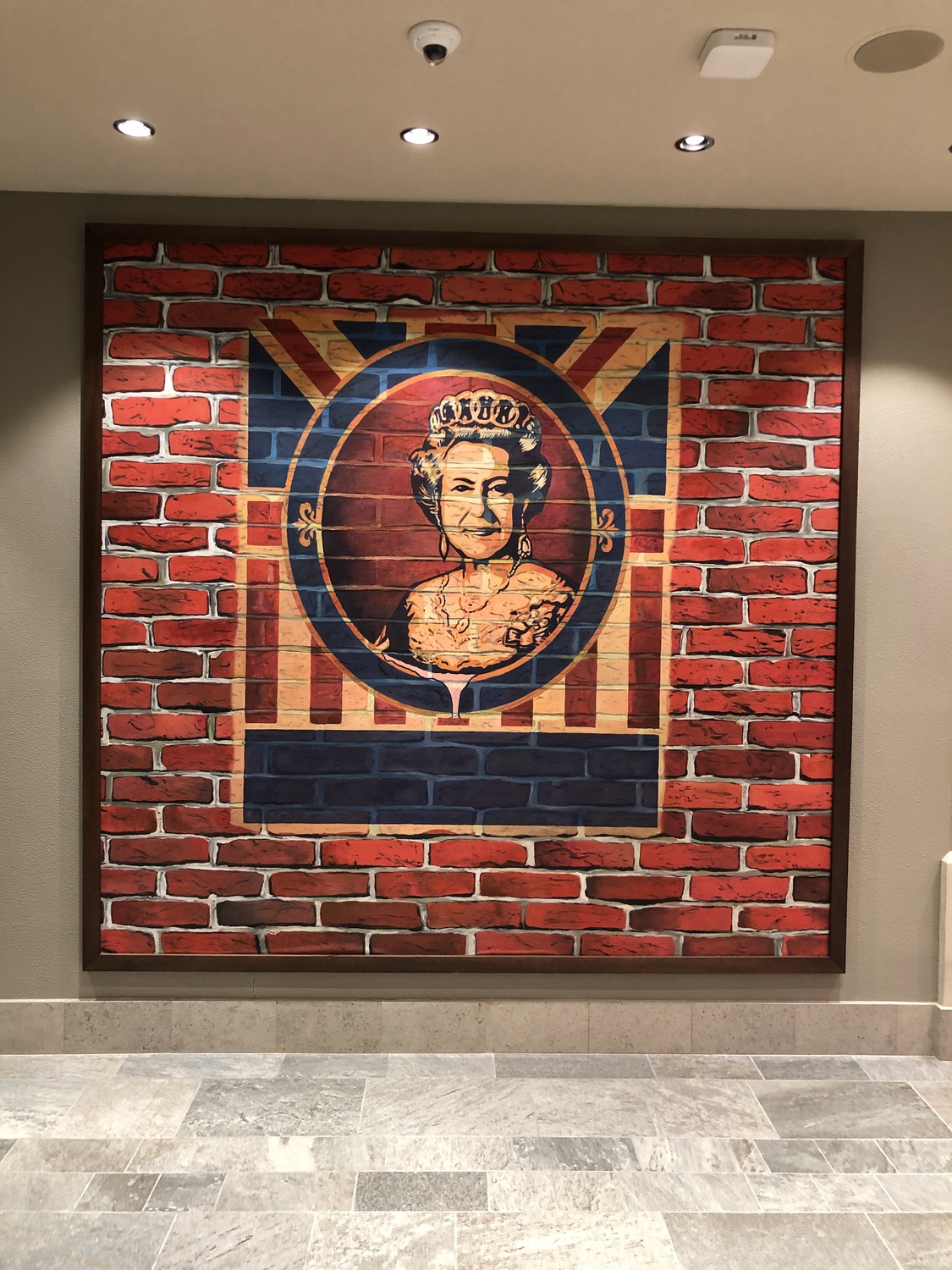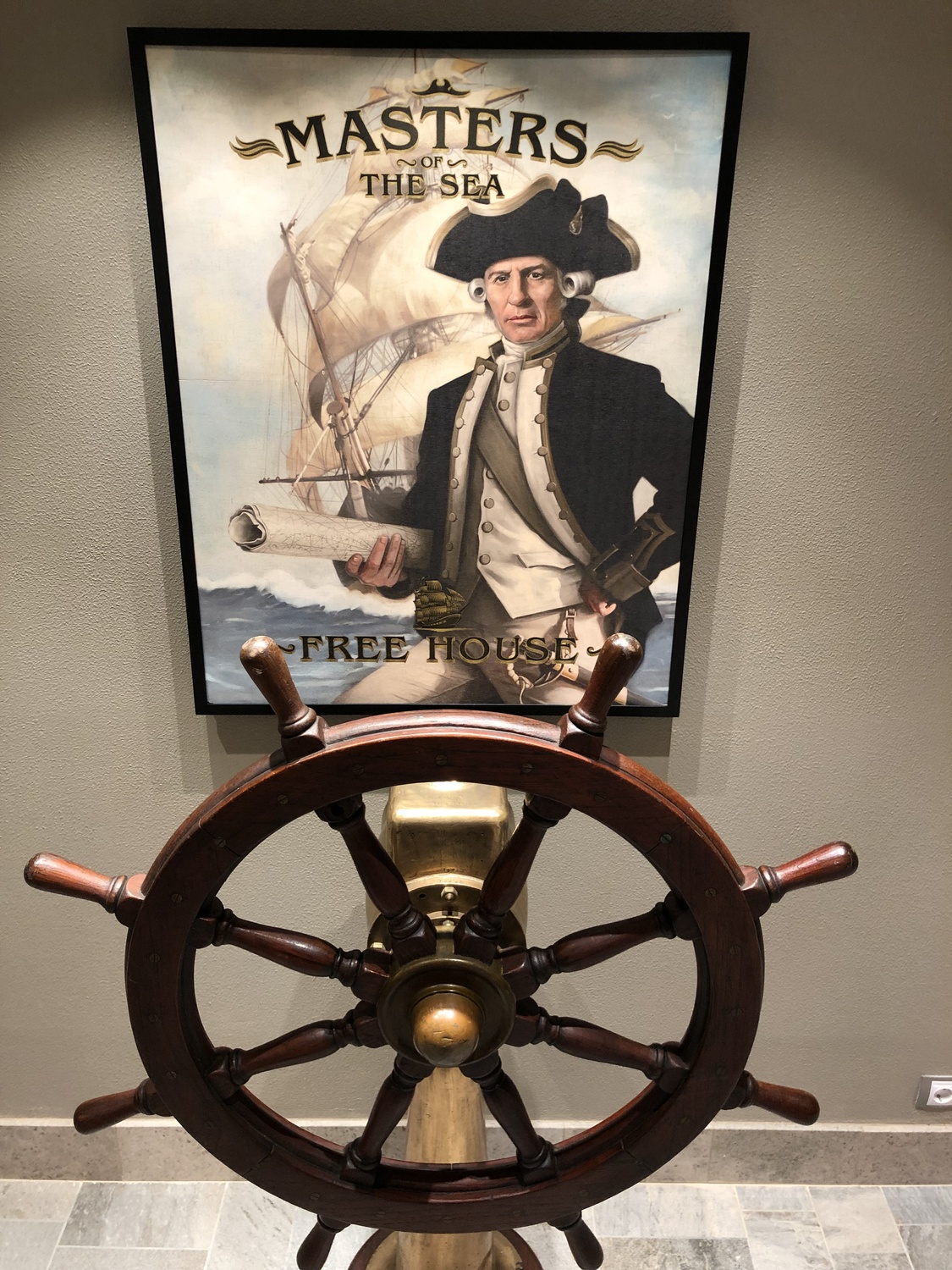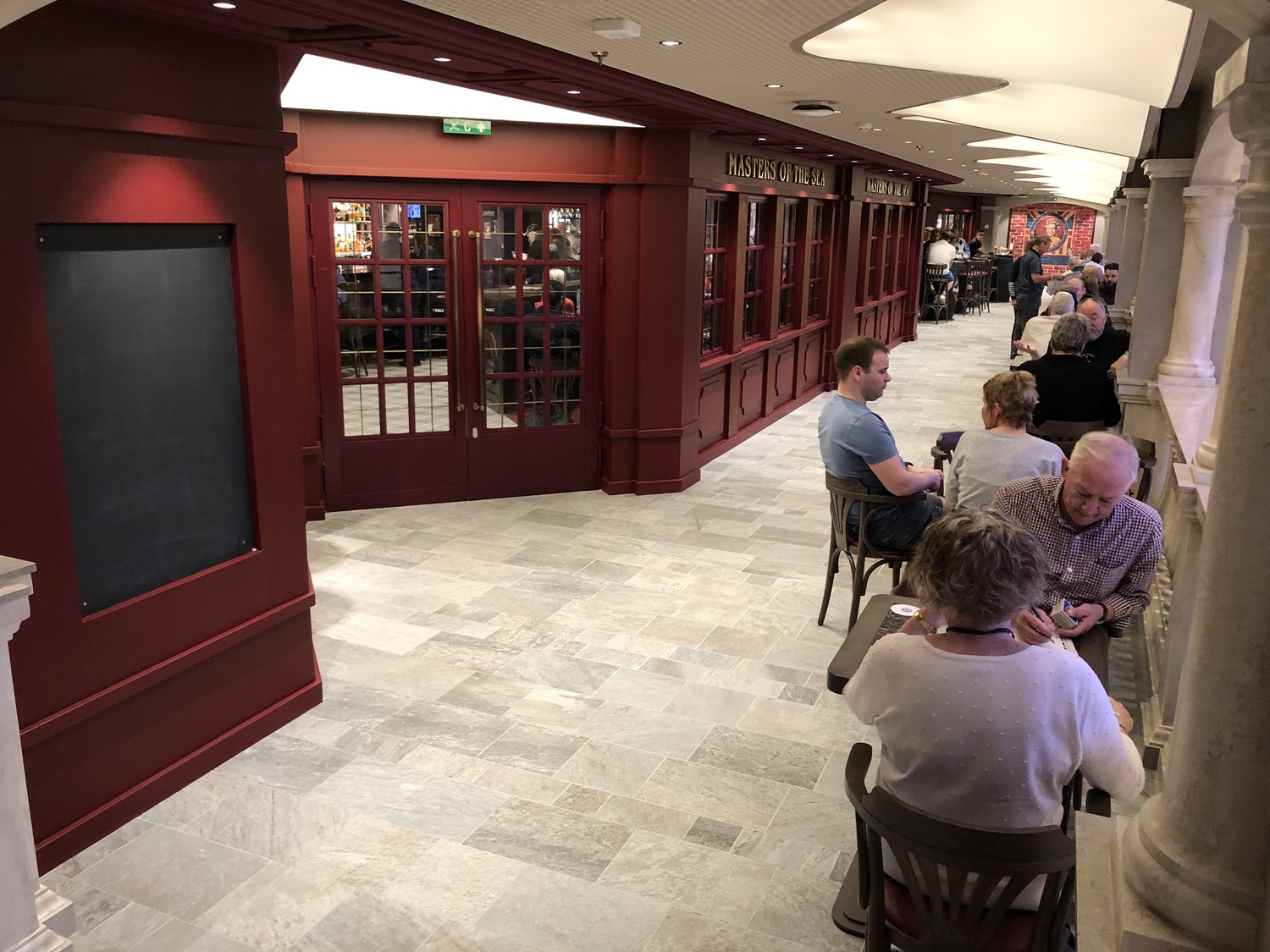 The pub menu offers 12 draft beers and countless bottled beers, along with a handful of 'beertails' - cocktails featuring beer or cider. I tried the Spiced Apple Pie which included spiced rum, lemon juice, apple cider, ale, and cinnamon schnapps. Delicious and refreshing!
Sitting with a Guinness and some crisps and nuts enjoying the vibe, the people, and the music - it's holiday bliss! There was no spot like this on the previous MSC ships, and I definitely think if I was in Yacht Club I'd be venturing out much more on this ship.
There's a lot of music around the ship. It may not suit all tastes, but it works for me. The music is often classical or jazz and offers a nice ambiance to relax with a drink or chill out with a book.
Cirque du Soleil at Sea
We decided to head over to the Cirque du Soleil theatre to find out what the deal is with tickets.
It turns out that they have only two performances during the cruise, and both are sold out as they're reserved for those who booked online in advance. We've been added to the waiting list, but I'm not optimistic that we'll get to see the show. I really expected there to be far more performances than this, but that's my fault for not looking into it properly.
If you're interested in seeing Cirque du Soleil I strongly recommend booking this in advance online.
Change of Plan
We decided to grab a light bite in the buffet as Alex felt up to trying to eat. As we were sitting in the almost-empty rear section of the buffet an announcement was made that our itinerary was to change. Due to poor weather in the Bay of Biscay it's been determined that docking in A Coruña was too dangerous, and we will be skipping this port altogether. Instead, we'll be arriving in Lisbon on Thursday at 2pm, instead of Friday at 7am.
Given we're meeting friends in Lisbon I'm not too upset about this, as we'll have longer with them. The downside is that it sounds like the bad weather will continue into tomorrow.
We've made the decision to re-think our dinner plans. We have now moved our reservation at ¡HOLA! Tapas Bar to tomorrow night as Alex didn't think he'd feel up to it.
We spent the rest of the afternoon relaxing. Alex thankfully started feeling a little better, so we got changed for formal night and headed out. We found a spot at the pub where we had a couple of drinks and watched the 'Dome Show' which is an audiovisual presentation on the screen ceiling of Galleria Bellissima. This turned out to be little more than a history of MSC included images of their ships with uplifting music. It felt more like an advert, and not a great use of the technology. There's another show called Cities and Museums which we'll have to try later in the cruise.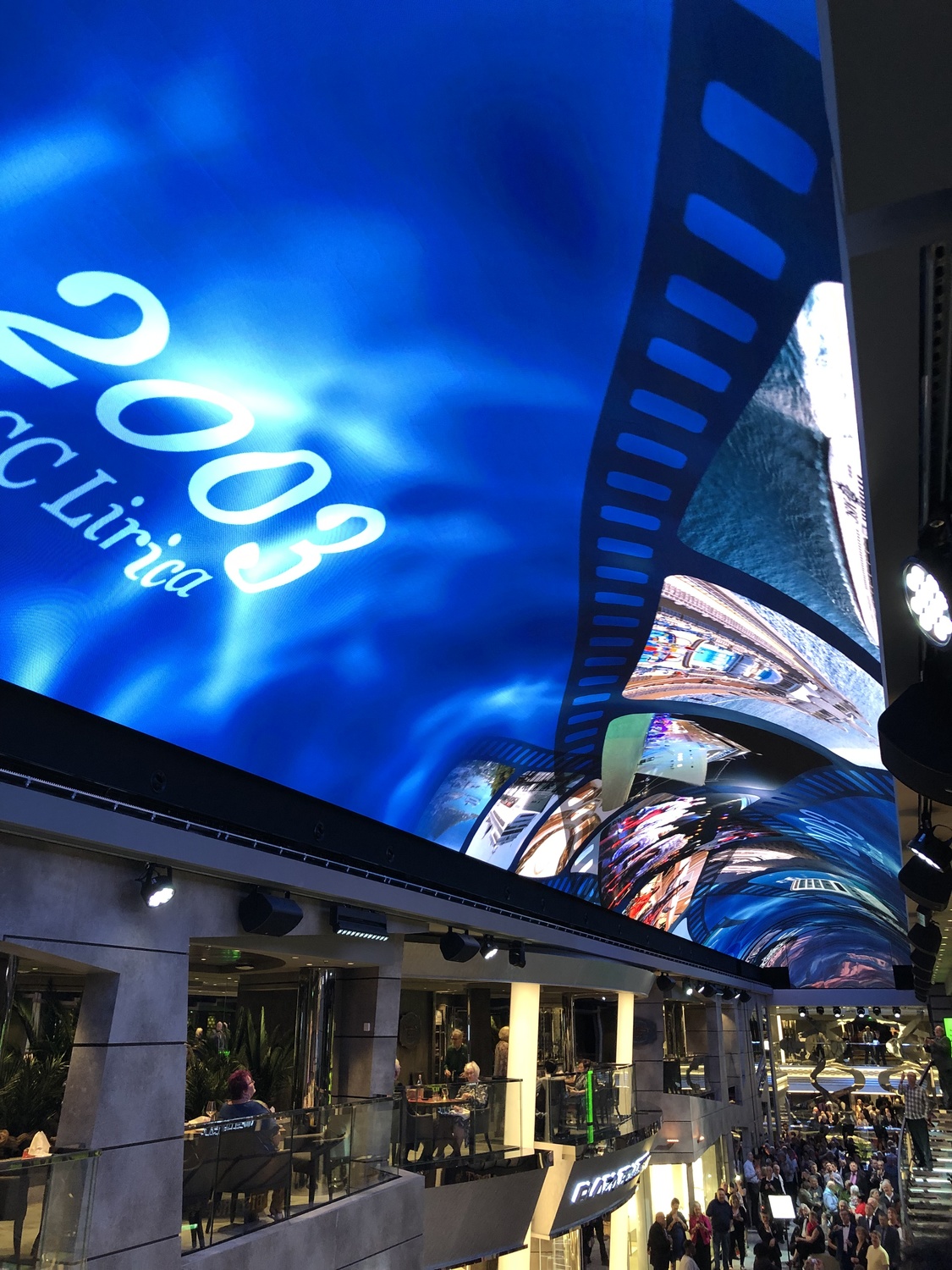 I have to say, the level of dress on MSC is quite high compared to a lot of other ships. Most people made an effort, and it added a nice ambiance as we walked around the ship and had a few drinks.
London Theatre: Pink
We've typically skipped the theatre performances on MSC's ships, but we decided to have a go tonight with the "magnificent music journey that takes us through the ultimate masterpieces interpreted by women".
First, a word about the theatre. The London Theatre is one of the least impressive theatres on the ship. The capacity seems low for a ship of this size, and the decor a little underwhelming compared to the rest of the ship. There's just a single level. It might be because they have a second, dedicated performance space for the Cirque du Soleil shows, reducing the need for such a huge theatre space.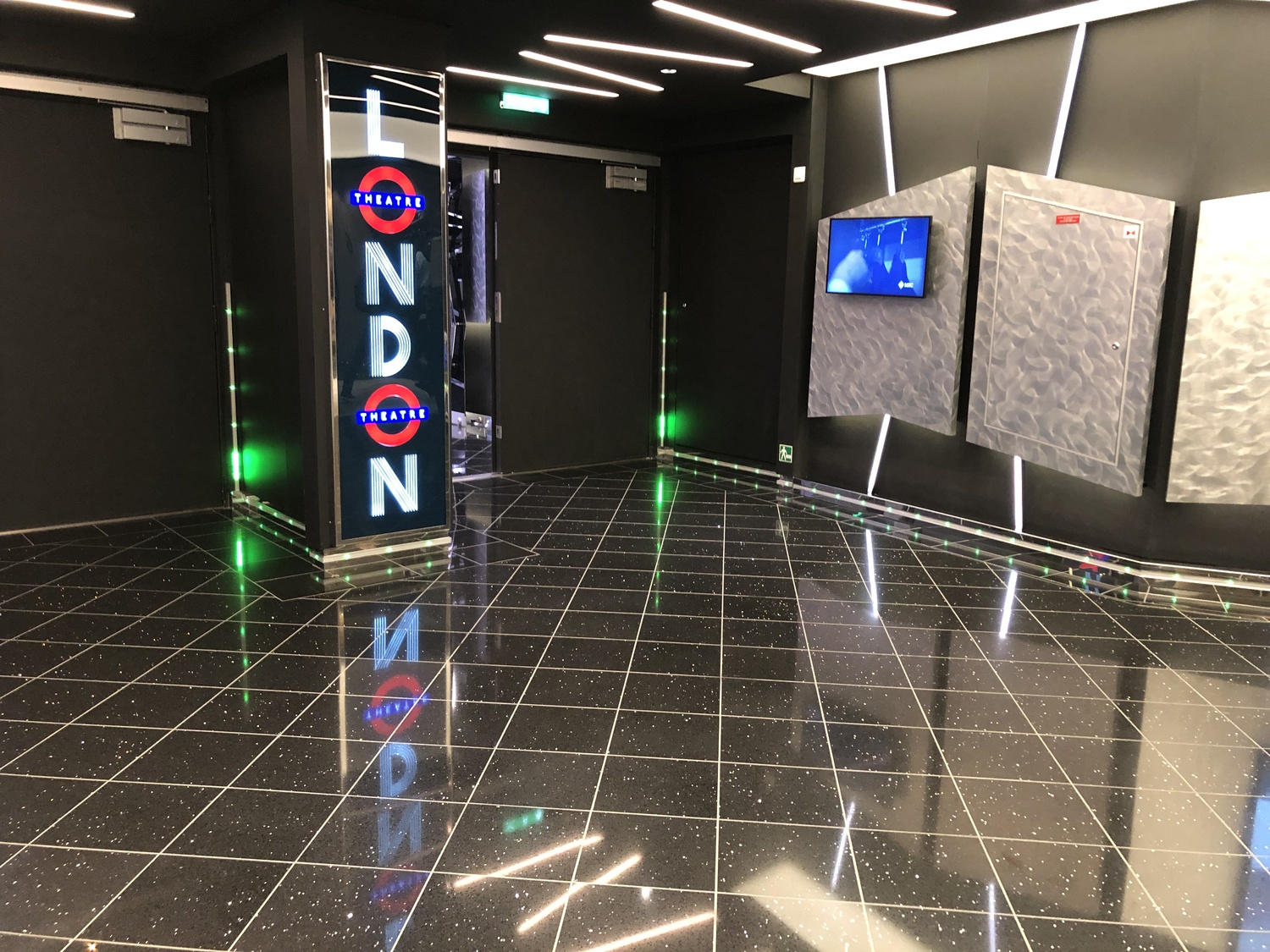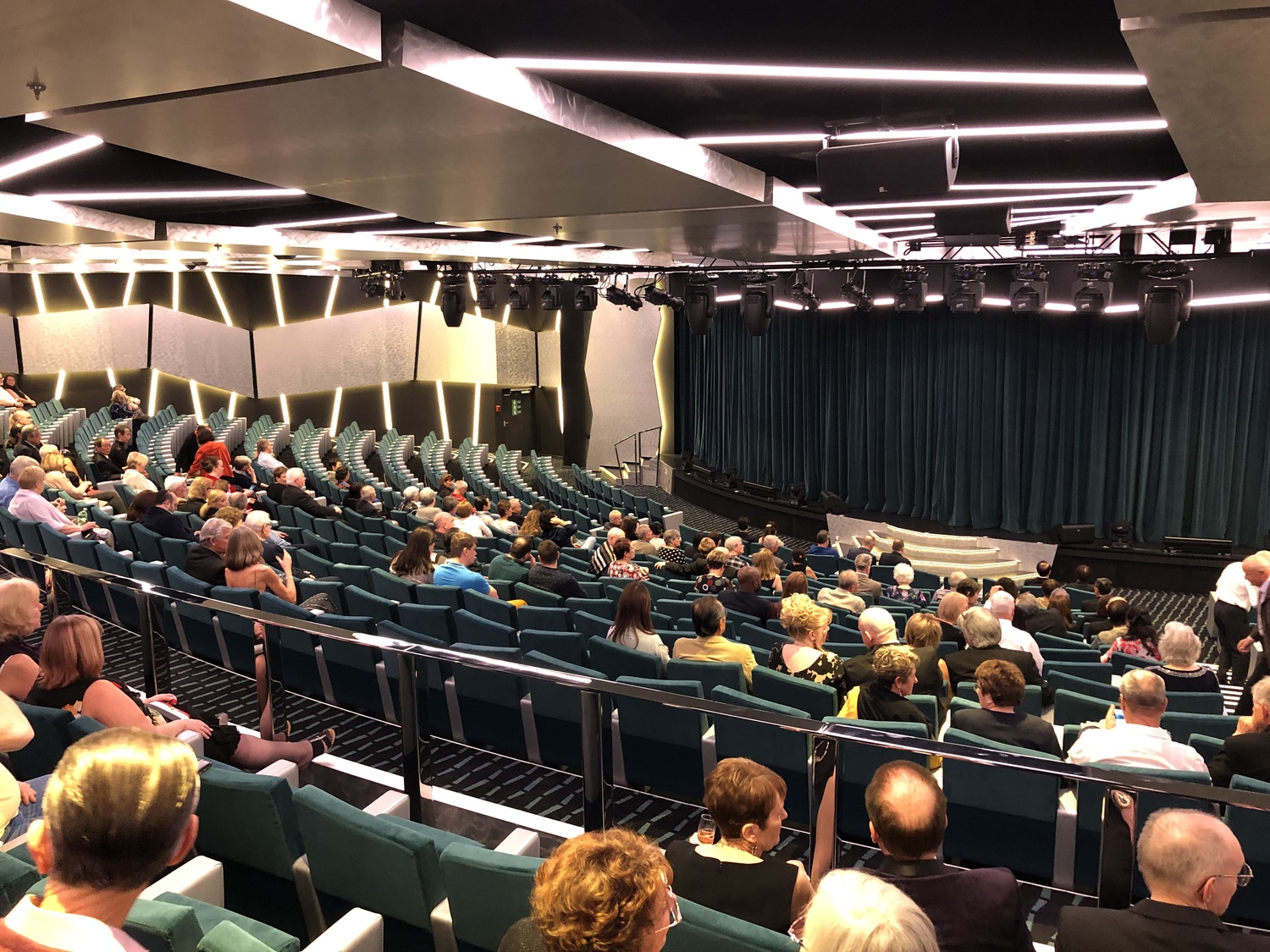 Shows also have to be booked in advance (for free), and this can be done in the app or using the interactive kiosks scattered around the ship. Each guest can attend each show only once, and tonight's show is on three times - 19:15, 20:45, and 22:30. The show lasts 35 minutes.
The show itself was a fun mix of songs accompanied by dancing and a live band. I normally don't enjoy theses sorts of shows too much, but the use of existing popular songs made it a really fun show.
The implication from the program was that the show was all about strong, modern women and, while the songs didn't really reflect that at all it was good fun with some really great voices. One thing we noticed is that many of the performers clearly don't have English as their main language, and hearing non-native speakers sing songs in English is always quite strange, especially when they don't really know the words well. They sing like I'd sing a non-English song - making sounds approximate to the lyrics. This can be quite entertaining at times.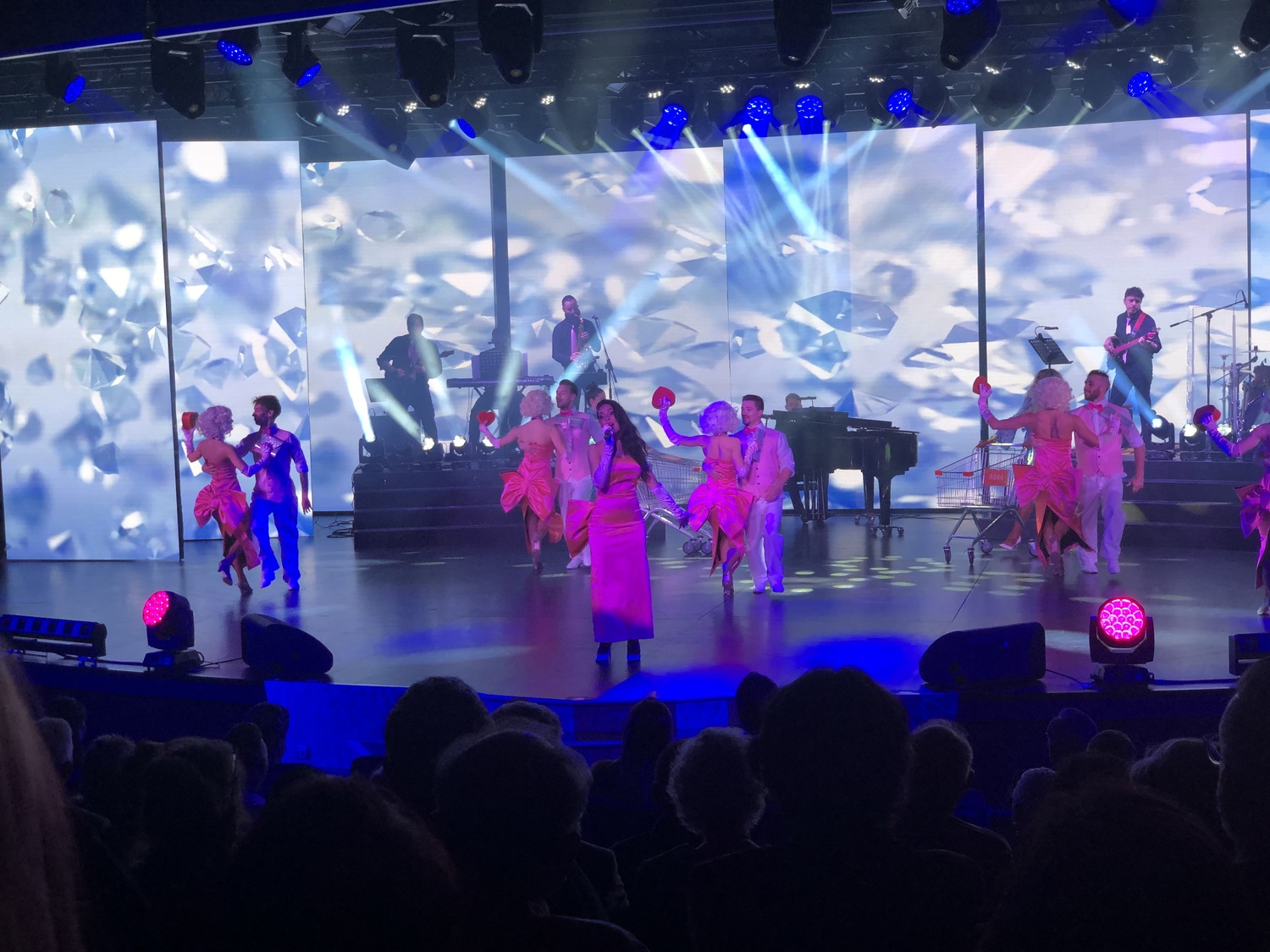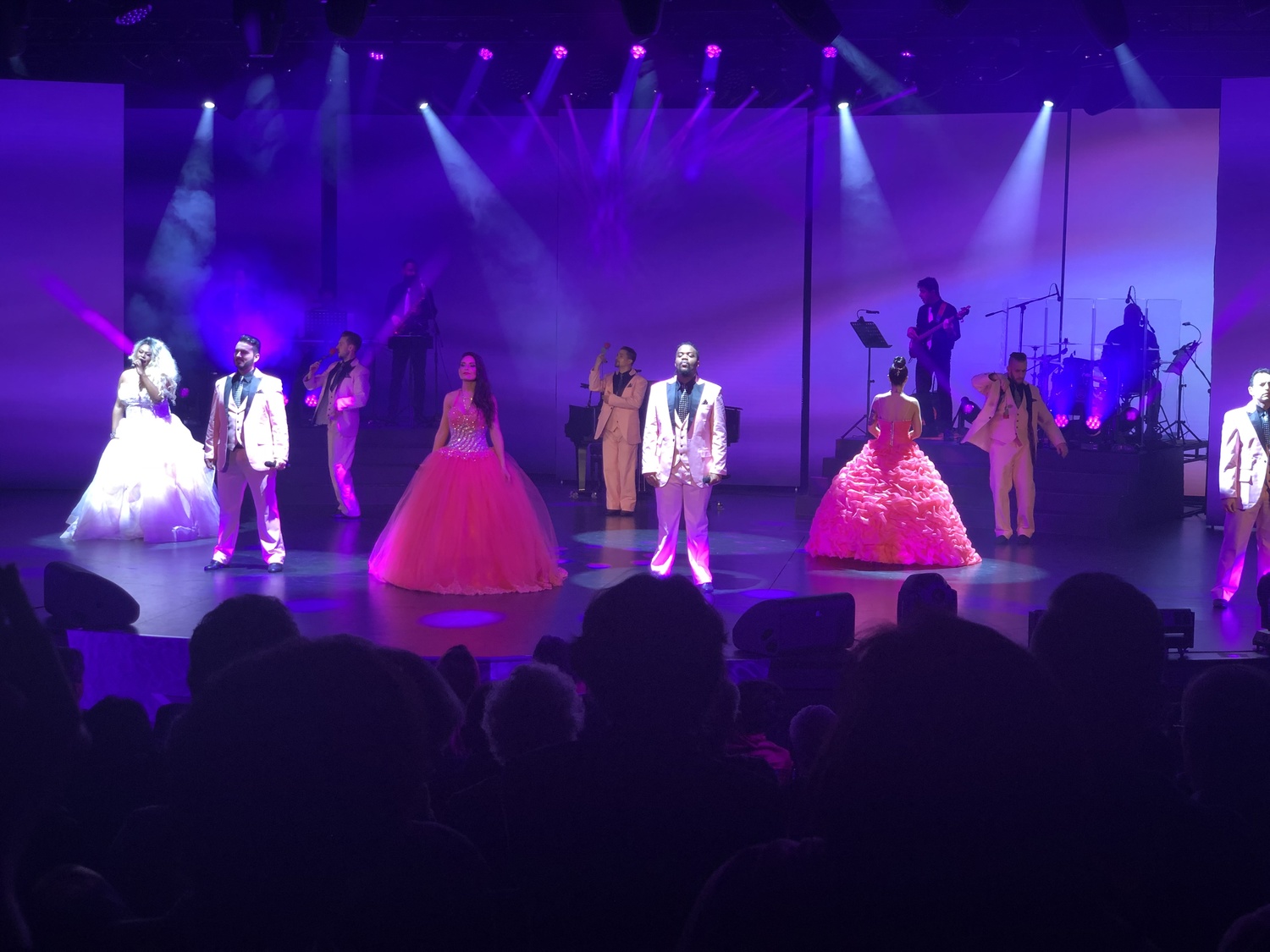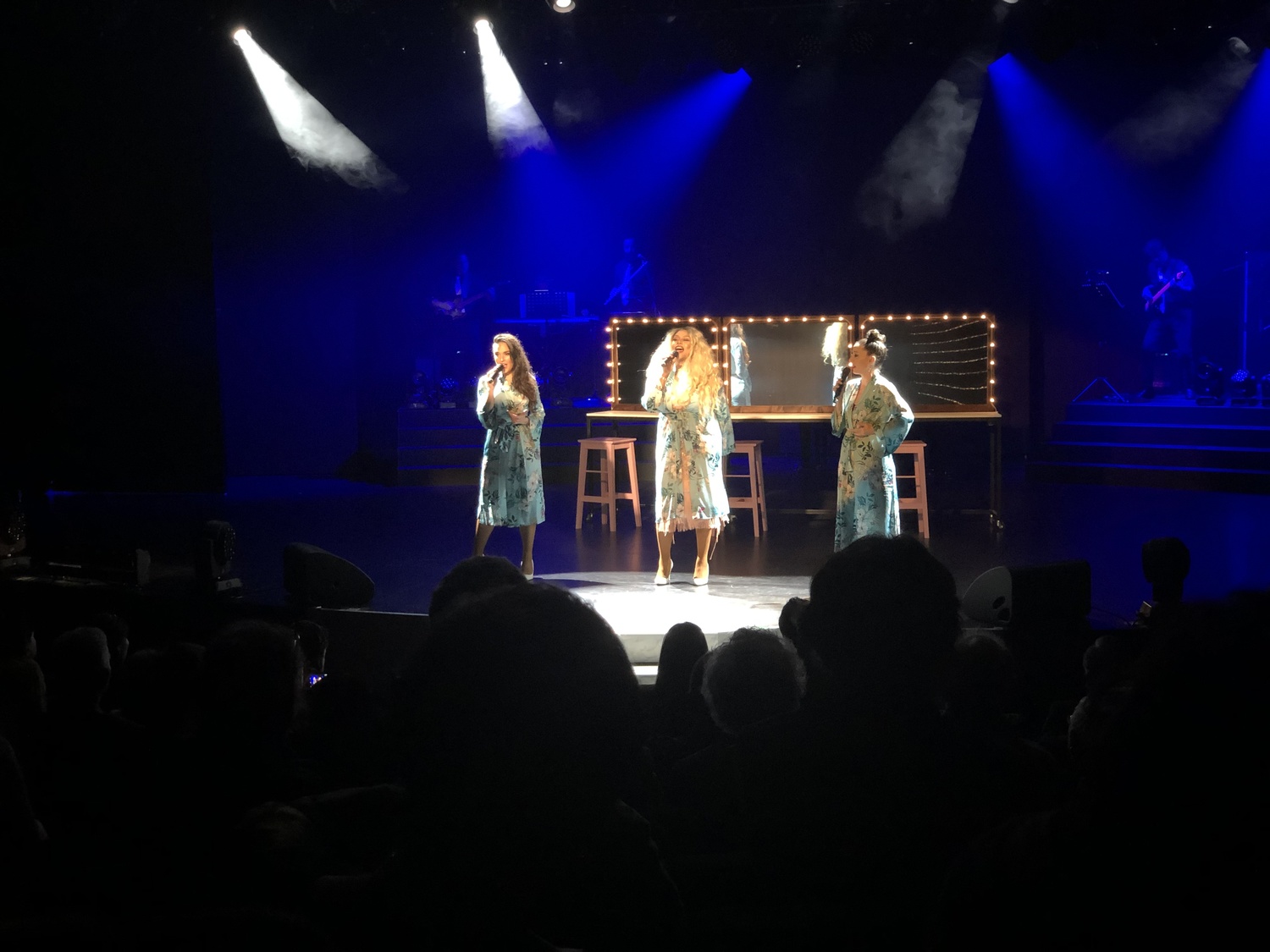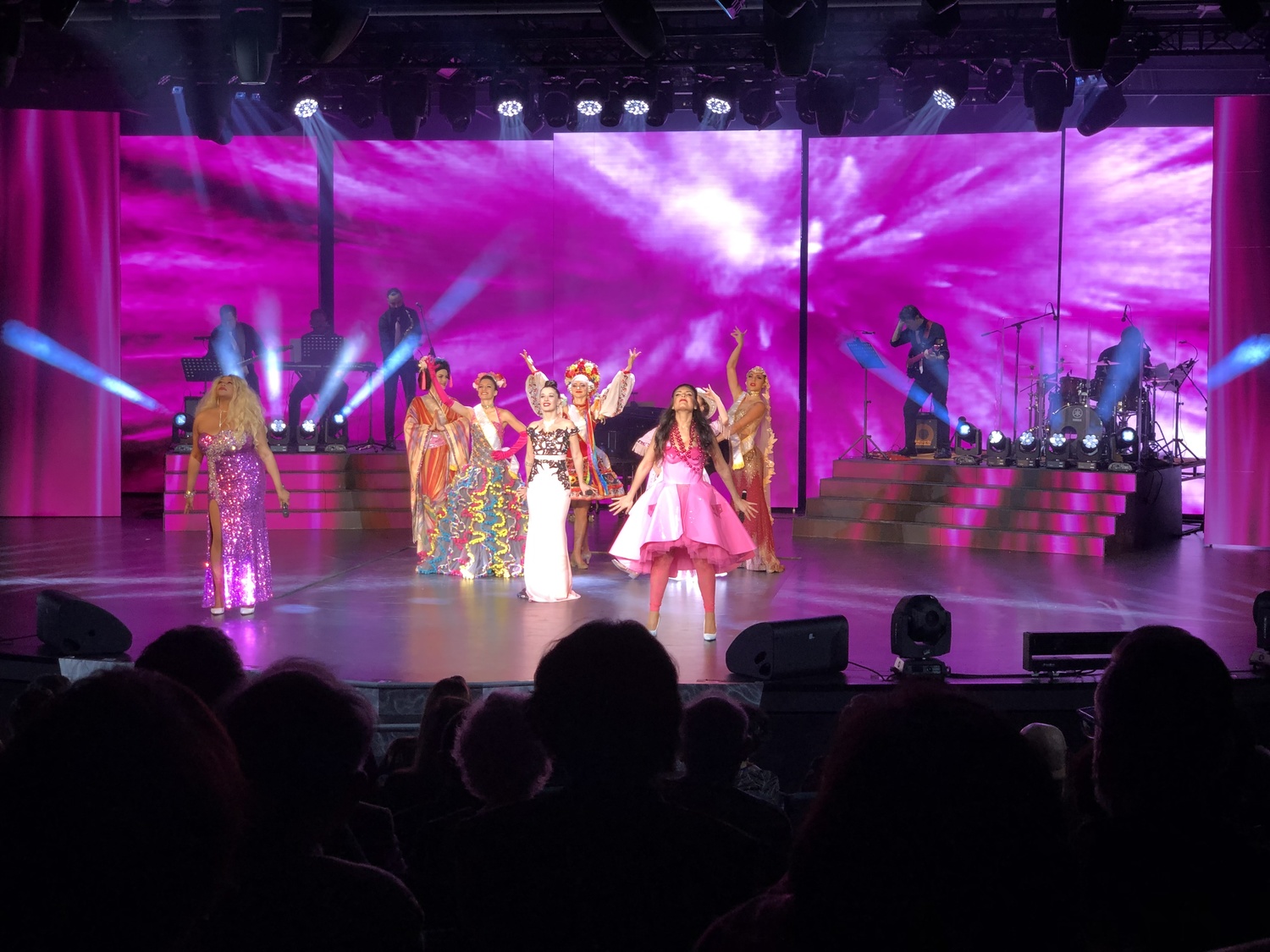 Dinner: Le Cerisier
We were back at our usual table and, as expected, service was much quicker tonight as everyone knew where they were going. I've included some photos of the restaurant as well as the food so you can see for yourself how it looks. I still think MSC have dropped the ball here, as spectacular dining rooms are something of a tradition on cruise ships.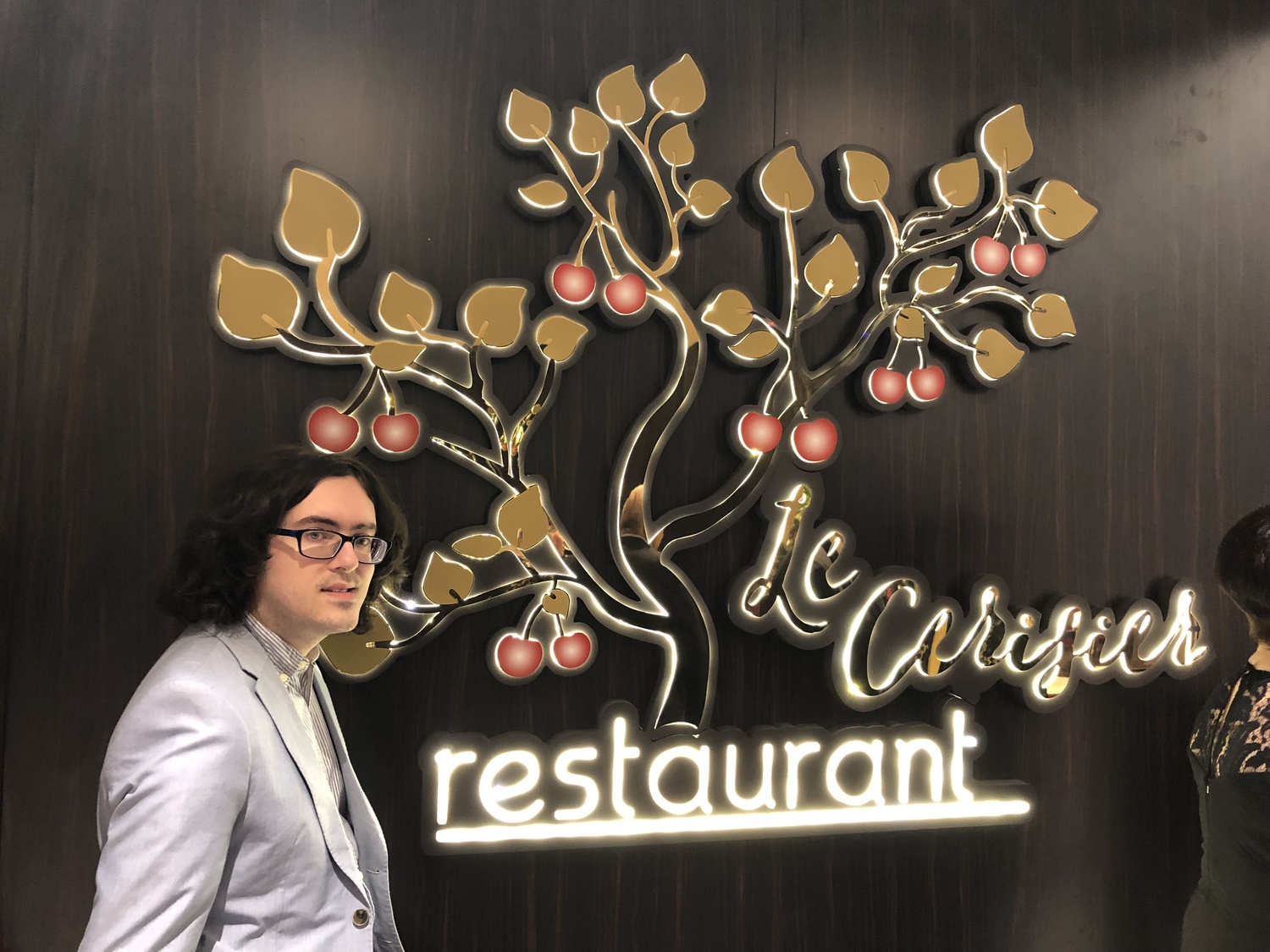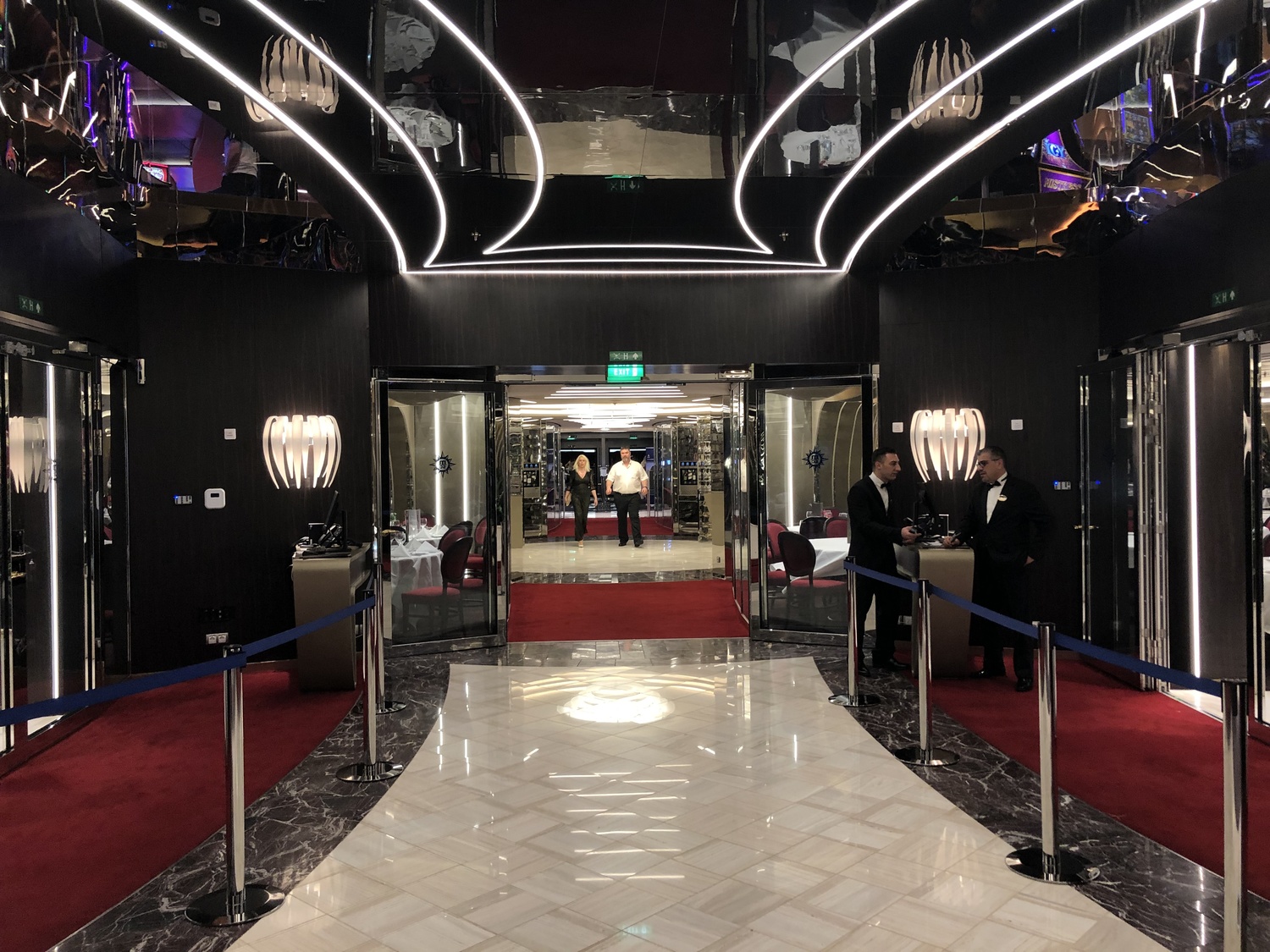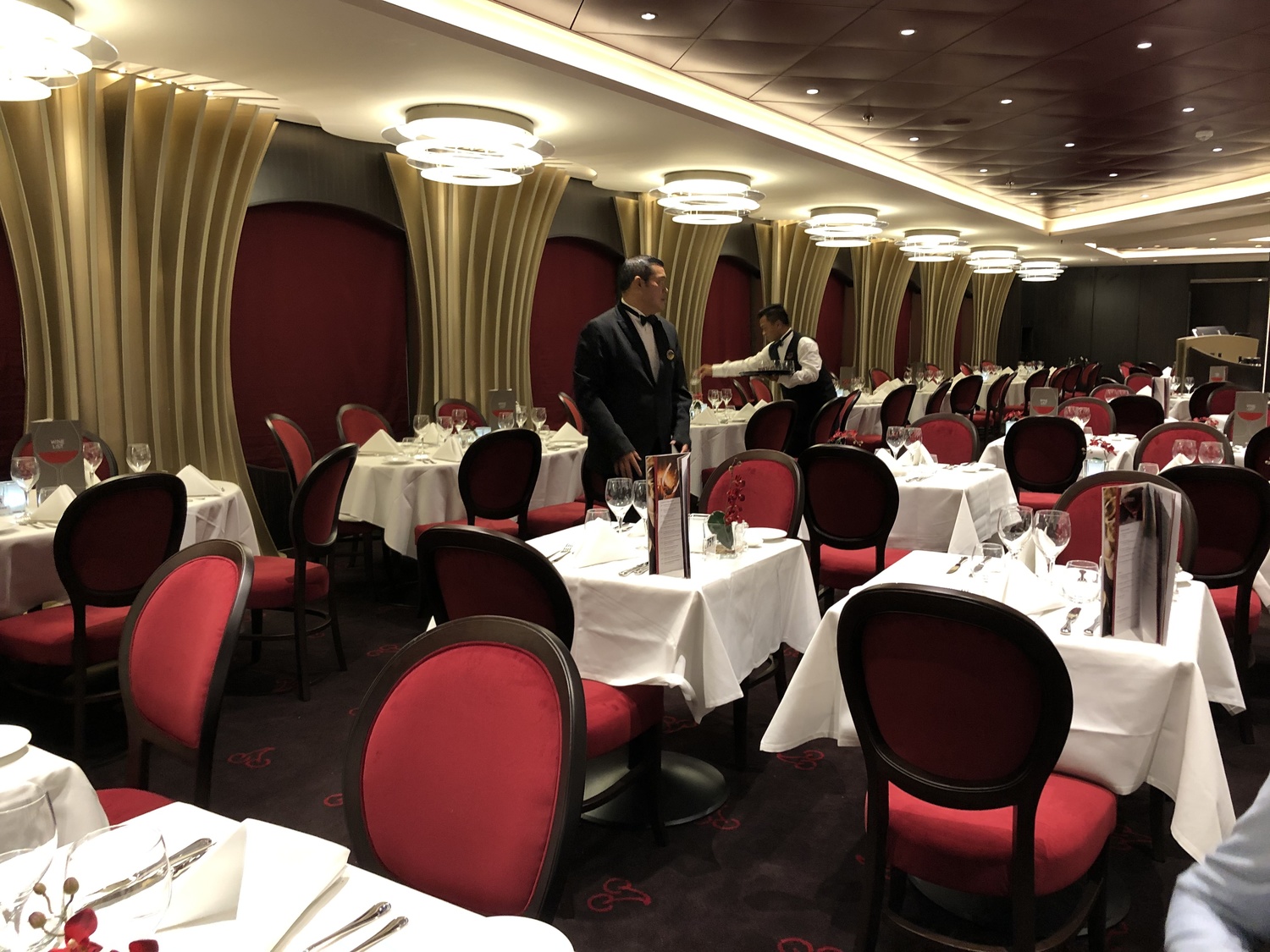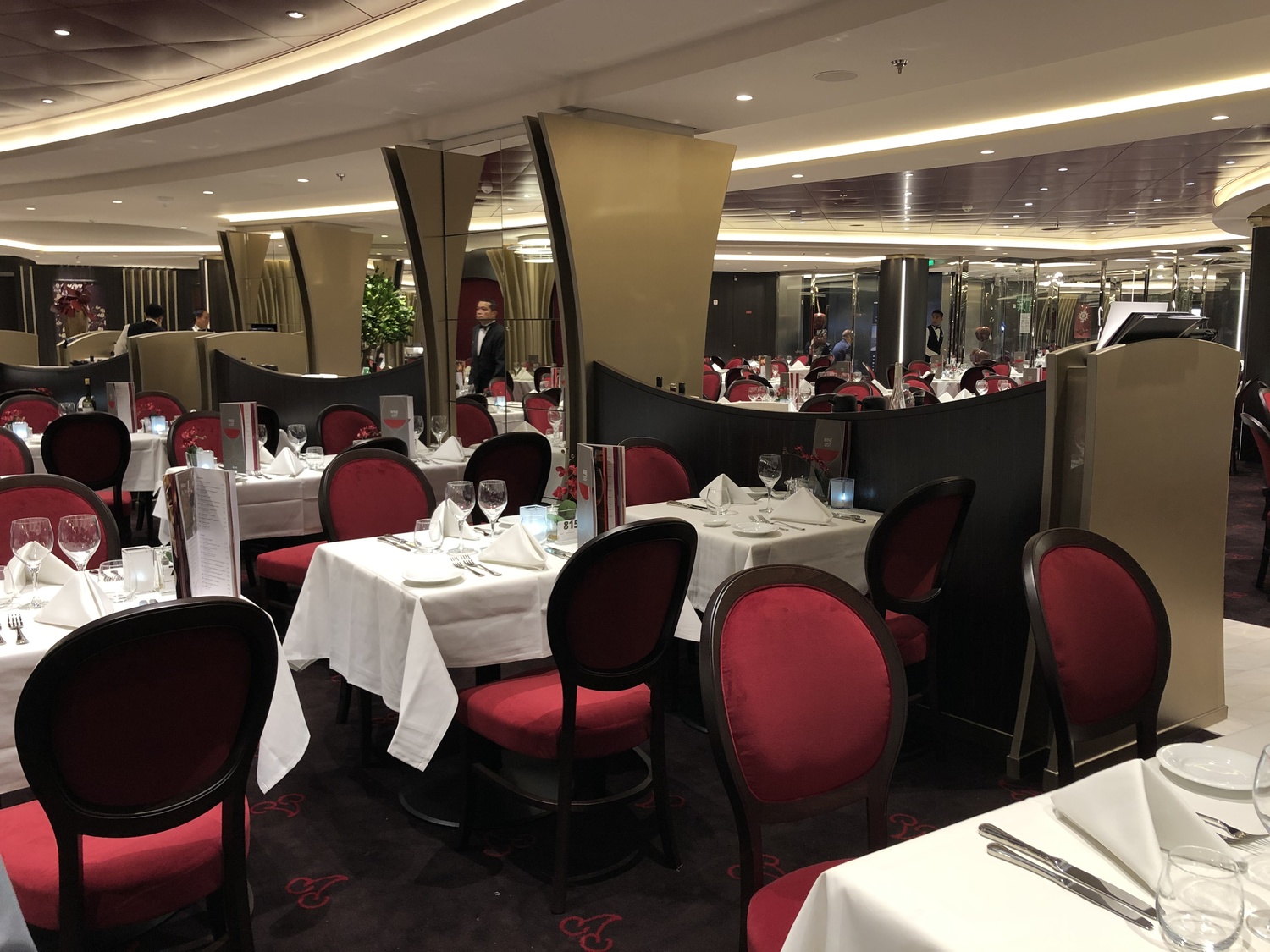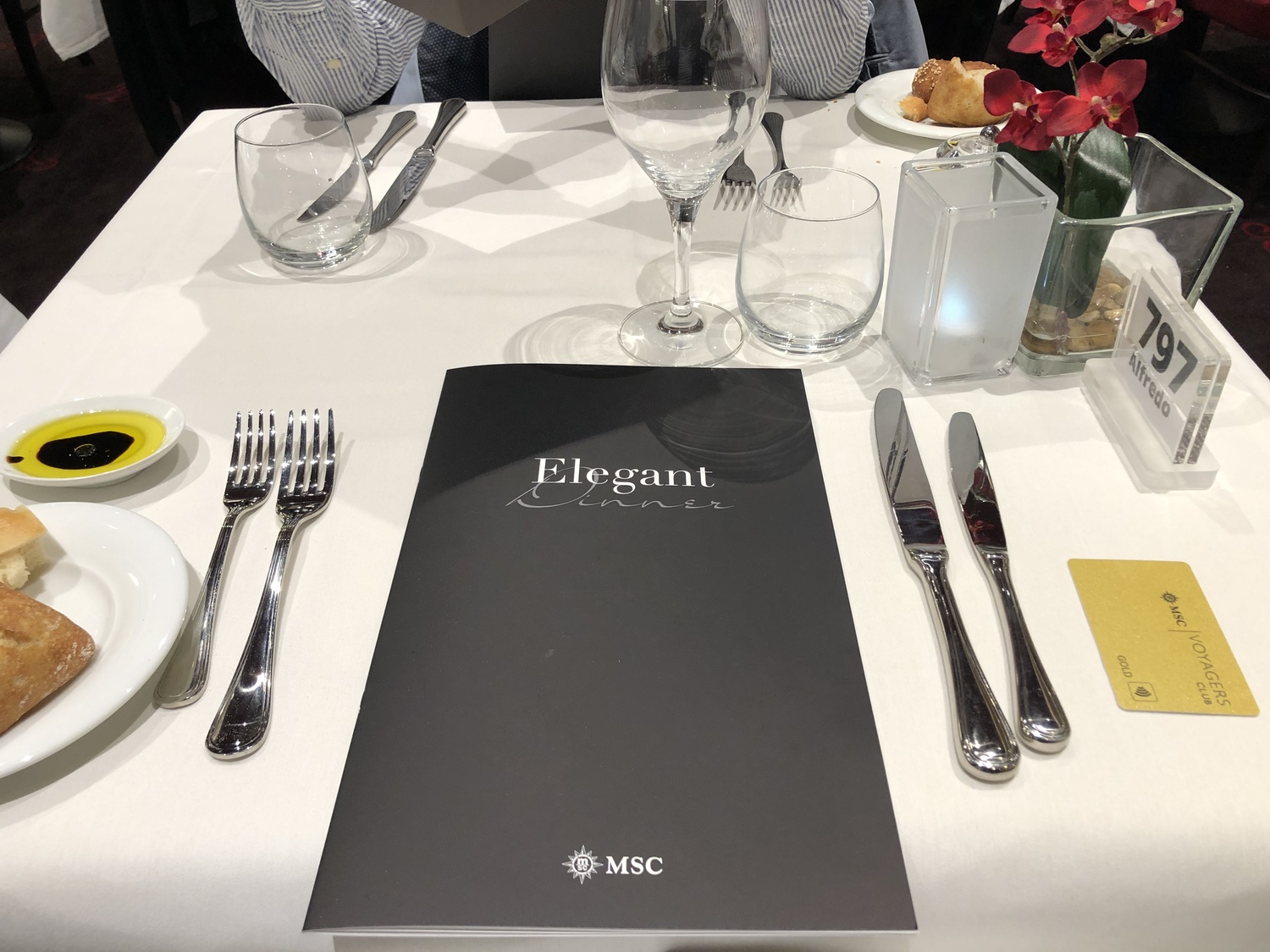 To start, I pigged out a bit tonight and had two starters - lobster bisque and escargot in puff pastry. Both sounded delicious, but were both beaten by Alex's delicious octopus carpaccio. For my main course I went for the recommended choice of lamb leg with potatoes and tomato au gratin. This was disappointingly overcooked and I think it's silly to do roast potatoes when other potato dishes are easier to keep warm and serve to a lot of people. Alex won this round again with his excellent choice of pumpkin shrimp risotto which was delicious and nicely cooked. I opted for the cheese which was a little odd and lacked a reasonable selection of breads or crackers. Alex's 'lemon delight' (sponge cake with limoncello cream) was the better choice again.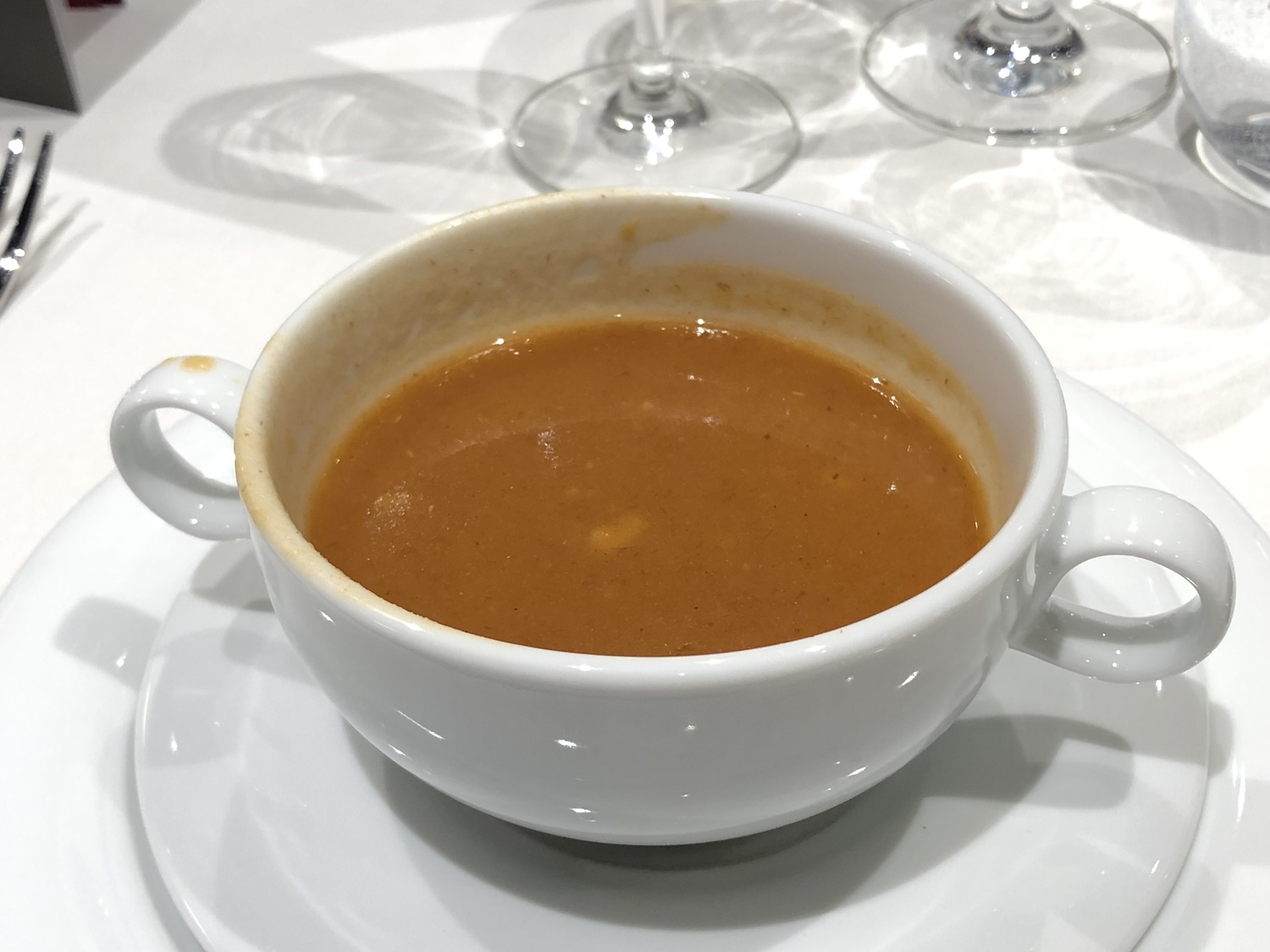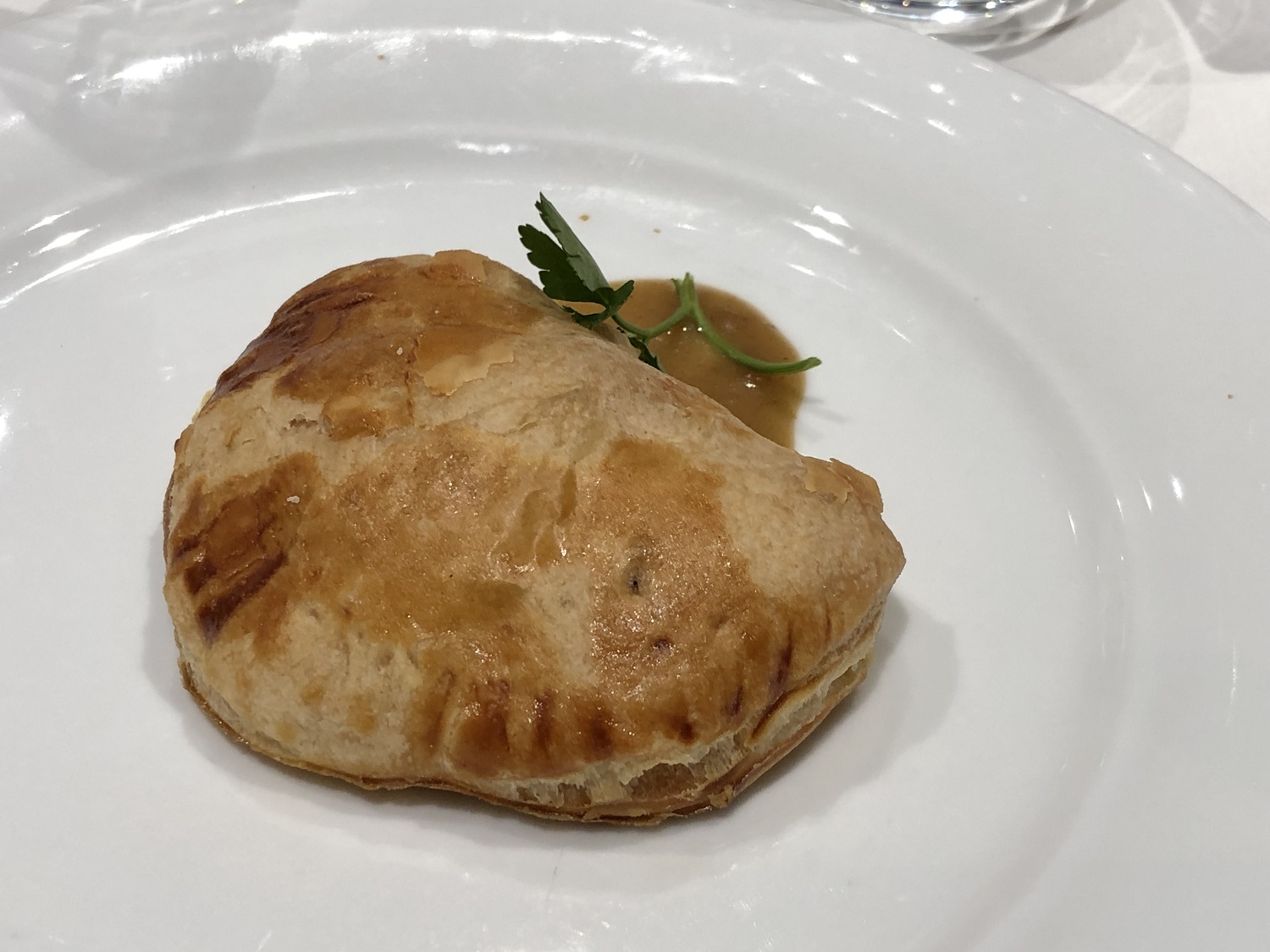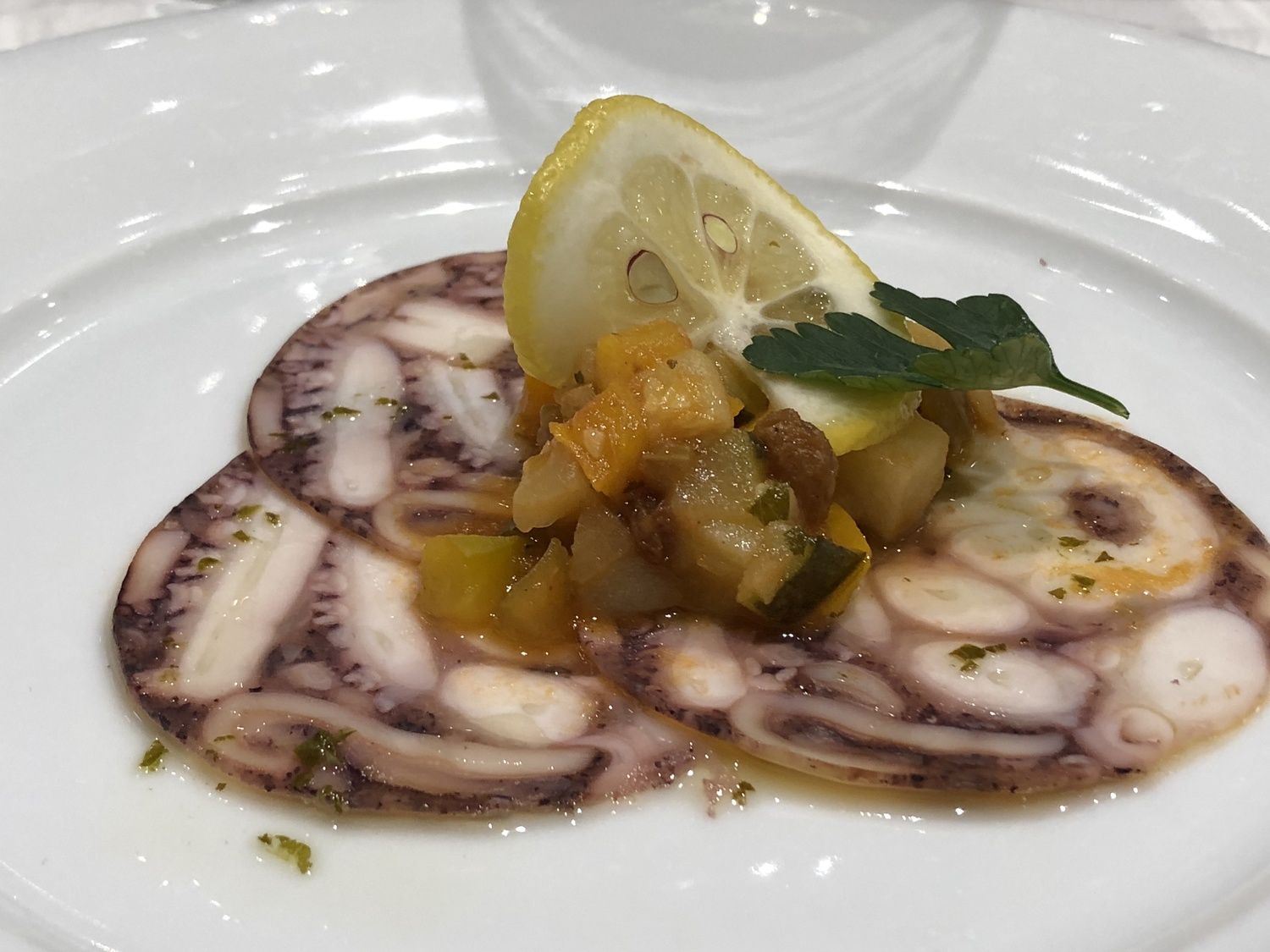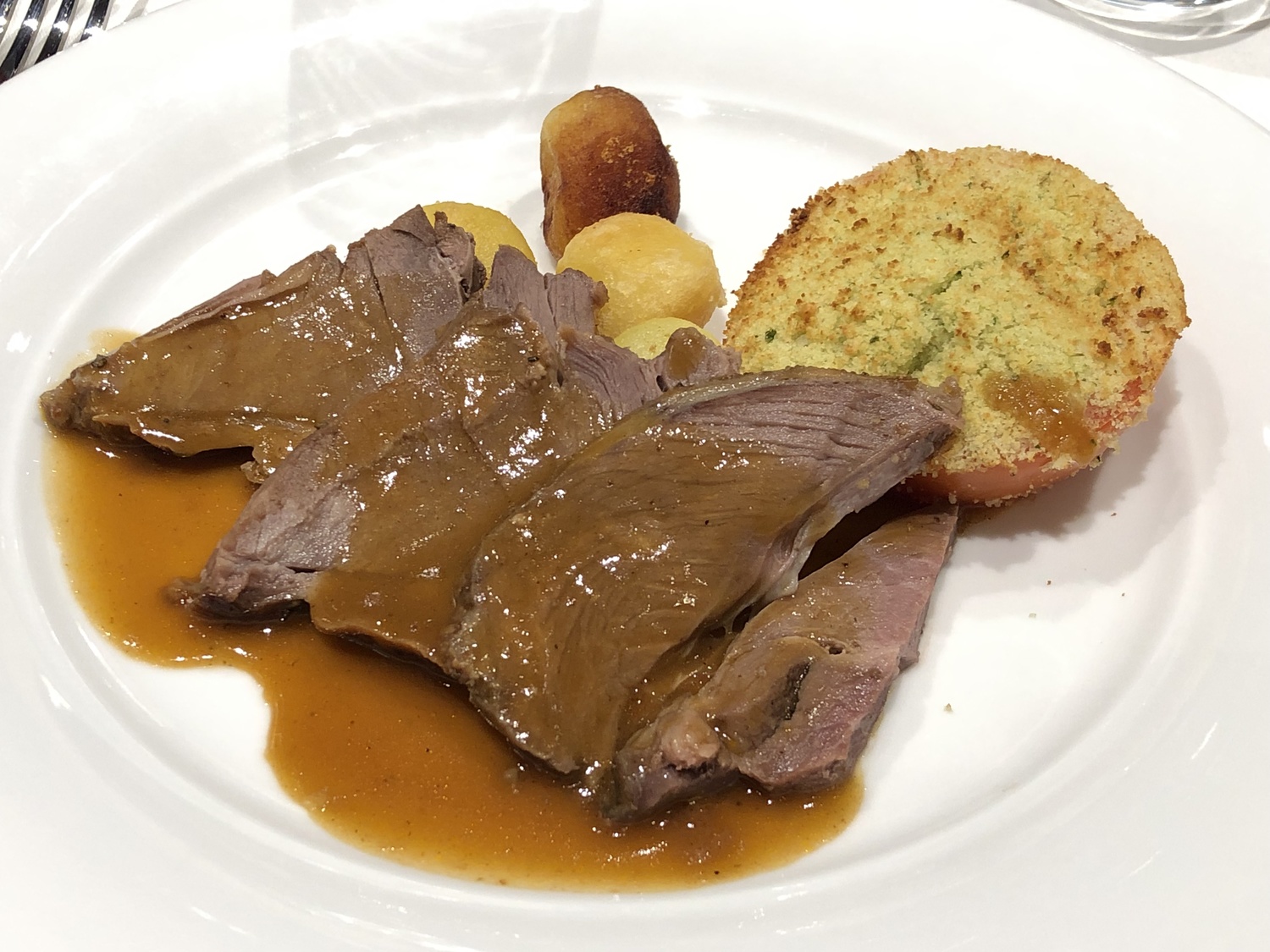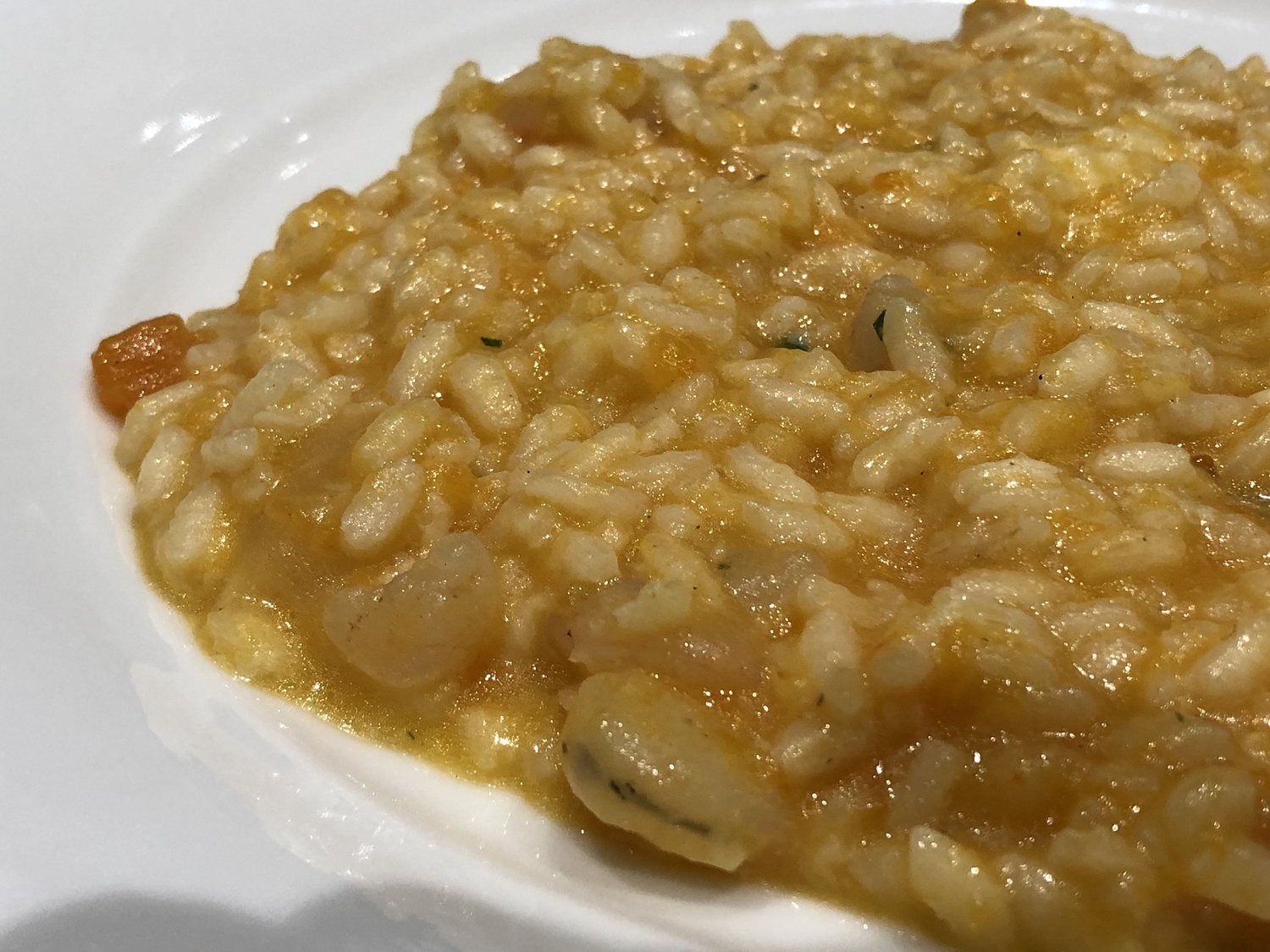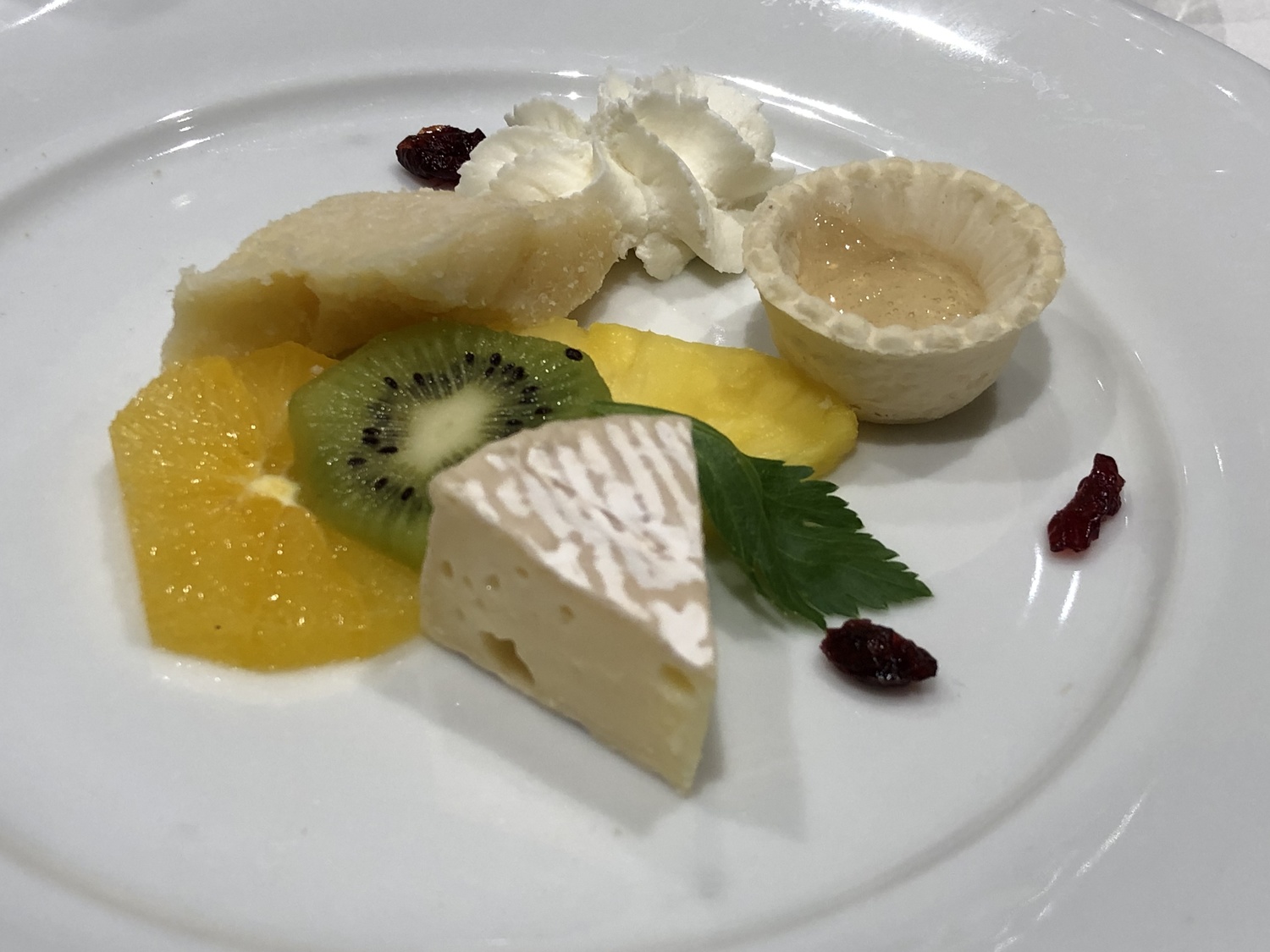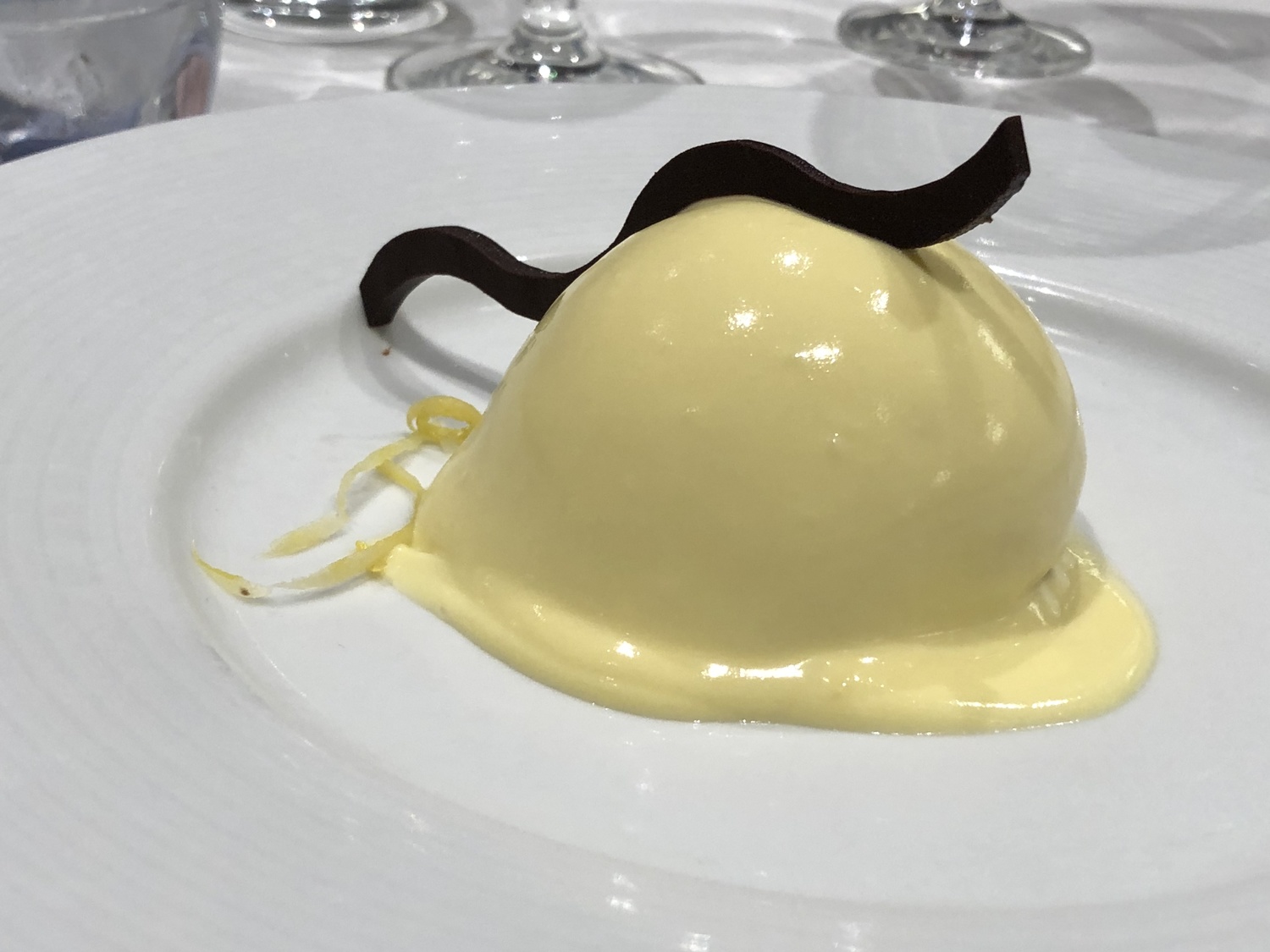 We're off to enjoy the rest of the evening now! Until tomorrow…