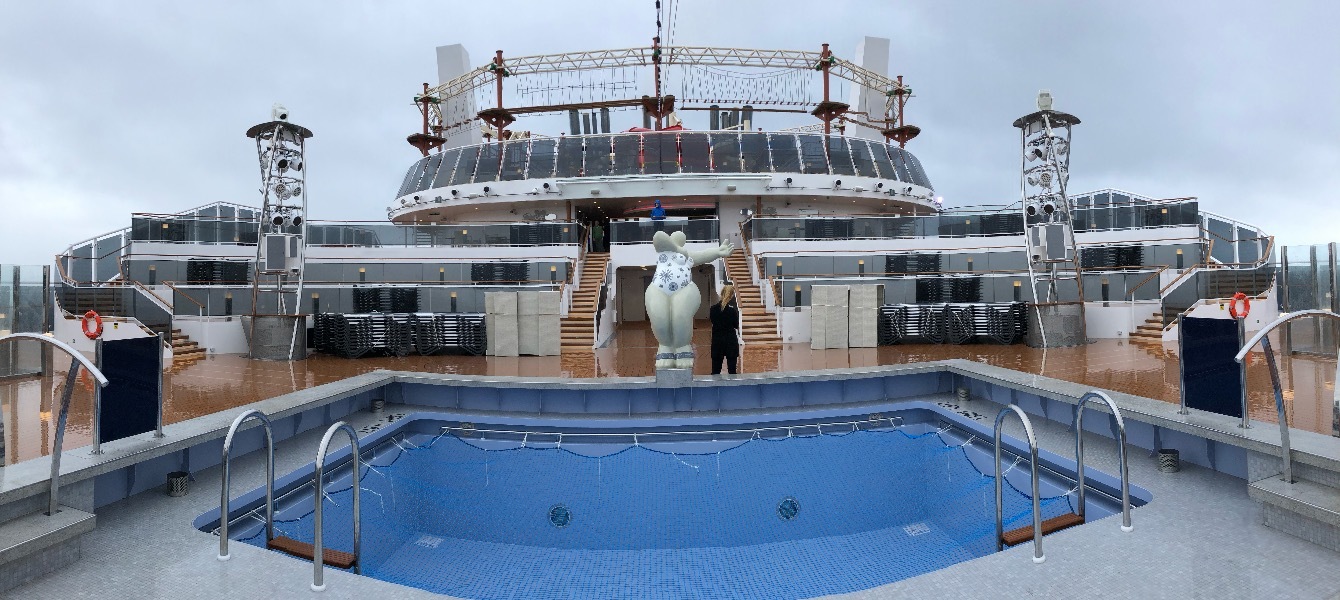 Today was another wet and windy day at sea. We enjoyed a relaxed breakfast at the French bistro, ventured outside for some very revitalising sea air, and tried our first speciality dinner at HOLA! Tapas Bar.
Off to the circus…
I noticed this morning that tickets for Cirque du Soleil at Sea were slipped under our door during the night, so we'll be able to go after all. It really raises a lot of questions for me about how their system works. Did they get a lot of cancellations for those who booked online? Are they just pretending that seats for the show are scarce? I have no idea. I'm delighted, of course, to be able to go and will look forward to it.
It cost around €15 per person for the show including a cocktail. There's no option to book only the show, and drinks packages aren't accepted in the theatre bar (nor can you take drinks into the theatre). There's also the option of a dinner show, tickets for which are around €30 per person. I have no idea what's on the menu!
More about this when we actually see the show.
Breakfast at L'Atelier Bistro
We woke today to more wobbly seas but were both feeling pretty good so we decided to have a casual breakfast at one of the speciality restaurants on board. I often like to find somewhere quiet to have a pastry and a coffee and this seems perfect for that.
The restaurant is done out like a French Bistro. Think Café Rouge, for British readers. It's quite pleasant! We were the only people there, and got excellent service.
We both ordered a croissant and I also added a ham and cheese crêpe. It was all delicious, and much more relaxed than the buffet.
Of course it's not free. Our coffee, water, and fresh orange juice were covered by our drinks package but the food came to around €10. I don't mind this really. It emulates a Yacht Club level of breakfast service for those not sailing Yacht Club. Fine by me!
That said, many ships have a little cafe where you can get coffee and pastries or breakfast sandwiches included in the fare. It would be nice to see that on this ship. It might exist, but I haven't found it yet if it does.
We'll be back here for dinner later in the cruise, so look out for that.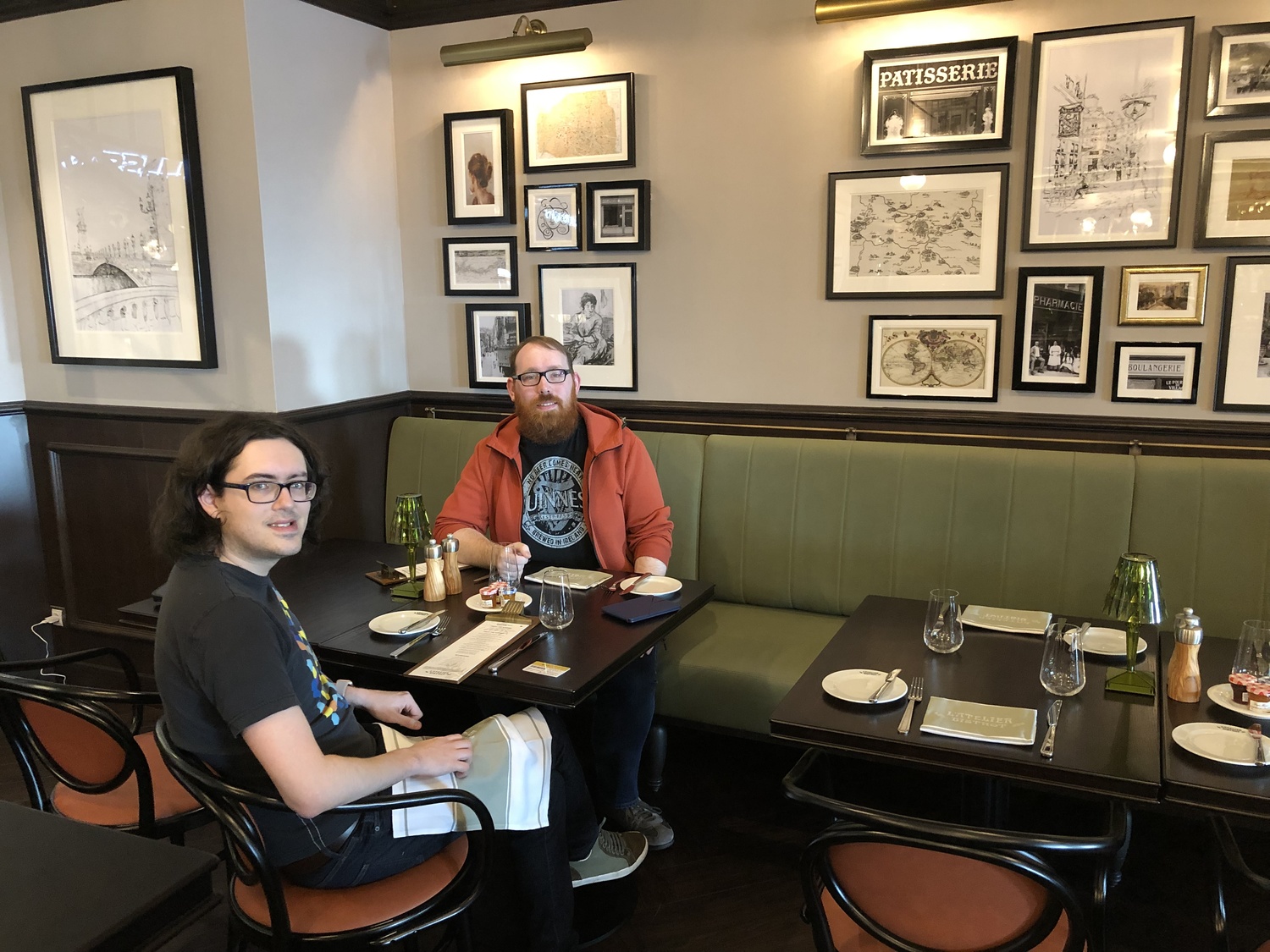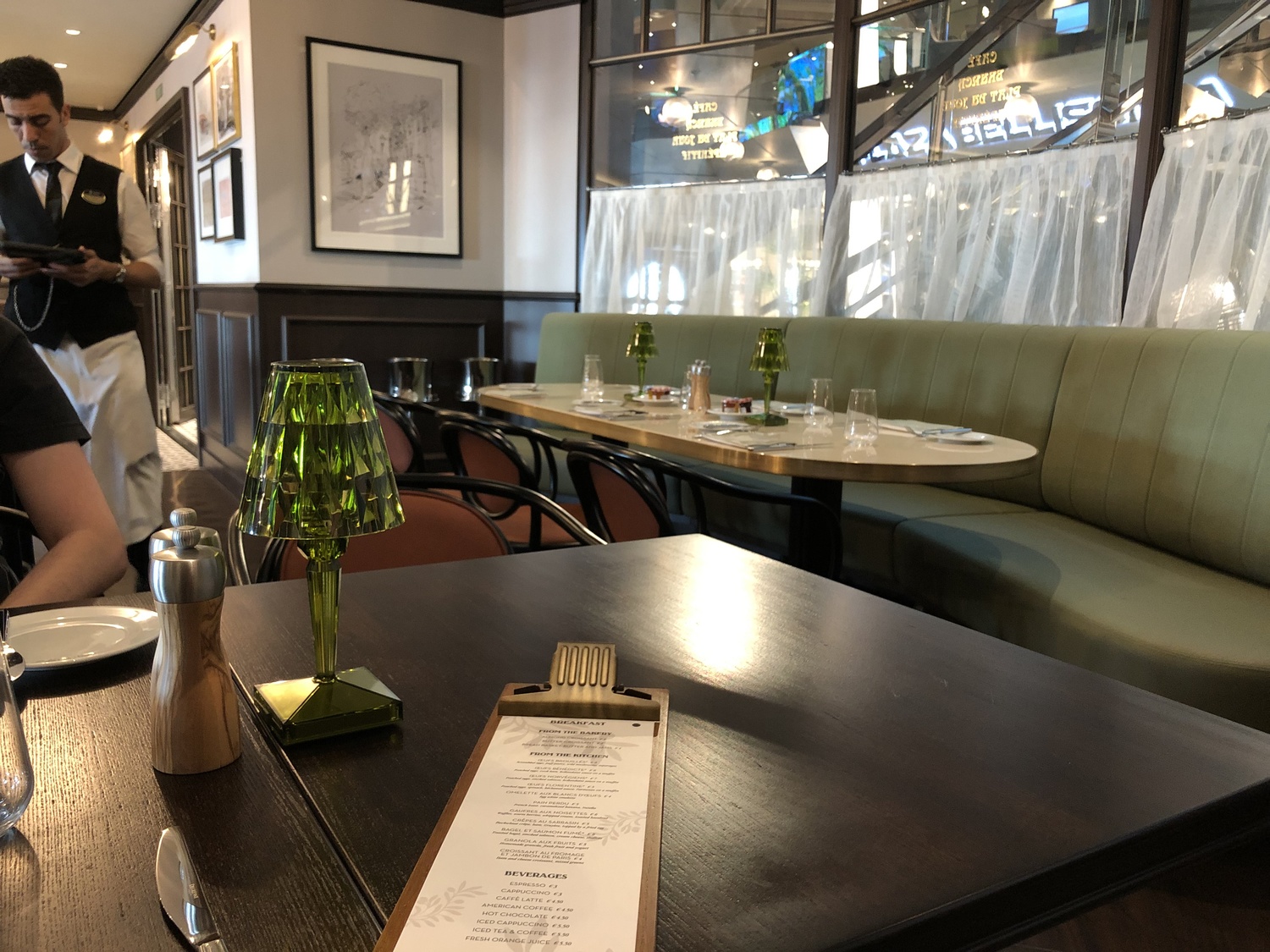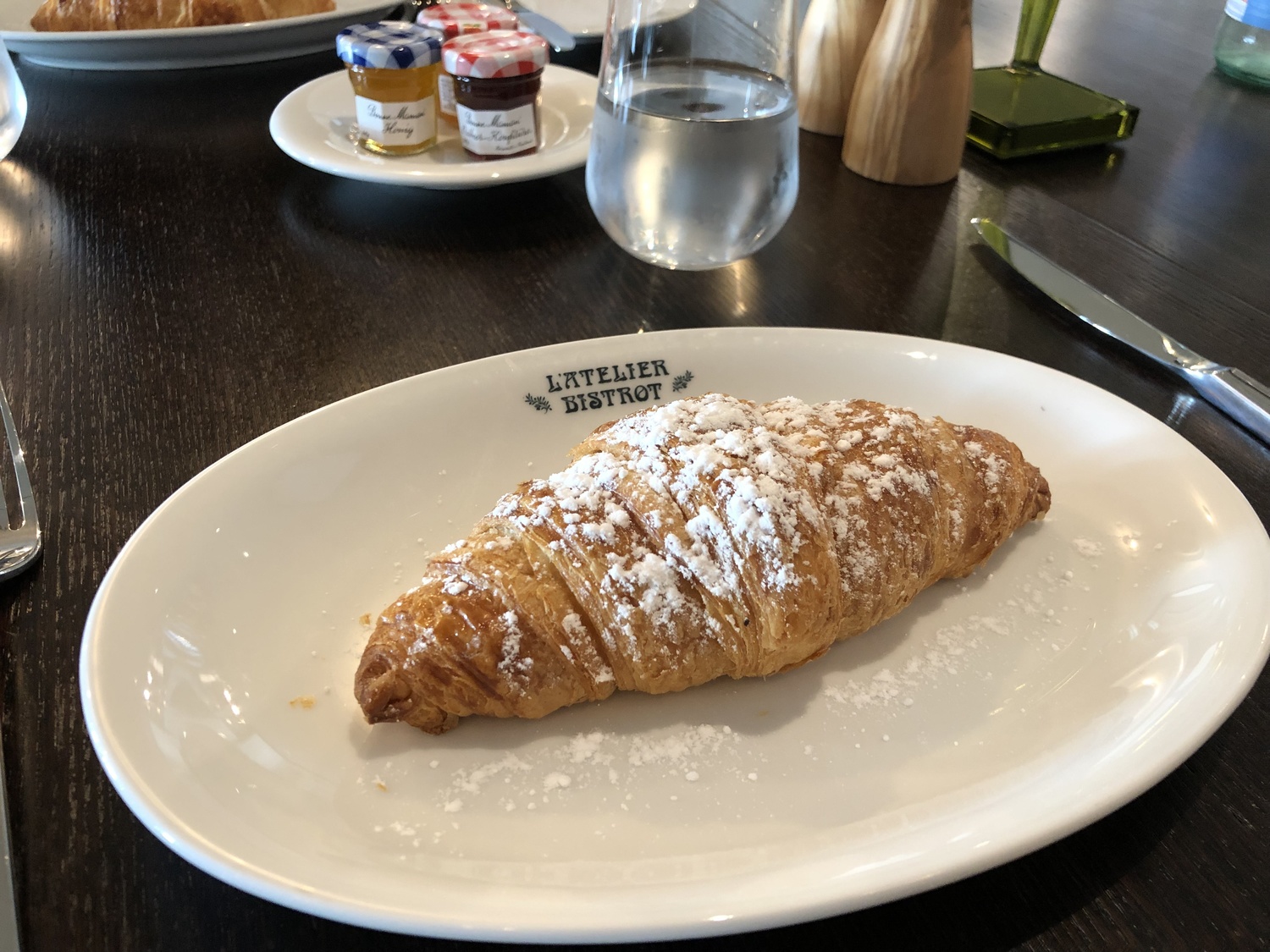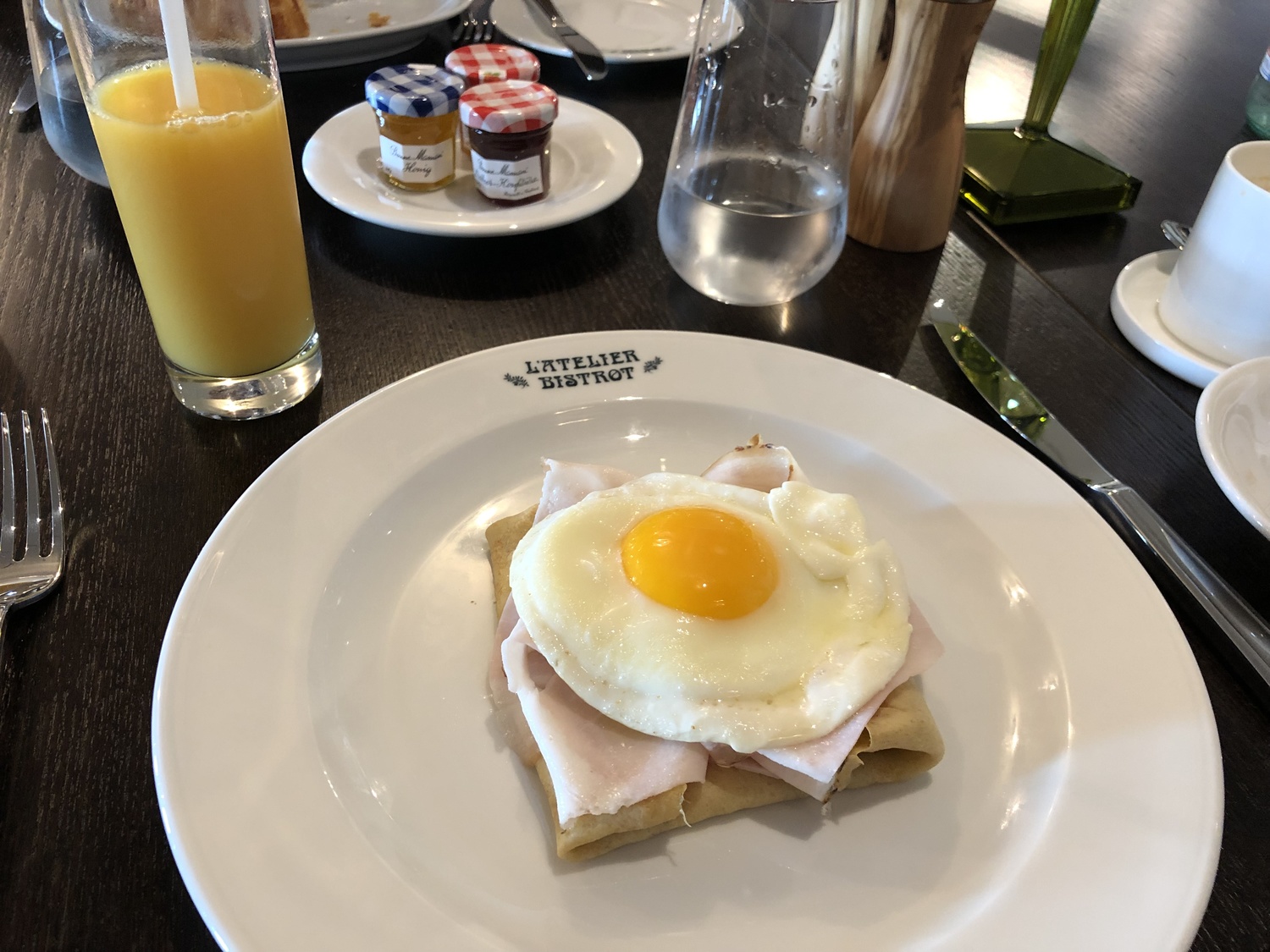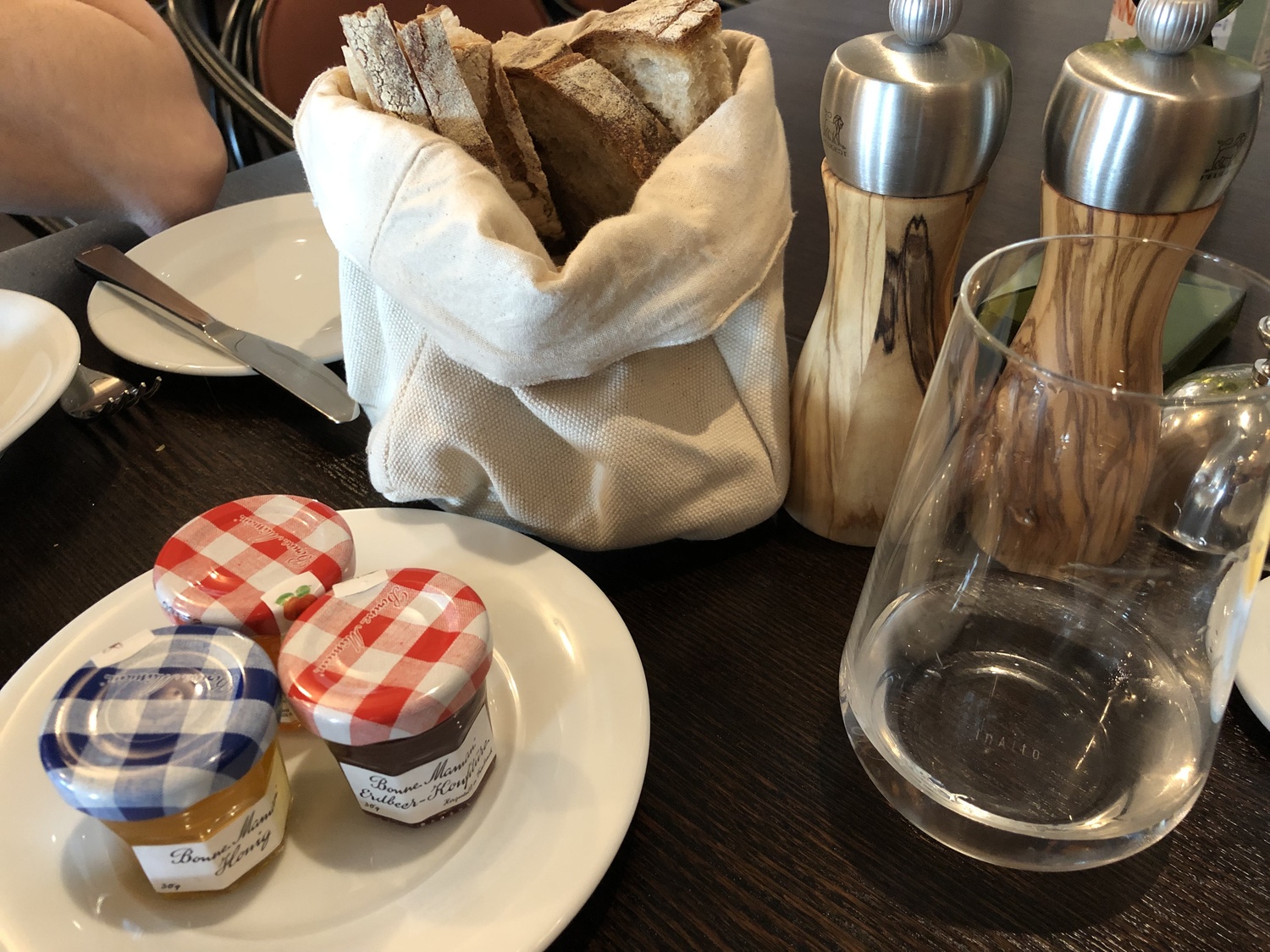 Braving the Outdoors
We decided to have a walk after breakfast and so donned our warm hoodies and waterproof jackets to explore the upper decks a little.
It's braw. A bit windy.
We headed out from the front of the ship to the rear, along the upper deck overlooking the pool. There was a very strong headwind helping us to the back of the ship, and the ocean spray was an invigorating start to the day!
All of the deck chairs were tied up, and the pools drained and covered with nets. Not that you'd want to take a dip in this weather anyway, though sitting in one of the hot tubs overlooking the sea might be fun!
At the back of the ship we saw another drained pool and got some great views of the ship's wake. You could really see the ocean doing its thing, though it doesn't look as bad as it feels.
The rear of the ship is tiered, and there'd normally be sun loungers adorning each deck. In nicer weather it'd be a lovely place to sit.
We also popped up to the water park which, naturally, was abandoned. They have one of those elevated rope courses which would be terrifying at the best of times, and perhaps dangerous in the current conditions. You'd be liable to get blown away!
We eventually settled at the Horizon Bar, which was sheltered from the wind and surprisingly pleasant. We got a cheeky pre-noon cocktail and sat enjoying the sea air and the ocean views before heading inside. This would be a great place to get a coffee with some pastries from the buffet in the morning.
Someone asked before what my blue cocktail was. I had the same again this morning, and it's called King-Kong. It includes Bacardi Superior rum, banana liqueur, orange and pineapple juice, coconut syrup, and blue curaçao. Delicious!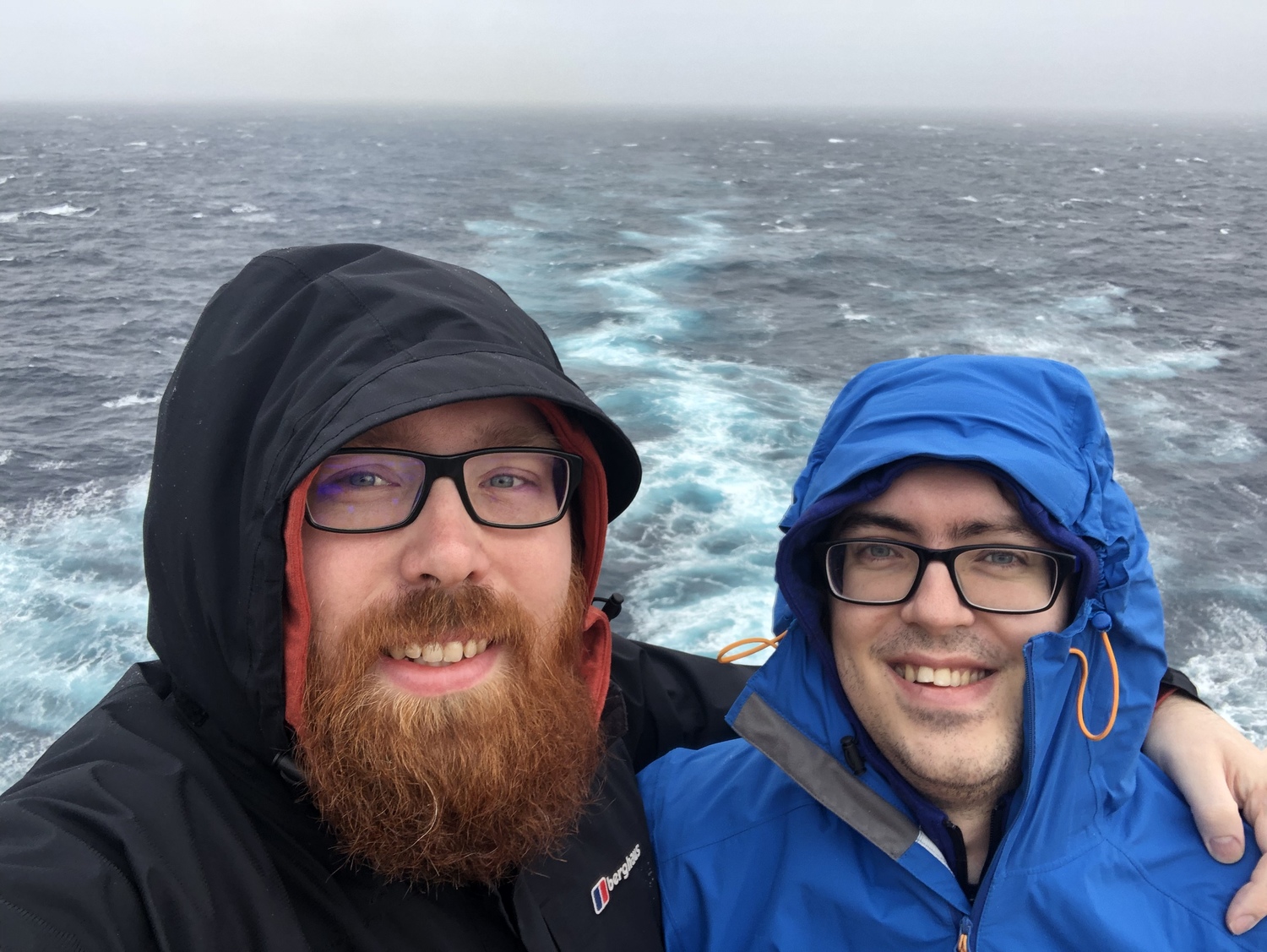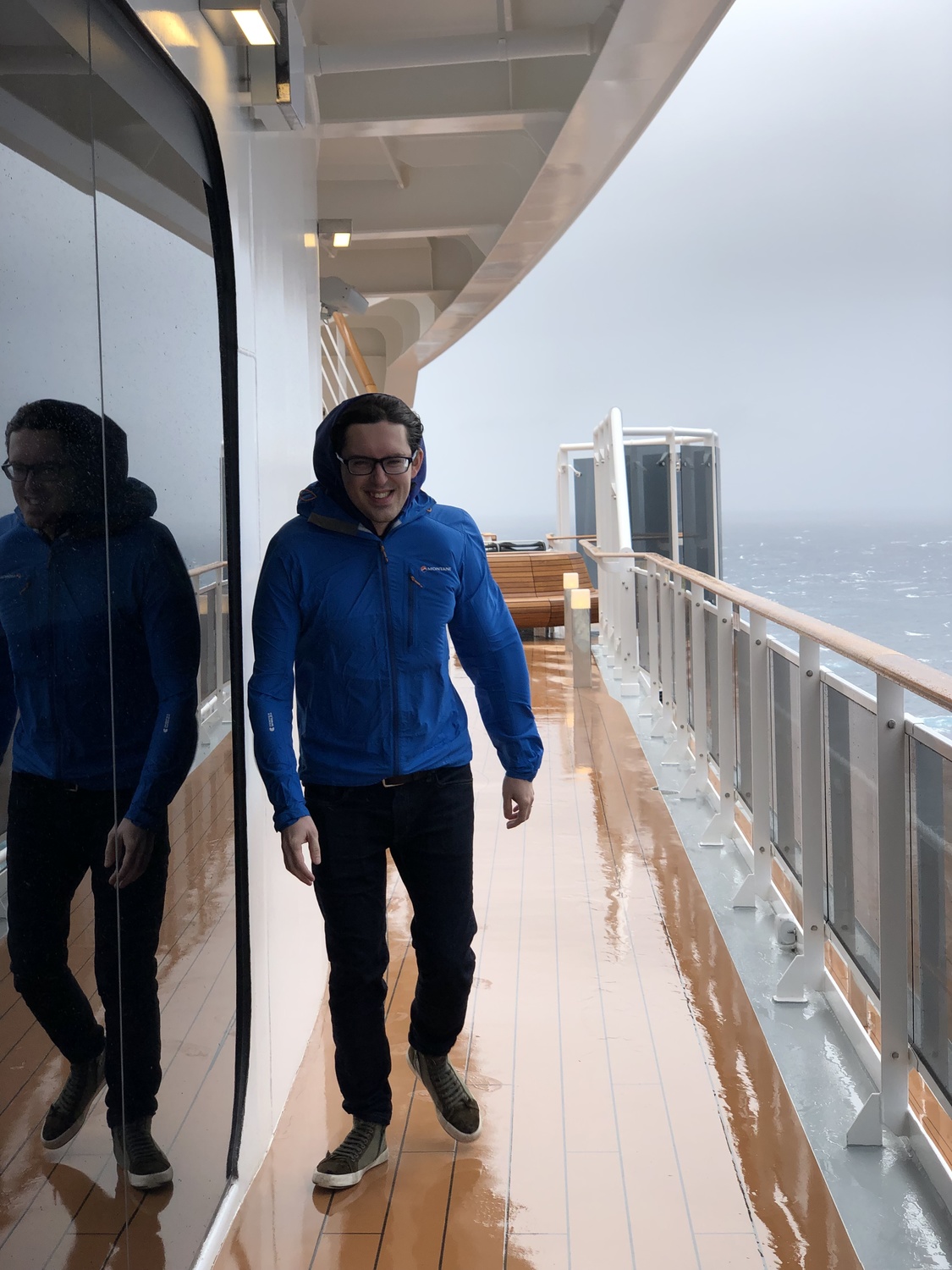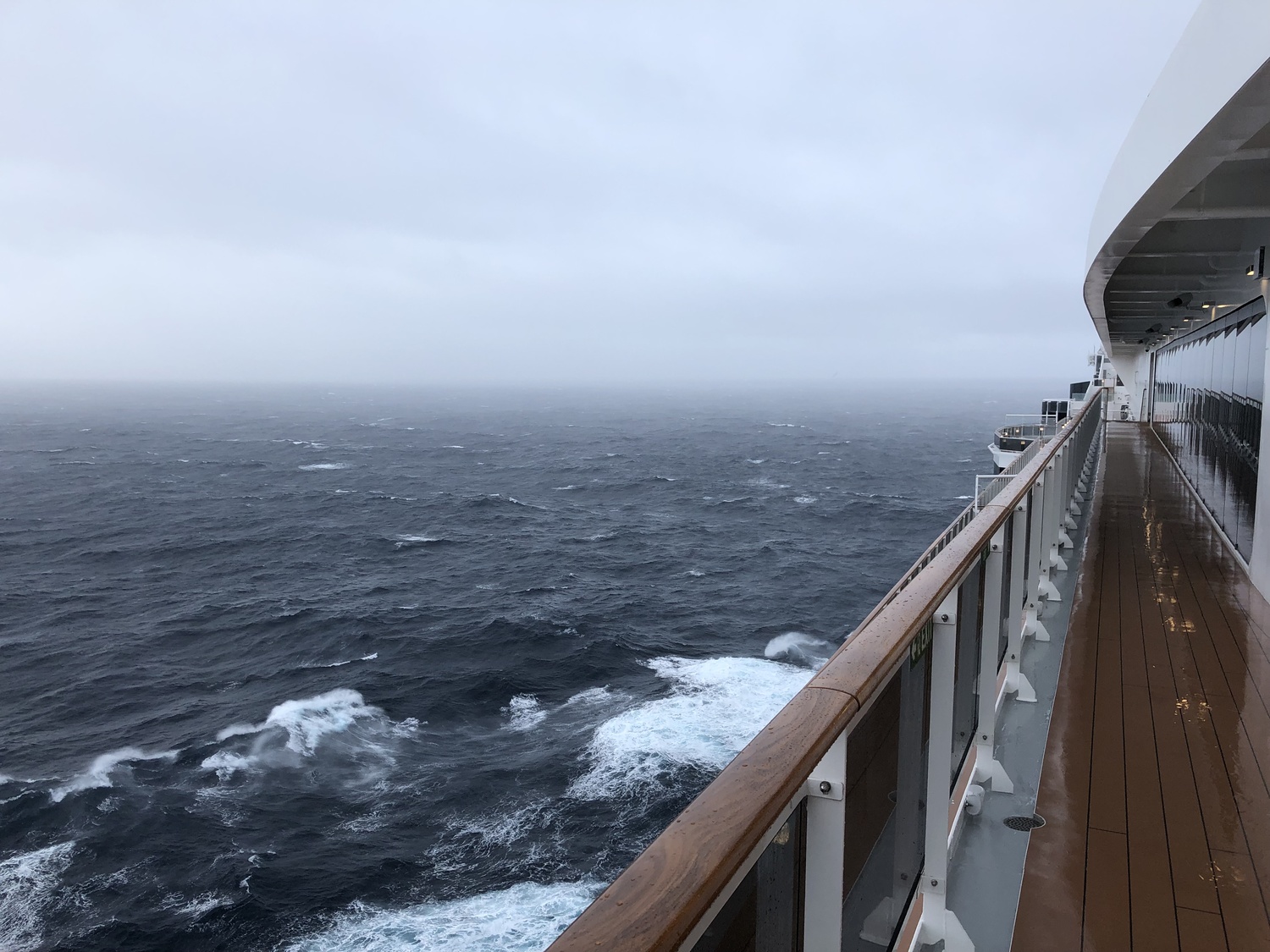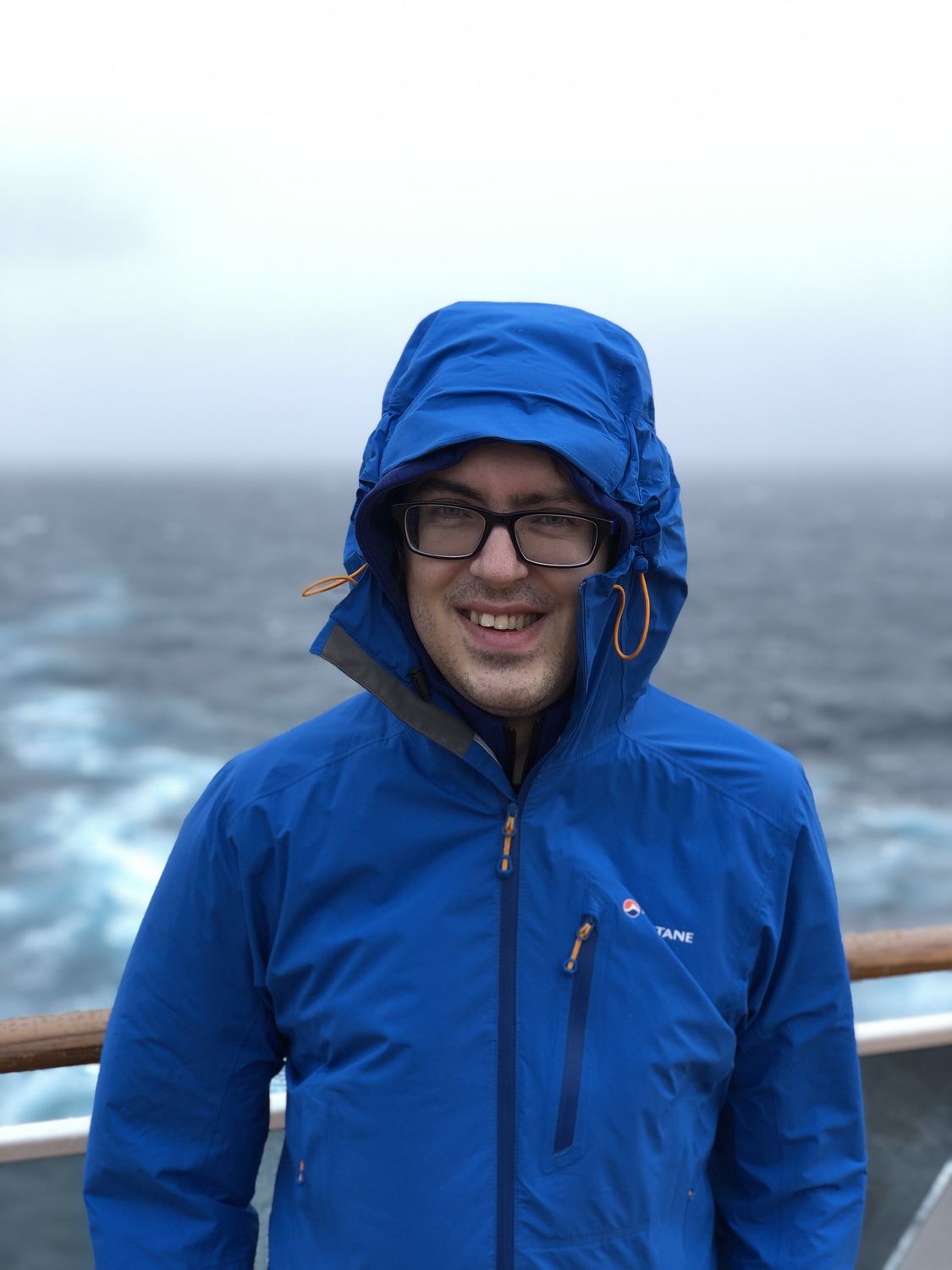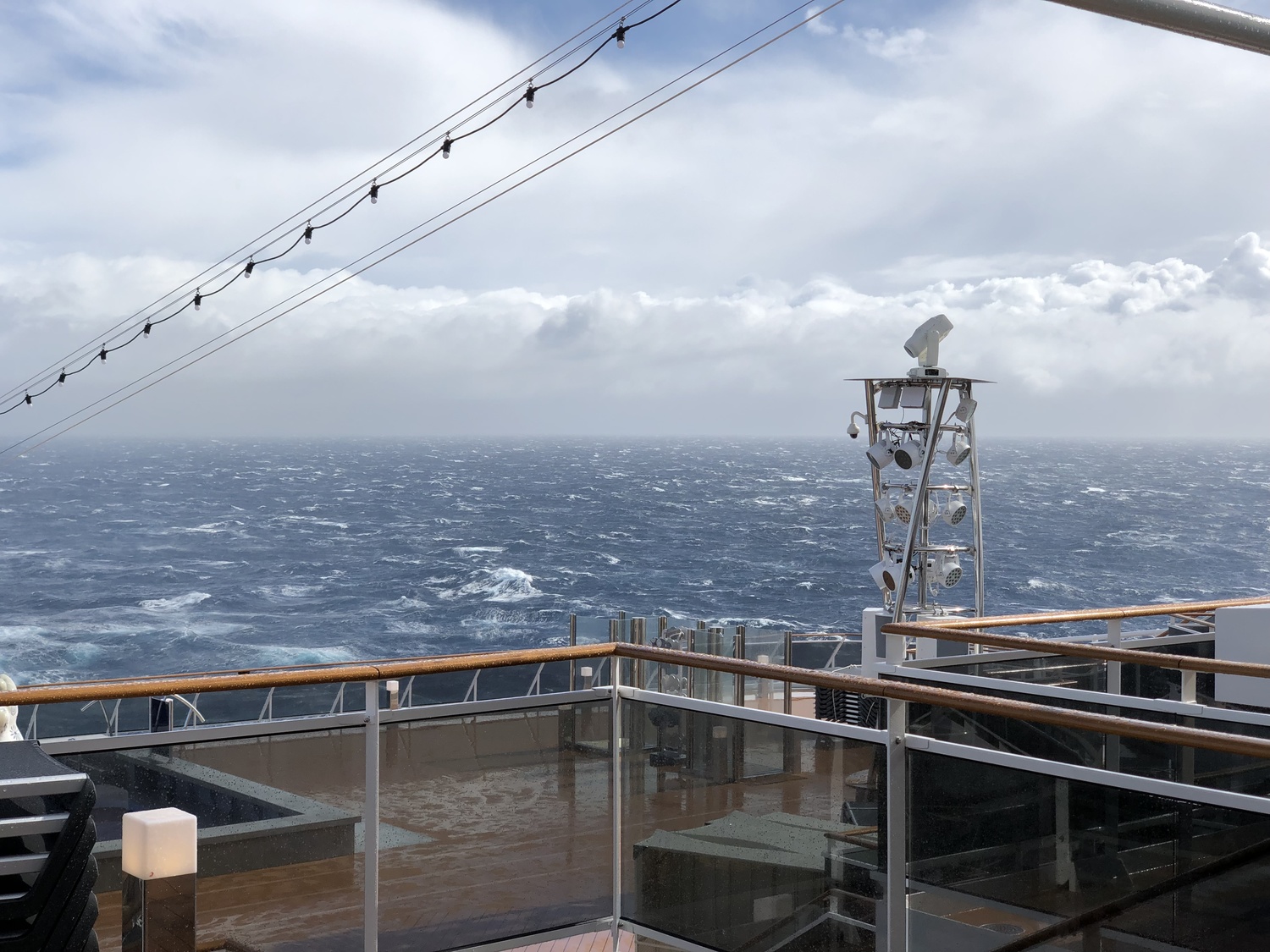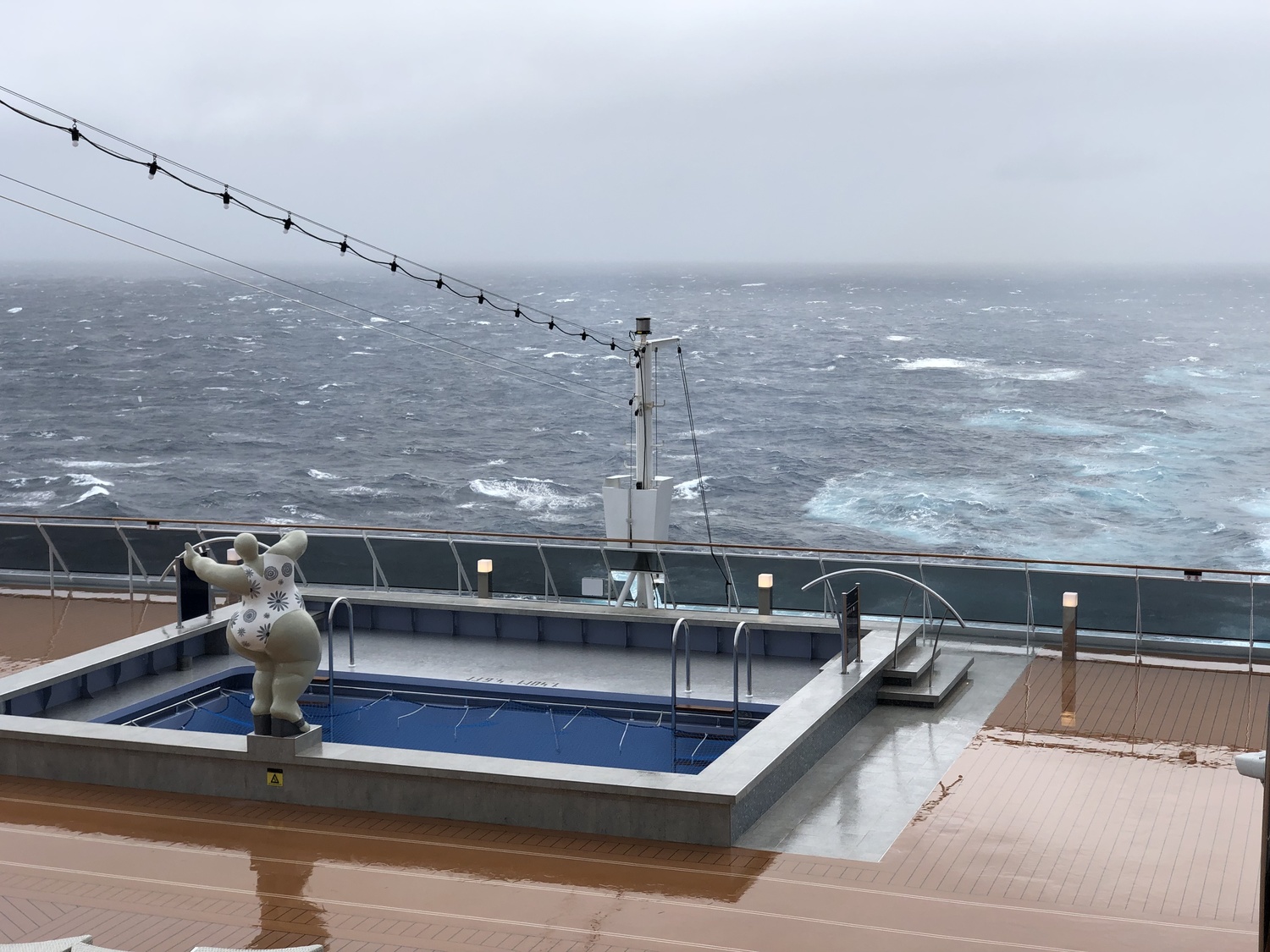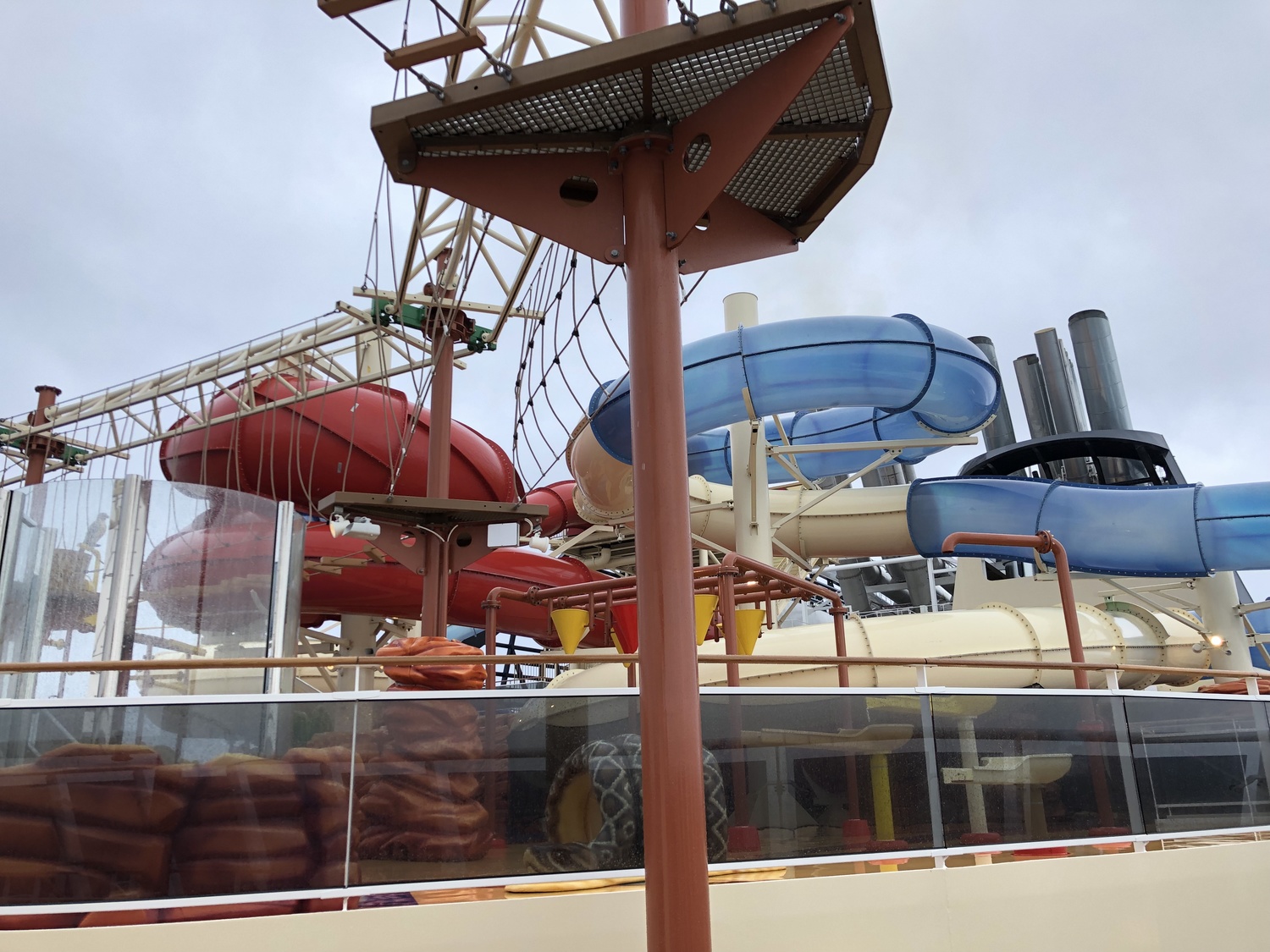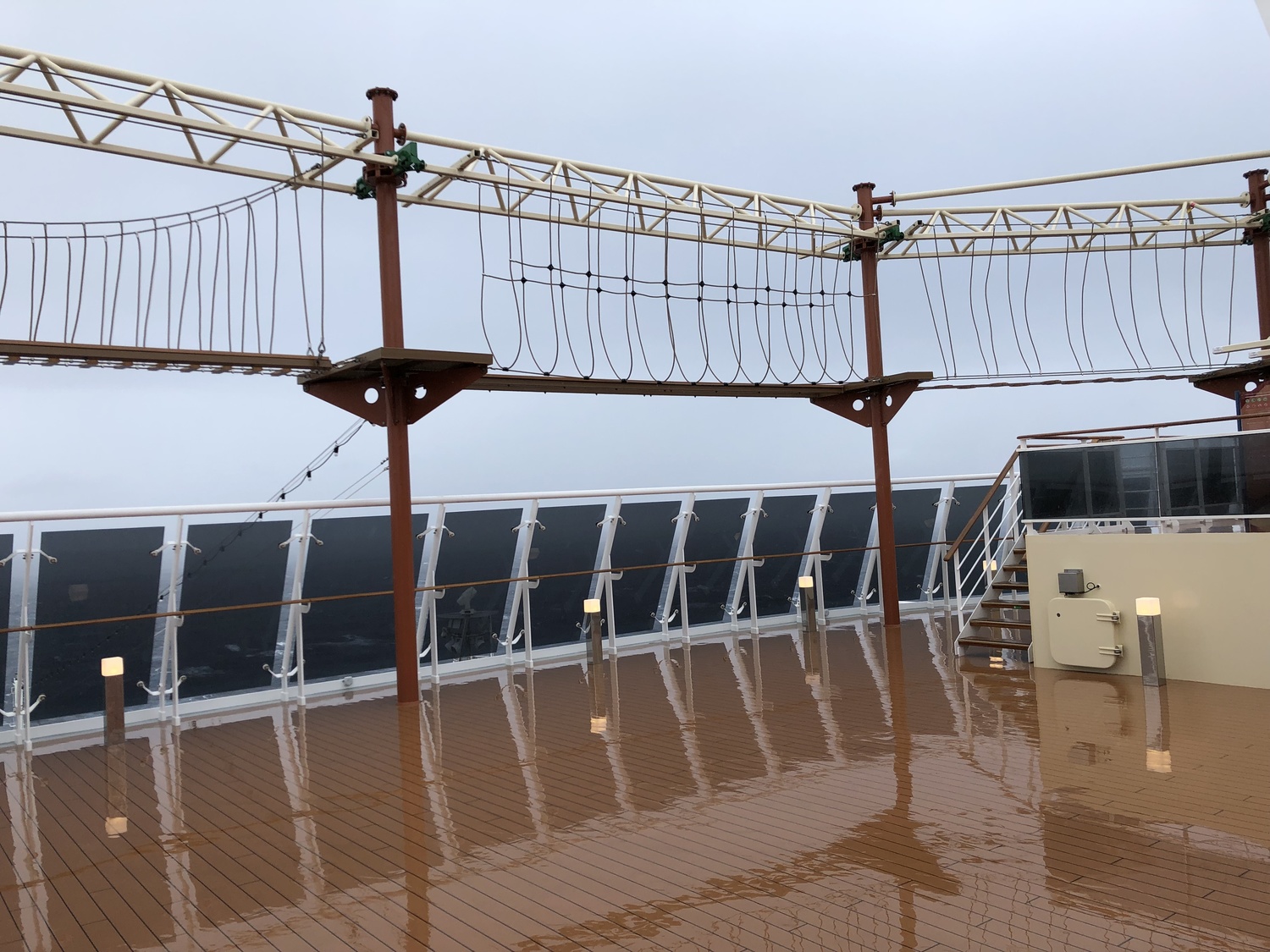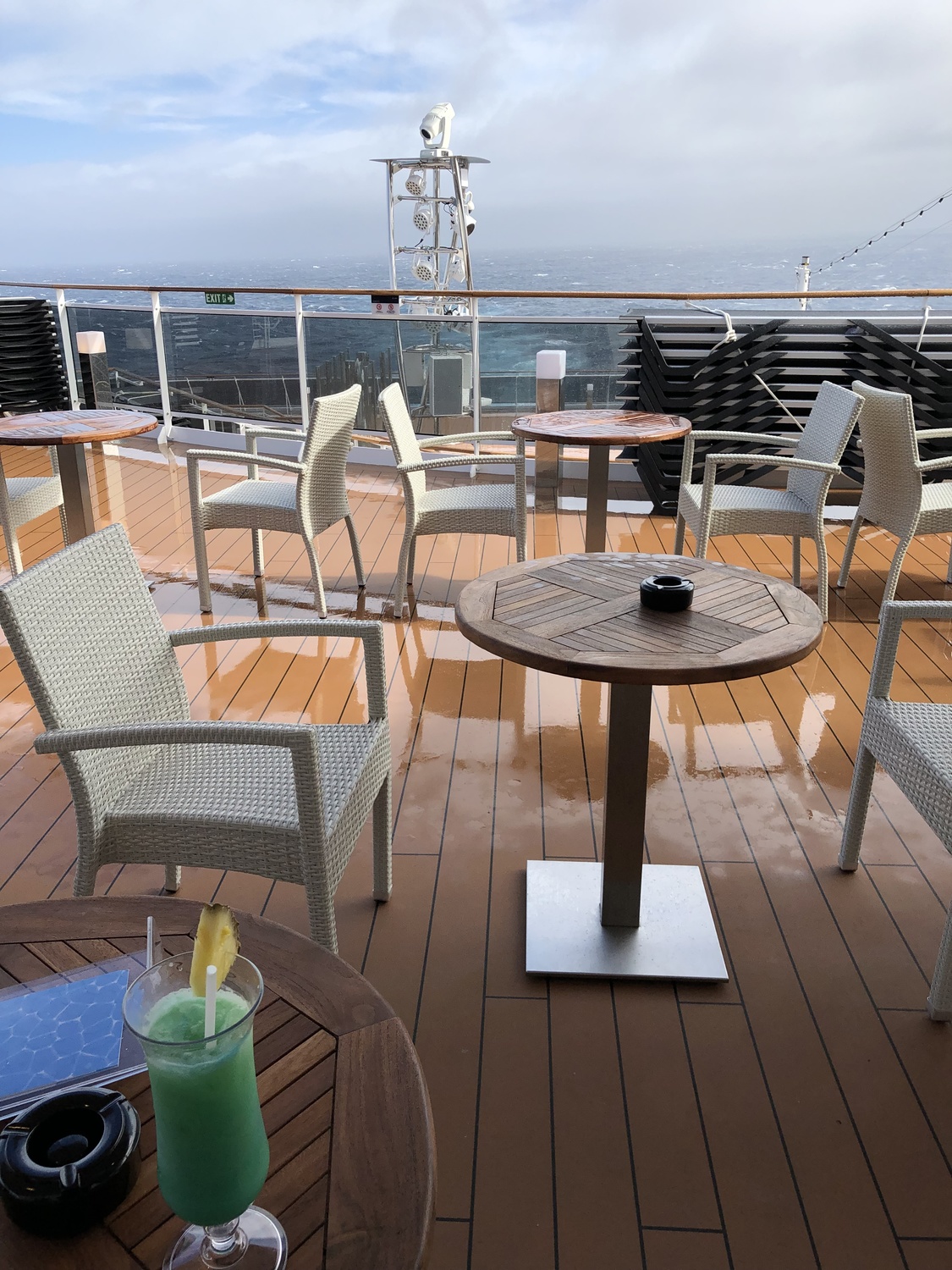 Sports Plaza
On the way back in, we passed through the Sportsplex which is home to a load of family-friendly activities and a large sports hall. There are a number of activities available here as well as a bar serving the usual bar menu plus some protein shakes and other health-conscious drinks.
Activities on offer include bowling, an F1 simulator, a VR maze experience, an interactive cinema, and a load of video arcade games.
The F1 simulator and bowling are fairly obvious. The interactive cinema looks like a motion seat with laser guns, offering a fun competitive game for the family to see who can get the high score. Mugshots of previous players were shown on interactive screen, including one kid giving the camera the middle finger! Hilarious, but MSC might want to start checking and censoring the photos as undoubtedly someone will take offence.
The VR maze looks like a standard HTC Vive but with some walls set up. It looks like it could be fun, but as we have a VR room at home I don't plan to pay to try it out here.
Of course all of this fun comes at a cost, and it's not cheap.
| Activity | Price |
| --- | --- |
| Bowling (30 min) | €30 |
| Bowling (1 hr) | €55 |
| Interactive Cinema | €10 / €8 |
| F1 Simulator (5 min) | €10 |
| VR Maze | €15 |
All prices are per person, except the bowling which is for 4 people (30 minutes) or 7 people (60 minutes). You can buy a 'Fun Pass' which effectively gives you some free credit towards these activities when you spent a certain amount.
| Spend | Get |
| --- | --- |
| €25 | €5 |
| €50 | €15 |
| €70 | €30 |
| €100 | €60 |
Overall it's a really nice space. On previous MSC ships the bowling alley and F1 simulator were in completely different areas and I think it makes a lot of sense to bring all of these facilities together in the same place. While we were there some people were kicking a ball around and shooting a basketball. Lots of fun for the sportier members of your group!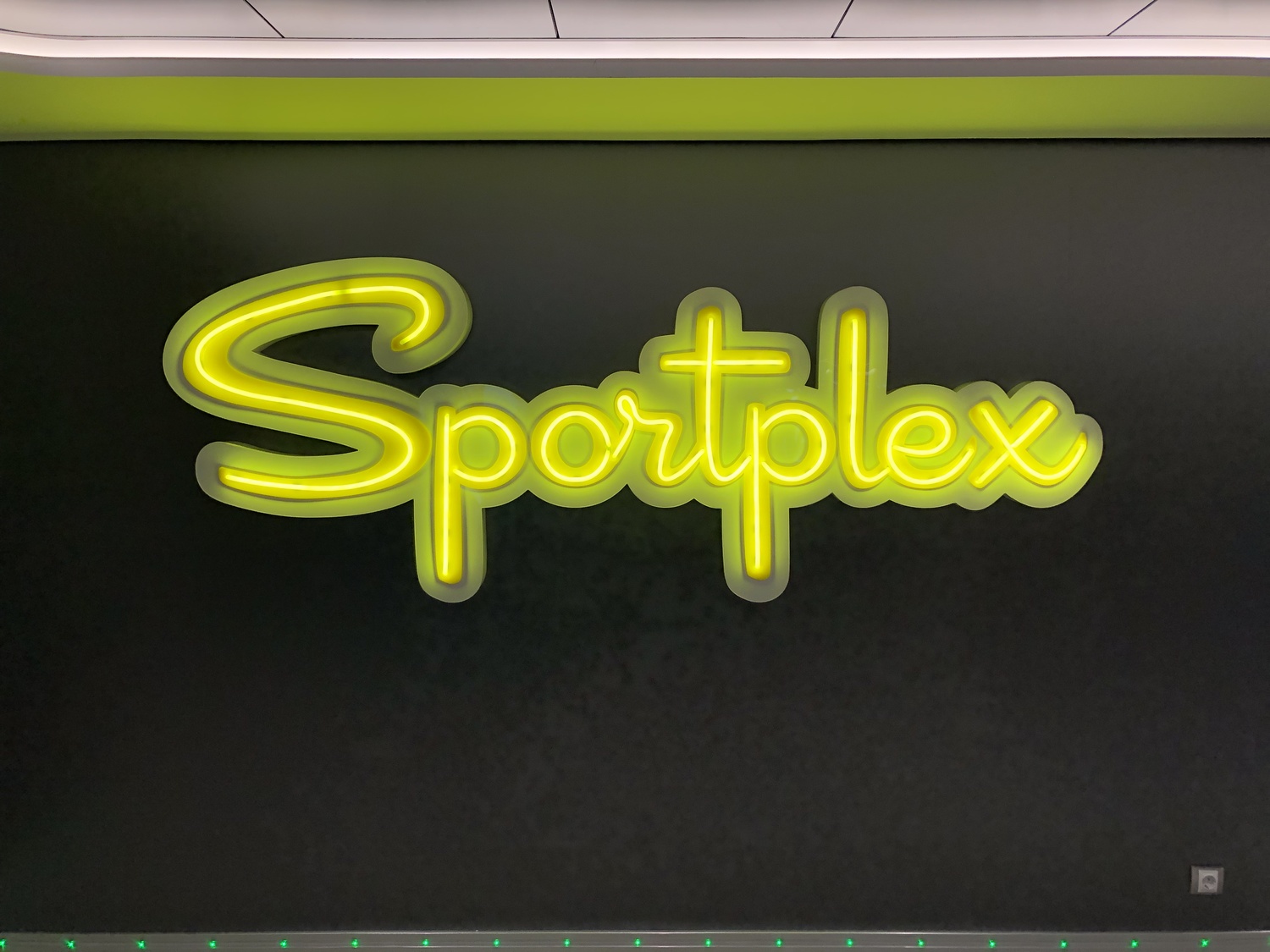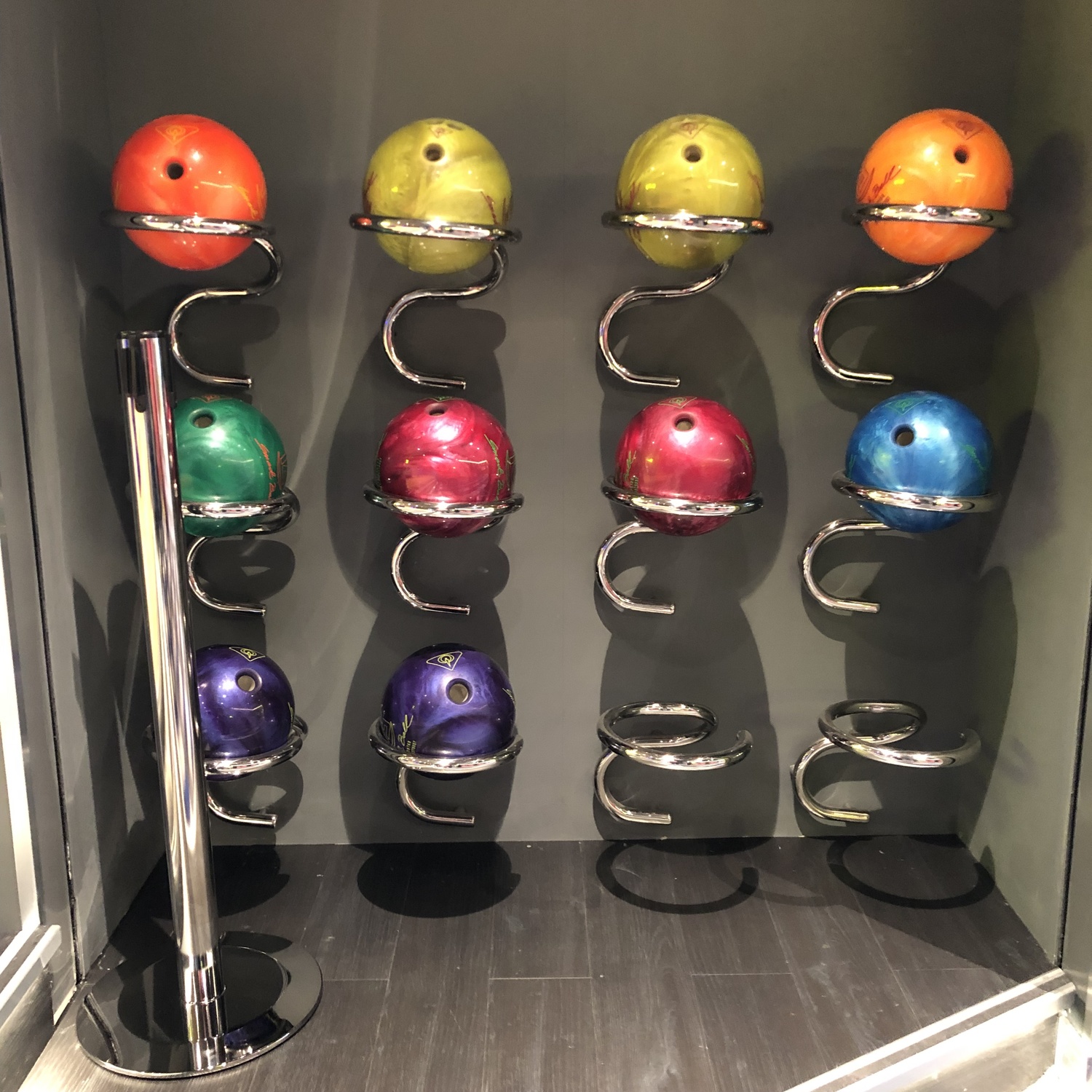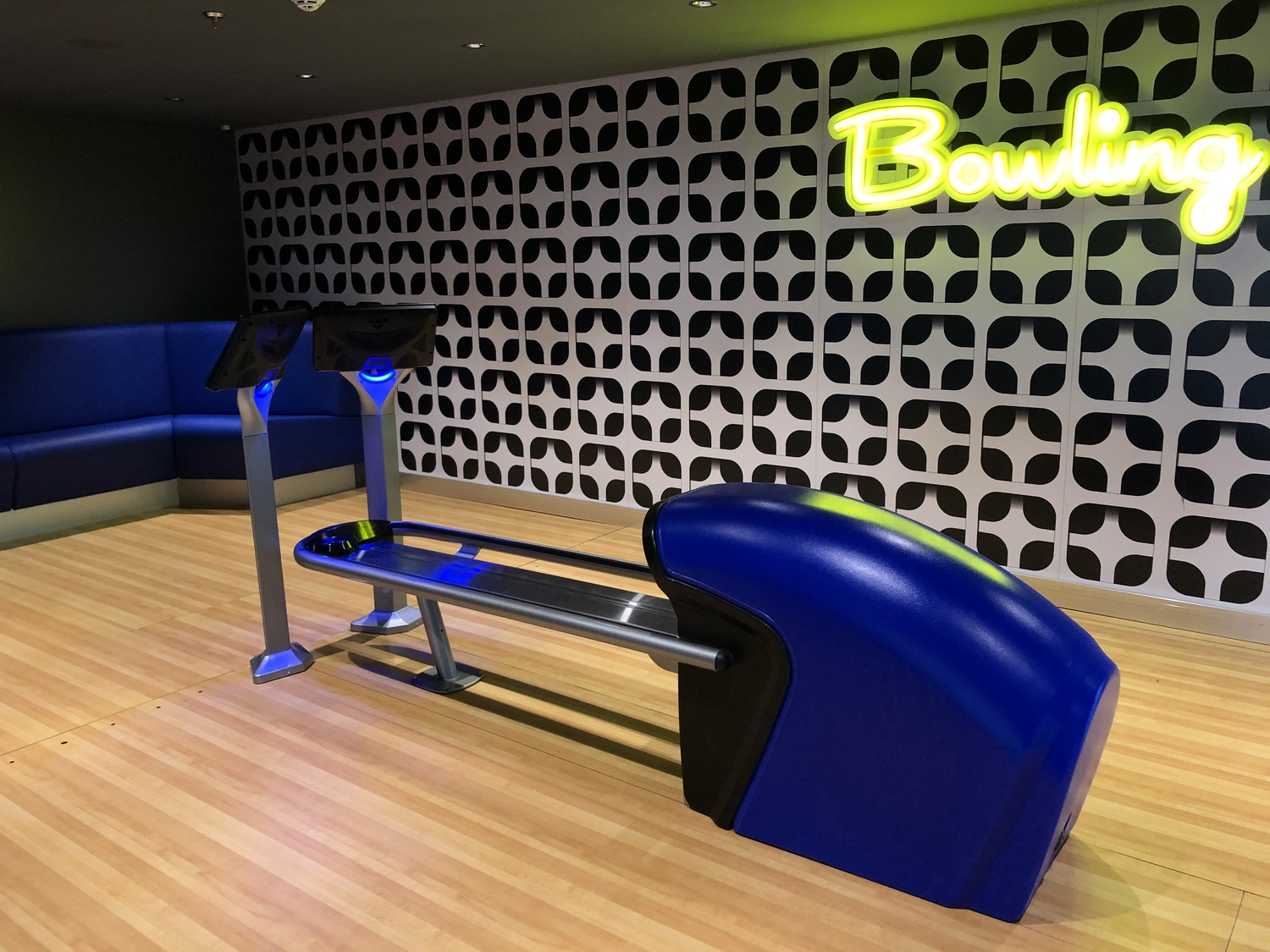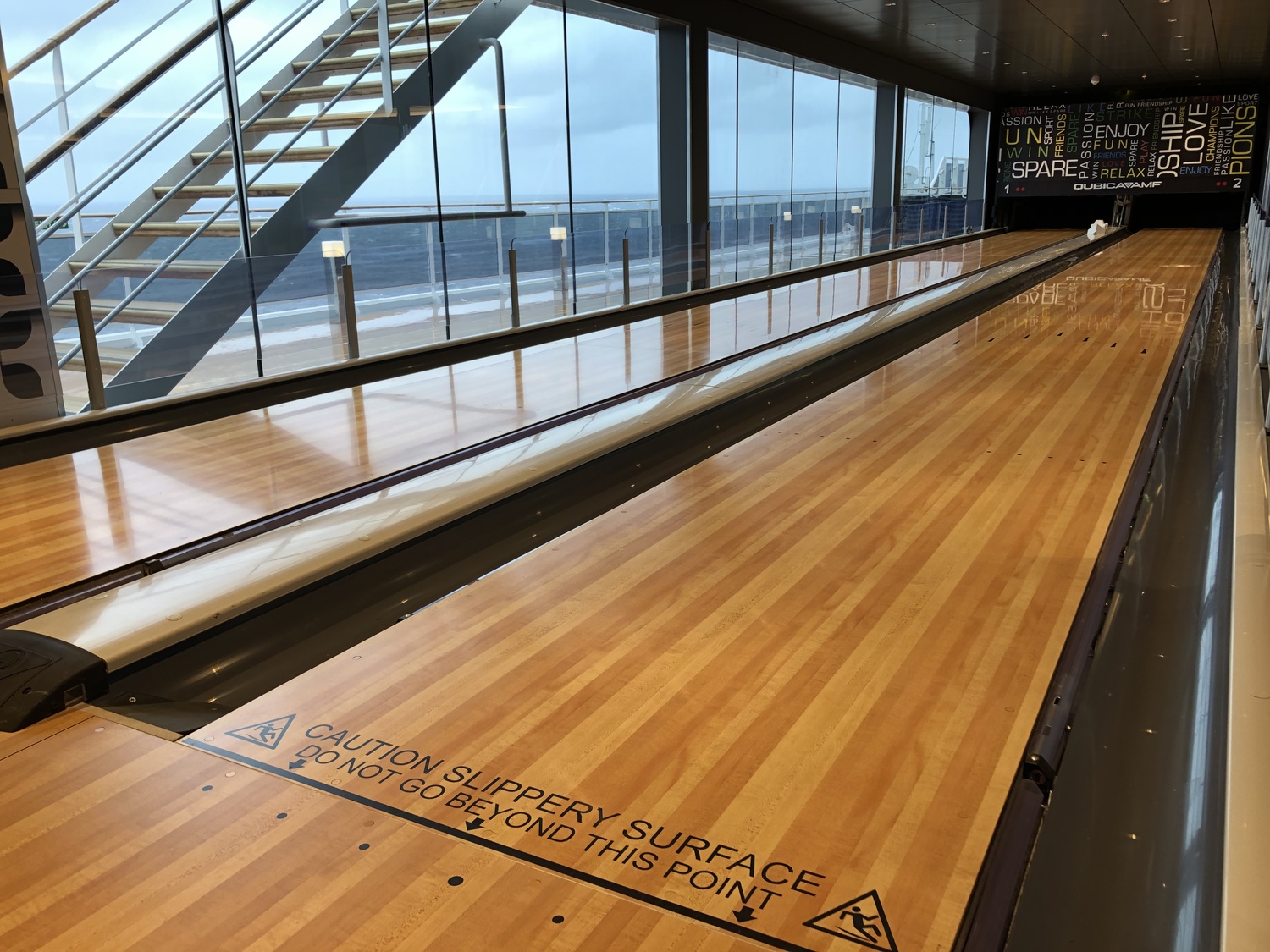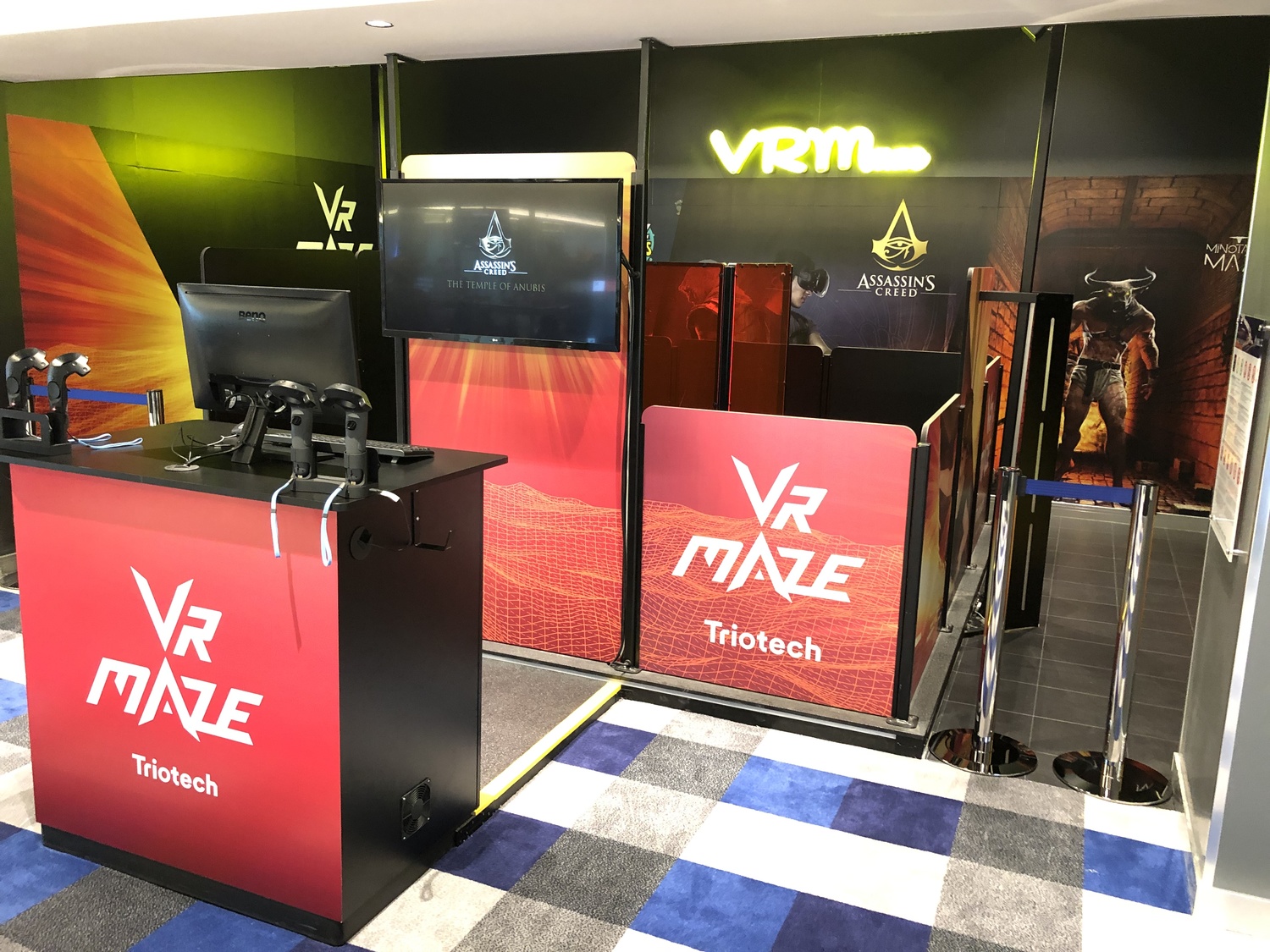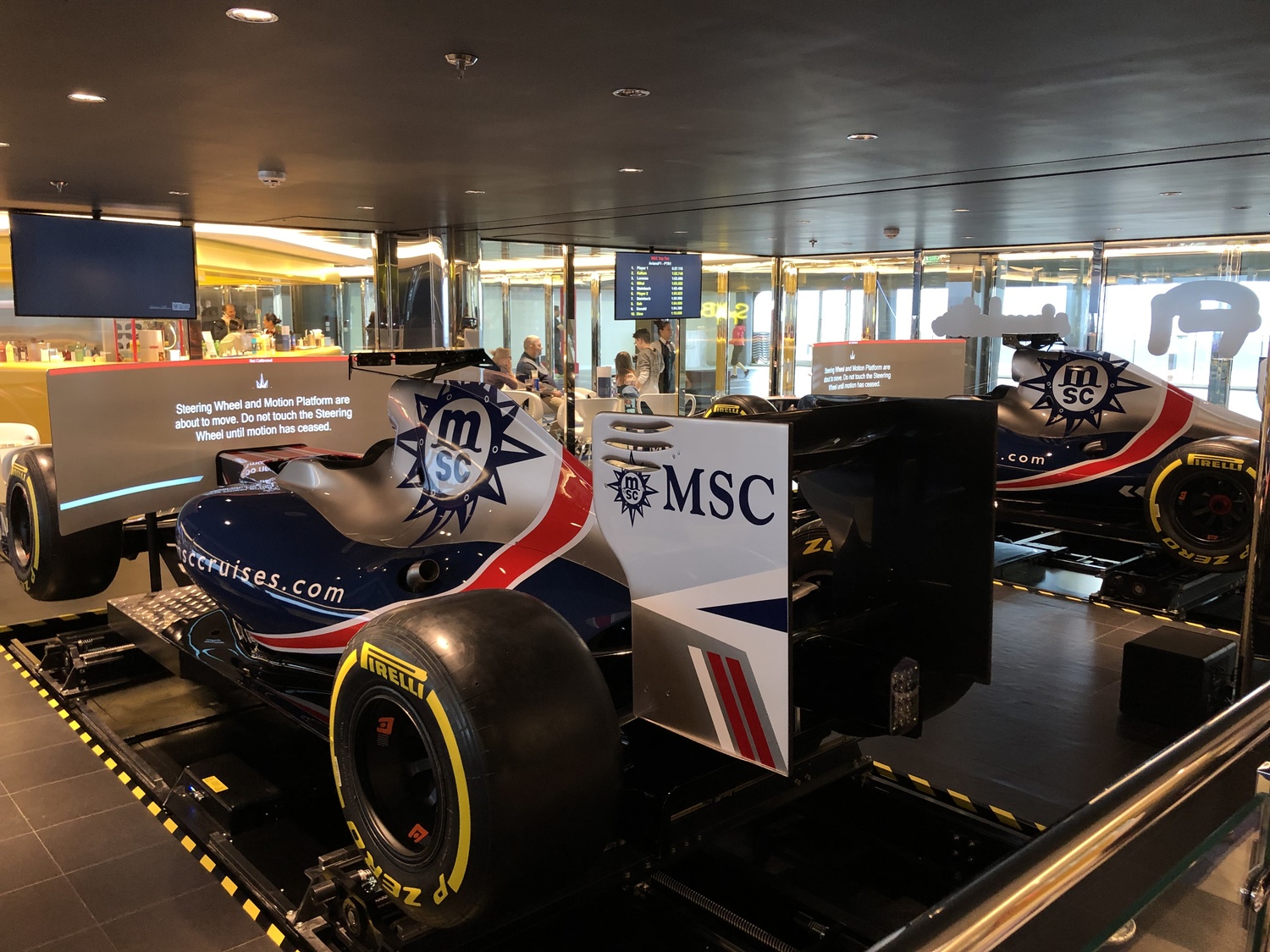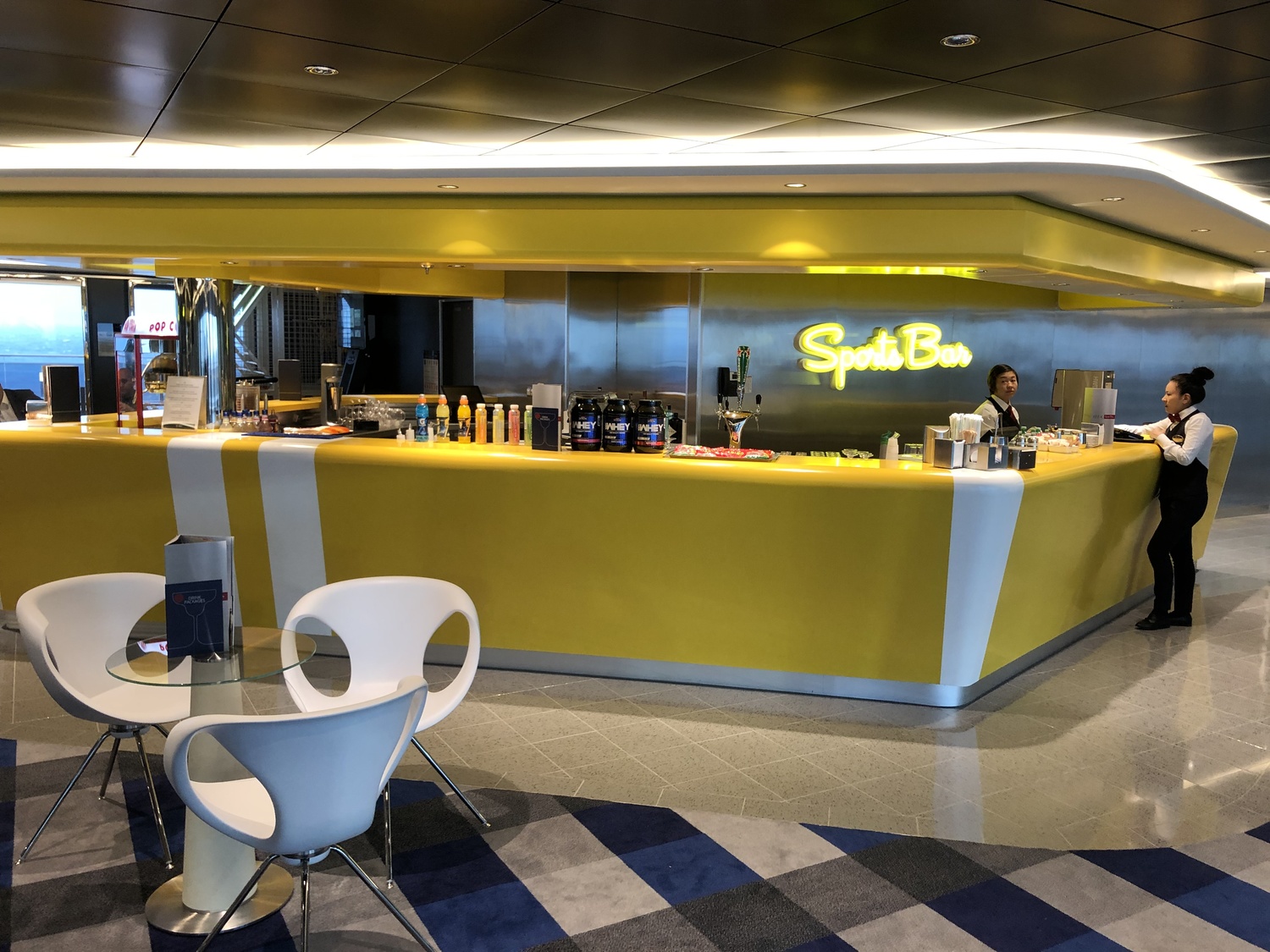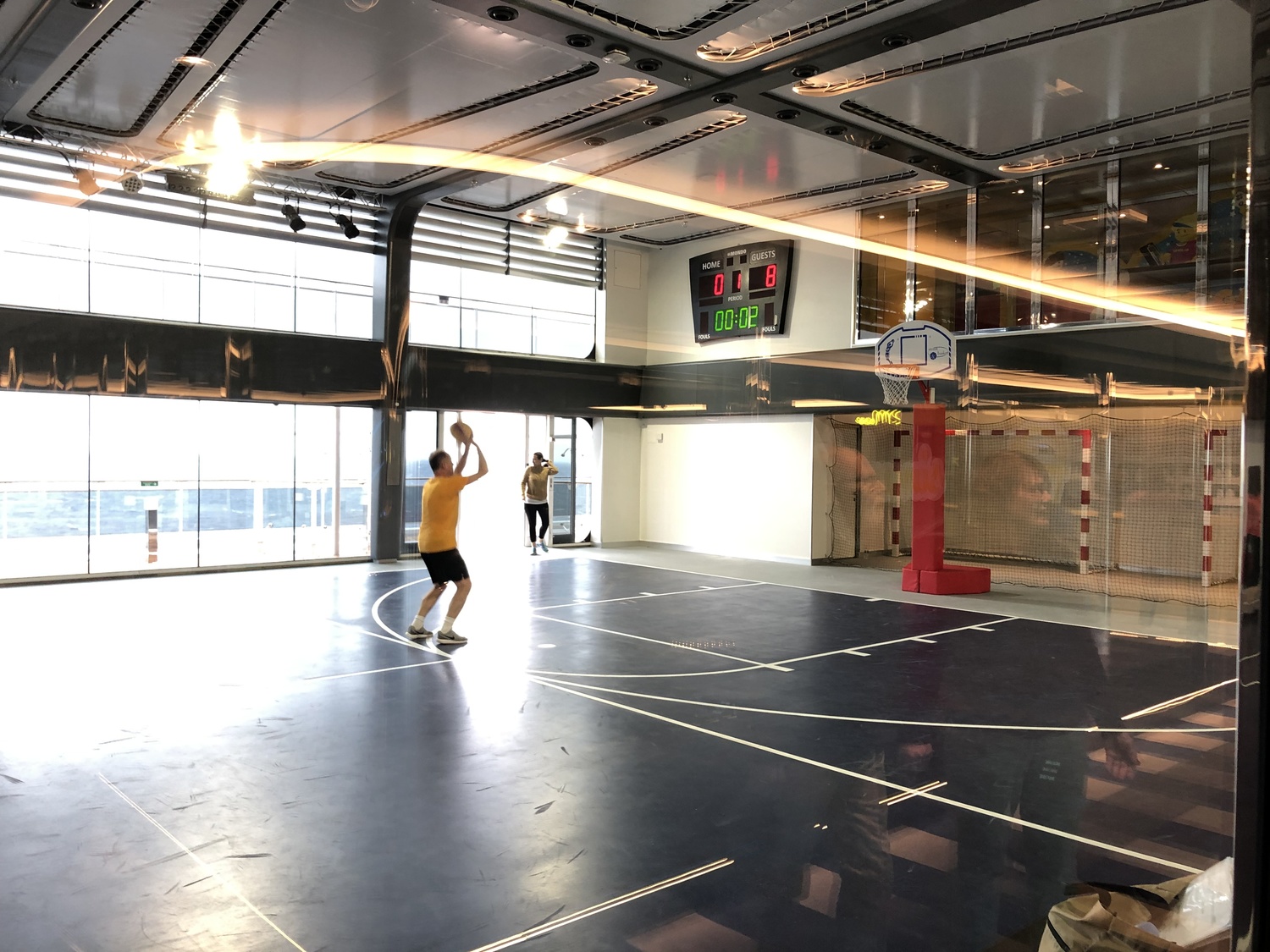 Bad Burgers
After the very energetic morning of exploration, we decided to relax with our book somewhere, and we finally found a table in the British pub again. It was really busy, and the ship was moving around much more than earlier. I had another beertail (this time featuring cherry liquor and apple cider - very nice) and we met TopDeck (from the CD forum) and some other cruisers. Some lovely chat definitely took our mind off of the motion. We also got chatting to a lovely guy from Seattle - lots of friendly people enjoying their afternoon in the pub!
I decided it was lunch time, and seeing as we were already here I ordered more beer and a cheeseburger from the Pub menu. The cheeseburger sounded good and was only €4 so I thought it was worth it. Unfortunately I was wrong.
Regular readers will know I have no problem paying an extra charge for food on a ship, but I expect that food to be better than the included offerings. In this case, the burger was very disappointing and the fries were undercooked and soggy. The fries from the buffet were better.
My advice: steer clear of the food in the British Pub!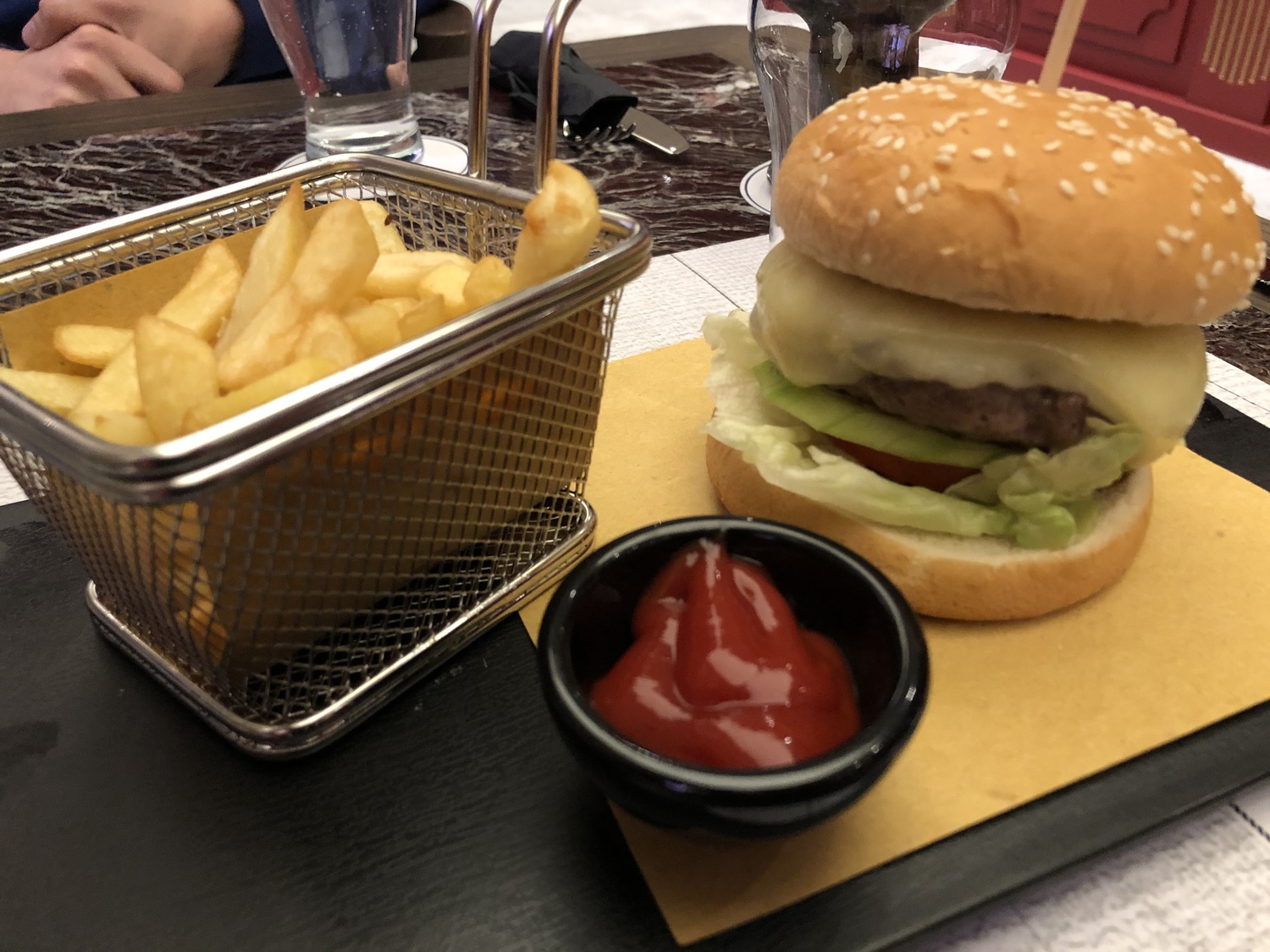 Unfortunately after our late lunch the rocking got quite a bit worse and we retreated to the stateroom to lie down for a bit.
A Visit to Guest Relations
As is common on cruises, I noticed a discrepancy in my online account when I checked it in the app today. There were charges for drinks, including €165 on wine from the dining room! This happens regularly to me on cruise lines, and really reinforces the need to check your folio regularly.
Of course, a visit to guest relations solved this very quickly. Mistakes can happen, and they're probably even more common as staff are getting used to the new ordering technology that's being used. Still, this has happened to me on several lines across multiple different ships.
While at Guest Relations I took the advice of several folk and picked up a free motion sickness tablet for Alex. I got the impression I wasn't the first person asking for one today! Unfortunately this didn't seem to work for Alex at all, and his uneasiness continued with the worsening sea conditions.
Several times today we saw glasses come crashing to the floor and shattering. This happened a couple of times in the pub, a few times in the atrium bar, and once in the tapas restaurant.
Dinner at HOLA! Tapas Bar
Tonight's dinner was booked for the tapas bar which is unfortunate as Alex had a severely suppressed appetite from the motion sickness. Still, we had to try and eat at some point, and with the extended stay in Lisbon there aren't any nights left to go.
The menu offered as part of the package offers a selection of tapas from a set menu. You can select 5 each, so 10 for the table. You also get a burger and fries each, and a choice of dessert. Frankly, this was far too much food. The burger was wholly unnecessary and not something I really want after tapas. We were completely stuffed after the tapas.
We ordered a number of things and I don't intend to list them all here, though everything is photographed for your viewing pleasure. Almost everything was delicious. The charcoal bao bun with garlic prawns was odd - I've never had a crispy bao bun before and I'm not sure it was right. Otherwise the tapas and burgers were great, though we didn't really eat any of the burgers as it was just too much food.
We ordered churros and 'orange in different textures' for dessert. The churros were terrible. Completely overcooked and crunchy, though the foamed dark chocolate dip they were served with was excellent. The orange dessert was lovely though. It consisted of a light orange foam topping an orange sorbet, with some orange pieces at the bottom. It was light, fresh, and just the ticket after a big meal.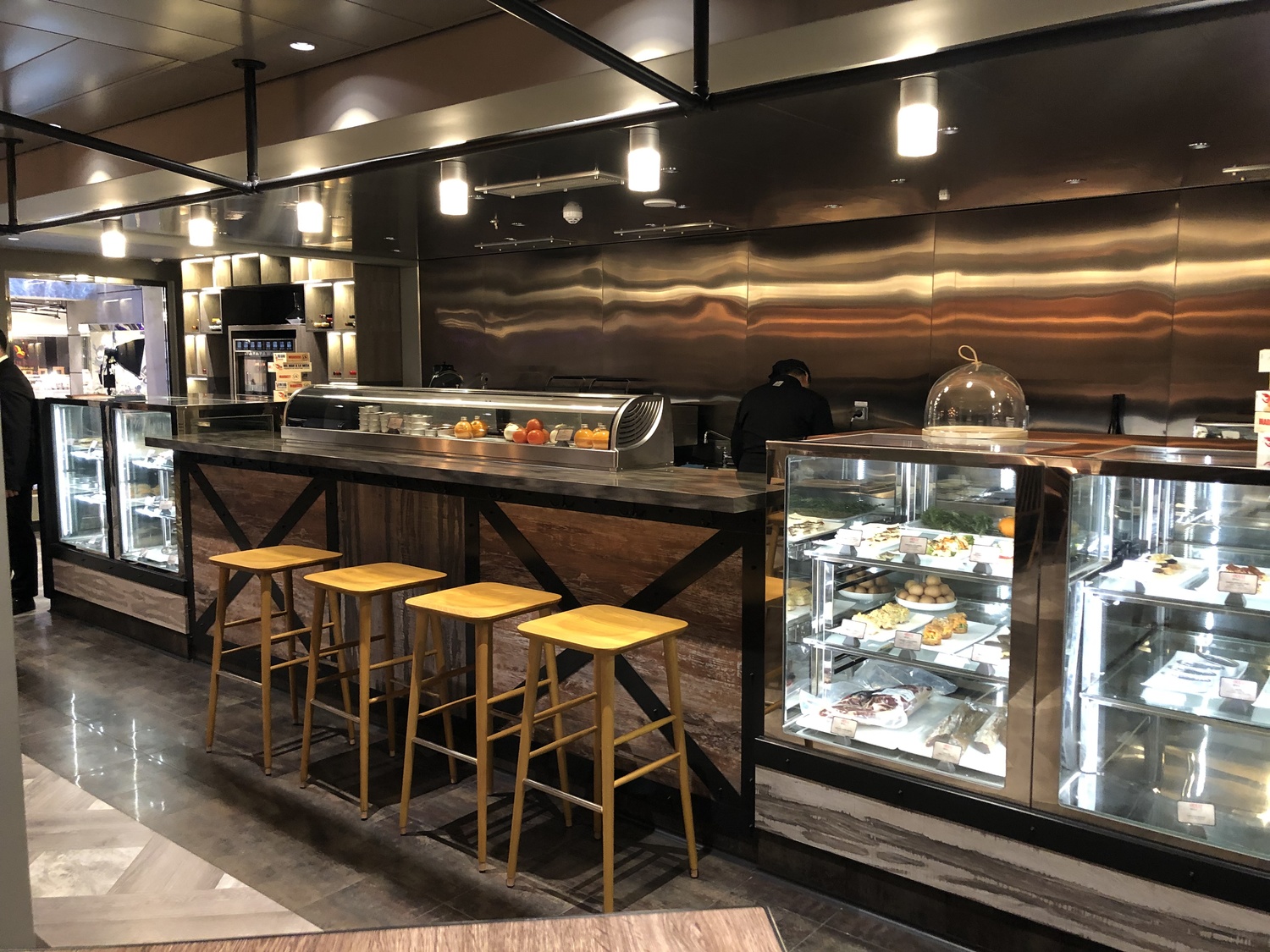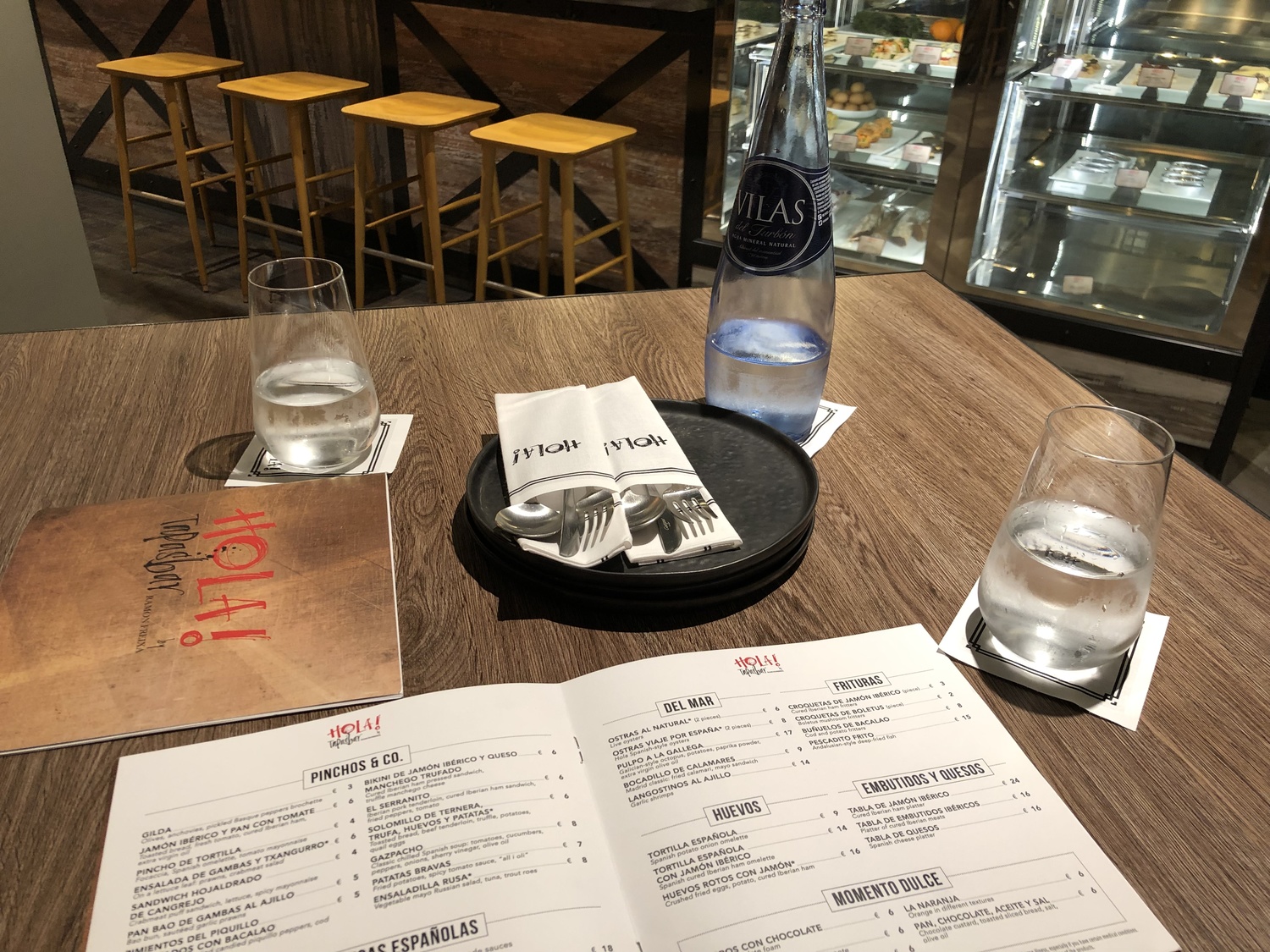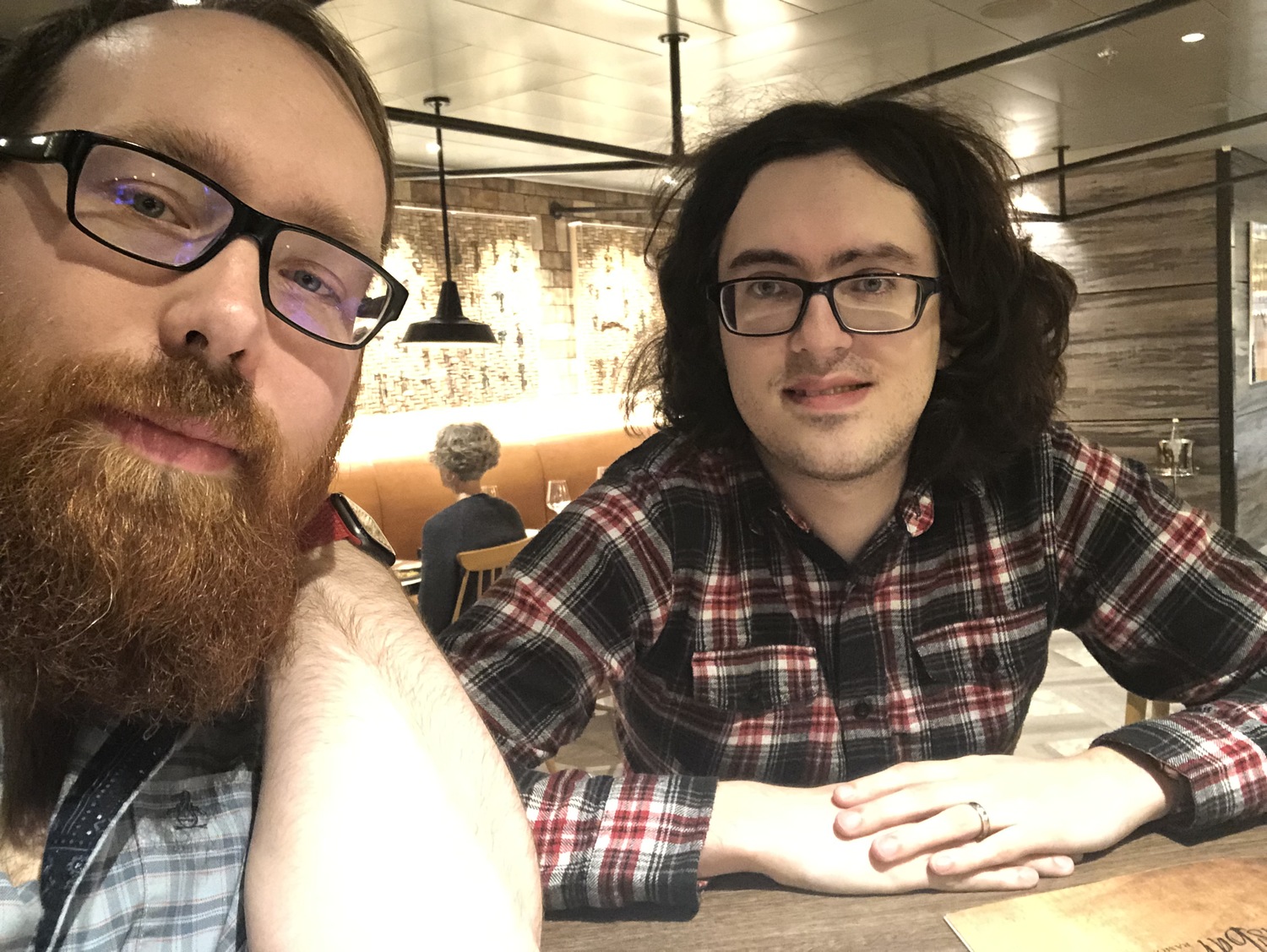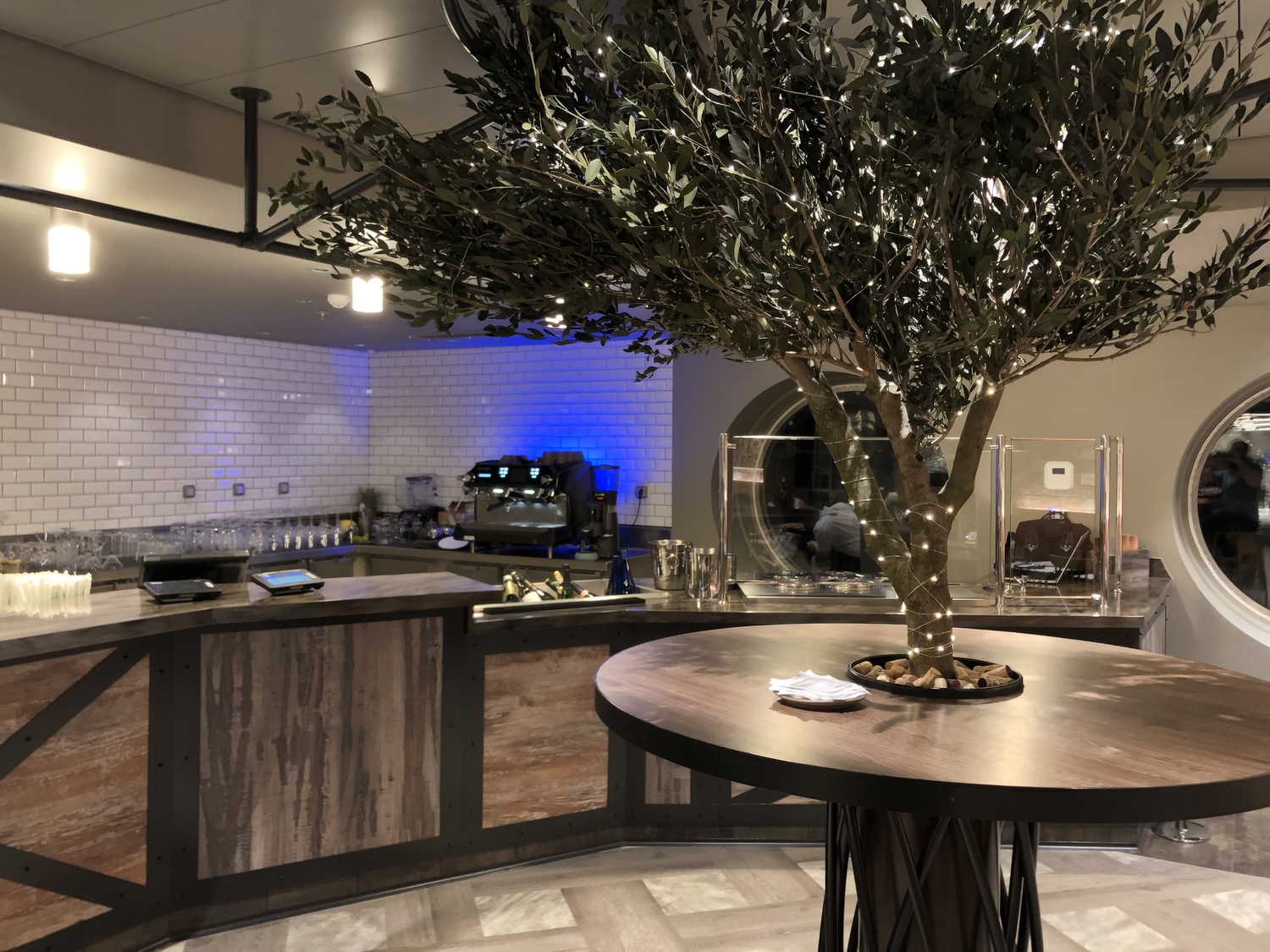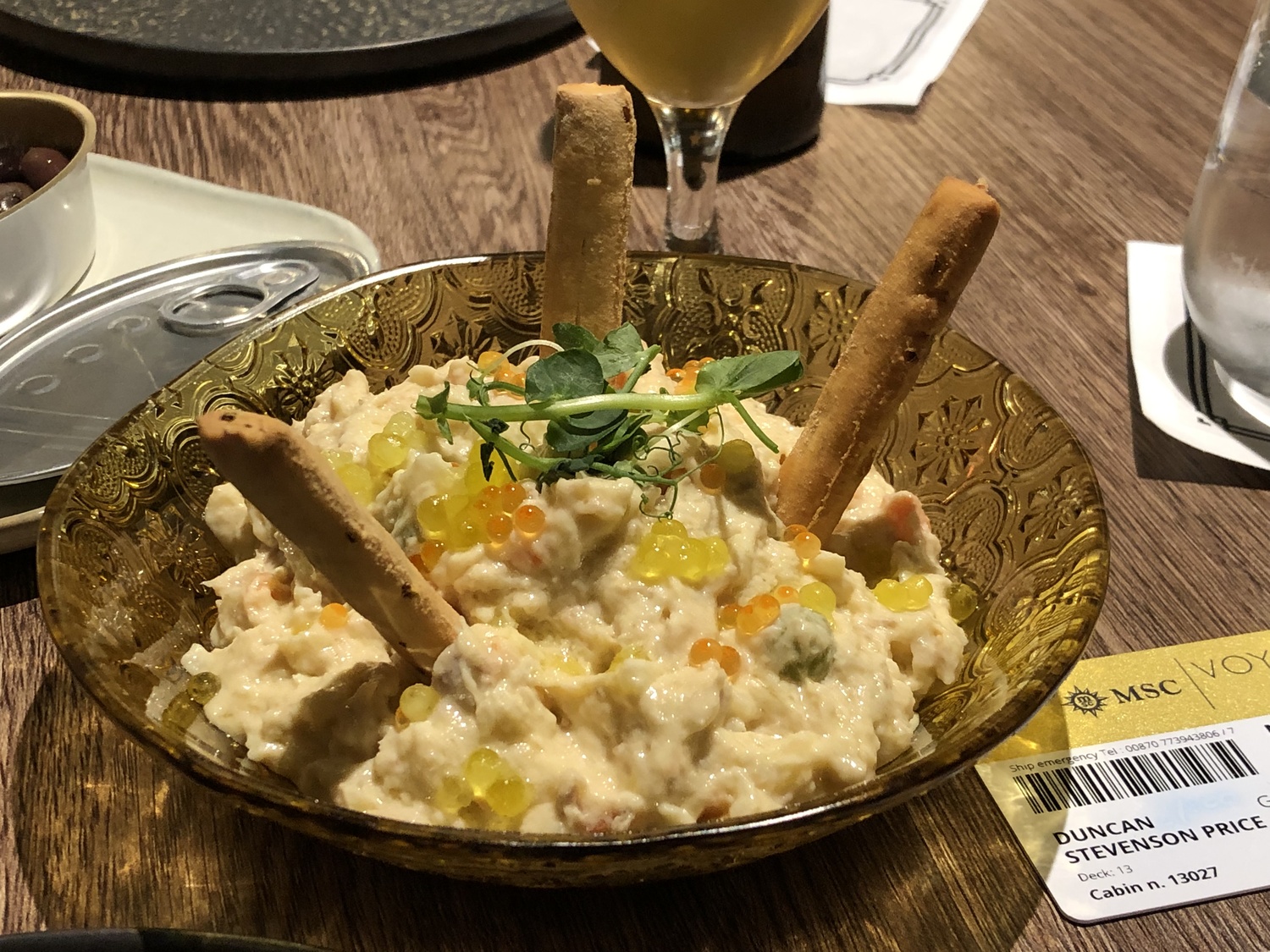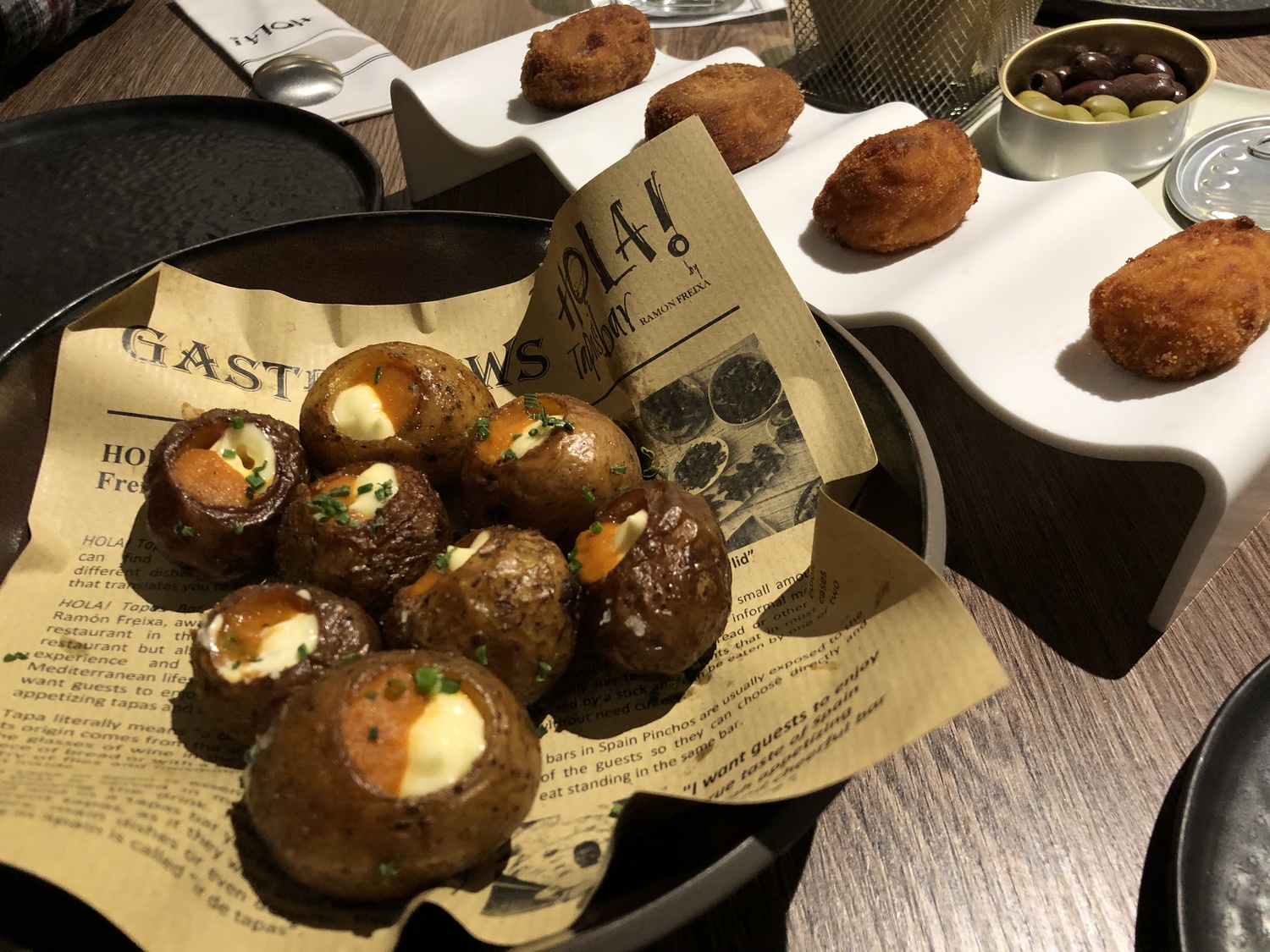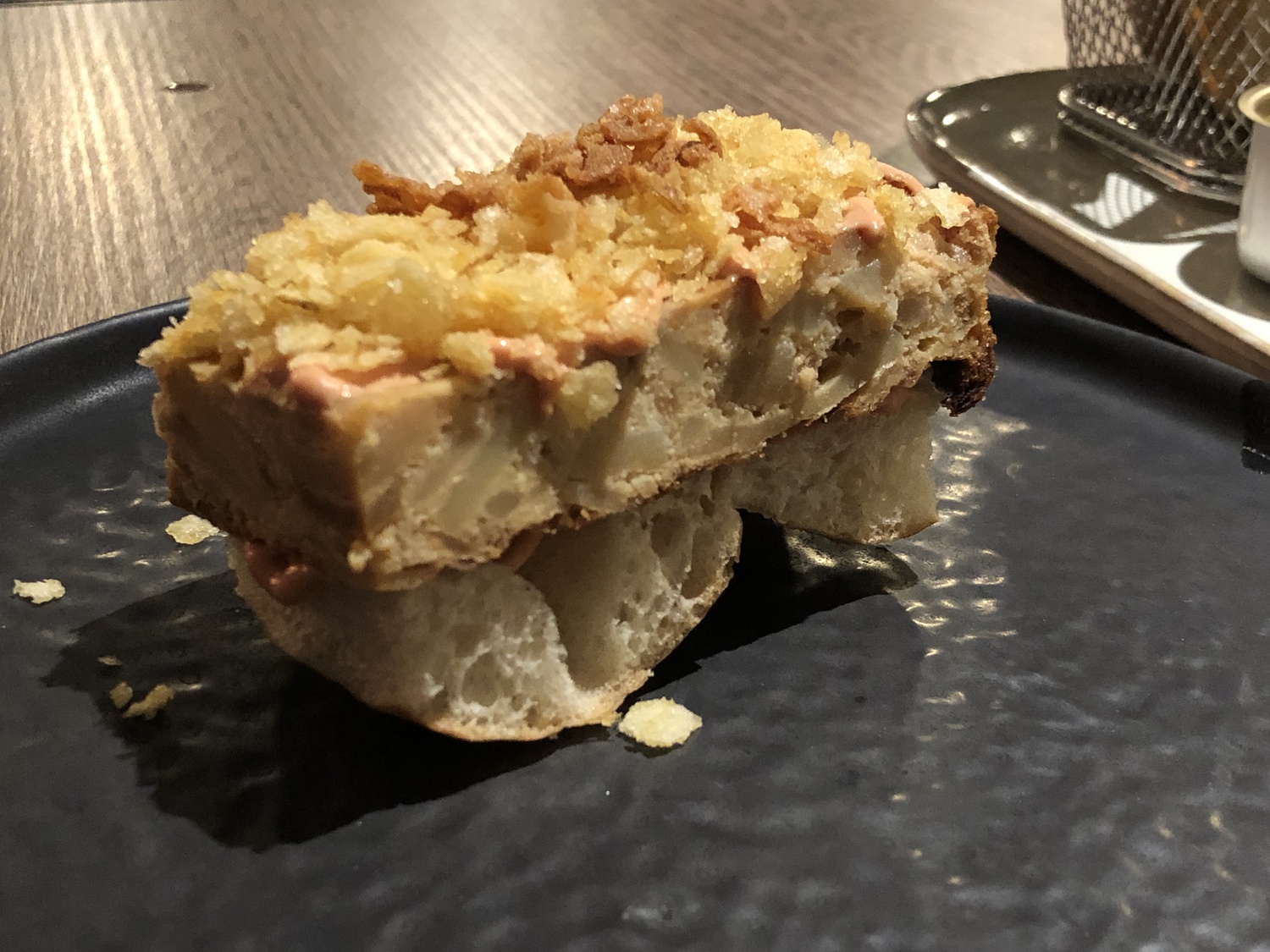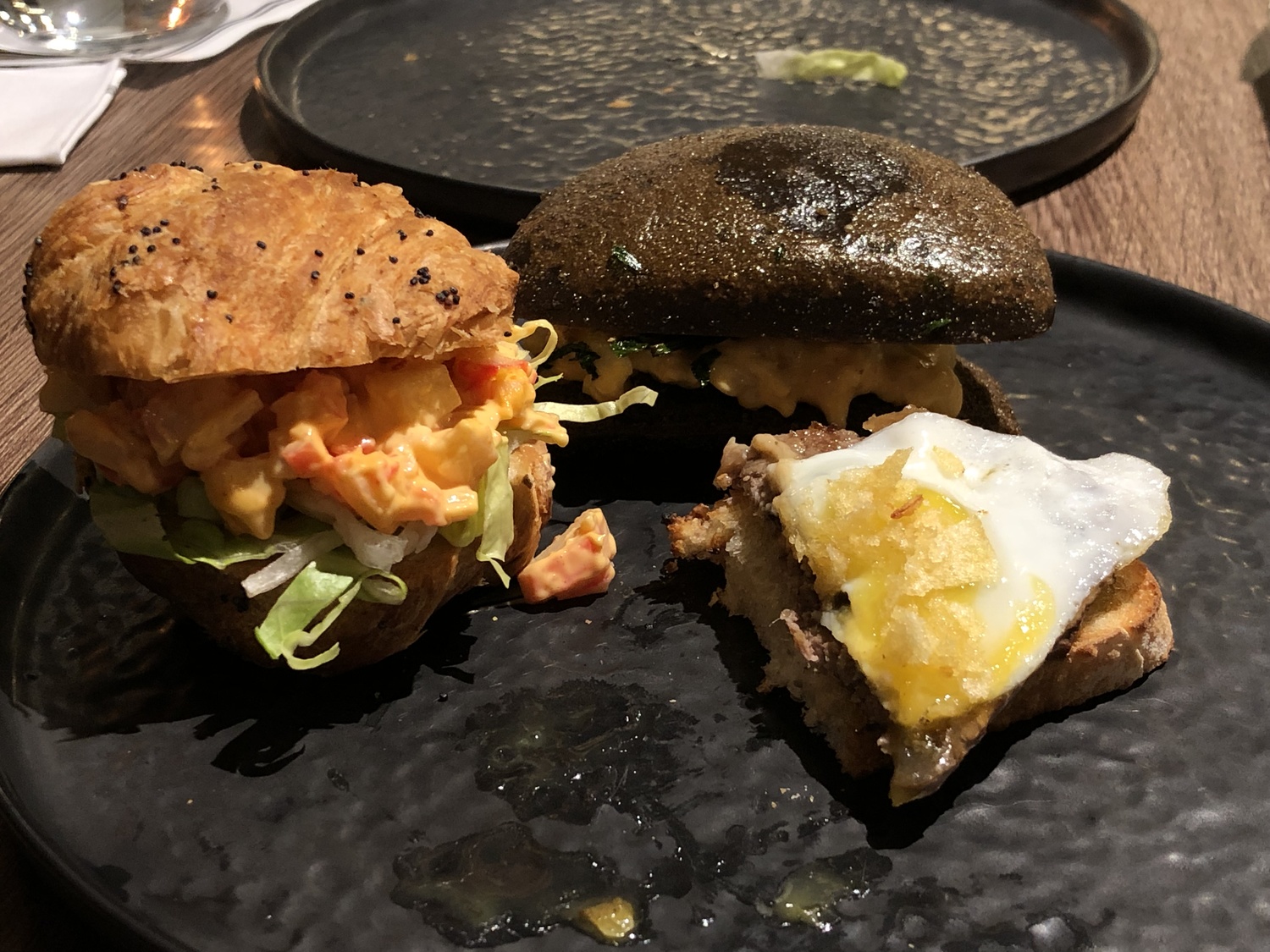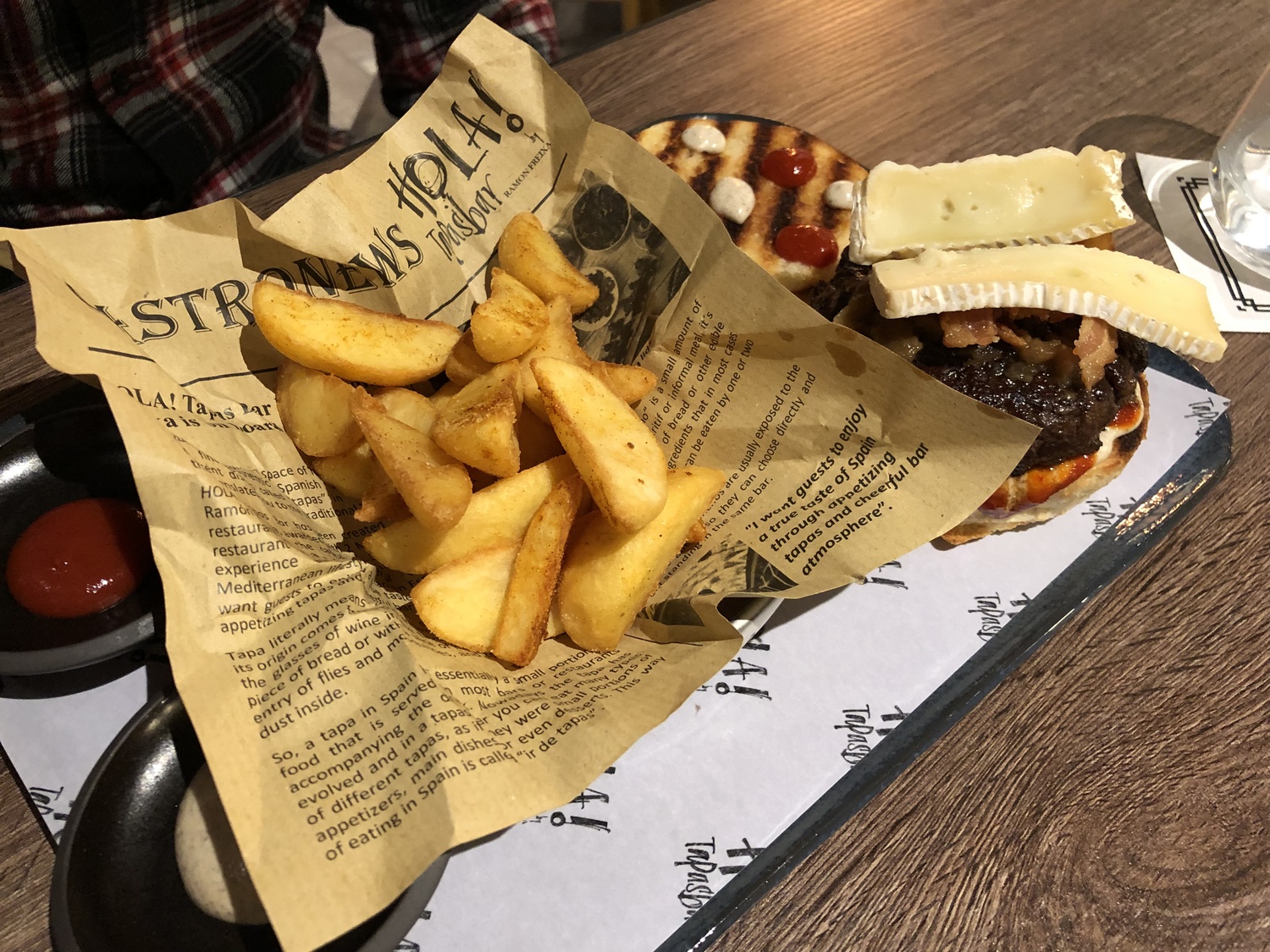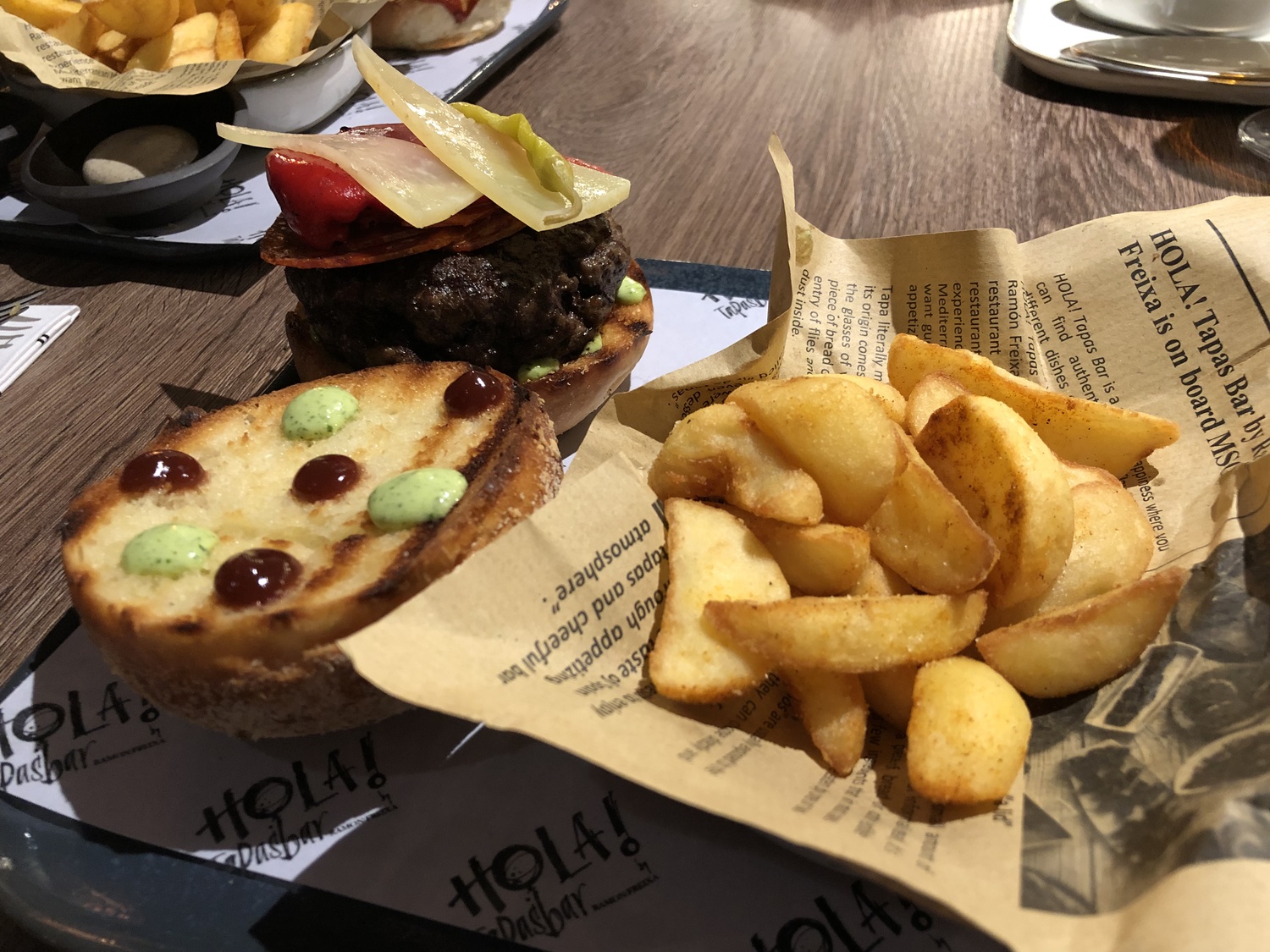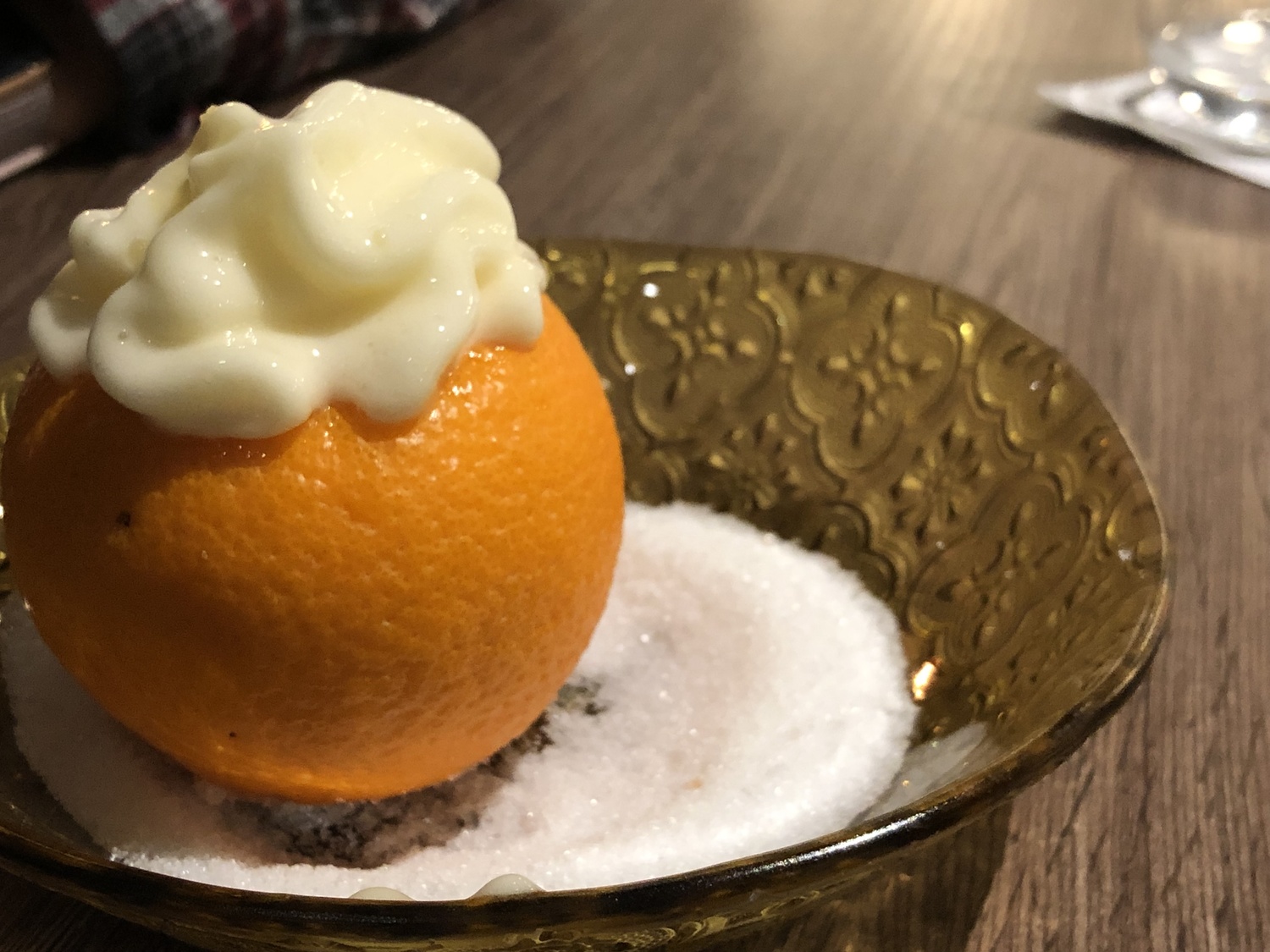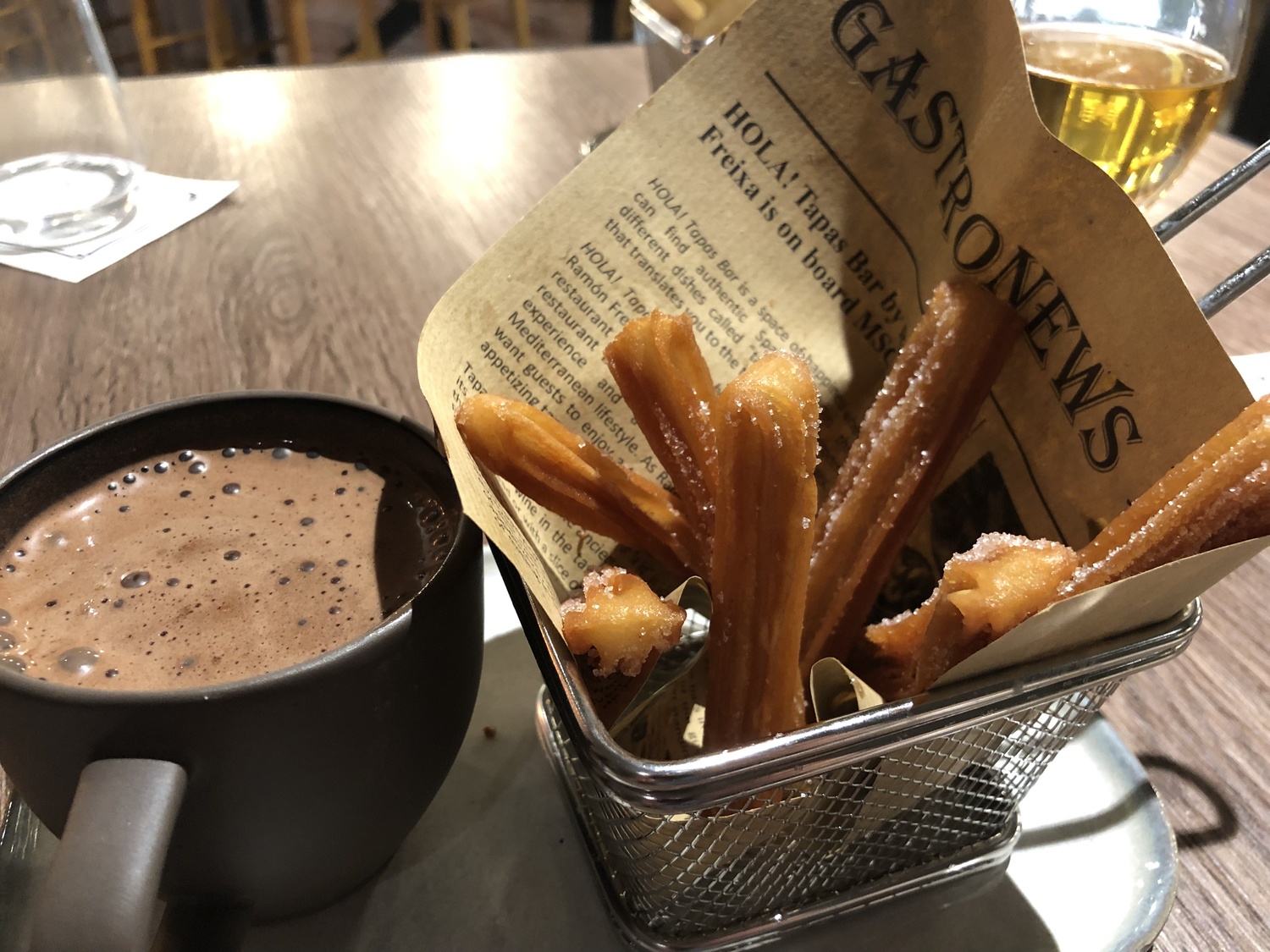 Lisbon tomorrow
As you can probably guess, the relentless rocking seas have us very much looking forward to docking in Lisbon tomorrow. With 48 hours to enjoy a stable surface beneath our feet it can't come soon enough. We dock in Lisbon at 2pm, so I might try and do a blog in the afternoon covering our morning. Otherwise, I'll do a recap of Lisbon on the day we disembark, which is Saturday. We'll be meeting our friends in Lisbon and having meals ashore, so there won't be much to report from the ship.
I'll still be reporting on our time in Lisbon, including some great places to eat and the best places to get the famous Pastéis de nata so look out for that. Until then, goodnight!