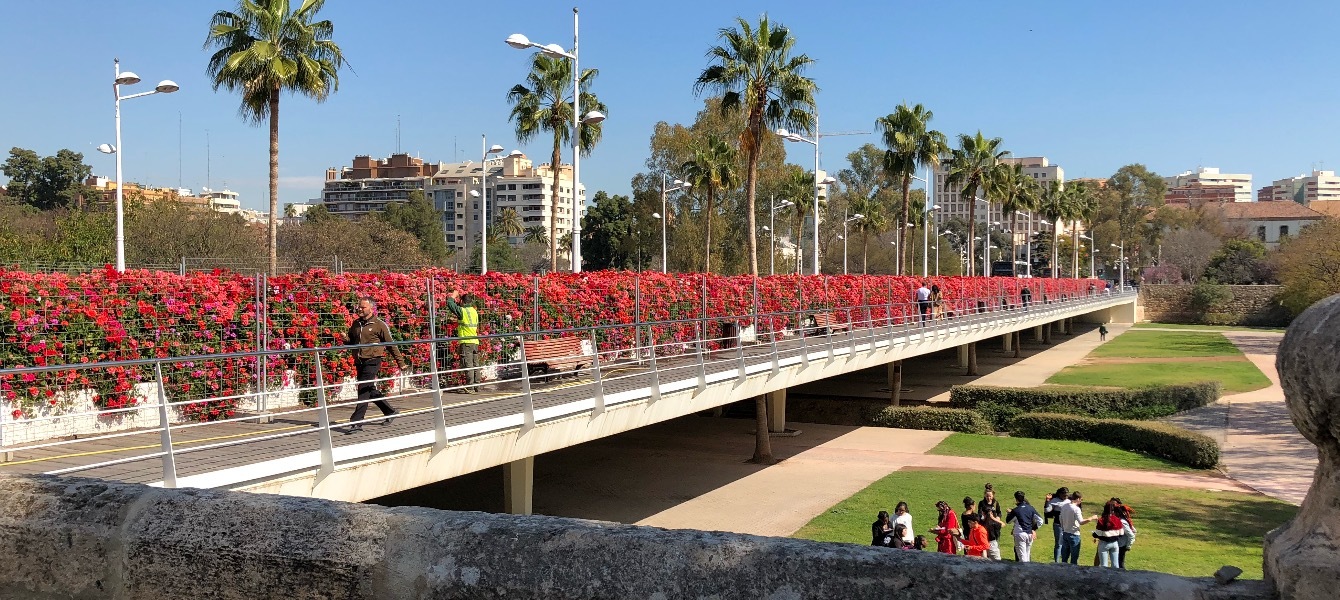 Today we docked in sunny Valencia and enjoyed a long walk into town, some sightseeing, and a lovely food market. Back on the ship, we enjoyed our final night on board.
Last Night
After posting yesterday's blog, we ventured out to have a couple of drinks before bed and see what was happening around the ship. We started in Galleria Bellissima where many of the events take place and we found the 'Maiden Voyage' party well underway. The entire space was teeming with people all wearing colourful floral leis, and before long we were adorned with our very own by a friendly member of staff before heading to the bar for a drink. There was a great atmosphere here and MSC have done a great job with this party - it's the most popular I've seen. The only downside is that a lot of the music was unknown to me - this is inevitable on a cruise catering to many nationalities. It didn't affect the atmosphere at all… just my ability to sing along! It might have been a good thing, after all… 🙉
After enjoying the party here, I had to pop my head into the Attic Club to check out the trance music up there - my favourite music to dance to. The club is a fairly small venue and really oddly located. You enter through the kids club, so walk past lots of colourful lego sculptures and TVs advertising all of the kids club activities. When you enter, the club is sort of split into two halves. One half is the 'teen club', and the other is the 'attic club', but both are basically the same space, have the same music, and are served by the same bar. It's odd to be drinking whisky and dancing away while a member of staff in a clown costume appears across the room. Still, it was a fun little end to the night even if there appeared to be as many staff in the club as there were passengers!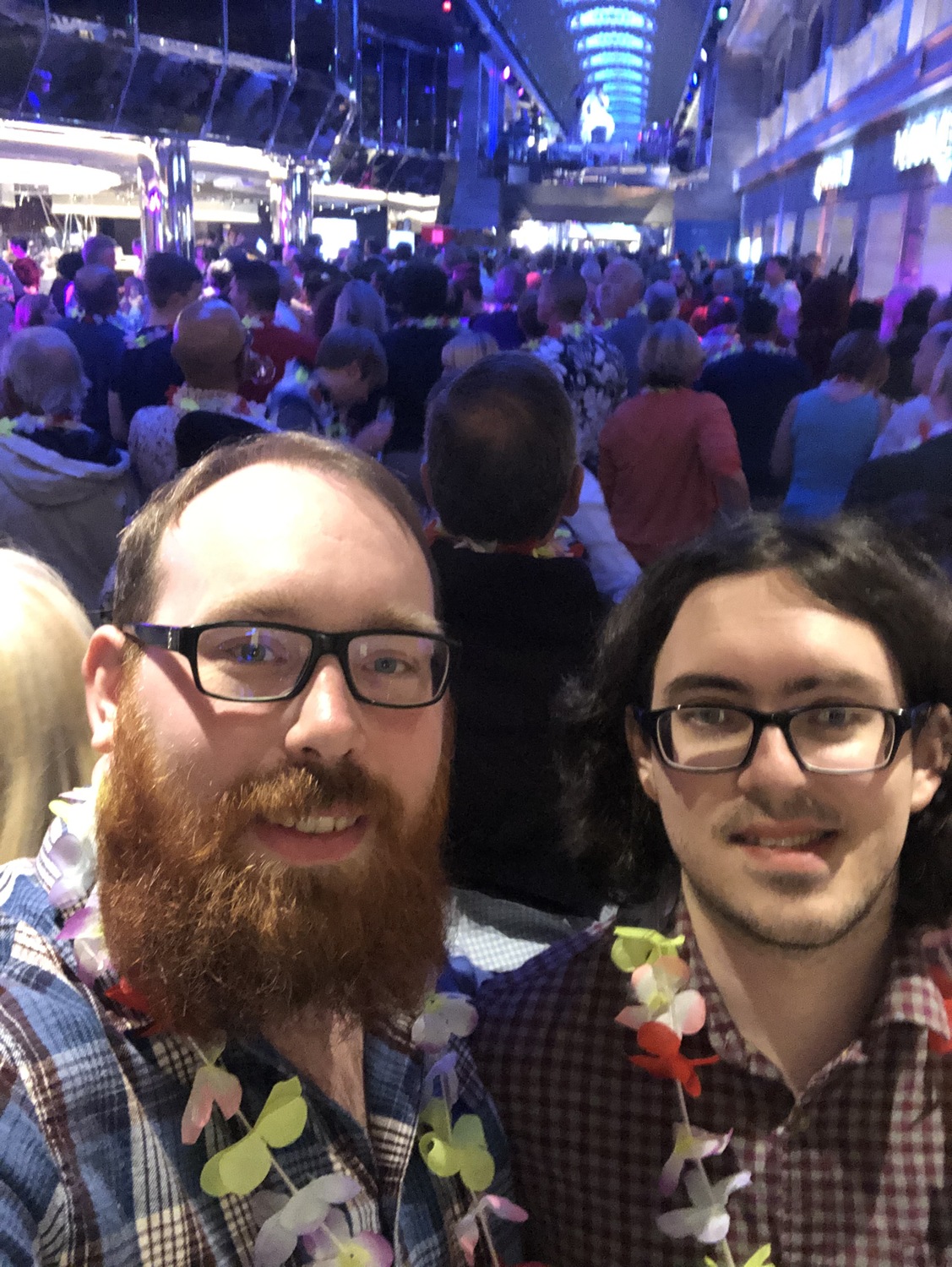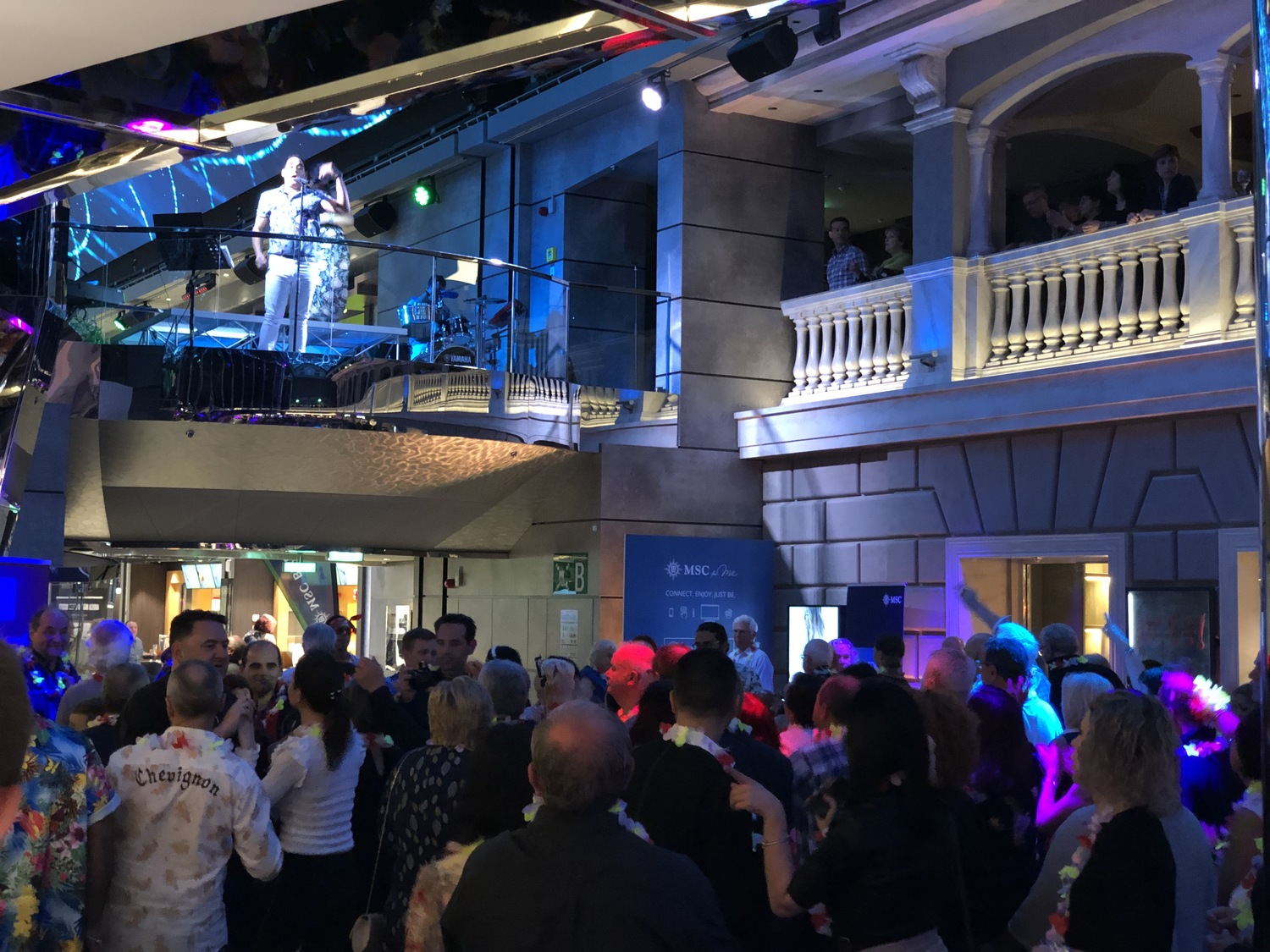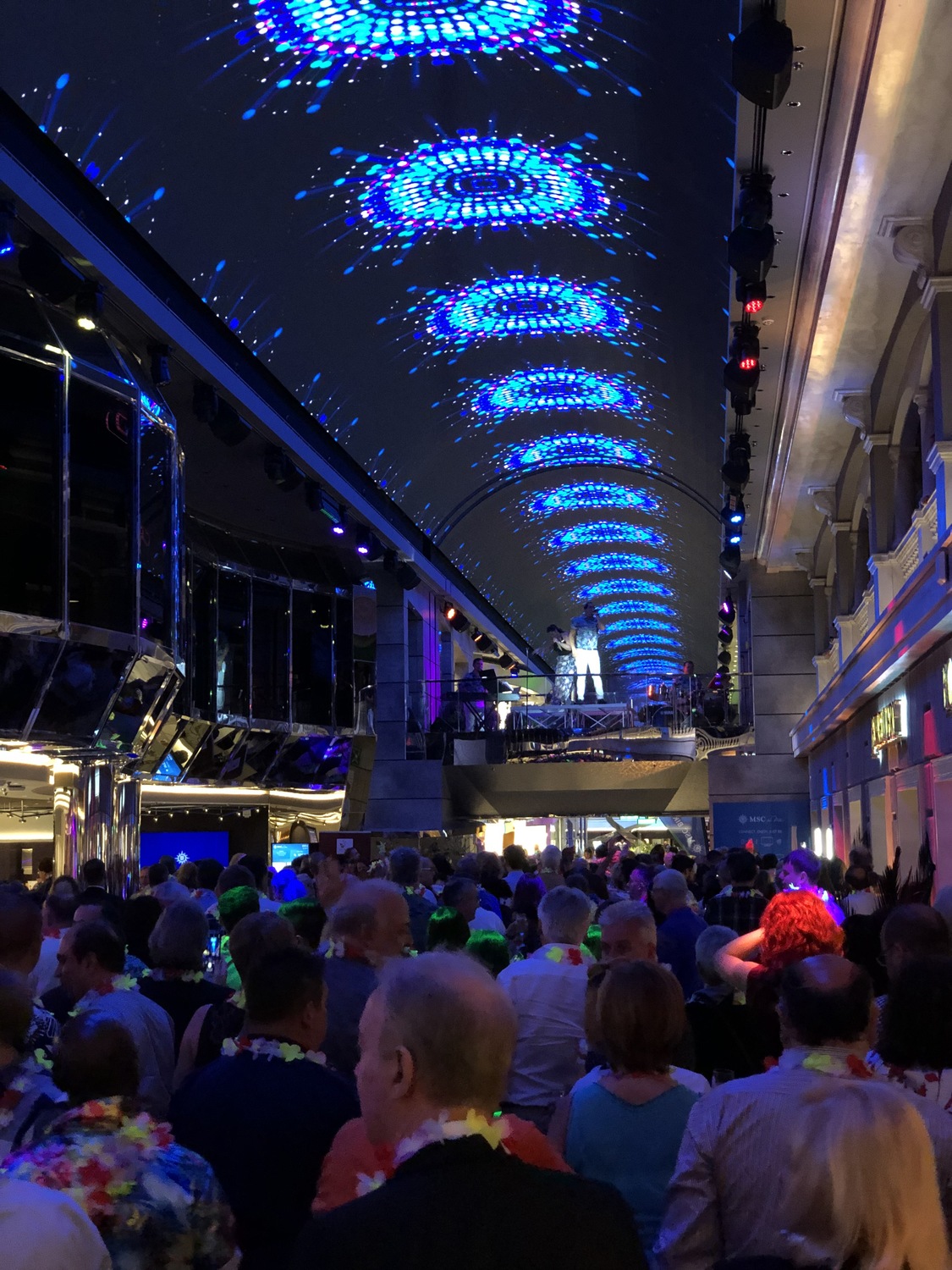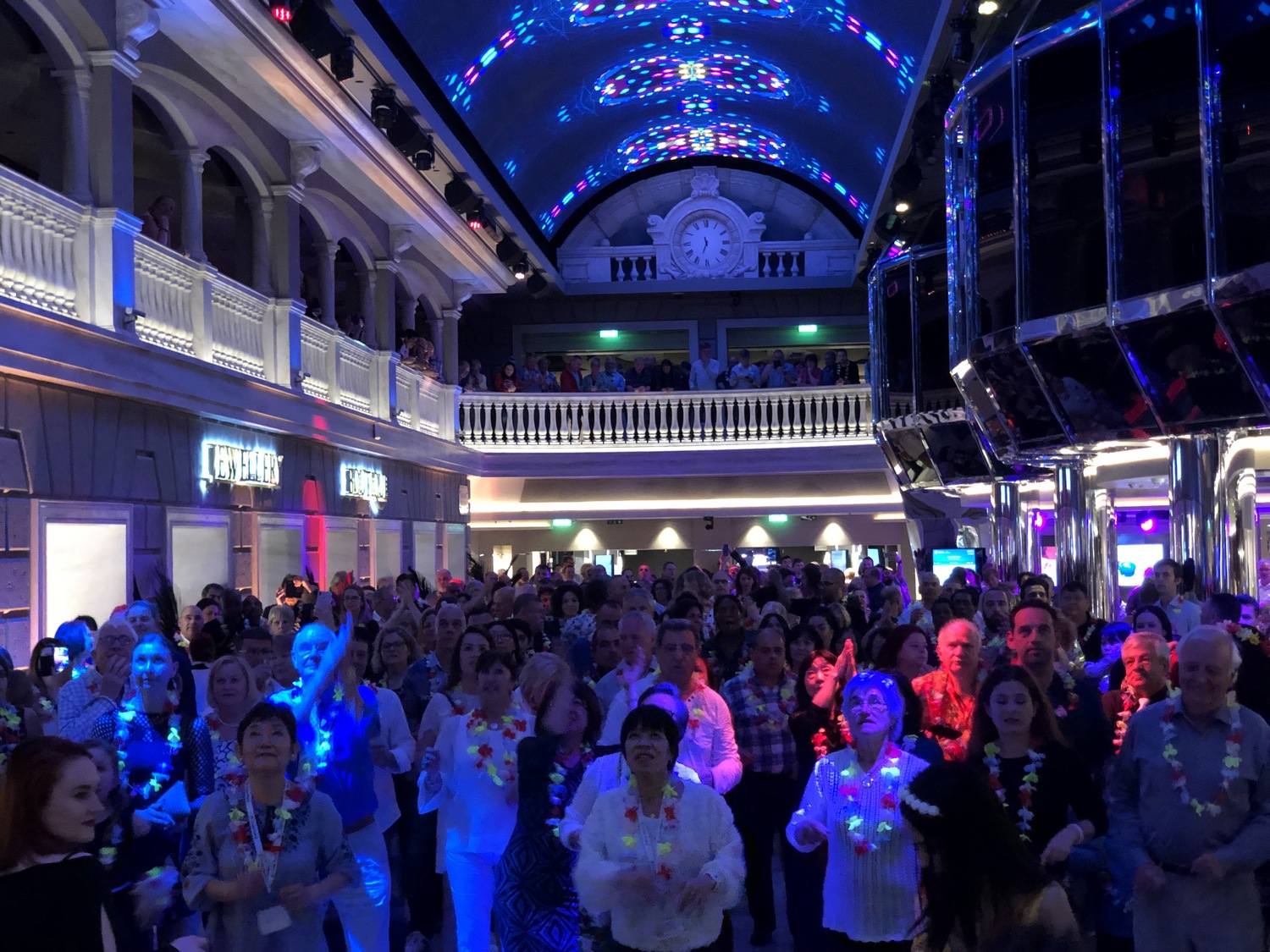 Breakfast Time!
We started our day with a breakfast trip to the buffet for some coffee, juice, and a big breakfast to set us up for a day of exploring Valencia. We arrived after the gangway opened and had our pick of tables, so chose a nice one next to the window. I grabbed an omelette from the made-to-order egg station and had a few pastries and some sausages. Lovely stuff, and breakfast with a sea view cannot be beaten!
They have freshly squeezed orange juice at the buffet which our waiter brought - included in the drinks package. And, of course, lots of coffee!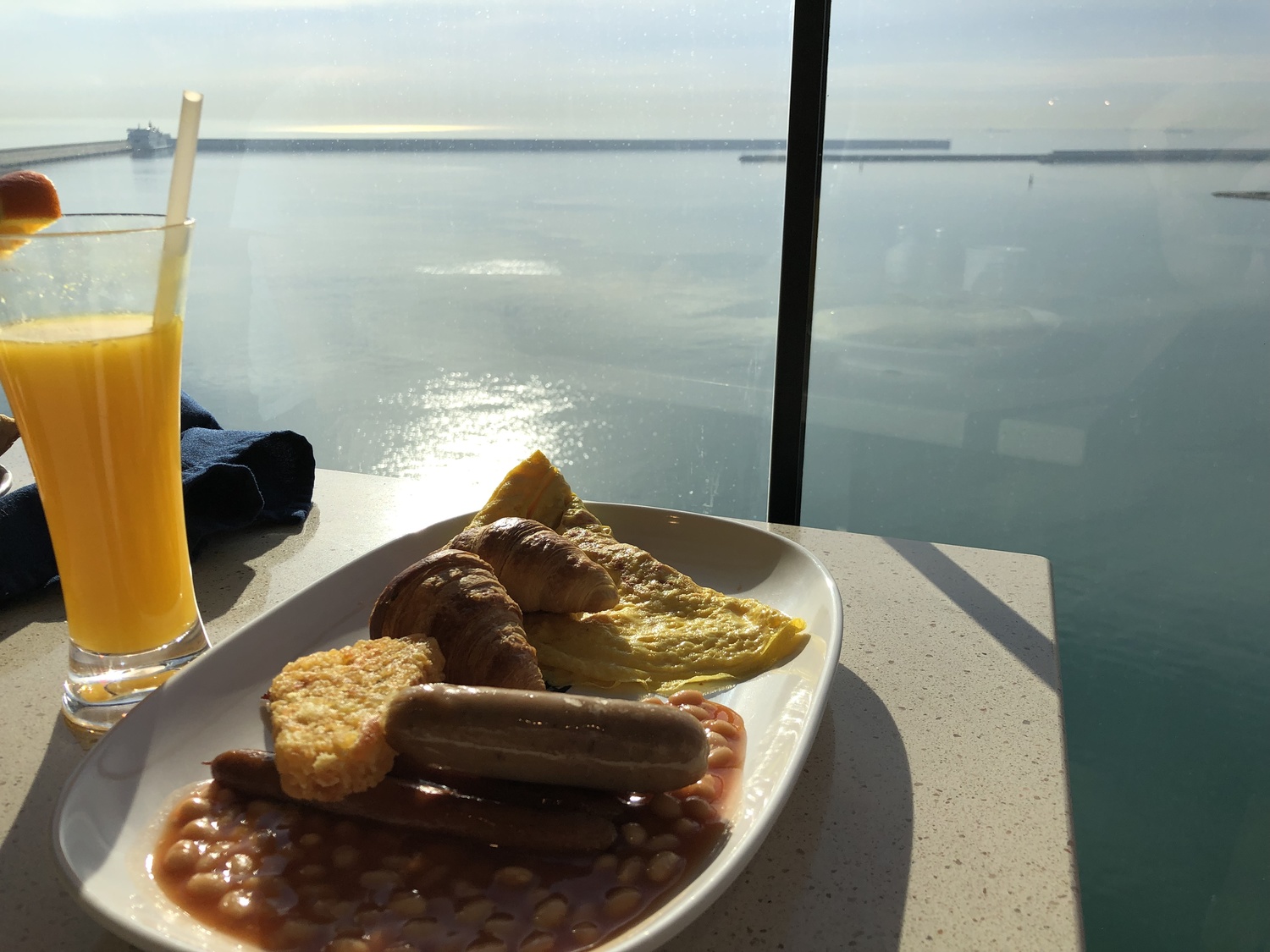 Valencia
We had tickets for an MSC-provided shuttle in our stateroom which could be activated for a cost of €12-something per person and took you straight to the old town of Valencia which is where the action is. Also available was a free port bus to take you to the cruise terminal building - necessary as this is an industrial port and we're docked at a remote part of it. There's a closer berth available, but this was occupied by a smaller TUI Mein Shiff cruise.
Seeing as we fancied a decent walk, we decided to take the free shuttle to the terminal and walk into town from there. We had spotted a long, narrow, winding park running around Valencia, so we made a bee-line for this and walked to the old town through this park. It was a decently long walk - probably around an hour in total, but it was all flat and we had perfect weather for it. All in all I walked around 17,000 steps today, so not at all bad - it might go some way to burning off the food we've eaten!
The park is really nice and filled with dog-walkers, cyclists, and locals zipping about on little electric scooters that looked like a lot of fun. It was nice to be in a big strip of green running right through the city. We passed the concert hall which has a lovely shallow pool and fountain outside, and the walk took us under a bunch of bridges offering plenty of shade, including a beautiful 16th century bridge, and one covered in flowers! The park is a bit like a valley with the city rising on either side, and on a map it looks like someone drained a river and put a park in its place.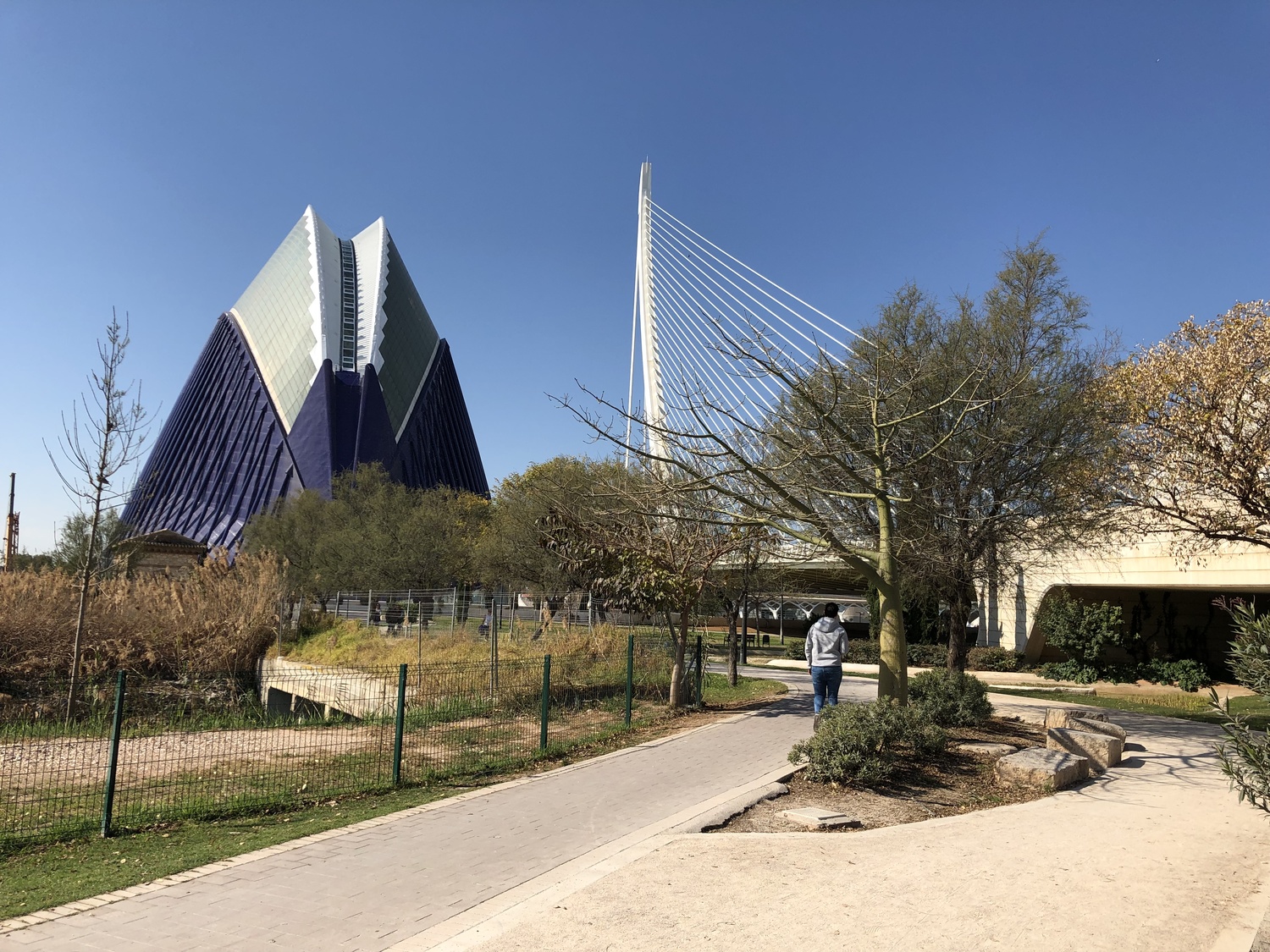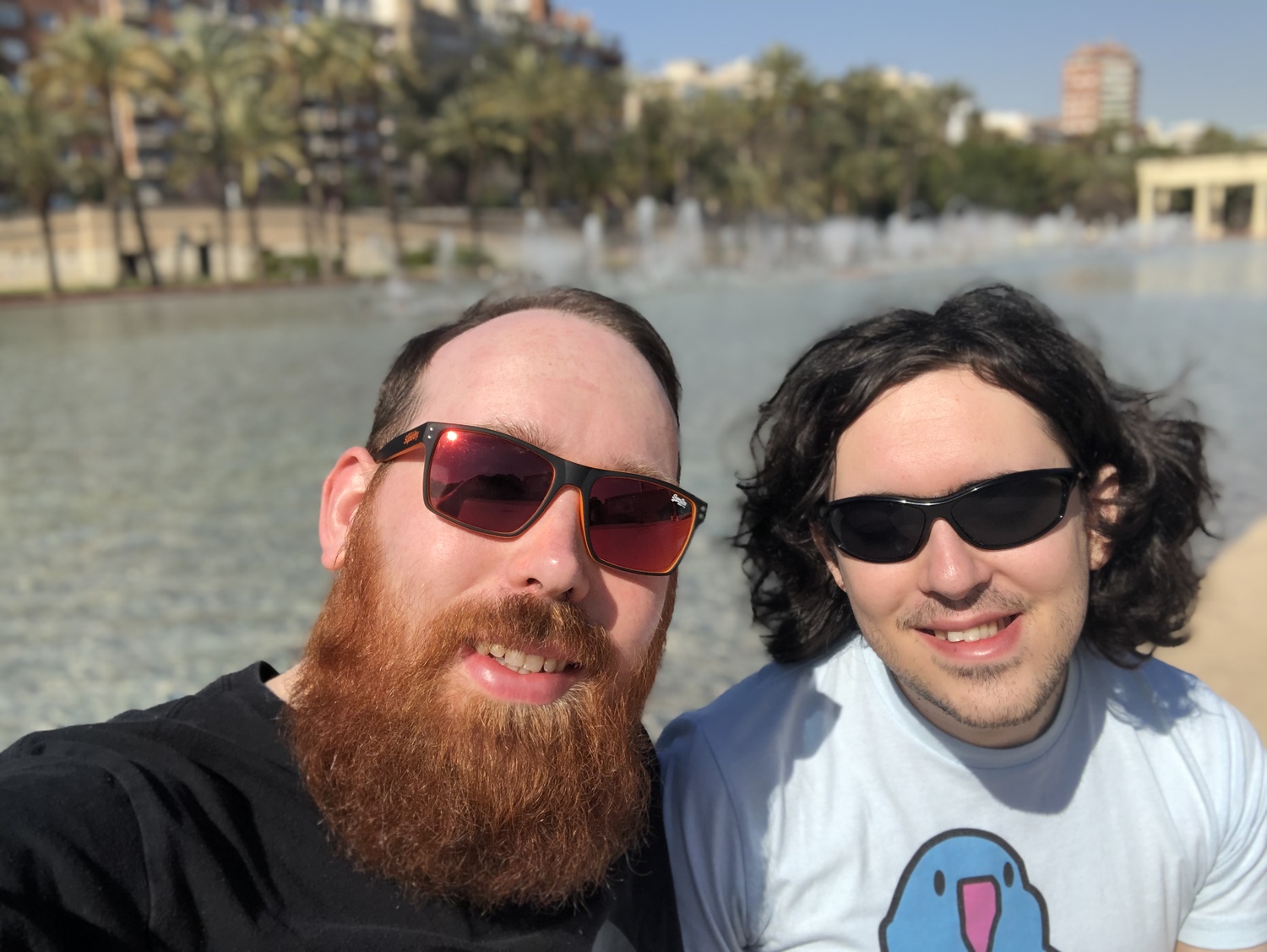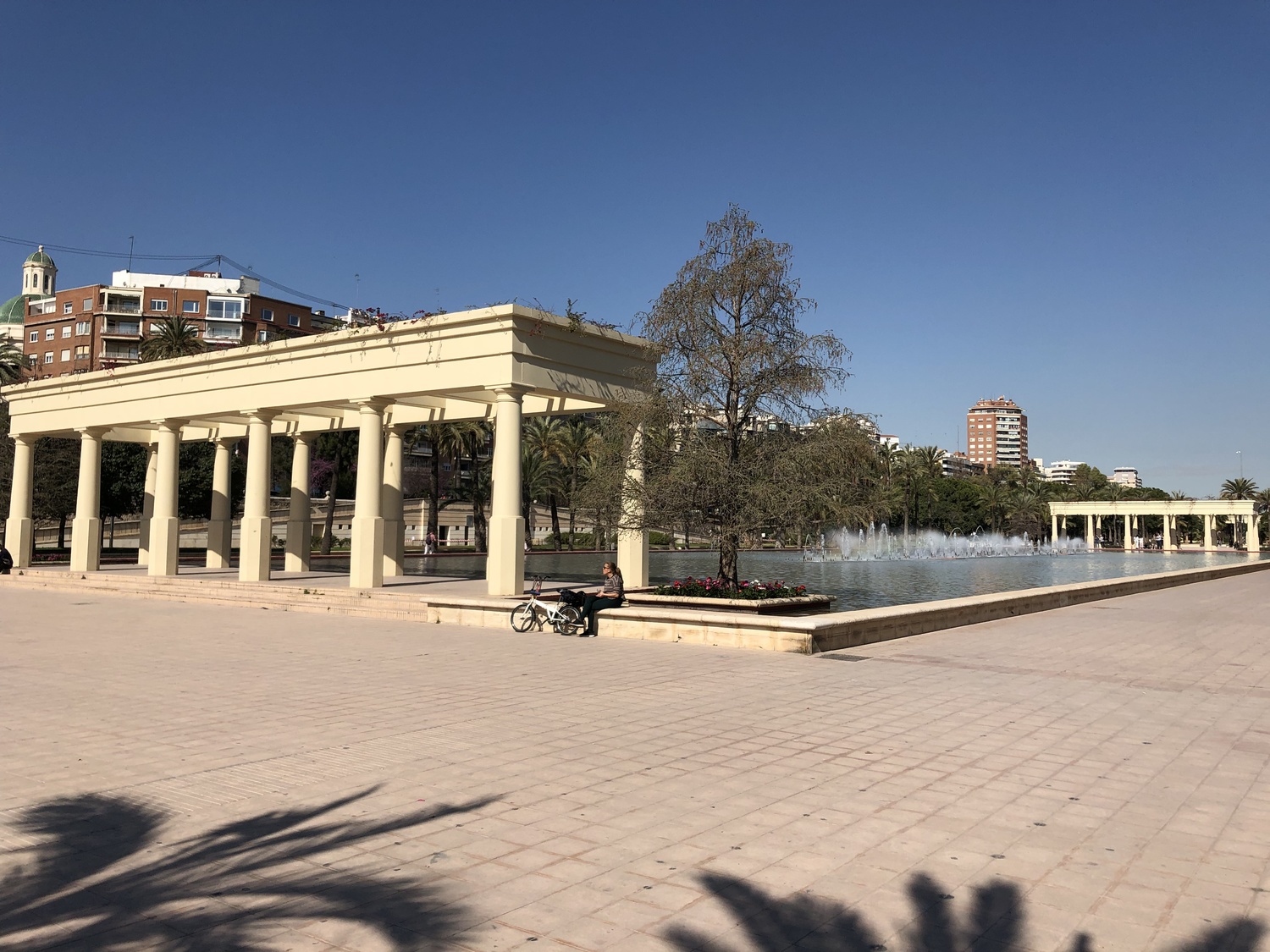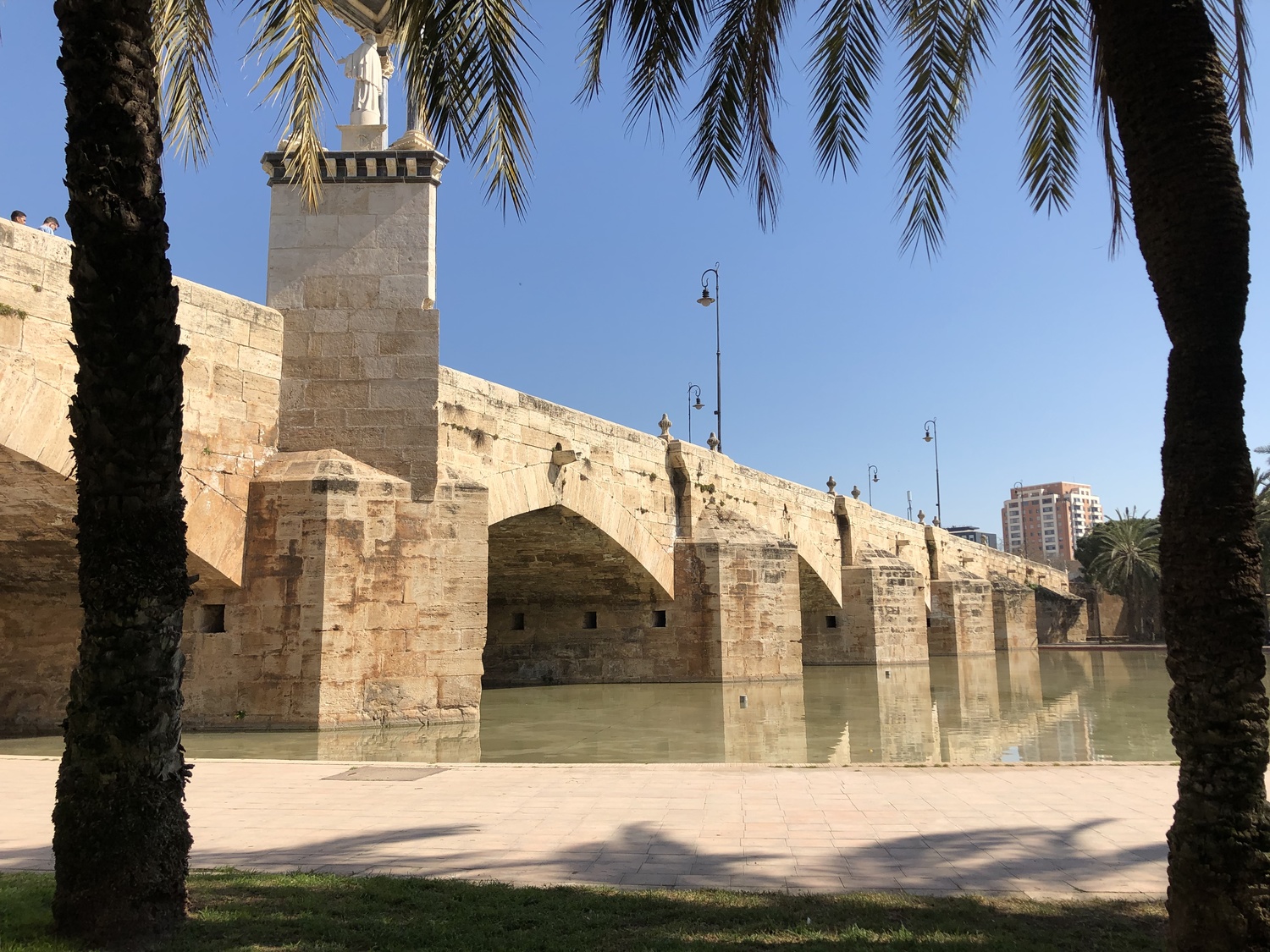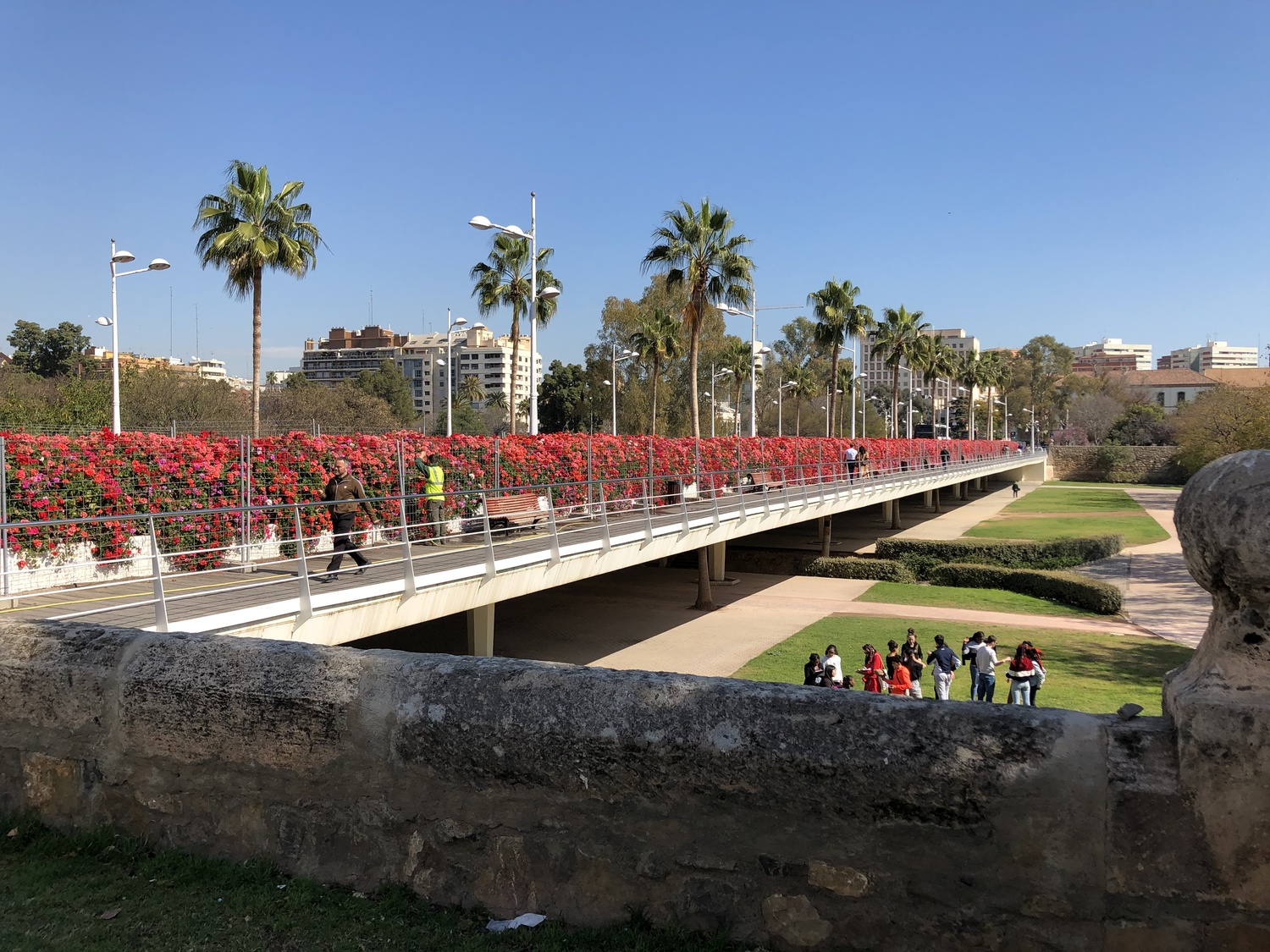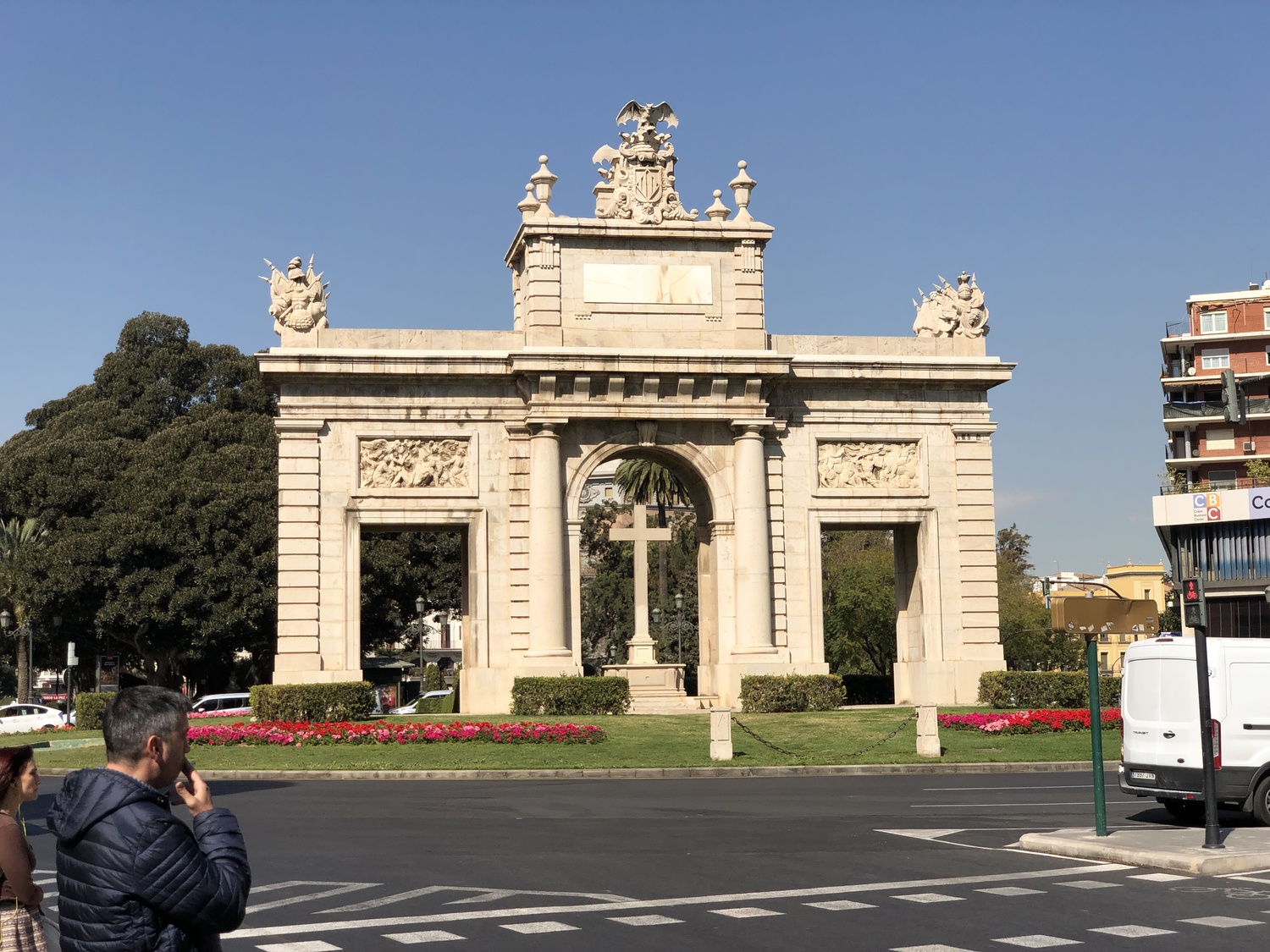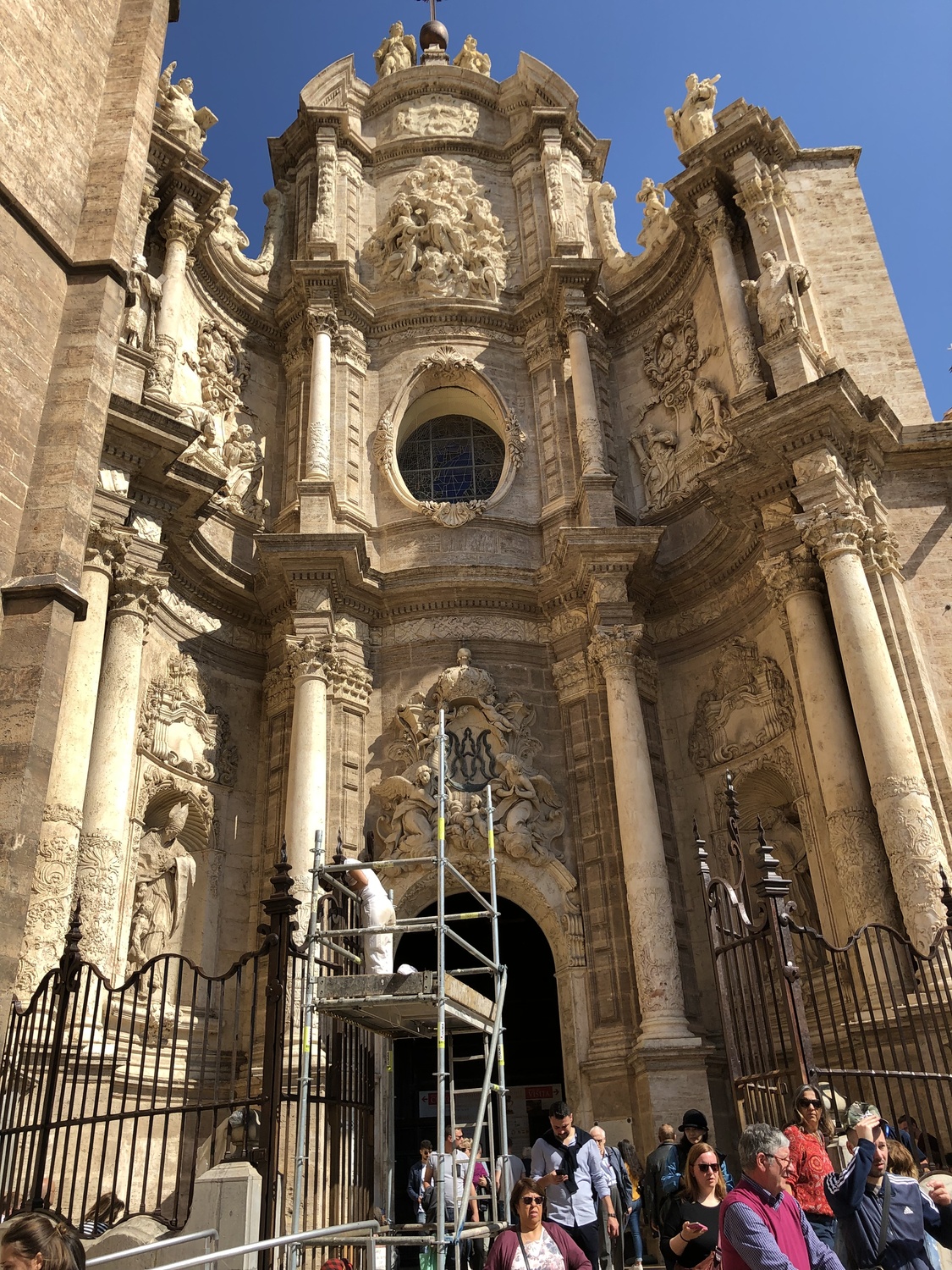 Mercat Central
We decided to head towards Mercat Central, which is an iconic bustling food market - one of the largest in Europe. It's housed in a stunning Art Nouveau building that towered over the busy vendors selling their wares below. At every turn there are mounds of fruits, vegetables, meats, spices - the list goes on. It's a colourful place to wander round, and the perfect place to shop for a dinner party if you were a local!
In addition to the produce stalls, a few have some 'ready to eat' options - we picked up some chorizo slices in a little paper cone for €1, a couple of empanadas (€1,50 each), and some fresh fruit and orange juice (€3,50). A nice, light, cheap lunch made of local food - and very delicious!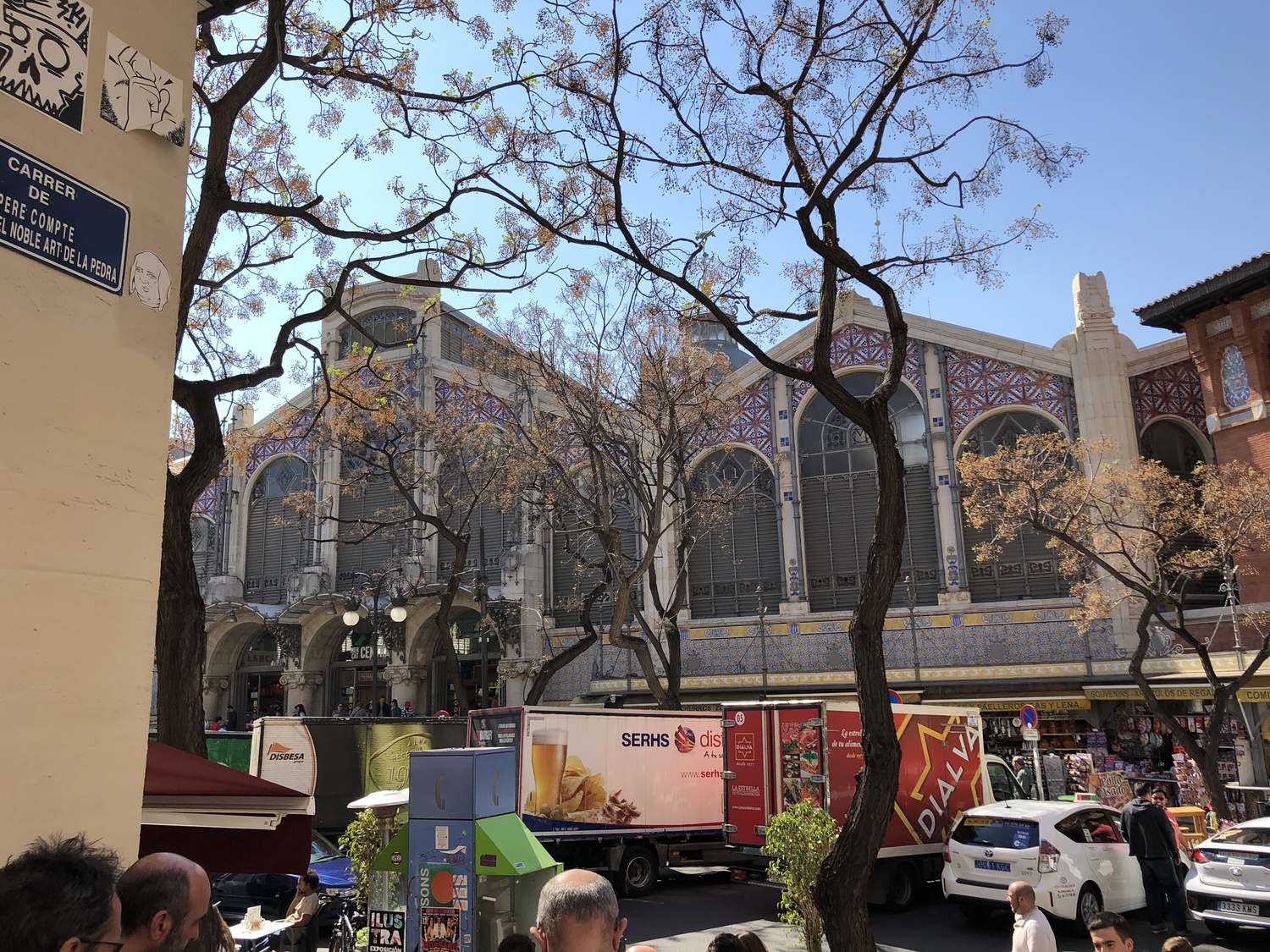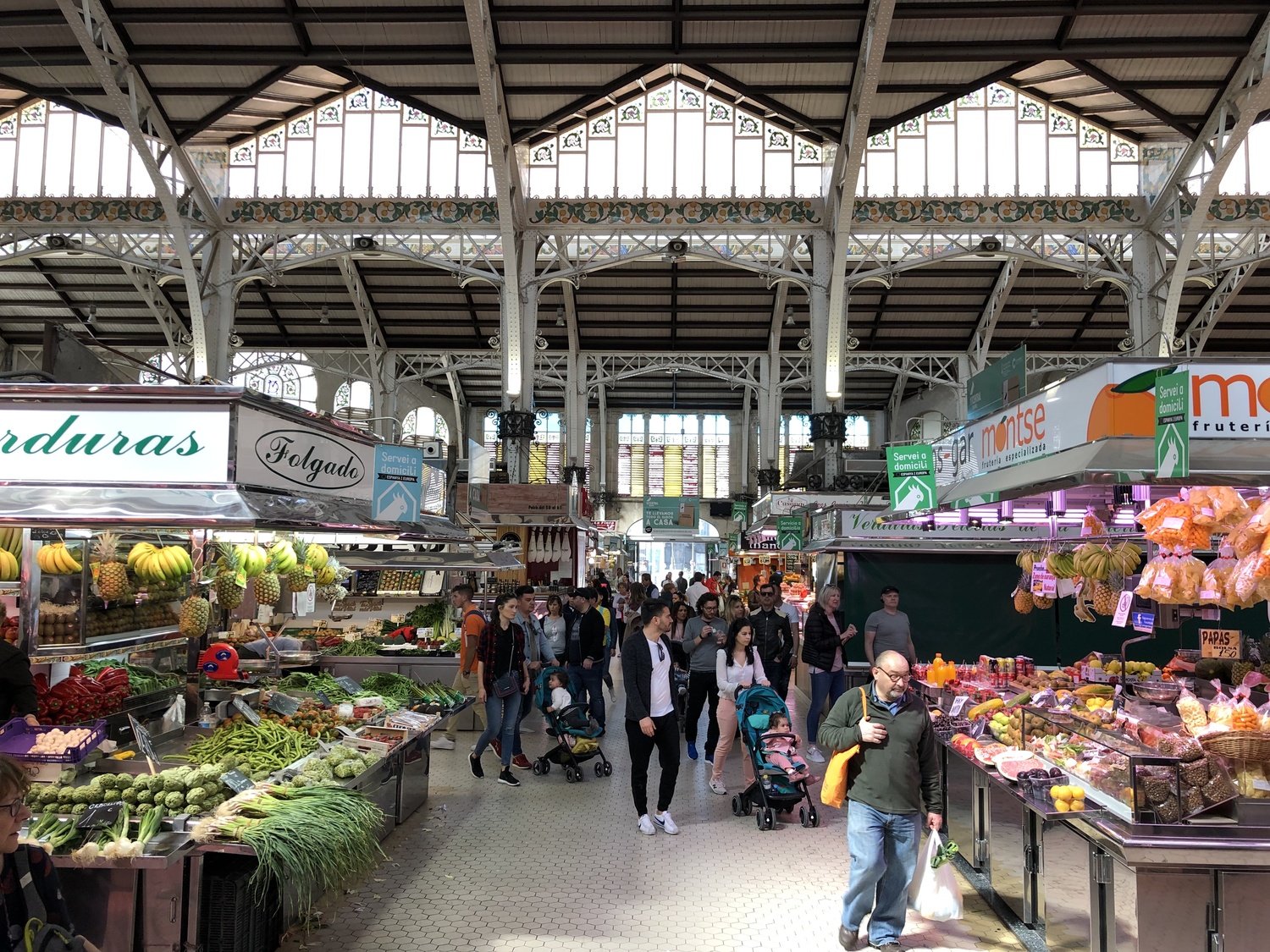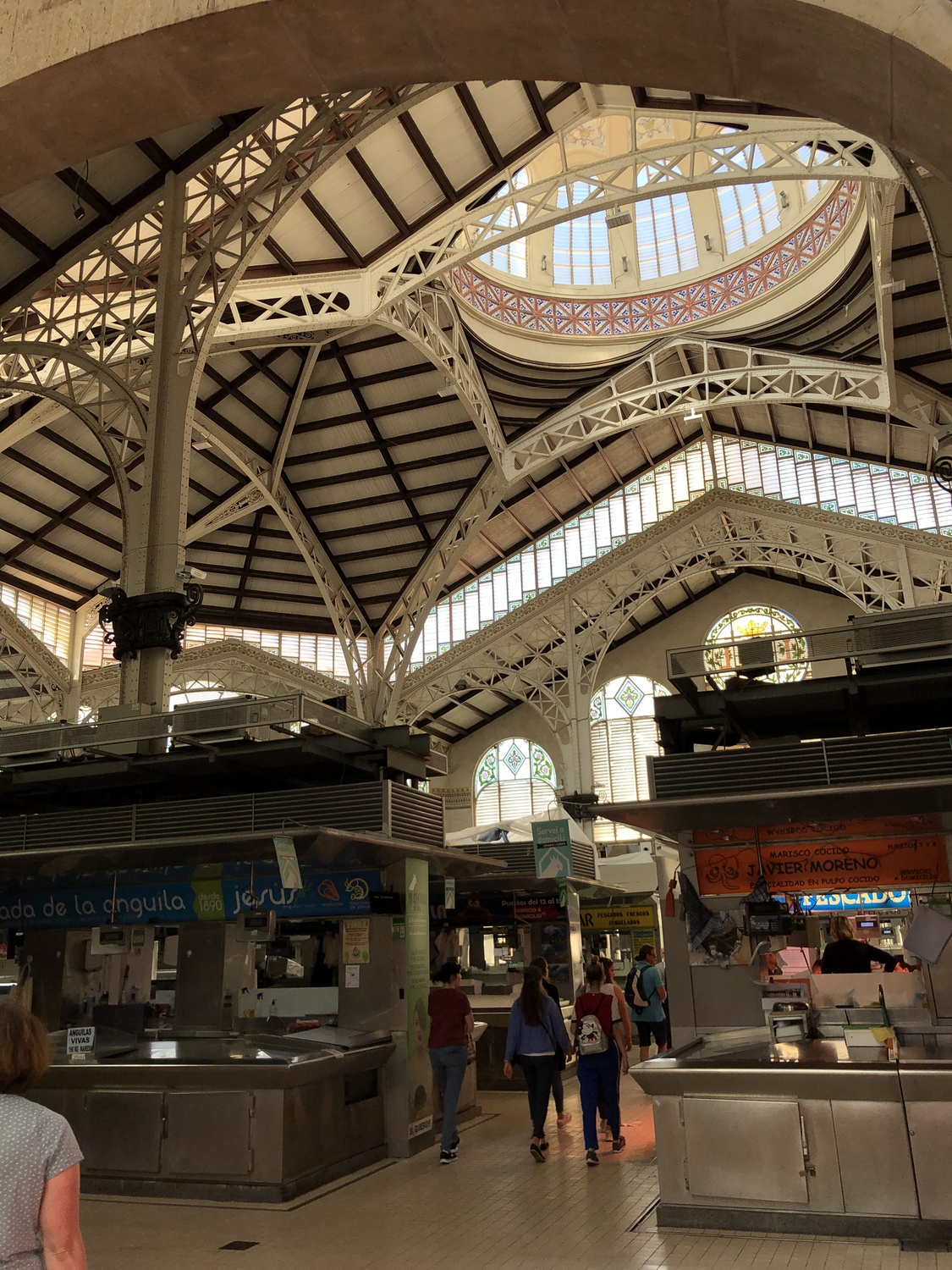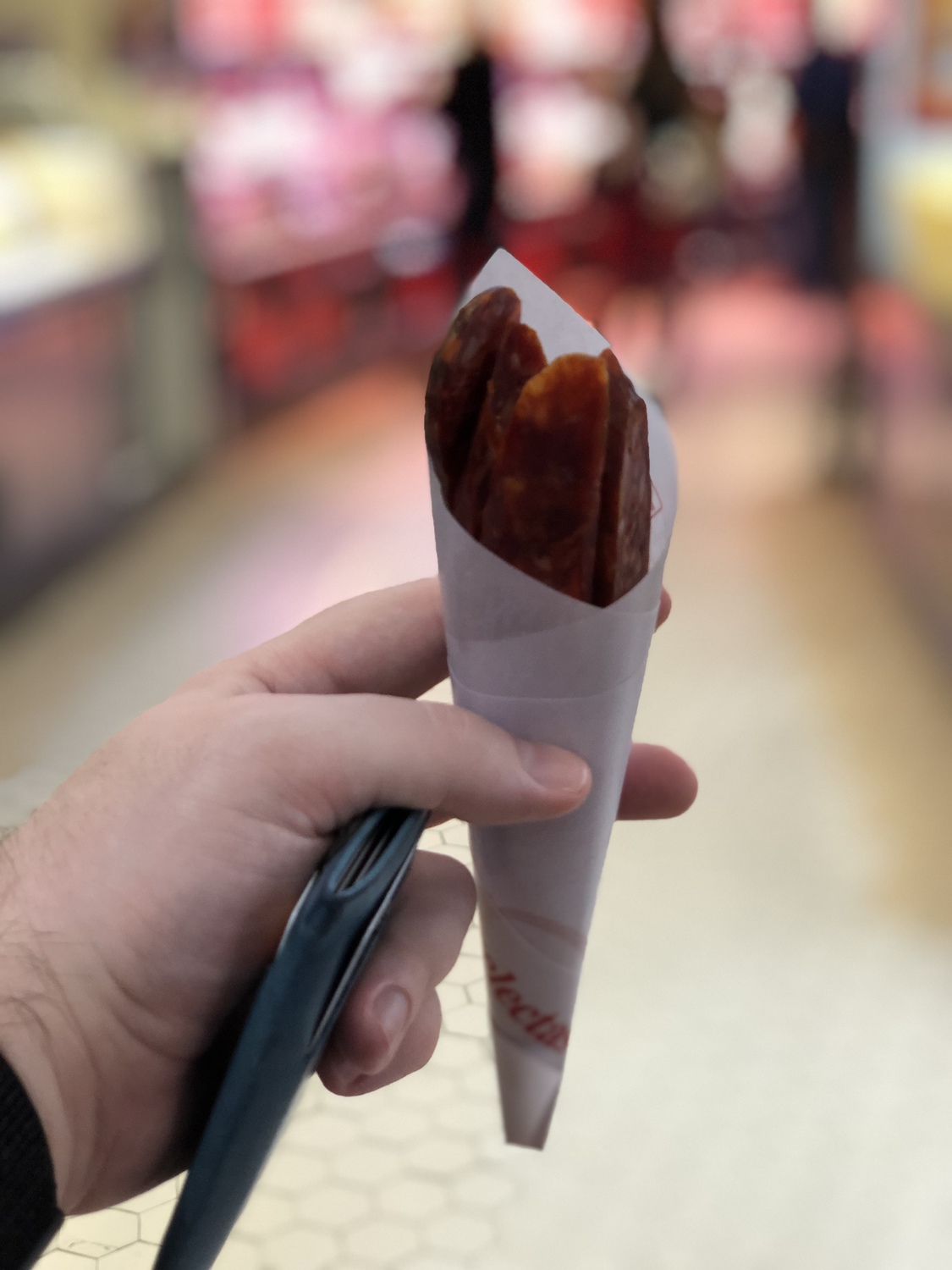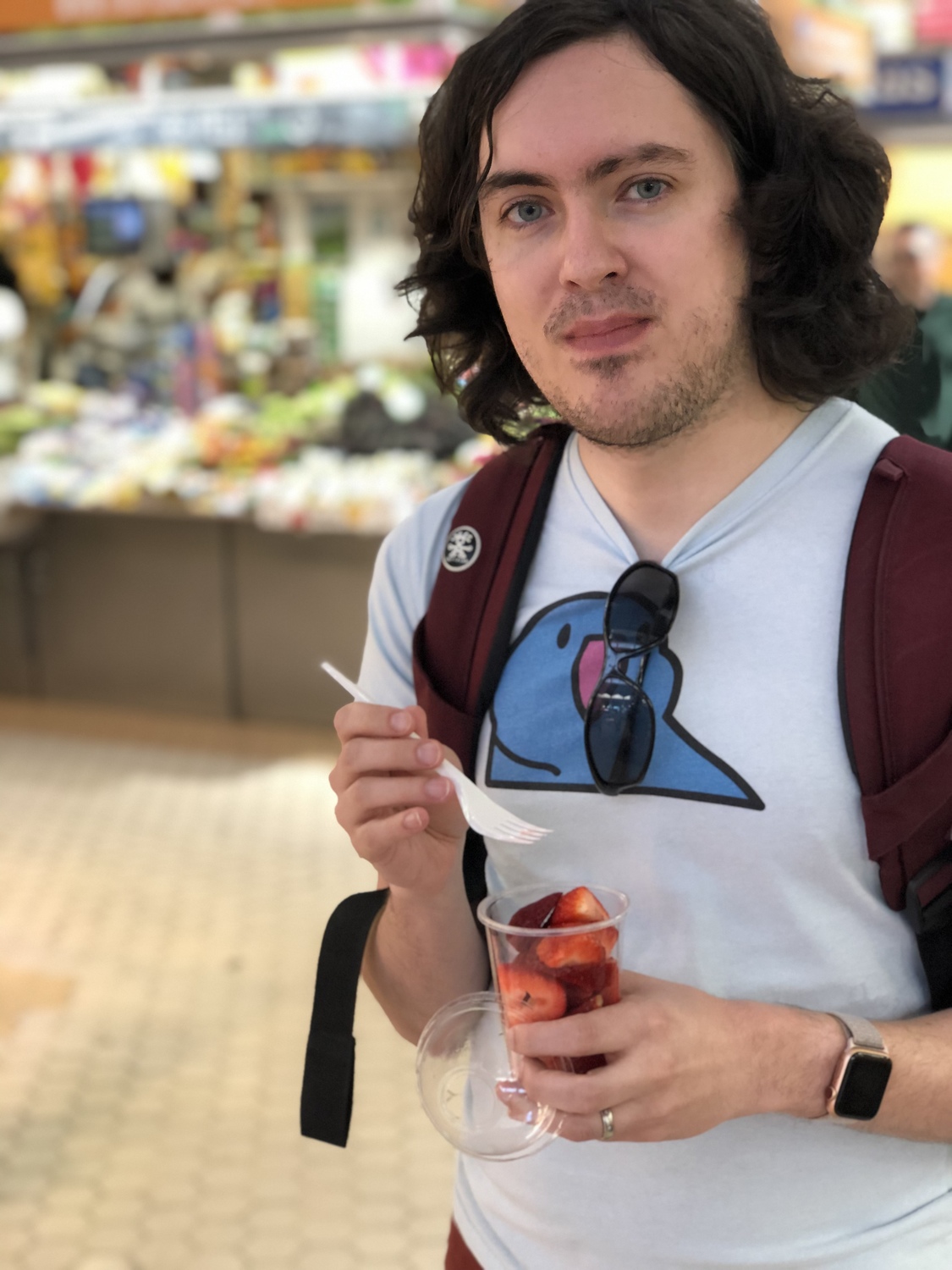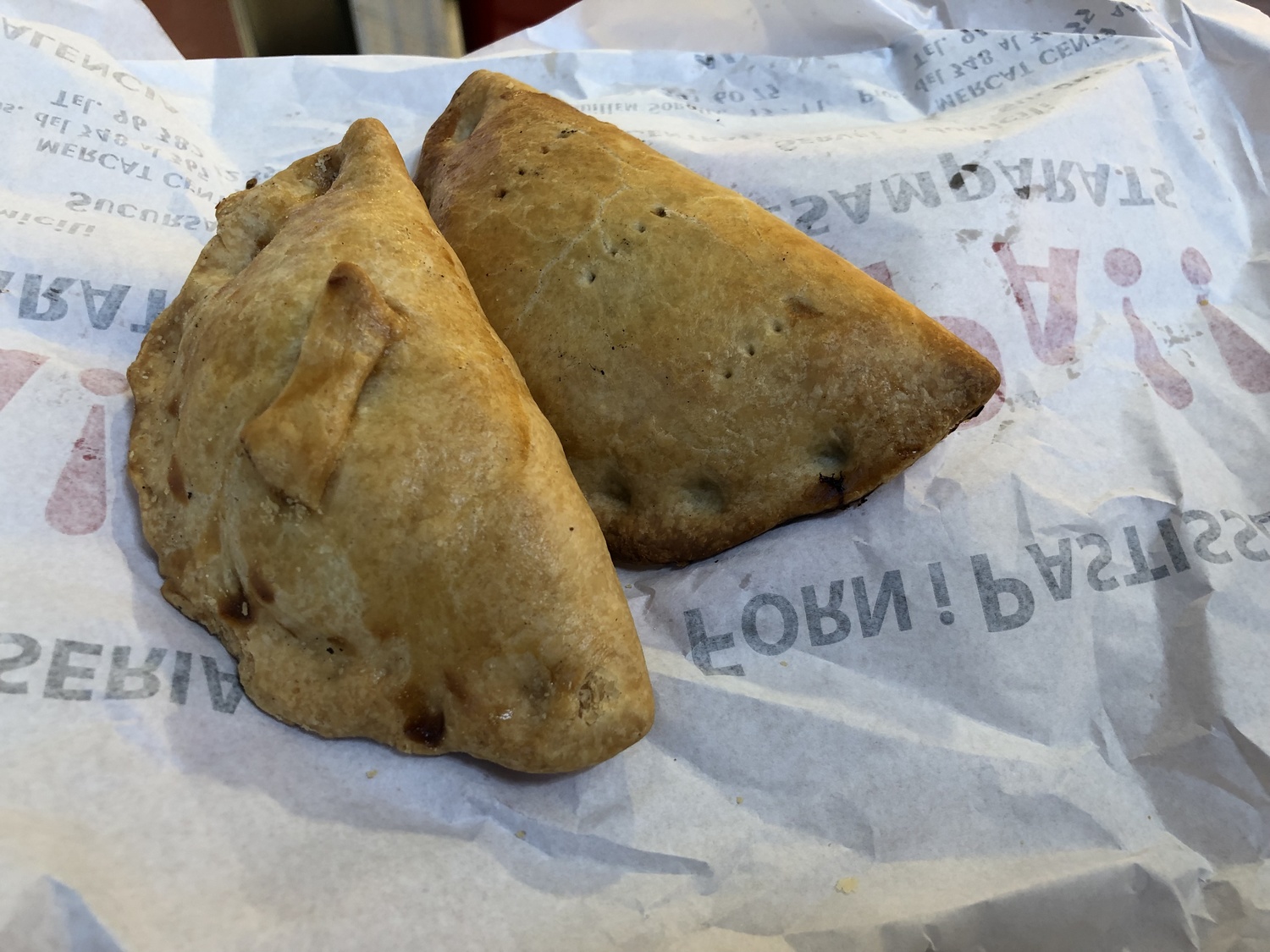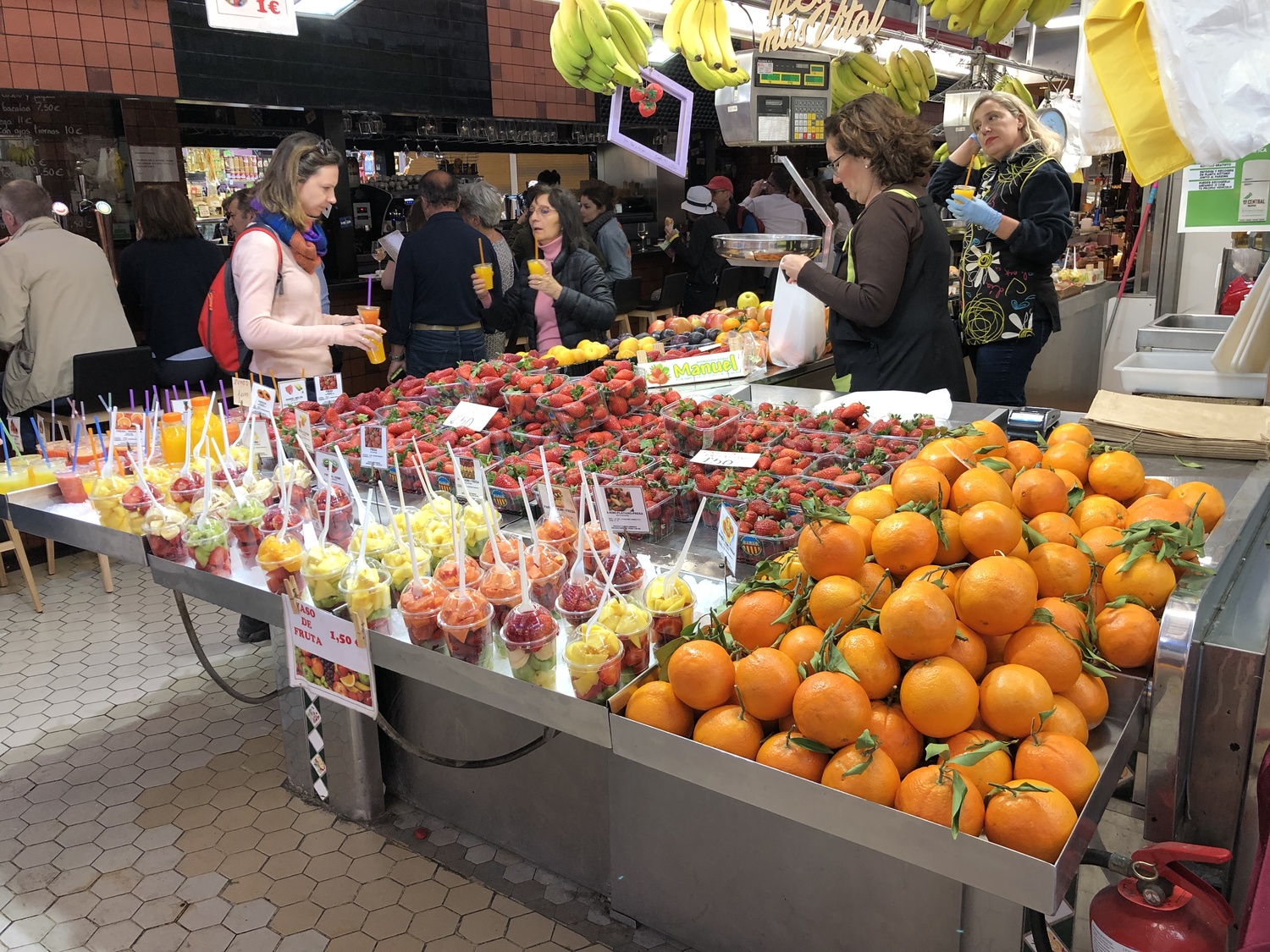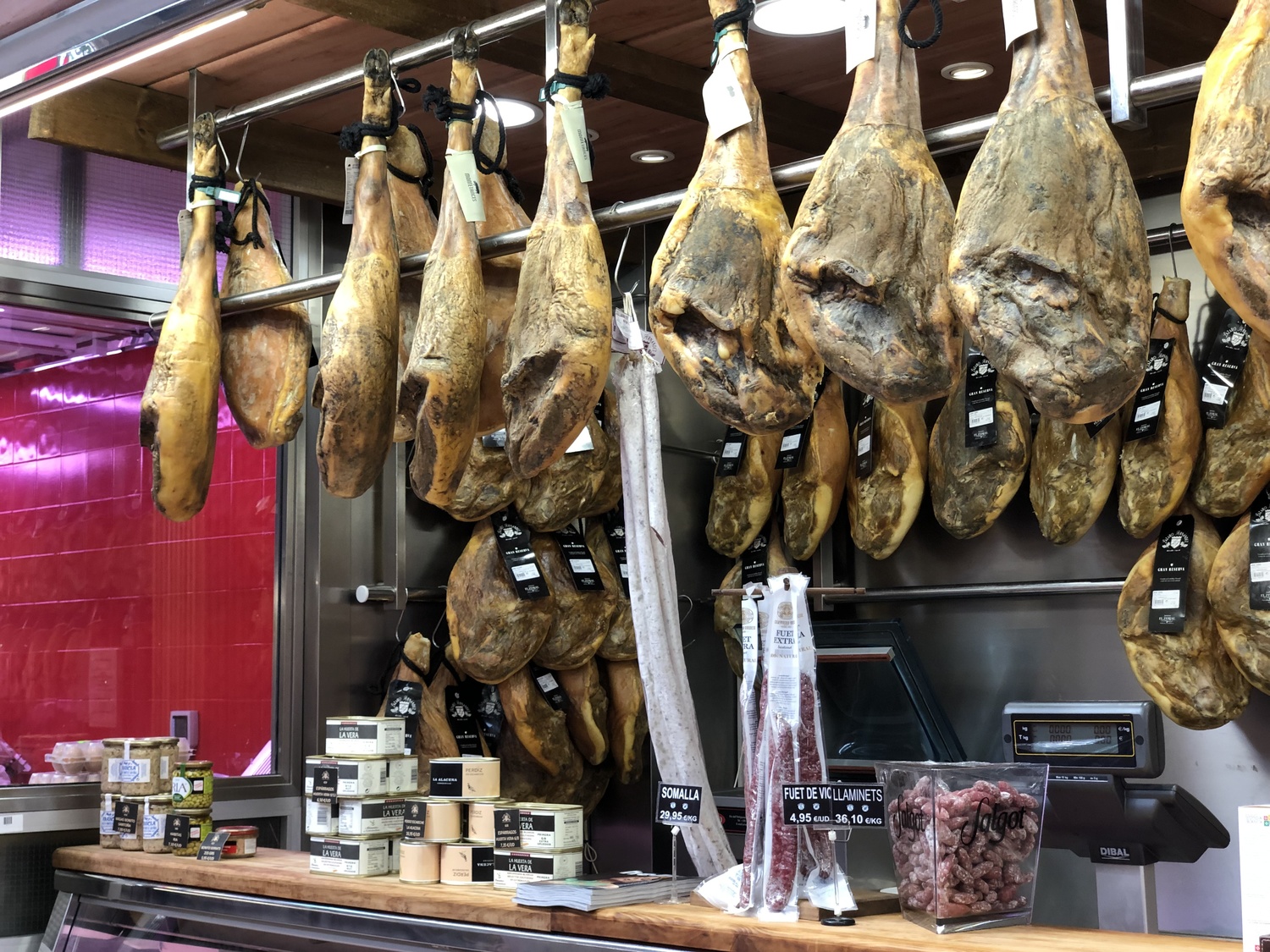 Daytime Fireworks?
We left the market having had a nice walk around the city, and suddenly felt like we were in a war zone. There were very loud bangs echoing between the towering, historic building and naturally we went to investigate. What we discovered was a frenzy of fireworks being let off in close succession in one of the squares, with endless crowds watching in awe as the smoke filled the skies.
The sensation was incredibly - the explosions of the fireworks shook your core and echoed all around. It turns out that we witnessed a daily event in the run up to a local festival commemorating St. Joseph called Falles which is held in Valencia every year. While the festival hasn't yet started, this event called Mascletà happens daily at 2pm in the run-up to festival. It's basically a firework display that's less about the visual spectacular, and more about the rhythm and sensation of the fireworks being set off.
I can say that I've never experienced anything quite like it - a normal fireworks display doesn't shake your core like the Mascletà did. It's quite something, and a style of display that's supposedly quite unique to Valencian communities.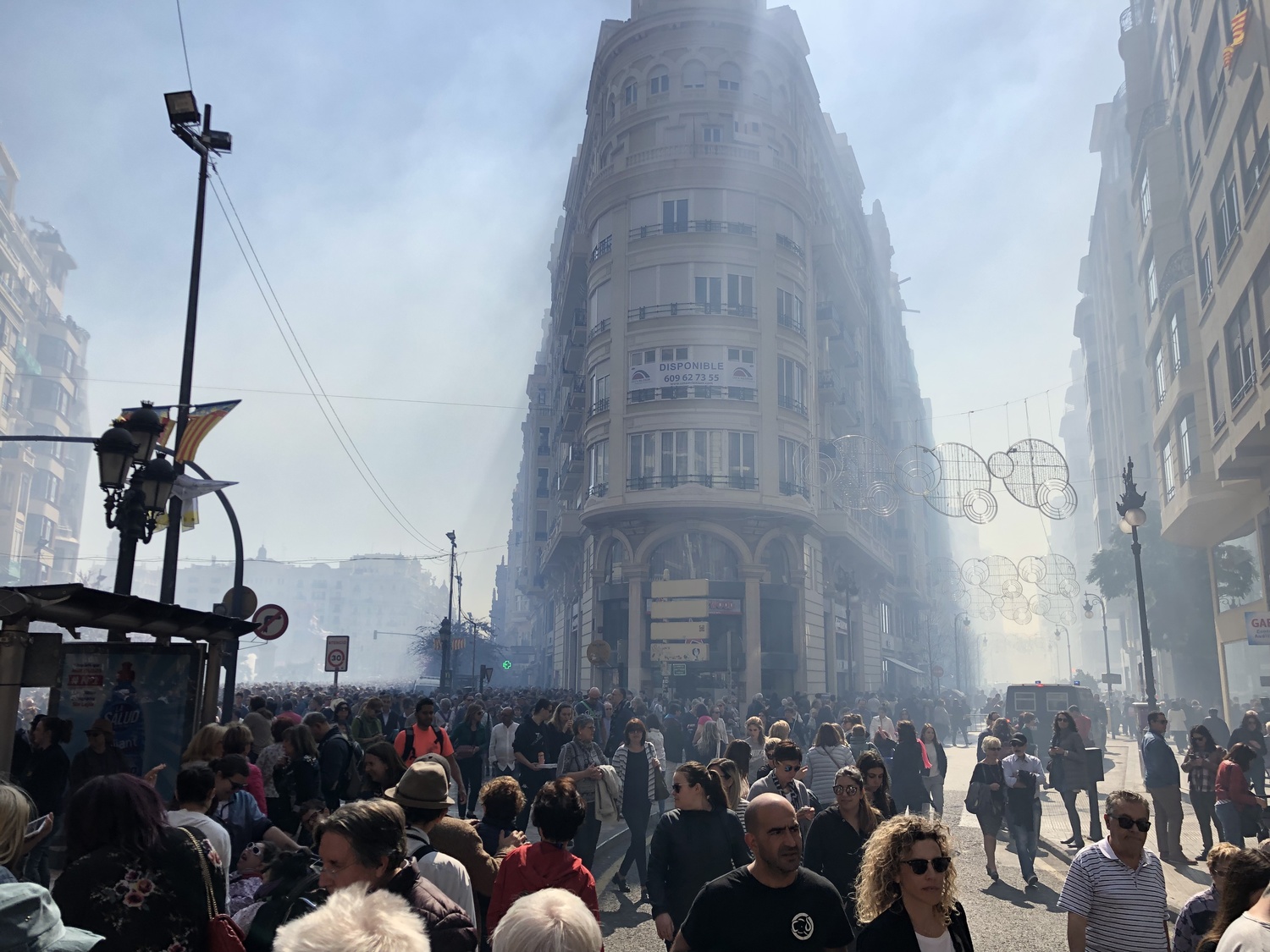 With our fireworks over, we grabbed a rather lovely Uber back to the ship. Including a tip to the driver, we were less than half the cost of the MSC shuttle bus for two. I'd definitely recommend Uber or walking for anyone docking in Valencia.
I did see local busses available from the cruise terminal too. These cost only €1,50 per person, though I'm unclear if exact change was required so we didn't bother investigating.
A Relaxing Afternoon
Back on the ship we grabbed a table at the Sky Lounge so we could enjoy a drink or two with beautiful views of the sea… successfully ignoring the industrial port off to the side! I worked a little on my blog (mojitos help the creative juices flow… or something) and we played some more board games on the iPad.
Dinner at L'Atelier Bistro
We visited this venue earlier in the cruise for breakfast but this time we were back for dinner, where we enjoyed some of the best service we've had. Prompt, friendly, and attentive staff really make a difference to the experience. Our waiter from breakfast even came and shook our hand and said hello, which was a lovely touch despite him not being our server tonight.
The food was also on top form tonight. Alex went for the French Onion soup and said it was one of the best he's had. The bread on top was toasted well enough to retain some crunch even after floating on the soup! My salad was also delicious, with a runny poached egg and tasty bacon.
For our main course, I went for the steak tartare which was perfect! I had it with a side of fries which, after a little extra salt, were delicious. Alex's ribeye steak was not as good as last night's sirloin but still nice. The green beans he ordered to go with it were outstanding. Some of the best beans I've had! Deliciously garlic-y and beautifully cooked.
For dessert we went for a tarte au citron and a tarte tatin and had half each. Both were nice, especially the tarte au citron which was nice and zesty.
Some lovely wine and bread were also served. Well done MSC. This is how you pull off a speciality restaurant. Great service married with great good.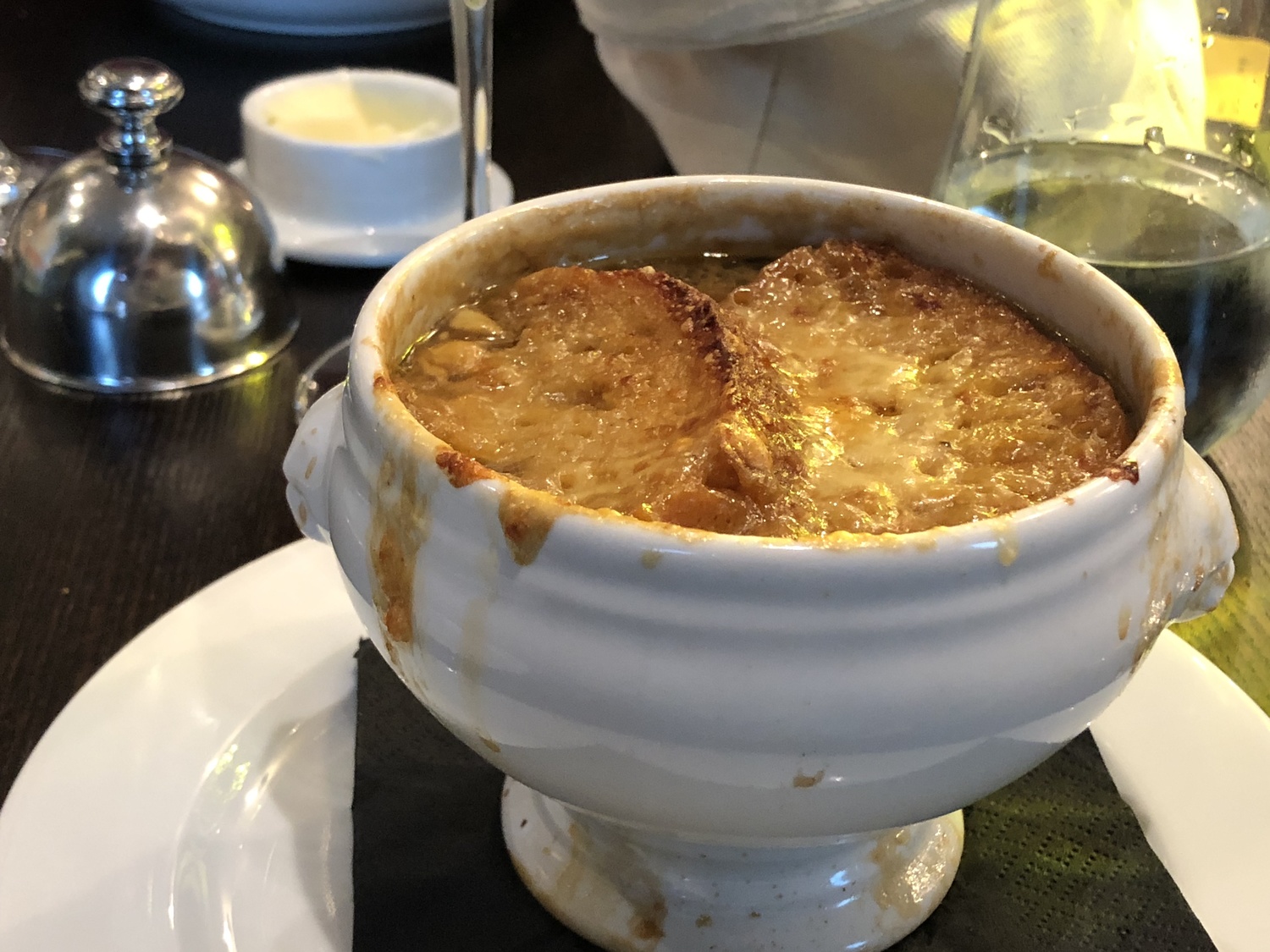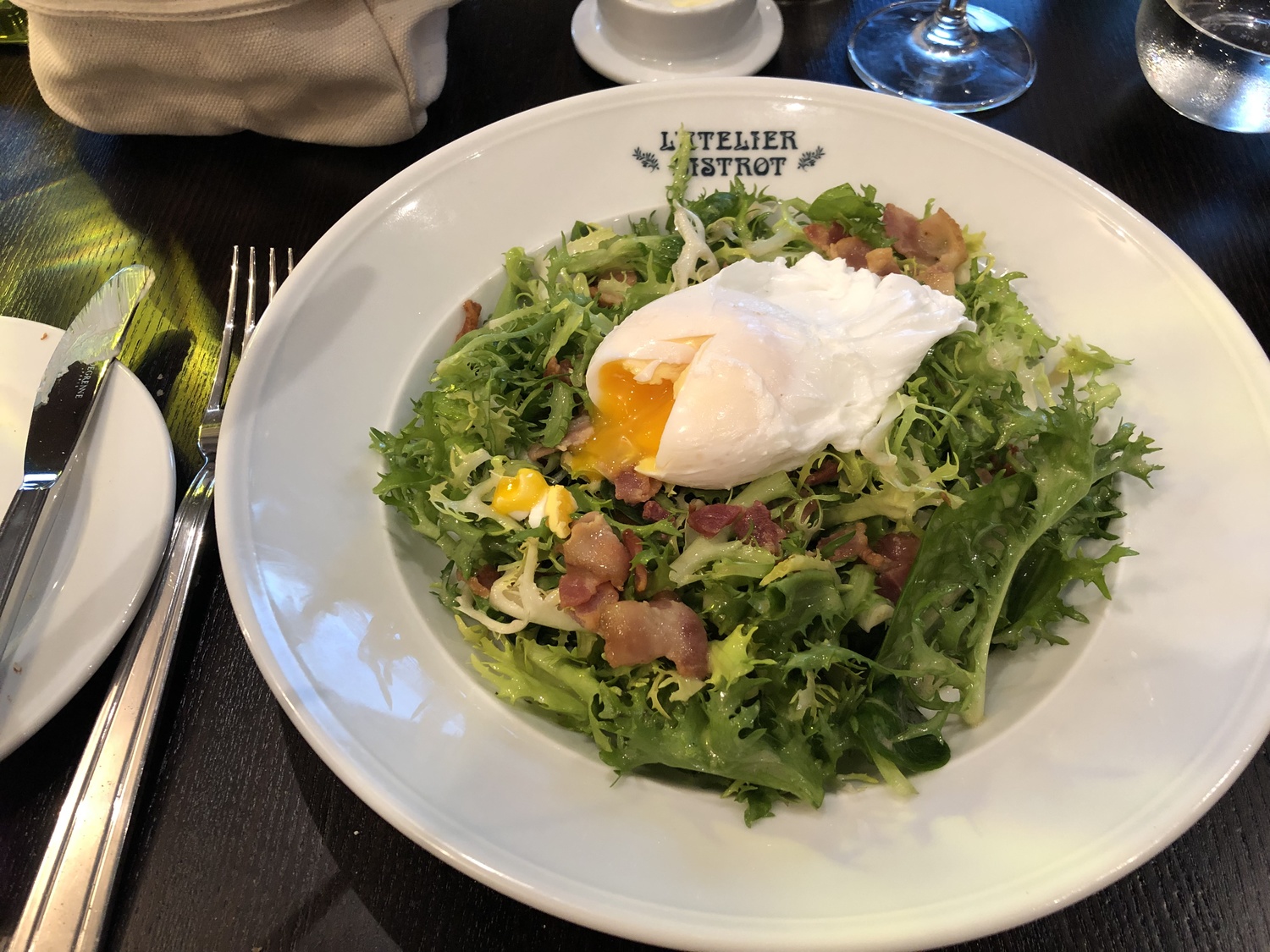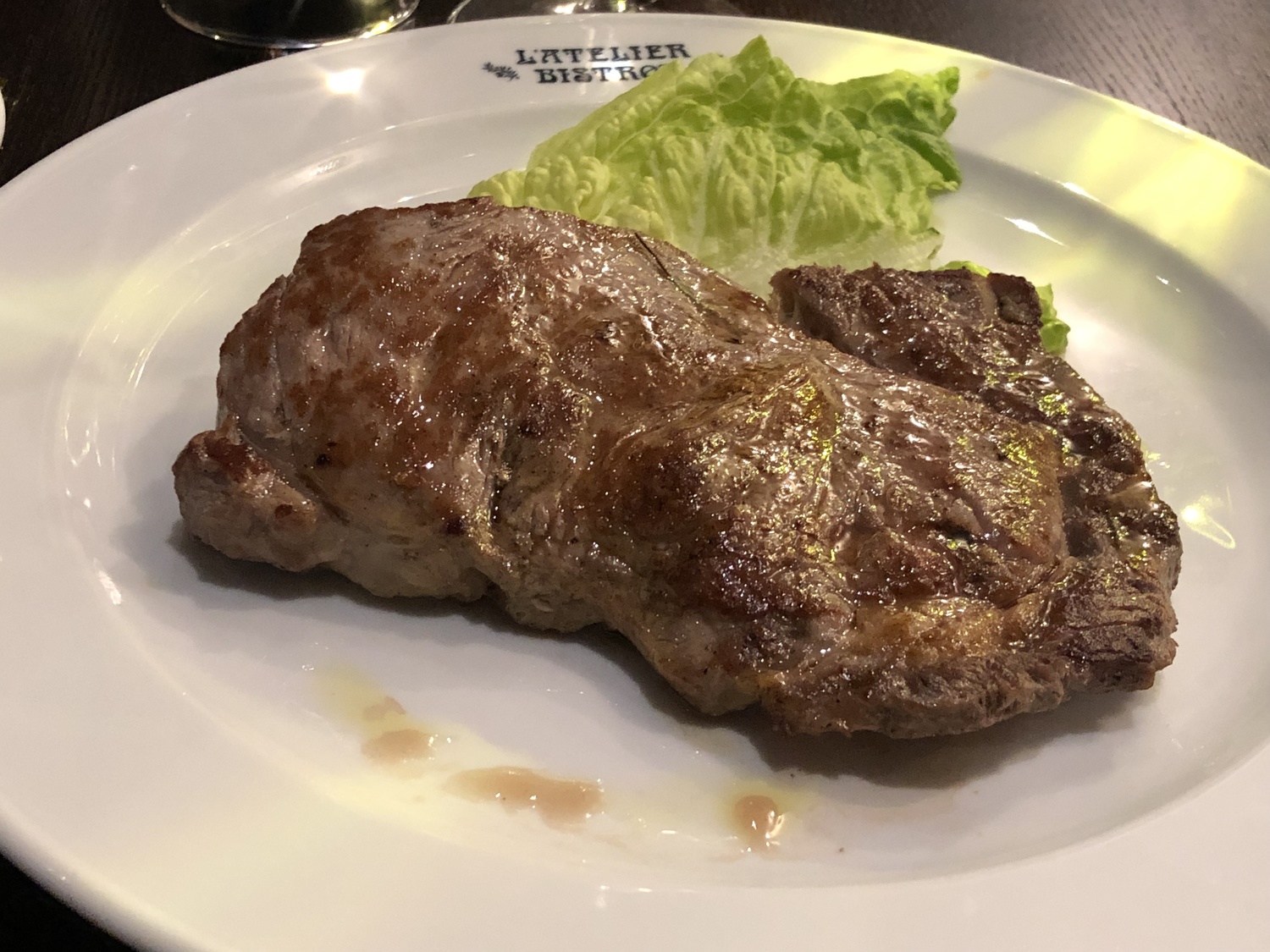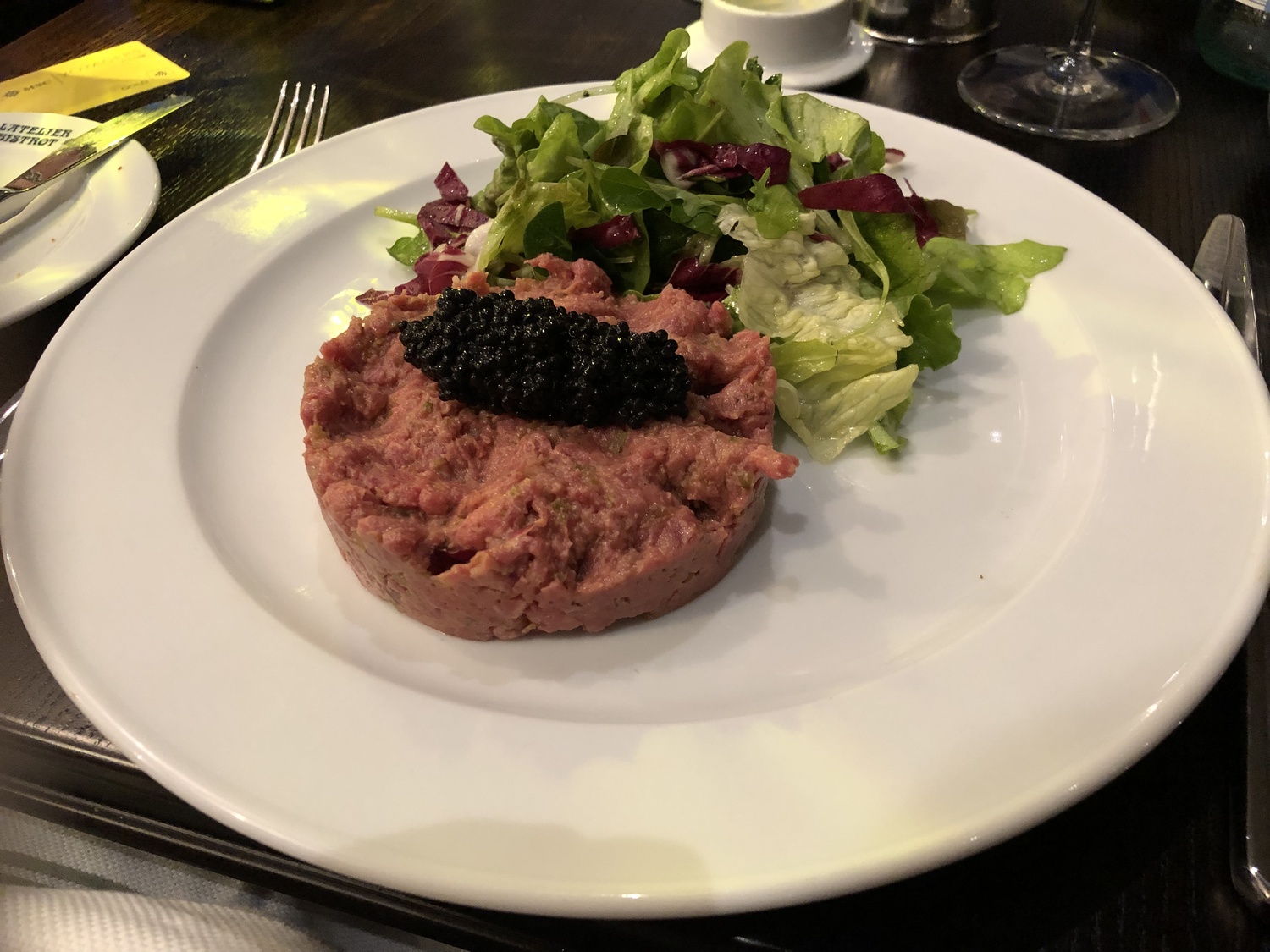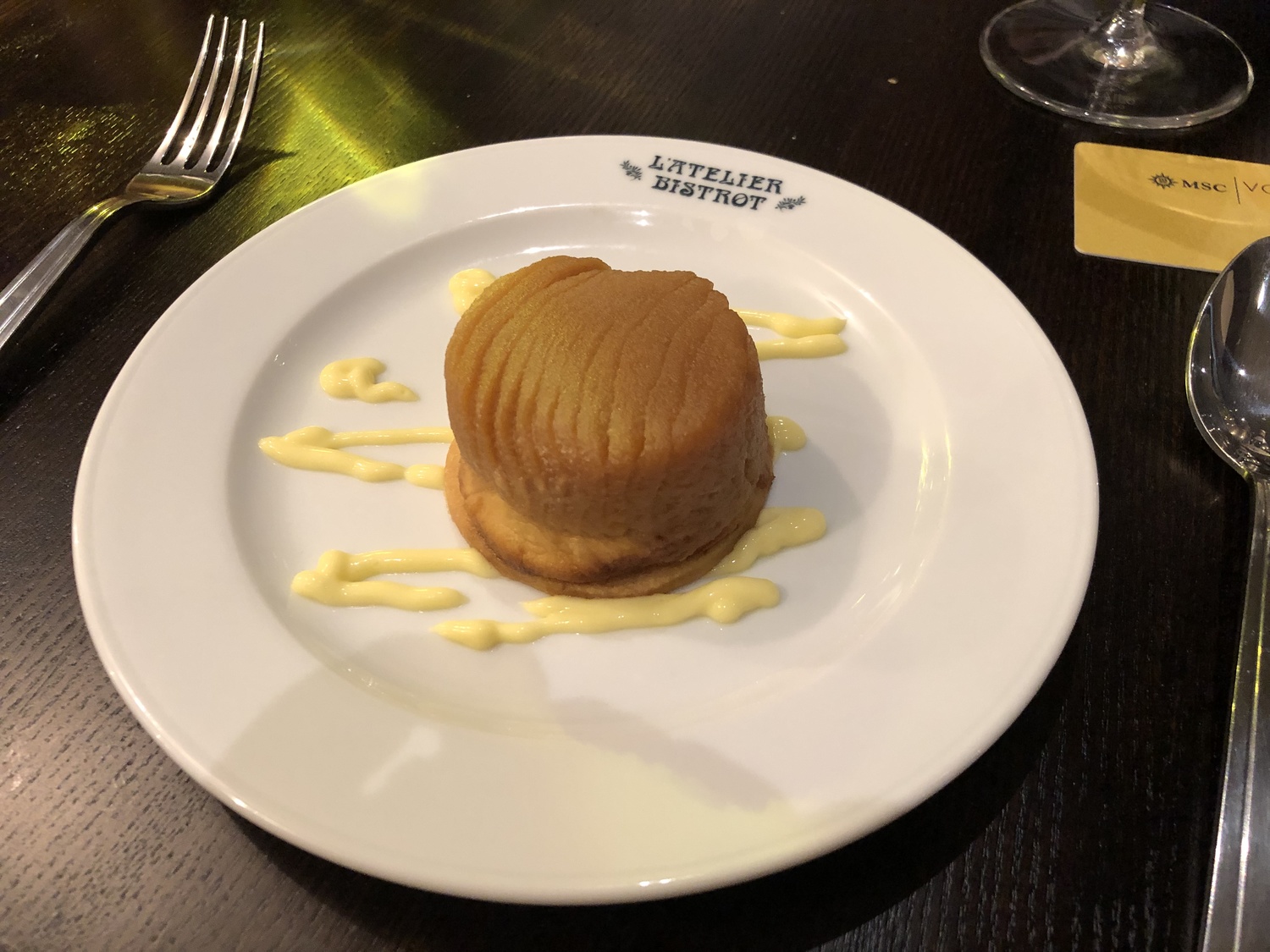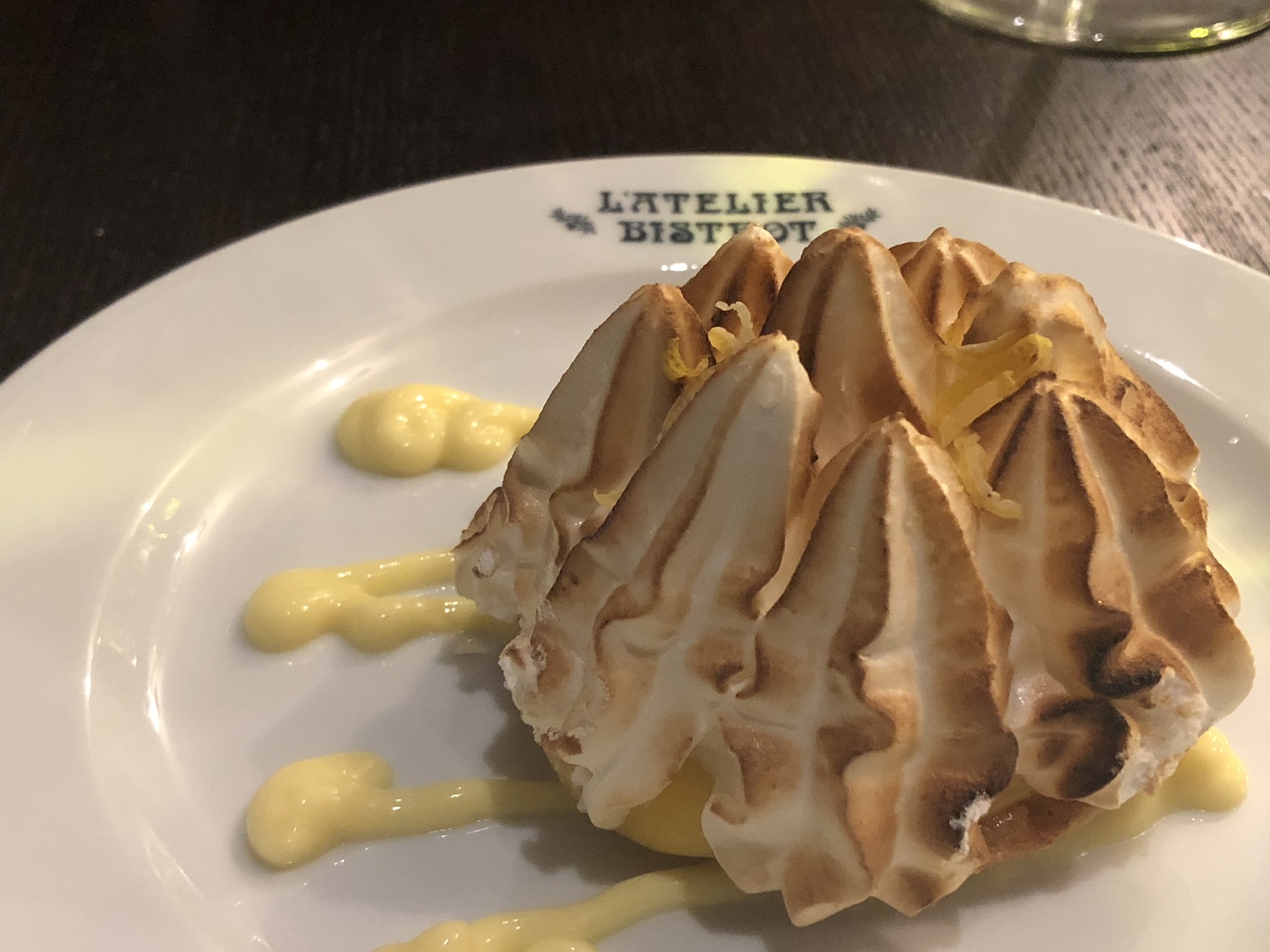 Theatre: Serge Massot
Tonight's theatre show was a multi-lingual ventriloquist comedian / magician. Given comedy magicians are our least favourite acts in cruise ships we didn't have high expectations for this act. It started off poorly and finished well.
The first 'act' involved a perverted puppet who fell in love with a member of the audience and was walking the line of pretty crappy behaviour in a slightly cringe-y way. He did a little card trick with this audience member and that was that.
The second act was quite cool. He had a whiteboard that he drew a face on, then made the face come to life as he did his ventriloquist act. A nice trick, but the contents of the actual act let it down enormously. They did a song, but it wasn't particularly funny, and he's not a very good singer.
The third act was much funnier. He had three members of the audience on stage and used them as full-sized ventriloquist dummies. It was a little rude but definitely all in good fun and certainly much more entertaining than the previous sections.
The guy is clearly a talented ventriloquist and was able to talk to the audience in many different languages which is incredible. It's just a shame he doesn't have an amazing act to use his talent for. If he can work on his comedy and material, he'd have an excellent show.
One of the best parts of any of the shows we've seen has been the introduction of the show by the cruise director. He comes on and rattles off the introduction in English, French, German, Spanish, and Italian. It's actually pretty mesmerising to listen to, and pick up his intonation of the same phrases in different languages!
Time to Pack
After the show we've had to head back to the stateroom and get packed, so I'm going to leave tonight's blog here and will fill you in on the rest of our evening tomorrow, along with our disembarkation procedure in Barcelona.