Yesterday we were scheduled to dock in Ålesund, Norway. Some other firsts yesterday included breakfast in Moonlight Sonata and dinner in Oceanview Cafe (the buffet restaurant). We also enjoyed one of the guest performers that Celebrity had booked, a comedy magician called Neal Austin. Read all about it in today's post!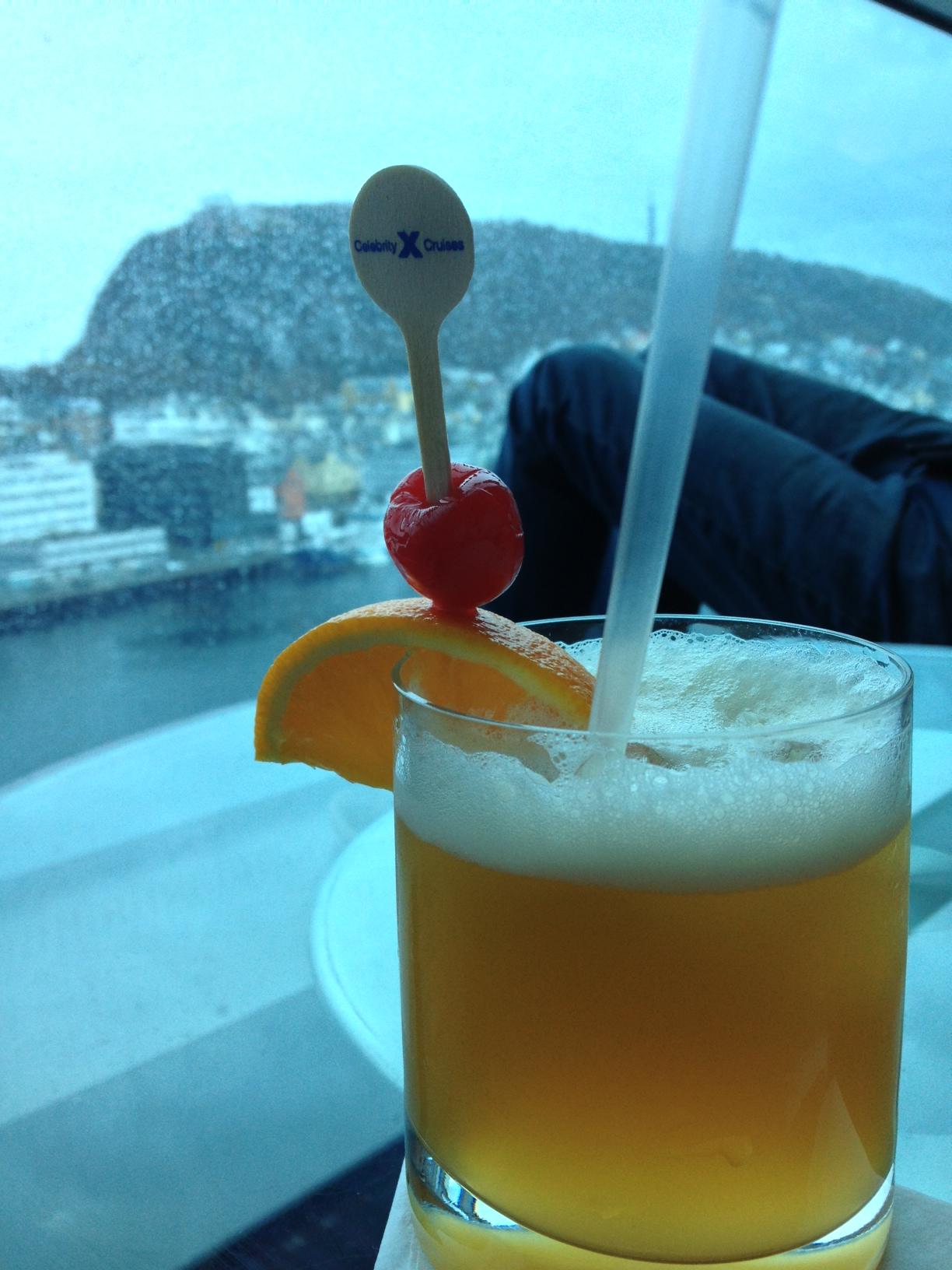 </a>
Breakfast in Moonlight Sonata
Every morning we've been going to the Oceanview Cafe for breakfast so we could be quick and see what was on offer. This morning we broke that short-lived tradition and visited the main dining room (MDR), Moonlight Sonata, for breakfast. This was a more formal affair, as expected, but I found it pretty disappointing.
I had Eggs Benedict which was lovely, although the quality wasn't any better than the breakfast items in the buffet. Additionally Alex and I wanted to sit and plan our day, but we were sat on a large table with six other people. I wouldn't normally have minded, although they were miserable oldies that mainly moaned about their pensions and other less politically correct issues, so there wasn't much for us to contribute.
Ålesund, Norway
Unfortunately we had a bit of a miserable day for Ålesund, as the rain was on and off all day. Thankfully this wasn't unexpected and we had packed waterproofs and warm clothing! We were also reminded that our stateroom had a big umbrella for our use while on board. I don't remember this being included by Cunard on Queen Mary 2.
When we got off the ship there were representatives from the sightseeing bus company (the big red ones that you find in many UK and European cities). We decided to take them up on that and paid our NOK200 (about £22) each for our day ticket.
I'd thoroughly recommend this bus where they're available (I think we'll do one in Stavanger too). We were supplied with some uncomfortable headphones (you could bring your own) for the audio tour and got comfortable for our 90 minute tour of the area. As well as the immediate area of Ålesund, the bus also went to the aquarium at one end and the open air museum at the other. The audio tour was very interesting and included lots of historical facts about the area, the economy and local customs. If you simply want a guided tour of the area this bus represents far better value and convenience than the ships own tour.
After completing a full circuit on the bus, we got off at the cafe and viewpoint at the cliffside which offered simply spectacular views of the area. We then walked down the 418 steps back to the main area of the city and had a walk about.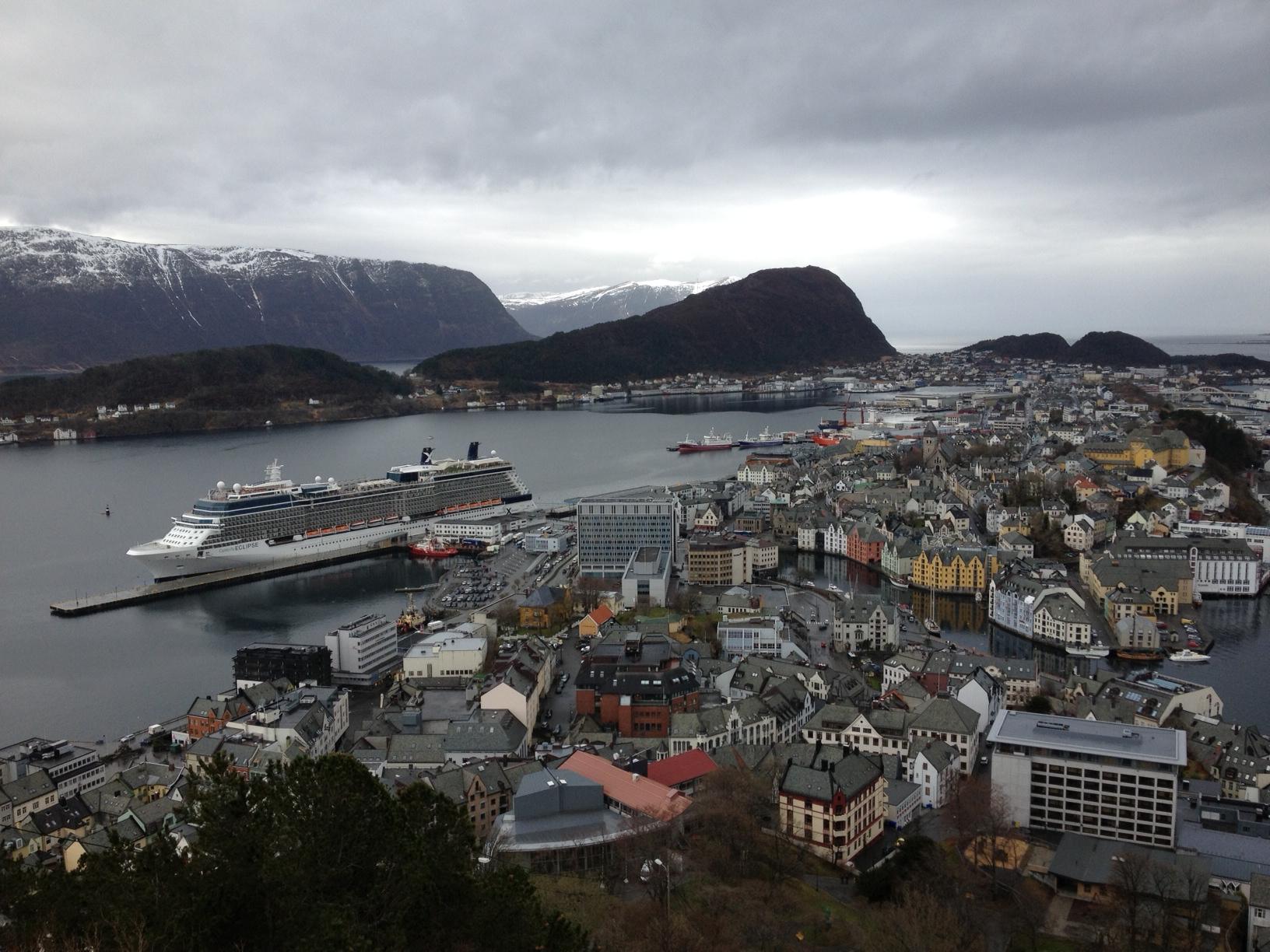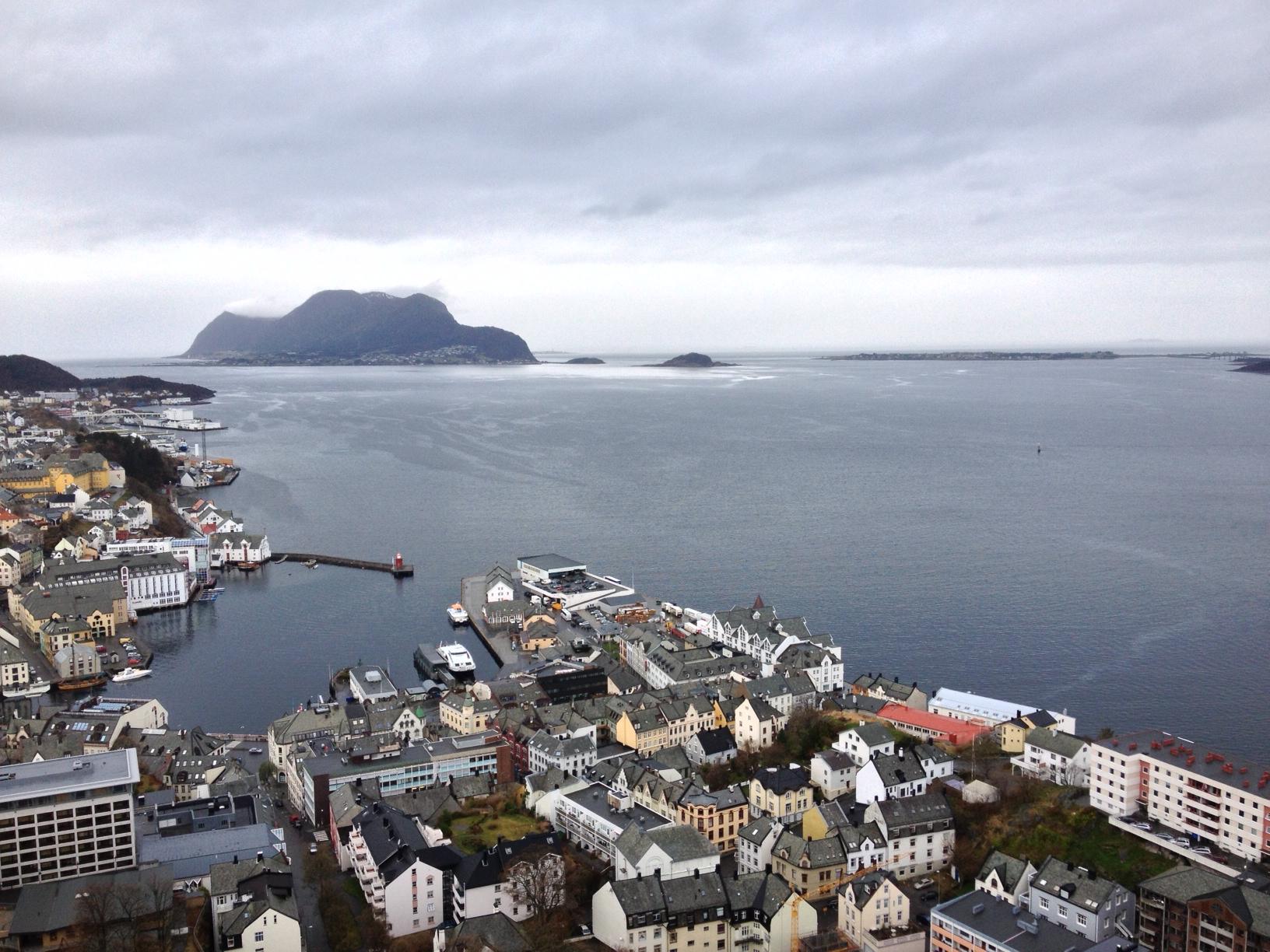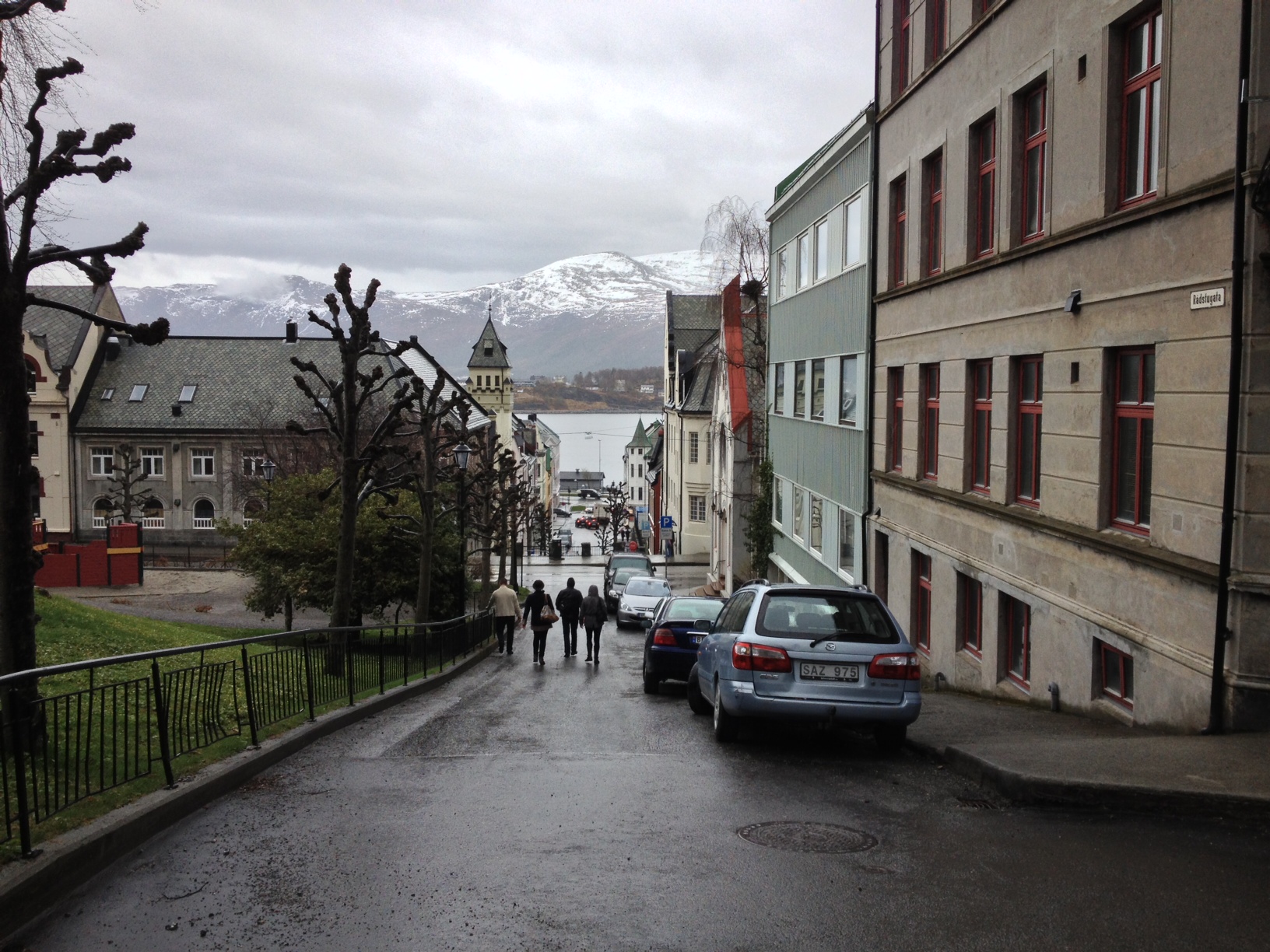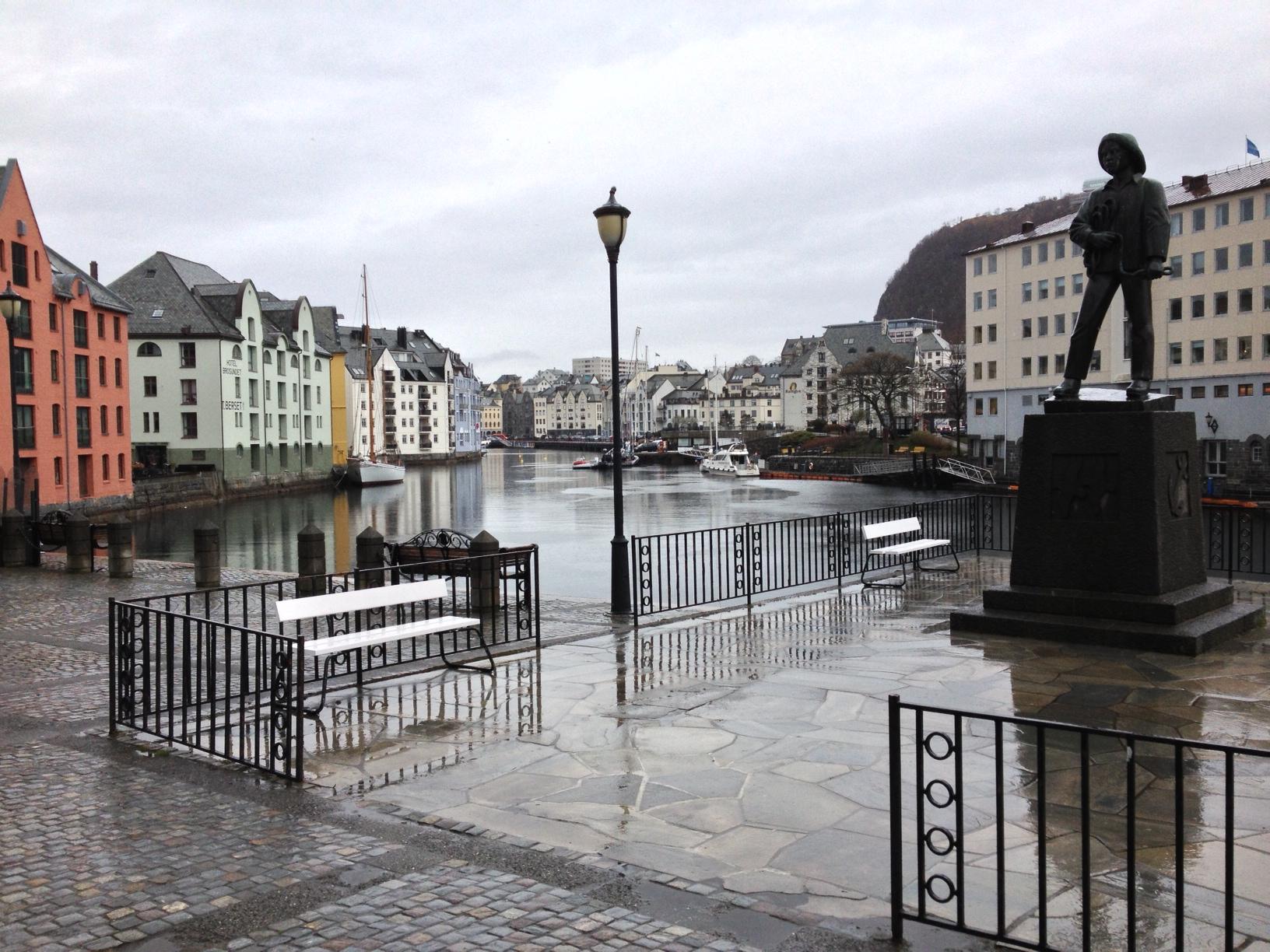 I was quite keen to try some local food and drink, and as it was around lunch time we thought we'd find a little bakery, cafe or restaurant to have a nice meal. Unfortunately there was nothing to be found; of the few restaurants and pubs we did see, all were closed with the exception of one cafe that was packed. I thought it was odd that there weren't more entrepreneurial residents looking to set up. I believe there are cruise ships in several times a week. Setting up a restaurant offering authentic, local food and drink, free Wi Fi could do very well (and could easily get away with slightly inflated prices). Disappointed, we reprised our embarkation day meal in Bistro on Five which was, again, excellent.
Sailaway from Ålesund
We found the Sky Observation Lounge the previous day, but didn't really stay for very long. The views, however, we're stunning so I made a point of enjoying our sail away from this elevated position on deck 14 at the front. This has really filled the gap that was left in my heart by the Commodore Club on Queen Mary 2 and, although the décor is a little more stark, the wrap around windows are much more impressive, and the seating (and lounging) much more plentiful and varied. We enjoyed the sail away from a window seat on the port side of the ship (where the title image was taken), then moved to a lounger nearer the front. It's very impressive, and very relaxing!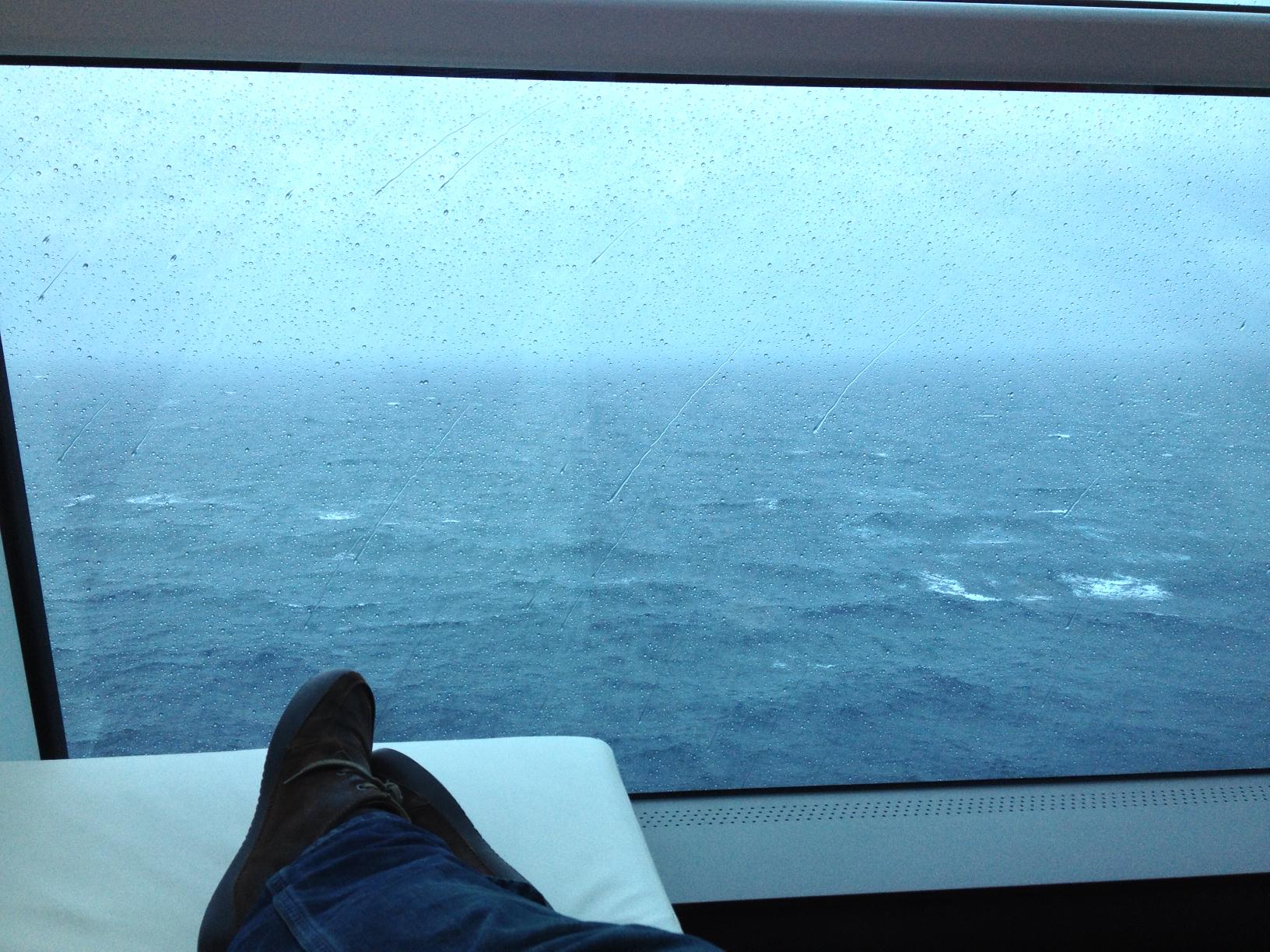 </a>
Disappointing Buffet Dinner
To fit in with our evening plans, we didn't manage to get to our MDR reservation for dinner, so we took advantage of the buffet which has always been good for breakfast and lunch.
Unfortunately I found the selection on offer at dinner a little disappointing. They did have a sushi station which was nice, offering various rolls as well as miso soup. The quality of the sushi was OK, similar to that you'd find in a supermarket lunch box.
Perhaps it was just the time we were there. The quality was still good, but the range didn't seem to excite me as much as usual.
Neal Austin, comedy magician
The show this evening was quite entertaining. Neal's act is that of a bad magician who, in the name of comedy, fails or reveals most of his tricks. It was pretty funny, if nothing especially new, but certainly got me laughing my socks off!
We had a little bit of rough Norwegian Sea in the evening, which put our plan of having a late night swim out the window as they had drained the pool. Thankfully the hot tubs were still full and we enjoyed a little soak, looking out at the darkening Norwegian Sky. Afterwards we relaxed in one of the cabanas that are in the Solarium, and allowed the rocking of the ship to entirely relax us.
Absolute bliss…