Alex and I have finally arrived in Southampton after our 450 mile journey over two days. We've been welcomed by 20º heat which is in stark contrast to the weather that we left in Central Scotland.
We decided to spread the journey over two days because we felt that 450 miles in one day was a little much. That said, splitting the journey up means spending only 3.5 to 4 hours driving each day, so it feels a bit unnecessary. Here's a run down of our journey so far.
First stop: Manchester
We arrived at the Premier Inn (Trafford Centre West) at around dinner time and were keen to get something to eat. Premier Inn hotels are all much the same, but there were a couple of features of this particular venue that were different from the norm.
This venue seems to have a lot of business clients, and even offers meeting rooms for businesses. It lacks the usual self check-in machines that are normally found in Premier Inns, but has very spacious rooms and huge, powerful showers with a glass door (instead of the typical bath-combo with dreaded curtain). The rooms did lack any air conditioning though, which could be an issue if it was very warm. We slept with the window open, which was fine, but might have struggled if we were closer to one of the main roads. One entertaining tech quirk was the 4:3 aspect ration LCD telly in the room. I don't think I've ever seen one before, and thought that by the time LCD was in use, widescreen was the default format. Oh well…
One special mention goes to Shane, who was manning the breakfast room. He was really friendly and took an interest in our stay. It's that kind of friendly, interested service that costs nothing but makes the world of difference!
We spent the evening at the Trafford Centre which I had never been to before. What a beautiful shopping centre! Stupidly we managed to leave our jackets at home, so we had a quick look for some new ones before having dinner at ChaoBaby which offered an unlimited Thai buffet. The selection wasn't brilliant, but the quality was fairly good (especially the starters). I probably wouldn't eat there again, but it offered a quick, relaxed meal which was ideal after our drive from Scotland.
Arrival in Southampton
We left Manchester after breakfast and started our 4-ish hour drive to Southampton. We got checked in to the Premier Inn West Quay (using the self-service machines). This location is very, very new, and convenient for the ports. It's located next to the lovely West Quay shopping centre. As it's new, all of the rooms are beautifully air conditioned, and don't have the irritating 'insert key for electricity' feature that some other venues feature.
We decided to have a walk around West Quay shopping centre and then along the QE2 Mile to the shore. Here we visited the City Cruise Terminal (where we'll be departing from tomorrow) where Royal Caribbean's Independence of the Seas was docked. As it was such a lovely day we waited around for it's departure and gave a farewell wave to those departing for their two-day mini cruise.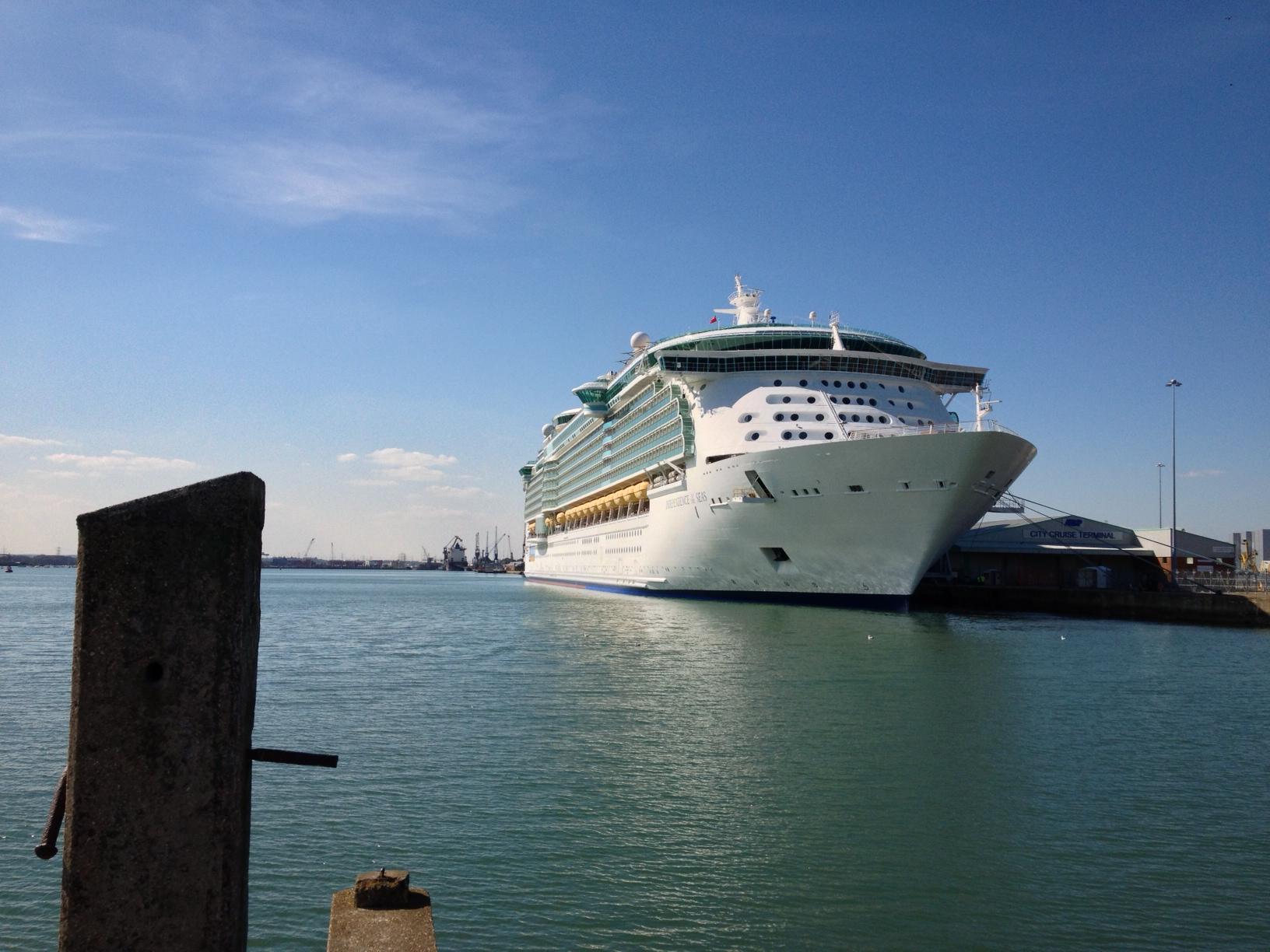 We're now relaxing after dinner and getting more and more excited about tomorrow by the minute.
One final comment on Premier Inn. I find the quality of these hotels absolutely excellent. They offer great rates, very comfortable rooms (backed by the 'Good Night Guarantee') and a delicious breakfast for only £8.95. For an overnight stay I would really struggle to justify staying anywhere else. Given that I typically don't use the facilities in resort hotels, I'd even consider Premier Inn for a longer stay. Certainly the Southampton West Quay venue is absolutely outstanding for a pre-cruise stay, and I'd book it every time when sailing from the UK.
Sorry this entry was so long. I'll hopefully get the chance to post some pictures once we're on-board tomorrow!