Arriving in Bergen was quite different from our previous port in tranquil Flåm. Bergen is a huge city, both in comparison and objectively. We were very lucky with the weather in Bergen, as we arrived in glorious 17°C heat – definitely short sleeve weather, especially for a couple of guys used to the inclement Scottish weather. This was especially lucky given the fact that Bergen has rain for about 250 days per year!
On arrival in Bergen we were shuttled to a square in town that feature the most hilarious fountain I've ever seen.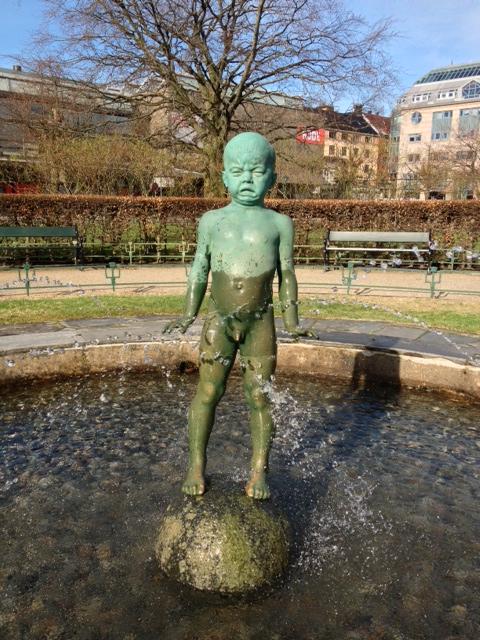 </a>
Beautiful Bergen
Before arriving in Bergen we already knew that we wanted Fløibanen Funicular Railway to the top of the Fløyen Mountain. When we arrived in the centre of town we decided to first buy tickets for the City Sightseeing bus, the same company that I mentioned in the post about Ålesund. Once again this tour was excellent, and very informative. With tickets costing only NOK150 each, I'd thoroughly recommend these tours to anyone. We also got a 10% discount after presenting out ticket for the Ålesund tour – keep your ticket folks!
As the station for the Fløibanen was early in the tour and looked quite busy, we decided to sit for the full tour and get off on the next circuit. This was probably a mistake as the queue was even longer the second time round.
The Fløibanen costs only NOK80 each for the return journey (about £10) and the views from the top are absolutely beautiful. There are several walks and hikes of varying difficulties that can be completed from the top station, and a leaflet obtainable from the bottom details the routes.
We stupidly didn't pick up the aforementioned leaflet, so explored the top of the mountain on our own. This worked very well as there are many gravel paths you can follow and after a brisk 40 minute circular walk we were back at the station around noon.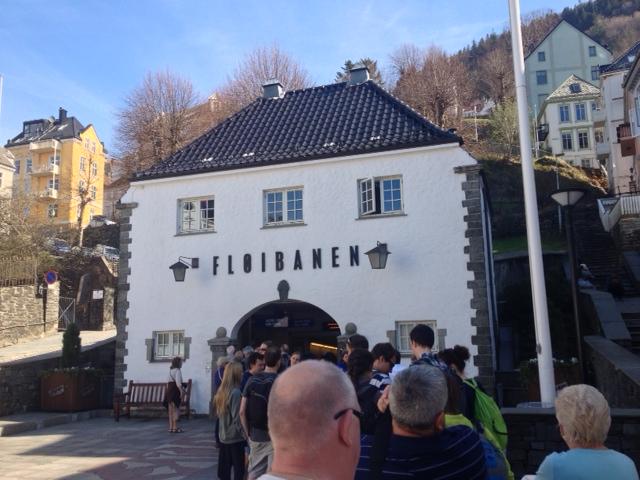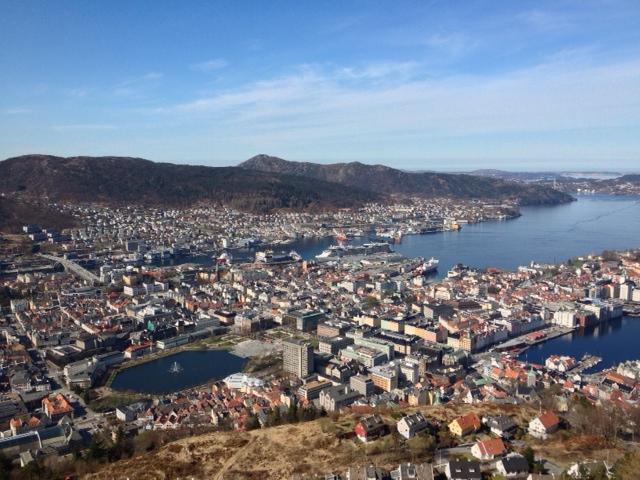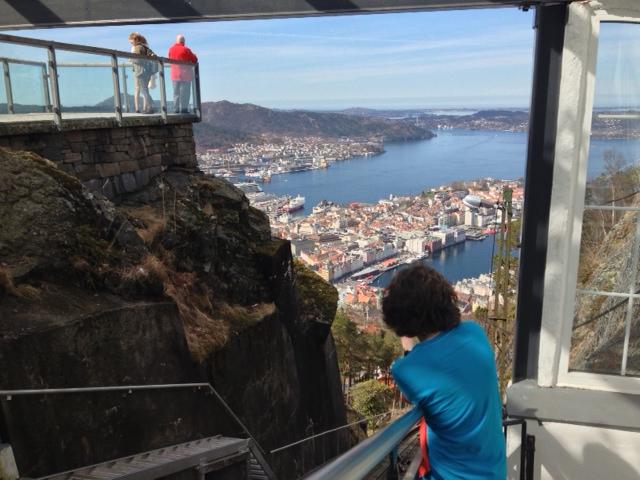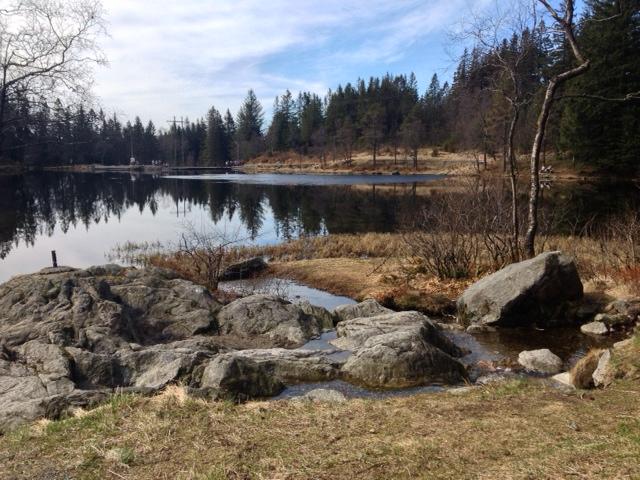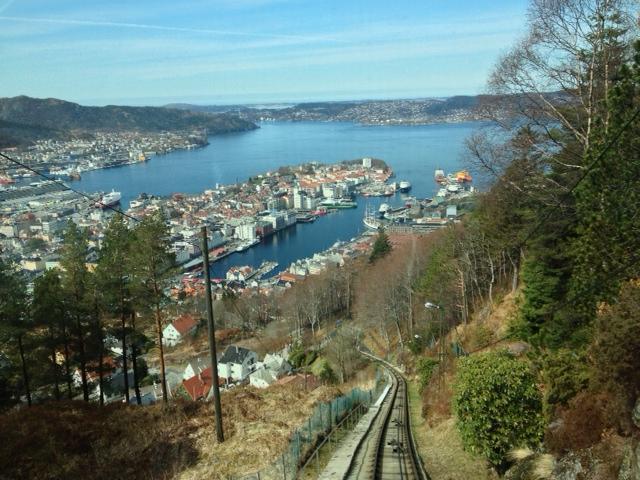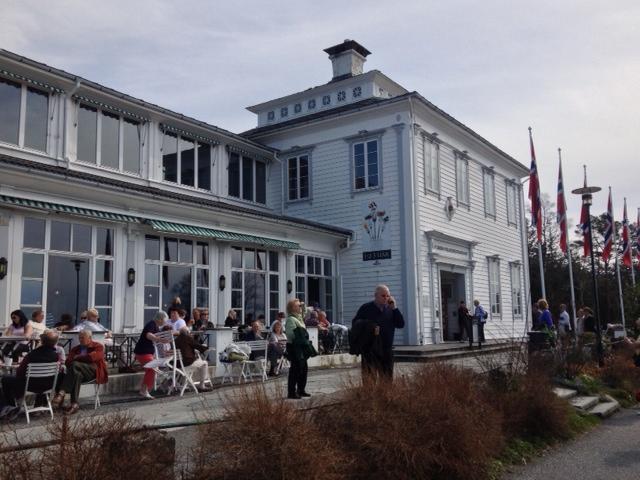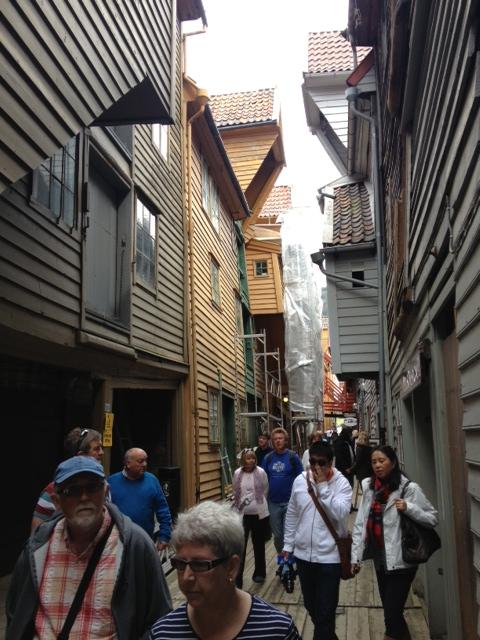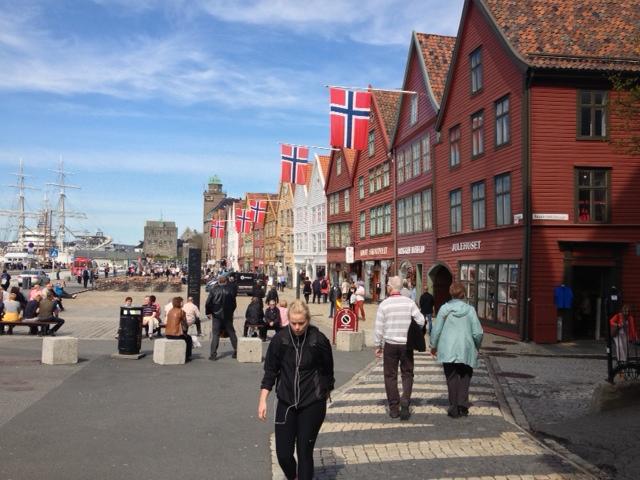 Because of the size of Bergen we decided to have lunch ashore rather than eating on the ship. Being a fish lover I was also keen to try some of Norway's fresh seafood! There is a restaurant on Mt. Fløyen, but from the bus tour we could see a beautiful harbour area with a fish market and many seafood restaurants. Surely this had to be our spot for lunch!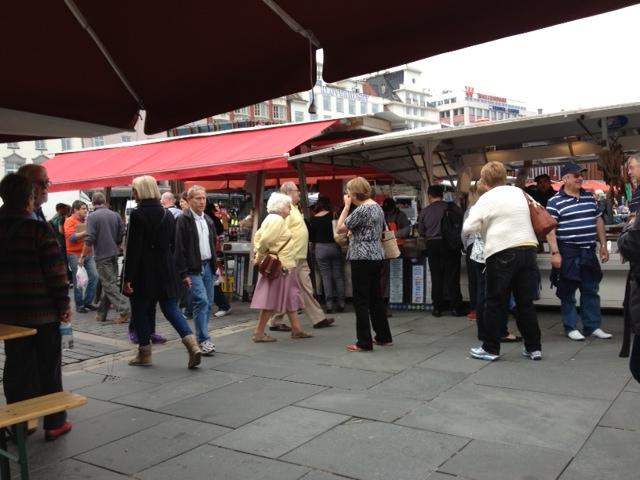 </a>
Given the beautiful weather we had, the fish market seemed to be the obvious choice and after hearing from each stall vendor how much better their fare was than that of the others, I finally settled on some delicious fresh mussels and took a seat outside by the harbour. These were absolutely delicious, and I'd recommend the market to anyone, assuming you get the wether. There are even stalls that allow you to choose your fish from the retail stall after which they'll cook it for you freshly.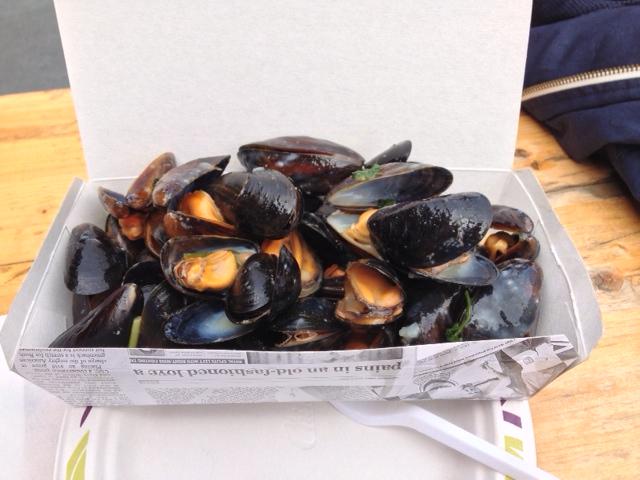 </a>
We spent the rest of the afternoon walking around Bergen and exploring the beautiful 18th Century wooden buildings that are so common in Norway. I especially liked the shops that had their names painted directly on the wood above their door. It had a very traditional and quaint feel about it, very much adding to the atmosphere of the older parts of the city. Even McDonalds attempted this in their C.18 restaurant!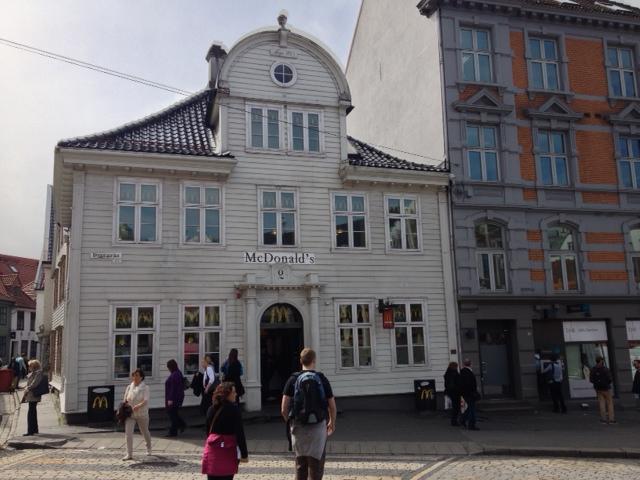 </a>
Back on Board
Having now tried all of the wonderful speciality restaurants offered by Celebrity Eclipse, we will now be getting more familiar with Moonlight Sonata, the MDR on Eclipse. The quality of good and level of service here is very good on the whole, although our wine didn't arrive until after we'd finished our starters which I thought was a little disappointing. Robert and William, our waiter and assistant waiter respectively, were excellent, however.
Having finally adapted my appetite to the quantity of food one typically consumes on a cruise, I was able to have the full four courses this evening. I had salmon rillette to start, followed by chilled strawberry soup with citrus cream, then duck a l'orange and finally a filo tulip with citrus cream and fresh fruit. All of the food was excellent, but the filo tulip is the best desert I've had on board so far.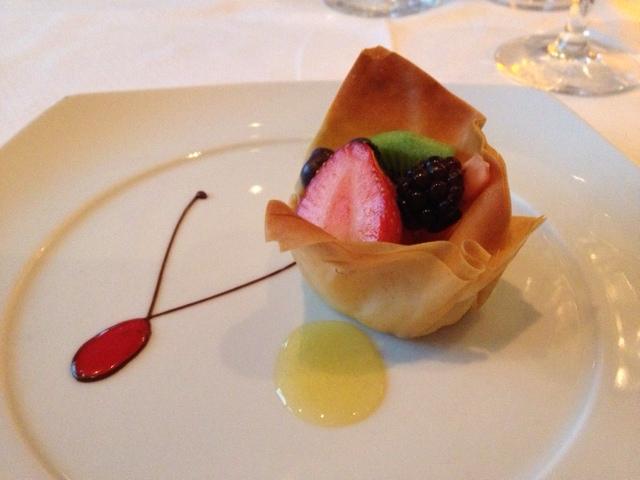 </a>
Davie Howes, Virtuoso of Variety
Our evening entertainment was provided by guest star Davie Howes Davie played a variety of instruments, from the commonplace to the improvised, interspersed with short, humorous anecdotes describing where his love of the instrument came from.
His endless energy and enthusiasm was apparent as he bounded between piano, drums, trumpets and improvised Zimmer frames and garden hoses. Alex and I both agreed that his show was the best cruise ship entertainment we've seen to date.
If you ever see his name in your daily cruise program take the time to see it, you won't be disappointed.