After months of waiting, we've finally boarded Celebrity Eclipse for our cruise to the Norwegian Fjords. Southampton is glorious again, so we've got a beautiful day for our sail away.
I've managed to take some quick photos which will be attached to the post as a gallery. I did mange to walk to the dock again and got a picture of Eclipse from Mayflower Park, adjacent to the City Cruise Terminal.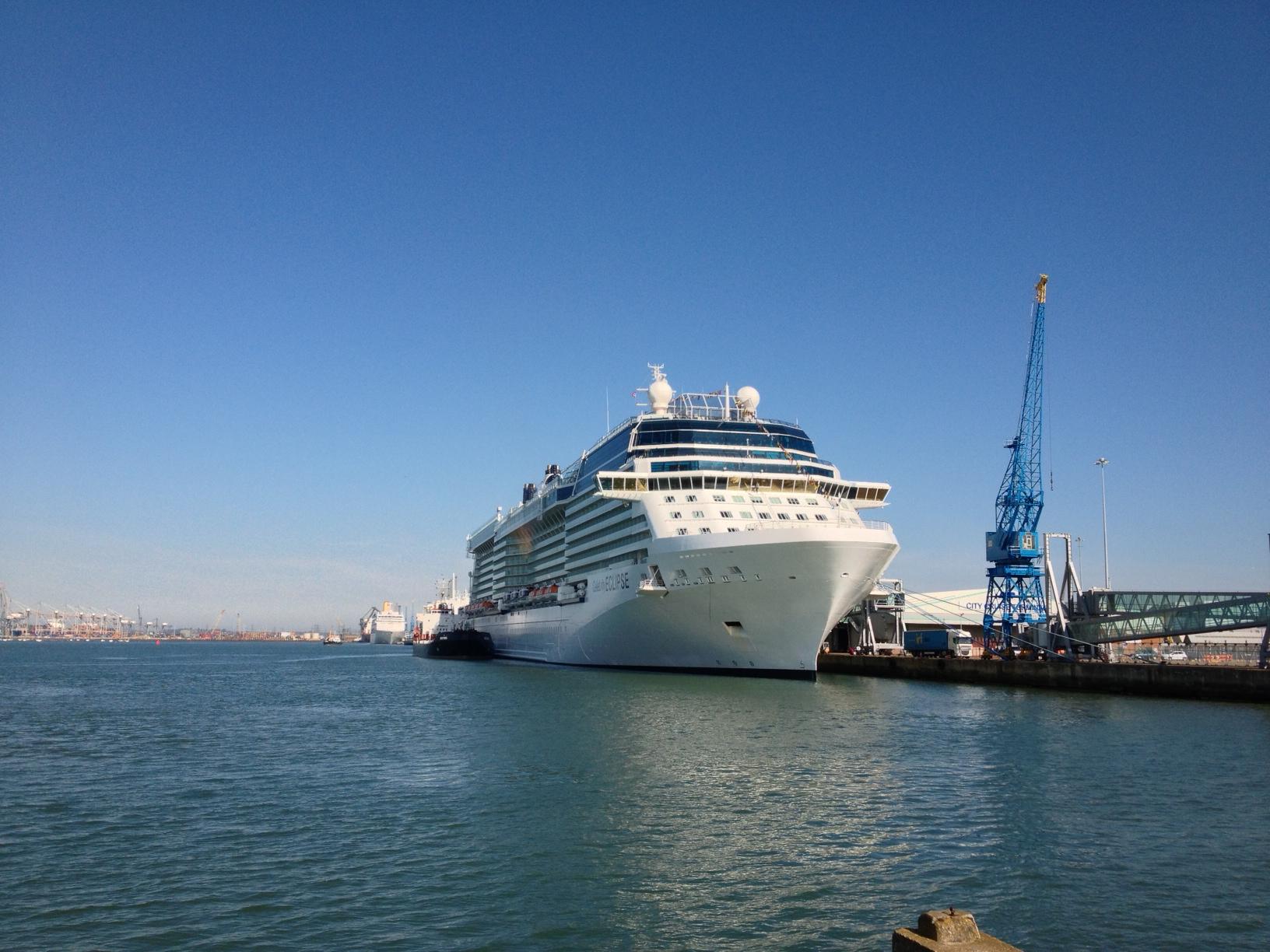 </a>
Check-in and boarding
We arrived at the terminal at 10:50 and, to cut a long story short, were on-board by about 11:30. We had a short wait in the car before being funnelled to the luggage drop off point. After our luggage was collected, we made our way across the road where we self-parked and completed the short walk to the cruise terminal.
Once inside we went straight through security (which was very quick) then waited in a short queue to check in. The lady who checked us in was very friendly and immediately welcoming. We completed a short medical survey, had passports, boarding passes, and credit card checked, and were told we could board immediately.
Once on-board, we were offered a complimentary glass of bubbly or Buck's Fizz, then were free to explore the ship until our stateroom was ready. We ended up packing a few bits of tech in our hand luggage (iPads, chargers and Kindles) resulting in quite a heavy bag to lug around for a few hours. Celebrity do ask that you don't pack valuables in your cases, but I'd be tempted in the future!
Lunch in Bistro on Five
Based on the recommendations of other reviewers, we decided to have lunch in Bistro on Five, a café with a small cover charge of $5 per person that specialises in crêpes. This was absolutely delicious and well worth the extra charge. If you wanted to, you could eat as much as you wanted from the menu, and our waiter was very eager for us to order as much as we wanted! I had a 'hot and spicy' crêpe, followed by a sweet crêpe with caramel sauce and ice cream. I believe we could also have had soup as a starter.
Pictures of the food are in the gallery at the bottom!
Out stateroom
We are in stateroom 7219, a deluxe veranda cabin on deck 7 situated on the 'hump' of the ship. This gives a really large balcony (from where I am currently typing).
The cabin is very well appointed and has a lot of storage. The bathroom especially is far larger than our previous stateroom on QM2, and has a proper glass shower enclosure – much better than the typical curtain! Bathroom also has a whole load of storage.
While Celebrity are clearly an American line (the menus all have American terms such as Celeriac and Eggplant), they have decided to put a tray of tea and coffee into the staterooms when Eclipse is sailing from Southampton, seemingly to appease UK cruisers. Honestly I wish they hadn't bothered, as the tray is on the main writing desk and takes up quite a lot of space. There's plenty of ways to get a cuppa on board, so why bother?
First Impressions
Alex and I have both been walking about the ship with a huge smile on our faces. The ship itself is absolutely stunning, and not nearly as ultra modern as some of the photos made it appear. I loved the art-deco style of the QM2, but other aspects of QM2s layout and facilities just look dated in comparison to Eclipse. It remains to be seen which I prefer, but we may already have a winner.
The service so far has been excellent, and the staff are all very welcoming and eager to please. We've still got a lot of exploring to do, so updates will follow as and when I get round to it (I am on holiday, after all).
One area that seems incredibly impressive is the buffet. We haven't eaten there but the layout and selection are incredibly good. There are just too many dining options on this ship!