We knew that this day had to come – the last full day on Celebrity Eclipse. Nonetheless we were determined to enjoy ourselves and managed to have as relaxing and fun a day as we could, while finishing off our packing and getting ready for the next days disembarkation in Southampton.
Waking up on a sea day is fabulous; I love reaching out from bed and drawing the curtains to ease myself into the day with sea stretching endlessly into the distance.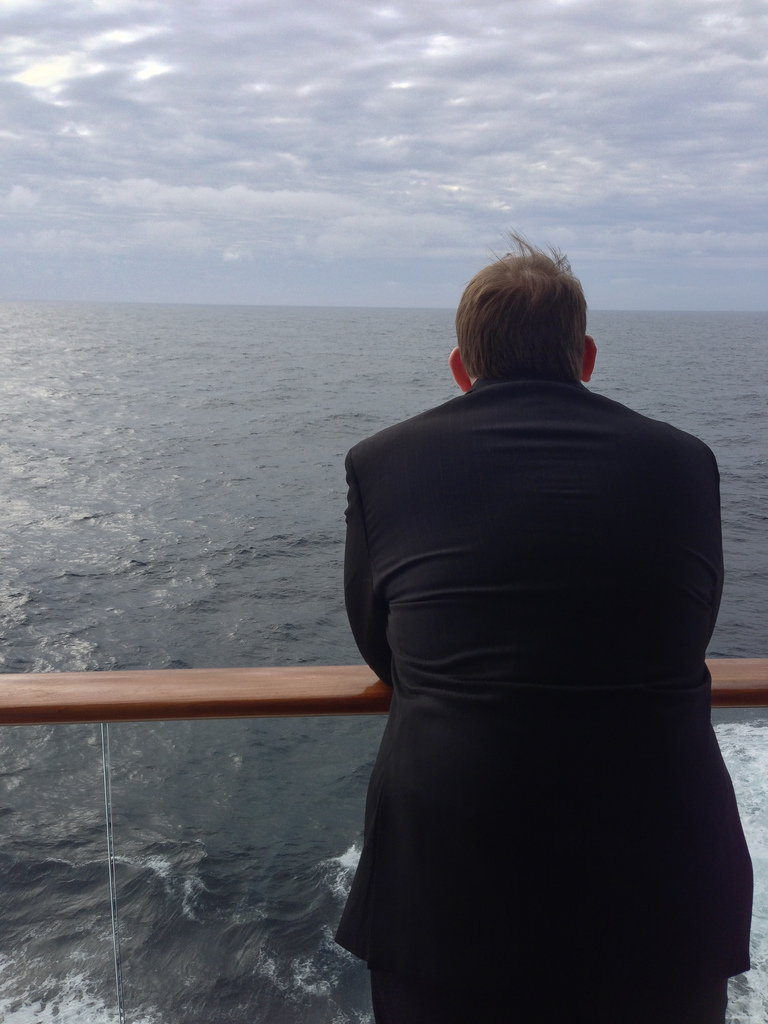 </a>
Glaciers and Glaciation
Having almost completed a Norwegian Fjords cruise, it seemed like a good idea to learn a little more about how these magnificent landscapes were formed. That in mind, we decided to attend a Beyond the Podium talk entitled Glaciers and Glaciation, presented by Graham Sunderland.
The talk was actually very interesting, and Graham managed to inject a bit of humour into what could have been a very a fairly poorly presented topic (as with any educational talk).
I've only seen two of these Beyond the Podium talks, and both were pretty interesting (although this was the more interesting). If you're interested in learning something on your holiday, I'd say they're well worth attending, and Celebrity seem to have got some decent speakers in.
From a techy standpoint, I'm a little surprised that in both cases there seemed to be an element of faff during the setup for each talk. This detracted from the professionalism, but left me confused by the fact that they do these all the time! How they can't have nailed the tech is beyond me!
Corning Museum of Glass – Charity Auction
I mentioned in a previous post how much I had enjoyed the Hot Glass Show, presented by three members of staff from the Corning Museum of Glass, from Corning, upstate New York. Alex and I managed to see at least snippets of some more shows, and have thoroughly enjoyed them. Watching glass being made and understanding how the material behaves certainly adds to the beauty of the pieces.
On the final sea day, the team from the show host a charity auction where they sell three or four of the pieces that they have made during the cruise. The proceeds from one of these pieces goes to the Breast Cancer Research Foundation, with the others going to fund scholarships at the Corning Museum of Glass so the art form can continue.
We were keen to attend the auction, although as the range of sale prices from previous cruises was $250 – $5000, it seemed unlikely that we'd be leaving with anything. Nonetheless, I've never been to an auction before and as the Hot Glass Show was a highlight of the cruise, we set ourselves a budget and thought we'd give it a try.
All four pieces that were to be auctioned were beautiful, although two of them stuck out for us – a beautiful purple striped vase and a purple flared 'candy bowl'. We don't tend to have flowers, so decided that the candy bowl would be our target. The pieces, along with their creators, are pictured here. From the left we have Dan, Everett, and G Brian.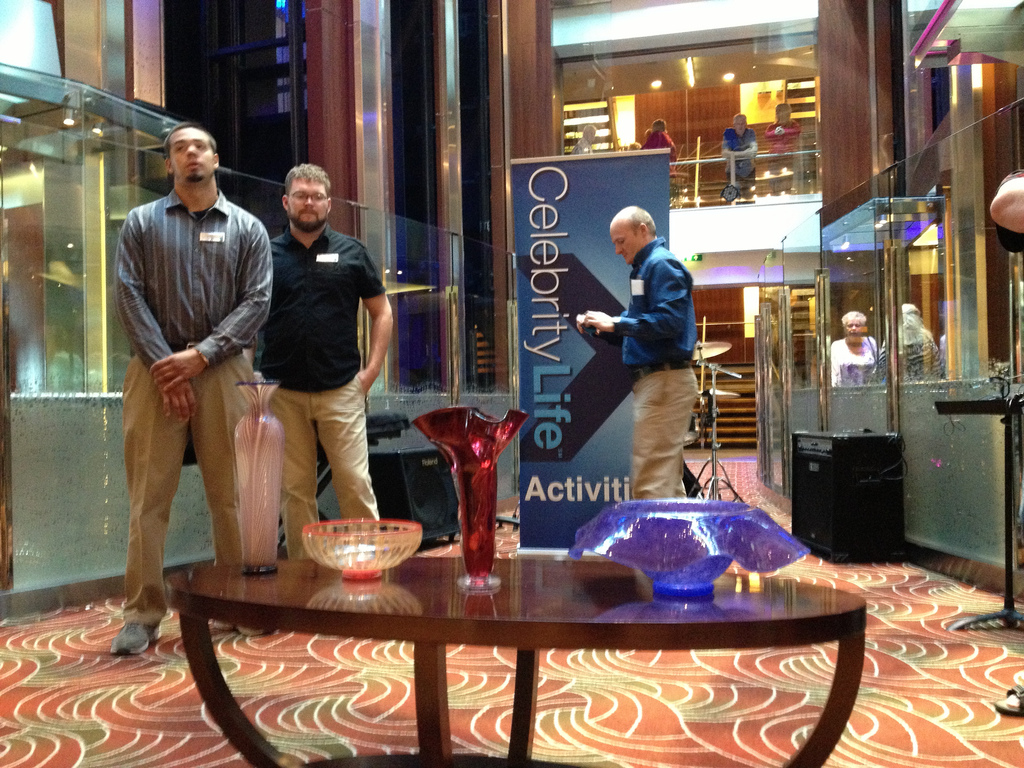 </a>
The auction was great fun, and (except for the Breast Cancer Awareness item, a pinky-red vase that went for just under $1,000) bidding was less fierce than I expected. All items started at $100, and we actually managed to win the beautiful purple candy bowl for the top end of our budget, just pushing off a couple of ladies who were also interested.
It was great fun, and good to know that we've got a fantastic, unique memento from our cruise (that we saw being skillfully crafted by Dan Alexander), and someone can get some glass making experience thanks to our contribution to the scholarship fund. The item was delivered to our stateroom later that day, bubble wrapped with a receipt and two VIP tickets for adult entry to the museum in Corning, NY, should we ever venture in that direction. If we do, we'll definitely pay them a visit.
Sea Day Food
After the auction, it was time to get some lunch. We desperately wanted to go back to Bistro on Five for some more of their tasty fare (amazing again, I'd recommend the Cowboy if you ever get the chance), but this meant missing out on the traditional sea day brunch, hosted in Moonlight Sonata. This is a self-service buffet, with the food displayed around beautiful ice sculptures. Thankfully they were happy to let us in without seating us so we could have a look and snap some pictures. The selection of food is maybe a little better than that in the Oceanview Cafe, but not by much. The ambiance and sculptures are incredible though, so it's well worth a visit for this alone. If you don't get the chance, here's a gallery of images.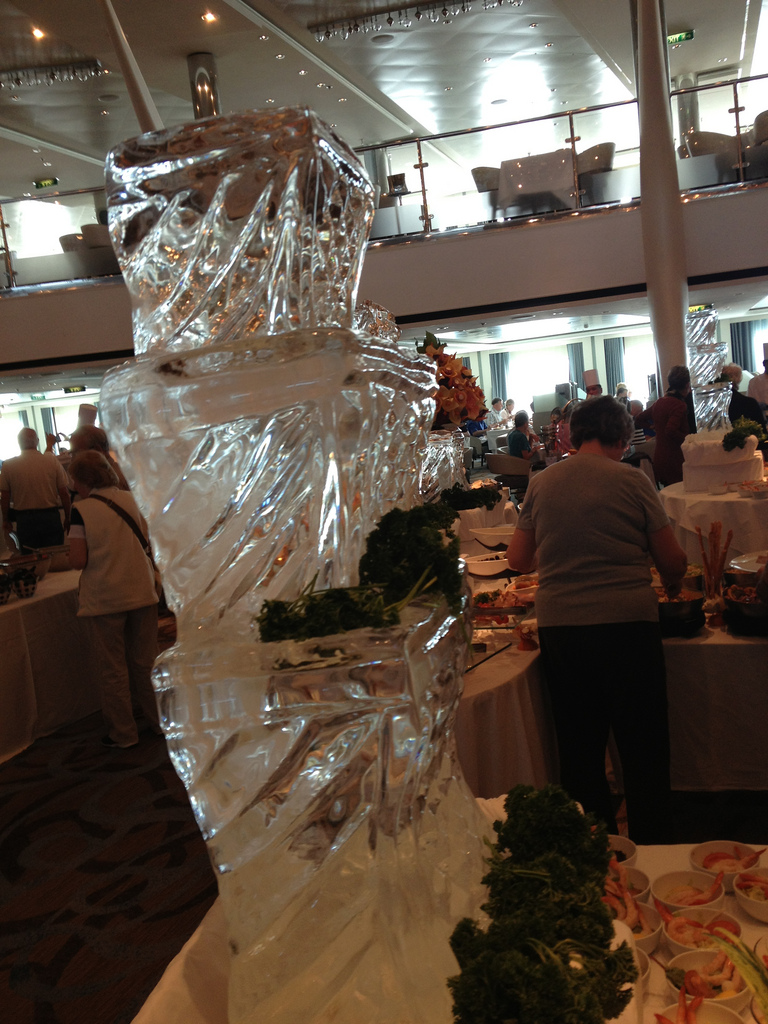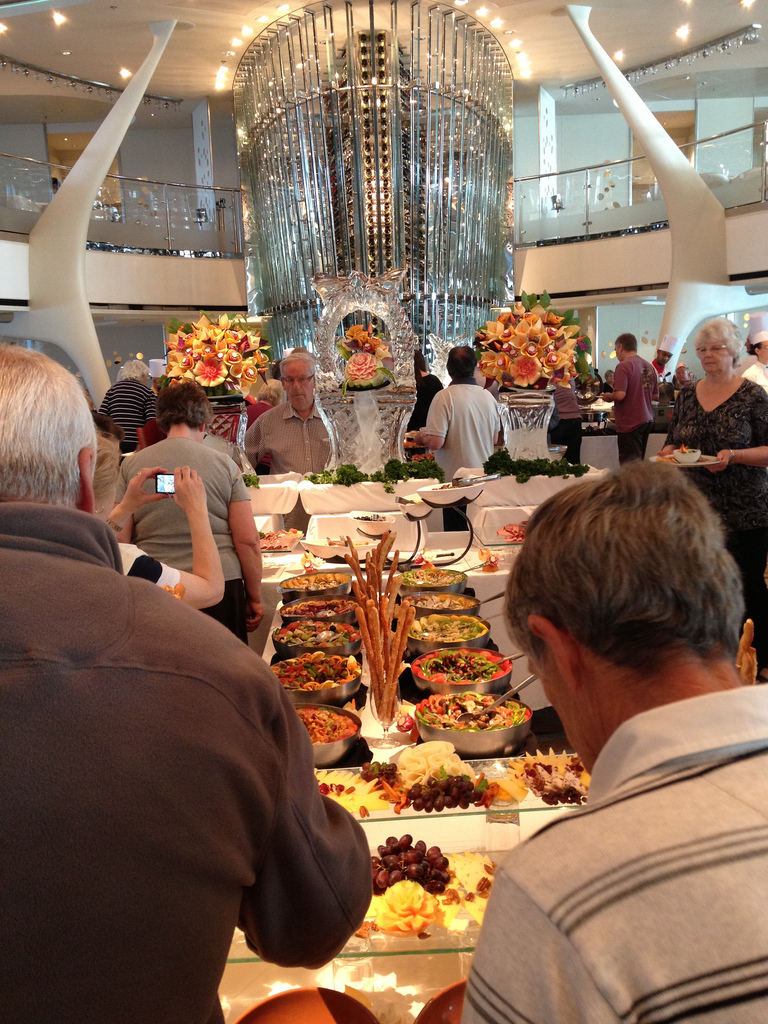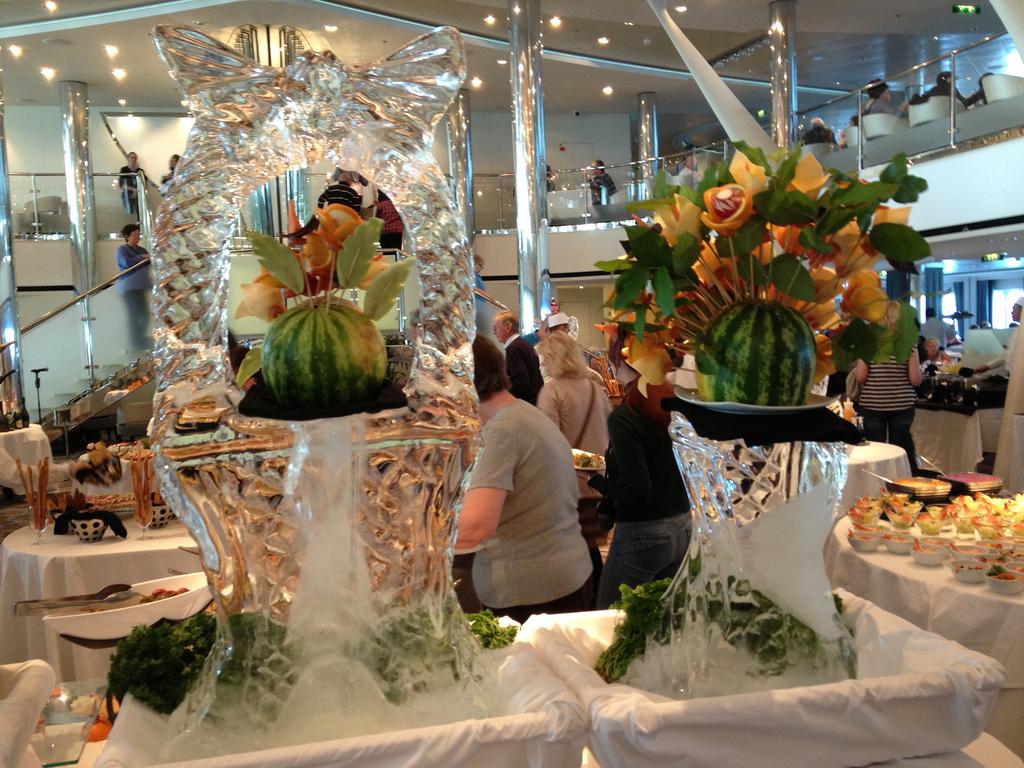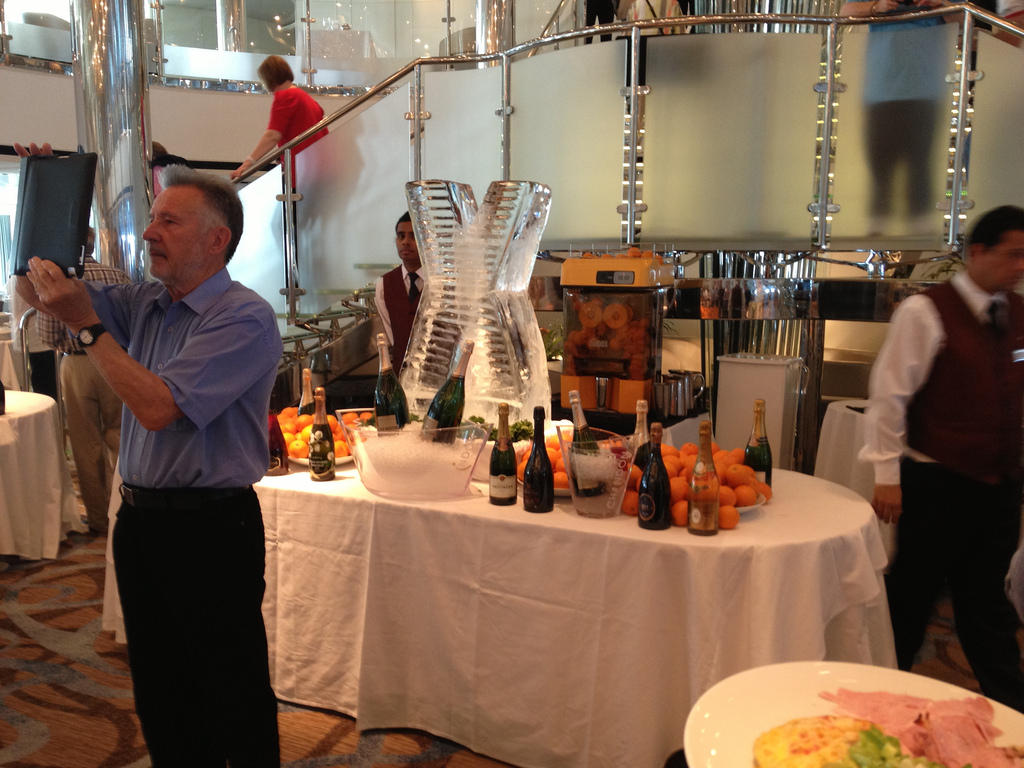 Farewell Show
Tonight's show times were switched around, so those in the late dinner sitting attended the earlier show at 7pm, to allow for an early night and some packing. The farewell show this evening saw the comedy magician Neal Austin return to entertain us with some new material, the Top Shelf A Capella group giving a short presentation, and cruise director Sue Denning taking centre stage with some comedy and vocals.
I'm very, very sorry to say that this was the worst of the shows we saw. I loved Top Shelf, and wished they'd featured more heavily in the hour long show. Neal was quite funny, if you like that sort of thing. Sue was a a bit disappointing. The main issue wasn't that she wasn't funny, nor that she couldn't sing (she was, fairly, and she could, more or less). It was that the audience were not very receptive to her humor, nor willing to get involved with the singing as she requested. This made the show a little uncomfortable to watch.
It's such a shame because Sue is such an enthusiastic person, and absolutely loves what she does. She works so incredibly hard, from her 6am morning broadcasts, to her late-night partying with the guests. I honestly don't know how she does it! I just wish more people on board had been receptive to her humour.
The next post will be an overview of the disembarkation process that you can expect on Celebrity Eclipse, and a condensed review of the ship will follow soon after. Hopefully some of you are still with me!