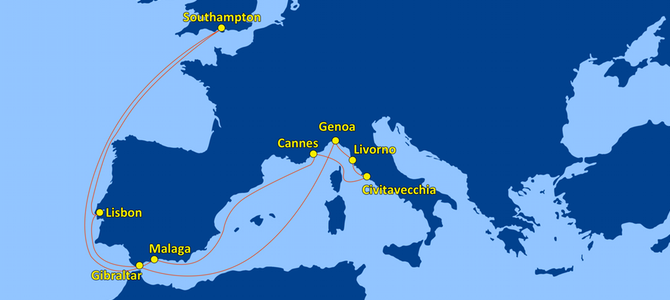 </a>
As our sail date gets closer and closer, it's about time I introduced our next cruise that you can follow along with. Here I'll tell you our itinerary and the preparations we've been making!
The Next Adventure
On 10th May 2014 we'll be setting sail on our next adventure on board the beautiful Celebrity Eclipse, a ship I enjoyed last year on our 8-night sailing to the Norwegian Fjords.
This time we'll be sailing to the Western Mediterannean for a 14-night sailing, and will hopfully be able to enjoy more of the outdoor facilities that the ship has to offer, as the weather should be a lot better than it was in Norway!
This cruise is going to be extra special for Alex and I, as we will be celebrating our recent engagement! Rest assured that we'll be enjoying plenty of champagne breakfasts on the balcony.
On this particular cruise, we'll be staying on Deck 10 in a C2 (Concierge Class) stateroom. I will try to look in detail at the differences offered by Concierge Class on Celebrity. Most reviews say it doesn't offer much above a standard Veranda, but I'm keen to find out for myself. As we booked early, we managed to get a cabin with a large balcony on the 'hump' of the ship, so expect plenty of photos of that!
The Itinerary
We'll be calling at the following ports:
Malaga, Spain
Cannes, France
Civitavecchia, Italy
Livorno, Italy
Genoa, Italy
Gibraltar, UK
Lisbon, Portugal
We have several sea days on this cruise, more than we've had before, so it'll be a good chance to relax and see what the on-board entertainment it like!  There have been many talks of cutbacks on Celebrity, so I'm keen to discover whether this is fact or myth, and how it impacts on the experience Celebrity offer!
Preparations
A few weeks ago we sat down and worked out all of the things we wanted to do on the cruise. All of the ports have an obvious primary attraction, but they also have many secondary towns or villages that would be nice to visit.
As this is our first time visiting any of these ports, we're not really doing anything that's out of the ordinary. We have pre-booked one Celebrity Excursion, and several City Sightseeing 'hop-on, hop-off' busses which I have used in the past.
Living in Scotland, we don't have many warm-weather clothes, so a new wardrobe was called for. Clothes shopping is one of my least favourite jobs, but I managed to get organised.
Last night Alex and I worked together to iron, fold and pack everything we needed to take. Never before has spending $100 of Celebrity's pressing service sounded like such a good idea!
What's next?
This evening we're driving down to Manchester where we're booked into a Premier Inn at the airport. I've used this hotel before, and it represents great value for a quick overnight stop.
Tomorrow (Tuesday 6th May) we'll drive down to London where we're staying with family. I've also got tickets to see Miss Saigon on Thursday night, which I hope will be fantastic.
On Friday we'll drive to Southampton where we're staying in the Novotel near the port. I've stayed in Novotel hotels before and been impressed, but never this one. Watch this space!
On Friday night all three Cunard Queens will be sailing away from Southampton beneath a sky of Fireworks, which we plan to watch from Hythe Marina.
I'm not certain when my next post will be, but I'll probably post snippets of action on Twitter so feel free to follow me there for the latest news!