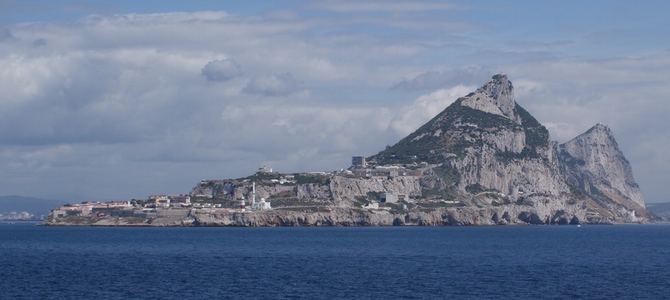 </a>
Today we were docked in Gibraltar from 1pm, and had a lazy morning. For the first time we tried breakfast in Moonlight Sonata, dinner in Murano, and saw the wonders of Bobby Davro.
Breakfast in Moonlight Sonata
Some of you may know that Alex and I have had a bad experience having breakfast in Moonlight Sonata before, where we've been sat at a larger table of people who have already started their breakfast and proceeded to ignore our arrival. This made the whole thing rather uncomfortable. I now know that it's possible to ask for a table for two, and this is what we did this morning.
Of course the tables for two are squeezed so close together you might as well be at a table for four, but there is a psychological distinction that's quite nice. In any case we got chatting to another couple on the almost-table-for-four who were at the Meet & Greet at the start of the cruise but who we didn't actually see. It was lovely to meet them both, and we had a good chat over breakfast. Interestingly they told us that at last nights early show, Sue come on stage asking if anyone on board was an ordained minister, and could they see her after the show. I've no idea what that was about, so if anyone has any guesses leave them in the comments!
Breakfast itself was good. I had Eggs Benedict with some pastries, coffee, and orange juice. It was nothing you couldn't get at the buffet, but was much more civilised! I got the impression that the servers were a little rushed, though this didn't translate to an urgency to reclaim the table.
We've had an issue in the past where Alex (especially when approached from behind) gets addressed as Madame because of his long hair and, at least partly, because he's with another man. We were chatting to our new breakfast friends about this, but how it hadn't happened much on this cruise, when one of the female servers did just that! It gave us all a laugh, and the way she reacted to the mistake was unusual too in that she fully apologised but made a bit of a joke about it. Most of them just look embarrassed and shuffle off!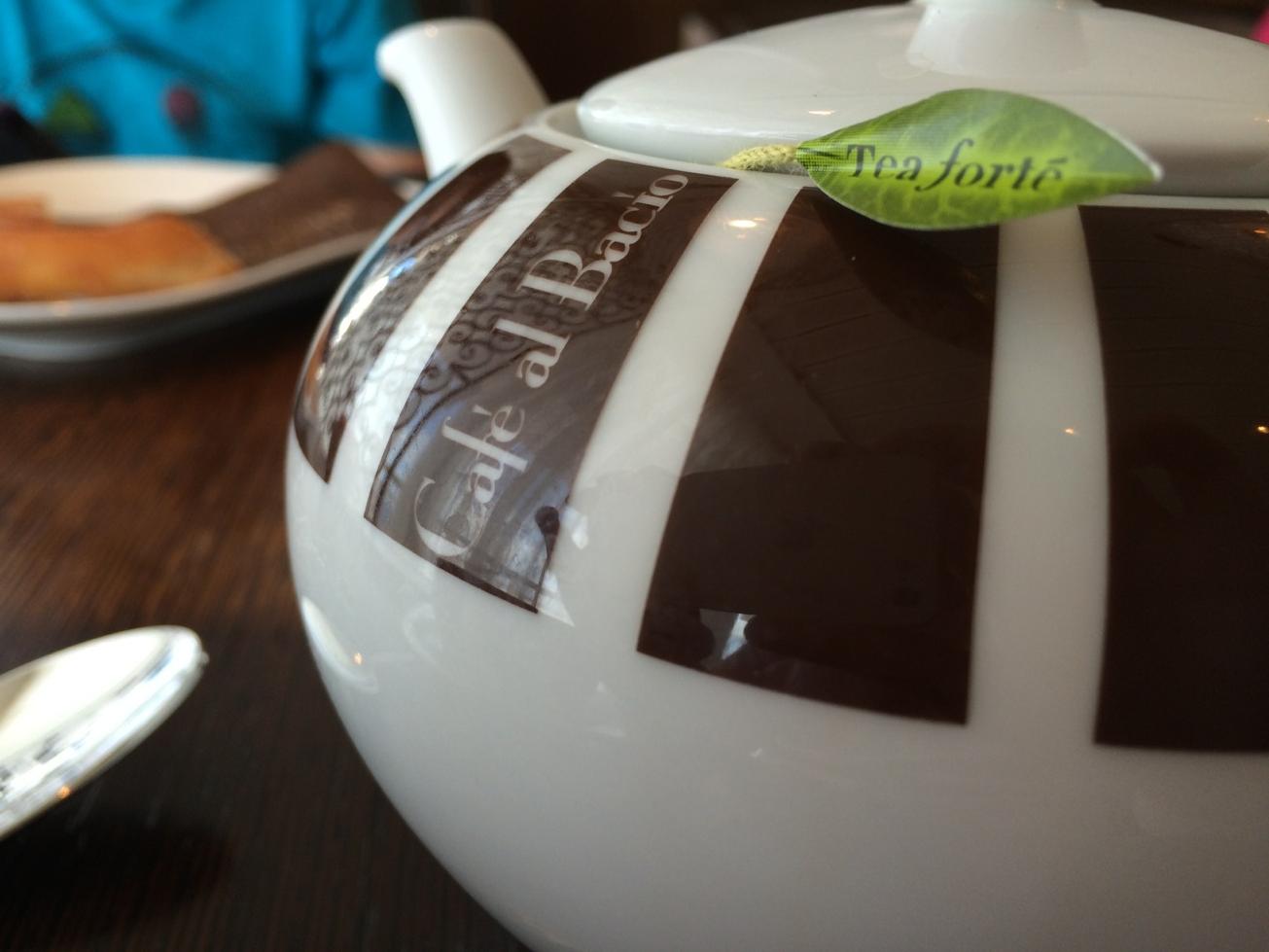 </a>
After our early breakfast we relaxed with a pot of tea in Café al Bacío again (Seriously… the African Solstice tea is just fabulous!) and we have decided that they desperately need more seats. That, or they need to encourage people to be less selfish and find a place elsewhere to read or sit staring into space. There are loads of rooms and spaces on the ship that are perfect for that; better, even, as the Café doesn't actually have great views! They do open up Bistro on Five to serve as additional seating in the morning, but even this is hardly enough. After our tea we went back to the Stateroom and changed for our day in port (naturally leaving very shortly after finishing our tea!)
Gibraltar
As we didn't arrive into Gibraltar until 13:00, we had plenty of time to watch the ship's arrival into the port. As we were arriving from the East, but docking on the West side of the rock, we had a lovely sail-by of the rock to enjoy in the hour or so running up to our arrival. This was lovely, and we watched from the outside on deck 5. It was quite fun seeing the pilot arrive and all of the necessary preparations that are made for the ship's arrival.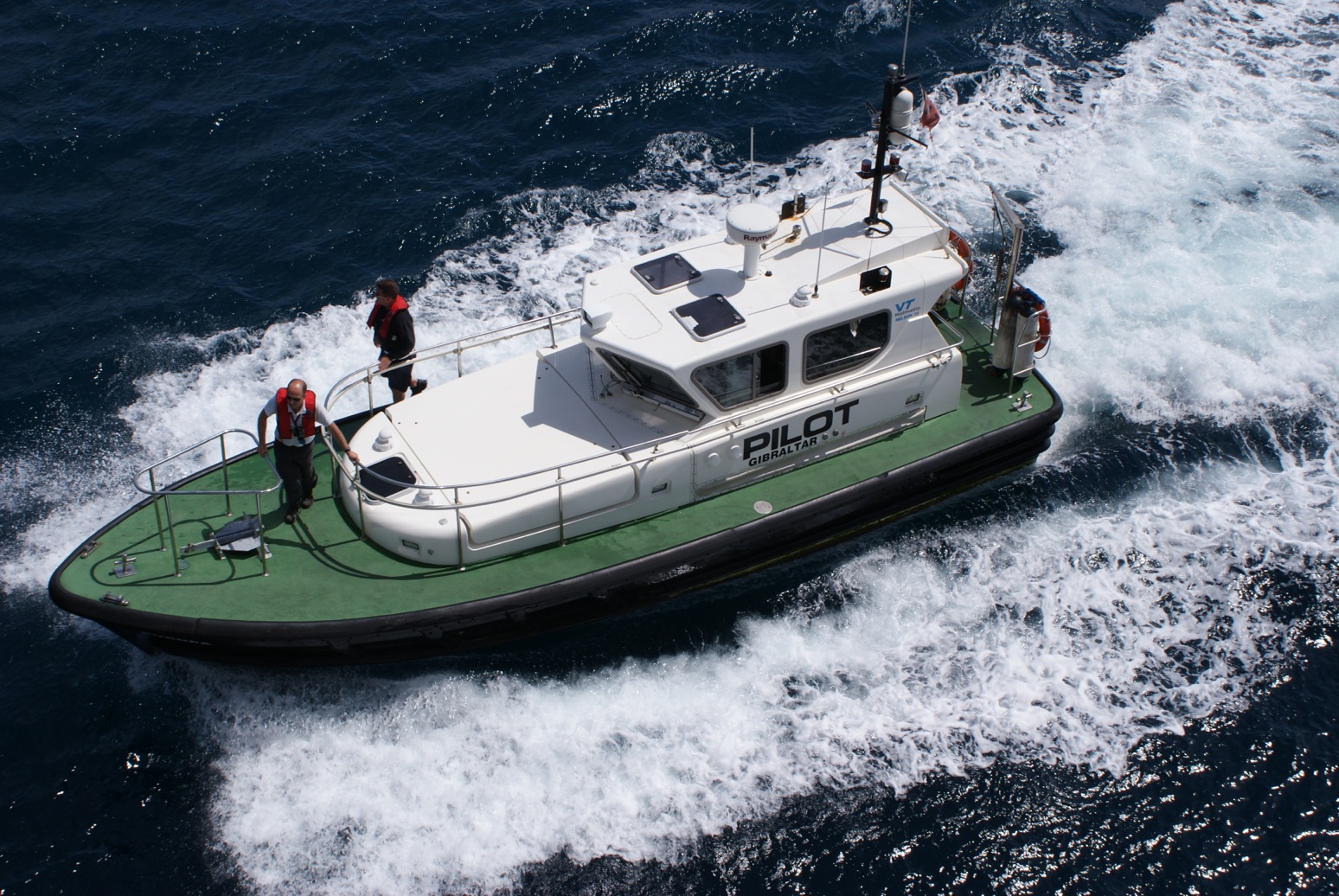 </a>
We were one of the first off the ship, a little late at around 13:10, and headed straight into town. Our plan was to get the cable car to the top, see some of the sights in the upper nature reserve, then get the cable car back down. I'm going to explain what we did, but I would not necessarily recommend copying us! There are many taxis at the port who will take you on a rock tour (if that's what you want to do) and you'll have a much more relaxing day, with much more time at the various attractions. Our way gave us a great walk, but was completely exhausting – I'm so glad the clocks go back tonight and I get an extra hour!
The walk to the cable car took us along the main shopping street in Gibraltar, and it's such an odd place to walk around. It really is like Britain with a tan, driving on the wrong side of the road! There is actually an odd mixture of British and Spanish architecture and culture, with a lot of street cafes. The weather was the warmest we've had it in a port, getting up to around 24ºC which is plenty hot enough for us, so there were plenty of people enjoying sitting outside a nice British pub in the sun! Walking down a Spanish style street and passing M&S, Morrisons, and various British Building Societies is quite odd!
We walked to the cable car and were advised that our best option was actually to get a single trip, and follow a standard walking route from the top cable car station to the various attractions that ultimately brings us back down into the main town. We did this (with a combined ticket for the upper nature reserve gaining access to the various attractions at the top), and joined the queue for the cable car where we waited around 15 minutes as they don't appear to run continuously. I'm actually terrified of cable cars so I'm not sure why I thought it was a good idea to ride one, but I got to the top without completely embarrassing myself. Alex does now have some severe bruising on his wrist from my tight grip, but I'm sure it'll heal in time.
To add to my fears, when we got to the top and walked out to the first outdoor area we witnessed the immediate aftermath of a poor girl getting quite viciously attacked by one of the monkeys. She was incredibly upset and had blood covering her arm and the floor. Sorry to those reading with breakfast. I don't know if she'd been a bit silly and tried to play with one of them, or if it was a completely random, unprovoked attack, but it left me on edge for the rest of our time on the rock. You really do have to be very careful with any food and they associate plastic bags with food too, so don't take these with you.
We walked from the cable car area along towards St. Michael's Cave to begin with. This is an absolutely stunning cave that is now used as a venue for music and has a makeshift stage and loads of chairs in the main cavern. They've actually got music playing during the day, and colour-changing lights to illuminate the various stalactites in the cave. They've basically turned it into a disco! It's not a long visit, but definitely a worthwhile one, especially to escape the heat as the caves are lovely and cool!
From here, we walked right along the front of the rock towards the siege tunnels. There is a route that takes you past the ape den, but given my new found irrational fear of these little monkeys I decided to avoid this and head straight to the siege tunnels. There is a lot of walking involved in this route, and the road is very steep in places so not good for anyone with dodgy knees (which we now have after a few hours of high-impact walking!) We did have a brief look around the tunnels which looked fascinating, but we were keen to get back to the ship so didn't have time to fully explore.
One of the problems we had with Gibraltar was that we only had from 13:10 until 17:45, and as we hadn't been before we were very conscious of how long we had left. This made the day feel very rushed, and is one of the reasons I wouldn't recommend the route we took. Despite all of this though, Alex and I agreed that Gibraltar was a great port. Standing at the top of the rock and seeing three countries, two bodies of water, and two continents all in one go is quite amazing, and the views are simply incredible. I think Alex wants to move there! Great day, I just wish we had more time.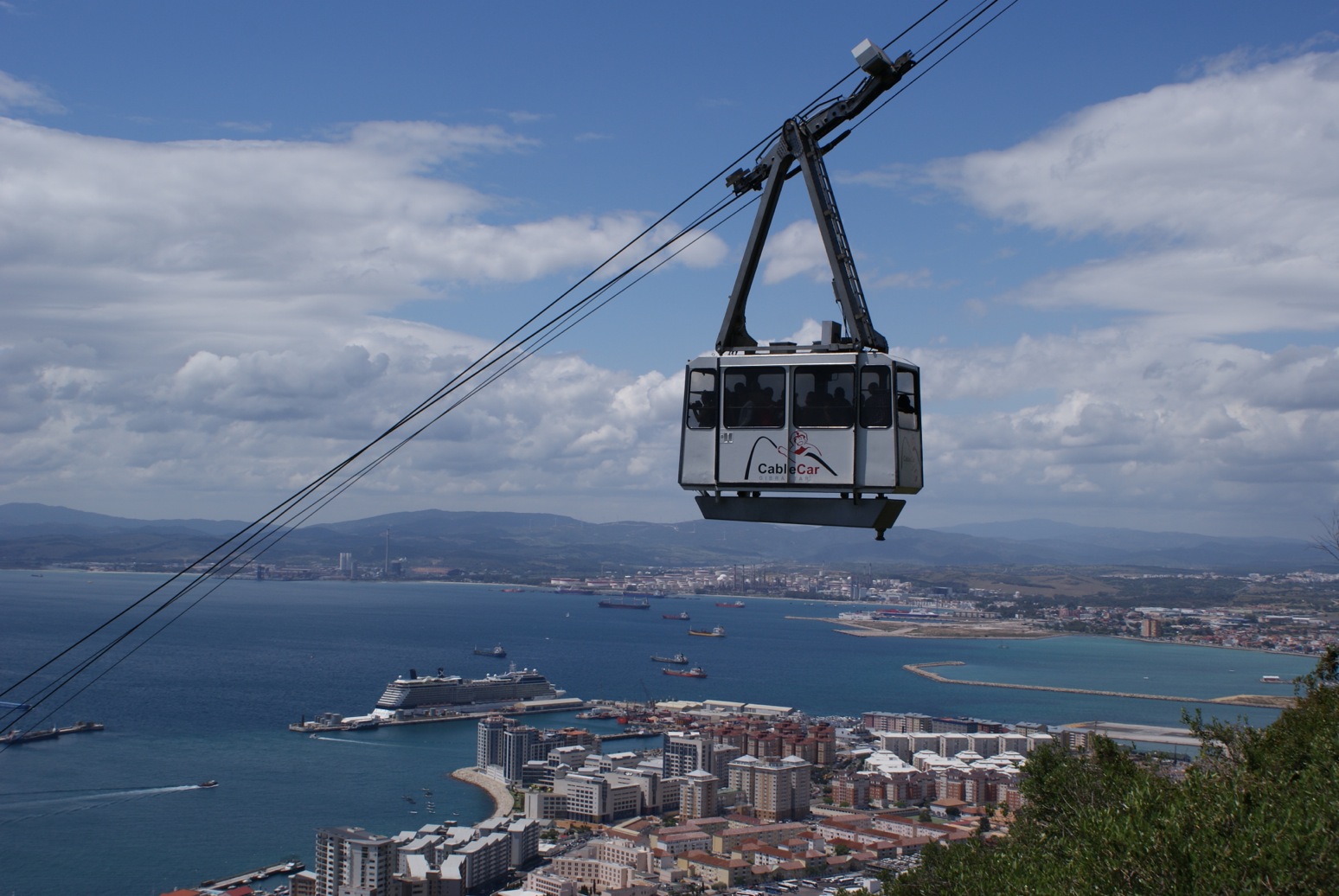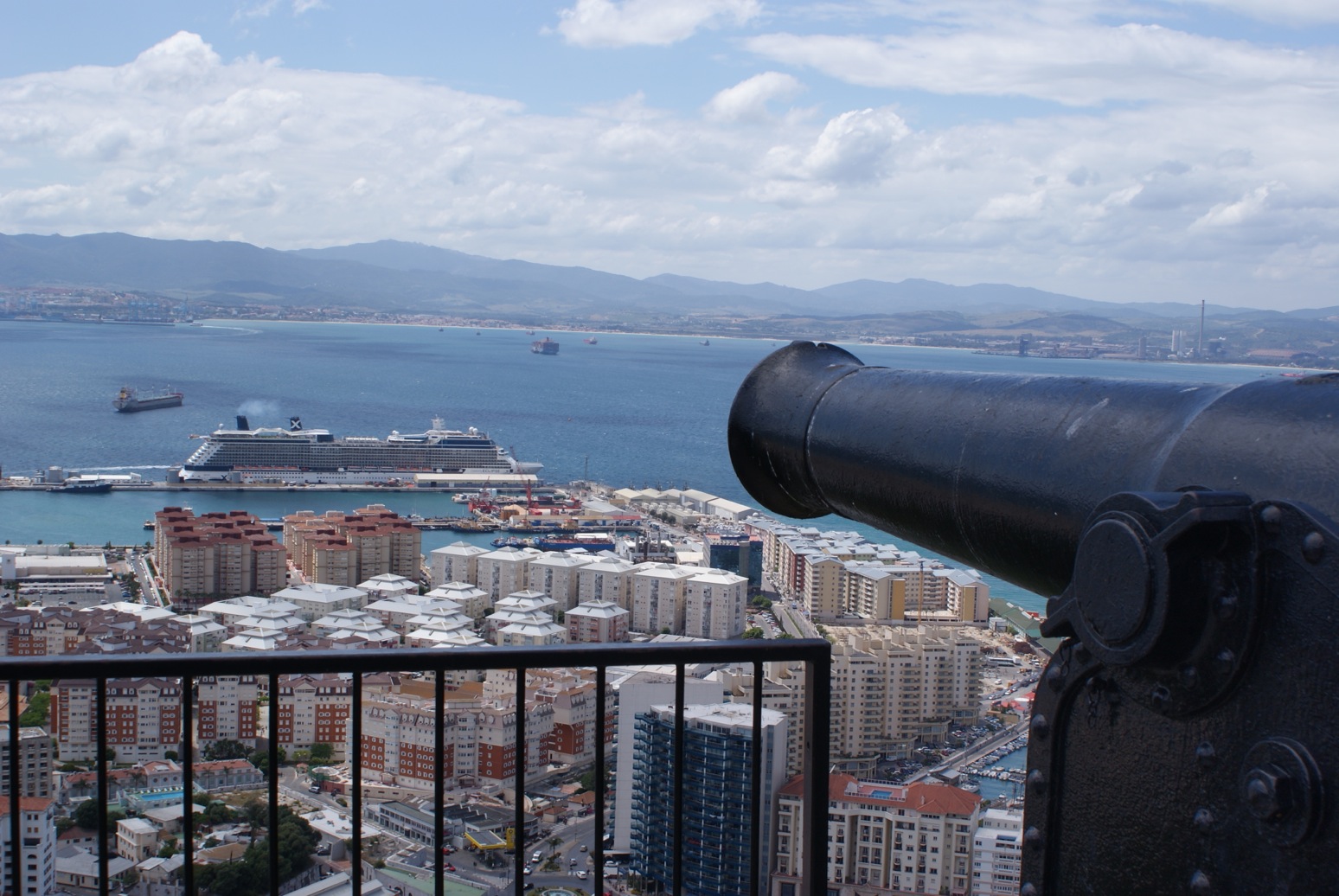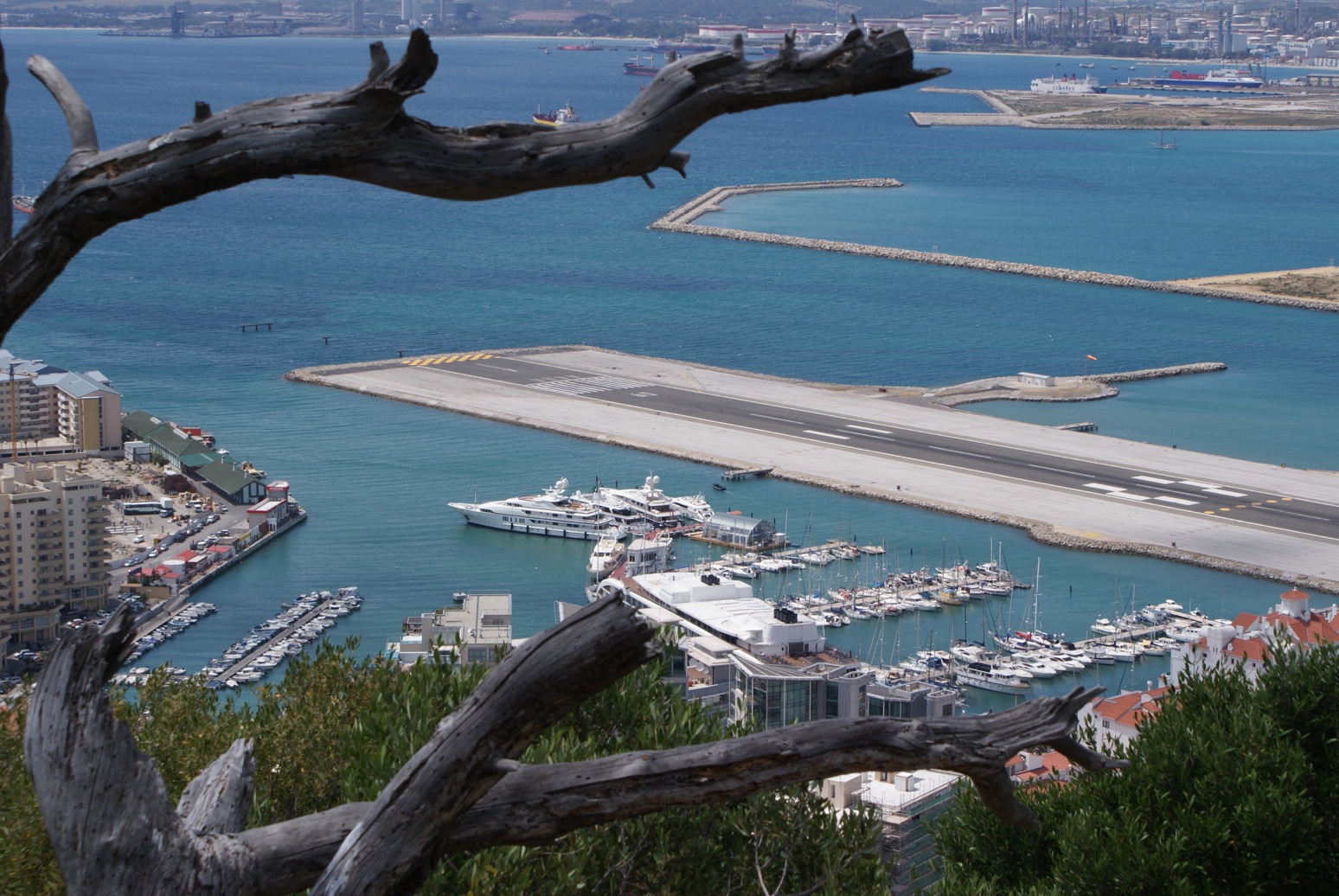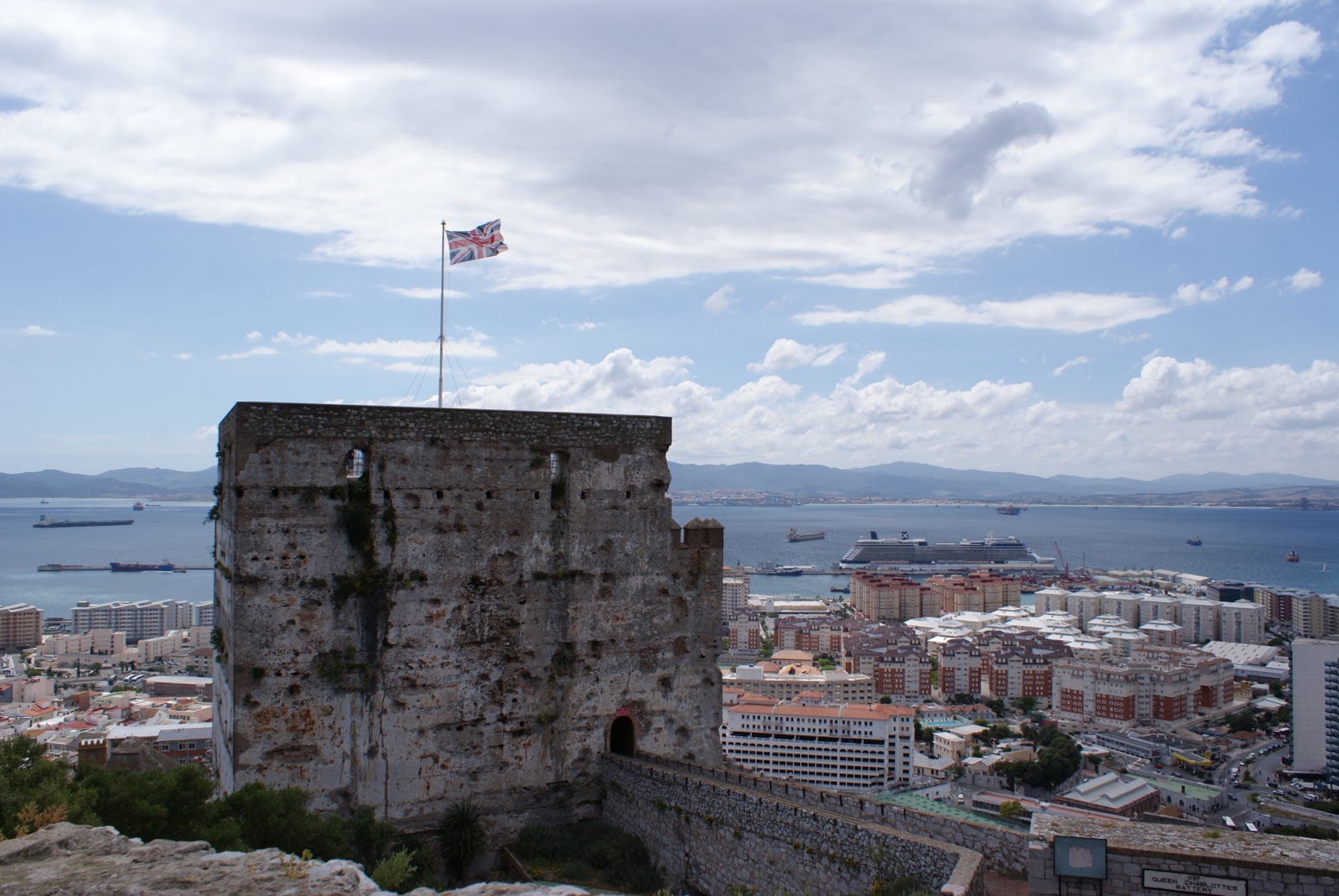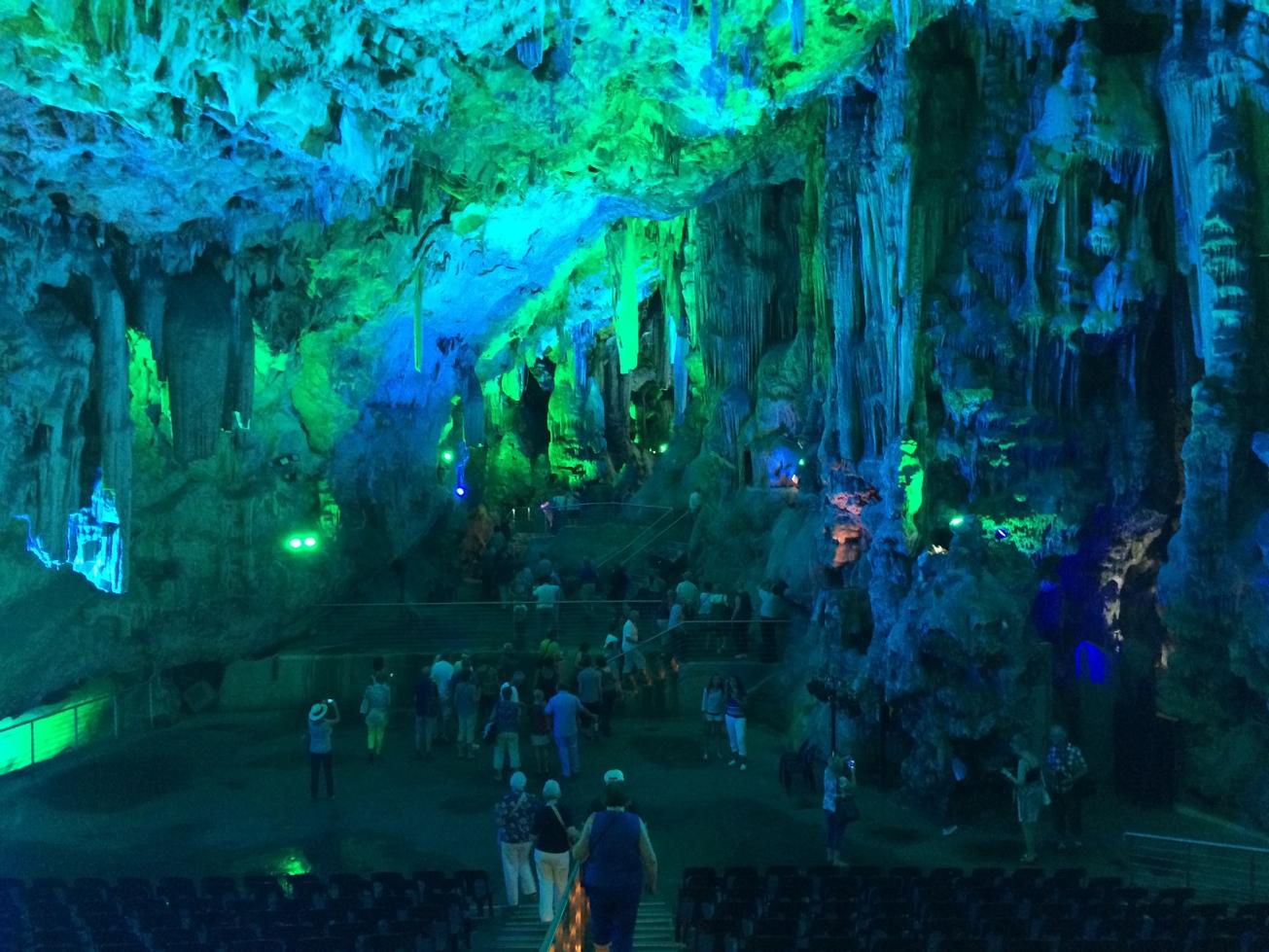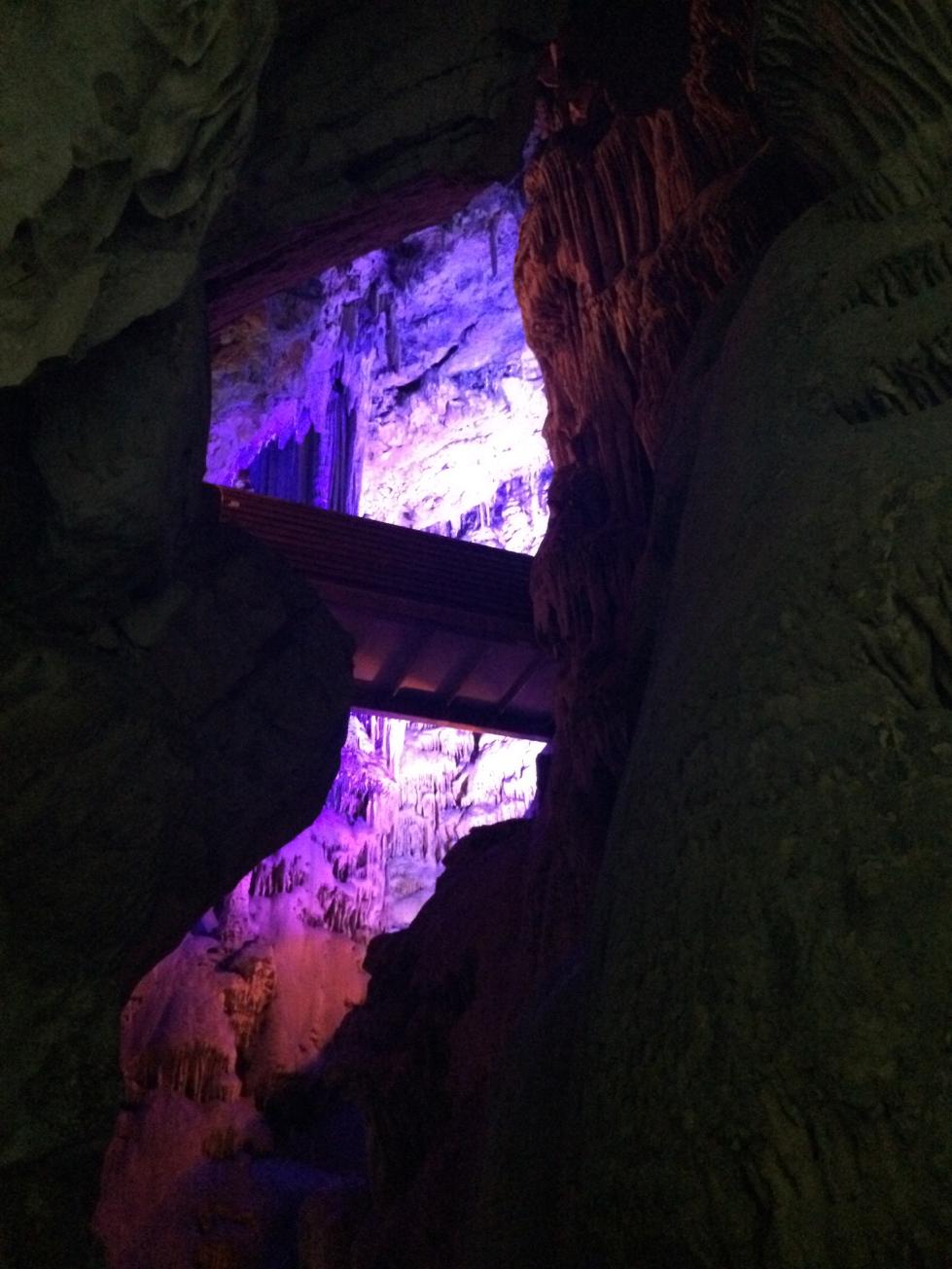 Murano
We had an early (18:00) dinner tonight in Murano, which is my favourite restaurant on the Celebrity fleet. There is one on basically all of the ships, though it has a different name. On Infinity it was called S.S. United States, and we visited twice. The menu doesn't change (as with the other Speciality Restaurants) so you tend to develop favourite dishes.
The Murano restaurant is very grand and opulent, with dark wood walls and marble skirting boards and details. It doesn't offer any sea views as even the window tables have drapes and are configured to seat people facing intro the restaurant.
The menu in Murano has a strong seafood theme, and they do some table-side cooking which is a lot of fun and prepares you for dinner as you see and smell someone else's meal being prepared nearby! Tonight I went for scallop wellington, goats cheese soufflé, Murano lobster, cheese, then dark chocolate soufflé. All was delicious! Alex had the pork, the duck, then the crepe ballon rouge.
The visit to Murano also demonstrated the benefits of the Premium Drinks Package. The majority of wines available were more than $15 per glass (the limit for the premium package). If you'd been on the Classic Package, you would have to pay the full $20 list price for a $20 glass of wine (if you wanted to go beyond what was available within the confines of the package). On the premium package, you only pay the difference ($5). This is very handy, and allowed me to try some really nice glasses of wine tonight!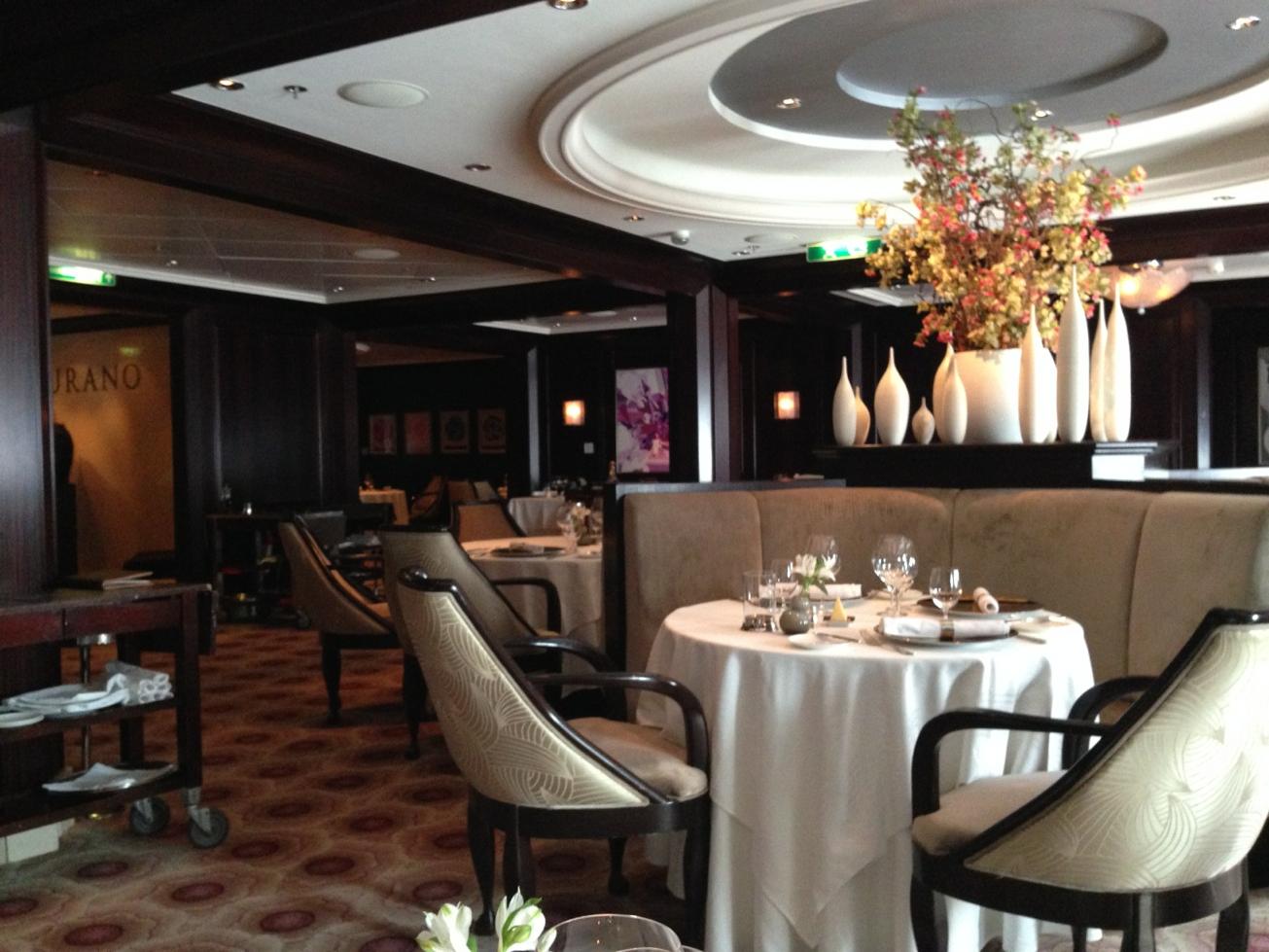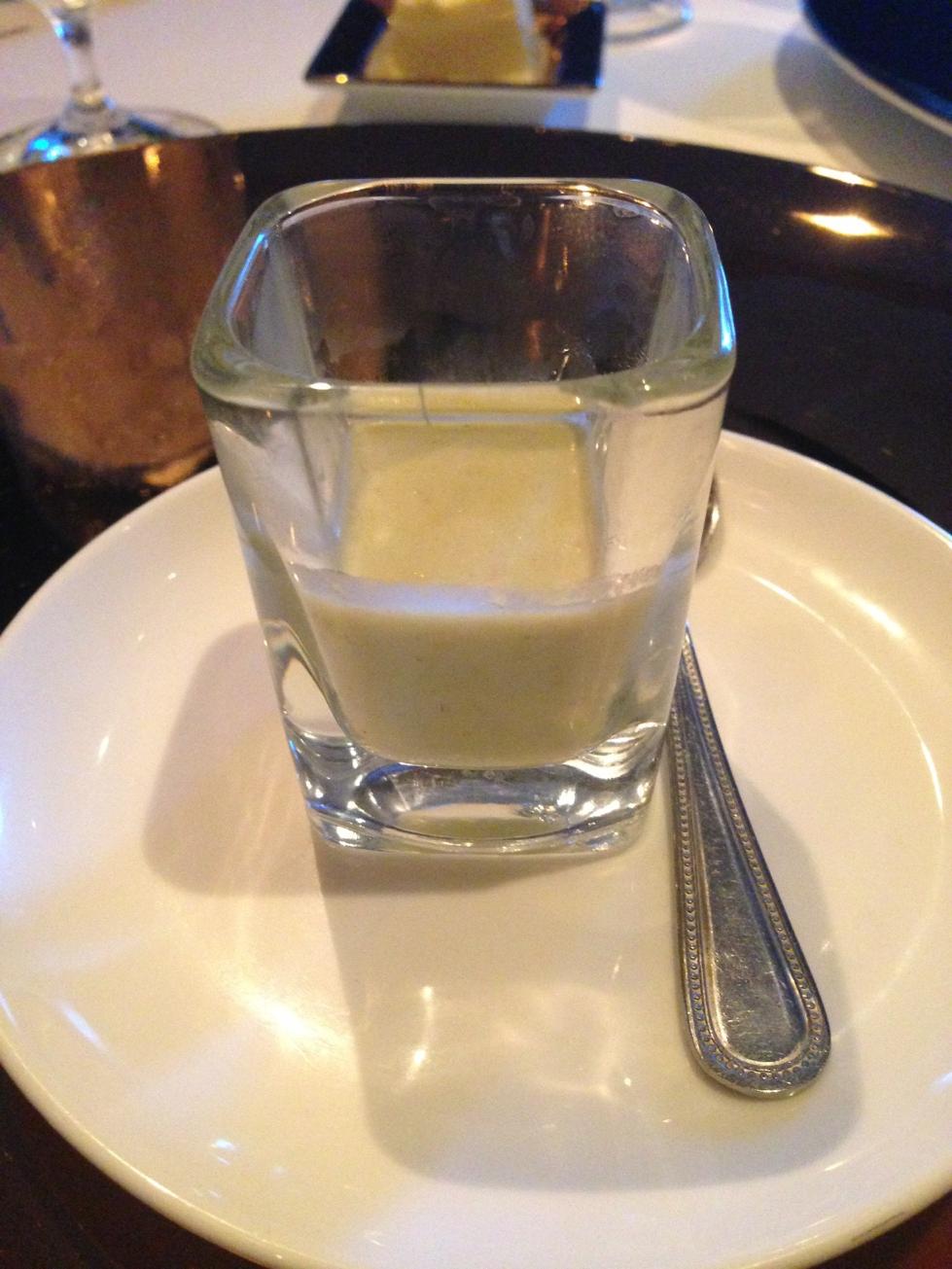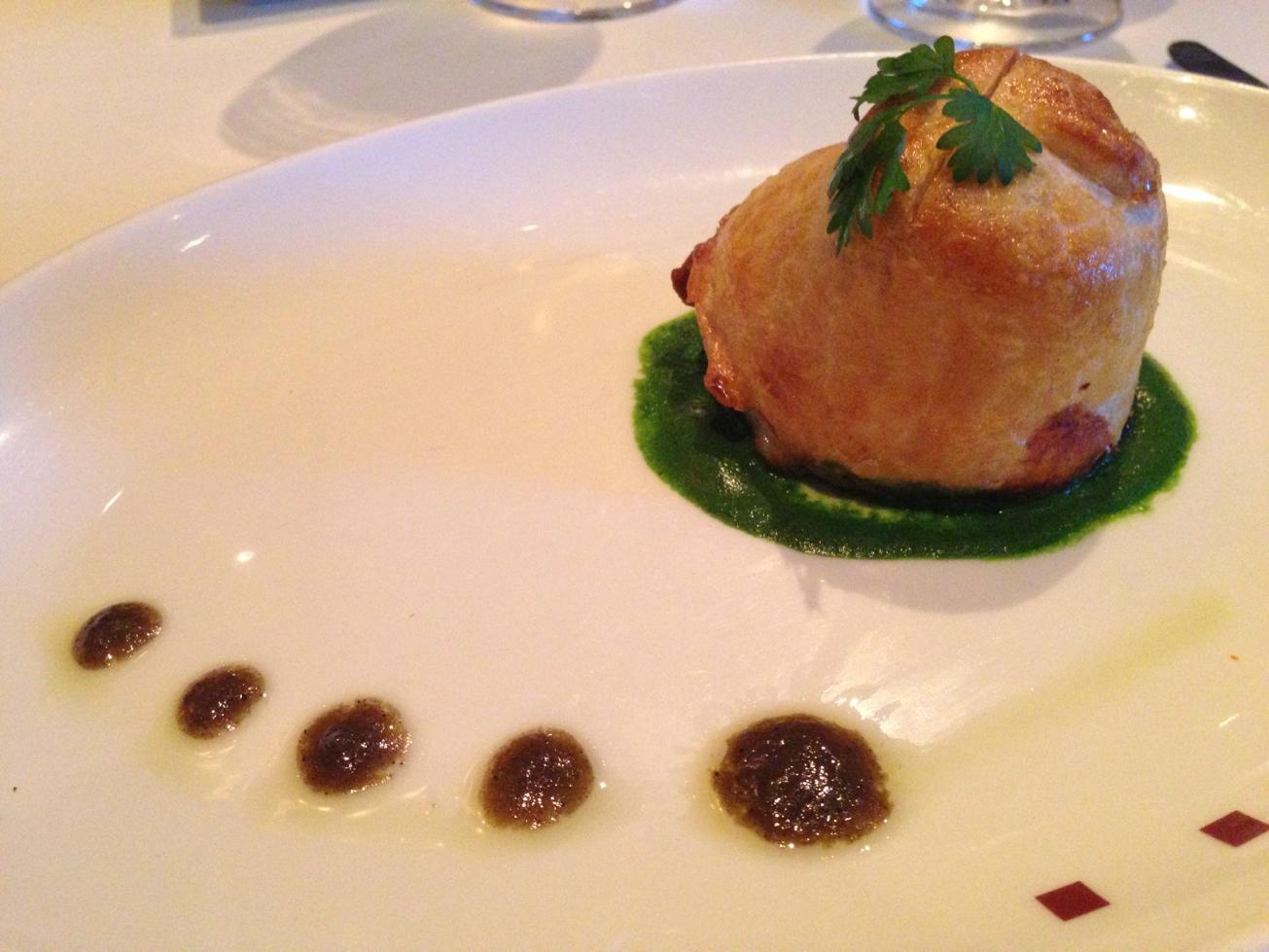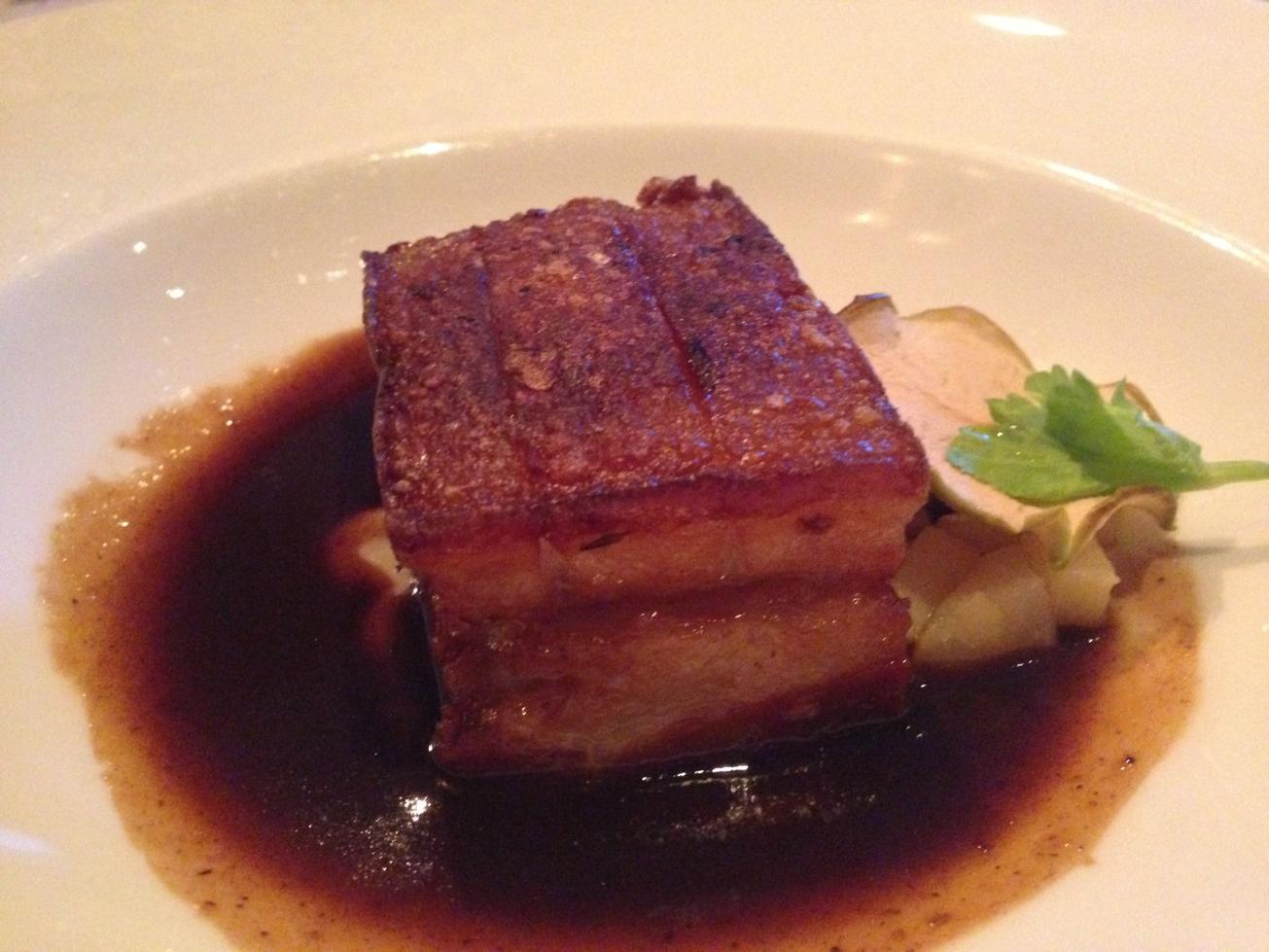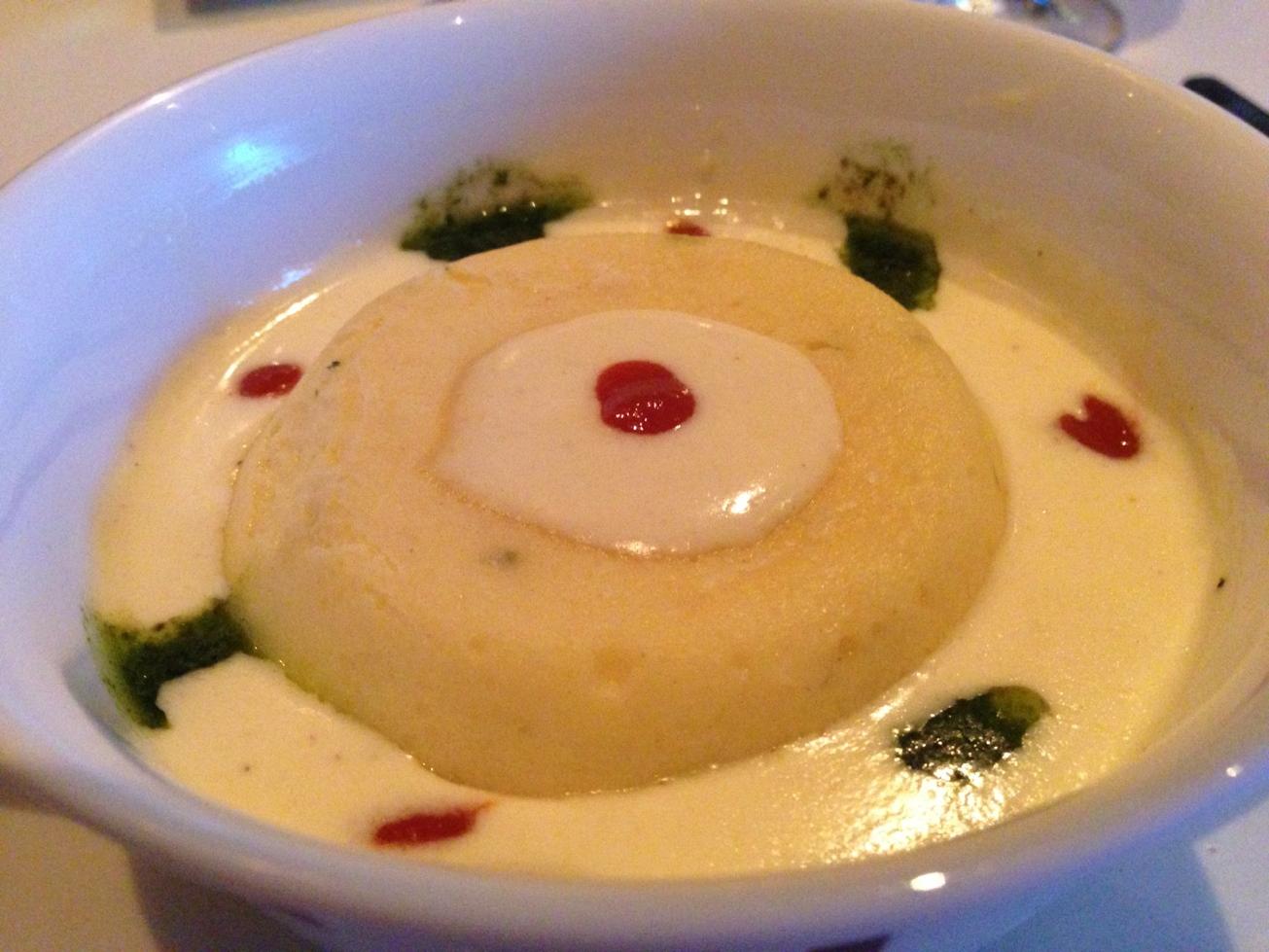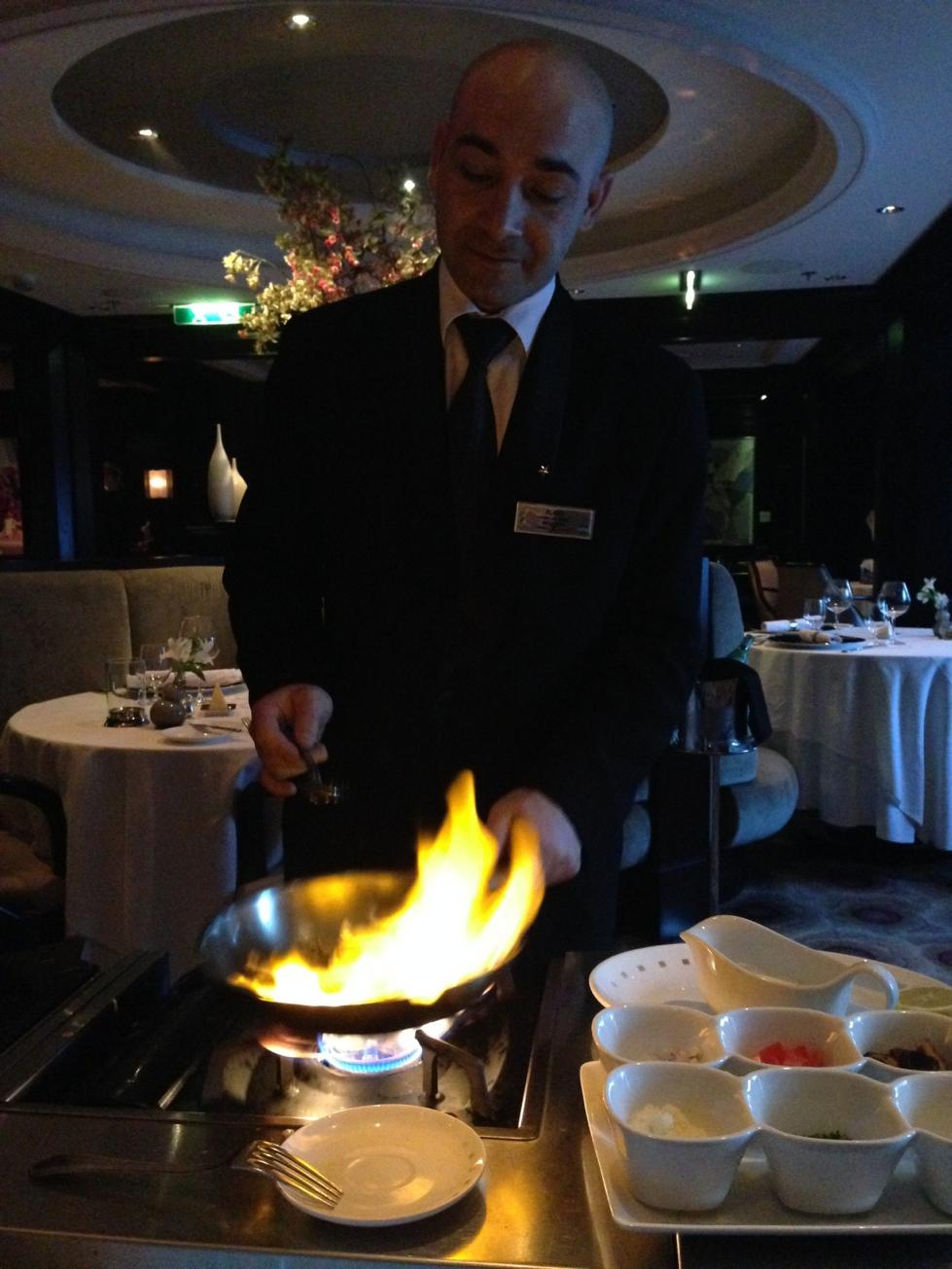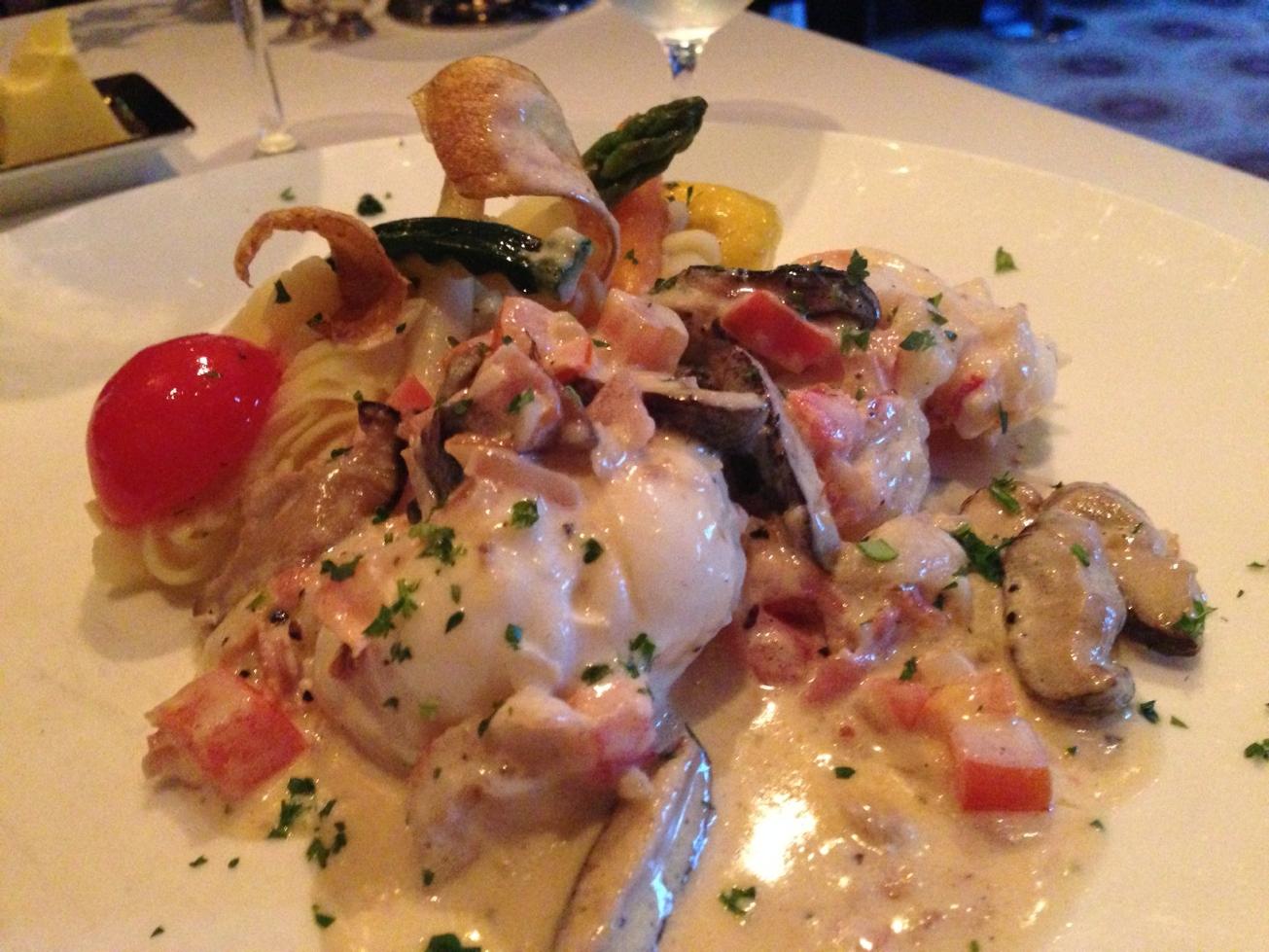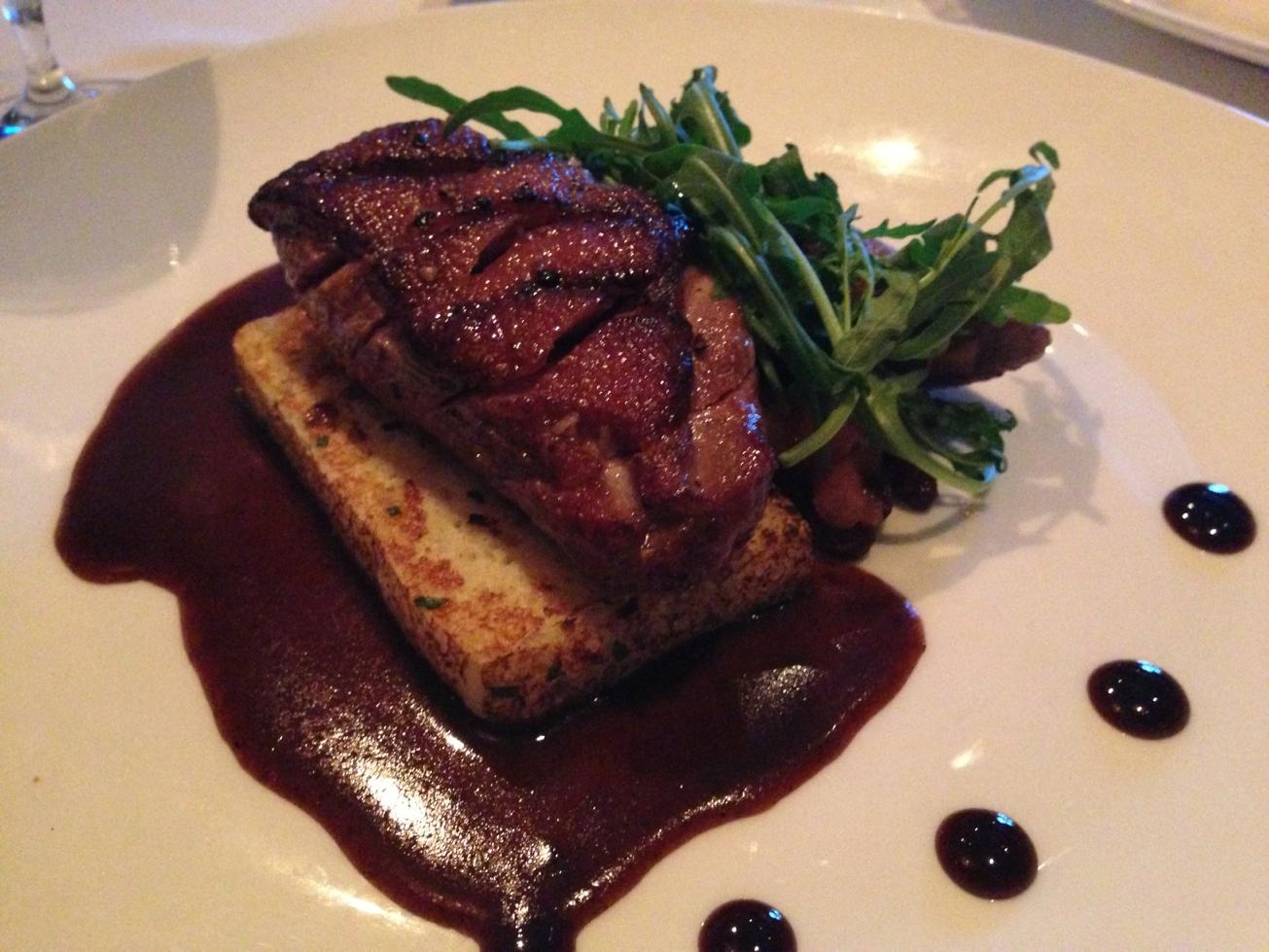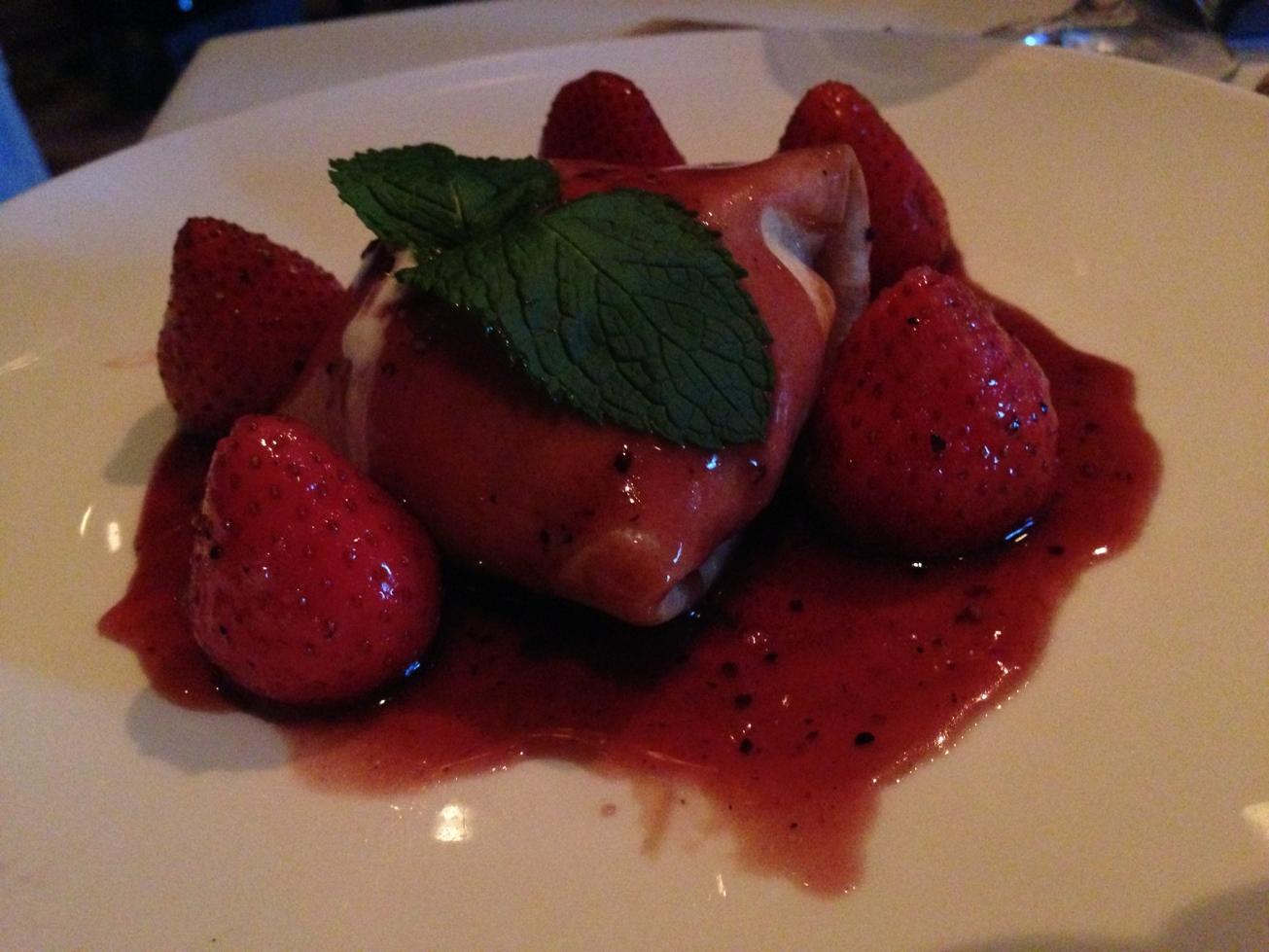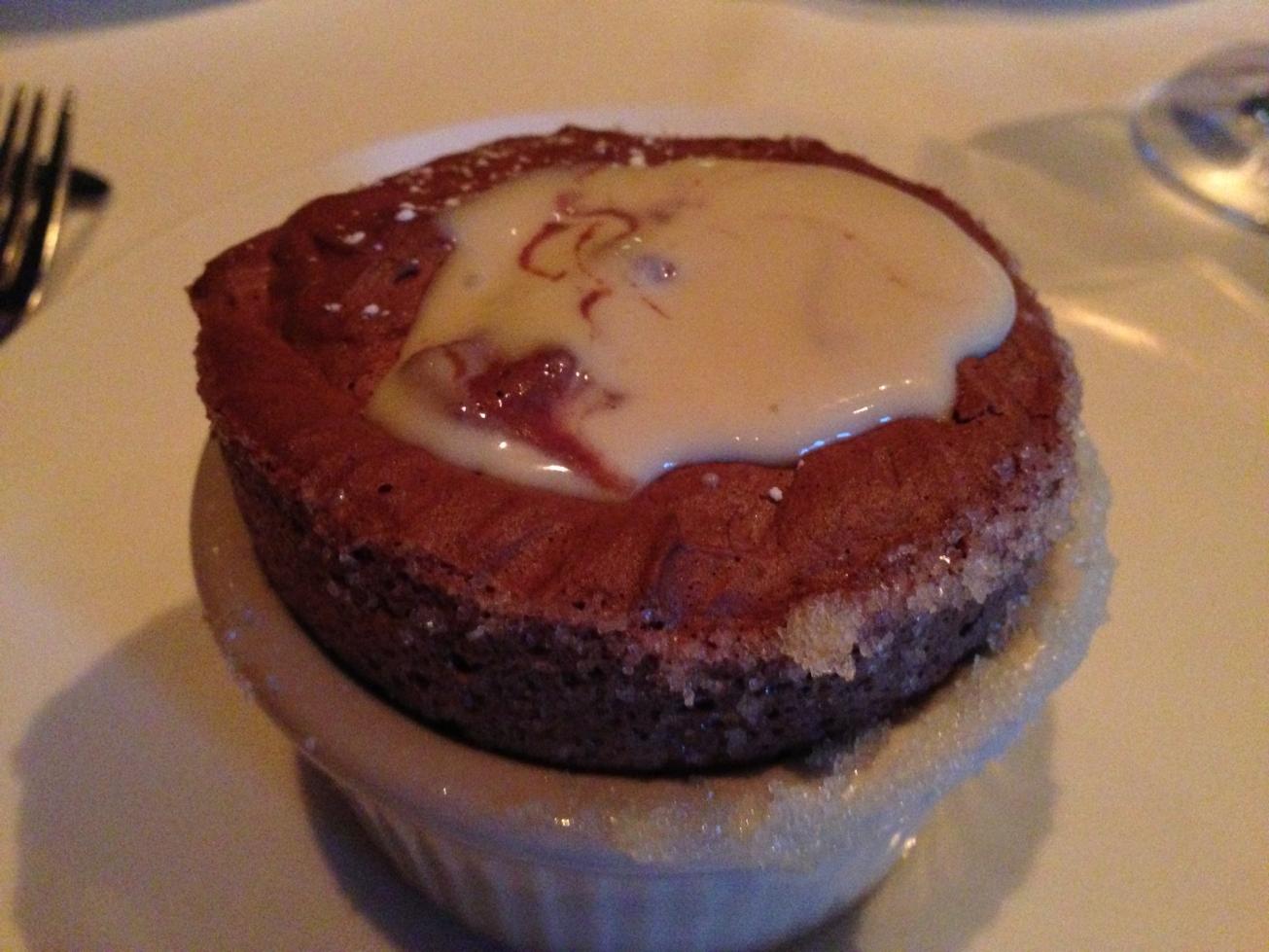 In my opinion Murano is still, hands-down, the best restaurant on Eclipse. The food is of the highest quality, with the best presentation and best service. That's not to say I would *always* want to eat there, as gourmet food every day would get just as boring as any other food served daily, but it's easily my favourite restaurant on the ship and I already can't wait to return!
After dinner we were both stuffed so decided to come back to the cabin for a short break before heading for a pre-show drink.
Molecular Bar
We paid our second visit to the molecular bar tonight, and it was very busy! The bar area was full, and there must have been around 20 other people at various tables in the area. Once again the cocktail I had was delicious and created with such care and passion! What I love about many of the creations here is that the flavours are almost layered so you get an immediate hit of something, then a really interesting aftertaste. It's a very sensory experience; the drinks all looks great, smell great, and taste great! I can't tell you what I had tonight, as it was something created especially for me; I don't even know what was in it!
The bar had a much younger-feeling atmosphere tonight too, and felt a lot more lively. Really great to see this venue get some business, but at $15 per cocktail it's another good reason to consider the Premium Drinks Package if you don't want to worry about the cost. I think giving away the Classic package might make people feel they shouldn't pay any more which is such a shame as they'll miss out on so many fabulous drinks. You can upgrade to Premium for $11.50 per day (I think) so bear that in mind!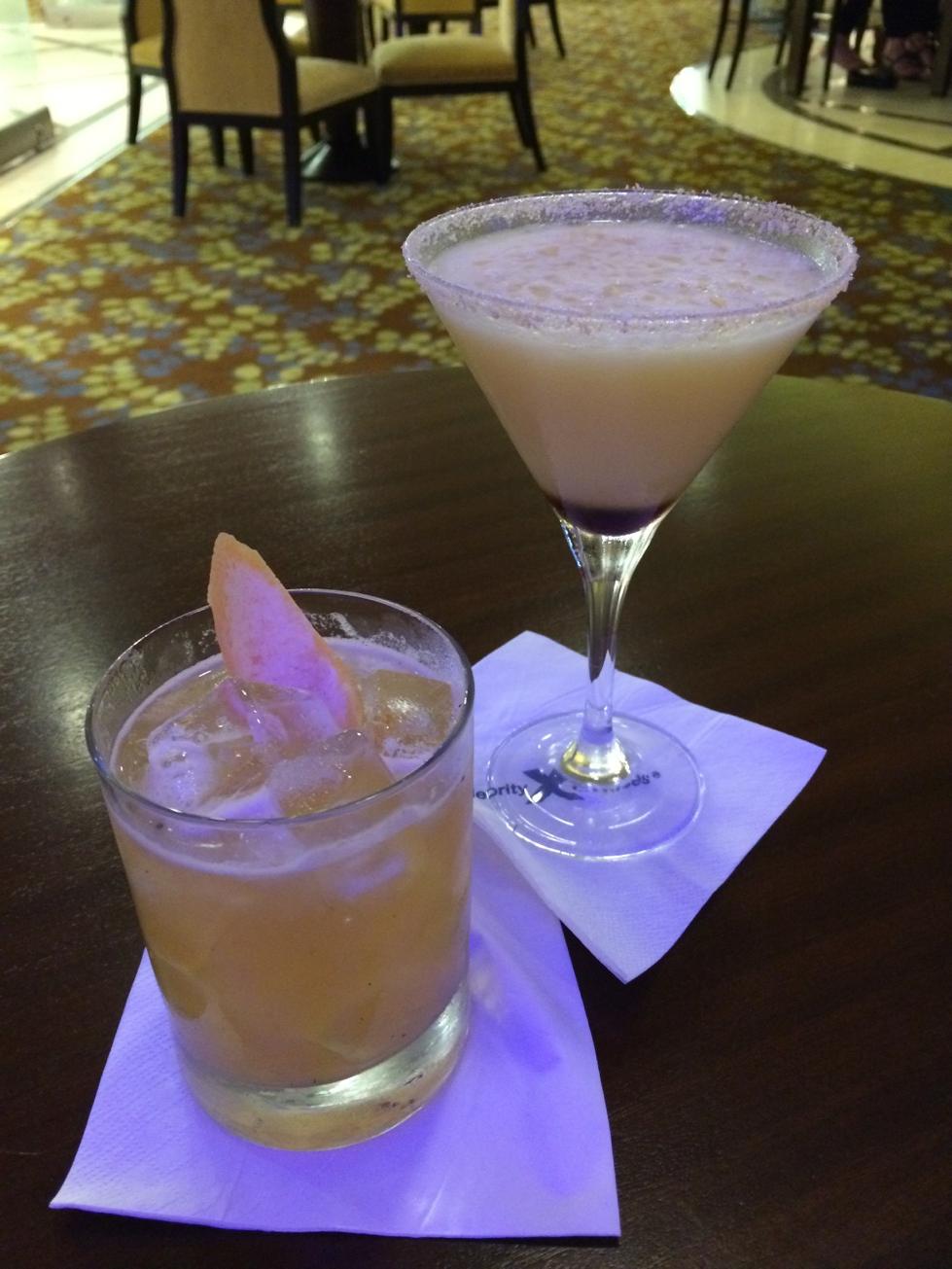 </a>
Bobby Davro
I am of the opinion that tonight's 22:30 theatre audience all have some sort of memory loss condition, as Bobby Davro's show was incredibly well received despite being full of old and predictable jokes. There were two parts to his act that were impressive. One was a joke that Alex and I had said he should make before he started, and that some of you commented yesterday: that he's the only comedian from his era not to have been sent to prison for some sort of sex offence. This was delivered well, but was an obvious joke to make. The second part that was well done was when he played an old song (requested by an old guy in the audience) and he made a joke about digging out an old record. He then sung the song to the broken record which kept skipping, slowing down, and speeding up. He matched these speed and position changes perfectly so it had clearly been well rehearsed as it was flawless.
Unfortunately Alex and I sat pretty blank-faced throughout the rest of his act. He actually got a standing ovation from a few members of the crowd so it must just have been us, but we just saw every joke coming a mile off and most of them we'd heard before. Some were just offensive. Perhaps the older guests on board were star-struck? Very, very dated humour. Unfortunately he'll also be making an appearance in the final show. Wonderful.