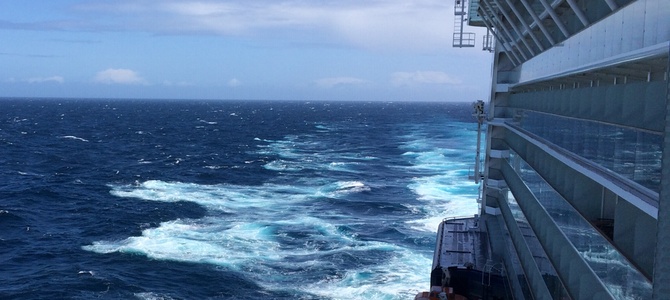 </a>
Our first sea day sees us crossing the rather rough (at least on this occasion) Bay of Biscay. Today we attended a galley tour and a lecture on the history of stand-up in the USA, I had my first spa experience, and we enjoyed our first formal night on board. I thought I'd also do a more in-depth look at the stateroom.
Stateroom 1120
Today we didn't wake until later than planned, and found the cabin still in total darkness – a testament to the effectiveness of the curtains which have overlapping rails.
I have already described the stateroom in a previous post, but we do have a C2 Concierge Class stateroom that, for all intents and purposes, is identical in size and shape to any balcony stateroom on the ship. There are 5 small but useable drawers in the centre console that are useful for underwear and any other small items. Above the bed are two long cupboards, the doors of which hinge upwards. We're using these for flat folded items like shorts and jeans. There is also a double wardrobe with plenty of hangers.
The bathroom is especially well designed, with a glass shower enclosure and loads of storage. I mentioned this last year, but the enclosure even has a little diagonal rail for those ladies (and gents?) to shave their legs more easily. Best bathroom I've seen on a ship and, frankly, if any new ship is built with the dreaded shower curtain of doom then the cruise line should be ashamed!
As we are sailing from Southampton, Celebrity have tried to appease UK cruisers by including tea & coffee making facilities in the cabin. I have no interest in this, and it takes up what precious little desk space there is, so I asked our stateroom attendant to remove them.
There are three power sockets in total on this ship, all next to the desk (read: nowhere near the bed). Two 110V US sockets, and one 220V European socket. With technology of various sorts becoming more and more prevalent, I would suggest that these might be insufficient in the future. Now, though, even Alex and I with our iPhones, iPads, and Kindles haven't had any issues juggling socket time.
Speaking of technology, we do like to listen to music at night to send us off to sleep (any other Enya fans out there?) and holidays always present a problem with a lack of sound. While in London we picked up a great little bluetooth speaker from Bose that will connect quite happily to any bluetooth audio device such as a mobile phone or iPod Touch. It takes up hardly any space and sounds wonderful. It has a slim plastic dock that can remain plugged in, but the speaker itself has a battery allowing it to be used on the balcony (when weather improves) over breakfast. Highly recommended – the Bose SoundLink Mini.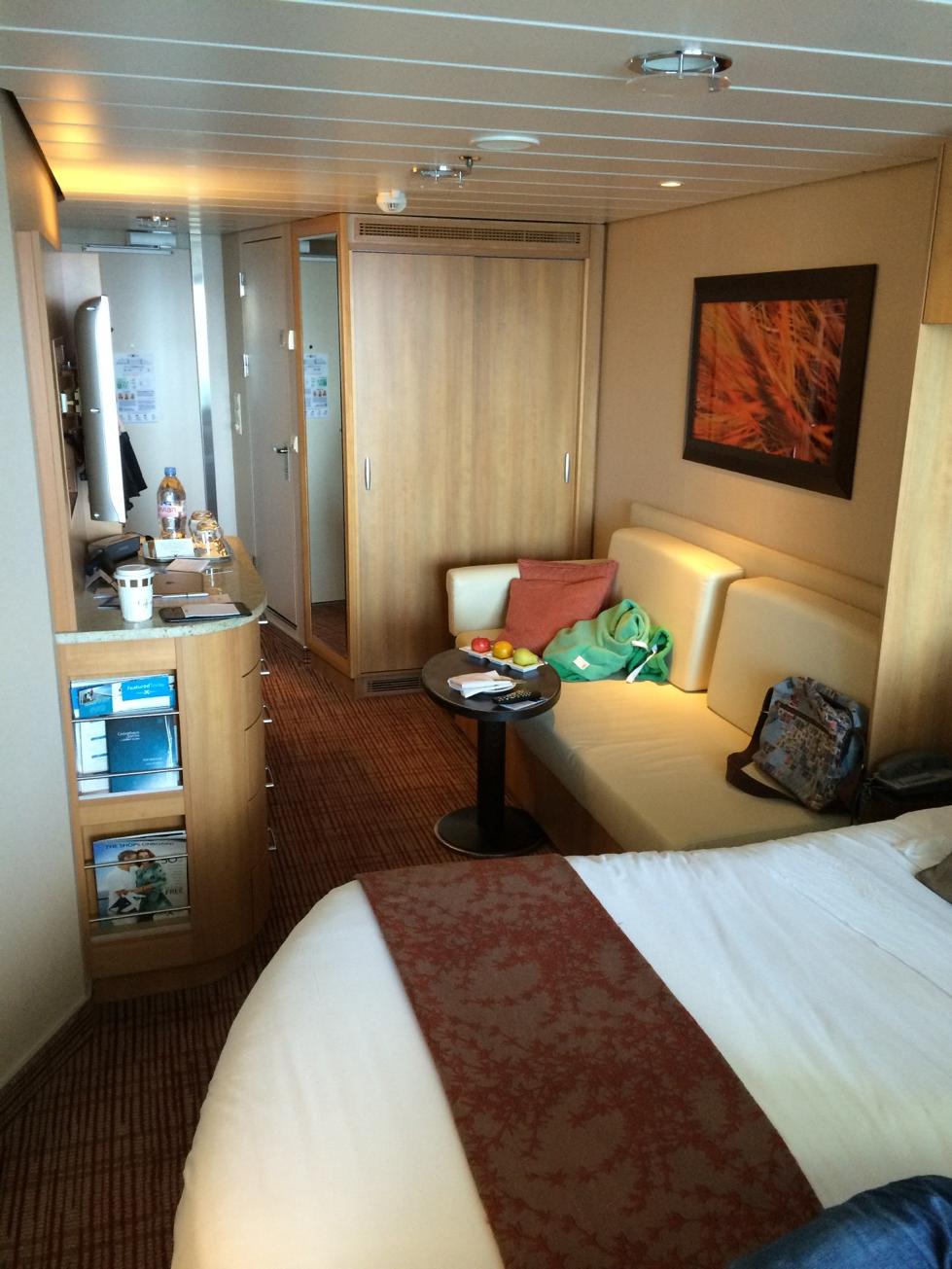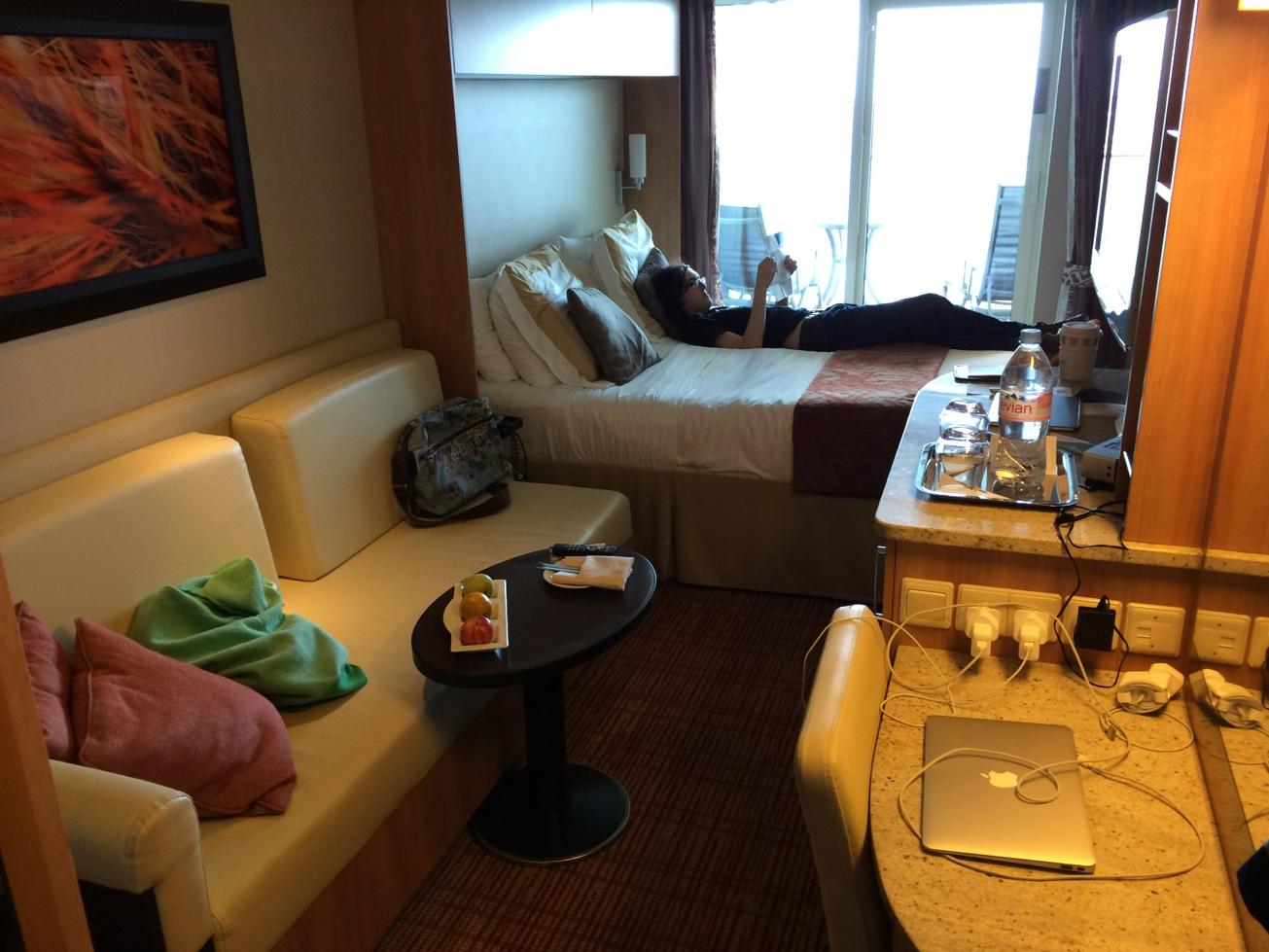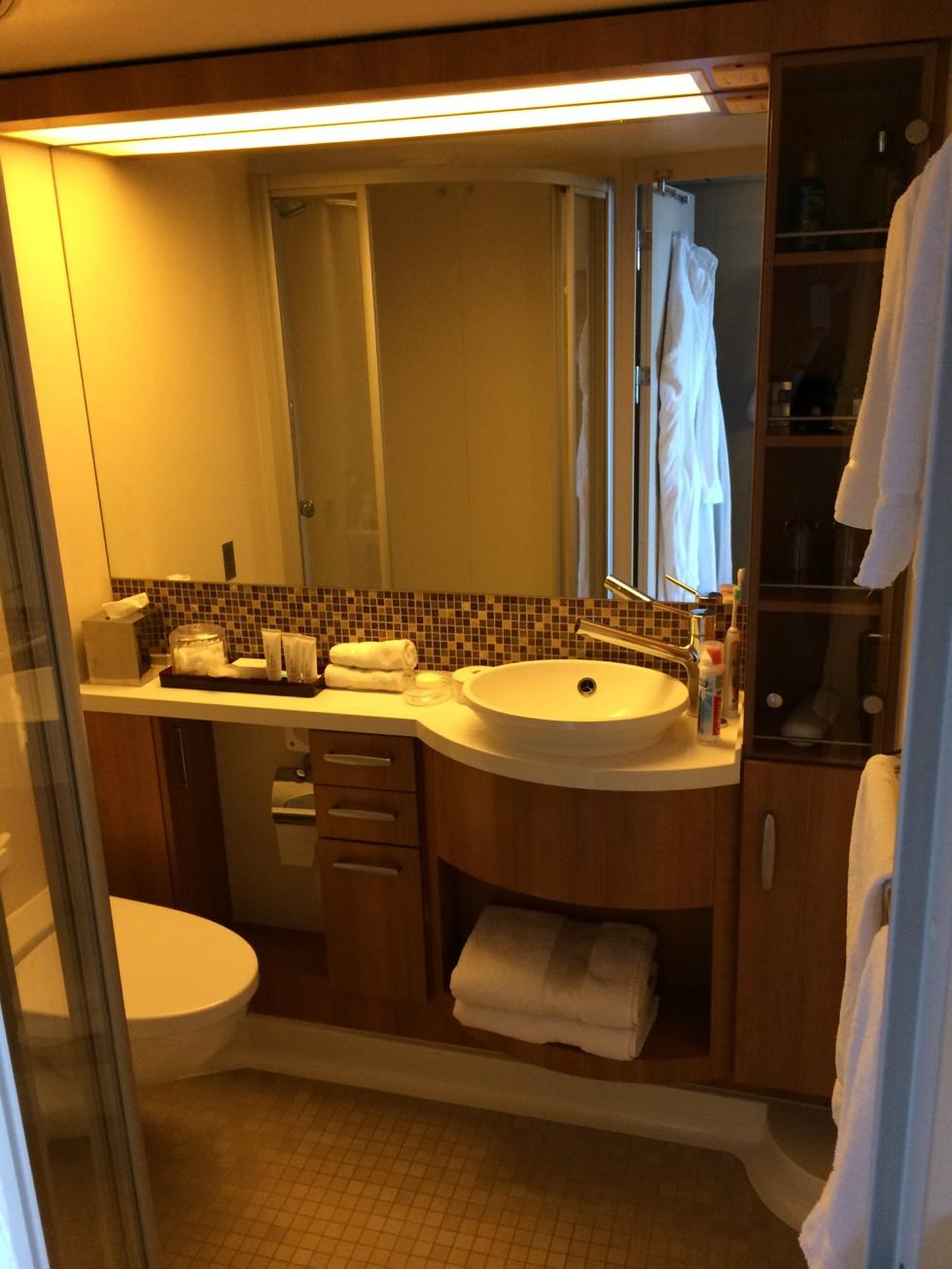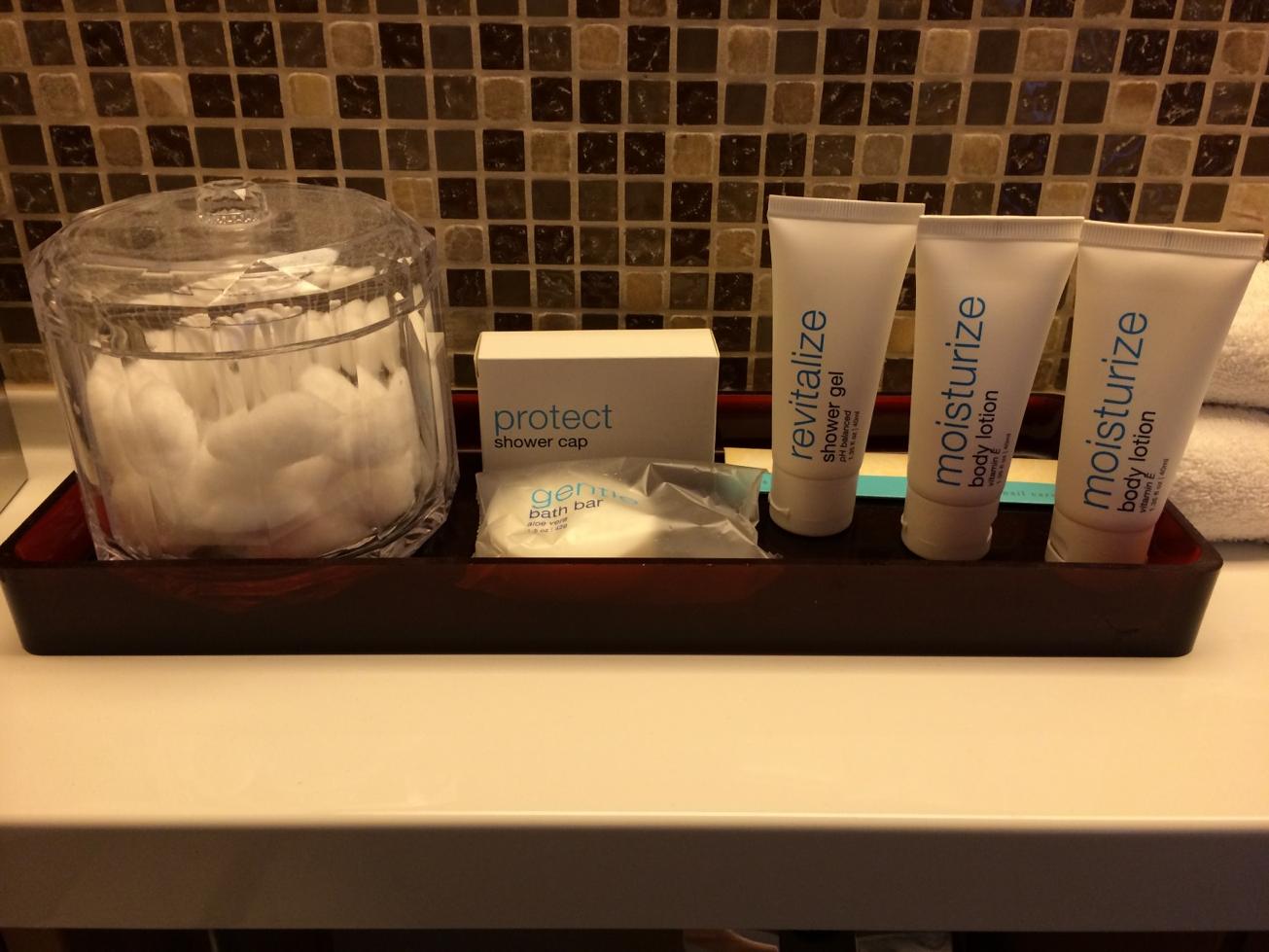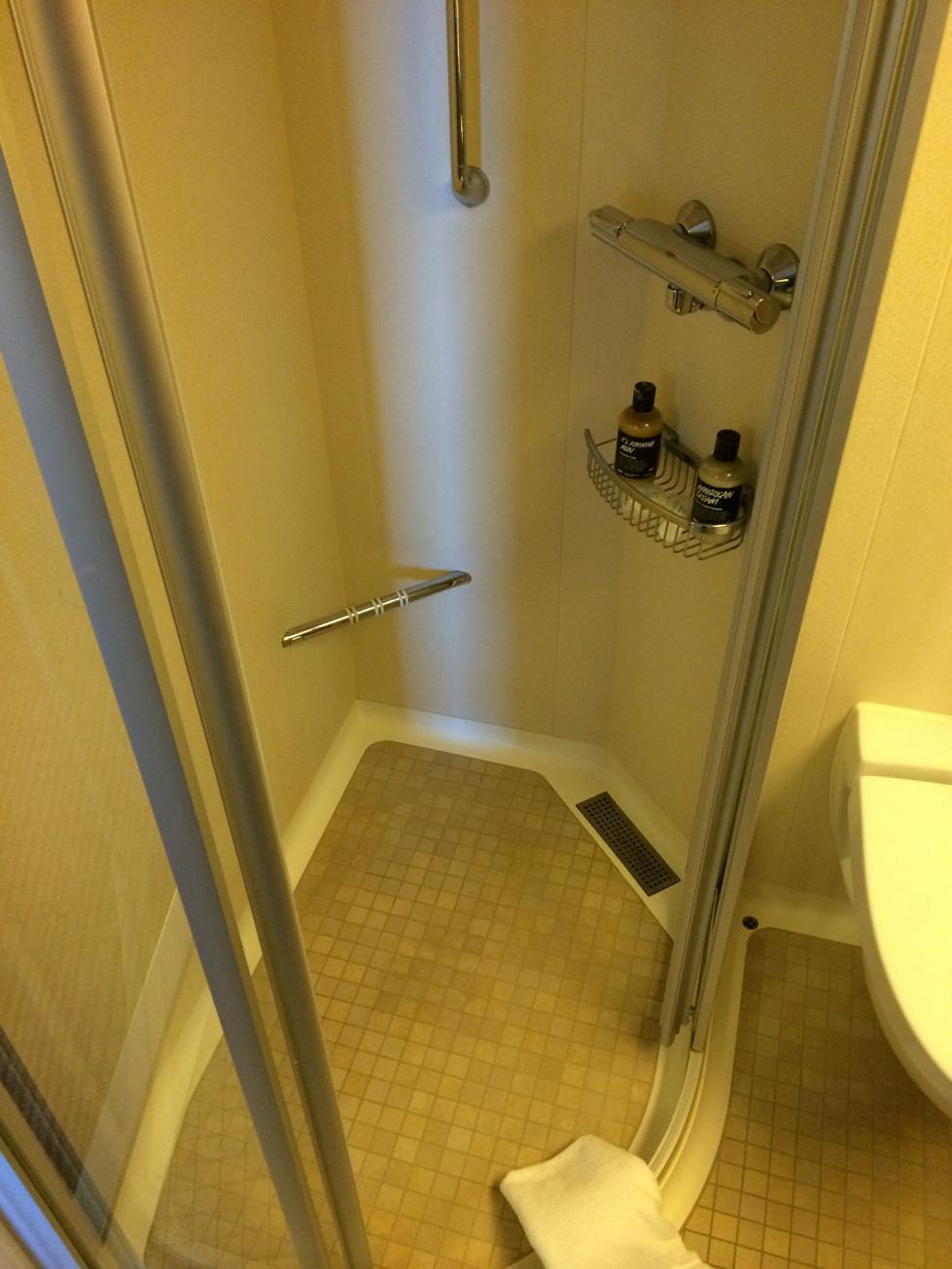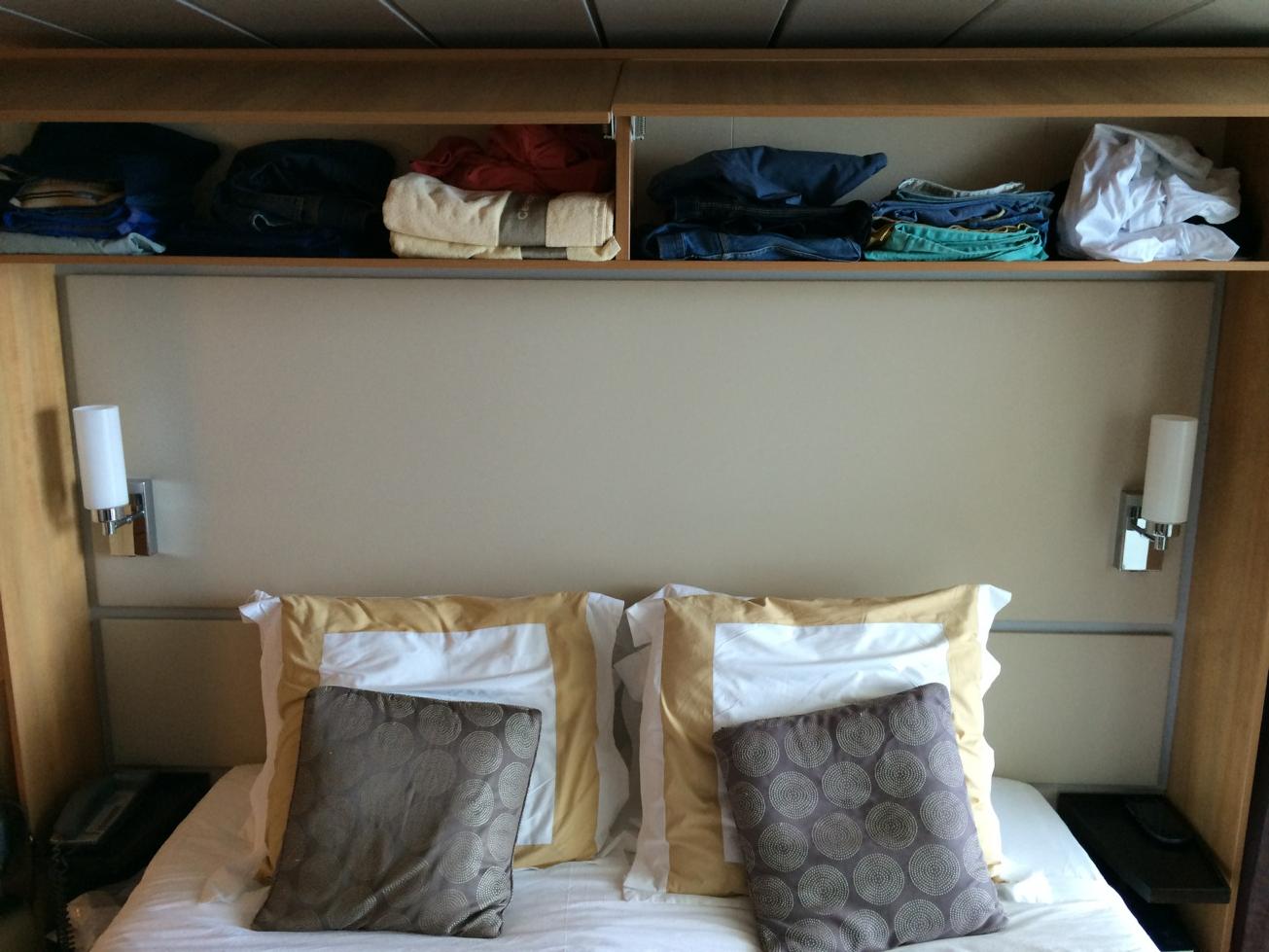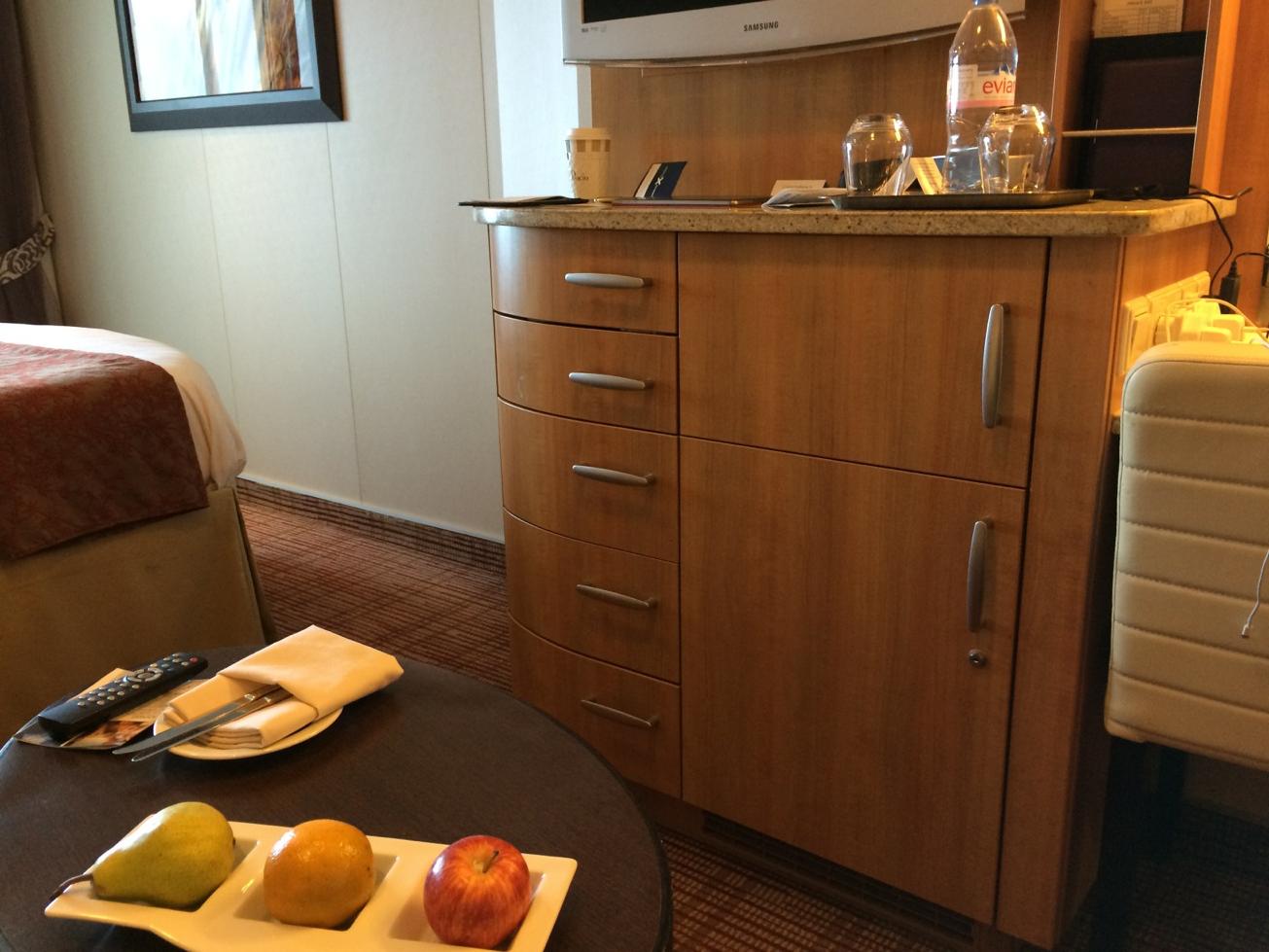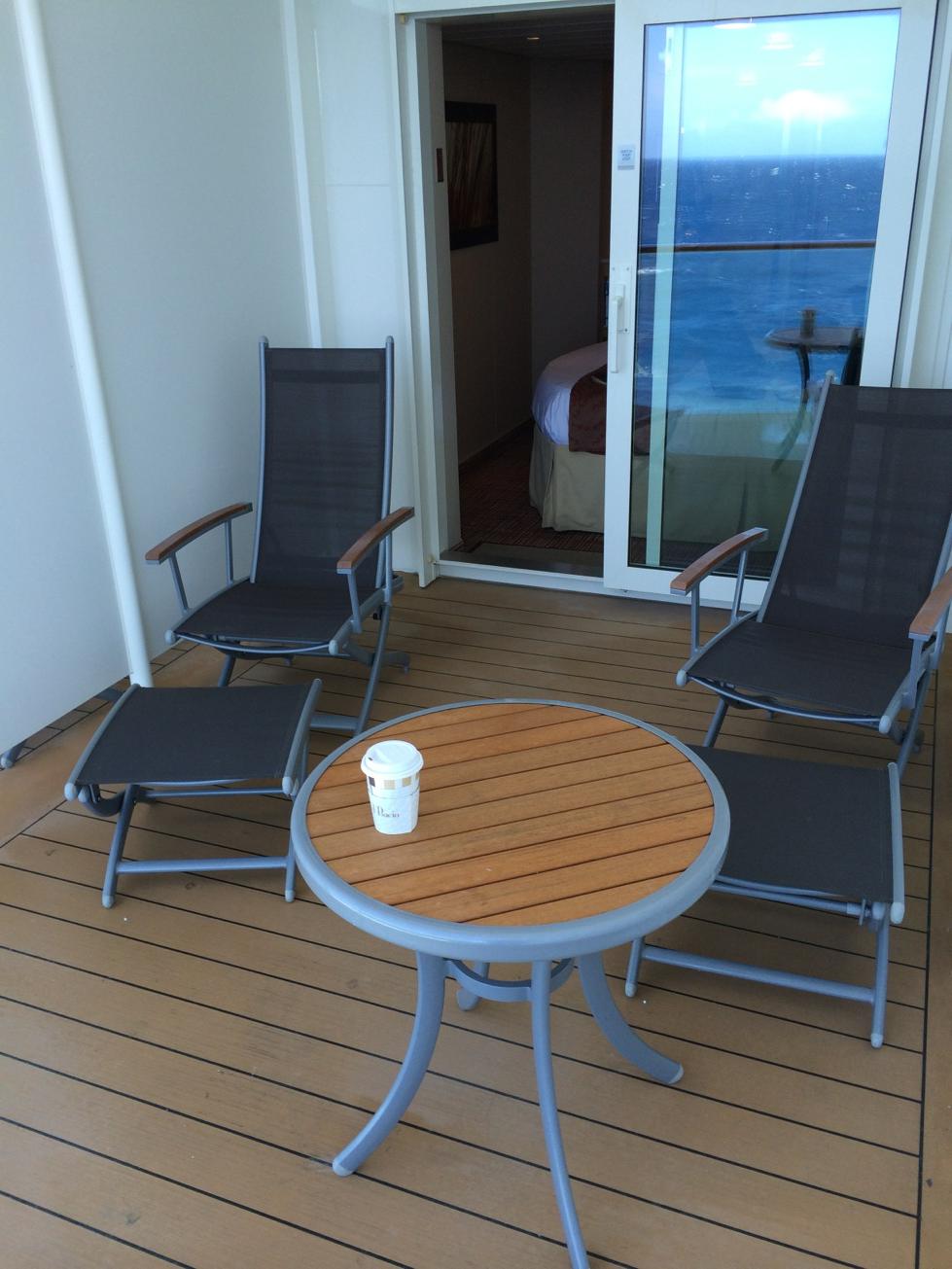 This morning we had a quick breakfast in the Oceanview Café which was nice enough, and I was able to use my package to get some real orange juice instead of the sickly sweet Apple 'juice' that is dispensed from the machines. I wasn't awake enough to remember to take photos, but I will try and review the OceanView Café at some point during the cruise for Breakfast, Lunch, and Dinner (with plenty of photos).
Heartbeat of the Operation – Galley Tour
The first tour of the day started in the Moonlight Sonata restaurant, the MDR on the ship, which was a behind the scenes tour of the galley on Eclipse, with a talk from the Chief Food and Beverage Manager, Executive Chef, and a small-group tour conducted by one of the sous chefs on board.
The F&B Manager and Executive Chef were very entertaining to listen to, and spoke about the vast operation on board. The main highlight was going 'back-stage' to see the working galley and the scale of the operation. Having never visited a commercial kitchen before, I cannot compare this to anything I've seen before, but the whole place seems like a labyrinth. Of particular interest to me were seeing the crew access stairwells and signage that is clearly meant for crew. I'll let the photos do the talking! You may need to click on the text-heavy images to see them in full-size. This wont work if you're reading on the forum, so click to my blog using the link at the end to see these pictures.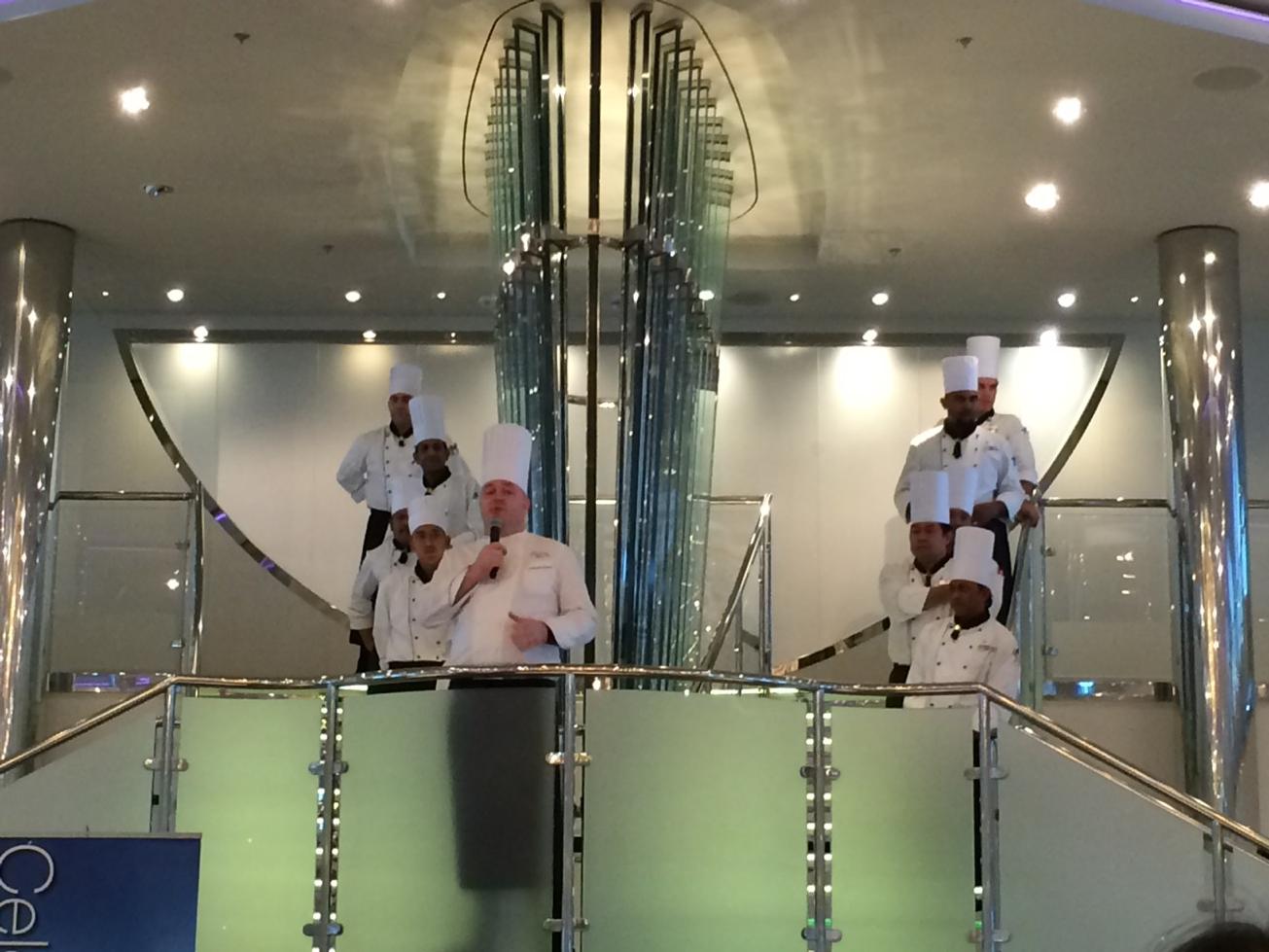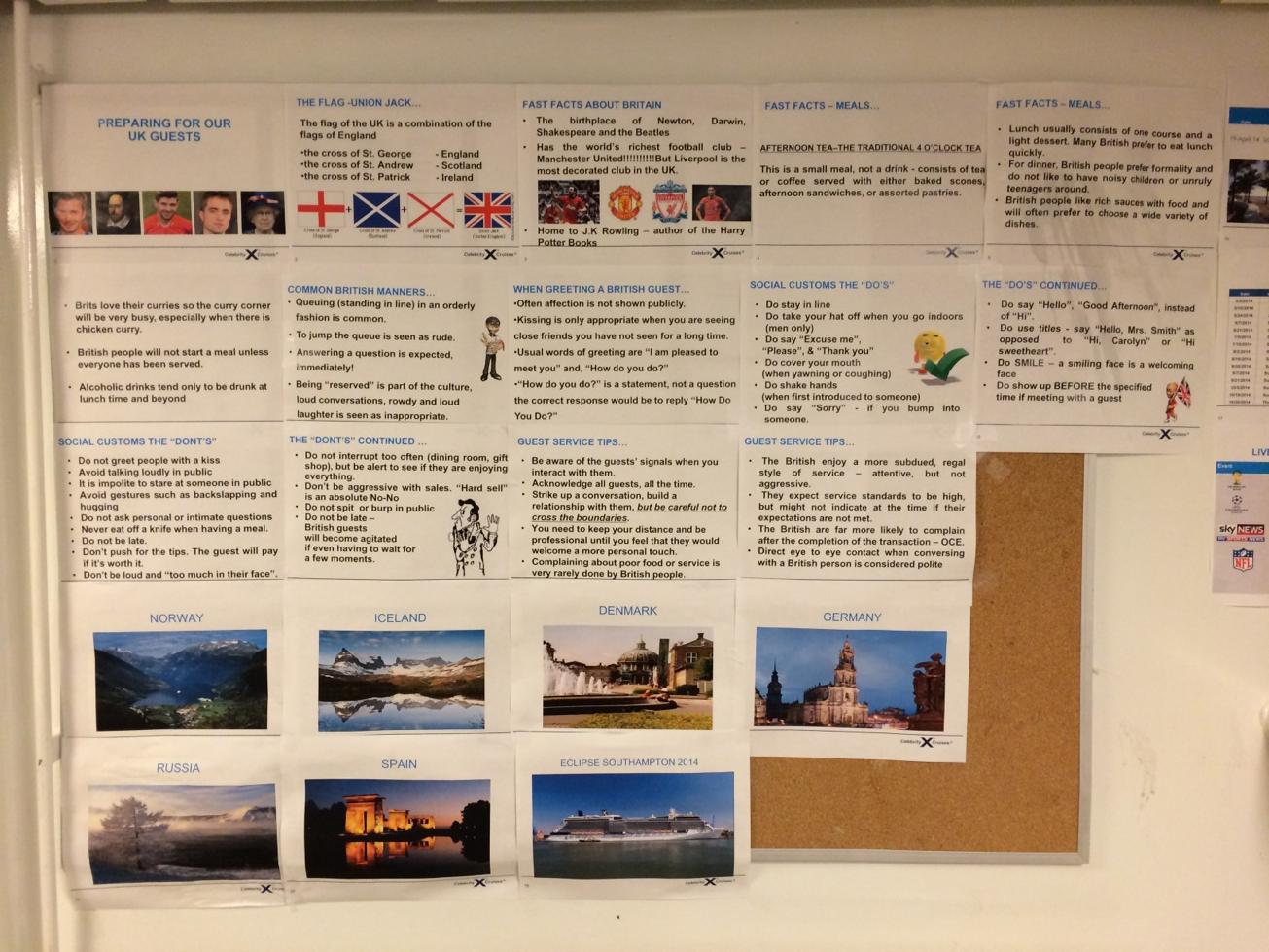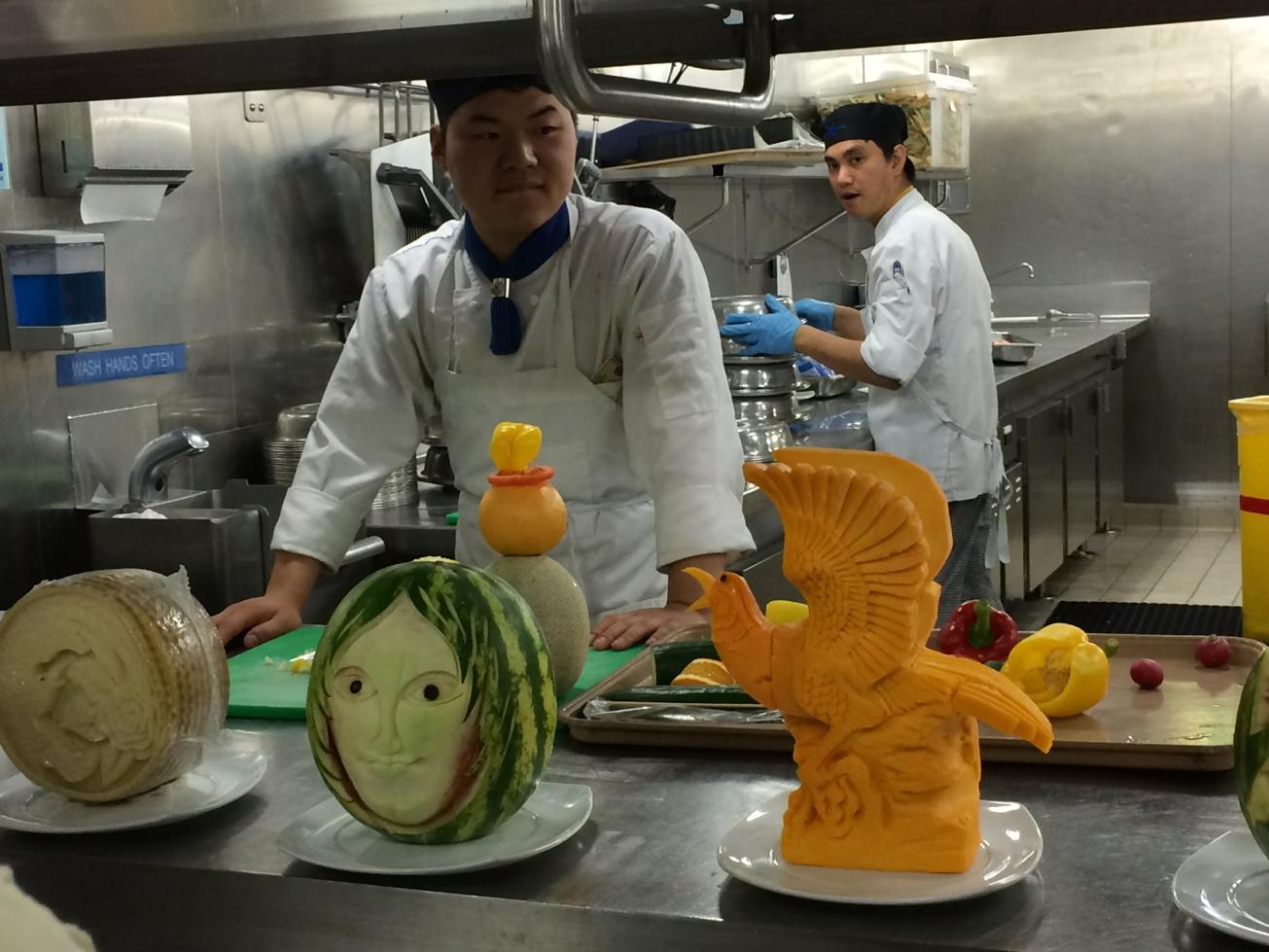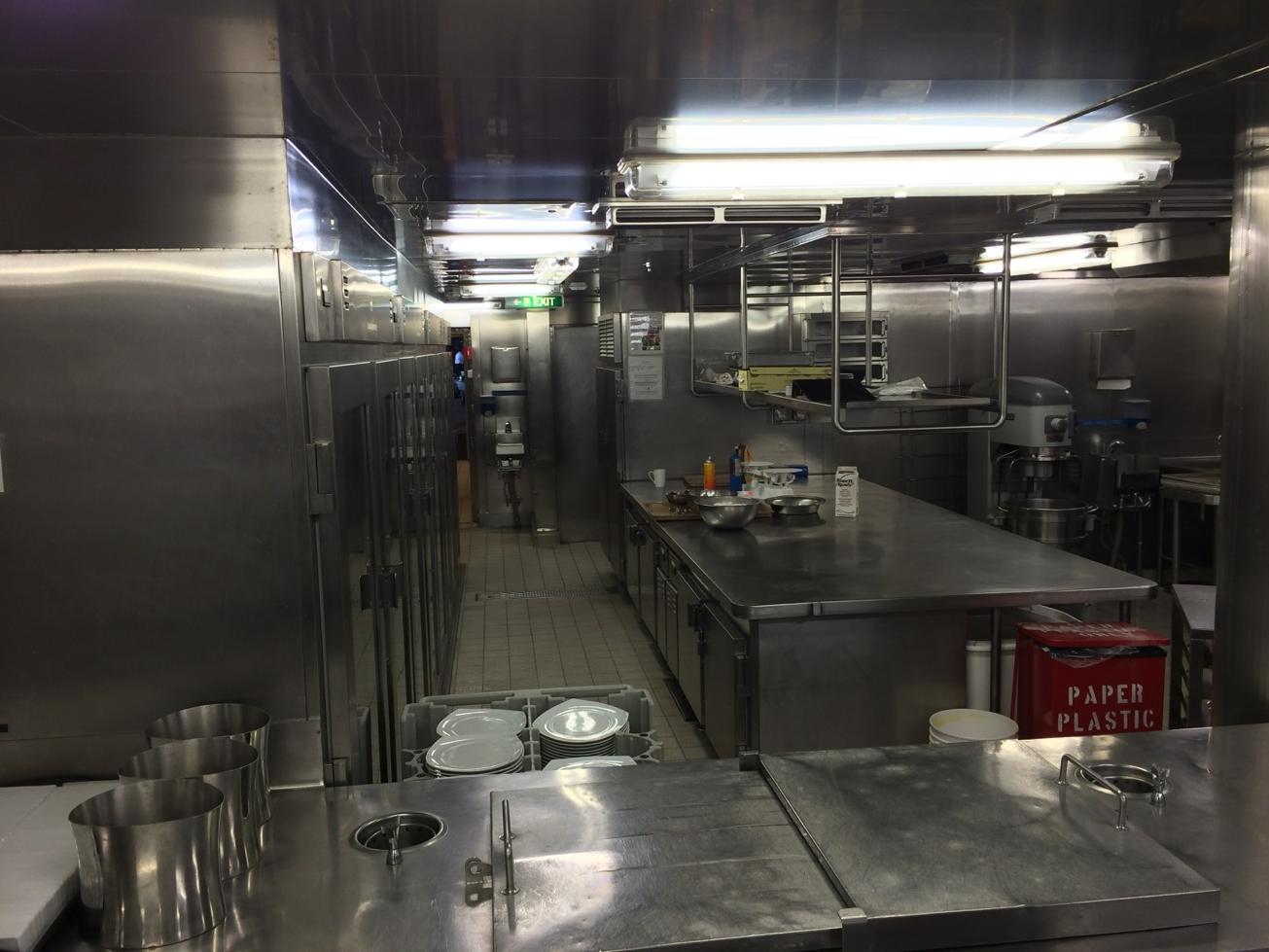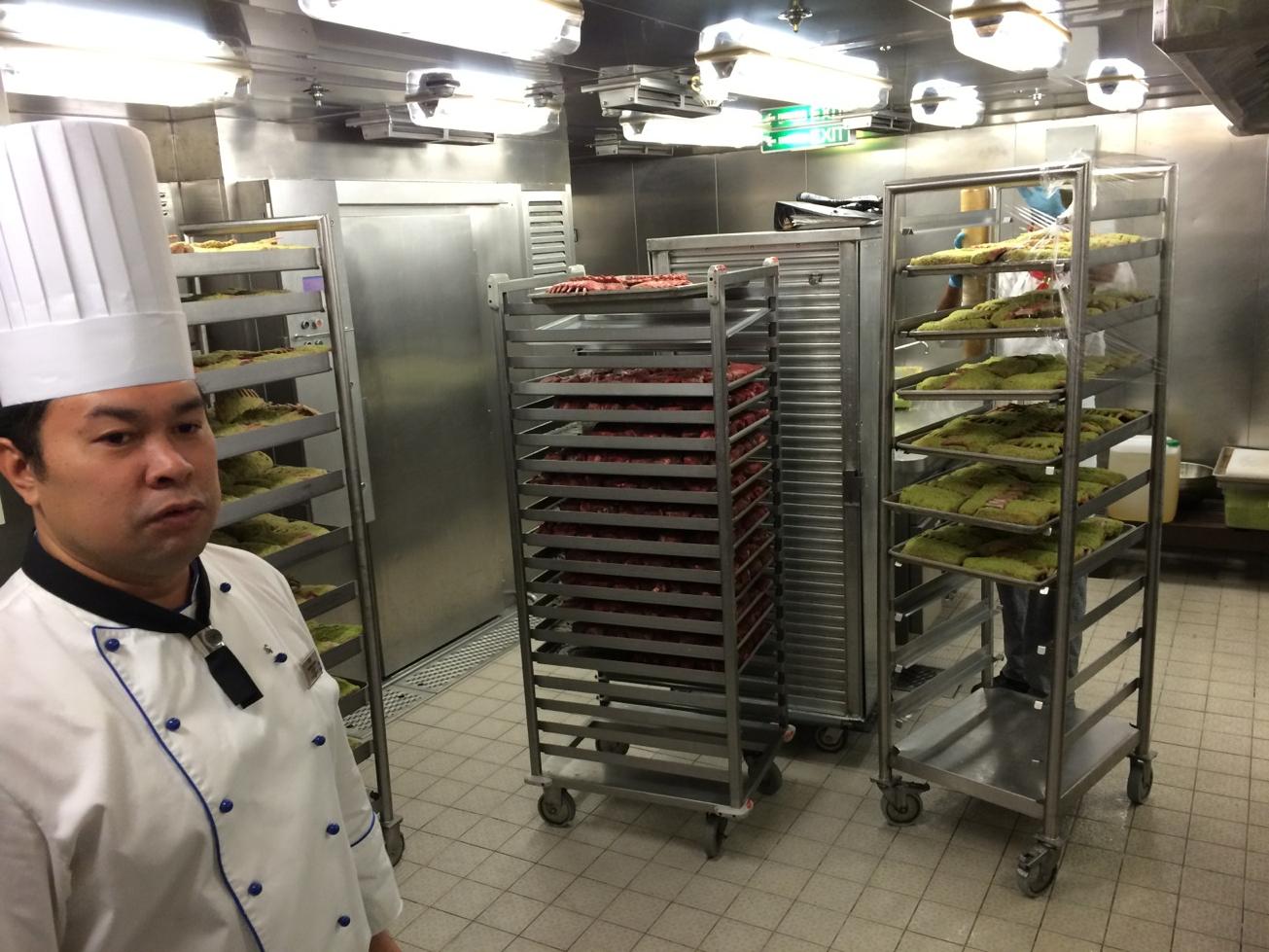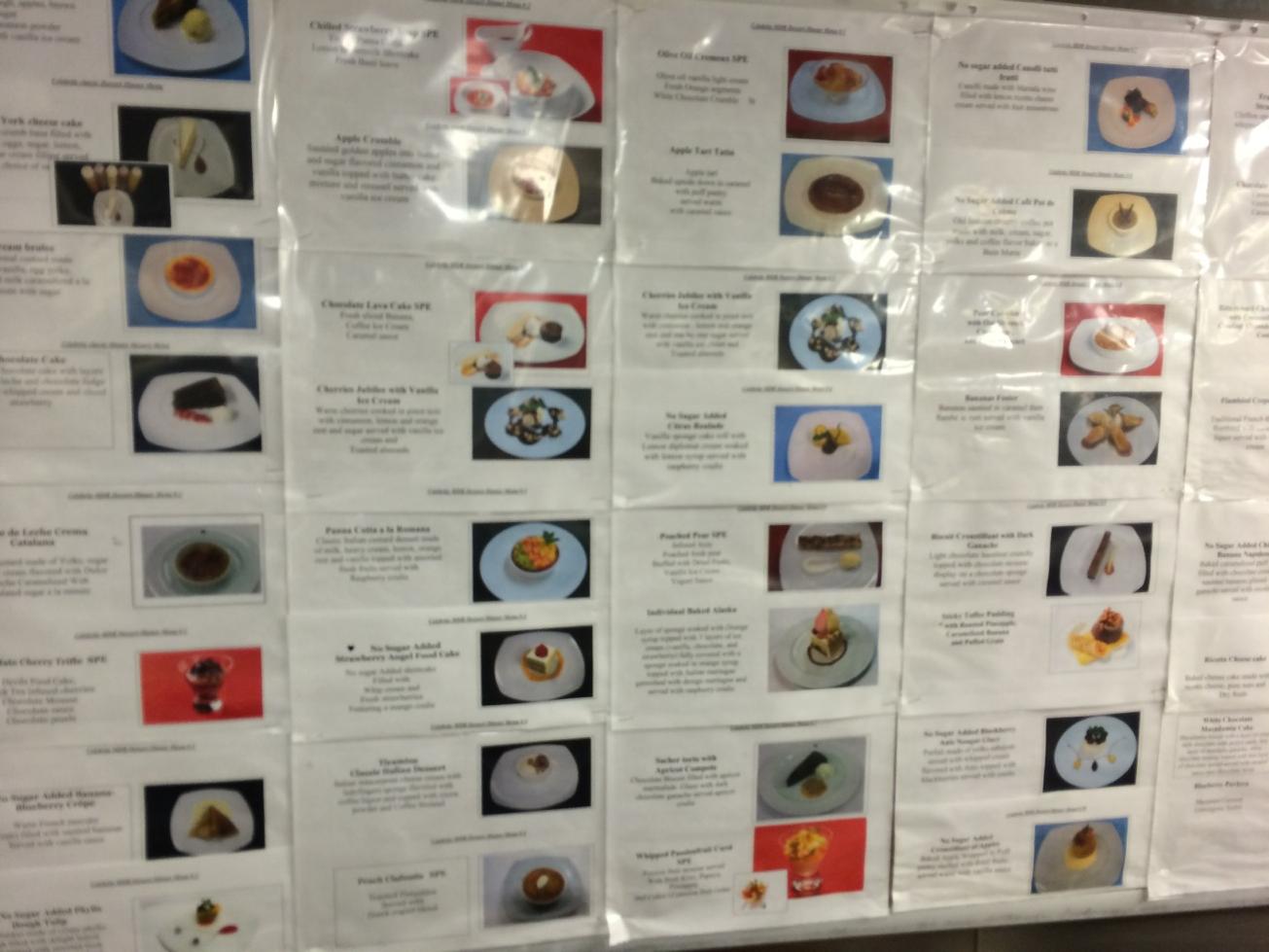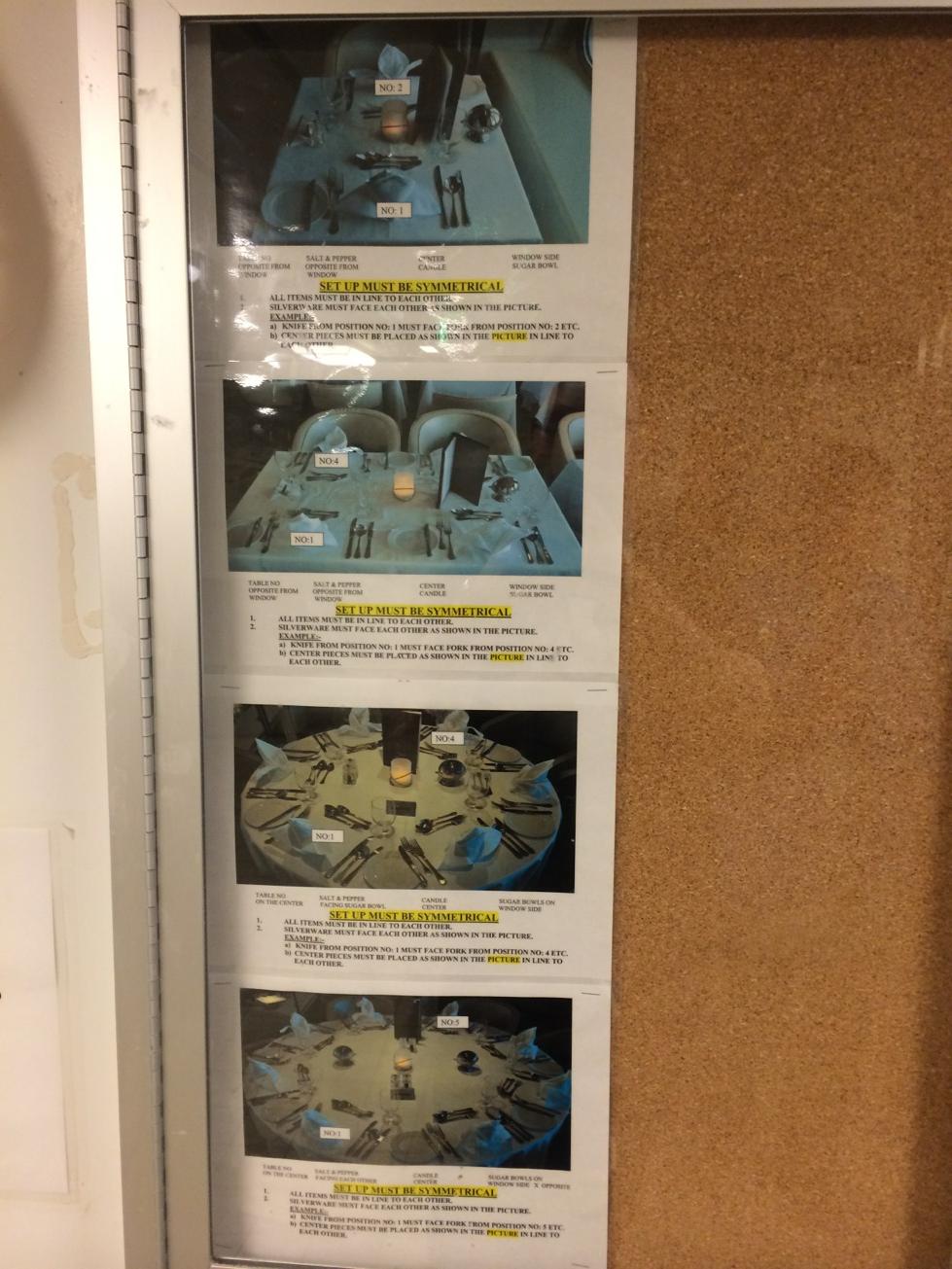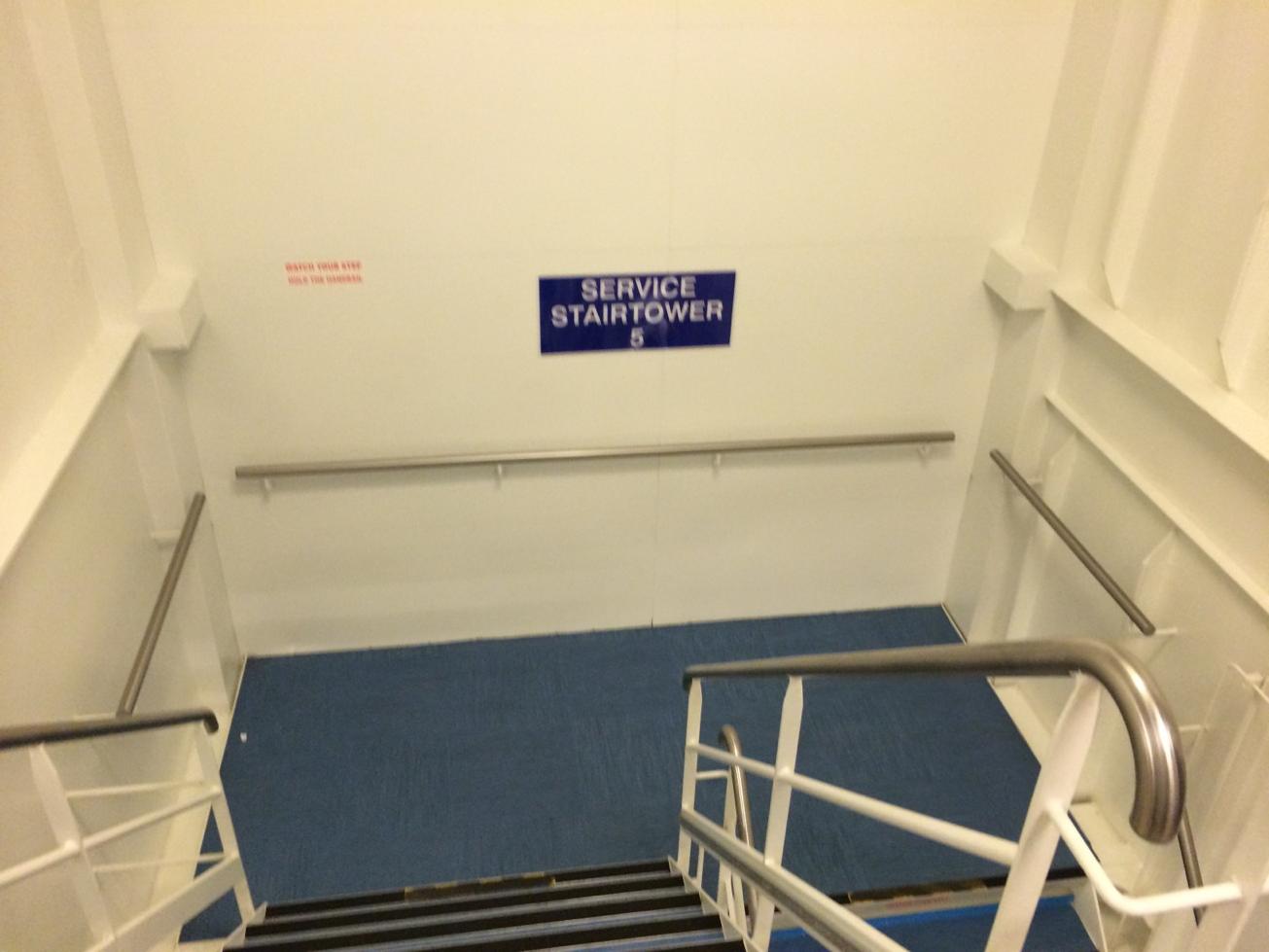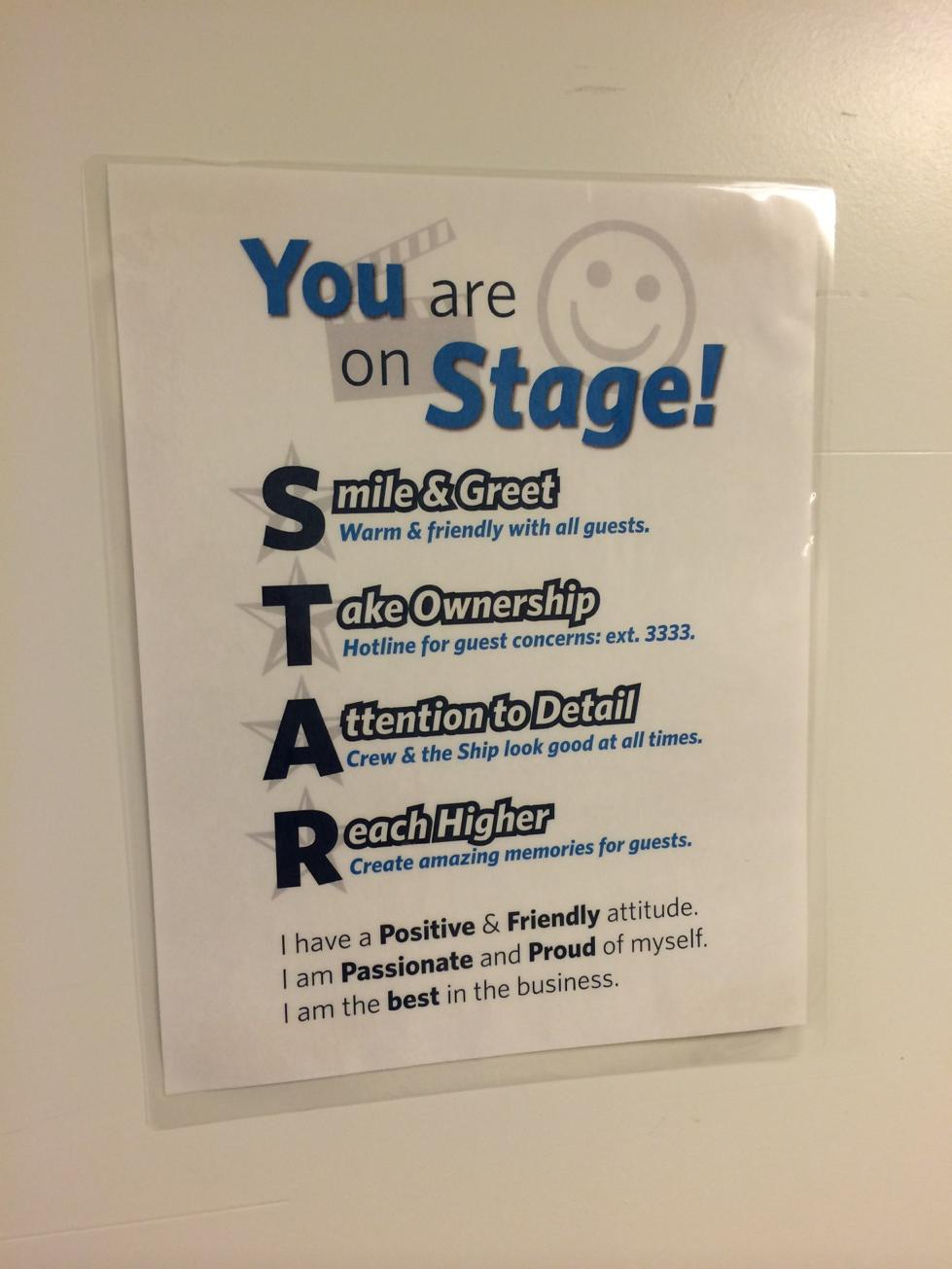 There were several questions asked, including one about wastage. The answer was a little evasive, but did highlight some of the steps they take to ensure as little wasted food as possible. Did you know, for instance, that the number of dishes and weights of food (for the buffet) that are made are based on the average amounts consumed from the previous three cruises? As this cruise is the second from the UK, figures have been taken from the previous UK season as Celebrity know that UK and US tastes differ. Leftover food is dried and incinerated; nothing goes overboard.
Based on a poster I saw in the galley, 817 guests are on 1st sitting; 621 guests are on 2nd sitting; and 1,141 guests have opted for Celebrity Select Dining.
I'd highly recommend this tour if you're on Eclipse – it's free of charge and even included a free glass of bubbly!
Behind the Podium – Gid Pool
Gid Pool is a stand-up comic from the USA, and will be with us for the whole cruise. Today's talk was on the history of stand-up in the USA. The talk was mainly attended by North-American guests, and as a British audience member some of the names were a little over my head and very much focussed on US-cable networks. Naturally the actual comics are an important part of the history of stand-up, but I feel it could have been presented in a more accessible way for non-US guests.
Gid is a pretty funny guy though, and he did have a few little bits of information that had a wider appeal, so I'd still recommend his talks. I'll attend more of them and let you know how it goes. We've been promised some late-night comedy from both Gid, and a British comedian whose name I forget (he hasn't appeared in any of the Celebrity Today guides yet). I love stand-up comedy, so this should be an evening highlight for me!
Room Service Lunch
Having eaten altogether too much for breakfast, I wasn't particularly hungry for lunch. Our plan was to go to the AquaSpa Café again, but the solarium and the café were very busy (with conditions being so windy) so we decided to order room service instead. I had a chicken caesar salad with some iced tea, and Alex opted for a turkey club sandwich and some lemonade. We ordered using the interactive TV at about 14:15, and food about 35 minutes later. Both were nice, though they did forget Alex's lemonade.
AquaSpa
On embarkation day there was an offer for 25% off any treatment as long as you booked today. I did a tour of the spa area, and like the sound of the hot stone massage. I've been considering massage for a while, but have never got round to booking anything. Despite the high cost on the cruise ship, I decided to treat myself!
I was a little nervous about it, but I had nothing to worry about. My masseur, Alpho, was very friendly and professional. The 80 minute treatment flew by and I didn't want it to end. It was possible the most relaxing experience of my life. I always thought that a massage would be a little odd, having a stranger's hands all over you in a state of undress, but it was just so relaxing and Alpho made me feel completely at ease.
The service was quite expensive at $209 for 80 minutes (plus standard service charge). Even after the 25% discount it cost about $190 including service. Nonetheless, for a special treat, it's well worth it. I imagine treatments on land can be had for significantly less money (though maybe not, as I've never used this sort of service before) but I certainly enjoyed it, and will have to stop myself ending the cruise in the same manner!
Formal Night in the MDR
Tonight was Formal Night, and almost everyone I saw was dressed to impress! There were a couple of people who hadn't made the effort, but the ship felt wonderful with the vast majority in their finery.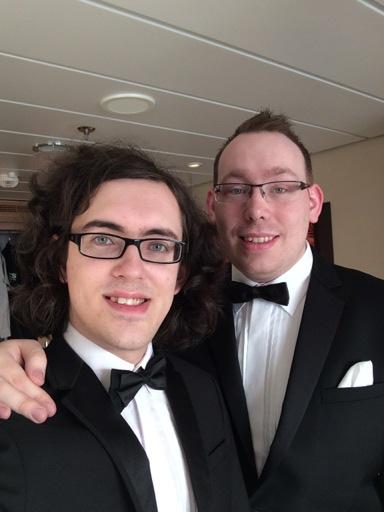 </a>
Dinner was, again, in the MDR. Service was excellent tonight, so my fears were unfounded from yesterday. The sommelier greeted me by name and asked if I'd like Riesling again tonight (yes, I have a sweet tooth). Our waiter and assistant waiter (Danny and Ruben) greeted us by name and seemed happy to help. No delays tonight.
I had frogs legs, then salmon tartare to start. My main was shrimp linguine, and my desert was a fresh fruit phyllo tulip. Alex had a chilled pear and honey soup; duck with wild rice and orange sauce; then apple crumble to finish. It's dark in our little corner of the restaurant once the sun goes down, but here are the best photos I could manage. All of the food was delicious again tonight.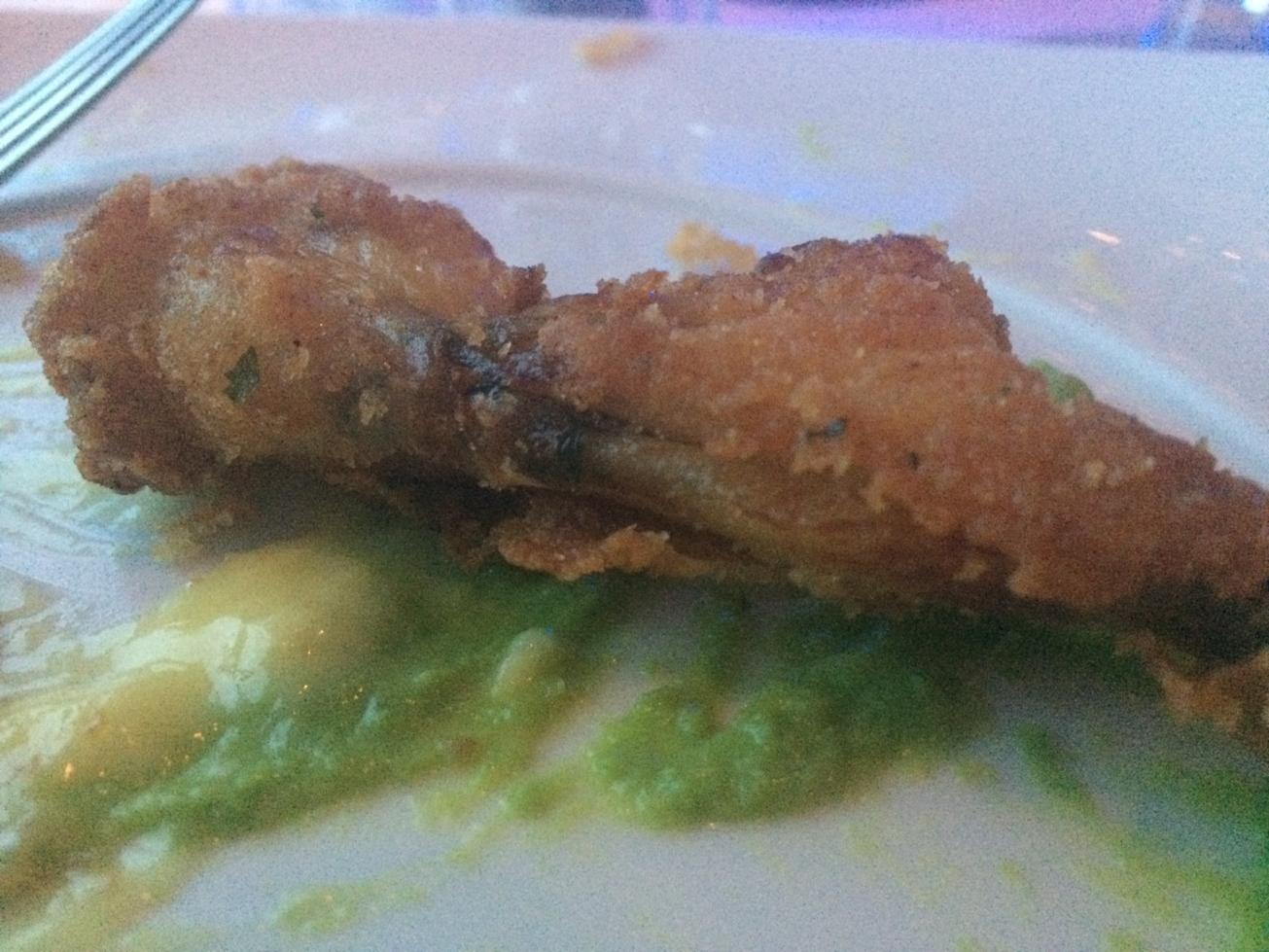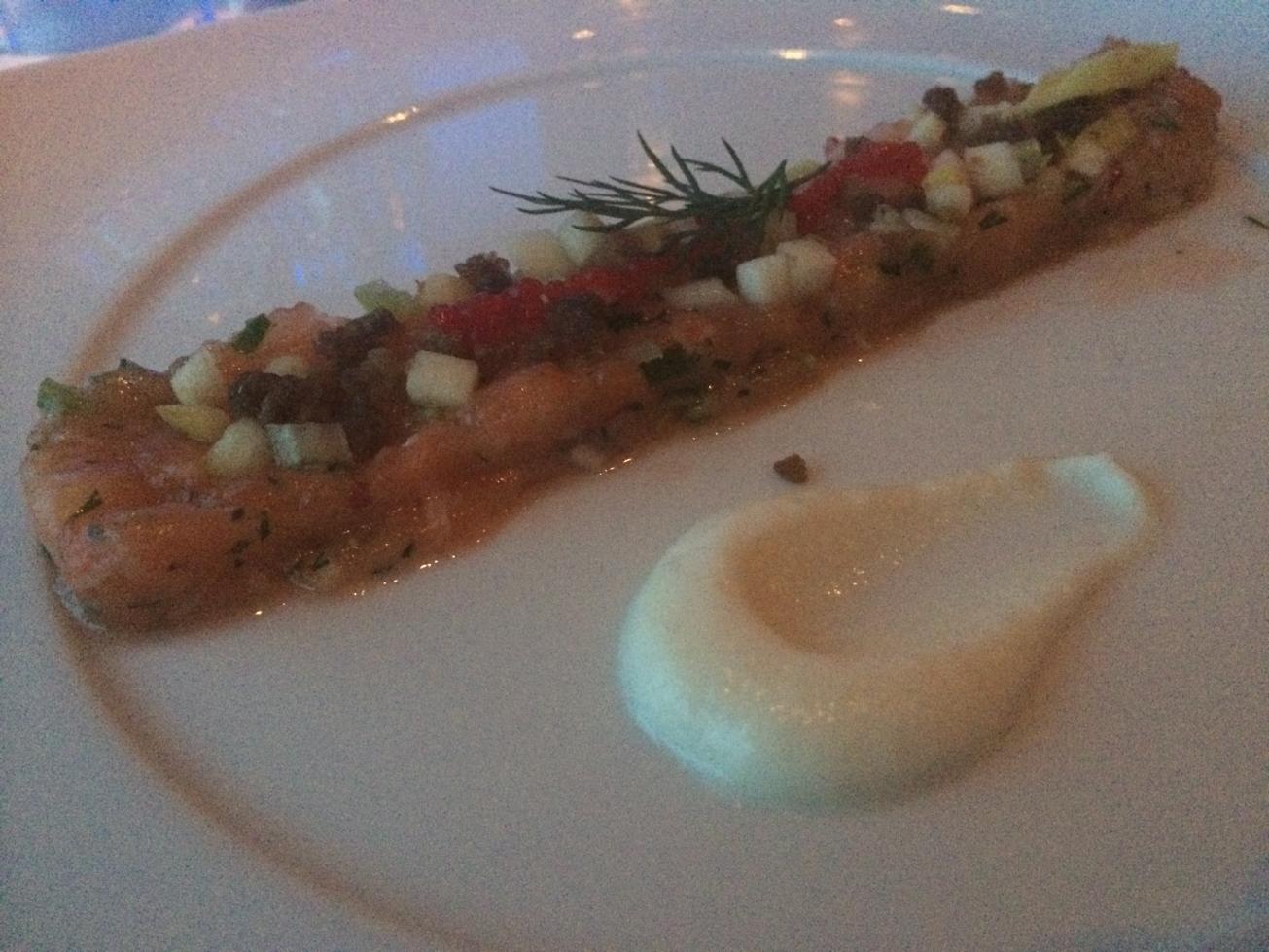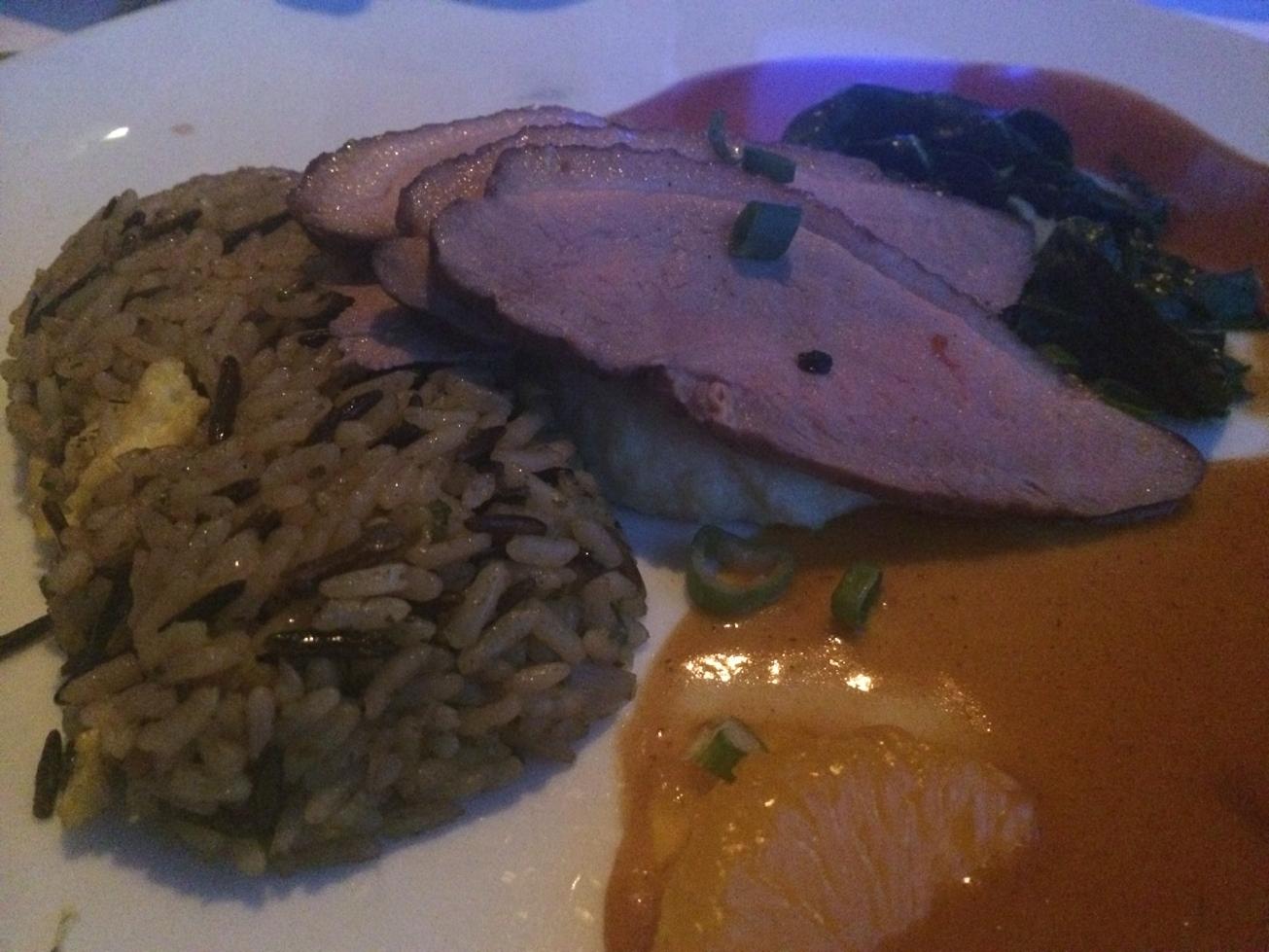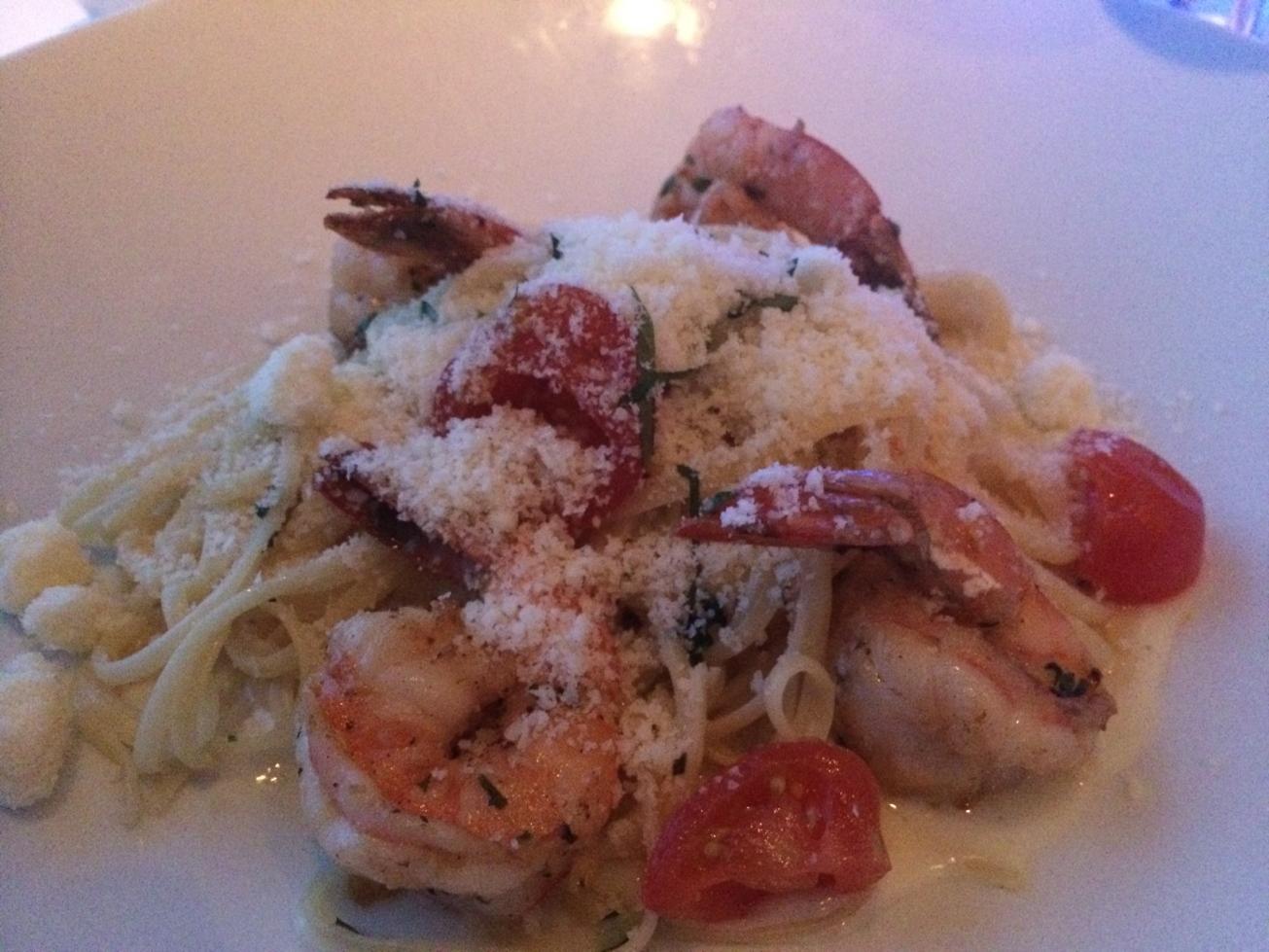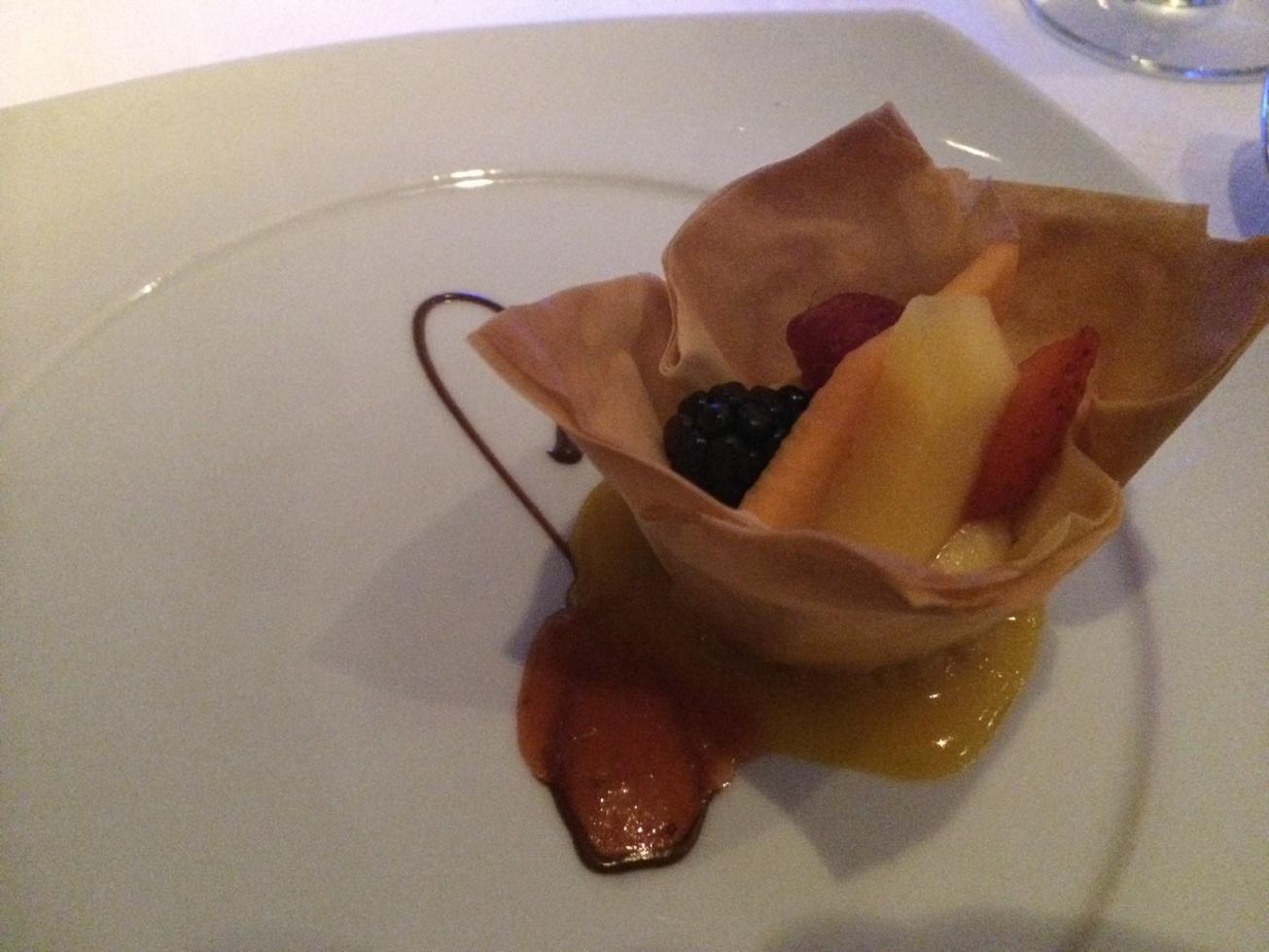 Theatre Show
Tonight, being the first formal night, saw Sue introduce the senior officers on board in a welcome aboard toast before the main evening entertainment which saw a last minute change due to rough sea conditions.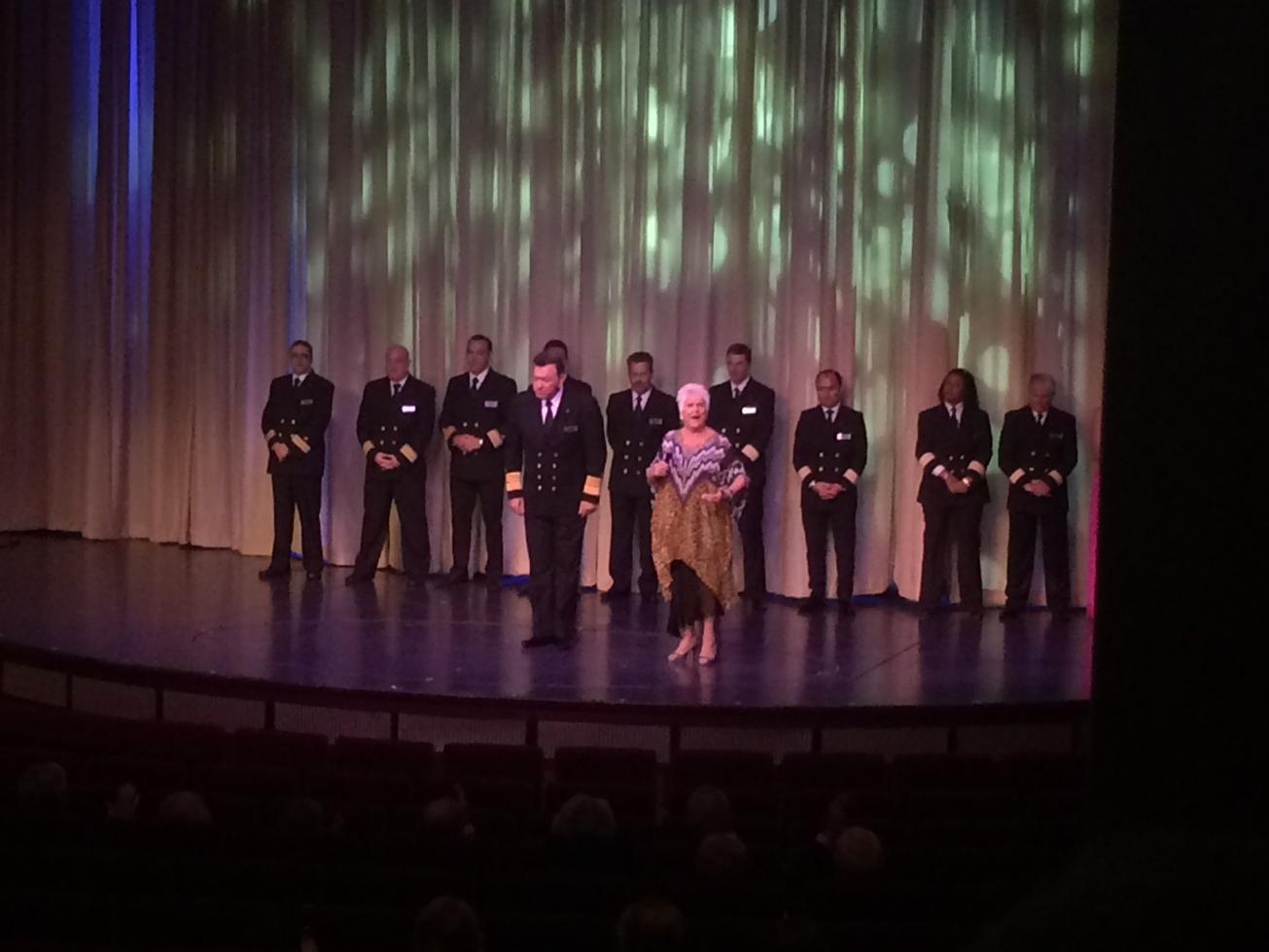 </a>
We ended up watching a comedy magician whose name I have forgotten (again, he's not in the planner due to the last minute change).
We saw a comedy magician last year on Eclipse who was fairly good, but whose comedy was derived from his deliberate failure as a magician. This guy actually did some magic (albiet nothing particularly exciting) and the comedy was largely derived from jibes at the audience. Unfortunately there weren't many people in the front half of the stalls, so two poor guest got the brunt of his ridicule! Thankfully they all took it in good fun, and the show was actually quite entertaining. I'll try to remember his name for tomorrow…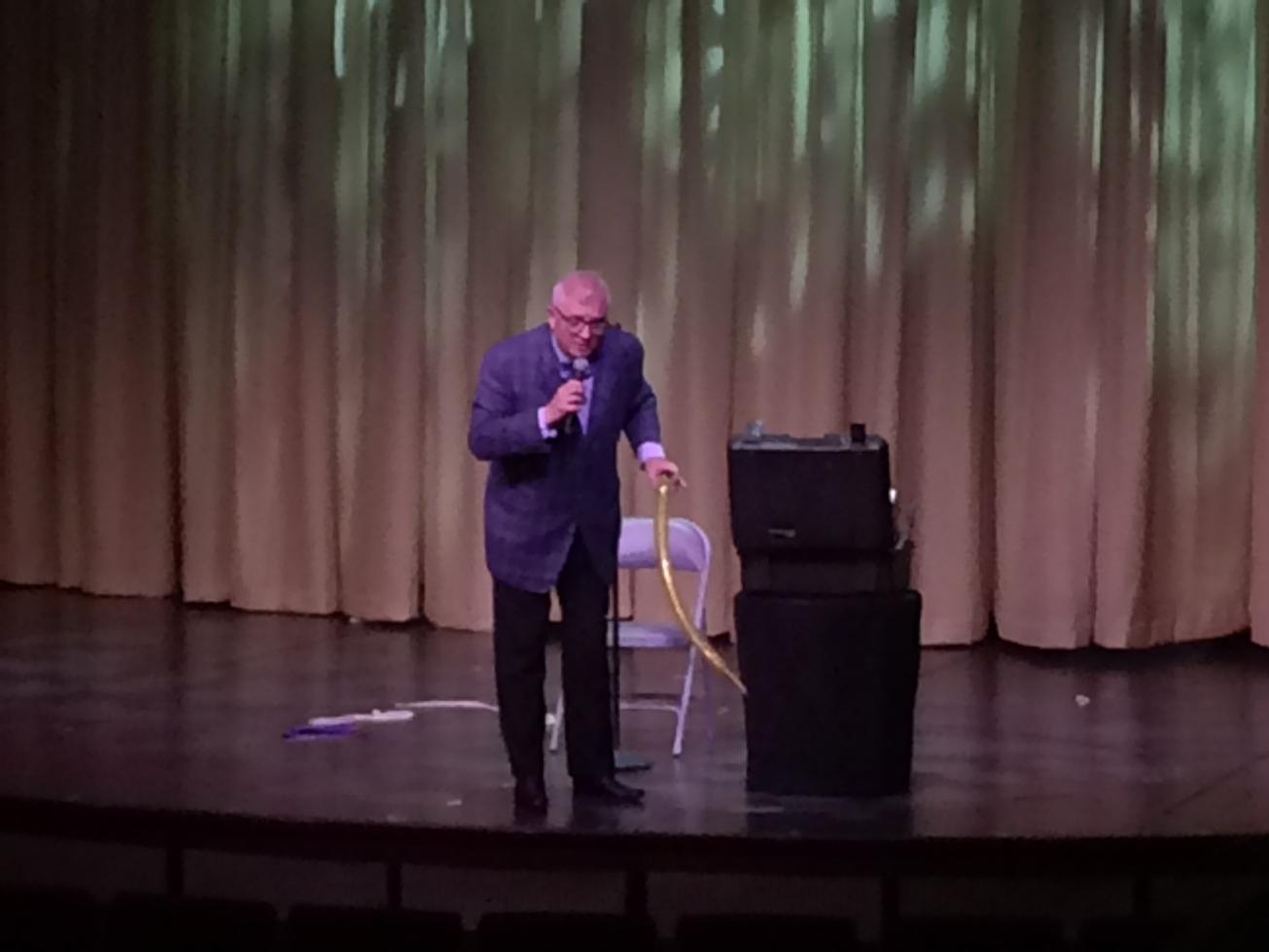 </a>
Perry Grant
Tonight we decided to check out Perry Grant for the first time in our Celebrity Cruises history. He's a bit of a legend, if you don't know him, and seems to divide people into two very vocal and opinionated groups! We only caught the end of his show after an unsuccessful stint on the slots, but despite not knowing all of the songs, we had a great time. He has an absolutely brilliant sense of humour, but I can absolutely see why he's not to everyones taste. I look forward to seeing more of him as the cruise goes on!
</a>
Another late night for me, and several trips to the Martini bar as the night went on have left my fingers rattling the keyboard frantically. I suppose I'll find out tomorrow if this all makes sense (thankfully some of it was written earlier… can you tell where the divide is?) We've ordered room service for breakfast tomorrow; the temperatures are increasing and the sea is calming as we near the end of our Bay of Biscay crossing. Perhaps our croissants will be taken from the balcony in the morning?
Until then, goodnight!