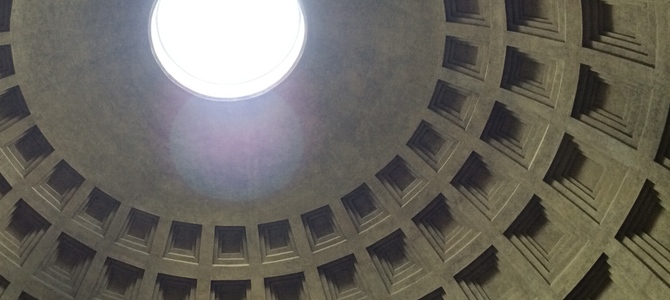 </a>
Today Alex and I were in Civitavacchia, where we were on a Celebrity organised shore excursion to see the Colosseum and Forum in Rome. In the evening, we make a difficult decision about our plans for Livorno tomorrow.
Celebrity Excursions
A few people in a variety of places have mentioned that they're interested to hear how a Celebrity arranged shore excursion compares to just doing it yourself. Naturally, I can only speak (at least in Rome) from the perspective of someone who's done an organised tour, but hopefully my experiences will help you decide which option is better for you.
As we pre-booked the excursion through My Celebrity before we even boarded the ship, our tickets were waiting for us onboard. Excursions booked through Celebrity direct have certain clear advantages. First, if a port is cancelled or delayed due to inclement weather, you will get a refund or for the excursion to be re-arranged. Second, if the excursion is late back to the ship for any reason, the ship will wait for you (you turning up late to a meeting point notwithstanding – buy a watch). Finally, if you pre-book and simply change your mind when on board, you can cancel for ship-board credit normally up to around 2 days before your excursion.
Our ticket told us to be at the Celebrity Theatre at 07:45 for an 08:00 departure. On arriving in the theatre we were directed to a desk at the front where, based on the excursion we had booked, we were issued with a coloured sticker with a group number on it. We were then asked to take a seat in the theatre to wait for our number to be called. We were guided to the coach or excursion. Very easy! Read on for the but…
Room Service: Breakfast
Today was an early start with room service booked for 07:00 to 07:30. It's the third time we've used room service now, and it seems to work very well. You can order through your stateroom TV, or fill out a card that's in your stateroom and hang it on your door by 02:00 on the morning you want to eat. Slots available are 30 minutes long and start at 06:00. The last available slot is 09:00 to 09:30. Every morning but this one, we've had a phone call at the start of the slot, with delivery following around 30 seconds later. Clearly they don't have to come very far! This morning we didn't get the call until about 07:20 which left us a little tight. Nonetheless, food arrived hot and as requested.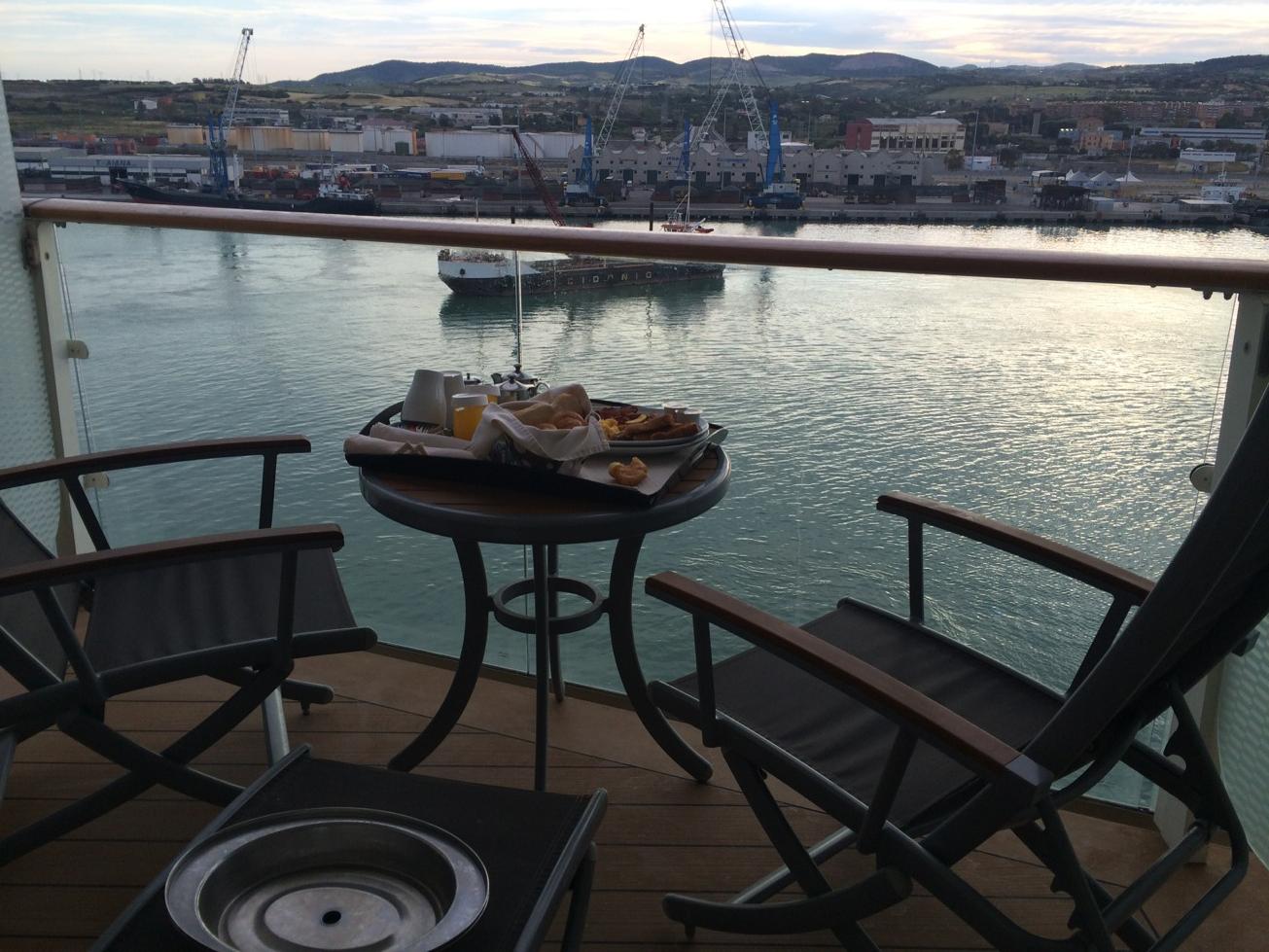 </a>
Although there are two ways of ordering breakfast for room service, I'd recommend filling in the little card and popping it on the back of your door. The menus that are available through the TV are the same as those on the card, but you can't write special requests on the TV screen! Every time I've ordered breakfast I've put an extra request that wasn't an option on the card. For example, I ticked the bagel option, then wrote next to it that I'd like smoked salmon and cream cheese with it. Neither of those extras are on the menu, but arrived as requested anyway.
I have seen it mentioned that a tablecloth will be set up on your balcony for breakfast, but reports on this are inconsistent. To add my own equally useless anecdotal evidence to the pot, I have not experienced this once. If it does exists, it's either by request only, inconsistently provided, or available only in stateroom grades higher than Concierge Class. As it happens, the order comes on a large tray with food covered by a simple stainless steel cloche with a flat top allowing plates to be stacked to save space.
The only thing I think could be improved, is that there's no way to specify which guest each item is for. If Alex and I both want a cooked breakfast, but want different (but overlapping) items, they don't know which items should go on which plate. I suppose you could improvise a coding system, but whether this would be followed is anybody's guess! So far we've kept things easy by ordering a basket of croissants, so there has been no real confusion!
Rome, Italy
This morning we were late arriving into Chivitavecchia, so excursions were delayed a little bit. Nonetheless, we were soon off the ship and on the bus to Rome, with our friendly tour guide filling us in on some of the sights we were seeing along the way (there wasn't much). The drive took about 90 minutes or so. There were two groups for our excursion, basically filling two busses. Our group had around 45 people in it, so it certainly wasn't intimate or personal, though our tour guide did make some conversation and answer questions where appropriate. She seemed knowledgeable, though nobody particularly put her knowledge to the test.
As we arrived in Rome, we detoured via the train station where we picked up the guide that was to take us round the Colosseum and the Forum. We were each given a little radio and a one-ear earphone which would allow us to hear the guide. These were tested on the coach and largely worked well. There were a few points where the separation in the group meant that audio for those at the back cut out from time to time, but this was rare.
On the way to the Colosseum we got lots of great information from our guide about the local Arches of Triumph and various other buildings we passed, and this continued for the whole tour. This tour guide seemed very knowledgeable, and especially enjoyed pointing out mistakes in films (did you know, for instance, that despite Nero being in films giving thumbs up or thumbs down to various fights in the Colosseum, he died 2 years before the Colosseum was even started!) Just before reaching the Colosseum, she grabbed a book from one of the vendors outside and used it to show us what the various ruins looked like in their day. This was quite interesting for those who could see, but was a pretty blatant setup for us to buy the book – on a great deal today! This was the only example of this I saw through the whole tour, and there wasn't actually any pressure to buy.
Once at the Colosseum, we walked straight past the massive queue and into a much shorter (but significantly faster) queue for pre-booked tour guides. This in itself would make purchasing something in advance well worthwhile – do not waste time queuing for tickets on the day! I believe you can even order on an iPhone while you're there and skip the sizeable ticket office queue, though I don't know how well this works. Our tour started upstairs and it was wonderful to see such an ancient structure so well preserved. The internal stairs are mostly re-done, as is most of the flooring inside. Our guide gave a good idea of how the structure was used and operated. Some areas still had original steps and original marble flooring, and it's hard to believe this is almost 2,000 years old!
From the Colosseum, we walked to the forum with yet more fun facts provided over radio. The Forum is quite interesting to walk around, and it's easy to forget that this is still an active archaeological site. There are areas fenced off where people are hard at work! The Forum itself has a lot of great sights and stunning buildings. I enjoyed looking at an area for a while, then closing my eyes and trying to imagine what it would have been like when this was still a bustling hive of activity. You just have to be careful not to close your eyes for too long, or something is likely to walk into you – it's very busy!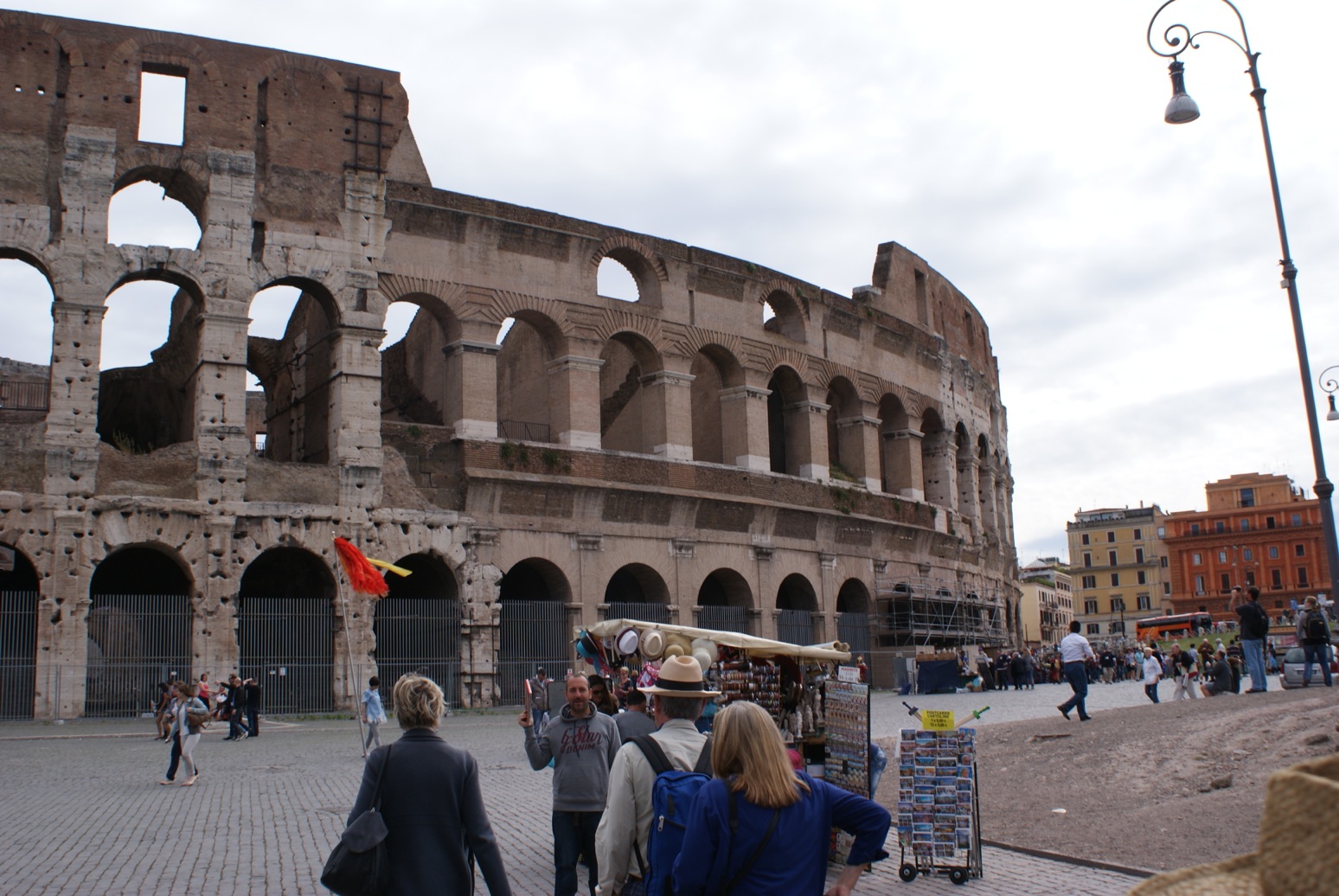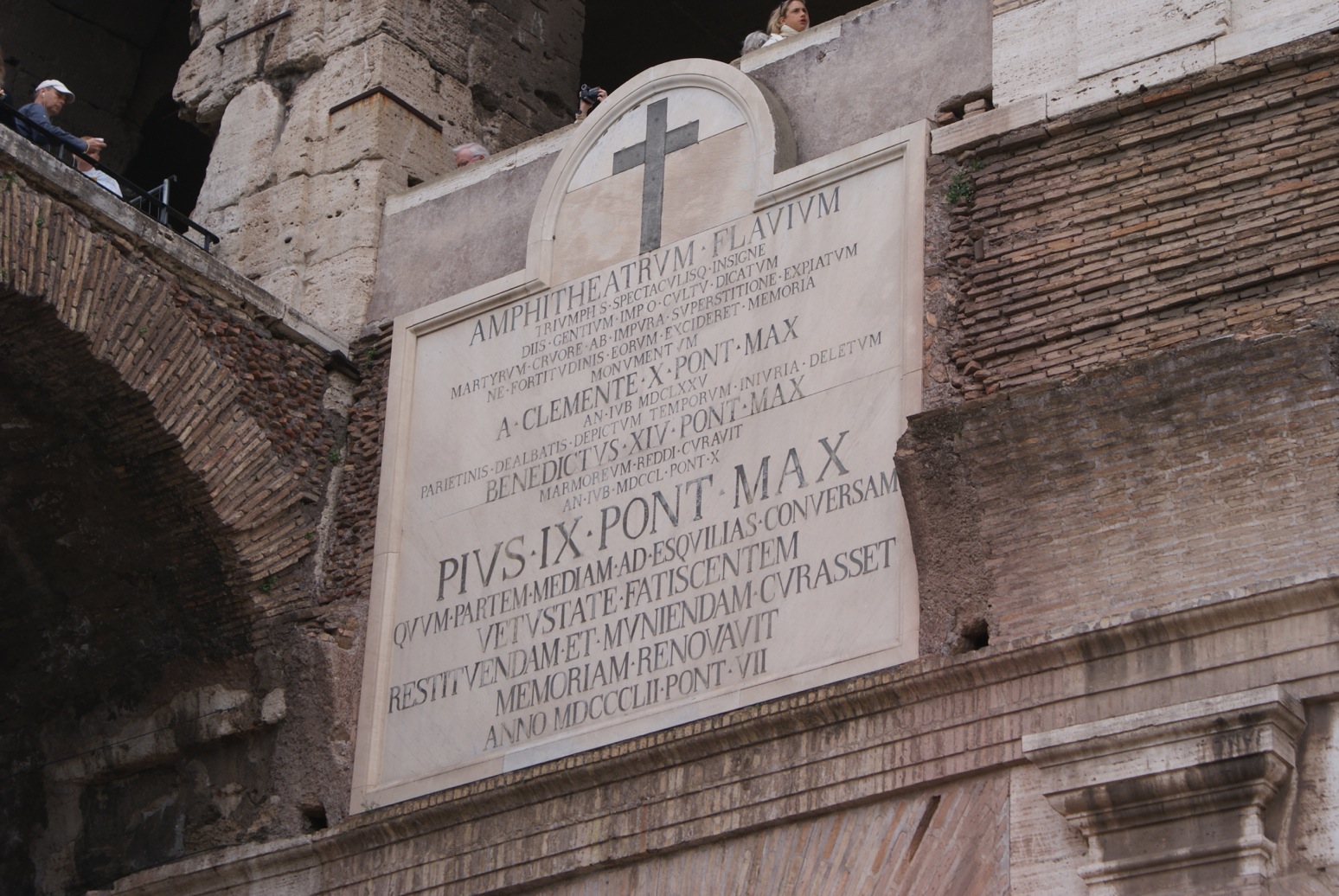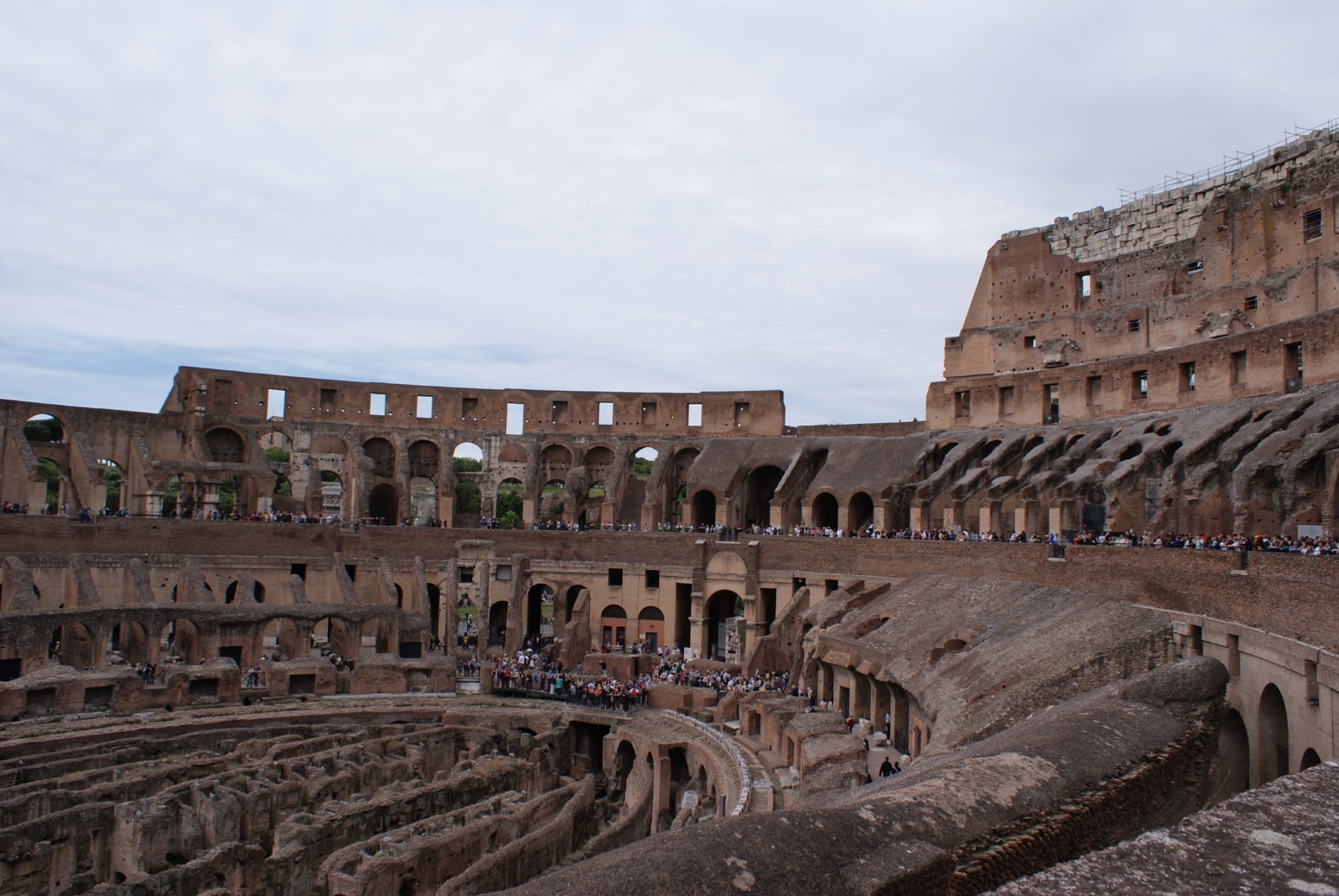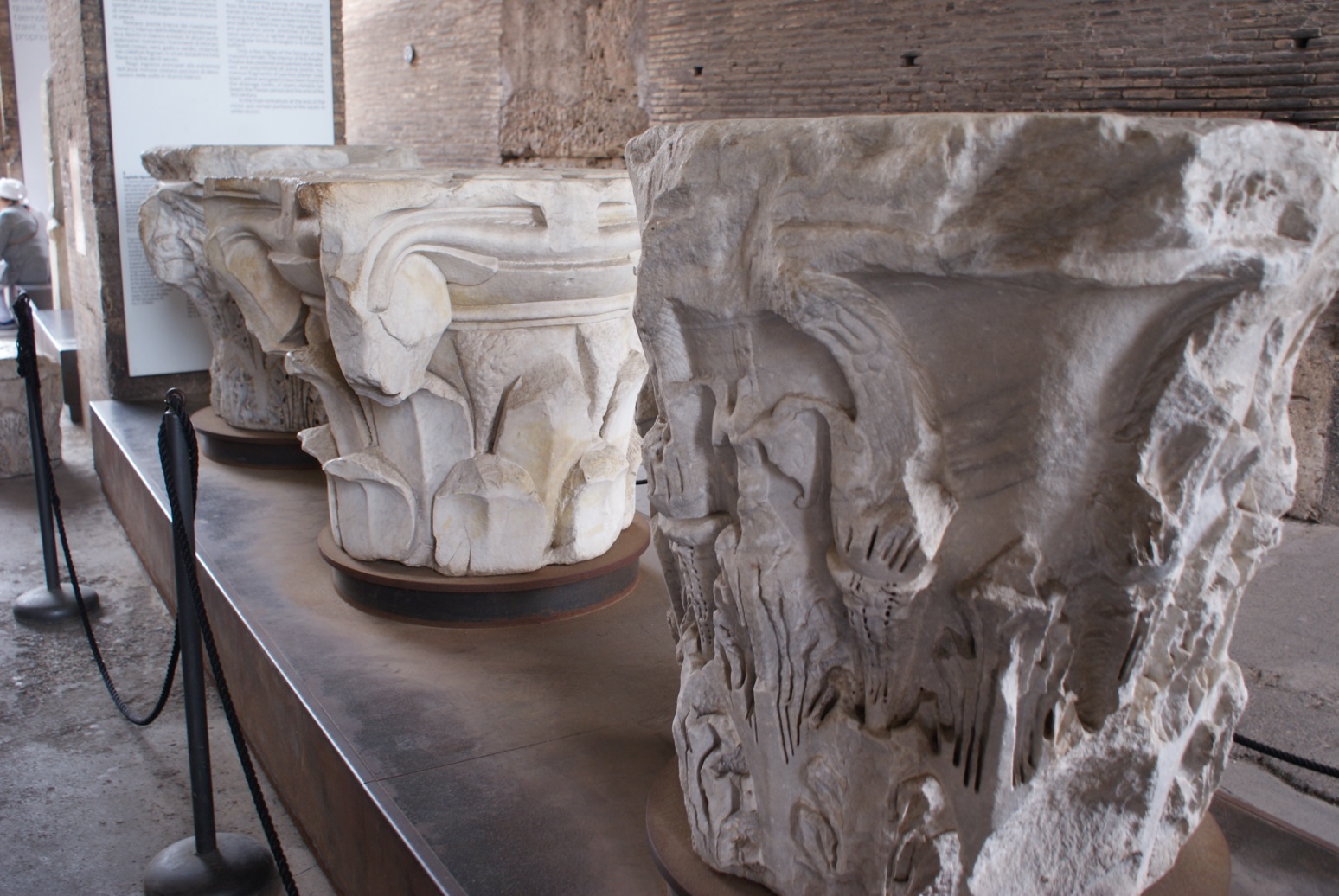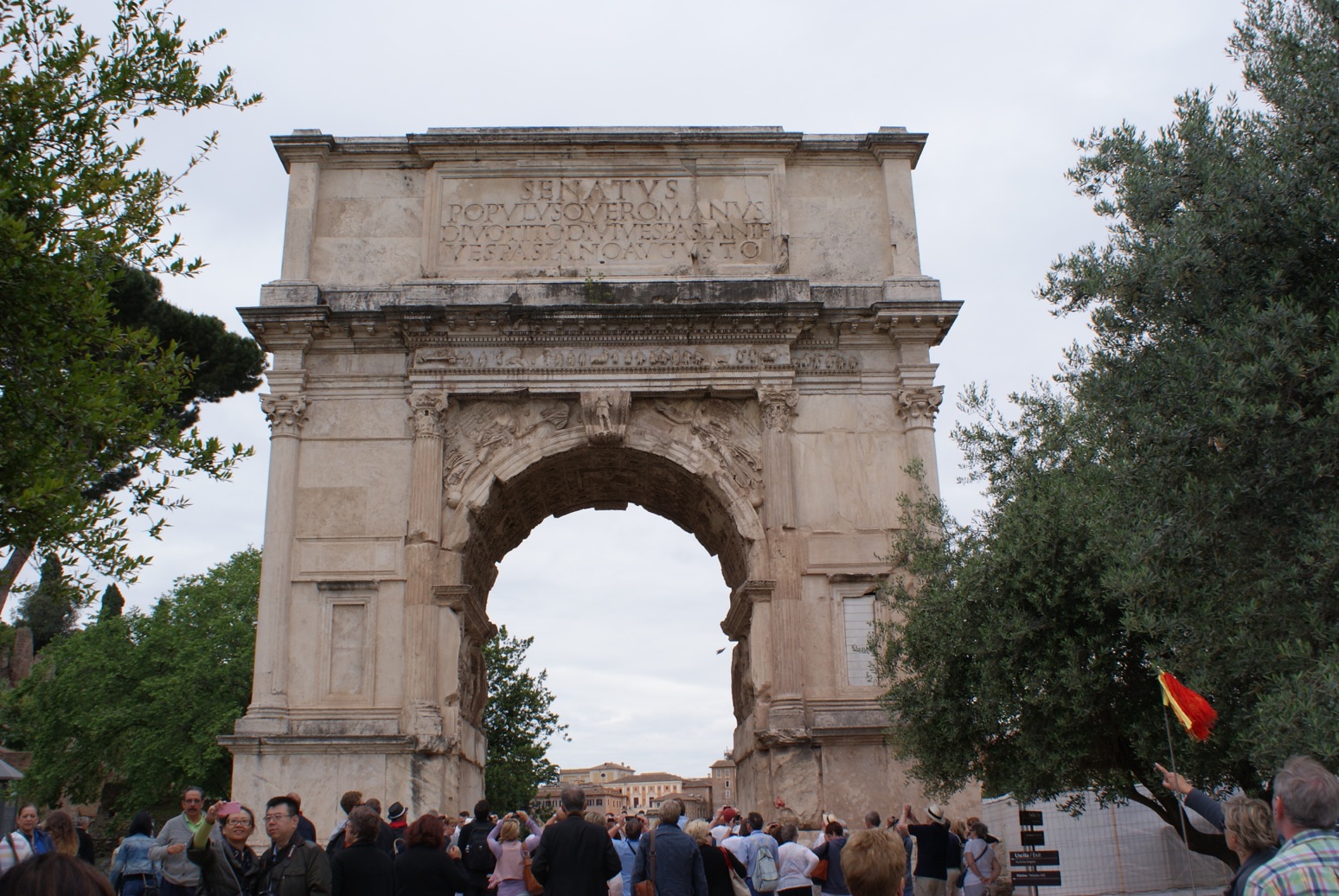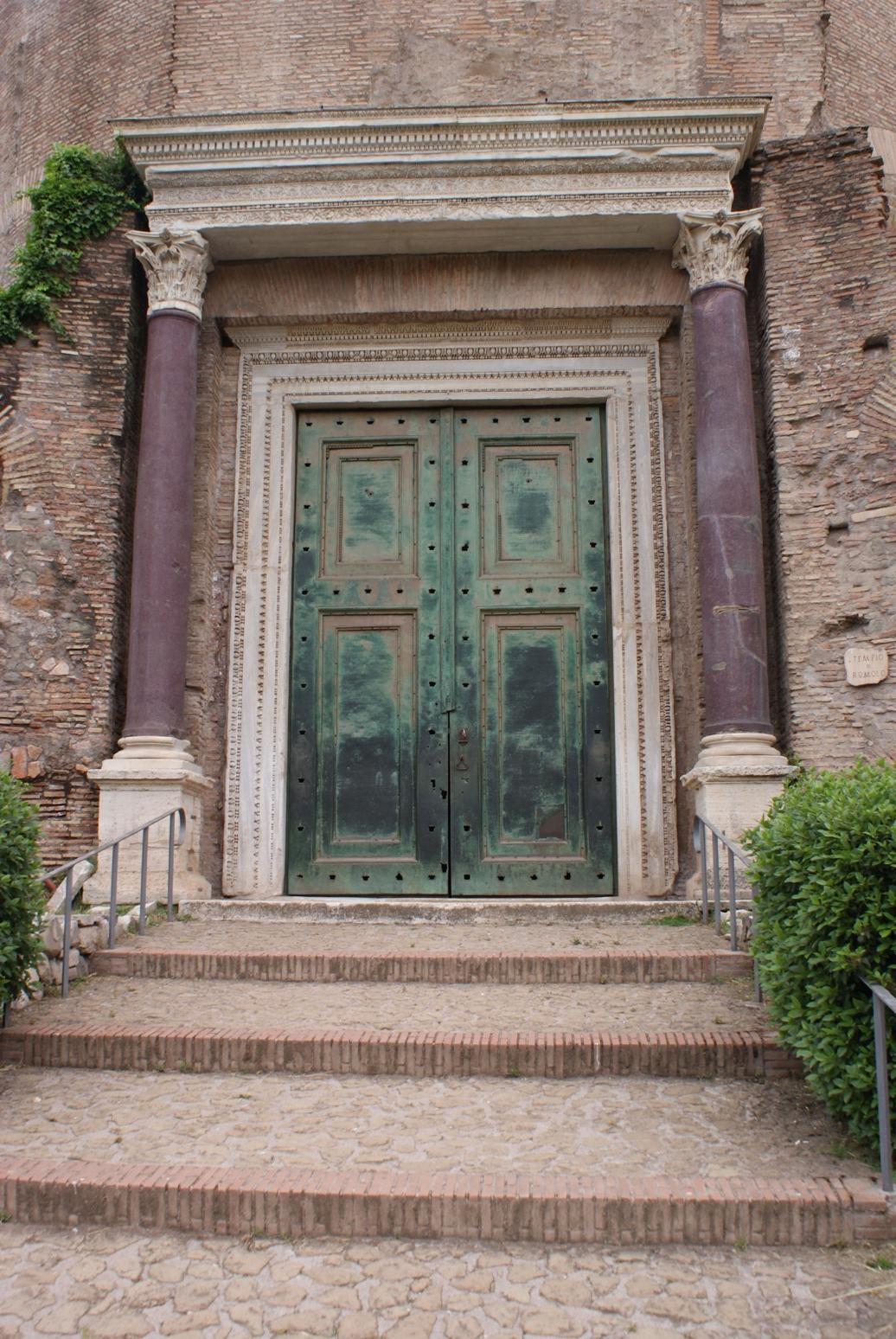 From the Forum we boarded the bus and headed to Piazza Navona where we were set free to enjoy about 3 hours of independent exploration (and lunch!) We were warned about eating on the Piazza itself, as prices have an extra load to account for the location. Indeed we saw this clearly – we had a delicious pizza at a little place called Caffé Domiziano which has a front on the square, and on on the street behind the square. Prices on the square were about €5 more per pizza than where we ate… at the same restaurant! You just need to make the call whether you want to pay that much money for a nicer view over lunch. The pizzas were delicious and crisp, with fresh flavours and simple toppings. Alex and I paid €24 for two pizzas, a Coke, and a bottle of sparkling mineral water. I've paid more in the UK for worse pizzas, so I didn't think this was too bad.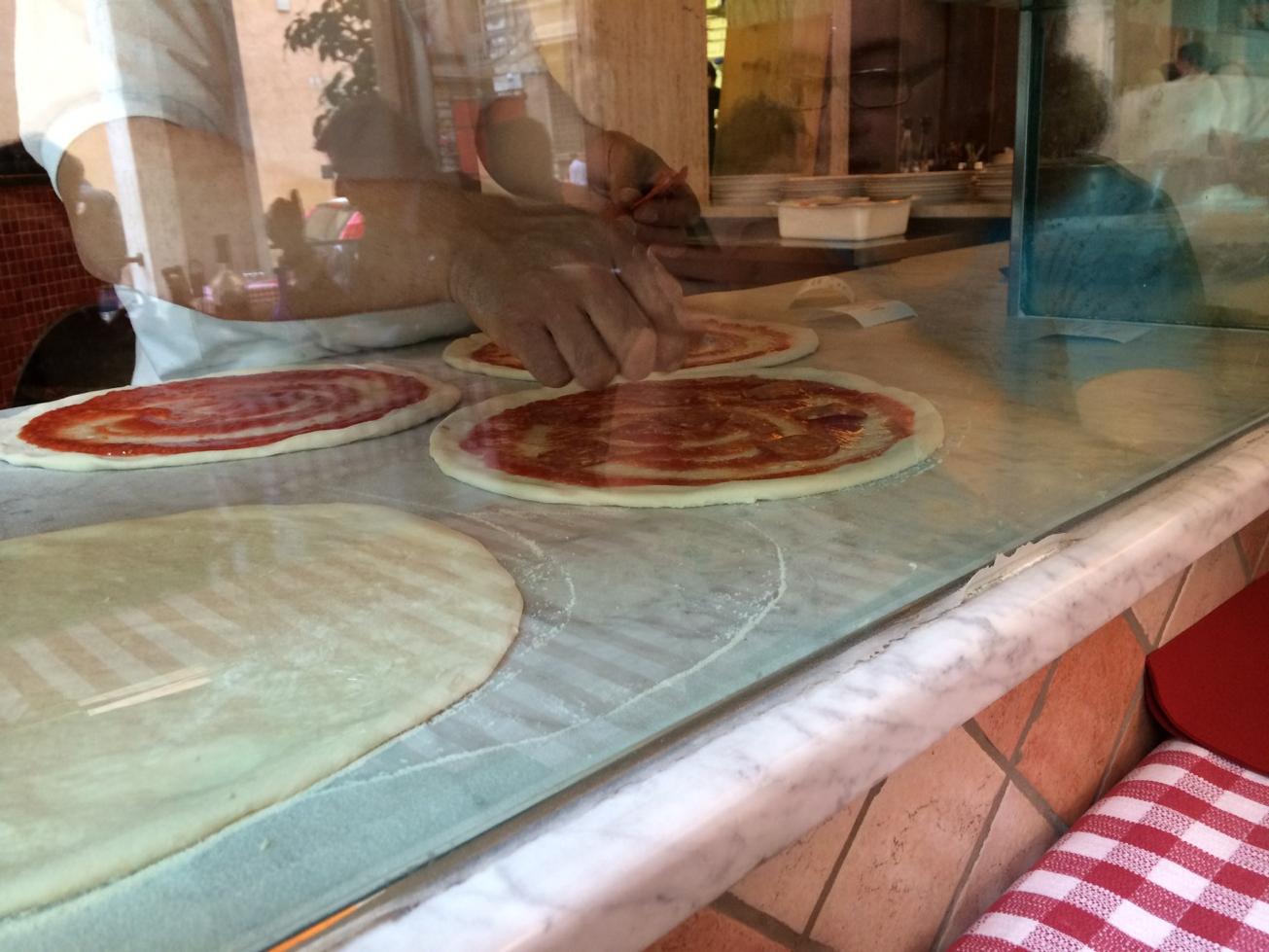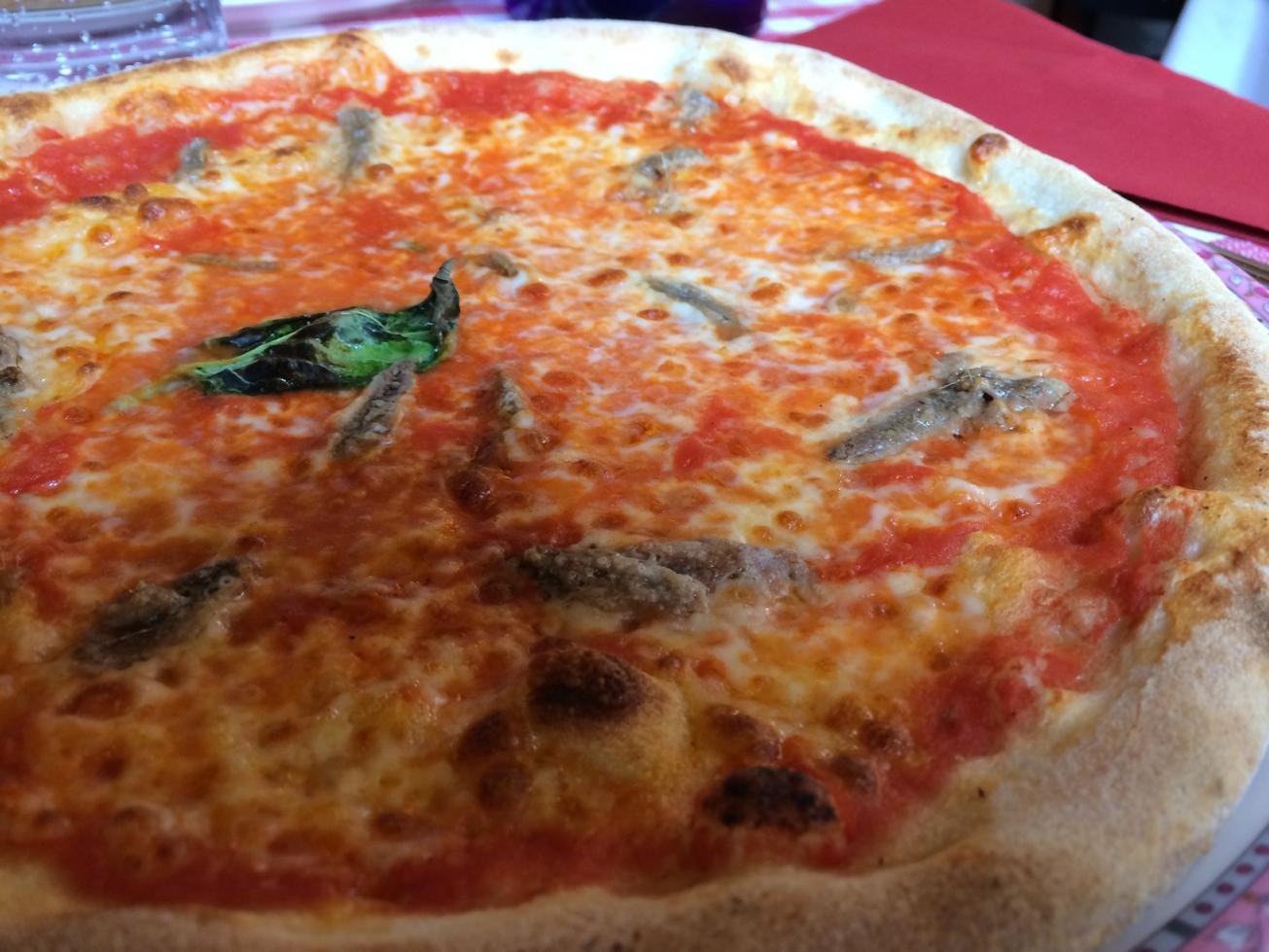 From the square we walked through the very busy streets of Rome to the Pantheon, then on to the Trevi Fountain. The Pantheon is stunning, and you can walk inside for free and admire some of the wonderful collection of the Catholic Church, and see the tomb of Raphael (and others). That a monument that is almost 2,000 years old has been preserved in such excellent condition is incredible, and this is well worth a visit! The Trevi Fountain was very crowded and it was difficult/impossible to enjoy this in the romantic fashion that you might hope for. It's certainly an impressive sight though!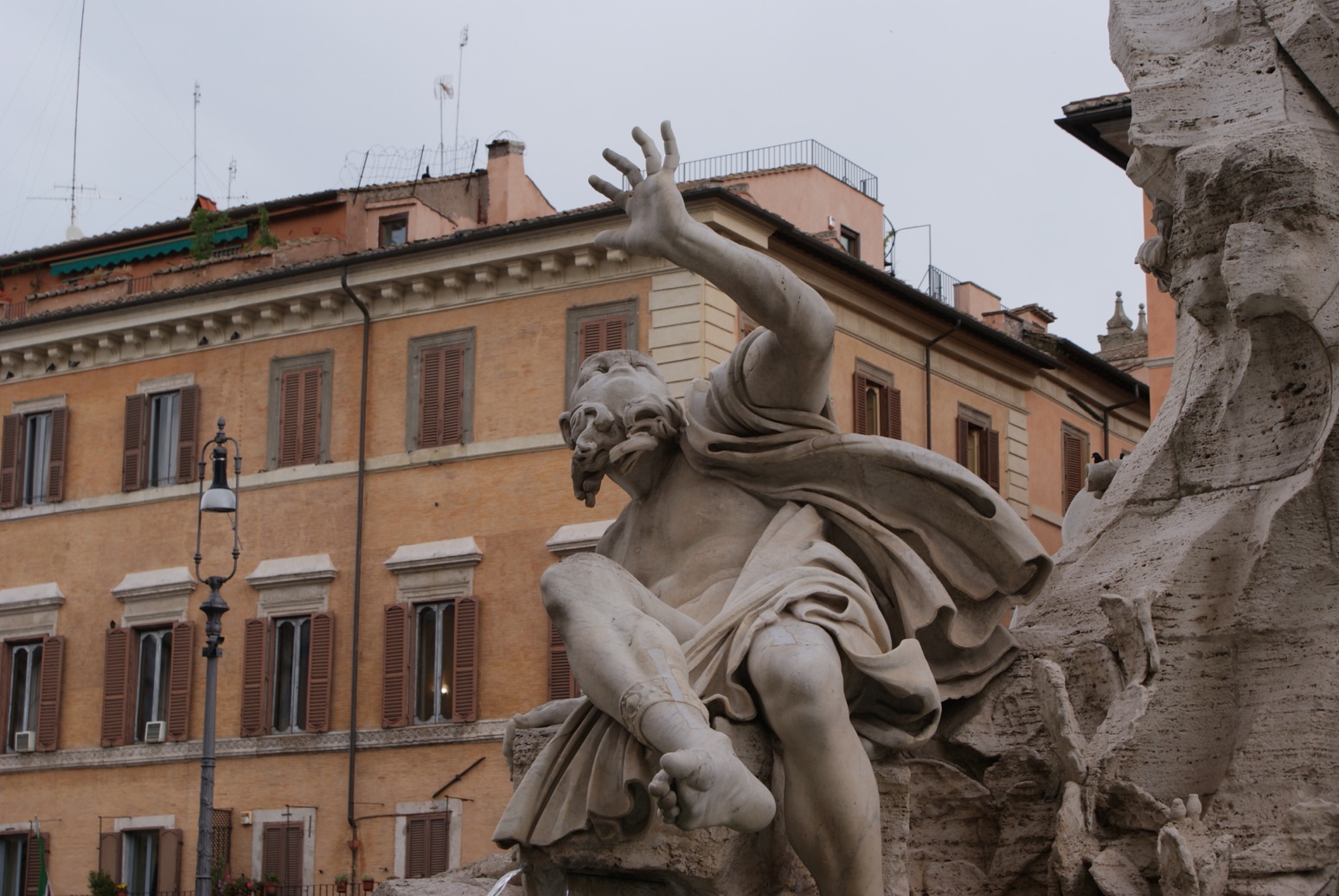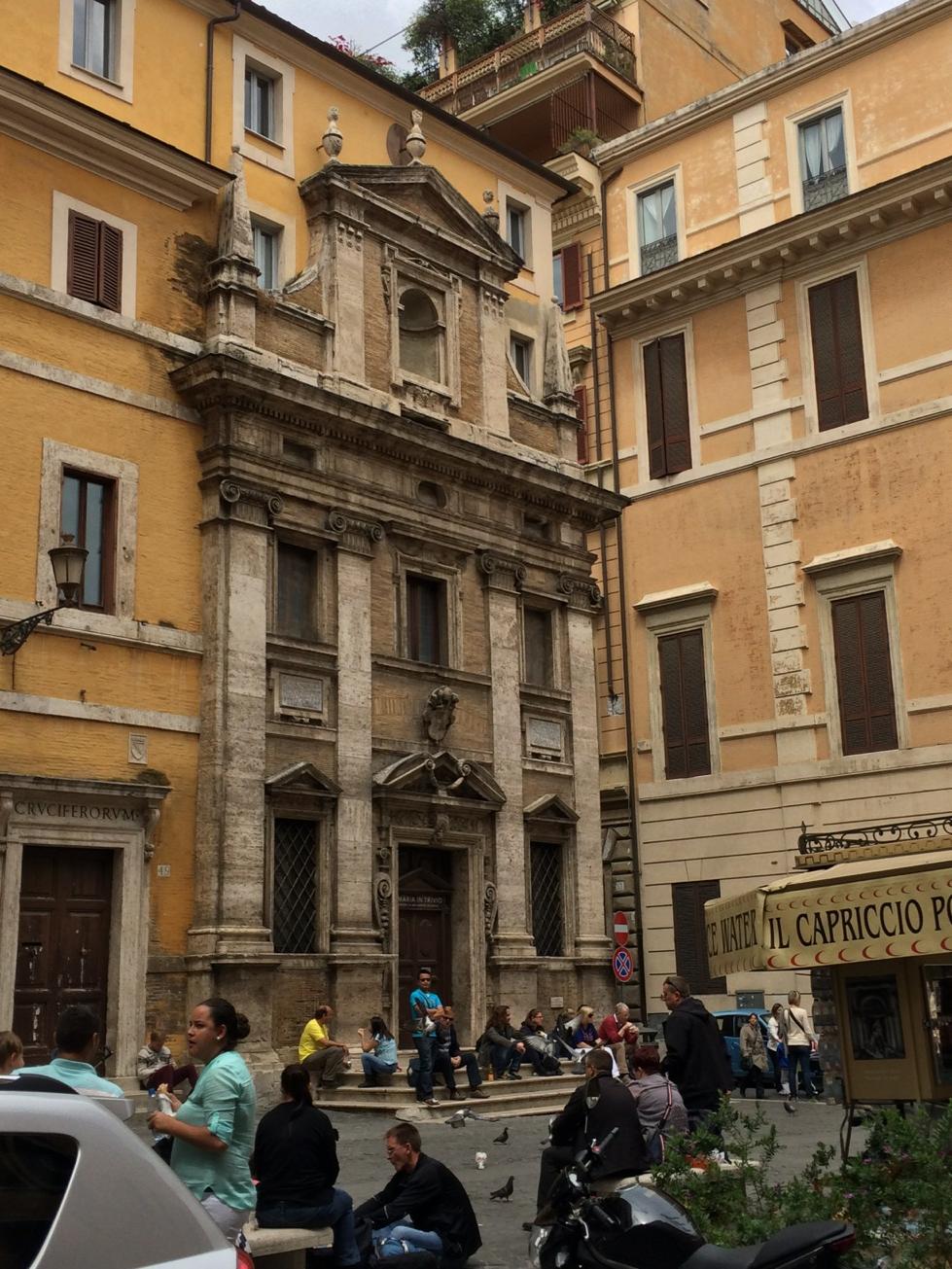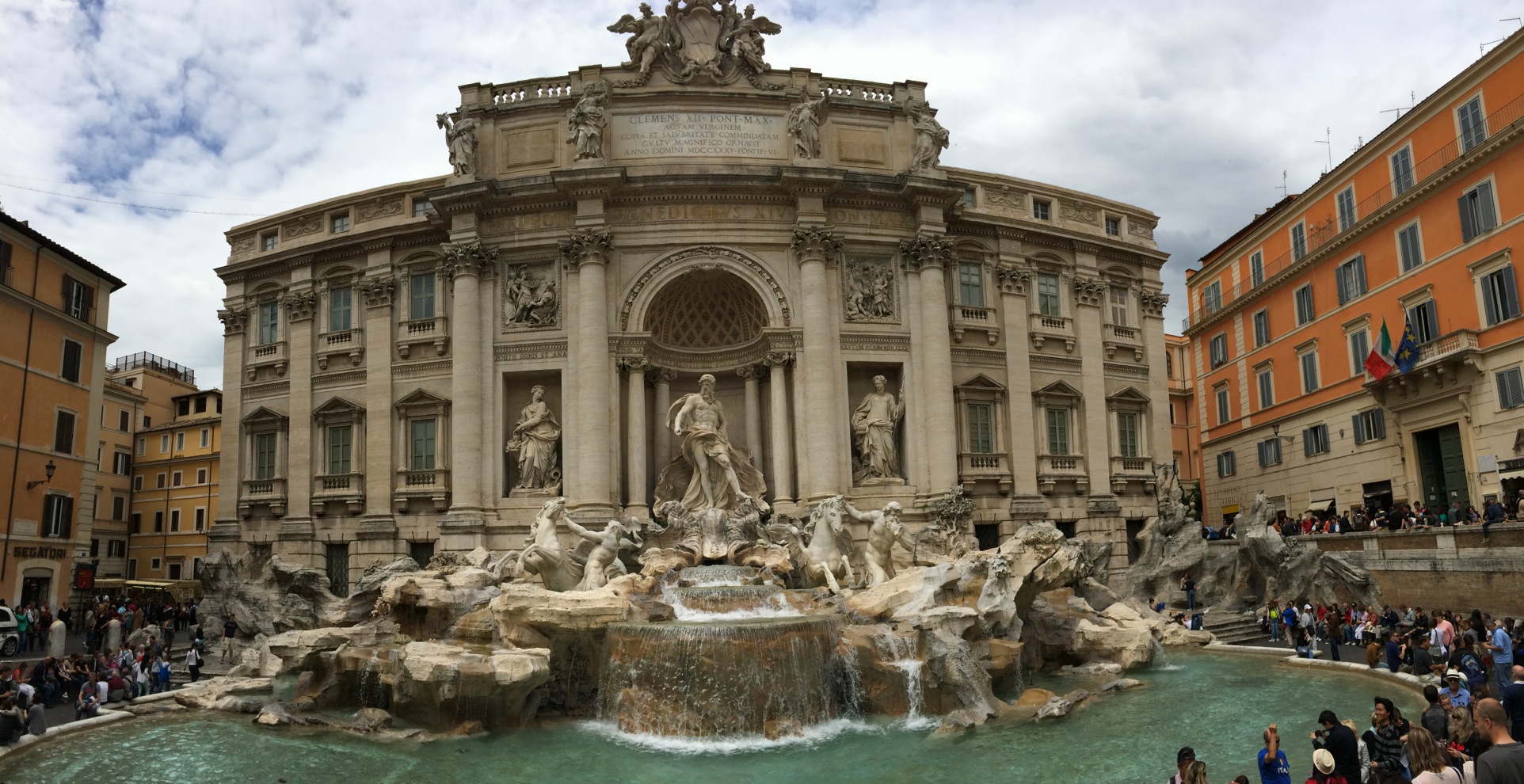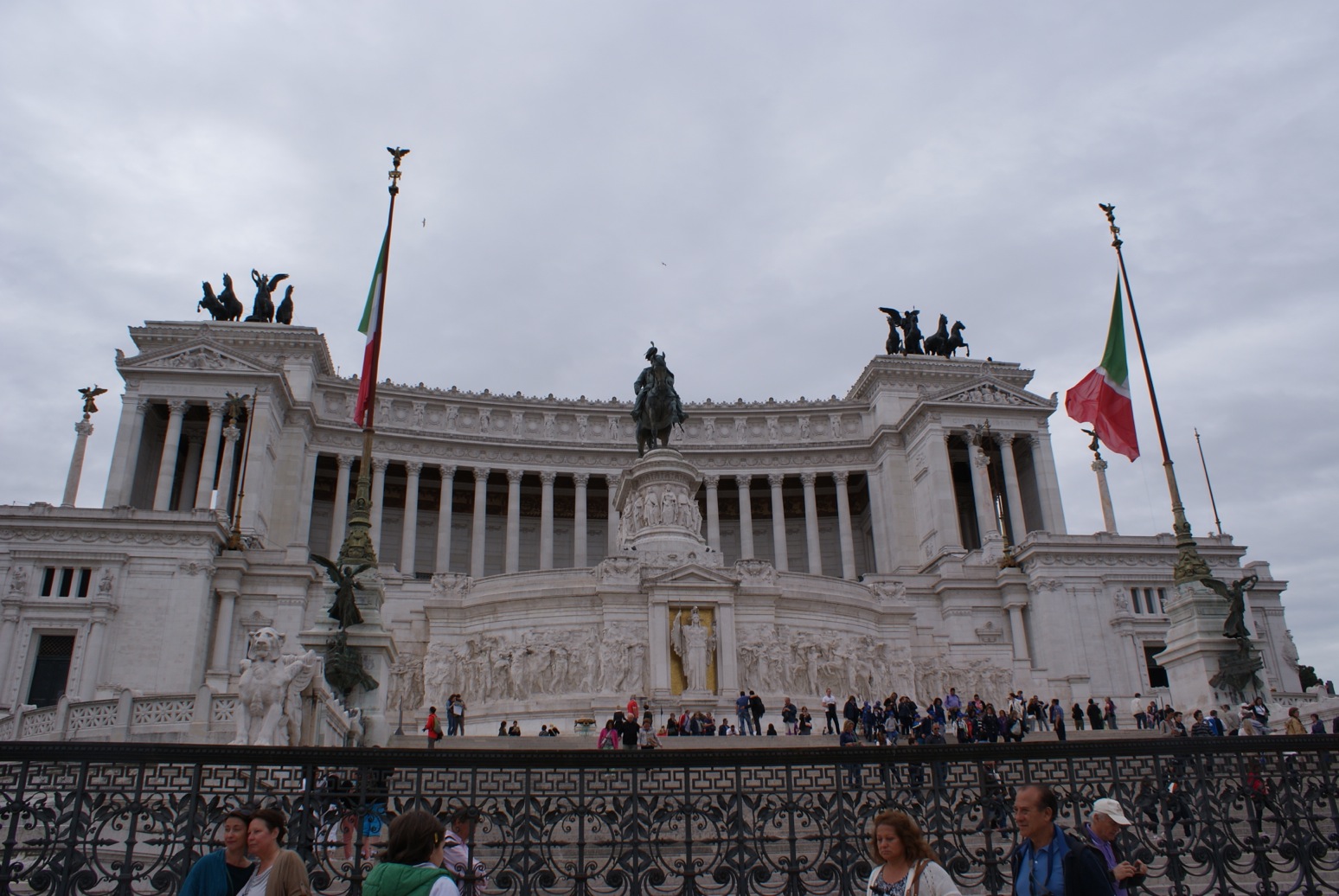 On the way back to the square we stopped for some gelato which was delicious, if rather too plentiful! I asked for two small cones, and pointed at the smallest cone on the shelf. Put it like this: I've never seen ice cream so precariously piled on top of a thin wafer cone before! At €8 for both it wasn't cheap, but was cheaper than I would have guessed. The gelato was delicious and much lighter than regular ice cream.
Back at the meeting place we were taken on foot to the bus for the long journey back to Civitavecchia.
I did adore walking around Rome. There is so much ancient architecture that you find yourself walking past a building that could easily be a focal point in many other cities, but in Rome it's just another old building! I had to stop myself taking photographs, or I would have ended up snapping pictures of every building I walked past. Being in a city with such a long history is incredible, and there are no where near as many modern buildings in central Rome than there are in other cities. It has retained a historic feel that I've never experienced before in a city, and has an opulence that takes you by surprise as you suddenly find yourself walking on marble, on just another street in Rome!
In terms of the tour, it was detailed and the guide was good. If you weren't a confident traveller it would be a great way to do it. That said, it was very rushed. We whizzed round the Colosseum and Forum, and I feel like I didn't get to take the time to explore it all and read all of the signs and information. You basically have to follow the pace set by the guide (which shouldn't come as a surprise). There were also times when she would dart through a narrow gap in pedestrian traffic which would cause a bit of a jam, leaving our group effectively in single file while she ploughed on. The radios worked well though, and largely kept everyone informed. Skipping the queues allowed us more time, but I believe you could do this on your own by booking tickets in advance.
I've heard many horror stories about getting to Rome independently, with trains getting cancelled at the last minute etc, but I wonder how much of this is exaggeration. Even the true parts have happened to a few people out of thousands of daily visitors. I wanted to 'do' Rome as I'd never been before, and the excursion seemed like the safest way to do it. In future, I think I will use the train or perhaps look at one of the other attractions nearby, like the beautiful Etruscan tombs in nearby Tarquinia.
Struck Down!
Unfortunately, as I was leaving Rome, I started to feel quite unwell. I'm back on the ship and feel very sick tonight, so have skipped dinner and will skip the show. The show is actually a guy called Davie Howes who we saw and loved last year on Eclipse. I don't imagine his act will have changed much, so I'm not too concerned about missing it. My misfortune has given me the time to write more detail about the excursion process and the room service process, which I hope is of interest to someone!
It also means that I have made the decision to stay on the ship tomorrow instead of venturing into Florence from Livorno. From what I read it's a multi-stage, long journey on your own by train, and I don't fancy another 3 hours on a Celebrity bus! I don't know if there's anything in Livorno itself, but if I feel up to it I might head out and explore a bit closer to the ship!
As always, questions in the comments and I'll see what I can do.