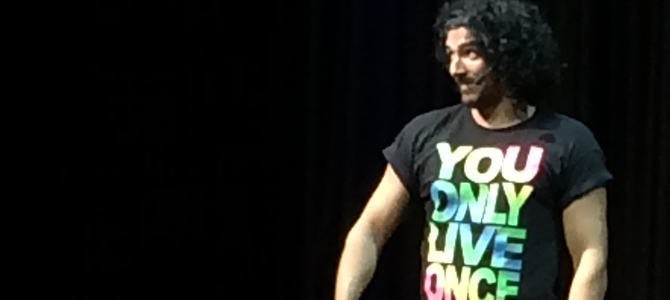 </a>
Today was another sea day which allowed further relaxation to aid my recovery. I attended another Gid Pool talk on stand-up comedy, had a delicious tea in Café al Bacío, and saw some ventriloquy in the theatre. I also have news about a famous visitor for tomorrow's show…
Lazy Days
As the cruise goes on, and especially on sea days, I find less to write about as we're doing many of the same things that we enjoy. Nonetheless it is a holiday and after four very busy port days much of the ship was in a real downtime mode enjoying a book or some sun after quite an exhausting few days.
We started the day very late in Café al Baccío after spending much of the morning lazing around, listening to music in our cabin and reading. Alex and I often play a name-that-tune sort of game with each other which is a nice way to relax, and made good use of our new previously mentioned speaker. I started with an Espresso Melba, an espresso based beverage with peach, chocolate and whipped cream. It was sickly sweet and a bit much for me, so I switched to a nice pot of African Solstice tea, which smelled fantastic and tasted lovely. Along with this we had some cakes which were… not the best. I had a slice of Brioche Cake which was a bit too cold and so quite dry. Go early for the delicious, fresh pastries!
Yes… we were so late they were on to serving cakes. We listened to a lot of music, OK!?
After our healthy (ahem) brunch we meandered over to Celebrity Central where Gid Pool was doing another talk called Inside the World of Stand-up Comedy, which was really good but very poorly attended. He offered great insight into the life of a stand-up and there were far fewer references that only people in the US understood. He showcased a bit of his own comedy which was great, and shows how he analyses performances based on duration of laughs per 60 seconds of performance. He even has software to analyse this! It was all very interesting.
Immediately after the talk, there was an iLearn Class entitled Switching from PC to Mac. Now this was of some interest to us as we are Mac users and general tech enthusiasts, and our business is technology. In my retail days I used to help people with that same transition, so I was somewhat tempted to stay for the talk and see how the issue was covered. We didn't in the end, but had a chat with one of our new ship-friends who did stay for it, and said it was a complete waste of time. The majority of the talk covered pricing of the devices and only a very short few minutes at the end covered some of the files you can move across. My recommendation if you are thinking about the switch, based on this feedback, is to skip the talk and head to your local Apple Store where, believe it or not, you'll have a much more informed and less sales-oriented experience, as well as an hour on the ship that you would otherwise have wasted!
Mast Grill
We decided to get a lunch in the Mast Grill again, where I went for a hot-dog instead of the burger. It was pretty tasty, though that area could use more seating as it gets very busy at lunch time. I guess they expect most people using that venue to take the food back to their lounger, but we were heading to the Hot Glass Show and didn't have one. Thankfully there were a few spare ones in the shade that we used to eat before heading to the show.
I really like the Mast Grill actually. Their menu isn't exactly expansive (hot dogs or burgers, though today they also had fish and chips for some reason) but the quality is good and it's nice to sit out in the sun with a freshly made burger. Not the gourmet food some want on a cruise, but the dirty burger can be a nice respite from the fancy food and presentation.
After lunch we did pay a second visit to the hot glass show. I spoke about this in a previous entry, but it was good once again with some different techniques being demonstrated. Interestingly the auction that is held is a little different this year in that they're selling 7 items rather than 3. This might mean lower prices for those who attend. I'll be there, though with no particular plan to acquire another piece. You never know, though…
We spent the rest of the afternoon/evening having a swim and relaxing by the pool and in the hot-tub. I say relaxing… the wind was blowing and we ended up in the outside pool to avoid the shrieking ladies in the Solarium who were disturbing the peace and just asking for an ASBO! It was very, very cold, so the journey from the pool to the hot-tub was pretty daunting and the thought of getting out of the hot-tub was terrifying. That said, I did manage it. After my previous marathon hot-tub session where I lost track of all time chatting to a lovely Canadian chap, I developed a nasty rash on my forearms. I've heard hot-tubs are pretty disease-ridden places, but had never seen the effects of this before! Needless to say I didn't fancy repeating the experience…
Concierge Class Canapés
On this cruise we've had the most engaging, attentive, and friendly room steward so far on a cruise. He always has a chat with us when we're passing and seems like a really nice guy who genuinely cares about his guests. We've had a couple of instances of towel animals (which I have forgotten to take photos of… this entry is very light on the photos somehow!) and today he asked us if we'd like some canapés as we were leaving earlier in the day. We had previously ordered them the day before just for fun, and they turned out to be rather nice, so we said yes please.
This service is available to Concierge Class guests (and, I assume, above) only, and I have rarely seen much information on the service or what's included. General consensus seems that it's not worth bothering about, with the quality being quite poor. You're supposed to fill out a little slip of paper indicating your name, how many people they're for, and your preferred delivery time (16:00 – 16:30, 16:30 – 17:00, or 17:00 to 17:30) and leave this in your stateroom by 11am. You have to be present to receive the canapés (though we weren't today, and he just left them in – what a nice guy!)
The photo I saw previously was of little discs of bread with various toppings, but what we got was completely different. We got a platter with four sections. Each time one of the sections has had some fresh pitta-style chips (which are delicious) and some mixed olives. The other two squares have had a fresh tomato salsa, mozzarella salad, or houmous dip. I don't know what else! All tasty and fresh. Maybe they've responded to feedback by improving this service. I have heard of people requesting (and receiving) a shrimp cocktail or cheese board instead but this seems a bit much for a pre-dinner snack.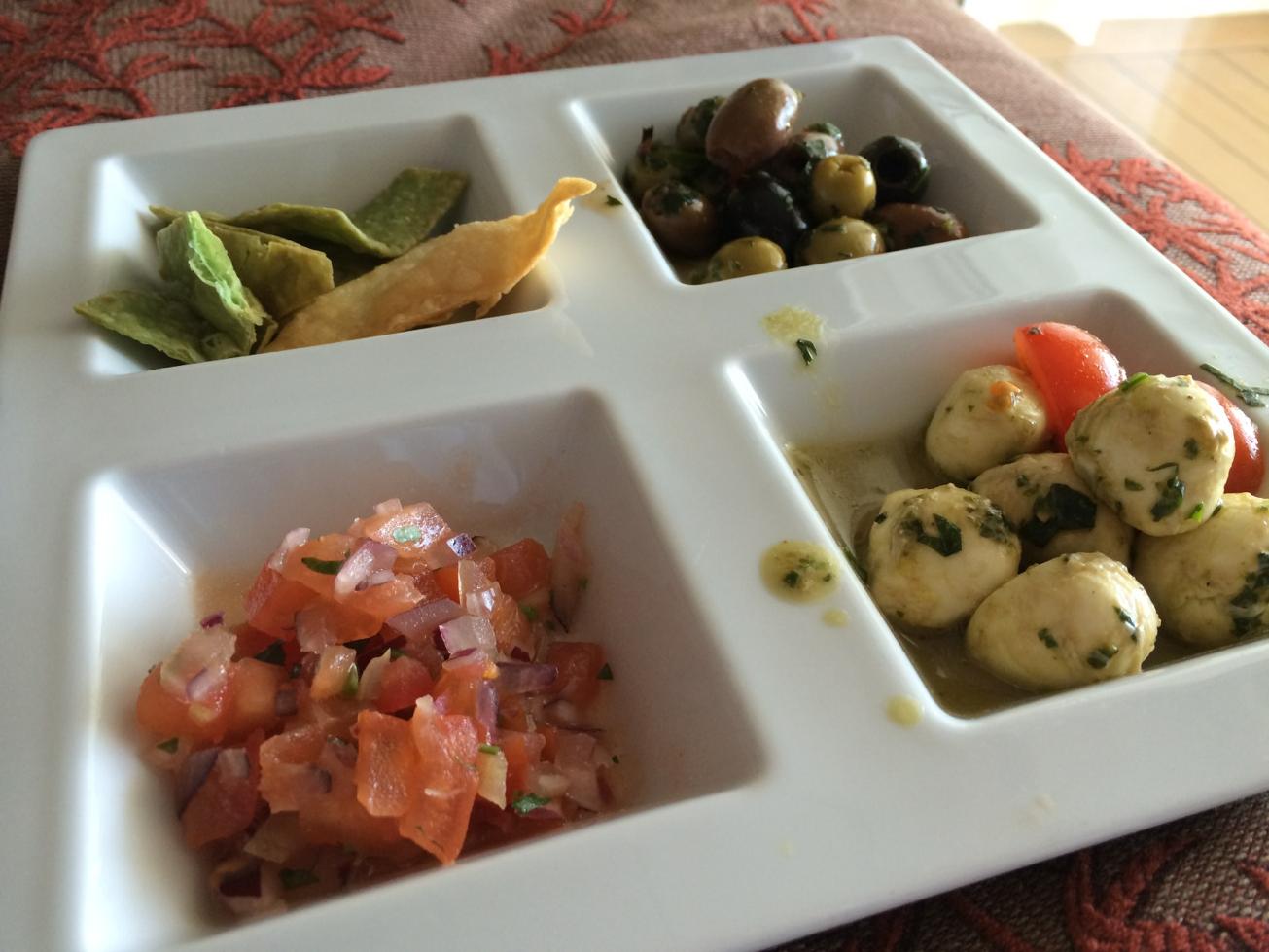 </a>
The only thing I think is missing here is an expansion of the available times. If you're dining at 20:30 as we are, these are less of a pre-dinner canapé and more of an afternoon diversion! I will do a full post when I get back detailing the concierge class benefits in full (as best as I can remember them!)
Dinner in the MDR
Another dinner in the MDR. Tonight I had seafood crêpe, clam chowder, pork schnitzel, then a secret not-on-the-menu chocolate soufflé. Alex went for venison carpaccio, caesar salad, chicken kiev, then a chocolate eclair with cheesecake filling. Food and service were up the the usual standard, with the exception of my pork schnitzel which was a little dry. Naturally leaving the food on my plate caused the wait staff to declare a gastro-emergency and they quickly offered to bring me something (ANYTHING) else, which I declined. They're always so keen to make sure you've had a great meal, and are very concerned if you don't eat it all. I imagine this could be annoying if you just had a small appetite!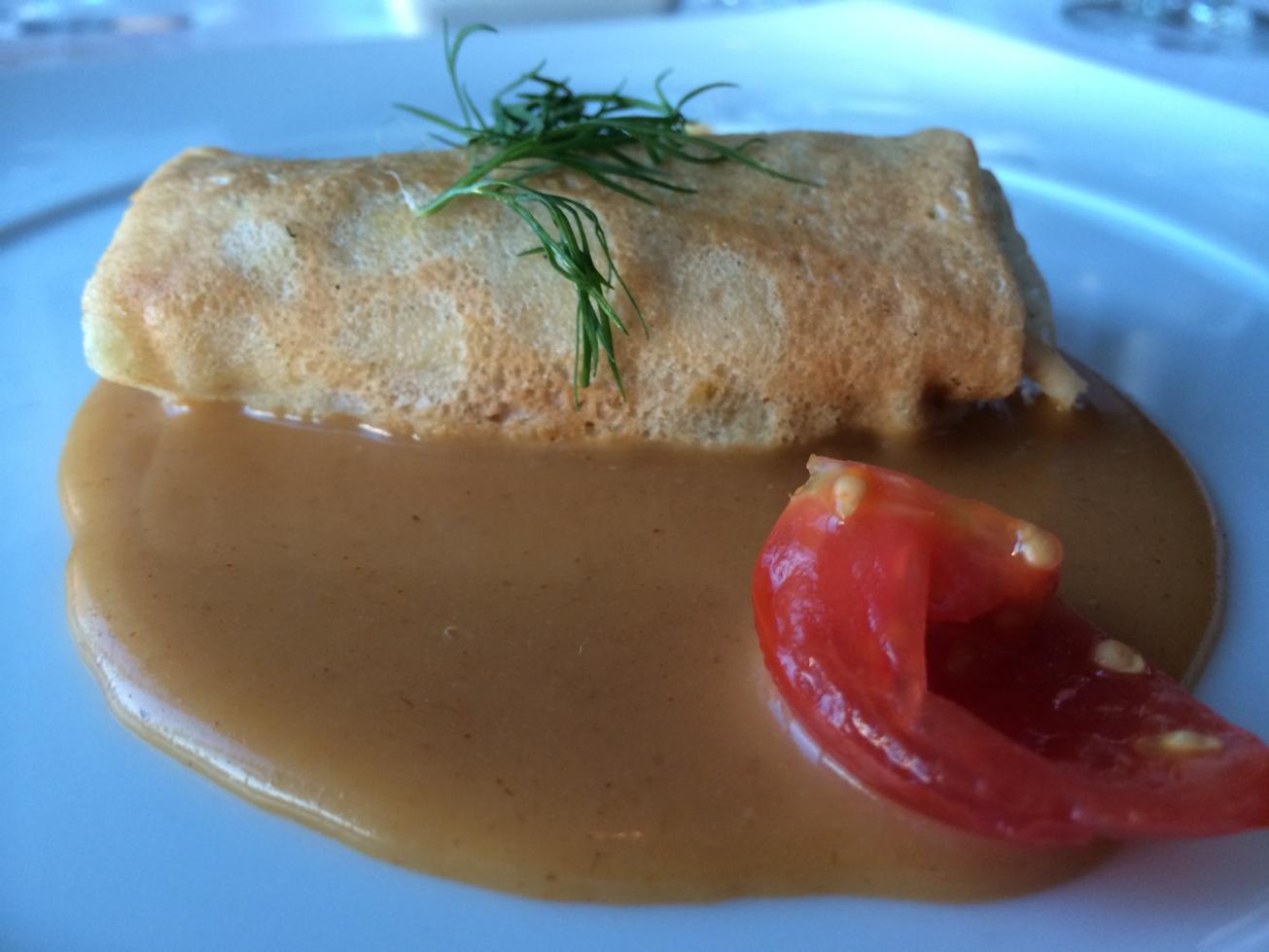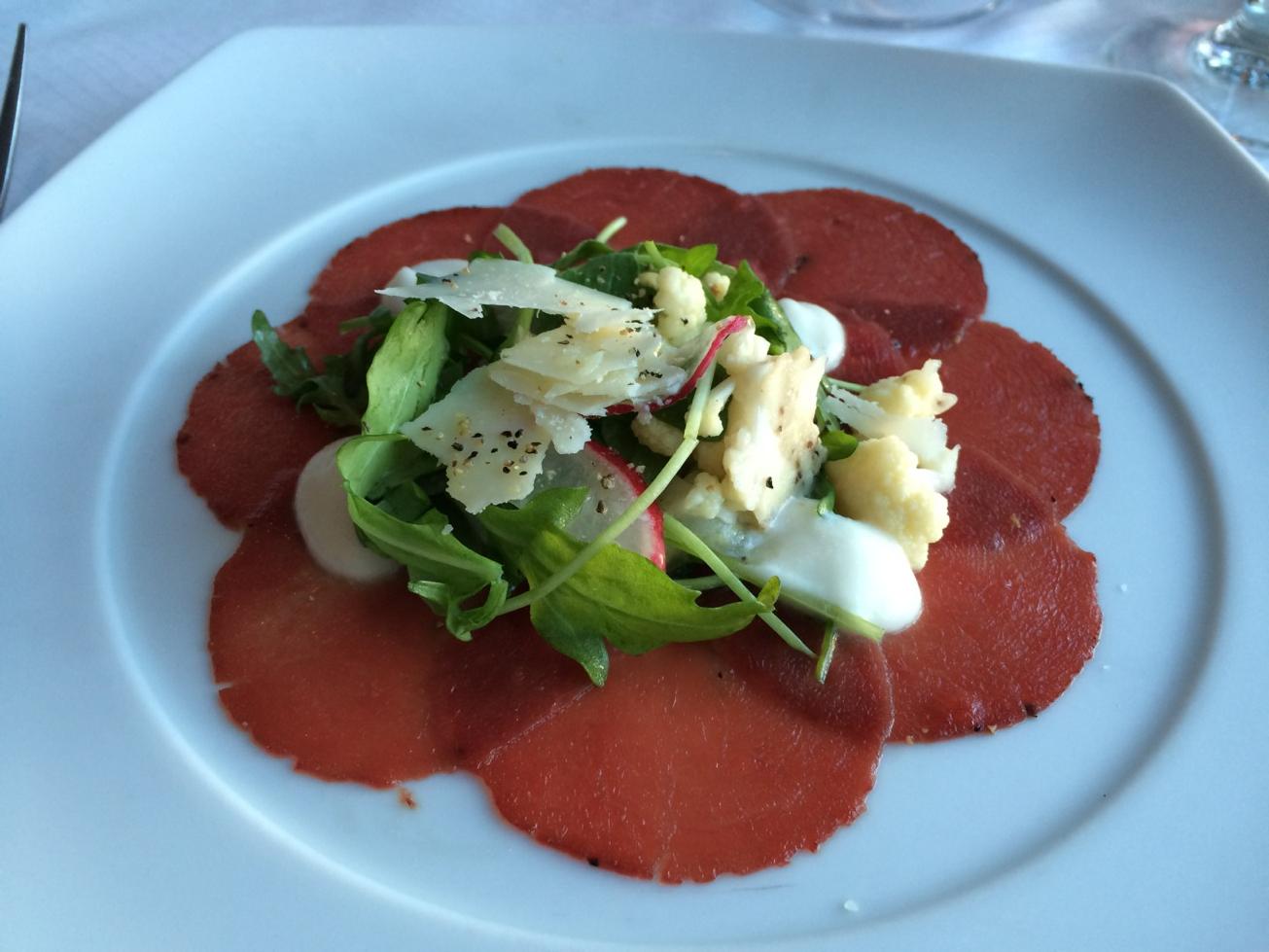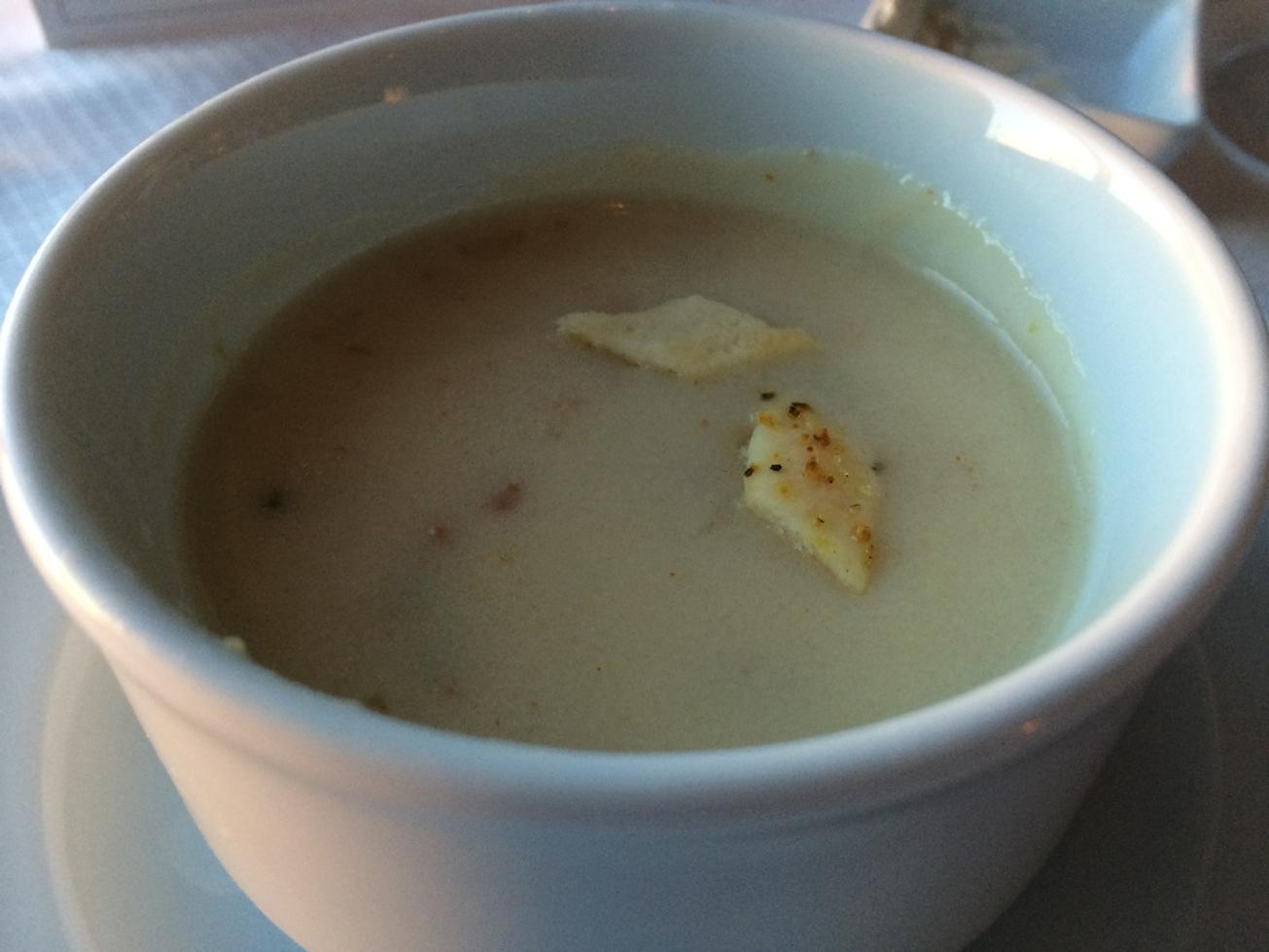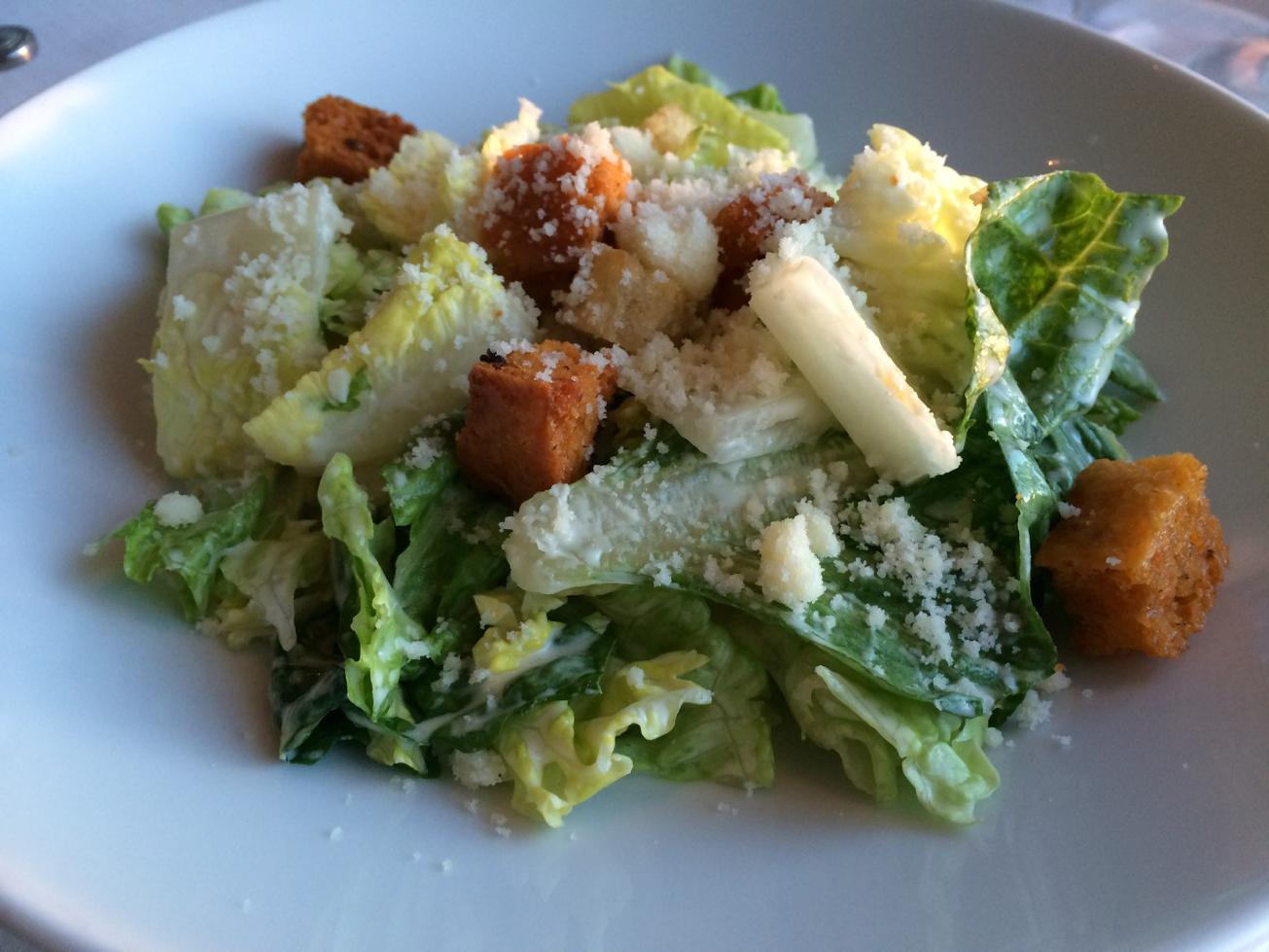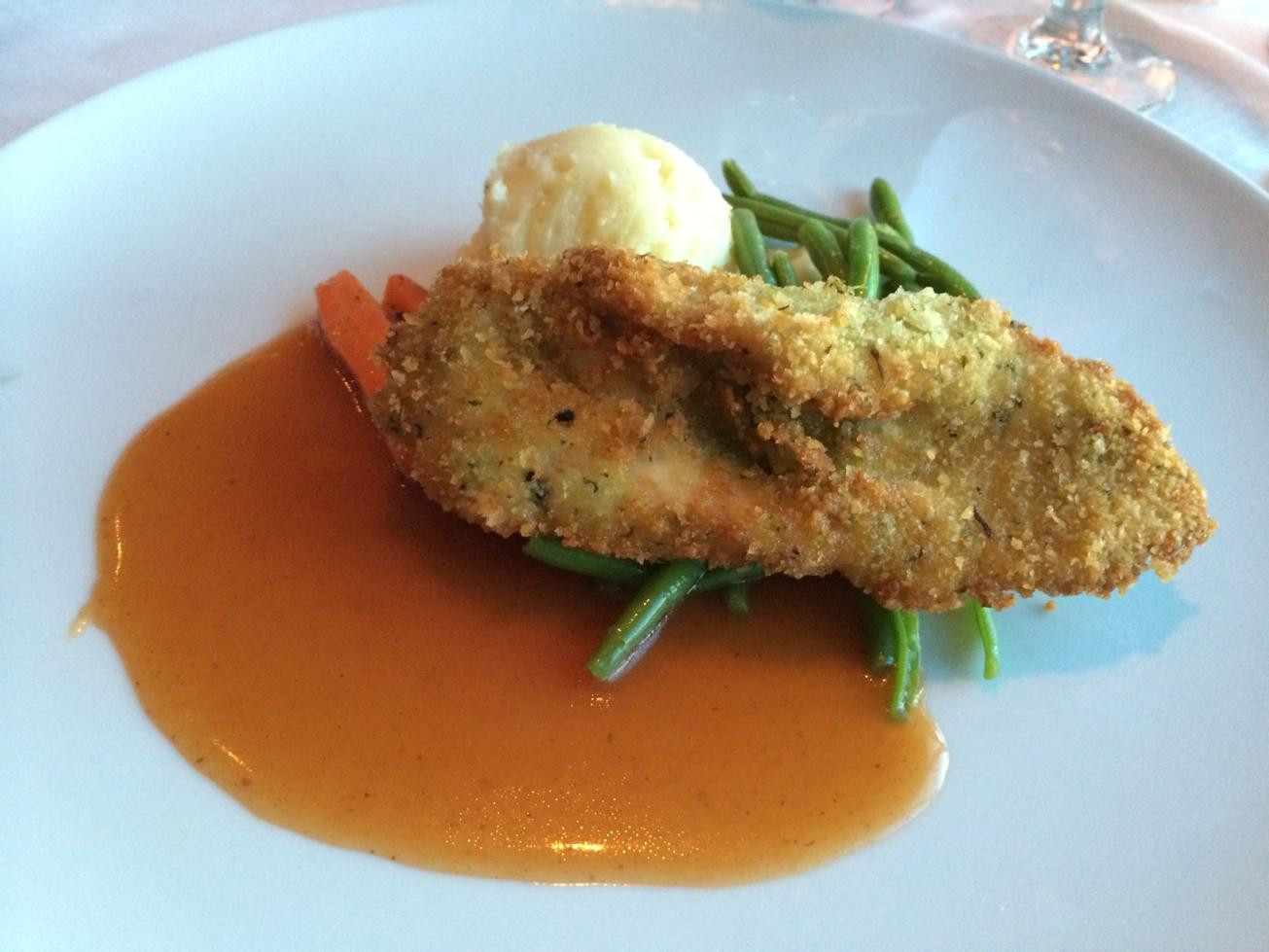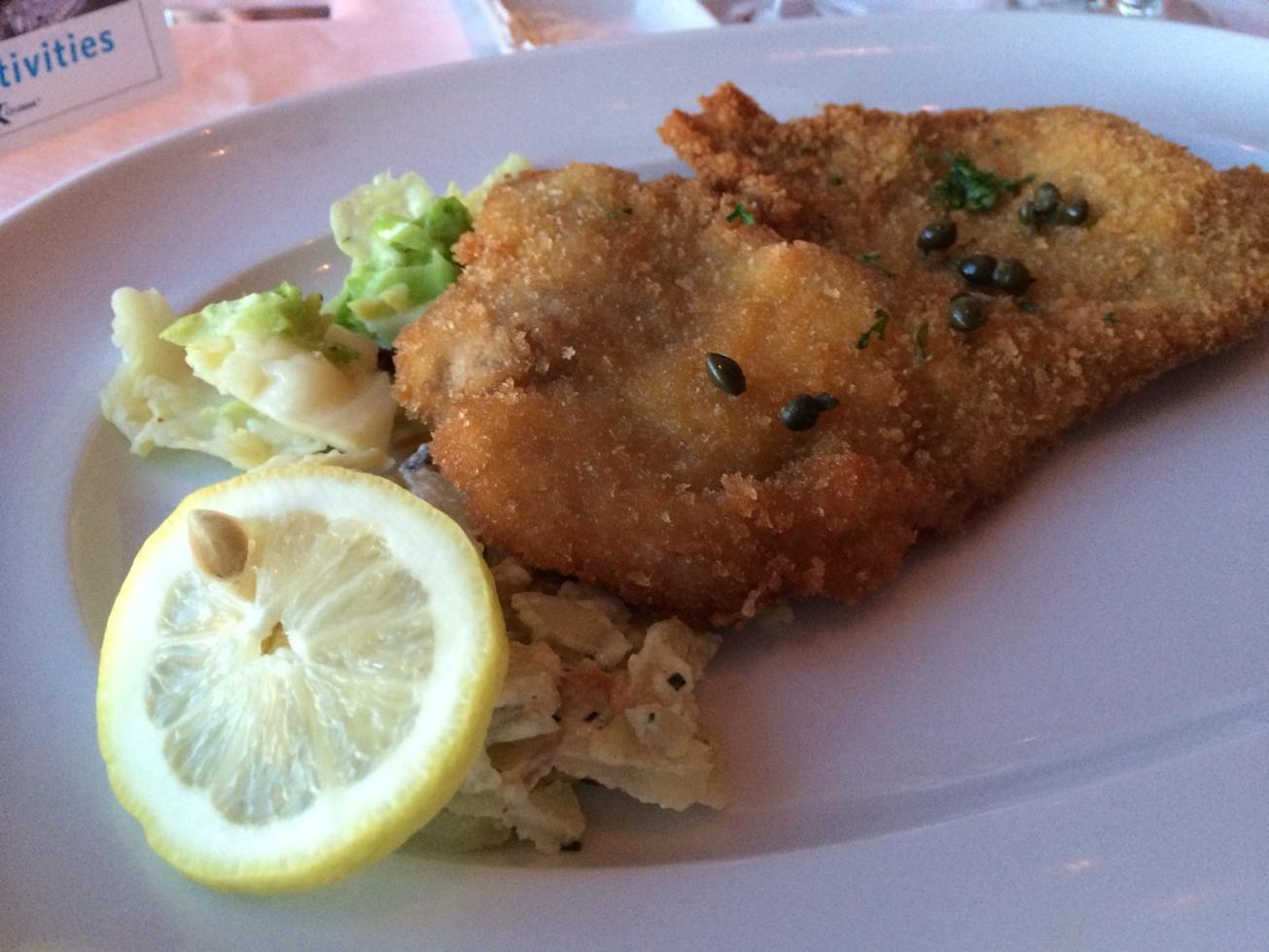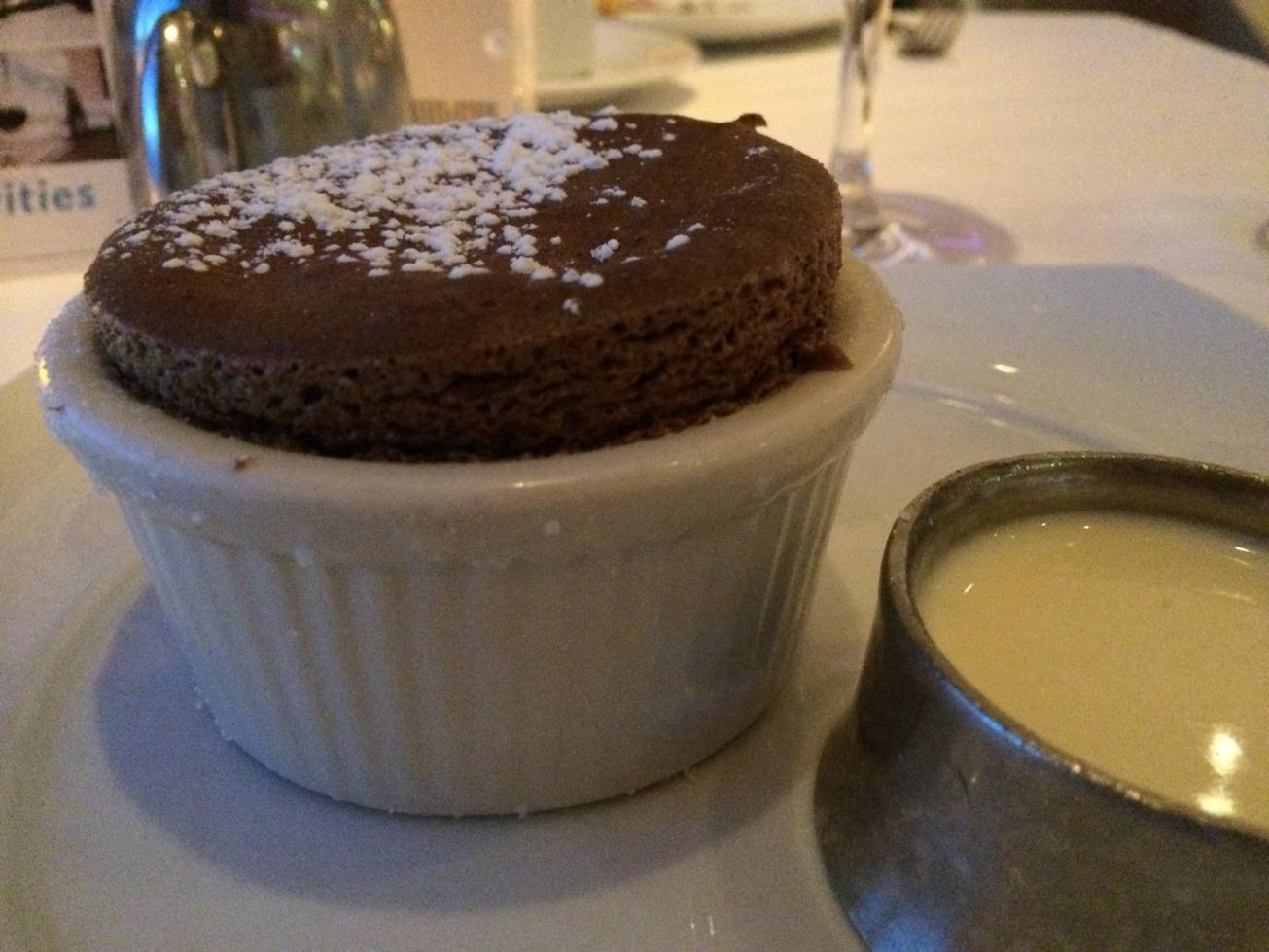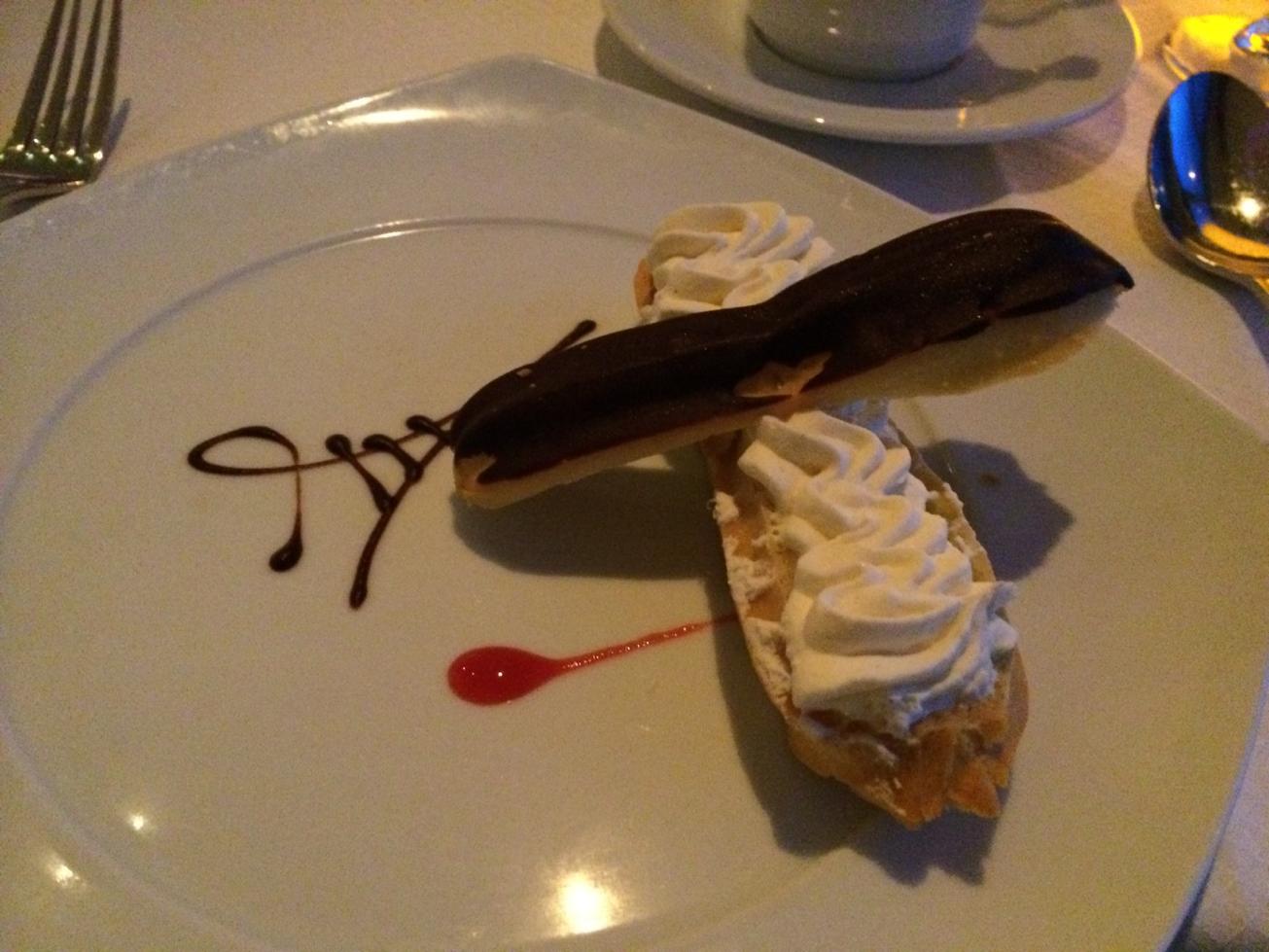 On the way out of the MDR we caught the end of a 60's party in the main foyer. They had dancers all over the place and fabulous retro music. They even had a pair of dancers in one of the lifts! Very fun, and was attracting quite a crowd as Eclipse's main foyer basically spans the full height of the ship, so the act could be seen and heard easily from decks 3 to deck 7! After the pros were done, the music continued and plenty of guests got involved! It really was a great use of the space.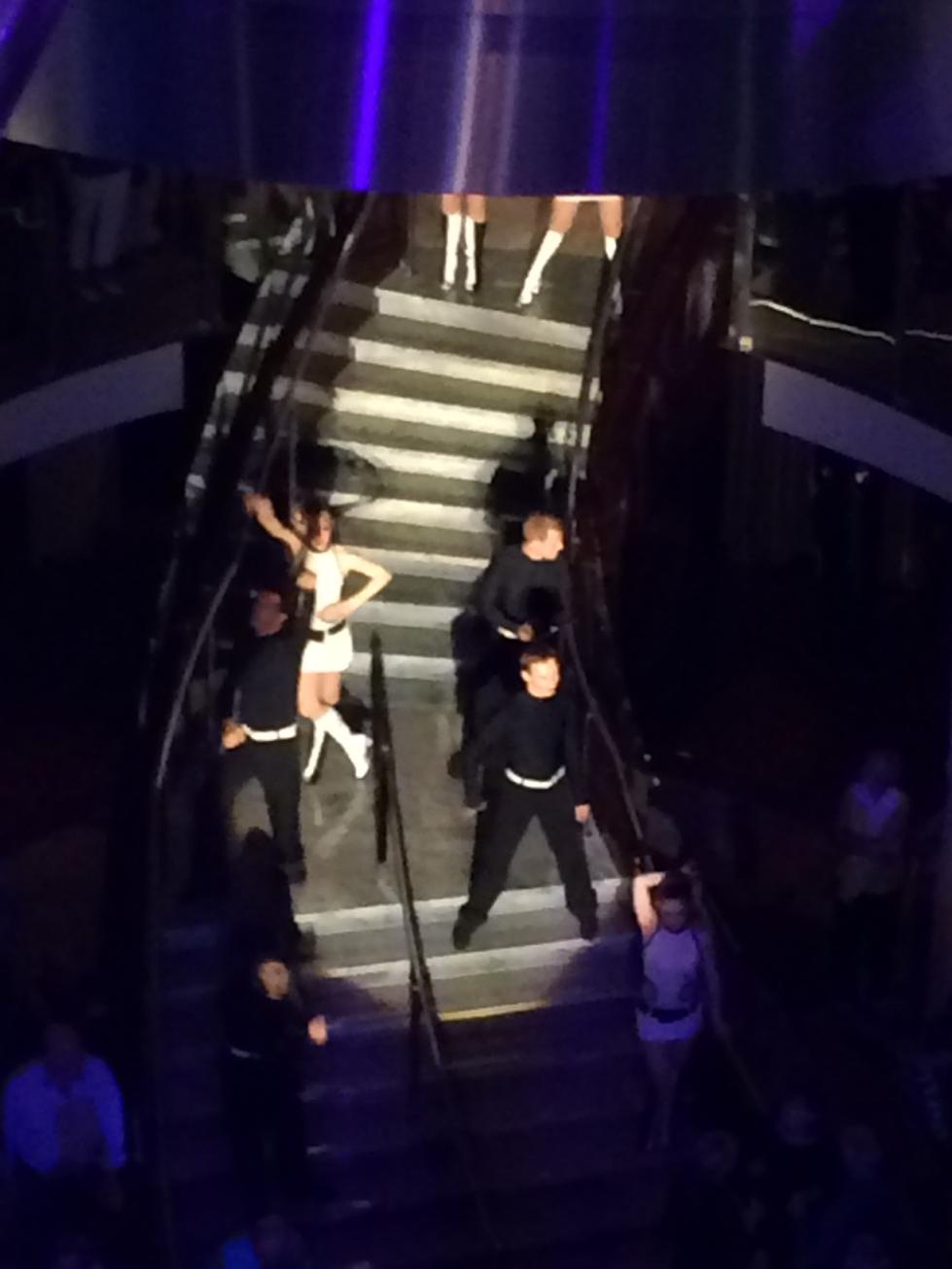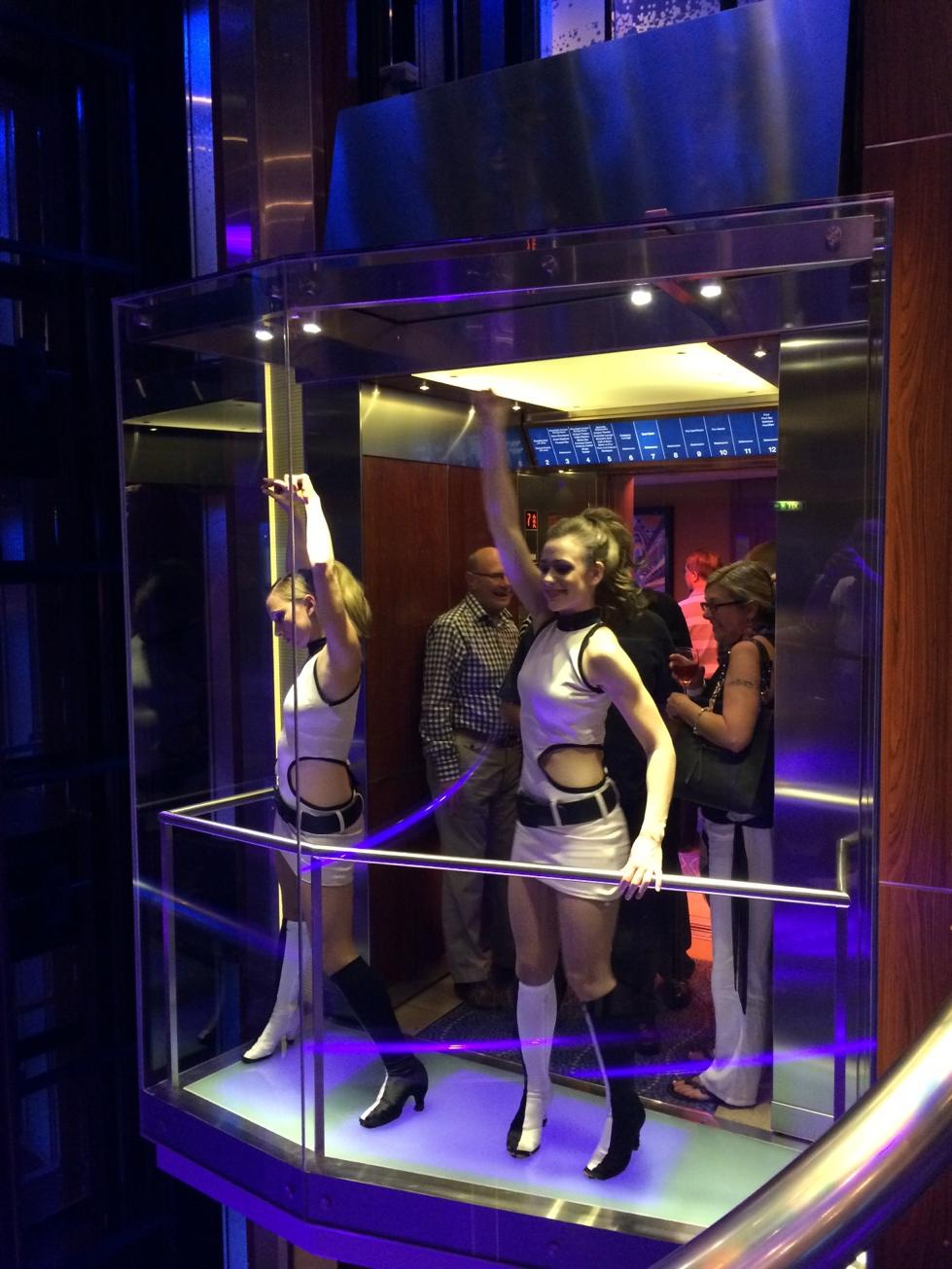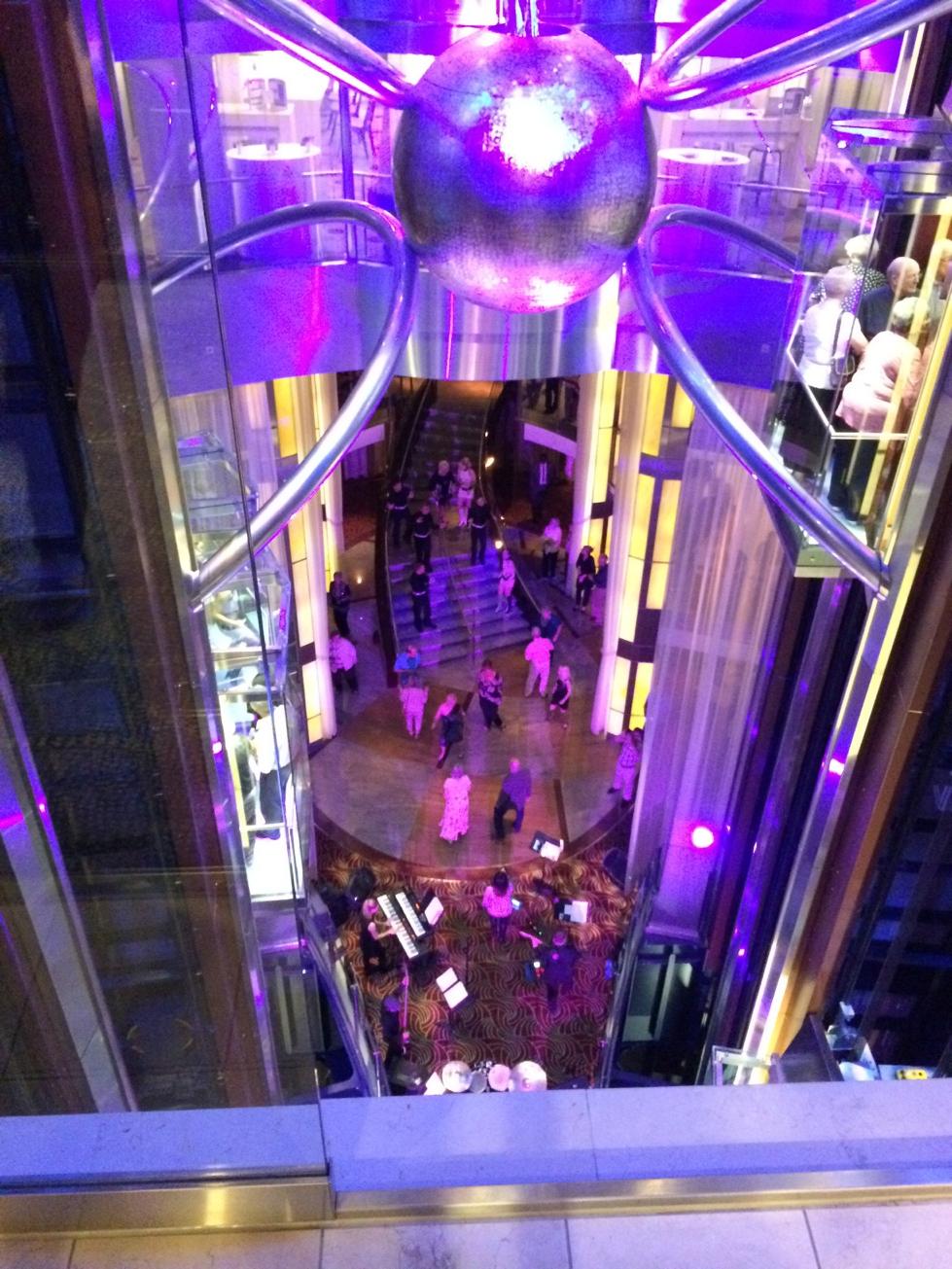 Gareth Oliver
Tonight's show is from a ventriloquist called Gareth Oliver. I was nervously excited, as I always think a good ventriloquist can be brilliant, while a poor ventriloquist is just painful to watch! Thankfully Gareth (who, it turns out, was on Britain's Got Talent the same year as Susan Boyle) was absolutely outstanding.
He had a bit of a twist to the typical ventriloquy act in that he does a double act with his wife who is also a ventriloquist where they talk for each other. They also sing together, for each other. Very impressive! He then does a more traditional dummy act which was excellent. Finally he gets a willing audience member to wear a face mouth and do hand and arm gestures while he talks for them. Very, very funny, and the guy we had (22:30 showing) was a great sport!
He's one of the only acts I've ever seen on a cruise ship's main stage (Ric Steel from Infinity the other one) who I'd happily pay to go and see in a theatre on land. Hilarious from start to finish. Full of energy. Must see. Alex and I were struggling to breath at times we were laughing so hard, so if that's likely to cause you to keel over then perhaps give it a miss, but everyone else – DO NOT MISS!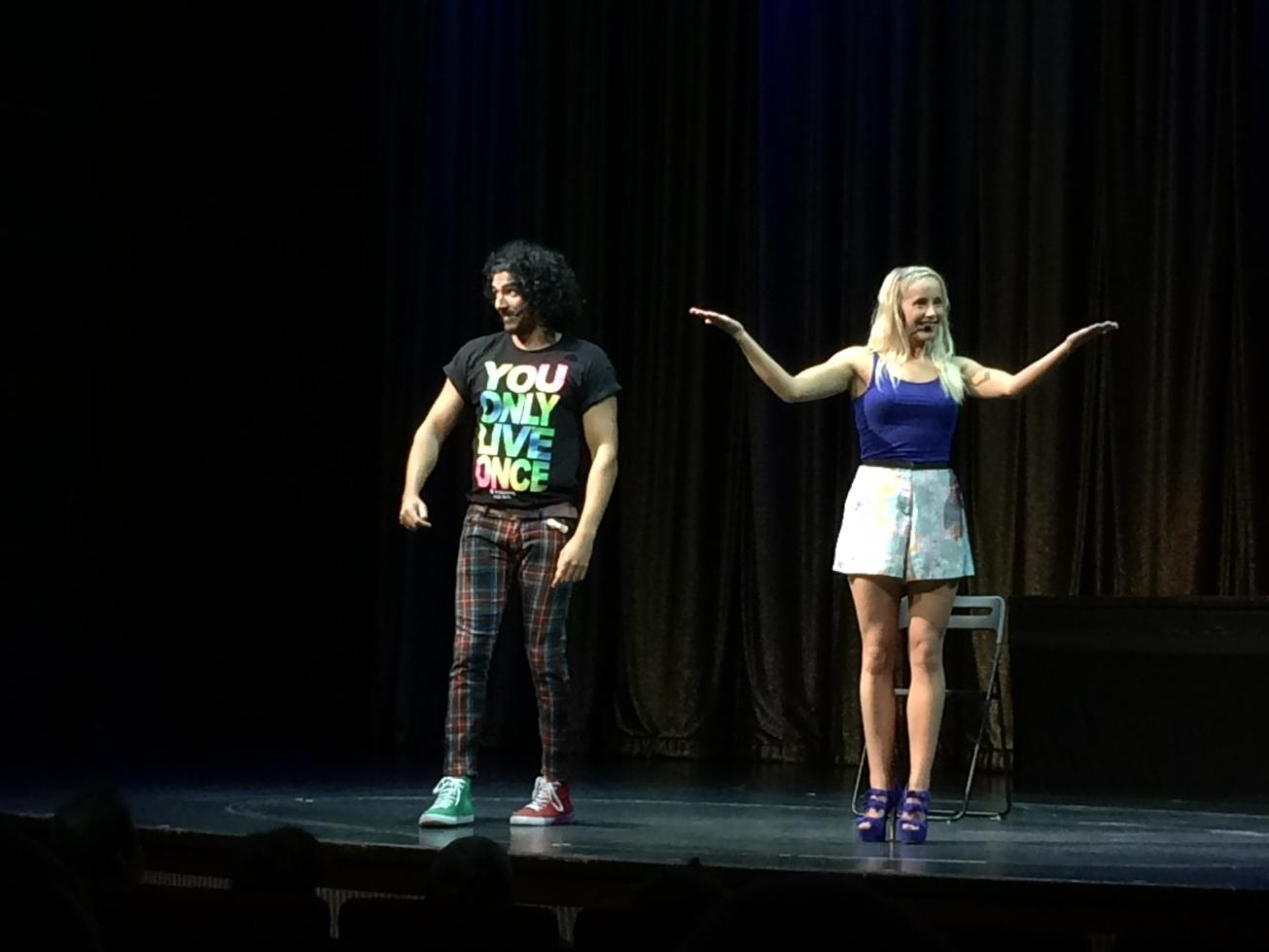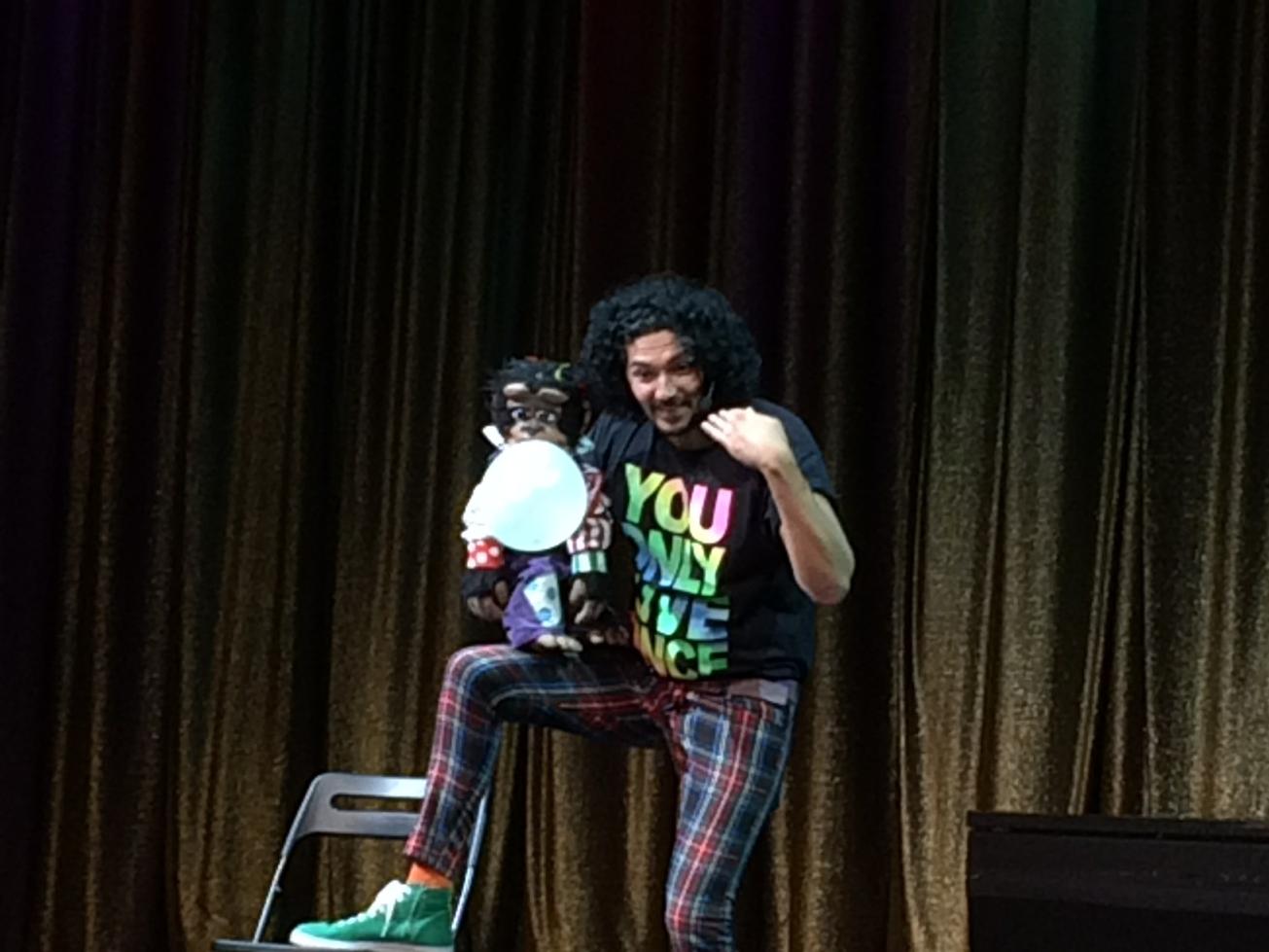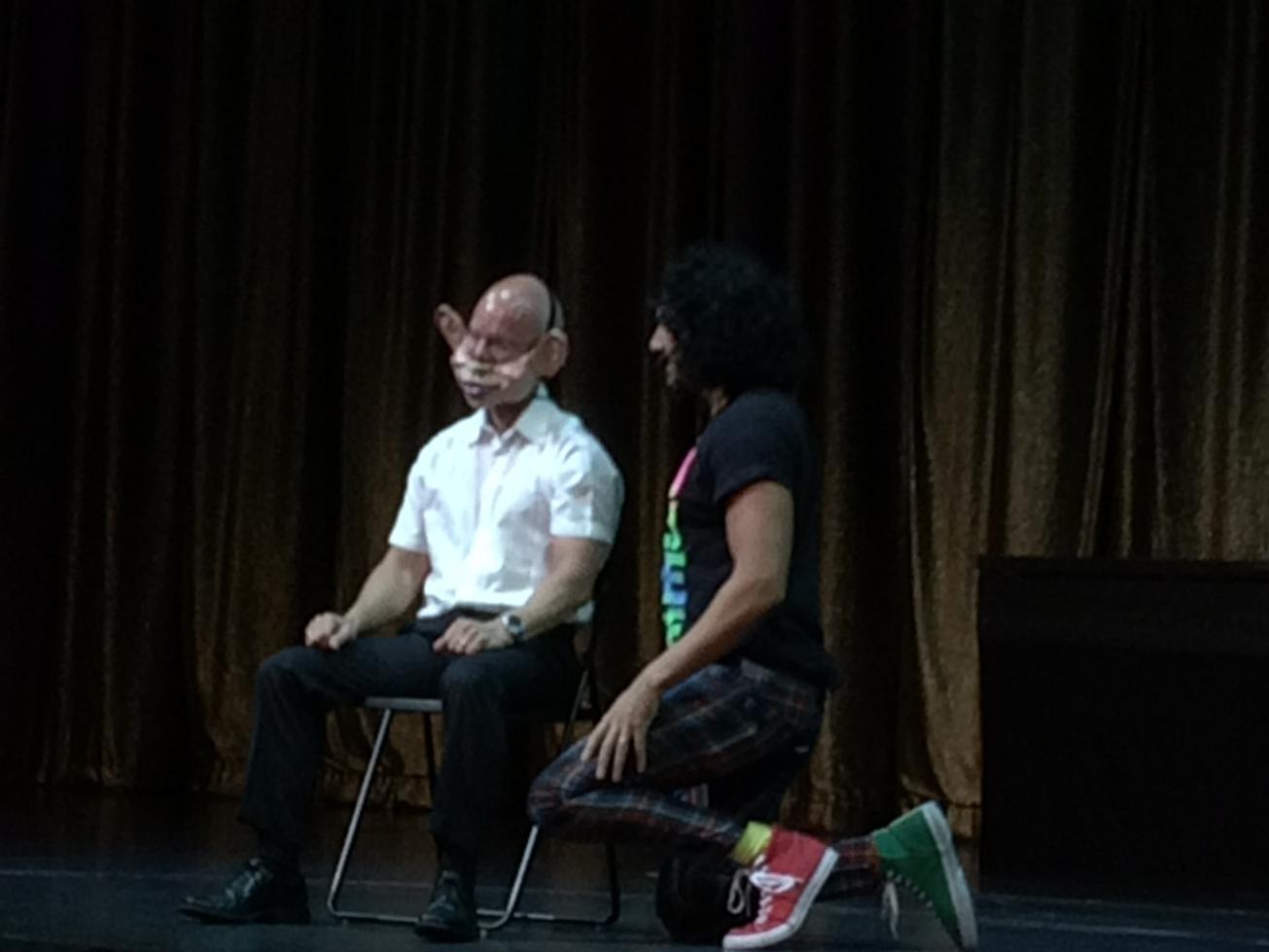 After Gareth's performance was over, Alex and I popped next door to Celebrity Central to see the wonderful stand-up Steve Womack again. His material was all fresh, and people were standing to watch his hour long show. Thankfully we were able to take advantage of a British aversion to the front row and managed to get prime-position seats! I don't know how my sides have coped with all of the laughter tonight!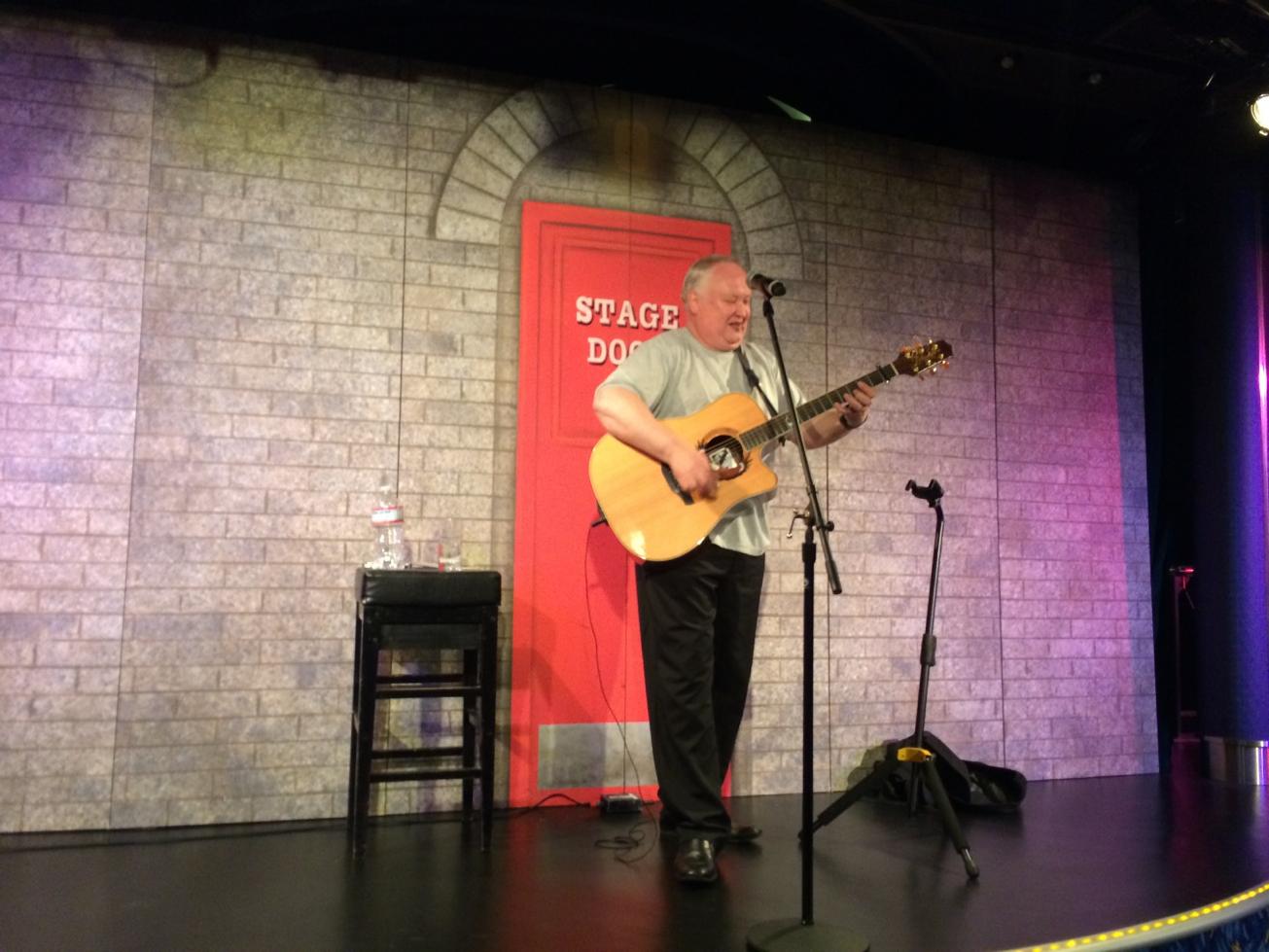 </a>
Sweet Dreams
I'm going to mention this as I'll forget otherwise. I'm sure all cruise lines do this, but you get a little chocolate on your pillow when the attendant turns down the room in the evening. Well we never actually eat then, as it's the last thing I want to do before bed. We take them home and pop them in the glass candy bowl we won in last years Hot Glass Show auction. Anyway, they've changed since our last cruise.
They used to have multiple types of chocolate in a rectangle shape with different flavours that were subtle but fairly pleasant. They've replaced these with a much nicer little square of belgian chocolate (I had one, just to tell you about it. You're welcome.) Here's a semi-creative photo of the new design: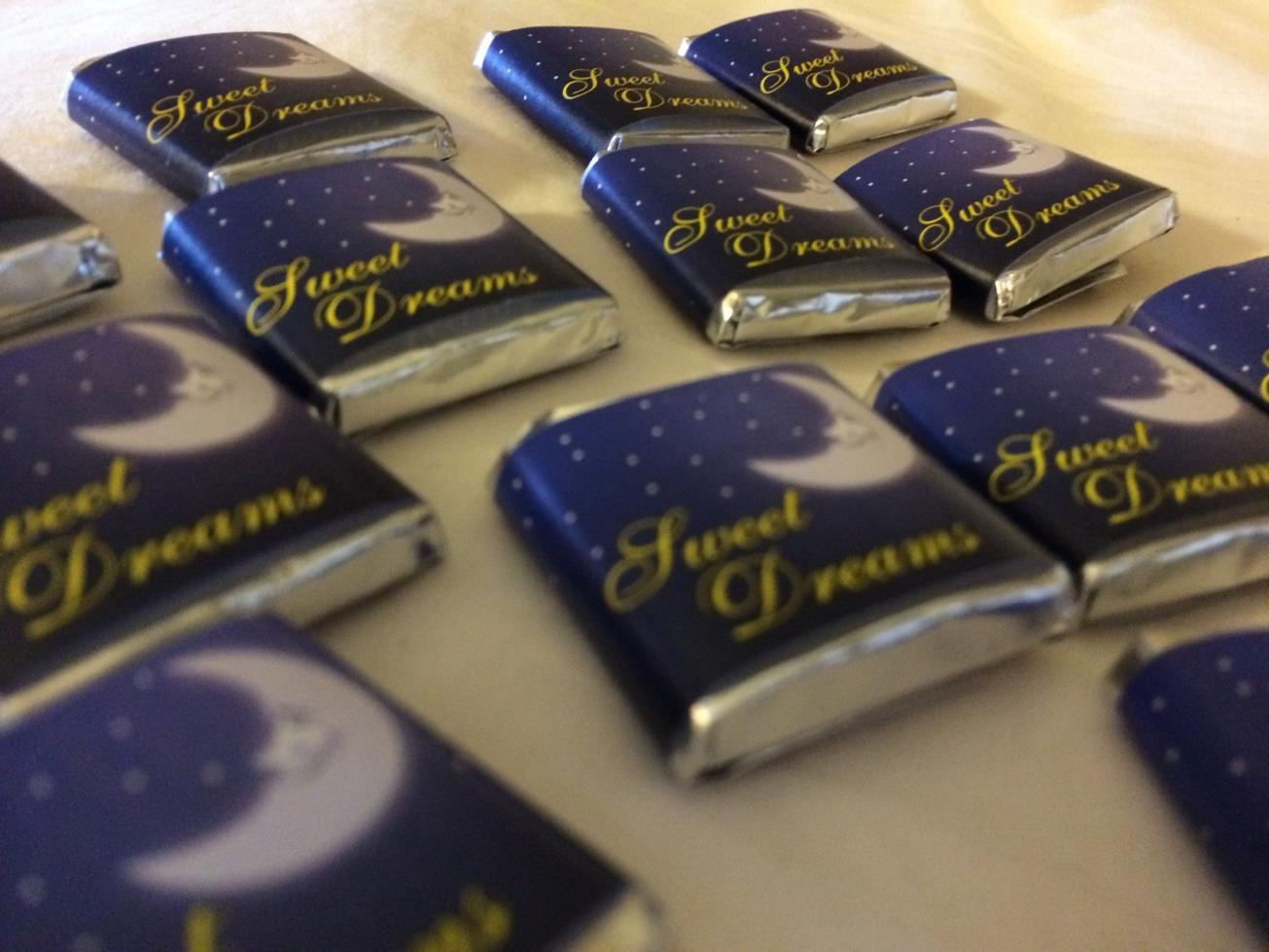 </a>
Anyway that's all for today. Oh, but you'll want to know who our Celebrity Guest is for tomorrow! Well… it's the one and only… Bobby Davro! Well some people on board seem excited. I have a vague notion of the name but can't think what he's from! We shall see what he's like tomorrow in an act that is completely vague in the programme.