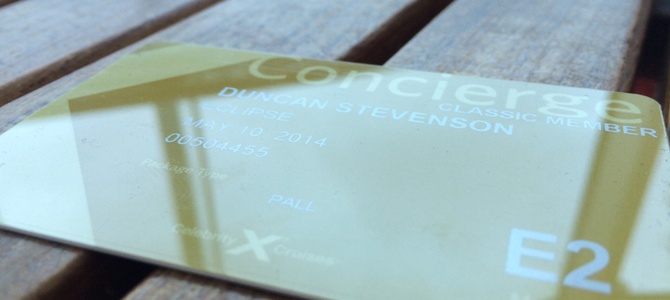 </a>
Today Alex and I left the Novotel to board Celebrity Eclipse from City Terminal in Southampton. In this entry I'll share my first impressions.
Novotel Southampton
As I mentioned yesterday, we had booked in advance to stay in the Novotel in Southampton. We would normally favour Premier Inn hotels for a one-night stay but when we booked the Premier Inn West Quay (which is excellent) was quite expensive and the Novotel compared favourably. We booked an executive room with breakfast for a little over £100.
The hotel is in a great location and within easy walking distance of popular Southampton areas like Mayflower Park and the various shopping centres.
The room was very spacious and (as we were in an executive room) had a Nespresso coffee machine, Bose sound dock, complementary water and slippers, plush bathrobes, and free 'high-speed' Wi-Fi. These were all nice touches and, at the price we paid, added great value.
There are some downsides, however. The hotel does not have air conditioning which is something I consider to be pretty essential these days, especially in the South of England where Summer temperatures can reach 30ºC.
The room we were in also had a strange bathroom setup, with a tiny toilet room next to a more standard bathroom with sink, shower, and bath (but no toilet). The toilet room was very cramped (basically the size of a standard toilet stall) and had horrible white-painted woodchip walls.
As it wasn't too hot when we were there I didn't mind the lack of air conditioning, but I would seriously consider looking elsewhere in the Summer if you struggle to sleep when it's too warm.
The breakfast was pretty good. Coffee was brought to the table and was strong enough. A good selection of pastries, cereals, and hot choices were available, all of good quality. It wasn't the best hotel breakfast I've had, but much better than passable.
Embarkation
I have recently read some pretty teriffying things about cruising from Southampton recently. Many people report horrendous road conditions and would never sail from the port again.
We had a great experience. Traffic from the Novotel to gate 8 of the City Cruise Terminal was fast with no issues whatever. We arrived at dock gate 8 and were sipping something with bubbles within 25 minutes.
There are some changes frm last year. When I drop through the gate I was immediately directed to park in the car park where luggage was taken from the car and loaded onto a van to be taken to the ship. Previously cars were queued to be unloaded right next to the ship then directed to park. I prefer this system, as there's less waiting around.
Check-in was very quick. As we had booked a Concierge Class cabin, we had priority embarkation. So did everyone else – literally. Between high-ranking Captain's Club members, AquaClass guests, and Concierge Class guests, when we were there I didn't see a single person in the regular check-in queue.
It didn't seem to matter though. We were funnelled through security first (which was fairly painless) and then on to one of many open check-in desks. We were then able to board immedaitely where a glass of fizz welcomed us aboard.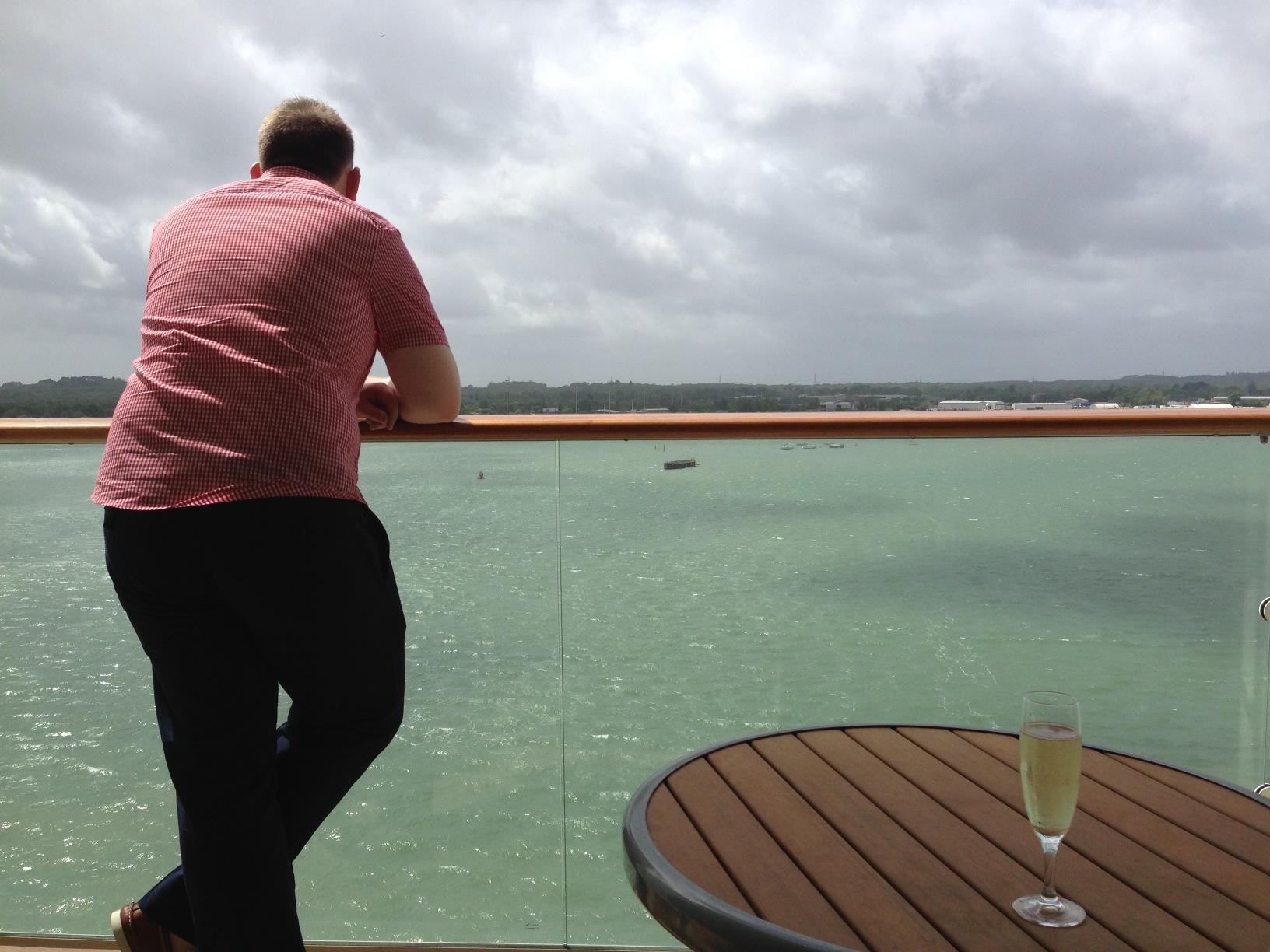 </a>
Stateroom
We have booked a C2 grade cabin (1120) on deck 10, starboard side. It is located on the midship hump, and the outermost angled cabin. This means it has one of the largest balconies of a standard cabin, similar to the 1A cabin we had on Eclipse last year.
The room is a good size and identical to any other balcony cabin on the ship (other than the baclony). As with all cabins on Solstice-class ships, it has a wonderful bathroom with a glass shower cubicle, and a ton of bathroom storage.
We managed to unpack everything for our 2-week cruise without any issue, and have managed to stow 3 suitcases (two of which nest) under the bed. Hangers were plentiful and wooden, and were normal style ones that can be removed easily. I'm not a fan of the secure ones with the little peg – do people really steal coathangers?!
We had a rather delicious sparkling wine waiting for us, along with some fresh fruit (Concierge Class perks). I'll do a full review of the Concierge Class grade at some point in the future.
AquaSpa Café
We were too full from our hefty breakfast for our normal embarkation-day lunch at Bistro on 5, but we didn't fancy the day–1 disaster that is the buffet, so we tried the AquaSpa Café in the Solarium for the very fist time. I had a chicken salad followed by a strawberry and cream desert, while Alex opted for a DIY salad.
It was also a chance to start making use of the Premium Beverage Package which I purchased before sailing, as I ordered a fresh juice called Orange (which isn't actually orange juice; all of the juice combinations are names after colours). All of the food was delicious, and just the light snack we needed to keep us going until dinner.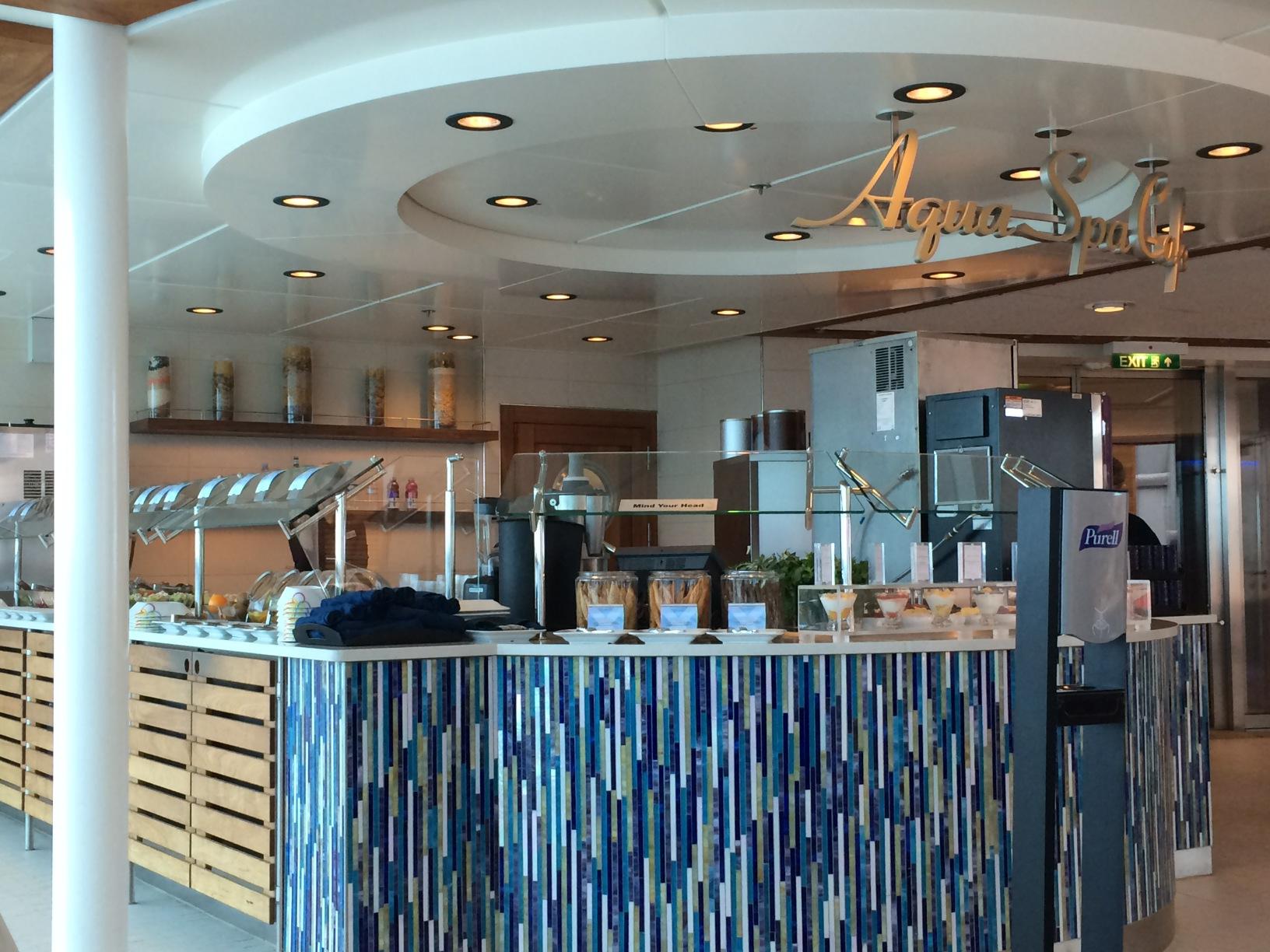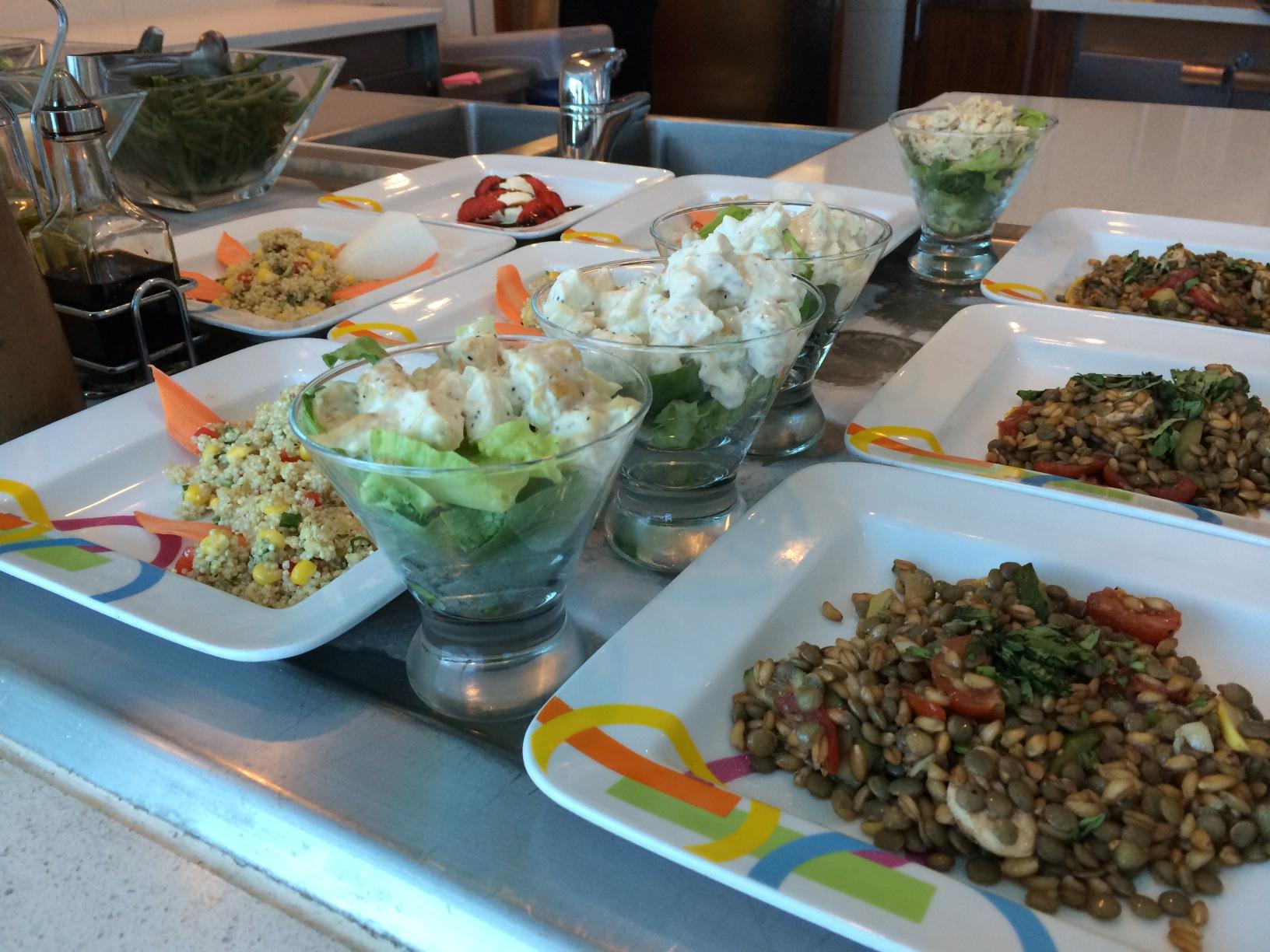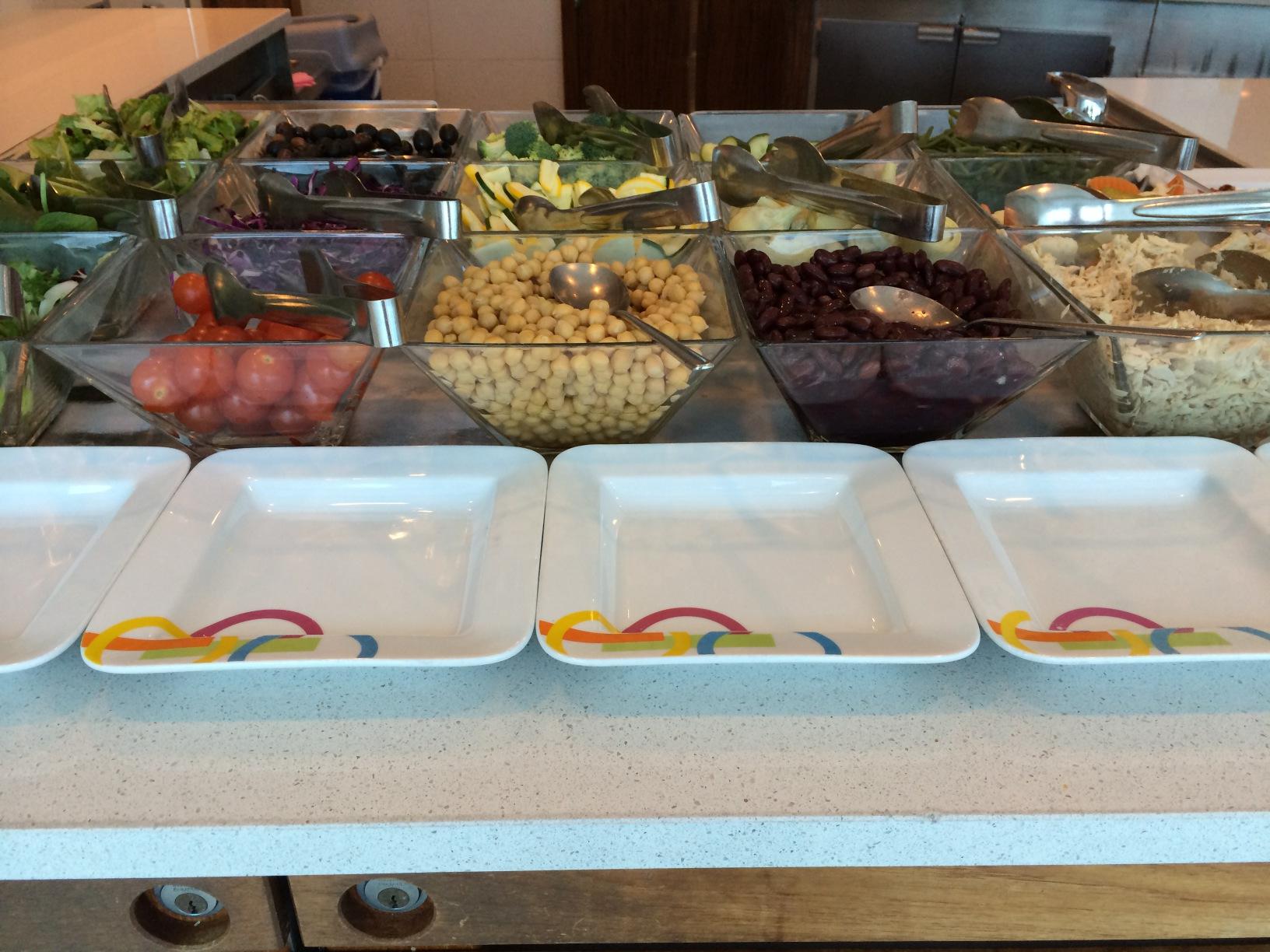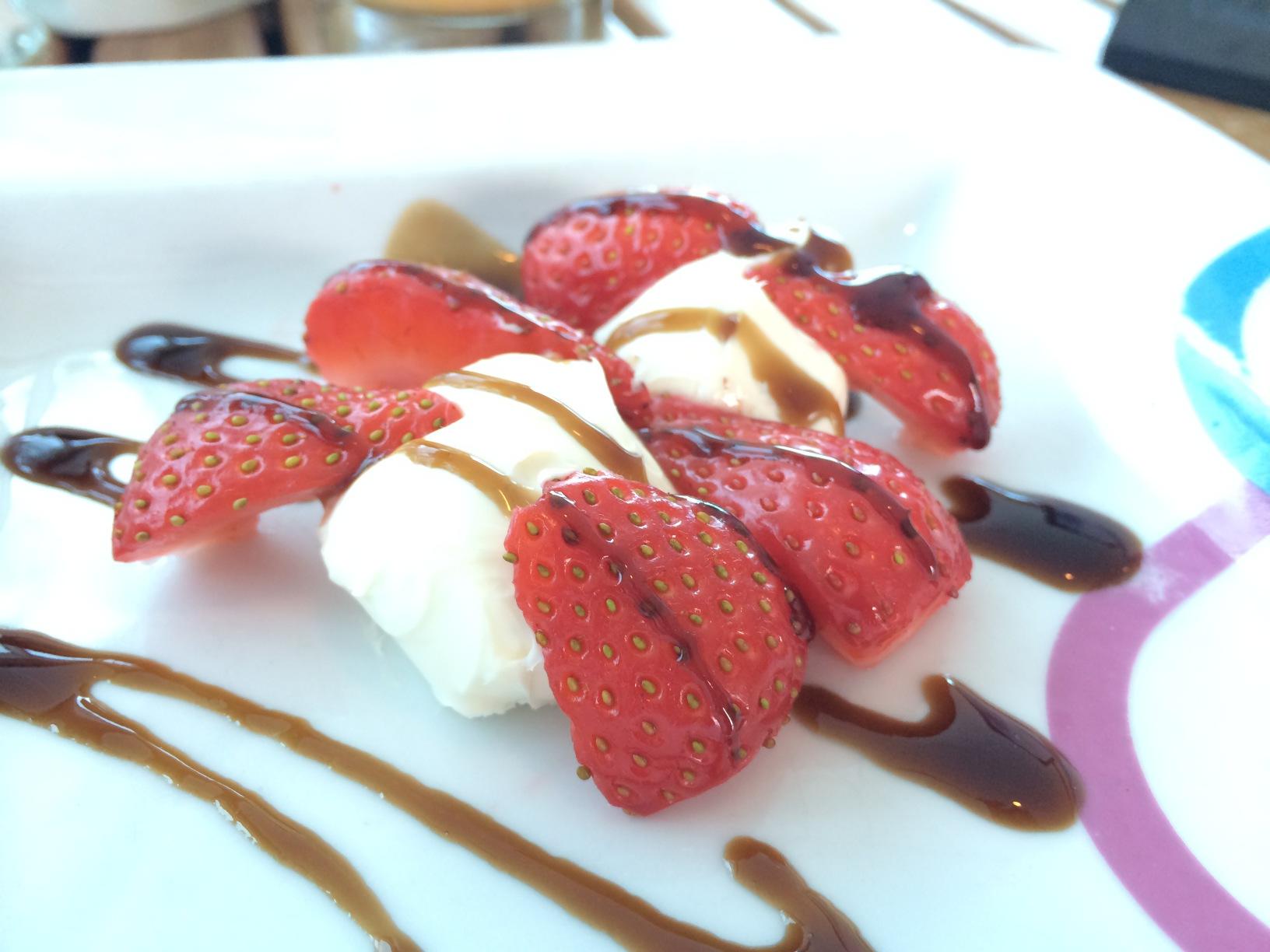 The premium drinks package is something of an experiment for me. I don't drink too much, but am interested to see how the package affects my consumption, as well as my overall enjoyment on board. To see how I fare I plan to keep track of the value of drinks ordered (if I can remember to keep this up) so I'll be able to analyse this after the cruise.
Entertainment
Tonights show was an introduction and was not well attended. Sue Denning is our cruise director and she introduced the band, who are very good and played a few pieces to get things going. We then heard from the main singers and dancers of the Eclipse, followed by one of the guest entertainers – a pianist. Sue Denning then welcomed us aboard with a song of her own which I wasn't a fan of.
The entertainment staff has reportedly been cut, and this was visible from the introductions. Sue has an Activities manager and two activities staff (one of whom is a DJ). Some of the planned events seem a bit like primary school projects, including a boat-building competition and an 'egg-drop' contest. They don't appeal to me, but Alex seems interested.
More on entertainment as the cruise goes on.
Dinner in the MDR
Despite the offers of discounted Speciality Dining, we decided to start our cruise off in the Moonlight Sonata restaurant. We have managed to secure a nice table for two by the window — I e-mailed Celebrity a few weeks ago to request this, and mentioend we'd were celebrating. I received no reply, but I got the table.
The food is of a similar standard to previous years – very good so far! Given the numbers being catered for, I don't expect much better than what we had tonight. I had a shrimp and avocado cocktail followed by spinach and riccota ravioli, then cherry and chocolate trifle. Alex went for a beef spring roll, followed by home-style pork chop, then a dulce de leche creme catalana, which resembles a creme brûlée.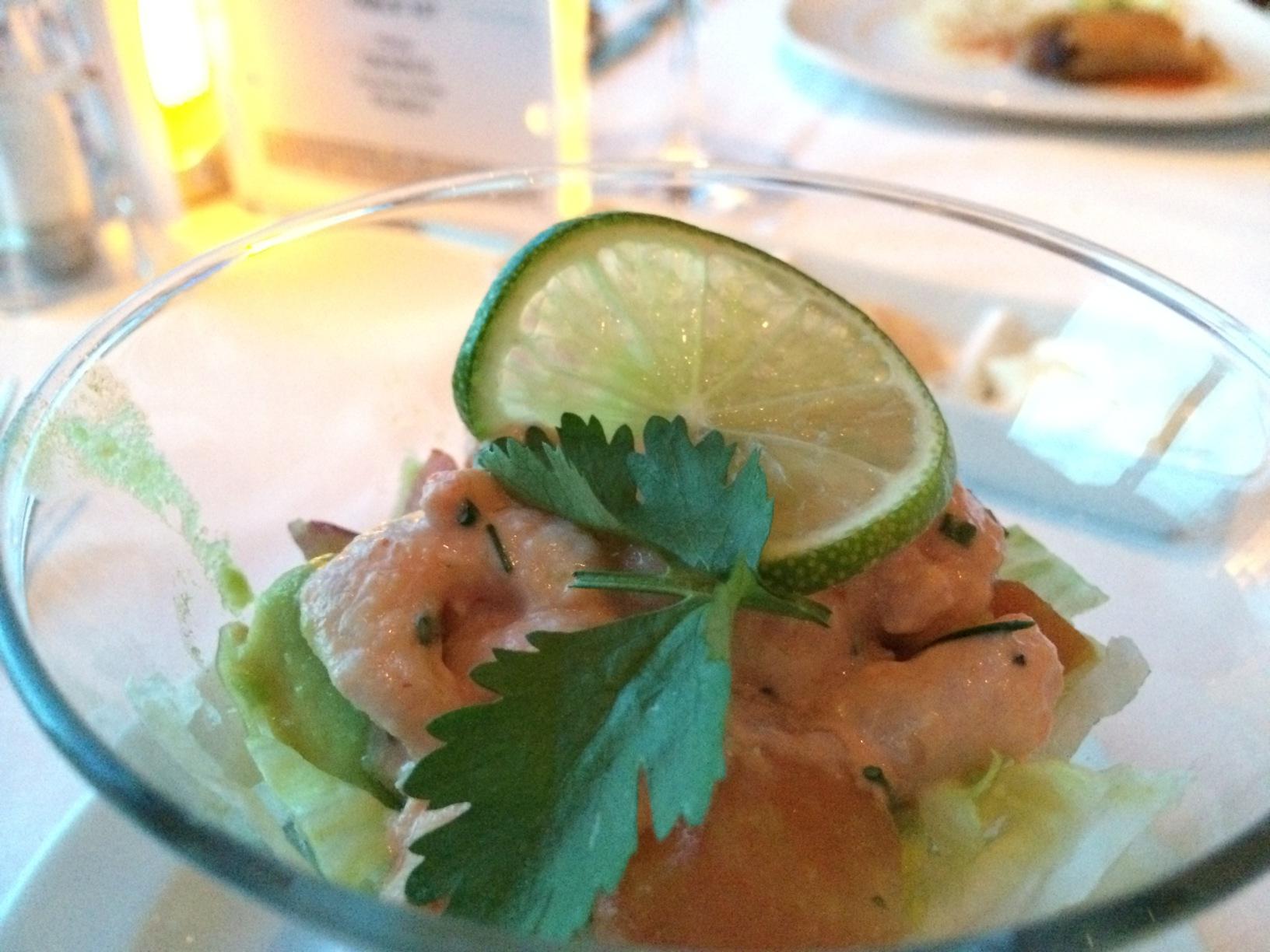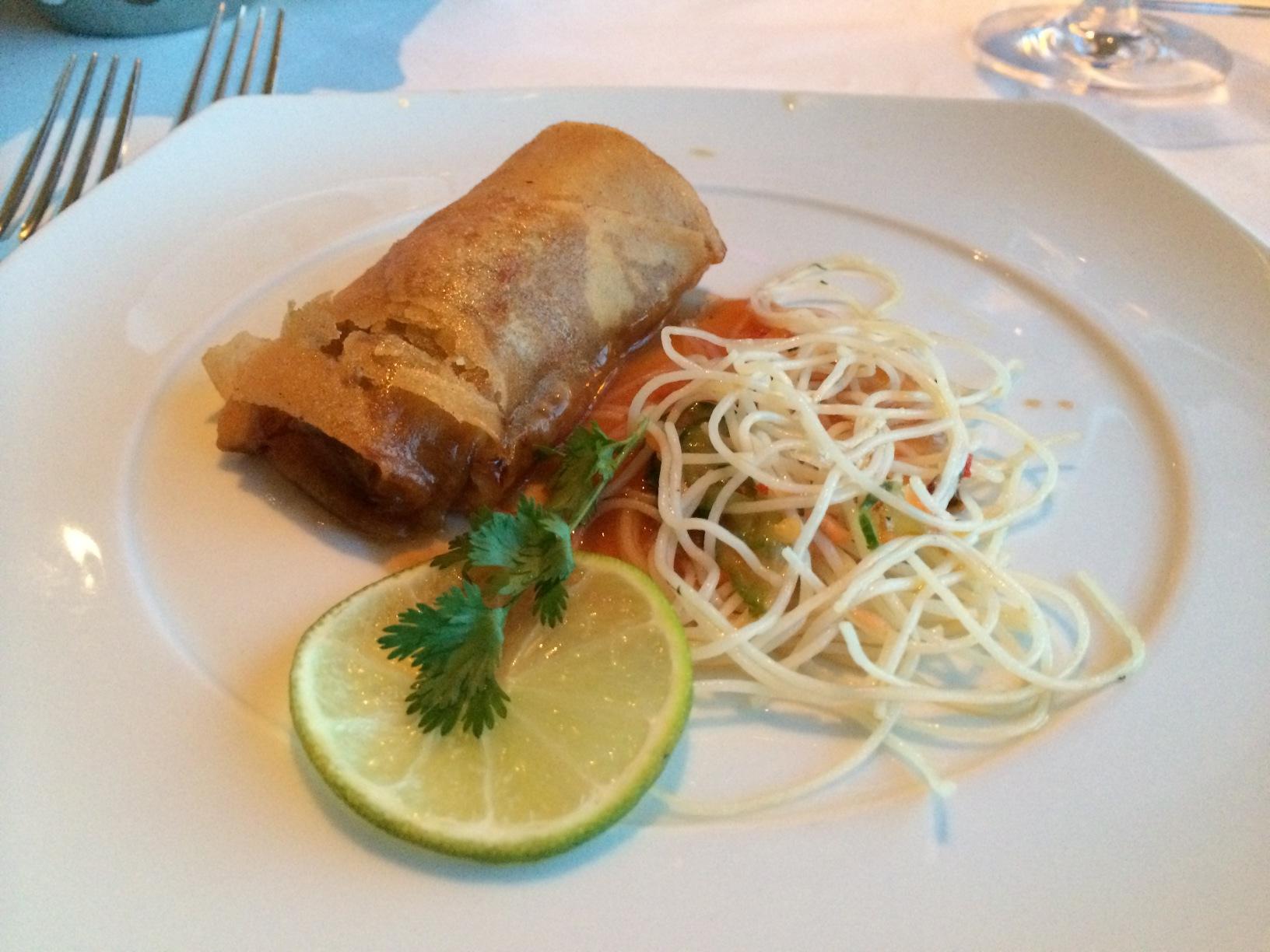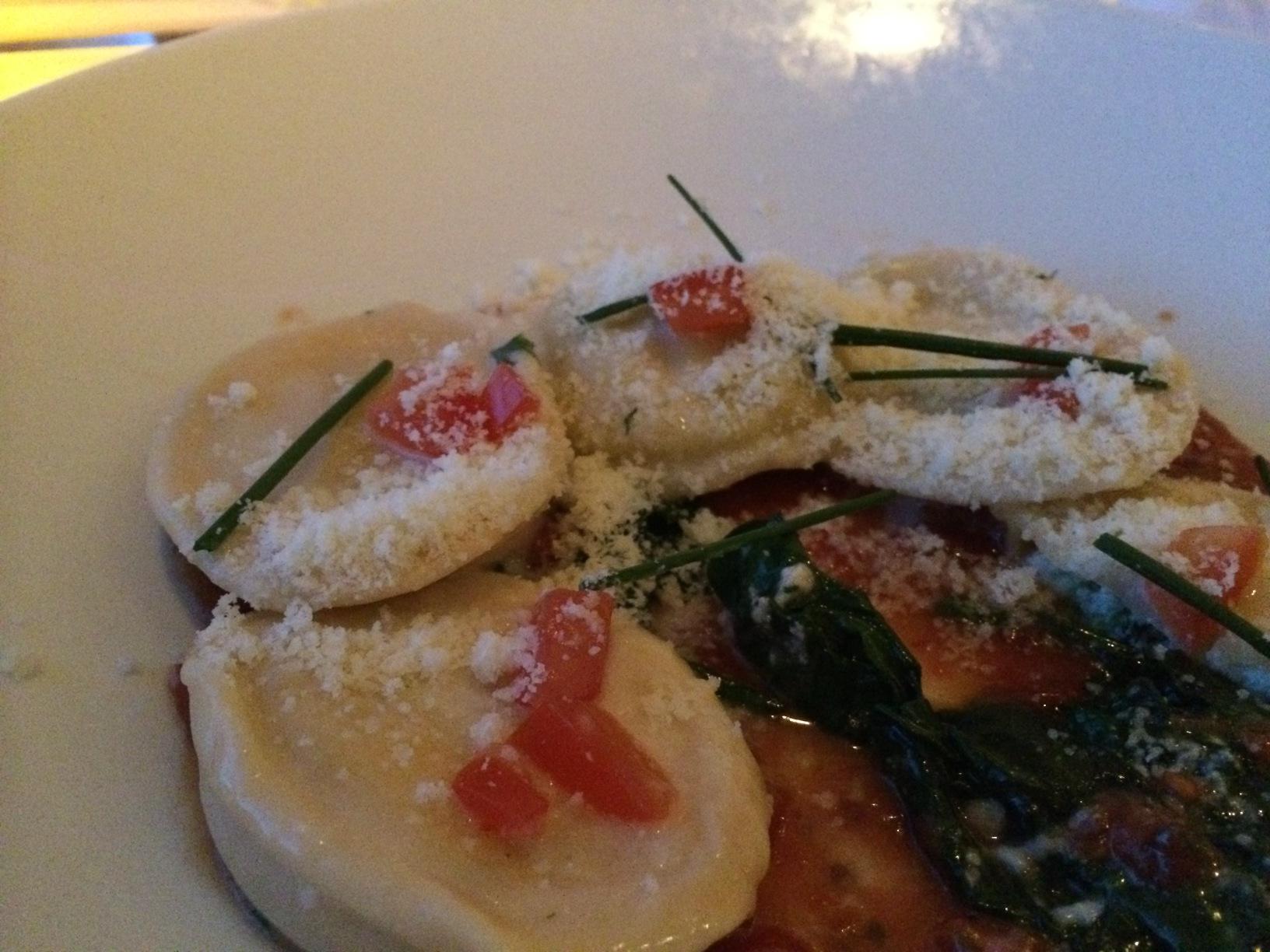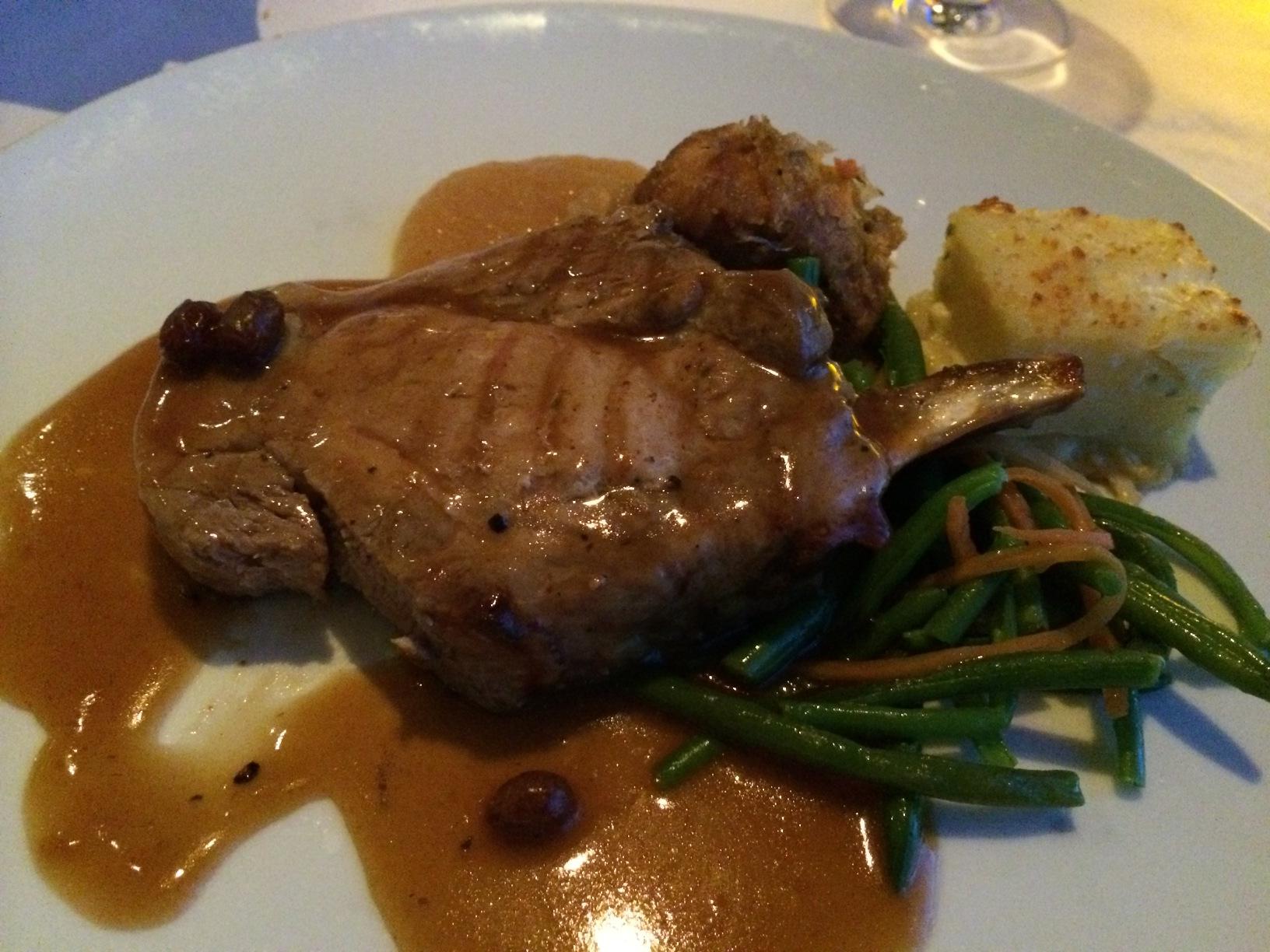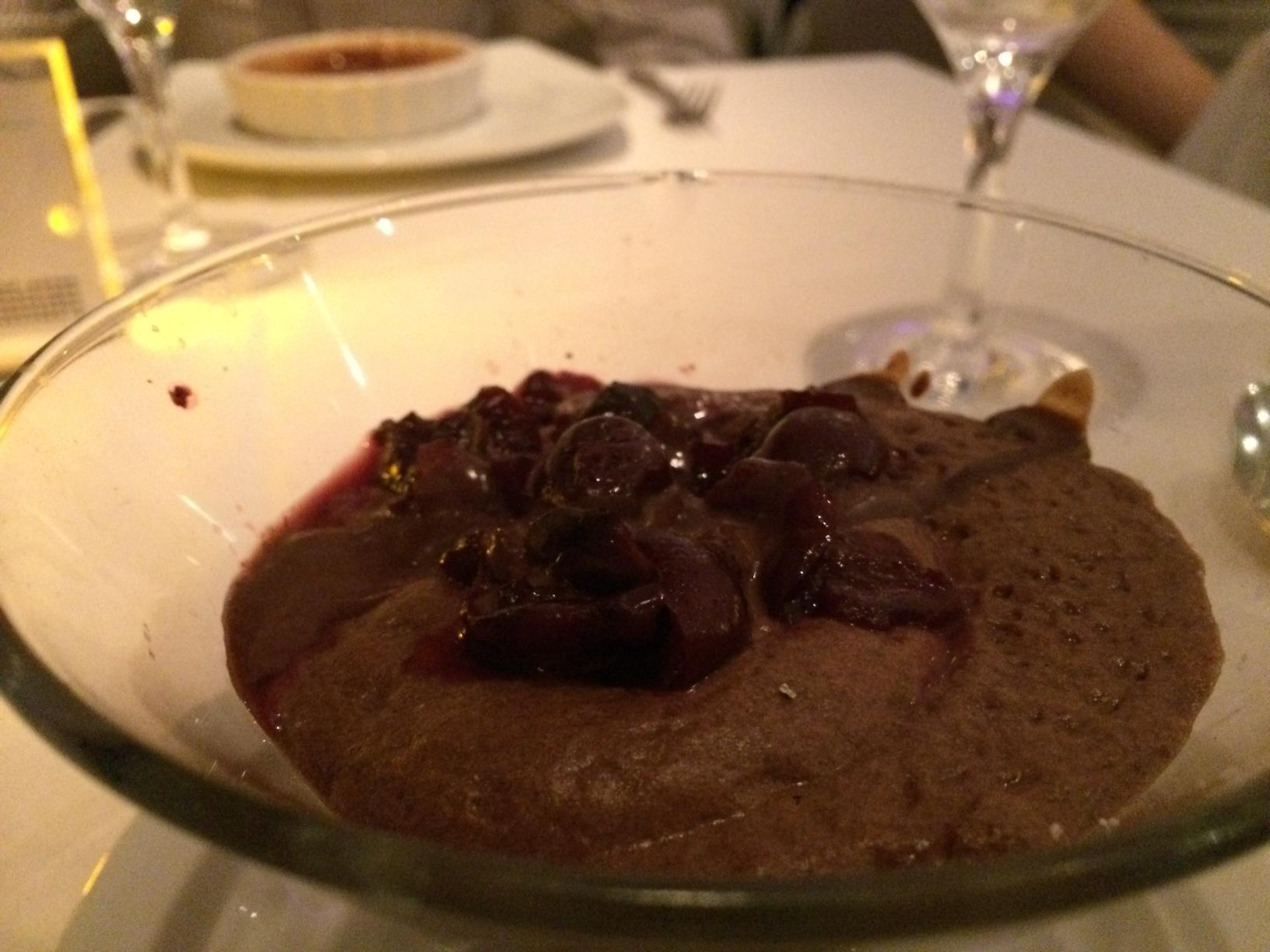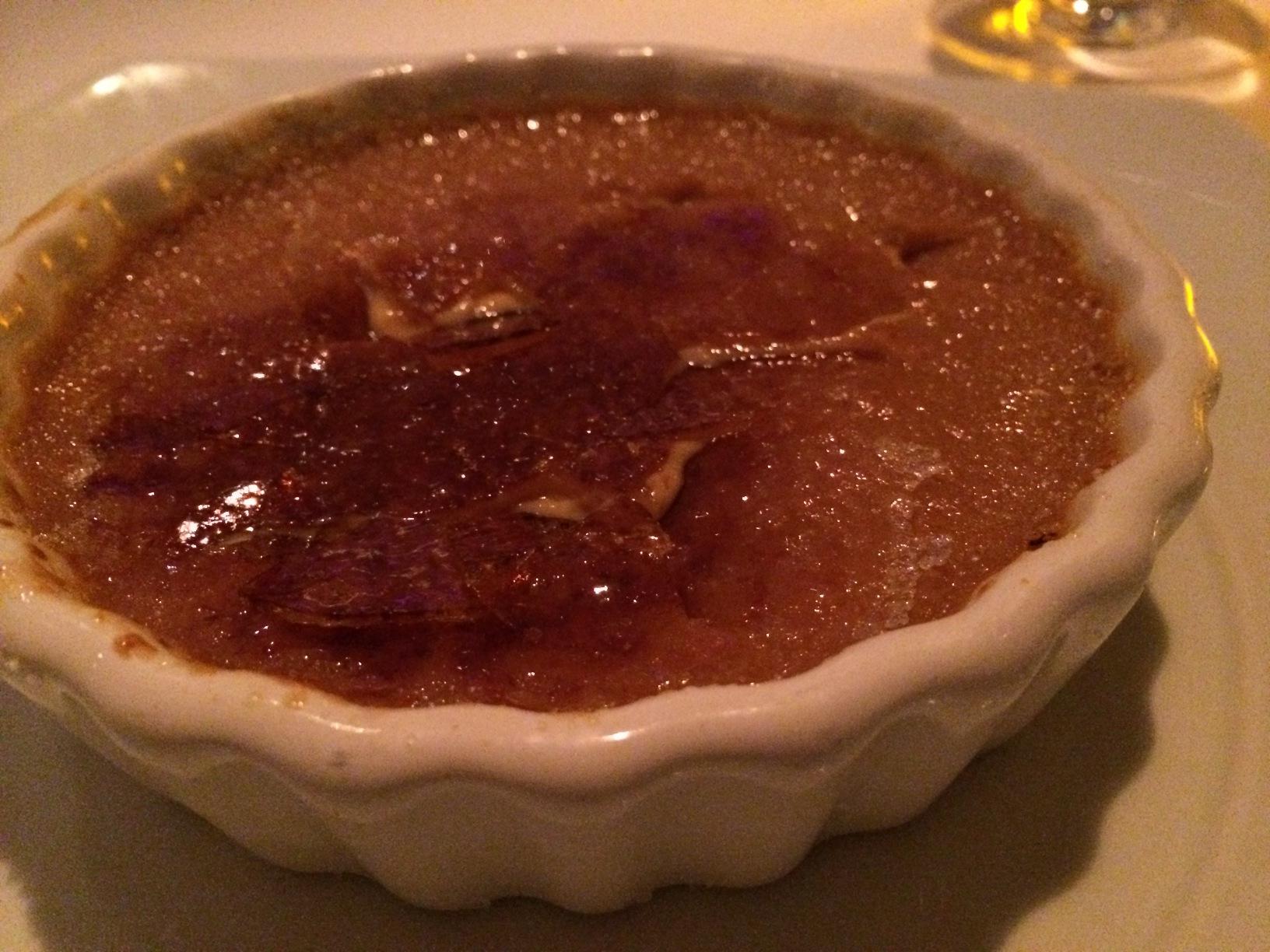 Service was good, and warmed towards to the end of the meal. I don't want to say too much, as the first night is always busy as staff make their introductions. I waited a long time for wine, in fact I didn't even get to order until after my starter arrived. The sommelier seems very stretched, but is working incredibly hard. My glass was magically refilled during the meal though, and I've no idea how she's coping. Watch this space!
It's goodnight from me…
I had a very little sleep last night, so I'm almost sleep-typing at this stage. A few observations before I go.
The ship is fully booked. That is, there are no free cabins, but there could be singles and there could be cabins with 3 or 4 occupants. The ship, so far, feels empty. We were wandering around earlier and many of the spaces (including the Solarium) were dead.
This could be because the seas are a bit rough, or because people are unpacking, or because everyone has had a long journey and wasnts to relax. In any case, I hope to see a few more faces tomorrow or I'm going to start to think that people have disappeared overboard!