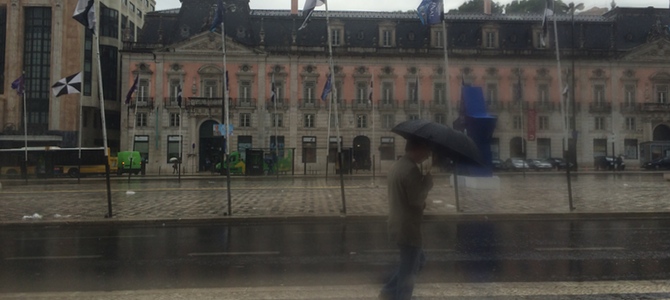 </a>
Today we visited the port of Lisbon in Portugal, had some fun on the slots in the casino, and were back in the MDR for dinner. It'll be a short post today; really!
Lisbon, Portugal
We docked in Lisbon at about 10:30 following a short journey up the river Tagus on which Lisbon rests. We also enjoyed sailing under the 25 de Abril bridge, viewed from the Sky Observation Lounge. I noticed in Celebrity Today that some lucky people had the opportunity to join the captain on the helipad at the front of the ship to watch the sail in. I wonder how they got on, in the driving rain…
The rain in Lisbon was really on and off all day, but when it was on… it was really on. Streets went from dry to being practically flooded in a matter of seconds! We were a bit nervous about where we'd be docking in Lisbon, as much of the literature basically implied that you'd need a reasonably expensive Celebrity shuttle bus to get into town. Thankfully the CitySightseeing bus that we had pre-booked online was waiting right outside the cruise terminal, so we had no distance to walk.
The bus was good and Lisbon was a good city for a bus tour (or would have been if it hadn't been so wet) because the areas visited were more open so you had more of a chance to see the things being commented on on the audio. Unfortunately the first bus we got on had very few working headphone ports, so we kept having to change seats to get something that worked, and ended up sharing one set of headphones and having an ear each! The audio tour was informative, but didn't tell you which stop you were at. The Lisbon CitySightseeing tour is valid for 48 hours and includes two routes covering a large area of the city.
From driving round Lisbon, I did love the look of the city. It's very colourful, with lots of brightly coloured tiles on some of the walls next to the road. Many of their buildings are brightly painted, or have wonderful patterned tiles covering the exterior walls. It also feels like quite a modern city, though I can't quite put my finger on why.
I'd love to go back here on a longer trip with better weather, as there are so many sights that we just didn't see (even from the bus) because of the weather. We probably should have been brave, got the umbrellas and battled on through the intermittent rain, but we really didn't fancy it.
Unfortunately when we were there there was quite a large building fire that was being attended by firefighters. It looked like it was in a fairly abandoned building, but you never know. I hope nobody got hurt, and trust that the firefighters were able to get the fire under control quickly before it spread any further.
As the weather was so bad, we did the tour then got off to try to find some lunch. In the end we managed to get some delicious Portuguese cakes to eat including some very tasty Natas; a small Portuguese custard tart that you can find a worse version of in Nandos. They were from a little place called Pastelaria Alcôa, which we found while looking around a John Lewis-style department store. They actually won an award for their Natas! We ended up just getting the bus back to the ship and sharing some food from room service which was fine, but nothing special.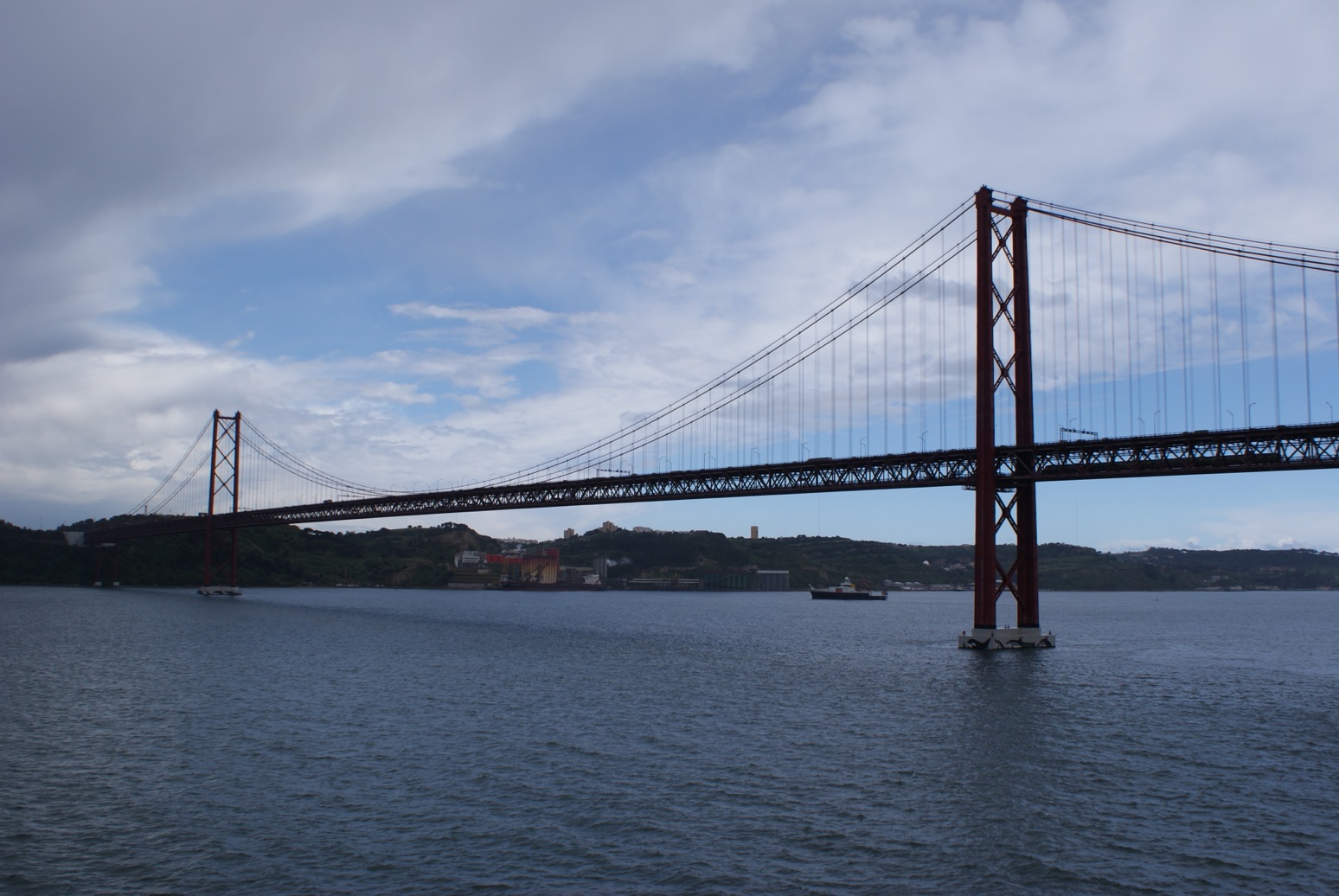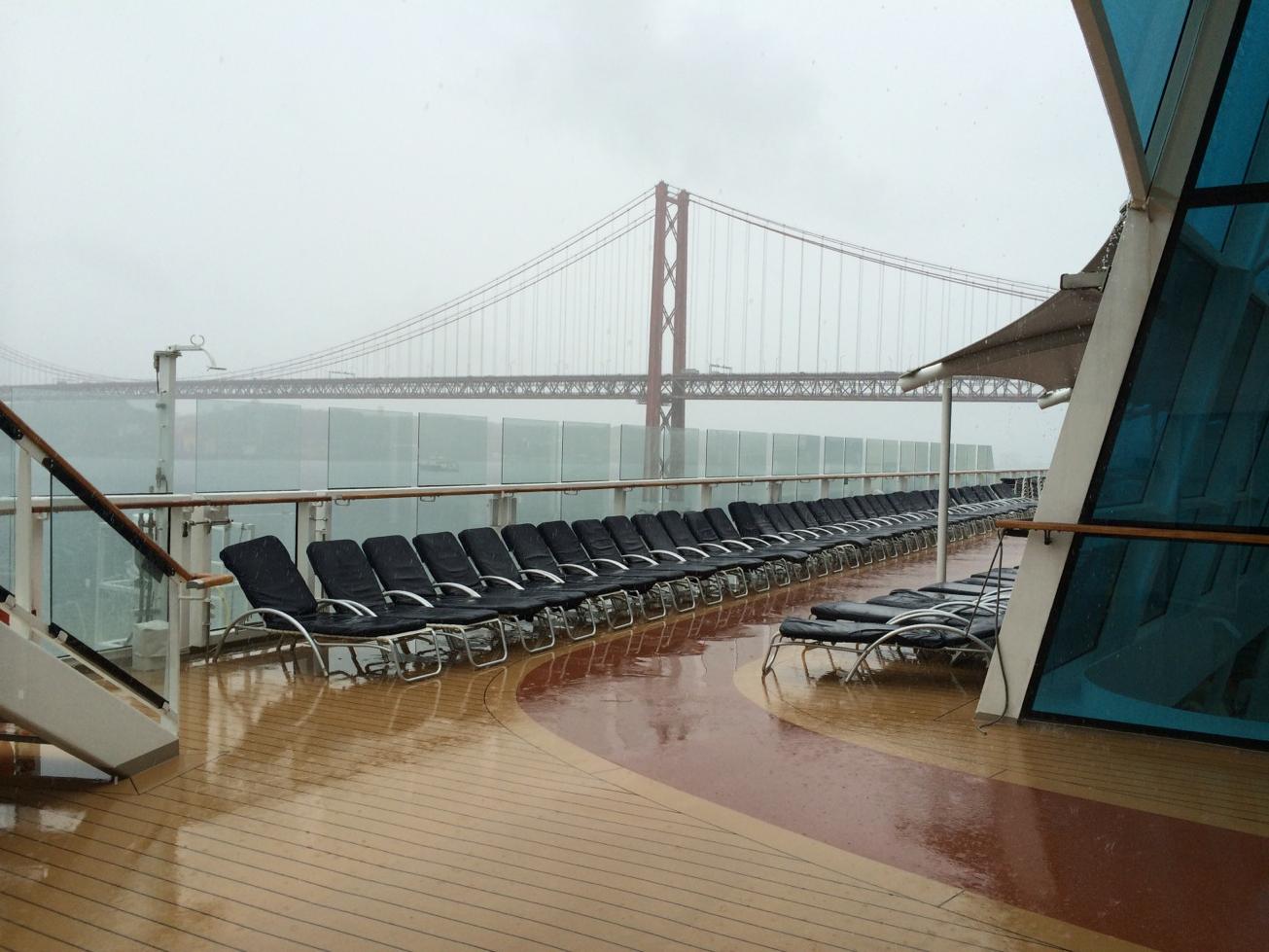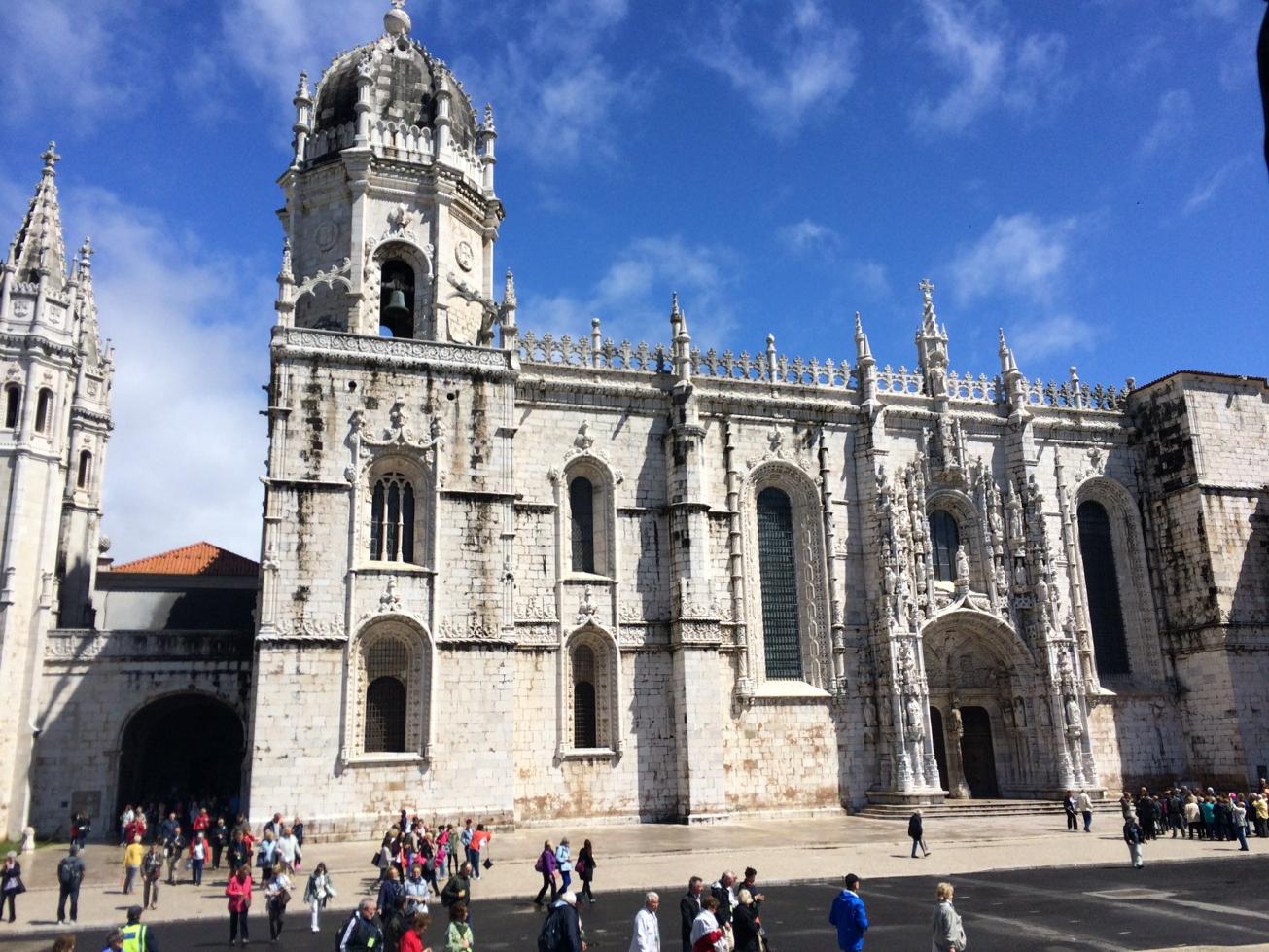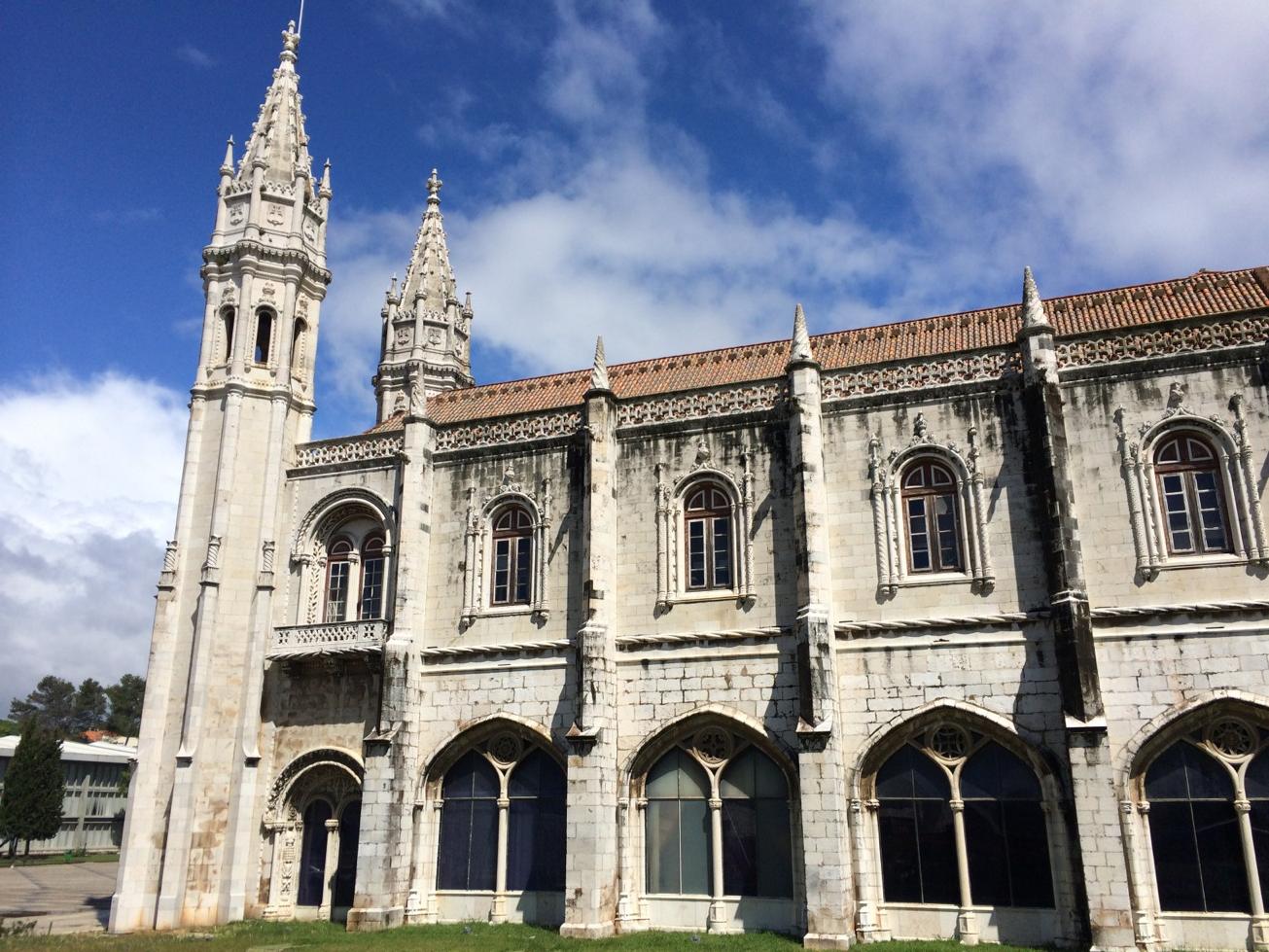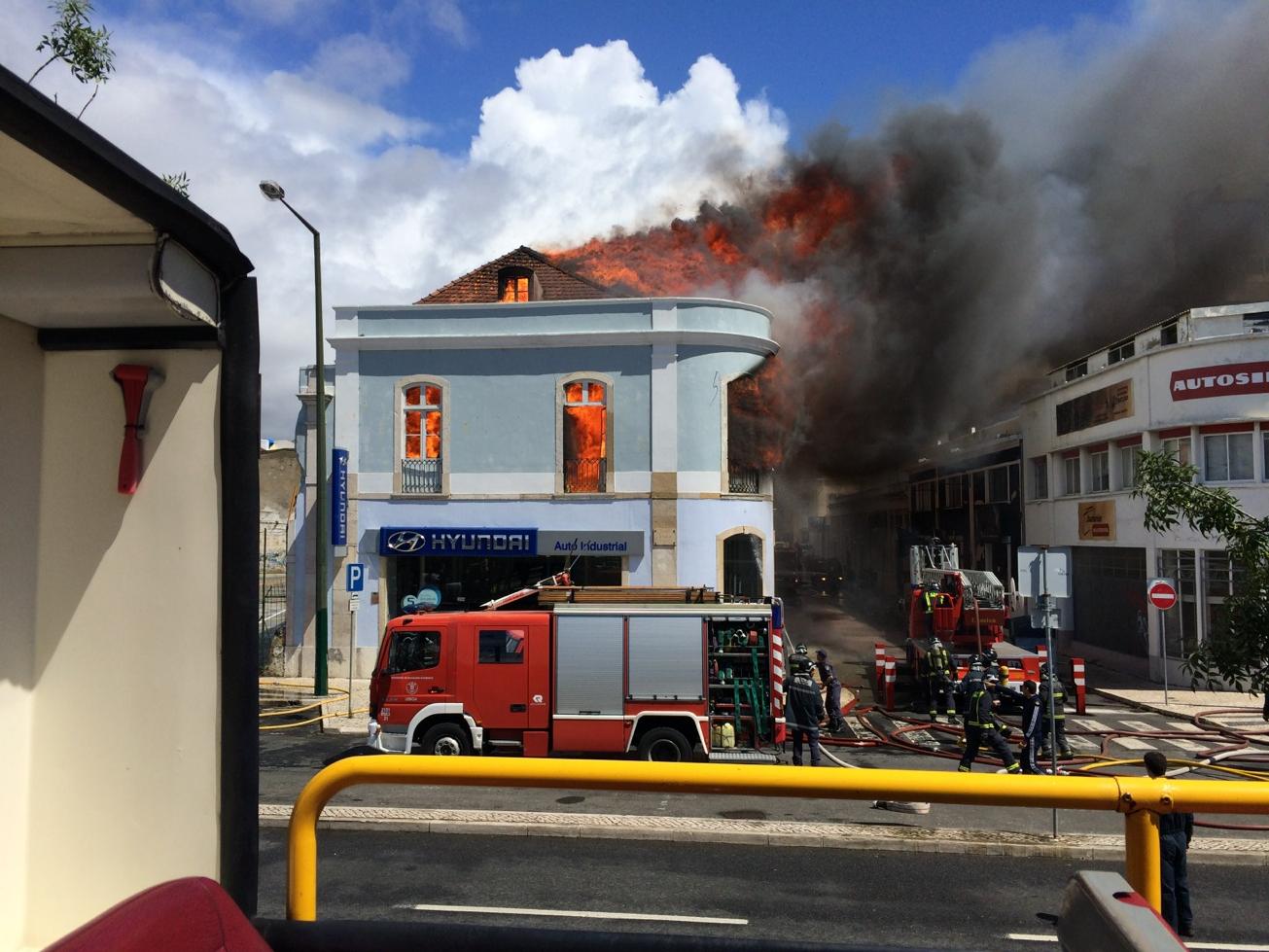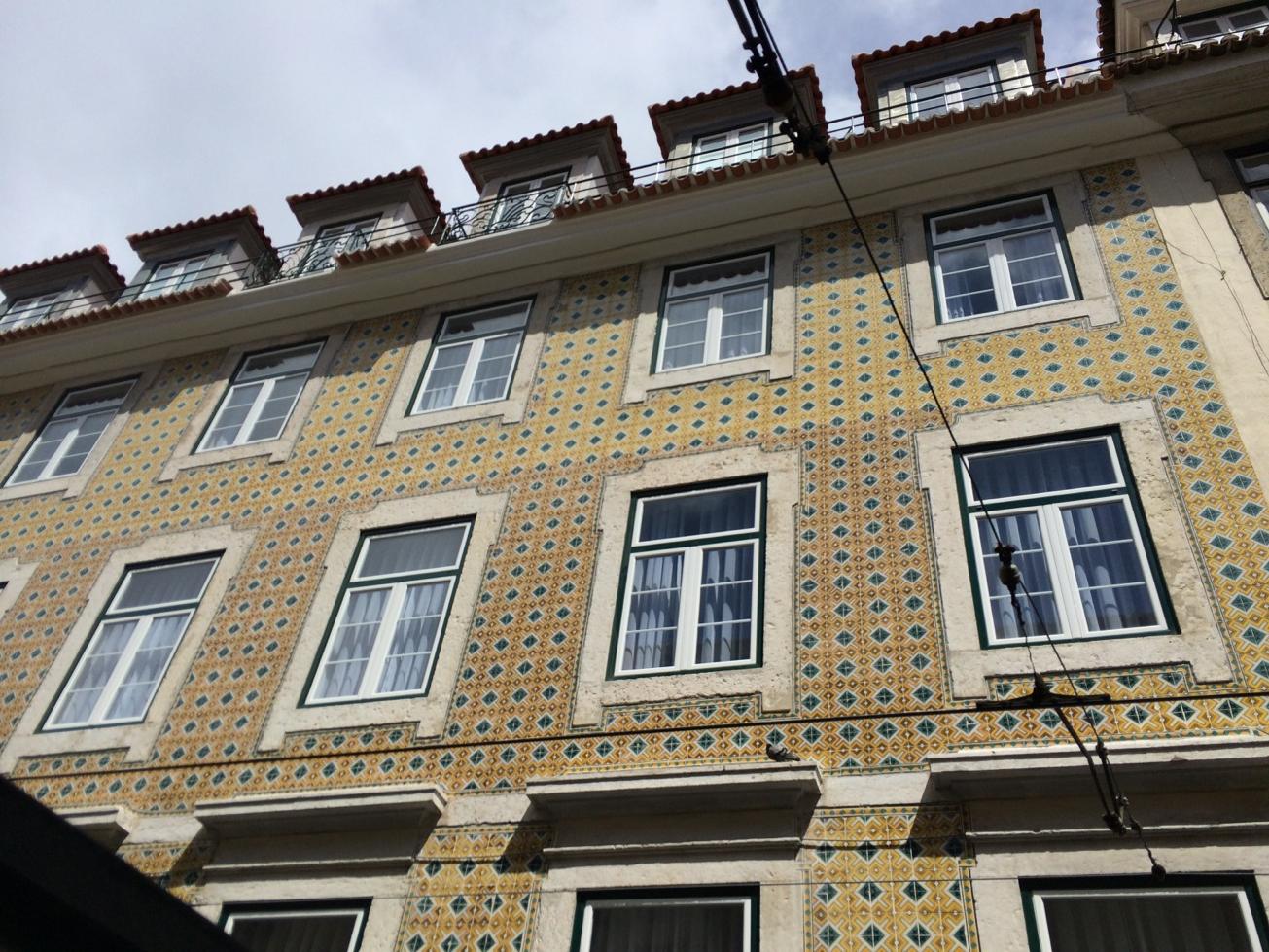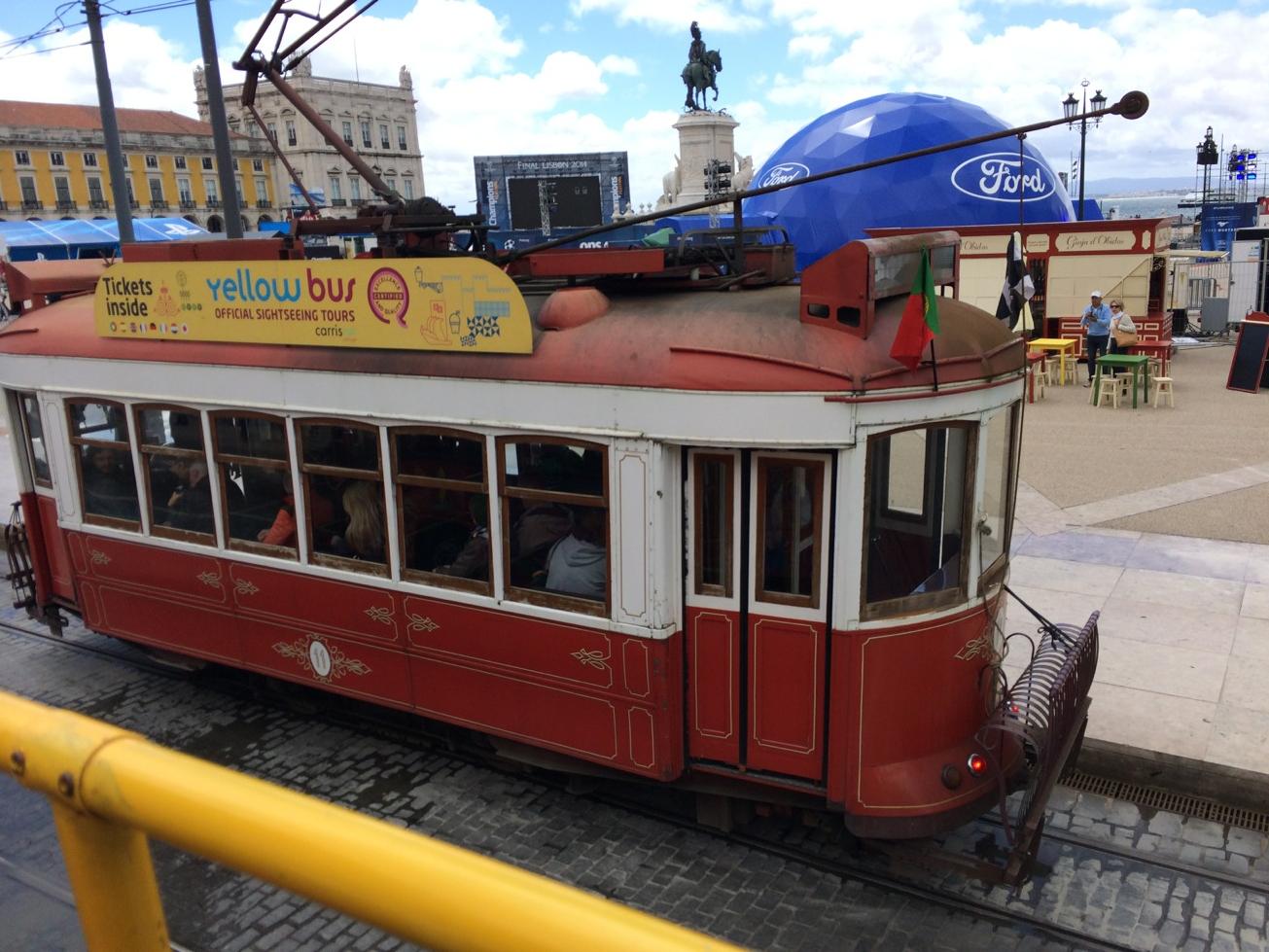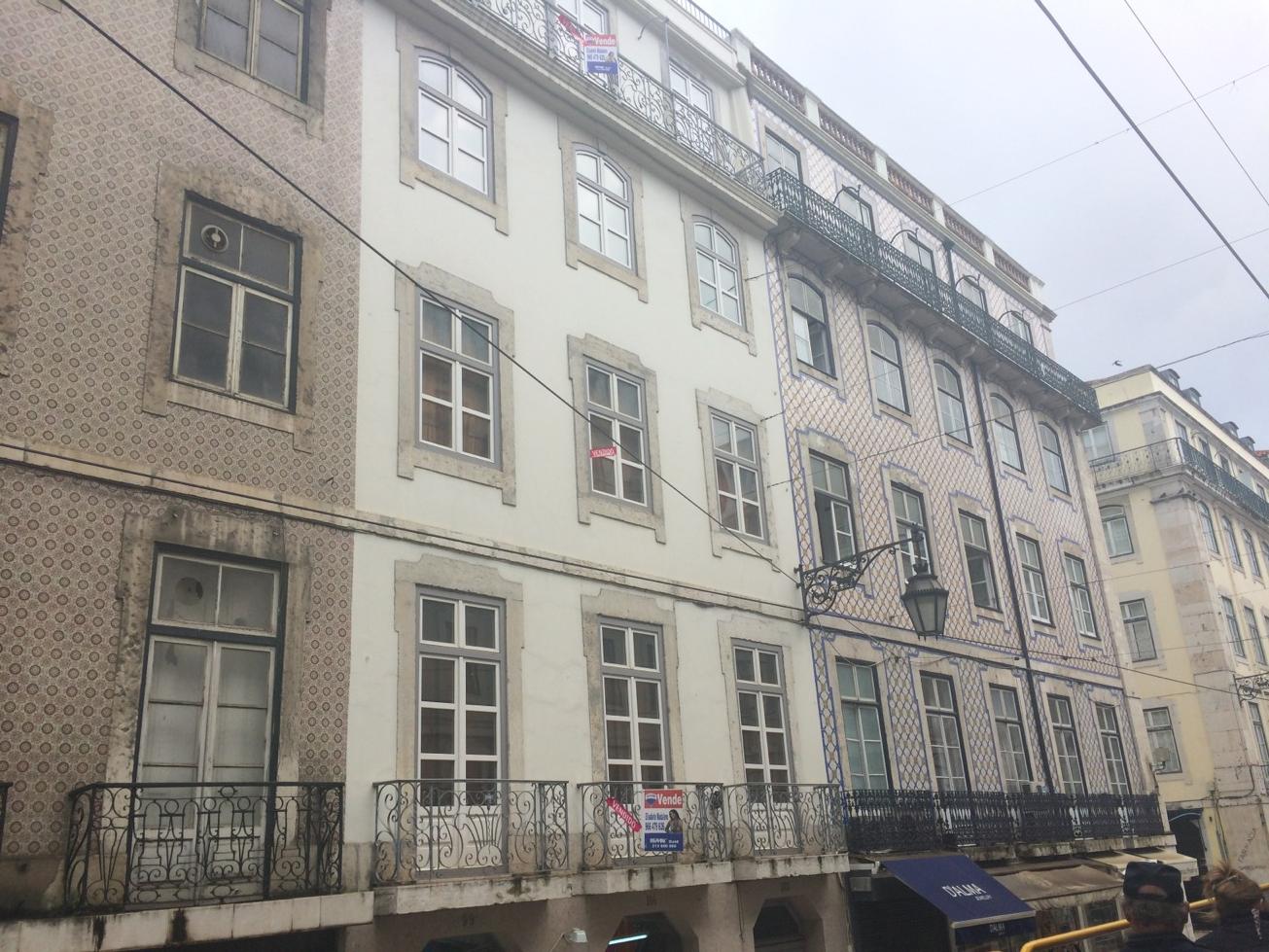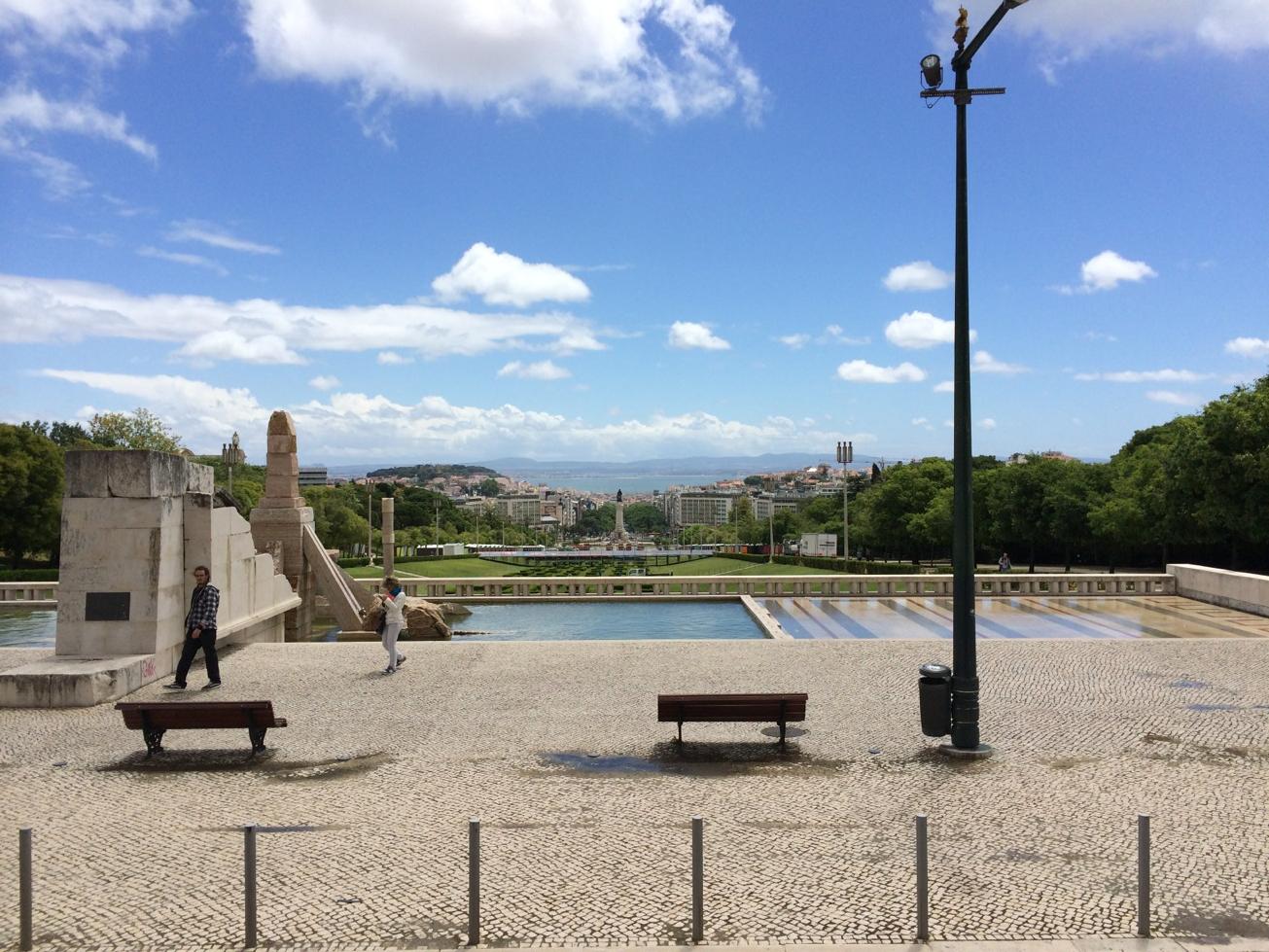 It has just occurred to me that almost all of the photos show blue skies. Trust me – almost every time we thought about getting off the bus the heavens opened!
Afternoon
The rest of the day we mostly just read our books and watched the sail-away from the Sky Observation Lounge (cocktails in hand, naturally!) This was most enjoyable and, again, hot canapés were available despite there being no Captain's Club event on at all. It's all very strange though, and I still sometimes get the feeling I'm not supposed to be there even when there are no signs or people telling me so.
About an hour before dinner we got changed and headed to the Casino to try our hand at some slots. The Casino is quite sizeable on Eclipse, and there are a load of slot machines from 1¢ all the way up to $5 per line. Naturally I stick to the lower end of the market. If you put your sea pass into the machine, the system will keep track of points which I think are earned at a rate of 1 per $1 spent, with various off-peak events offering 5x or 10x points. I've no idea what these points do though, so I assume they only apply to the real high-rollers. I managed to rack up over 200 points because of a lovely 10x event!
I'll try to get some photos of the casino tomorrow and post these then. It's a fun place!
Dinner in the MDR
For dinner tonight I had flounder salad, seafood bisque, then a crab-crusted plaice. To finish I went for the crêpe suzette. Alex had the French onion soup again (not pictured), the moroccan lamb shank, and also had the crêpe. I didn't get a photo of the crêpe, but you can imagine what it looked like. It was all delicious, but I think we overdid the wine and cocktails, as we also bought a bottle of bubbly for dinner which sent us back to the cabin to crash after dinner.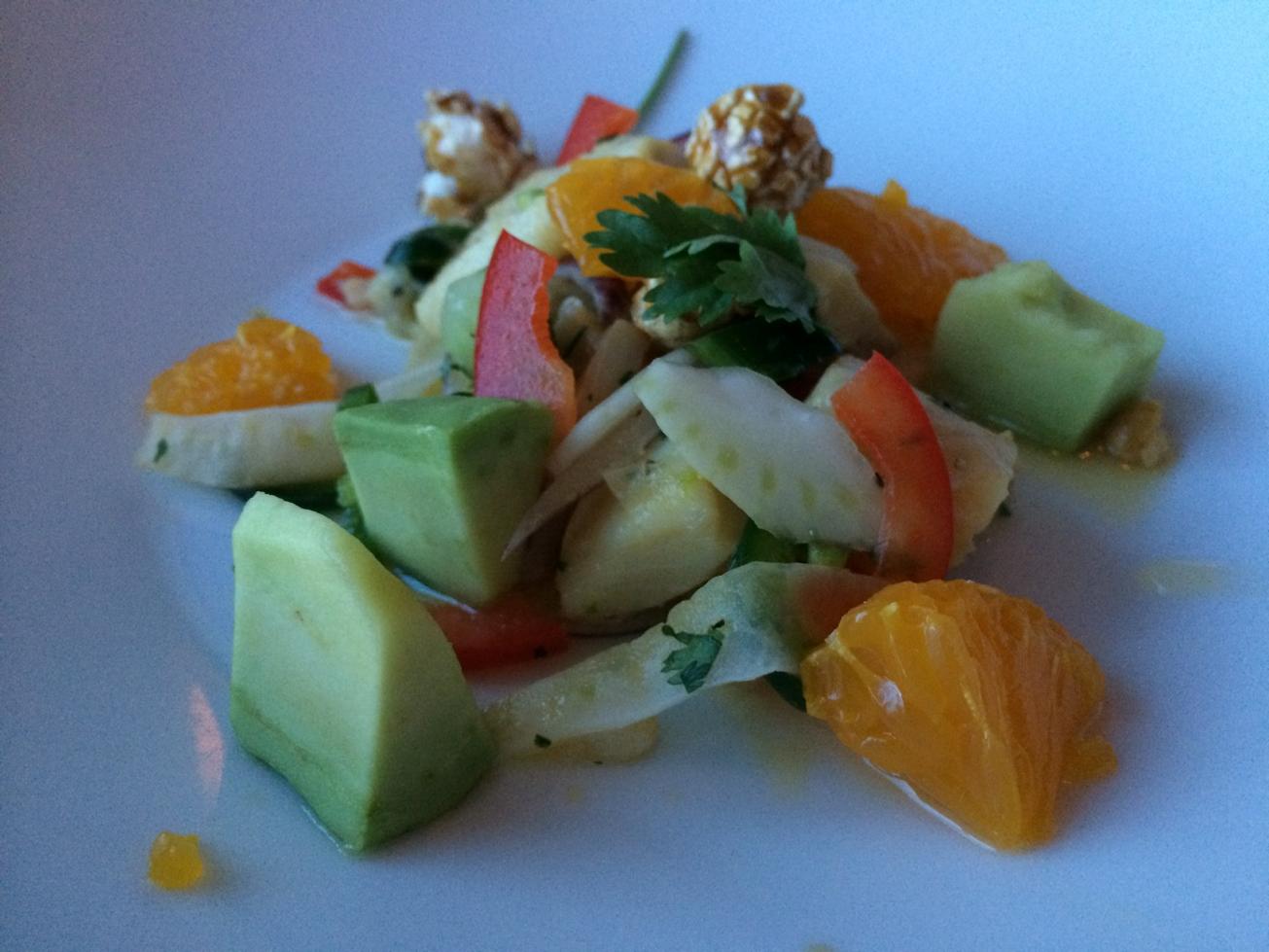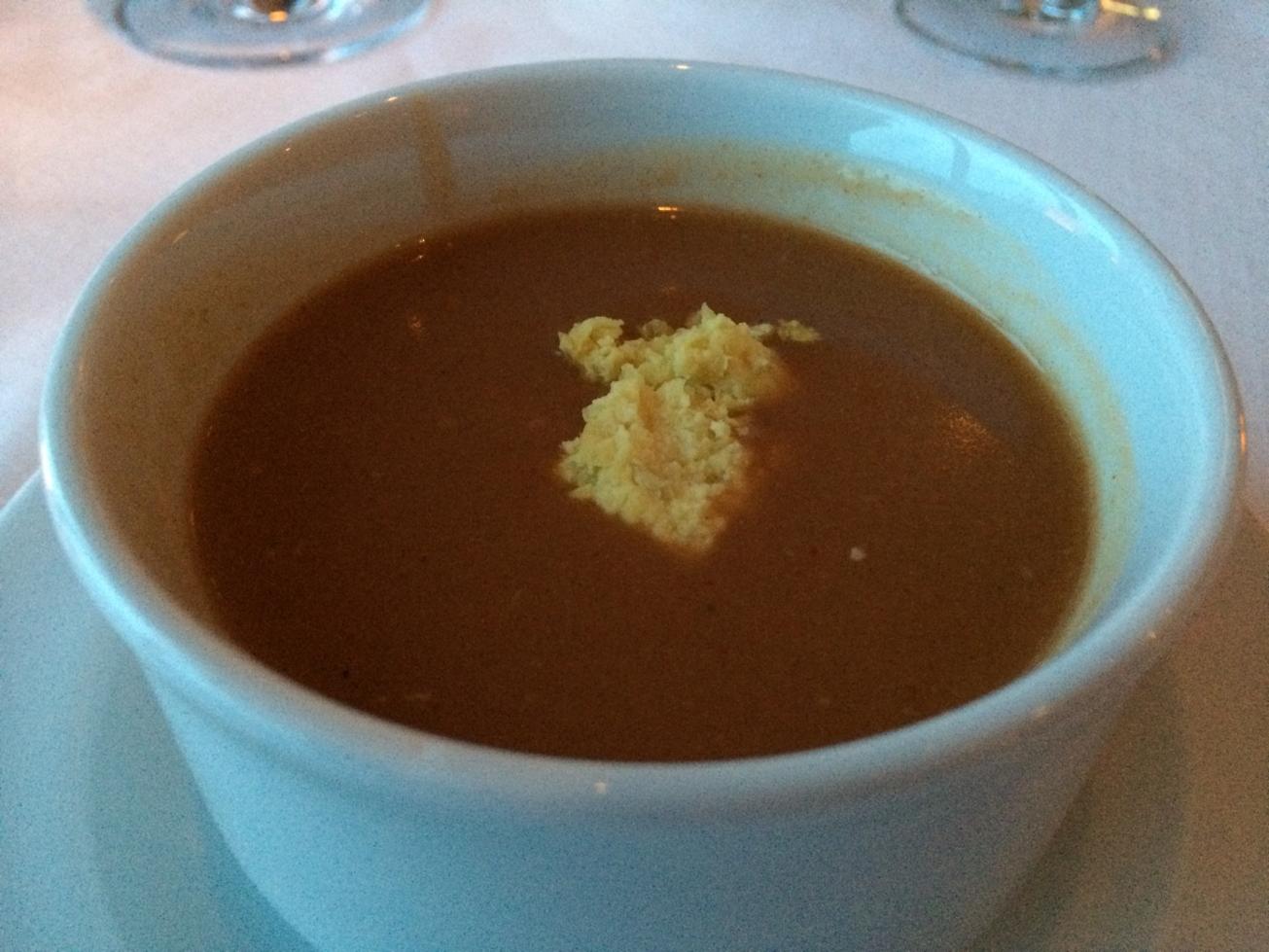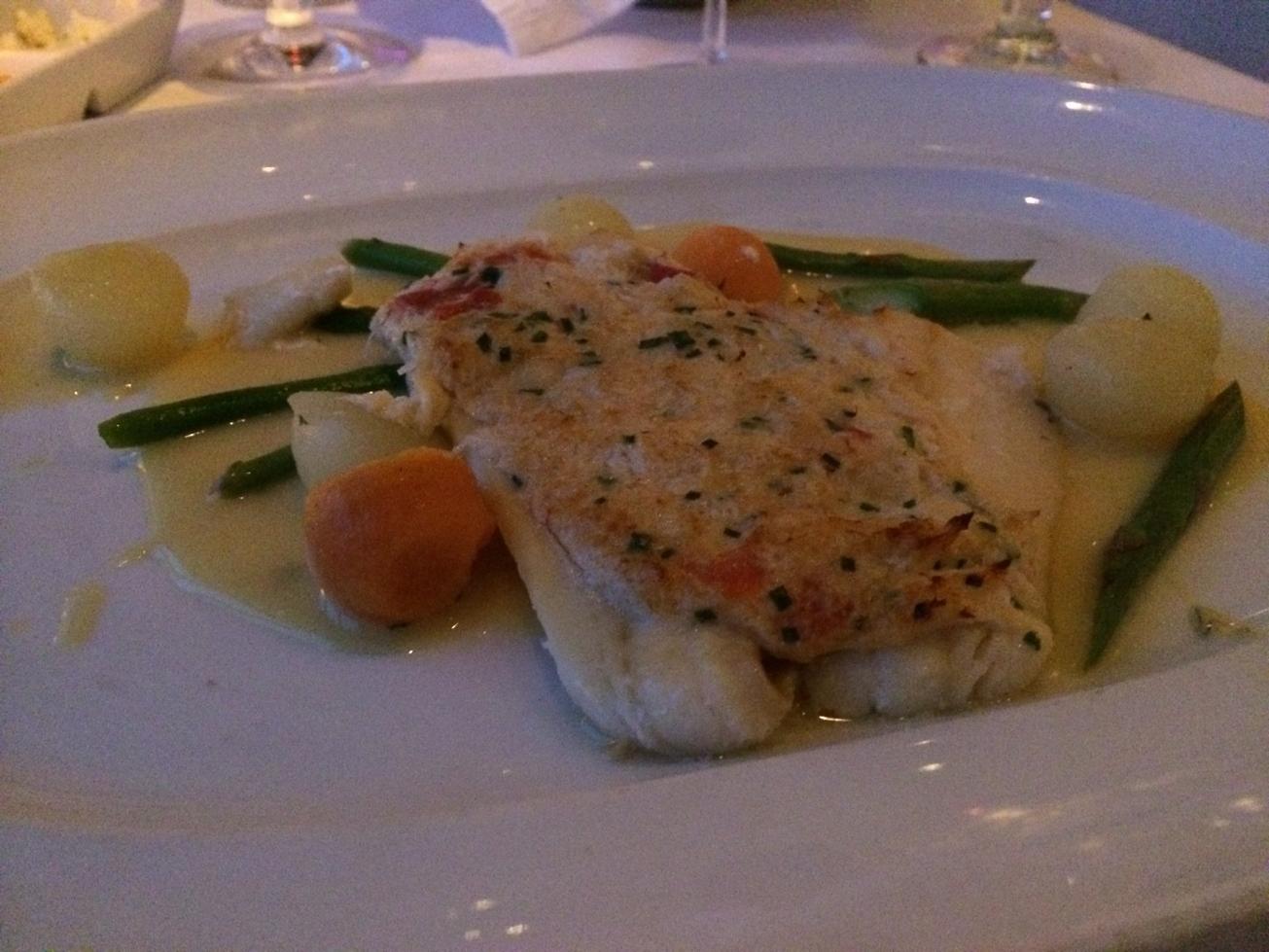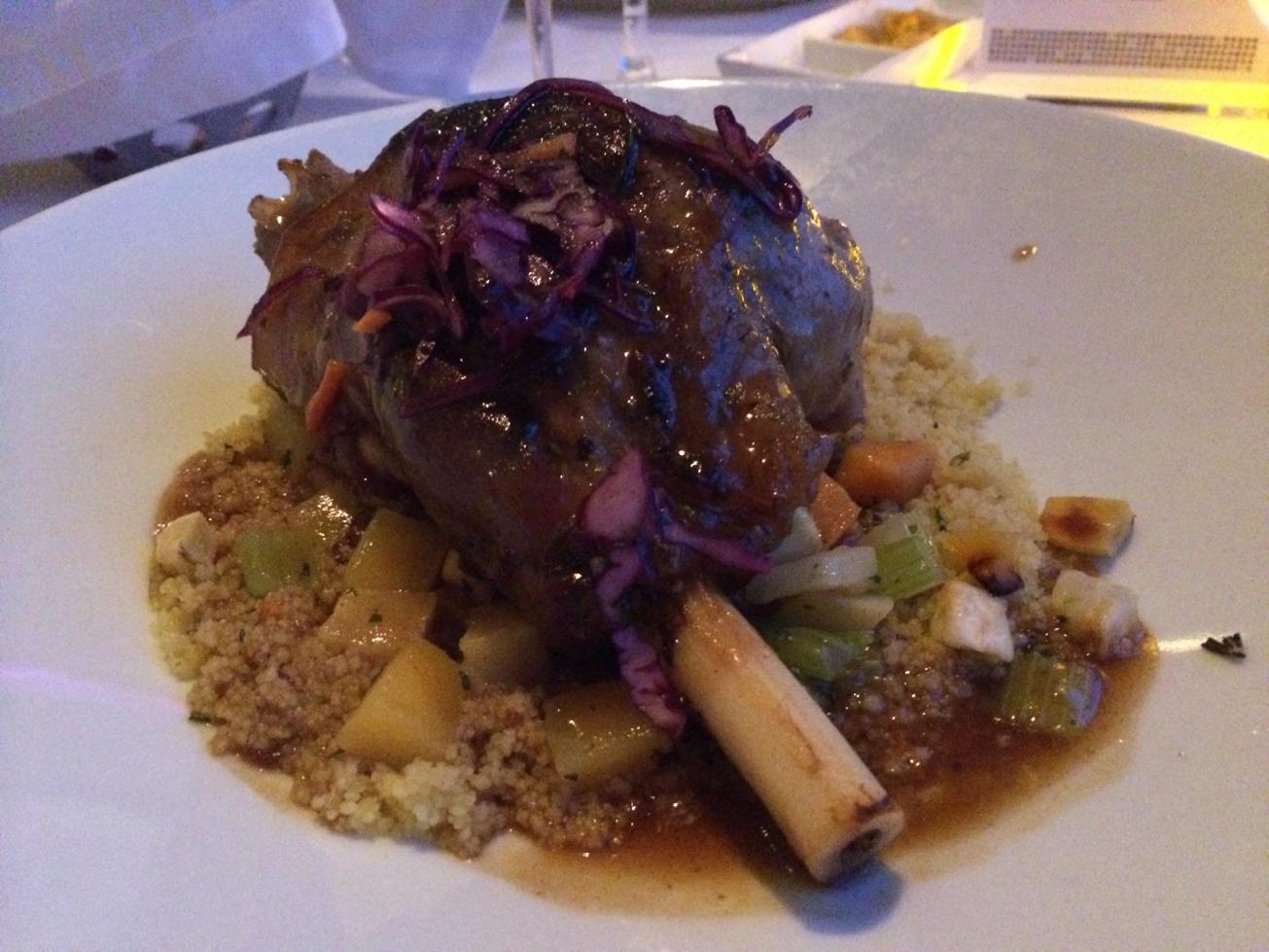 It didn't help that since leaving Lisbon the winds have picked up and the seas are now quite rough. We were definitely rolling around in bed – and that's not a euphemism! Alex commented that he had always assumed that staff are totally immune to sea-sickness, but our assistant waiter mentioned that he hates it as it makes him feel really ill. At least passengers can lie down and feel sorry for themselves in rough seas!
We were trying to decide whether to go to the show or not. It didn't really appeal to me as I wasn't in the mood to sit through a full hour of piano and vocals, though I'm sure she was very good. In the end we had an early night. I couldn't post this last night as the internet link was down – sorry about that!