Today we docked in rainy Bergen. Bergen is known for it's very frequent rain, and today was no exception – we were treated to the full wet Bergen experience. Having been in Bergen in May of this year, we thought we'd try something different. You can read about that here.
We ended up in the Hanseatic museum in the morning, then looking round the old Hanseatic area in Bergen. We had some lunch at a superb local eatery, then rejoined the ship for an afternoon nap and some blog writing before our final formal night! My opening photo tonight is the same as the one I used in my previous post about Bergen, but I love this statue so much that I'm going to use it again!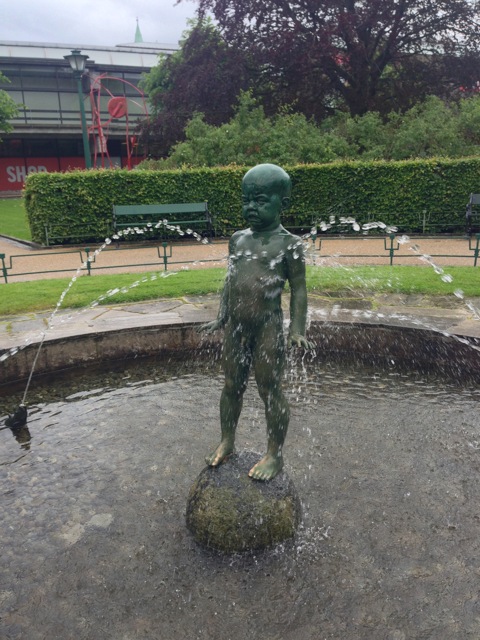 </a>
Bergen, Norway
The port in Bergen is quite industrial and, like many other busy ports a shuttle bus is required to take you from the ship in to the city. Bergen put on coaches for free though, and the joinery only take 5-10 minutes. Some of the coaches even have free Wi-Fi (we got this on the way back to the ship, but not on the way out. Some very keen smartphone owner had clearly had enough of Bergen, and was doing round trips on the WiFi bus!)
The shuttle bus drops you next to the large park in the centre of Bergen. The park is really lovely. It has a large lake in the centre, many statues and fountains around the edges (including the one I posted at the start of the post). From this central park you can join the official City Sightseeing bus, of which I am a huge fan, which takes you on a narrated tour of Bergen (and also has free WiFi). We didn't do the tour this time, opting instead to walk through the shopping district and on towards the old town to the Hanseatic Museum, something I fancied doing the last time we were in Bergen but didn't have time for.
Do you remember the photo from yesterday of Alex on a golden tractor? Well I thought this was some sort of farmyard bling or modern art in Geiranger, but apparently it's from a Norwegian shop called Moods of Norway, of which there is another in Bergen! (a splendidly named 'super duper store')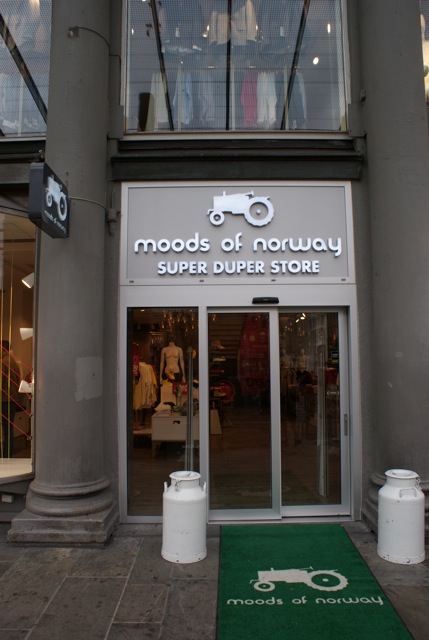 </a>
The shopping area of Bergen is quite large, and there is plenty of shopping for those so inclined. Shopping is not of any great interest to Alex and I, but we did pop in to the Norwegian GAME (a computer game shop) to have a peek at prices. Unsurprising conclusion: more expensive than the UK.
The harbour area is wonderful when the weather is nice. There is a fish market offering all sorts of seafood, many of which can be cooked on demand as a lunch. The markets were incredibly busy today, despite the weather, and the seating area had been covered so the brave can enjoy some fresh seafood outside.
The Hanseatic Museum is an old Hanseatic Warehouse from the days when the Hanseatic League (a collection of German merchants who dominated Europe in the 15th – 18th centuries). We joined a tour of the warehouse (built in C.18) which I believe was free, although we were just exploring the museum when we stumbled upon the tour and tagged along at the back. The tour was excellent, and covered basics of how the merchants operated, were structured and so on. They were very disciplined and believed strongly in a hierarchy of power.
While some people believe Bergen to be a Hanseatic city, where the city itself was entirely run and operated by the Hanseatic League, this is not the case. These cities were only found in Northern Germany, but the League set up economic outposts in various cities around Europe, including Bergen. The Hanseatic area was called Bryggen, and the street bears this name now.
I won't bore you with lots of details of the operation in Bergen, but I'd thoroughly recommend the museum to anyone visiting Bergen. It doesn't have the beautiful sightseeing that you'll find by taking the Fløibanen Funicular to the top of Fløyen, but when visibility is as bad as the weather and you fancy some cultural enlightenment, the museum is fantastic. It's also cheap, at only NOK 60 for entry, or about £7 each.
Your ticket not only gets you access to the main museum in the only remaining Hanseatic warehouse, but also the meeting house a few streets behind. This whole side of the harbour was original under Hanseatic control, and operated under Hanseatic law, with a gate beyond which Norwegian Law was enforced. As a result, a visit to the museum sheds a whole new light on the wonderful buildings in Bryggen, bringing to life the area from these times.
It's worth added that, as a whole, I absolutely love Bergen. It's very much a city in which I could see myself living (other than the actual cost of living, which is rather higher than in the UK). It's got an absolutely lovely, friendly feel to it and with some of the most beautiful countryside in the word surrounding it on all sides. Really wonderful. Whether it's on a cruise or on a land holiday, I'd thoroughly recommend Bergen as a place to visit.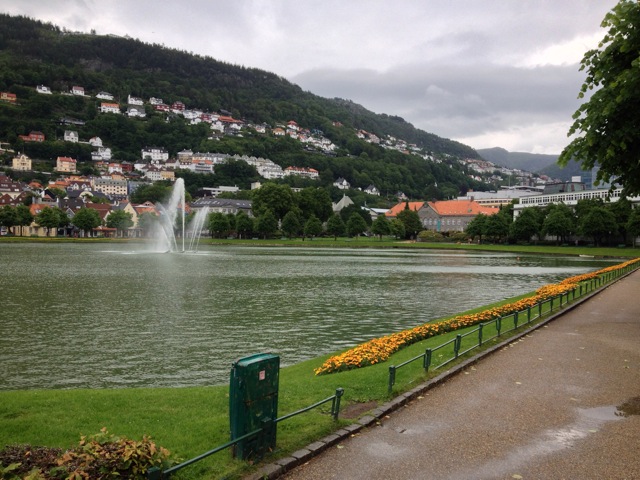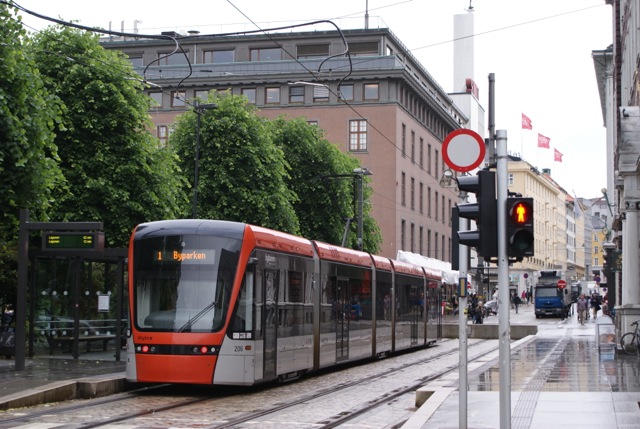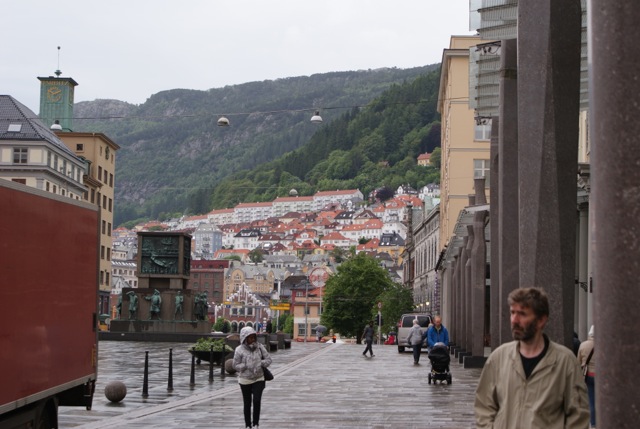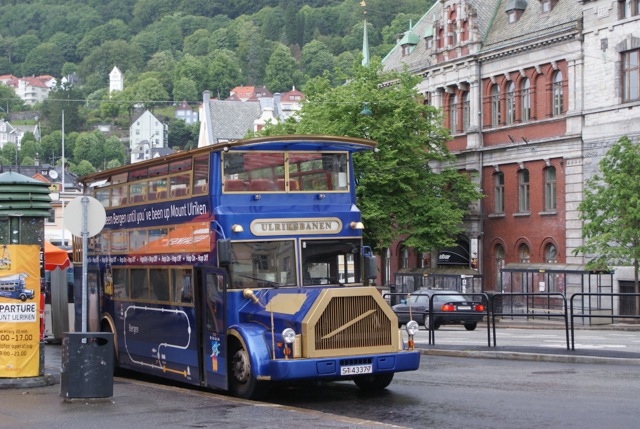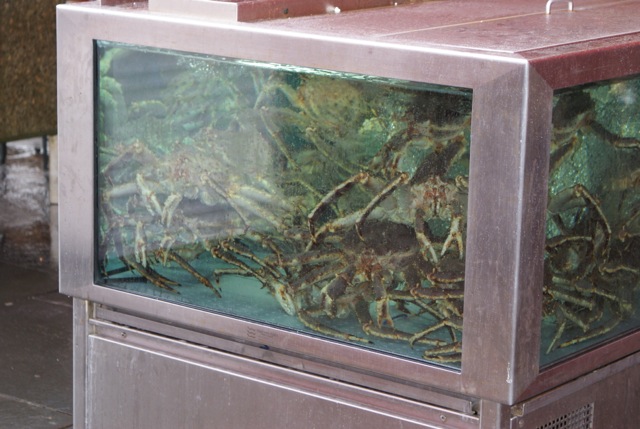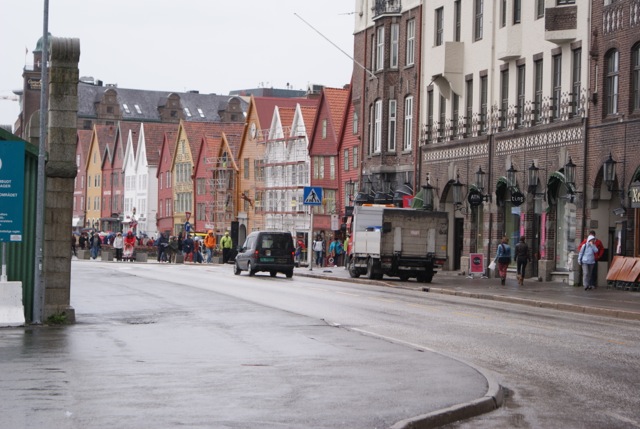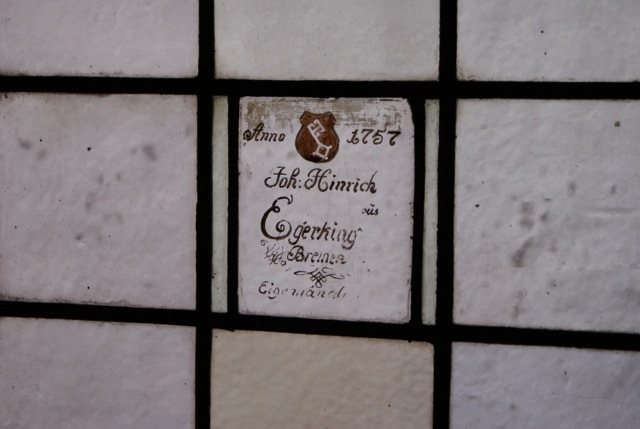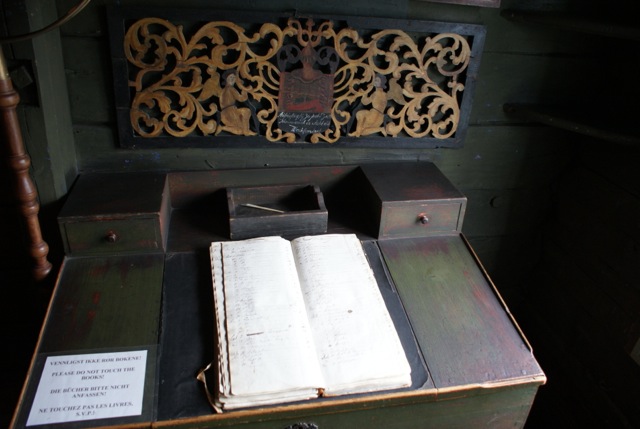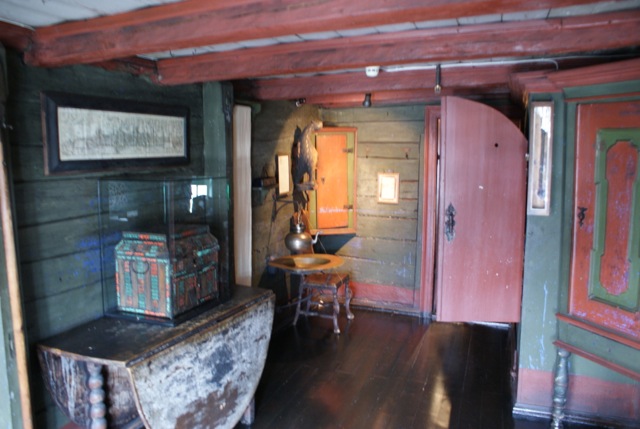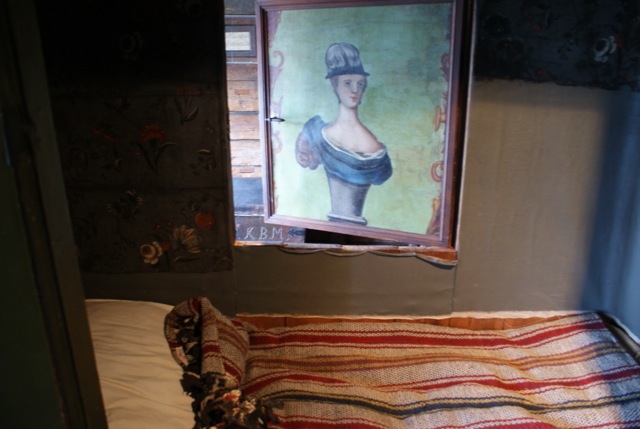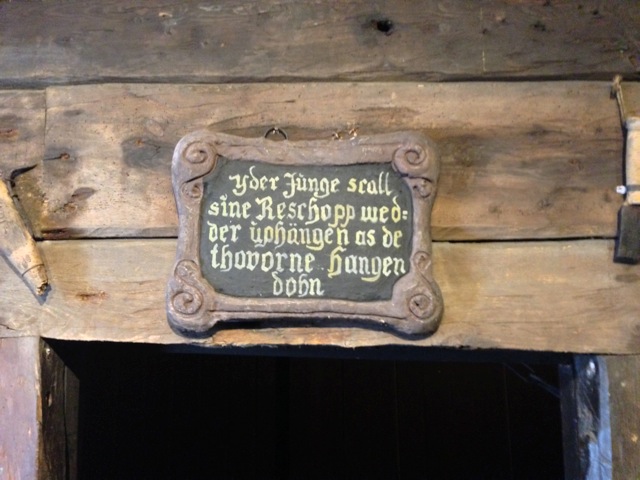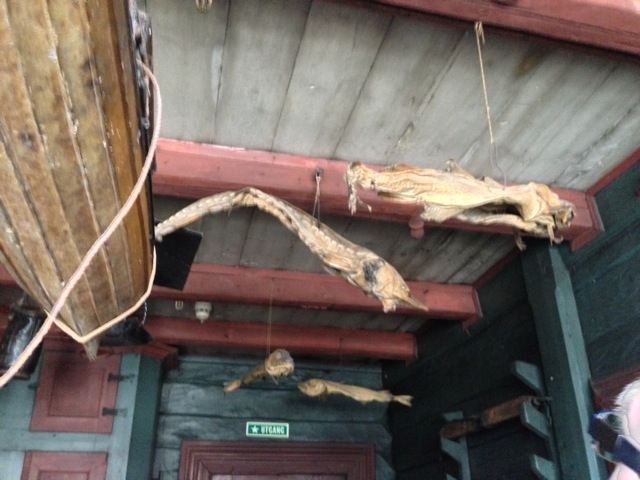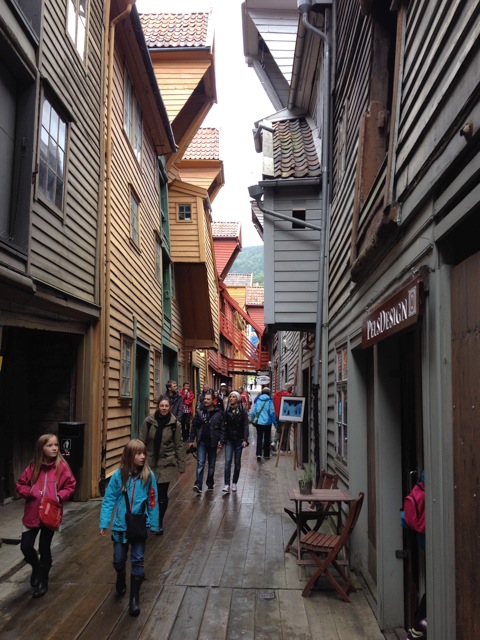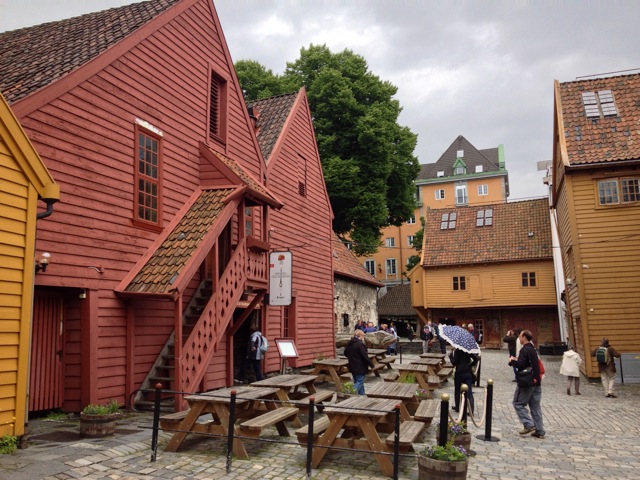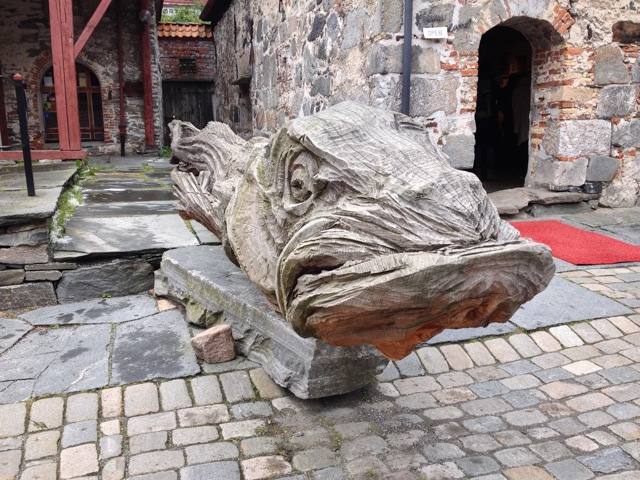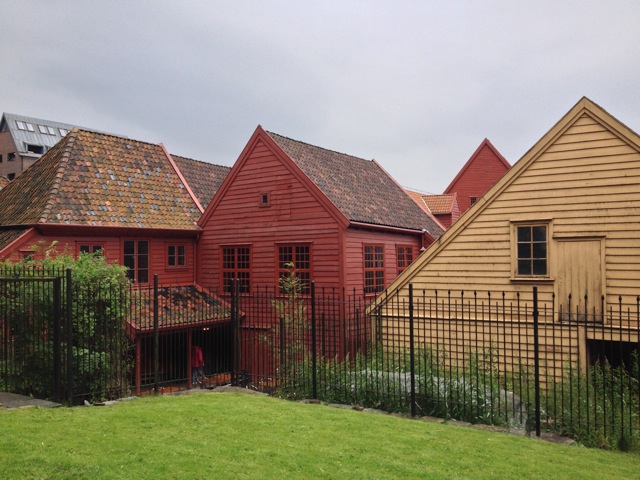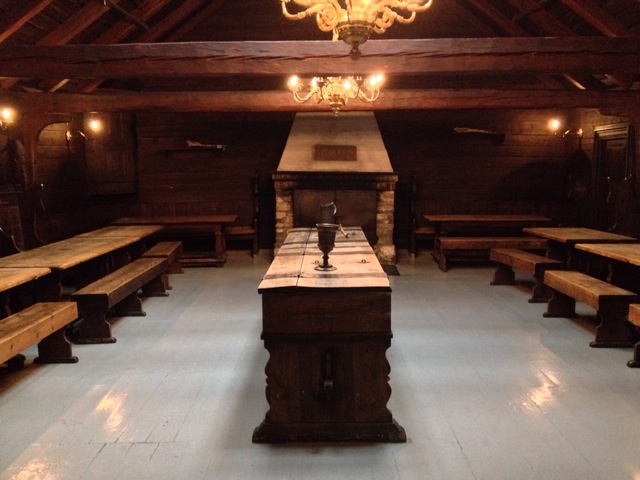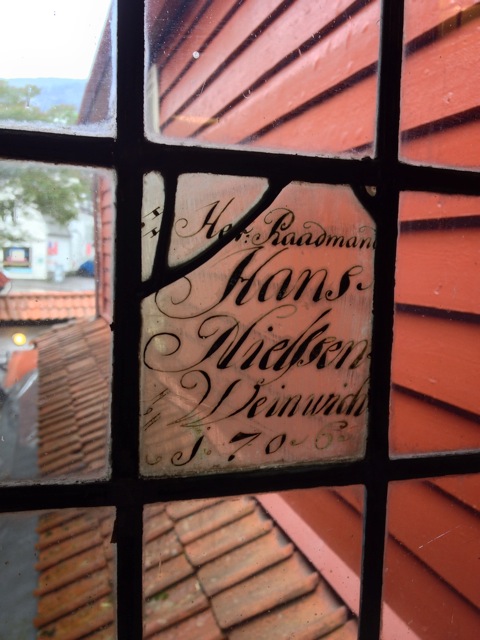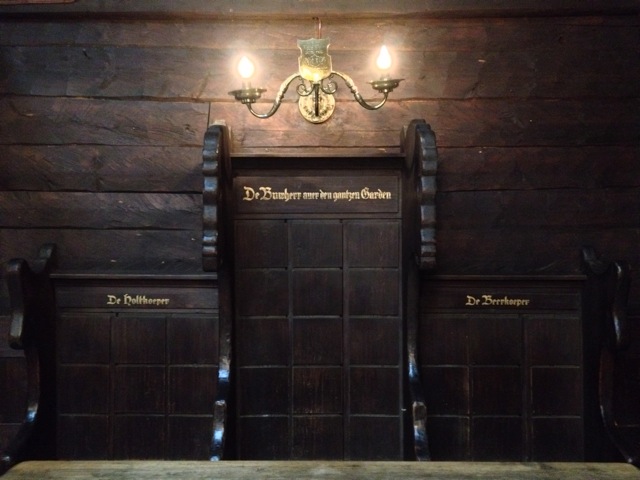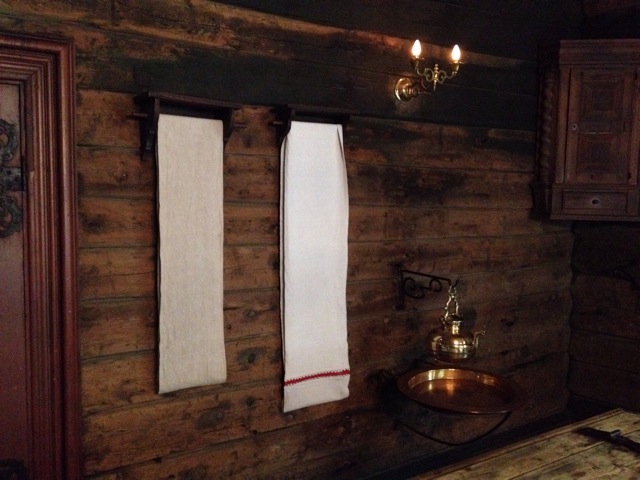 Lunch in Bergen
After spending a lot of time exploring the wonderful old buildings and shops in the Hanseatic area of Bergen, we decided to get some lunch. We found a wonderful local eatery where I enjoyed a delicious burger with bacon, cheese and crispy onions, and Alex had a lovely fresh wrap with chicken and salad. Bother were served with crispy american-style chips.
Ok so we cheated a little for lunch, and ended up in Birger King. Sorry. It was, incidentally, the most expensive Burger King we've ever eaten in, with the medium meal for the two of us costing NOK 203, or about £23! It makes the wonderful bistro food from Geiranger sounds positively cheap!
Boring afternoon on the ship
After boarding the ship we were both feeling really tired for some reason, so had a power nap before getting showered and ready for the second and final formal night on the ship. Incidentally I assumed that on an 11-night cruise there would be more than two formal nights, but apparently not!
I then sat down to write this blog while we watched Murray take on Verdasco in the quarter final of Wimbledon. This was quite an exciting match, and as I was writing this section the game wasn't over. Thankfully it did finish before we went to dinner, with a nail biting finish for Murray!
Formal Night in The MDR
As it's a formal night, dinner is before the show, even for late-sitting guests. Actually I meant to address a comment someone correctly made explaining that the pre-dinner show only applies to diners in the late sitting. For those eating early, they enjoy the show after dinner at 9pm. As the cruise has gone on I have warmed to the pre-dinner show, as it gives you free reign after dinner to do whatever you want, and there's no pressure to finish by a certain time (although as there are so many other events on in the evening, this pressure might still be there).
This late night show clearly did not suit our table companions who, according to our sommelier, decided to attend the early dinner sitting tonight. Tonight I enjoyed Oysters Rockefeller (which I could have eaten platefuls of but didn't, before you ask) followed by quail delight and then a citrous roulade. The desert wasn't really up my street, but the rest of the food was wonderful as usual. I always thought a roulade was a meringue desert with lashings of lovely cream and whatever other ingredients you fancy. This was more of a jam rolly-polly but with filled with lemon curd. Not what I was expecting, but nothing on the desert menu stood out to me tonight so I didn't mind too much (I know they'd have brought me something else if I'd wanted; I didn't).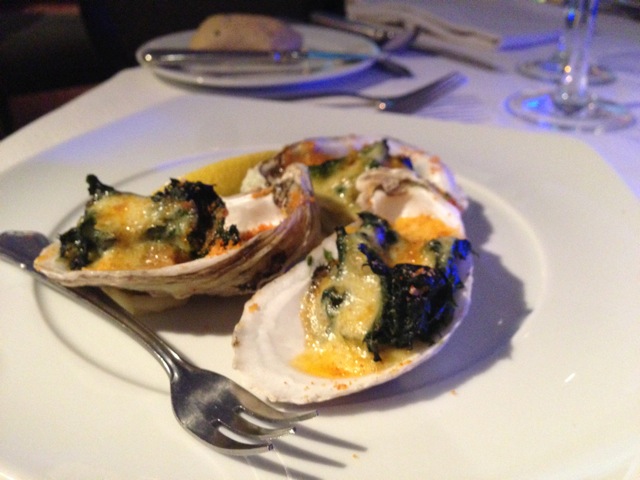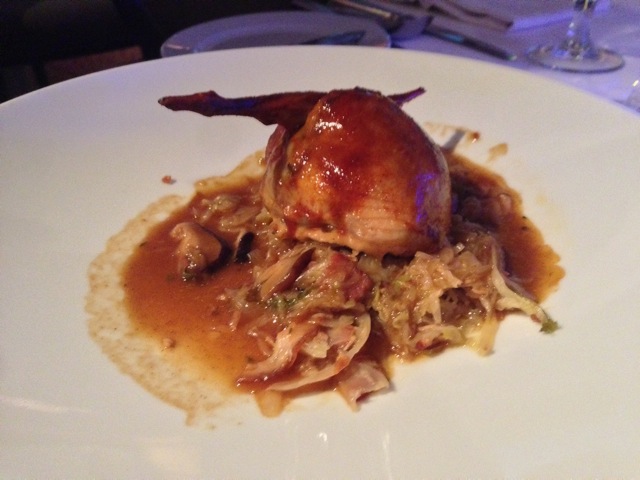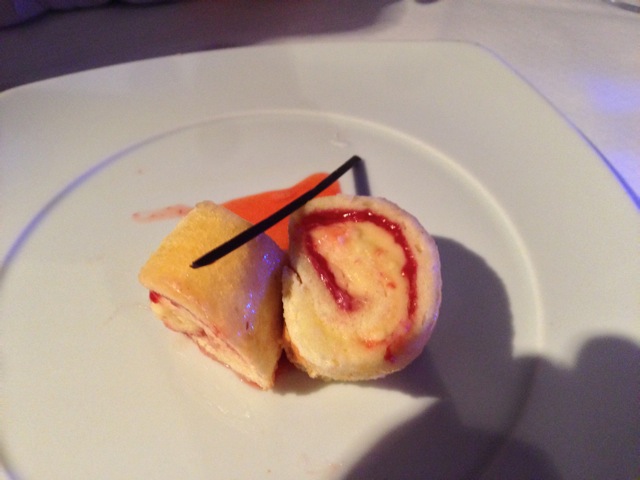 Alex decided to go for the Arugula (Rocket) salad with choice of dressing, herb crusted lamb chops, then a basked Alaska. He wasn't feeling great at dinner tonight (although recovered shortly after) so didn't eat much of the main course (an alternative was offered until they realised it wasn't the food that was the issue).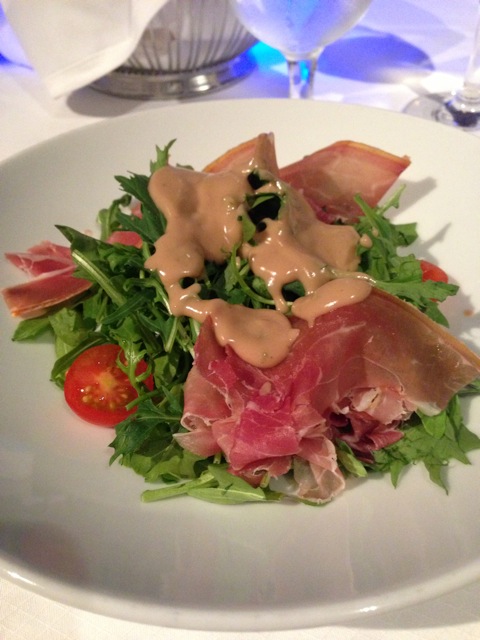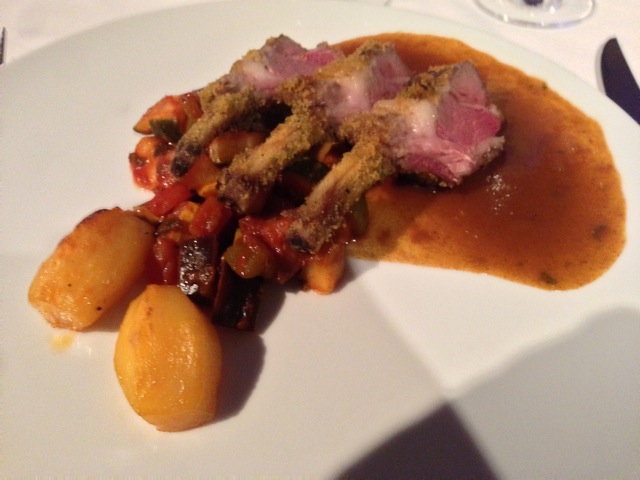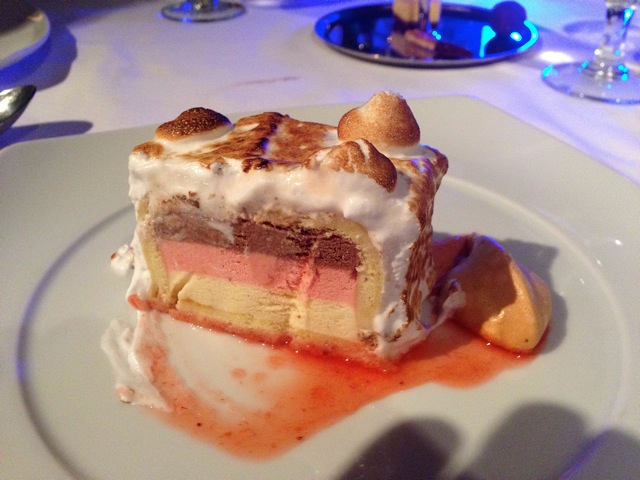 iBroadway
I absolutely hate the name of this show (I, Broadway would have been a better presentation in my opinion) but the show promised 'An evening of award winning music from Broadway & London's West End'. This sounded right up my alley, and I hoped for plenty of music that I know and love. The iBroadway name came from Apple, as you'd expect, with some sort of iDevice flicking through different genres of musical theatre.
We actually saw a similar production on Celebrity Eclipse, but this one was much, much better. The vast majority of songs were familiar and even the unfamiliar ones, like those from Hairspray which I haven't seen yet, were bouncy and catchy. The choreography was wonderful too, and the production team made great use of the stage mechanics to bring the show to life.
I was especially pleased as they featured a few songs from my favourite musical of all time, Miss Saigon.
Midway through the performance there was a medley of music from various Cameron MacIntosh (Miss Saigon, Les Miserables etc) productions which was expertly arranged and beautifully performed. I was very, very impressed.
Ric Steel (again, sorry)
I so wish I'd found Ric earlier in the cruise, as his performances have been the highlight of the last few evenings. He started playing in Café al Bacio at around 22:45 (the same time that the show started) and we arrived at about 23:45 where he was still going strong. He'd gathered a huge crowd in this small venue, and had everyone singing, clapping and swaying along with his wonderful music.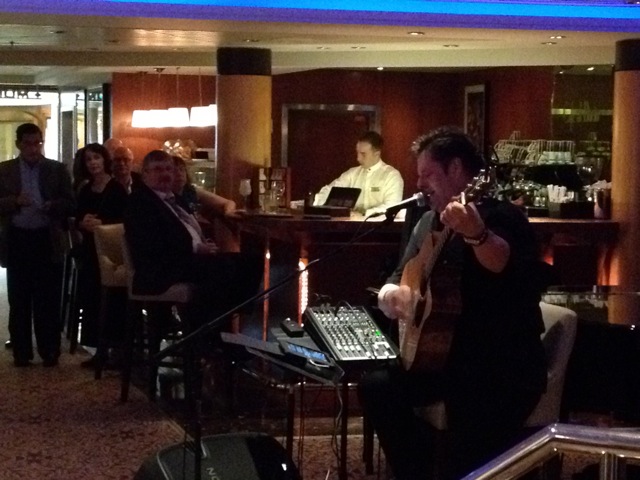 </a>
It's now 01:10, and, other than a quick detour to the slot machines in the Casino (where I came away ahead again, by the way) I'm just in and sitting down to finish the blog. What a fantastic evening.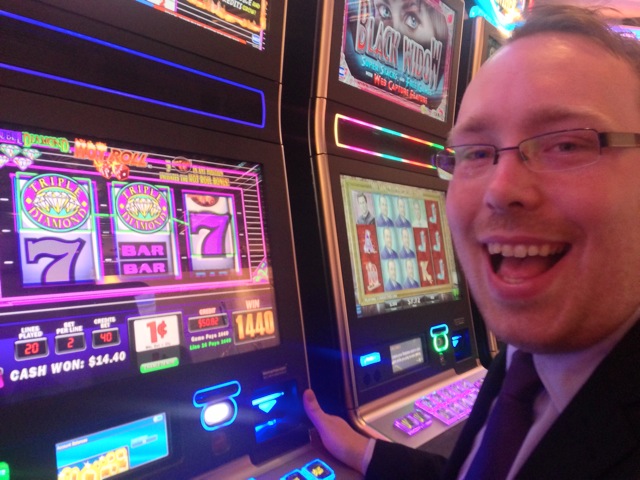 </a>
My only complaint is that he should have been given a bigger venue, as seating is very limited in Café al Bacio. I went to get a drink from the Rendez-Vous lounge and the place was dead – no performances happening and only a smattering of people conversing around the room. This would have been a much better venue for Ric, but perhaps there was an act on in there before I arrived.
Tomorrow is our final day at sea, and our last full day on Celebrity Infinity. Stay tuned for that tomorrow, and remember to let me know in the comments if you have any questions or want me to explore a specific part of the ship. Time is running out!