As many of you will know, Alex and I are spending the next 11 nights on board Celebrity Infinity on the Iceland and Fjords cruise. Today we drove to Harwich International Port and did a little exploration of our home away from home for the next week or so.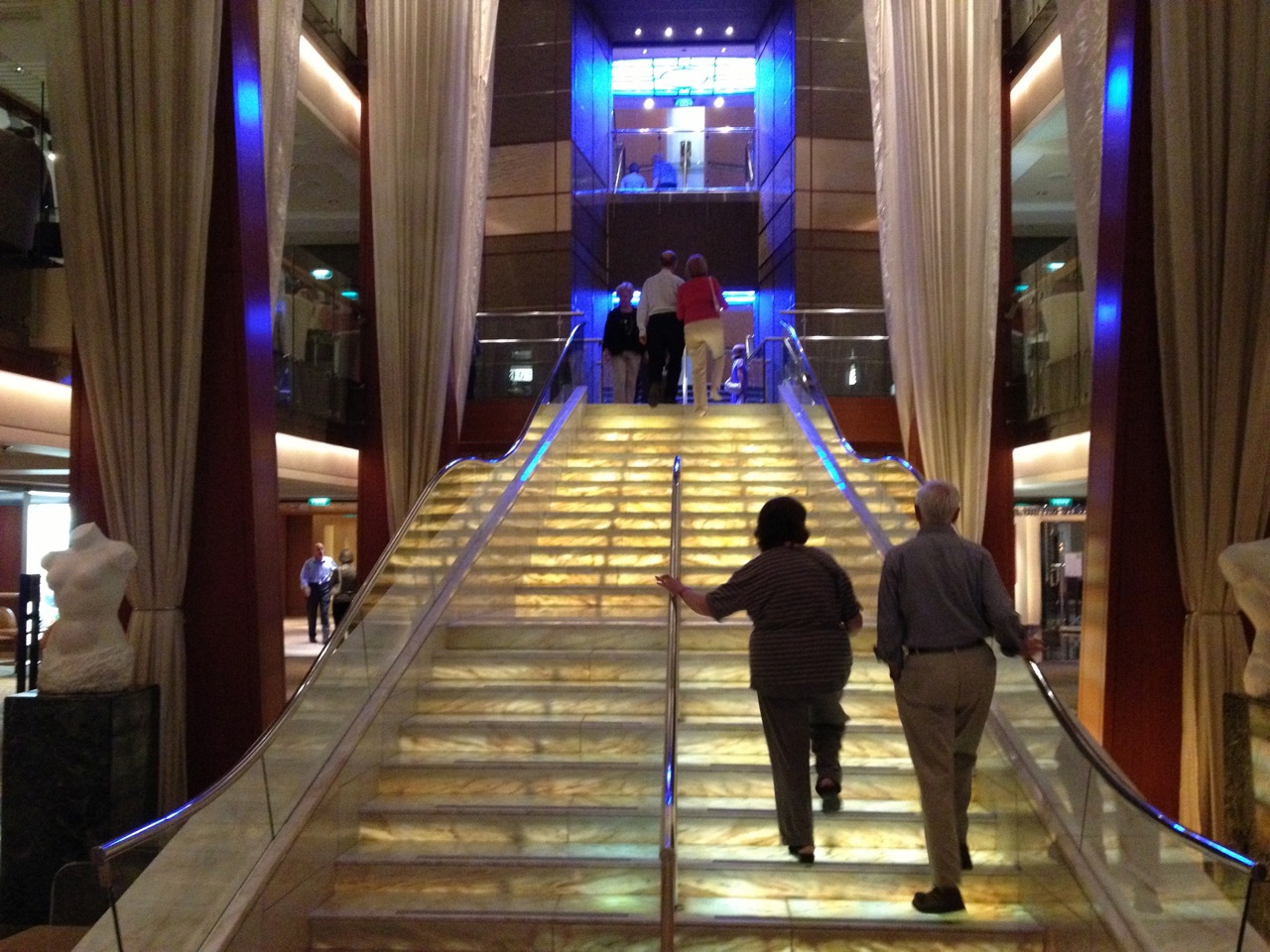 </a>
As we were staying with a friend for the last few nights, we didn't have too far to drive and arrived at the port at around 11:15. The parking situation at Harwich is a little different to that at Southampton, and there was very little information about the parking on the website for the port. I called them a couple of weeks ago to try and pre-pay for my parking, but I was apparently too late. We were told we could just arrive and pay on the day, but this left me a little anxious – would there be enough parking?!
The experience was actually very straightforward. There is plenty of signage directing you to the cruise parking, and once you join the big queue of cars, it's only a few minutes before you reach the toll-booth style entrance where you can pay for parking by cash or card. For the 11 night cruise we were around £79, which seems comparable to the parking in Southampton. There were a couple of people holding up the queue who seemed rather shocked that they had to pay for parking. Luggage is then taken, you self-park and get a shuttle bus to the ship.
Security and check-in was very prompt and friendly, and we were on the ship by 12:30 ready to explore. Our staterooms were ready by around 13:30.
The Stateroom
The room was originally set up with two single beds, but a quick visit to Guest Relations got that resolved quickly. The room (in it's present state) has a large porthole window, with a sofa, coffee table, desk and chair immediately in front of it. The desk is the home of the only power sockets we've seen – two European and two US, so bring adapters. The wall is more or less mirrored along the length, and the bed seems comfortable. There's plenty of storage too; there's more than enough for our 11 night cruise, and enough for a longer holiday too. There are, thankfully, no tea and coffee making facilities taking up valuable space in the cabin.
One slight disappointment is the bathroom. It's a compact size, and almost identical to that on Cunard's Queen Mary 2, including the dreaded shower curtain of doom! After cruising on Celebrity's much newer Eclipse last month, this felt dated, but not unexpected for a ship that's as old as Infinity. The shower is actually fairly powerful for a cruise ship, and all of the fixtures and fittings are in good condition.
Overall, the stateroom is more than adequate for us. I was concerned about not having a balcony and, while I'd still prefer to have one (for the fresh air), the window lets in plenty of light and isn't nearly as bad as I feared. In fact, I'd now definitely consider an ocean view stateroom in a future cruise, if the saving was sufficient.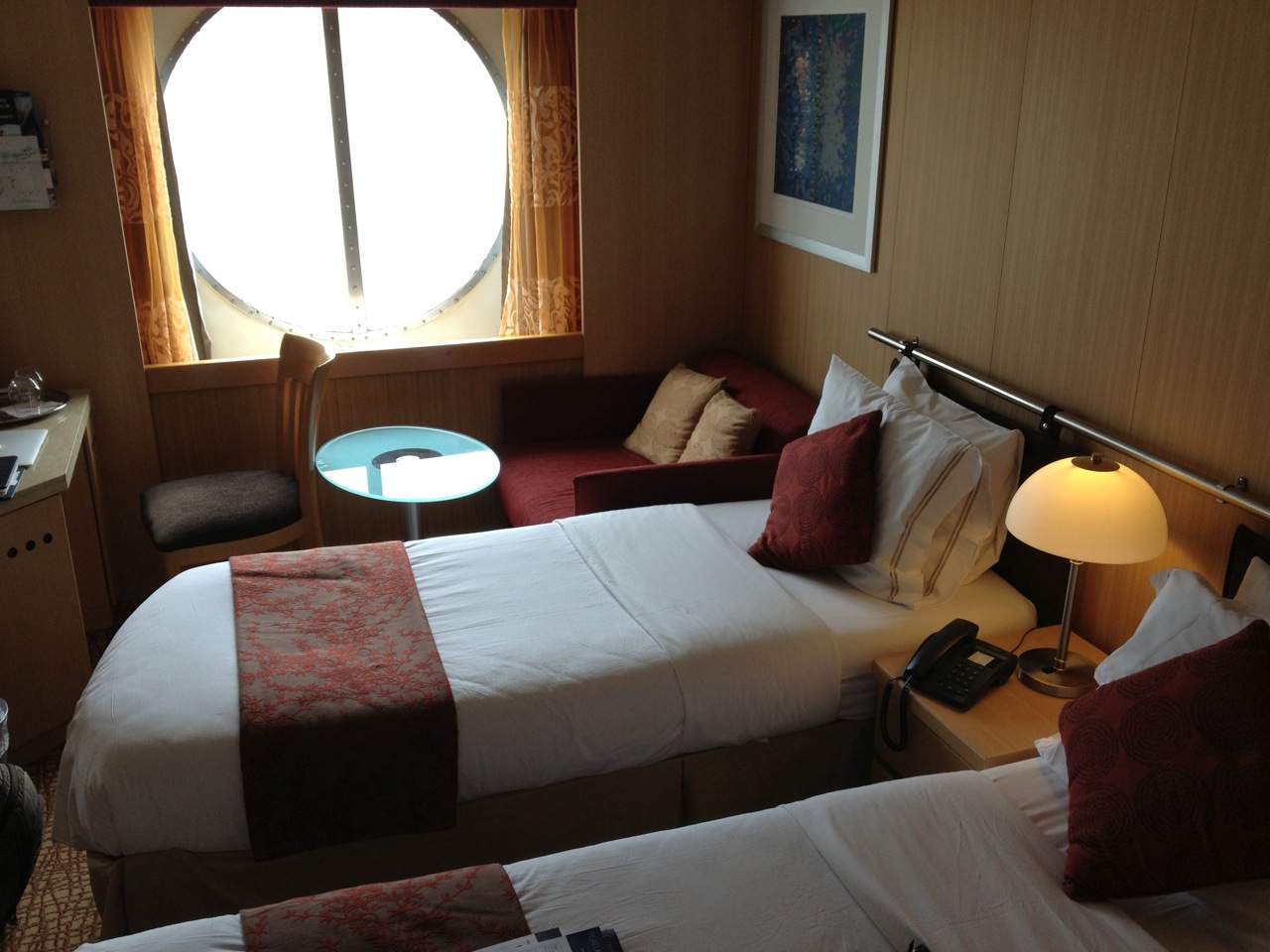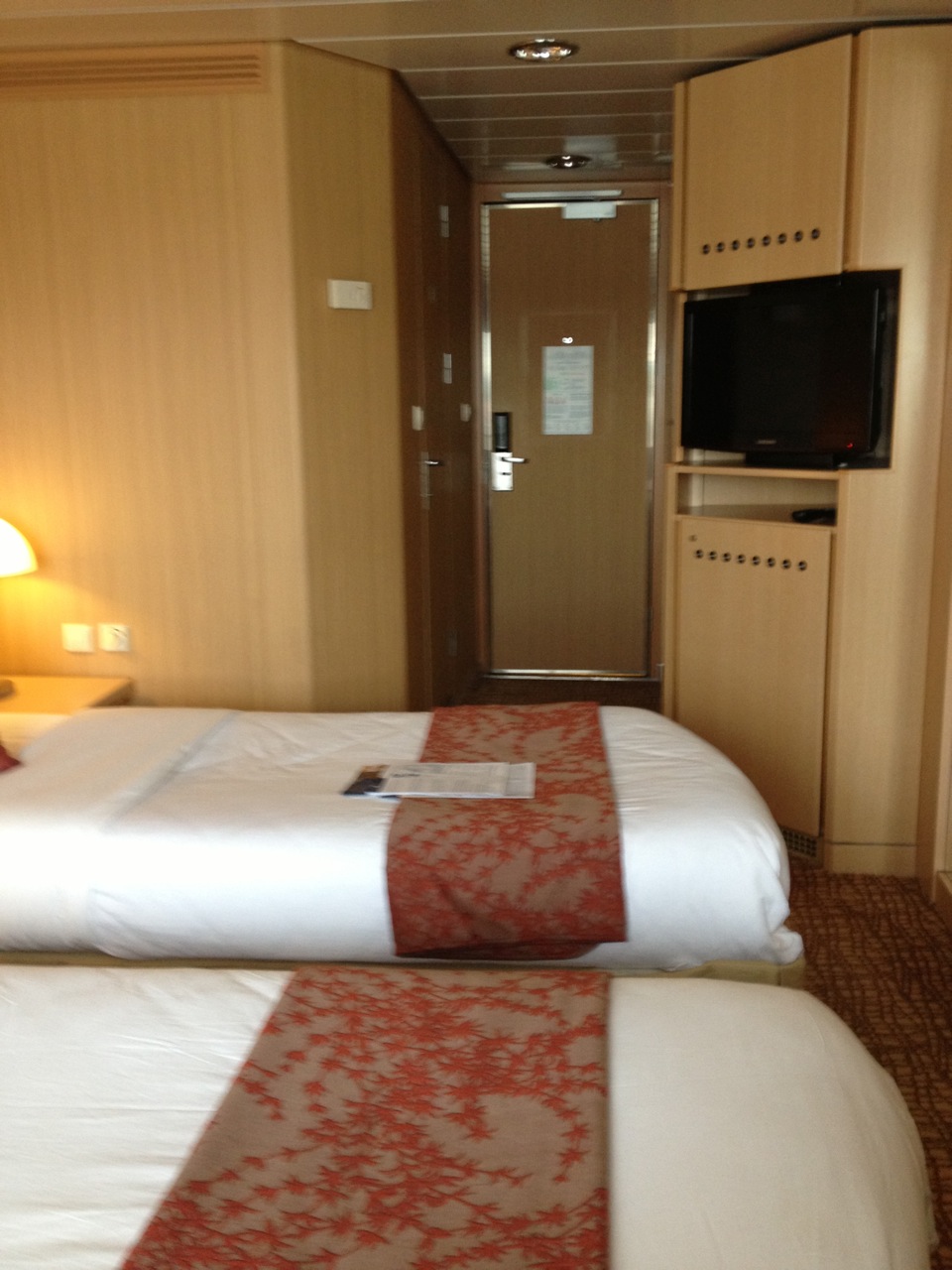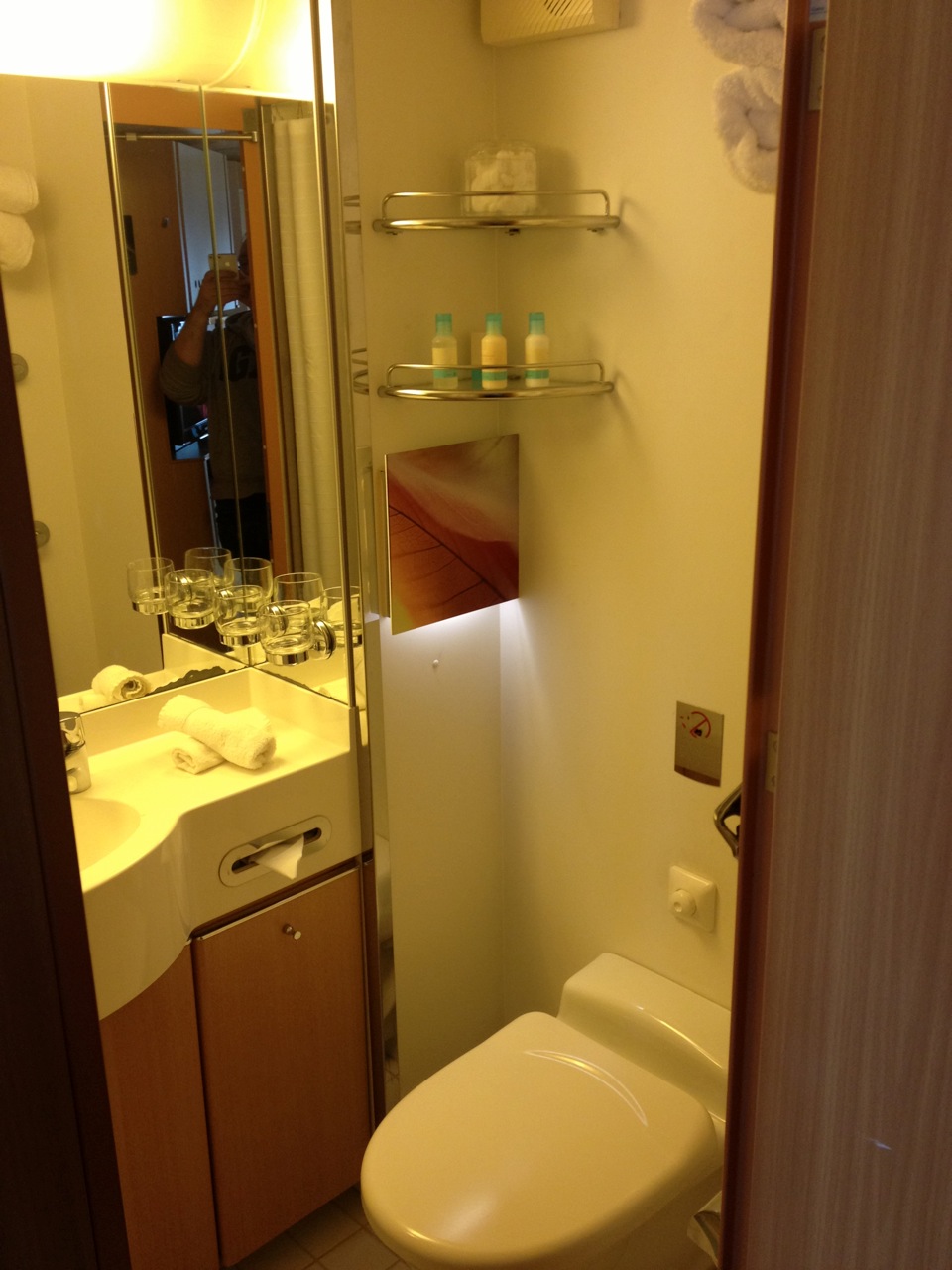 Opening Night – Celebrity Theatre
Something a little strange about Infinity is that (formal night arbitrarily excepted) the evening's entertainment takes place before dinner. Alex thinks this is a great idea, but I'm not so sure. What do you all think?
The theatre on Infinity is wonderful. Every seat has a little glass table which is tastefully illuminated from below and means you don't have to freeze your hands holding your drink during the performance. The theatre looks stunning and the tables make it better than that on Celebrity Eclipse in my view. I don't know how versatile the stage is, but I'll find out tomorrow at the first big production show.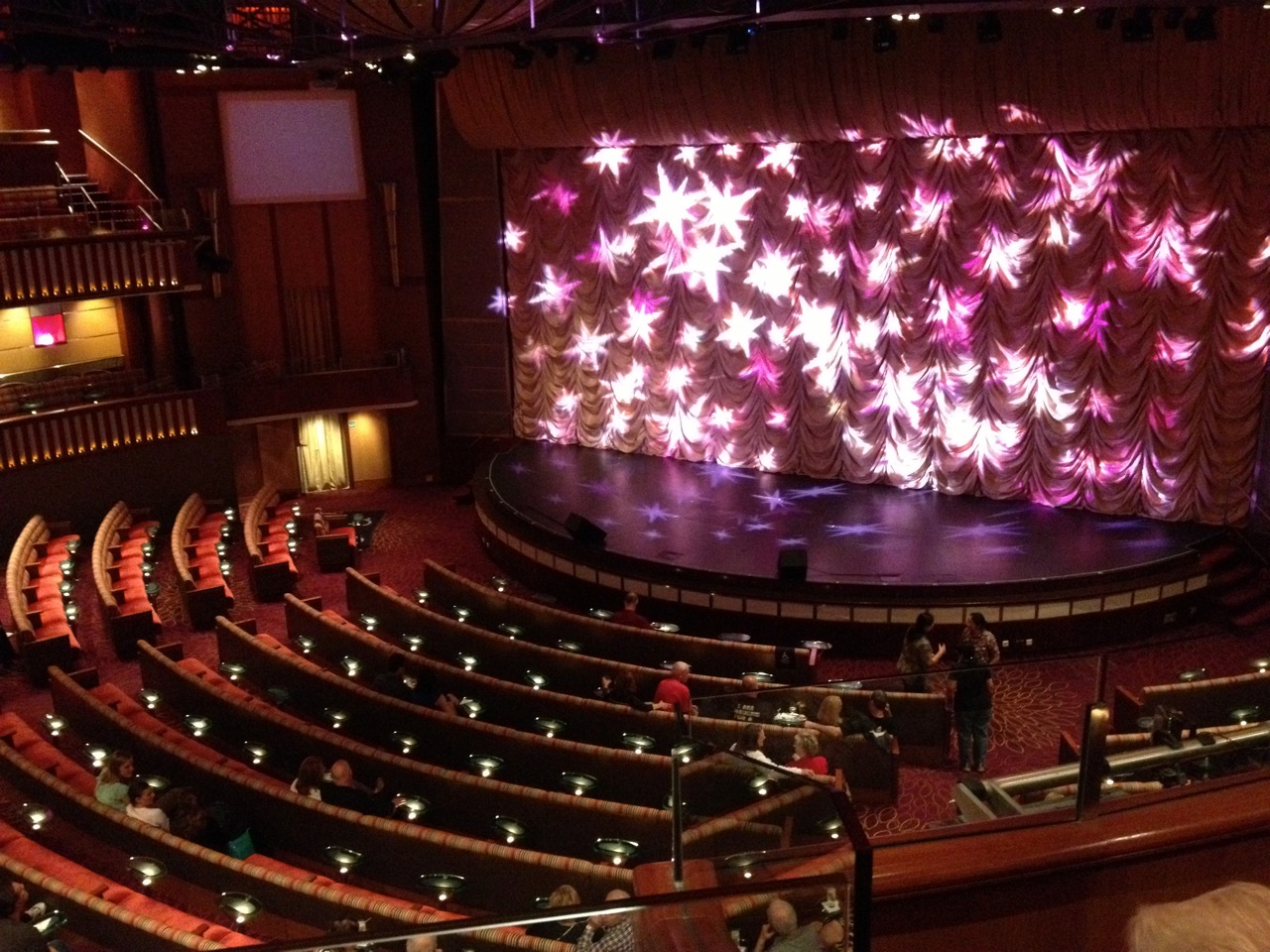 </a>
Our show tonight was a little taster of the in-house acts that Celebrity Infinity has to offer, with our cheery cruise director James Cox (known as and referred to as JC, I assume to avoid the childish sniggers that would otherwise emanate from the crowd). So far he's impressed me, and the show he and his team put on tonight was simply outstanding. The highlight for me was the collaboration of Fiore Strings (string trio) and Ric Steel (guitar and vocals) with Hallelujah. Or was it the Stars of the Eclipse with their expertly crafted medley of showtunes? I'm really not sure, but I'm excited to see what they do for the remaining 10 nights!
The Trellis Restaurant
When we boarded we were told we were on a table of 10(!) people around our age. I wasn't too keen on having such a large table, as Alex and I prefer a table for two. Unfortunately this wasn't available, but we got a call later in the day asking us if we would vacate our table for 10 and move to a table of 6 to accommodate a family who would otherwise be separated. This suited us nicely, as I feel that 6 is a more manageable table size.
We arrived in the beautiful Trellis Restaurant and met two of our table companions, a recently retired couple from Hong Kong who have been touring the world and are now enjoying their fifth cruise this year! They're planning to tour the UK after this cruise, including a visit to Scotland, so we were able to give them lots of useful bits of information. They were also shocked that we were able to get a whole 11 days of holiday in one year, and were shocked to learn that annual leave in the UK is often 5 weeks or more. They are used to having only 7 days per year. Apparently living in the UK isn't all bad…
I was so hungry that I didn't manage to get any food pictures (sorry!) so you'll just have to trust me that the food was good. I started with a shrimp salad then a mushroom soup. I had a Jerk Spiced Chicken as my main course, then a blueberry and banana crêpe to finish. The soup was absolutely delicious, and the chicken just fell off the bone. Absolutely delicious!
Fortunes Casino
We knew from our cruise on Eclipse that Celebrity casinos are cash only. You cannot use your Sea Pass to get chips or credits on the slot machines (something I much prefer about the casino on Queen Mary 2). We came armed with some US dollars (the onboard currency) and paid the casino a visit after dinner.
We had a go on the slot machines, and watched some lucky fellow win modest at roulette. I fancy trying my hand at roulette, but am far to tired tonight! The casino was very popular, and they seem to have raffles on regularly, and various other tournaments and events. More about these as I find out about them!
Tomorrow
We've got a day at sea tomorrow, so I'll do more exploring and try to get some better pictures of the ship. Until then… Goodnight!