Today is our second of four days at sea on Celebrity Infinity, and the copy of Celebrity Today (the newsletter that gives a rundown of all the activities and events throughout the ship) looked quite promising so we had high hopes for an action packed day at sea. Find out how we got on in todays entry!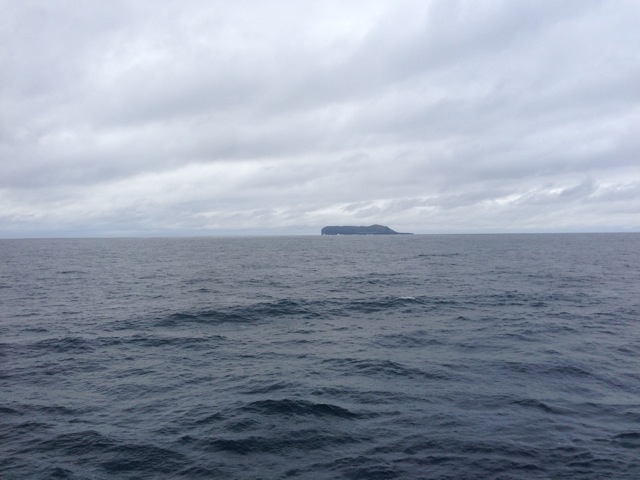 </a>
Breakfast in the MDR
This morning we woke to pretty rough seas, with the ship moving in all directions. Even I wasn't feeling 100% because if this initially, and Alex wasn't feeling to hot either. Nonetheless, we had a nice early rise after our early bed last night and made it to the Trellis Restaurant for 07:30.
The biggest draw of breakfast in the MDR is the table service; not having to fight for food and for a table at which to eat makes breakfast a far more relaxing way to start the day! I opted for Eggs Benedict (a breakfast favourite of mine) while Alex decided to keep things simple (and hopefully still in his stomach) with a bowl of Special K. Of course this was accompanied by various pastries (a croissant in my case), coffee, fruit juice, and ice water.
The Eggs Benedict was pretty average in all honesty. Not bad, but certainly not the best I've had. There was a pretty meagre dollop of hollandaise sauce on the top, making the dish a little more dry than I'd normally like. Coffee was predicable and the orange juice, while clearly not freshly squeezed, was better than that from the machines in the Oceanview Café.
Not a bad start to the day, but in future I'd opt for something else. We'll definitely be back though, as I didn't enjoy the breakfast experience in the Oceanview Café very much.
Incidentally, some of you have asked about Celebrity Select dining (the freestyle option offered by Celebrity where you can turn up whenever you want for dinner). This is taken in the mezzanine part of the Trellis, on the upper floor. As breakfast is also served in the upper section of the restaurant, I got a good view. There are quite a number of tables, and a higher percentage are close to one of the large porthole windows surrounding the restaurant. Additionally, a far higher proportion of the tables are for two, presumably because most people on Select dining choose to dine as a couple on their own.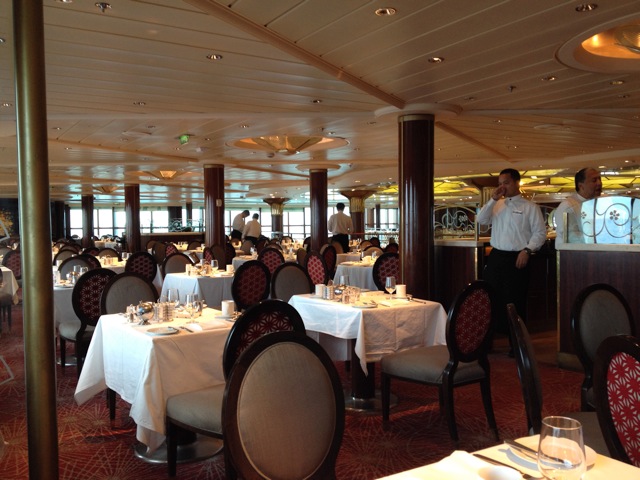 </a>
Watercolour 101 Class
As Alex wasn't feeling great after breakfast, I decided to go off on my own to enjoy the first of todays Celebrity Life activities, which was a watercolour class. I don't remember having seen this listed before, but when I arrived there were rather a lot of people who seemed to know exactly what was happening and already had equipment with them. Nonetheless, when the class eventually got started (it did turn out to be the second such class) the newcomers were issues with a Celebrity-branded watercolour kit, along with a photograph for todays task.
The task was colour matching, where we stuck a photo on half of the watercolour paper, and completed the photo in watercolour, matching the colours of the photograph. Now I haven't touched any art equipment since high school, so this was perhaps a little advanced for me!
As it happens, I'm completely rubbish at watercolour (or maybe all art, who knows). While some of my fellow students were painting fabulous vistas, and completing images of majestic bridges, I seemed to end up with a water mess of blue and green stripes. I'm sure someone will ask to see my masterpiece, so here you have it.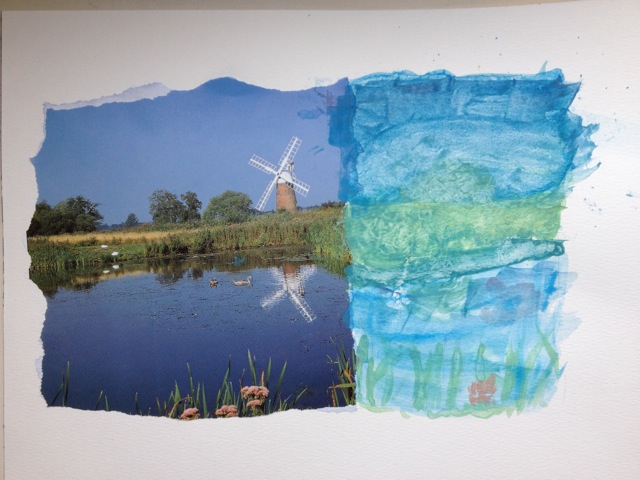 </a>
I'm sure we can all agree that I won't be putting together a touring exhibition in the UK's top galleries anytime soon. Although on the off chance that anyone out there has very poor taste in 'art', you can bid on this particular work in the comments.
Beyond the Podium – Jim Kennedy
The second of Jim's series of lectures on space, this time focussing on the Space Shuttle. Many wonderful facts, stories and beautiful images were included in the presentation. Jim is such a passionate man, and a genuinely nice guy. Today he was telling us about some signed card from one of his mentors at NASA and he quipped that if we're ever round at his house he'll show us. I genuinely believe that if you were to turn up at his door you'd be welcomed very, very warmly!
After this talk was finished, Alex and I had some down-time in the cabin and watched some very American coverage of Wimbledon. It certainly wasn't the BBC… We eventually got hungry and ordered some room service for lunch.
Room Service
You can order room service on Celebrity Infinity in one of two ways: through your interactive TV or by pushing the room service button the stateroom phone and speaking to someone the old fashioned way. Of course we used the telly, and ordered a Caesar Salad (for me… still trying), a Club Sandwich (for Alex) and a nondescript 'fruit plate' to share.
The caesar salad was actually pretty good – you could choose to have shrimp or chicken with this, so I opted for chicken. Nice fresh lettuce, crispy croutons and tender warm chicken. Alex's sandwich wasn't bad, but nothing amazing. The toasted bread had gone just slightly soggy and it didn't have as much flavour as I'd have hoped.
The fruit plate was a surprise as it was fresh and delicious, including some of the biggest grapes I've ever seen, three types of melon, pineapple and orange. Not bad at all!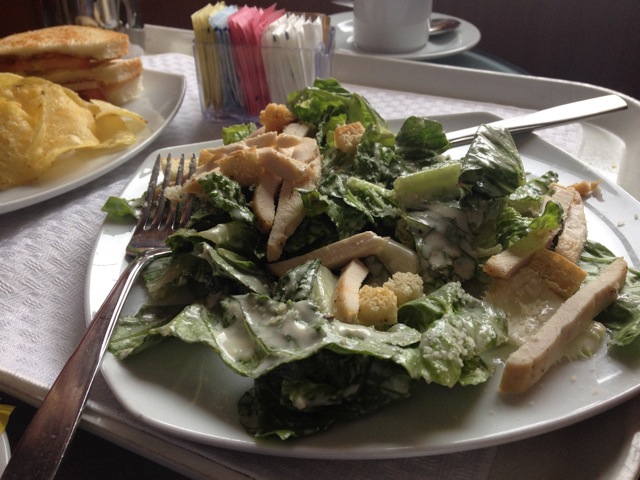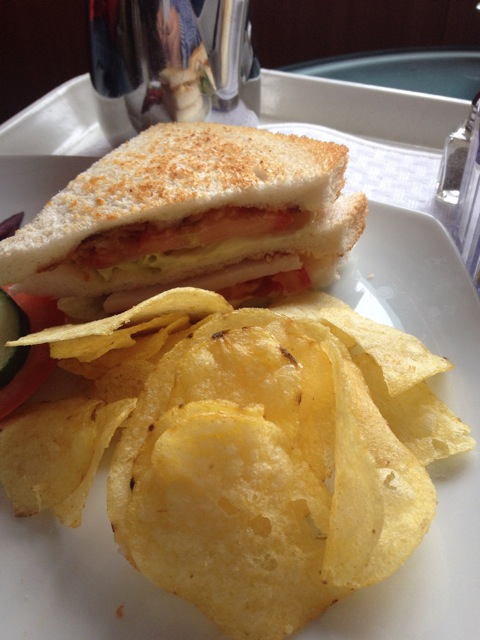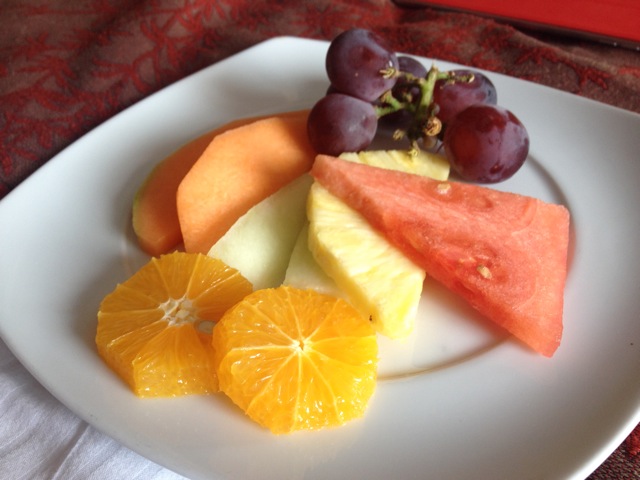 The Art of Entertaining: Cake Decorating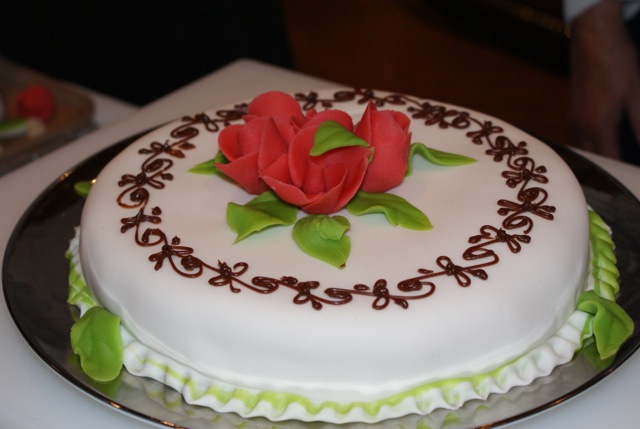 </a>
This culinary demonstration took place in the Rendez-Vous Lounge (it's hyphenated in the programme, but doesn't look right to me…) and featured one of the pastry chefs on board. I had no idea how popular this was going to be, so we didn't have a fantastic seat as we were off to the side. This pastry chef definitely knows what he's doing in the kitchen, but his presentation skills leave a lot to be desired. The microphone either wasn't on, or wasn't loud enough to fill such a large space, and he didn't give a running commentary of what he was doing, leaving the room eerily quiet as he got on with the production of lovely red marzipan roses.
One lucky audience member did get to come on stage and have a go, and I suspect that she was the only person to really catch everything that was going on. They could easily have improved this by having an overhead camera showing his work on screens, and by having him commentate and explain what he is doing (or have an assistant explain while he's working).
A little disappointing, but the cake at the end looked lovely and, to be fair to him, he did spend time with guests who went over, showing them how to do various scroll patterns with icing.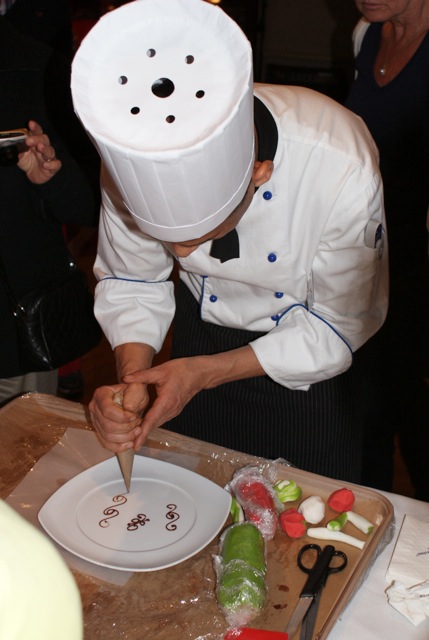 </a>
If you're going to go to a show like this, get there early for a front and centre position (or hope for a louder and more charismatic presenter).
Game Show: 'Minute To Win It' Officers Challenge
This was another activity in the Rendez-Vous Lounge, and this time we arrived early for a good seat. The idea of the game show was simple – there were a series of simple tasks (such as taking a stack of cups, arranging them in a tower, then stacking them again) that had to be performed in under a minute. Each task had a ship's officer assigned to perform the task, then a guest was selected (from those was had opted-in by taking a raffle ticket) to try and beat the officers time.
One of the challenges involved having a box with a slit cut into it strapped to your lower back and filled with 6 ping pong balls. You had to jiggle about in such a way as to remove the aforementioned balls from the box without touching the box itself.
Well… what a laugh it was watching the member of the activities team demonstrate this challenge. And what a laugh it was when the ships officer managed to get all but one ball out of her box after 60 seconds of frantic bouncing and jiggling about.
And what a shock I had when I was chosen to take on this officer in what was the most embarrassing and energetic of challenges on offer! That's right everyone, I got a box strapped to my back and had to bounce about like a madman on stage in front of literally tens of fellow passengers, crew and officers. I did myself proud though, managing to dislodge every one of those balls in an astonishing seven seconds.
And… you guessed it… Alex got plenty of photos for your enjoyment / my embarrassment. He even took a video, which may get posted at the end of the cruise if you all ask nicely!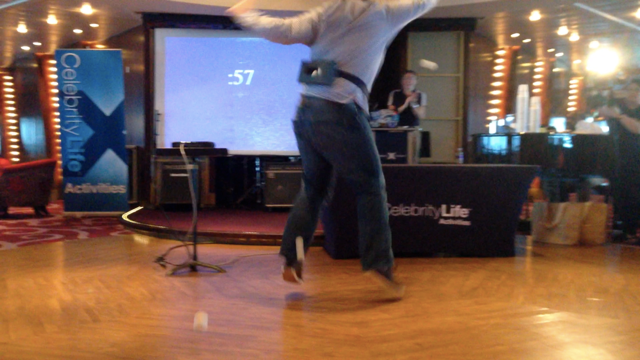 </a>
After all that excitement I decided to have a nice relaxing afternoon in the gym again, to burn off some of those calories and continue my Couch to 5K plan. Here I discovered that running on a treadmill on a ship that's rocking about is incredibly difficult! At least for me… some really fit folk were taking the uncertain footing in their stride!
David Knight – Celebrity Theatre
Tonights entertainment comes from another guest on Infinity that goes by the name of David Knight. David is described in Celebrity Today as a 'World Class Comedy Hypnotist. The Master of Madness and Mayhem'. I'm a bit of a skeptic when it comes to these sorts of acts, but gave the show a fair chance.
He was actually very good, and the show was very well done and professional. He asked for a lot of volunteers to join him on stage, admitting that only maybe half would be successfully hypnotised. At first it was a bit awkward as nobody went up, but eventually the audience got in to the swing of things (or people convinced their friends and partners to 'go for it') and he got a full team of victims.
It was a fairly clean show and family friendly, with now horrifically embarrassing and cruel tricks. Mostly good fun and the participants knew what they were getting in to and it was left at that. It was as I expect a hypnosis show to be, and nothing else. I don't typically enjoy this sort of act, but it did have me laughing along at various points, and the rest of the audience were loving it!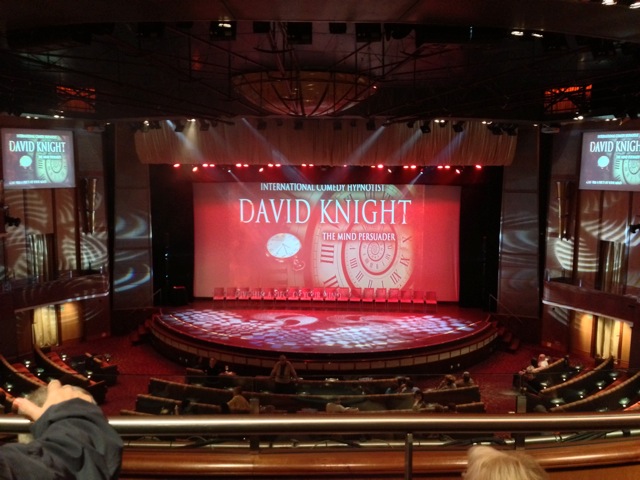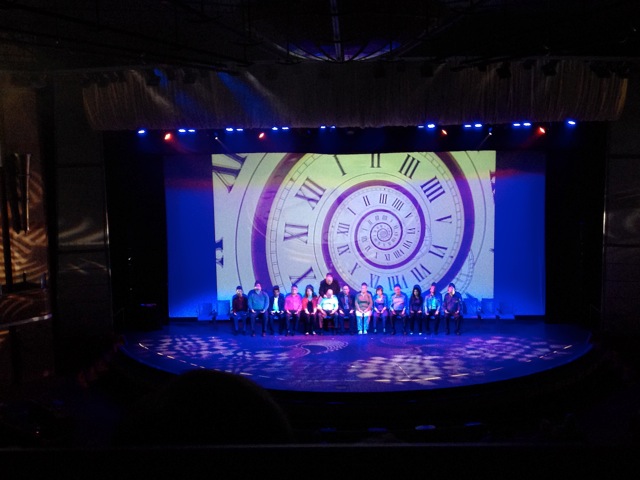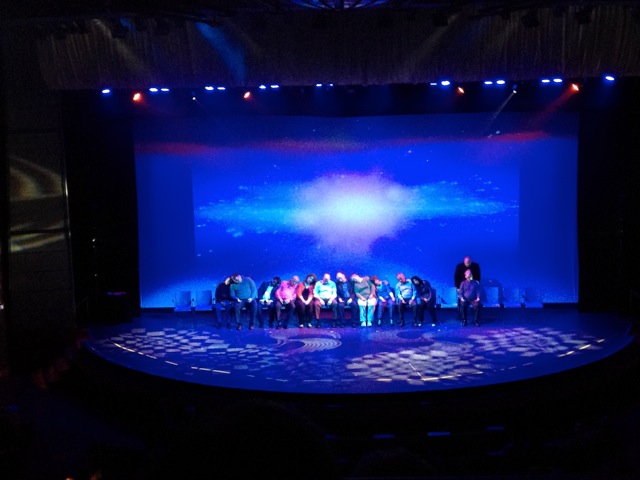 New faces in the MDR
This evening we arrived at the Trellis Restaurant after a night off at S.S. United States to find a couple of strange new faces at the table. It turns out that our dining companions from Hong Kong didn't turn up last night (our waiter reckons they were indulging in Sushi and stir-fry in the buffet) but we had a new couple join our table from last night onwards. Apparently they had been seated with a group of spanish people who didn't speak any English and, despite the fact that they're from Spain they don't speak much Spanish so had asked to be moved.
I honestly don't remember the food that much tonight. I had a seafood risotto to start which was OK, although a little bland, perhaps because it had the appearance of paella which I expected to be bursting with flavour. I then had a soup of some description which was very nice; I think it was a butternut squash soup and had some caramelised fruit and walnuts inside. Lovely! None of the main courses or desserts on the nightly menu jumped out at me, so I opted for the chicken tikka masala and the chocolate cake. Both were OK. The curry had lovely tender chicken, but the small pieces of naan that came with it were a little floppy and uninspired. The chocolate cake was delicious, but very rich so I didn't eat all of it. Overall it was all nice enough, but certainly the worst meal I've had on board so far.
The conversation was continuous, and we heard all about this couples life and time in Spain. She's 75 and he's 85, and they only met 7 years ago after their spouses passed away. They've both travelled well, and now love cruising. They shared some fantastic and hilarious stories, and genuinely seemed interested in our lives too. Good fun was had by all!
What some of you may be interested in was that she had some special dietary requirements, but said that Celebrity had been absolutely wonderful about it, offering special bread and advising them on any menu items that weren't suitable (even adapting one item to meet her needs).
At the end of dinner one of the sous chefs was introduced to us by Lenny, the assistant Maitre'd. He was very charming, and actually offered this couple some recipes for the bread that had been served that night. Apparently getting wheat-free bread in Spain is a nightmare, and it's all rotten!
I expect we'll see them again tomorrow. I wonder if it'll be another table for four!
There was a game show based on the UK show 'Call My Bluff' in in the Constellation Lounge, but dinner ran on so long that we missed the start so I'm putting the final touches to this blog while we get ready for an early night, and a very early start in Reykjavik tomorrow. Thankfully the clocks go back tonight, so we should be well rested for our Golden Circle tour tomorrow.