Today was our third of four days at sea on the Beautiful Celebrity Infinity. By the way, I can't know for sure, but having listened to over a week's worth of announcements and introductory patter from JC (cruise director) and other members of staff, I'm now convinced that the official name of this vessel is 'The Beautiful Celebrity Infinity'. Just saying…
Anyway today was a little rough at sea; probably the roughest day we've had actually. Alex wasn't feeling too great in the morning, although was better after taking a tablet at lunch time. I enjoyed a couple of talk in the theatre, a sushi making demonstration, and (to satisfy JC, Liverpool) sampled the late night entertainment to find out what you can expect if you want to stay awake into the wee hours.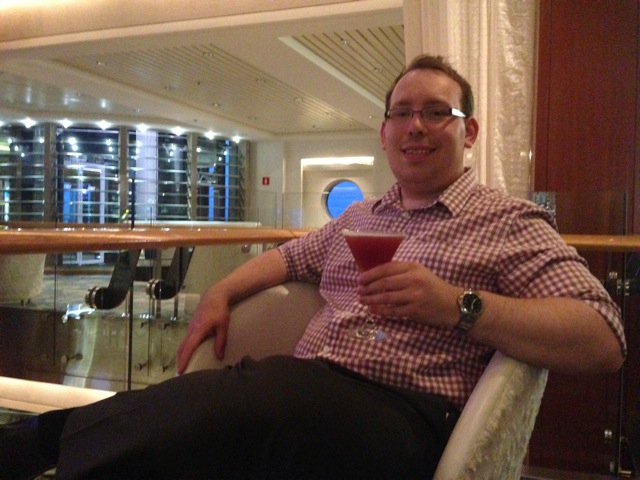 </a>
Oceans Ahead: Secrets of Ship's Navigation
This talk was the first in a series of Oceans Ahead talks about the operations of the vessel. We have actually seen this talk before on Celebrity Eclipse, but I'm very glad I revisited the topic, as the speaker and content were better.
The session was taken by Captain Michael, Master of the Vessel, where he talked about what is involved in running the navigation of the ship, covering everything from planning and charting a course, to the equipment used on the bridge. The presentation was basically the same as the one we saw on Eclipse, but Captain Michael was much easier to understand than the officer we had before, and tailored the presentation to our cruise including images taken from Google Maps with the ship overlaid to show the movement out of each of our ports of call so far (Akureyri excluded).
He then took questions from the audience and answered thoroughly and with interest. When we boarded Infinity, JC told us that Infinity has been named best ship in the fleet for officer engagement and, honestly, I didn't buy it at all. I figured it was one of those things that happens once to get a good rating then dies a death. I've been pleasantly surprised, however, by the number of events (this one included) that have featured many senior officers on board.
This is the only one of the Oceans Ahead series that I've seen, but apparently there are two more. Watch this space!
Beyond the Podium: Graham Sunderland
The second talk I have attended from Graham, this time on Scandinavian Wildlife. Another fairly interesting talk, although I'm less interested in wildlife generally than NASA, making Jim Kennedy's presentations more interesting to me. However, once again Graham shared some stunning wildlife photography and shared his passion for nature (especially moose, where he tells us about his desktop wallpaper as Miss April in the PlayMoose magazine).
I'd certainly recommend the talk to anyone with even a vague interest in wildlife, especially as he can be very funny throughout, but those with absolutely no interest should probably steer clear (not that you needed me to tell you that).
The Art of Entertaining: Sushi Making
You'll remember that earlier in the cruise I attended another Art of Entertaining demonstration on Cake Decoration, which I wasn't particularly enthusiastic about. Believe it or not, the Sushi Making demonstration was even worse! The gentleman was on his own and had forgotten the seaweed (nori?) sheets that are used in almost all sushi! The presentation didn't even involve anyone in the audience and, although the audio was better in the Constellation Lounge, it didn't matter much as for most of the demonstration he stood awkwardly repeatedly making a bucketload of the same piece of sushi.
I actually felt very sorry for him, as a group of American teenagers were being rather unkind and asking daft questions and sniggering to themselves. I got the distinct impression that the chef had been put on the spot, perhaps filling in at the last minute. He didn't speak English brilliantly, and fielded questions a little awkwardly too.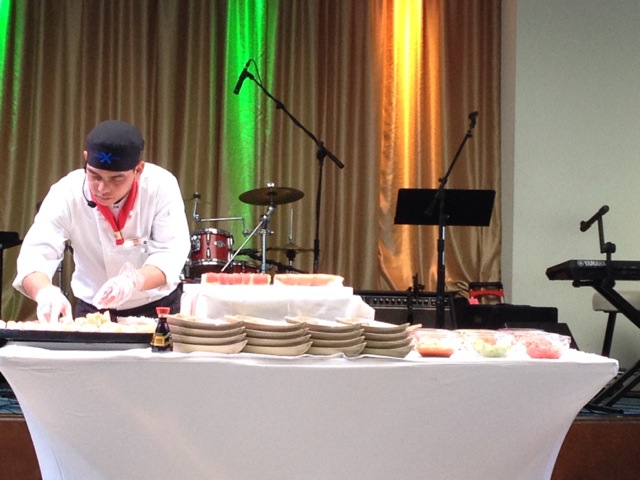 </a>
Very disappointing, although some people enjoyed the sampling of his creations at the end of the short demonstration (I didn't, as I'd just had a nice Caesar Salad from the room service menu). I don't know if chefs are, on the whole, uncharismatic people, or if Celebrity have just picked the worst members of the team to host these sessions. Either way, it wasn't enjoyable and sadly does not get my recommendation.
Ric Steel
Tonight's theatre entertainment was from someone who I assumed to a ships entertainer, a vocalist and guitarist who promised to 'bring to life the songs of Roy Orbison, Johnny Cash, The Beatles, Tom Jones, and Elvis'. All a little before my time, but artists whose music I have enjoyed a lot. I say that I assumed him to be a ships entertainer because I've seen him listed to perform in lots of venues around the ship. In actual fact (according to JC) he is a headline act that is only contracted for two shows during the cruise, but loves performing so much that he wants to be on the floor almost every night!
As much as I've enjoyed all of the previous theatre shows, Ric's performance has got to be the best so far. He performed many songs from the above list, and more besides that. He moved us all with some slow country numbers, and had us dancing in our seats with others. His voice is outstanding, and I'm surprised he's not more famous than he is. He transitioned between songs, and interacted with the audience (in a theatre that was as busy as I've seen it) perfectly.
I would not feel at all cheated if I'd spent £60 to see Ric live, and the rest of the audience clearly agreed with me as he got this cruise's first standing ovation, with an encore at the end! Absolutely stunning show which everyone should see. I am going to make far more of an effort to see him perform around the ship in the few days we have left on Infinity. I was half tempted to buy his CD!
After the show we dashed to the casino to enter the Qsine Slot Tournament, a free, winner-takes-all tournament with dinner for two in Qsine up for grabs. Neither Alex nor I won, and the tournament was poorly organised with guest battling for a seat between rounds. In fact the rudeness of some cruisers shone this evening, as Alex pulled the chair out from the machine to take a sea, and another passenger darted right round him and plopped their bum on the seat that Alex was holding! Disgraceful!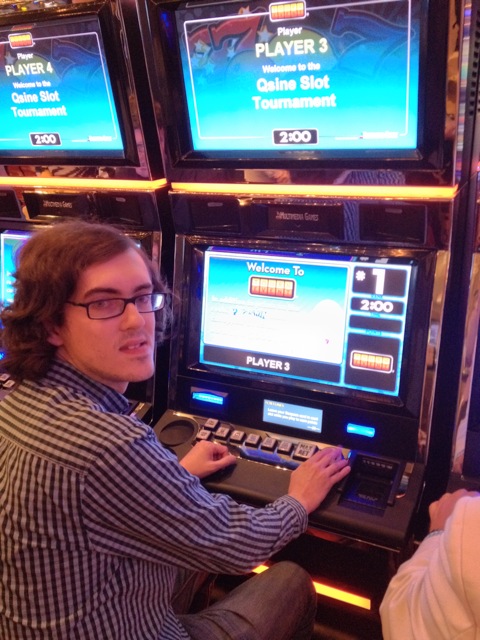 </a>
Dinner in Trellis
Another meal in the MDR, and a high standard again tonight. As promised I got photos of my food, and our table companions even offered to let me photograph theirs to add to the collection. You're really getting value for money from me tonight!
I'll tell you what I had, and you can enjoy looking at the others. I enjoyed a delicious Asian Style Shrimp Summer Roll; Warm Goats Cheese Croustillant; Chicken Chiquita (which was amazing – chicken stuffed with ham and banana, dipped in coconut flakes and lightly fried); and a tasty chocolate tart with a crispy base (much lighter than it looks, and also delicious). All of the food was amazing tonight.
I took pictures of them all, but for some reason the starters haven't saved. I don't know why, so apologies for that. My camera was acting up a little tonight. I take back the bit about your getting value for money!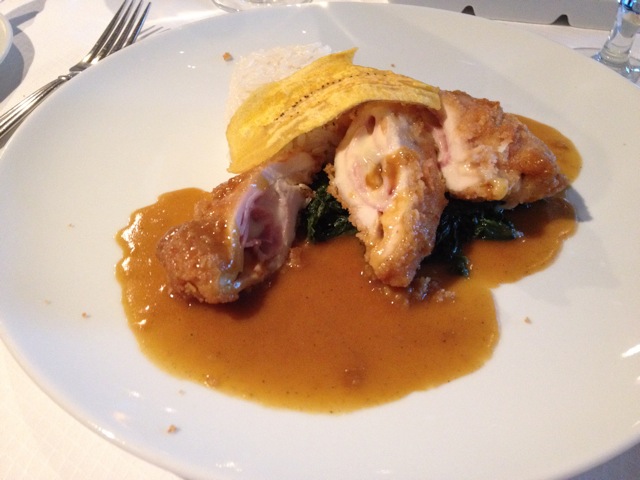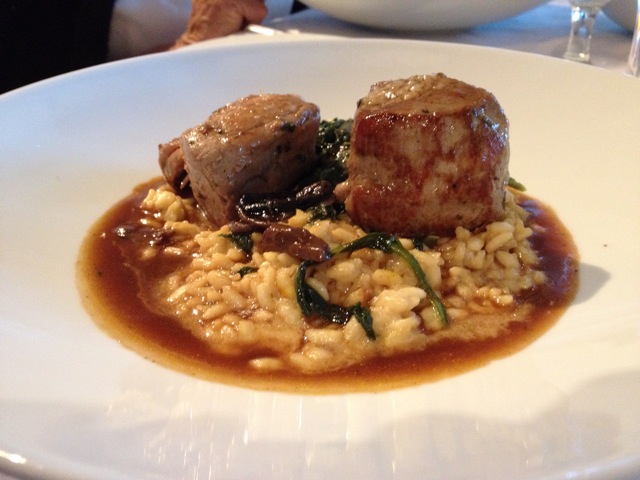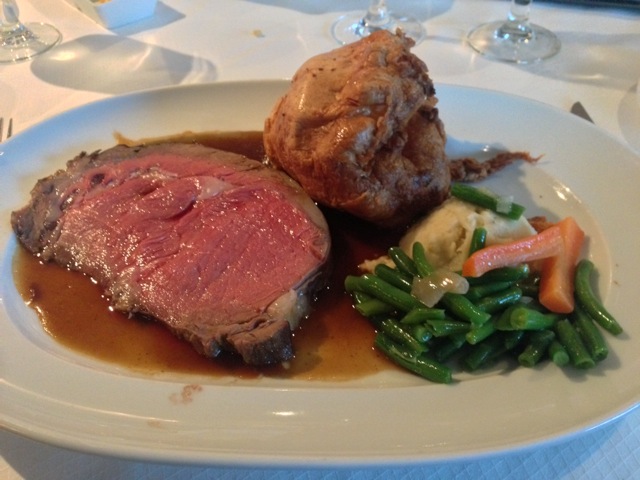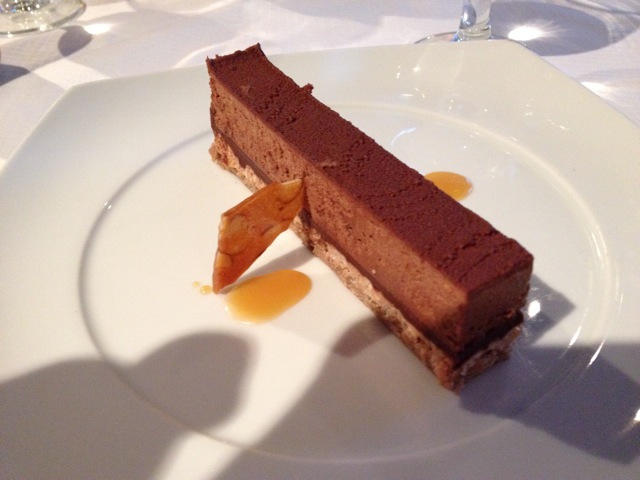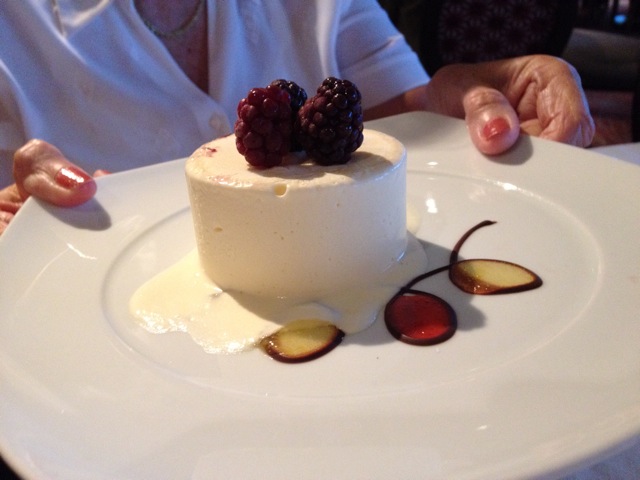 Nightlife on Celebrity Infinity
I'm not an expert on cruise nightlife, as I typically have a go in the casino then head to bed. I'm an early riser and like to get our and about where possible. That said, I don't know how representative of Infinity's nightlife this evening was, for a few of reasons. First, our clocks go forward for a second night in a row this evening, meaning we lose an hour of sleep. Second, we will begin our journey through Geirangerfjord at 5am tomorrow morning, when we collect our pilot and set off on our long, slow and wonderfully scenic approach to Geiranger. For this reason, many of the ships passengers may have decided to retire early to be up early for the views. Lastly, the ship was rocking about all day quite a bit (the worst we've had it) so perhaps some people didn't feel up to a busy evening and had an early night.
All of that said, let me tell you a bit about out post-dinner evening.
We started in Rendez-Vous where, apparently for the first time, members of the cast put on a thirty minute cabaret featuring their favourite songs. This was quite good fun actually, although for all but one of the singers, it highlighted why they are chorus singers and not soloists. All of them were good, but not good enough for a solo career. There were two exceptions to this. First, the musical director Tina Lorusso (normally on piano during shows) did a number which was truly awful. She's a cracking pianist, but her singing was so bad that a gent at our neighbouring table thought it was a joke! The other exception was Nicola, a girl from Scotland. She was outstanding and had a powerful and enthralling voice, belting out a cracking version of 'Somewhere Over the Rainbow'. The show was a great opportunity for the cast to get some spotlight time of their own, and express themselves through their own choice of music. It's just a shame that they all weren't up to Nicola's standard.
After the cabaret, the Rendez-Vous staples, 'Deja Vu' returned to keep everyone dancing into the night. I believe they finished at midnight, although we moved on by then. They were very good though, and (for the geeks in the audience) had all of their music on iPads which we thought was interesting/cool.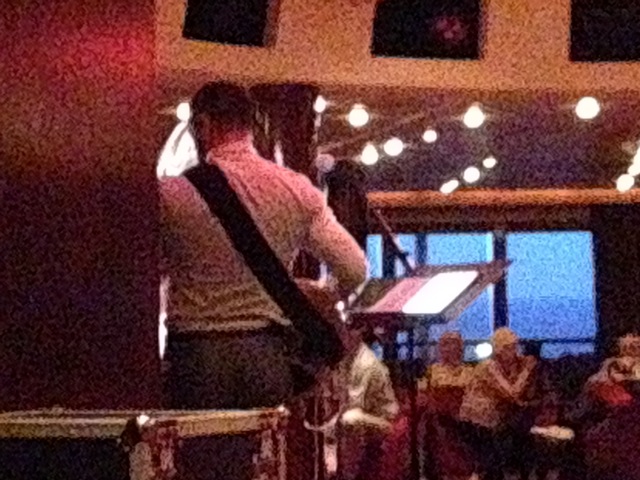 </a>
We moved from there to grab a cocktail in what is probably the coolest bar on Infinity, the Martini Bar. Cool in both appearance and temperature, where the bar is made of ice! To give you an idea, The Martini Bar is on Deck 4, and wraps around the main foyer area. Below is the guest relations are (not much happening), above is Café al Bacio. Rob Ondras, guitarist and vocalist, was performing in the café upstairs, but we fancied a martini so sat below. His music filled this area so could be heard from almost anywhere in the open plan 3-deck area. I say almost, because stupidly Celebrity have decided to pipe music into the Martini Bar, resulting in an unpleasant mix of sound. We got a lovely table away from the speakers and enjoyed his performance a lot. Great voice and great choice of music. We were there from about 23:30 to 00:00, with Rob finishing at around midnight. Nothing replaced him after this. Oddly, it did say in the programme that Rob would be on 'until late' which I assume means when people aren't there anymore. The bar and café were both pretty quiet which may be part of the reason.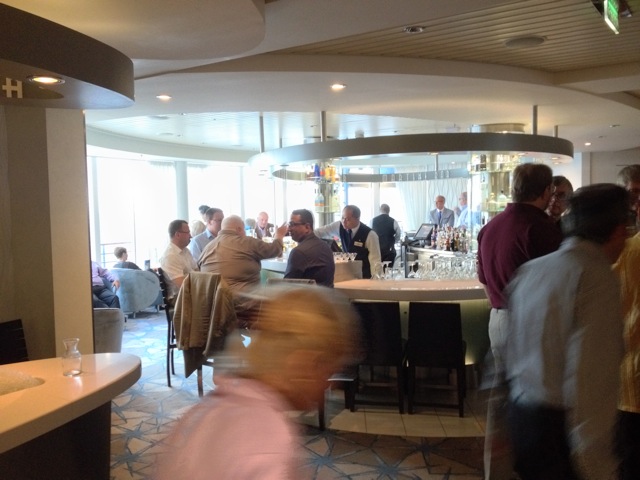 </a>
Those not keen on the guitar and vocals could opt instead for the wonderful classical sounds of Fiore Strings, the ship's string trio. They were performing in Michael's Club from 22:00 until 00:00. Empty and closed by the time we passed (well after midnight).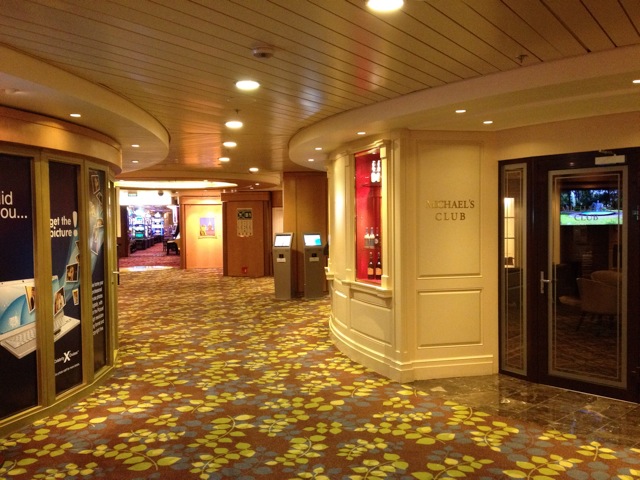 </a>
We had a bit of a go in the Casino after this, where I left with more than I came in with (I'll rectify that before the cruise is over, no doubt) and then decided to see what was on offer for those wanting a midnight snack (it was about 00:20 by this time). We had a look in the Oceanview Café and, while there was a selection of limp looking pizza and antipasti, there was nothing else on offer at all. So much for the infamous cruising midnight buffet! I believe there were supposed to be some cookies, but all I found was a big plate with a lonely looking half cookie. I left him alone. For those looking for a midnight snack on Celebrity Infinity, you'd be best to stick to the 24 hour room service menu. A bit disappointing (how hard is it to put out some plates of biscuits and cakes), although I'm not one for midnight snacking so it doesn't bother me too much.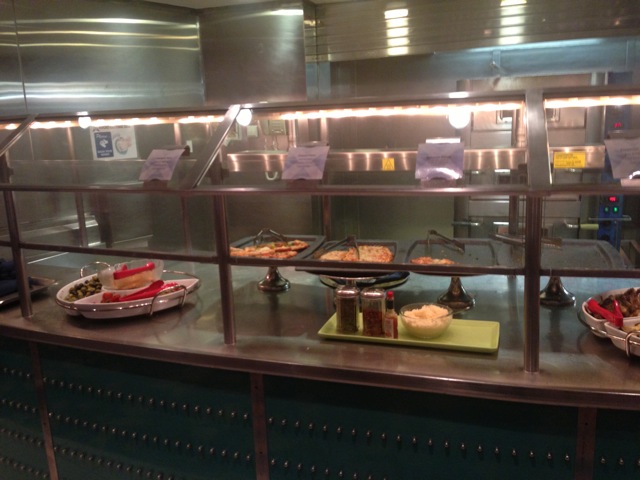 </a>
We went from there to Constellation (the only venue on the ship other than the Casino offering post-midnight entertainment) where we saw the Late Night Party with DJ Rich. This showed no signs of stopping, although the lounge was very quiet, with only about 10-20 people attending. The room was transformed form the typical day-lounge to a nightclub with coloured lights and great sound. There were people dancing even though it wasn't very busy. Not exactly live music (not at all live music) but the only entertainment available tonight.
I hope this helps those of you who find the evening music important. I have a feeling that tonight in an exception to the norm, however, as the ship felt awfully quiet even earlier in the evening. I'll try and revisit this another night, perhaps the night before our last sea day, to see how it all compares.
Anyway, I'm off to bed now in the hope of seeing some of the Geirangerfjord tomorrow morning!