Today was our last of four sea days, and our final full day on Celebrity Infinity, bringing our lovely 11 night Iceland & Fjords cruise to an end. We had quite a relaxing day today, and didn't really take part in many of the activities. We did enjoy the famous Brunch, saw the last of Jim Kennedy's talks and bid farewell to our table companions for the last time. *Awwwwww*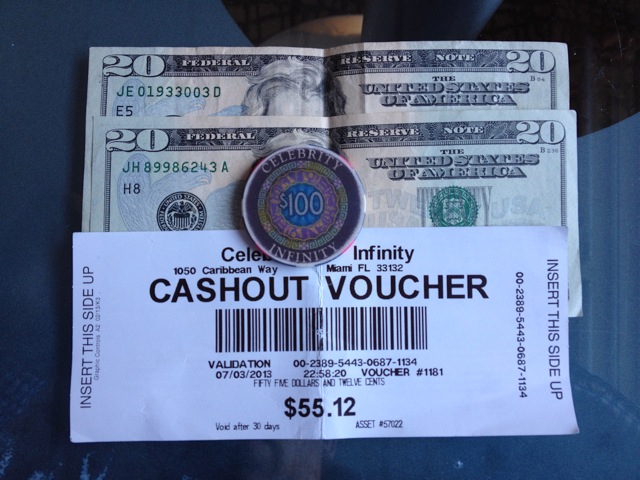 </a>
Trellis Brunch
I believe this event is held once per cruise on the last sea day before disembarkation. The Trellis Restaurant Brunch started at 10:00 and ran until 12:00, and I think we were there for the whole two hours! The main dining room is transformed into an elaborate buffet, with the tables lavishly decorated with beautiful ice sculptures and lots of delicious food.
As the name suggests, they have everything from breakfast through to lunch, with many cakes and pasties that I haven't seen in the Oceanview Café before. They also had two magnificent chocolate fountains (one white, one dark) with plenty of fresh fruit and marshmallows for dipping.
We were sat with two other couples from the UK who were absolutely lovely. One thing I have found (including here) with being 26 on a cruise ship is that many people can disregard you or ignore you, instead talking to the other people at the table. I suppose if you're 60 you might not think a 20-something will have much interesting conversation to offer. This was also true initially with our evening dining companions but as with the couples we were sat with here, we soon warmed them up to us. In the end we had a fabulous time, and thought we were going to get kicked out of the dining room we were there so long!
As it happened, conversation did move on to our experiences on the ship. To add to what I had mentioned previously in a comment conversation with Solent Richard, they said that whenever they had a complaint about anything on board, it was taken very seriously and remedied quickly. This ranged from the temperature of the food (fixed for the rest of the cruise) to not being greeted by name when boarding the ship again (which I mostly had been and thought it was a nice touch). Both couples said they had very much enjoyed the cruise, however one couple had been on Eclipse and, like me, preferred that class of ship.
The food itself was pretty good. A similar sort of standard and range to that found in the buffet, with a few additions as mentioned above. The experience is rather nice though, and there's a very friendly, relaxed atmosphere to the room which is different somehow to that found in the evening.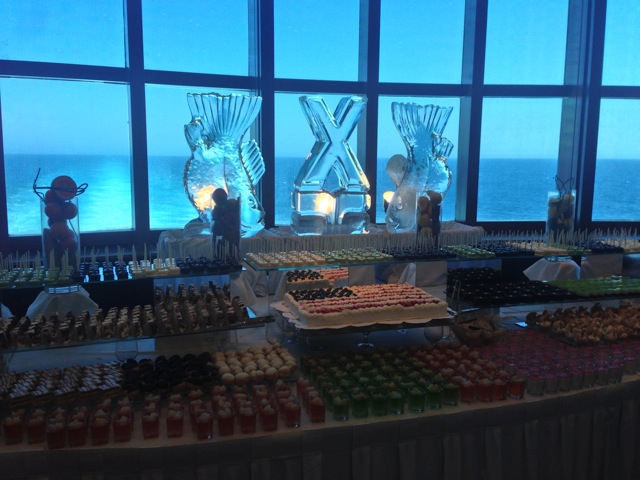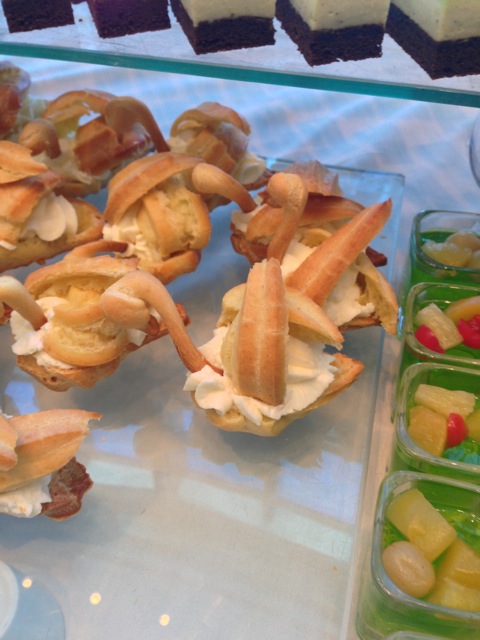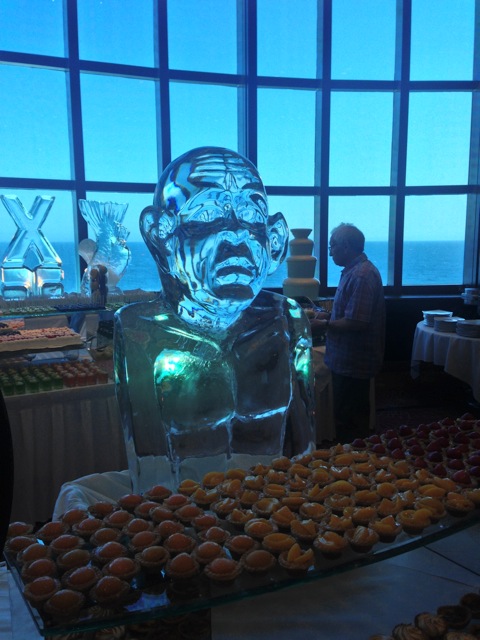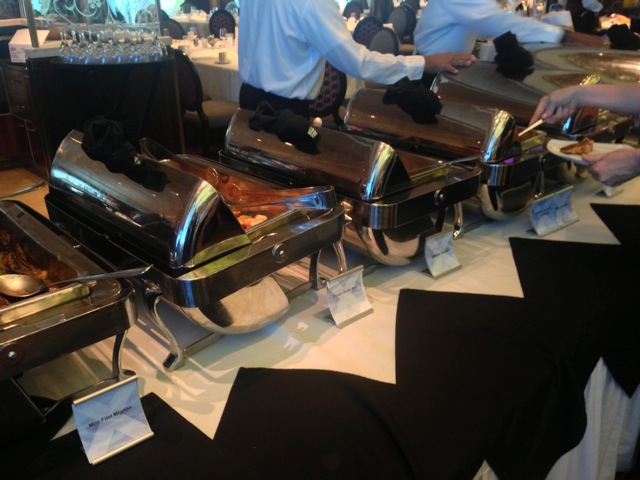 Clash of the Activities
Today saw the final two talks by NASA expert and leadership speaker Jim Kennedy. As you know I've enjoyed his previous talks immensely and was keen to attend the final two. Both of these were collections of leadership mantras accompanied by stories from his time at NASA. I also wanted to go to the Brunch, and the last Oceans Ahead talk from the officers on board.
Unfortunately the Oceans Ahead talk, first Jim Kennedy talk and the Brunch all happened at the same time, meaning I missed the Jim's first talk to go to the buffet. I did make it to his second talk though, which was very good.
Jim Kennedy
I know I've spoken about him before, but I'd love to say a few more word about the talks he gave. Jim is a wonderful speaker, and his enthusiasm for space exploration shines through everything he says. I always had a fringe interest in Space exploration (and dreamed of being an astronaut as a child) but Jim has sparked a much deeper interest in the topic through his talks. It's such a large field, but I now feel armed with basic knowledge to continue learning about space and keep up to date with advances and discoveries as they happen.
Jim always said that he welcomes conversation after his talks but, as I've no interesting stories to share, have never bothered to wait in line to say hello. I decided today that I'd love to shake the guy's hand and thank him for inspiring me to care about the future of space exploration. Unfortunately I didn't seem to have much success with this, as there were other waiting to speak to him and he was a little dismissive of me. I'm going to try to e-mail him and thank him that way, but perhaps my age had something to do with it again!
After the show we spend the rest of the afternoon packing (cases to be outside by 11pm, by the way) and then decided to have a go at Roulette as suggested in the comments. I handed over my $20, and managed to play for quite a while (I thought it would be over very quickly!) The minimum bet was only $1 which suited us fine, and we walked away from the table with $100! We seem to be having quite a bit of luck on this cruise.
We then did something that I think very few casino players do – we realised we had more than we came with, and cashed in! Then it was straight to guest relations to put our cash towards our account. Winner winner chicken dinner!
Showtime: A Voyage To Remember
Tonight's show was a variety act with some of the performers we'd had throughout the cruise. We started with Rob on guitar and vocals with Fiore Strings accompanying. This was rather nice, although I wasn't familiar with the song.
Next up was Rob on his own we gave a cracking performance with some hits that we all knew. He has us singing along and really got the audience going. His partner in crime, Ric Steel, was disappointingly absent from this revue.
Second last was the return of Greg Bonham, the mediocre trumpeter and vocalist from down under. Unfortunately he wasn't any better with a full house, and both his vocals, trumpet playing and choice of music let the performance down.
Finally the Stars of Infinity gave us a final blast which was all very good. Their dancing once again superb and the singing pretty good too.
I haven't said too much about this because much of it was more of the previous nights on board. The format of this farewell show (reprising some of the entertainment from the cruise) seem consistent as it was the same on Eclipse. Chances are, if you've enjoyed the entertainment during the cruise, you'll enjoy the farewell show.
A Font Farewell to the Trellis Restaurant
Tonight's meal was very good, and we had some fantastic conversations this evening especially when we started talking about cars, which had Trevor's eyes light up like Christmas lights. I assume he likes cars. His wife kept trying to change the subject and, regretfully, succeeded in the end (much to Alex's delight and my disappointment). I think I mentioned earlier in the blog that they thought the preferred Royal Caribbean because of the elegance, and were rather surprised when I explained that Celebrity was part of the same group and marketed as a more premium product. Tonight they revealed that they had changed their minds, and that they really like Celebrity and think that this is their favourite cruise so far. So much so that they're thinking of booking another!
Food was at a good standard again. I had a lovely goats cheese potato bake to start followed by the crab crusted fish (I can't remember which fish for some reason) and I finished with some mediocre caramel ice cream (not pictured, but it really wasn't much to look at.)
Alex has a chilled pear and honey soup to start, followed by roasted half chicken and then apple crumble with ice cream. There's no picture of the crumble for some reason, but it has more of a pastry topping than crumble. In typical American style it was laced with cinnamon, which Alex found a little too much. There was also cinnamon in the cold soup he started with too. American dishes seem to feature cinnamon quite heavily.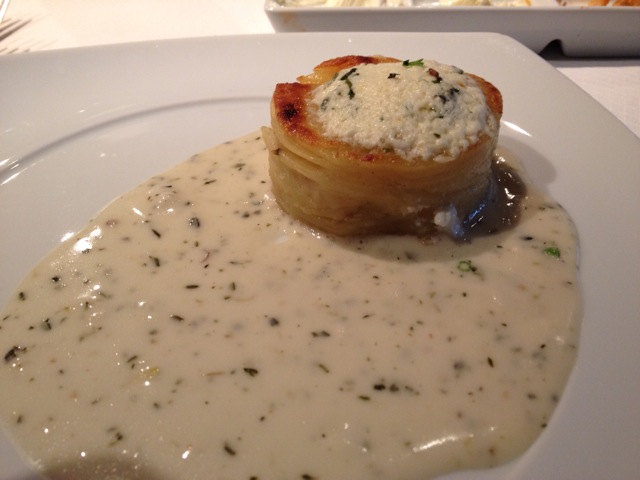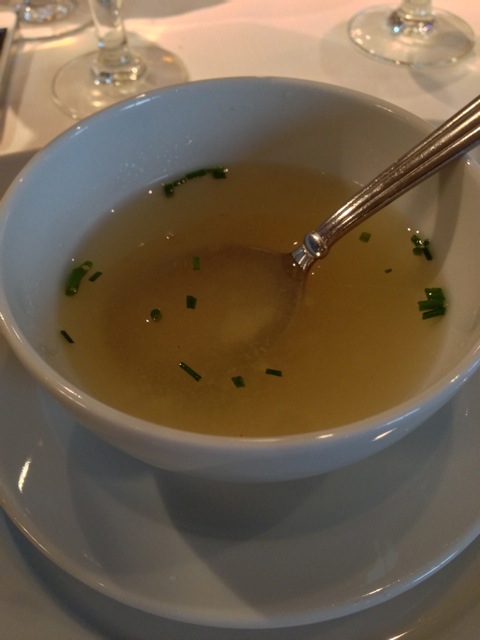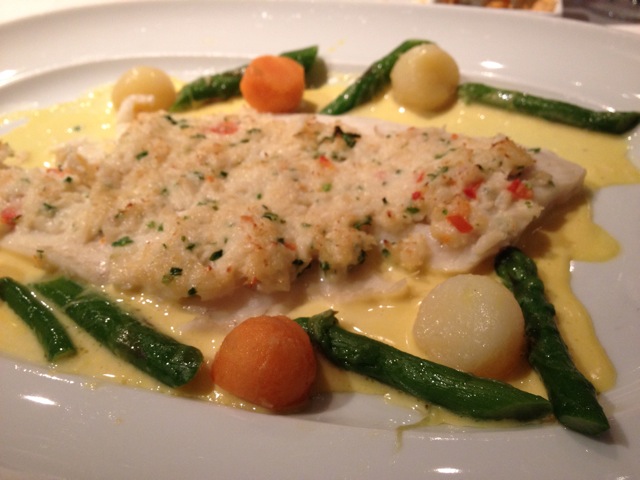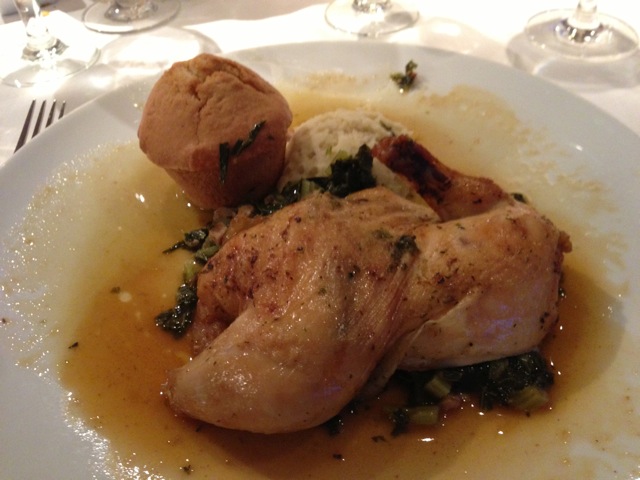 It was rather sad to be leaving Trevor and Sheila, as we've grown quite fond of them over the last 11 days (at least when we were both there). We bid them farewell and retired for some blog writing and an early night. We have an early start tomorrow, with disembarkation at 07:15 and a long drive back to Scotland from Harwich ahead of us.
I'll update you tomorrow evening with a final blog covering disembarkation (and the process leading up to it) and some more information on the practicalities and technicalities of taking part in a blogging cruise (as some have shown interest in this).
Thank you all so much for sailing along with Alex and I. It's been an absolute pleasure, and I've enjoyed writing for you all very much. Goodnight!