Today we arrived at about 10:30 in Geiranger, Norway. This is the first time we've now been able to dock in a port, so we experience tender operations on board. In Geiranger, we bought a DIY tour on the day, enjoyed lunch ashore, and had a catastrophe too!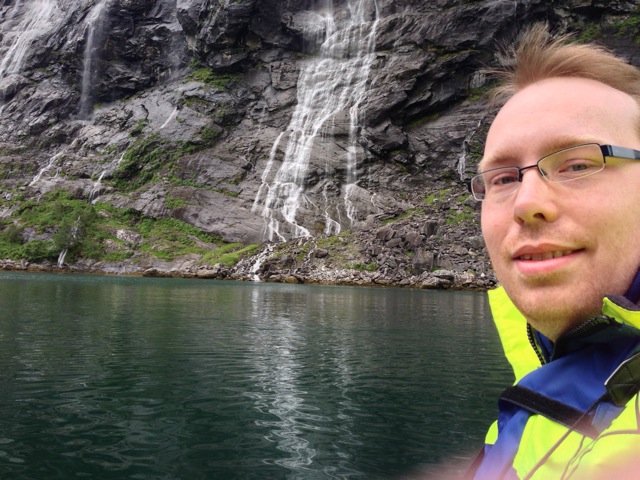 </a>
Tender Process
We were advised yesterday that tickets would be available for collection from the Martini Bar on Deck 4 midships from 10am, with the first tender boarding at about 10:30 when the ship arrived. Everything seemed to be ahead of schedule this morning, as we were anchored far earlier than anticipated. We were a little later in getting up than I'd hoped (after last nights late-night blogging) but still had plenty of time to get ready, have some breakfast in Oceanview Café (omelettes are delicious, by the way) and pick up a tender ticket.
There wasn't much of a queue for the tickets. We got one numbered '4' and were told we'd only have to wait about 20 minutes (they hadn't even started boarding at this point). Announcements were made throughout the day to advise which numbers were being called, but the tender service was regular enough that I can't imagine anyone having to wait very long.
After hearing your number called over the PA system (meaning you have to wait in a public lounge, as the PA system does not feed into staterooms), you simple need to head down to the boarding area on Deck 1 midships where you step onto one of the large tender crafts. These are fairly spacious, and seat up to 120 people for tender purposes (150 when used as a lifeboat). The majority of the seating is in the enclosed craft, but as the weather was fair there was also some seating on the roof which offers nice views of the ship as you make your way ashore.
I had been worried that tendering would be a logistical mess, with a huge wait to get ashore, but this was not the case at all. Activities Manager Pete was at the boarding area and even remembered my name, which I thought was a really nice touch and made me feel quite special as a Celebrity guest. Maybe it's just because I have such difficulty remembering names that this is impressive…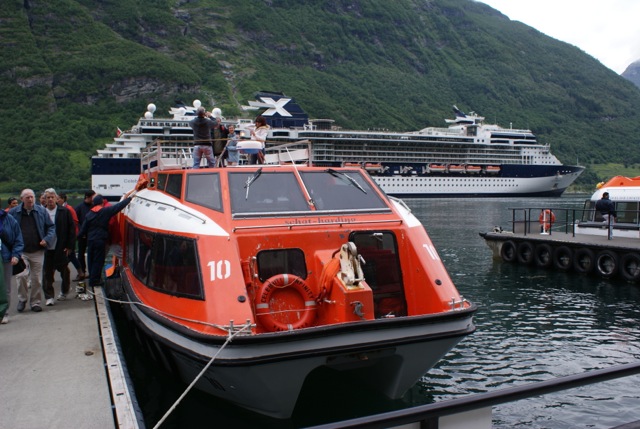 </a>
Geiranger, Norway
Geiranger is a very small town that is largely a tourist hub now. All of the buildings contain tourist shops, cafés or restaurants. Outside the tourist information office, which is right on the pier, they had erected a huge board welcoming us all and offering useful information to help plan our day. The sign told you all of the excursions that were available, along with cost. It also explained where toilets were, and where you could get WiFi access.
The town was very busy today, as we were one of four cruise ships that were anchored, meaning the waters were very busy with tender craft!
I had already thought that I might like to do the 'Fjord Safari' on a RIB (Rigid Inflatable Boat, for those with a fear of TLAs!) This was booked for 12:00, at a cost of NOK 495 (£54) per person. Celebrity also offered this as a tour, but charged $115 (£74) per person. Exactly the same tour. £20 profit for Celebrity (or more if they get a group discount on the tour).
While we were waiting for the tour, we had a wander round the lower part of the town. We saw a ferry come in and offload some cars, and finally found the Café offering free WiFi for customers spending at least NOK 50. Conveniently coffee was NOK 25 each, so we settled in with our cup of liquid gold and caught up on e-mails and such like. Worth noting is that the WiFi is password protected, meaning only those who make a purchase can connect. Later on when we returned, the WiFi was unusable and clearly those who had found out the password were crowded round the entrance. As far as I could tell, there were no other hotspots in the town.
When the time came, we went to our meeting point for the Fjord Safari tour, and were taken to a boathouse to put on our very attractive water- and wind-proof full body suits. These are incredibly flattering, and I reckon a must-have for everyones 13/14 winter wardrobe.
The boat itself seats about 10 people in a single row of two. Each person gets their own seat that's a lot like a saddle, with a bar to hold on to at the front. The trip lasted an hour and lets just say I was glad to stand up at the end of it! Our tour guide and driver, Soren (which is almost certainly incorrectly spelled, sorry) introduced himself. After checking that we were ready we set off. Alex and I managed to secure the front two seat, offering unobstructed views of the scenery.
This trip was absolutely incredible. I know we got up to over 30mph, bouncing over the wake left by tenders and ferries. Add the wind in your face and the experience is exhilarating! We made several stops on the trip – we got to see the Seven Sisters waterfall, and The Bachelor waterfall which is opposite (and still hasn't succeeded in wooing any of the seven sisters). We saw Fjord farms (all abandoned now) and learned about some of the houses there that were inhabited until the early 20th century, where the children had to attend school in Geiranger a week at a time, hiking down the face of the cliff and rowing to school!
After speeding down the entire Geirangerfjord, and seeing several more stunning waterfalls up close, we started our return journey. Not long after we turned round and headed back, ever-observant Soren noticed some porpoises in the water (an animal that looks a little like a mini dolphin from a distance) and stopped to let us try and get a picture. They're pretty timid creatures and easily scared off, so we couldn't get close enough for me to take a decent picture. Still a wonderful afternoon though!
In the course of the hour, I must have taken hundreds of photographs, so can only show a handful here, and I'm sure that none of them will convey the experience of the RIB. I suppose you'll just have to visit and try it for yourselves!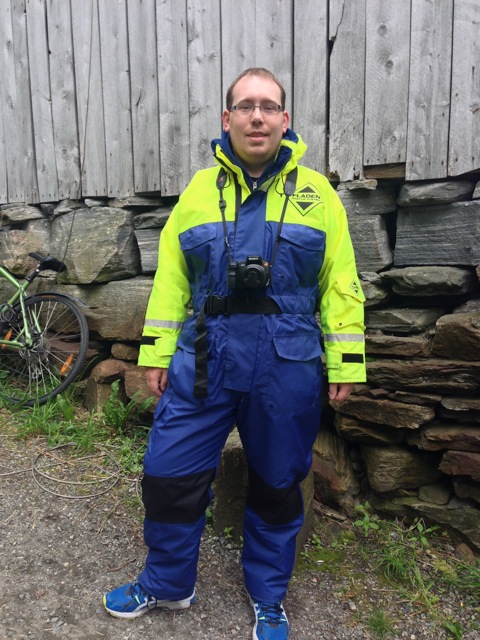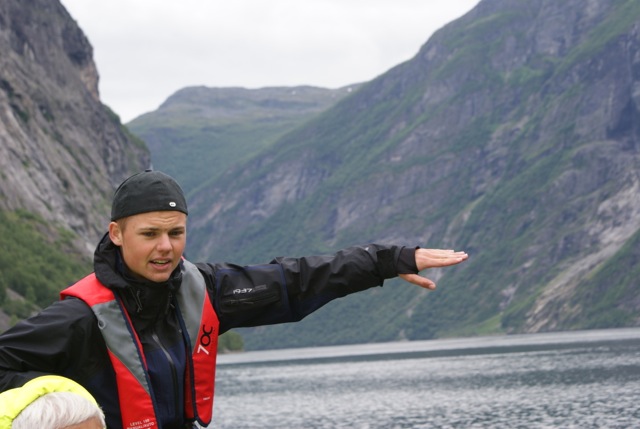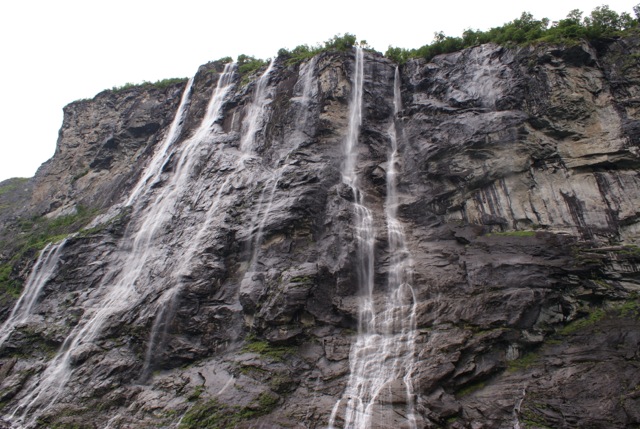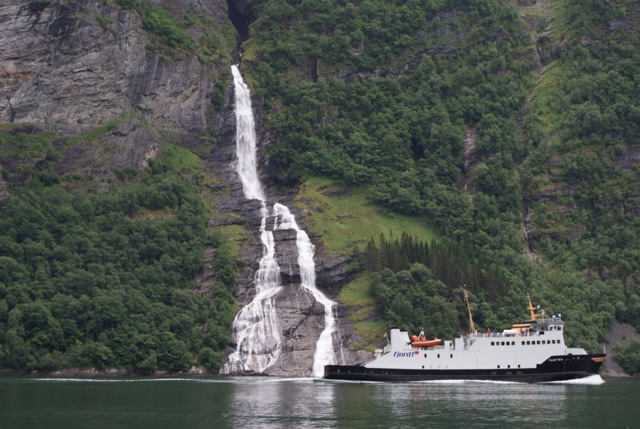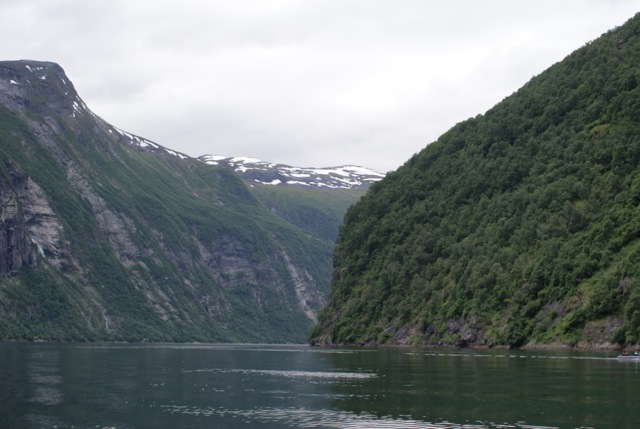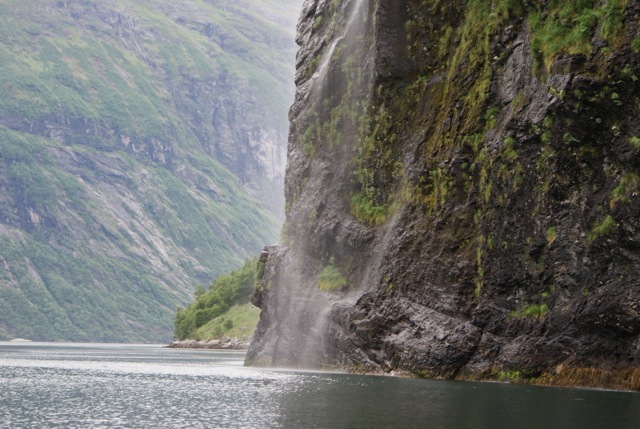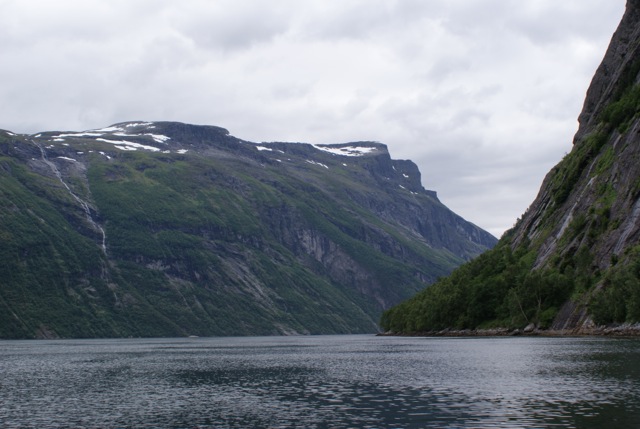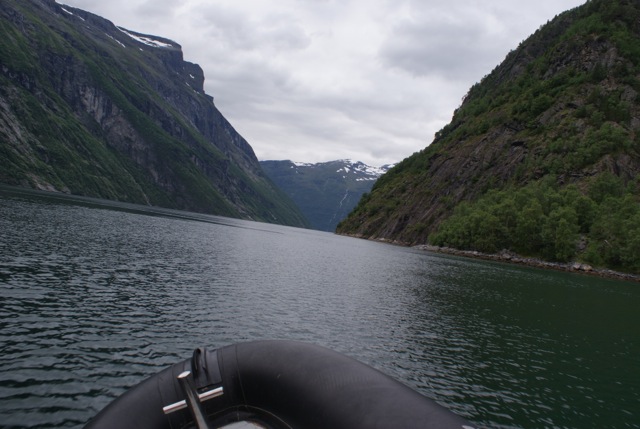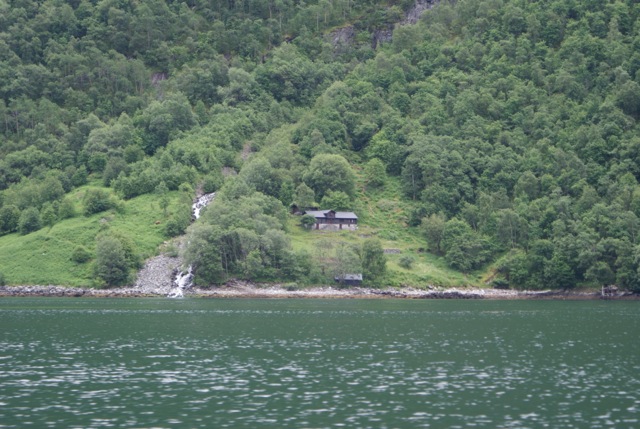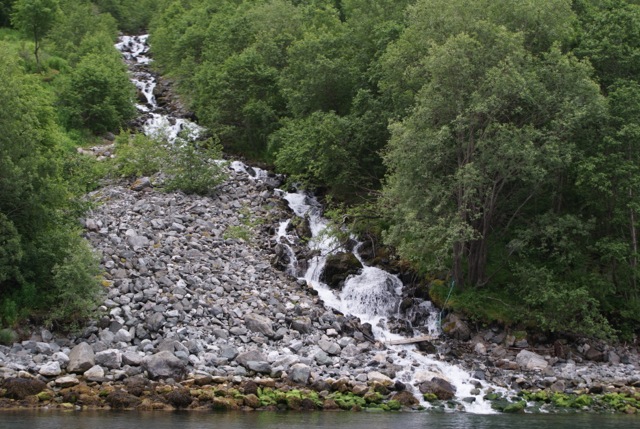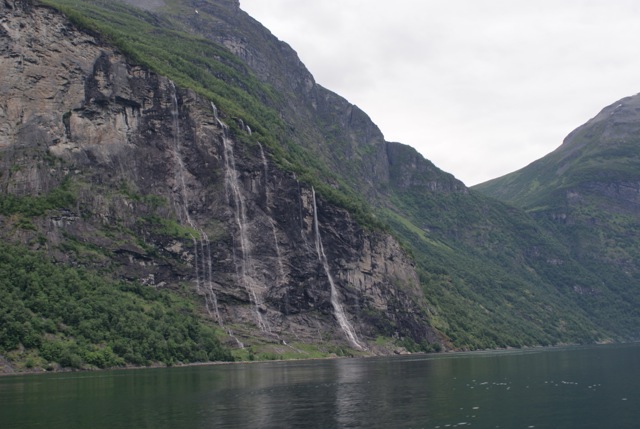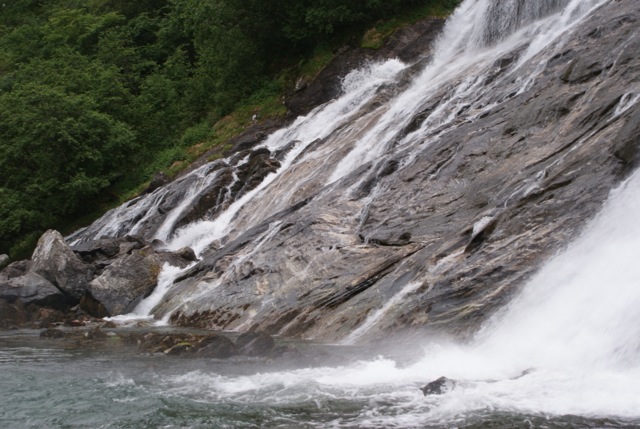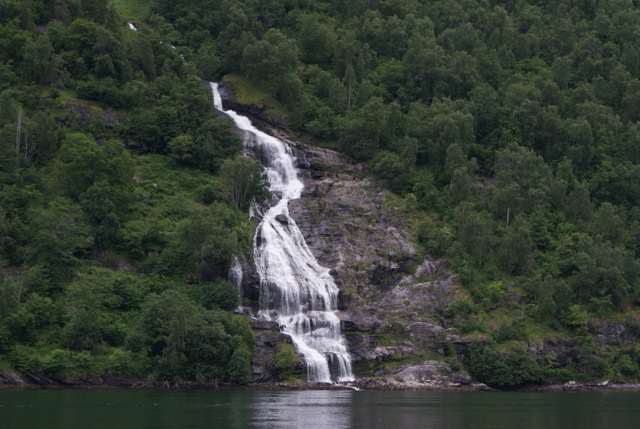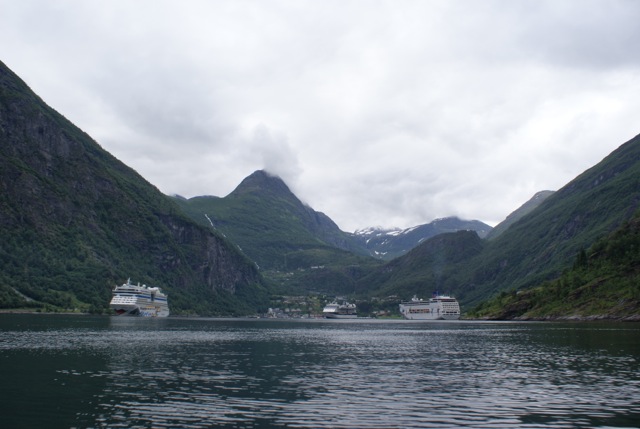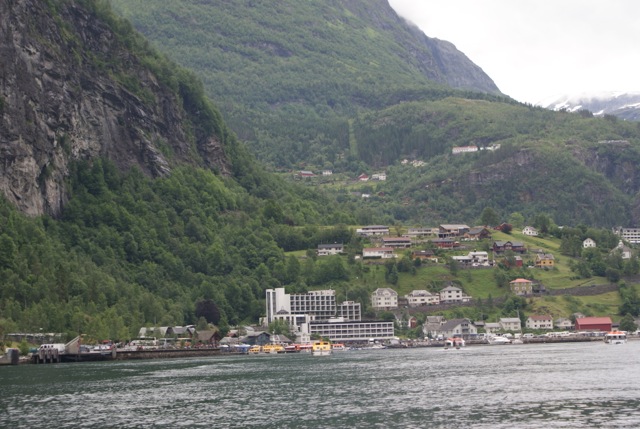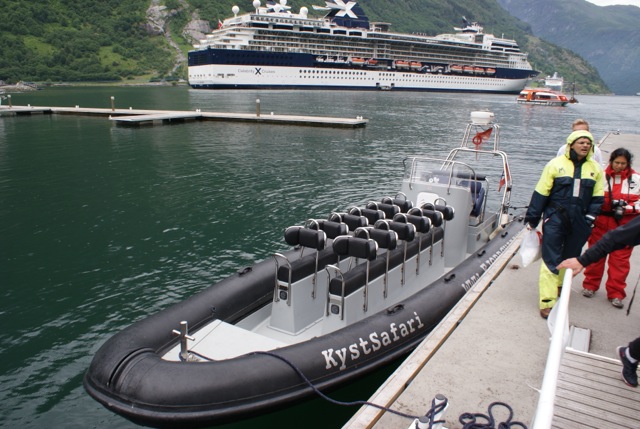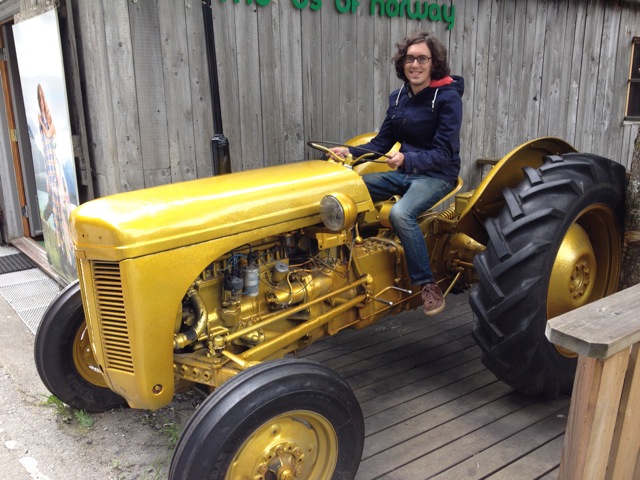 Lunch Time
After getting changed again, we wandered around and intended to go back to Café Olé for food and WiFi, but it was jam-packed by this point. We instead opted for my least favourite choice, which was a bistro right next to the port. I say least favourite not because I'd seen bad reviews, but because I assumed that it's location would mean high prices and mediocre food. How wrong could I have been!
The place is called Brasserie Posten, and I was initially reluctant because they don't have any menus outside so we didn't have a clue what they offered or what anything costed. I ended up ordering a shrimp open sandwich dish, while Alex opted for the cheeseburger. I don't often have food envy, but Alex's burger looked and tasted incredible. Perfectly toasted bread and some great meat. It was served with some skewered boiled potatoes which just melt in the mouth. My shrimp dish was wonderfully fresh too, and busting with flavour. Along with a nice glass of beer it was absolutely fantastic!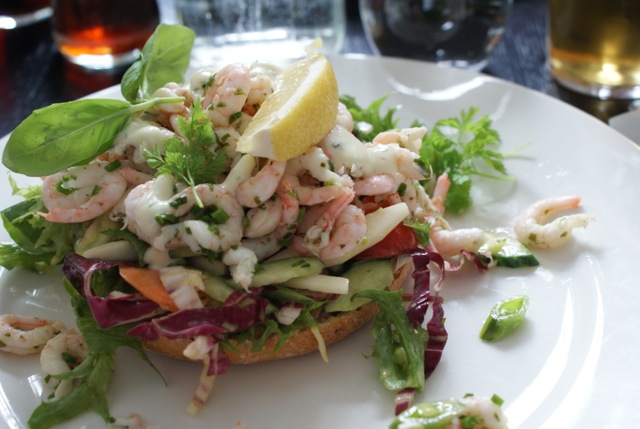 </a>
For the two meals, one glass of beer and one Pepsi Max, we spent NOK 351 (£35). I reckon you could pay that in the UK for this quality of food, and it was a sum I was happy with.
When it came to paying the bill, I discovered that I didn't have my wallet. Oh dear. I now distinctly remember leaving it in the pocket of the suit I was wearing on the RIB, but after a thorough search of the boathouse, kindly aided by the staff, I found nothing. I left my details with the desk there in the hope that they'd e-mail me if it was found, and spent the rest of the afternoon moping around feeling sorry for myself. I asked around in all of the shops and cafés (even the ones we didn't go to) but nobody had seen anything. As a cherry on the take, I went back to Café Olé for another coffee, but couldn't even get on the WiFi! What a disaster!
At this point I decided to go back to the ship, accepting the fact that I'd lost it, and making a list of it's contents to report to the banks, credit card companies, DVLA… the list goes on!
Back on Board
The tender back was uneventful, boarding immediately with no hanging around (I quite like this tendering business really!) so Alex and I sat around the stateroom for a little while, me trying to motivate myself to enjoy the rest of the cruise.
Suddenly the phone rang. Guest relations. What could they want? Well I have to tell you that this is the best phone call I've received in a long time. The people at the company doing the RIB tours (Geiranger Fjordservice) had found my wallet, and run along to the tender point to hand it to the security staff, with the hope of reuniting it with me before the ship sailed away. The relief I felt at that moment was incredible!
We watched the sail away through the Geirangerfjord from the Constellation Lounge, then en-route to the stateroom to change for the show I retrieved my wallet from Guest Relations (it game with the security staff on the last tender of the day) and everything was inside.
Greg Bonham – Showtime
Tonights show was from Australian-born Greg Bonham. He's a singer and trumpet player, and from the performance a bit of a comedian too! The theatre was quiet tonight, presumably because everyone was (understandably) watching the final Fjord magic from the various lounges around the ship. Greg seems to enjoy the audience participation and interaction, but the lack of people made this a little cringe-worthy to watch. His singing was fairly good, and he picked out some cracking songs, but his trumpet playing could have been a lot better. Also, he tried to put his spin on some songs, but completely butchered them. This was a real shame as I reckon he'd have been pretty good if he'd just sing the songs like the original artists.
Regretfully this is probably my least favourite headline act of the cruise.
S.S. United States
We had another cracking meal tonight in the speciality restaurant, the last credit from the dinner package we had. The waiting staff recognised us as soon as we walked in, and had a table by the window for us. This was fantastic, as we got to enjoy dinner with the last of the fjords sailing by right next to us.
The sommelier greeted us by name and asked us if we wanted the same wine we had last time, or would we like to see the menu? Well he has a better memory than us, as while we enjoyed what we had last time we didn't have a clue what it was!
More great service as the team remembered that Alex hadn't been especially well the previous time we were there, and were asking him if he was feeling better and so on. These touches really are the icing on the cake of a very, very slick operation. I'd recommend this restaurant to anyone.
On to the food… as it was the last night in S.S. United States and there were two starters that I was keen to try, they very kindly let me have both of them! I felt like a pig, but they didn't bat an eyelid at this request. Tonight I had lobster bisque (amazing) and a goats cheese soufflé (as light as a feather, and so, so, so delicious) to start, potato laced french turbot as my main (absolutely stunning and cooked to perfection), and Valrhona chocolate cake to finish (rich and indulgent, but worth it). Alex started with crispy pork belly (same as last time), moved on to five-spiced venison loin, and finished with crêpe ballon rouge. All wonderful; the photos really don't do it justice!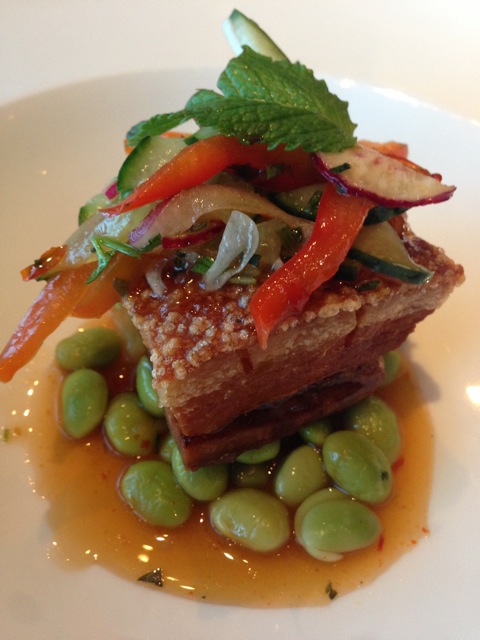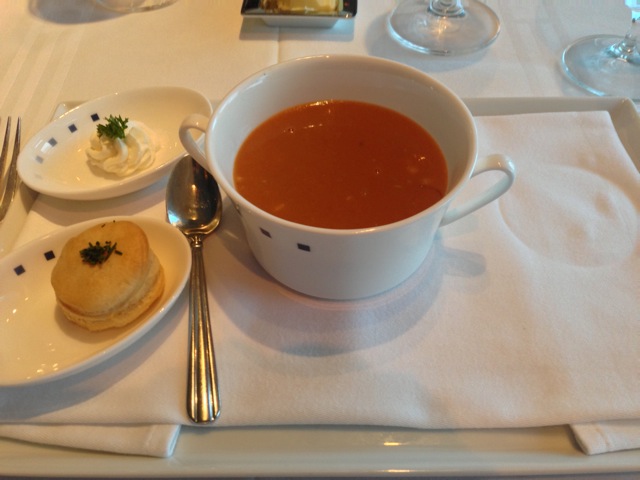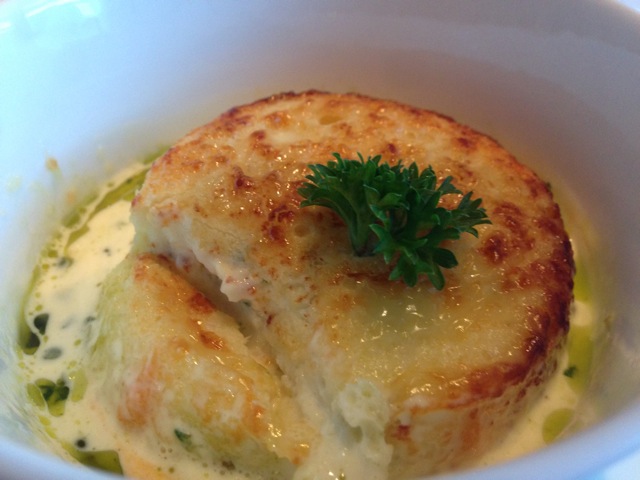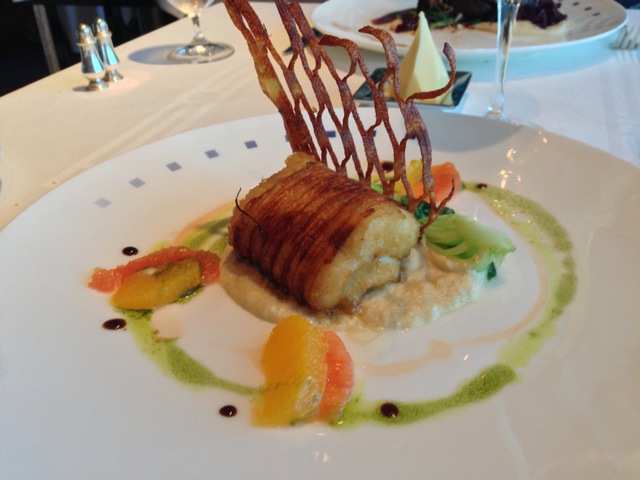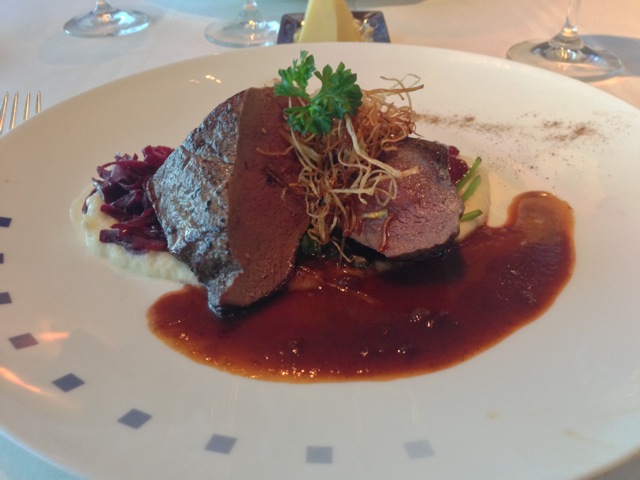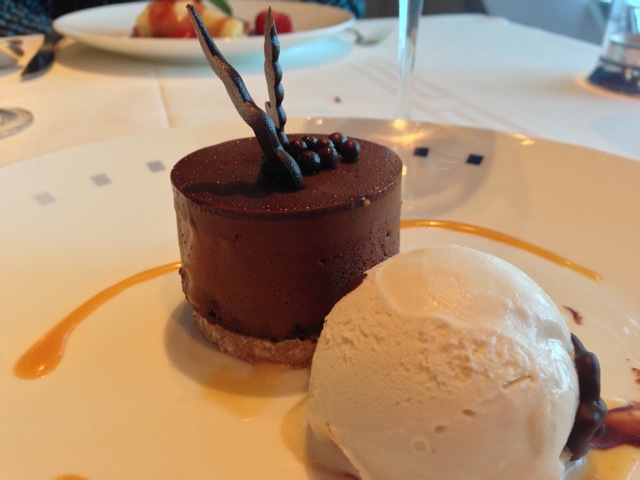 Evening Entertainement
After last nights attempt at enjoying the late-night entertainment, I enjoyed myself so much that I thought I'd give it another go (Thanks JC, Liverpool!) Tonight it was an easy choice as my new-found favourite musician Ric Steel was playing with his neighbour from Tenessee and fellow guitarist Rob Ondras in Rendez-Vous from 10pm until 'late'.
Tonight the ship was far, far busier and we didn't let Rob and Ric leave the stage until about 00:30. They've got a dedicated following on Infinity and I consider myself part of that now. They played a fantastic range of country music (I never knew I liked country music so much) as well as some old rock 'n' roll classics. Absolutely fantastic performance!
They even had one of the drinks waitresses balancing a tray on her head and dancing on the floor. I don't know how it happened, but it was all great fun. I think I might buy Ric's CD after all…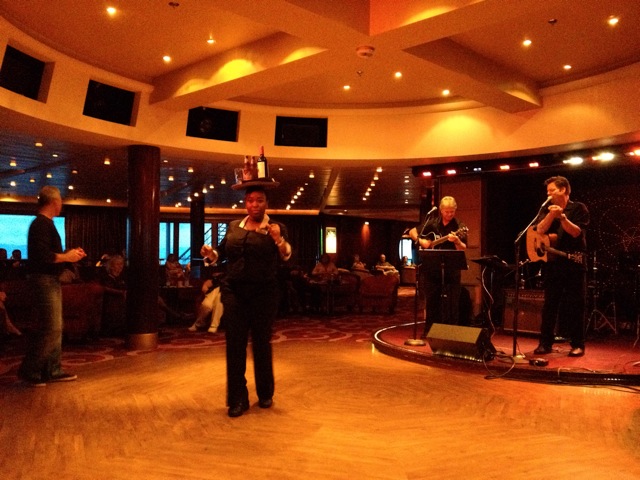 </a>
We decided to have a last little 5 minute flutter in the casino again on our new favourite slot machine. We started with about $25 of credit, and left with $35! Tonight's been a good night, and I'm absolutely buzzing!
Even as we retired to sleep/write this blog, there will still quite a fair few people around the bars, although the entertainment is trailing off now (00:45) with the obvious exception of the DJ in Constellation.
Tomorrow we're at our final port of call, Bergen. I've been here before, and loved it. I'm going to try and do something different, but we haven't quite decided yet. If it's relevant, I'll post a link to my previous blog in Bergen so you can get as much information about the port as possible.