Today we left Reykjavik to start our journey towards the next port of call in Iceland, Akureyri, but not before having a few more hours to exploring Iceland's capital. We also enjoyed a few more activities on board Infinity, as well as dining in Qsine, Infinity's other speciality restaurant.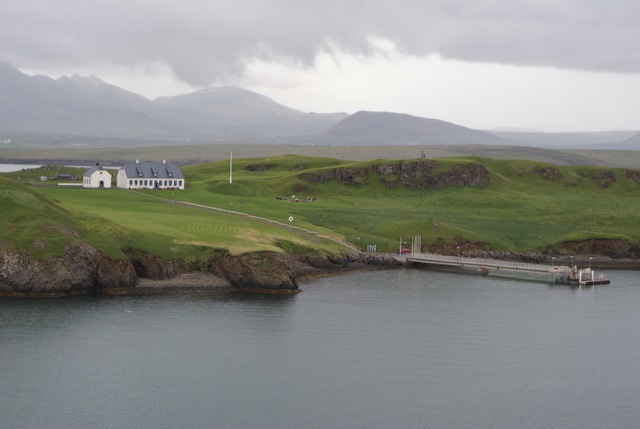 </a>
Final Hours in Reykjavik
Before I start, let's address the topic of the shuttle bus. The facts are these: The bus costs ISK 1,500 per person (about £8) and runs regularly from the ship to the Reykjavik Concert Hall (pictured yesterday). It's advertised as the easy way to get to the city at a mere 15 minute drive. This is a bit of a joke. The bus we got on took about 5 or 6 minutes to do the drive. The ticket you get is for one return journey, meaning that if you want to do several trips to and from Reykjavik, this mounts up as you need multiple tickets.
Those in reasonable health and with time and weather on your side (the elements we lacked today) you can walk from the ship to the city fairly quickly along the path the runs along the coast, at least according to our driver yesterday. Commuter rail services in the UK offer better value for money than this! Anyway, on with the day…
Unfortunately Alex and I weren't feeling great for a lot of today, so we didn't explore as much of Reykjavik as we would have liked. We did manage to have a wander round the main shopping area though, which seems to be split into an area of bars, clubs and restaurants on the west of the street, and an area geared more to shopping at the east end of the street.
Although we didn't do much sightseeing, I did take a few photos of shops and other commonplace things that I found interesting.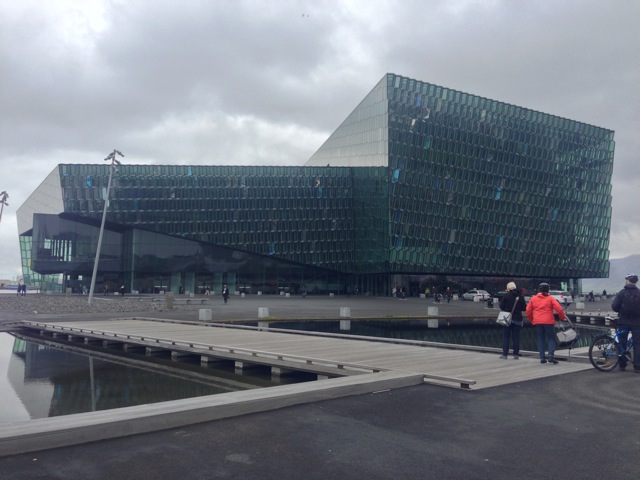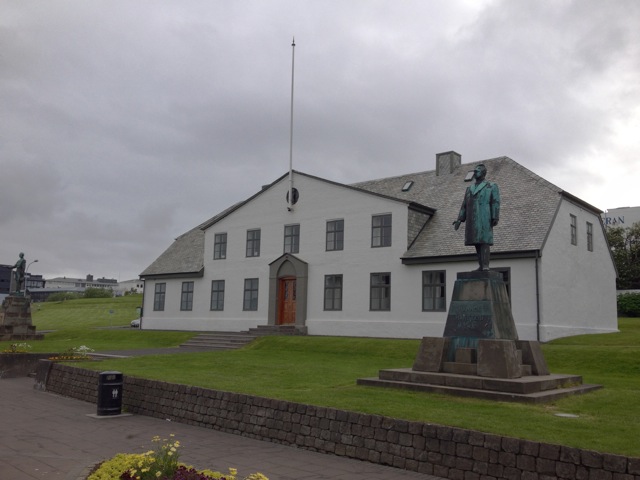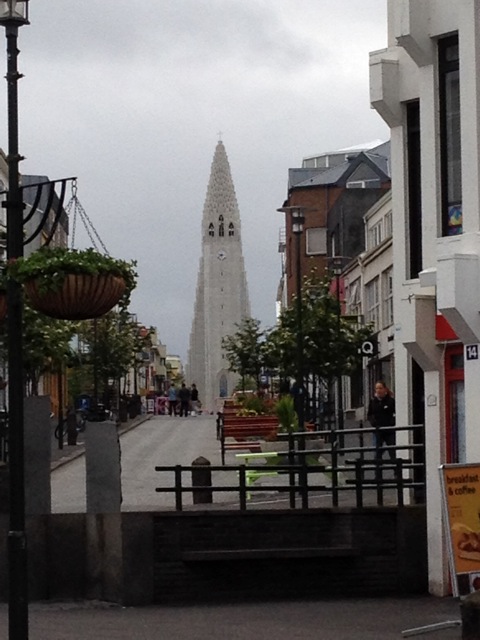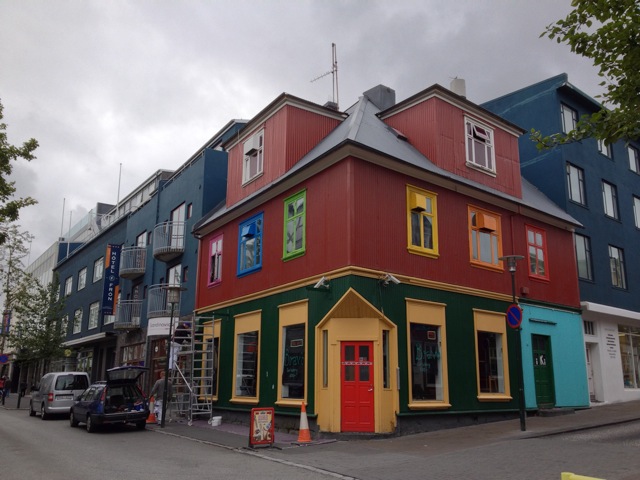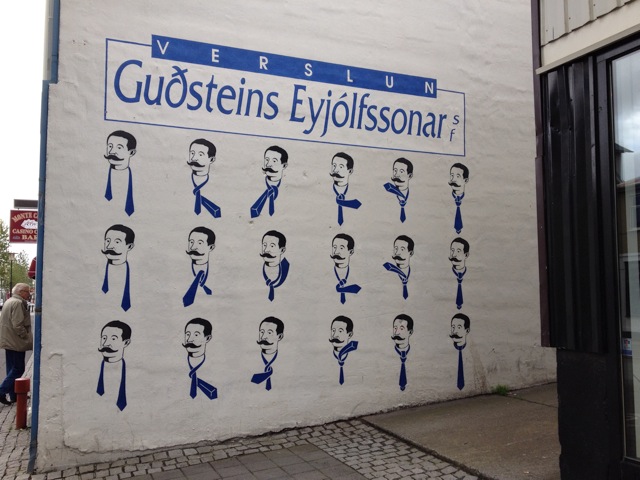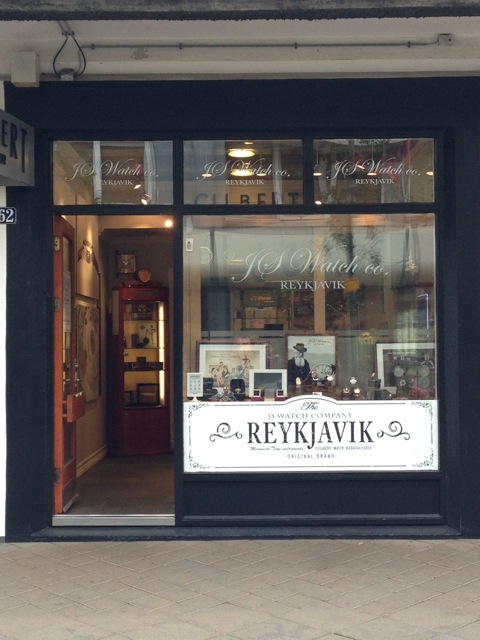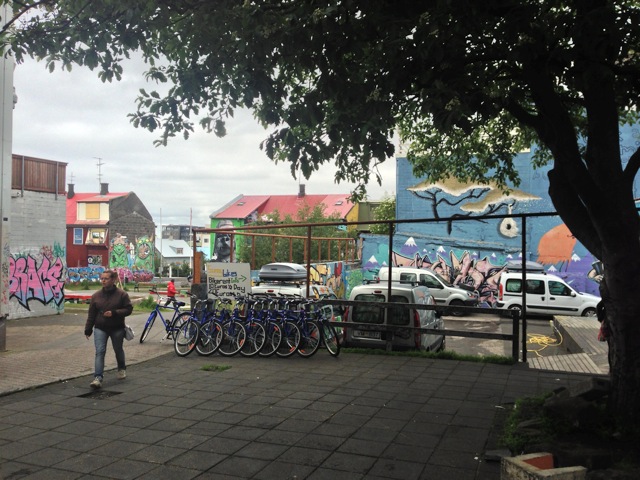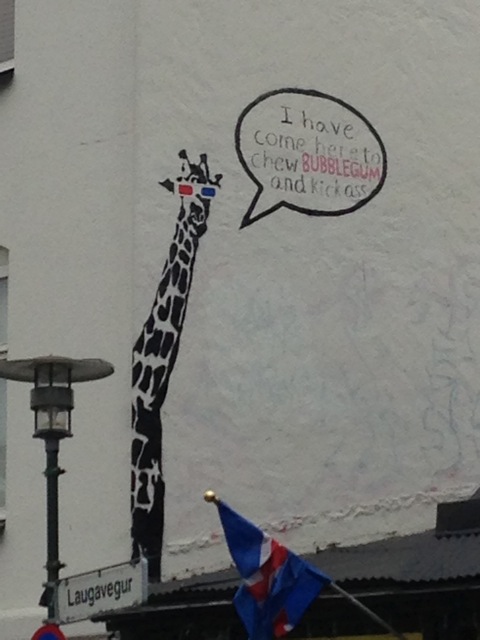 After a while, we decided to stop for a coffee and relax a little bit. This also gave me some free WiFi to catch up on some e-mails and reply to some of you without the constraints of the ships WiFi. Coffee was ISK 760 (£4.22) for filter coffee for two.
After a long coffee break, we had a wander back to the world famous Reykjavik hotdog stand, but not before stopping at a Christmas shop to get an Icelandic themed tree decoration as a reminder of our cruise.
The hotdog stand seems to be known worldwide, although many of you have commented that you're not sure what the fuss is about. Our tour guide from yesterday expressed similar confusion, having been asked about it many times. He said that the stand serves the same hotdog brand that is served all over Iceland. I assume that the reason this particular stand rose to fame was because former US President Bill Clinton had one of their hotdogs making it somehow desirable.
We both had a hotdog with everything and a Fanta to share, costing ISK 910 in total (£5.06). Many people have said that it's nothing special, and I'd be inclined to agree. It's not going to be completely memorable, but it's cheap and was probably the best hotdog I've ever had (as good as a processed sausage on a finger roll can be, anyway). It was served with tasty sauces and crispy onion bits (sorry if these technical culinary terms are over some of your heads) and the crispy onions bits gave a lovely crunch that I've never had before in a hotdog.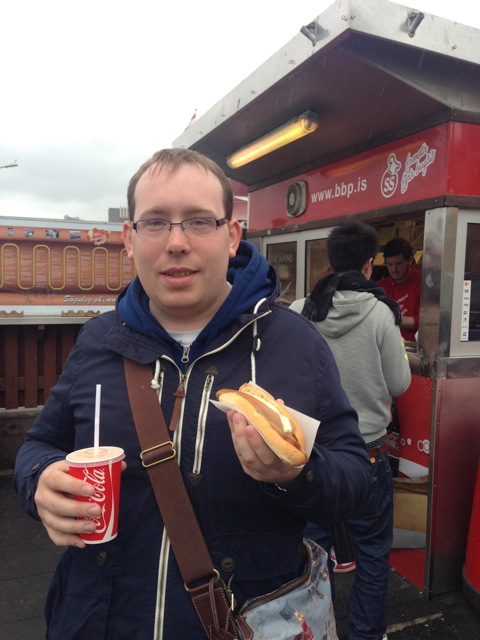 </a>
If I was back in Reykjavik and wanted a quick snack, I'd definitely go back as it was cheap and tasty. It's not going to blow you away, but it might be the best hotdog you've had.
Back onboard for a Sailaway
We got back onboard fairly early, at about 12:00. This left a bit of time before sail away, where we relaxed in the stateroom with our Kindles and did honestly very little. In fact we've had quite a lazy day due to us not feeling 100% so you can assume we had our respective Kindles in hand during any gaps in the schedule!
Our sail away from Reykjavik was observed from the 'Sports Deck' again, although we actually discovered that this deck is in two parts, each at either end of the ship. In the entry from Tórshavn we were situated at the front part of the deck, but today we found ourselves at the back. To our surprise we found a large sports court with small football nets, basketball hoops, various types of ball (you can tell I'm into sports) and a darts board (of all things). So… it seems at least part of the Sports Deck lives up to its name.
During the sail away the ship pushed away from the pier, moved backwards our of the ports, then swung majestically through 180º before making its way out to sea. This was rather nice to watch, although I joked to Alex that the captain could have got underway much more quickly if he'd reversed in to the parking space to begin with…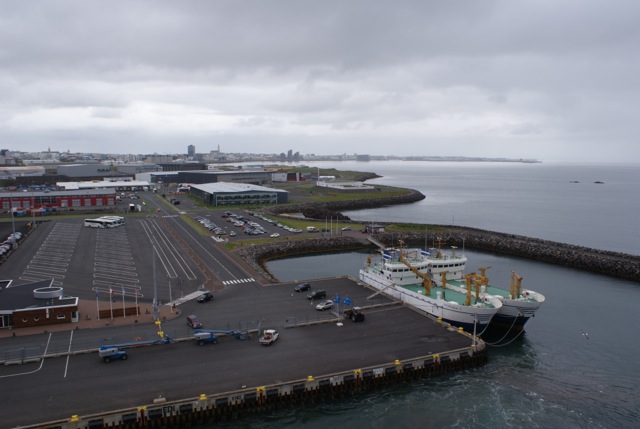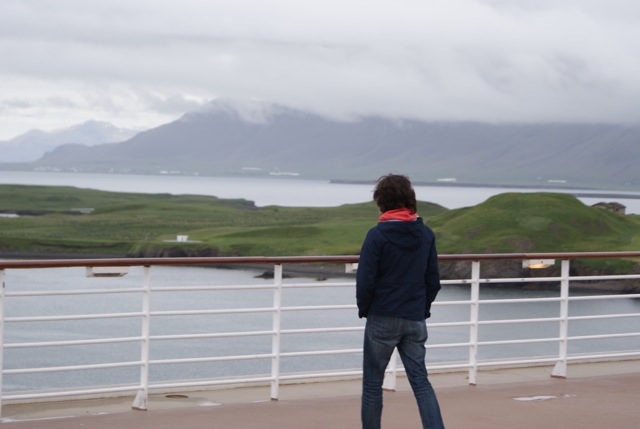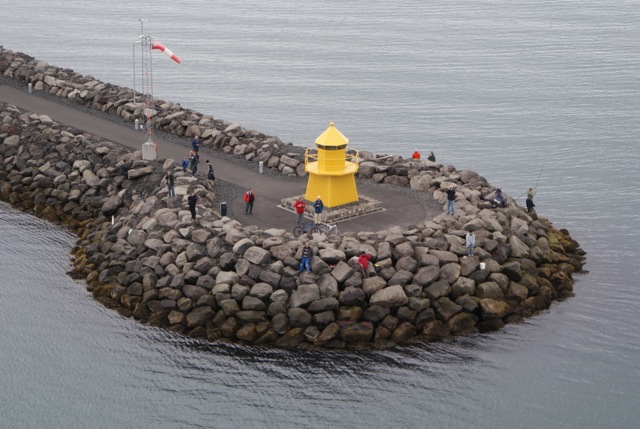 After sail away we headed down to the theatre for a couple of consecutive shows. The first was a 'Ready, Steady, Cook!' style battle between two of the ships senior pastry chefs. Here each chef (aided by an audience member) chose their ingredients and cooked a dish in front of our eyes, in only about 15 minutes. During the time we got some insight into the workings of the galleys (kitchens) on Infinity from the Executive Chef who was hosting the event along with Activities Manager Pete. Three passenger judges then tasted the food and declared a winner. It was a nice thing to see on the ship and really added to the variety of activities on board, especially with the fierce competition between the chefs who tried every dirty trick in the book to get the judges on their side (including bribing with alcohol!) Great fun.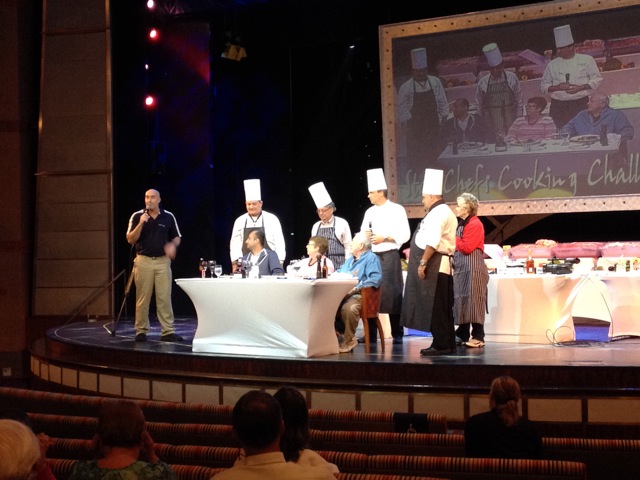 </a>
Immediately after the competitive cook-off, we had another dose of NASA / space fun from Jim Kennedy, former Kennedy Space Centre Director. I really cannot speak highly enough of Jim's talks – just make every effort to attend if you see him on your ship. You will not be disappointed.
Dinner in Qsine
We had originally reserved a table for 20:30 in line with our normal eating time, but decided to move this a little earlier and ended up going at 18:00. Our previous experience with Qsine on Eclipse told us to go very, very hungry so we hadn't eaten anything since 11:30 when we had our early lunch hot-dog. Needless to say we were getting pretty hungry now. As we'd not been feeling great during the day we were both pretty tired so decided to eat earlier and have an early night.
On Celebrity Infinity, Qsine is located on Deck 11 midship. This means that the windows more or less look right out to sea, with a section of jogging track between the windows and the railing. Most of the tables in the restaurant are located near a window, although if you want to be sure of a great view I'd go early like we did.
Qsine is not like most other restaurants you might have visited before. The menu is presented on an iPad; there are no waiters, only culinary tour guides; there are no formal courses. It's a very relaxed and social dining experience, best described as international tapas. The menu consists of dishes from all over the world that are designed to be shared by everyone at the table. Some of the dishes have a DIY aspect to them, and all are served in a unique way.
We had Sushi Lollipops (2 each of four different kinds, served with a small bottle of wasabi mayo and soy sauce); M's Favourites (12 different tiny dishes from around the Mediterranean); Crunchy Munchies (Sweet Potato fries, lemon and pepper fries, fresh crisps, potato croquettes) served with Vegetable Dips (this had a different name which I can't remember, but basically four different vegetable based dips); Slider Party (DIY miniature cheeseburgers with brioche buns and all the toppings); and Disco Shrimp (poached shrimp in a garlic dressing served on ice with a flashing ice cube).
All of the above were quite tasty, and beautifully presented (as you'll see soon). the sushi lollipops were very nice, as were the sweet potato fries. The Disco Shrimp was OK, but could have done with a bit more flavour (although the meat was lovely).
For dessert (the menu for which is discovered on a folding puzzle cube) we shared some doughnuts and DIY cupcakes. The doughnuts were quite nice, and served with caramel, lemon and chocolate sauces. The cupcakes were a lot of fun; you were provided with three different bags of frosting, ready to pipe, and some sprinkles for the top (popping candy, peanuts and sugar sprinkles). The plain doughnuts were probably the best of these to eat (without any of the sauces) and, although the cupcakes were great fun I didn't eat very much of it. I found the frosting far too buttery and a bit soft (except the chocolate one which was very stiff and thick). It was just a bit much at the end of the meal.
Overall the Qsine experience is an enjoyable one. The food ranges from OK to very good (nothing exceptional), but the way the food is served and the interaction with the staff is great! From a slightly geeky standpoint, the iPad menus should either be removed or improved. They could be wonderful – showing images of the food, or maybe a story about how each dish came to be. As it stands it's just a badly coded iPad app that doesn't actually tell you much about each dish (which would be very useful, as some dishes aremuch bigger than others but there's no good way of knowing).
Qsine can be enjoyed as a couple (most of the tables when we were in were couples) but the experience would be much better with a larger group, even 4 or more. This would allow everyone to try far more dishes and enhance the social vibe that is central to the Qsine experience.
And now for the photos…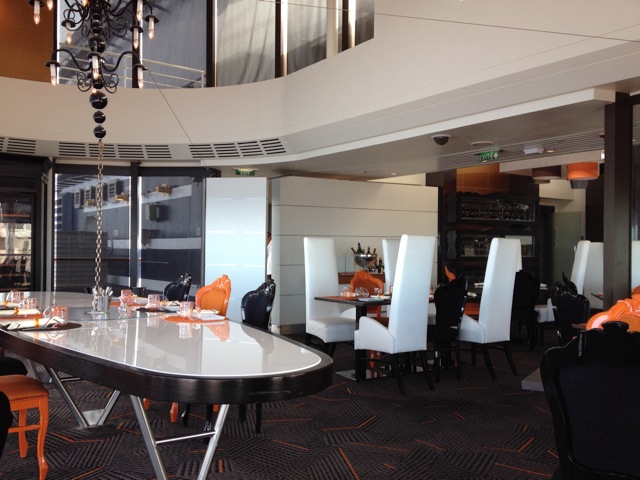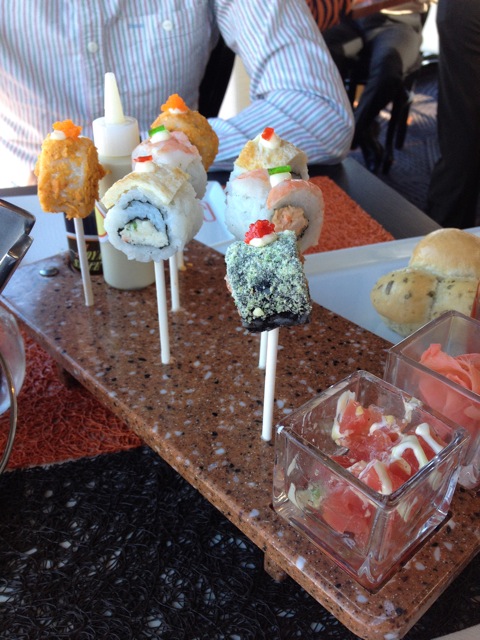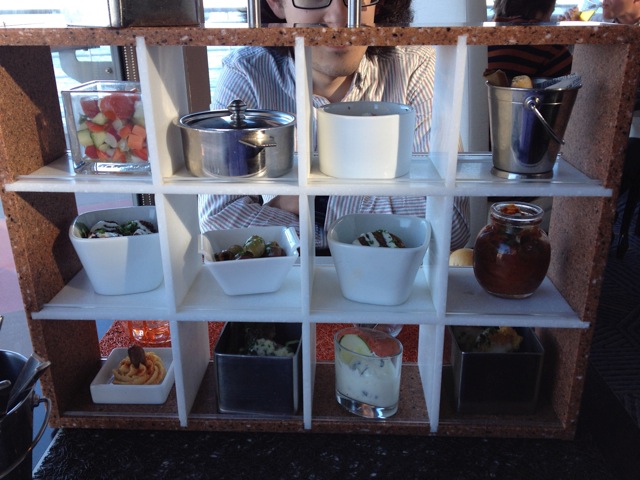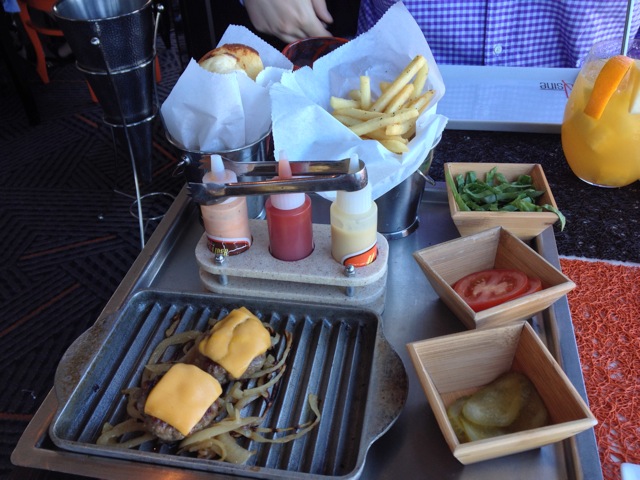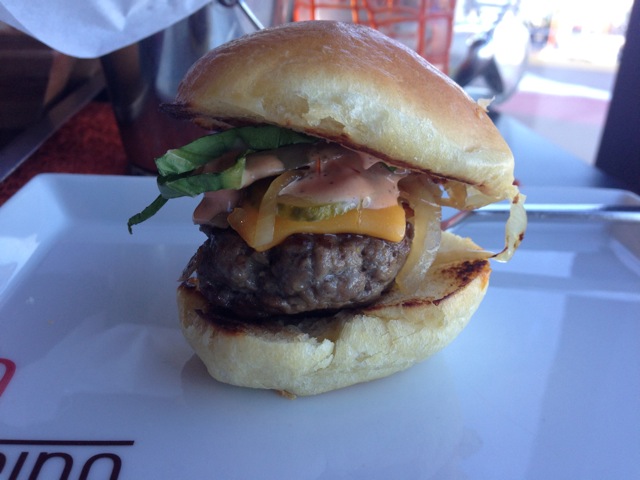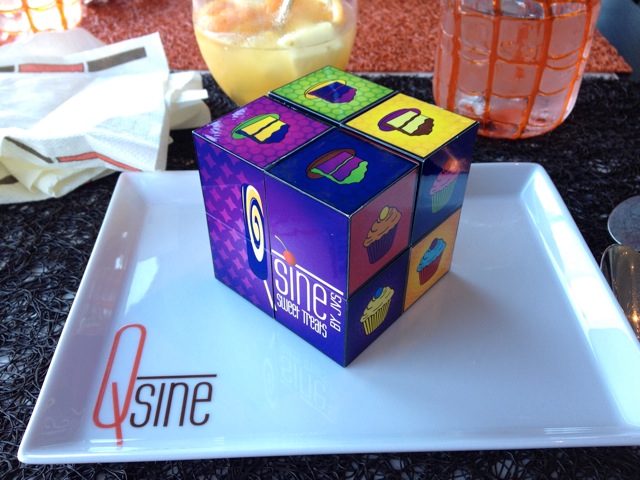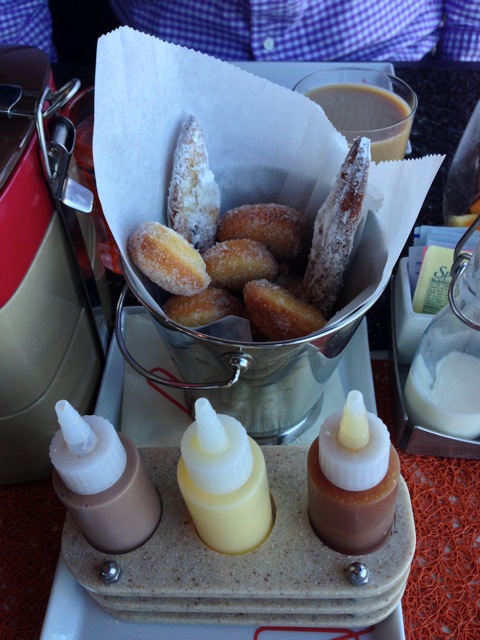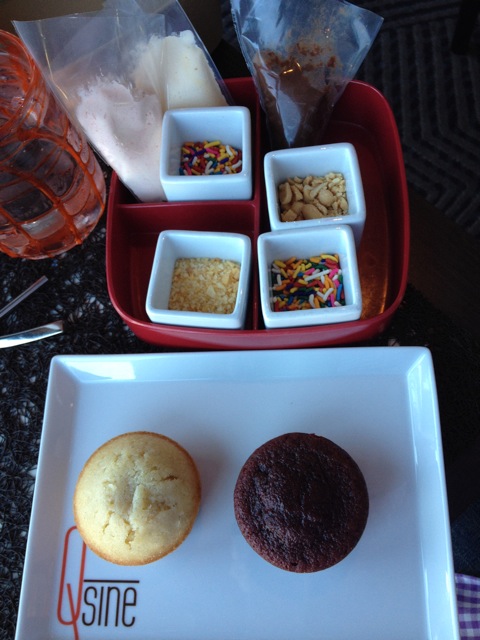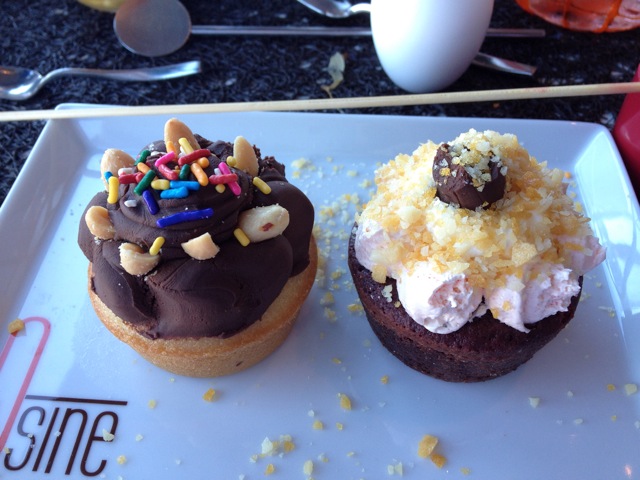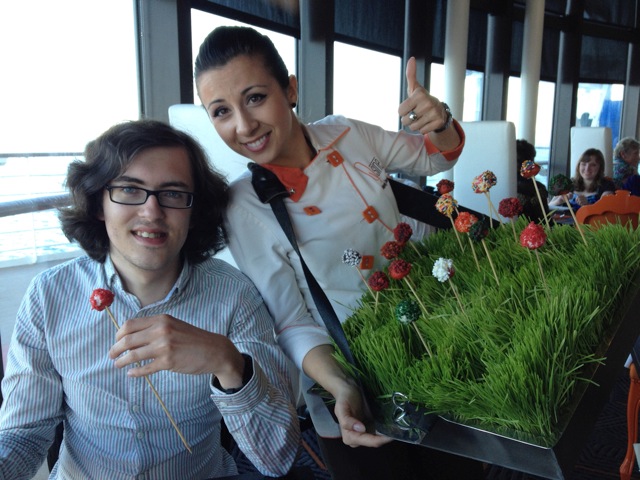 Dinner took about three hours tonight, and as we didn't want to rush to the show (Boogie Nights, a 70's musical) we decided to have an early night in the cabin. I don't like missing the show but we're just so tired after today that I might have fallen asleep! That said, I don't know how much sleep we'll get in our cabin this evening, as the sun is 'setting' outside our window and only skirts under the horizon for about an hour before blindingly announcing the start of a new day. I think we need some thicker curtains!