Today we docked very early in Reykjavik, Iceland where we will be staying until 1pm tomorrow. We decided to do a full-day 'Golden Circle' tour today, and explore on our own tomorrow until the ship leaves. We had another dinner with the couple living in Spain, and an after-dinner show involving our Activities Manager doing Derren Brown style magic. We even found time to crack out the Kindle before dinner with a lovely cold drink!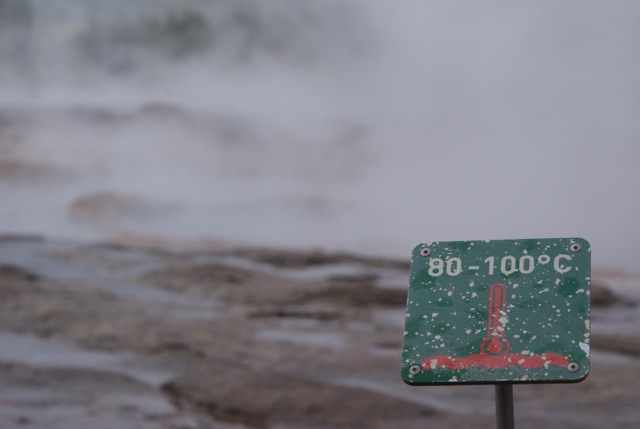 </a>
Arriving in Reykjavik / Our Tour
Reykjavik port is not located centrally in the city, and the shuttle bus is charged for. This was advertised only in GBP, EUR and USD and cost £8 per person for a return (not unlimited use). I have since discovered that you can walk into the city centre from the port along a harbour path, which should take around 40 minutes.
Our tour was not booked through Celebrity (who I believe charge $129 for the Golden Circle tour, including lunch) but booked independently though a company called Iceland Guided Tours (IG Tours). This was reserved online with payment to be made on the day in local currency (Icelandic Króna), Euros, Pound Sterling or American Dollars, or with a major credit or debit card. Of course for the best exchange rate pay in Króna using the top travel plastic (I won't bore you with that now). The tour cost ISK 8,900 for each adult, or about £49.
Our tour guide and driver (Brahim, I think) met us at the tourist information office located right where the ship docked, so we didn't need to use the shuttle bus. There was initially some confusion as some people had booked through third part agents (and paid more) and were on a different list. Eventually the confusion was resolved and we were boarded onto small minibuses for our 8 hour tour.
The wonderful thing about this tour with IG Tours is that the group sizes are small. This was wonderful as we made several 'off-schedule' stops and had a much more personal experience on the bus. I'd definitely recommend this tour as Brahim was knowledgeable and friendly making the day fly by!
Waterfall at Faxi
I don't actually have much to say about this, as I don't know a whole lot about it. It was a bit of a warm-up on the waterfall front, so I'll just show you a photo.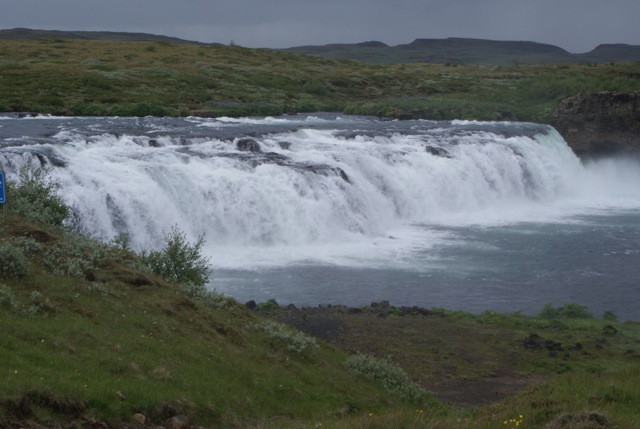 </a>
The Golden Falls
Properly known as Gullfoss, These falls are absolutely stunning. There are two drops I believe, and the trail takes you right next to the smaller, first one. I couldn't get too many photos up close, as the spray was incredible (and very refreshing, although it was really cold!) The site had a small gift shop and toilets at the parking area and lookout. From here you walk down a path to get to a fork that takes you either down to a different lower car park or along to the top of the smaller falls.
This area is so majestic and powerful. It's very humbling to watch such an incredible volume of water rushing past. In fact Gullfoss is the second most powerful waterfall in Europe. The most powerful falls are also in Iceland, but in the north of the country so too far to be easily accessibly from Reykjavik.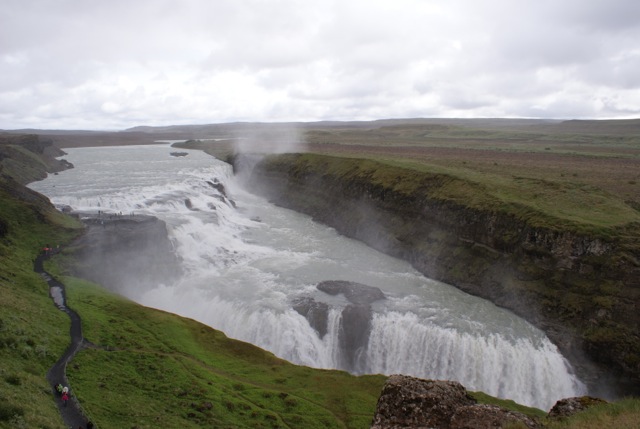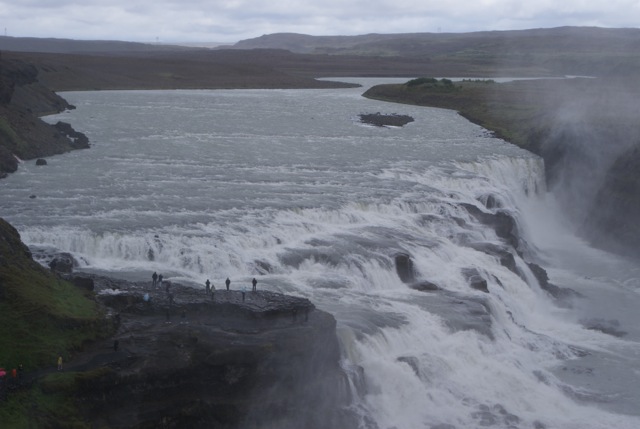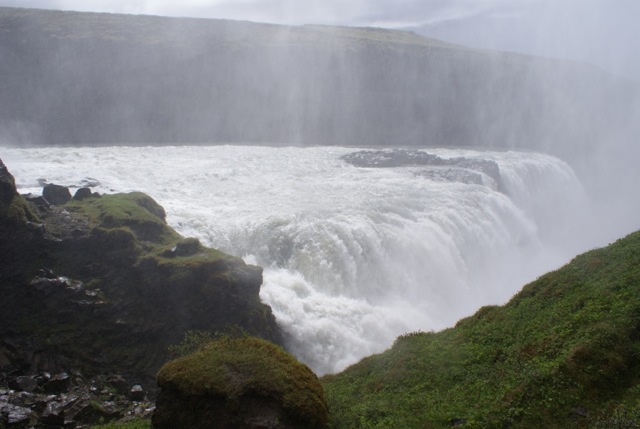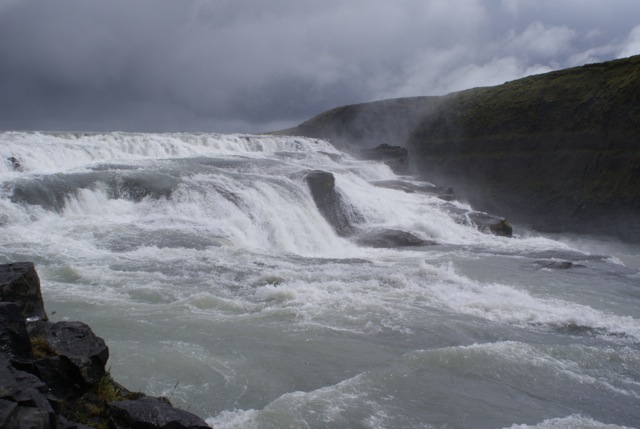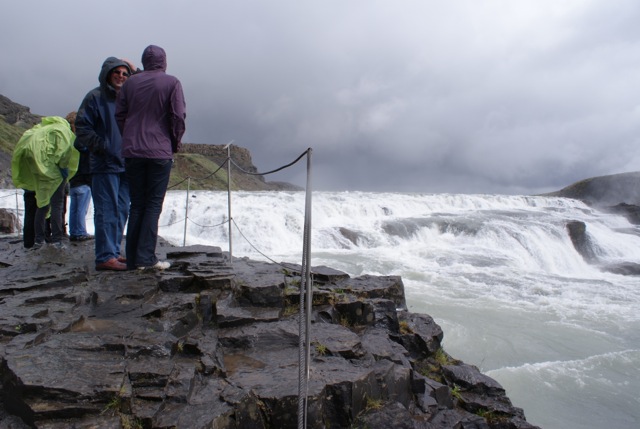 On our way to the next stop, we got an example of the flexibility of being in a small, independent tour group. Some of the guests on the bus had an interest in the unique Icelandic horses, renowned for their hardiness in the cold winters. Our guide pulled the bus into a lay-by where some horses were grazing by the fence and let us get up close and take photos.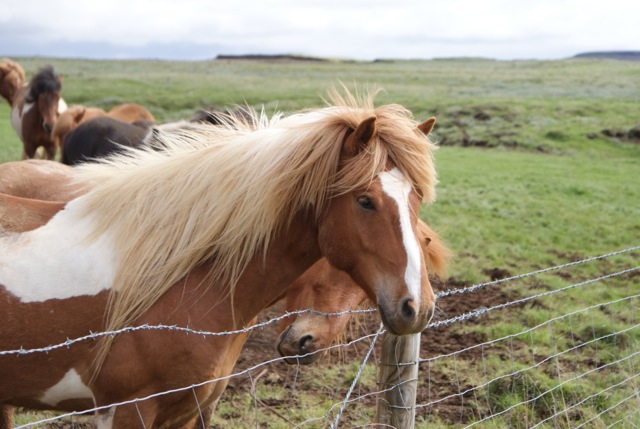 </a>
Strokkur Geyser / Geysir Parkland
Smelling strongly of egg (I believe this is caused by the sulphur in the water) the Geysir site gave it's name to the phenomenon around the world. The original 'Great Geysir' on this site is no longer active, but still sends a carpet of steam across the landscape.
The active geyser, called Strokkur, is still reliably active and sent a column of water and steam up to 20m into the sky every 8 minutes (give or take). We saw a couple of eruptions while we were here before enjoying lunch in the fast food style café on site.
Apparently they're even using the heat from this geological activity to bake bread! The small structure billowing steam is a bakery of sorts, and they make special bread that takes 24 hours to bake. We didn't see any, so I'm taking Brahim's word on this little fact!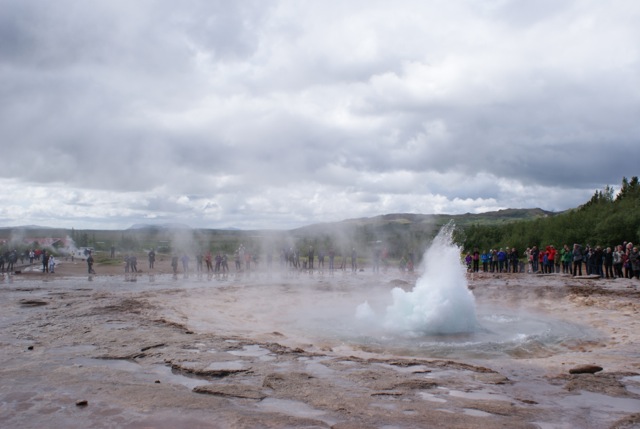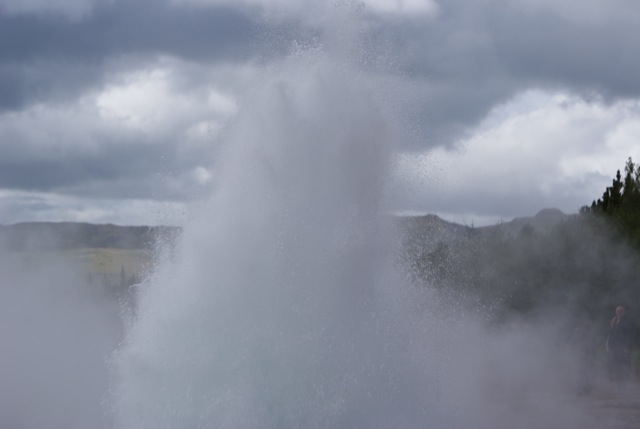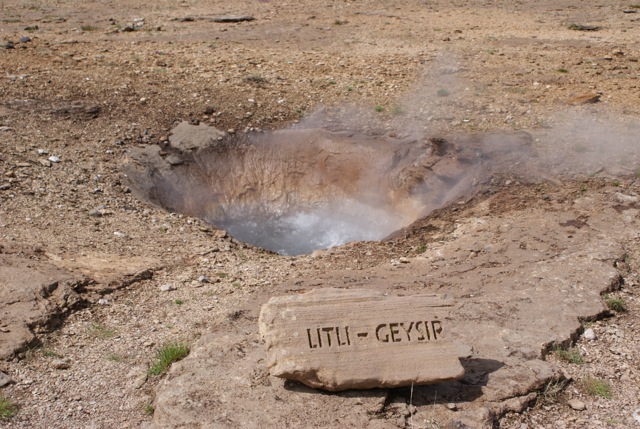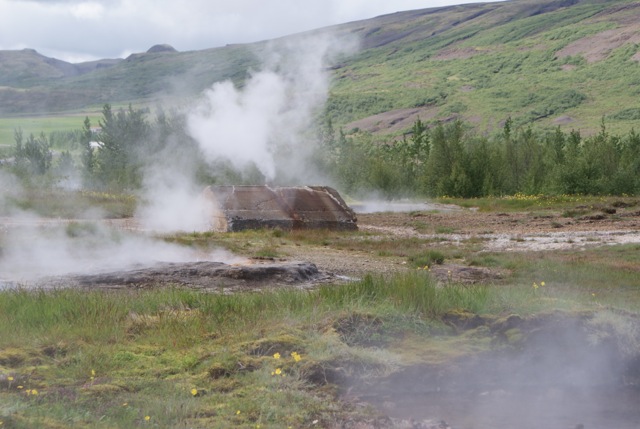 I realised today that I didn't tell you all about the currency and cost of food and drink when we were in Tórshavn. At the café we had a limited choice of cheeseburger or chicken burger, with fries or onion rings and various drinks and cakes. We both had a cheese burger (ISK 950 / each) shared fries and onion rings (ISK 490 and ISK 690 respectively) and had a bottled drink at ISK 350 each. Tomato ketchup was in sachets and cost ISK 15 each.
Thingvellir National Park
The Thingvellir National Park is the site of one of the first governments ever, called the Althing and formed in about 930AD. The Althing met in an amphitheatre outside, and never had any permanent structure on the site, although members of the parliament constructed temporary shelters for their time there. The site, although not obviously central in Iceland, was apparently very easily accessibly from all parts of the country as tracks converged there.
The park is also on a rift valley where the American and Eurasian tectonic plates meet. According to the leaflet from the tourist information centre on-site, the movement causes the area to expand at a rate of 3mm every year!
We had the option to park at the bottom of the cliff and complete the paved walk from the lower level to the information centre at the upper level, but nobody was particularly keen as it was very wet and windy, and I hadn't really come prepared! Very disappointing, but if I ever find myself if Iceland again I'll be coming back.
The car park at the top of the cliff has a lookout and is where the tourist information centre and toilets are location. There is also a gift shop and some very informative interactive podiums that tell you a lot about the history of the Althing and the areas in general.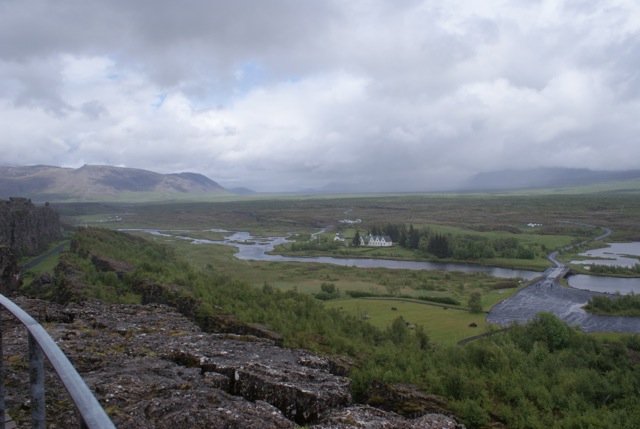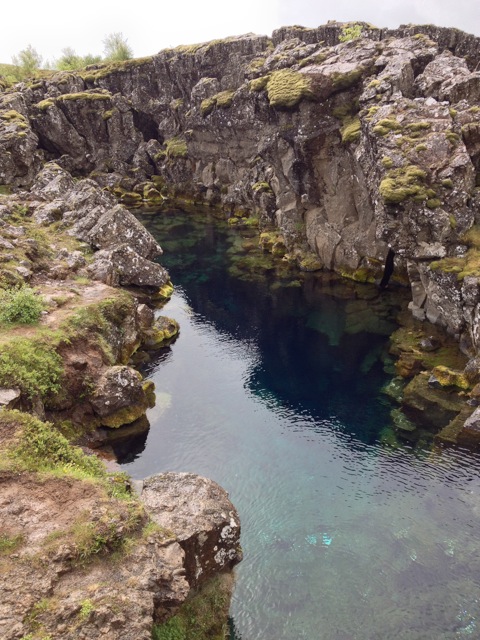 A little bit of Reykjavik
In theory this was the end of the tour, but as our tour guide discovered that we were docked overnight in the Reykjavik he gave us a brief tour of Iceland's capital city too! Did you know that Reykjavik is the most northern capital city in the world?
After some of us on the bus asked what the domed structure overlooking the city was, we detoured up there to have a look. The site is called The Pearl and is where hot water is stored before being pumped to houses in the city (much of Iceland's hot water is heated using geothermal activity and pumped to houses that way). There is now a café and restaurant on the site. The restaurant seemed quite pricy at about £70 per head without drinks for a three course meal. I'll compare this to restaurants in the city tomorrow. There is also a lookout point offering fantastic views of Reykjavik.
After our stop here, we ended up at Reykjavik's church, a giant concrete structure, and certainly one of the only attractive concrete structures I've ever seen. We did stop for photos and to go inside the church, but there was a funeral going on for one of Iceland's sports commentators and former footballers (apparently, this is what Brahim told us) so we didn't go inside.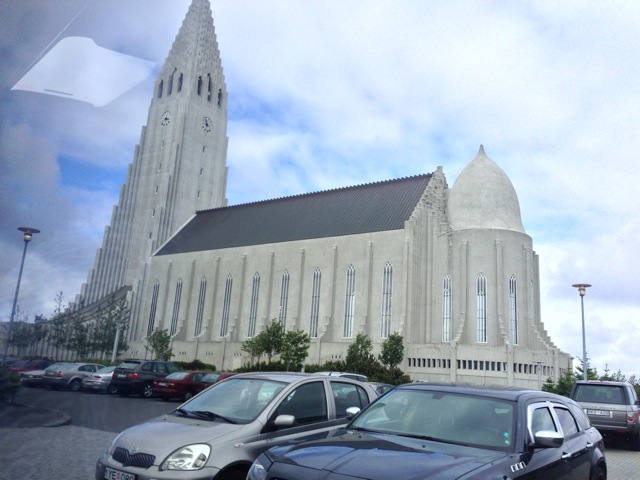 </a>
We then stopped at our final stop (another request from the passengers): the Iceland Opera House. This is an absolutely stunning glass structure specially reinforced to withstand earthquakes up to level 8 on the richter scale, in line with Icelandic building code; Iceland gets earthquakes regularly. Apparently the only thing they didn't consider when building the structure was how to clean it!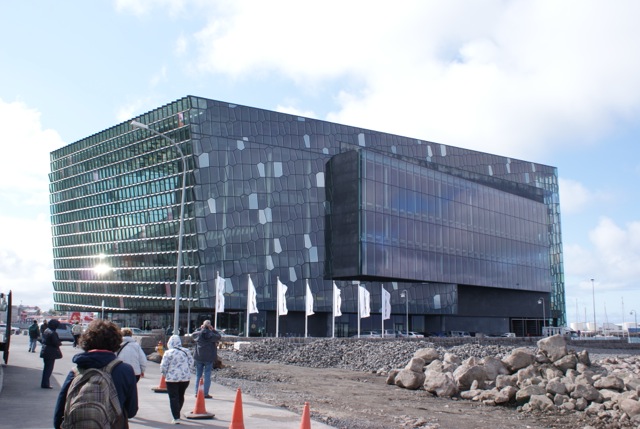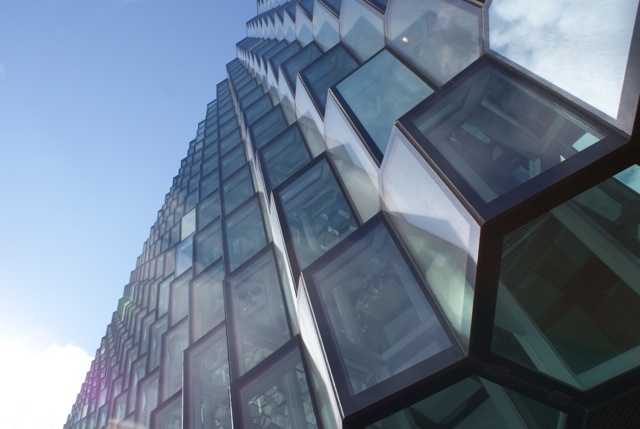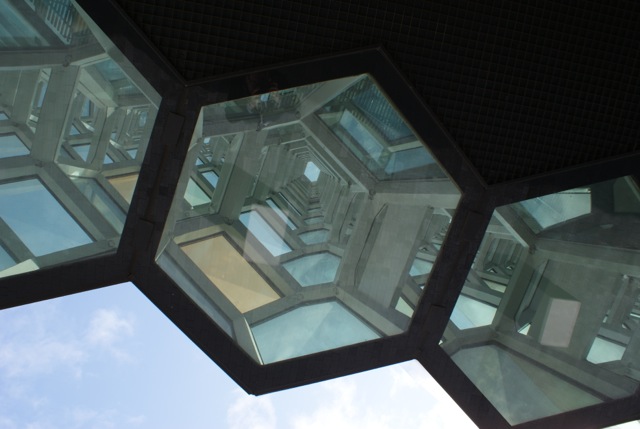 Finally we passed the world famous Reykjavik hot-dog stand! I think we'll be paying this a visit for an early lunch tomorrow and see what all the fuss is about!
All in all a very busy day. Brahim was an adaptable and passionate tour guide who's knowledge seemed to know no bounds. Based on this experience I'd thoroughly recommend IGTours for any future visits to Reykjavik.
Back on Board for Dinner
Tonight at dinner was another social affair, with the same couple as we dined with last night. I don't mind a table for two, and I quite like larger tables of about eight, but I really don't like a table for four. When there is only one other couple, the conversation has to be constant and unwavering. It feels quite pressurised, even though they are absolutely lovely and we didn't have any issues talking. Perhaps I'm just a bit socially awkward, who knows. We're in Qsine tomorrow night though, so we'll have some time to ourselves and some more food photos to share with you.
Food tonight was a mixed bag really. My starter (crab cake) and soup (tom ka gai) were both lovely, as was the desert (dulce de leche pastry cigar) but the main course (spinach and ricotta ravioli) was very disappointing, to the extent that I didn't even finish it. It was just a little cold and had a strange texture that I've never before experienced in this dish. Still… I didn't go hungry!
Mind, Magic and Mentalism
We finished dinner quickly tonight because I was quite keen to see the show from our Activities Manager called Mind, Magic and Mentalism in the Constellation Lounge. I suppose this show is unique to Celebrity Infinity as it's one of the shows that uses the specific talents or skills of the officers. Pete apparently has training in hypnosis and psychology, and uses these skills to wow audiences in a Derren Brown style show.
He started off with some hypnosis style experiments, the sort where you try to get the audience to focus on their hands and move them closer together. It didn't work on me; perhaps I'm a little too rational! He then did various tricks involving cards and reading minds, all of which were well executed and impressive (although not necessarily things you won't have seen before).
I'm always a bit skeptical, but somehow got picked again to participate in one of the experiments. When I went up I was asked to choose from three different books, open my chosen book to any page, and select a word from that page. I was to memorise the word and the books were taken away.
He then asked me to put my hand on his shoulder while focussing on the first letter of the word, which was 'D' (the word was dermatologist). He concentrated for a little bit and moved around, then finally wrote an 'S' on the piece of paper and asked me to confirm my letter. I actually though he might be playing some sort of trick, and was going to write the word 'Skin' down, but I didn't see the word he wrote.
He then asked me to put my hand on his shoulder again, but this time concentrate on the whole word, ideally picturing whatever it was. I did this to the best of my minds-eye ability. After some more careful thoughts and moving around, he asked if it was some sort of medical professions. Then honed in on it being something to do with dermatology. Sure enough, the word he wrote on the paper was 'Skin'.
I have no idea how he did this, but it was amazing to be part of even though I know there's a logical explanation in there somewhere. It's a wonderful experience if you ever get the chance!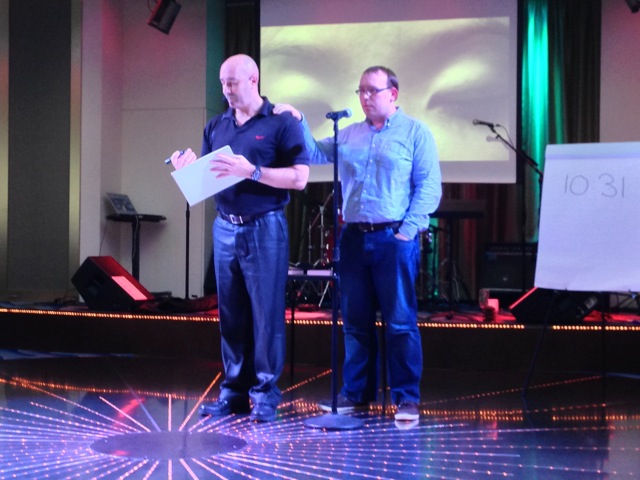 </a>
Now it's off to bed for another early start exploring Reykjavik. Hopefully we'll get a good look around in the limited time we have tomorrow, and another report will follow.
Goodnight!