Today we were docked in Tórshavn in the Faroe Islands from 10:00 until 18:00. We explored the city, lay by the pool for some of the afternoon (more reading) and enjoyed some comedy from Wales followed by dinner in S.S. United States.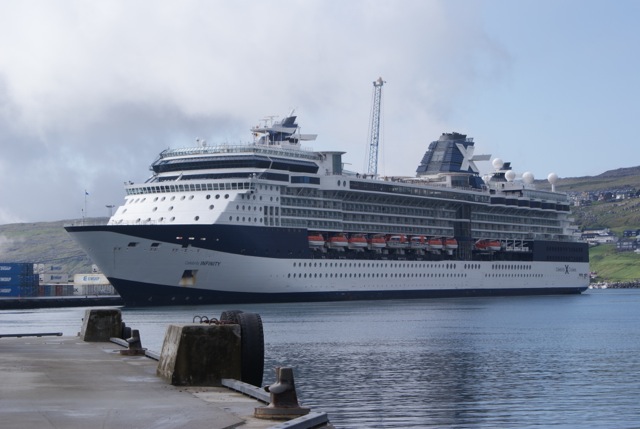 </a>
Tórshavn
Tórshavn is the capital of the Faroe Islands, which itself has a very small population. You can tell that the population is small by looking at the short car licence plates and business telephone numbers! The town itself was pretty quiet when we disembarked, so lovely to look around. The port seems fairly industrial, so you do need to take a (very) short shuttle bus from the ship to the port terminal.
We picked up a small foldable map (apparently also available for iOS if you're planning in advance) which very helpfully listed lots of local shops, cafés and even a shopping centre. We'd just had breakfast though, so decided to explore the park which was north of the port, and only a fairly short walk.
The park itself is lovely and features (along with the rest of Tórshavn) many similar statues of morph-type figures. I'm sure there's a story behind this, but I don't know what it is. The day started off very misty and at the top of a small hill we got a nice photo looking down to a misty Infinity.
After walking around for quite a while in what turned out to be a beautiful day, we decided to explore the shopping centre. It's not very big, but looks quite new and has a chemist store with toiletries and perfumes and so on; a large supermarket; plenty of clothing shops; Burger King, a coffee shop; and a sandwich shop. There is also free Wi-Fi for those looking to catch up without paying for Celebrity's expensive Satellite broadband.
We then decided to stop somewhere for a light bite and something to drink, and found a lovely little café by the harbour called Kaffihūsid which served paninis, croissants, coffee and some soft beverages. The menu wasn't in English, but it was manageable and the staff were helpful. They also have free Wi-Fi, and some lovely tables outside which we made use of.
The Faroe Islands Whale Research centre has a very inconspicuous looking building in the town where you can (for free) learn about the work being done in tracking whales, and discover more about the different types of these animals themselves. It doesn't take long to have a peek and read some of the information they have available. If you're interested in learning more there were friendly looking people answering questions. Worth a visit if you're in Tórshavn and don't plan to take a shore excursion, but not worth going out of your way for unless you have a particular interest.
Plenty of lovely 18th century wooden architecture, with many of the old buildings having grass roofs. We even saw one gentleman giving his roof a trim!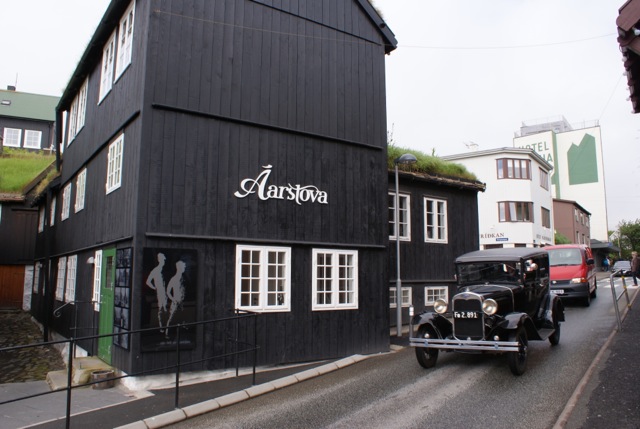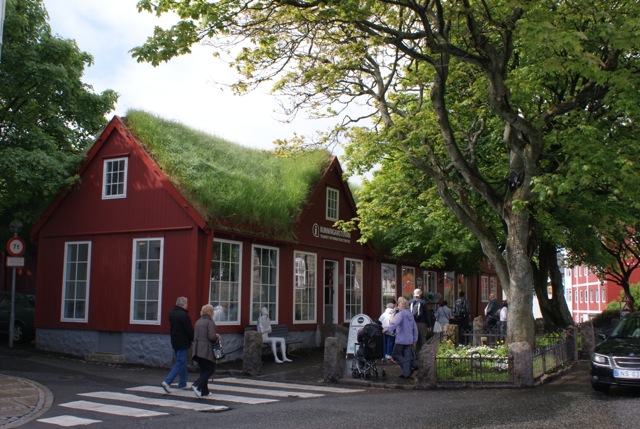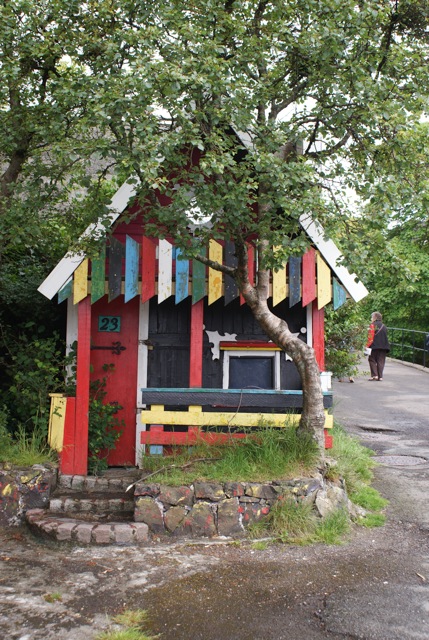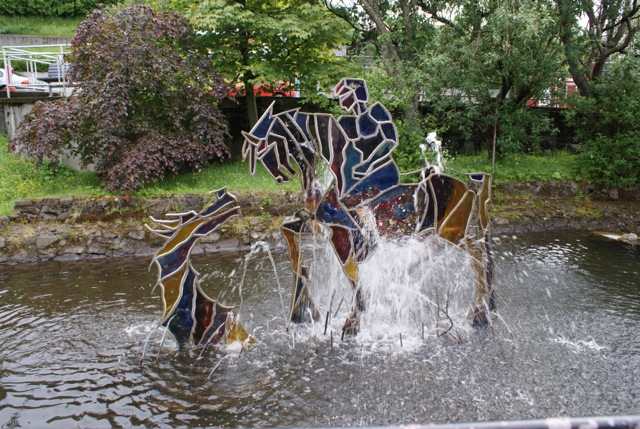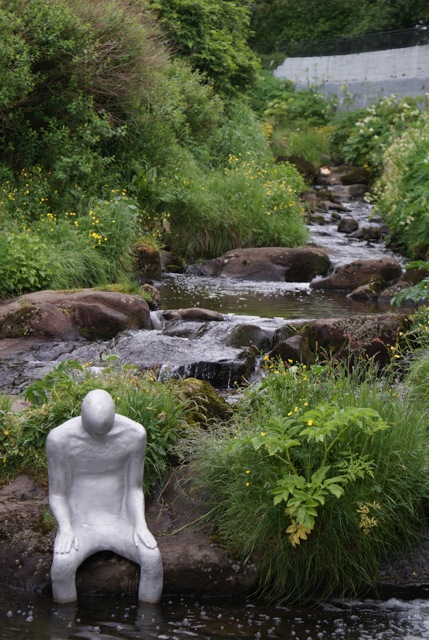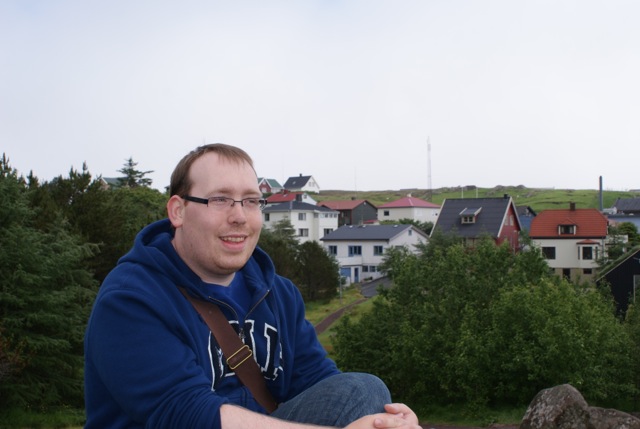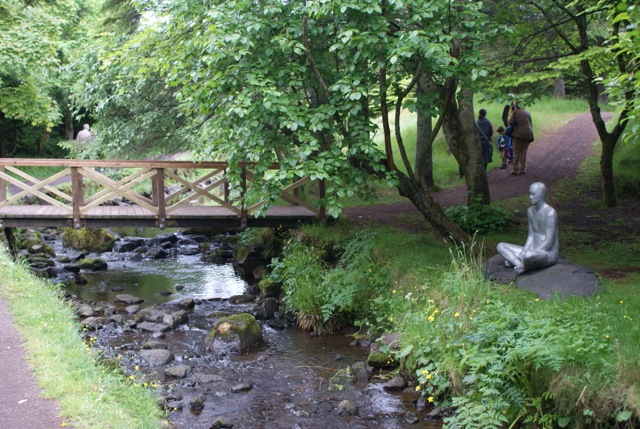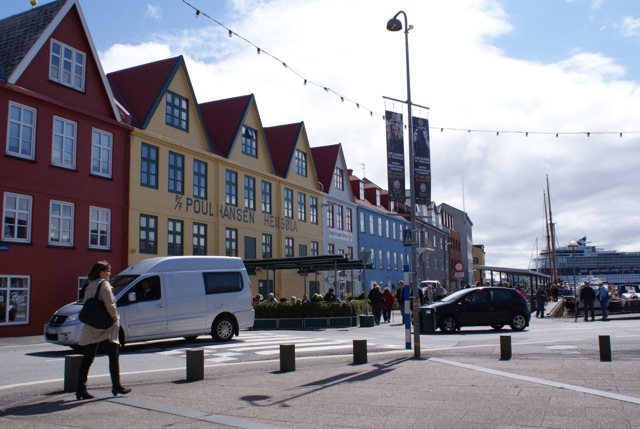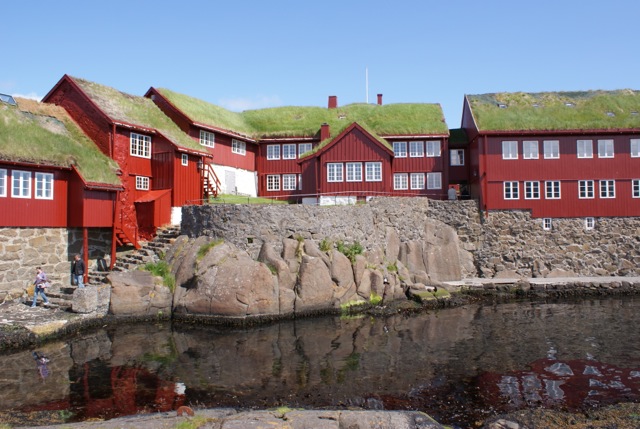 After a little more exploring that took us into the afternoon, we got back on the ship with the intention of enjoying the beautiful weather on deck, so we got back to the cabin and changed for the pool.
A chilly afternoon by the pool
The solarium (which is the indoor pool) on Eclipse was always very warm and quite pleasant to sit in, but on Infinity the heat doesn't seem to stick around. I've no idea why, as the room is effectively a big greenhouse, but it makes even the indoor pool a little less appealing on cooler cruises. We discovered that, because of the direct sun, sitting outdoors was a little warmer… at least to begin with! That, and the seating available in the Solarium is minimal; almost all of it was gone by the time we arrived.
Outside the space is much larger, with one 'proper' pool, one strange, smaller pool (perhaps a kids pool) and two whirlpools. We found a perch by the pool in the warm glow of the sun, and decided to give the whirlpool a go. This was nice while it lasted, but as the wind picked up and the sun went in, getting out again was a little bit of a shock to the system! We finally decided to retreat indoors and leave those braver soles than us to enjoy the outdoor pool area.
Credit to Celebrity, they have ample towels and blankets in both pool areas so there should be no issue if you want to wrap up warm and relax with some fresh air. It's just not for me!
Snacking with strings
Having not had a terrible amount to eat, but conscious that dinner time was approaching and, being a speciality restaurant, I wanted to savour every course, I decided to pop to Café al Bacio and the Gelateria for a coffee and a small ice cream cone.
What followed was a mountain of delicious pistachio and chocolate hazelnut ice-cream. I honestly cannot imagine what a large cone would look like (or how any one person could consume the entire confection) but if we ever have to abandon ship I'll grab a small ice cream as it'll keep the entire lifeboat of people fuelled for several days at sea.
The ice cream and hand made waffle cone were delicious, but alas I resisted consuming it all for fear of ruining my dinner.
Whilst my taste buds were being indulged with ice cream and coffee, my soul was being fed with beautiful music from Celebrity Infinity's wonderful string trio 'Fiore Strings', who I raved about in the embarkation day blog as they were part of the show on the first night. Regrettably I didn't hear their entire 45 minute recital, but will be sure to listen out for them again later in the cruise.
Sailaway from Tórshavn
For the sail away from Tórshavn, I braved the rapidly cooling climate to venture to the Sports Deck at the top of the ship, an area where, as it's name would suggest, I have not explored so far. I needn't have feared though as, unless I missed the London 2012 'sitting on a deck chair' event, there were no sports to be found. Clearly I wasn't the only one put off by the name of this inappropriately labelled deck though – the place was empty! Anyway, it gave fantastic views of the city and the sail away.
Armed with a good camera and a long lens, I managed to get dozens of fantastic shots during the hour I was up there. Photos of some other ships leaving at the same time as us are pretty exciting, as are those of the areas of Tórshavn that we explored on foot, but from an alternative and elevated angle. Unfortunately the one piece of equipment that I neglected to bring with me was a memory card, which was resting in the card reader attached to my MacBook Air. Sorry about that! Instead, I can provide some rushed and amateur shots taken on my iPhone's camera.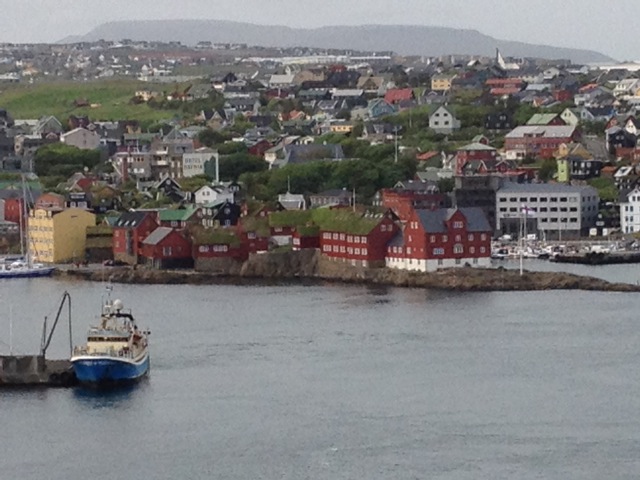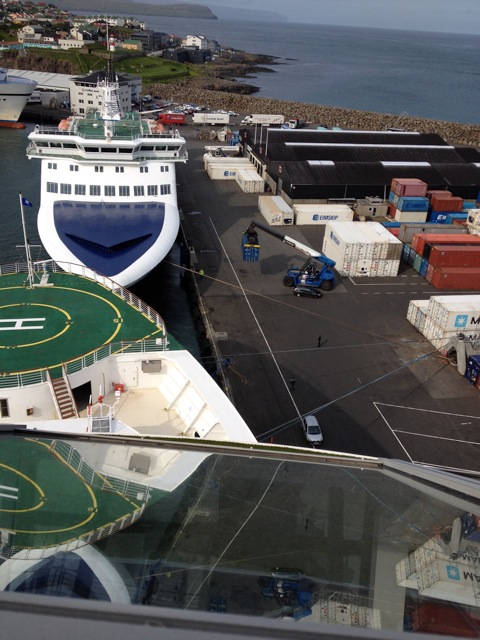 Diane Cousins – Celebrity Theatre
Tonight's pre-dinner performance comes from the deepest, darkest valleys in South Wales in the form of Comedy Singer Diane Cousins, accompanied by the Infinity Orchestra. Her humour was right up my alley and had the whole audience laughing out loud. She did pick on a couple of late-comers, but in a fun and friendly way, and had a fabulous interaction with the orchestra who she got involved in her comedy throughout the act.
Her singing wasn't brilliant, and she absolutely destroyed some songs I adore, including 'I Know Him So Well' and 'Send in the Clowns'. Nonetheless the act was, on the whole, very good. Alex wasn't as keen (he said his humour was dated) so clearly Diane's not to everyone's taste, but I enjoyed her act a lot.
S.S. United States
S.S. United States is a speciality restaurant on Infinity that has the same menu as Murano on the Solstice-class vessels, but Infinity is the only one of the Millennium class vessels to feature this restaurant. The food here is french-inspired fine cuisine, with many dishes prepared table-side.
I've been very disciplined this evening, and have photographed all of the dishes I was served, including shots of the table-side preparation where applicable. You can thank me later (although it's liable to just make you hungry).
Before I get on to the food, I have to say that tonight's meal was a prime example of outstanding service, and the combination of food and service made this the second best fining experience I have ever had in my life (second only to the experience in Disney's California Grill restaurant). Gabor, out main waiter for the evening, prepared our table-side dishes with flair and gave a lot of culinary background to what he was creating. He also had a fantastic sense of humour and entertained us throughout our meal. Great job, and I'm glad our package allows a second visit to S.S. United States, as I can't wait to try the other menu items that sounded fantastic! Anyway, on to the food…
I had Salmon and Crab parfait, Dover Sole (prepared table side), Cheese course, and Crêpe Ballon Rouge. Alex enjoyed a Crispy pork belly with sweet chilli glaze, followed by Muscavoy duck breast. All of the food was cooked to perfection and tasted just wonderful (with the exception of one of the cheeses, but that was down to my own preference. This cheese was a real stinker!) The dover sole was de-boned table-side, and the crêpe was prepared table-side too, with flames and all! In this case I'll let the pictures do the talking for me.
In short, if you're ever on board Celebrity Infinity, you absolutely must dine in S.S. United States. It's worth every penny, I promise.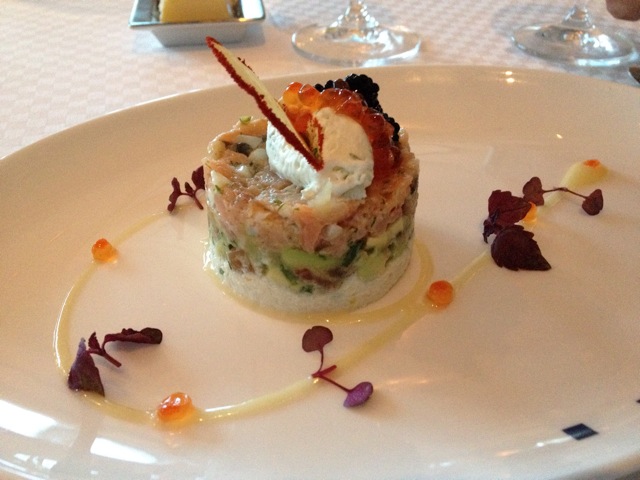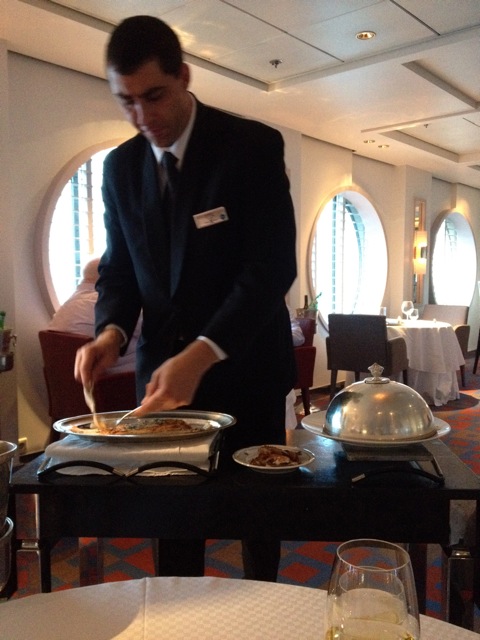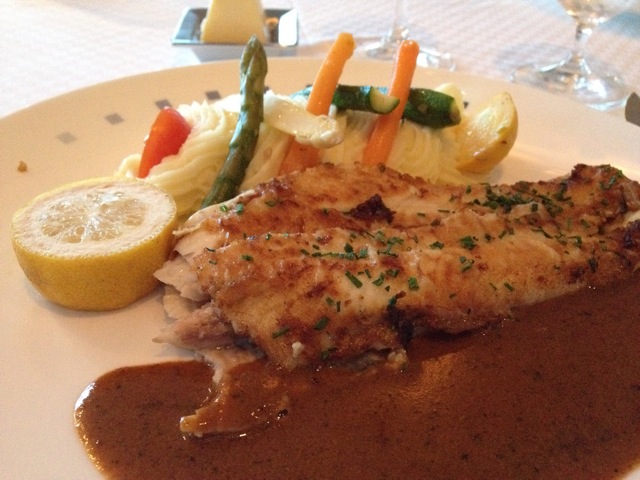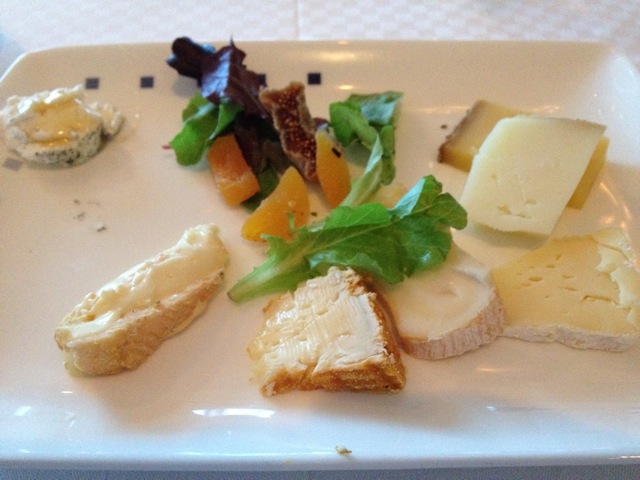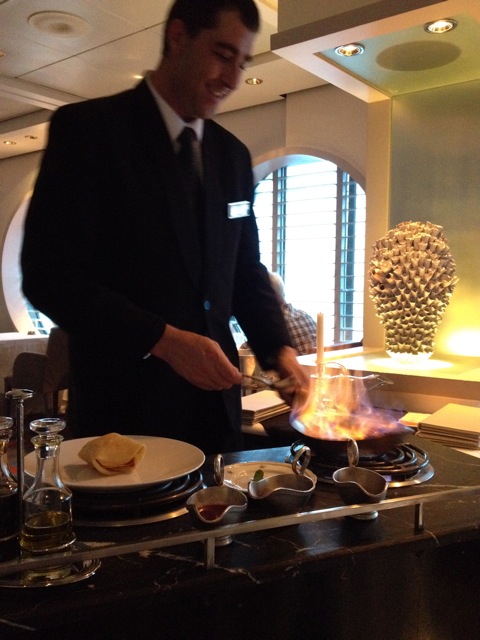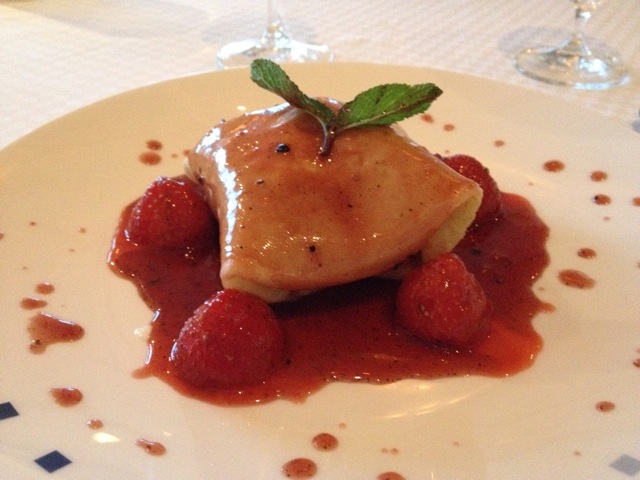 We're having a slightly earlier night this evening, with a plan to get up early and have another go at breakfast in the main dining room (without trying to inadvertently force myself into Blu). Fingers crossed! Tomorrow is another jam-packed sea-day; there should be plenty to talk about in tomorrows edition!