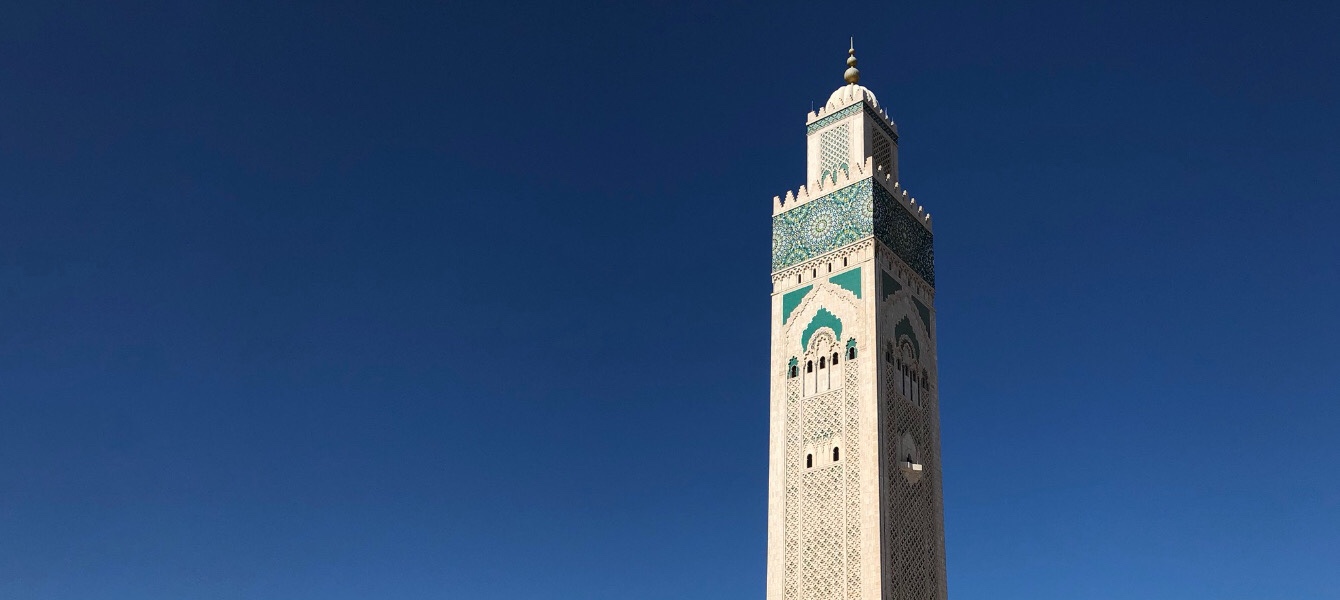 In Casablanca we had an early start as we met with a private tour guide to explore Rabat and Casablanca.  In the evening we had a special dining and entertainment treat!
Today's early arrival into the port of Casablanca marks our first ever visit to a North African country, and the country most culturally different to our own that we've ever been to.  It was a hard job deciding what to do, and how to do it.  On one hand an MSC excursion to Marrakech is a popular route to take, but we very quickly ruled that out as a 3 hour coach drive each way didn't appeal to us one little bit.
We decided it would be best to explore the sights closer to the ship, so we looked at the MSC tours for inspiration.  Common tours included half-day tours of Casablanca or Rabat, and a full-day tour incorporating both.  As a group of four this looked to be quite expensive, so I investigated the possibility of a private tour through a website called ToursByLocals which I have heard of before, but never used.
We ultimately decided on this 8-hour tour of Rabat and Casablanca after a few emails back and forth with our potential guide Mohamed, so early this morning we disembarked the ship promptly to meet our guide.  This turned out to be a little tricker than planned as something had gone wrong with the paperwork and he and our driver had not been allowed into the port, but he had arranged for another driver to collect us and deliver us to the port gates.  It was a little terrifying, as the original driver didn't speak much English and basically just whisked us off in his van with very little explanation.  Still, a few minutes later we were pointed in the direction of a smiling and waving Mohamed who greeted us warmly and introduced himself.
First Stop: Rabat
Our first destination was Rabat, which was about an hour away in the large, comfortable, air-conditioned minivan that he met us with.  We started with the Kasbah in the old town where we explored the small streets adorned with colourful blue and white buildings.  White to symbolise Islam, and blue to symbolise the sea.  We passed a small vendor selling traditional Moroccan doughnuts called Sfenj.  Mohamed asked if we'd tried them before, and immediately bought us some, along with some delicious sweet mint tea which we enjoyed while chatting and learning from him.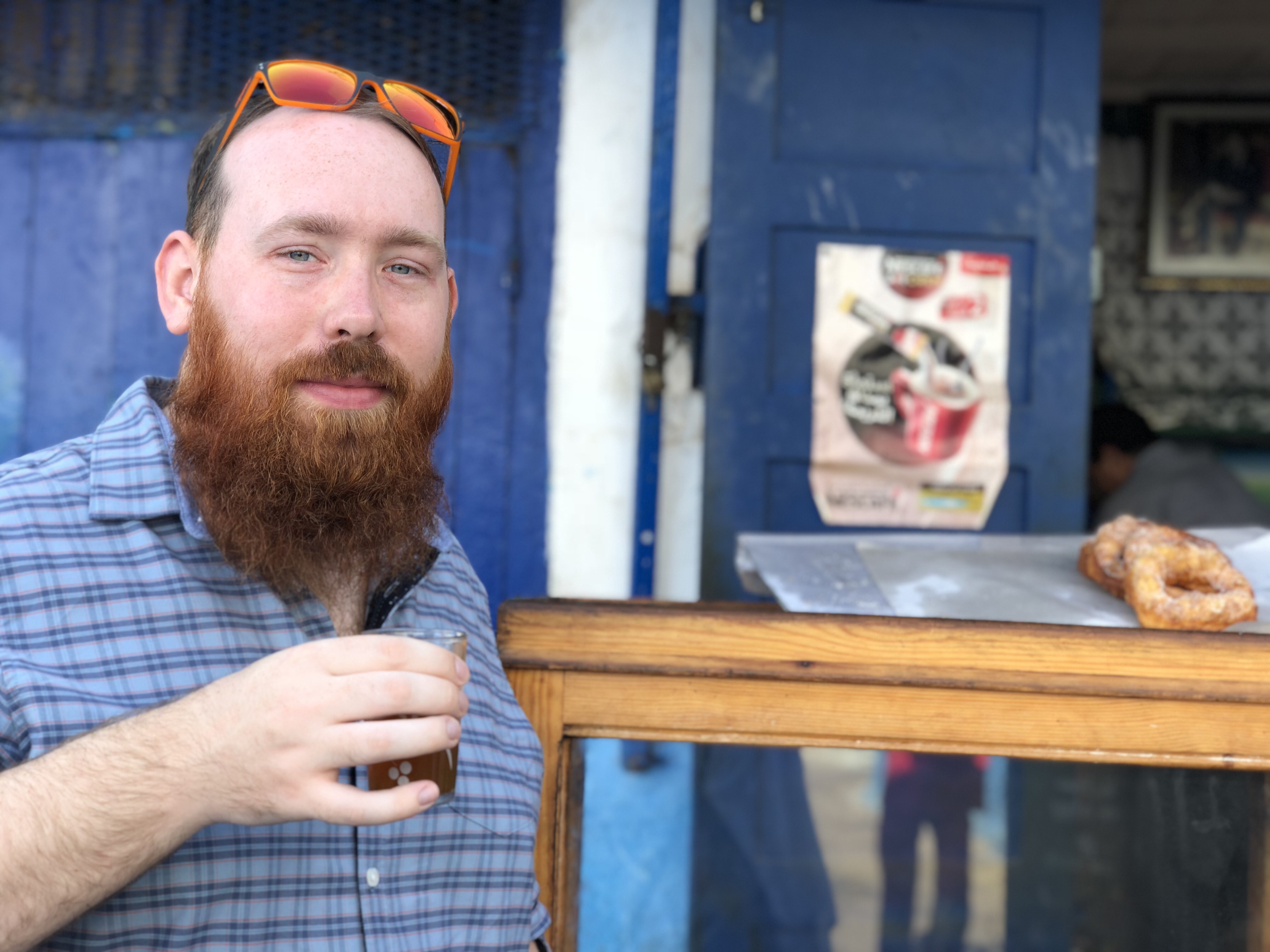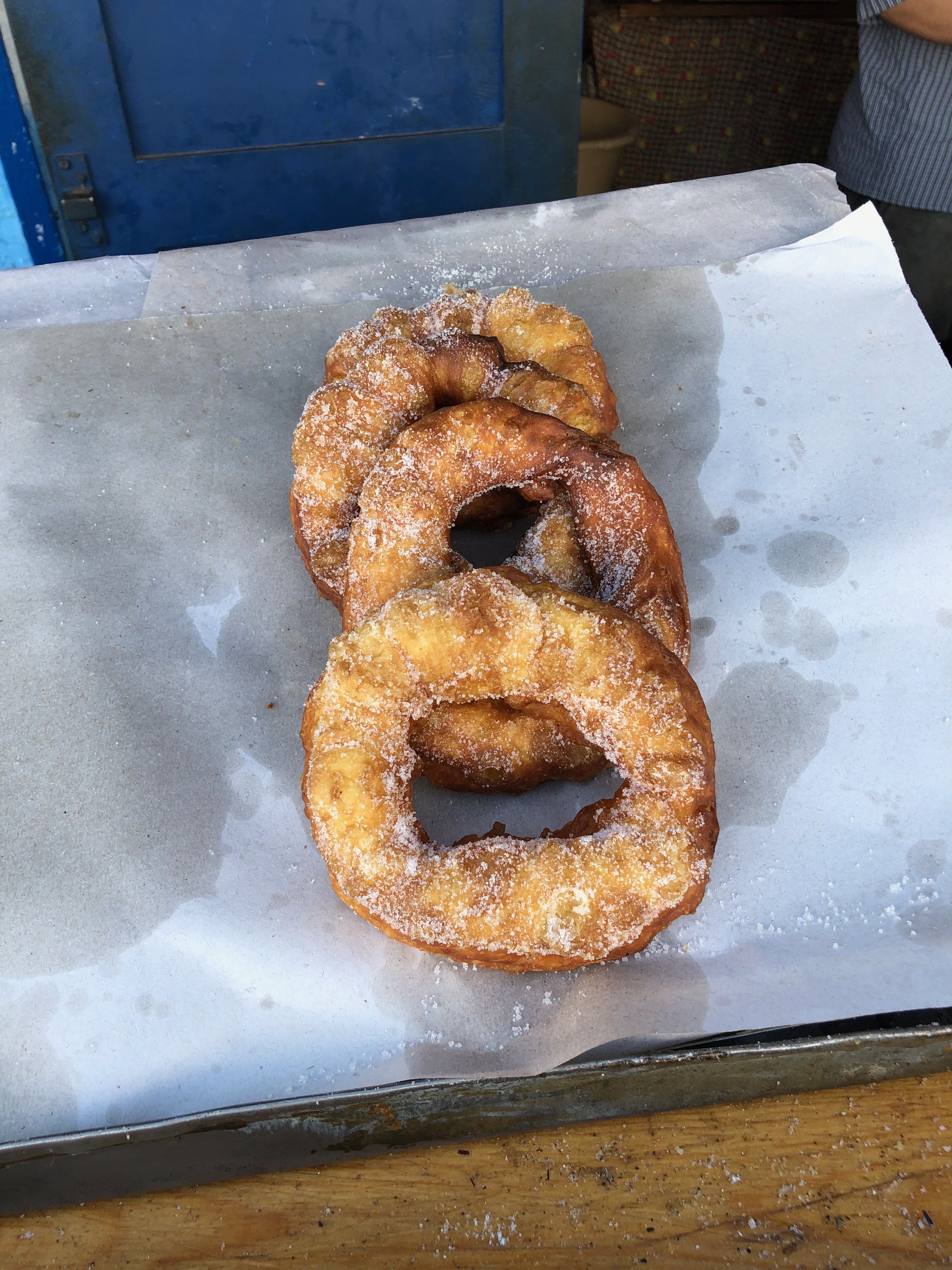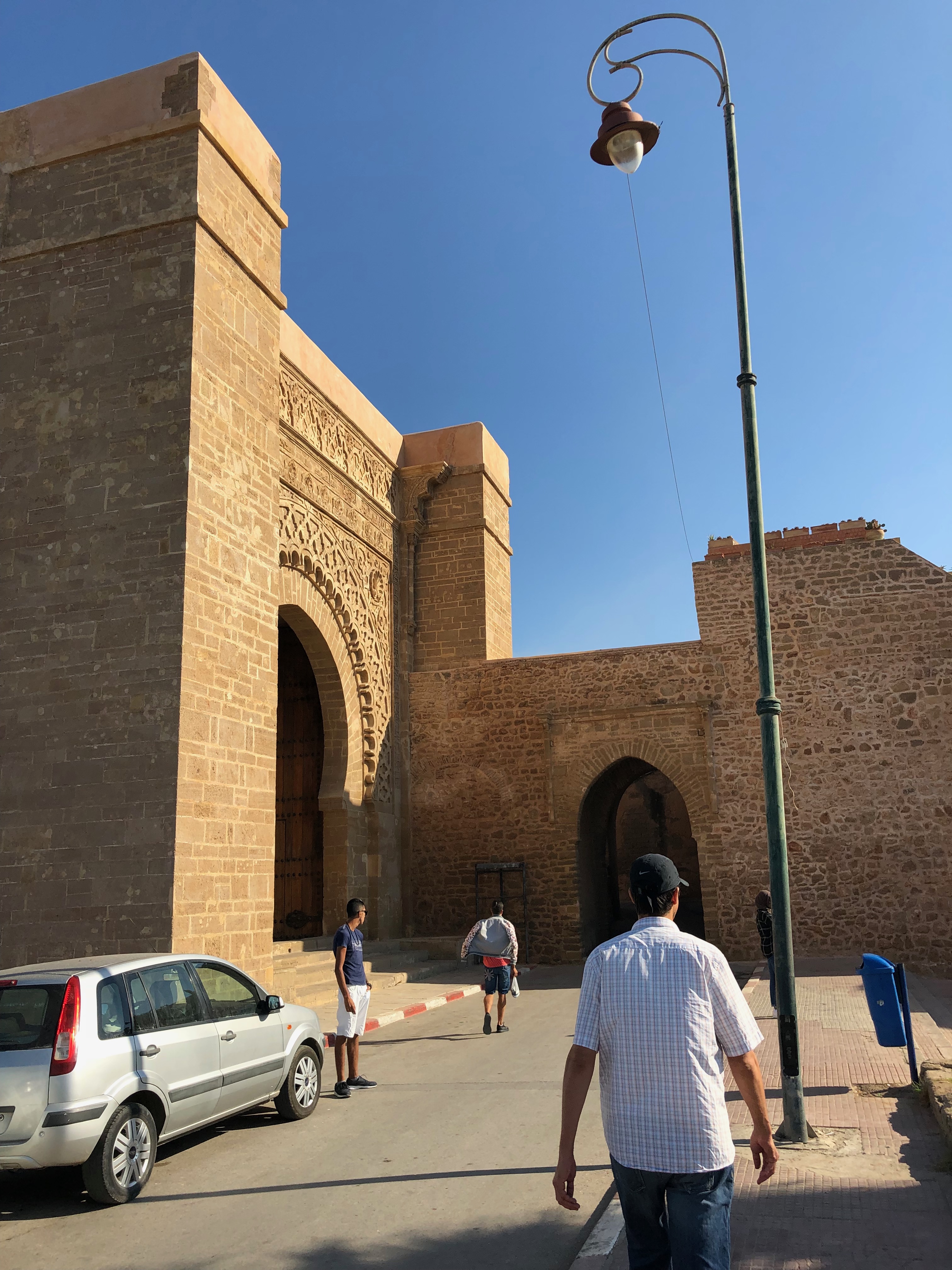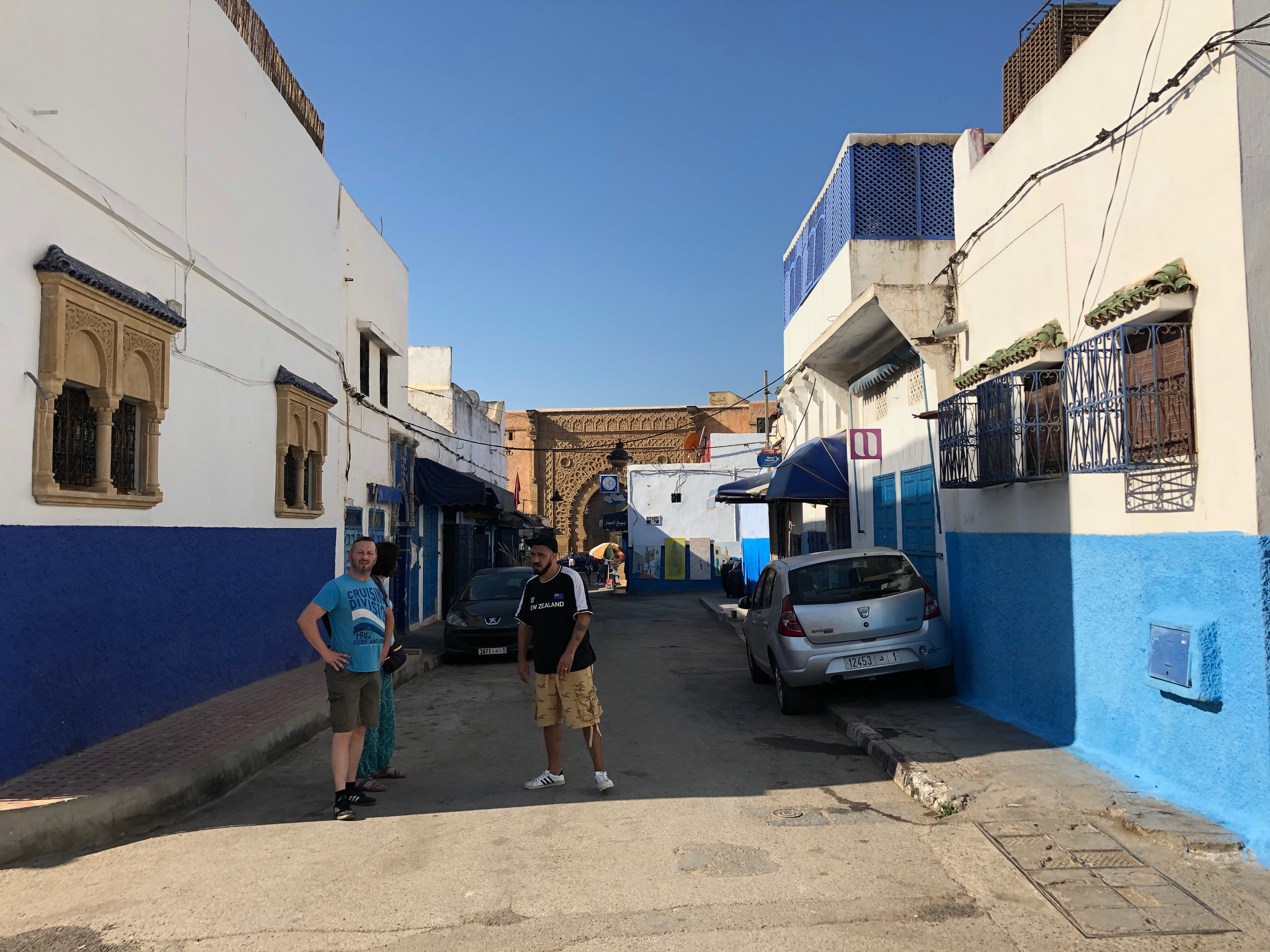 Continuing into the Kasbah, we found a small beautiful door into a very old mosque and Mohamed answered our questions about aspects of Islam very graciously.  The area was beautiful to walk around and we eventually reached a stunning viewpoint over the mouth of the river Bou Regreg.  We continued through to a cafe with multiple terraces with similar outstanding views before leaving the Kasbah to visit one of the main sights of Rabat – the Mausoleum of Mohamed V and the Hassan Tower.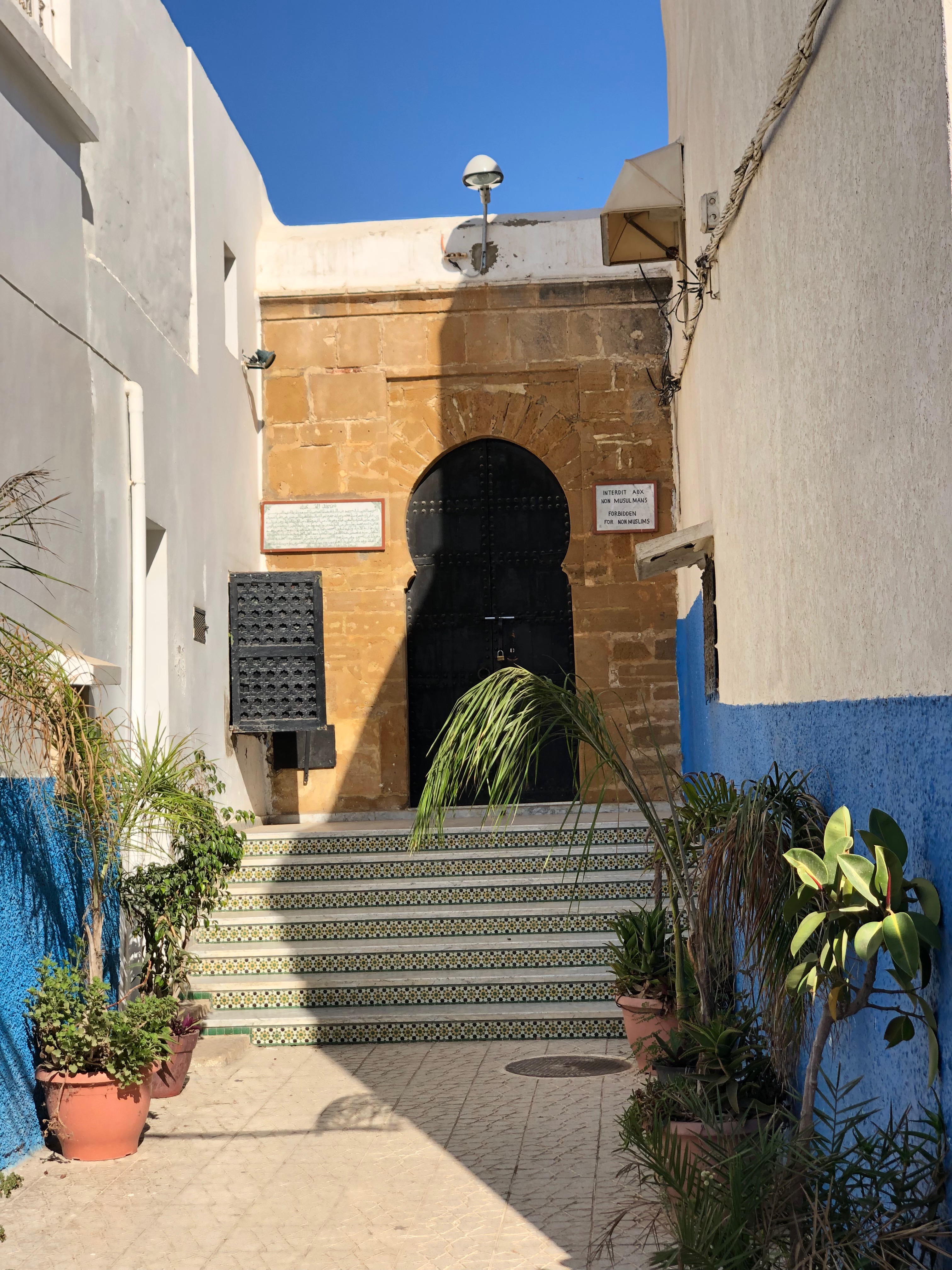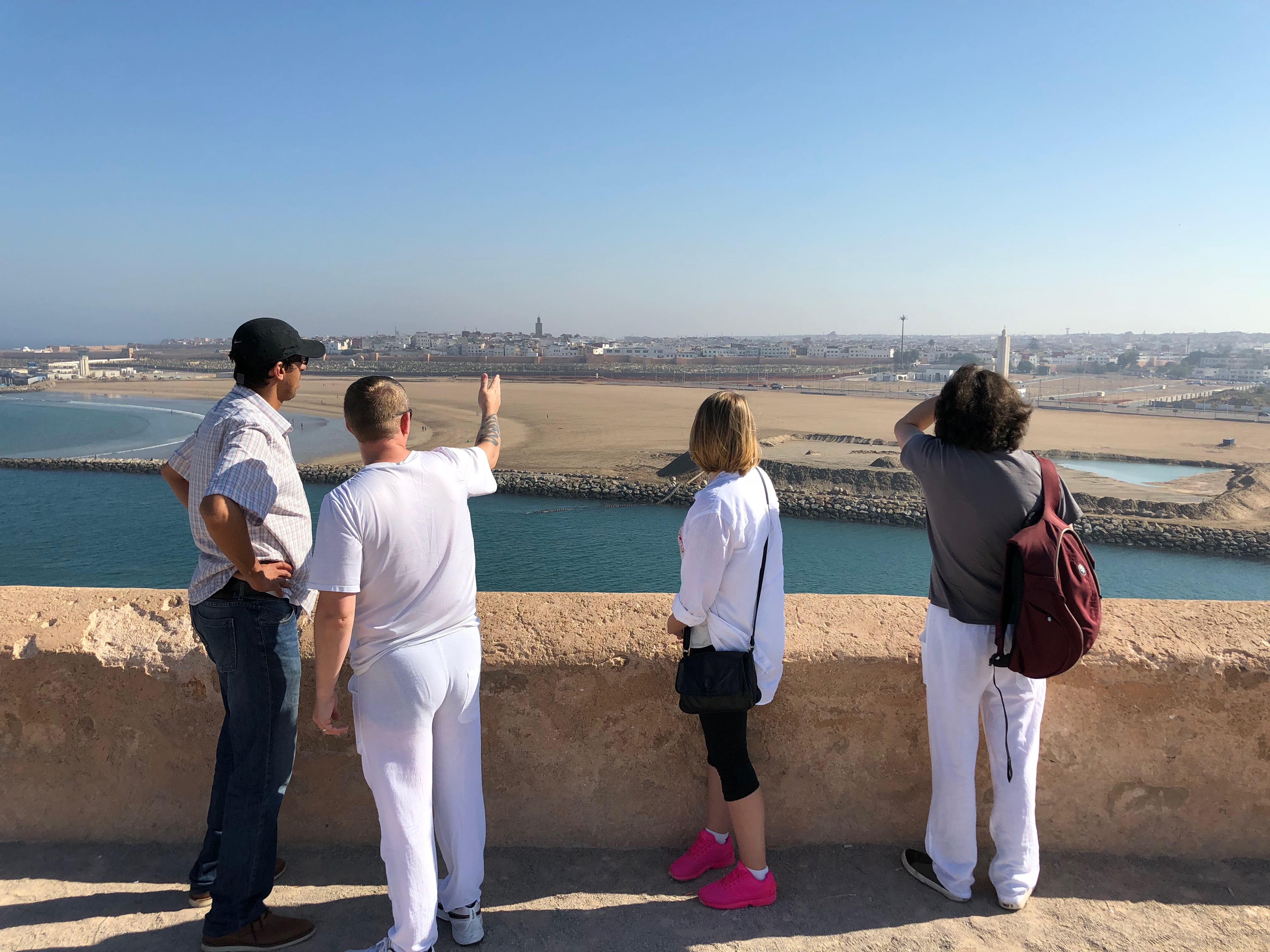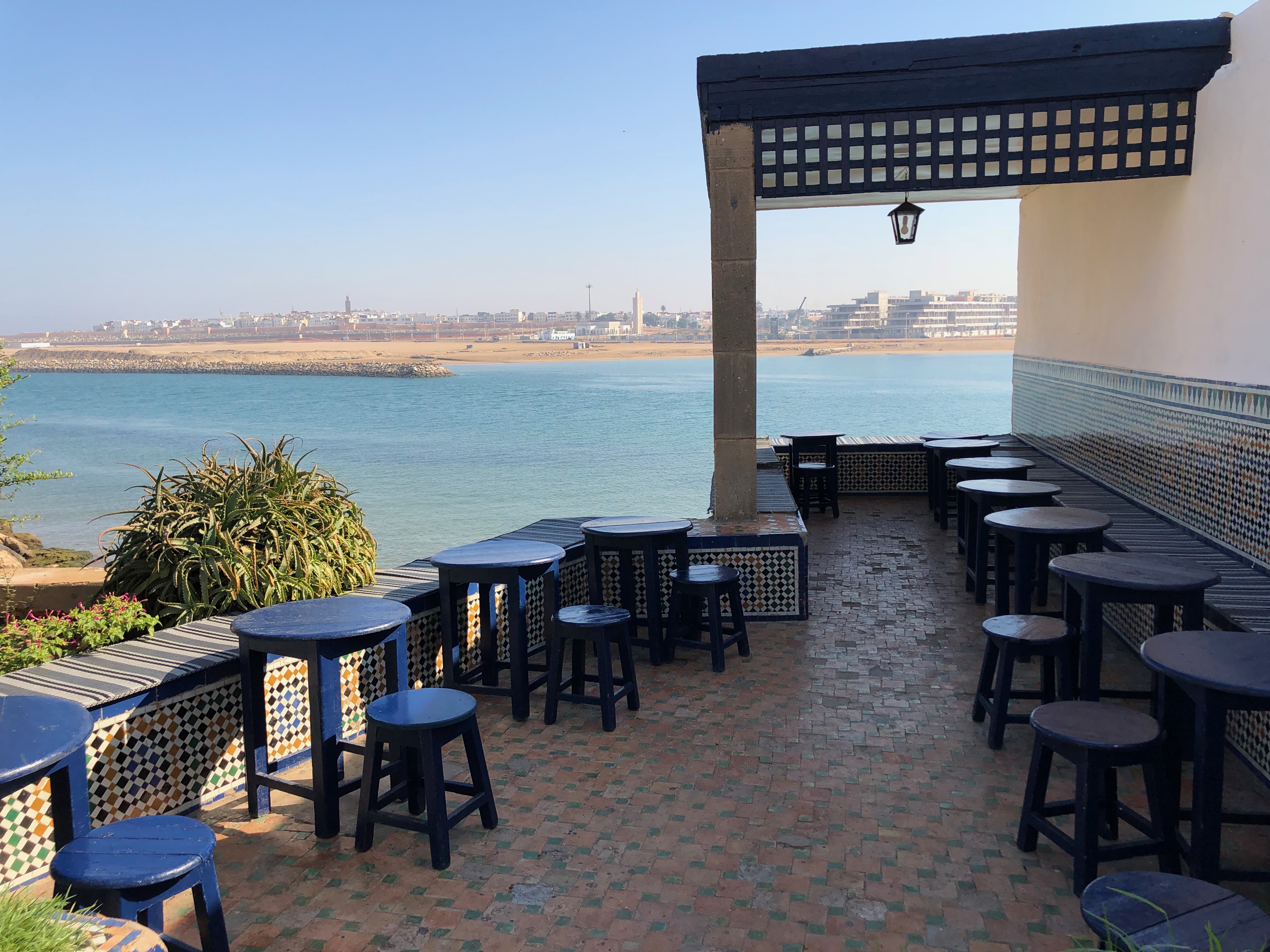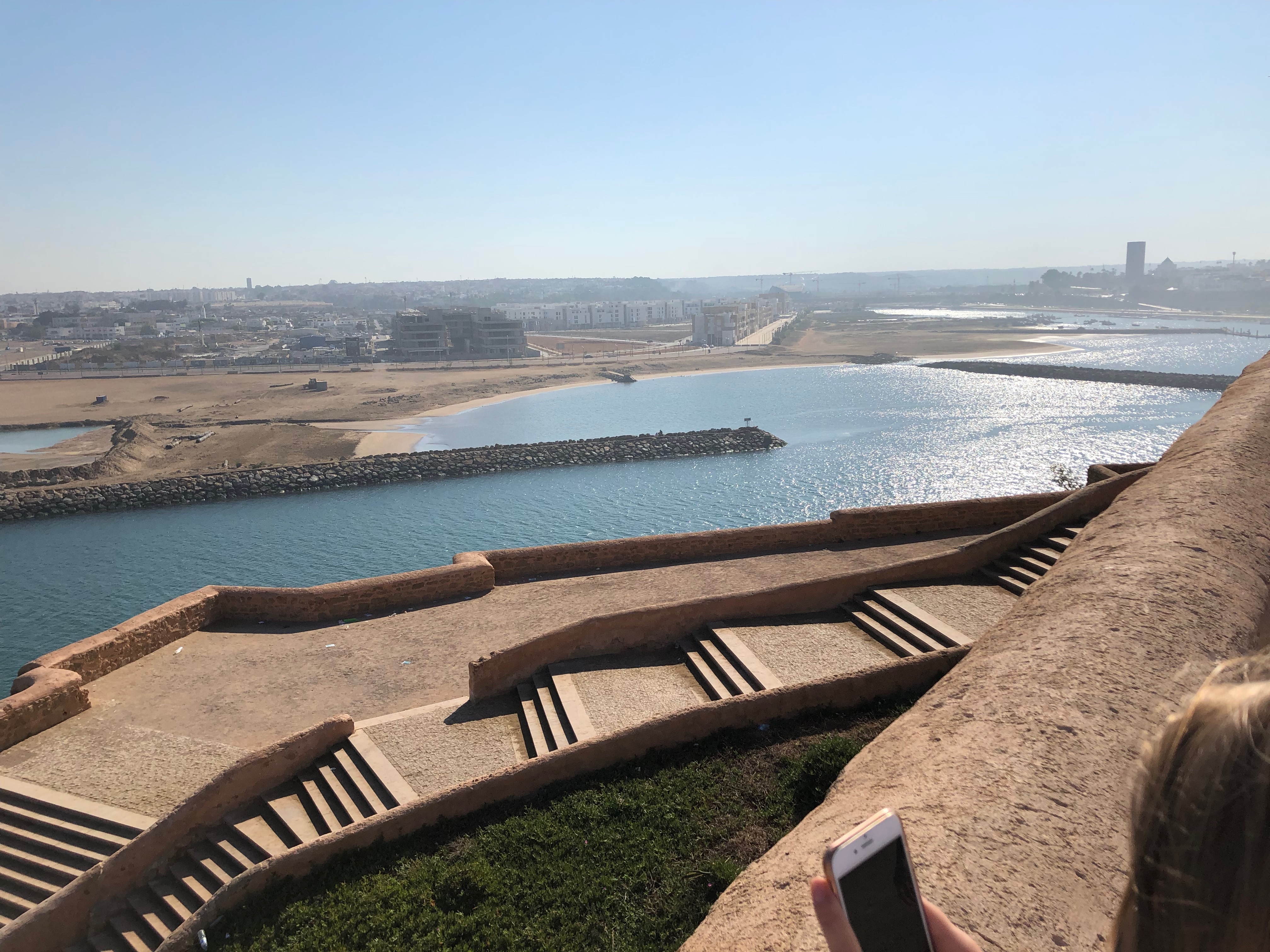 The tower is an incomplete minaret of an incomplete mosque built by Abu Yusuf Yaqub al-Mansur in the 12th century.  When he died, the project didn't interest his successors and was never finished.  Opposite is the much more recent Mausoleum of Mohamed V, completed in 1971.  This was build by his son who also now rests here.  The structure is stunning both inside and out.  The detail that has gone into the interior is truly breathtaking, with various colourful mosaics.  Every corner bursts with delicate, thoughtful details.  There is a little seat with a Koran planed in front of it, and several times per day someone comes to read from it.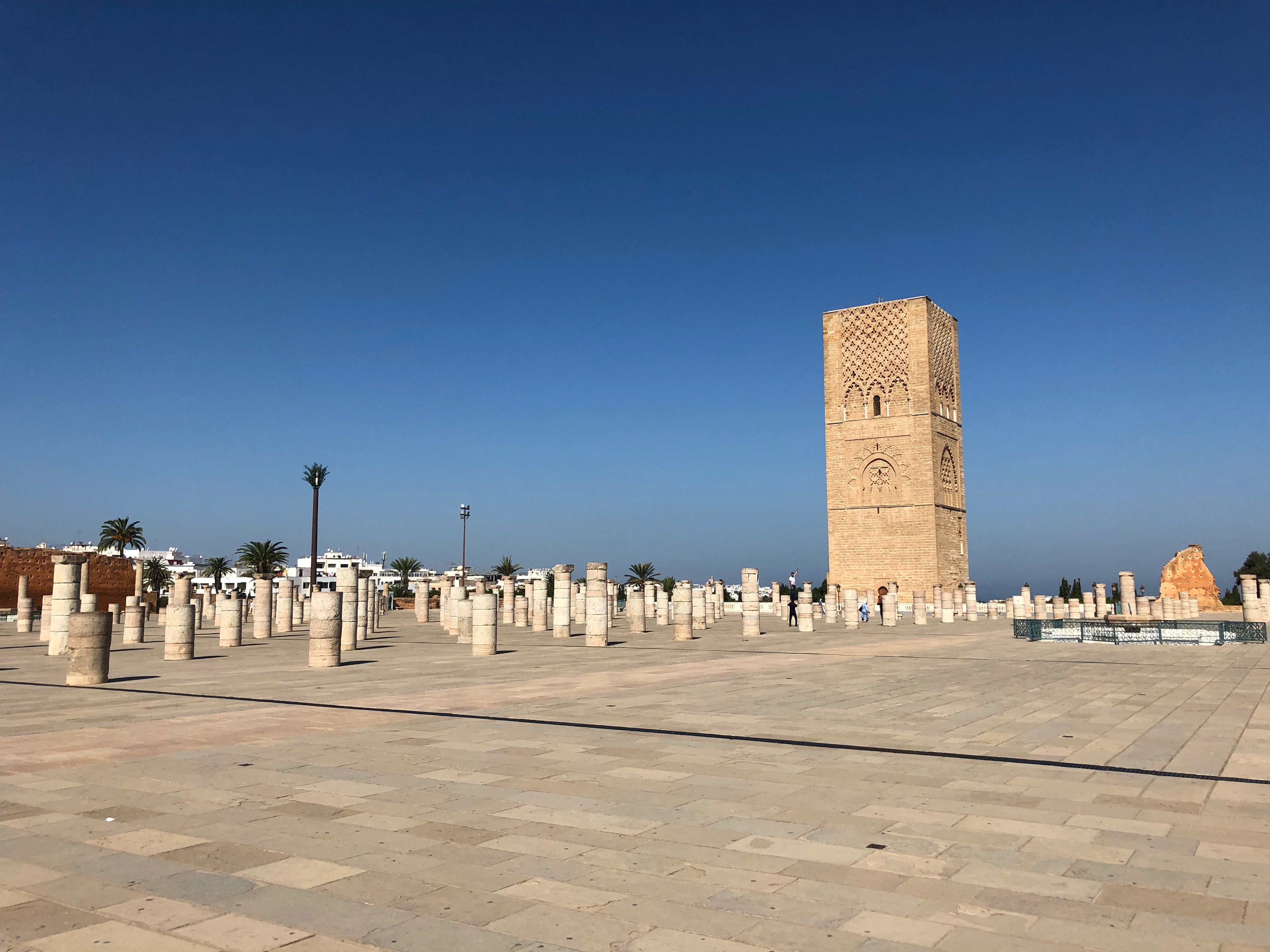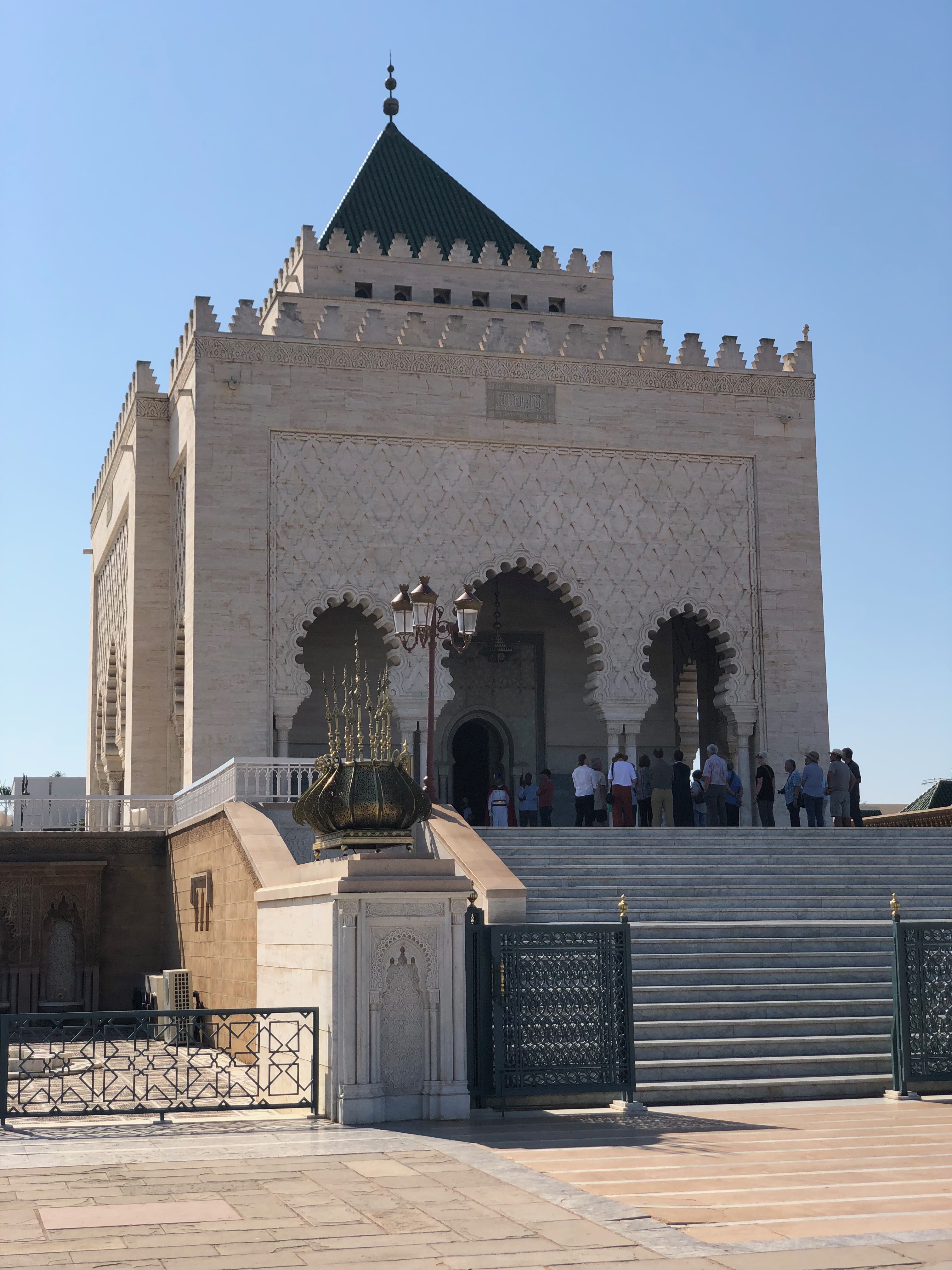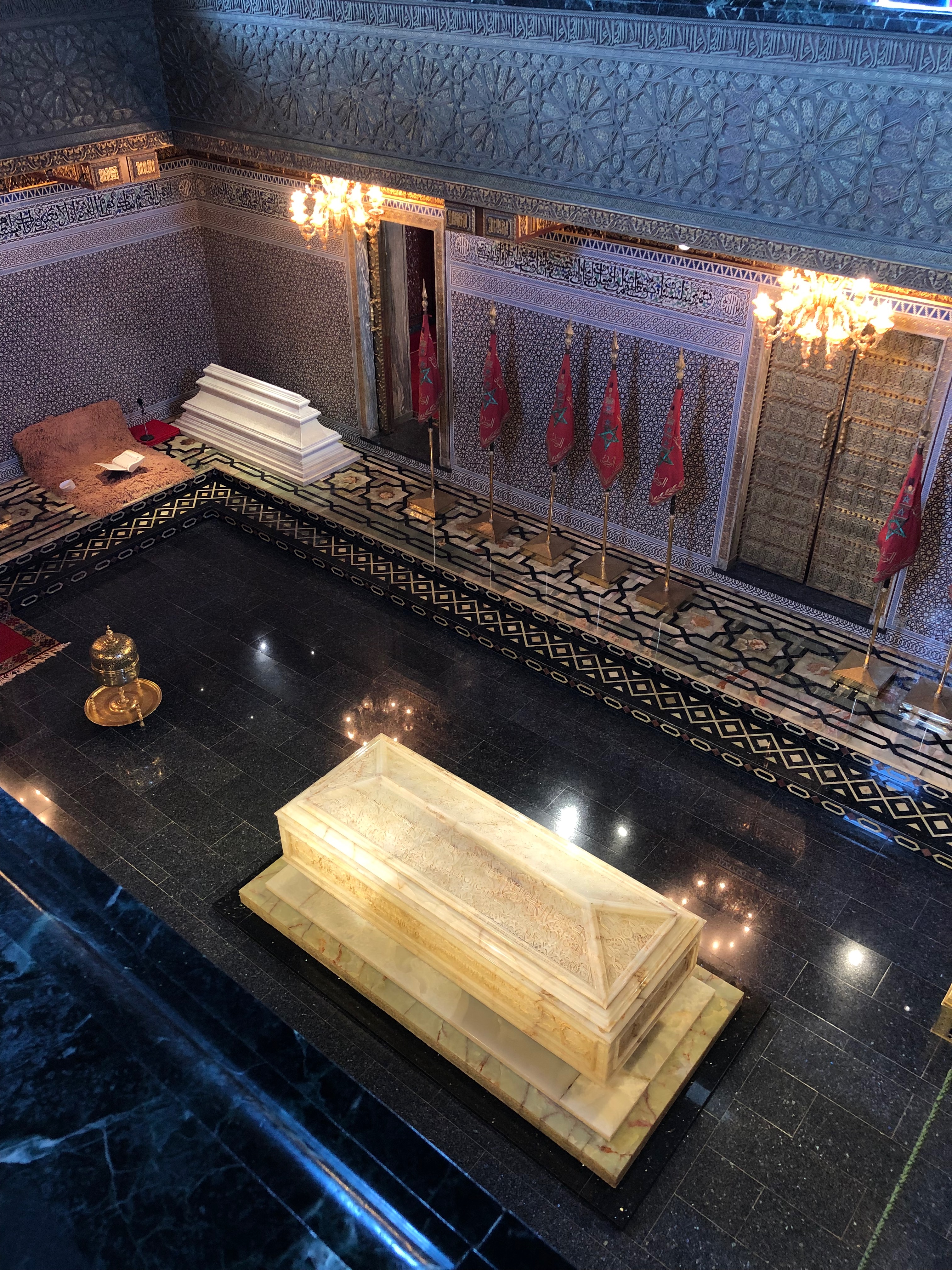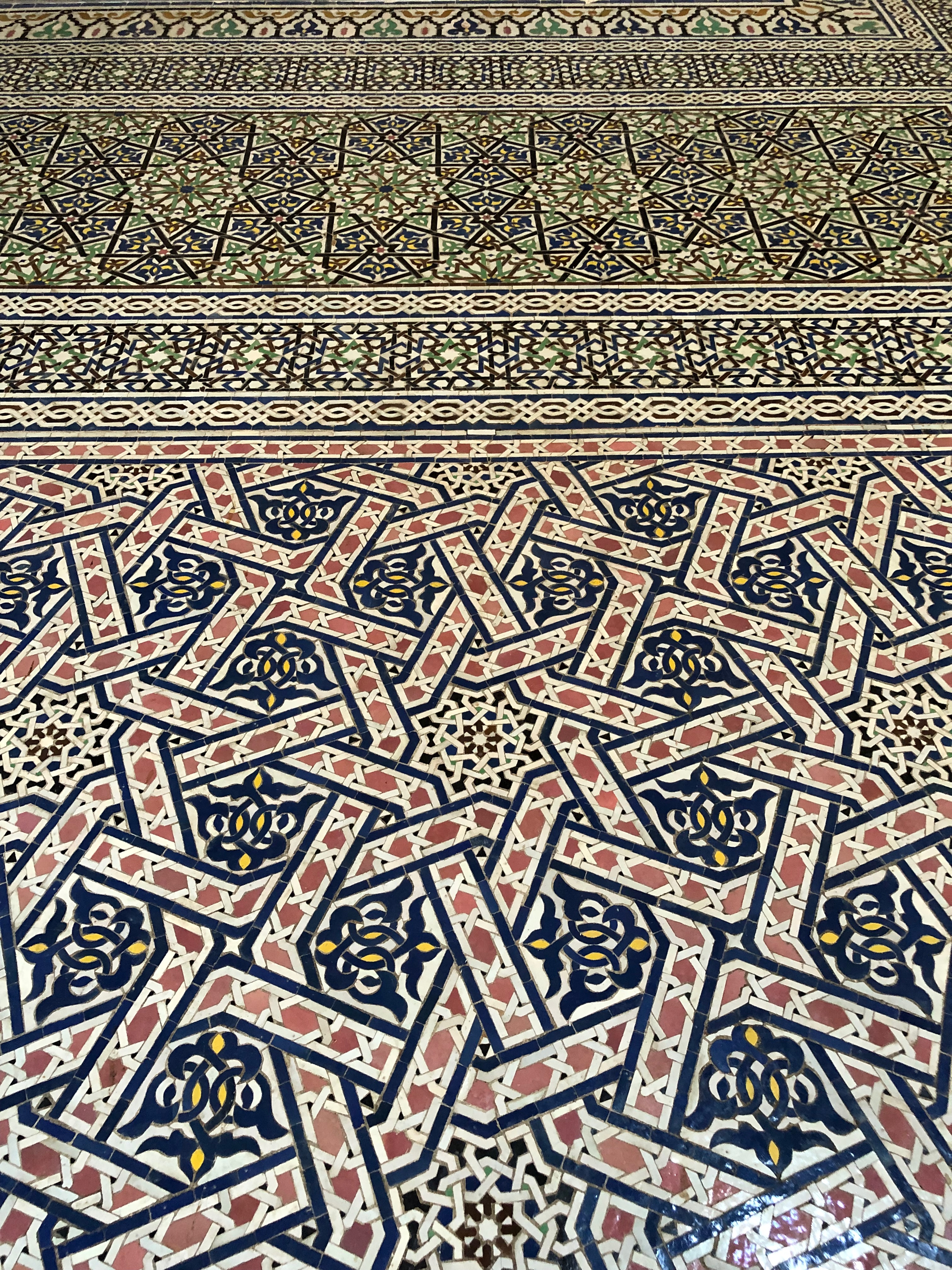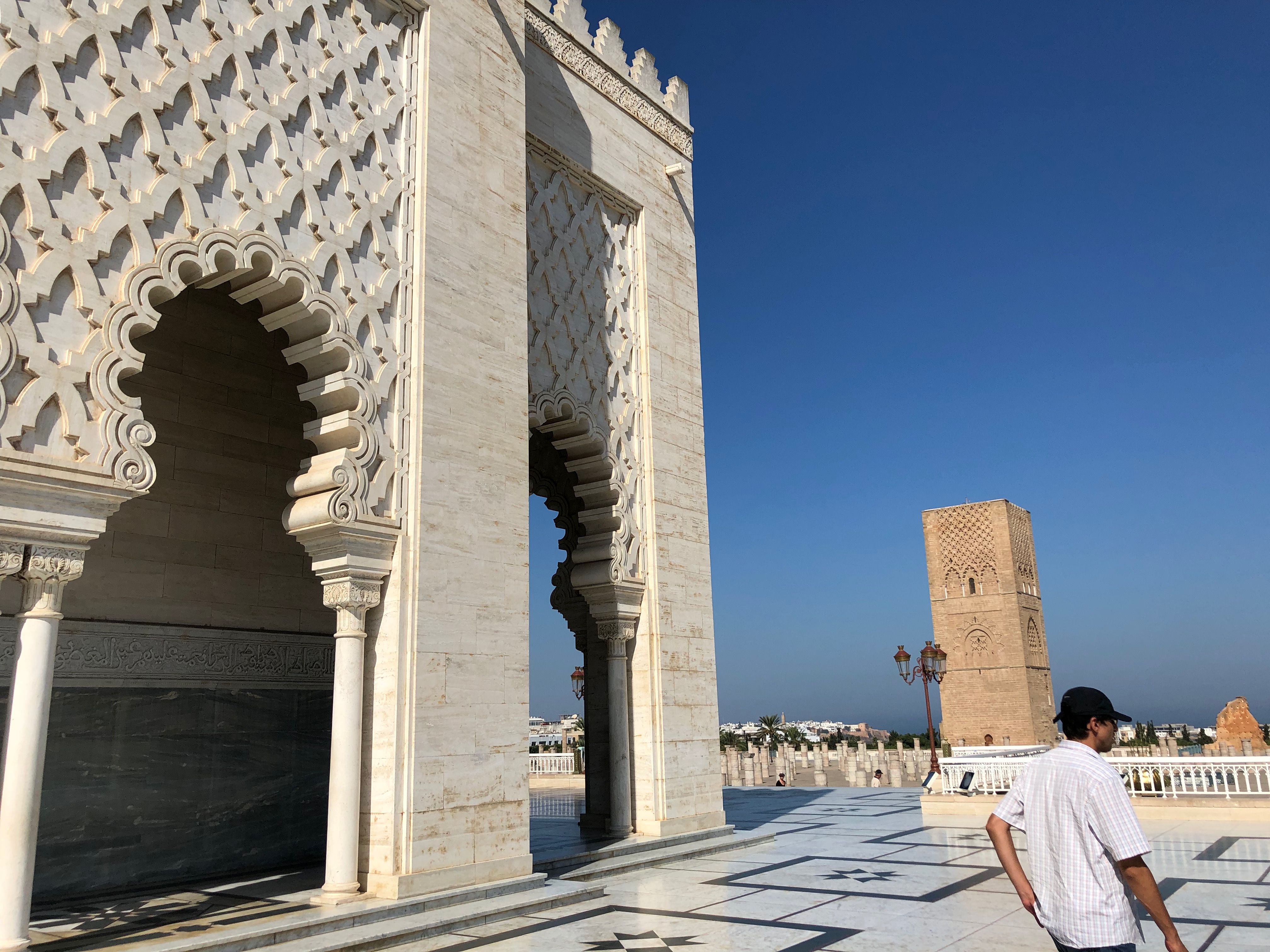 Continuing in Casablanca
From Rabat we made our way back to Casablanca where we started our tour in the French quarter.  A walking tour here shows the variety of French art-deco styles from the early 20th century when Morocco become a French protectorate and made Casablanca the financial and business centres of the country.  This rapid expansion is clear from the architectural influences you can see all around you.  Mohamed explained that this area is like a living, outdoor museum to Art Deco styles, and it really shows!
Our tour continued through an old French market, as well as an old Moroccan market.  Mohamed explained that as food is such an important aspect of Moroccan culture, markets are incredibly important and where people still buy the freshest fruits, vegetables, meat, and fish.  On that note, as we left the market, we discovered a little cart selling cactus fruit.  When Mohamed realised we had never tried these, he made sure we had an endless supply of them!  They were delicious, and I think we each ate several before moving on.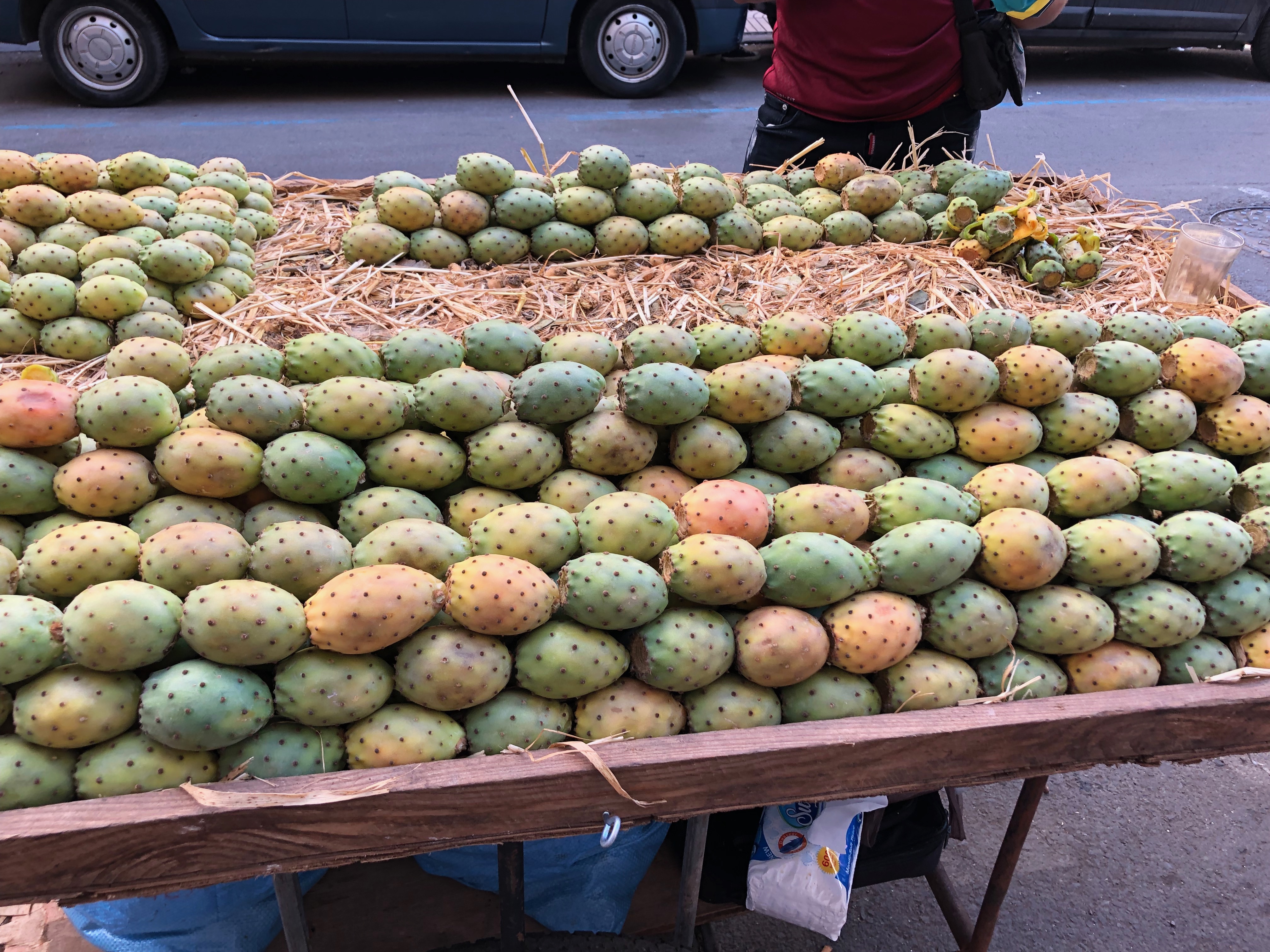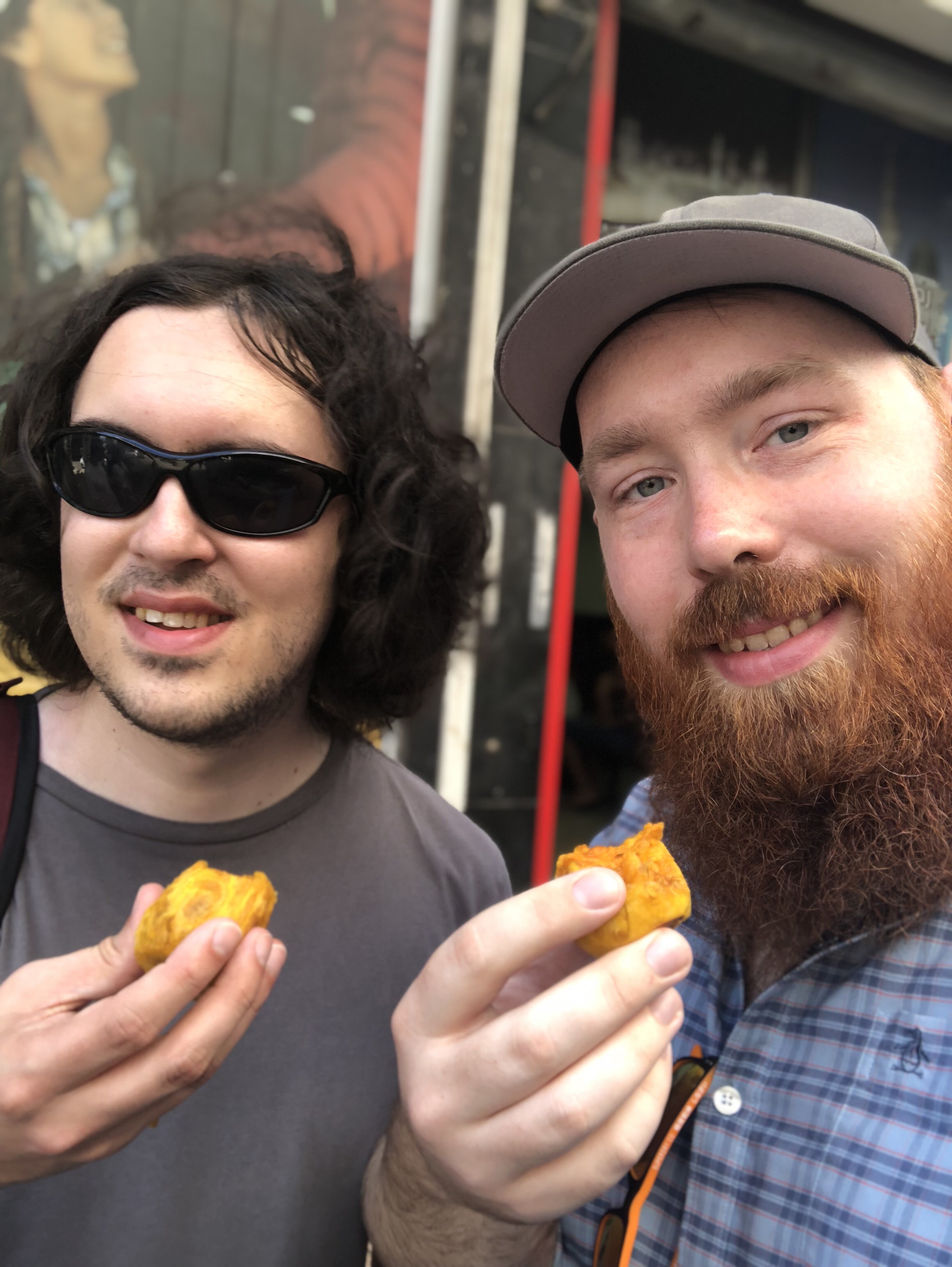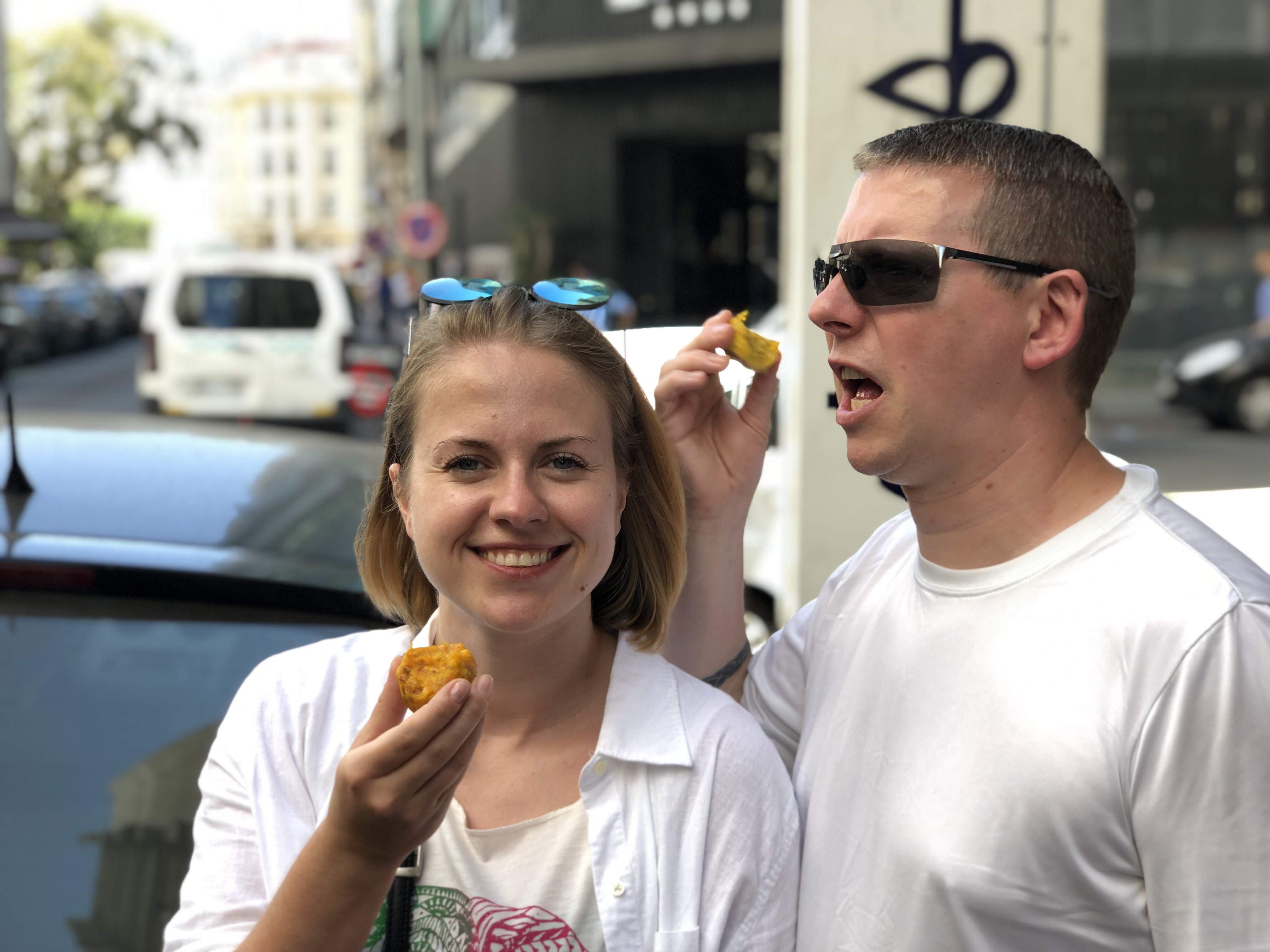 Walking through the busy street we suddenly heard the call to prayer which was a very surreal experience.  Muslims pray five times per day, ideally at predefined times, and are called to pray by a chant from the top of the minaret of the local mosque – much like the bells of a church tower in the Christian faith.  Mohamed explained that, in this French area, they didn't plan the town properly for the Islamic faith and did not build mosques in the area.  As a result, it's commonly accepted that Muslims will find any space to set down and pray, and we passed such a place on our tour – not a mosque, but an area that was used as a praying area at the appropriate times of day.
Our walk continued through a much poorer area of town where you could immediately see the differences.  People in the richer, French areas wore predominantly western clothing while those in the poorer areas had a much more traditional attire.  Mohamed explained one theory for this which he didn't seem comfortable with, but that he felt was probably true – the poorer people have such little hope of a good mortal life that their relationship with Islam is so much more important to them, as they cling to the possibility of paradise in the next life.  Those who have a more prosperous mortal life tend to lose their faith more, as they don't feel it's necessary.  It was very interesting to see this stark difference before us.
Asking us if we'd like to eat some traditional good Moroccan food, we (of course) said that we would.  He said he could leave us if we wished to dine alone, but of course we invited him to dine with us.  He took us to a wonderful little restaurant – not cheap, but very beautiful and with incredibly food.  We had some traditional bread & sauce, and the most wonderful tagine I've ever eaten.  Very tender beef with apricots and dates.  It was simply outstanding, and has inspired us to try and replicate the dish when we get home!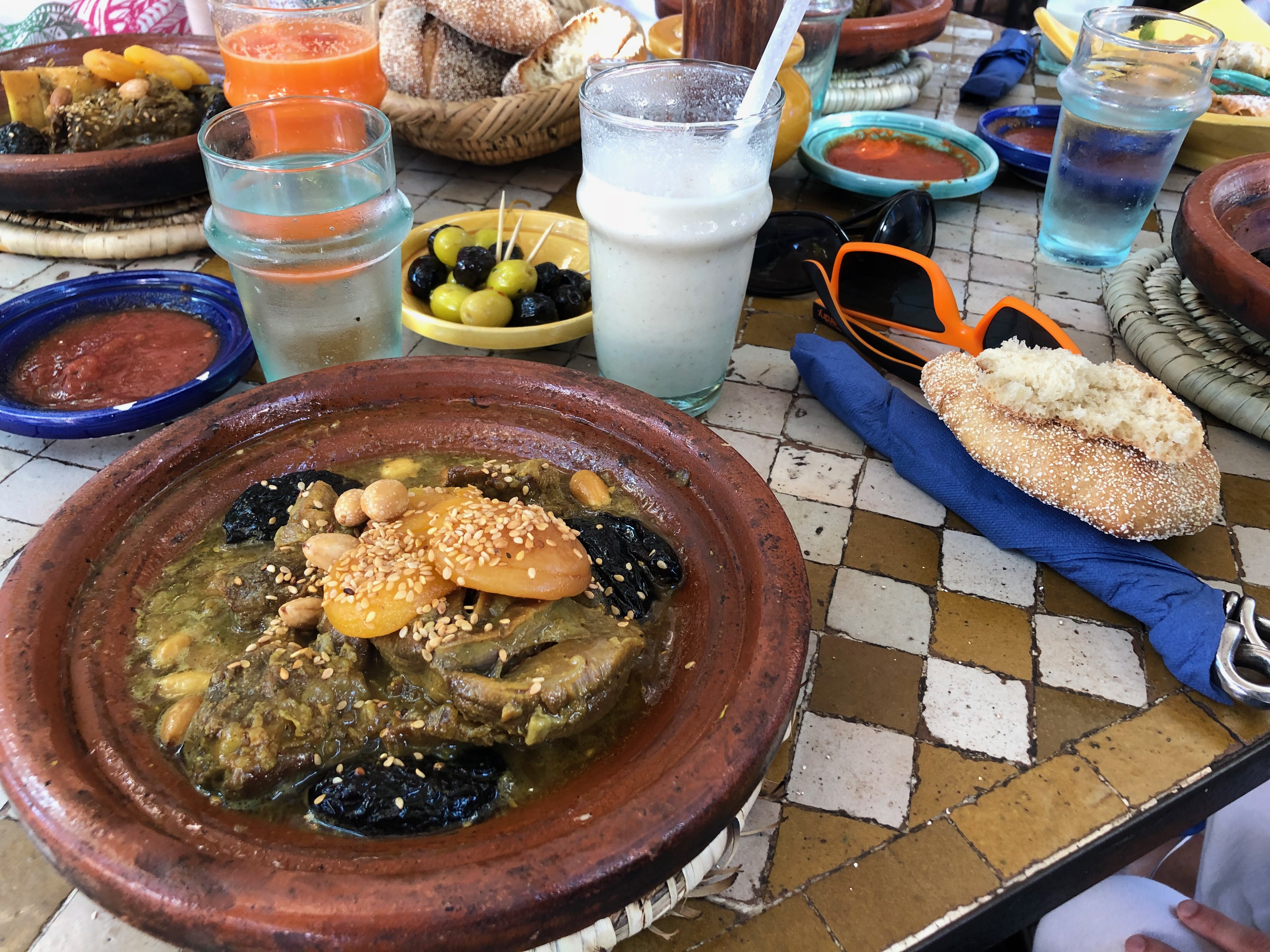 Our final stop on the tour was the iconic Hassan II Mosque.  This mosque is a sight to behold and quite recently built, being completed in 1993.  It is the largest mosque in Morocco, the 5th largest in the world, and features the world's tallest minaret.  It's hard not to be blown away by it's beauty.  We joined an English-speaking tour inside the mosque, as Mohamed was not allowed to provide a tour himself.  Much like the Mausoleum in Rabat, the interior of the mosque is bursting with detail and is simply breathtaking.  We finished the tour in the lower areas where we saw the men's ablution chamber (ladies have an identical one).  This is where muslims wash in a ritualistic fashion before prayer, and again is a stunning space.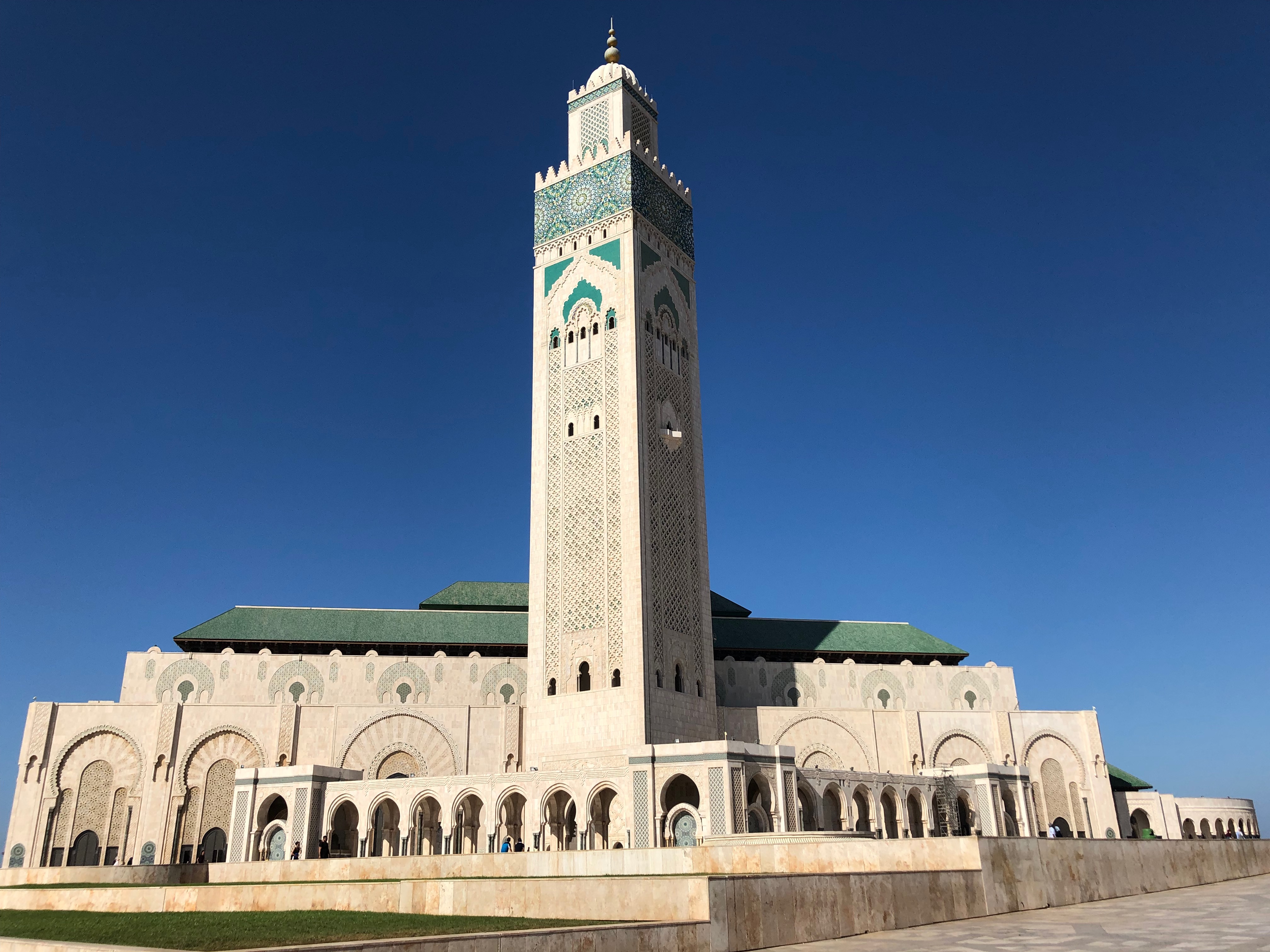 The Benefits of a Private Tour
This post is already on the long side, but it's interesting to touch on the benefits and costs of a private tour; if this doesn't interest you feel free to skip to the next section!
Our tour perhaps followed a similar (or even identical) path to a ship's excursion, but it needn't have.  As we were first time visitors to Rabat and Casablanca, we asked Mohamed to give us a sort of highlights tour, including the bits he thought were most important.  But he constantly asked us questions about what we'd like to see to tailor the experience to our needs.  If we had been before, I'm confident he could have changed the tour completely, taking us to more hidden gems. He asked us if we'd like to visit Rick's, the replica bar from the movie Casablanca.  As none of us had seen the movie, nor cared much to visit the replica bar, we didn't bother and made time for other things.
Having a knowledgeable local guide us was a fascinating experience.  Sharing information about our respective countries broadens our knowledge & empathy for other cultures and I think that aspect of the tour cannot be overstated.  We discussed the political situation in Morocco (as well as that of the UK) and the extreme differences between the wealthy and the poor, as well as some of the possible causes of this.  He asked us about Scotland and the UK as well.  We were able to ask questions about Islam and how it is interwoven with the culture of the country.  It was fascinating & enlightening, and I know we would not have got that attention on a tour from MSC.
That said, the tour came at a price.  The tour cost about £620 in total, plus around £85 for lunch and around £50 for the Mosque tour.  That works out at almost £190 per person.  As a group of four, it doesn't seem so bad and I believe his expertise and local insight were valuable.  Compare this to the cost of an official ship tour and I don't think it's too bad.  Of course if you were travelling as a couple, the cost would double unless you can find a couple of other passengers to join you and share the cost.
Back on the Ship
Today was informative, overwhelming, and exhausting, so we were glad to be back on the ship to take off our long trousers (necessary to cover the knees for the mosque visit), and enjoy some air conditioning for a short while.  We cooled off in the pool on the top deck briefly, before showering and preparing for tonight's special dinner event where they transformed the Yacht Club pool deck into a beautiful candlelit dining venue.
Exclusive Dinner Buffet
Tonight was a rather special dinner which the restaurant staff the night before had raved about.  Invitations were placed in our suites to attend an 'exclusive dinner buffet' and seeing as Victor and Oscar had said it was such a great event we had to go!  It's worth noting that a normal dinner was also available as usual.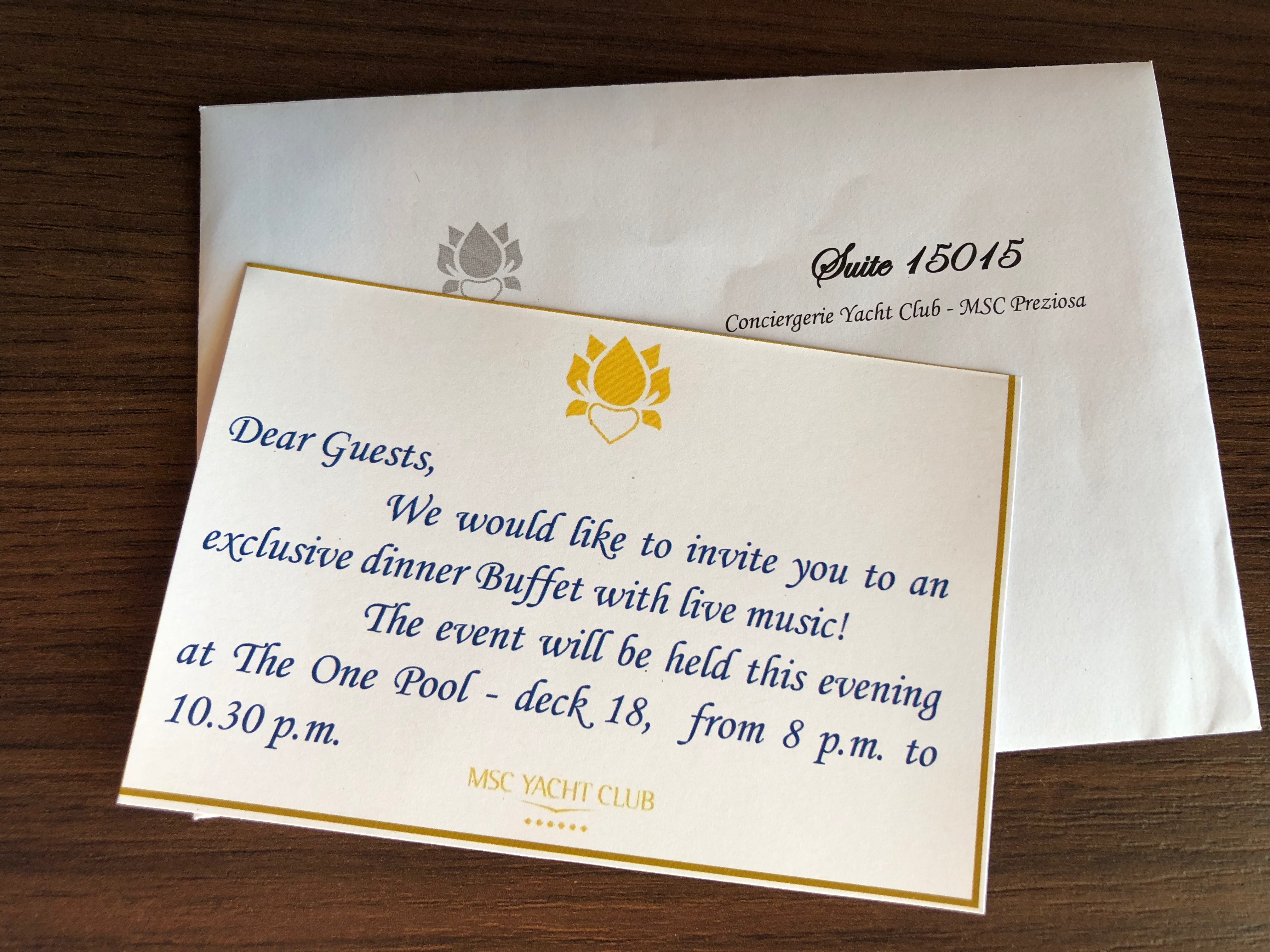 Upon arriving on the top deck, it was clear that they'd really gone to some effort to transform the space.  I originally expected some normal outdoor tables and chairs and a fairly standard buffet, but they'd enhanced it with beautifully set tables and lovely lighting.  There was also a musical duet performing for everyone, and a rather lovely young dance host doing the rounds offering to dance with the ladies.  There were also cultural hosts mingling with guests, so there was something of a party atmosphere.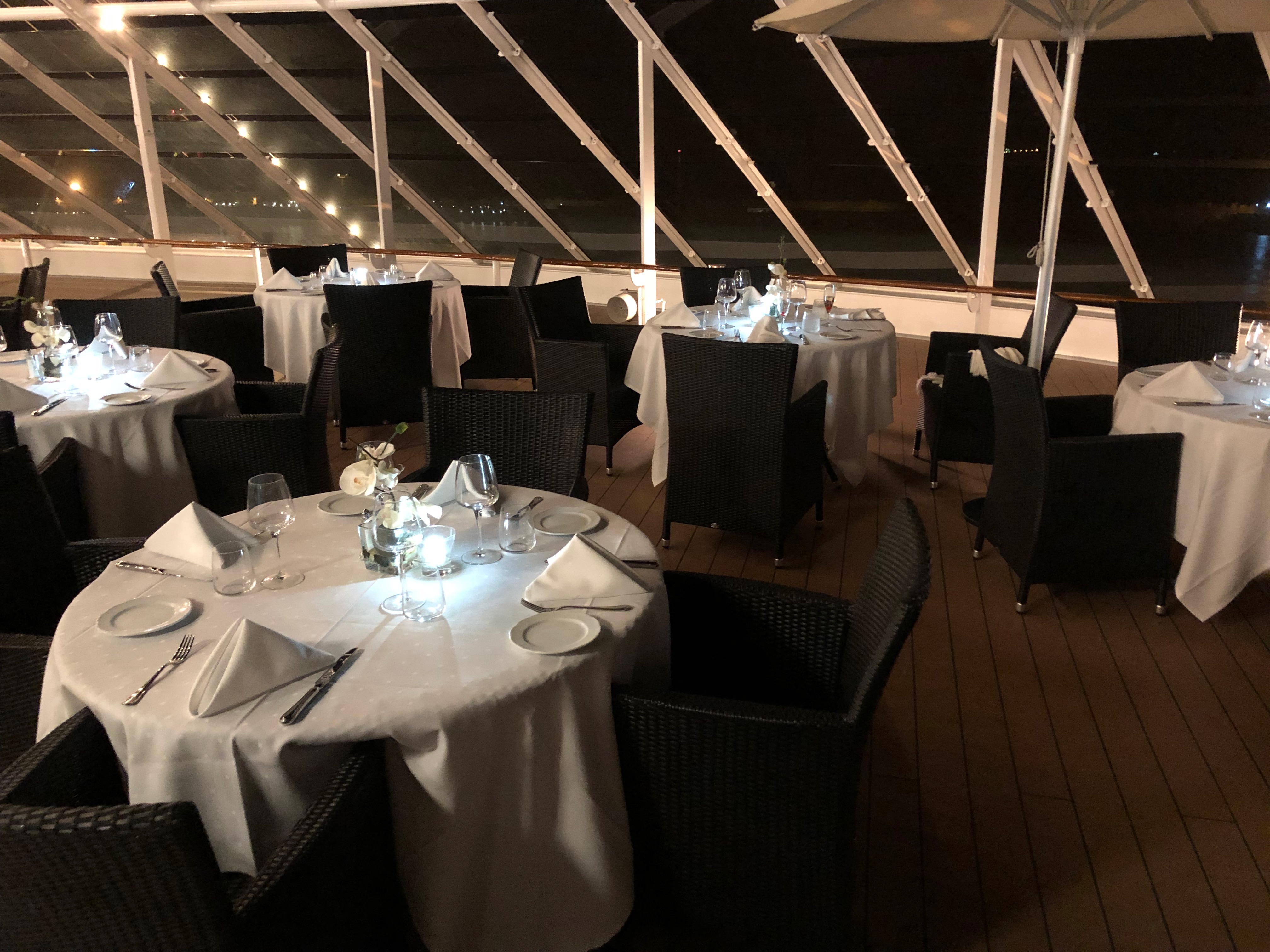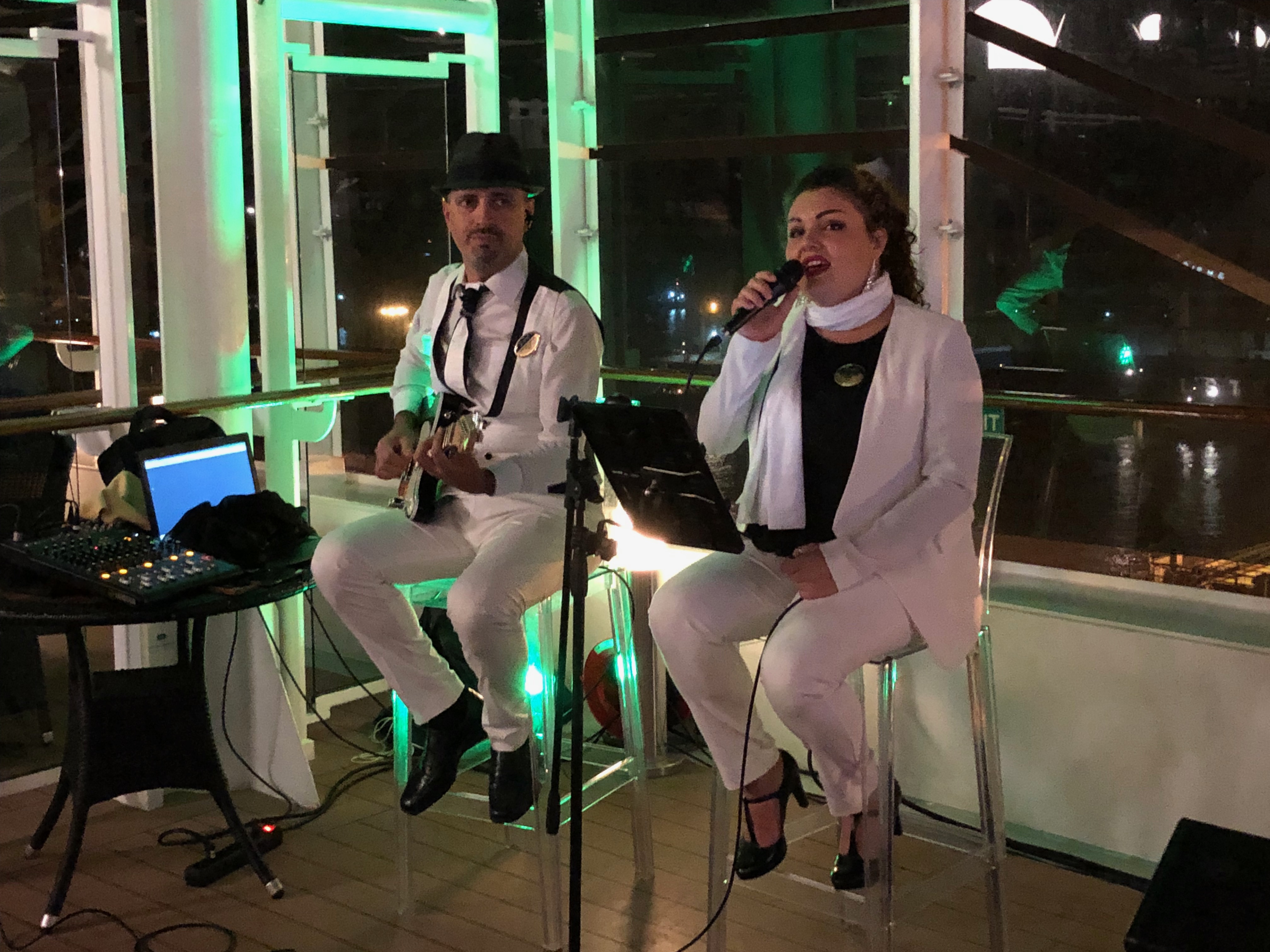 The food itself was nice, but more limited.  There were various starters along with delicious bread available (the warm cheese-crusted rolls were divine) so I started by filling my plate with a selection of charcuterie and salad, as well as some parmesan chipped freshly off of an entire wheel!  I also added some of the sushi, but skipped the salmon that was available.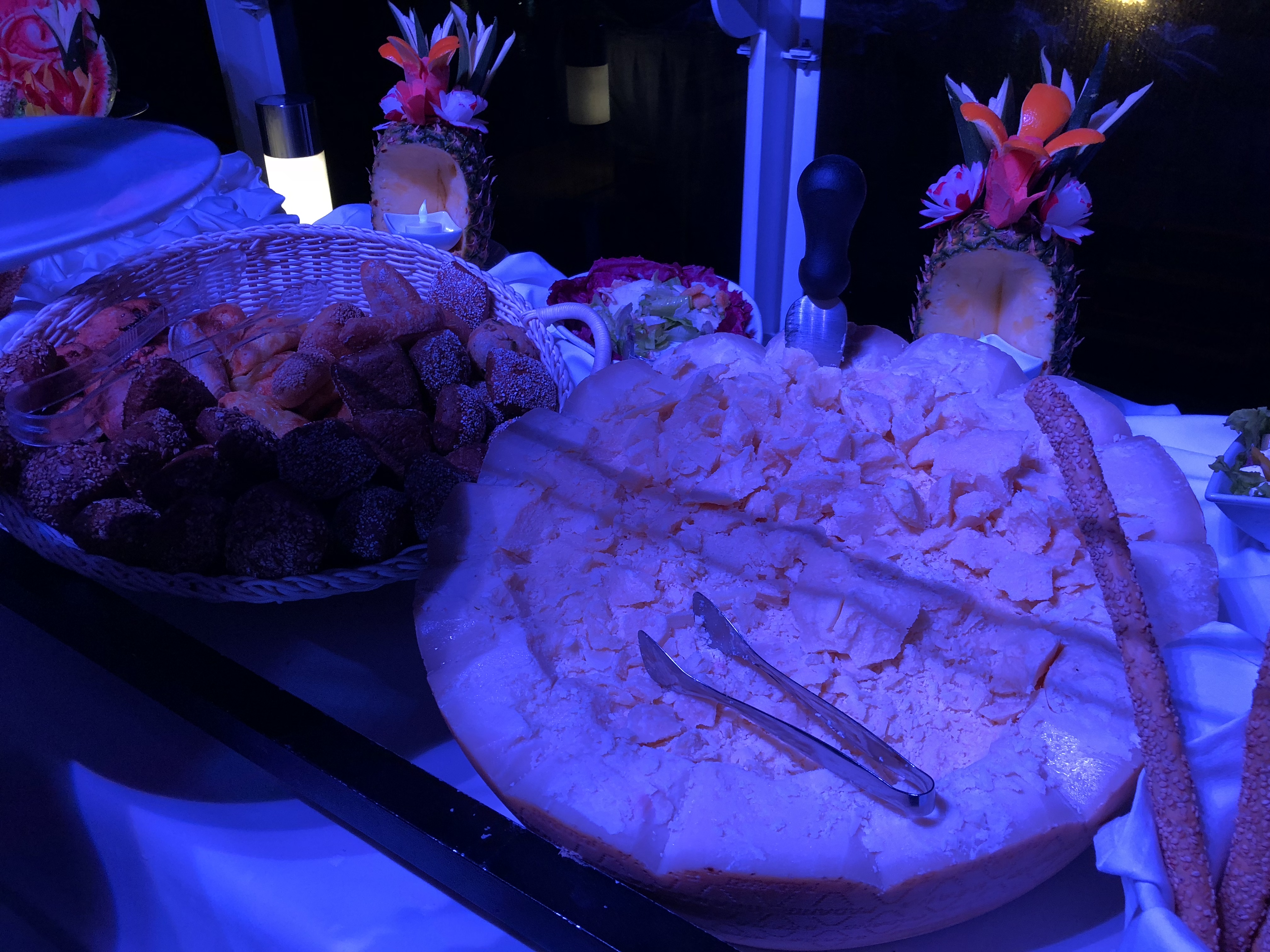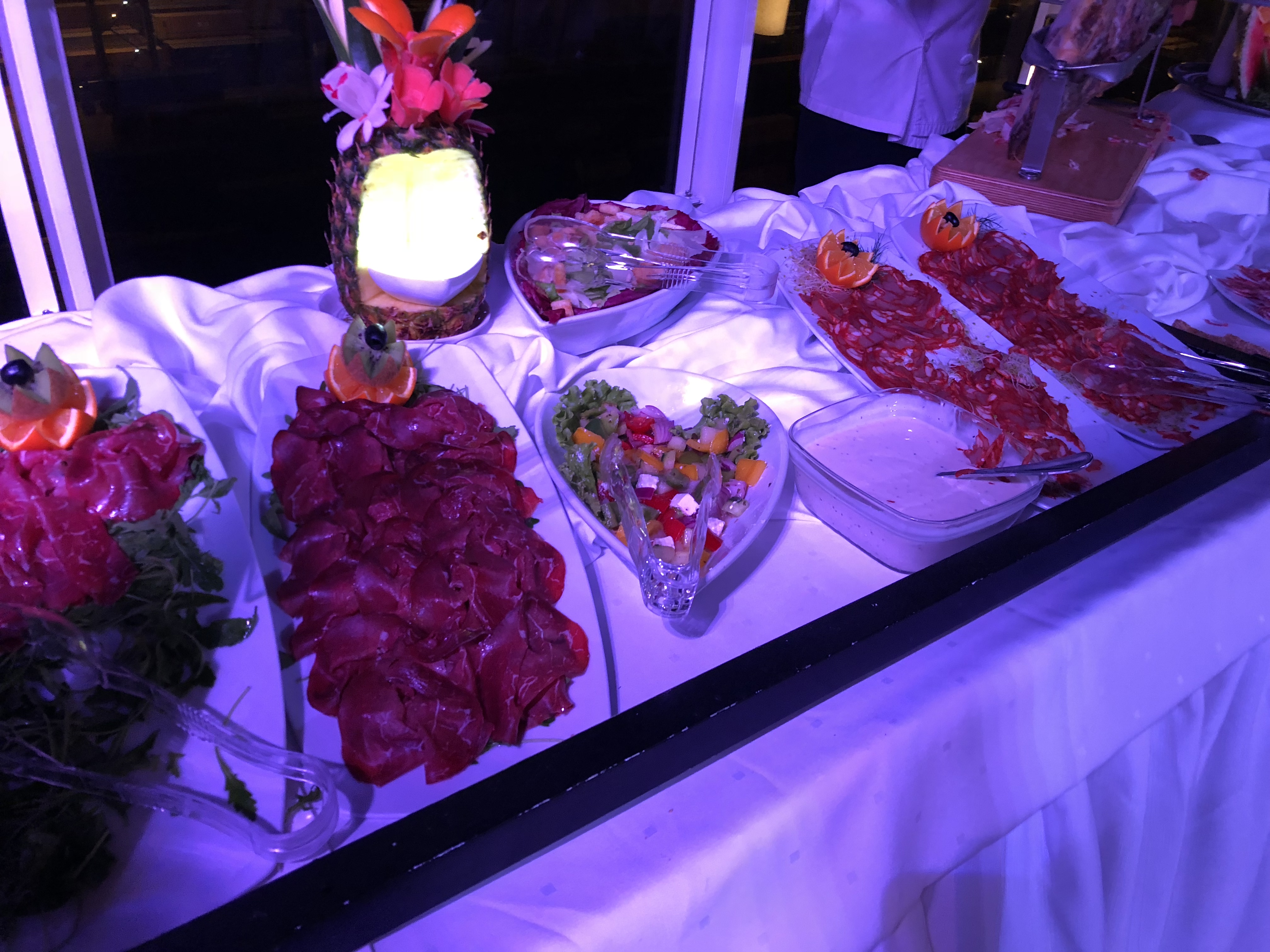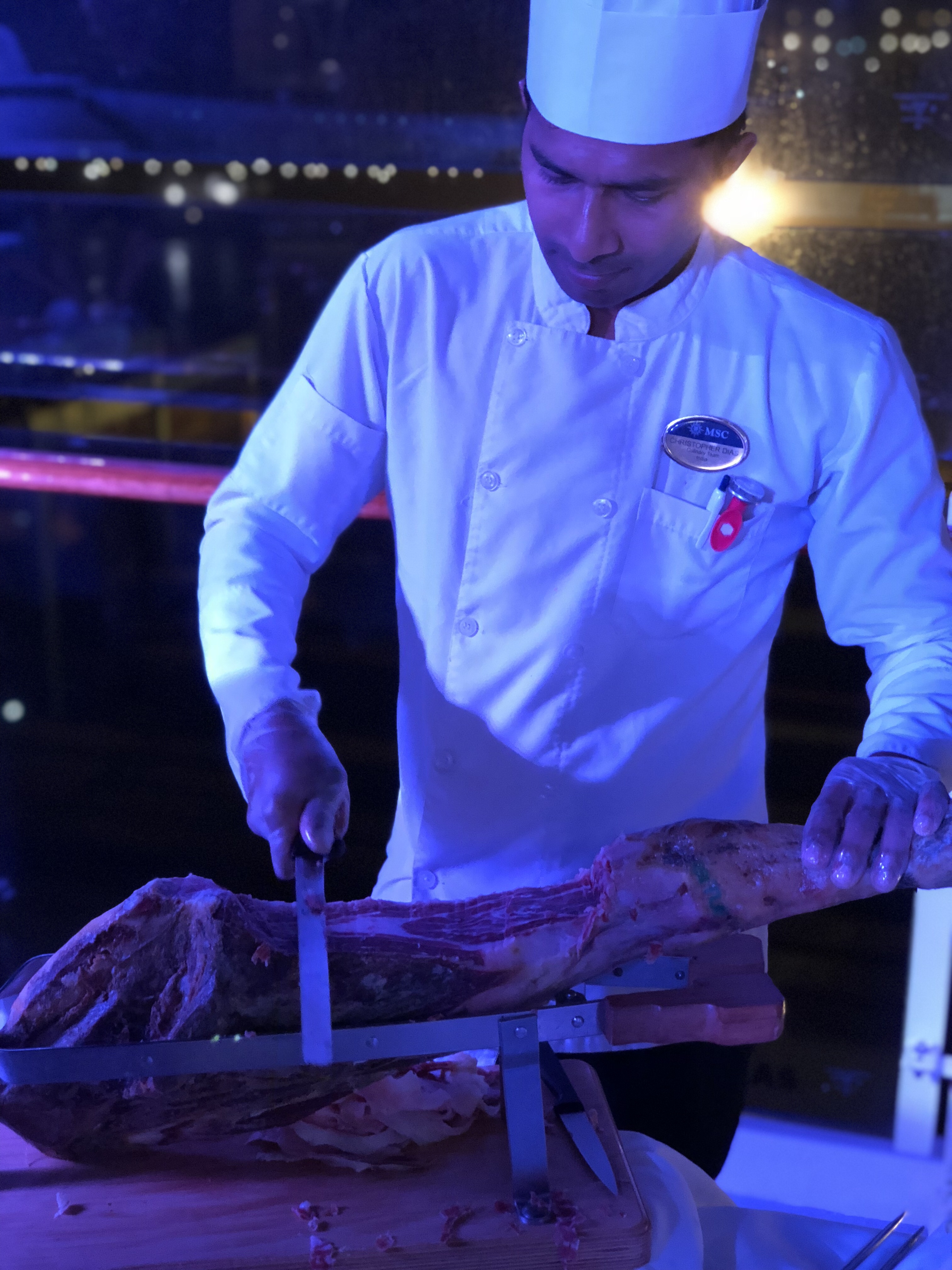 The main courses were predominantly freshly carved meats, but they also had some salmon and a delicious shrimp pasta.  I had a small piece of the fillet streak along with some shrimp pasta and some sides which consisted of asparagus _au gratin _and some potatoes.
Dessert selection consisted of a number of small cakes, lots of fresh fruit, and my favourite chocolate dipped strawberries!  Heavenly!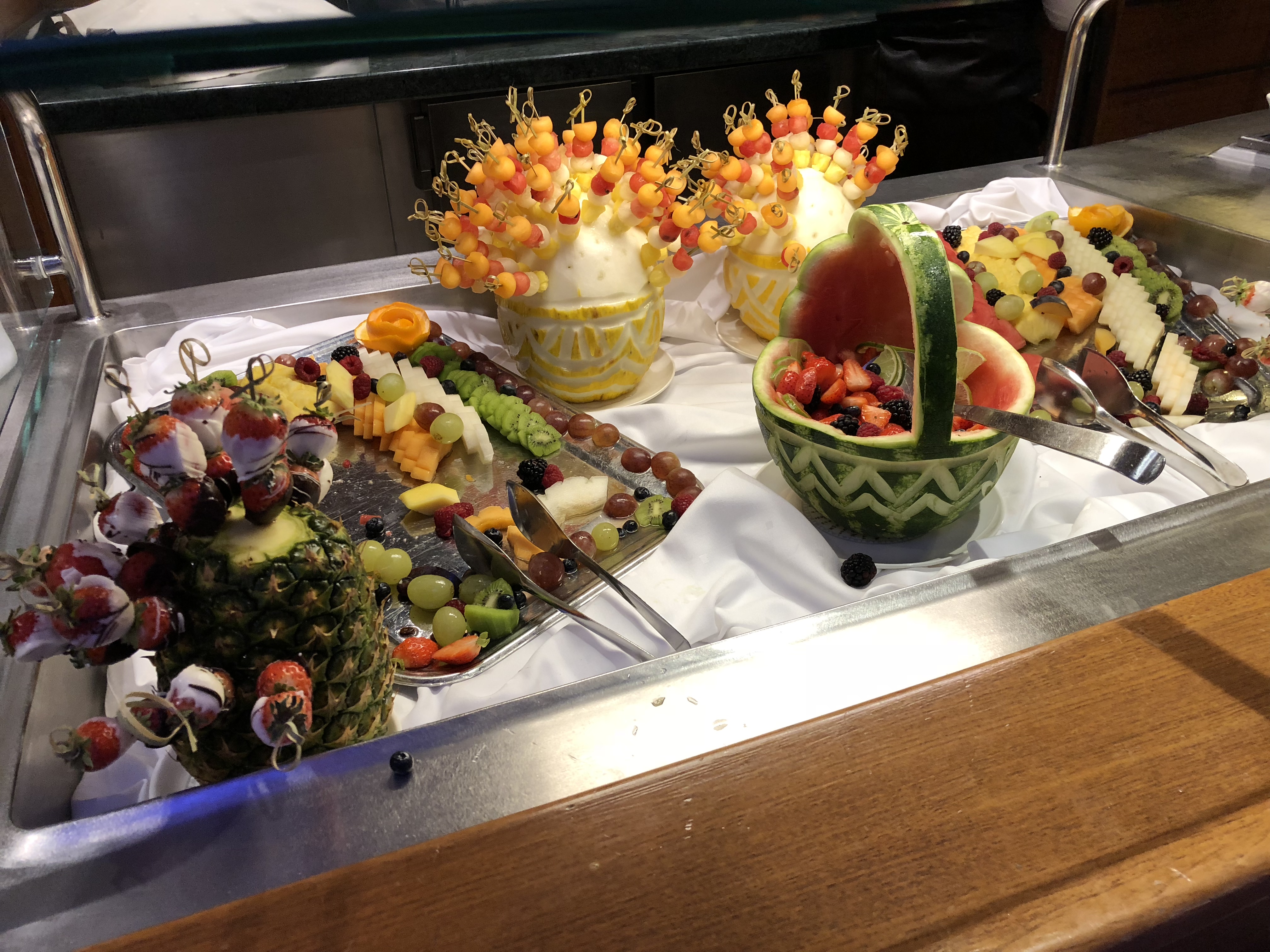 The whole time we had lots of sparkling rosé wine along with other cocktails going around as an aperitif, as well as red and white wine to go with the meal.
It was a very nice experience, and one which was made possible by the late (11pm) departure from Casablanca.  It wouldn't have been as fun at sea, as it's pretty windy up on deck!  Definitely a lovely thing to offer, but probably something I'd only do once per cruise even if it was offered more often.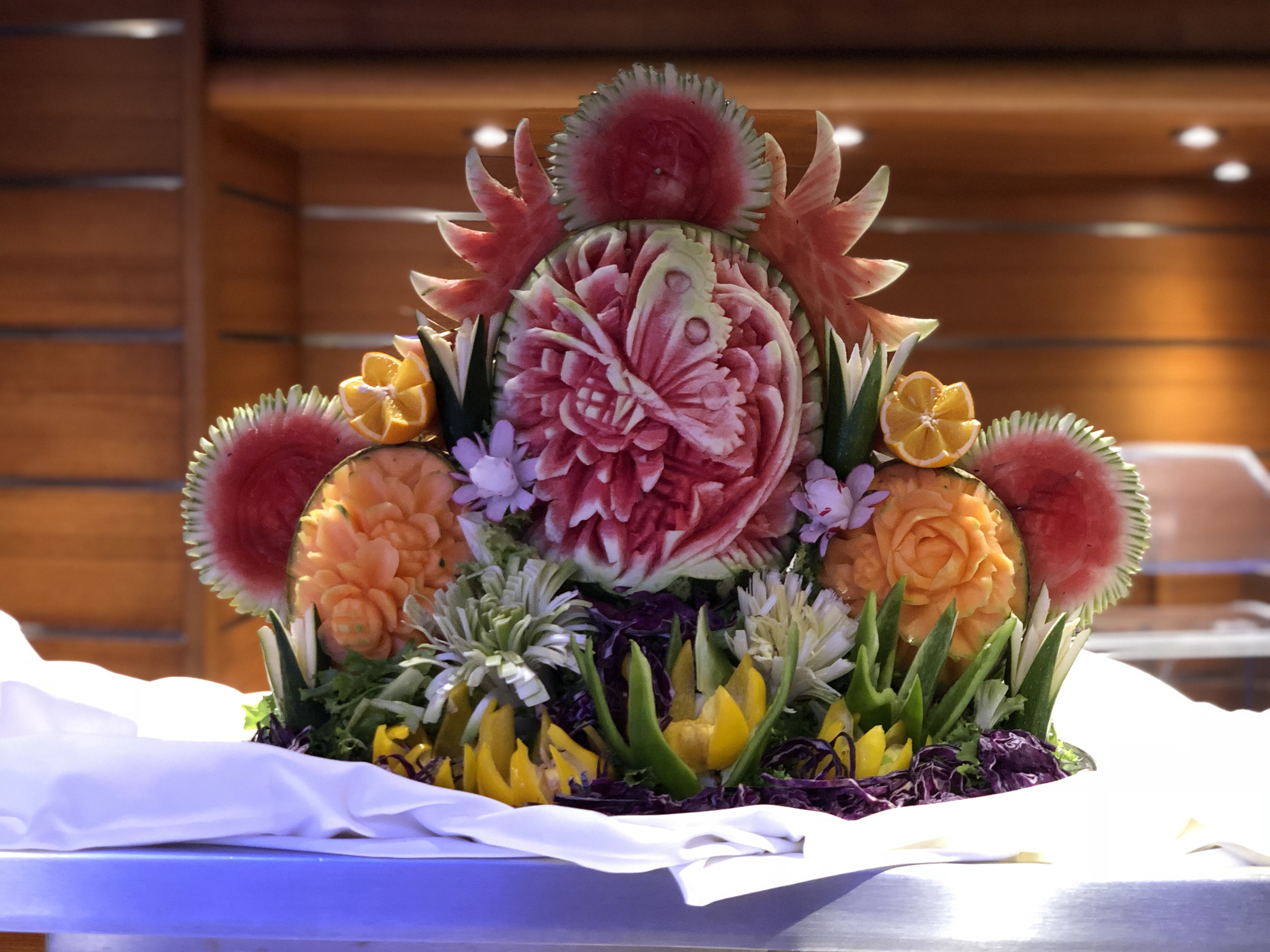 Sleep came very easily that night, and prepared us well for our last sea day, and final day on board MSC Preziosa.