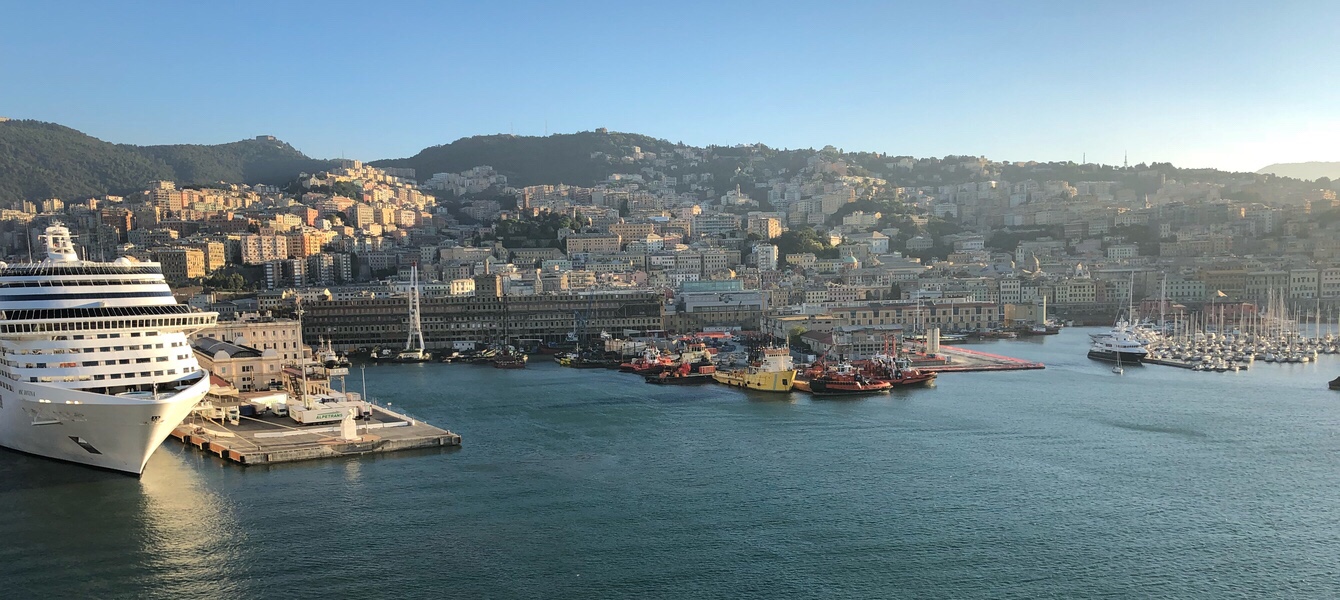 Today we docked in Genoa, Italy where we enjoyed a walk around the city as well as some local Genoese food.
Genoa is this ship's current home port, and as such is a big turnaround and restocking day. It's interesting being on a ship that allows embarkation at multiple ports of call. On this cruise the effect is quite pronounced.
The two multi-day activities I've seen advertised (master chef and some sort of talent contest) seem centred around the cruise starting and finishing in Genoa.
We've been told that the majority of the passengers (over 3,000) change in Genoa. Breakfast times and service availability is more like that of a standard cruise line turnaround day. The breakfast buffet on the Yacht Club pool deck was closed, and the breakfast in the Yacht Club restaurant started and finished earlier than normal.
We opted for a fairly quick and light breakfast in the Top Sail lounge before exploring Genoa, and the place was far busier than usual with many people waiting around with hand luggage and enjoying their last cruise ship morning before returning to reality.
Genoa, Italy
Alex and I visited Genoa a few years ago on another cruise but Glyn and Dorota had never visited before. We had pre-booked the CitySightseeing bus which you can board a short walk from the cruise terminal. It's a nice tour, and unlike the multi-line, very long itinerary in Barcelona, this one is shorter and perfect for a cruise ship stop.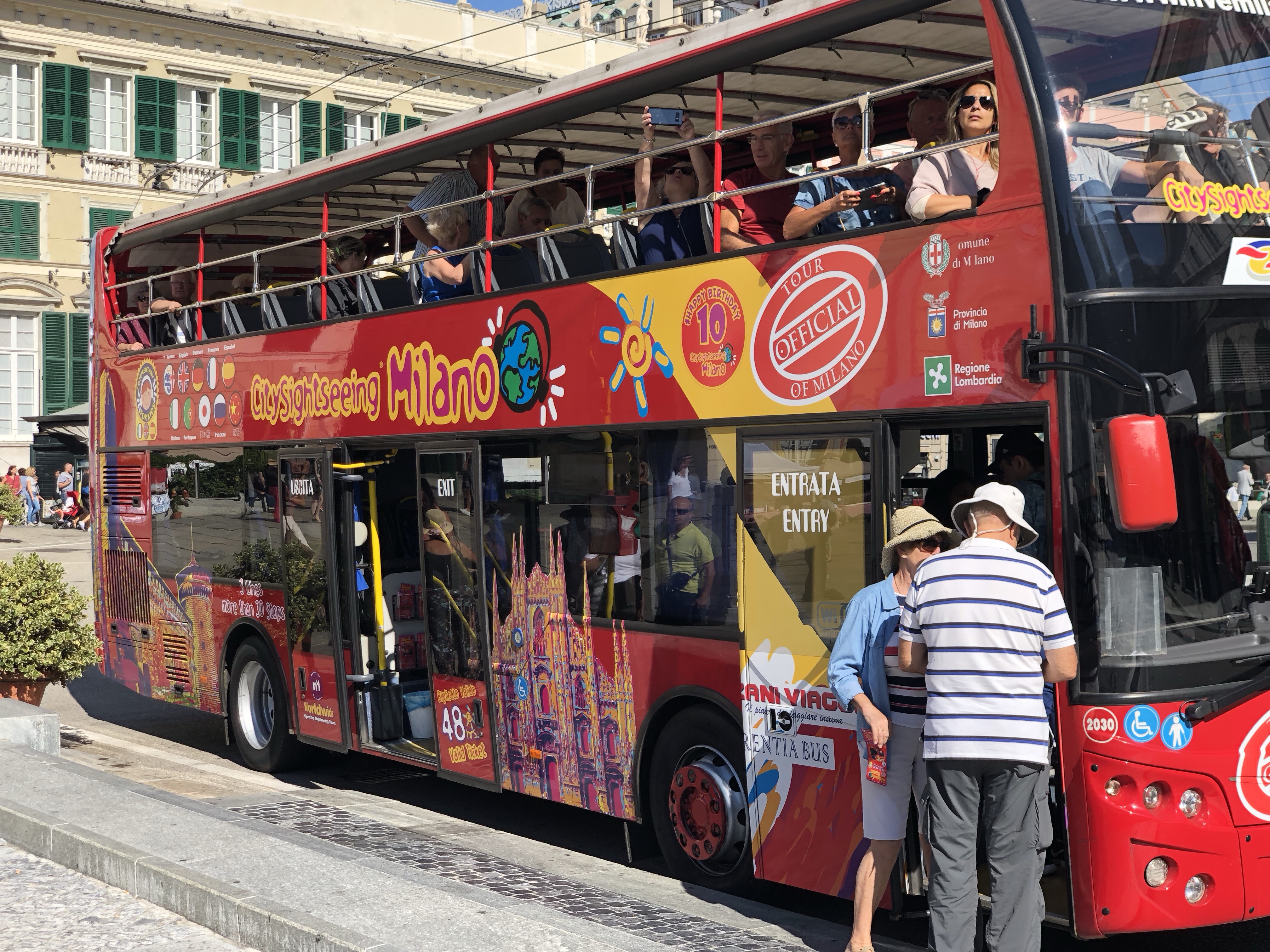 Boarding was reminiscent of the Marseille shuttle bus, but the City Sightseeing employee was much firmer with the crowd and tried her best to control the advancing mass who didn't understand how queues worked. I started wondering if it's only us Brits who understand queuing, but an irate American lady waiting patiently behind us seemed to have the same frustrations. Unlike us Brits, she was much more vocal, telling the throngs of tourists in no uncertain terms where the "back of the line" was. Good for her!
We stayed on the bus for a full loop, enjoying the commentary and learning a little about the city's history and architecture. We also downloaded the accompanying app which can track the buses and show you the route without risking the fold-out leaflet flying out of your hands!
After the loop, we continued on the beginning of a second loop to get to the Piazza della Vittoria where a monument stands to those who lost their lives in the First World War. Also in this square is a flower garden memorialising Christopher Columbus who was born in Genoa and whose childhood home can be seen from the tour bus route.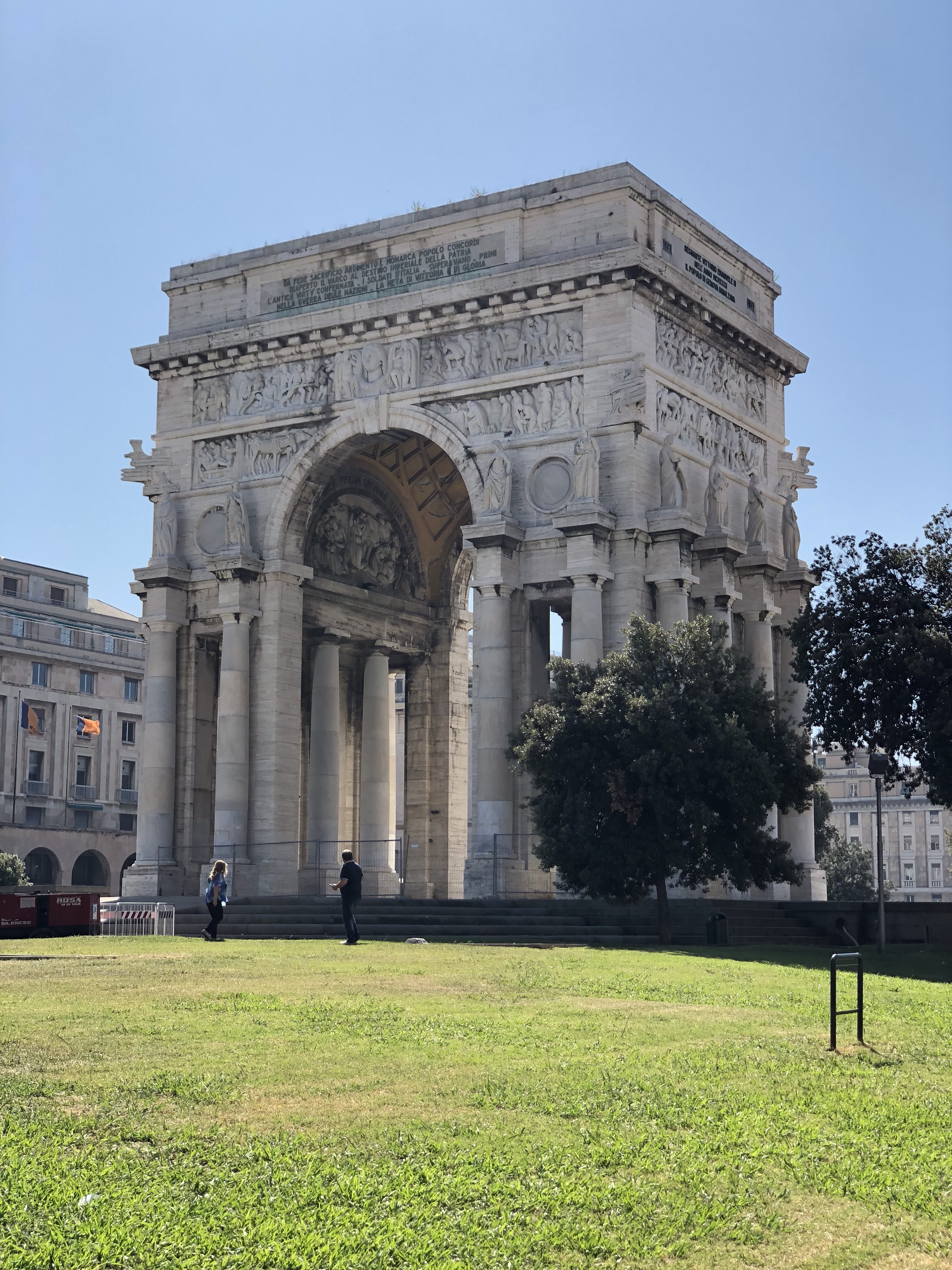 We walked to the top of the flower garden, and up to a view point from there that offers lovely views of the Piazza as well as this area of Genoa generally.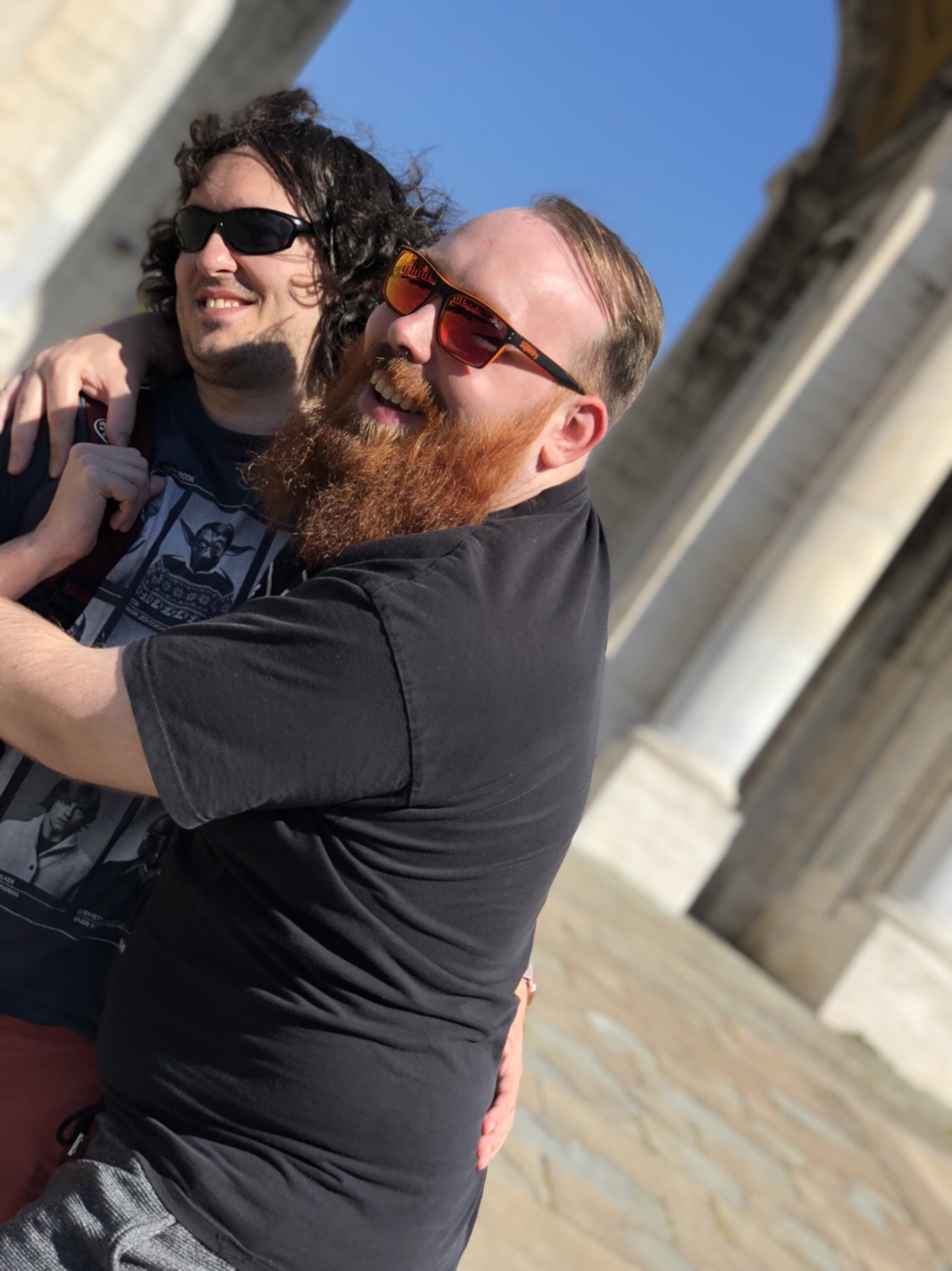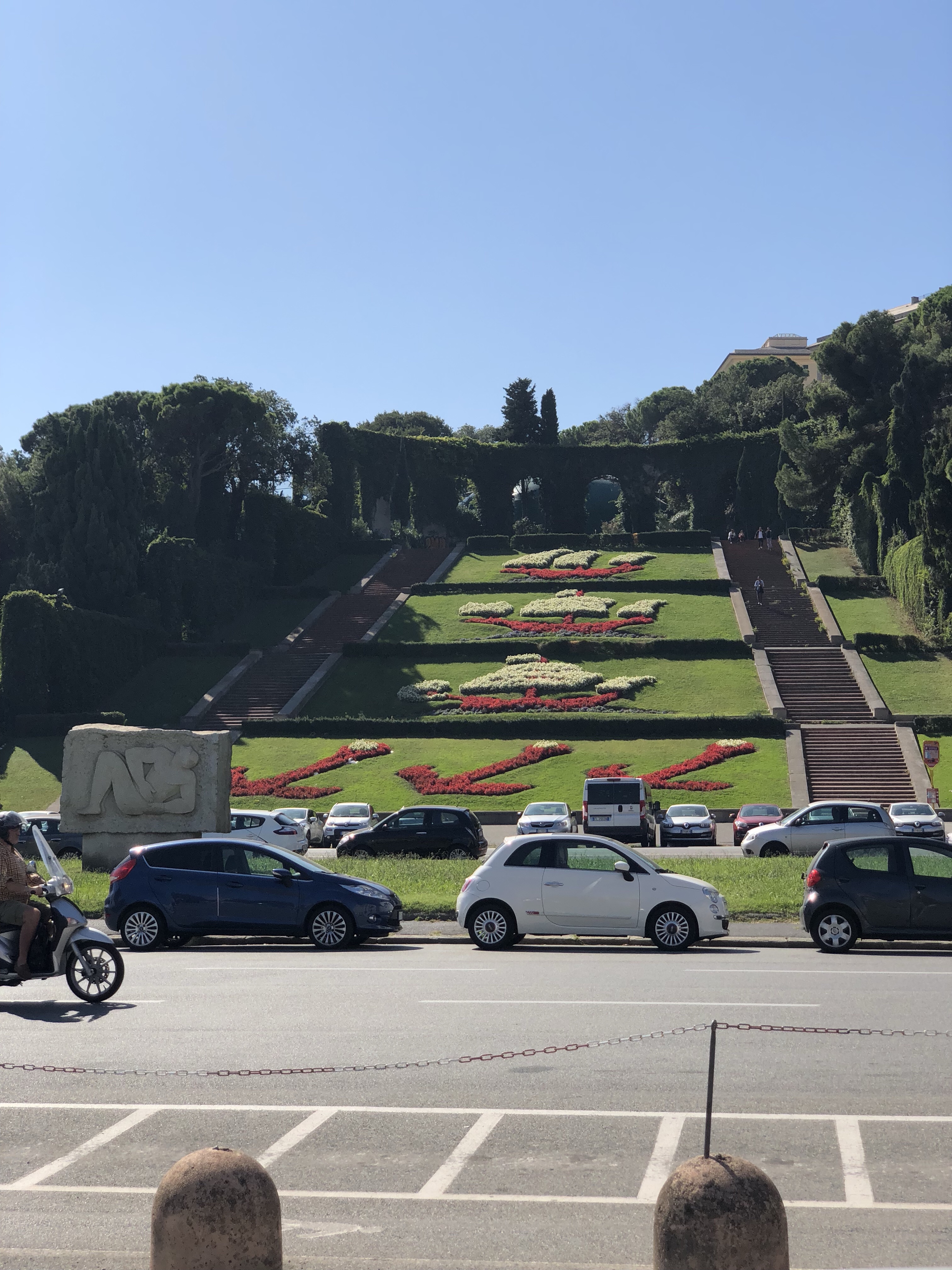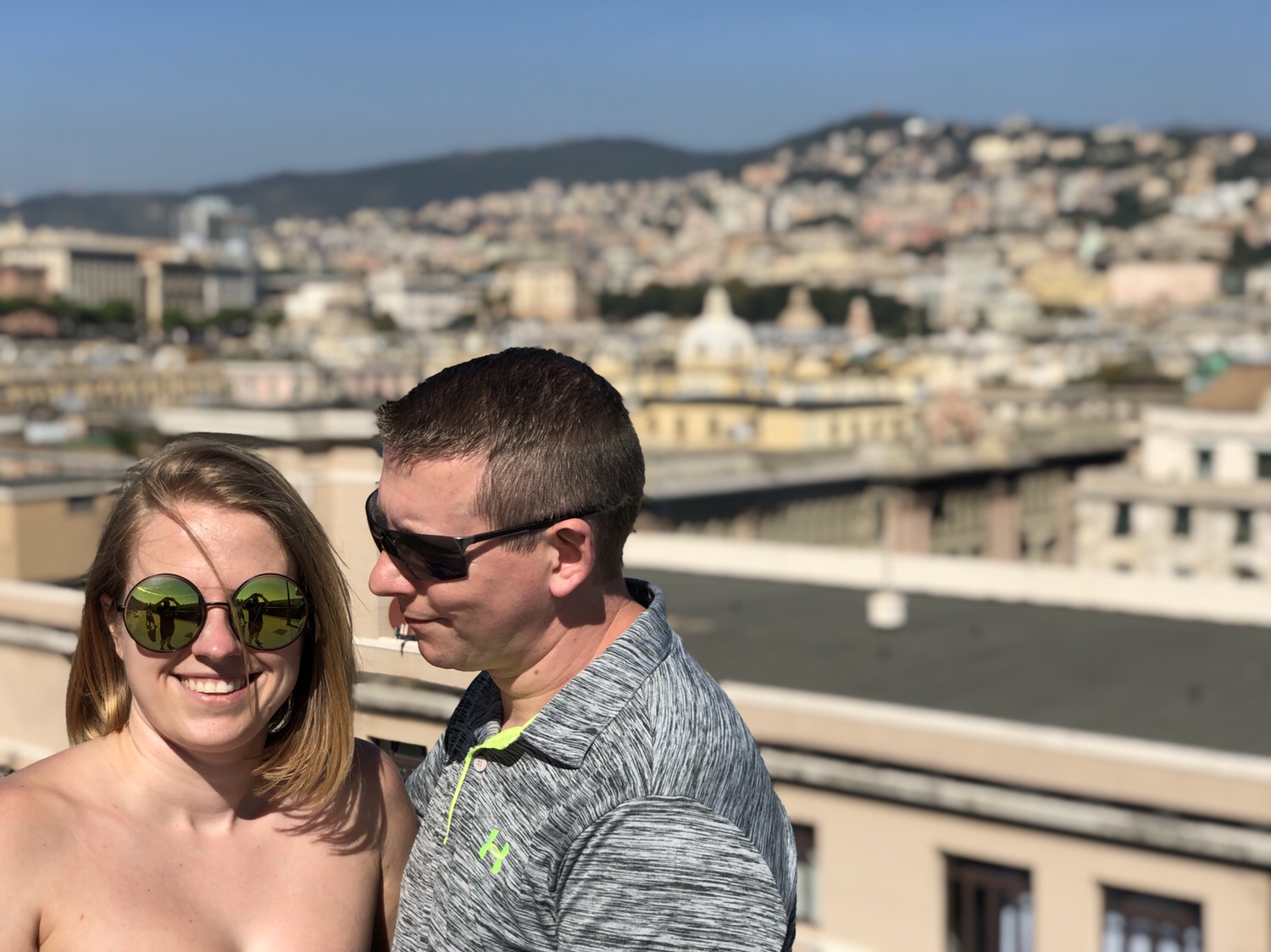 It was approaching lunch time and we were determined to find a local spot bursting with Italians from which to savour some traditional Genoese food — namely pesto and focaccia. TripAdvisor helped us out, and led us to a wonderful place called Restaurant Rustichello. All of us but Glyn enjoyed some phenomenal pasta with homemade pesto. Glyn tried the spaghetti carbonara, made properly without cream, something depressingly difficult to find in the U.K.
We weren't sure whether to have dessert or not, but some passing panna cotta changed our mind, and I'm so glad. We decided to share a panna cotta and a tiramisu between the four of us. Both were wonderful, but for me the tiramisu was the best I've ever had.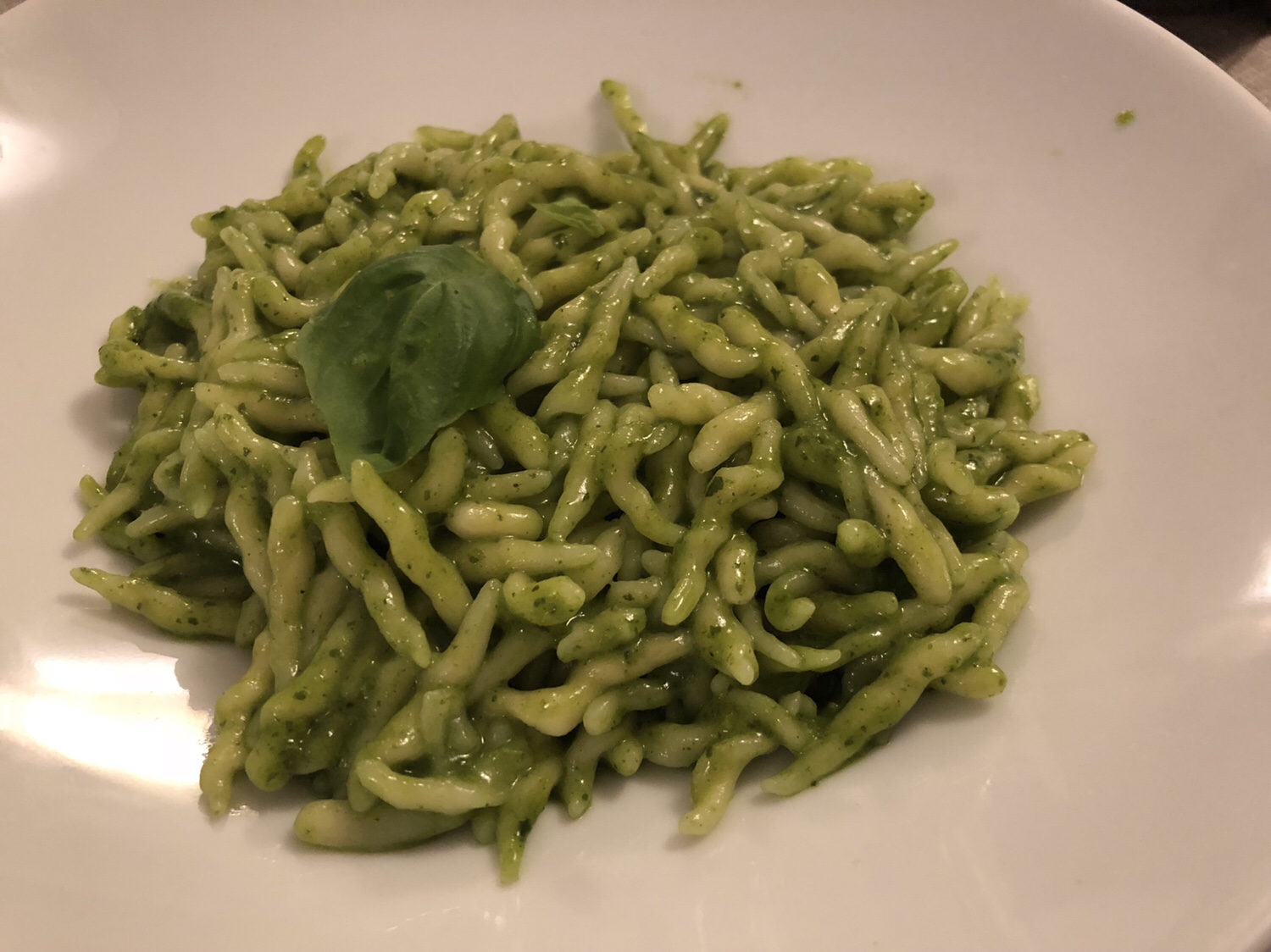 After lunch we spent a short while wandering the town before heading back to the ship on the bus. We cut the day a little short, but I think we'd have been rushing if we'd tried to do something else.
The last time Alex and I were on Genoa I was at the tail end of feeling ill and I think that clouded my judgement of this lovely Italian city. After this visit I saw so many beautiful little parts that I'd definitely consider returning on a short break to explore in more depth the charms of Genoa… and perhaps to eat more tiramisu at Restaurant Rustichello!
Lazy Afternoon
We spend the afternoon relaxing. I read some of my newspaper and did some blogging before joining Glyn and Dorota by the pool for a little dip in the hot tub. Alex and I had a little swim in the quiet and deceptively large salt water pool in the Yacht Club pool deck and we enjoyed the short sail away from Genoa alongside MSC Opera who we sailed alongside well into the evening.
The One Pool Deck really is a wonderful retreat. It's quiet and spacious, with prompt and friendly drinks service and a small rotating buffet of snacks and fruit. Absolutely heavenly!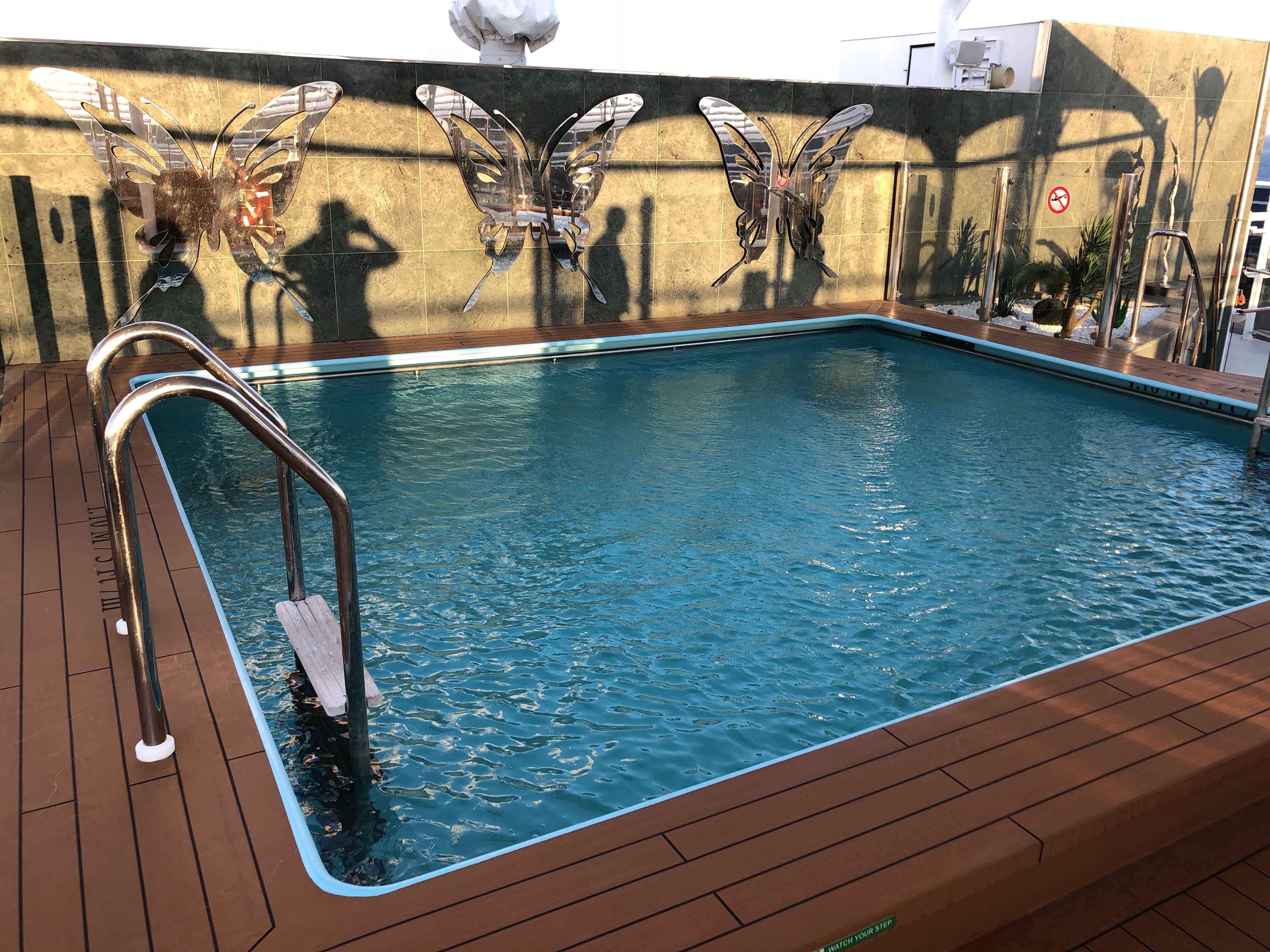 Dinner
Throughout the cruise we've had some fabulous folks helping us and entertaining us at dinner. Most notably Oscar who has been our server most nights, and Victor who is the Sommelier on board and a presence that can brighten anyone's day in the La Palmeraie. Tonight he really went above & beyond, chatting with us about ship life and the differences he's found between MSC and other lines he's worked for (including Celebrity and Silversea). All the while keeping us topped up with limoncello. He's a charmer, and MSC are lucky to have him!
Dinner tonight was great for me. I had a little Maki selection which was nice enough, but I do love sushi so it was never going to live up to my favourites. My main course seafood risotto was excellent however. Dorota & Alex had a veal schnitzel which was OK by our standards (certainly better than the one I had on Celebrity) but to Dorota for whom this dish is a Polish staple, it didn't live up to her expectations. Our wonderful Victor explained that every cruise the dish disappoints those for whom it's a national dish. My dessert was a coconut pistachio dacquoise and was lovely, but after the tiramisu earlier in the day nothing was going to delight me.
We finished the evening with some drinks and conversation in the Top Sail lounge accompanied once again by some jazzy piano music. I know it sounds like our days are repetitive, but when sailing with good friends it's easy to relax, chat, and have a grand old time!