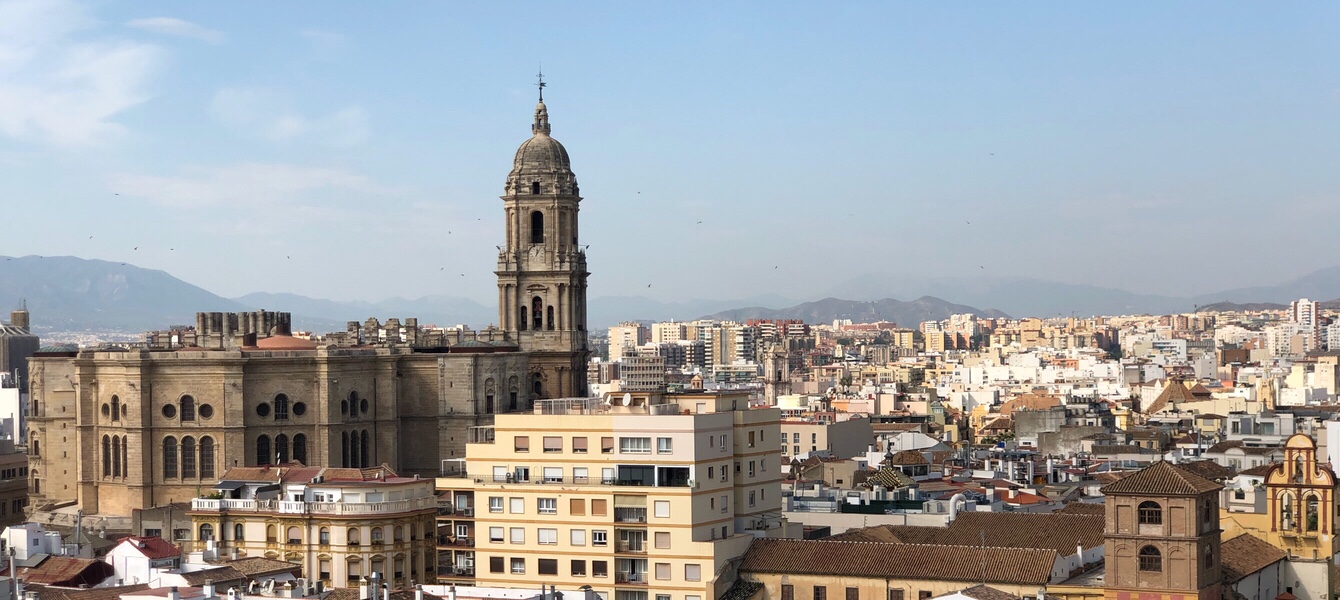 Today we had a hot and sticky day in Malaga that once again exceeded my expectations, then enjoyed a smoke in the molecular bar!
Once again MSC put tickets in our stateroom to take us into the city of Malaga from the cruise terminal. Advertised as a 10 minute drive, it does make you think the cruise is docked farther from the city than it is. As it happens the walk is not too far (it took us about 30 minutes as a very relaxed pace) and the walk is fully flat.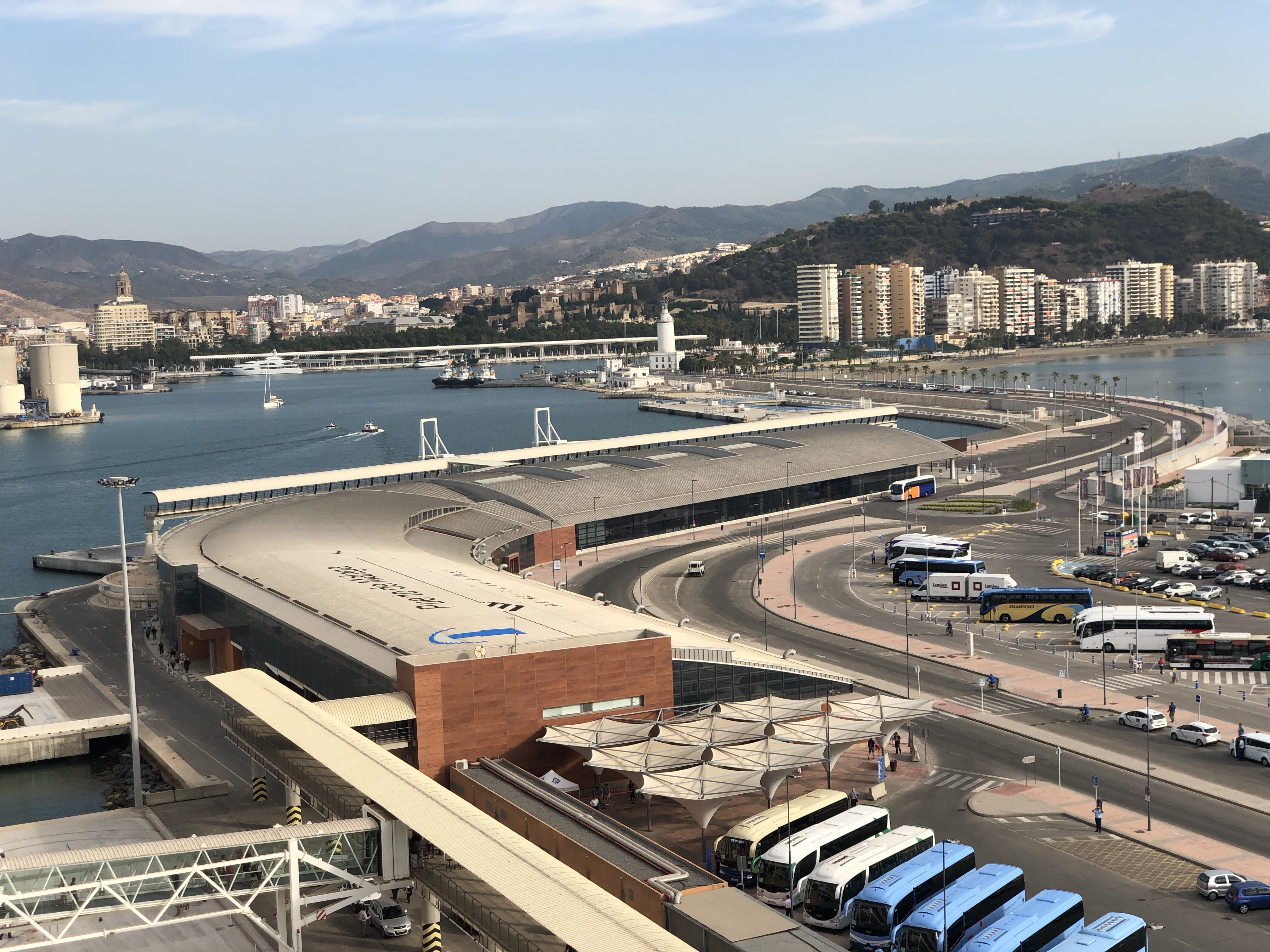 As we left the ship it was nice to see a much more organised queue for the shuttle bus. It was a properly roped queue and seemed well organised with a constant stream of buses. If you feel less able to walk this would be a good option.
The walk takes you past a very modern marina with many shops and restaurants. It's quite pleasant overall, though much of the walk from the cruise terminal could benefit from canopies or some planting to offer shade, as the weather was hot and sticky today; the least pleasant climate we've experienced so far on the cruise. There also seemed to be an endless army of flies across the city which becomes tiresome very quickly.
We started the day with a visit to the Alcazaba (from the Arabic meaning citadel) of Malaga. This is an 11th century fortified palace and offers some lovey views over Malaga. It's fascinating to see the architecture and learn about the construction of the fort.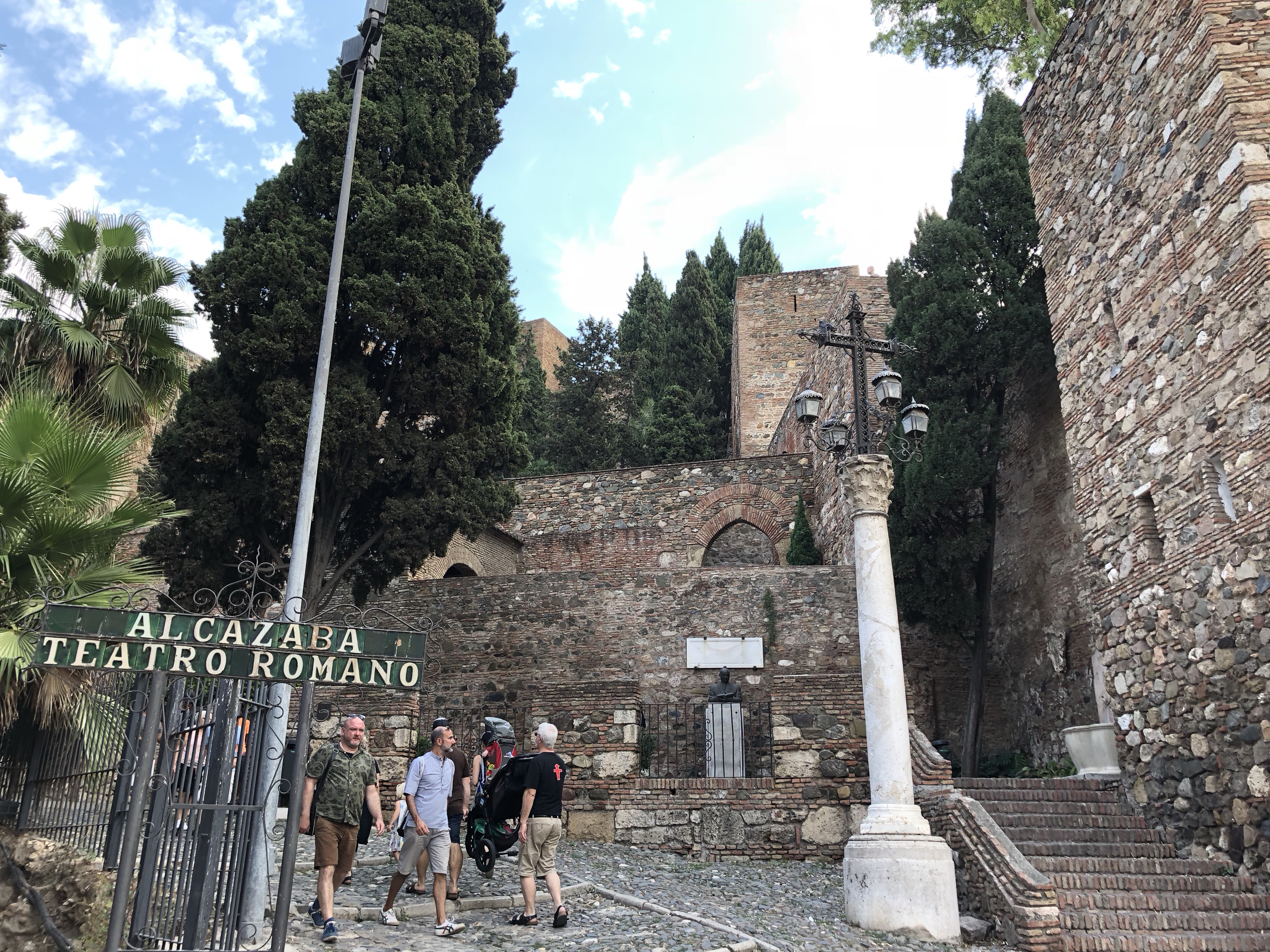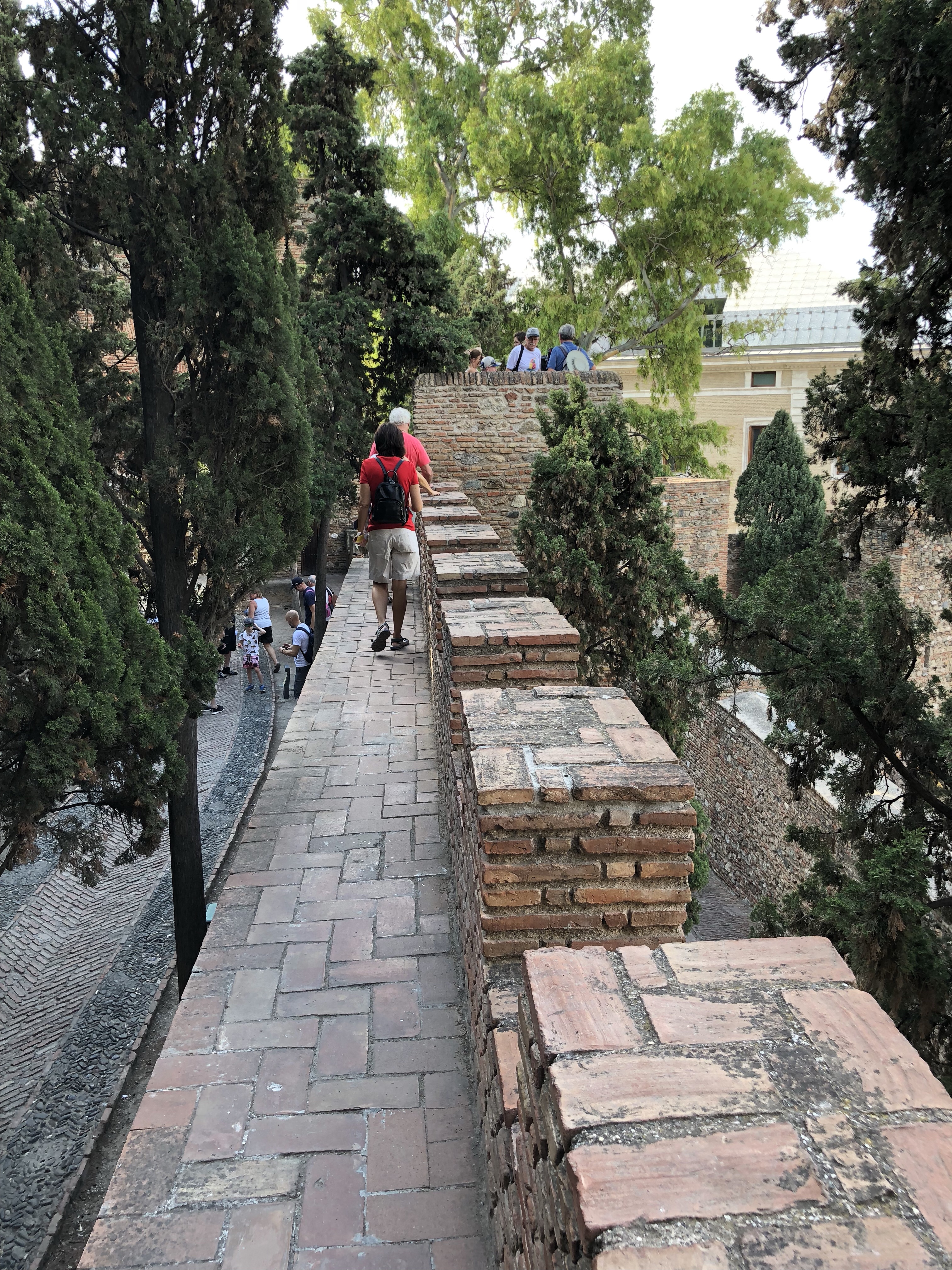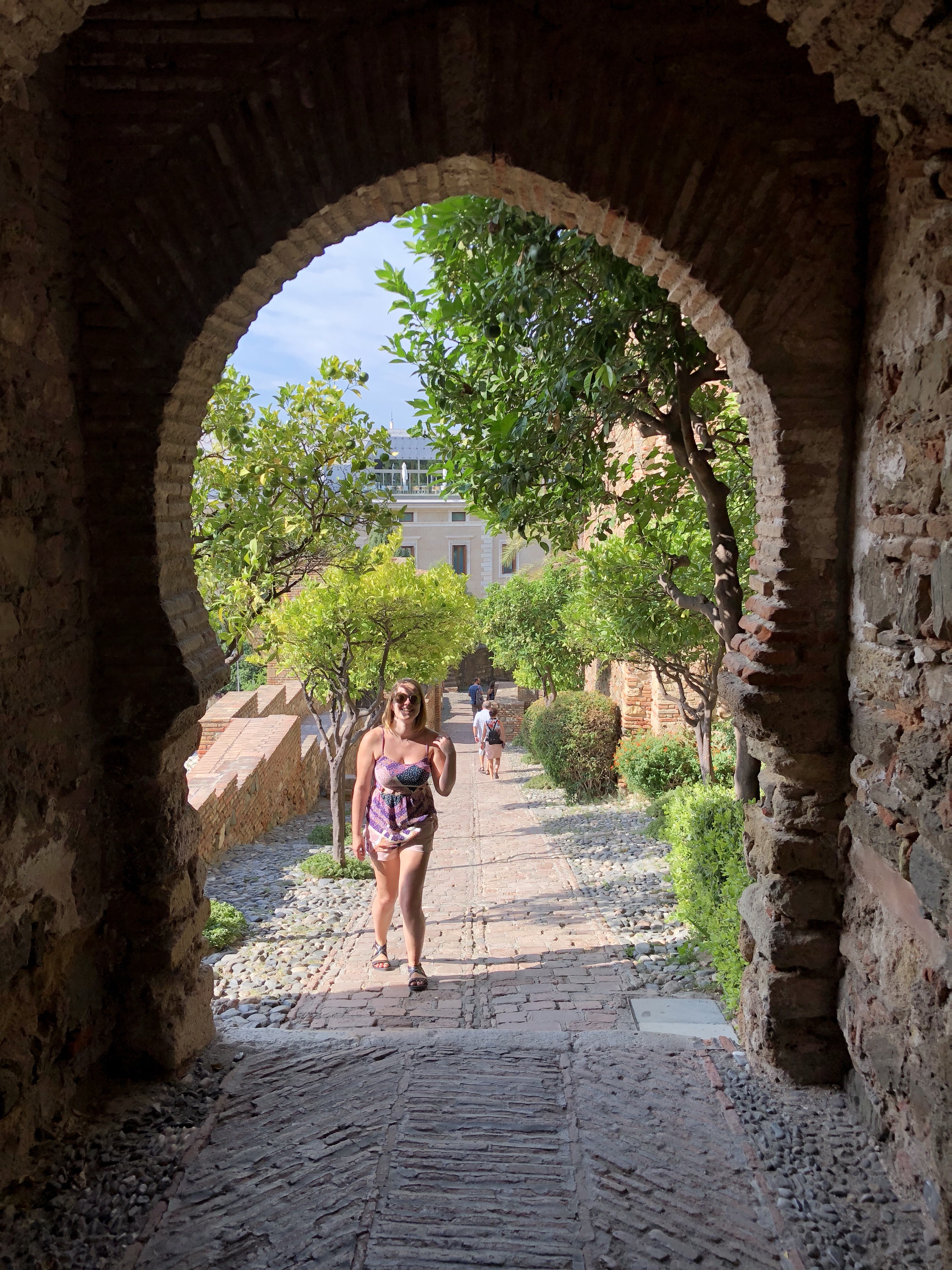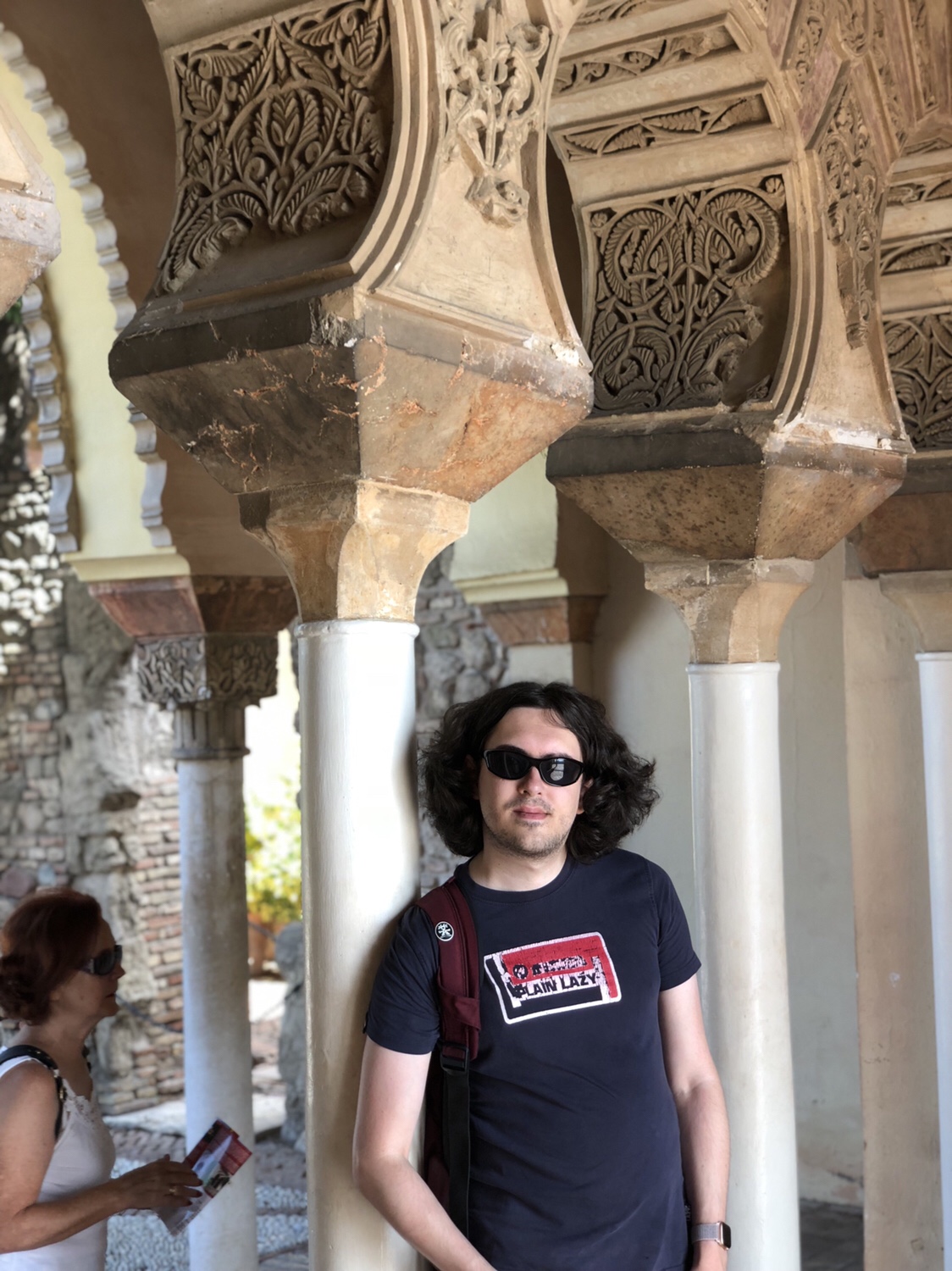 There are lots of winding paths, gardens, and terraces and it's a very nice place to spend some time. There was also an interesting exhibition about the pottery techniques of the time, and how they used archeology fragments to re-learn the techniques used at the time and apply those to further understand the function of the items discovered.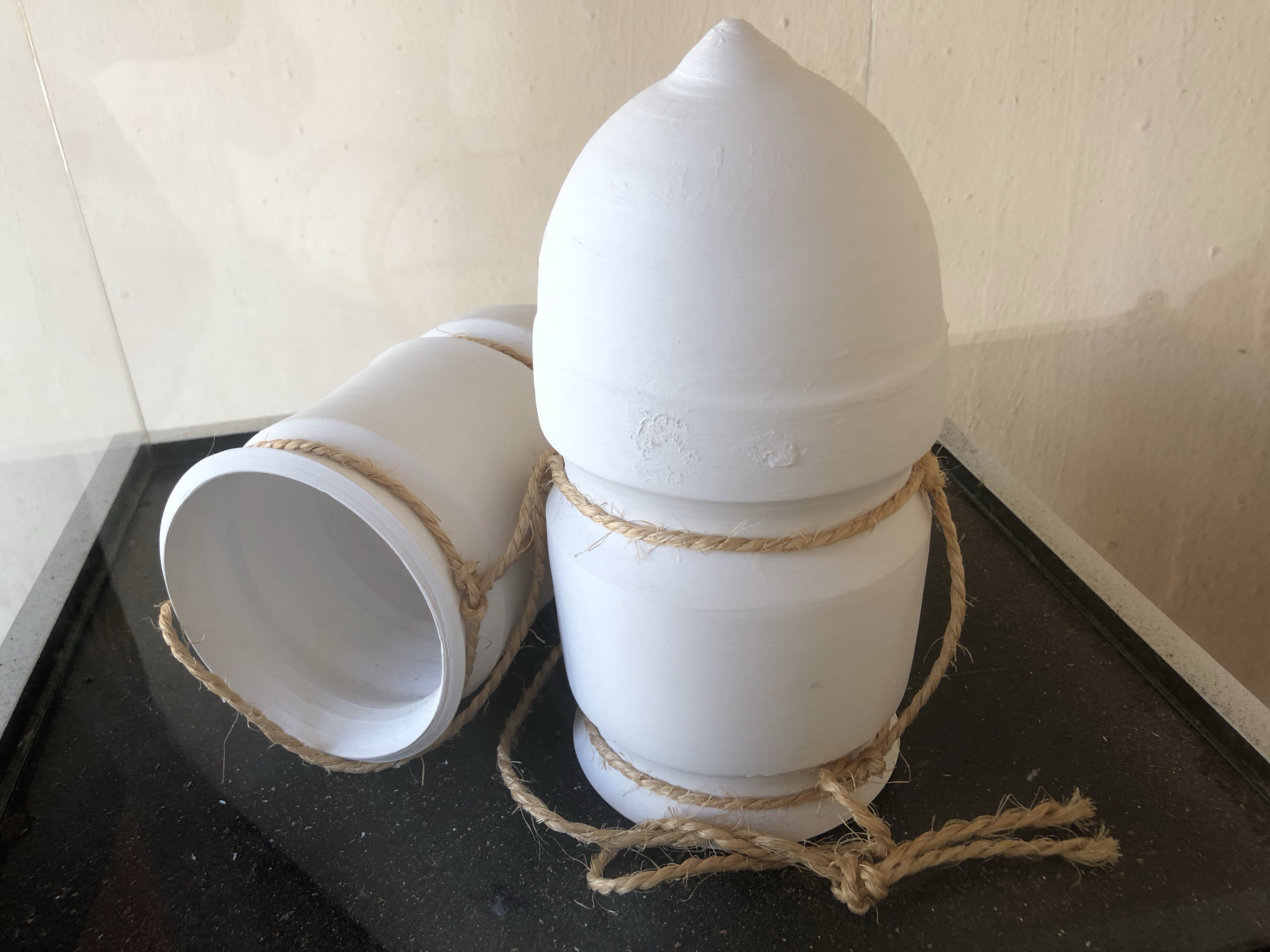 We spent a decent amount of time here. The ticket we bought cost €5,50 per person (cash only) and also included admission to Gibralfaro Castle. As the weather was so humid and unpleasant, none of us fancied the rather long and steep walk to the castle after exploring the alcazaba, so we decided to find somewhere for food and drinks instead.
TripAdvisor once again served us well, leading us to a little restaurant called El Gastronauta. Very quirky place and some great food. We got a selection of tapas to share, except Glyn who fancied some steak. They made a mistake with the last two tapas dishes and brought out full sized mains instead! We had to send them back, but not before snapping a photo of the delicious platter of squid!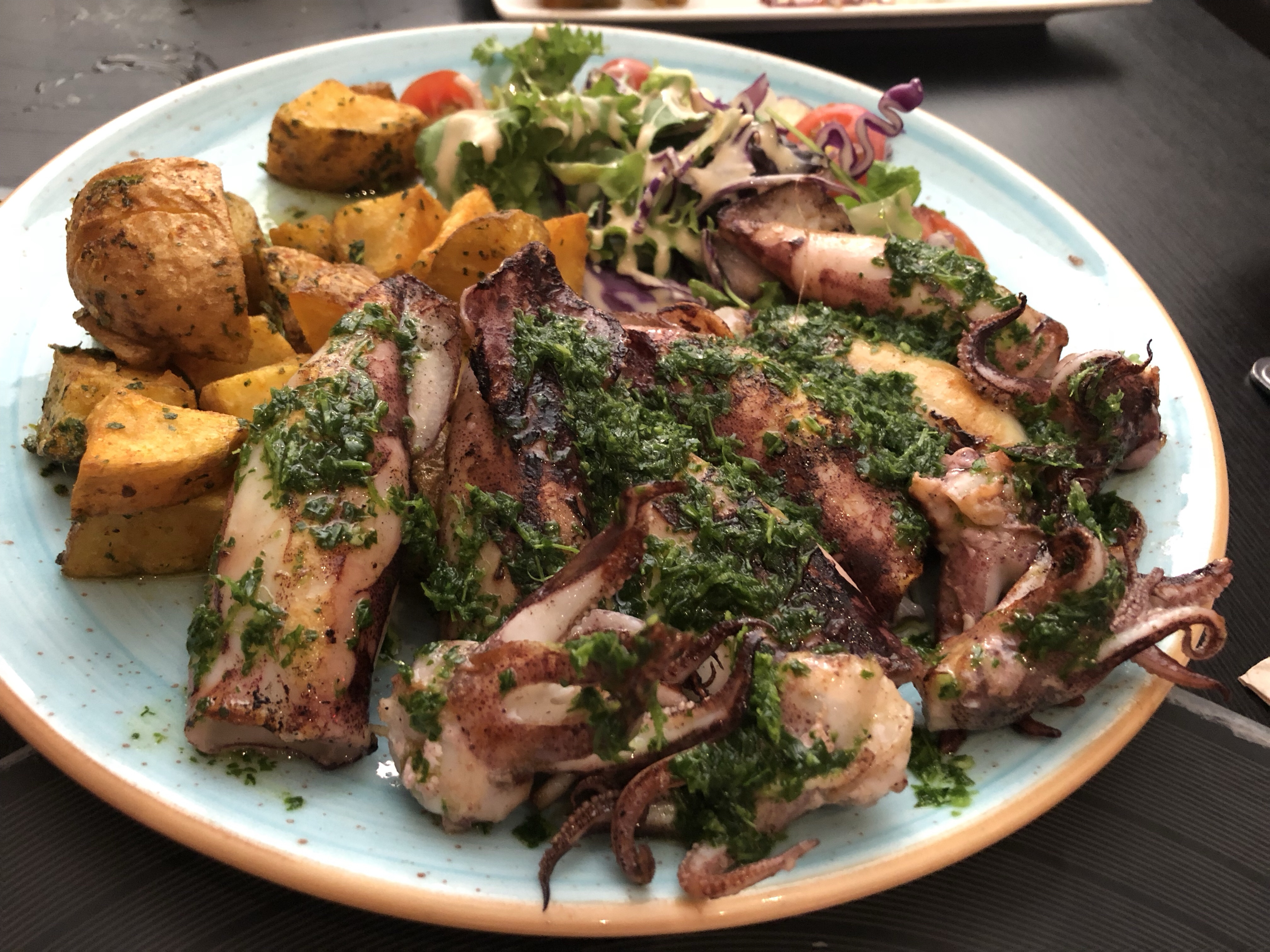 Also in the area of lunch was a store making and selling some Spanish treats – Sabor a España. We popped in for some samples and Alex and I really liked their soft nougat marzipan stuff, so we bought a couple to bring home with us.
We finished our day in Malaga with a visit to the Picasso Museum. Picasso was born in Malaga and apparently always wanted a museum to be in his birthplace.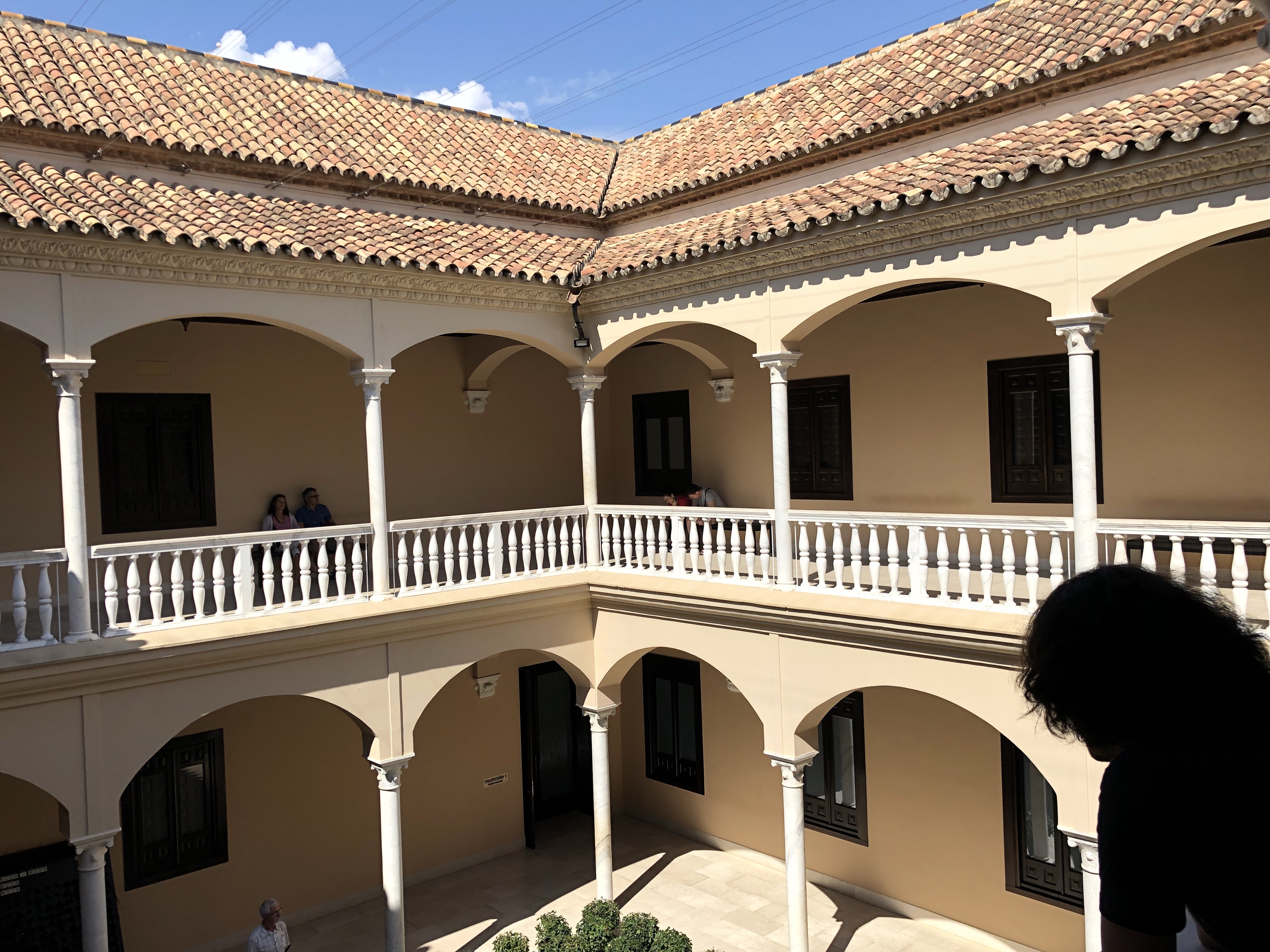 Set in the stunning 16th century Buenavista Palace the museum opened in 1993 with donations from Picasso's family. They now have an interesting collection spanning his life, thoughtfully presented, and with an interesting audio tour offering additional insight and commentary.
If you have even the slightest interest in Picasso's work I think a visit is worthwhile for the €8/person fee. Credit cards are accepted.
We slowly made our way back to the ship, and I was reminded why I enjoyed Malaga so much the last time we docked here. The winding street with a mishmash of architecture tell the story of the region's occupiers, conquerors and influencers over the years. A very charming place to spend a day or two.
Molecular Cocktails
After a chance to relax back in the cool air conditioned suite, we changed for dinner and decided to try another one of the bars outside of the Yacht Club. This time, El Dorado, the mixology bar which has an interesting menu offering a variety of cocktails including several smoked drinks.
We decided to order a few of those and were excited to see them prepared table side by a really funny and engaging bartender who explained what he was doing as he made our drinks.
It was good fun, and you could taste the various smokey flavours (including rosemary, cinnamon, and lavender) that had been injected into the glass. Honestly it's a bit gimmicky and I don't think the resulting smoke necessarily improved the drinks we had. But it was a lot of fun!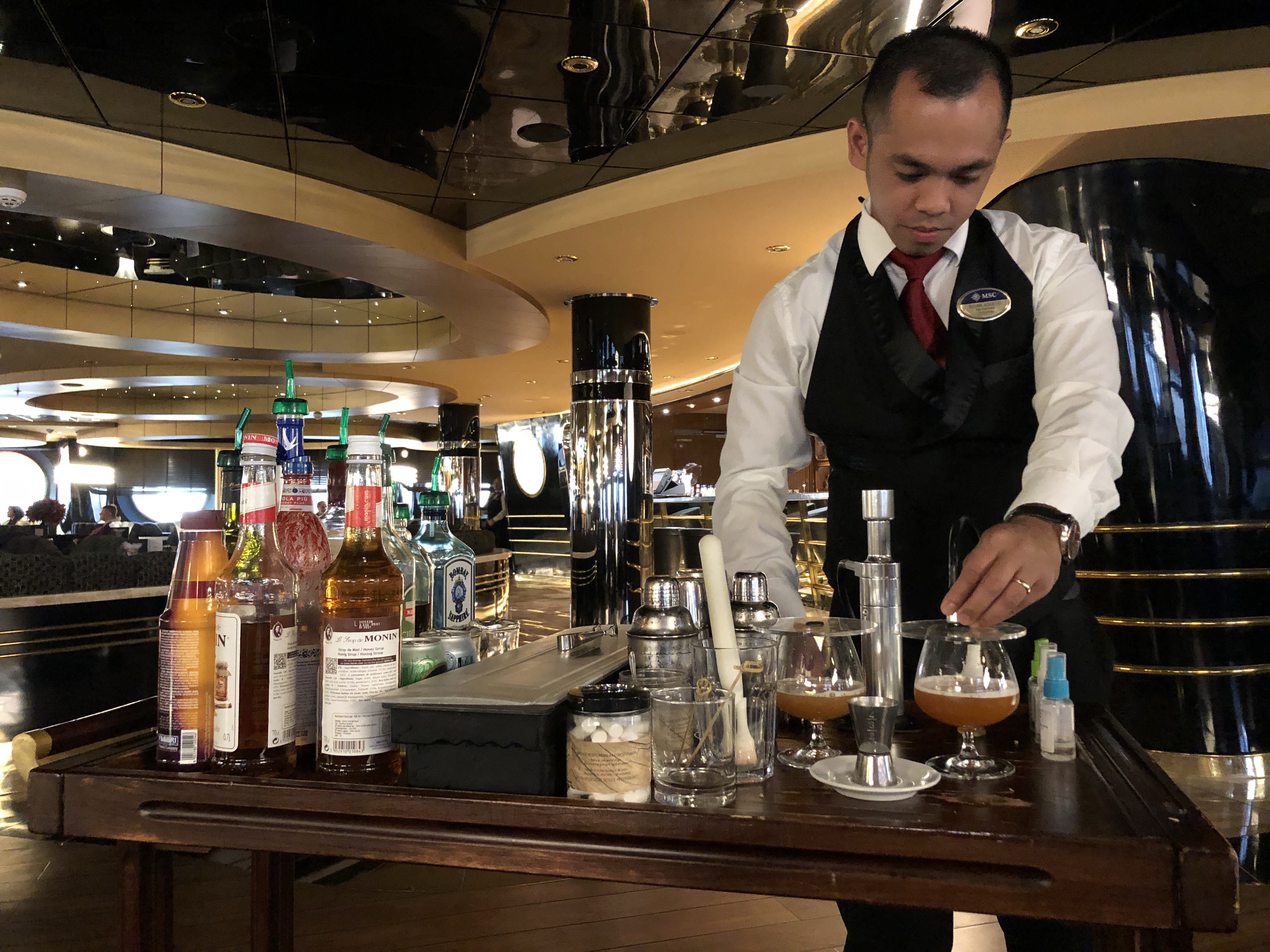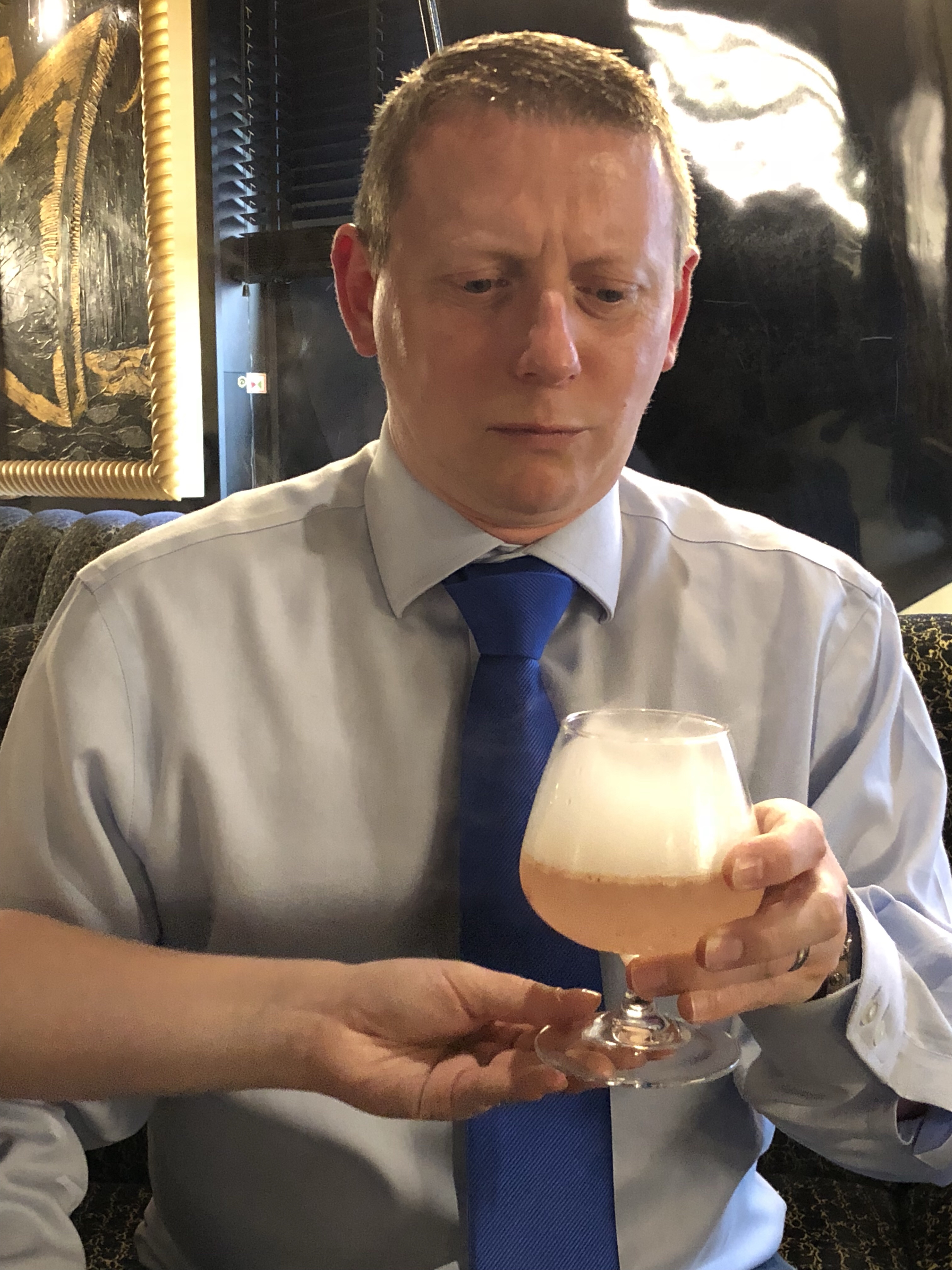 Dinner
Tonight's dinner was very enjoyable once again. I started with a beef tartare which is a dish I really enjoy, though MSC's version wasn't as good as some I've had elsewhere. They crowned the dish with a hard boiled quail's egg whereas typically you'd expect a nice runny yolk to mix everything together. It could also have done with more of the mix-ins but the beef had a lovely flavour so I still enjoyed the dish.
My main course was a delicious lobster ravioli. My only complaint here related to quantity, as the portion was very small. I could, of course, have asked for more but clearly I didn't need a second helping with the enormous amounts of food available on board!
The dessert was a very tasty Black Forrest cherry gateaux. This was light and moist, and had the most wonderful, delicious cherries inside. Alex had the chocolate soufflé which was also delicious.