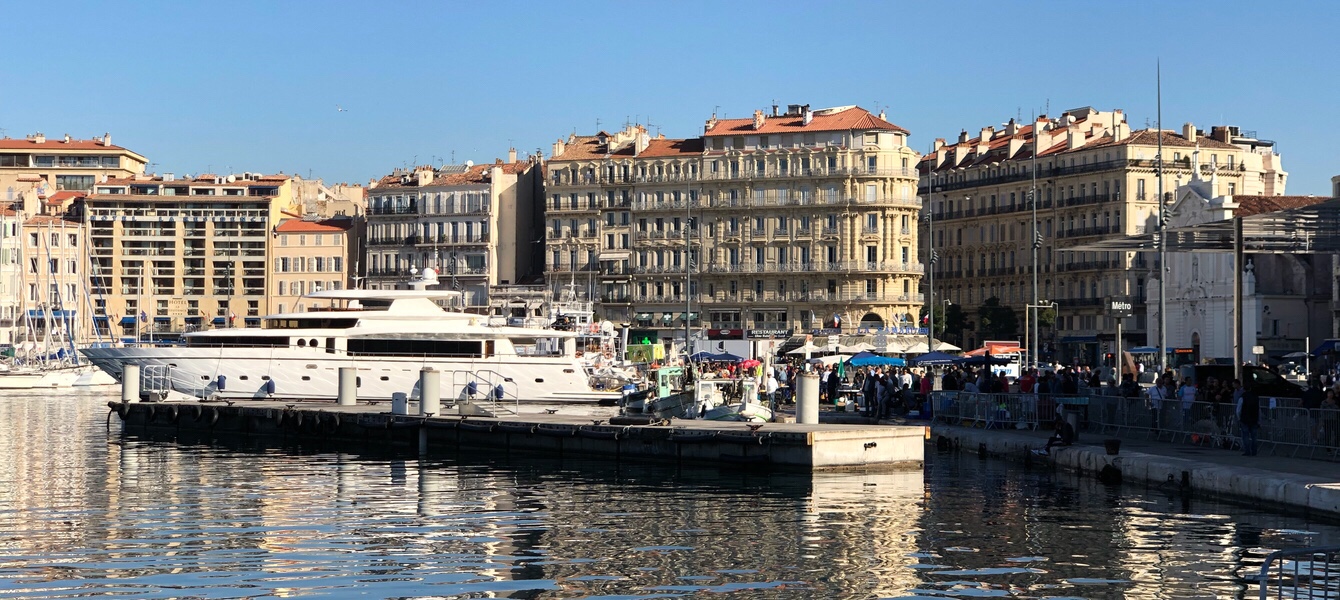 Today we visited Marseille in France where we endured a catastrophic shuttle bus, visited a church, and ate wonderful French pastries.
Shuttle Bus Shambles
It turns out that the cruise terminal we used for Marseille is quite a long way from the centre of town. Looking at a map, it definitely doesn't look walkable. It's quite far, and there don't look to be any walkways even if you wanted to.
MSC kindly left us a ticket in our suite allowing us to board the bus by filling it in and signing it. The €16,99 per person return fare would be charged to the stateroom account. I thought this seemed expensive, especially with four people, so we looked at alternatives. Uber quotes around €22 one way. Taxis would have been more. We decided that the ease of having a guaranteed return trip was worth the slight extra cost of the MSC shuttle.
The shuttle bus was an absolute mess. Hordes of people were standing at the dock, some requiring a ticket from the tent there, others already had a ticket (like us) and wanted to board. There was no discernible queue and both the MSC Excursions staff & the bus company representative were indifferent to the chaos surrounding them. People just rushed to the bus. There was nobody to indicate whether the tickets we had were enough to board the bus, or whether we had to exchange them for a different ticket beforehand.
Thankfully there was a continuous stream of buses, so when we finally joined the swarm of pushing passengers and fought onto a bus, we didn't have to wait too long. Unfortunately the return journey wasn't as simple.
When we arrived to return, we just missed a bus, so we were almost at the start of the queue to board. And indeed, something resembling a queue did form behind us. And we waited. For a while. Four or five MSC Divina buses (the ship that had arrived later in the day) flew past us before the Preziosa bus finally turned up.
As soon as it did, the somewhat orderly queue fell apart once again and the writhing mass of weary passengers surged forward, pushing their way onto the bus. One man elbowed Alex out of the way and then insisted that his wife be brought from the back to join him.
Neither bus we had the misfortune of travelling on was properly air conditioned either, which is poor given the weather.
MSC could solve this mess by simply training their excursions staff to manage the queues properly. At the quayside and in the city itself, they had flags and other equipment available. A simple rope queue would be easy to implement and, combined with stern staff, would solve the problem entirely.
Marseille, France
When we finally made it to the old port where the shuttle dropped us off, we decided to head to the iconic Notre-Dame de la Garde overlooking the city. There is a small tourist road train that stops up there but, determined to minimise the weight gain from our constant overindulgence, we decided to walk up there.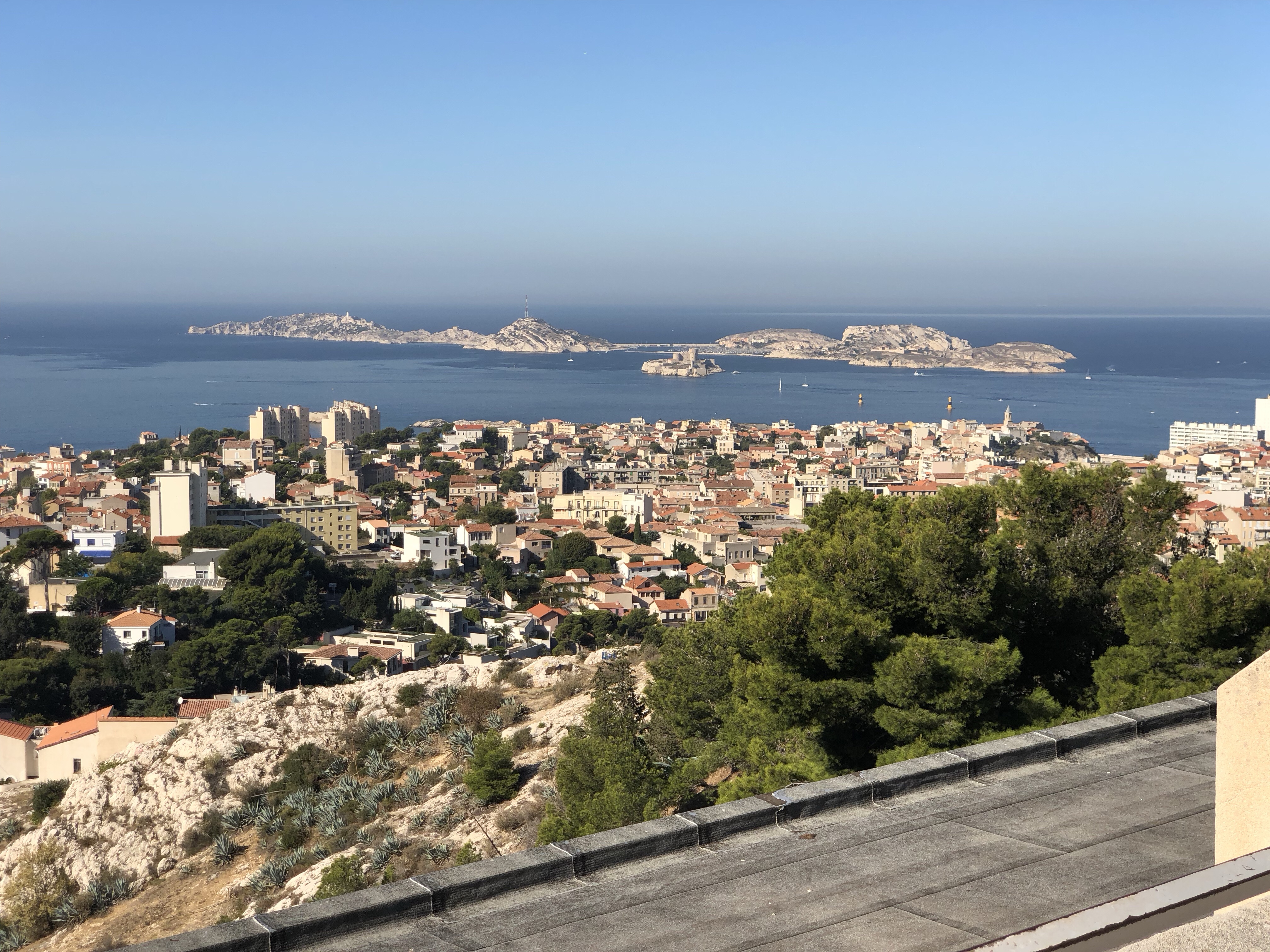 The walk didn't take too long — around 30 minutes — and rewarded us with outstanding views across Marseille as well as a look inside the stunning basilica which looks splendid after a recent restoration from 2001 to 2008.
We also visited the crypt which is another chapel, albeit a little less impressive. There is a museum which we chose not to visit, as well as a restaurant / café but again we had other food plans!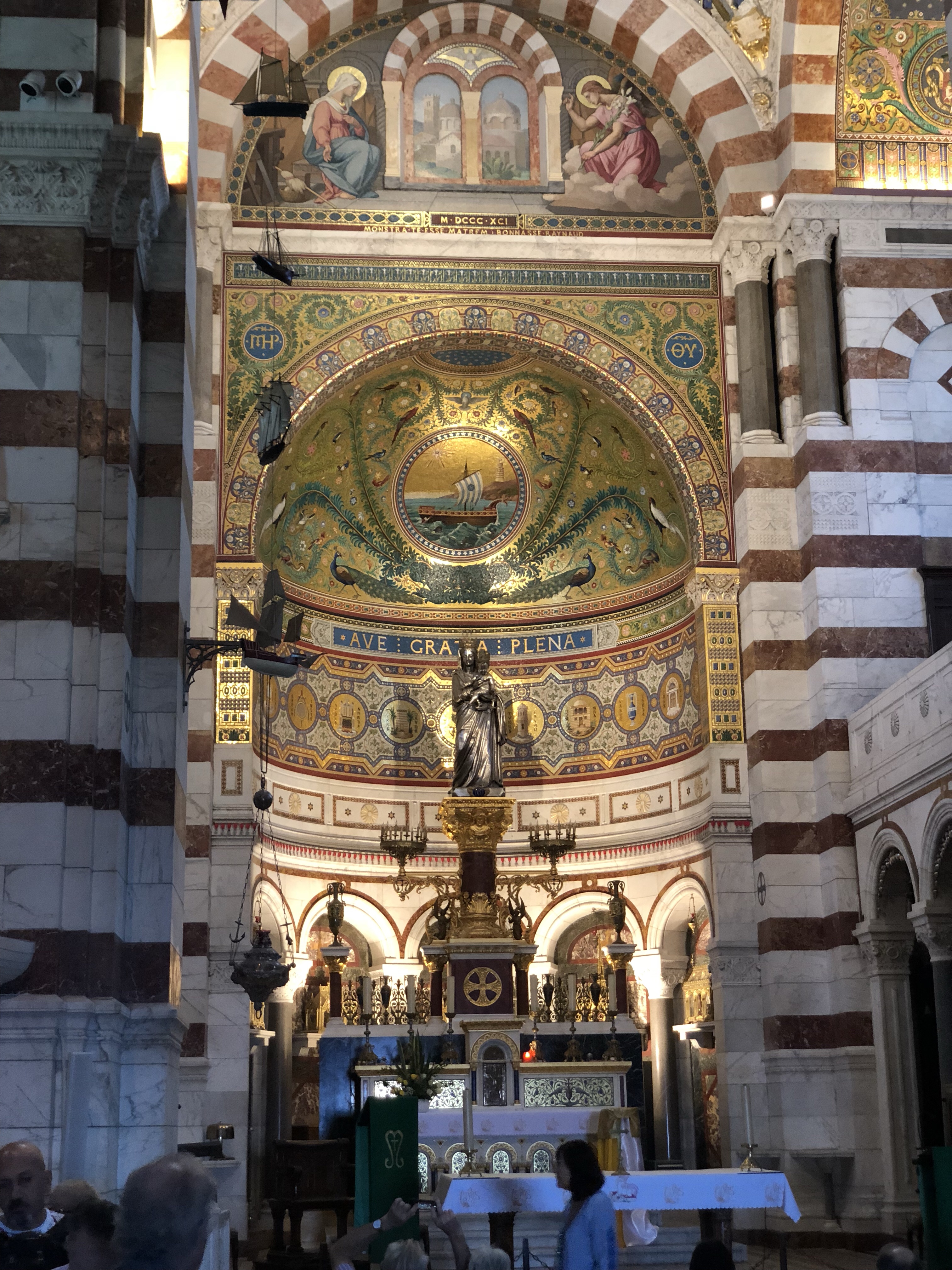 On the way back down the hill we stopped at Jardin de la Colline Puget before returning to the old port and trying to find a patisserie to enjoy a cake and coffee.
TripAdvisor led us to a wonderful little patisserie where we enjoyed the most delicious cakes and nice coffee. It was a bit out of the way, and Google Maps originally led us though some less-than-appealing streets on the way there, but it was all worth it! We can highly recommend Patisserie Amandine the next time you visit Marseille! Just take the main roads…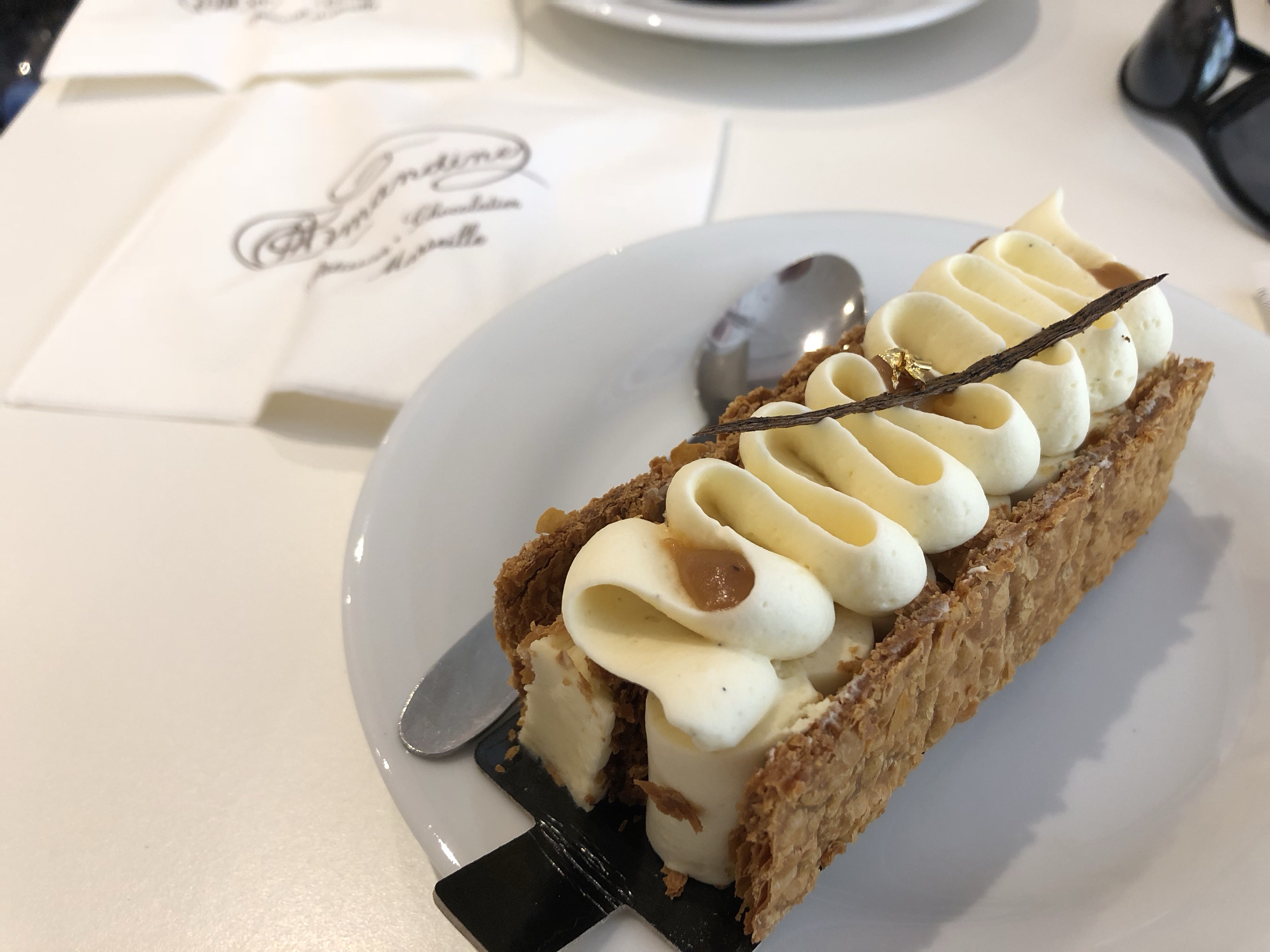 Before returning to the ship, we decided to take a wander round some of the touristy shops, and I bought some traditional soap from the region.
Sailaway from one pool deck
We were back on board in plenty of time for a few drinks and canapés on One Pool Deck, the exclusive Yacht Club open deck with bar and snacks. This deck features a small swimming pool and two hot tubs, and is for the exclusive use of Yacht Club guests. There are always plenty of sun loungers, and you can enjoy the prime position at the very front of the ship.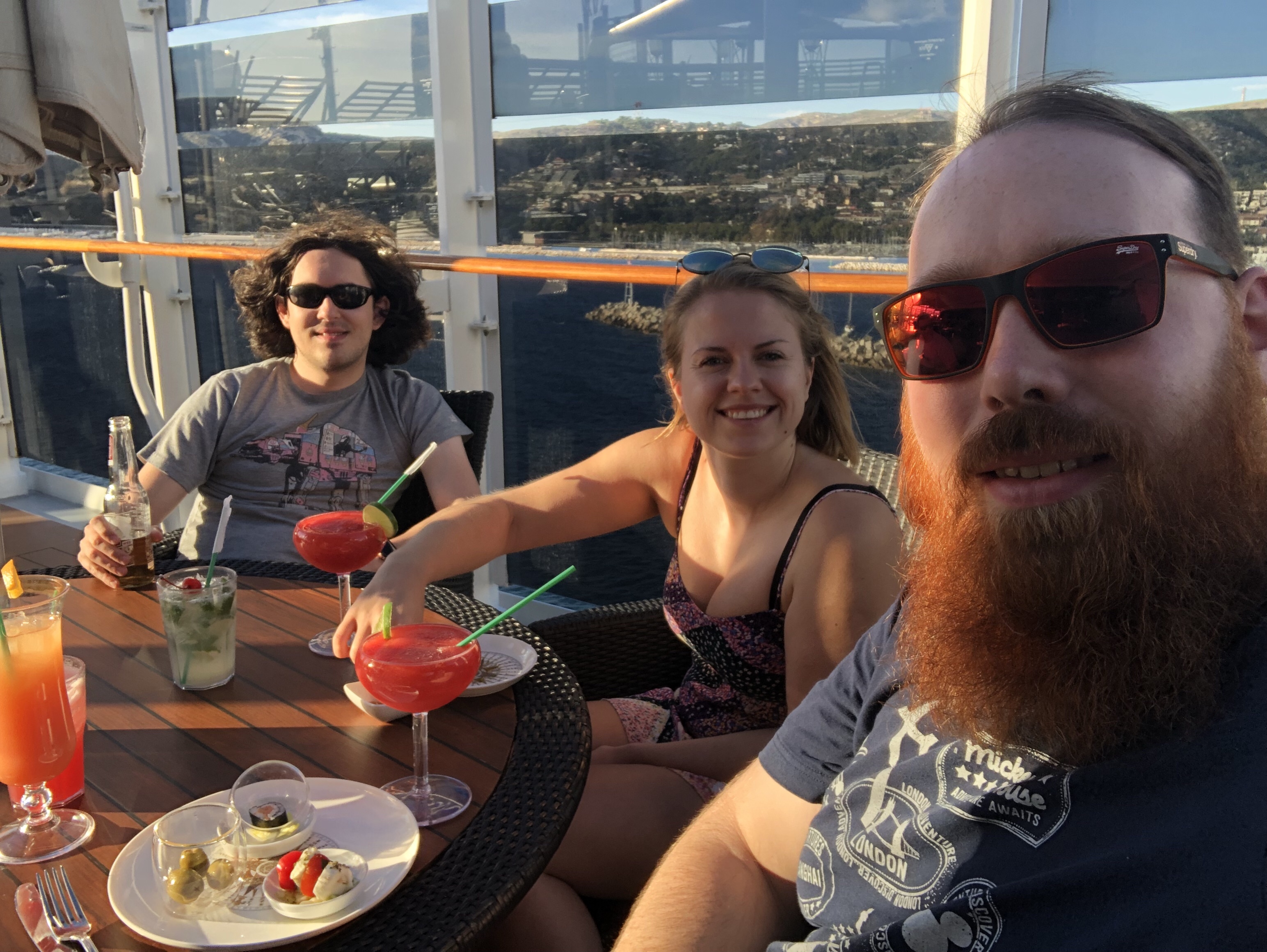 As we sailed from Marseille we passed MSC Divina who arrived and departed later than we did. This was the first time on this cruise we were on the open deck for the sailaway, and so the first time we heard the MSC tradition of Con Te Partiro (Time To Say Goodbye) playing on the ships audio system. Good cheesy fun! Preziosa was sounding her horn and Divina and Preziosa got into a fun little horn-off as they passed.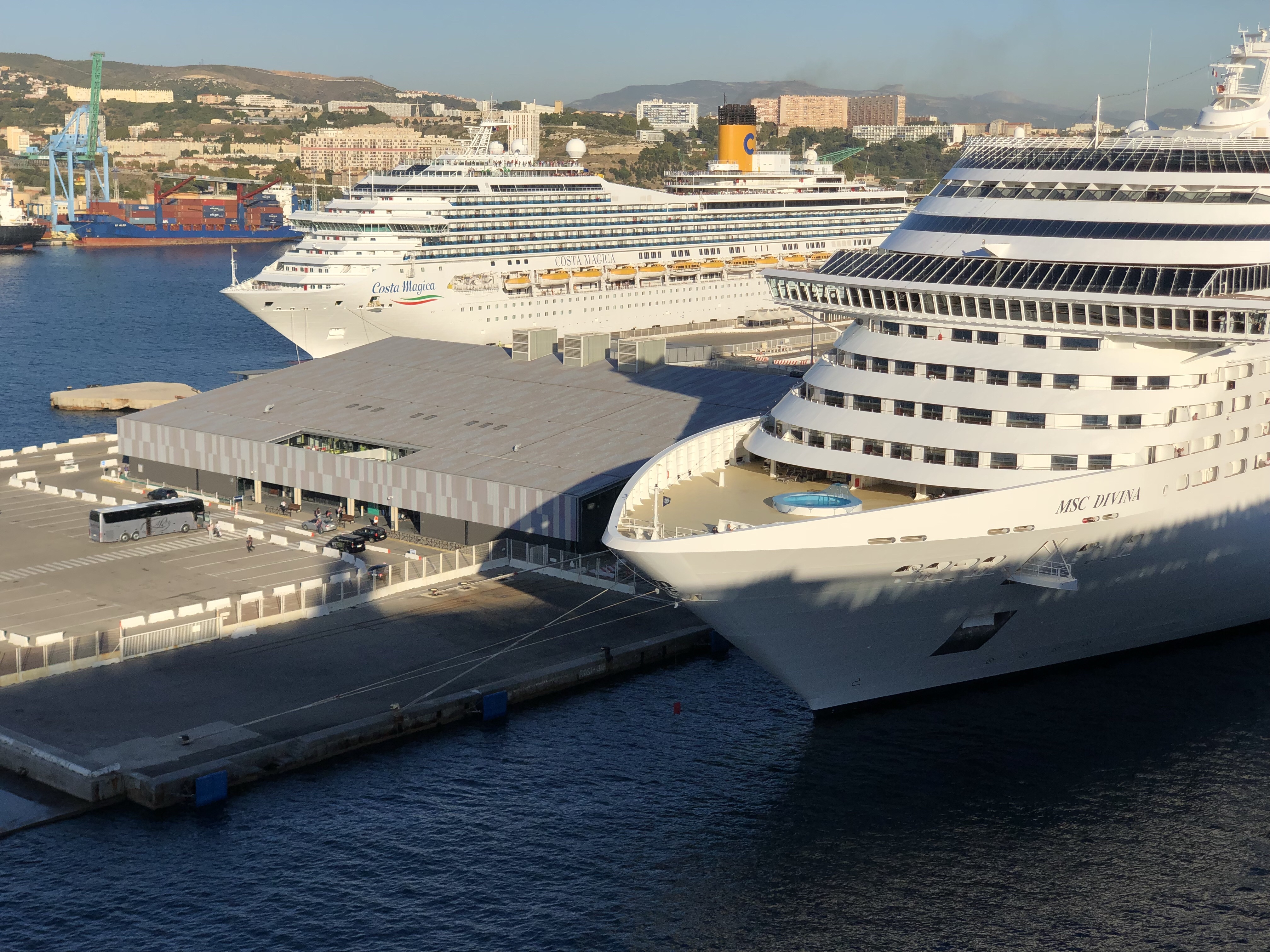 The sail away was rather nice as the evening progressed, as we passed by some lovely little islands off the coast of Marseille.
Dinner
Dinner again was preceded by our now traditional cocktails and canapes in the Top Sail lounge, accompanied tonight by a wonderful piano/violin duo. We've heard them before, but it really gives the lounge a special atmosphere in the evening. I do feel for the musicians somewhat, as tonight they were playing for about 6 people! Still, our group of four definitely appreciated their efforts.
Dinner tonight was the best we've had so far. Every dish was a hit! Starters featured a truffle risotto, amberjack carpaccio, beetroot and goats cheese mille-feuille. Main courses included a tagliolini pasta with broad bean & guanciale sauce, and pistacio-crusted rack of lamb. We all finished with an excellent tarte tatin. I really love the food in Yacht Club. The pasta dishes are typically safe choices as they do pasta very well. There have been a few underwhelming dishes, but there's always something outstanding and the staff will, of course, change anything not to your taste.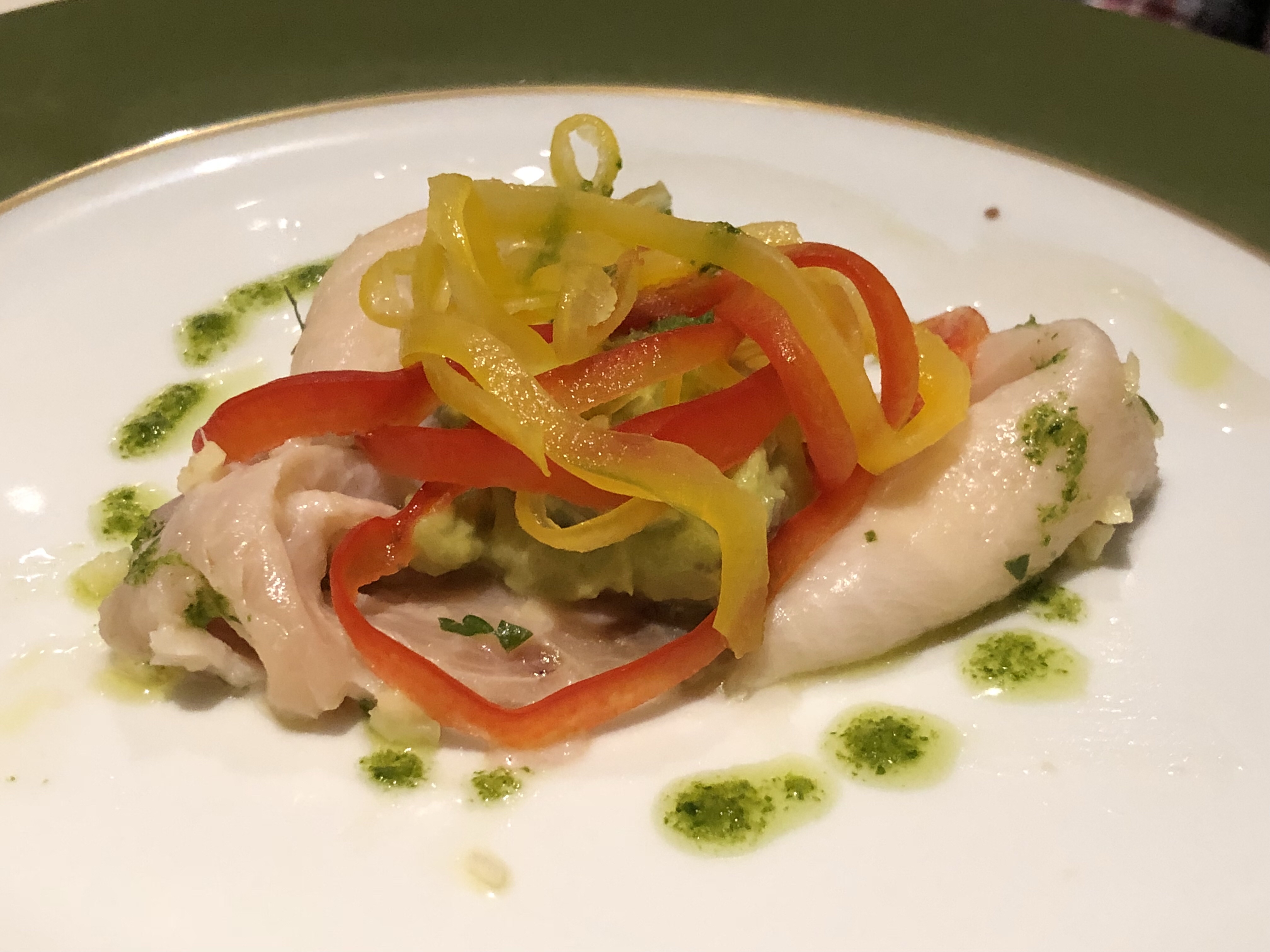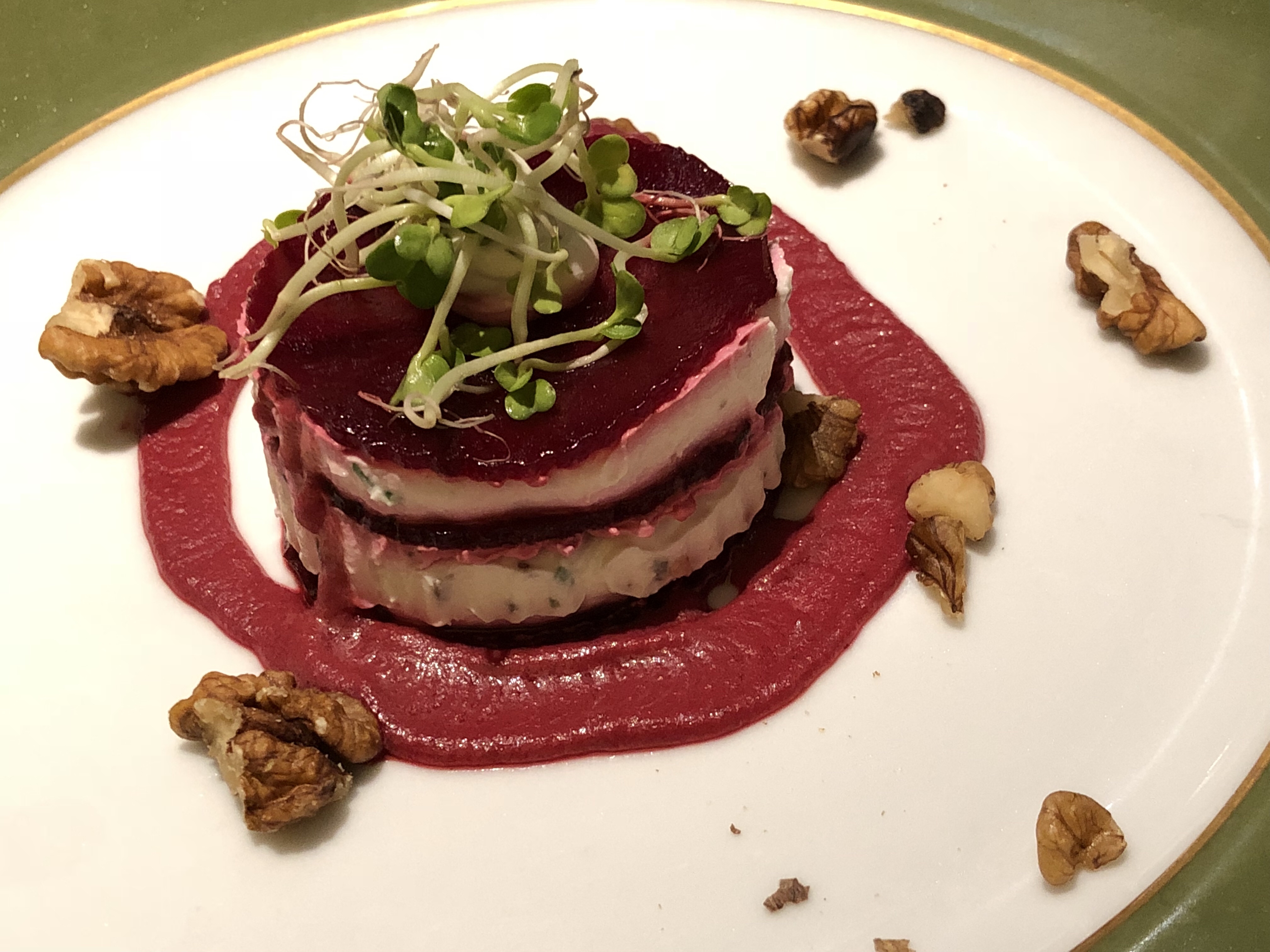 We finished the night by going straight to bed, given we had another earlier start in Genoa.