Today we docked for a long day in Hamburg where Sue and I made our own chocolate and enjoyed a big German sausage. A very relaxed day, with a delayed departure.
With a leisurely breakfast taken in the Corinthia Lounge (can you tell it's my new favourite?) Sue and I arranged to get off the ship just after 10am with no real plan of what to do. We were notified of a change of berth in Hamburg as the original berth could not support Queen Mary 2 due to a lack of dredging.
Cunard arranged a free shuttle bus which brought guests into Hamburg and dropped off just behind the town hall, right outside the Sofitel hotel. Unfortunately our outbound transfer took quite some time as the driver seemed not to know where he was going, and we ended up in a dead end that had to be reversed out of!
Finally in Hamburg we started at the town hall which was a lovely building, and apparently has more rooms than Buckingham Palace! We didn't do a full tour, but I enjoyed a brief wander through the main hall and out into Hamburg.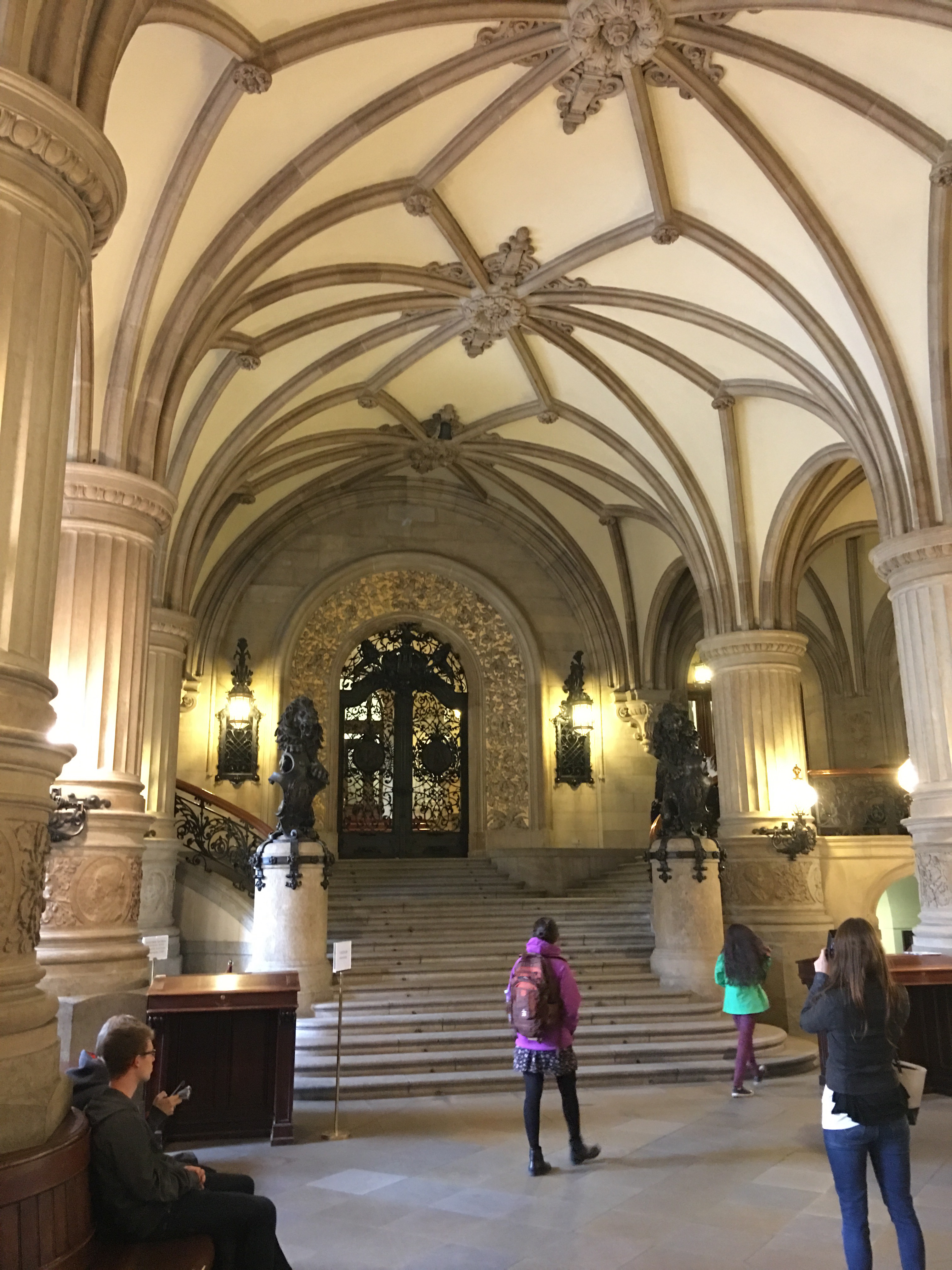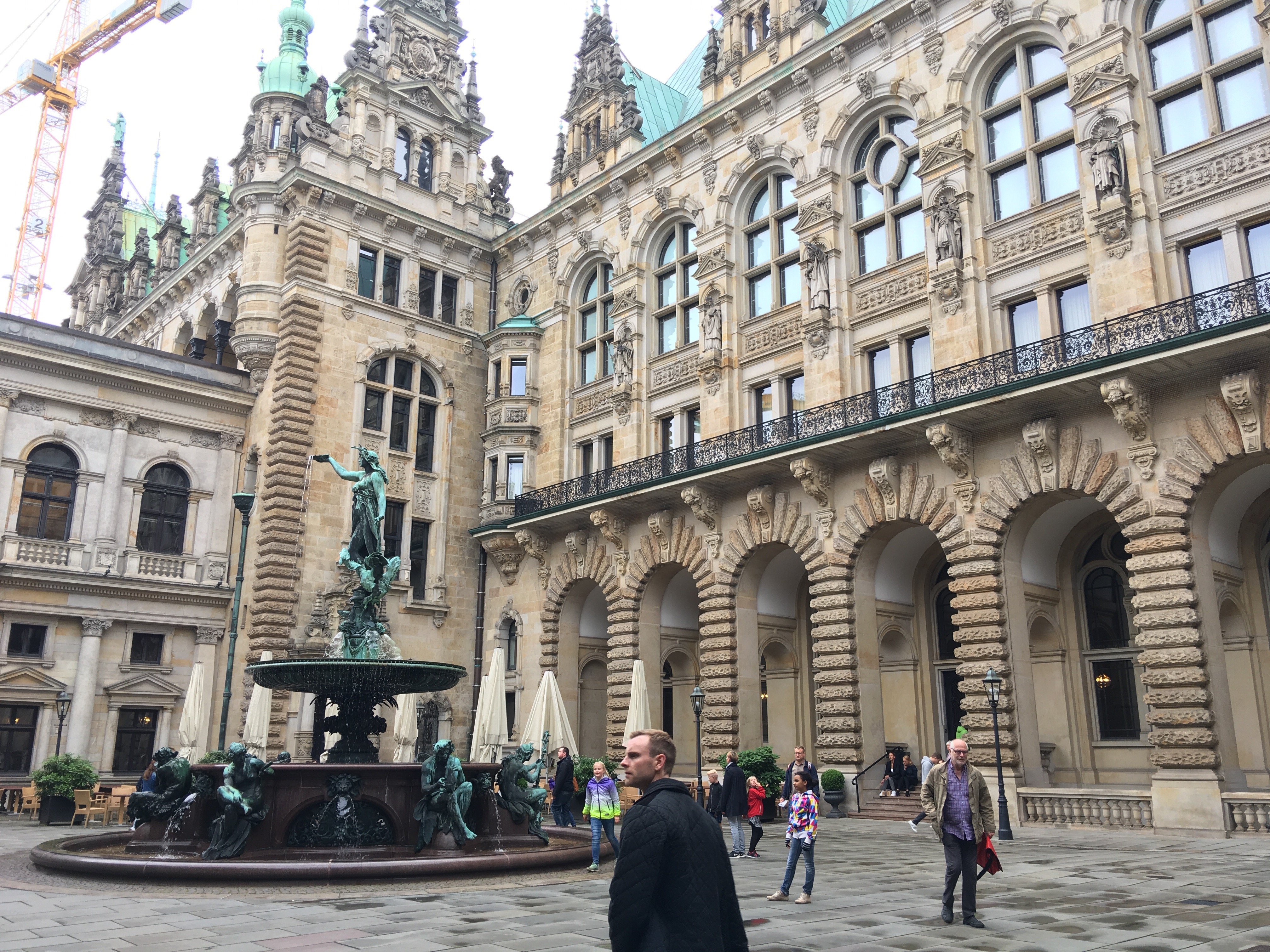 Our first stop from there was St. Peter's church, which is the oldest church in Hamburg. The current building is relatively recent (I think late c.19) but the site itself is several hundred years older. Sue and I decided to climb the tower of the church and paid €3 each (cash only) for the pleasure. The height of the tower is over 400 steps and the climb proves access to the bell chamber, the clock room and, presumably, wonderful panoramic views over the city of Hamburg. I say presumably because, predictably, I got to the second level (around 140 steps) then was too terrified to continue. I do this every time, and Alex normally continues to take some photos at the higher levels.
Sue, it would seem, suffers from the same debilitating fear of heights as me, so there are no photos of the wonderful views from the top. Nonetheless I'm assured they're there, and the climb is probably quite worthwhile to those who can manage it!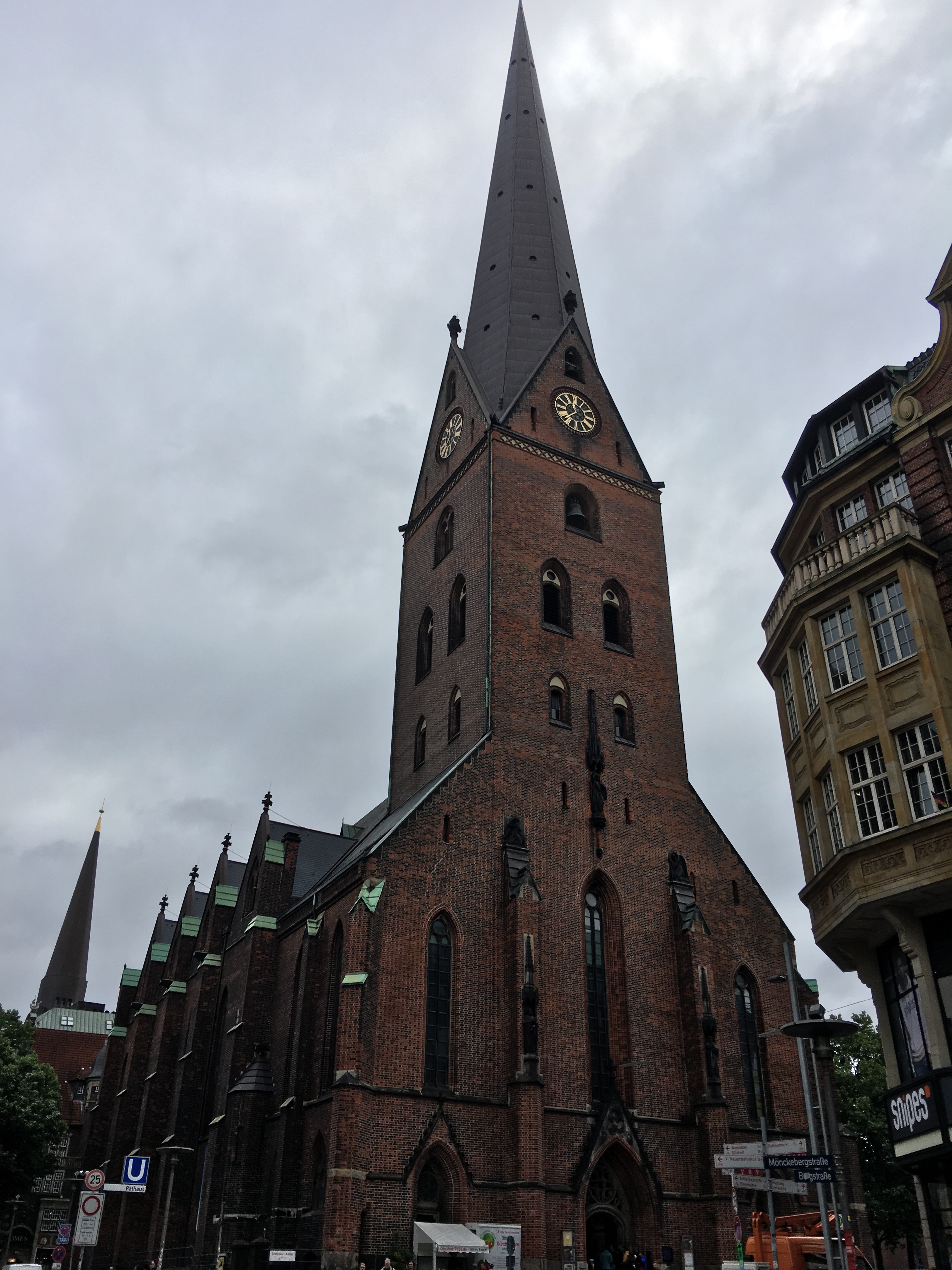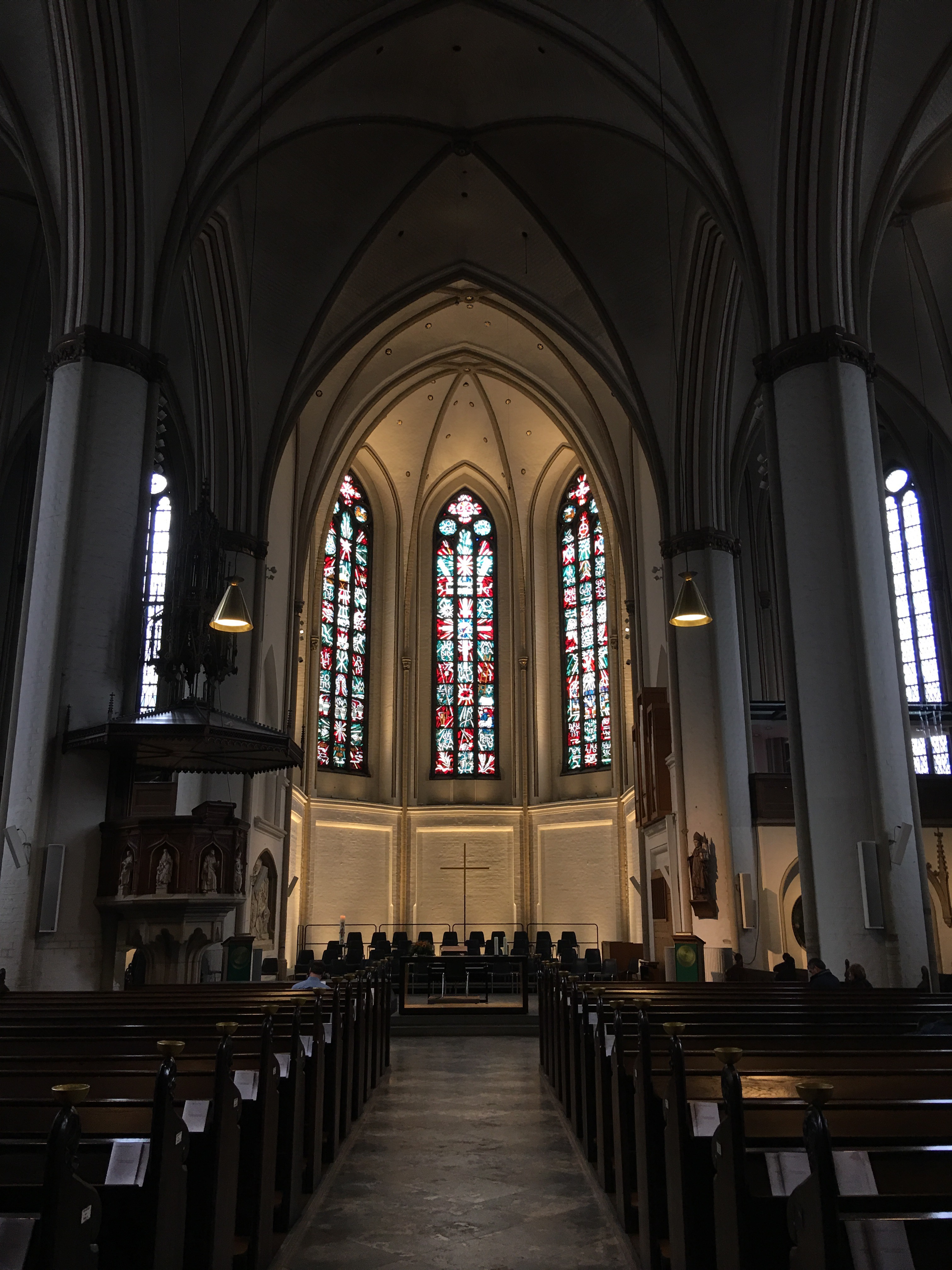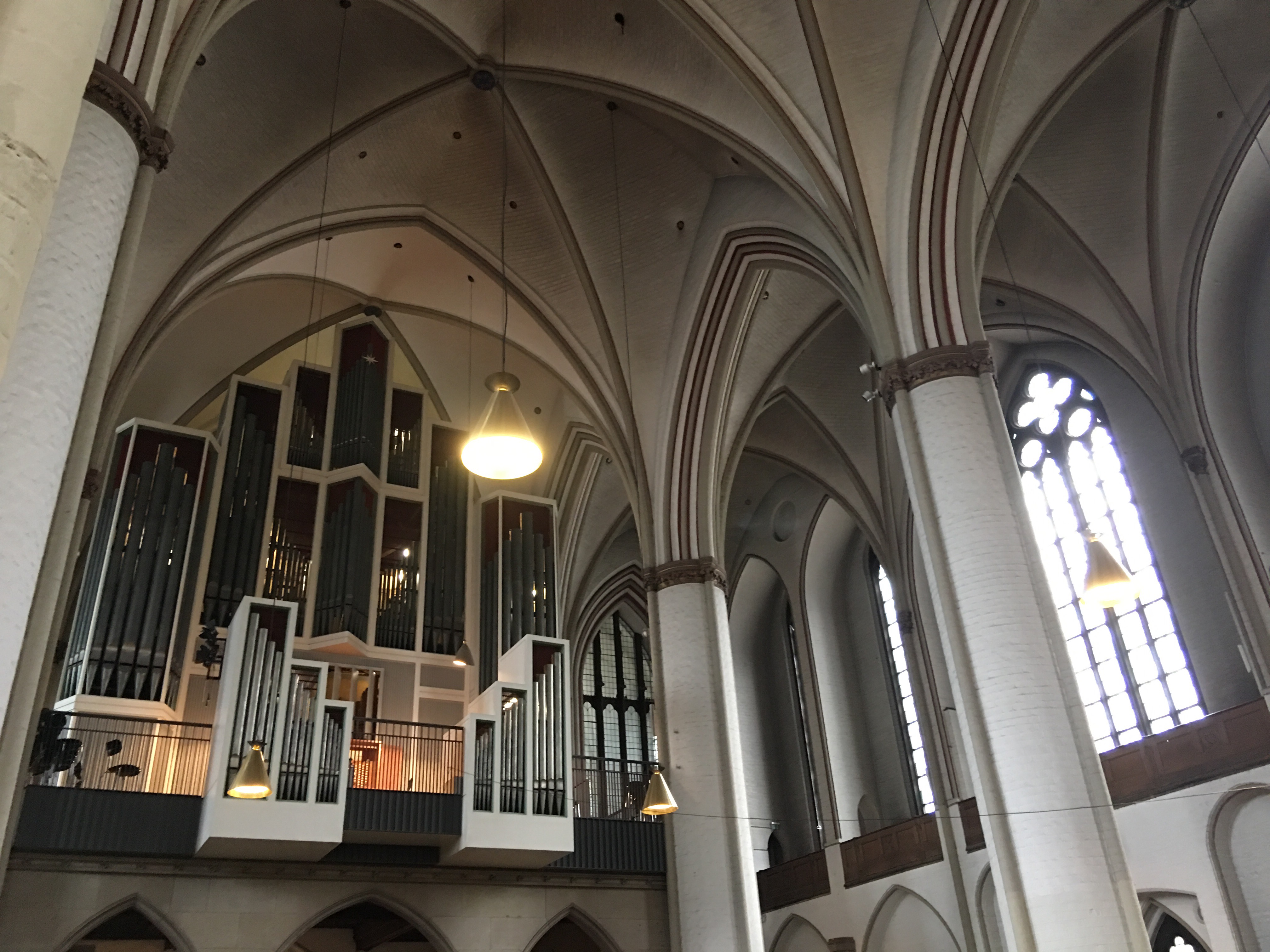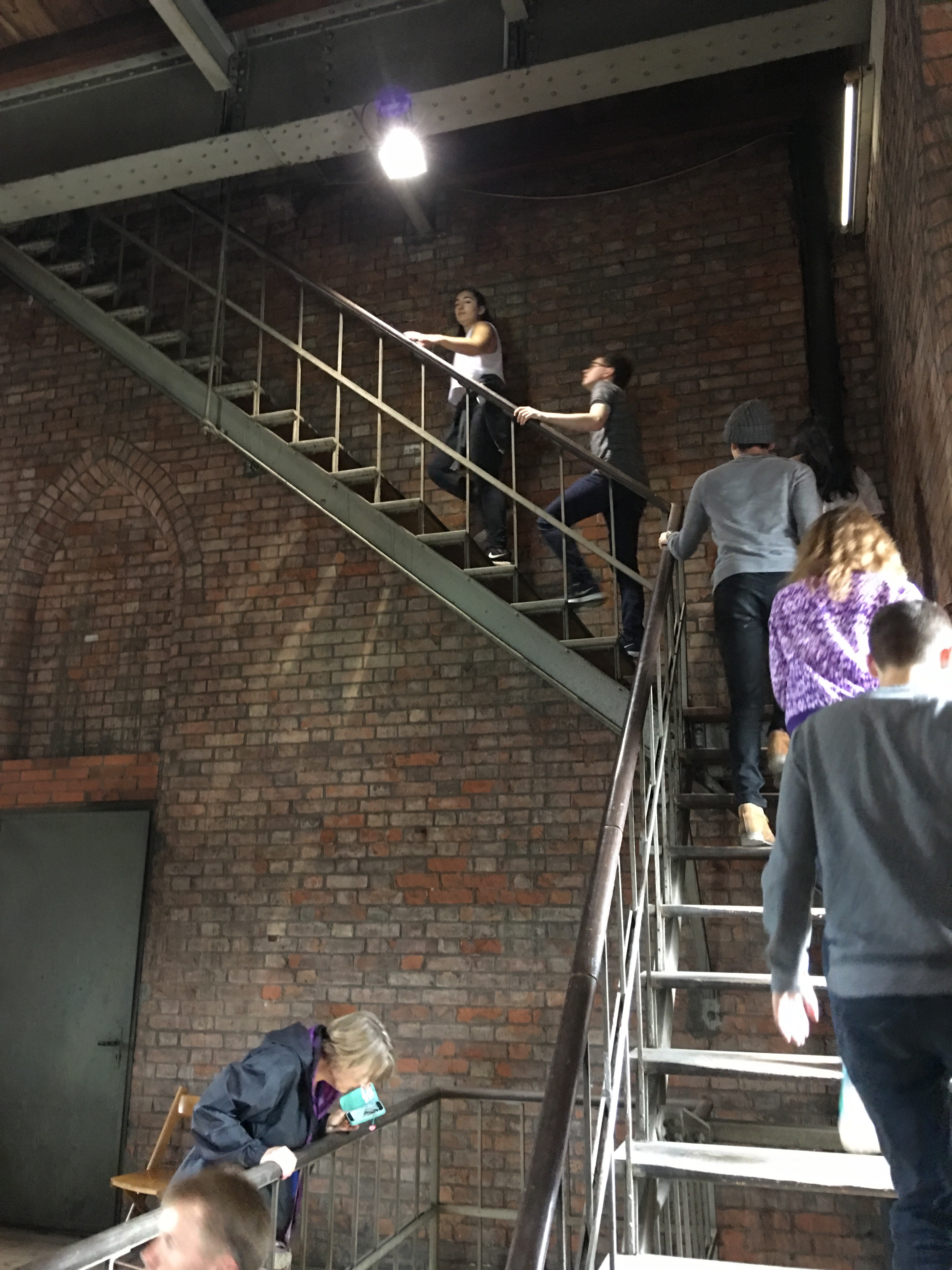 A wander through some shops yielded some free samples and the chance to buy some delicious Gummibärchen and we finally found ourselves at a bratwurst stall where I tried my first authentic German bratwurst with a little roll and zenf which is a sort of mild German mustard. Absolutely delicious!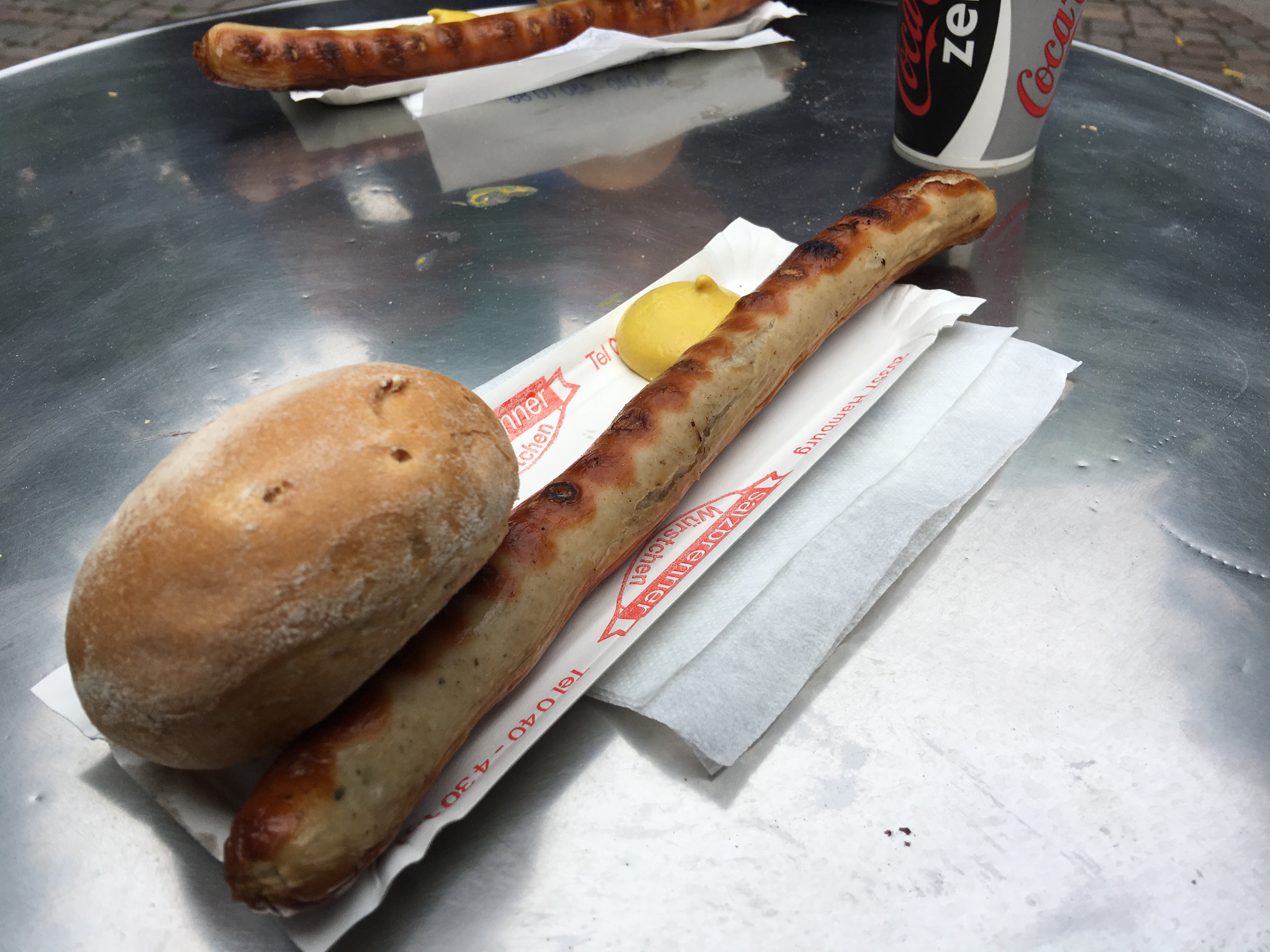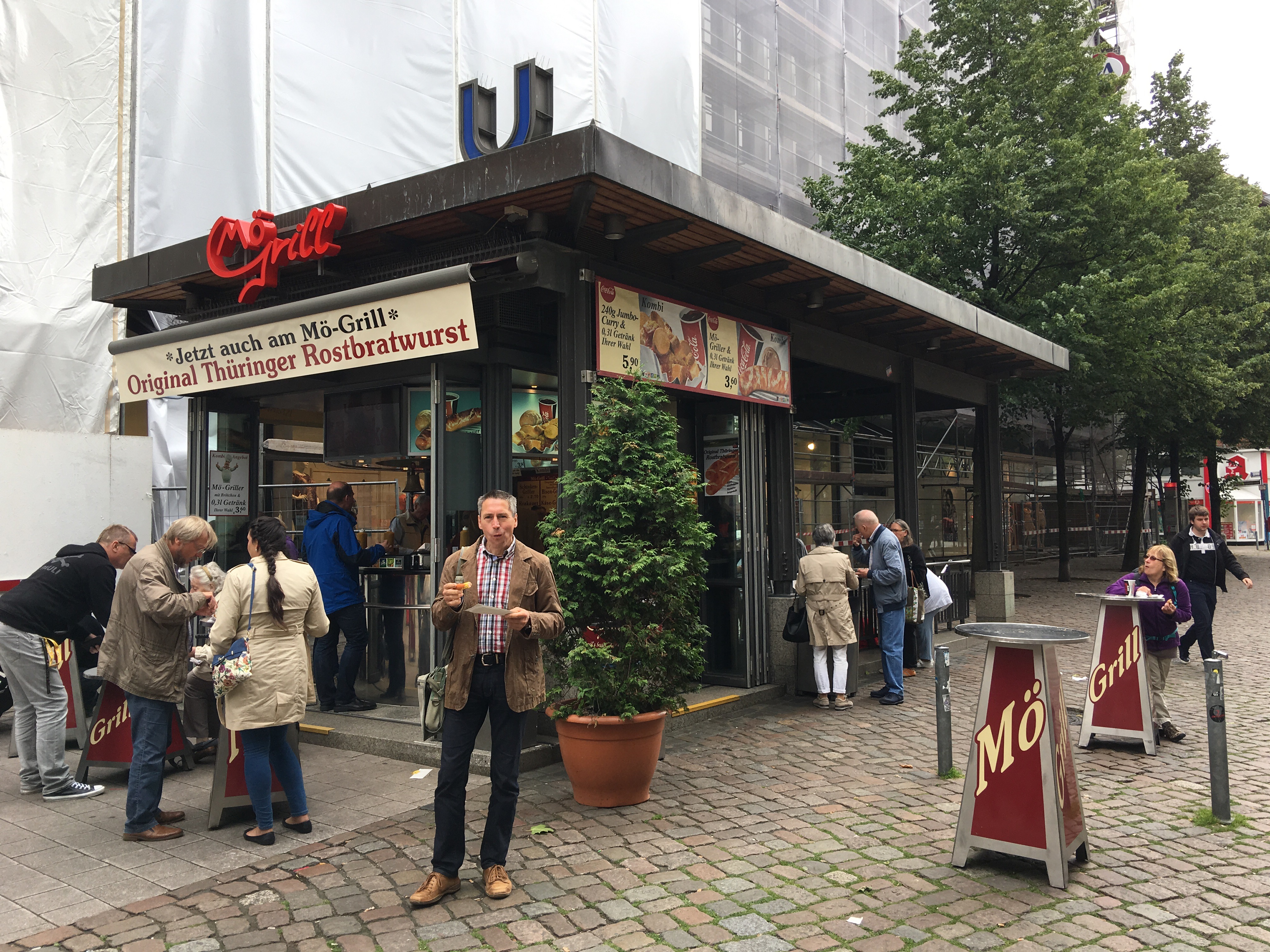 Our day in Hamburg was finished with a trip to Chocoversum. I found out about this from fellow forum mate TomVet who had visited previously. It sounded like fun, so when Sue and I found ourselves wondering where to go next I suggested a wander there, where we were lucky to be just around the right time for one of very few English tours that run each day.
We were on the tour for around 90 minutes and learned all about the history of chocolate, growing, harvesting, processing, and shipping the raw materials, and the production in Hamburg to bring us the delicious, high quality product that they offer.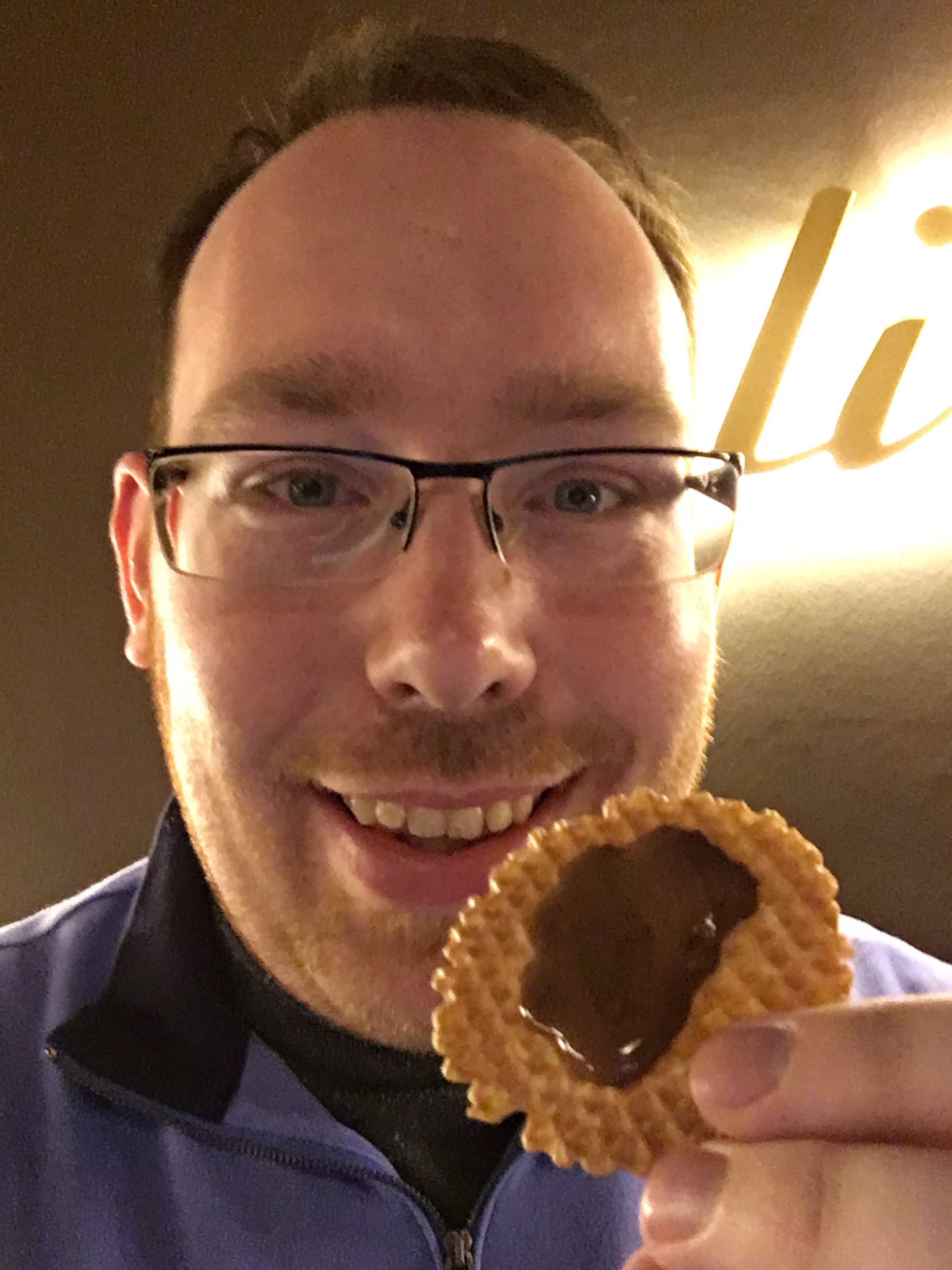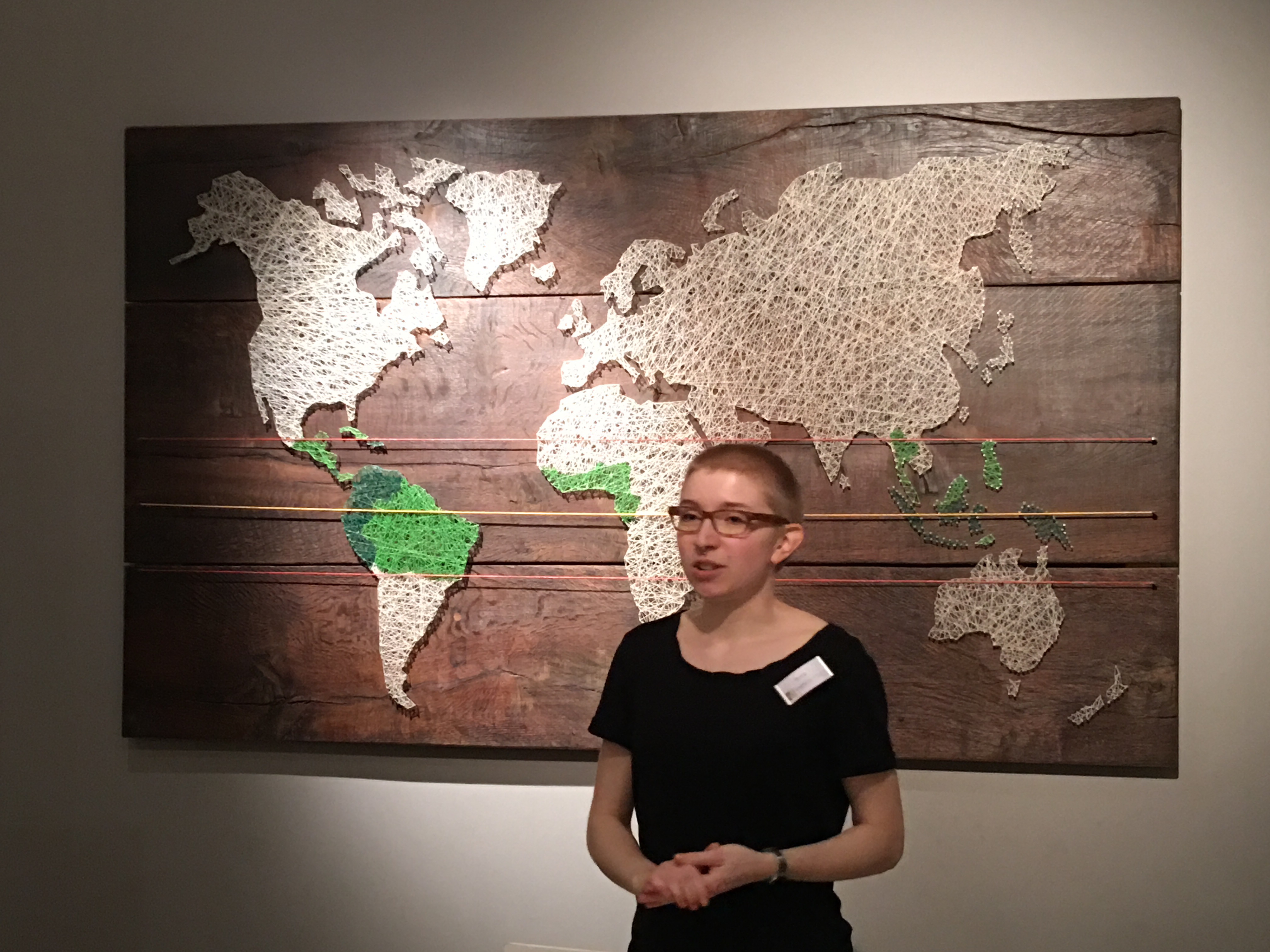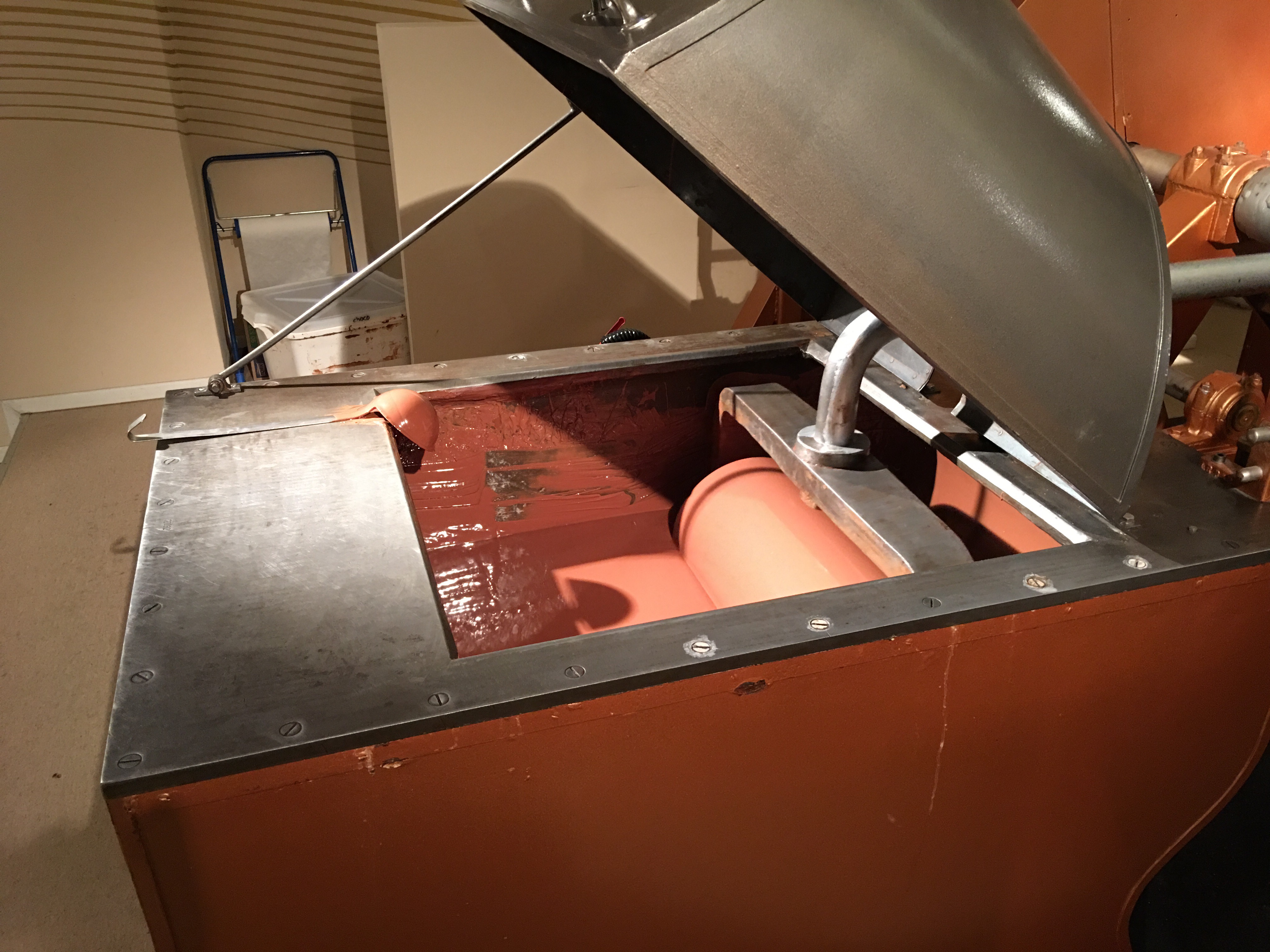 There were lots of tastings along the way, and this was a little bit like death by a thousand paper cuts. It all added up, but was well worth it with the opportunity to try tiny samples of chocolate in different states, from bitter bean to finished bar.
The tour also offered the chance to decorate your own dark or milk chocolate bar using a huge range of ingredients. This was a bit of fun and at the end of the tour the bars were brought to us and we packed and labelled them ourselves.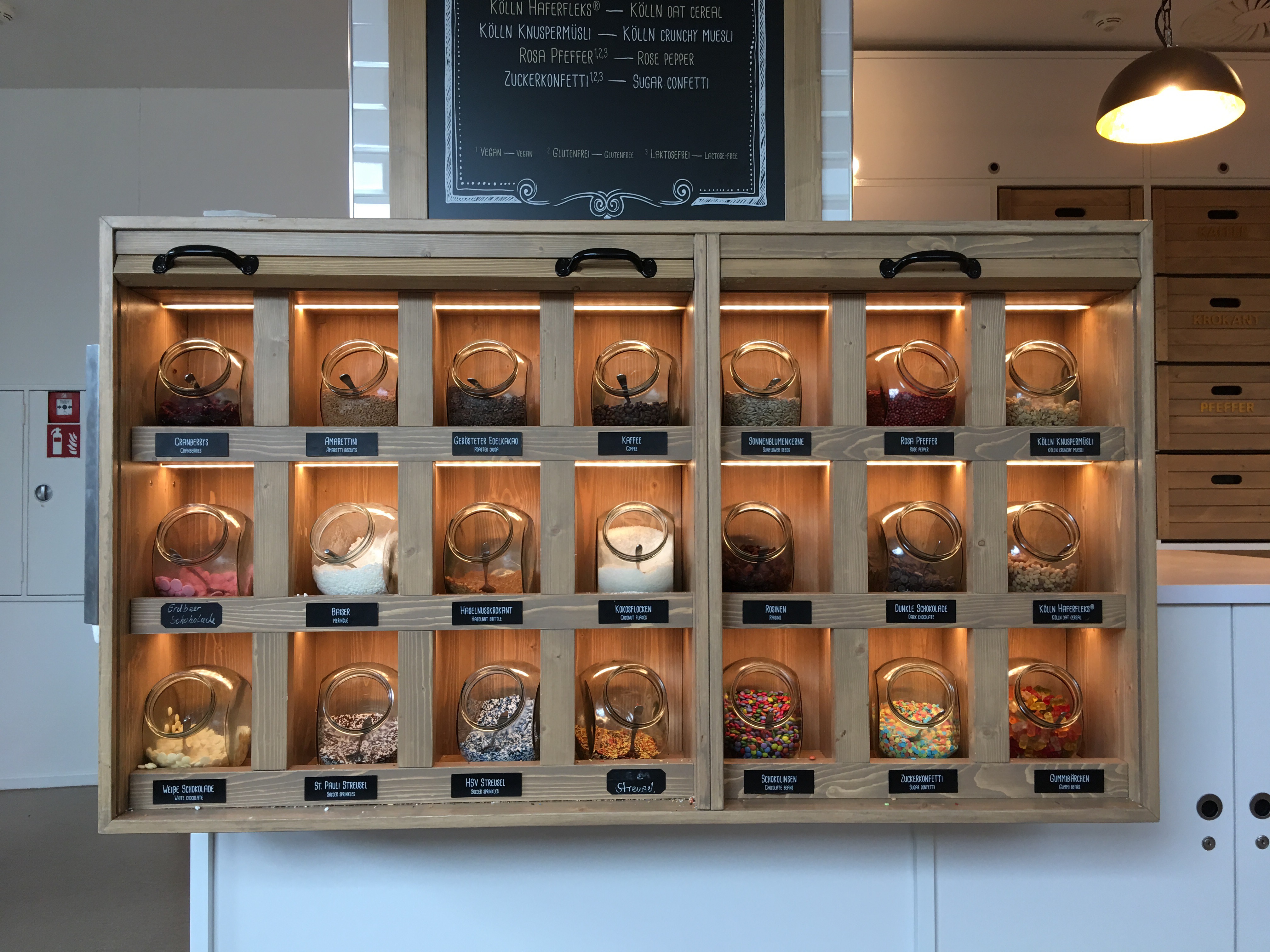 Overall the tour was fantastic and cost €15 per adult (cash and credit cards accepted) which I found to be quite good value for money. There were reduced priced tickets for concessions and children but I can't remember how much these were.
We had a vague plan to visit the old Elbe tunnel after this, but we were both pretty tired and were ready to return to the ship on the bus that, thankfully, didn't get lost this time!
Back on the ship we just missed the quiz before it was time to get ready for dinner again!
Dinner Time
As has now become tradition for me, I visited the Commodore Club for pre-pre-dinner-drinks-drinks (can you follow that?)  I've been trying to work my way through the interesting new nautically inspired cocktails there, but tonight's choice wasn't nearly as flamboyant or interesting to look at as it was delicious. No photo, but it was a simple drink that was served in an old fashioned glass with a twist and a cinnamon stick. Yum!
On the forum cruise we have a tradition where we all meet for drinks before dinner in someone's cabin and chat for an hour or so before heading to Britannia together. This works really well, and means we don't have to worry about getting a seat somewhere or finding each other. The tradition formed before this sailing and seems to have stuck!
Dinner tonight was at the usual standard, with the only exception that my pheasant was a little on the dry side. I started with a lovely soft cheese thing (I actually can't remember what it was called, but it was delicious), continued with the pheasant (which had delicious accompaniments) and finished with the Canyon Ranch dessert, which was an orange cake. It was the worst of the desserts but still quite nice.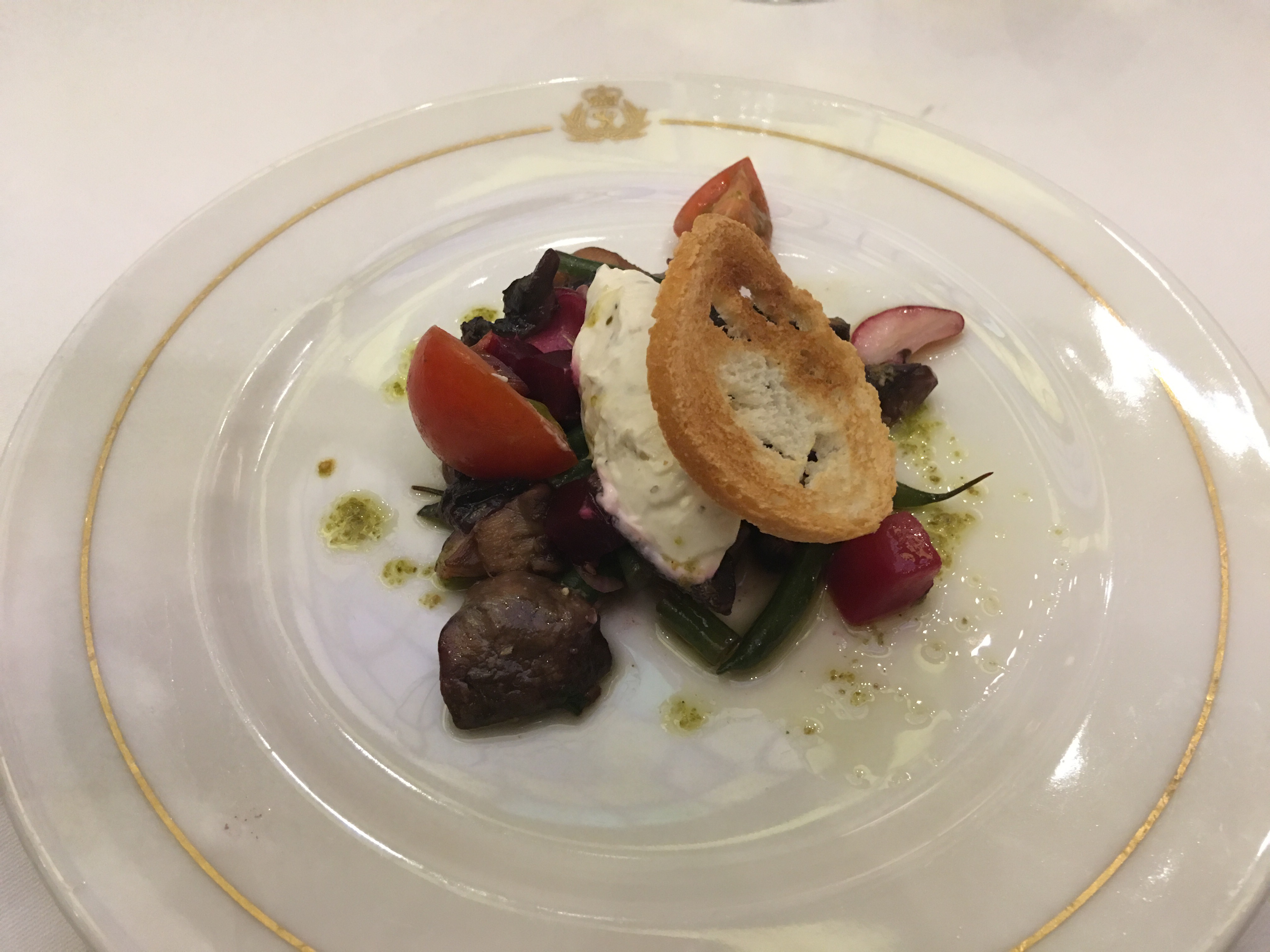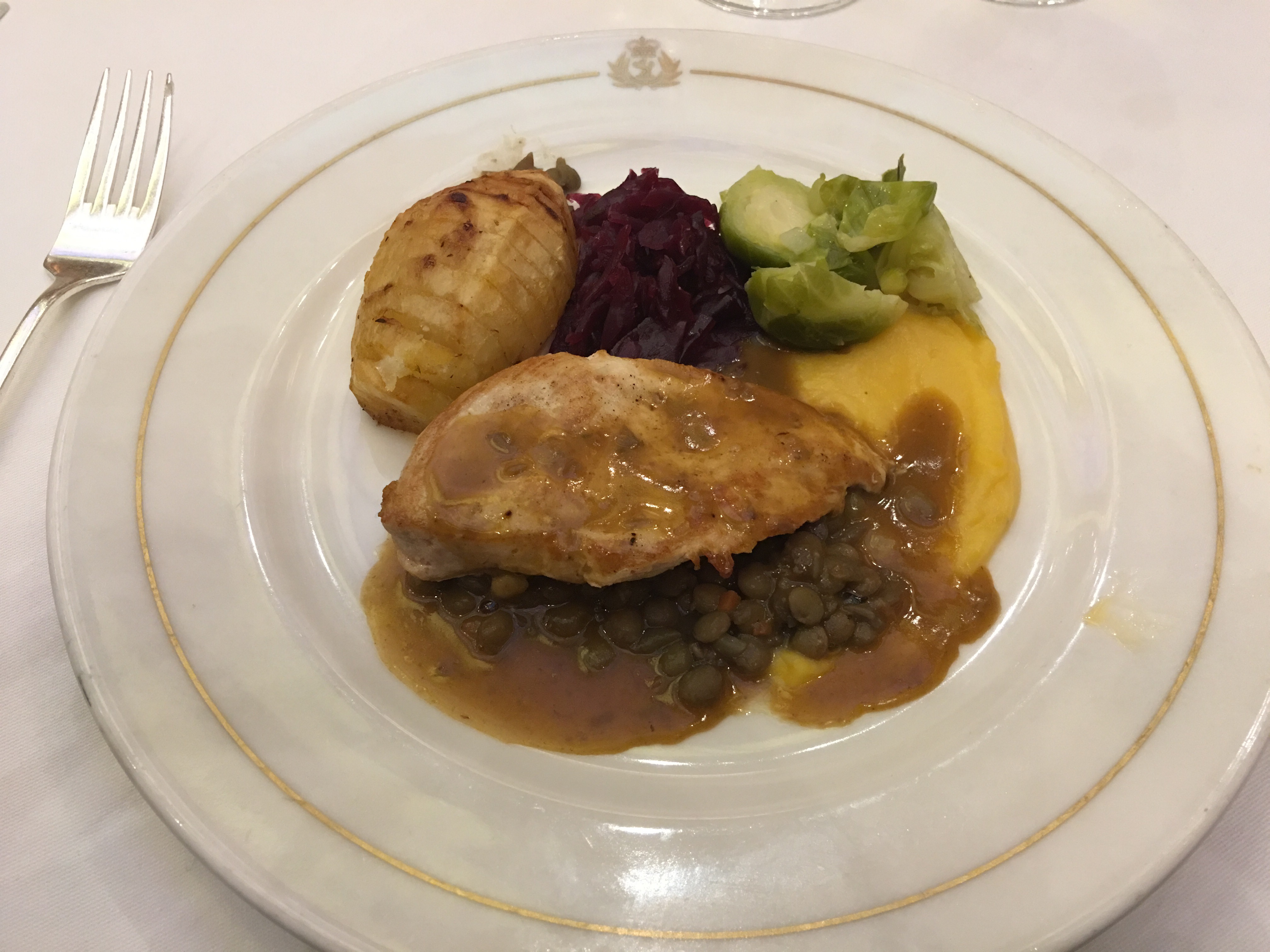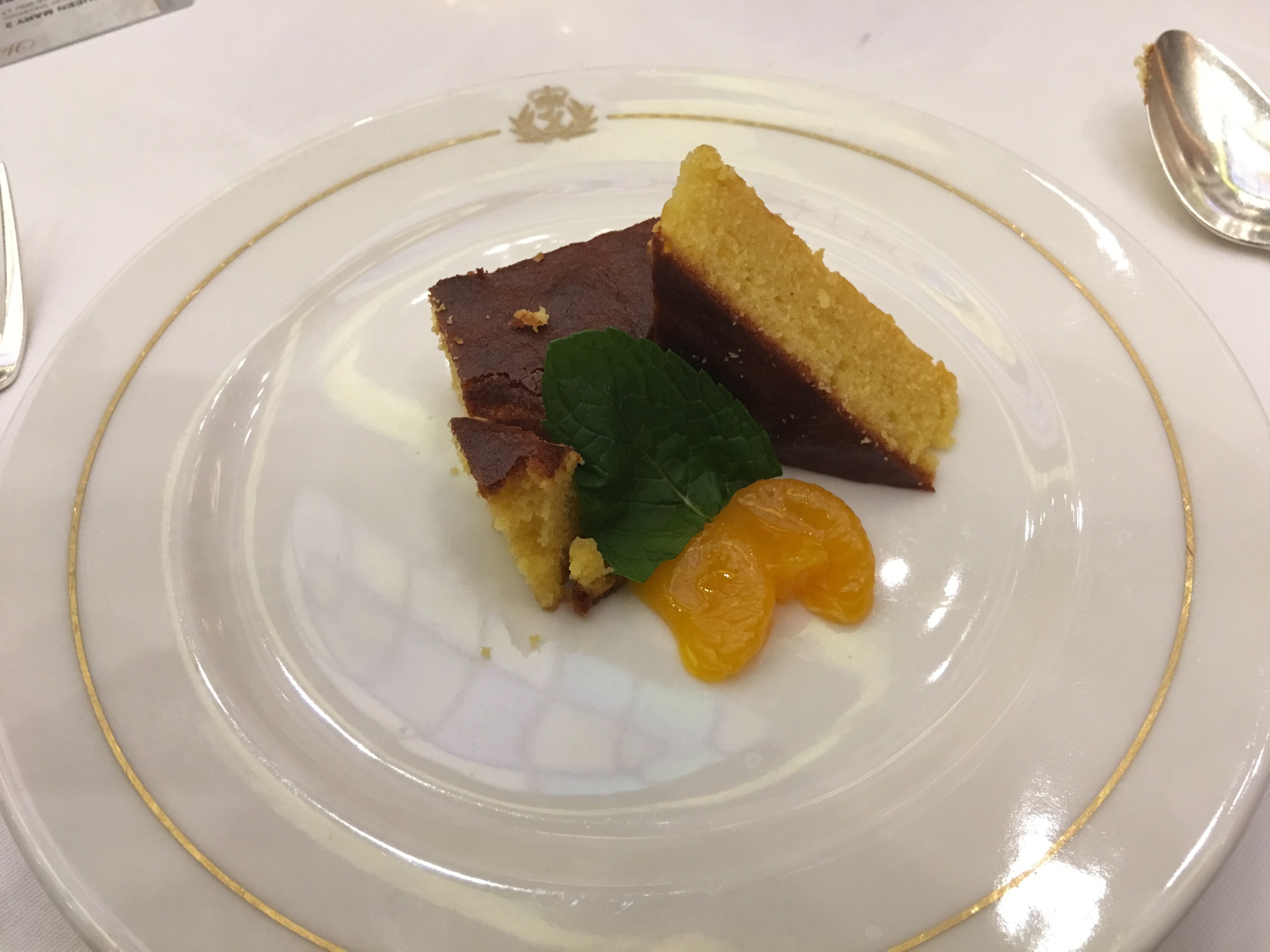 Canyon Ranch is the spa on board, and the Canyon Range selection at dinner is a health conscious starter, main, and dessert available each night.
I have a correction to make from a previous blog post too. I said there was no 'always available' menu in Bitannia, but this is not true. They don't publish it on the menu like they used to, but there is a steak, salmon, and chicken main course available for those who want it. One of our group also had a prawn cocktail which our waiter was only too happy to arrange. It turns out that if you just ask, they'll do what they can for you!
After dinner we retired for a drink in the Chart Room, but that was full so we ended up in the adjacent Veuve Clicquot champagne bar. Well… when in Rome and all that! Needless to say I went to bed very merry, and feel asleep very quickly!