Today I celebrated my 29th birthday on board Queen Mary 2. We took part in various quizzes, enjoyed some live music, and had our second night in the marvellous and glamorous Britannia Restaurant before enjoying some spooky bedtime stories.
Breakfast
I have always favoured quieter cafe-style venues for breakfast on cruise ships. I don't particularly like the chaos in the buffet (though admittedly some ships are better than others in this respect), and I don't always want the formality of a large breakfast in the MDR. On Celebrity ships I like Cafe al Baccio, and the Cafe at Two70° on Anthem at the Seas was perfect.
Queen Mary 2, to my knowledge, has never had such a spot for breakfast. If there was one, I didn't find it on my last voyage. With the recent remastering, though, the eyesore that was the Winter Garden has been completely transformed into an elegant space called the Carinthia Lounge. This venue is light, airy, and very tastefully designed. They also now serve light meals and snacks!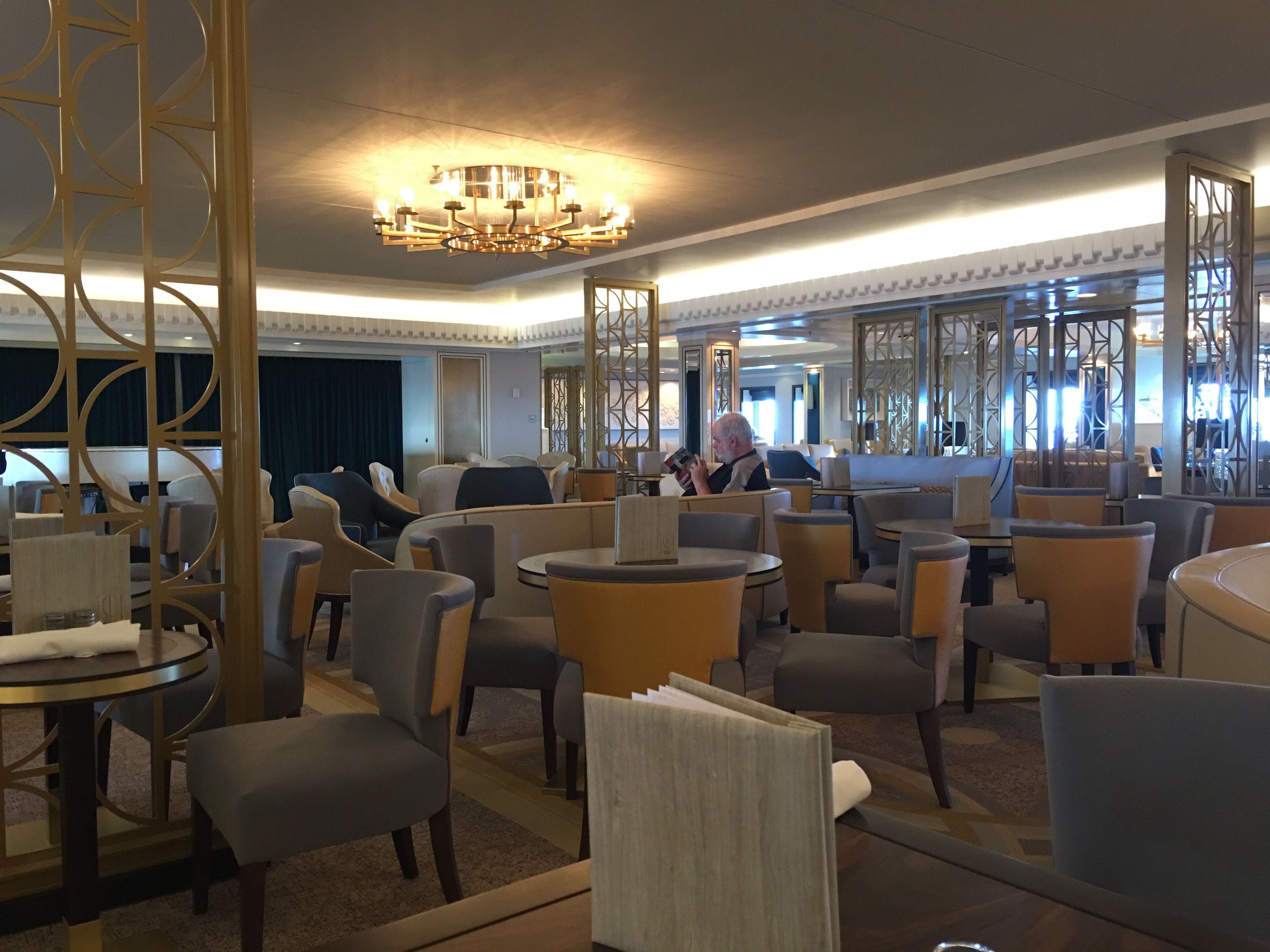 So it was to the fresh-faced Corinthia Lounge that I headed this morning, where I enjoyed a lovely eggs benedict, some fresh orange juice, and some excellent coffee. Also on offer were assorted pastries and some filled croissants. The food was included, and drinks were chargeable. There is no regular coffee machine or soft drinks machine in here, though the buffet is right next door.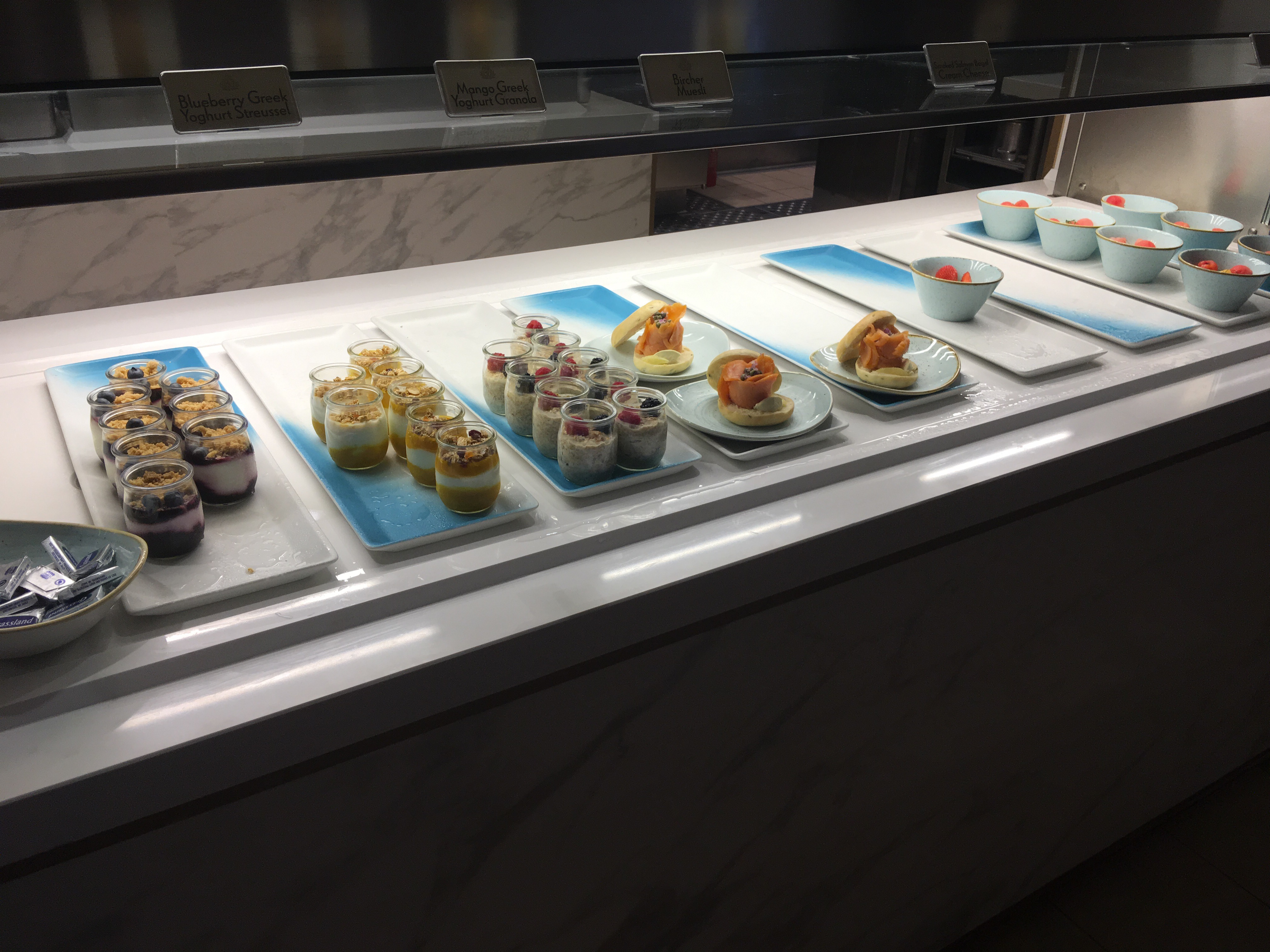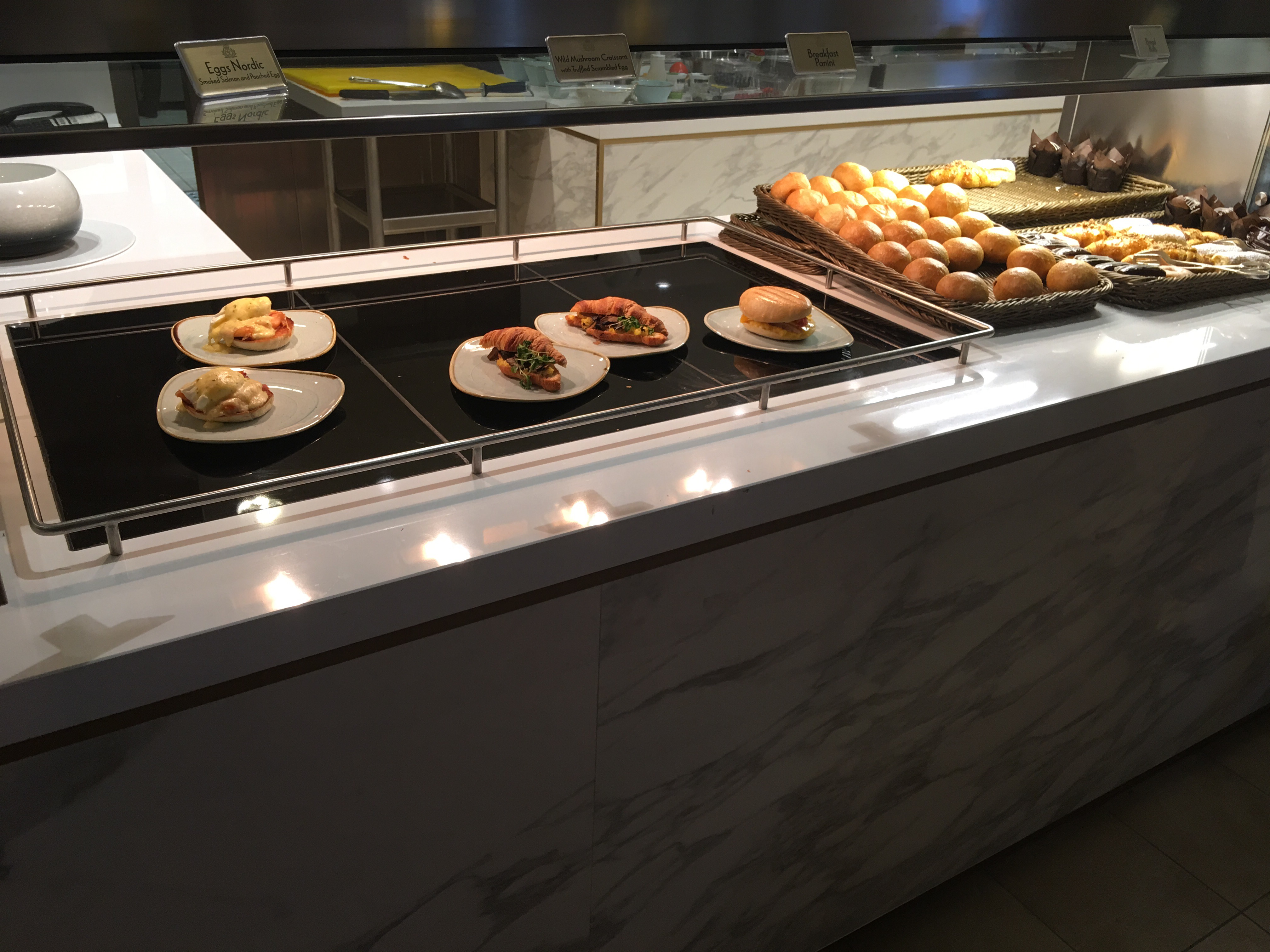 For anyone looking for a relaxed breakfast experience without the formality of Britannia nor the chaos of the buffet, the Carinthia Lounge is an unbeatable choice.
Morning Activities
Quizzes are a fun diversion on sea days, and a contingent from the group tends to form a team for each quiz. Today we had four quizzes interspersed throughout the day, and despite my concerns that I wouldn't be dead weight on the quiz, I did manage to contribute a little bit!
The first quiz this morning was an Animation Quiz and became more of a comedy session than a test of your Disney knowledge. Cunard have deployed a new system for quizzes whereby the questions are loaded into a computer system which broadcasts to screens around the Golden Lion pub. The staff are still getting used to the system, but for this quiz there seemed to be a lot of teething problems. Nonetheless we struggled on and scored fairly well… not difficult when the system would often show the title of the film, then ask the mind bending question: _"What is the name of the film?"  _Thankfully we all found it quite funny, though I did feel sorry for the quizmaster!
Immediately after the quiz, a few of us went to a Cunard Insights lecture on the Vikings. The talk covered the rise and fall of the Viking empire, some of the reasons behind the decline, and the lasting impact of their incredible reach. I found the talk quite engaging, though admittedly I don't know a great deal about the Vikings already. Some others mentioned that they didn't find it very good, so your mileage may vary!
I then visited the Corinthia Lounge to do some blogging and have a quiet drink before the next quiz, which was the Wipeout quiz. None of the other quizzes used the computer system as they didn't rely on the audiovisual elements that were a vital element of the animation quiz. We didn't win, but again both of the teams within our group did fairly well. Cunard enforce a team size limit of 6 people if you want the ability to earn prize stamps, but larger teams can play for fun. Prize stamps are awarded for various activities around the ship and different members of our group have earned them for their successes in darts, golf, and bridge. Alas, none of my skills (I'll leave you to decide what those are) are useful in winning prize stamps. I just have to hope my contributions in the quizzes eventually yield a team victory.
Prize stamps can be exchanged for prizes, though how many you need to get something I have no idea.
While we did the wipeout quiz I had another late lunch in the Golden Lion, this time opting for the steak and Guinness suet pudding. It was delicious, and in case I didn't mention before, the food in the pub is included in the fare. 
Planetarium
One of the highlights of Queen Mary 2 is having the only planetarium at sea. When we last sailed in 2012, the equipment was broken and we didn't get to see one of the shows.  Needless to say this was on my list of things to try this time round.
Tickets for the planetarium shows could be collected from 9am on the day, and there were (I think) three shows today. 1:30pm, 3:00pm, and 4pm. The shows were busy, but not full, so if you want to be certain of getting a ticket it would be best to get one earlier in the day.
The advertised show was about meteors but when we arrived at Illuminations, the show was "To Space and Back", which turned out to be more about technology than space. It was narrated by James May, and very interesting. At only 25 minutes it's easy to slot into your day.
Illuminations itself is a gorgeous theatre and used as a cinema and for Insights lectures as well as the planetarium shows.  There is a retractable dome screen used for planetarium shows.  Only certain seats are in a useable location for these shows, and are upholstered in red to distinguish them from the rest of the seats.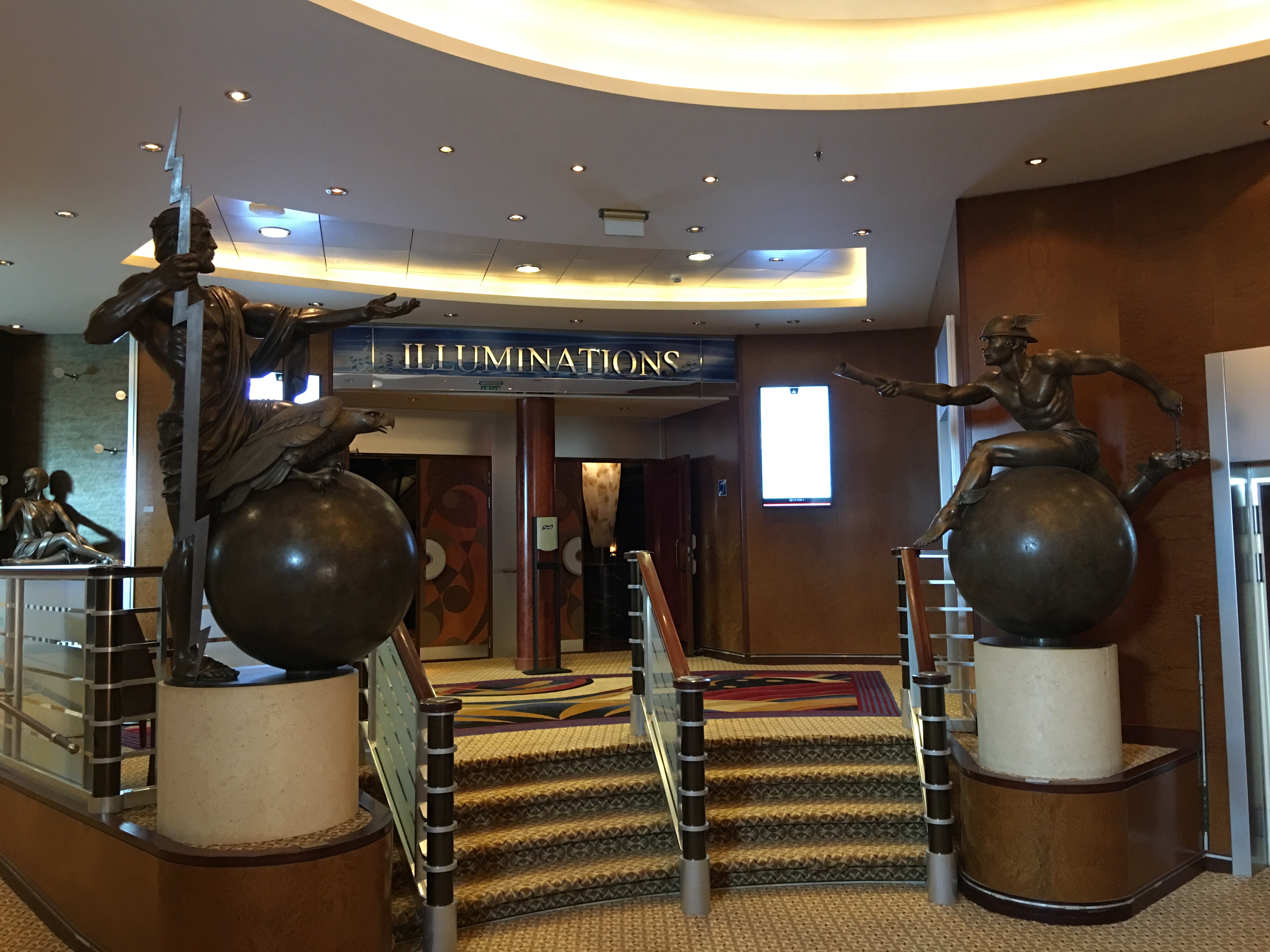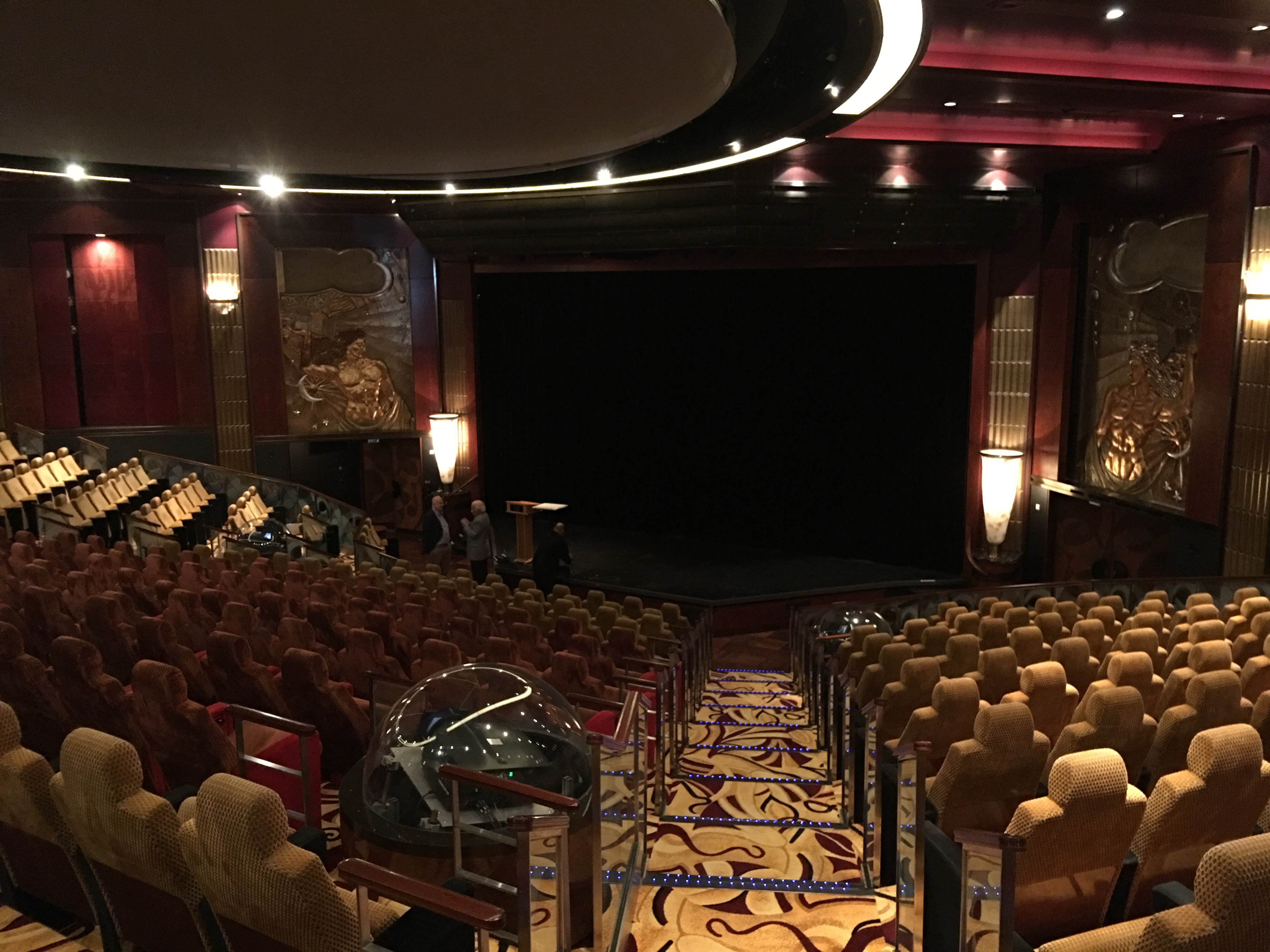 Walking and Jazz
After a final general knowledge quiz (which we also didn't win; it's all about taking part etc. blah blah blah) and a bit of chill out time, one fellow newbie to the forum cruise (BigSis) and I went for a walk around the promenade deck which was well needed to brush off the cobwebs; suet pudding and beer, followed by a very relaxing planetarium is a recipe for premature snoozing so the walk was good to wake me up a bit. We managed three laps (~1.1mi) before realising that the Dixieland Jazz show was about to start in Corinthia Lounge.
I actually heard the orchestra play their jazz set earlier while blogging, but this time we got seats front and centre and enjoyed around an hour of wonderful, energetic music. Absolutely sublime!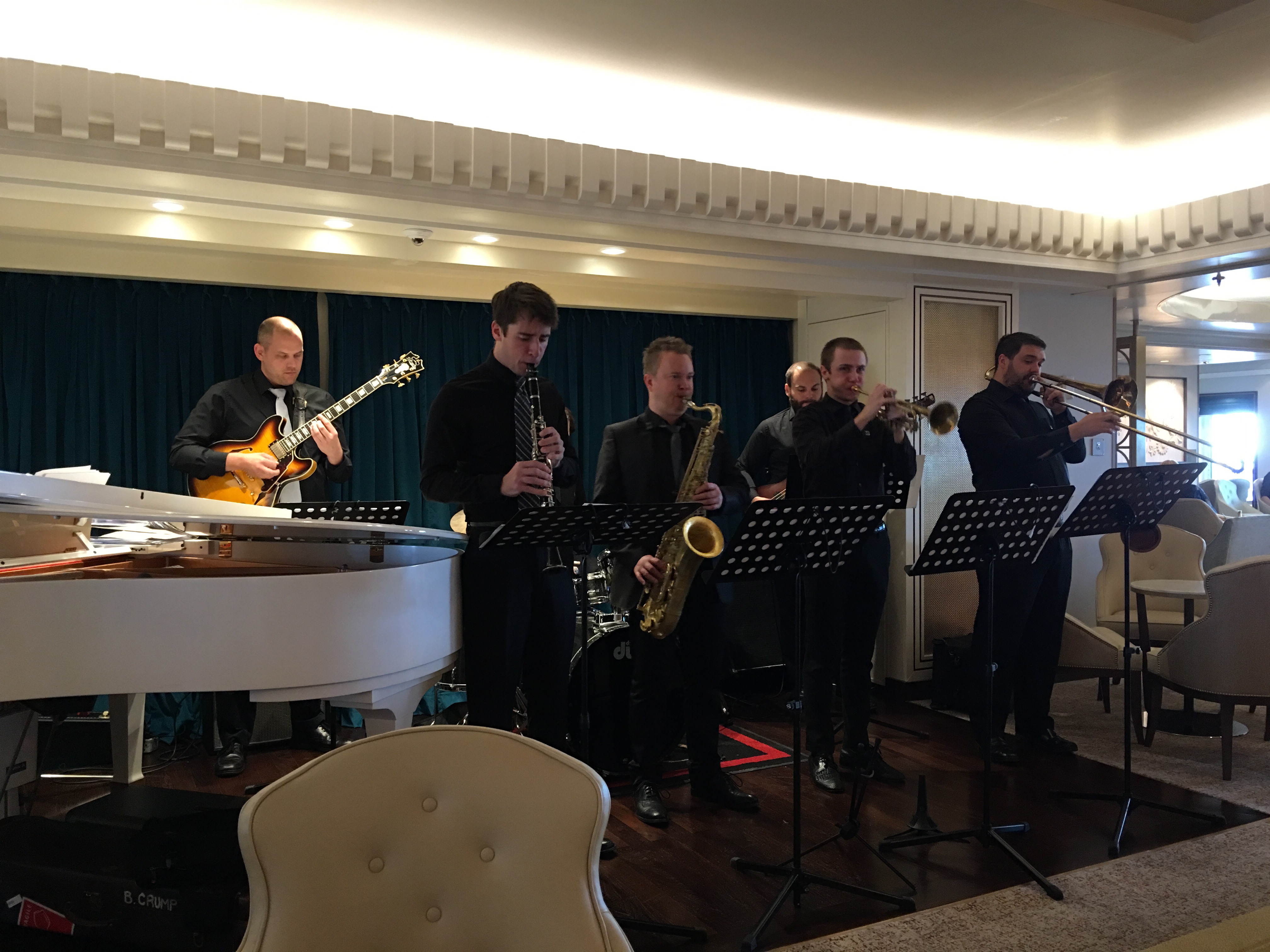 Dinner Time
Dinner was fast approaching, so I showered and changed before heading to the commodore club to continue my journey through the cocktail menu. Before I could go though, I decided to resolve the safe situation I mentioned in yesterday's blog. The Purser's Office were very happy to send someone from security to open my safe, but as it has something inside they would only do it if I was present. I went back to the stateroom and within minutes someone came to unlock it, and had me sign a register to say the contents of the safe were still there. I was relieved to see many other signatures on that piece of paper, so I'm not the only one!
Tonight the drink of choice in the Commodore Club had the patriotic pun of a name "Land of Hop and Glory", and was a beer-inspired cocktail including brandy, cognac, and beer foam. Another delightful concoction, and served with a little bowl of crisps as part of the presentation.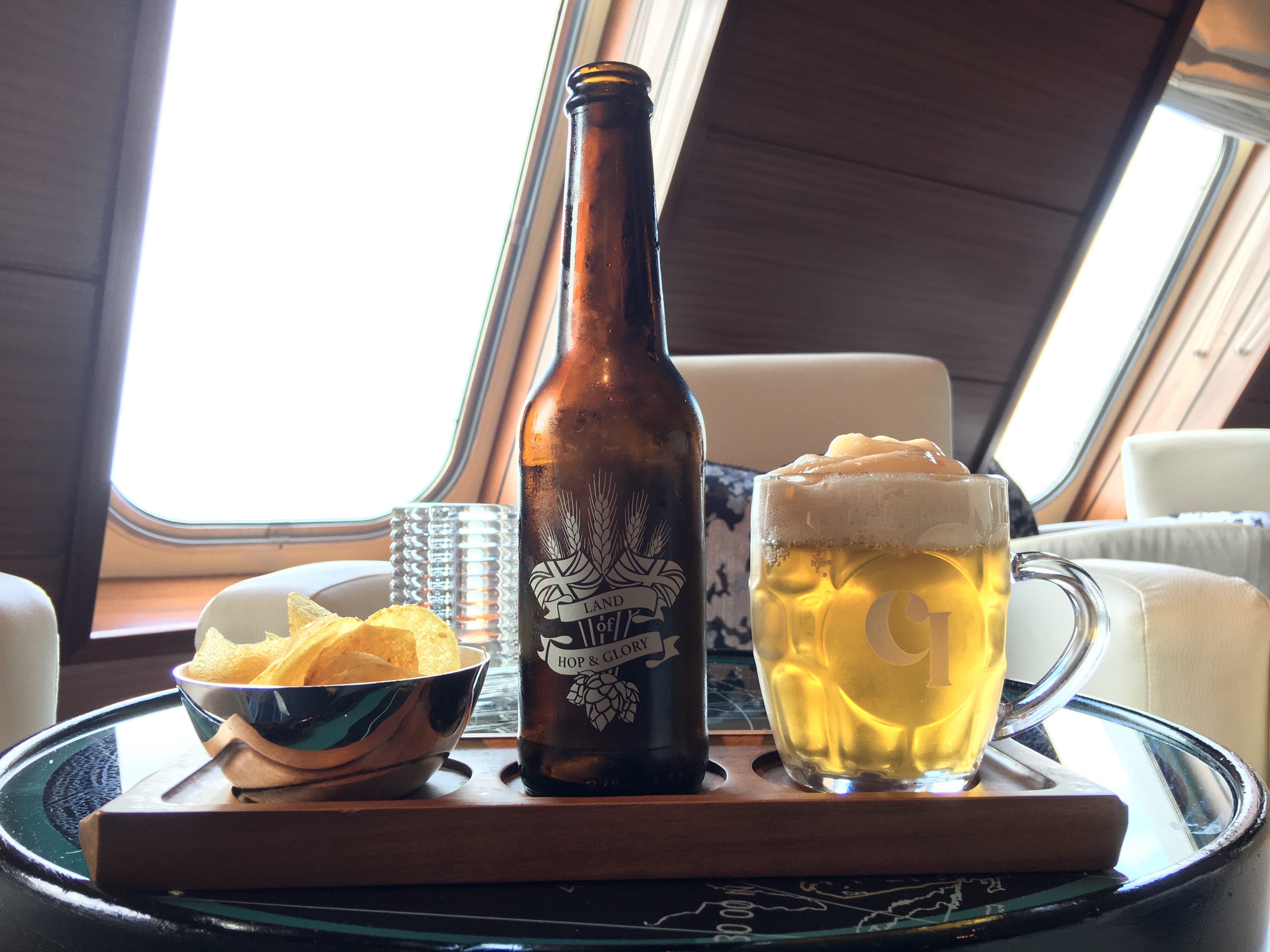 After an hour of cabin party fun, we returned to our wonderful table where I had time before everyone sat down to snap a picture of our prime location, as requested in some comments.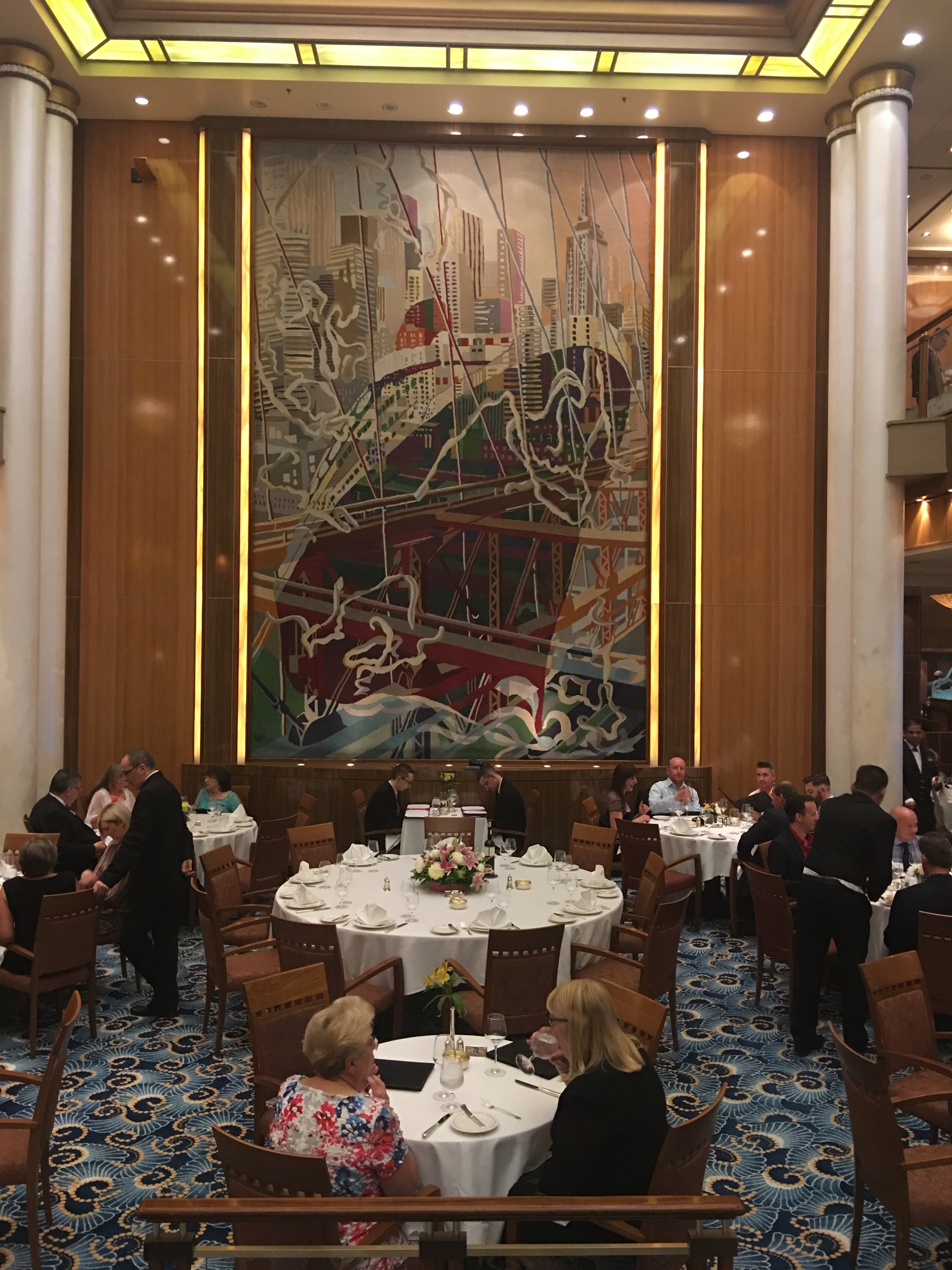 Dinner was very good again. I had crispy tempura prawns with chilli sauce, followed by cod with vegetables, and finishing with very well-filled profiteroles. The food on Cunard seems to be quite traditional in style, but is flavoursome and well presented. No real complaints from me so far though of course food is such a subjective thing and not everyone will like what's on offer.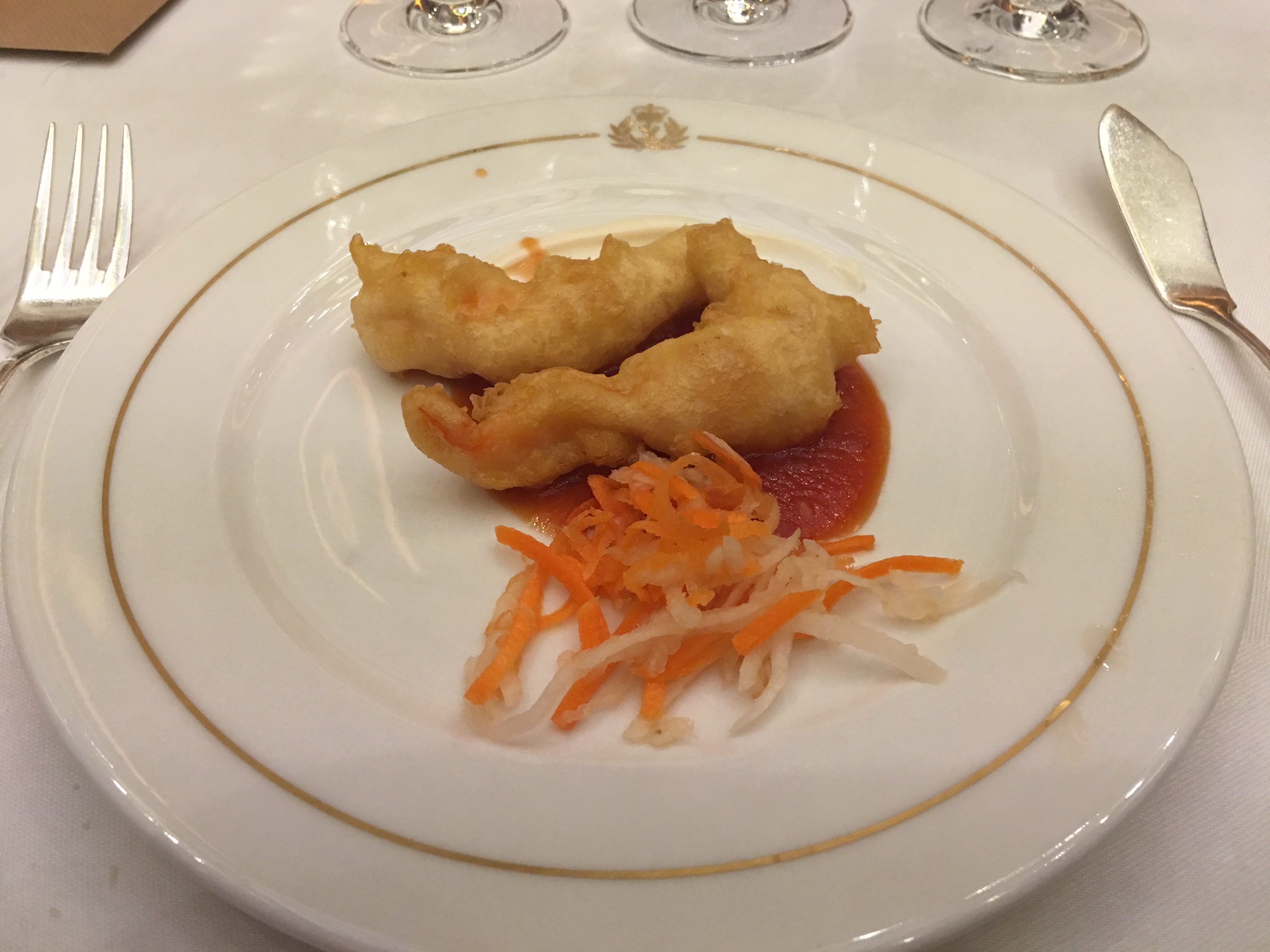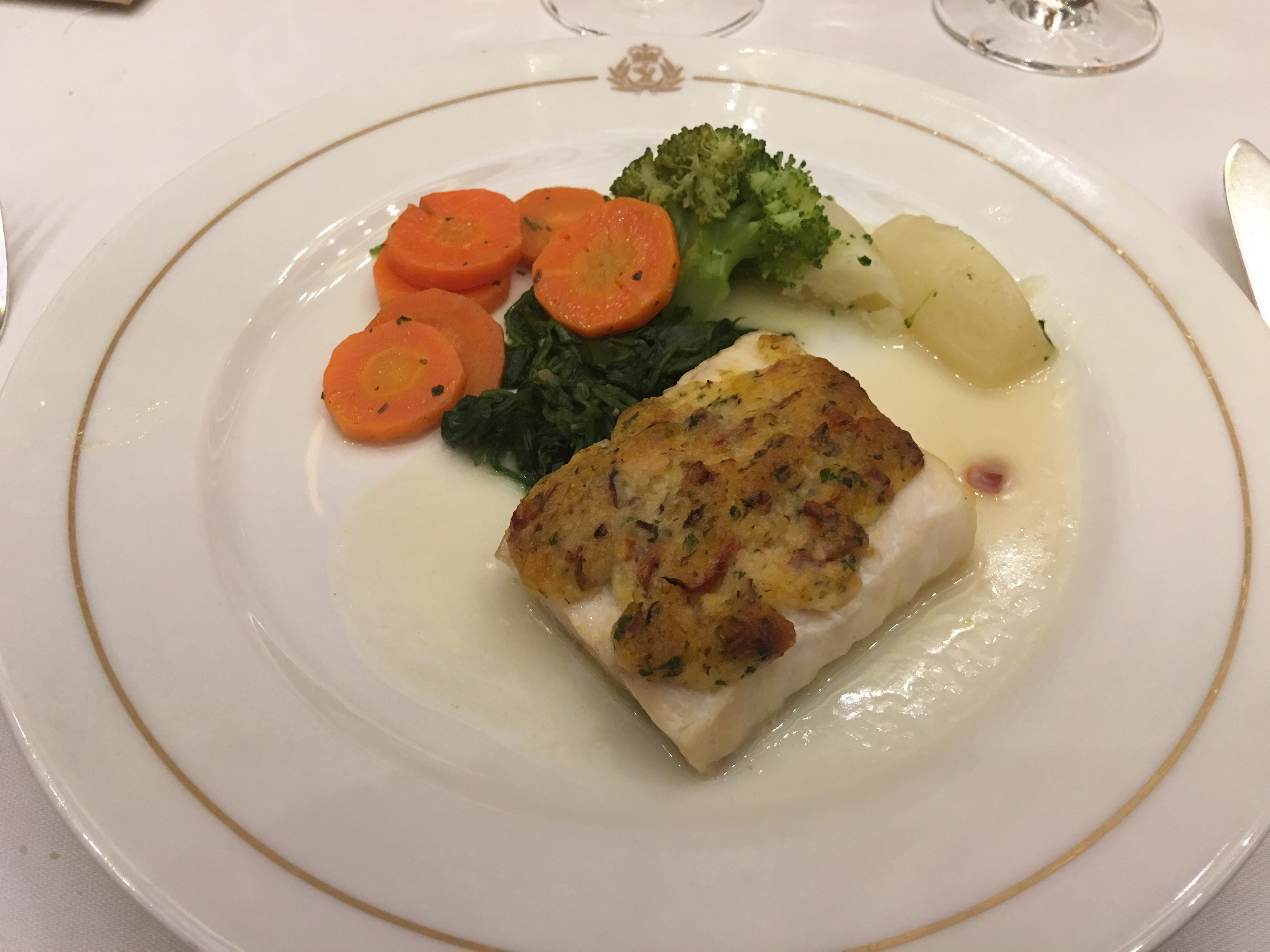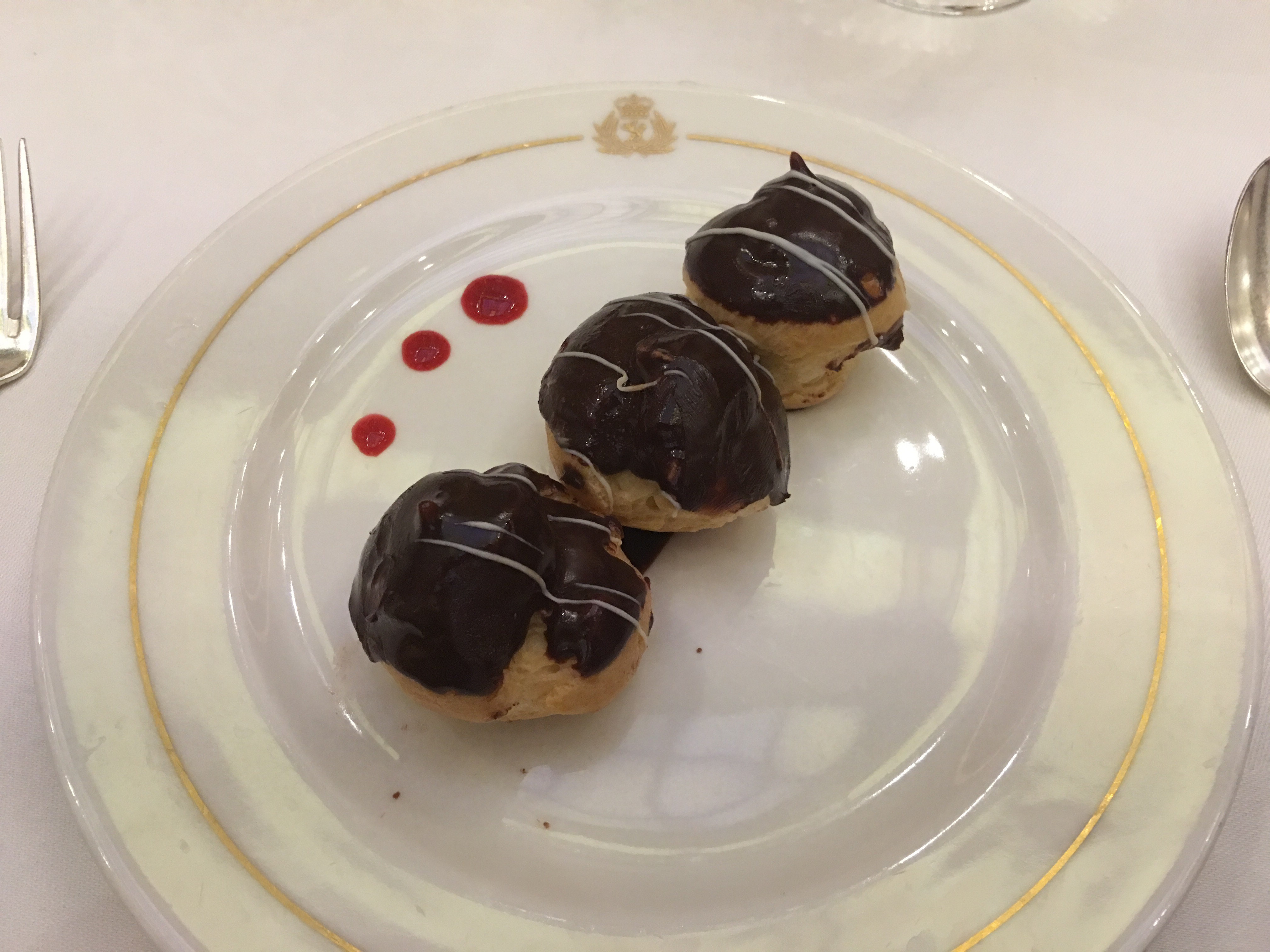 One thing that was rightly pointed out by Carol (WGC) is that Cunard don't seem to have an 'always available' menu that I've seen on Celebrity and Royal Caribbean, and she had seen on P&O. This does seem strange as these menus typically offer quite well-liked and simple dishes in case the main menu doesn't appeal.
Ghost Stories with RADA
We decided to skip the evening show tonight (which was before dinner, as tonight is actually the last night of the 'main' cruise, which is the Eastbound transatlantic voyage from New York to Hamburg.
Instead we gathered in the Corinthia Lounge again for a ghost story told by a student from the Royal Academy of Dramatic Art. It wasn't a particularly scary story — I thought it was closer to a tragedy personally — but it was well told and quite a nice way to spend a little time before bed. Bedtime stories for adults, I guess! I enjoyed a wee birthday dram with the story before heading to bed.
Tomorrow we're in Hamburg, and I still have no idea what I plan to do there! Stay tuned for that.