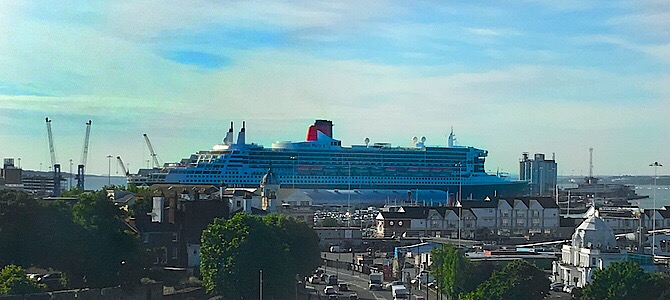 I am currently sitting in the Golden Lion pub after boarding the remastered Queen Mary 2 today in Southampton. I have a pint of larger and some of the Golden Lion's famous fish and chips on the way. It's been several years since my last cruise on Queen Mary 2 (and Cunard generally) and my experience at sea has grown since then. Queen Mary 2 was my first ship, and got me hooked on cruising. I can't wait to see what's changed, and view this beautiful lady through the eyes of a slightly more experienced cruiser.
Queen Mary 2 has just finished an extensive re-fit, or in the Cunard style "remastering", and I'm on board for a short trip to Hamburg and back. I'm sailing on my own (Alex is at home) but in a large group of 9 others from the CruiseDot forum that started my cruising addiction around four years ago. Doesn't time fly? As I'll be sailing with others the blog might be a little different from usual, as I'll be spending lots of time with them and it would be unfair to document every detail of their holiday as I normally would my own. That being said, I'll still post, and hopefully have plenty of photos to share on my return if not before.
Anyway, my lunch has arrived so stay tuned for further updates!