Following on from yesterday's teaser, I'd like to tell you about the day in more detail including embarkation information and some comments on the room. We also enjoyed some first class entertainment in the theatre tonight, along with our first meal in the beautiful Britannia restaurant.
Embarkation
In the morning I arrived at the port quite early (around 11:30), despite a 3:30 boarding time. This boarding time didn't seem to be of any interest to the staff who issued a boarding card to everyone from a single pile. I suspect that these times are mostly designed to stagger arrivals rather than be used as a tool to turn people away. We were initially given a grey boarding card with the letter F, and a health questionnaire to fill out.
After a fairly short wait my letter was called and I was directed to the check-in desk where I received my Voyage card (Cunard-speak for SeaPass) and registered my credit card. It didn't take long, but I was then directed to sit back down until boarding commenced. This seemed a little pointless to me, as there were no queues at the security screening so to my mind it makes sense to process people as quickly as possible. Cunard want to board Grills guests (suite guests) and Cunard World Club Diamond guests first, but other cruise lines offer priority boarding to these guests too and don't seem to hold up everyone else.
I don't have much of a complaint, however, as I was on board by 12:30 – 3 hours earlier than my requested arrival time. Remarkably, despite my very early arrival, all staterooms were ready when we boarded. This was, at least party, thanks to the ship not having a full changeover in Southampton as many guests were continuing to Hamburg for the full transatlantic voyage.
Stateroom 6138
I booked an inside stateroom for this, seeing as the single supplement made anything else so expensive! I don't believe the room has been remastered, but it's quite adequate nonetheless. For a low grade stateroom the style and decor of the room has been quite well considered. Storage is ample, with four very deep and long drawers, and one and a half hanging wardrobes with storage shelves above. There is another cupboard with a safe and lifejackets, and a tray with a kettle and tea & coffee. The desk has a few small drawers useful for keeping daily planners or other paperwork. There are even two sizeable cupboards above the bed.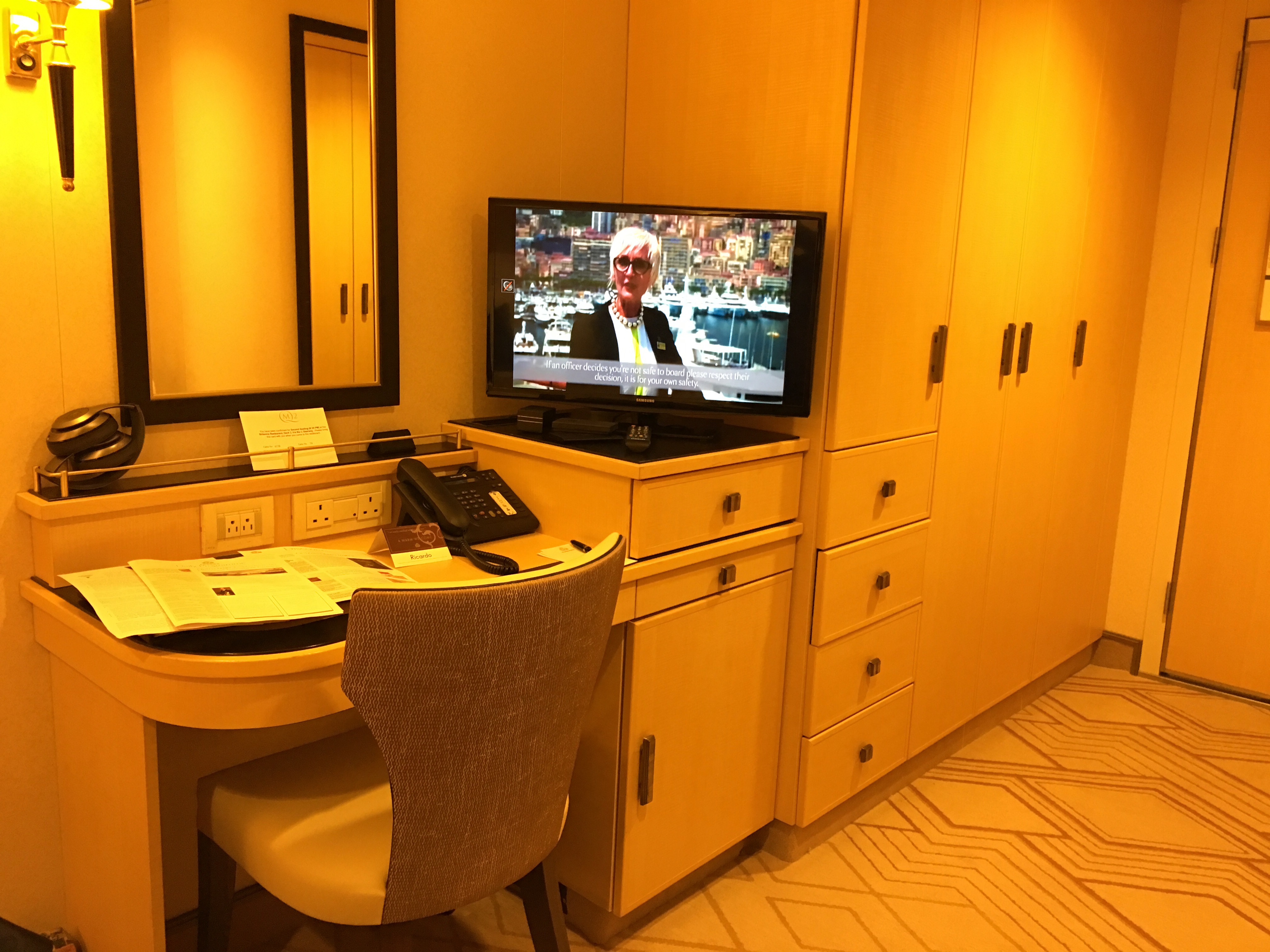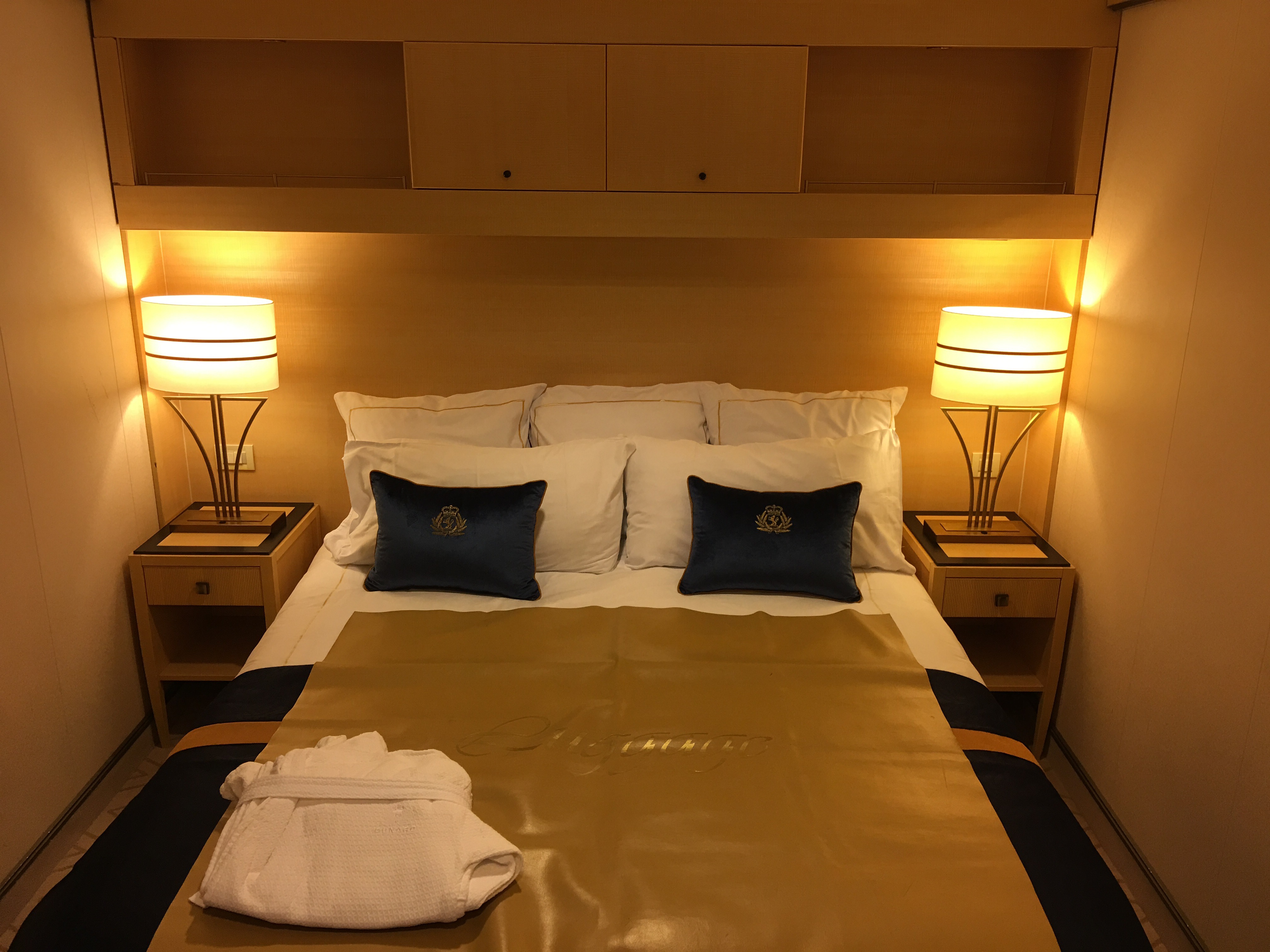 The bathroom will be quite a disappointment for anyone coming from a more modern ship, as the shower cubicle is pretty small and has a shower curtain rather than the newer style bathrooms which typically include a larger cubicle with a glass shower screen which I much prefer. Toiletries are lovely though,and many ships do not include such quality amenities.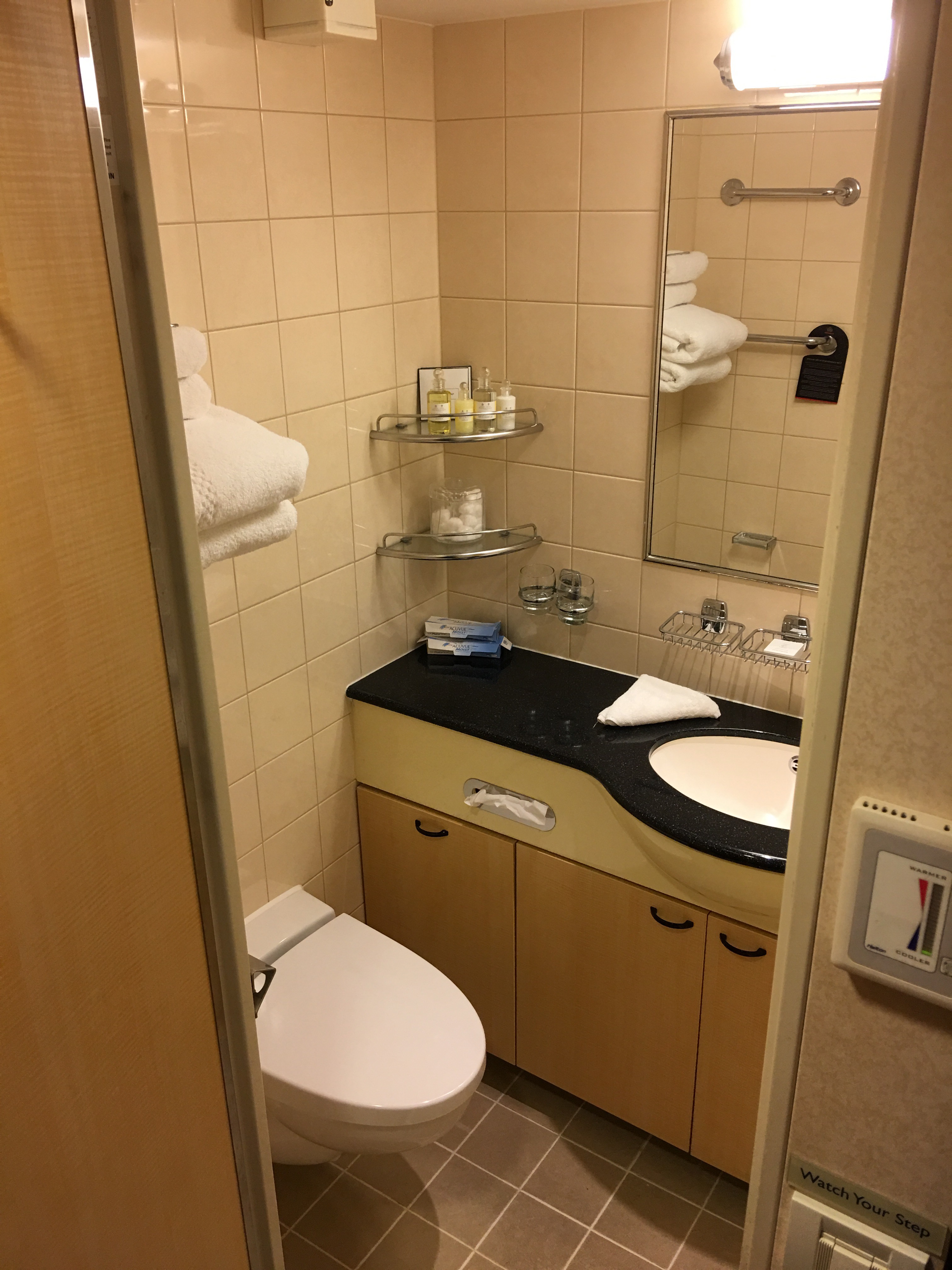 The safe is nice in that it can be locked with the swipe of any magnetic card, or a numerical code. The downside of this, as I now have first hand experience of, is that if you lock the safe with your Voyage card then suffer from the common problem of demagnetisation (which has happened to me on every single cruise with a magnetic card) then you cannot open the safe. I will speak to someone about that later, but for now my wallet and keys are very securely locked away!
Overall I wouldn't choose to book an inside stateroom normally, but it was ideal for this very short trip. If I was part of a couple I'd have booked a balcony stateroom, but with the single supplement this was cost-prohibtitive.
Golden Lion Pub
Once on board and unpacked, I decided to pop out for some lunch before exploring the ship. As you will know from yesterday's teaser I ended up in the Golden Lion pub where I secured my fish and chips experience. This is a very well regarded meal on Queen Mary 2, and one I managed to miss on my previous cruise because the pub was so popular! I was not disappointed, and was able to write my little teaser while waiting on the food to come.
Accompanied by a nice cold lager this was perfection. The batter on the fish was light and beautifully crisp. It wasn't at all greasy as some can be. The chips were crisp and fluffy, and the whole thing was served with ample tartare sauce. I really couldn't ask for more!
Muster Drill
Unfortunately I'm not a big fan of the muster drill on this ship. It seems a little chaotic, and far too many people seem to share a station which is far too small so there is nowhere near enough seating for everyone. Guests are asked to bring their life vests to the drill too, which adds to the bulk. This does have the positive effect that everyone goes back to their stateroom after the drill which effectively dispersed the crowd. It seemed to take quite a while too, and the announcements were made in both English and German, as there are a large number of German guests on board.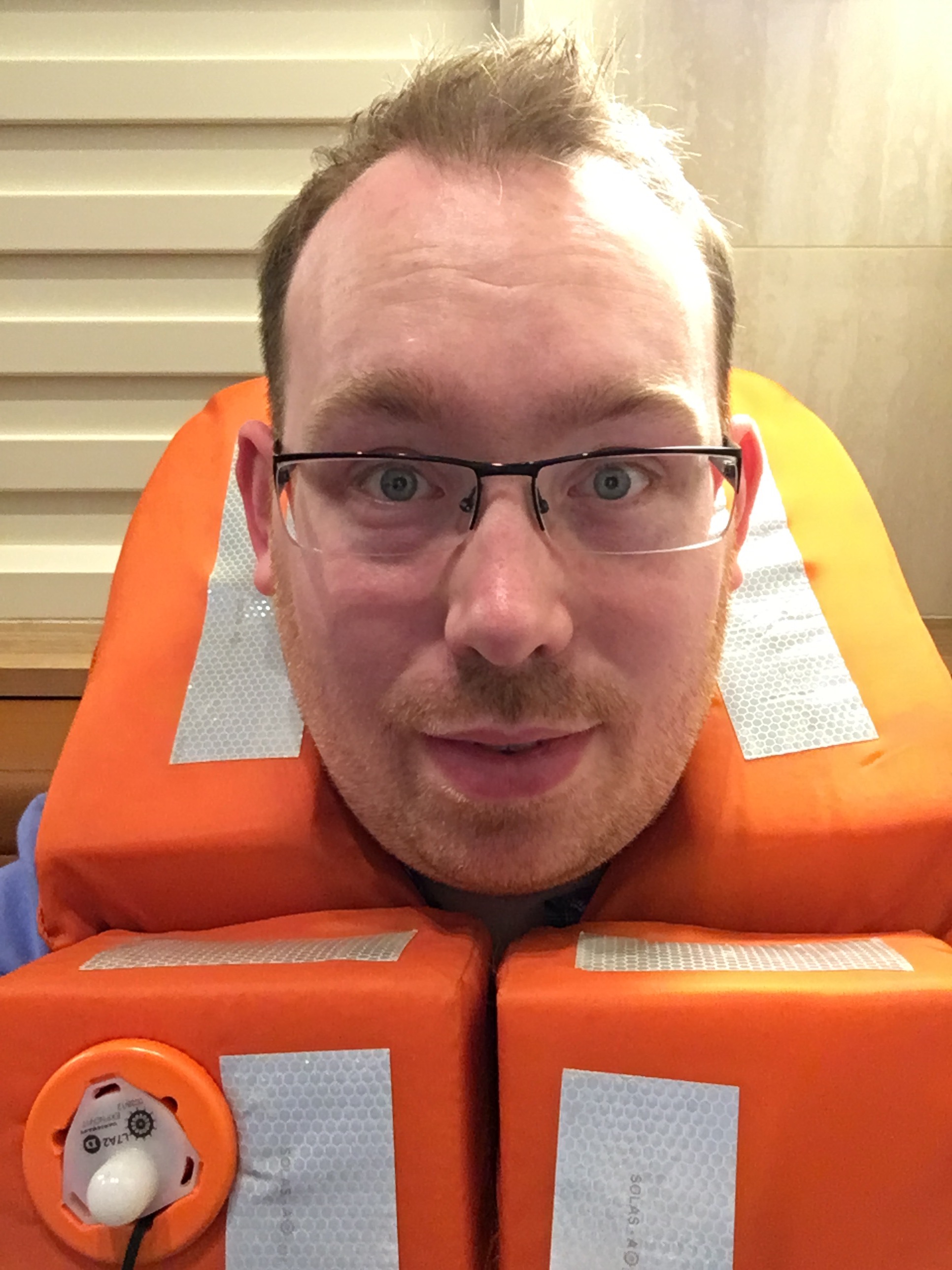 Sail Away
After lunch I explored the ship and tried to get my bearings. It's not the easiest ship to navigate, with various areas requiring you to go down to a half level and along the side of another venue. I'm sure it's easy to get used to, but it's quite a labyrinth for a newcomer! I took various photos, but I think I'll save them for when I actually visit those venues, or for an overall review. I don't want this post to end up being too massive… and I love to keep people in suspense!  I then got dressed for the evening back at the cabin.
I ended up at the sail away party at the back of the ship. This has a fantastic atmosphere, better than any other ship I've been on. There was a great poolside band, and the champagne was flowing (at a cost, of course). British flags were in abundance, so I assume these were for sale too, though I didn't see it first hand. What a wonderful experience! The rear of the ship is tiered, and people were standing at the railings on every tier listening to the band and watching Southampton shrink as we glided down the Solent. This must have been quite the sight for anyone watching the sail away from shore, but I couldn't resist a wee selfie from the back of the ship.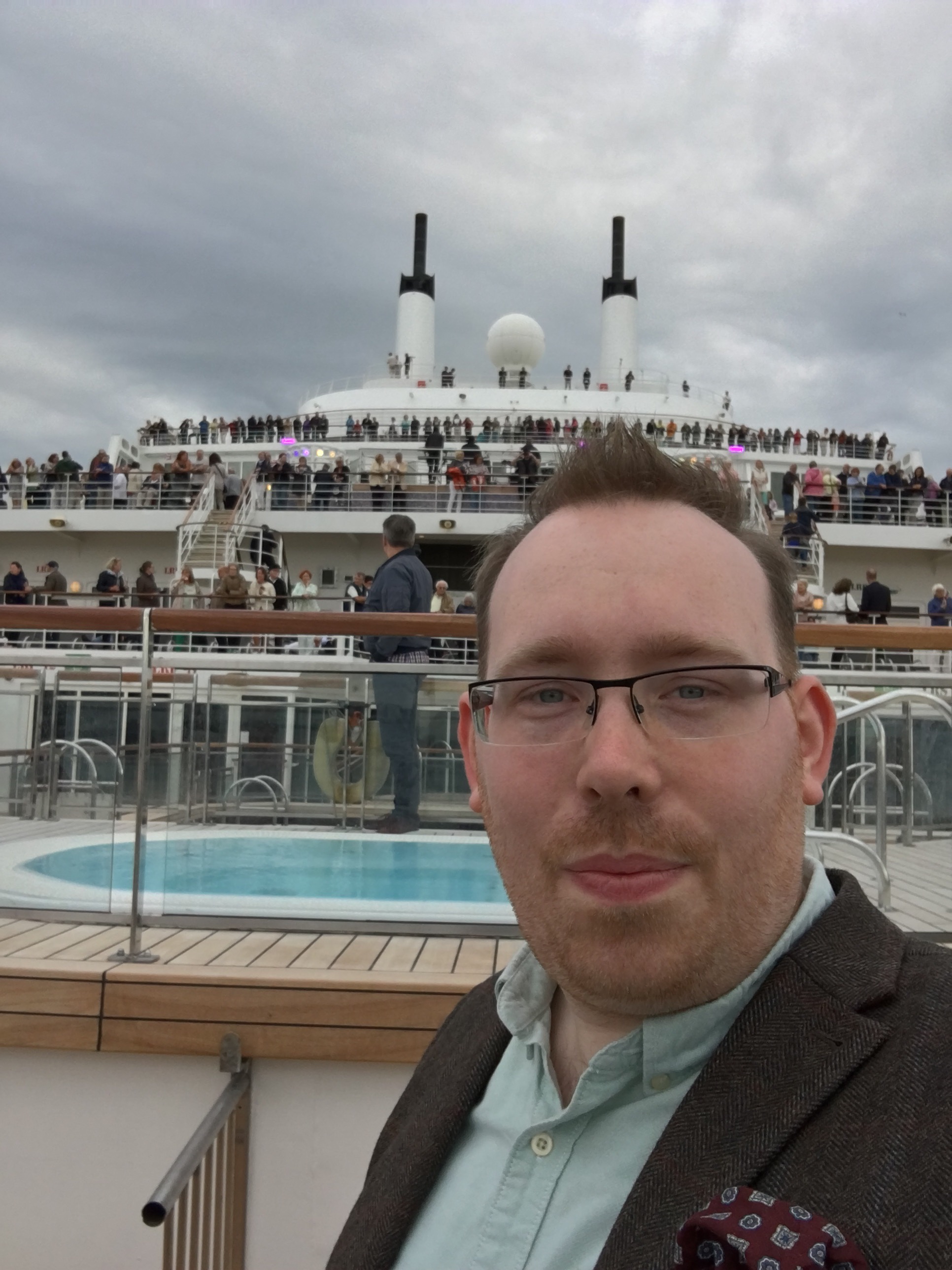 Commodore Club
After more wandering around, I ended up at the Commodore Club with the intention of catching up on some news on my iPhone while I still had a faint whiff of a signal from the coast. The Commodore Club was my favourite venue the last time I was on board, and I was keen to reacquaint myself with the views and the new drinks menu. The menu now has a selection of premium cocktails inspired by various captains of the past. I chose a wonderful drink based on the captain of the Carpathia. It was actually more like a cross between a drink and a dessert, with limoncello and a toasted mallow topping. It was absolutely delicious and I can't wait to explore more of the menu. I will try to get pictures of all of the menus on board… no promises though!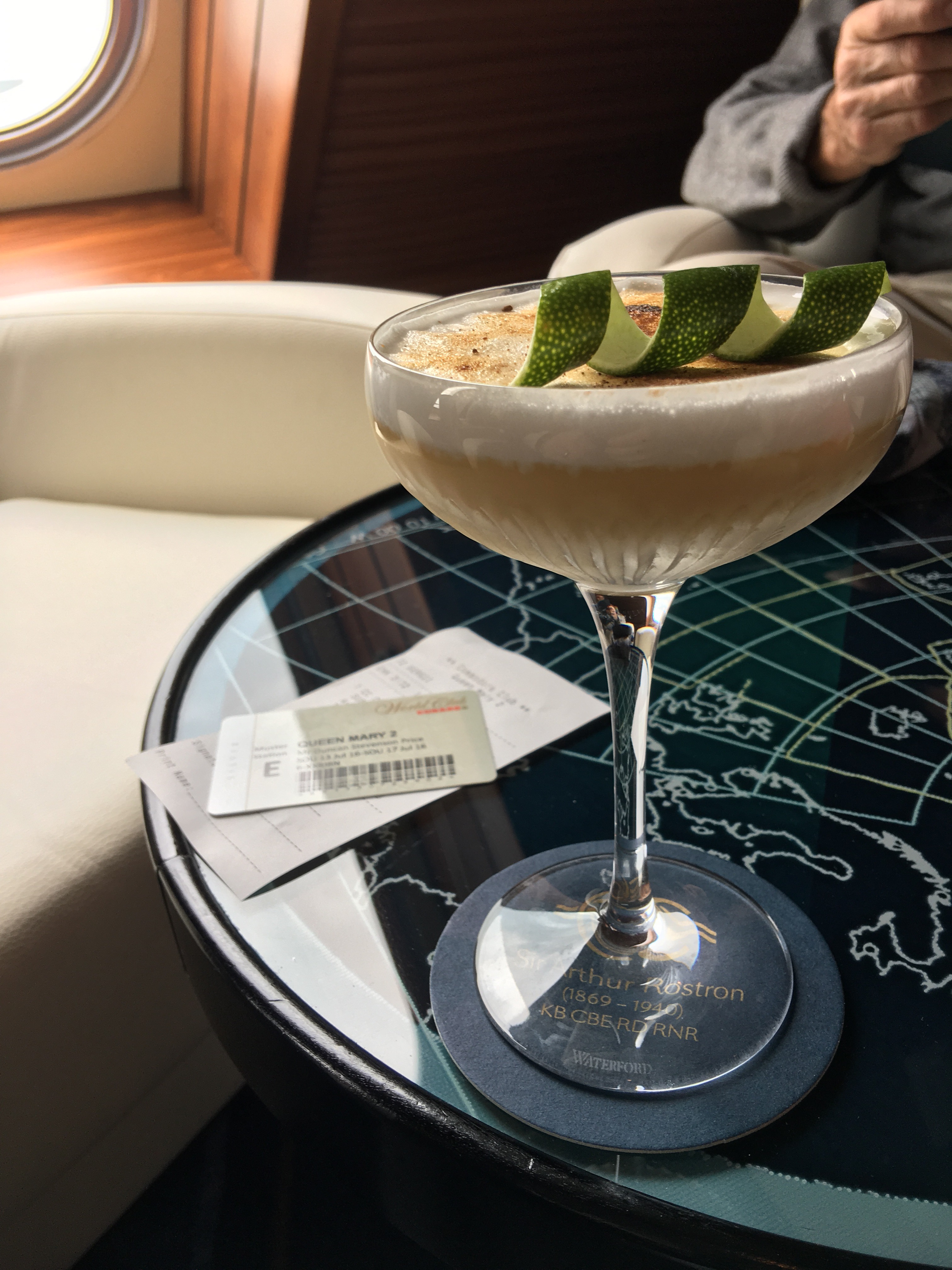 My attempt to catch up with the news didn't last long, as a lovely couple asked to join me. What a lovely hour-long chat we had.  There were a few 'small world' coincidences, and the hour disappeared while we were chatting away.
One of the things I loved about the Commodore Club which hasn't changed is the range of hot and cold canapés on offer from around 5pm. This is such an elegant way to spend some time pre-dinner and Cunard definitely have the edge on some other lines I've experienced in this regard.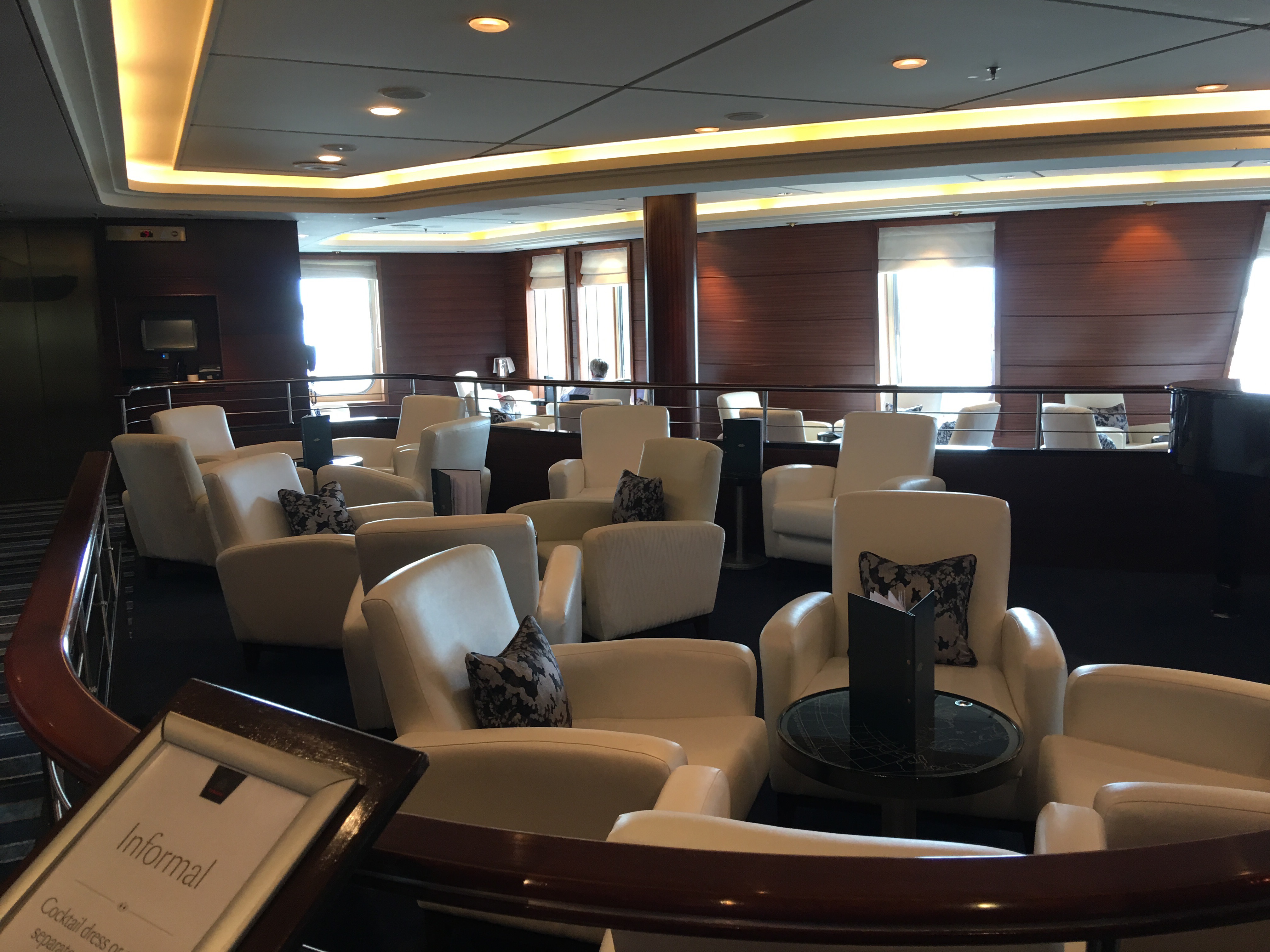 Dinner
Our first full meal together was wonderful, and got off to a great start when we realised we'd been allocated what must surely be the best table on the ship: table 72. This is the large round table on the ground floor, directly between the grand staircase and the massive mural on the wall. It's right in the middle of the dining room and I believe it's the one normally used by the captain on formal nights. We have no formal night on this mini cruise, so we have the whole thing to ourselves.
The food was very good, and portion sizes much more preferable to me compared to some of the American ships (not that I ever have trouble eating it all, of corse). To start I had a chilled avocado and smoked salmon soup. There wasn't much salmon, but it was tasty nonetheless. My main was a rather nice sea bass served with vegetables and mashed potato. For desert I went for the pavlova which was dainty and delicious.
After the meal coffee was served with petit fours. Overall the food was very good. Let's see if they can keep it up for the rest of the cruise.
Showtime: The 4Tunes
Tonight's evening entertainment was a guest act called The 4Tunes. They seem like cruising standards, as a few in the group had seen them before and built anticipation with an excellent review. I was not disappointed. These were four guys from a musical theatre / West End background who belted out some showtime standards with an energy and precision that seems to come naturally to them. They are certainly one of the better acts I've seen on a ship, and I'd highly recommend seeing them if they're onboard any future cruise.
Drinks and Midnight Buffet
Following the late night show, a few of us grabbed a drink and as our numbers decreased with the late hour (combined with the clocks going forward tonight) I decided to call it a night with a little detour via the Kings Court buffet, just for research purposes you understand. For post-midnight selection, I was very impressed. They had filled rolls, cheese & biscuits, cakes, sausages, sauerkraut, and more. I had a small bite before heading to bed, and it was delicious!
What a first day! It's been incredible to see the ship again in all of her remastered glory and to meet the wonderful forum friends.  I already know we've got a great day in store today (as I'm writing this) so stay tuned for that… whenever it comes!