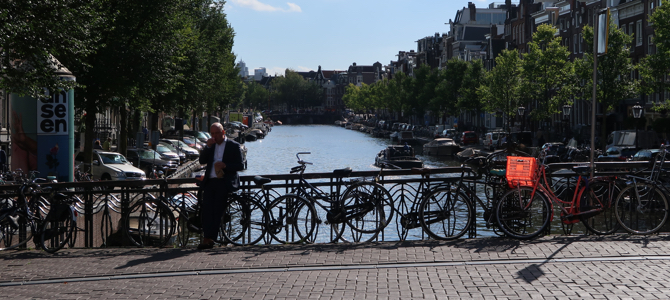 After a late night yesterday, we had a bleary-eyed start to the day before exploring Amsterdam. We experienced our first theatre show on the ship, but otherwise had a fairly relaxing day!
We started the day with another breakfast in Top Sail, with me opting for a slightly healthier option of fruit! Just ignore the doughnut on the plate… I'm really not sure how that got there…
Amsterdam
We docked really close to the centre of Amsterdam, so it was a short walk from the cruise terminal past all of the river boats and then straight into the train station.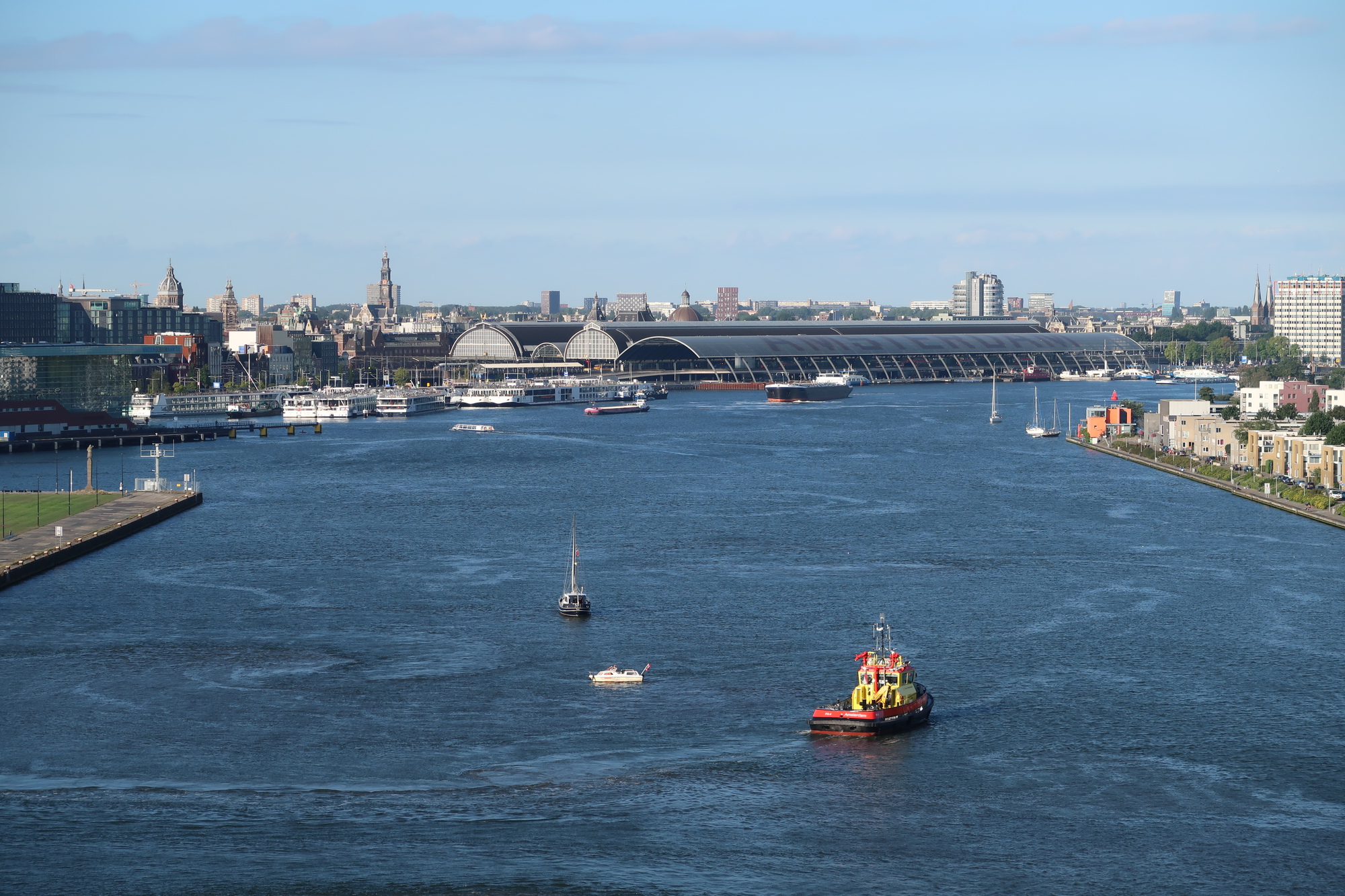 We didn't want to do too much in Amsterdam. We've been before, so we fancied just exploring on foot and enjoying the lovely weather. I was amazed by all of the cheese shops (Amsterdam's answer to Bruge's chocolate epidemic?) and had to resist buying kilos of the stuff. I love cheese!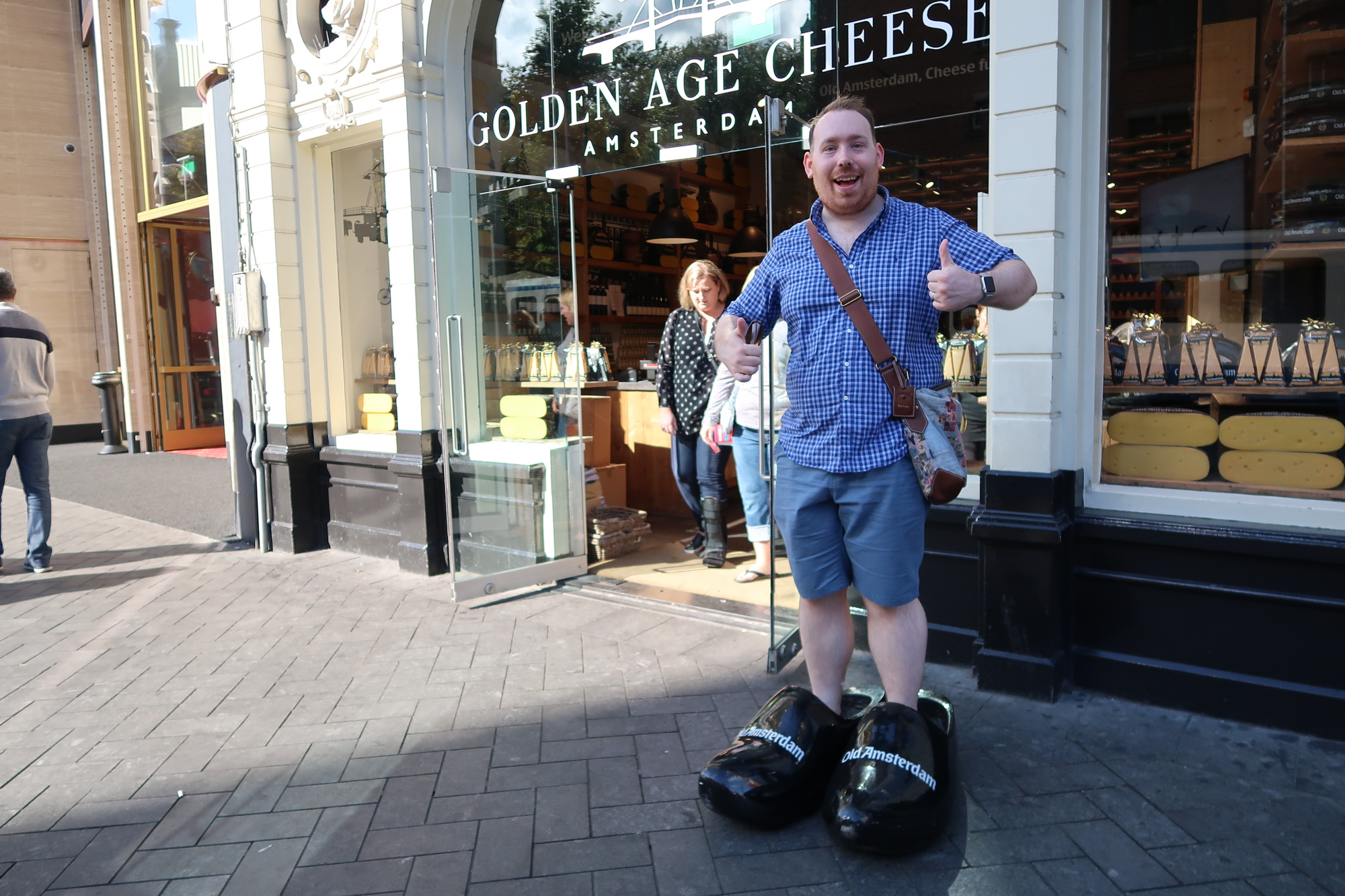 We ended up carving a path through Amsterdam to Vondelpark which is a lovely large park just Southwest of the city. It was a long walk, but worth it to relax on the grass in the sun. Ultimate relaxation!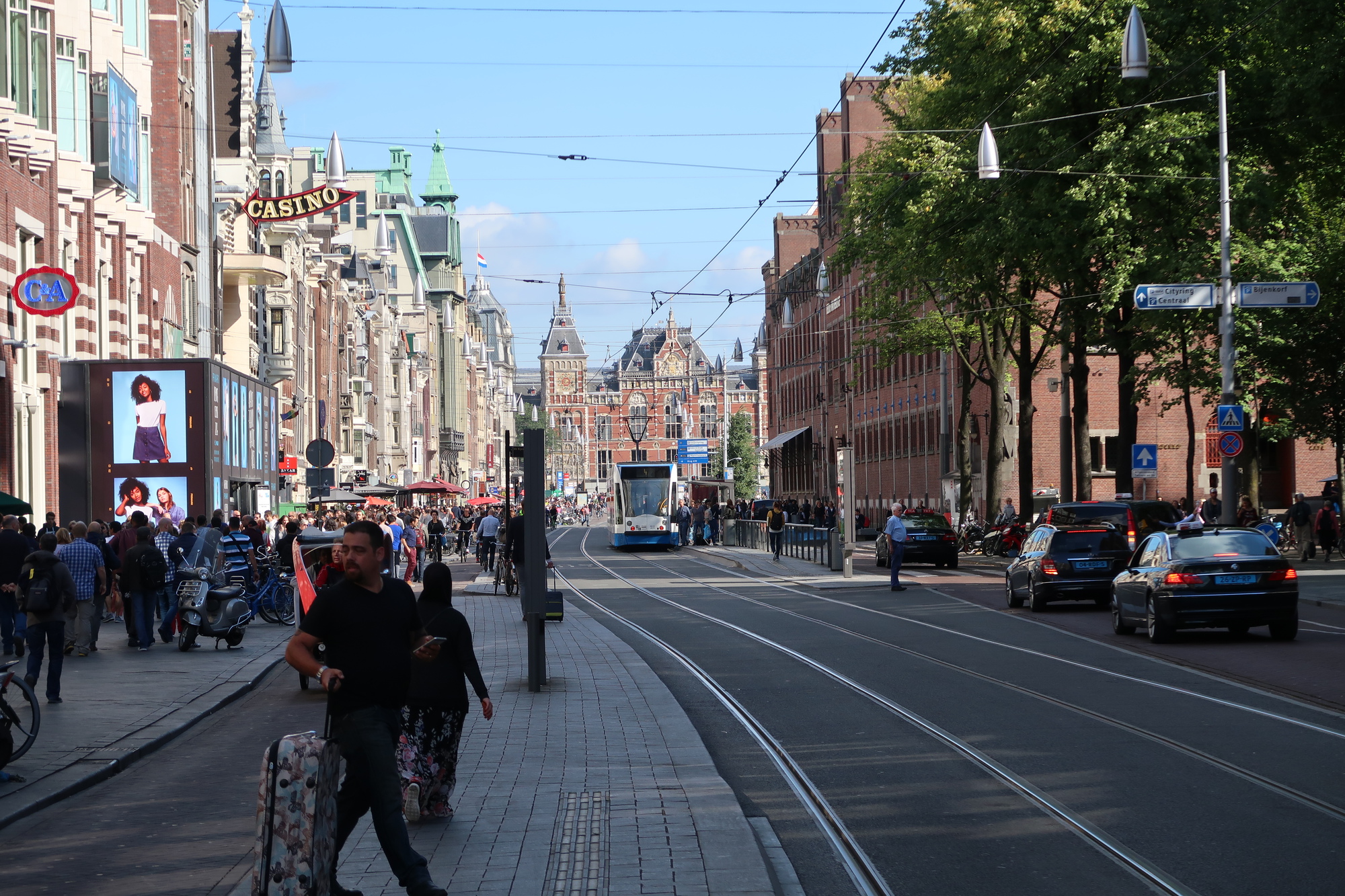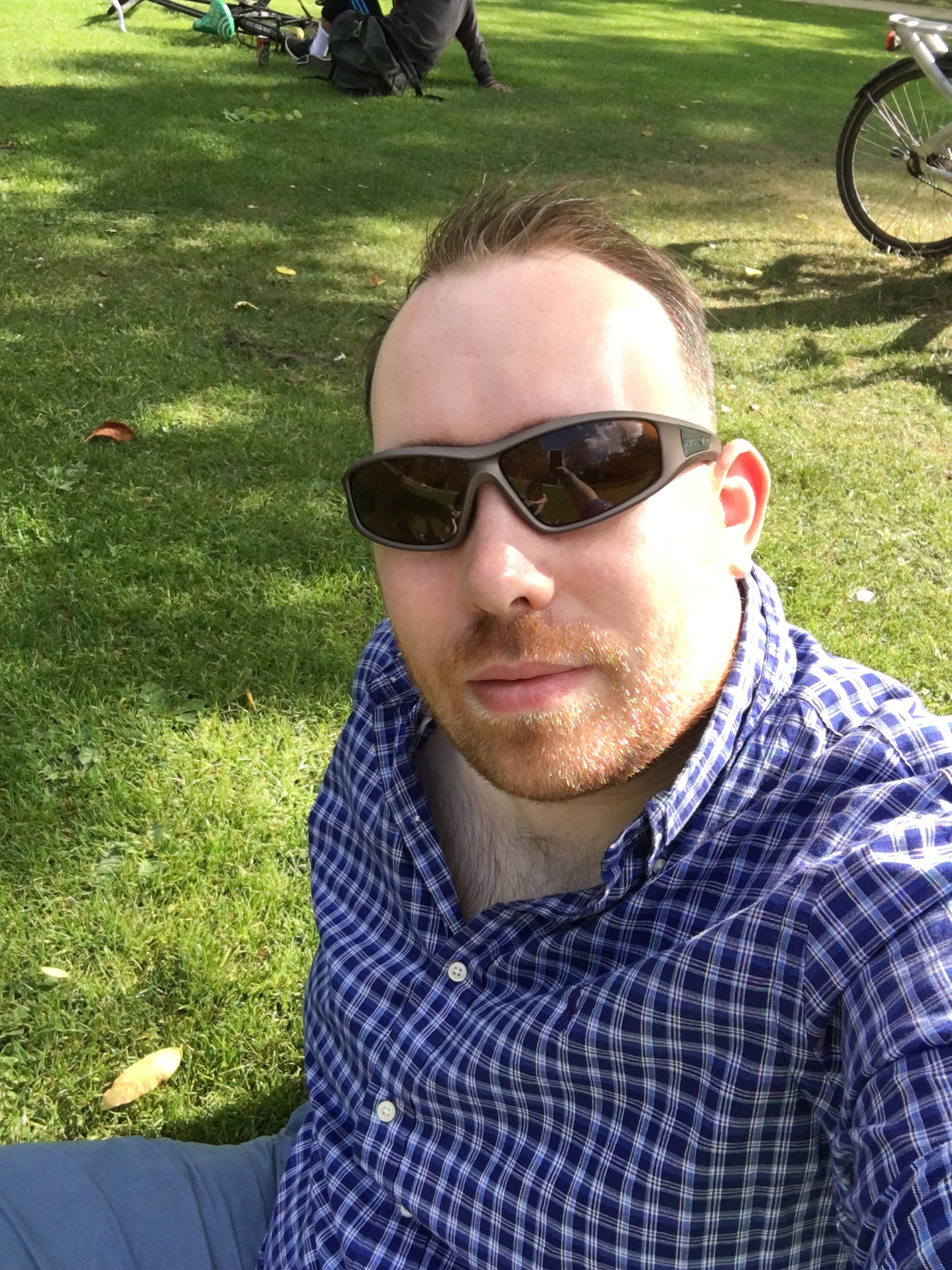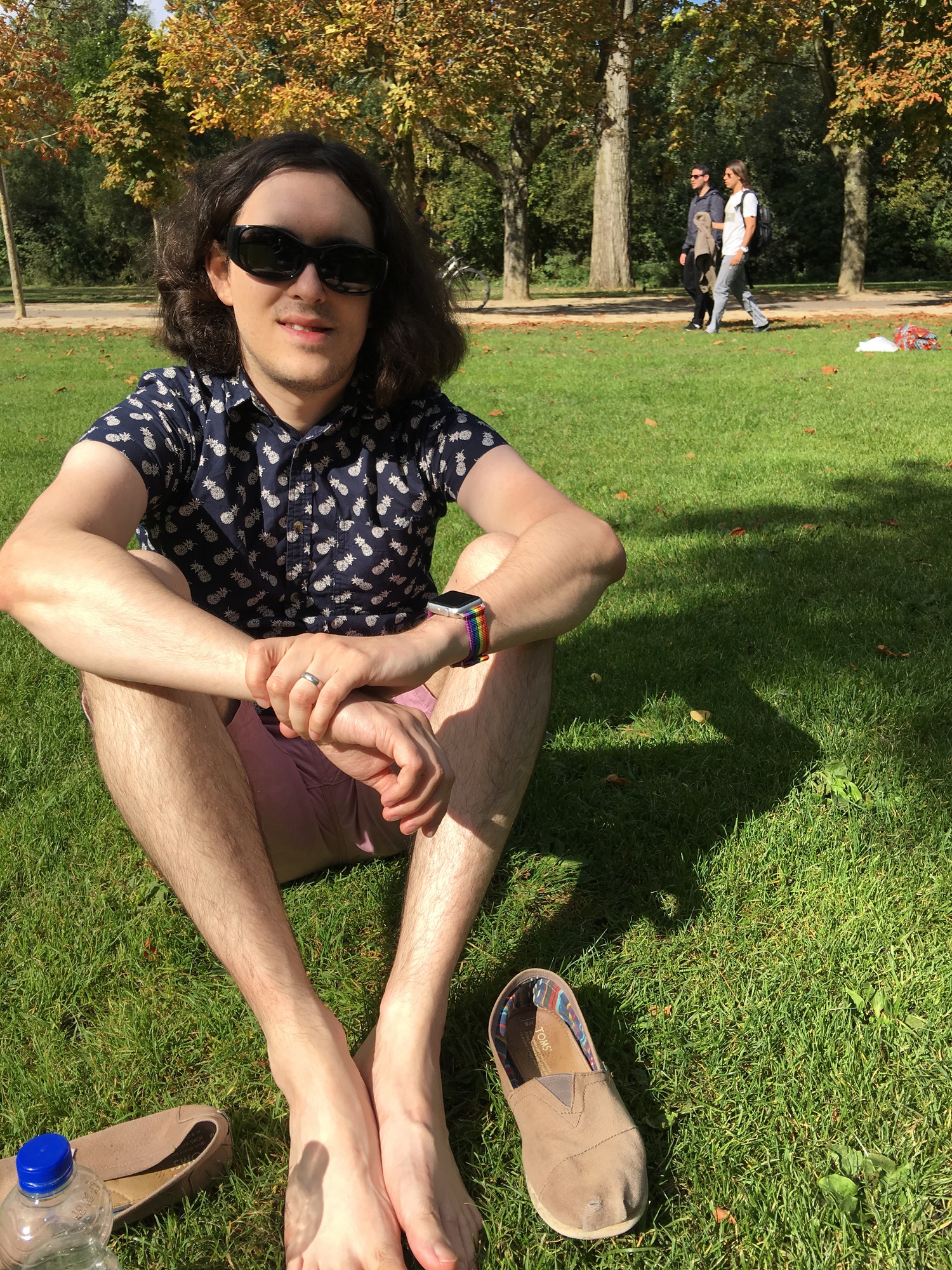 The walk had made us hungry, however, so our relaxation was eventually interrupted by a desire to eat. We found a lovely little place called Bagels and Beans which sells… well, bagels and coffee! It was delicious and just the fuel we needed to continue our sightseeing.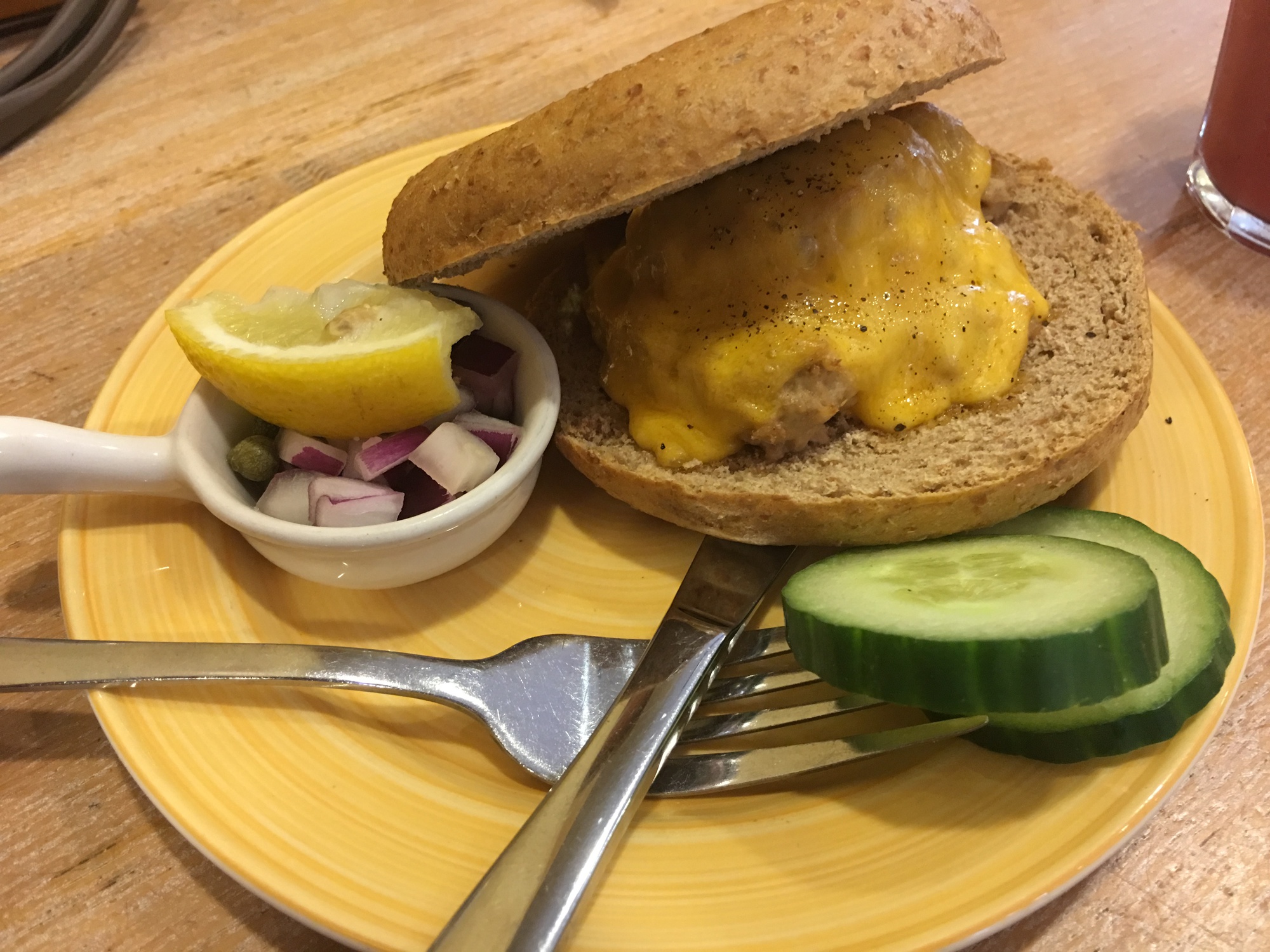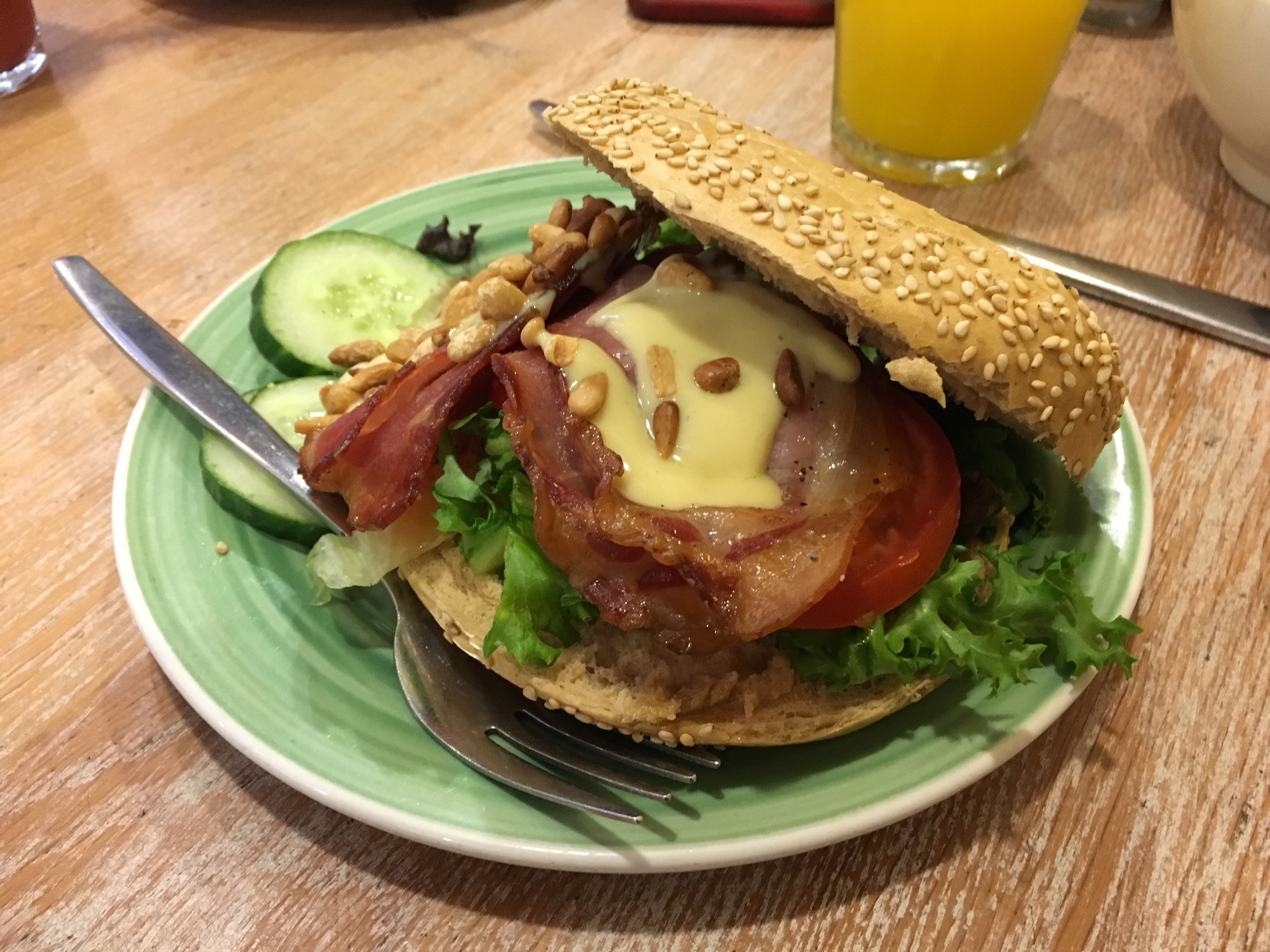 Given how close we were, we decided to check out the Van Gogh museum, which is the second most visited museum in the country, and one of the most visited in the world (ok… 31st).
Entry was pricy when you're used to free museums and galleries in the UK. We paid €17 each, though at least under-18s are admitted for free so families aren't too severely punished.
The museum was actually very interesting and put Van Gogh's work (an extensive collection of which is displayed) in the context of their creation, with works he was inspired by, as well as work by his contemporaries, and those he inspired after his death.
It's incredible to see the variety of styles and subjects he experimented with, and the enormous amount of pieces he created in his short 10-year career as a very troubled artist.
In addition to the regular collection there is also currently a special exhibition that details his illness and death, examining in a tasteful way the mental state of Van Gogh.
Of course photography wasn't allowed inside the museum, but the outward view was rather nice!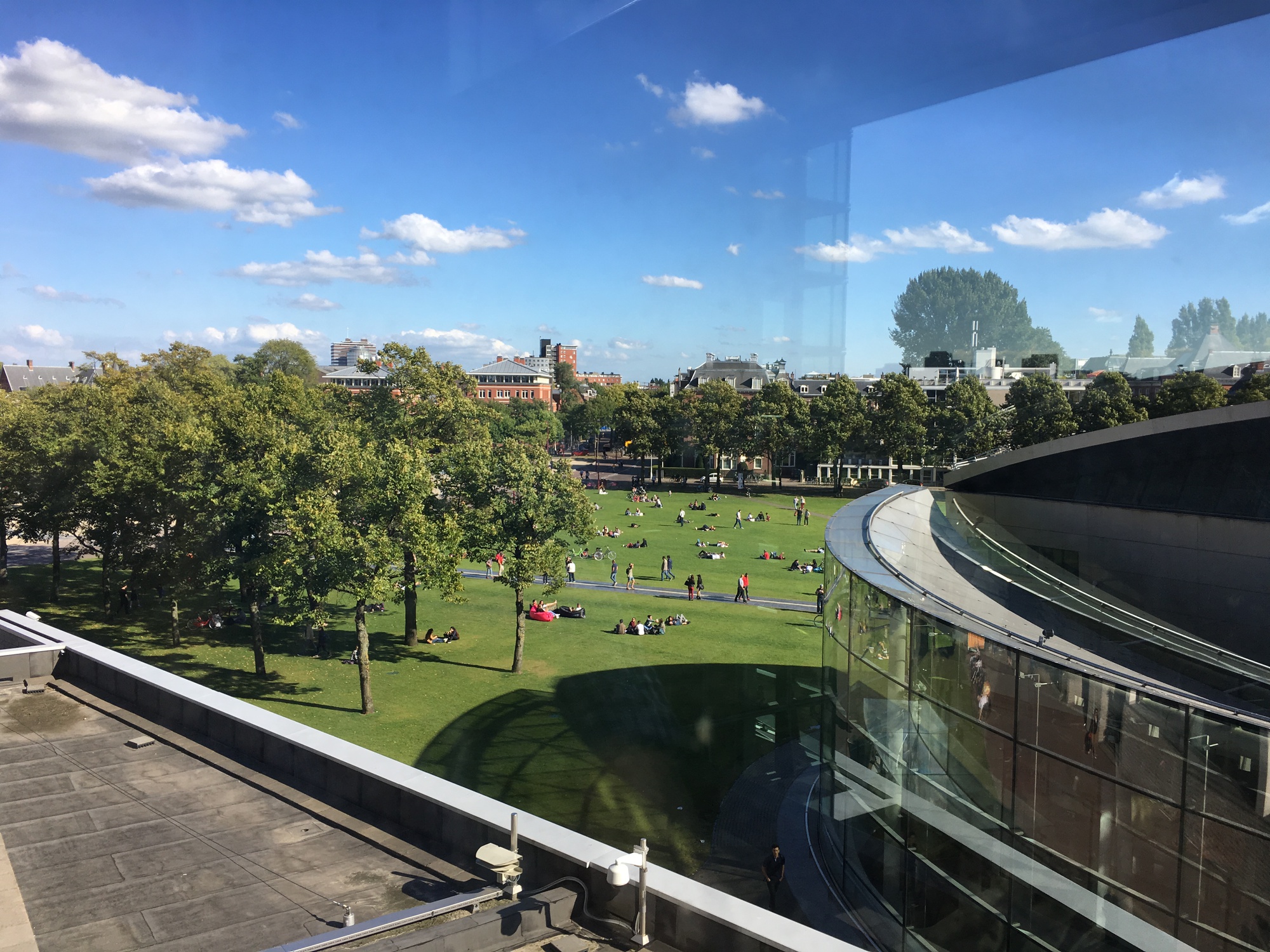 I was very impressed and we spent quite a long time here. I can see why it's popular, and would recommend it. The only downside (as with any popular art gallery) is that the volume of people make the experience worse. Text becomes harder to read, and crowds form around the more popular works. We weren't even there at a busy time.
We had quite a lot of walking around today, so after the museum we decided to get an Uber back to the ship. It's the lazy option, I know, but I'm on holiday… and I was able to write a bit of this blog while in the back of the rather comfortable Mercedes!
A Relaxing Afternoon
Back on the ship we decided to check out La Piazetta lounge for some sweet treats! I've heard that their milkshakes are to die for, and previous blogs from Splendida made me crave the chocolate dipped strawberries that are available here.
The lounge is in a main thoroughfare and great for people watching as a result. The décor involves more classical Italian style, but in a less offensive way than L'Olivo. There are fountains and tiled pillars and benches. I think the style they were going for is an outdoor café; the ceiling is dark with LEDs designed to look like stars. It's a little tacky, but I quite liked it anyway!
The cake cabinet is filled with delicious and reasonably cheap sweet treats. There are strawberries, macarons, pastries, and more. I'll definitely want to come back here for a coffee and cake later in the cruise (which I'm worried is going to be much too short!)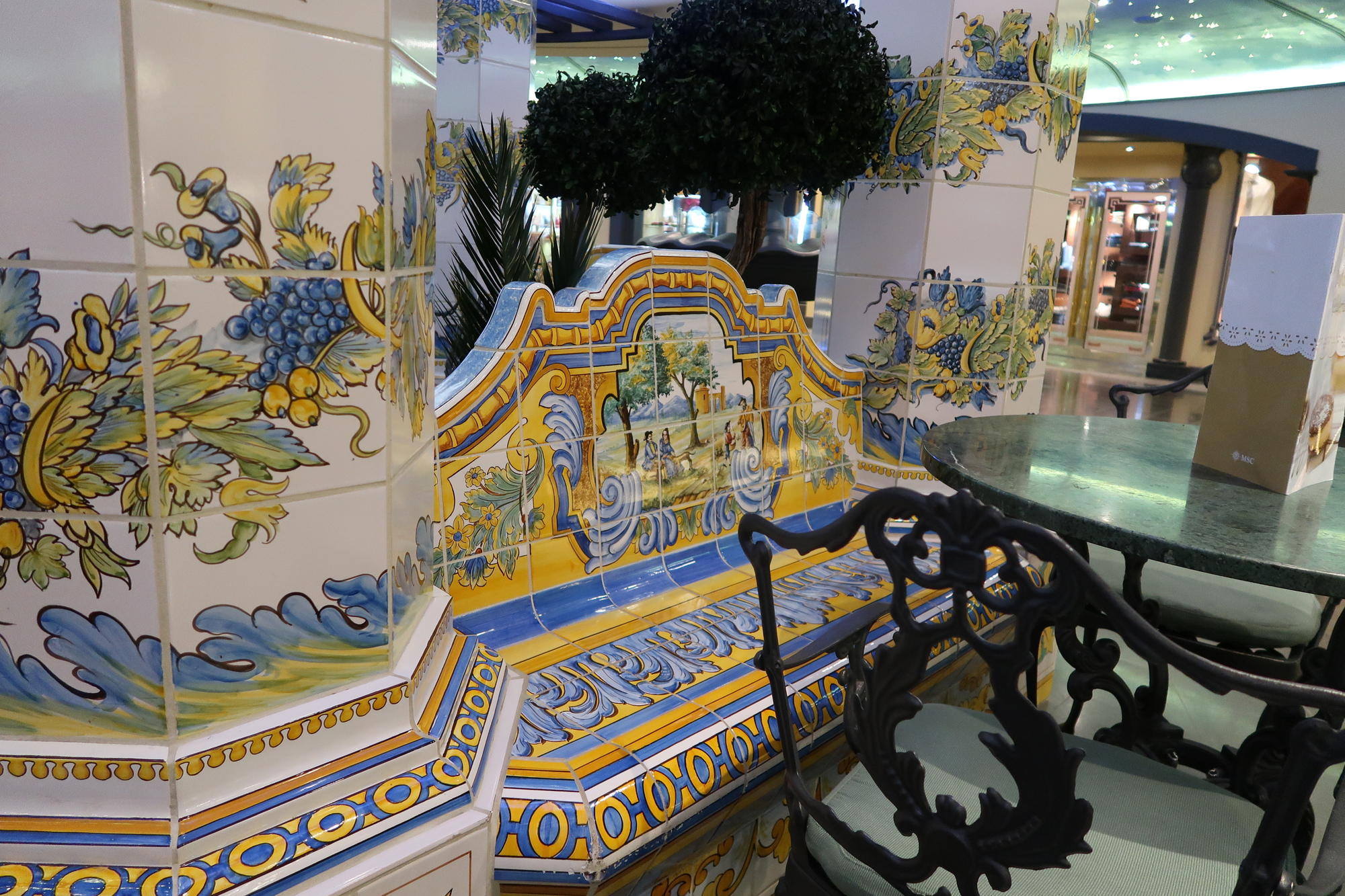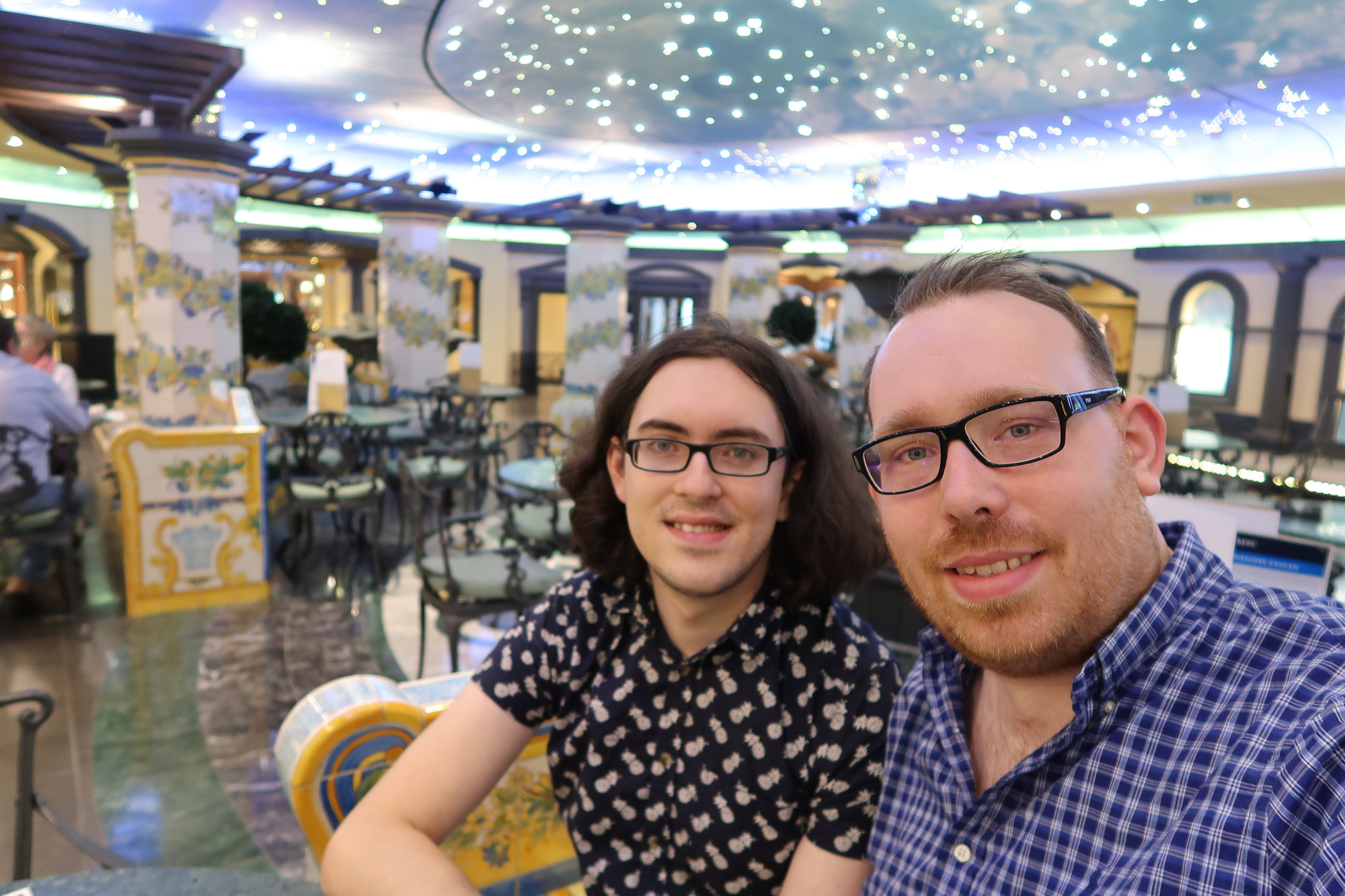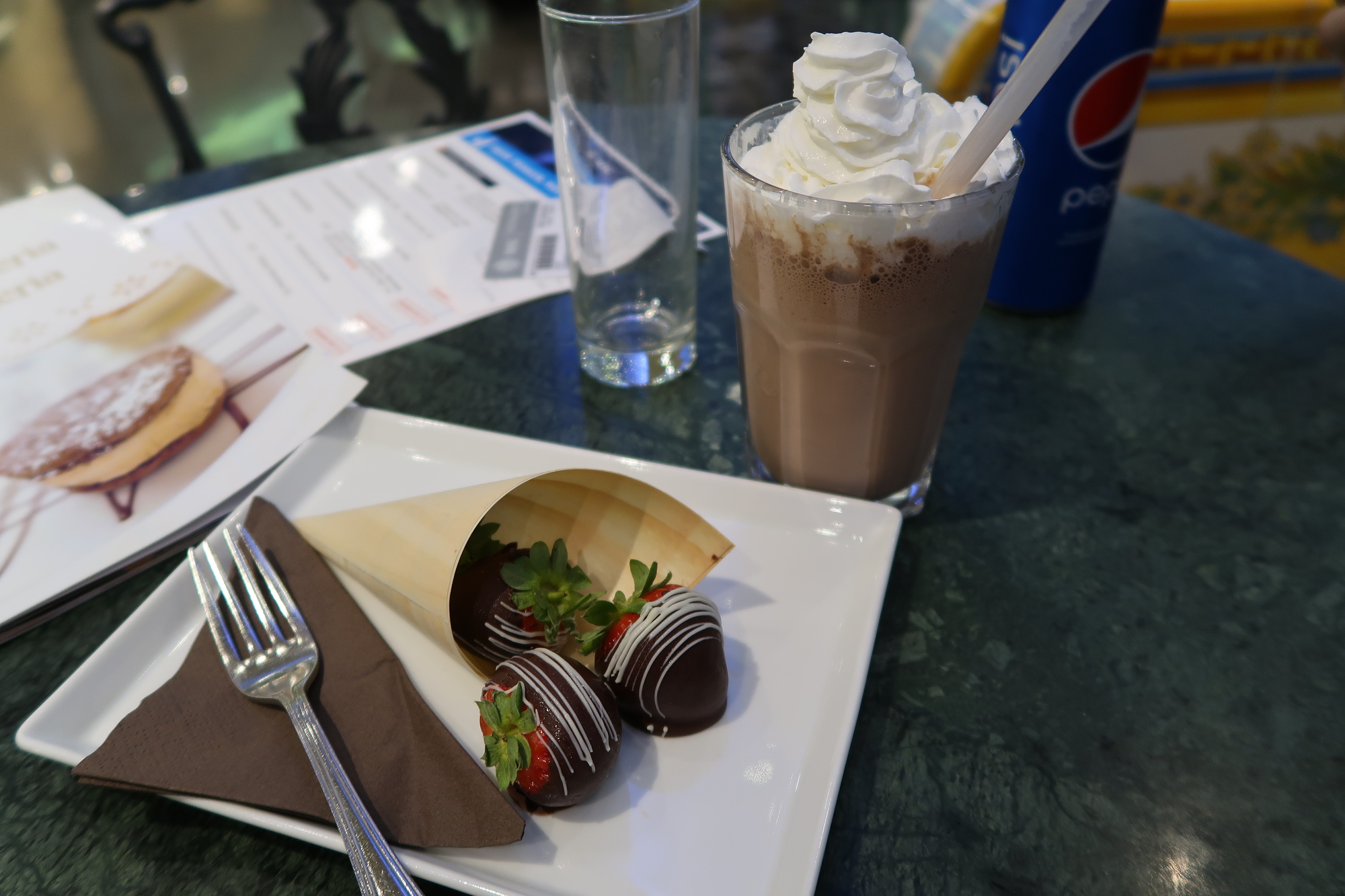 On this fine afternoon I decided to try the Nutella milkshake (who doesn't love Nutella? Right… just leave now) and Alex and I shared some chocolate dipped strawberries. It was all delicious, and were it not for my annoying sensible brain telling me not to spoil my dinner I'd have sat there all day. Stupid brain.
After this we decided to check out the menu for tonight's dinner in the Top Sail lounge. It looked fab, and while we were there we got ambushed by the canapé tray… my sensible brain didn't stand a chance!  As if by magic, a small plate of delicious canapés appeared with a strawberry daquari to enjoy in quiet contemplation of what a terrible, weak-willed person I am.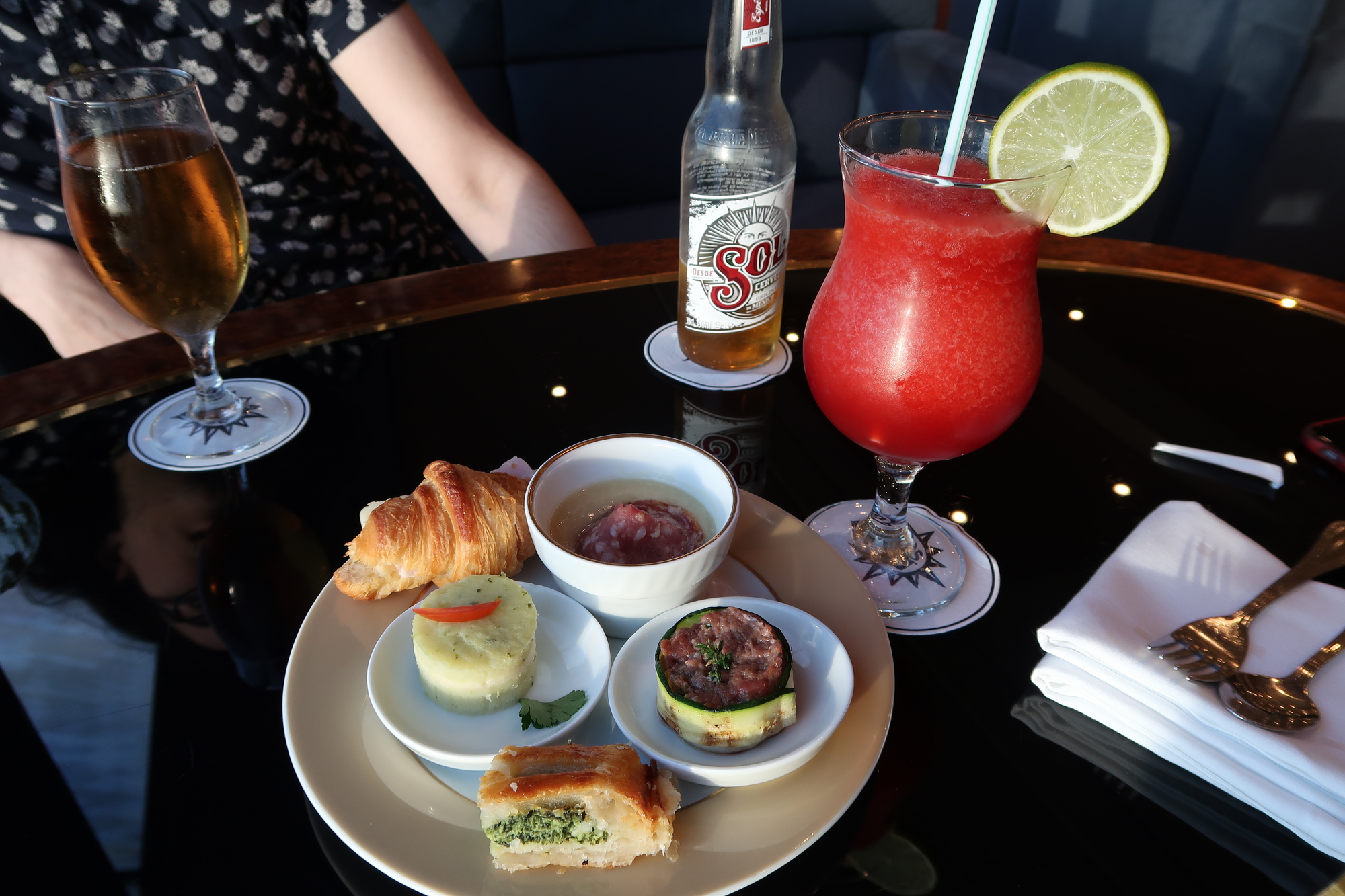 Smoking on Board
I've had a request to comment on the smoking situation on Splendida, so here's what I've discovered and observed.
Smoking is not allowed in staterooms or on balconies.  There is a smoking lounge (the cigar lounge) which allows smoking inside.  Half of the casino is also designated as smoking.  In fact when we boarded we noticed that the casino had quite a smoky smell, but this seems to be less intense now (or we've just got used to it).
The Top Sail lounge has a corner where smokers can enjoy their cigarettes, but cigars are not permitted.  In fact none of the areas where smoking is permitted allow cigar smoking (except, I assume, the cigar lounge).
Everywhere that smoking is permitted, e-Cigarettes are also permitted.  The signs specifically mention e-Cigs.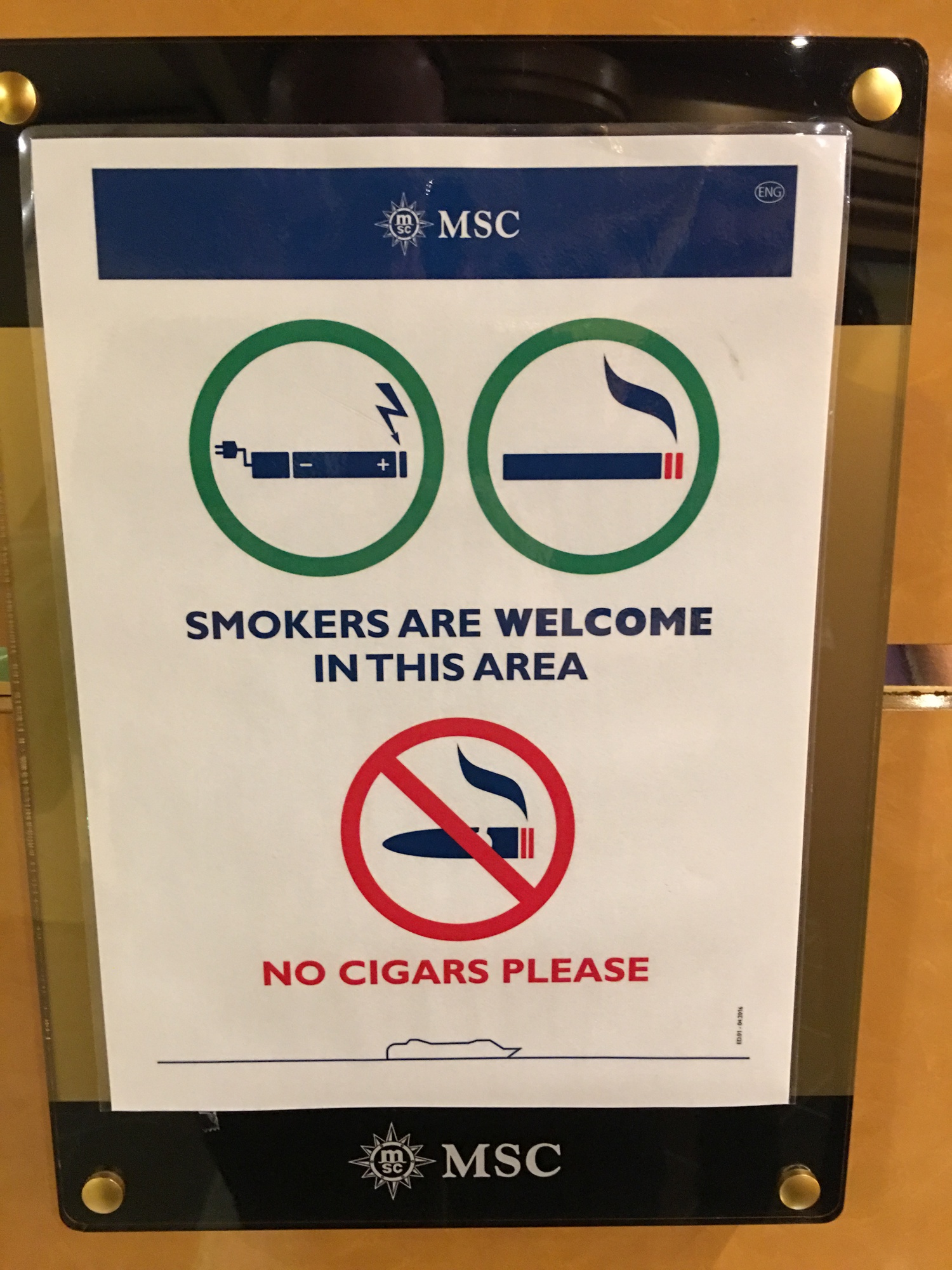 Showtime
We haven't attended the theatre performances so far on this trip because none of them appealed to us. Last night was some sort of Spanish dance thing, and the night before was… something else we didn't fancy (I can't remember). We don't typically like these sorts of shows, but have enjoyed having the freedom to do other things in the evening instead (like listen to the incredible amount of live music).
Tonight's performance wasn't descriptive enough to put us off, and had a title alluring enough to suck us in: Space Odyssy. 
So before I talk about the show, let me tell you a bit about the theatre. First, it appears to be massive. I don't know if this is just a trick, or if it really is larger than other theatres, but it feels like it could seat more people than the average ship's theatre.
The theatre itself is modern and very attractive. It seems well designed for productions too, with various areas of the stage able to be raised and lowered, as well as a large turntable in the centre.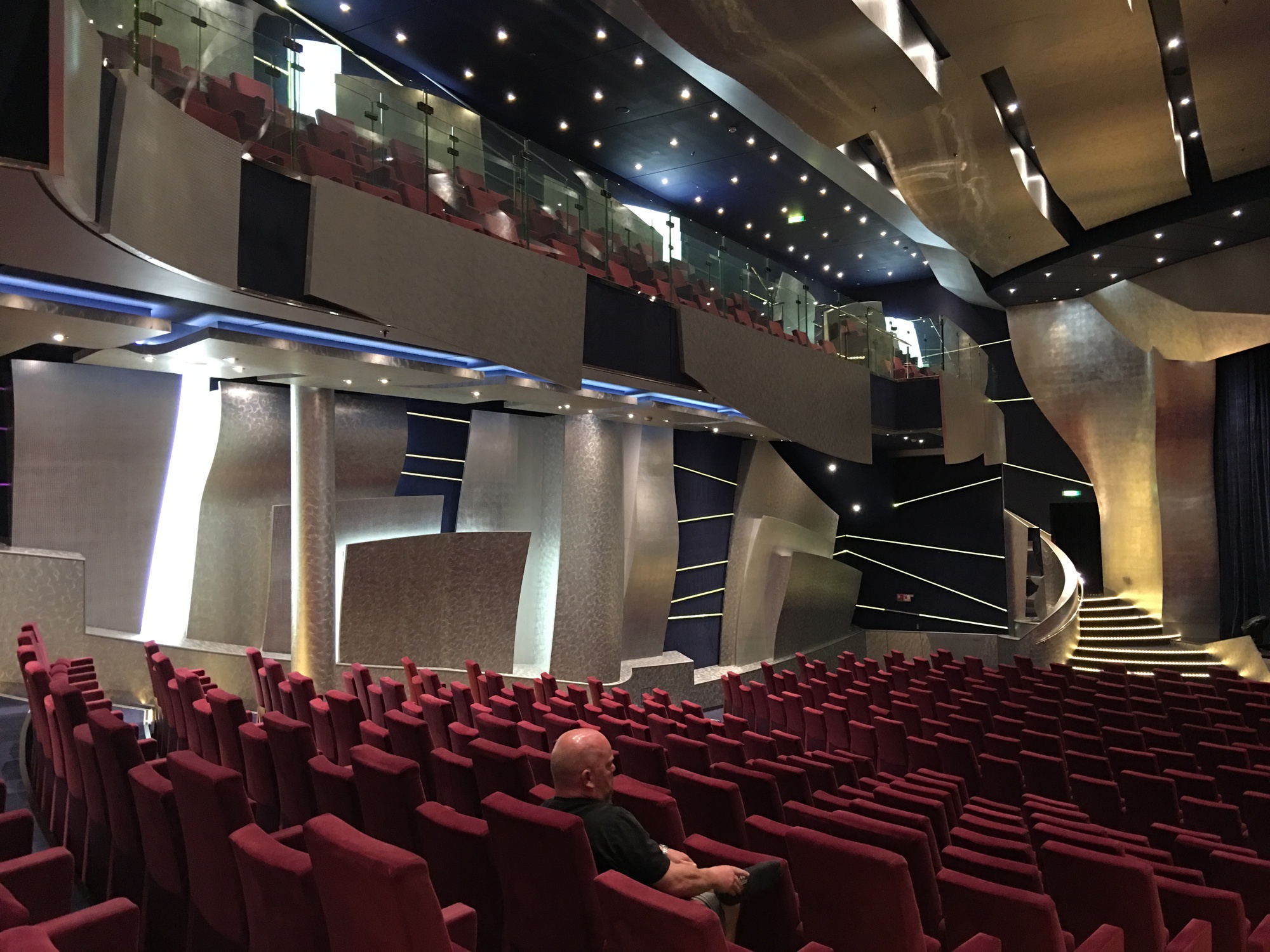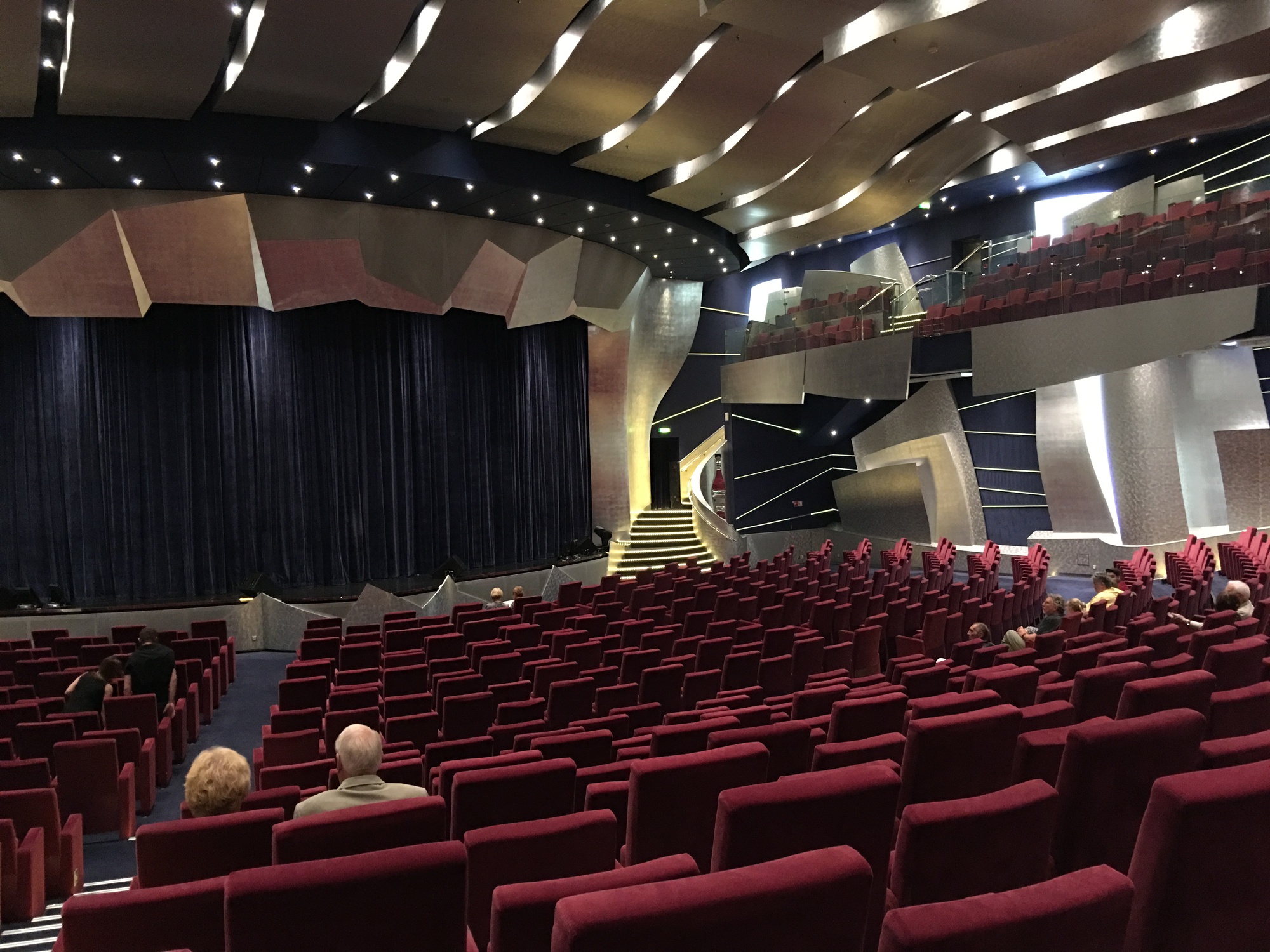 The seats are as comfortable as you might expect from a theatre and they have nowhere for drinks. No little tables, and no cup holders in the arm. Celebrity do this well on Infinity with little cocktail tables, and most lines at least have the cup holders with little holes for wine glass stems.
Of course the lack of somewhere to put a drink isn't too surprising when you realise there is no bar in the theatre. Further, the programme states that food and drink are not allowed in the theatre at all. This is very strange, though perhaps some manage to sneak in a cocktail?
The show itself was, frankly, awful. The space theme extended as far as the synth music, the glittery space props from a primary school classroom, and the terrible costumes (is anyone missing the hose from their washing machine, because I'm sure it's wrapped around one of the dancers).
I say dancers, but the level of dancing that was asked of them in this show amounted to little more than some strange marching and arm waving. It's a shame, because I'm sure they're capable of much much more, and didn't imagine their skills would be so abused!
The trapeze / cirque / aerial performers were far from the best I've seen anywhere, in fact probably the worst. There was a lack of energy from then as well as some slightly dodgy and wobbly manoeuvres.
This was without a doubt the worst production show I have seen. Frankly, my high school drama teacher would have been embarrassed to produce a show of this quality. It's an affront to the theatre designer who has ensured Splendida has a very capable and attractive theatre. What a waste.
Anotehr niggle: the ship employs some excellent musicians and singers, yet none were utilised in the theatre production. A waste of talent!
At least they're performing in the bars, which is precisely where I'll enjoy entertainment for the remainder of the cruise.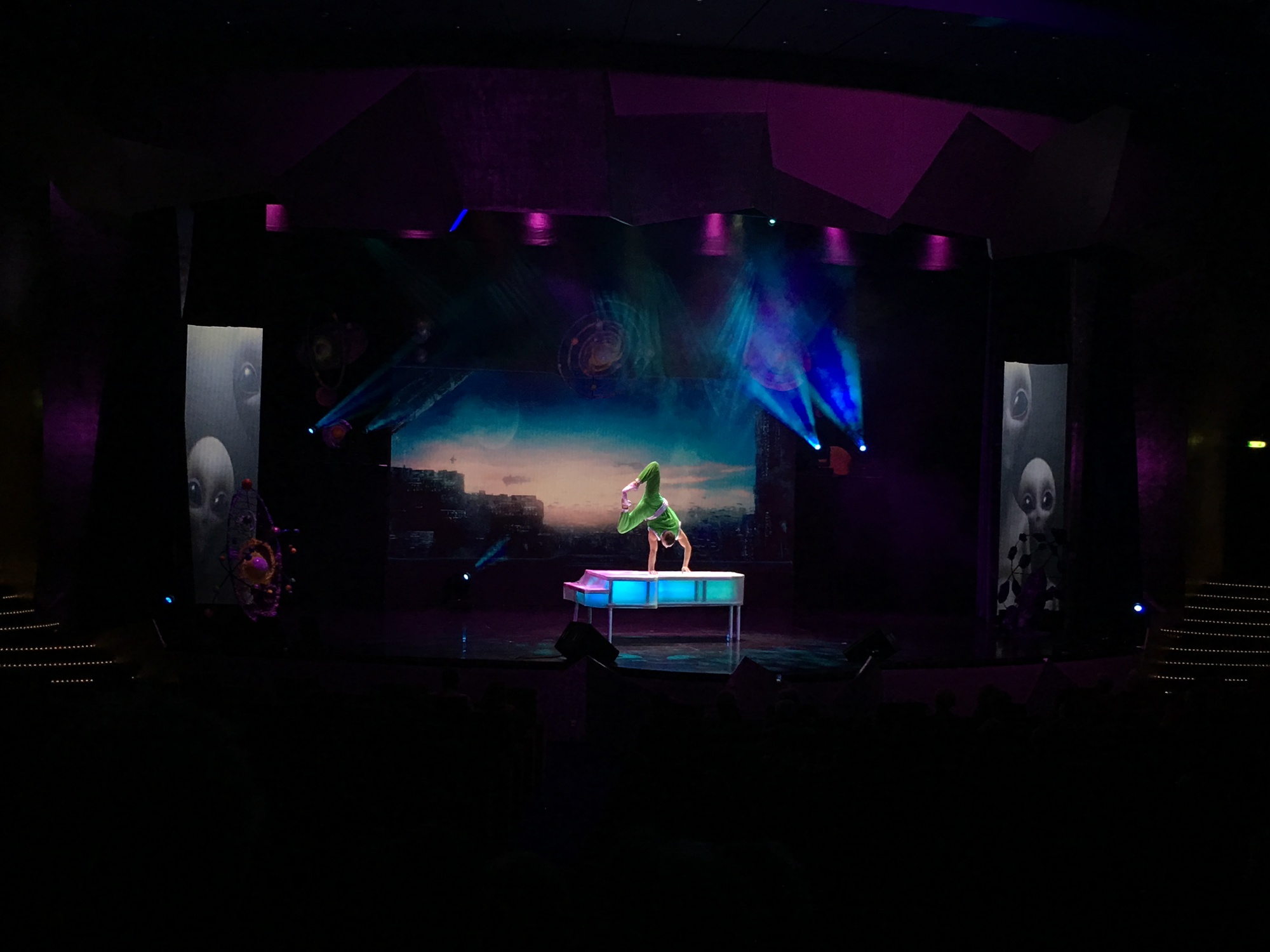 Dinner at L'Olivo
Dinner in the restaurant tonight was excellent.  We both started with a dim sum selection.  The crispy ones were perfectly crisp, and the steamed ones were moist and delicious.  Soy sauce was offered in addition to the sweet & sour plum dip that was served with them.  Fabulous!  Next, I enjoyed a shrimp risotto which was nice.  The prawns were really succulent and juicy, and tasted really fresh.  Alex had a potato lentil soup which wasn't his cup of tea (I made him order something so I didn't eat the risotto alone!) but I thought it was quite tasty and hearty.  We both had the duck breast for our main course.  This was so tender and moist. It was served with crispy little potato fries which were just delicious.  We also finished with the apple strudel, which was nice, though the filling was a little over-cooked and mushy.  The pastry was good though, and the whole thing had a lovely cinnamon flavour, which I love!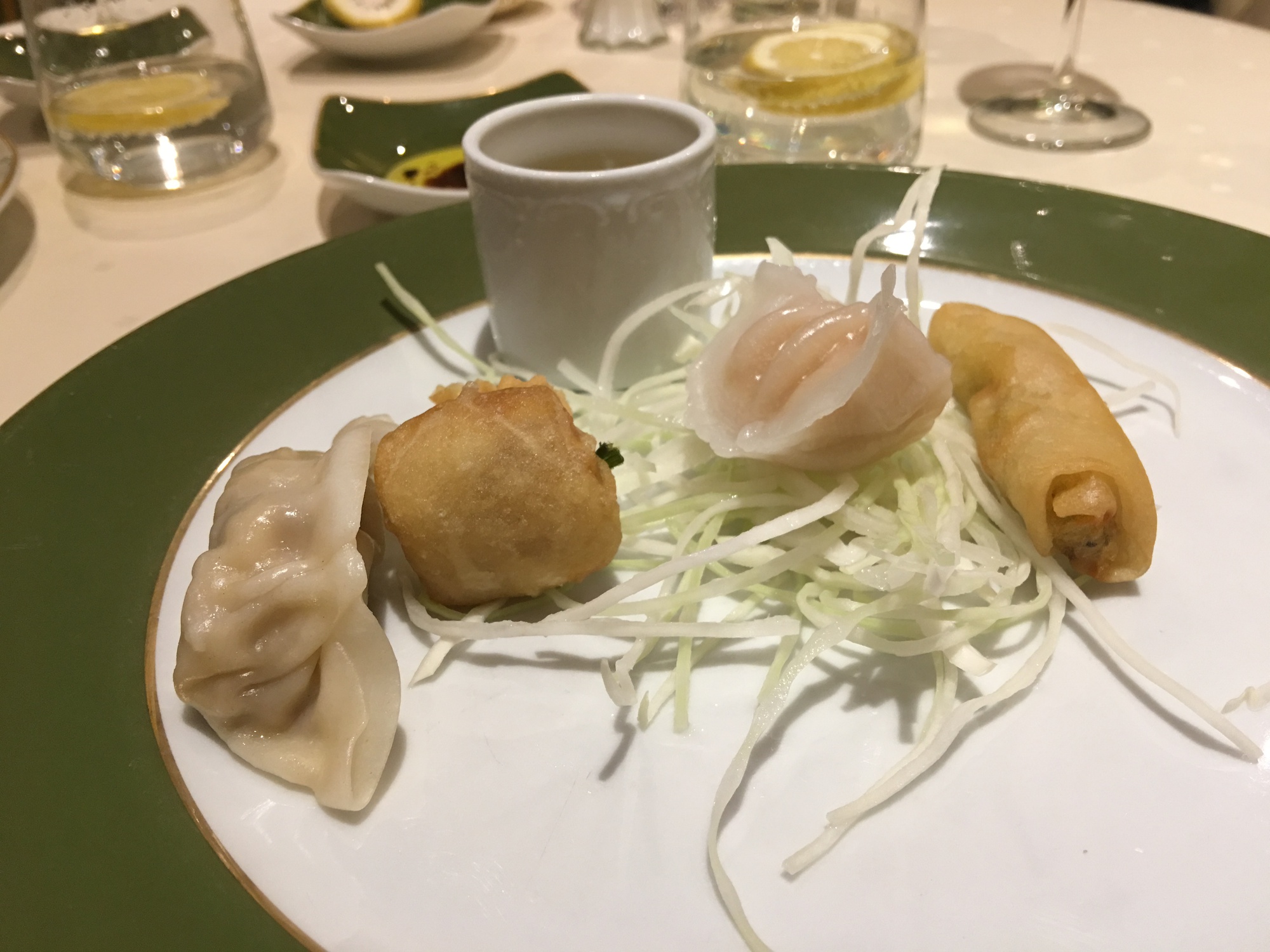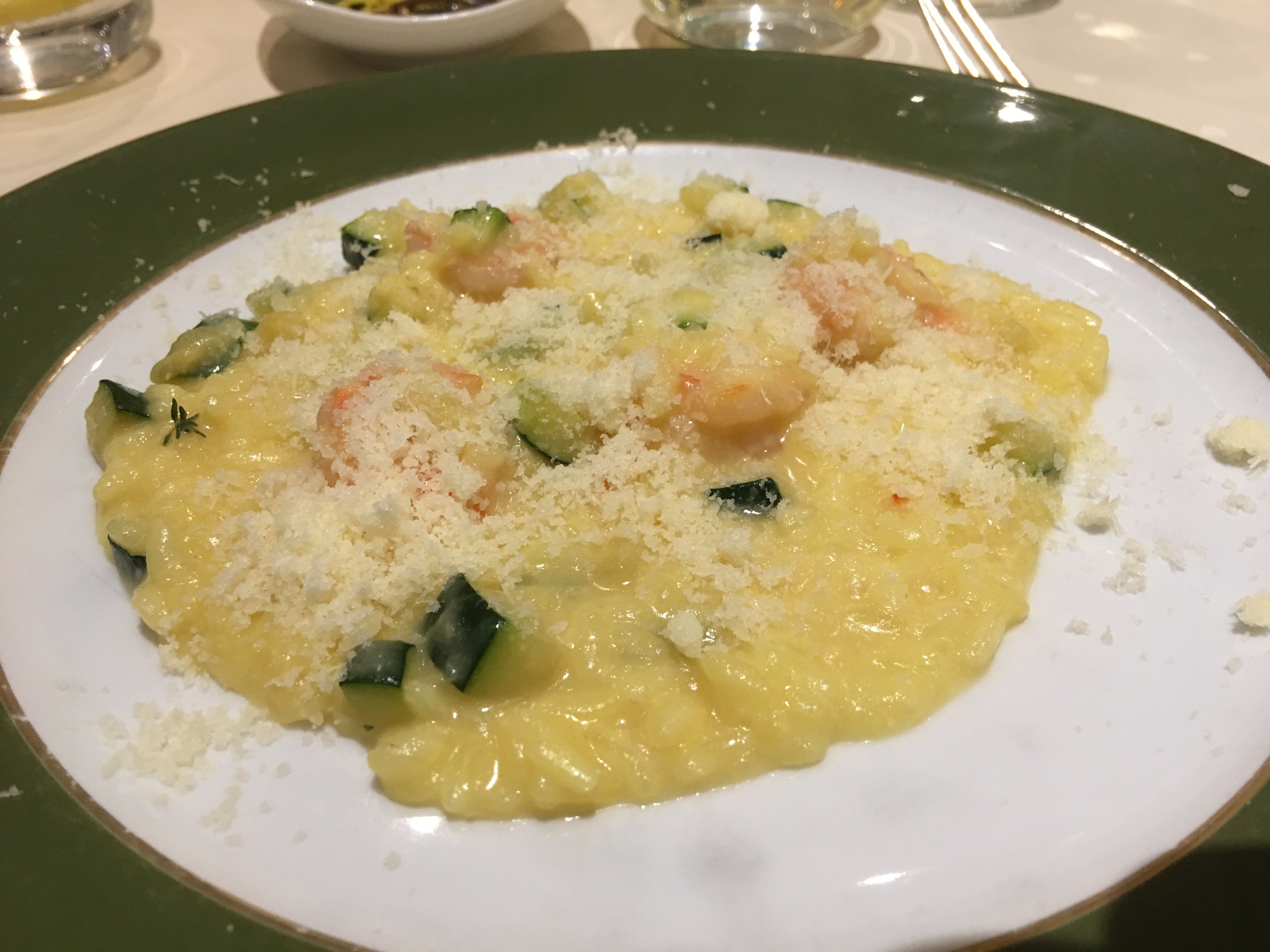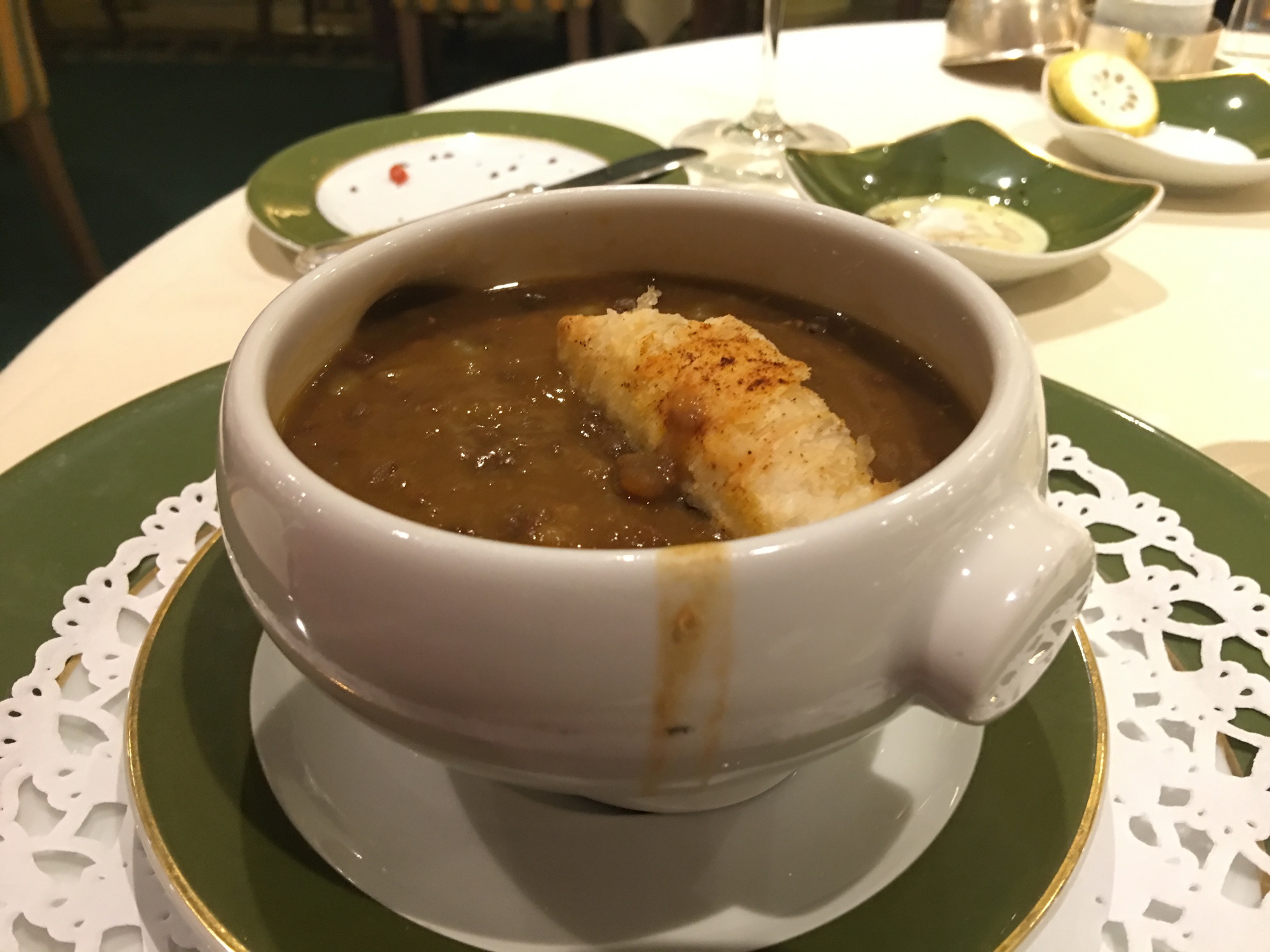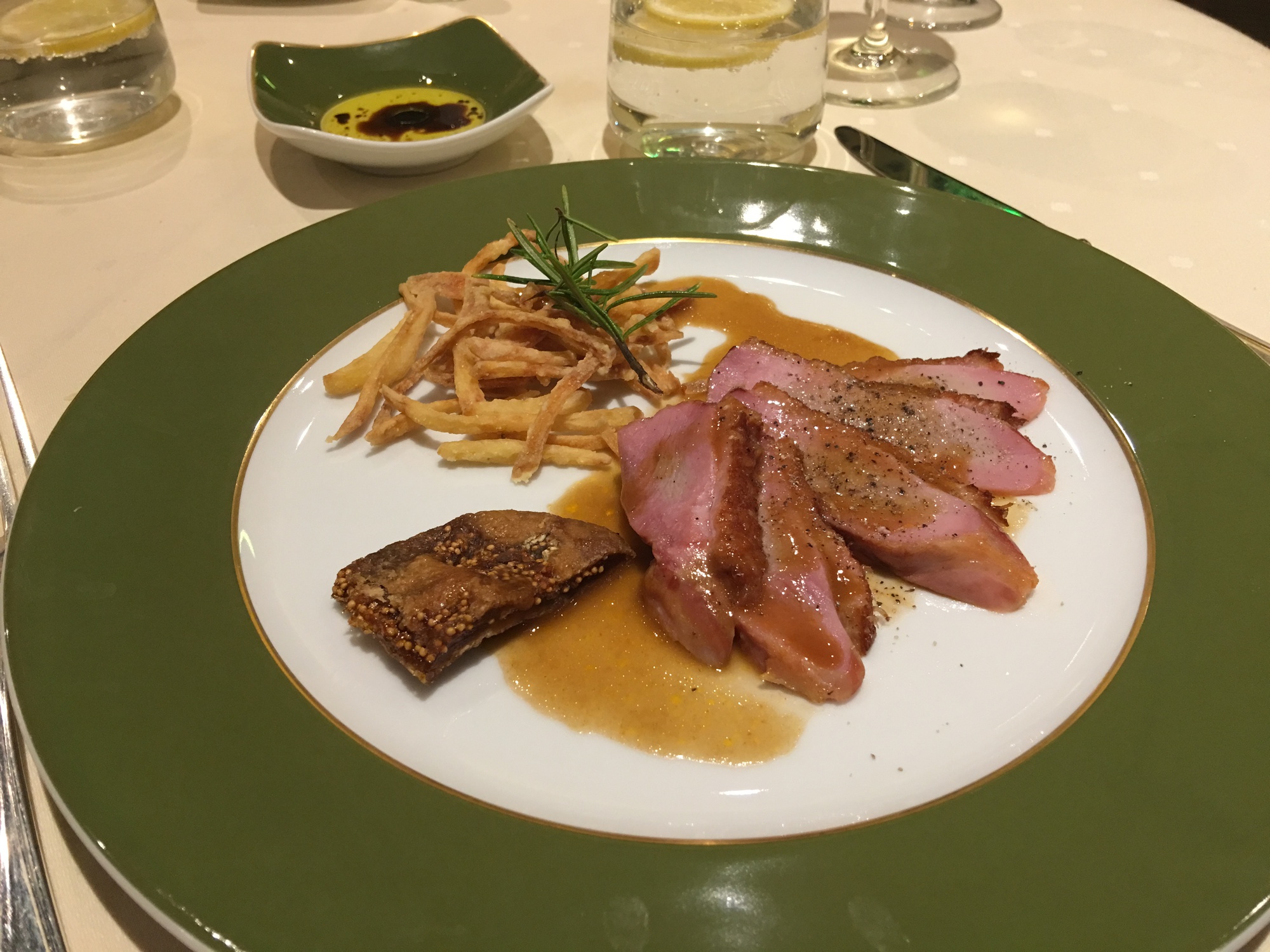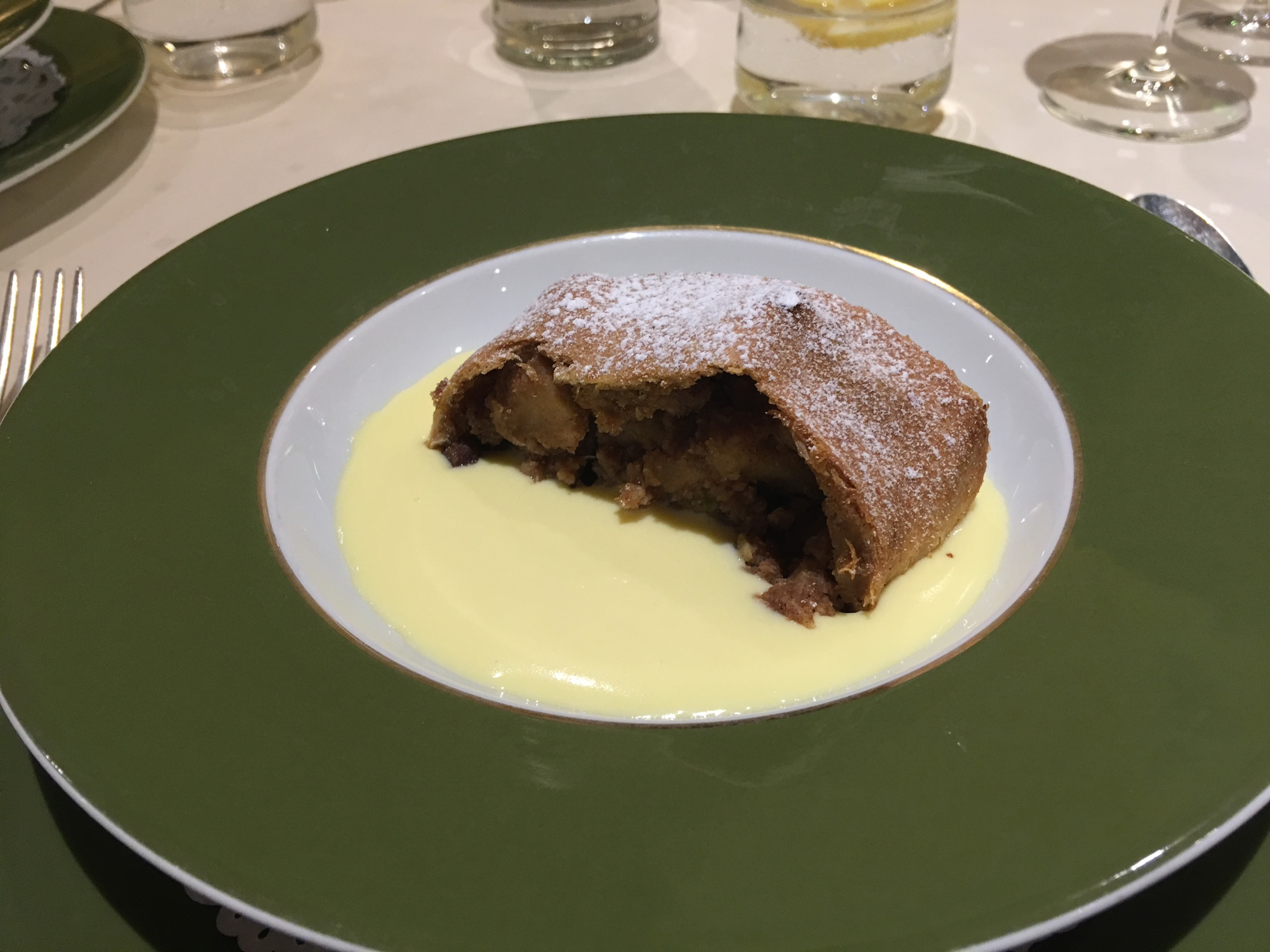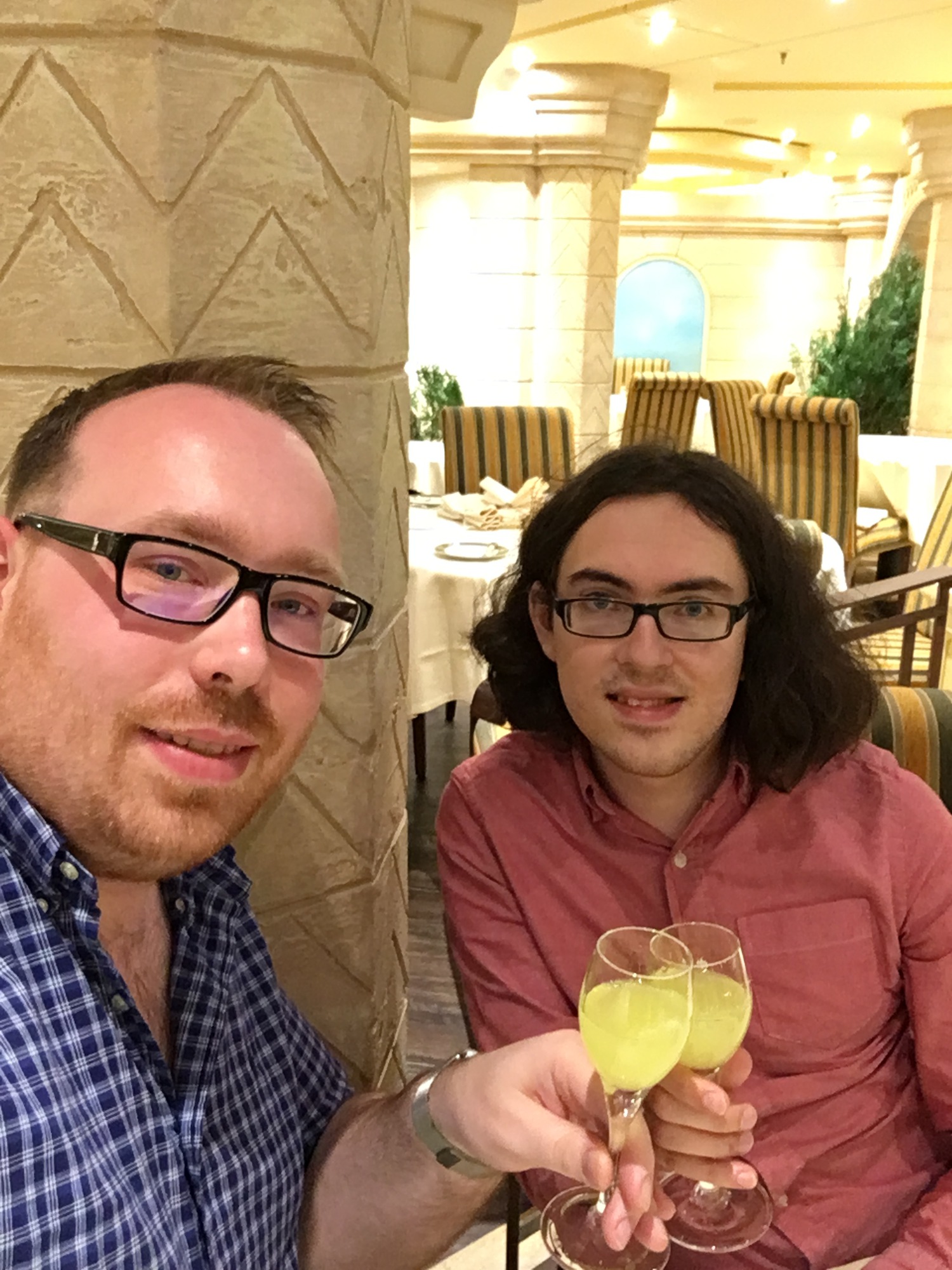 Overall I'd say it's the best meal we've had so far, and we haven't had a bad meal yet!  We decided to finish the meal with espresso and limoncello.  The espresso was delicious and really smooth.  The limoncello was limoncello-y – you can't really go wrong!  Overall, tonight was a great experience.
After Dinner Entertainment
We decided to try another bar after dinner, and ended up in the Aft Lounge.  This is at the back of the ship (obviously) on deck seven and had some live music that started with a latin vibe and ended up in cheesy pop – there was Abba!  They were all sung in a fairly easy-listening sort of way, perfect for a relaxing night in a lounge or for a slow-paced dance.  The singing was reasonably good, and the drinks service was super fast again.  The only complaint I have about this lounge is the seating.  It's simply not comfortable to me.  They have a load of little stools, along with large curved sofas that are so deep inplaces you could lie down on them.  I might sound like an old man, but I need some back support please!  We didn't stay too long before retreating to the Yacht Club lounge for a relaxing drink with views out towards Amsterdam (we're docked until 9am tomorrow).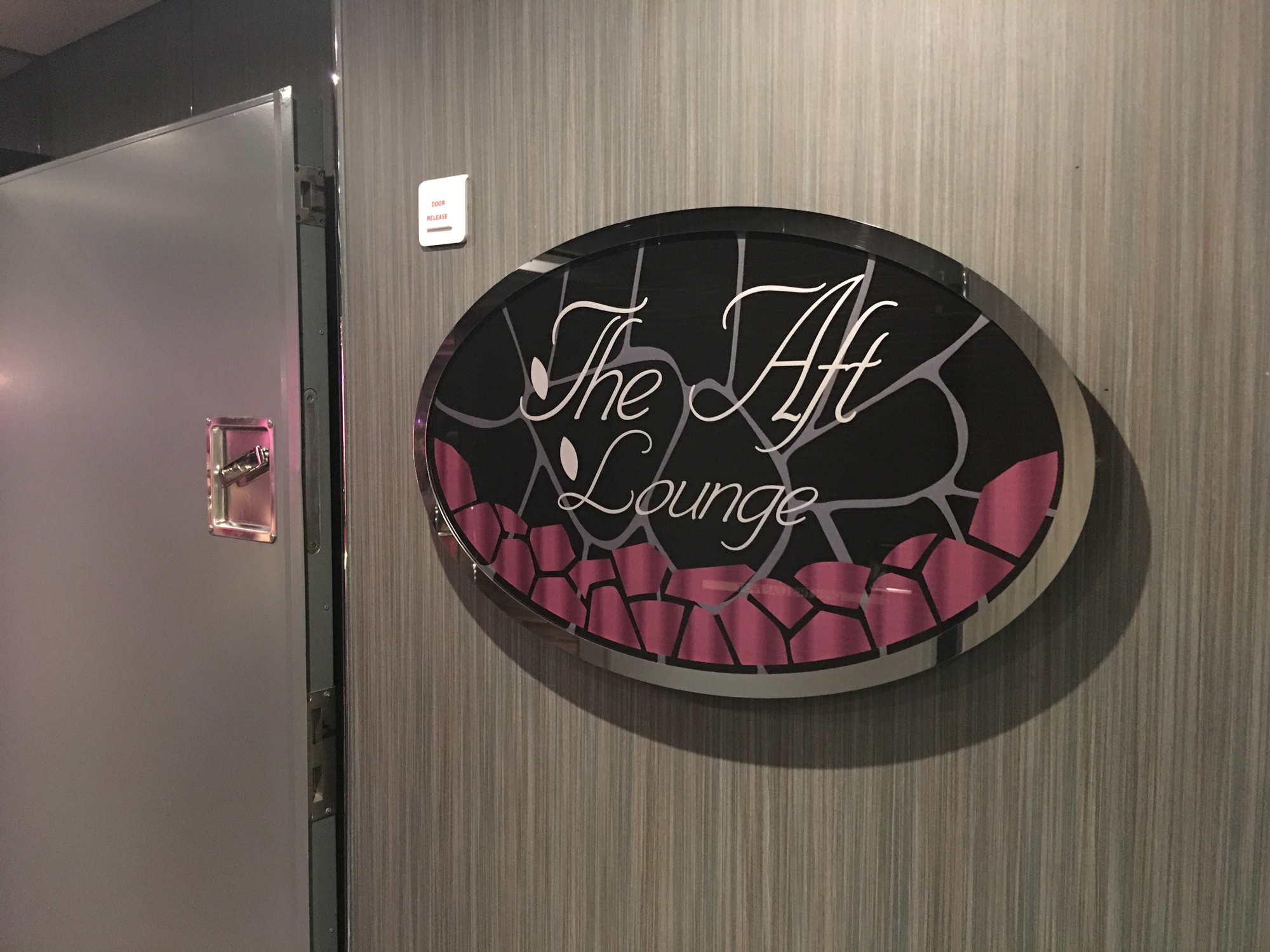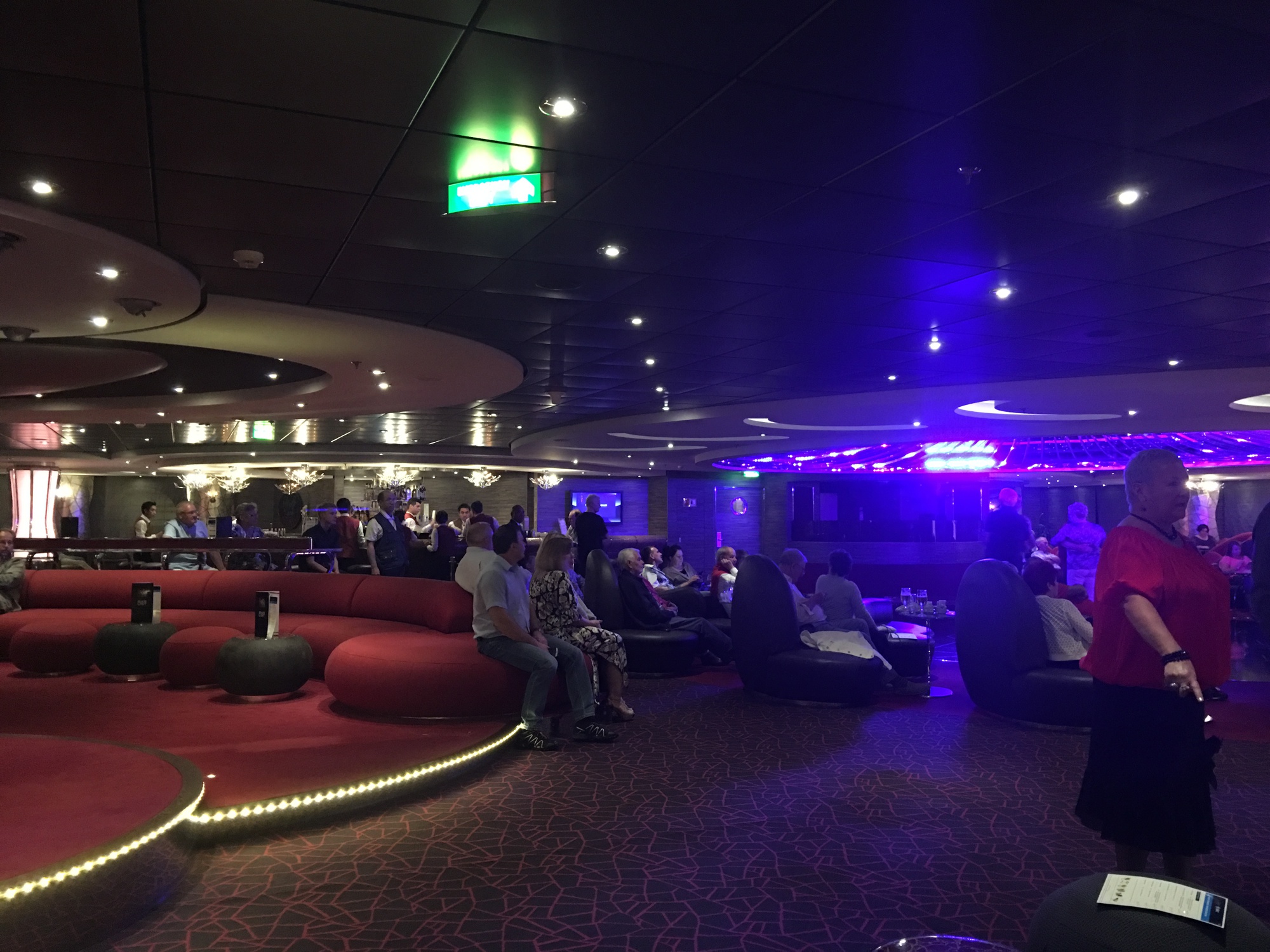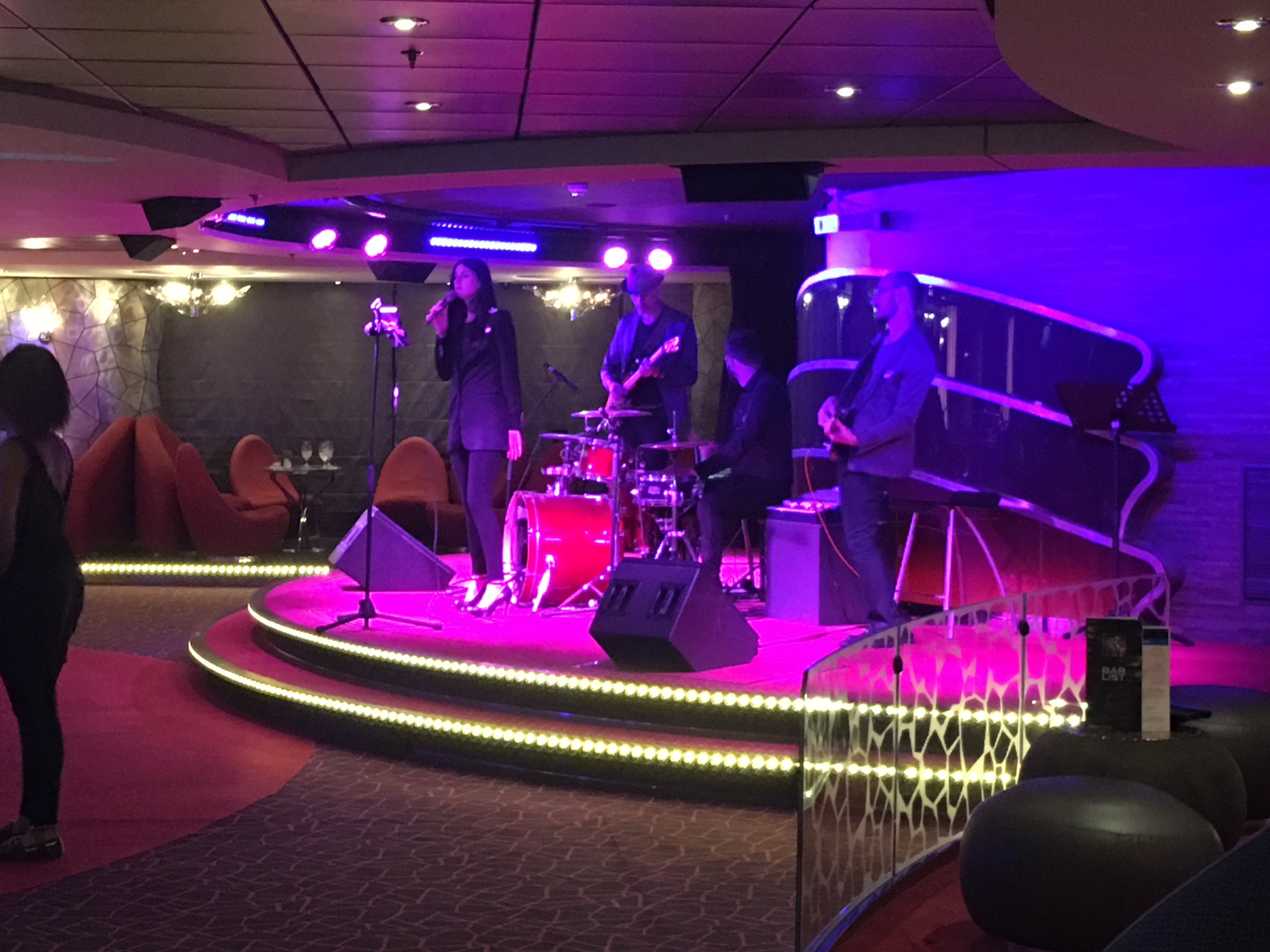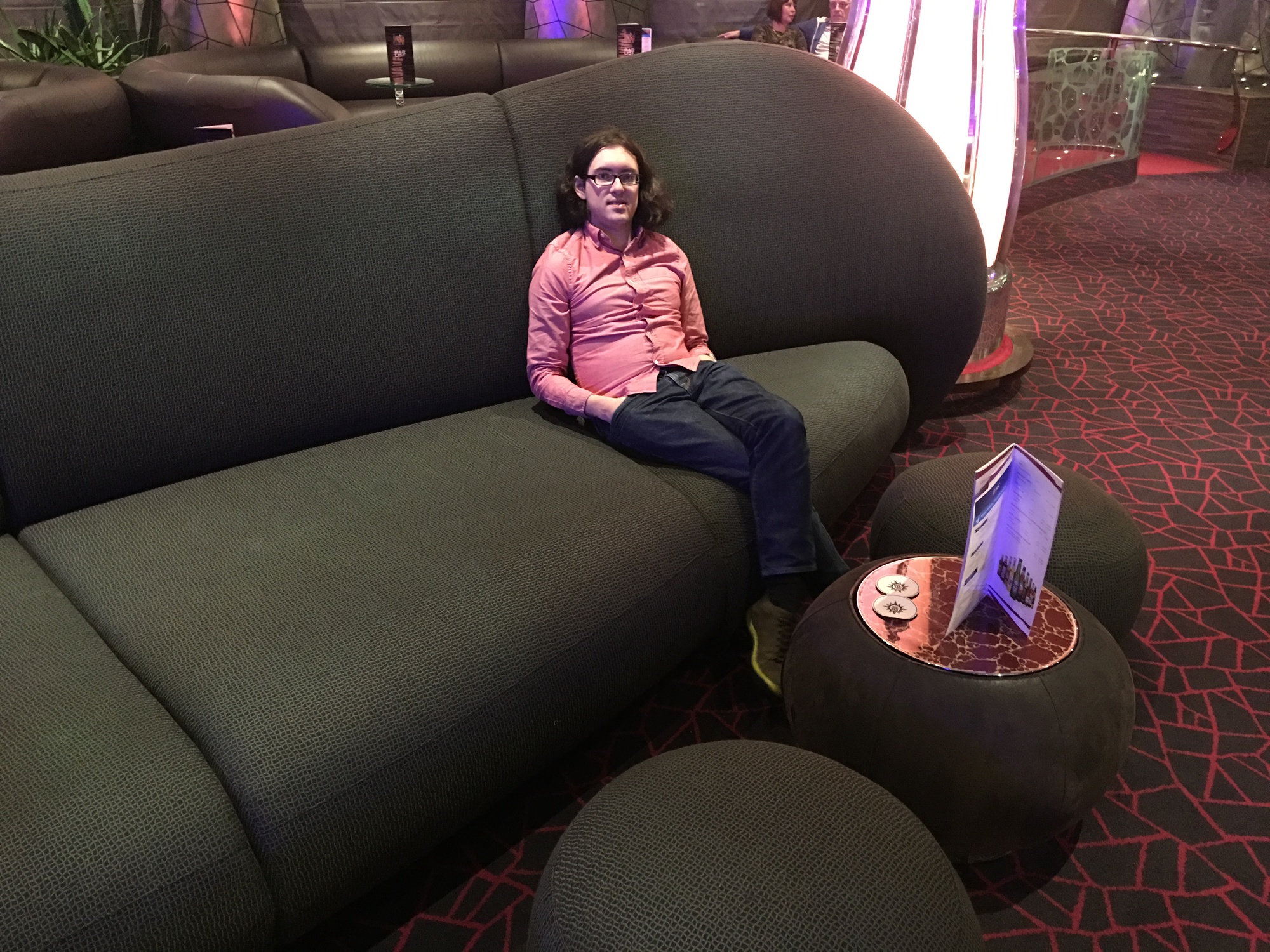 I'm ending this now, and I'm going to catch up on sleep tonight.  Sea day tomorrow, and the alarms are cancelled!
One Last Thing…
For the viewing pleasure of anyone interested (maybe just Carol) here are some photos of the crystal staircase in both the Yacht Club (gold) and the atrium (colourless).  Enjoy – they're pretty bloody magnificent!