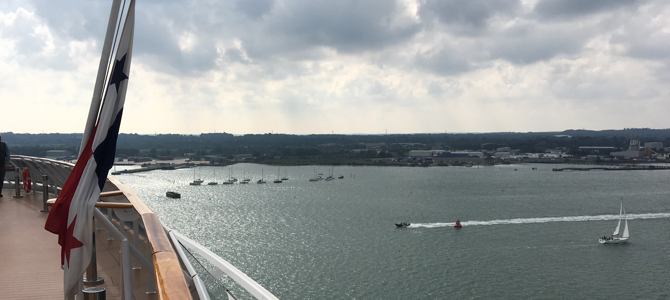 Today we joined the beautiful MSC Splendida for our short cruise to Europe. We have our first impressions of the Yacht Club, as well as our first taste of the food on offer from MSC.
Our Trip So Far
We decided to break our trip up, as we often do, in Manchester. We stayed at a somewhat dated Premier Inn (we had a physical key), but it was fine for our purposes and meant we didn't have to drive for 7+ hours all at once.
Our second night was spent in Winchester at a very modern Premier Inn there. This was excellent, with effective air conditioning and RFID room keys.  We drove to meet some cruise forum friends (Jill and Plunky) where we had a wonderful evening of food and conversation!
All in all a pleasant pre-cruise experience with no delays. A great way to start our trip, and much less chaotic than having to fly anywhere.
Embarkation
We had an early start this morning, with excitement taking over and forcing us into the land of the living sooner than we'd have liked. As a result, we ended up leaving quite early for the short journey to Southampton. This, combined with the very pessimistic sat-nav estimate, meant we arrived at Southampton dock gate 10 just before 11:00.
In my typical obsessive way, I read a lot about Yacht Club embarkation.  Mostly these reports were from Genoa.  The Yacht Club experience in Southampton is not currently on the same level as that in Genoa and the other European ports.  There is no Yacht Club tent, and no special lounge with drinks and snacks.  That's not to say embarkation was bad; if you hadn't read about the experience elsewhere beforehand I don't think you'd have too much complaint about the experience we had today.
Before sailing, I was initially concerned about the parking.  Having sailed from Mayflower terminal previously, I am used to having a car parking ticket to display in the car with the registration and other details on it.  My free parking voucher offered no such window pass, but I was assured that there would be no problem at the port.  The first guy we spoke to driving in from gate 10 seemed confused by the paperwork, but let me into the car park anyway.  There was no further confusion, so the MSC system works wonderfully.
We parked, and luggage was loaded into a van directly from the car, just like when sailing with Celebrity or Royal Caribbean from Mayflower.
Into the terminal, we walked straight through security as there was no queue at this time of day.  On the other side of security, I was greeted by a Yacht Club butler who checked us off a list and asked us to take a seat, assuring us that we'd be called to check in when this opened.  We were left waiting for about an hour with no further communication, but eventually were called to check in before everyone else waiting in the lounge.
Check in consisted of having someone check our passport details against the embarkation form and then put a big, green, very satisfying "OK" stamp onto the document.  That was it!  I'm glad we were OK, though a more enthusiastic rubber stamp would be preferred in future.
We were then escorted in a small group onboard the ship by the butler.  At the gangway we had our embarkation forms scanned and photographs taken.  An unusual place for this to happen, but not problematic.  From there, the grand tour continued to the forward-most elevator bank and up to the Yacht Club.
In the Yacht Club, we had everything explained to us (again, as a group) and had dining time preference and newspaper preference taken.  The list of newspapers was smaller than I've seen published elsewhere, as The Guardian was not on the list.  In any case, we get news from digital sources these days, so the dead forest was not required nor requested.
You can activate your cruise card at one of the many terminals around the ship designed for this purpose.  It's a bit of a different way to operate, but it was quick and easy so I have no complaints.
Staterooms were ready when we boarded, and we were on the ship by about 12:30.  I will not 'do' the stateroom review in this blog, as I've already written plenty and I feel squiffy and lazy.  Plus I'd like a few days to get used to the room and discover all of its deepest, darkest secrets before spilling the beans.
First Impressions
We have had a wander round the entire ship, though this happened when the ship was empty and the venues were closed, so I only want to give a very brief overview here.  We didn't spend any time in any of the venues, as we ended up being quite busy in the Yacht Club areas and trying to get to grips with that first.  I will visit some other non-YC venues as the cruise goes on though, so I'll have a better idea later in the cruise.
Overall the ship looks nice.  Lobbys and elevator banks looks very modern and classy.  The crystal staircase in the main atrium is stunning… _really _stunning.  It sparkles under the lighting perfectly and catches the eye.  I thought this would be quite tacky in practice, but I actually quite liked it.  Truth be told, I prefer the clear crystals in the main atrium over the golden ones in the Yacht Club.
The bars, of which there are many, have varied themes.  Some of them are quite stunning, and everything is clean and well maintained, but they don't come across as being as classy as those on Celebrity.  They're not tacky, just a little over the top for my tastes.  I may change my mind as the cruise goes on.
More on the rest of the ship in a future blog.
The Yacht Club
The Yacht Club is gorgeous.  The Top Sail lounge sits on deck 15 forward and has wonderful views out to the front of the ship.  This is my favourite location for any lounge on any ship, and MSC have not disappointed in this respect.  If I wasn't sailing in Yacht Club I'd be very disappointed that there was no forward, high deck lounge for me, though the aft lounge on deck 8 would be an almost-acceptable alternative.
The Top Sail lounge has a constant supply of little snacks, and my experience so far is that it is a nice retreat from the very busy areas in the rest of the ship.  We had some wonderful music this afternoon from a trio of musicians inclusing a pianist and a violinist.  I suspect the third was on the viola.  Whatever it was, we thoroughly enjoyed the instrumental music they played, and they easily rivalled any similar trio/quartet we've heard on any other ship.  Absolutely divine, and I could easily chill out and listen to them for hours.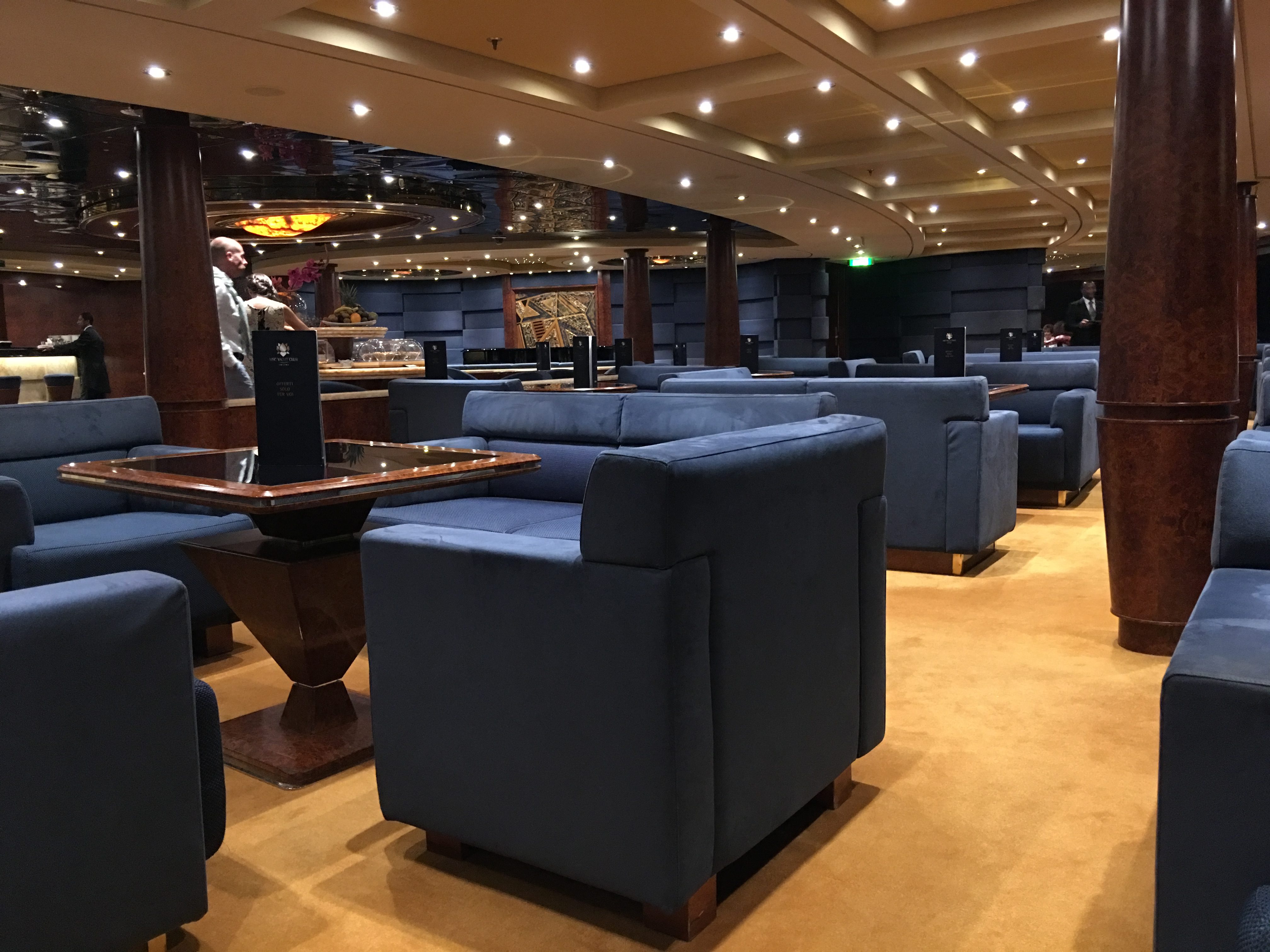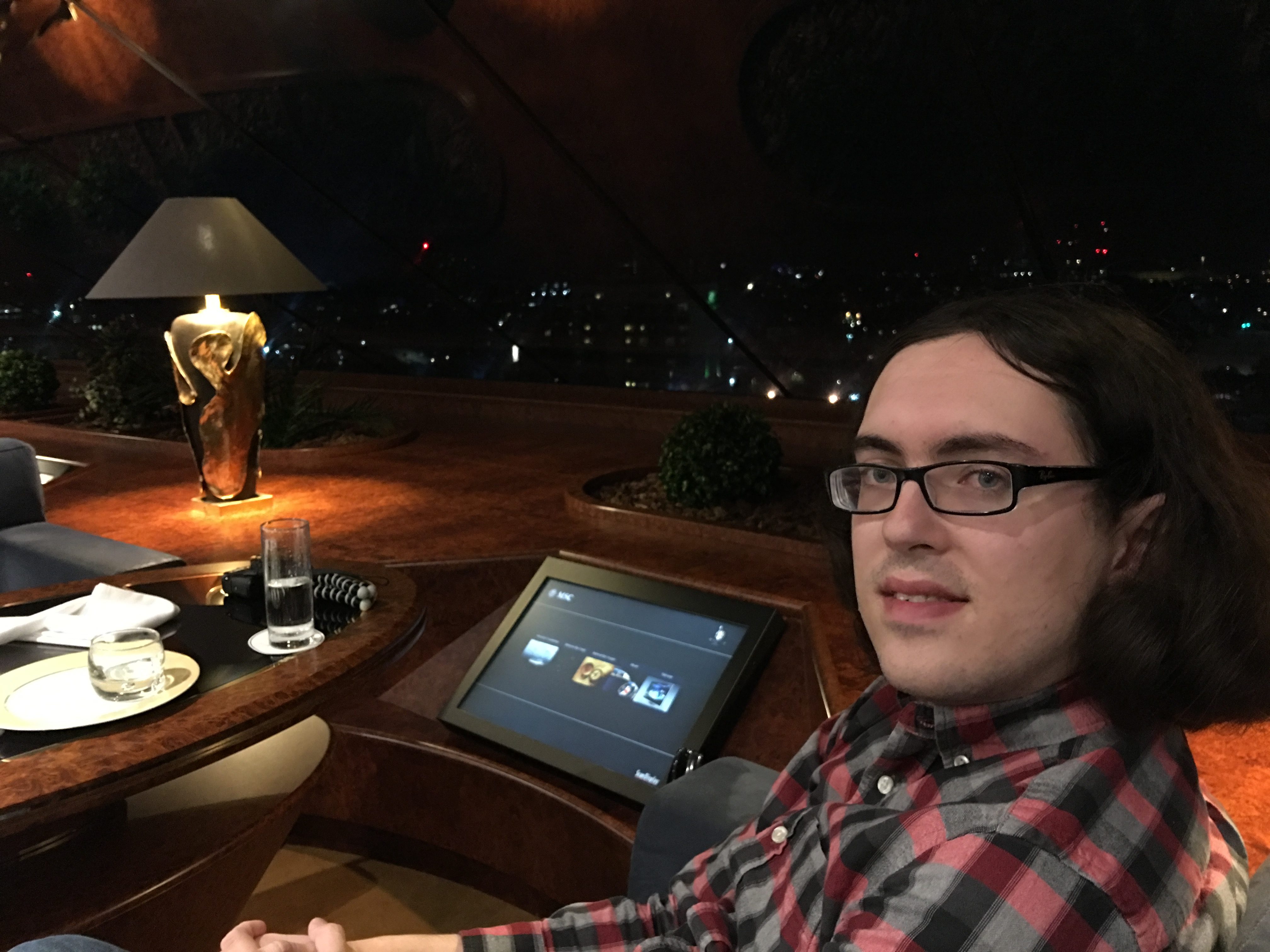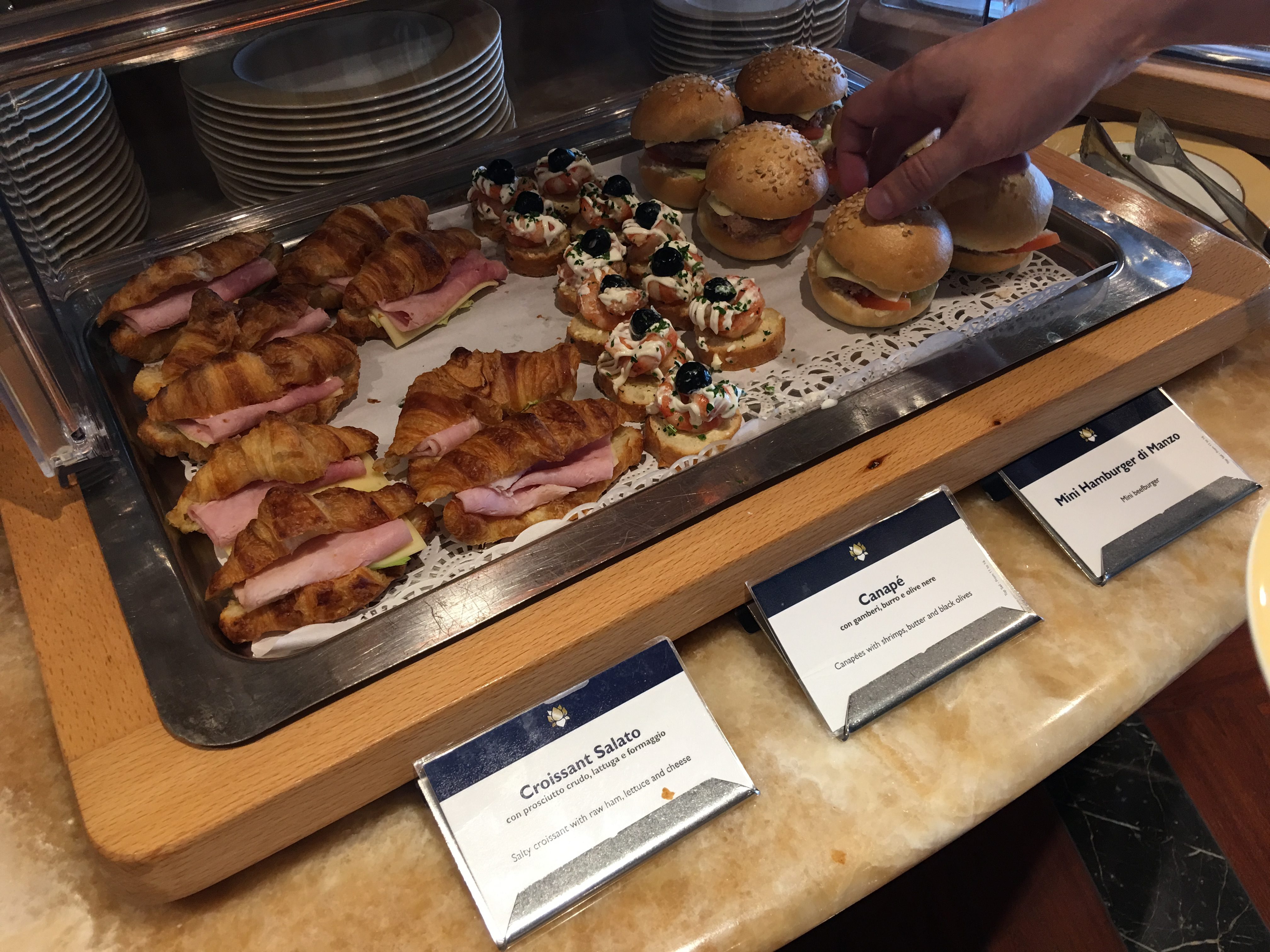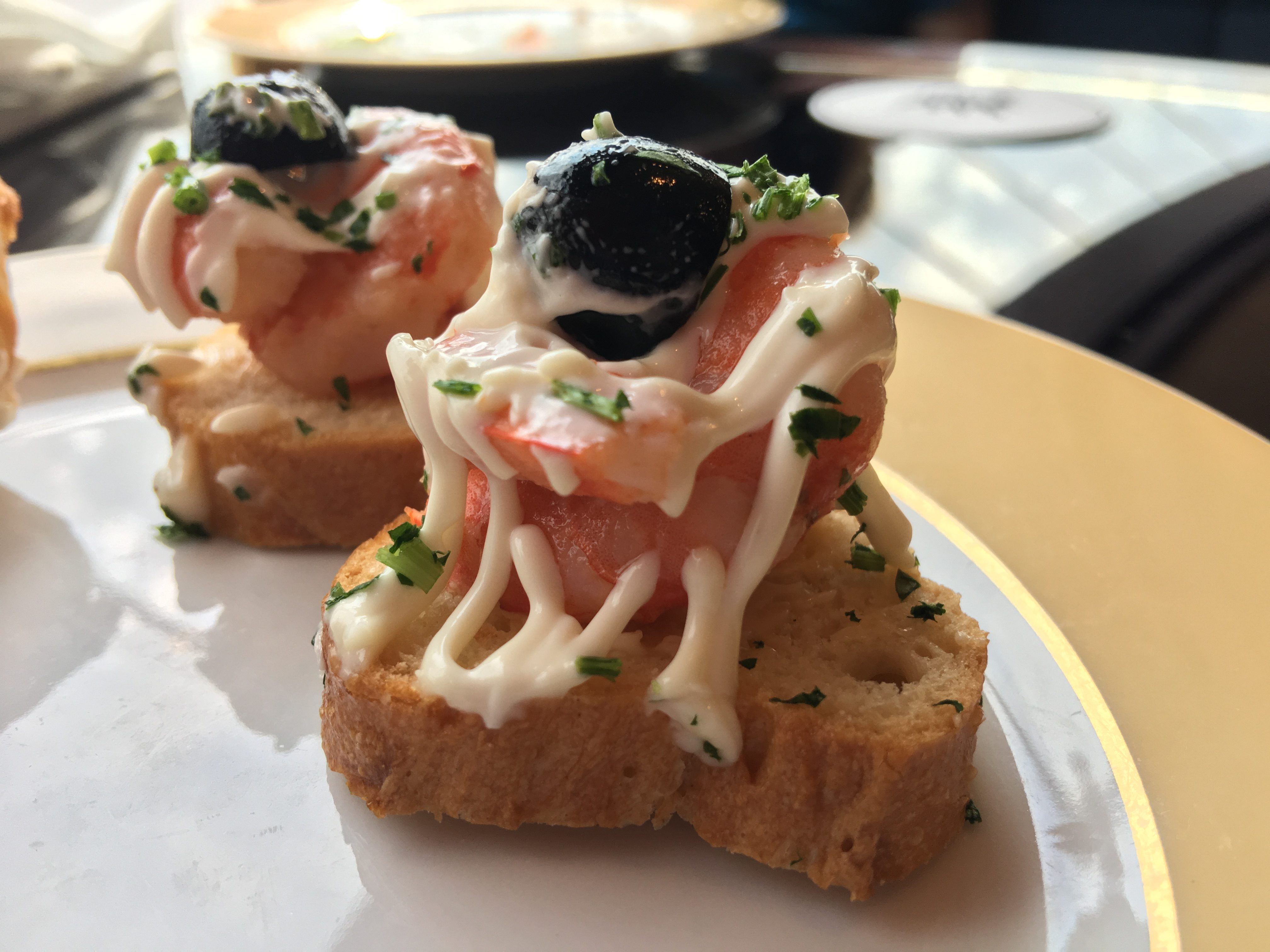 Table service in Top Sail is prompt & efficient, and far exceeds the experience I most recently had on Celebrity Eclipse.  But then you'd expect that in a lounge for suite guests.  We'll see if they keep it up for the rest of the trip.
The snacks are phenomenal, and vary throughout the day.  They're all individually plated for extra hygine, and are almost all delicious.  When we boarded there were sweet and savoury options, including pastries, filled croissants, and mini-sliders.  These were really tasty!  You can be sure to hear more about these in future.
Muster Drill
Muster was fine and, like on most ships, a necessary chore when boarding.  The more and more I take part in these, the more I feel they achieve very little beyond forcing people to find out where their muster station is.  It started about 30 minutes late, and was over very abruptly.  Clearly SOLAS is an important safety protocol, but I feel that the implementation is little more than a tick-box exercise that imparts very little useful information.  This is not a criticism of MSC any more than it is a criticism of most cruise lines.  But we attended, and then it was over.  Thankfully.
One Pool Deck
After muster, Alex and I ventured onto the Yacht Club pool deck for some hot tub relaxation before getting ready for our late dinner.  We were the only ones there, and I don't think they were far from closing, but we were welcomed nonetheless.  We had bar service from within the hot tub, and this demonstrated another benefit of the gated Yacht Club environment.  Everyone in there is a Yacht Club guest, and all Yacht Club guests have free drinks.  This means waiters do not require cruise cards to serve drinks within YC areas.  This is perfect for drinking beer in the hot tub!
Interestingly, the signs say that food and drinks in the hot tub is prohibited, but as the waiter actually took our order and served us beer while in the hot tub, the rule is clearly not enforced.
Dinner in L'Olivo
From here we went for for an aperitif (and some canapés… that's the diet out the window) in the Top Sail lounge before heading for dinner.  As it was our first night, we were escorted by our wonderful butler who came and found us with a drink in our hand in the lounge.  This escort service is offered on the first night as L'Olivo is not within the Yacht Club area, and a complex path is carved through the ship by the butler to the dining room.  It wasn't that hard to find, honestly, but MSC presumably don't want their Yacht Club guests to get lost!
The food on offer was going to be a concern, because it gets massively mixed reviews.  I'm not going to give my opinion on the food yet as we've only had one meal.  What I had tonight, however, was delicious.  I started with a tortollini soup.  The pasta in this was perfect, and the consomme had a delicate but delicious flavour.  Next was a beef-filled canelloni.  This was fairly subtly in flavour (almost bland; redeemed by the sauce) but the pasta was perfect.  The meat filling was a little dry, but far from terrible.  There's no photo of this, because I forgot to take one!  My main course was a turbot dish which was almost perfect.  My first bite was a little dry, but the rest of it was moist, delicious, and flavoursome.  For dessert I had a sponge with limoncello cream.  I'd have liked the lemon cream to be a little more puncy, but the sponge was as light as a feather.
Alex also enjoyed his meal.  I wont go into too many details, but his beef carpaccio was the best he's had… and he's enjoyed the dish on almost every cruise we've taken, including in Tuscan Grill on Celebrity.  Take from that what you will.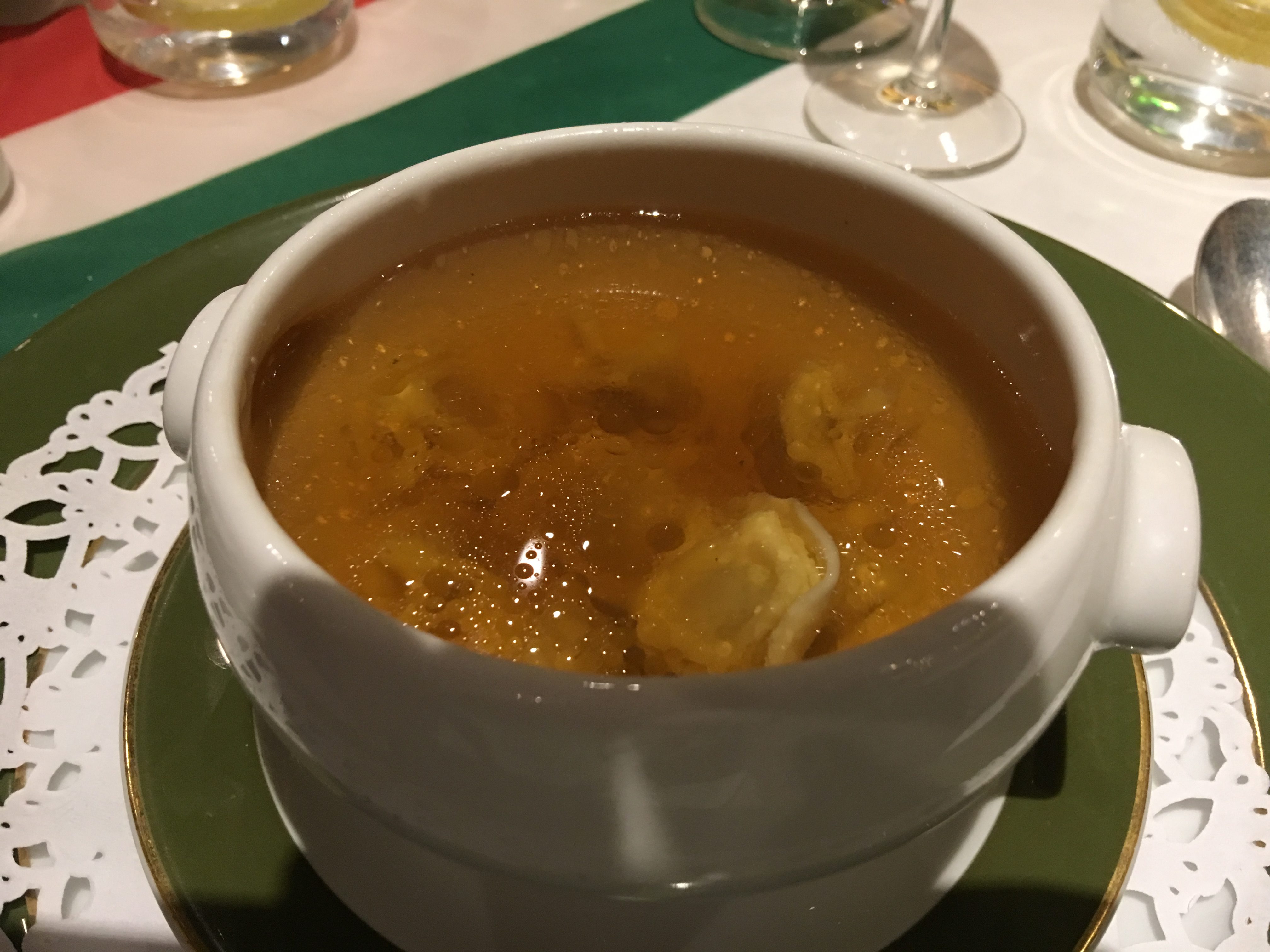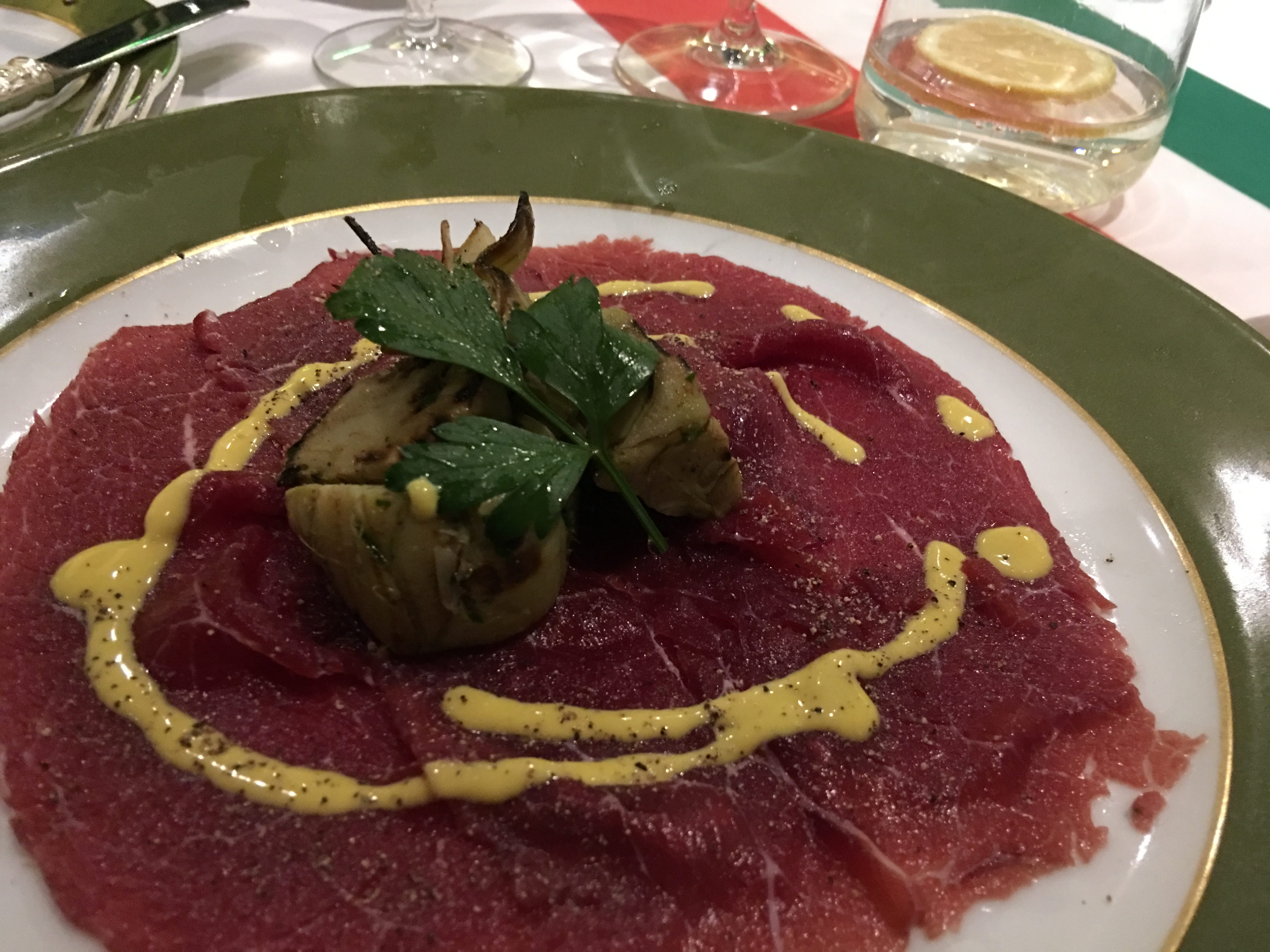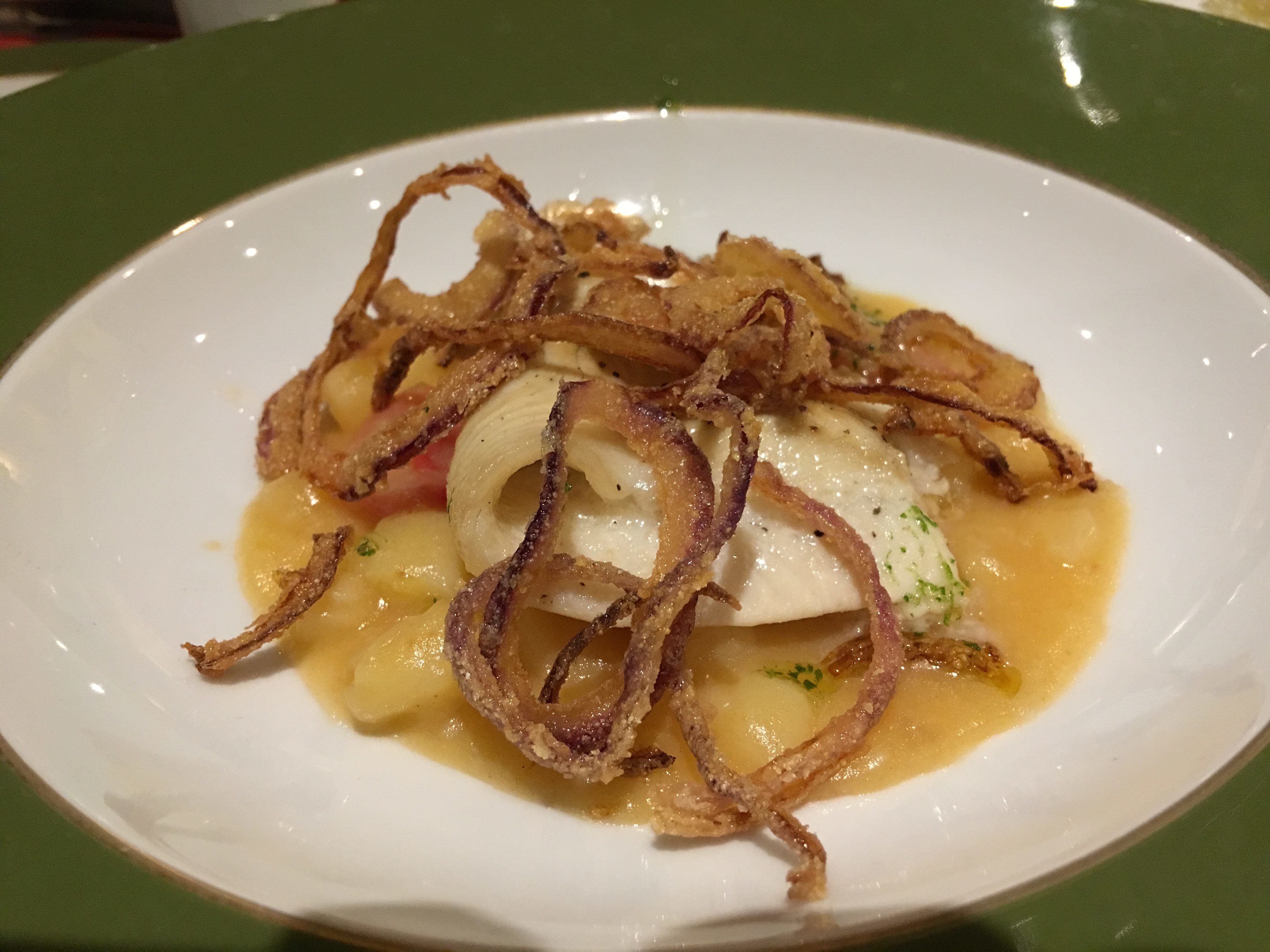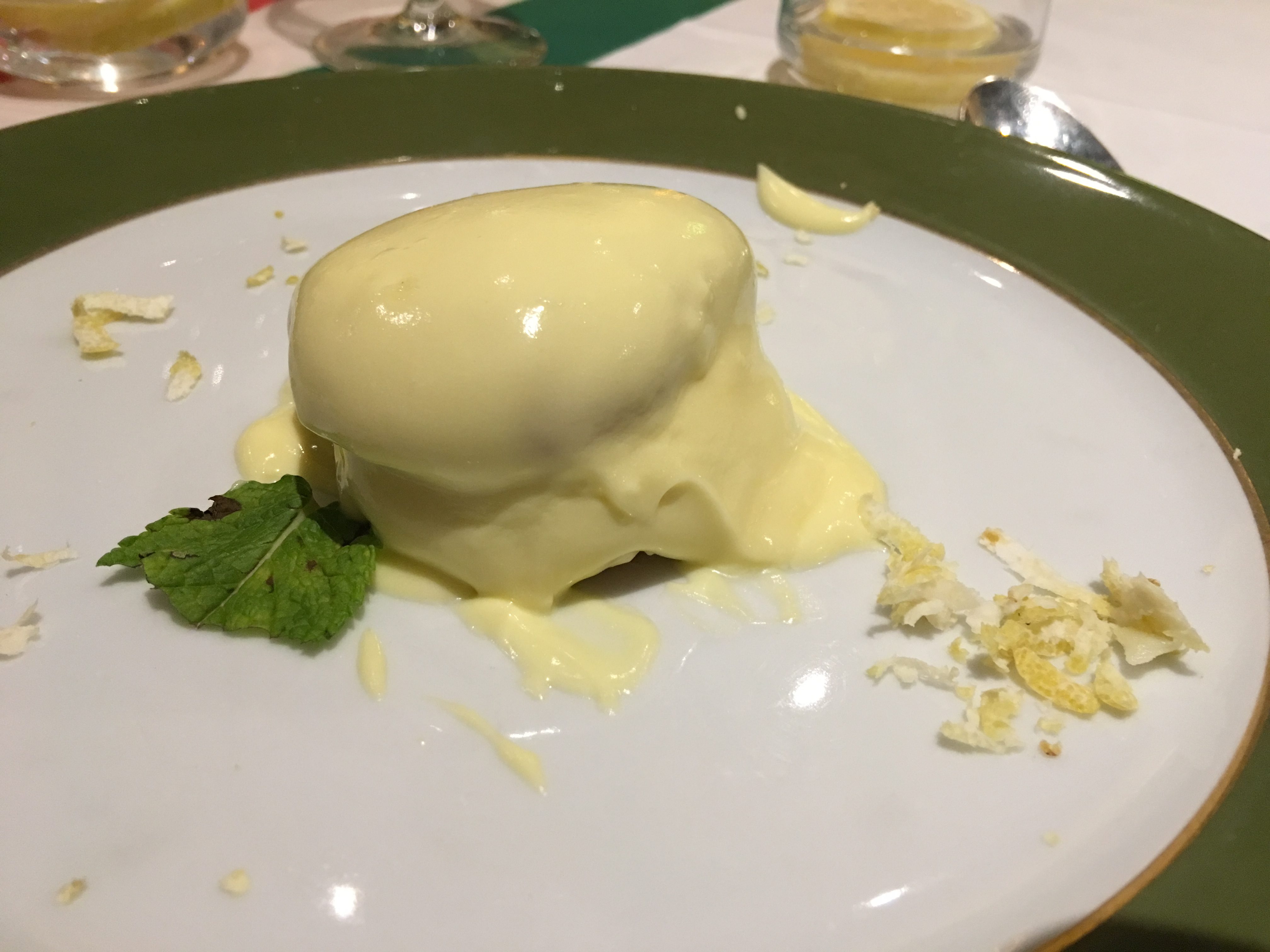 After dinner I popped to Top Sail to get a hot chocolate (terrible) and limoncello (delicious) to take back to the stateroom for blog fuel.  The butler there insisted on bringing it round.  Perfect service.  This was an early night, but we were up crazy early this morning and the clocks go forward tonight.  Absolutely nackered!  Until tomorrow, where the blog will hopefully be a little more concise!