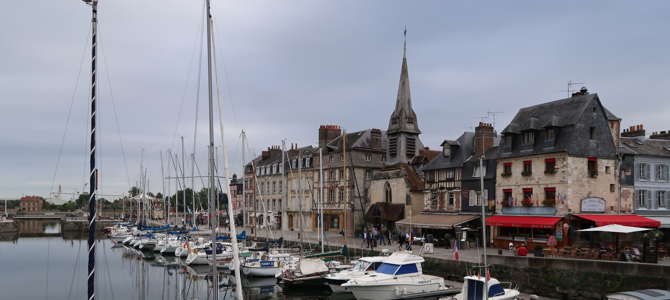 Our final day on board was docked in Le Havre.  We looked at ways of finishing off our onboard credit, got packed, and said arrivederci to our home for the last week.
Sorry for the delay in writing this final post.  I couldn't be bothered posting on the last night on board, and then visited some family in London on the way home.  But here is the final chapter of this blog series.
Honfleur
While the standard excursion from Le Havre is, inexplicably, Paris, we decided to try something a little closer to the actual port.  Given we can fly to Paris from home in less time than the coach takes to get there from the port, I think this was a sensible choice.  As we had onboard credit left, we decided to pay the extortionate fee for the 'Honfleur on your own' excursion, which cost just over €100 in total for both of us.  It may be the most expensive 25-minute bus journey I've ever taken, but it sort of didn't cost us anything (more on that later).
The excursion meeting place for Yacht Club guests is in the concierge area, and to my surprise, the meeting time for our 10am transfer was 09:20!  It turns out that Yacht Club guests get some sort of priority seating for excursions, presumably so they can hog all of the good seats on the bus (as if busses have any good seats to begin with).  What joy to sit on a coach in the industrial splendour of Le Havre for 30 minutes while waiting on everyone else.  I would suggest to MSC staff that the experience might actually be made more luxurious by reserving seats at the front of the coach for Yacht Club guests and allowing them to board after everyone else.  I assure you that, as nice as the coach was, the Top Sail lounge (or an extra 20 minutes in bed) is far preferable!
Anyway, a short and expensive drive later found us in the rather beautiful seaside town of Honfleur where we had around 3 hours to explore on our own.
Honfleur itself is an ancient harbour town which is famous for being picturesque and having a very old, large, wooden church.  We decided that we'd enjoy the sights of the town on foot, and just wander around and take it all in.  Walking past all of the pretty little cafés on the waterfront was mouthwatering, and their promise of _petit déj' _would have been very alluring were it not for the abundance of food on offer on the ship.  Had we been there for a full day, we would have indulged in some delicious local food for lunch but alas, that experience will have to be for another visit.
We took a little walk around the streets and, after some serious head-scratching and map rotating, found one of the two entrances to Jardin du Tripot which is a sort of zen garden hidden behind houses featuring a large sculpture of a snail and some water features.  I can imagine this garden being tranquil and pretty when fully planted and well maintained, but today the water features looked rather grubby and the park felt a little empty, though it was certainly a nice quiet spot.
Deciding to get a decent little stroll in, we also decided to visit Le Jardin des Personnalités, a park dedicated to those who have either affected (or been affected by) Honfleur.  The park has a nice set of boat-shaped mini-gardens (bordered by well groomed hedge) with a plaque and bust of the person in question.  Many of these were artists or painters who fell in love with the city and allowed it to inspire their work.  Some felt much more tangential, with little mention of Honfleur in the biography at all.  One honoured figure visited for a couple of years and quite liked the bread and wine of the region!  If that's all it takes to get honoured in the town park, then I'll be back for the aforementioned lunch shortly.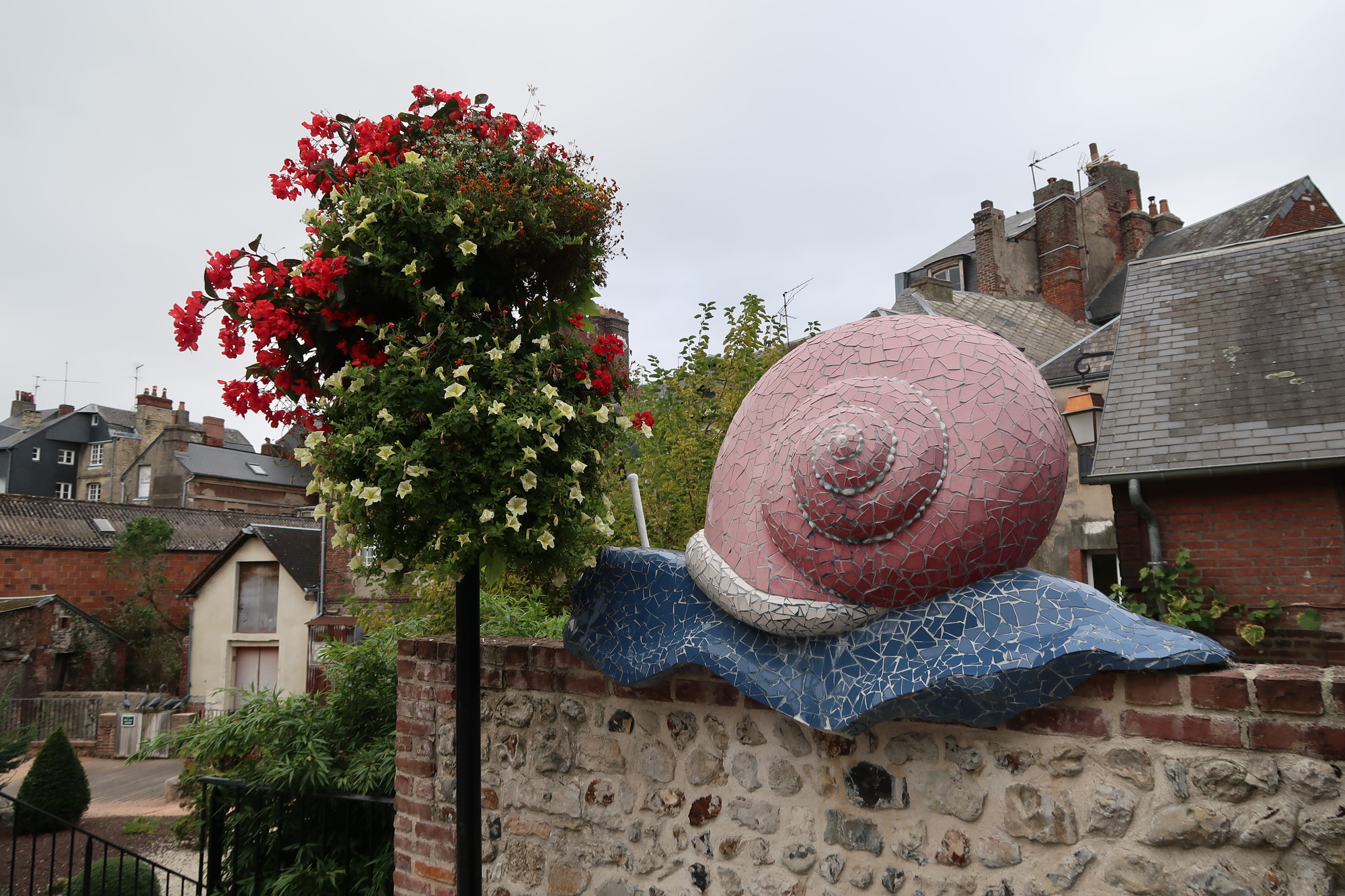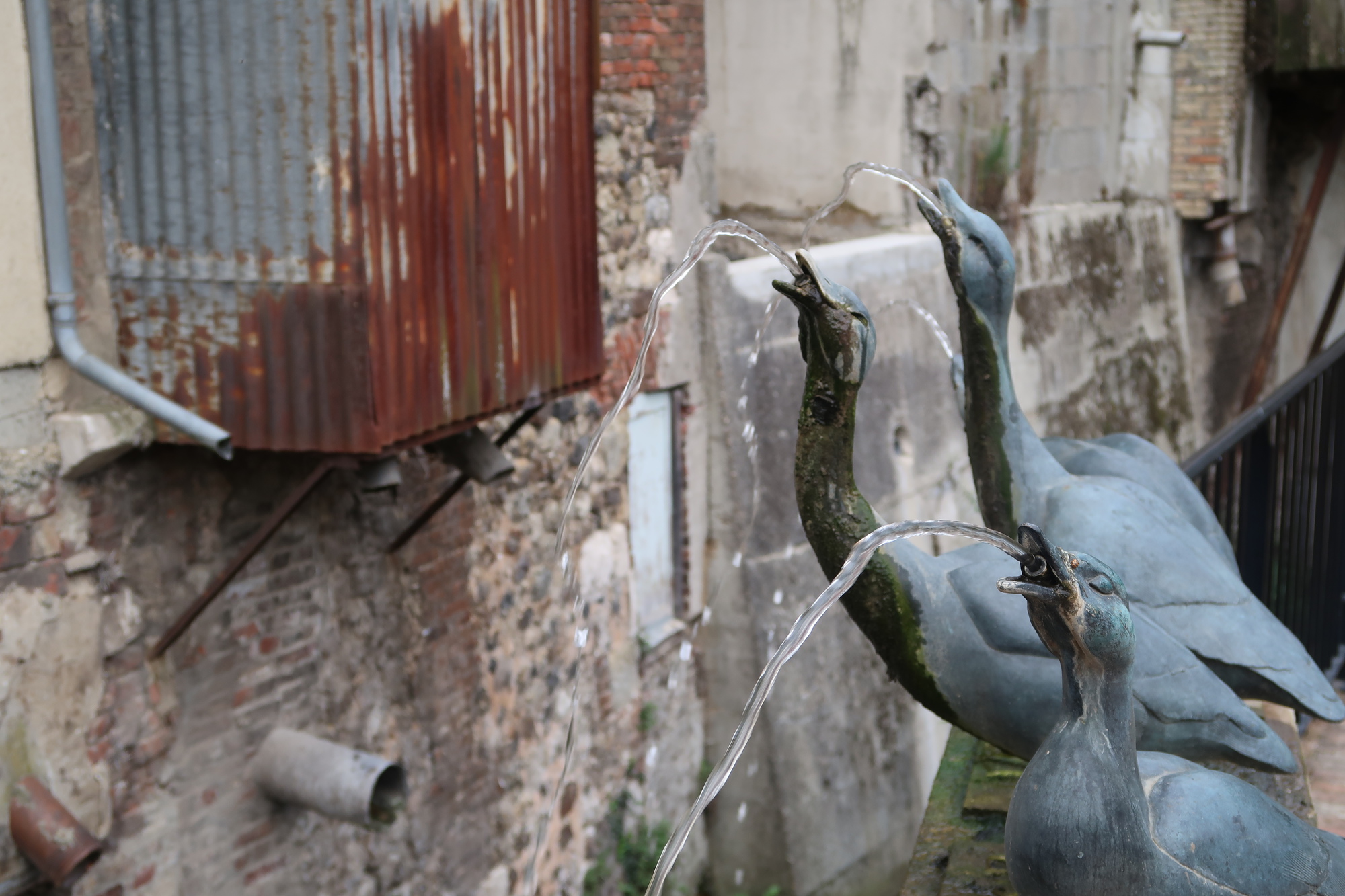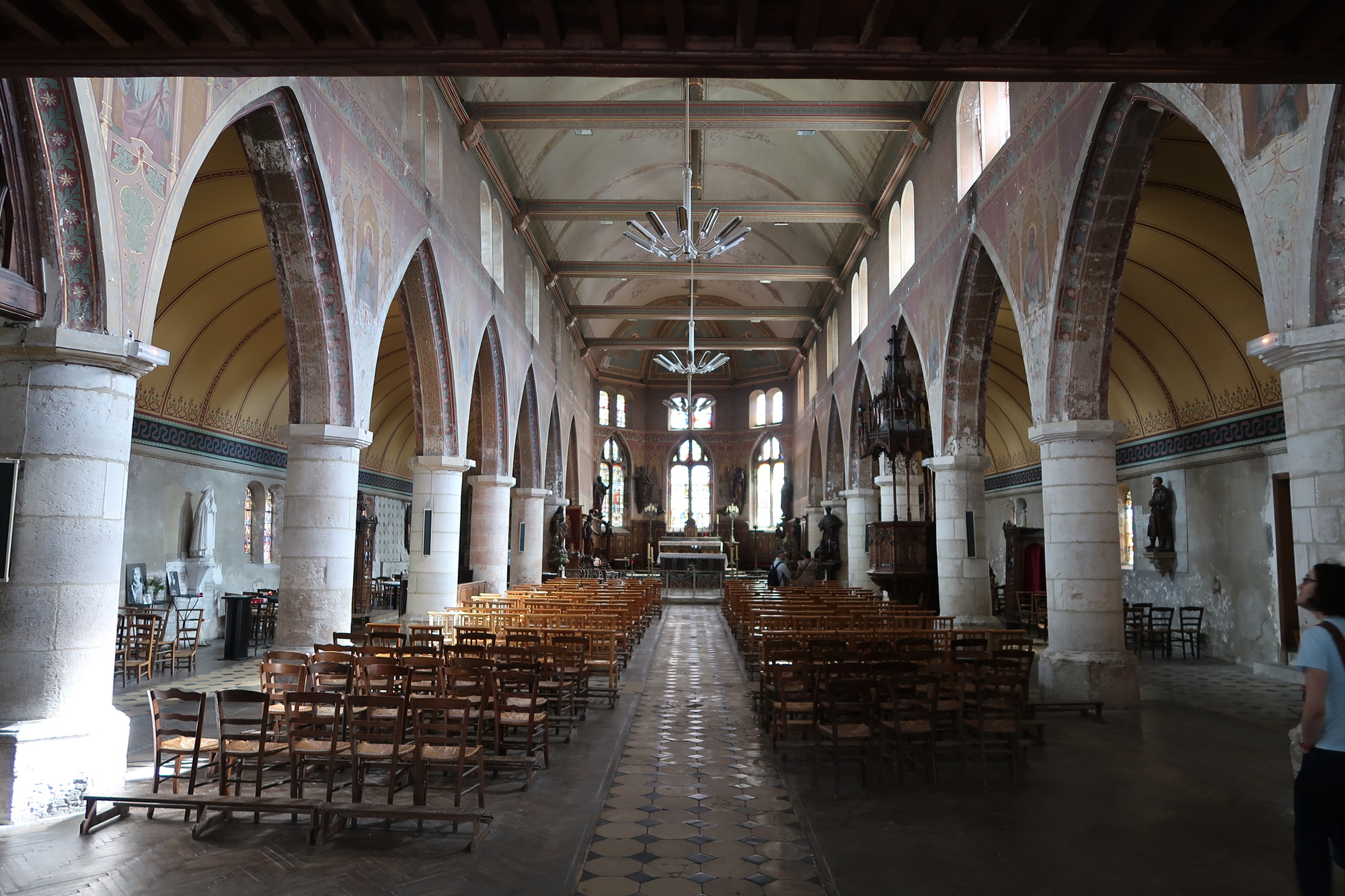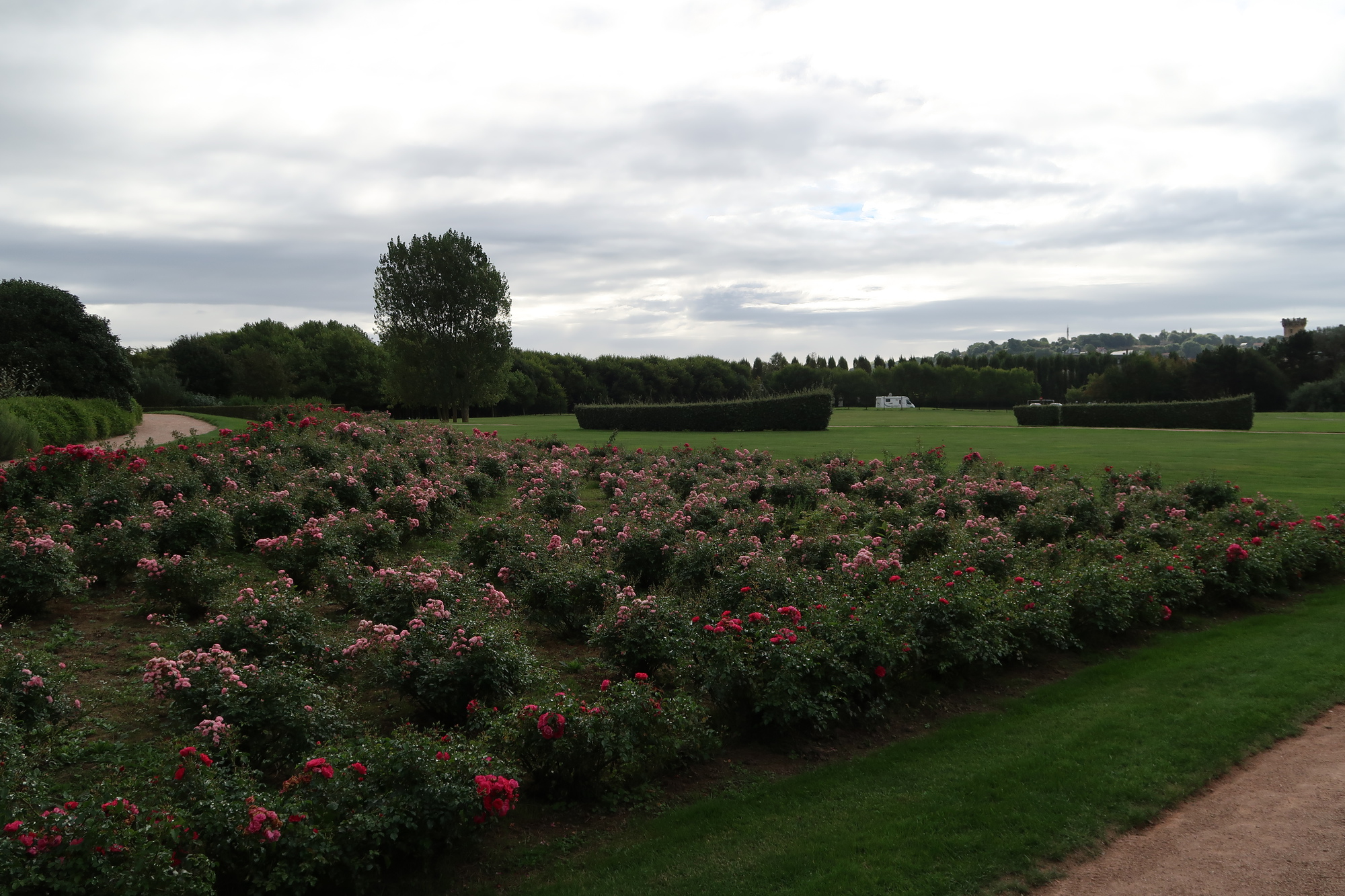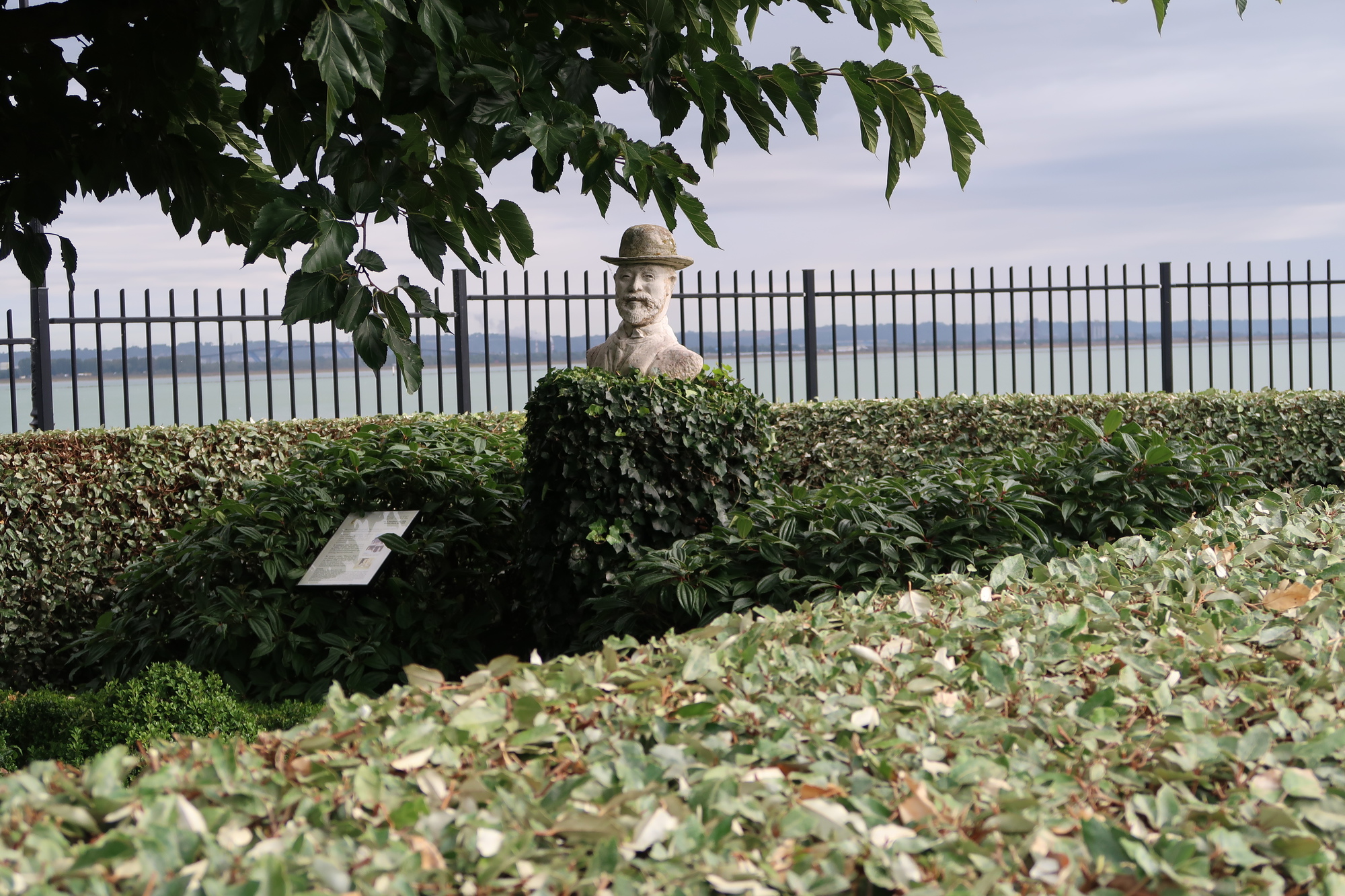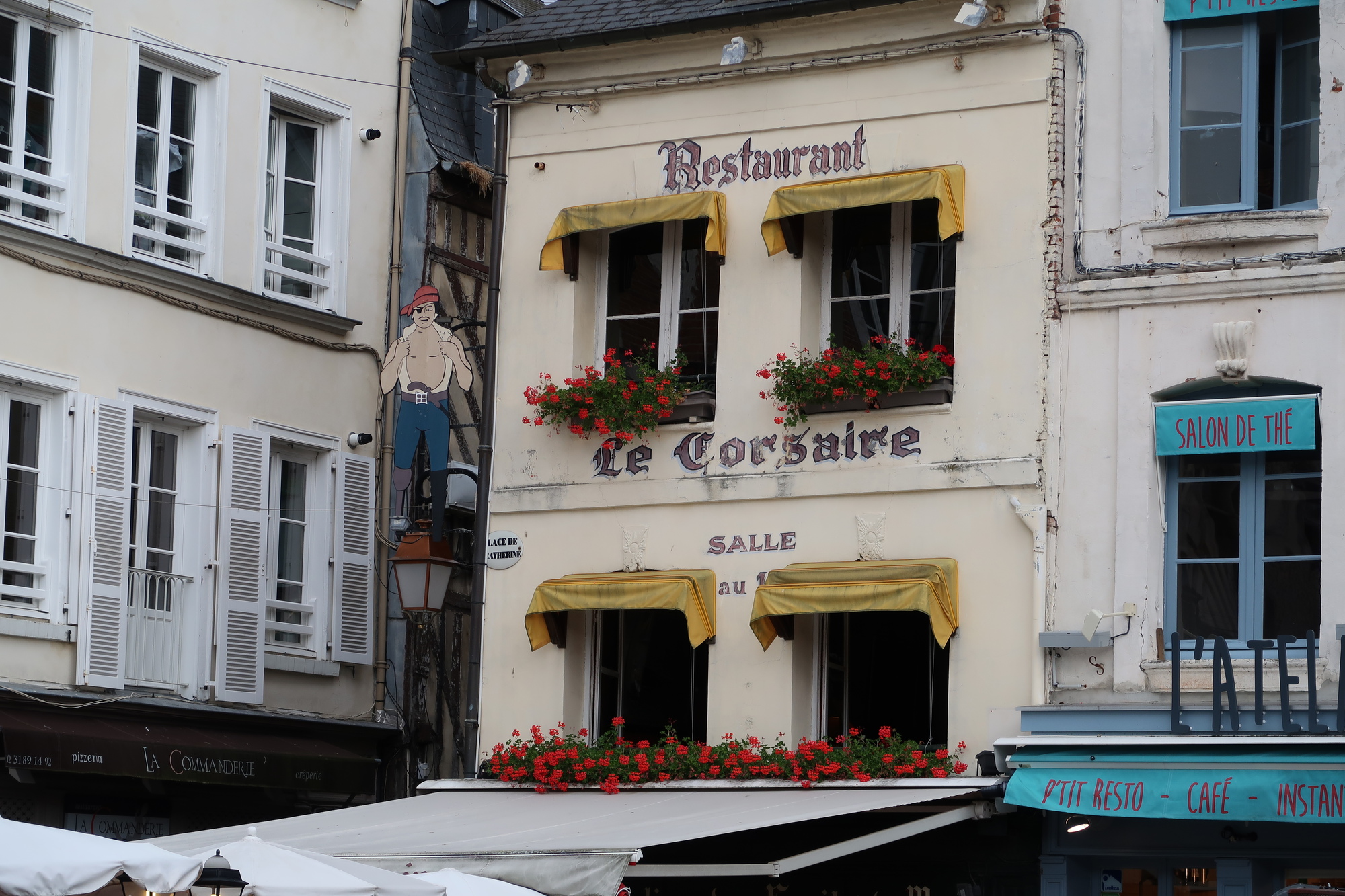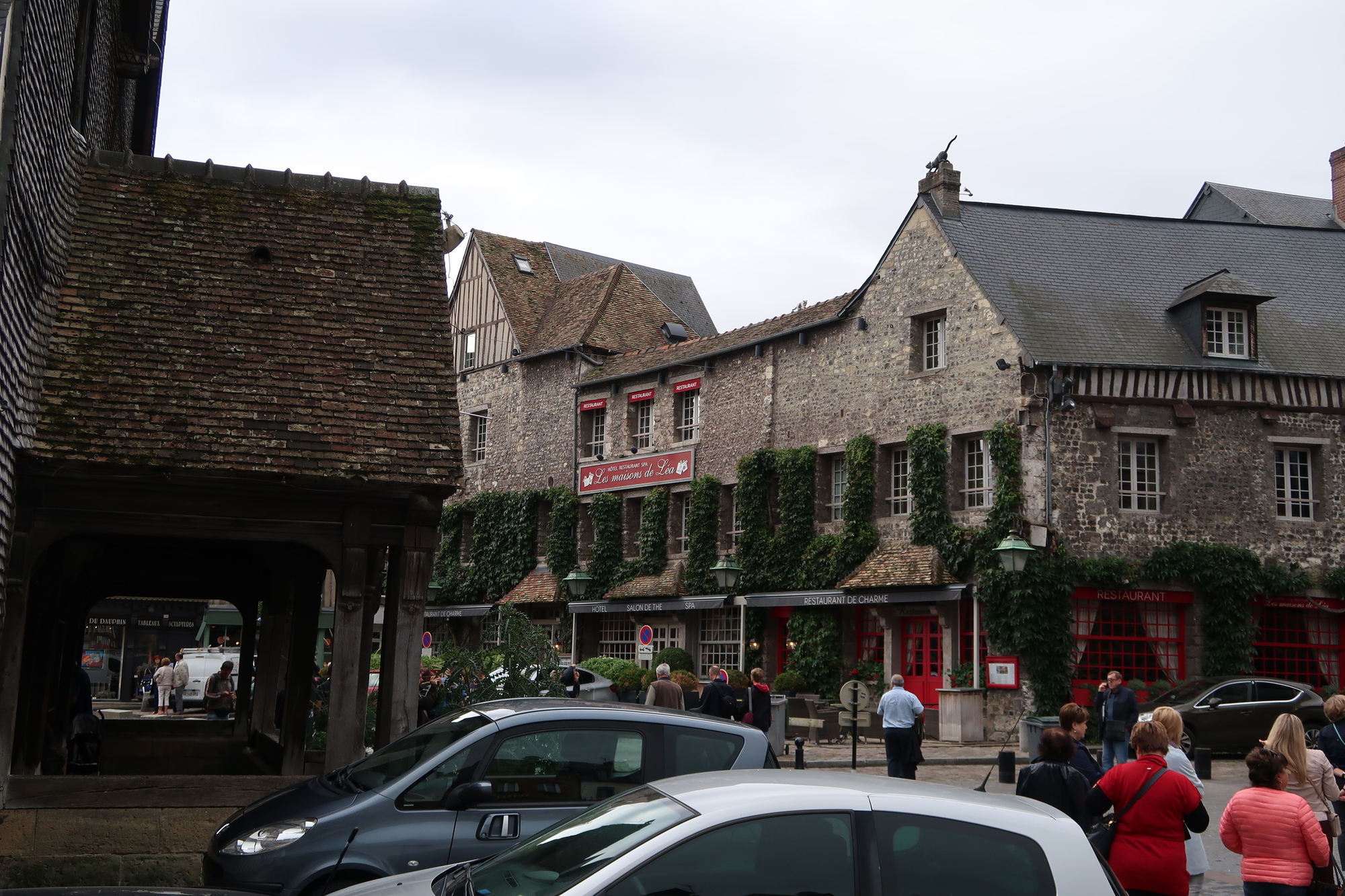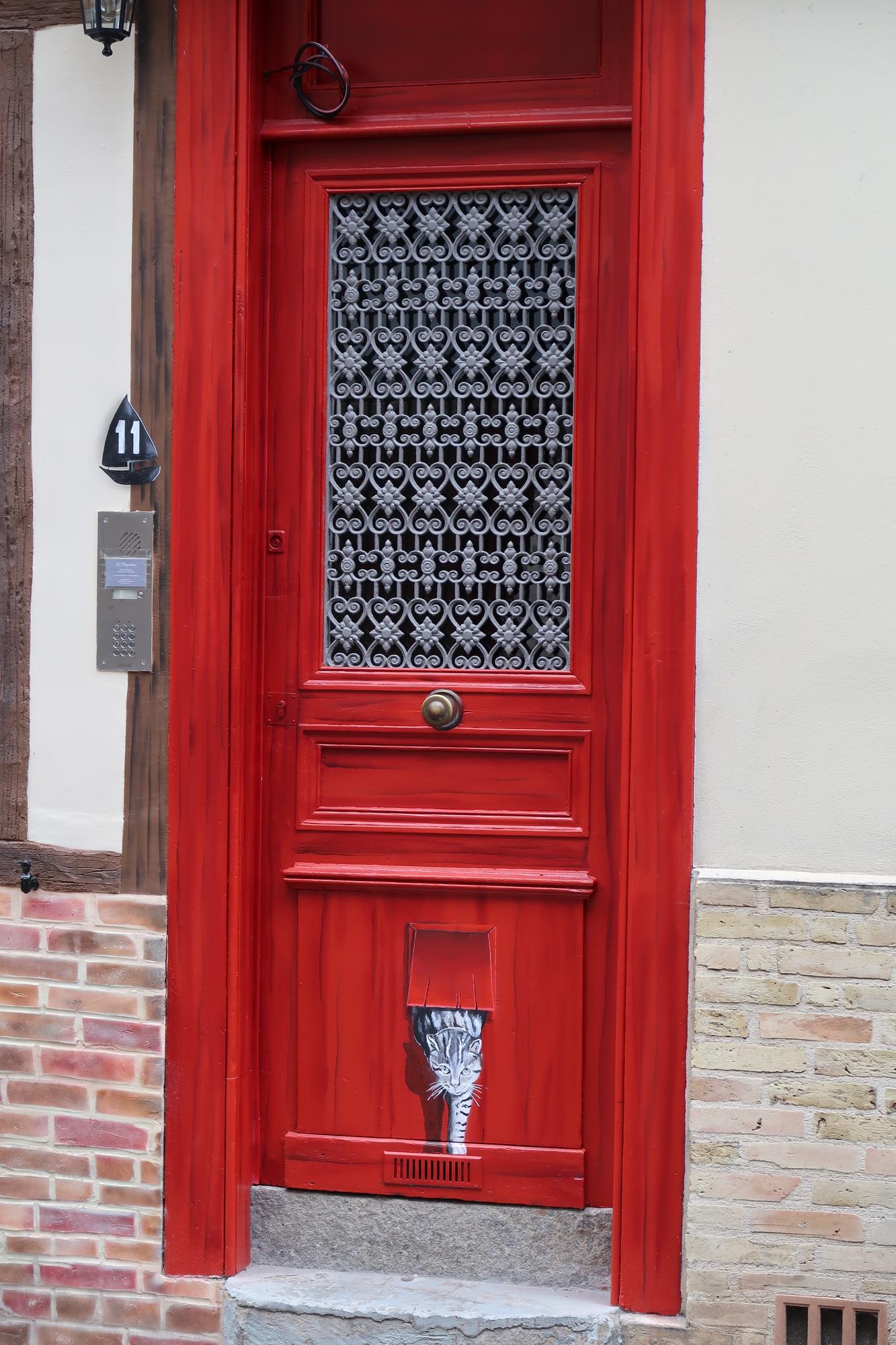 Honfleur certainly is a charming little town, and somewhere I could imagine myself spending a very lazy long weekend.  We made it back to the bus in plenty of time and then headed back to the ship.  There was a Yacht Club butler waiting with a sign when we returned, allowing us to skip a decent chunk of the queue to get back on.
One Pool Deck Lunch & La Piazzetta
When we got back on board, we decided to have lunch on the One Pool Deck.  Alex had a small bite here earlier in the cruise, but it was my first time.  The selection changes daily – we know this because we've walked past a few times and it's always been different.  Every day they have a salad bar, and I helped myself to a nice bowl of salad with a little oil and vinegar.  The salads on this ship are very fresh and delicious without a wilted or browning leaf in sight.  Today's selection consisted of gnocchi in a blue cheese sauce, fajita spiced chicken & vegetables, some kind of fish, and some sort of spinach thing.  I tried the gnocchi and chicken (if it wasn't obvious from my vague descriptions of the others).
The food was very good, and on a consistently warm-weather cruise, it would be the perfect place to come for lunch, though of course the selection is limited so pickier eaters may prefer a trip to the full buffet.
After the buffet, I was determined to try some of those cakes in La Piazzetta so we popped down for a milkshake and a cake.  These were tasty, but with the plethora of sweet snacks available in Top Sail I don't think worth paying for, even though they're mostly under €1 each.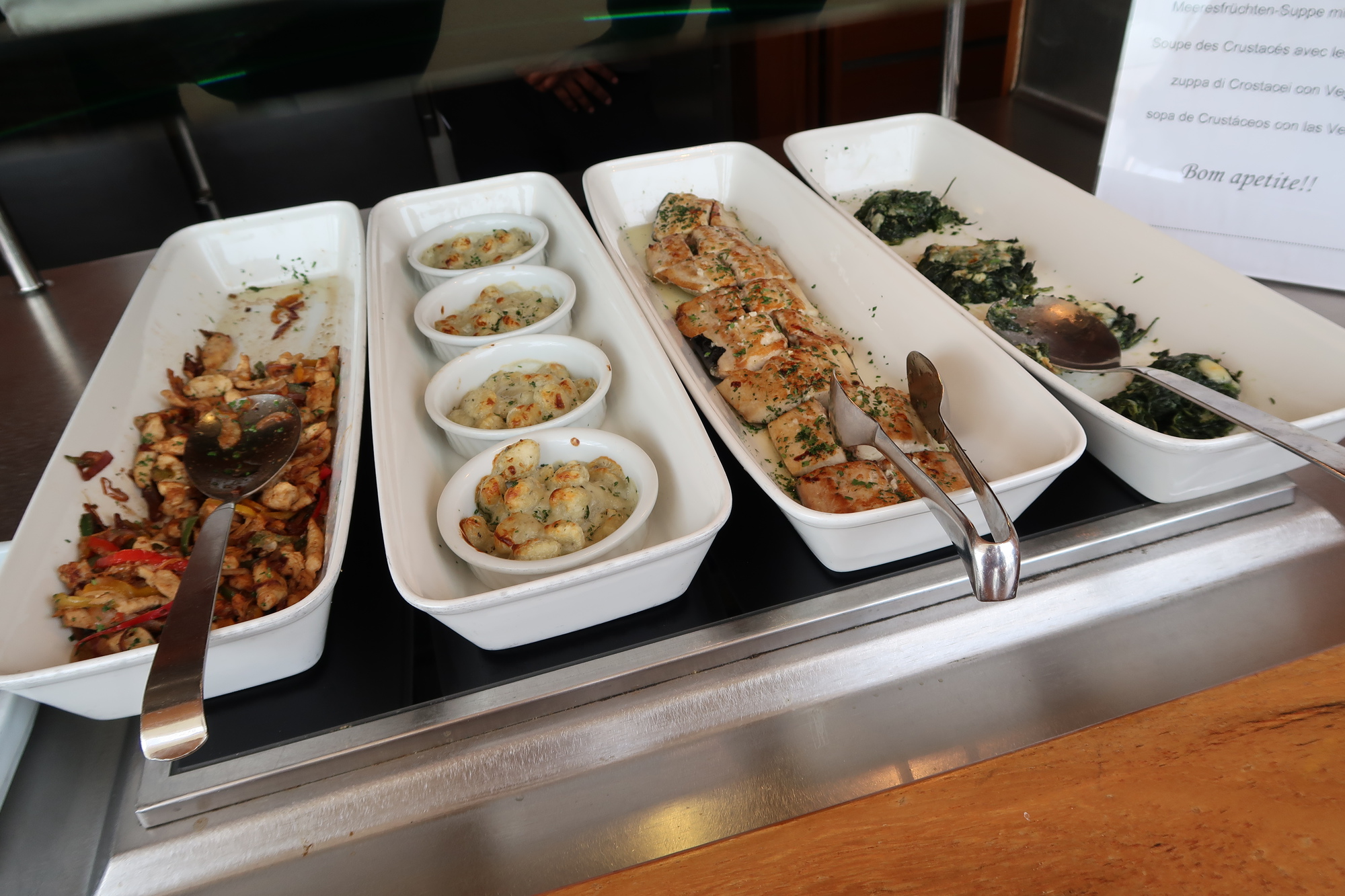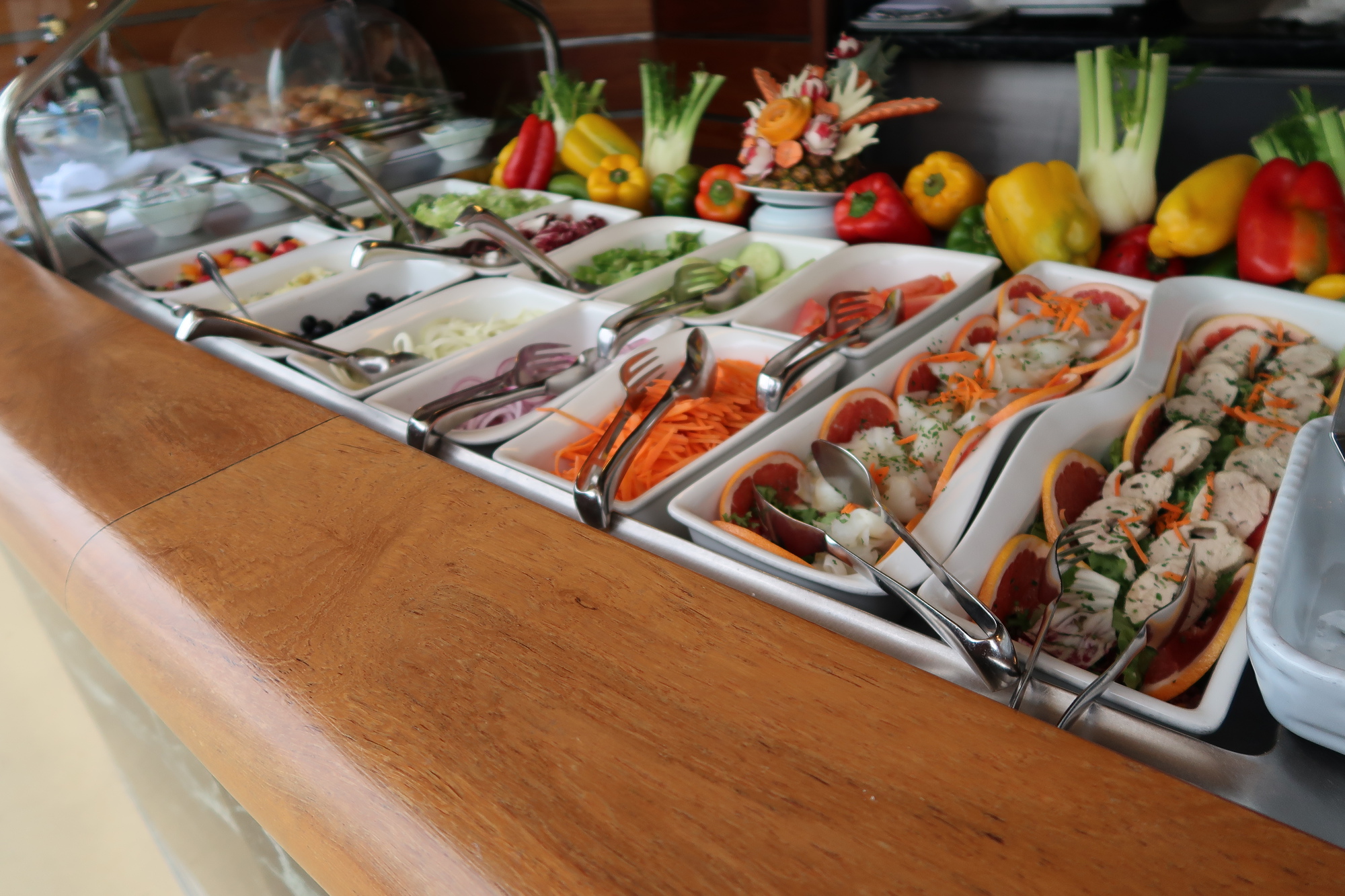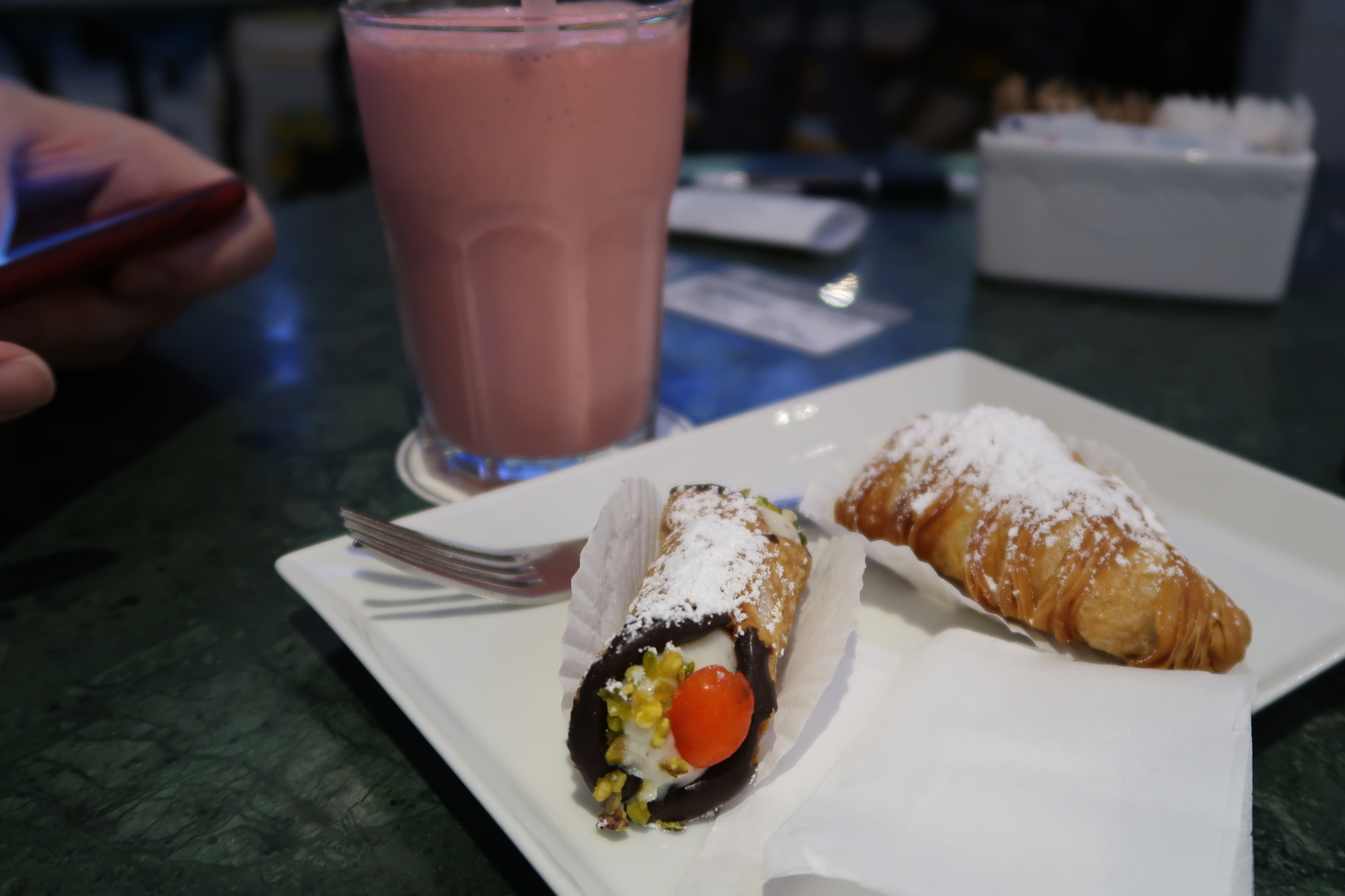 Disembarkation Procedures
When we arrived back in our stateroom we had the disembarkation newsletter giving us all of the information we needed about leaving the ship in Southampton, as well as the luggage tags for disembarkation.  The procedures gave no indication that self-disembarkation is possible, but suitcases could be collected up until 06:30 on the morning of disembarkation so you've got plenty of time to pack.  I don't know if this late deadline is a Yacht Club perk, or just how MSC operates (let me know in the comments) but it takes all of the stress out of disembarkation.
Our meeting time to leave the ship was 08:50 in the Top Sail lounge, and you had to be out of the stateroom by 08:00.  This timescale allows for a pretty leisurely disembarkation morning, with all of the breakfast treats Top Sail has to offer available.
Instructions for settling your account were included, and this is slightly different to other lines I've sailed on.  Two copies of your account are slipped under your door through the night.  Sign one and leave it in the stateroom.  Take the other with you.  Easy!
Dinner in L'Olivo
Our final dinner was to the usual standard.  We both started with the steak tartare which was thoroughly outstanding.  It may have been the best I've had – certainly one of the best!  I then had the risotto while Alex had the spaghetti (which was made on board).  Both were very tasty.  I've found asking for a little freshly ground black pepper on the risotto bring the flavour out a little more, which is nice.  We then both had the meat platter from the Tex Mex speciality restaurant.  This was, again, very good (though we were getting full to bursting at this point).  The chorizo was delicious, and the steak was beautifully seasoned, tender, and delicious.  Only the lamb was a little chewy but still had a lovely flavour.  In addition, I asked for some fresh steamed vegetables to be served on the side.  This was no problem, and while they were certainly not overcooked like the asparagus we've had previously, they were far from the best steamed vegetables I've had.  Just a little too soft for my tastes, but still retained the flavour and tasted really fresh.  To finish with I enjoyed a coconut and pistachio cake (at the recommendation of our waiter) which was quite tasty, though I was too full to appreciate it.  Alex had a lovely pineapple salad, which was really just chopped pineapple with some fresh mint.  This was very refreshing, and probably what I should have gone for instead of the big creamy cake!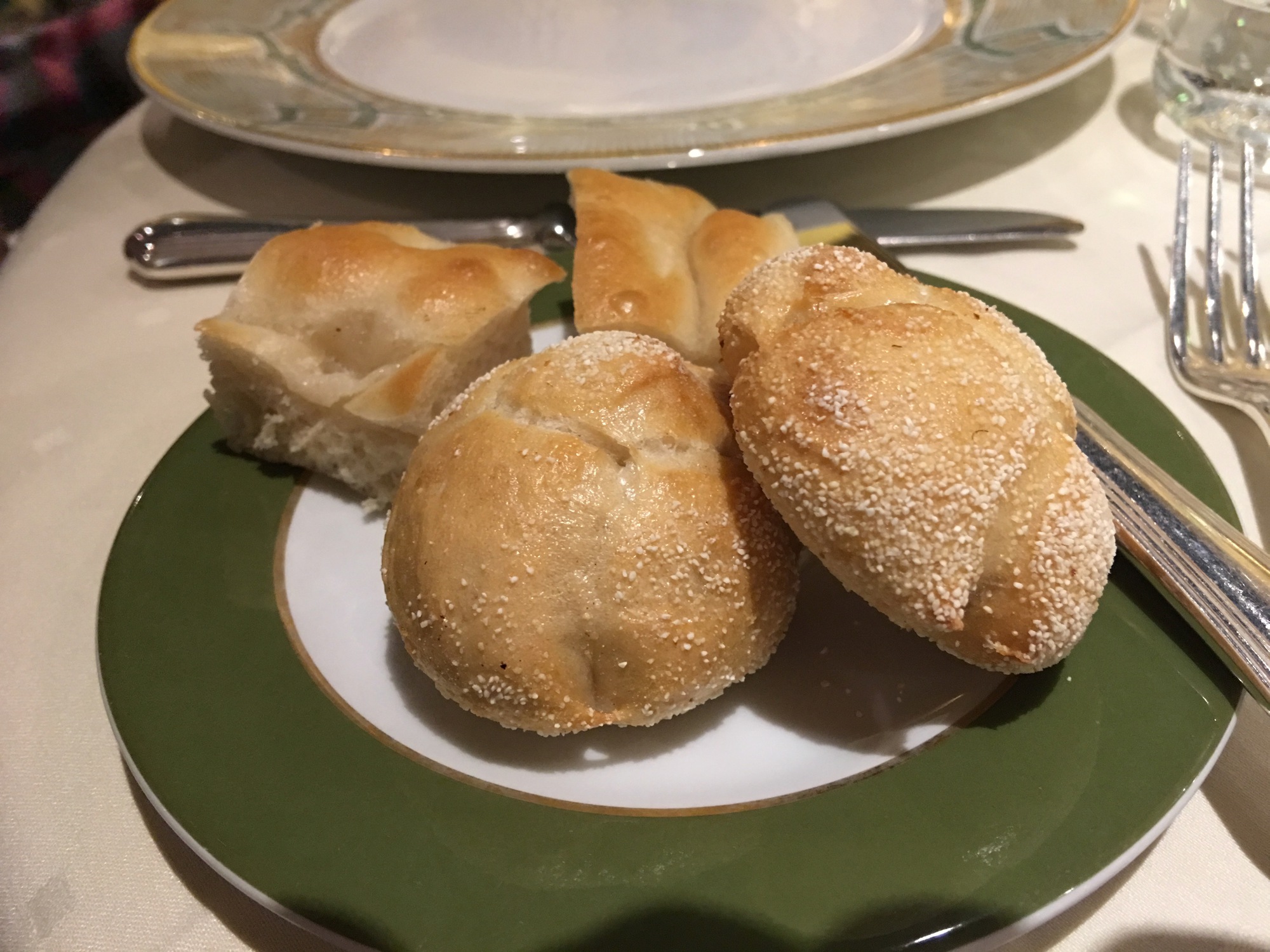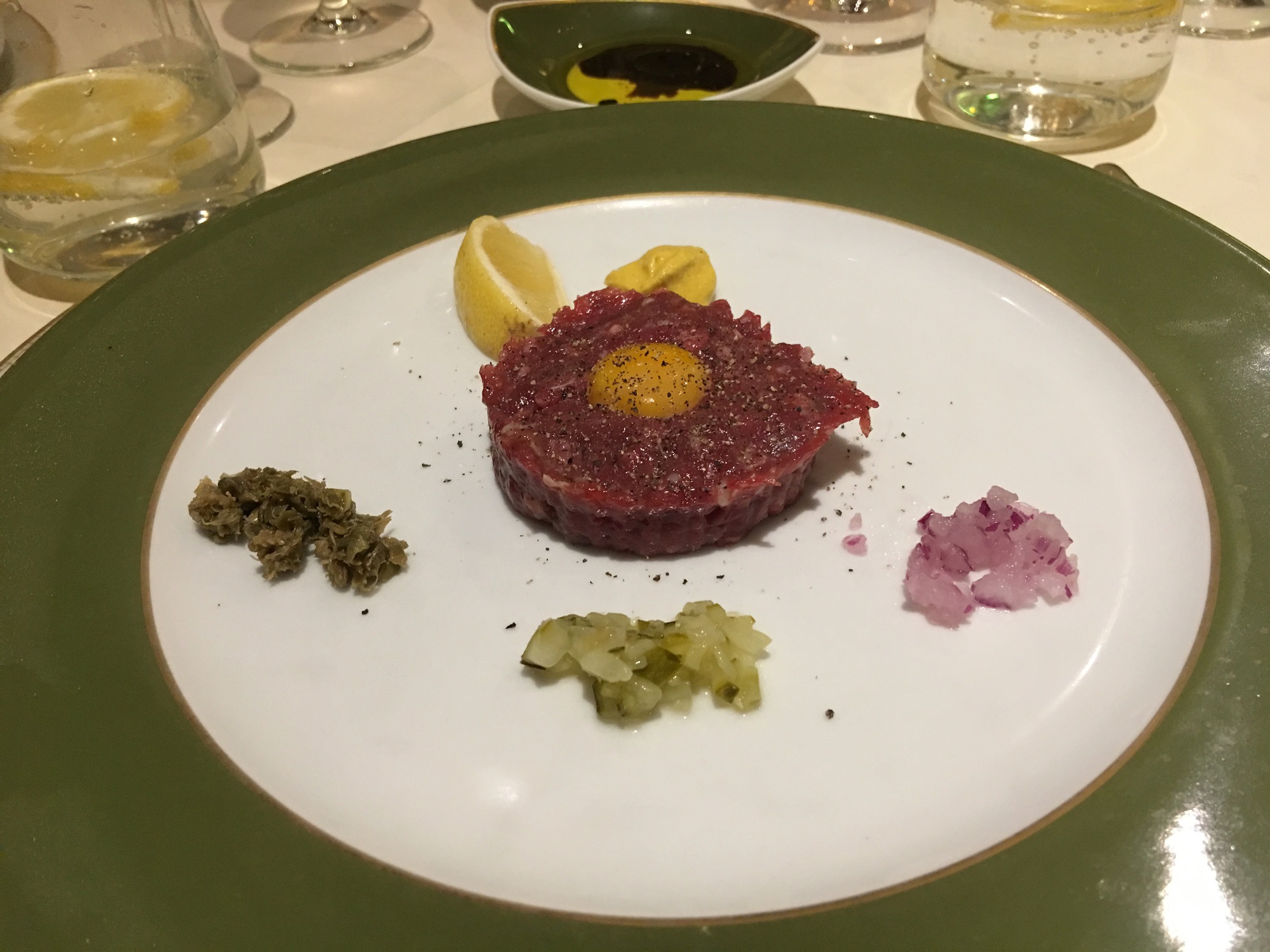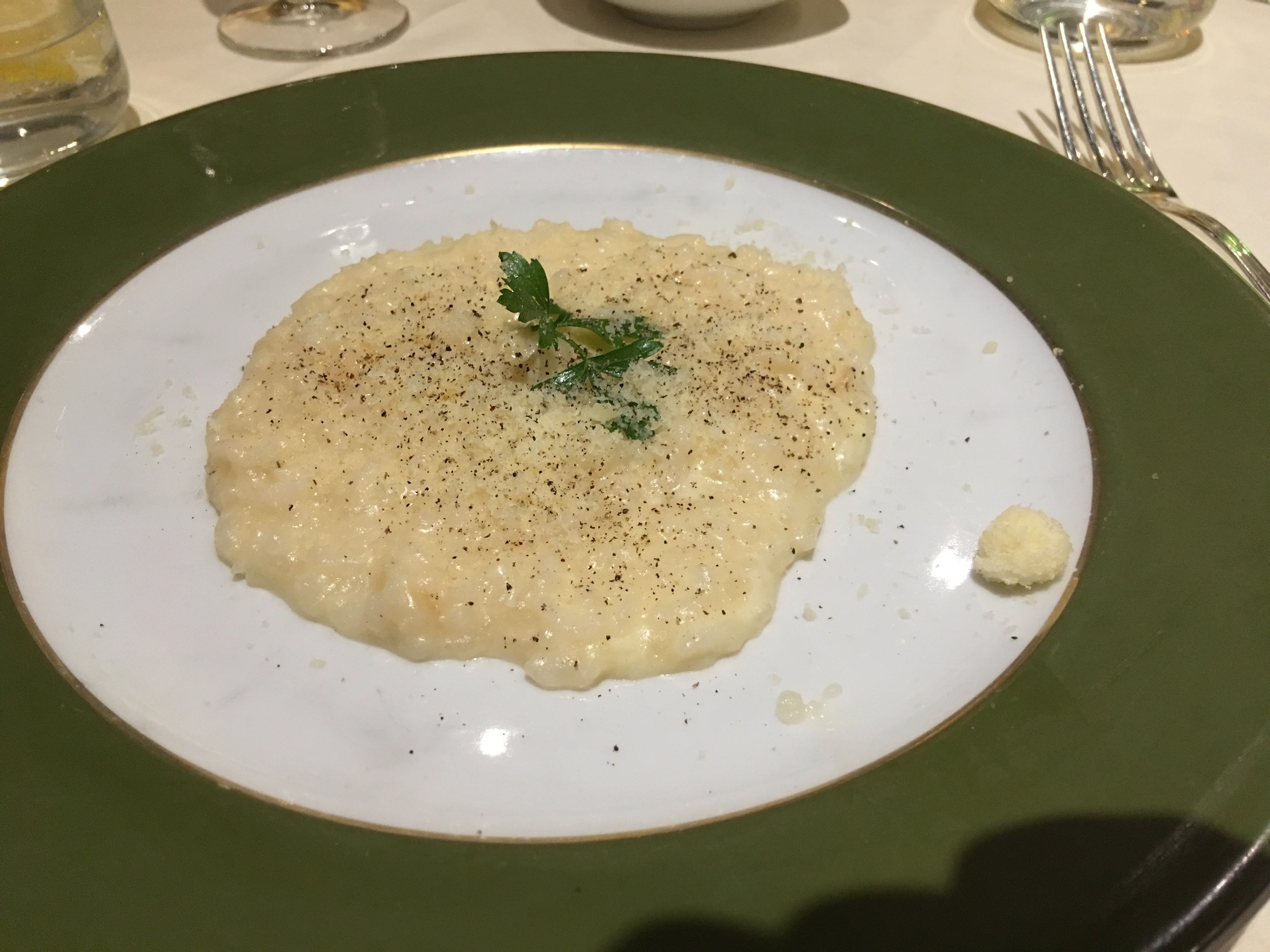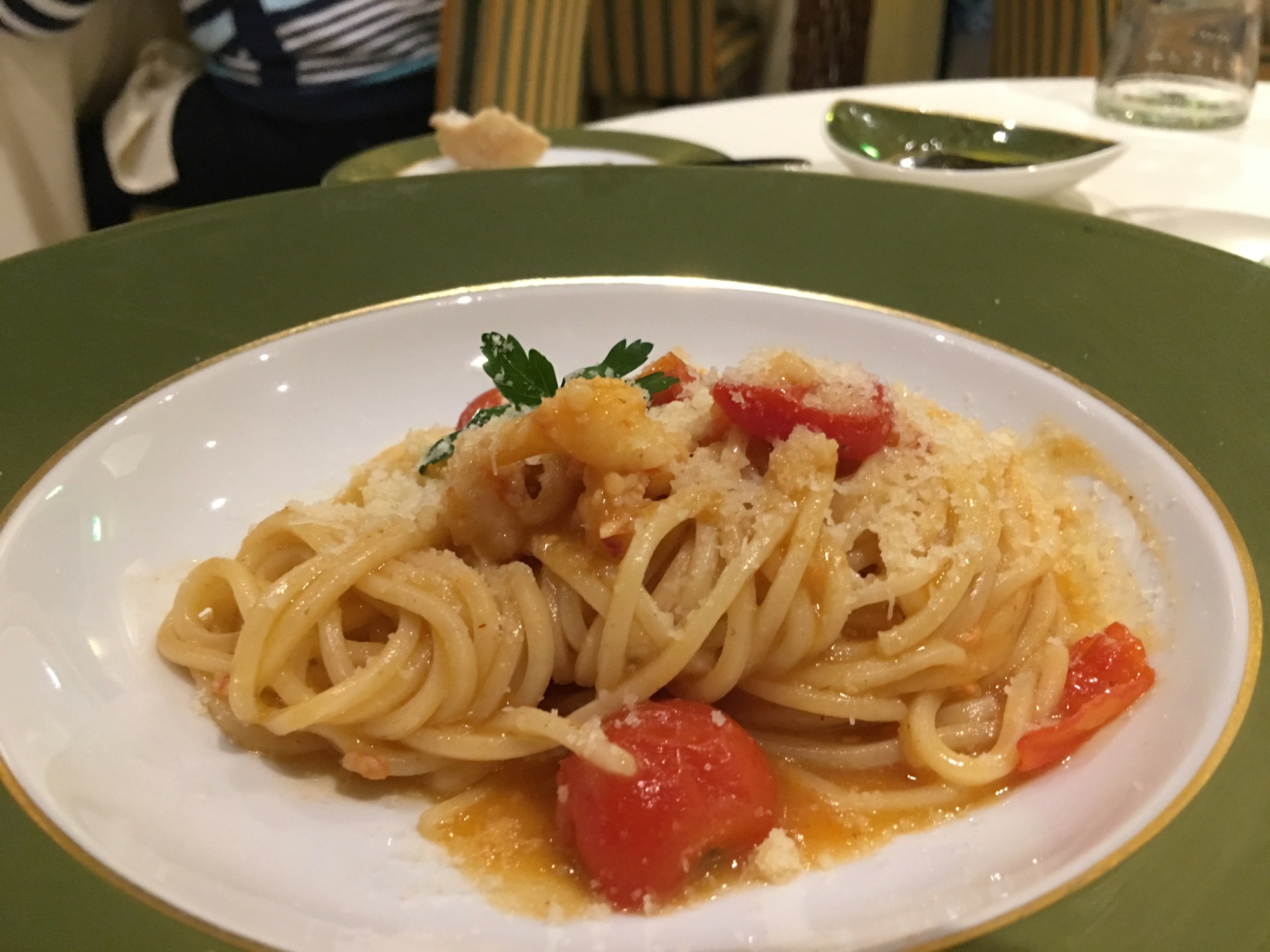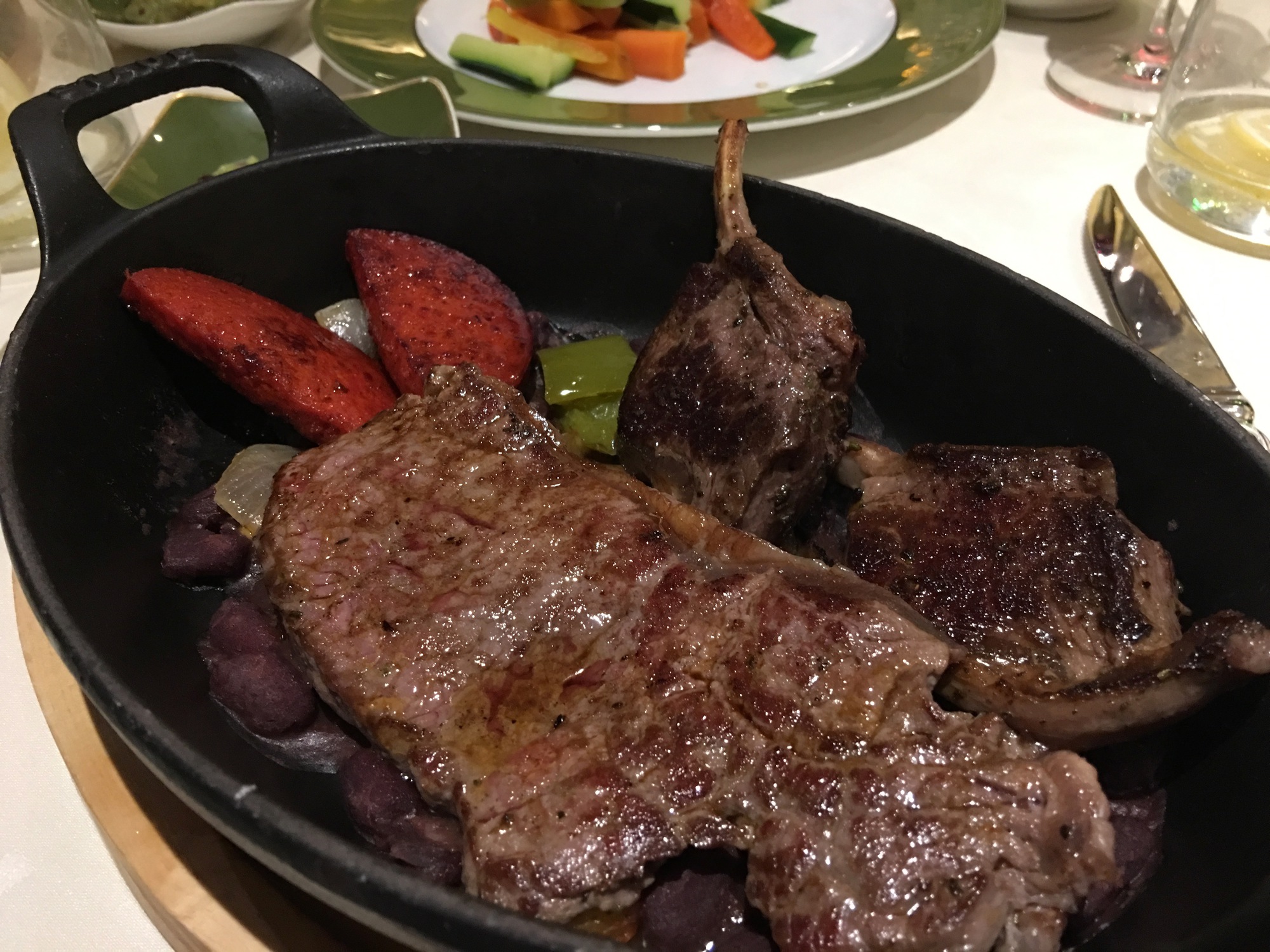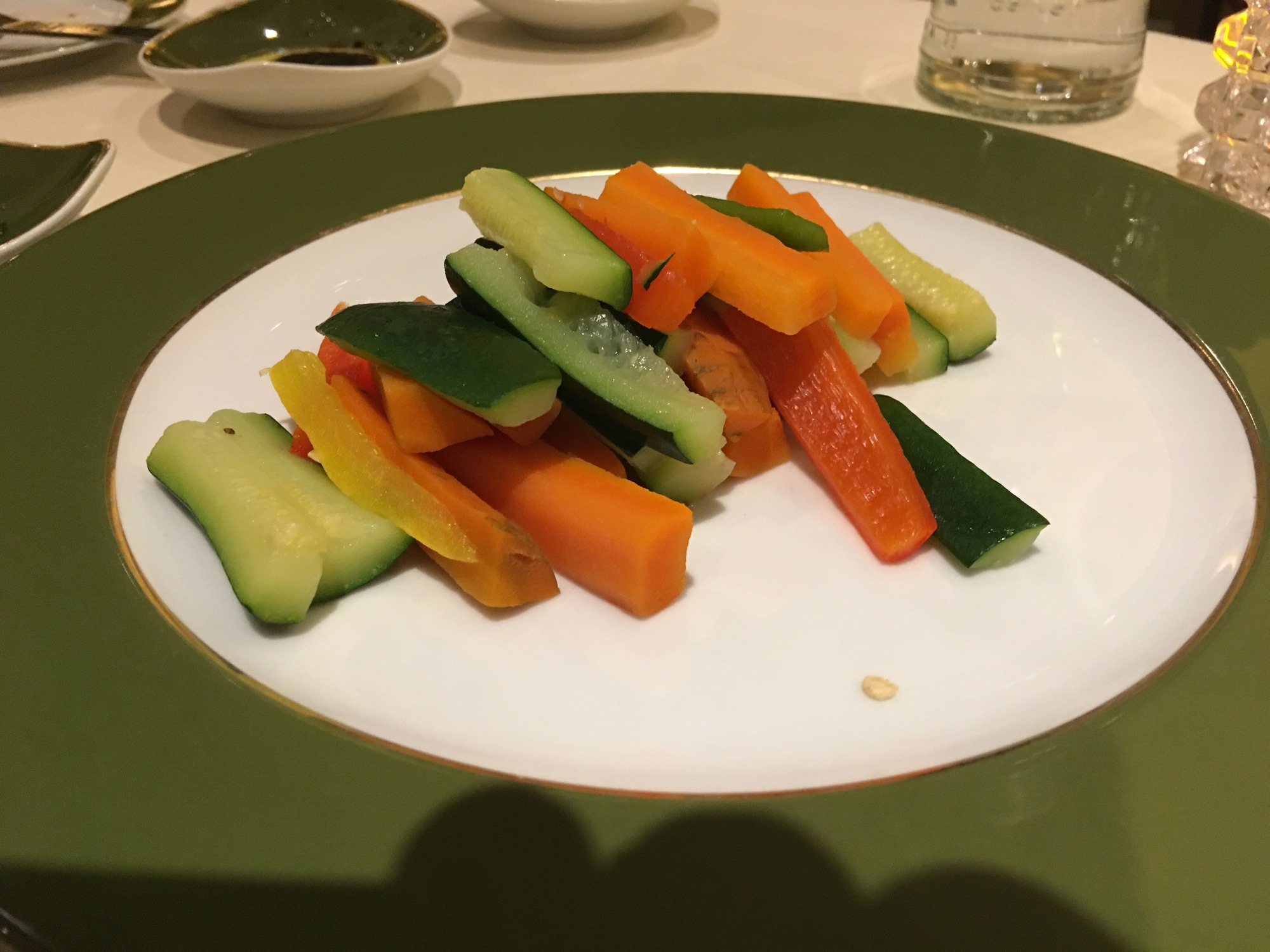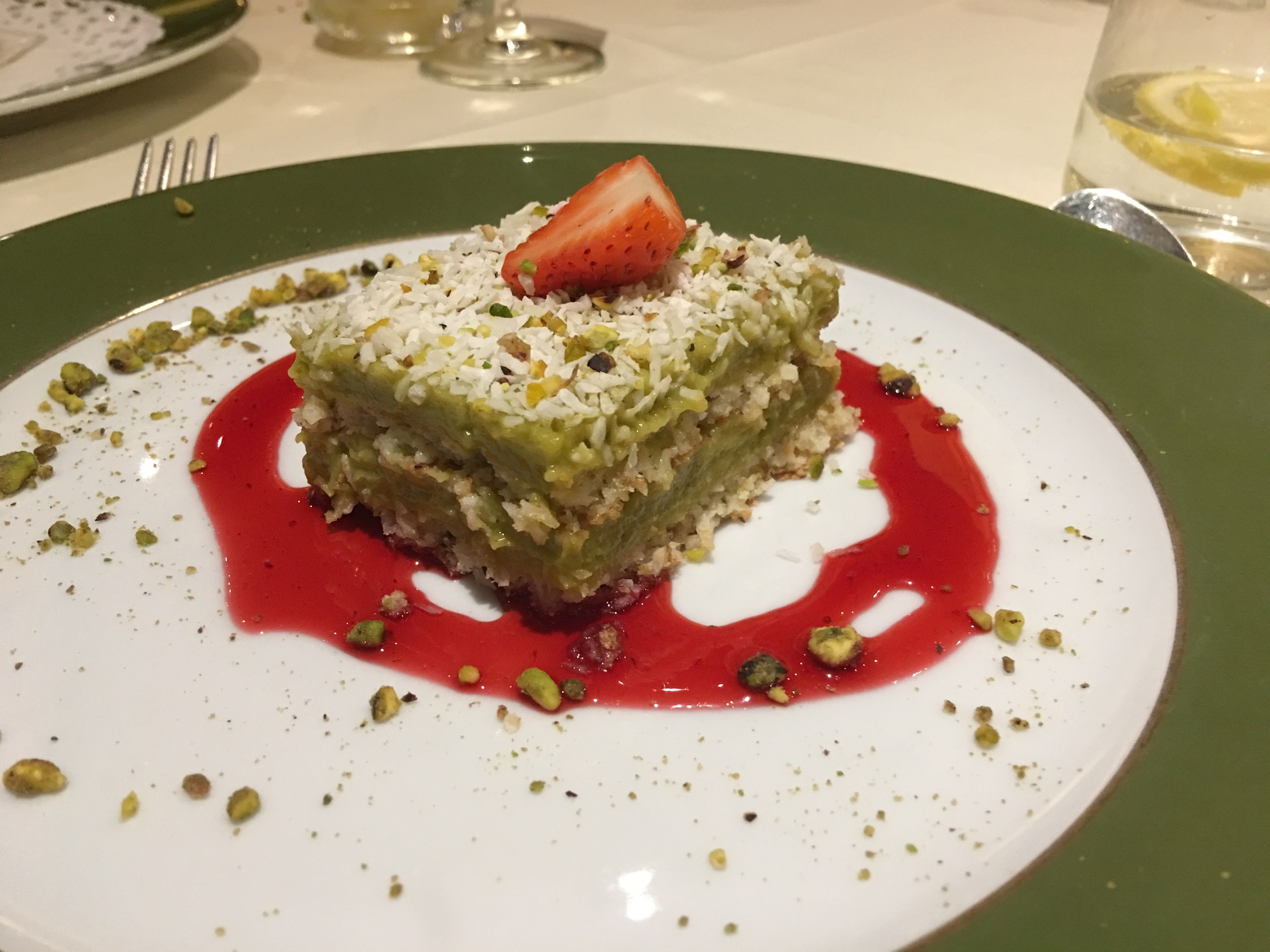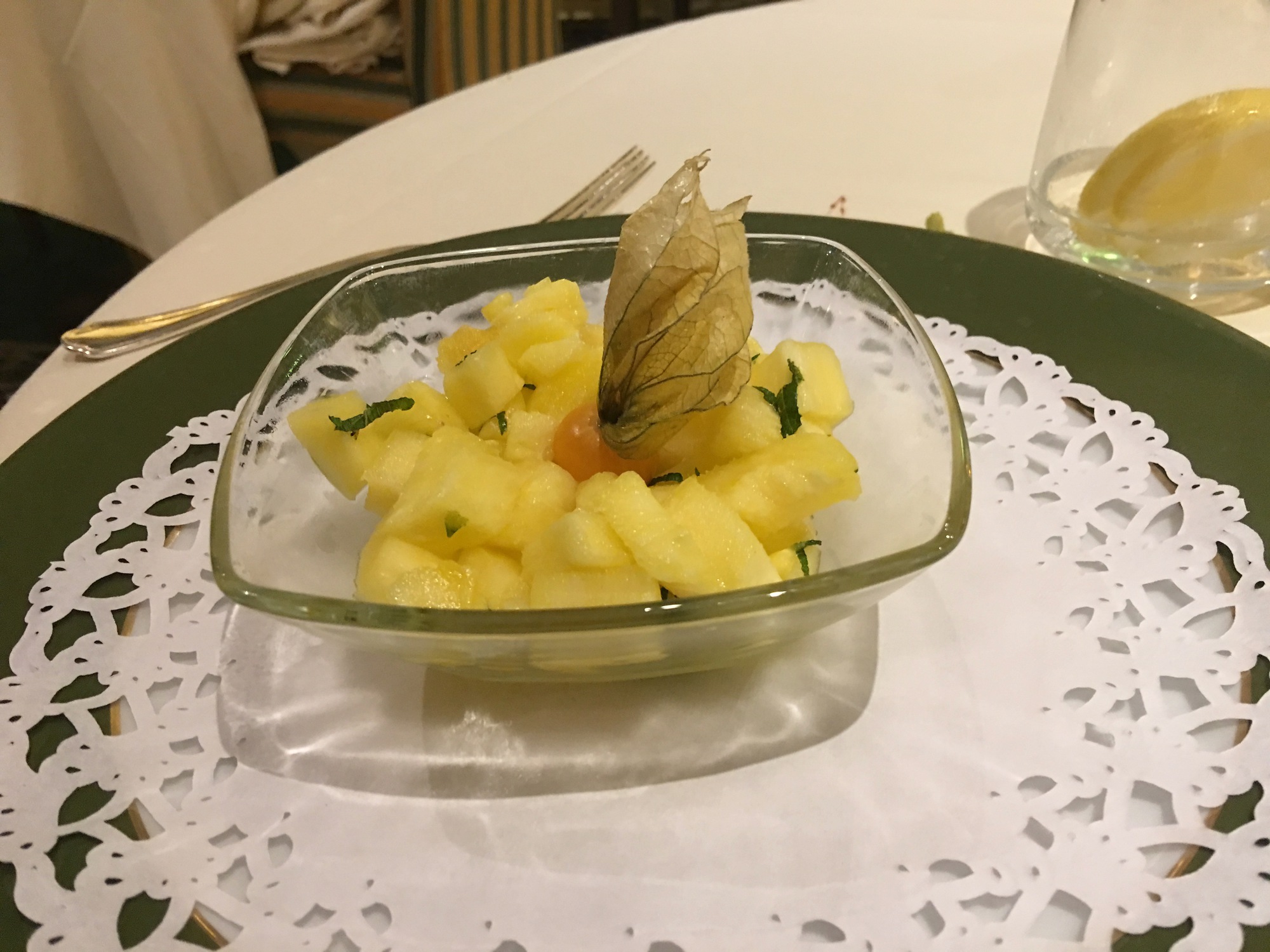 Our Last Night
After dinner, we were just about to sail away, so we popped outside to enjoy the sort-of-tacky-sort-of-nice sound of Con te partirò playing on all of the decks.  This is something that MSC apparently do every time the ship leaves port and, as the song itself is quite emotive, it's probably a reasonable choice.  I can't quite decide if this is horribly tacky (_à la _Ryanair's on-time jingle) or quite a nice way to sail out of a port.  Somewhere in-between I think!  The main problem is that they seem to start the song as soon as the lines are loosened, but this means that the ship has barely pushed back from the pier by the time the song has finished.  With some improved timing, I reckon MSC could have tears running down the faces of some of their more emotional guests!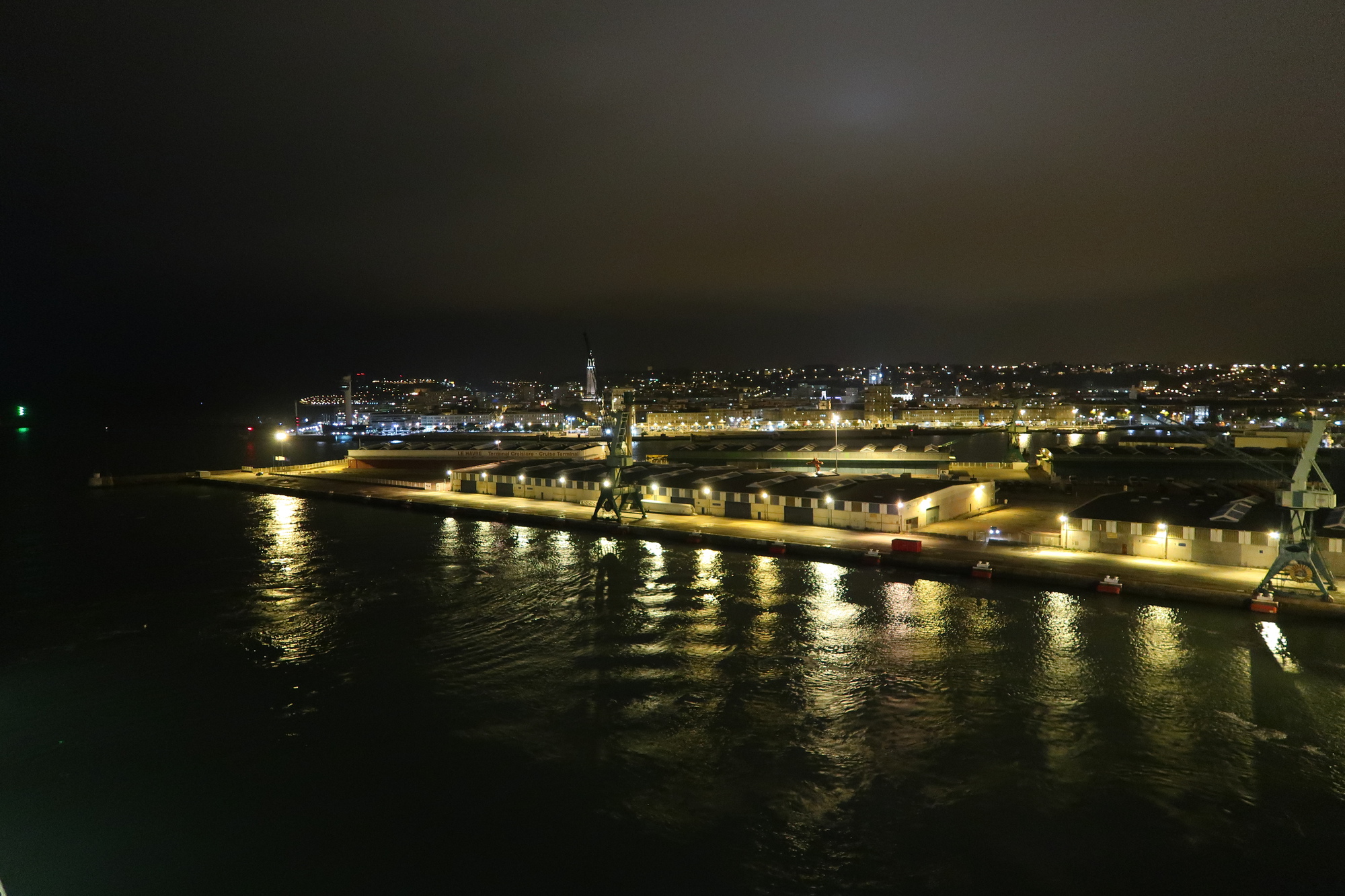 We spent some time trying to spend the rest of our onboard credit, and after looking at the various designer holdalls, bags, shirts, and t-shirts, we settled on a rather impressive Star Wars Lego set – The Millenium Falcon.  Big boys love their toys, after all!
The rest of the night was spent enjoying the quiet of the Top Sail lounge, where we had some live music and drinks… then one more on the balcony as we savoured the sea before the inevitability of waking up to the sight of IKEA in Southampton the following morning.
Disembarkation Drama
In the morning we got our things together and enjoyed a very relaxed final morning in Top Sail.  Normally we opt for express disembarkation because the thought of the buffet (or any part of a ship) on disembarkation day is very unappealing to us.  It was very nice to relax in a quiet and luxurious setting with nobody rushing around like headless chickens.  We enjoyed a very nice breakfast, before asking if we could leave early, as we were finished and didn't want to wait around anymore.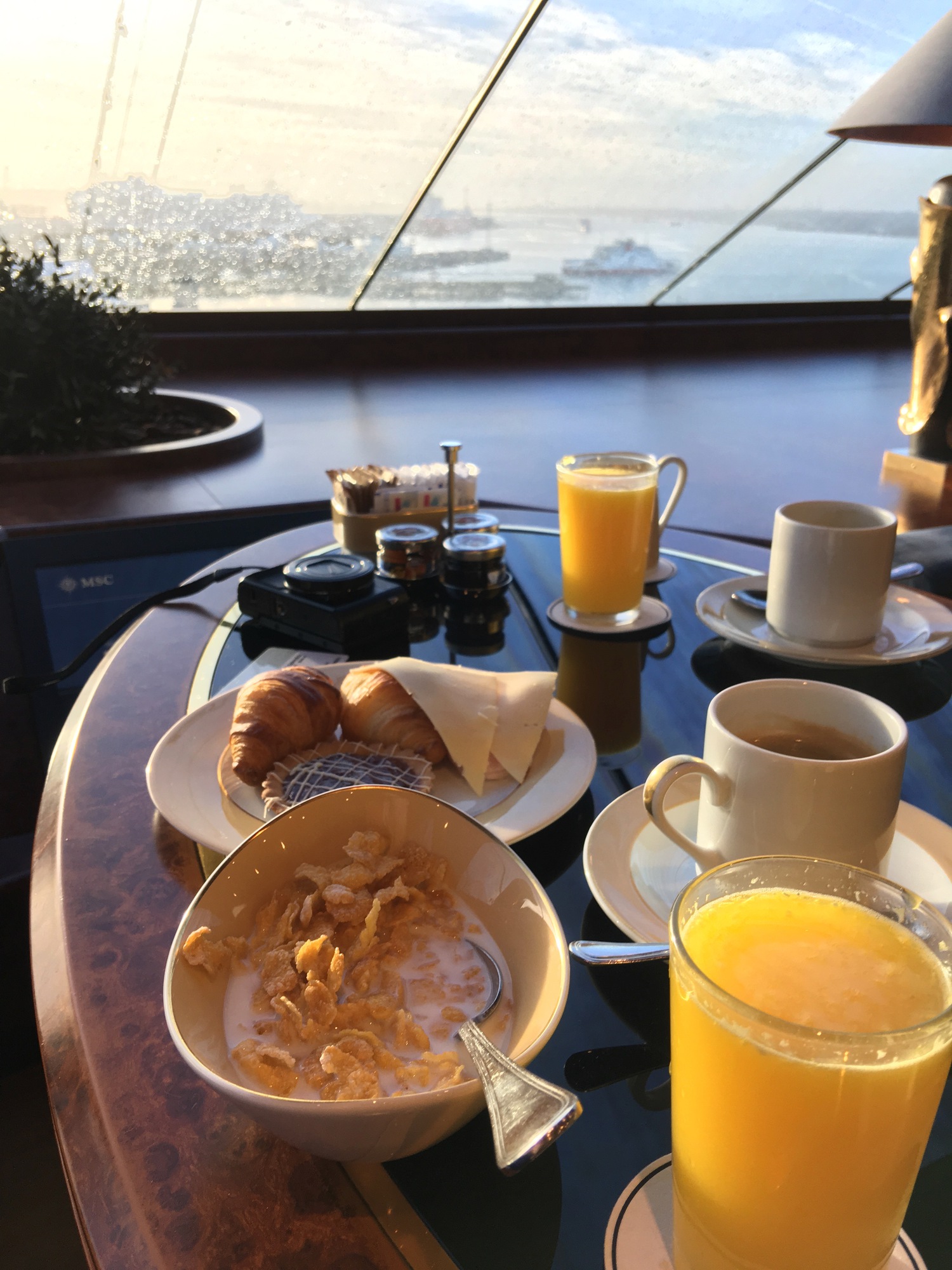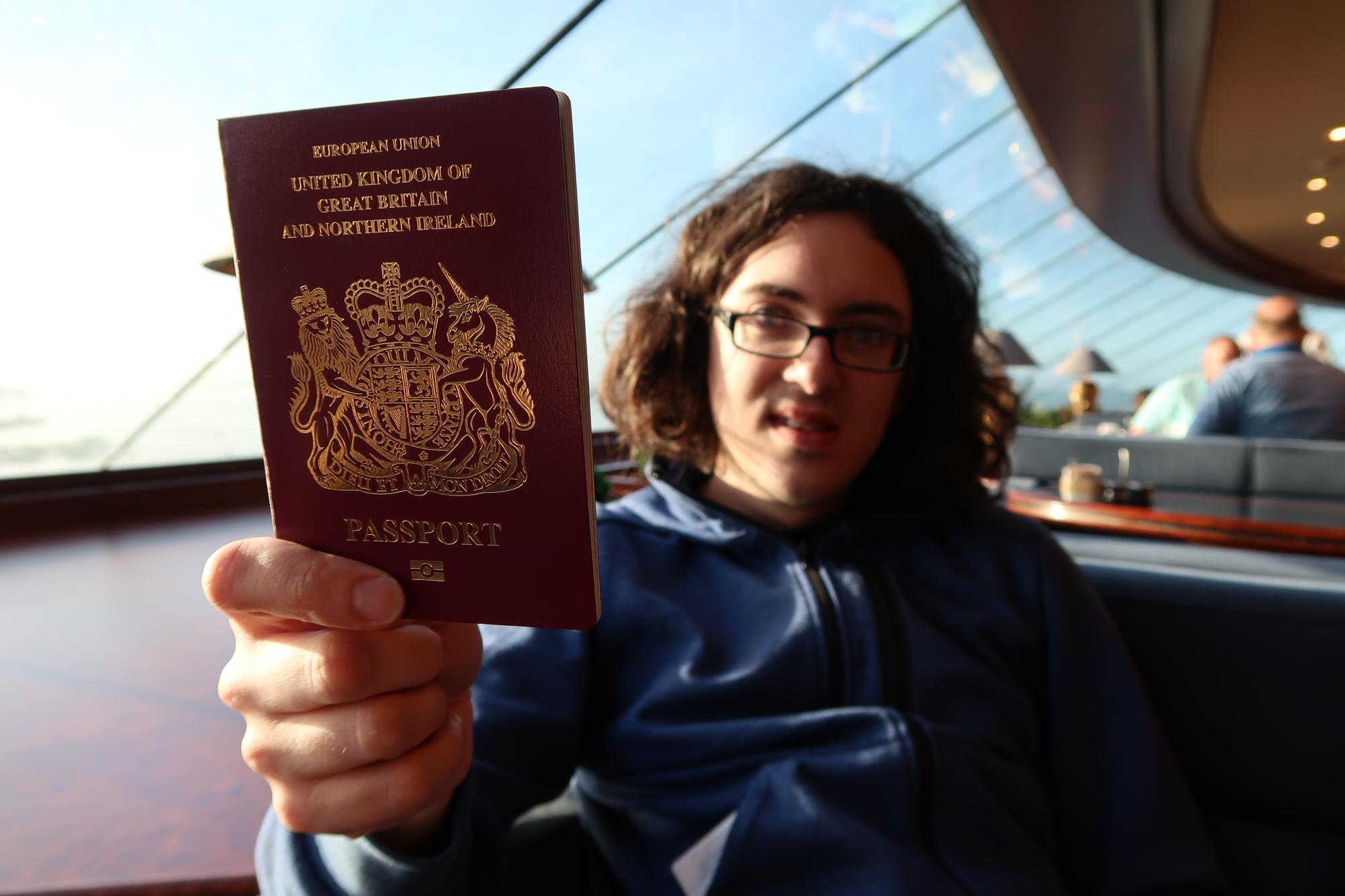 One of the butlers escorted us to the queue for passport control, which the UK border agents had set up onboard the ship.  This moved relatively quickly, but our butler seemed very apologetic that he did not have the authority to help us bypass this queue.  The queue moved fairly quickly but seemed entirely pointless to me.  When I finally got to the front, I was asked if I was going home as he glanced at my passport, and I was then waved on my way.  I'm not sure how effective this process was at achieving whatever it was they were trying to achieve.  We did know about this in advance, and the literature stated that everyone on board (even if you were staying on the ship and not getting off), including crew, had to be checked.  I find this absolutely insane and something that doesn't make the UK out to be a friendly place to visit at all.
We finally finished this process and headed for the exit.  Alex left, but my card wouldn't allow me to leave; the machine gave an angry beep and showed 'Disembarkation unauthorised' on the screen.  Great!  So I went down to guest relations (thankfully there was no queue) and enquired. There was about €16 of credit left on my account.  I explained that I thought this was non-refundable, and she confirmed that it wasn't.  She pushed some buttons and said I was free to disembark now.  What??  I even asked the concierge at Top Sail if I had to do anything else, and she told me I did not.  Ridiculous, but at least everyone involved was friendly and I didn't have to wait in too many queues.  In fact, Alex got the luggage and I managed to catch him up before he got to the car, so it didn't take too long.
After leaving we had an uneventful drive to London where we spent a day with family, then drove back home to the usual pile of mail and dirty laundry!
I hope you've enjoyed this blog of my first experience of MSC.  Feel free to ask any questions about the experience.  I will try and compose my thoughts for another blog post / review in the not-too-distant future!