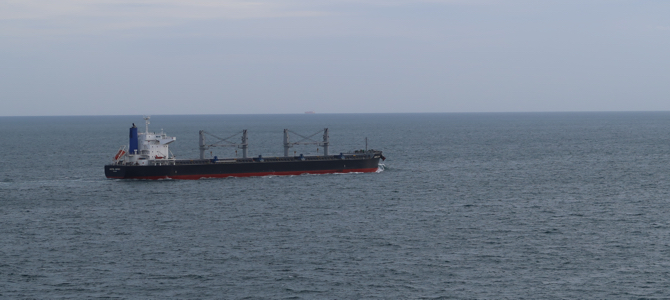 Today was another sea day, though much colder on deck than the last one.  We tried lunch in L'Olivo, paid a visit to the Aurea Spa, checked out a couple of cooking demonstrations, and did a whole bunch more reading!
We had a fantastic sleep last night and woke up naturally feeling refreshed and ready to take on a strenuous day of doing nothing at sea.  Well these books don't read themselves, now, do they?
We took a relaxing breakfast in a strangely busy Top Sail lounge.  Naturally, we still managed to get a table with a sea view without much effort, but it was busier than usual.  The strain of having to wait about 60 seconds for service rather than the usual 20 seconds took its toll! I love the breakfast in Top Sail.  Regular readers will know I tend to favour small coffee shop style settings for breakfast rather than the chaos of the main buffet.  On Celebrity we typically gravitate to Café al Bacio and on Anthem of the Seas we found Café Two70º met our needs perfectly.  Top Sail is fantastic for breakfast on this ship.  The coffee is great (better than any other line, paid for or otherwise), the orange juice is fresh and delicious, and there are delicious pastries, cereals, fruits, meats, fish (smoked salmon and rollmop herring), and cheeses to enjoy.  I really couldn't ask for more.
Cookery Demonstrations
There is a general lack of activities offered on-board MSC's ships, even on sea days.  What would be two full pages of activities on any other ship's sea day program is a mere half-page on MSC's.  One problem with the multi-lingual nature of the ship is that lectures and talks are almost impossible to do.  The other problem is the fact that we joined the cruise in Southampton, effectively doing two half cruises.  This is especially noticeable when we're seeing adverts for a talk on the forthcoming ports of Le Havre, Southampton, Zeebrugge, and Amsterdam.  Thanks, guys!  We therefore avoided the only enrichment talk today which was on the aforementioned ports, all but one of which was now irrelevant to us.
What did catch our eye were two cookery demonstrations happening on board.  One about chocolate in Le Piazzetta, and one in the Tex Mex restaurant about, strangely enough, Tex Mex food.  Both venues were totally unsuitable for such a demonstration, as the point at which each demo was done had very limited seats offering a clear line of sight.  La Piazzetta, especially, was tricky because of the number of tiled pillars. We quickly left both after realising that the each step would be described in multiple languages and German being (from what I could tell) the language used while the step was actually taking place.
A shame, but not surprising.  Back to the book then – no complaints here!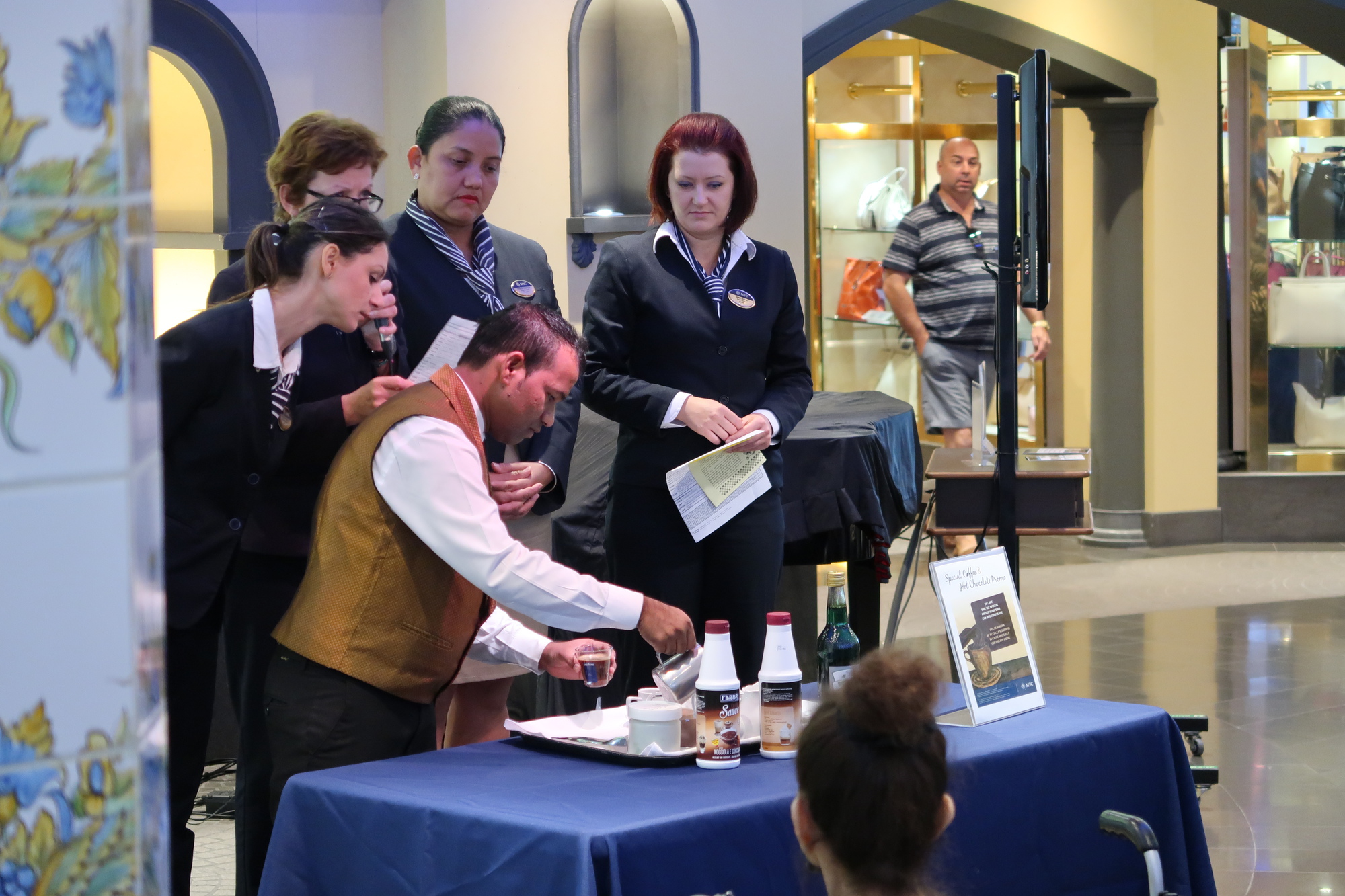 The Aurea Spa
As part of the Yacht Club experience, access to the thermal spa is included in the fare.  Most guests have to pay a fee to use this.  This can be done on a per day basis, or per cruise.  I think many of the treatments also provide short-term access to the thermal spa.
There is a special internal Yacht Club elevator which services decks 14 to 18, and is only available for Yacht Club guests (this is not the Priority YC elevator – I'll come to that magical thing later).  This takes you directly from the Yacht Club area directly into the spa area.  From here you exchange your cruise card for a locker key and the facility is yours to enjoy.
The changing rooms have lockers, fresh towels, and some private shower cubicles.  They're clean & attractive, and there is one labelled Gentlemen and one labeled Ladies.
The facilities themselves are co-ed.  There is one large, beautifully tiled steam room with a central fountain and two traditional saunas with the hot coals and bucket of water.  It's nice to be able to make the room hotter, especially if you've just come in and let all the heat out!  The sauna at our own health club has an electrically controlled sauna, so you don't have this ability.  In addition to this, there is a relaxation room with a beautiful sea view and comfortable chairs and loungers.
We enjoyed using the sauna, but the steam room was a little disappointing.  The floor had quite a lot of water in it, and the room wasn't particularly warm.  It's a shame because it was a beautiful room!
Cost for access to non-Yacht Club guests is as follows:
Day Pass: €29/each or €39/couple
Cruise Pass: €99/each or €129/couple
Inside the Aurea Spa area which is accessible to everyone is a gym, which is forward facing and seems very spacious.  We haven't quite made it in there yet, despite bringing our gym clothes with us.  There is also a beauty salon and a little café area which also seems to sell Armani's fitness clothing (which all of the MSC instructors wear) and various other cosmetics and creams etc.  I didn't pay too much attention!
The overall area is very nicely done, though I can't compare it too thoroughly to other ships' facilities as I don't use them frequently.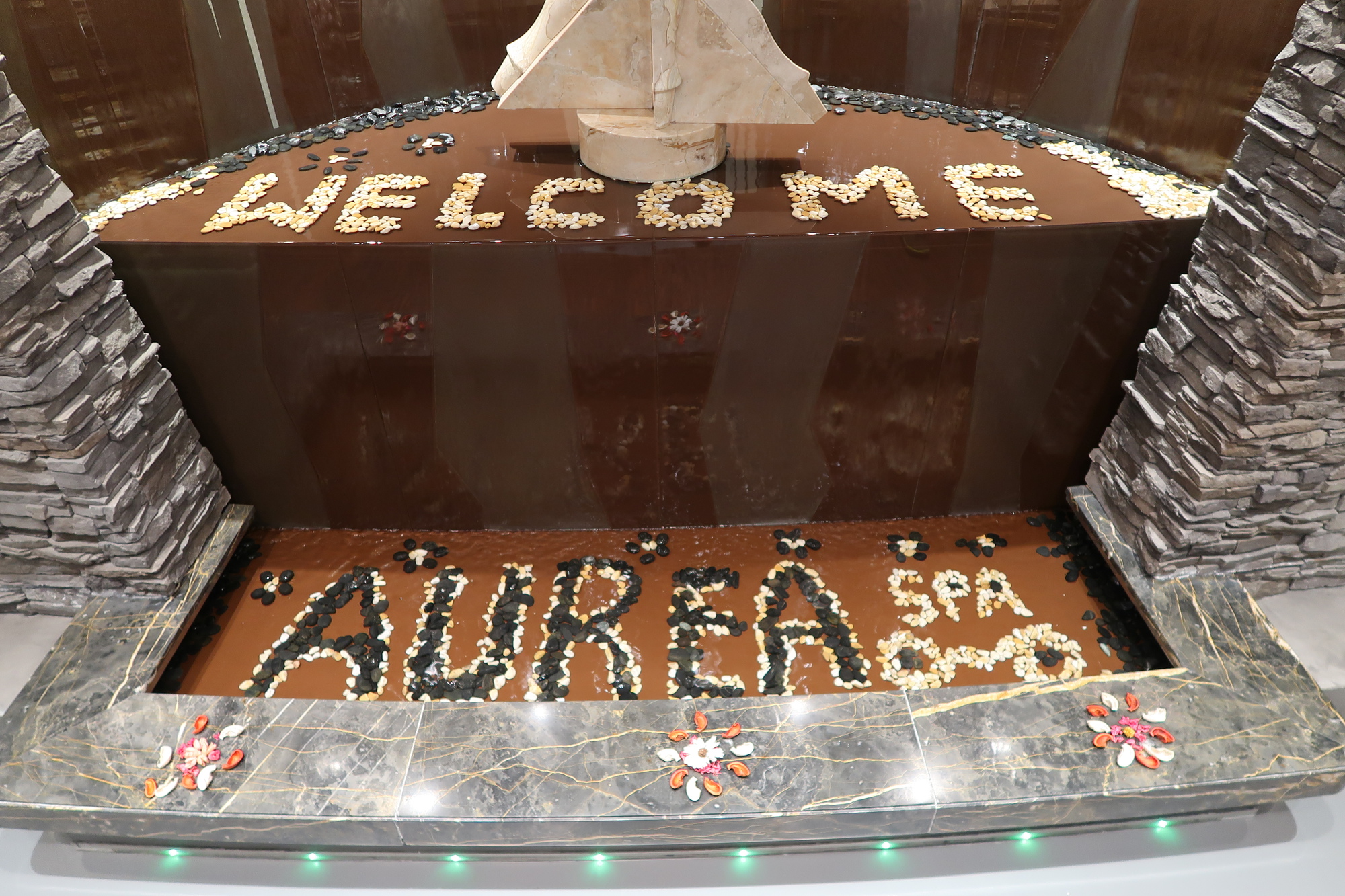 While in our swimmers, we decided to spend a while relaxing on the rather chilly pool deck.  Don't worry, we were nice and warm in the hot tub!
Lunch in L'Olivo
Given we were having a very laid back day, we decided to have lunch in L'Olivo, the Yacht Club restaurant.  Their lunch menu is of a similar length to the dinner menu, and I'm sure you could have all 5 courses if you wanted.  We decided to have three, but they were small to account for it being lunchtime.
I had some breaded cheese bites, chilli con carne, and a Nutella cream Mille-feuille.  All of this was delicious, though the cheese bites could have been slightly warmer for extra gooeyness!  All of this was delicious, especially the Nutella Mille-feuille.  This was supposed to be served with ice cream, but I made the correct choice of asking for it without.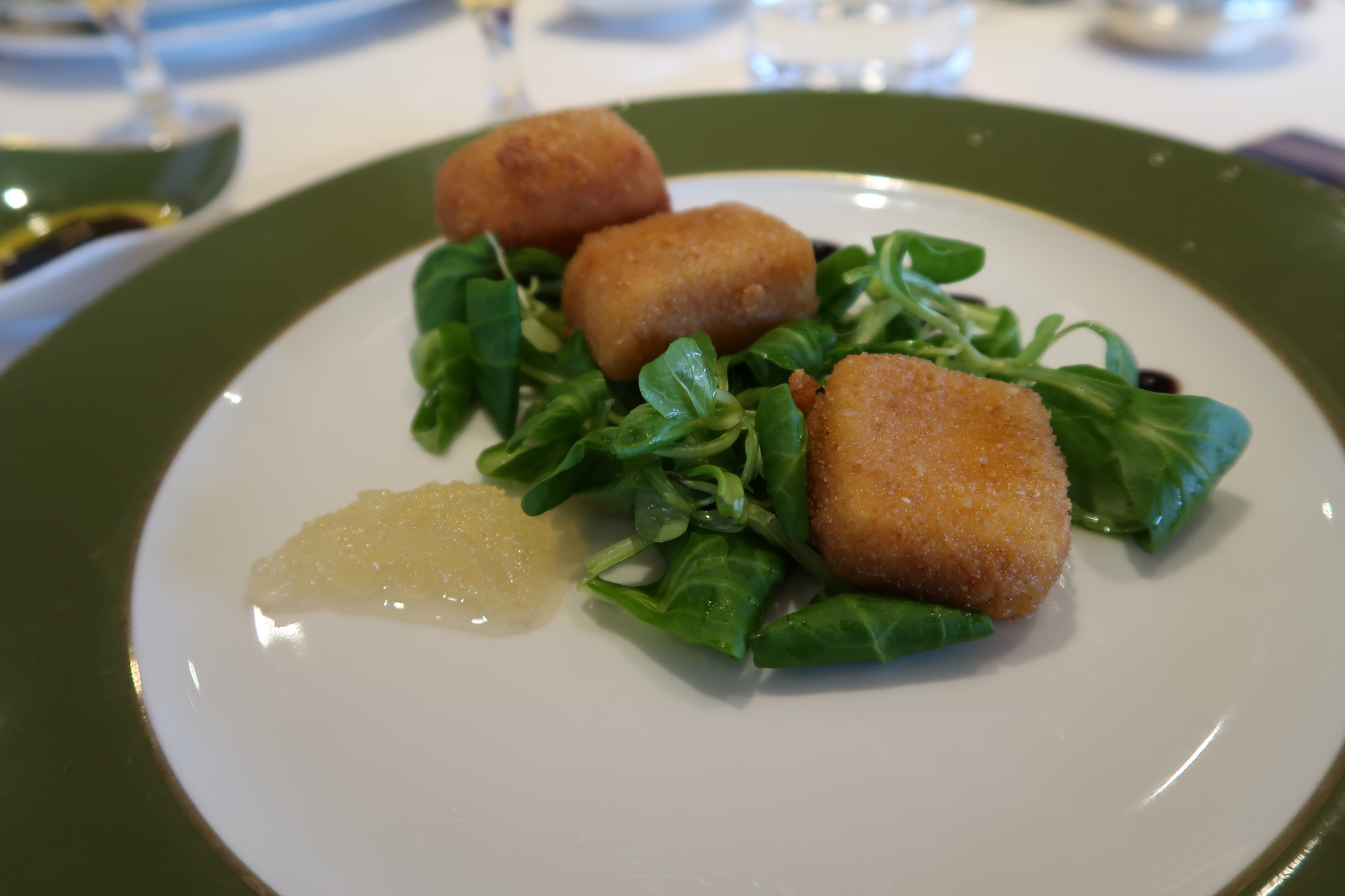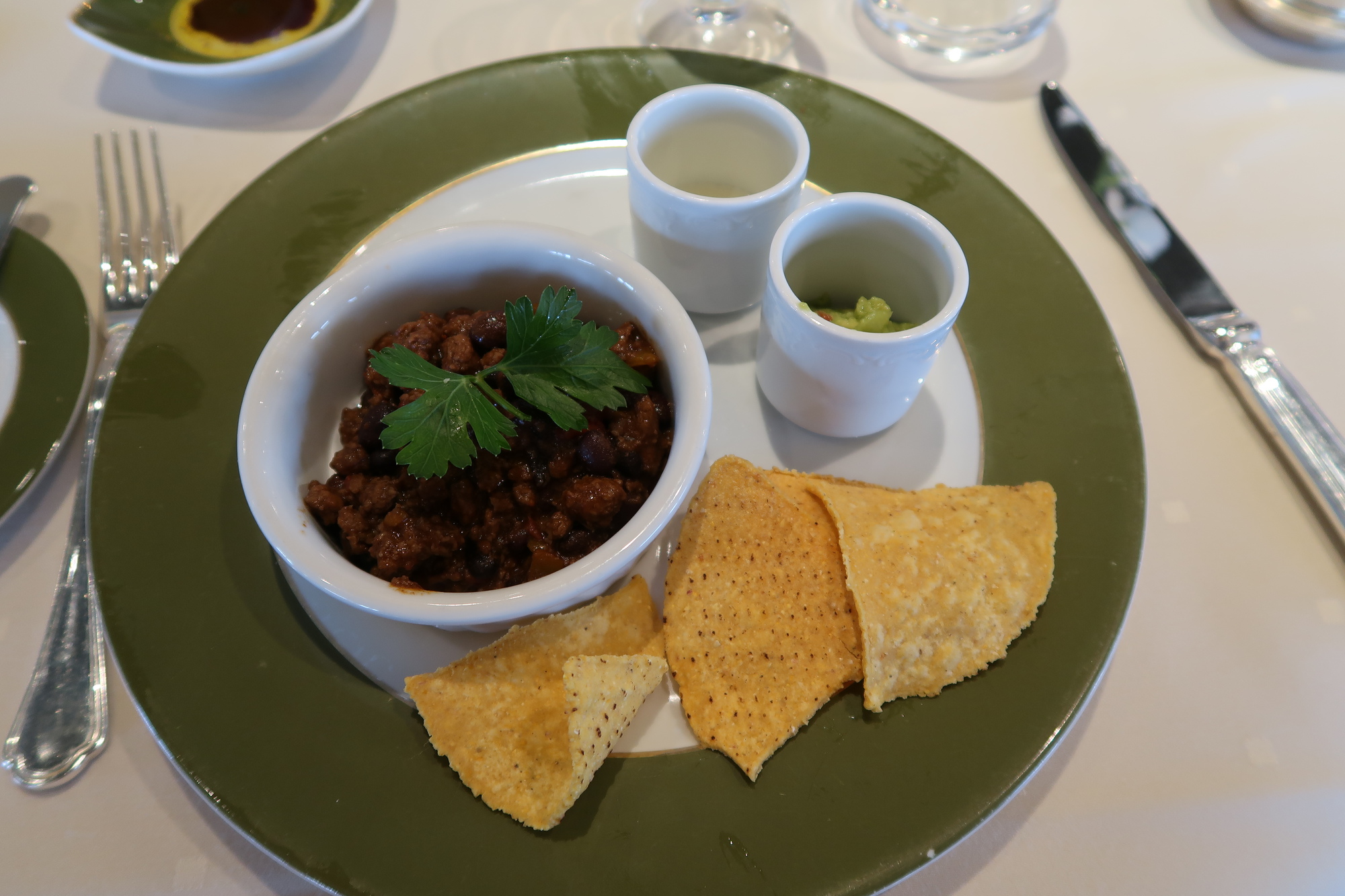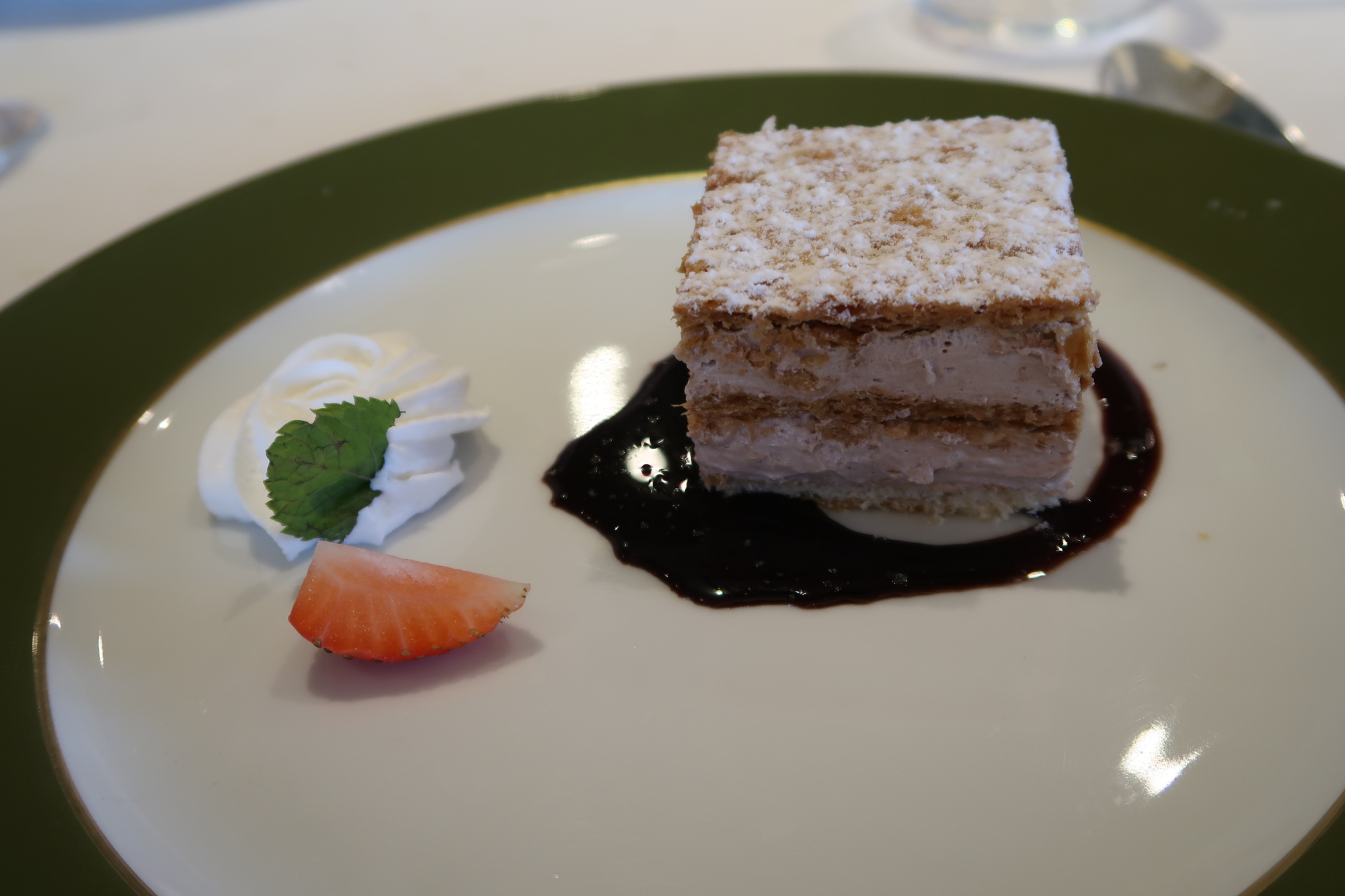 Alex had a caprese salad, the burger, and then a fruit plate.  When we sat down and he ordered he told me he'd never had a bad burger on a cruise ship!  I was immediately concerned, but he enjoyed it all!  He said the burger was very good, so we have nothing to worry about (and it's on the always available lunchtime menu, so you can have it whenever you want).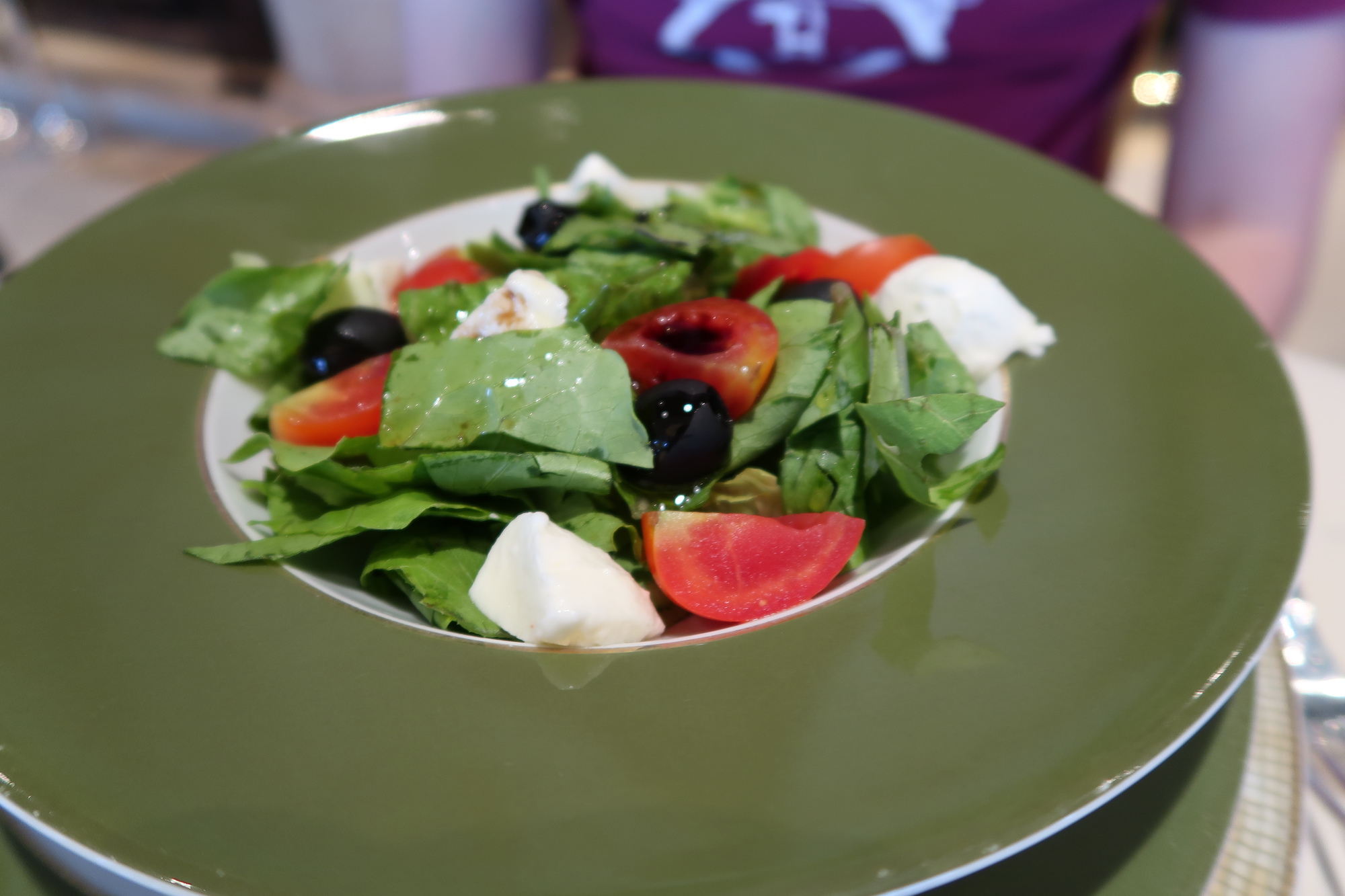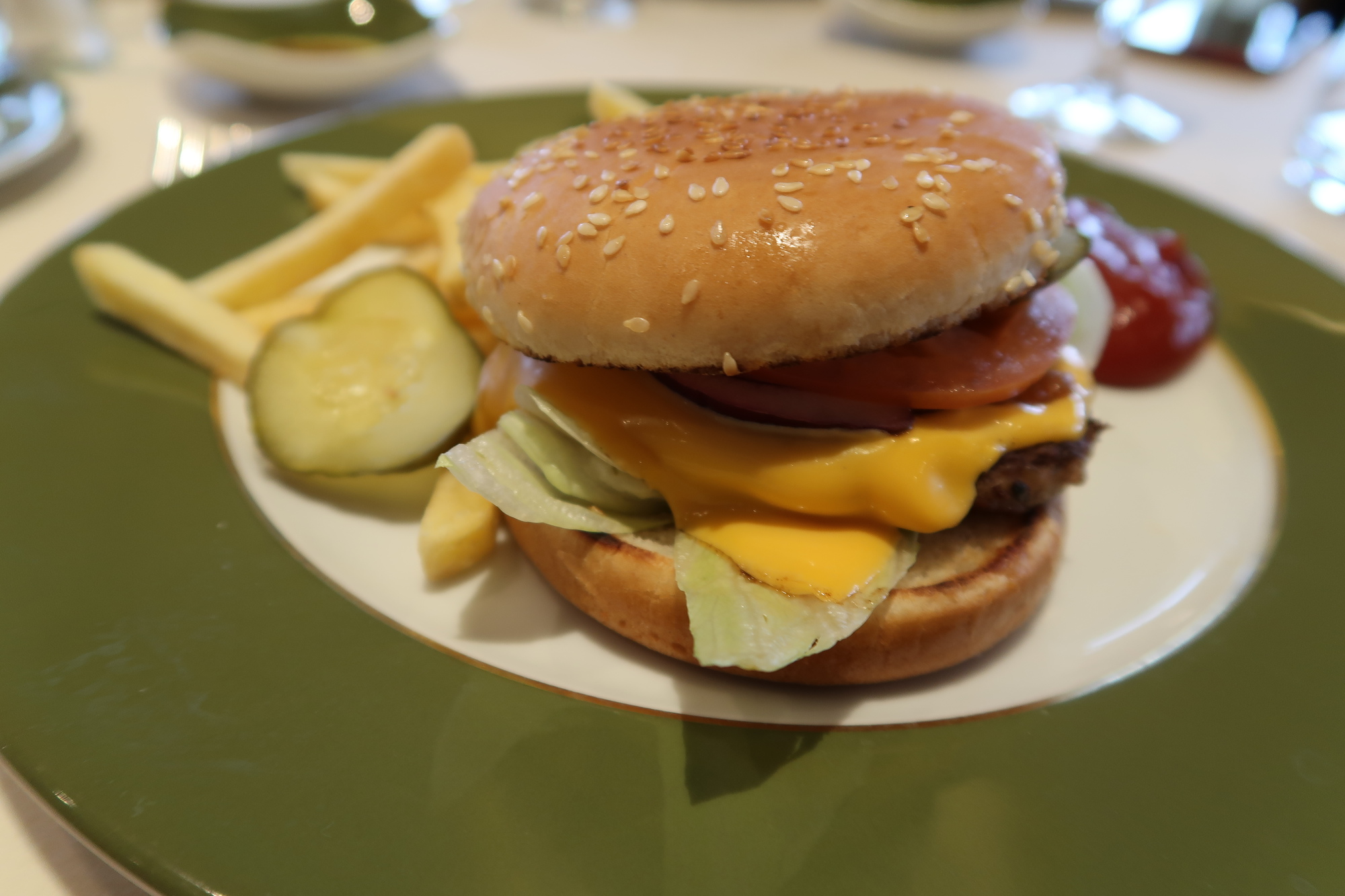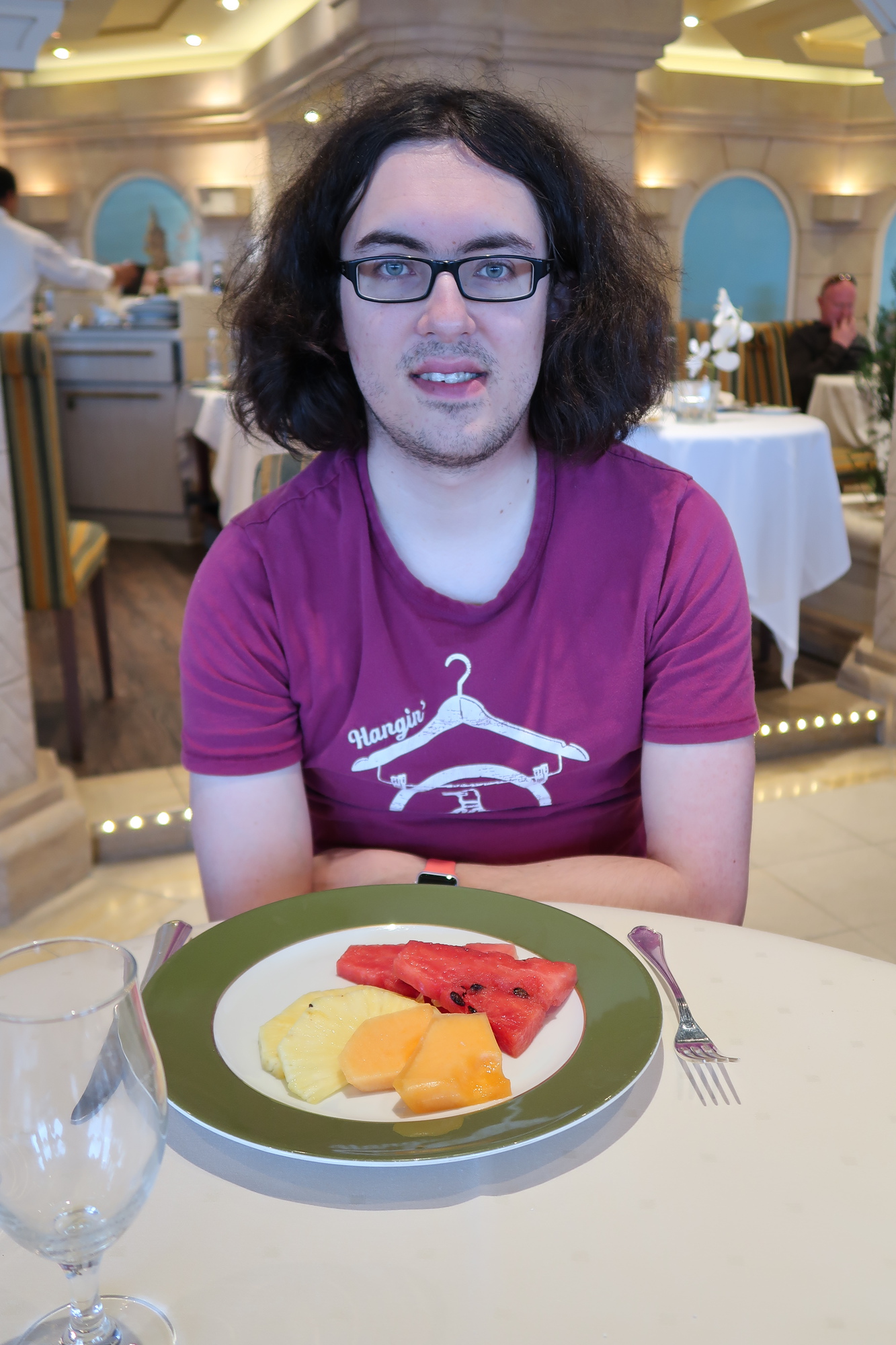 Overall I don't think I'd bother with lunch in the MDR again.  Not because the food isn't very good, but because of the time it takes.  I just don't fancy sitting there for over an hour when I can enjoy some live music in Top Sail with some of those devilish little snacks from the selection there.  I do wish we could have ordered the burger from the menu to be delivered to Top Sail, though… that would have been the best of both worlds!
After lunch, we enjoyed some of the best string and piano music we've had so far in Top Sail.  This, and the view to sea, was the perfect accompaniment to Alex's book and my blogging.  What a wonderfully lazy afternoon.  We left at about 18:00 to change for dinner, as tonight is the second gala night, so I though I might make a bit of an effort!
The Magic Yacht Club Lift
A lot has been said about the Yacht Club lift. About how useless it is.  About how amazing it is.  About how frustrating it is for other guests. I'm going to clear this all up now, based on my experience and observations all week.
First of all, the location.  There are many lift banks throughout the ship.  The Yacht Club lift is one lift located in the forward-most lift bank which has four lifts in total.  There is a sign next to the lift stating that it is for Yacht Club use only.  If you press one of the regular call buttons, the lift will not move.  My guess is that if all three other lifts are in use, the Yacht Club lift will spring to life, but I haven't confirmed this because the lifts are never that busy.
When arriving at the lift bank you insert your card into the slot (as you would your stateroom door) and are then able to press the Yacht Club button.  The digital sign above the lift changes to 'PRIORITY USE', and the lift comes directly to you.  You will then be taken directly to the floor you request.
If someone else somehow ends up in the lift while it's not in priority mode, they will hear a message saying something like "This elevator is required for emergency use.  Please leave at the next floor".  So far, nobody has been kicked out of the lift for us.
We have basically never waited on a lift when coming to or from the Yacht Club.  I do not believe anyone else has been inconvenienced because of this perk, and if they are then they have ignored the sign saying the lift is for Yacht Club use only.
Dinner in L'Olivo
Tonight for dinner I had scallops, followed by ravioli, then steak, and finishing with crêpe suzette. This was all delicious except the scallops which were a little disappointing.  They didn't have the silky smooth consistent texture that you'd expect from a high quality scallop.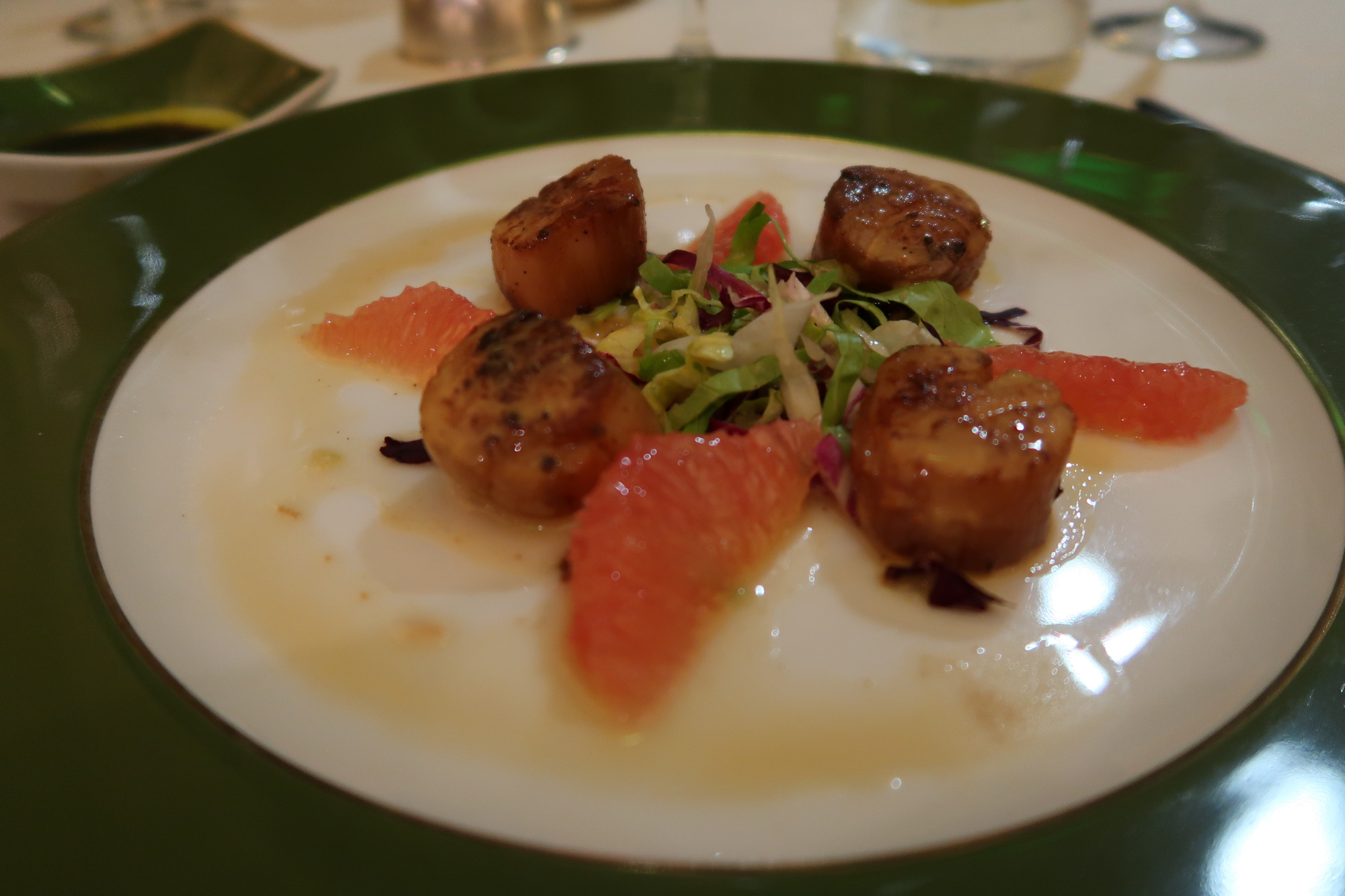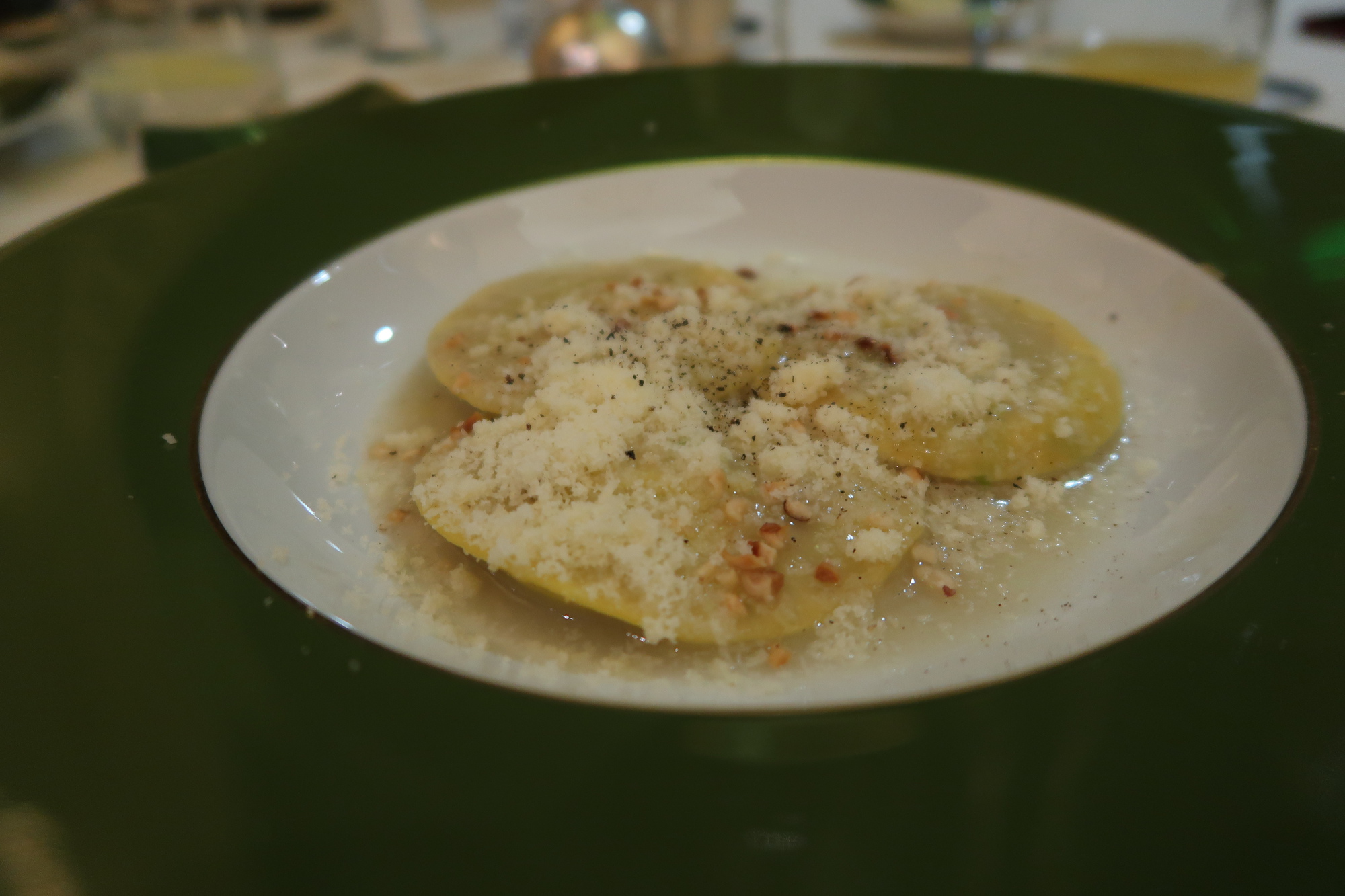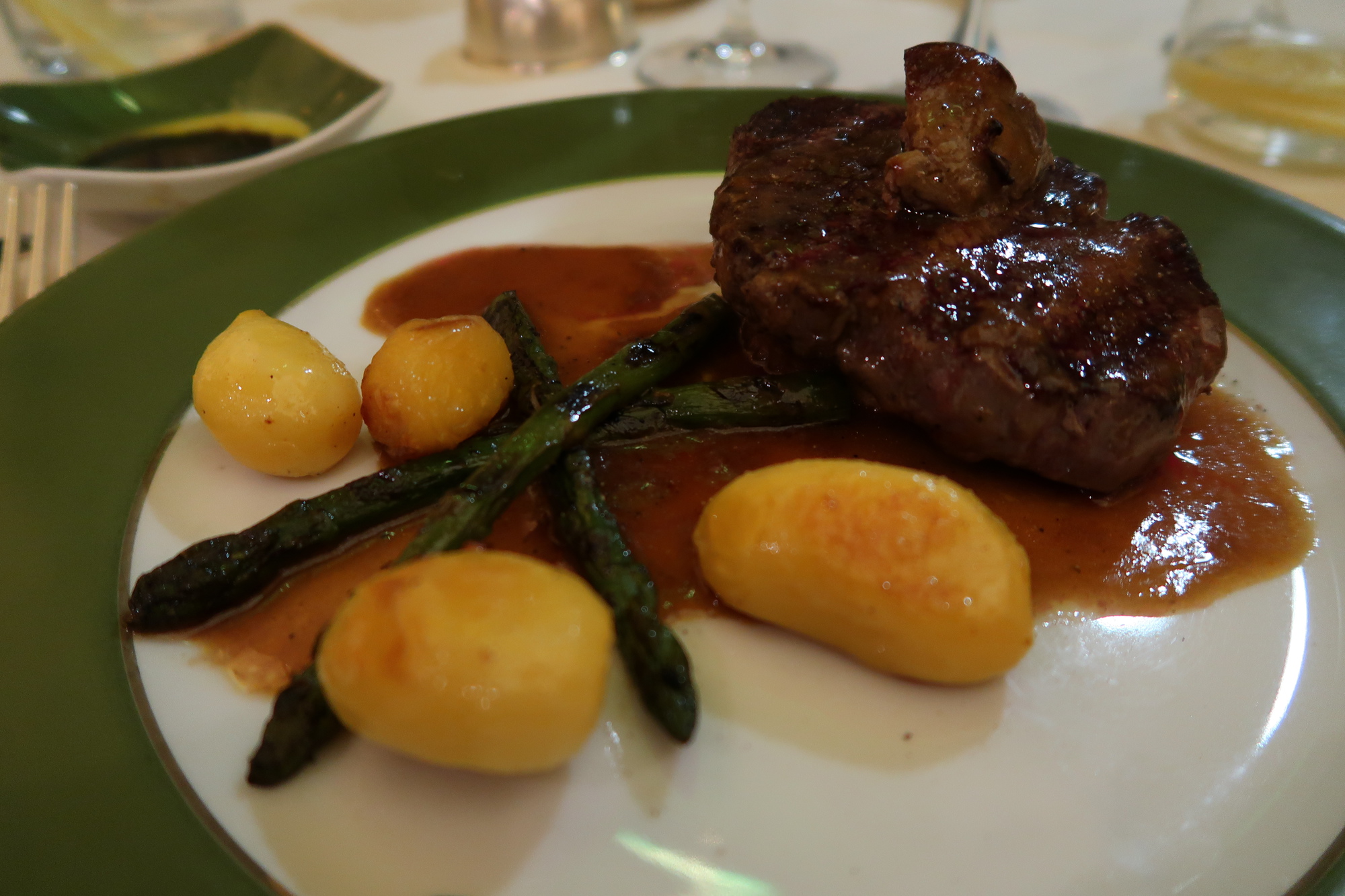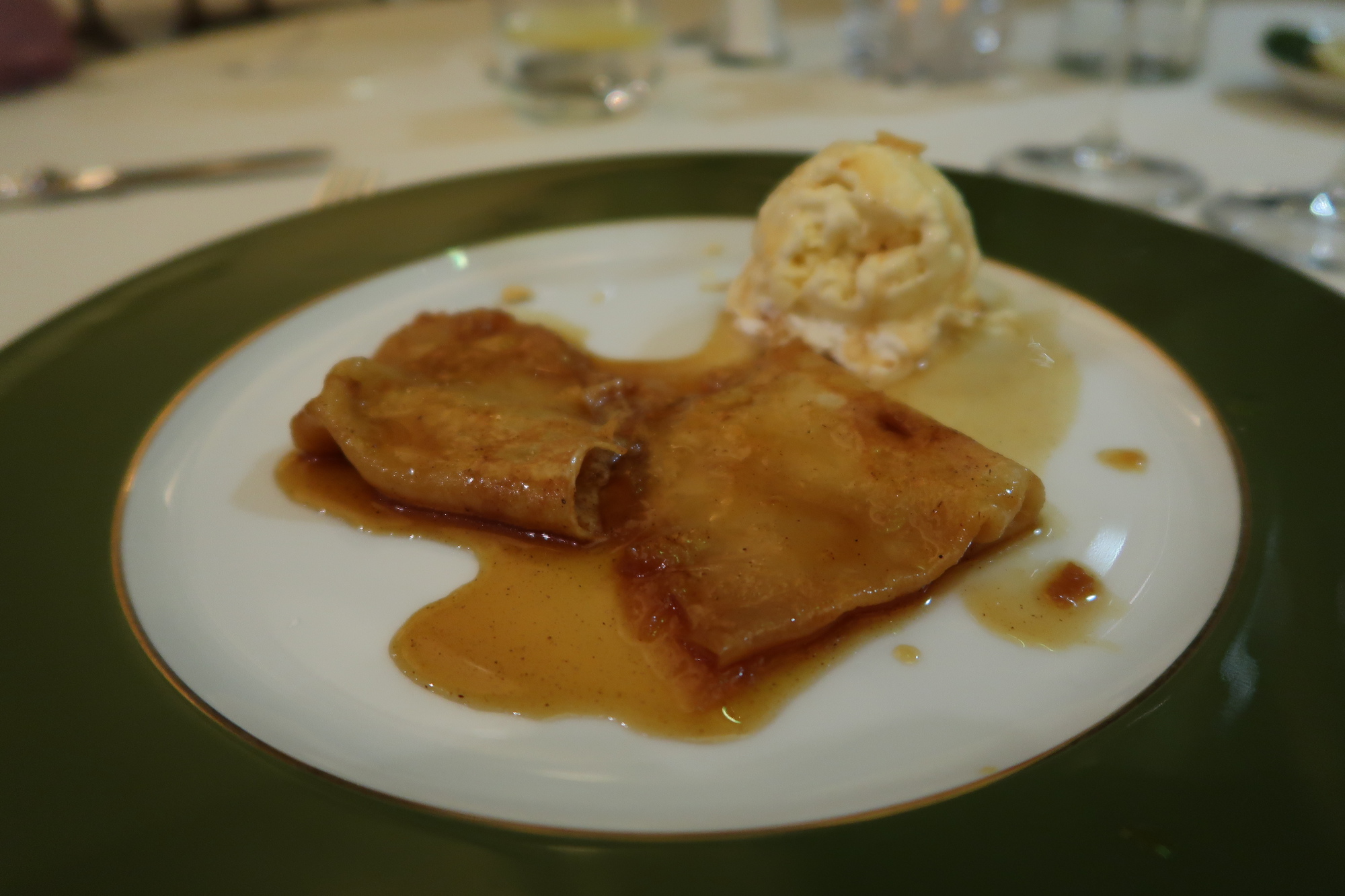 Alex had escargot, french onion soup, vegetable temputa, and then another fruit plate.  His escargot was much nicer than my scallops, and very delicious.  The french onion soup is one of Alex's favourites on Celebrity (and elsewhere) and MSC's version did not live up to that standard.  The cheese top was a small sliver of cheese on a crispy crouton, not the thick gooey layer that would adorn the top of the best french onion soup.  The soup itself was a little salty.  Other than that, his food was very nice.  The tempura were deliciously crispy, which is often something that can go wrong.  Nobody wants a soggy tempura!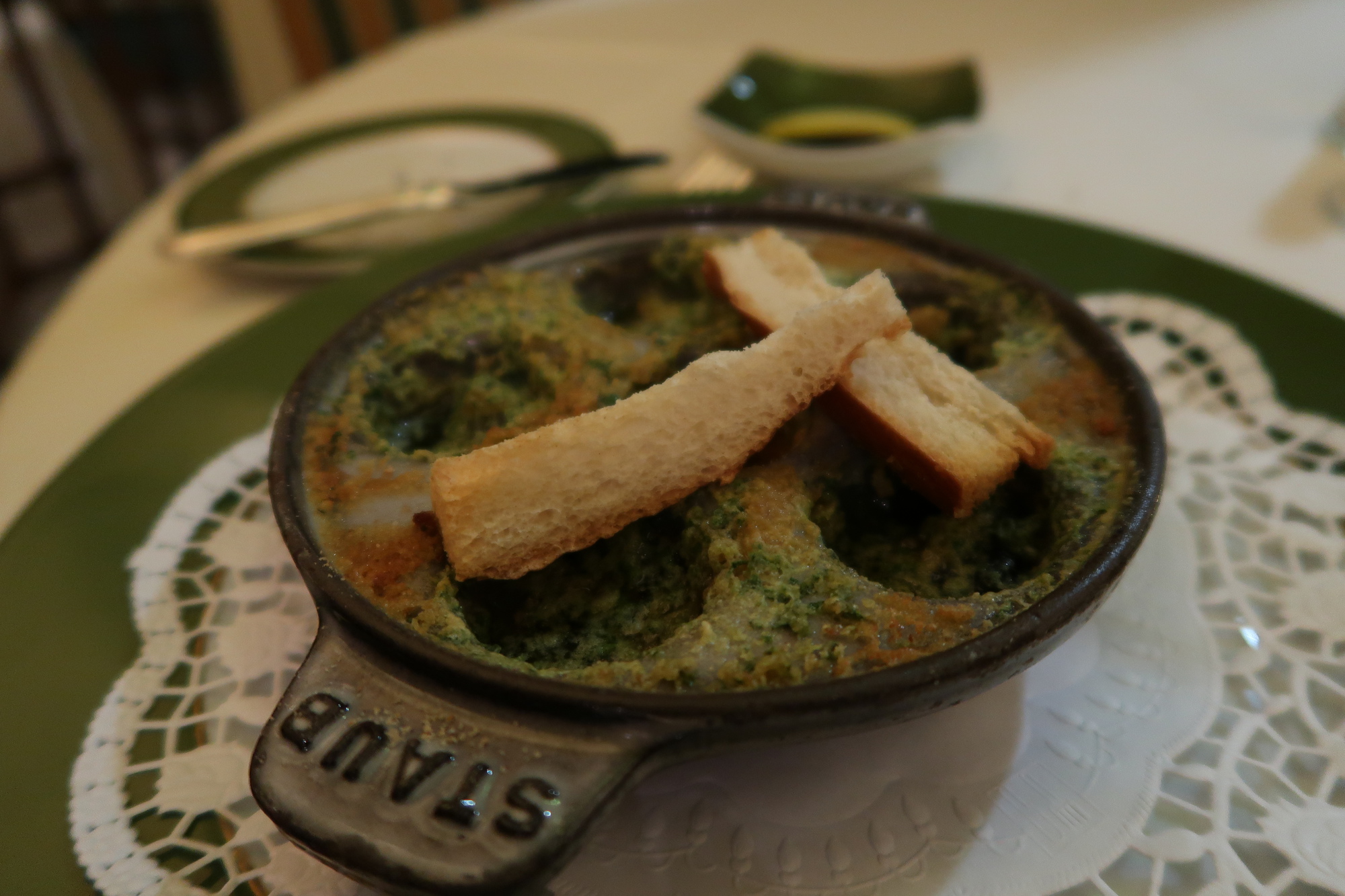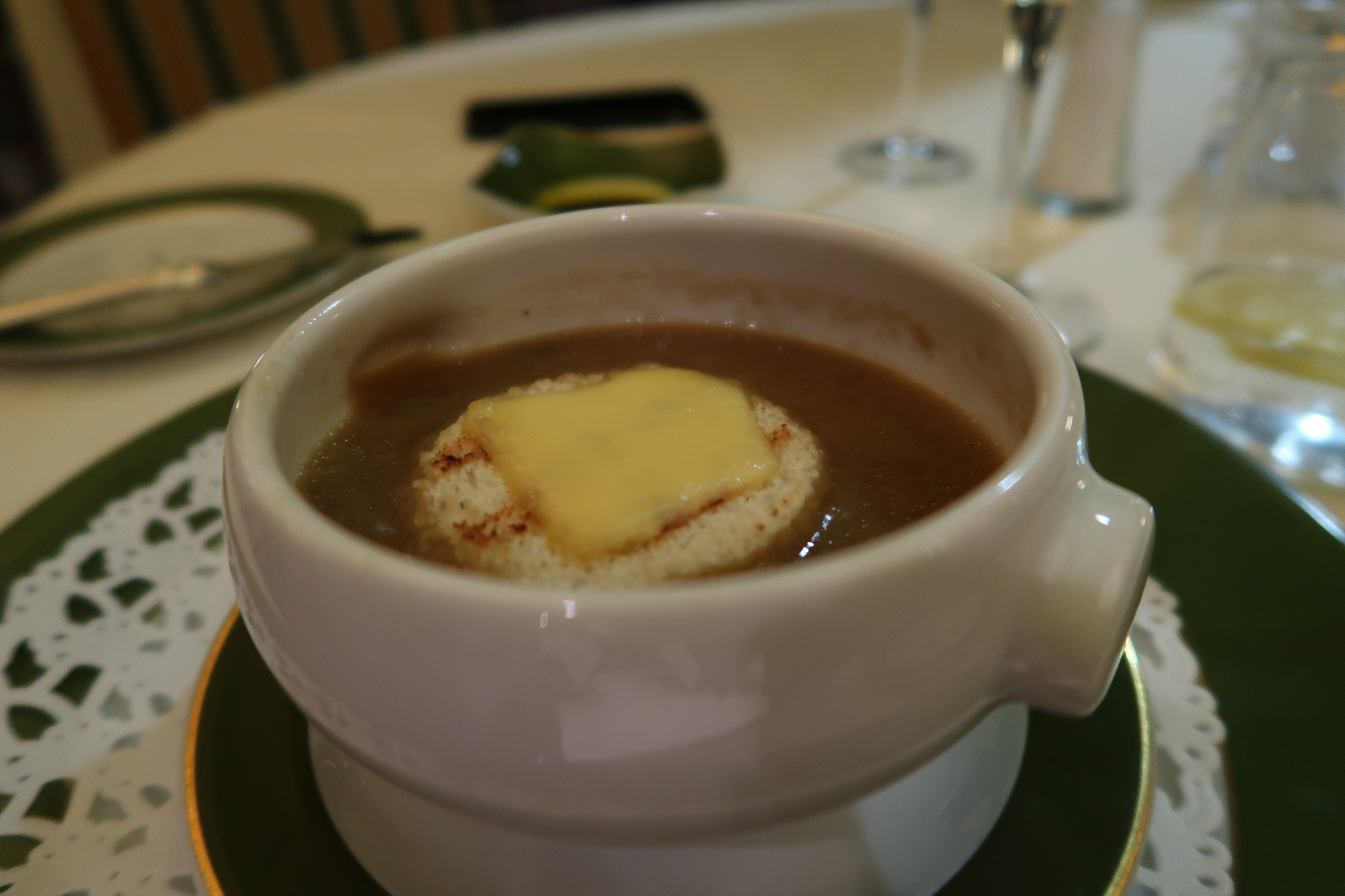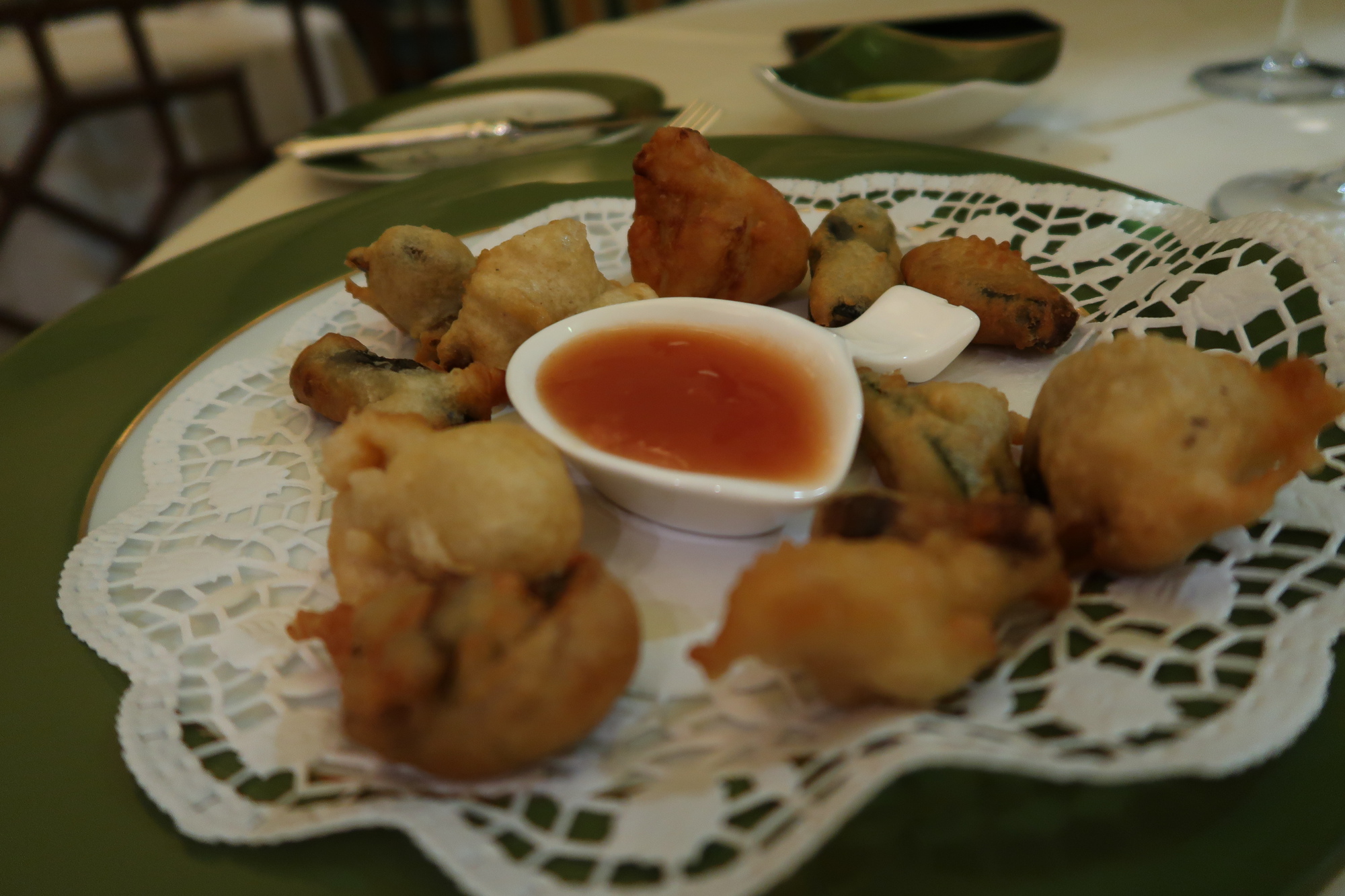 Evening Fun!
Before dinner, we stopped in the purple jazz bar where the music was it's usual cheesy self.  Great covers of popular music, sung by non-native English speakers who don't know the words.  I find this great fun, and I imagine it's what I sound like if I sing a Spanish song.  Making the correct approximate sounds, but getting the words completely wrong.  Brilliant fun and some wonderful tunes.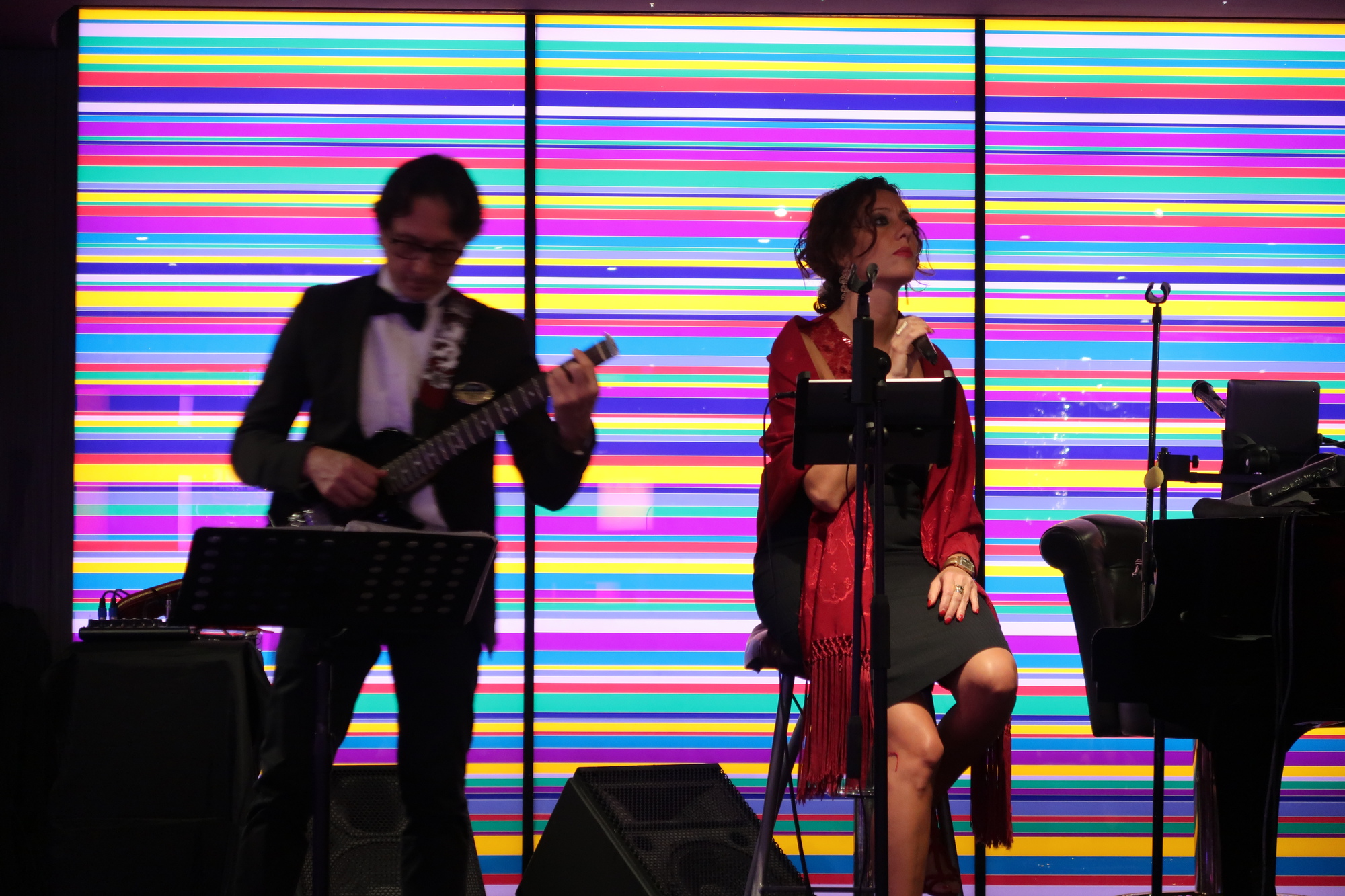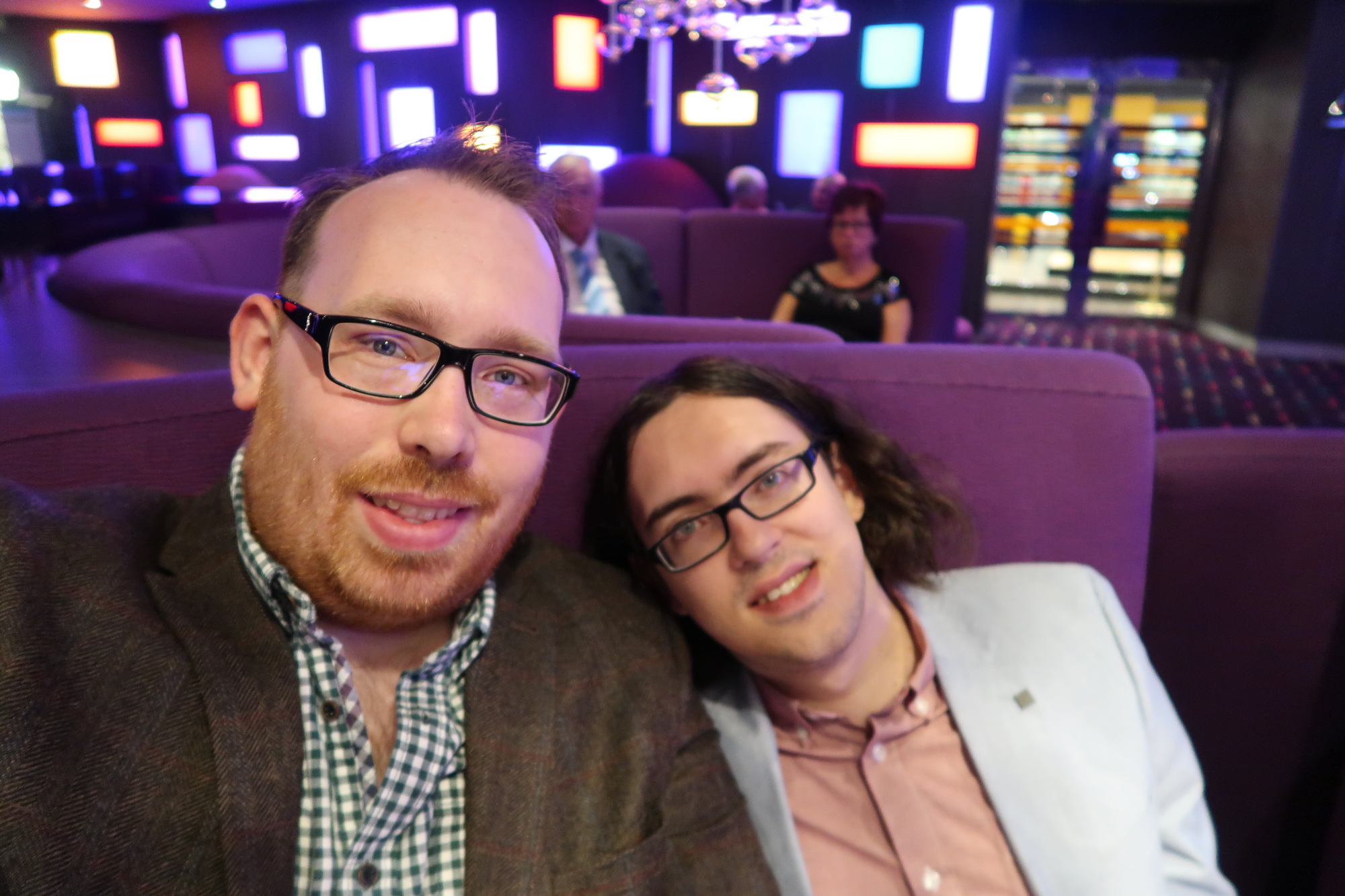 After dinner, we started in La Prua piano bar.  This had, bizarrely, a guitarist and singer!  They were singing more popular classics, but in a more relaxed lounge music sort of way.  This was also enjoyable, and we stayed here until the club started at about 11pm.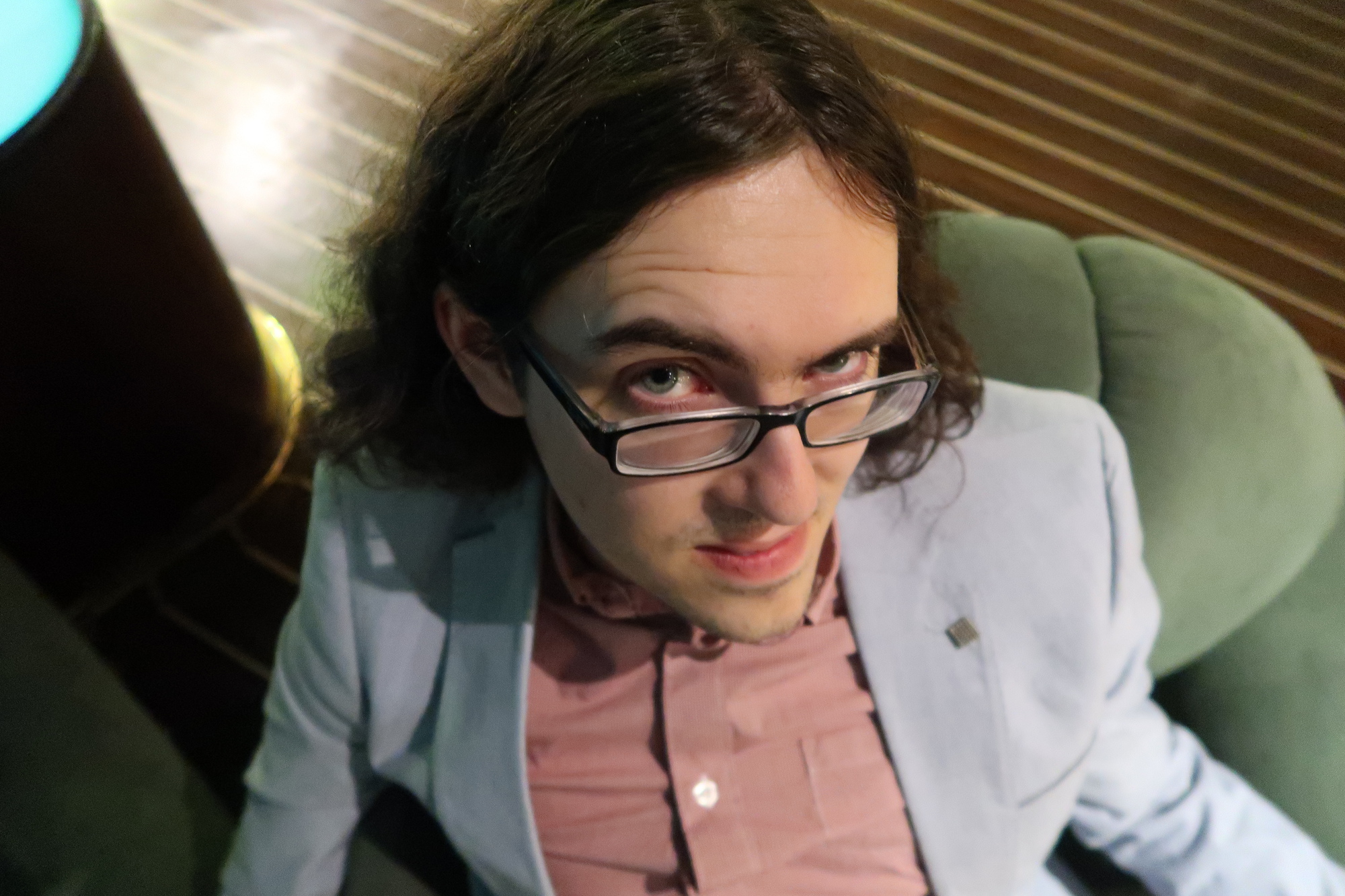 Club 33 is right at the top of the ship and, in my opinion, is completely wasted space.  It only comes to life at night (sort of) but the daytime views are incredible.  You get great views out to the sides and aft over the pool deck.  Unfortunately the bar doesn't seem to be open during the day, and even if it was, the decor would put you right off.  Do you remember the old TV adverts for Tango?  And the tag line "You've been Tangod" where they turned everything bright orange?  Well, take a classy sea view bar and give it a Tango / Nickelodian paint job and you get a pretty good idea of what Club 33 is like.  To be fair, as a club (in the dark) it woudn't be too bad.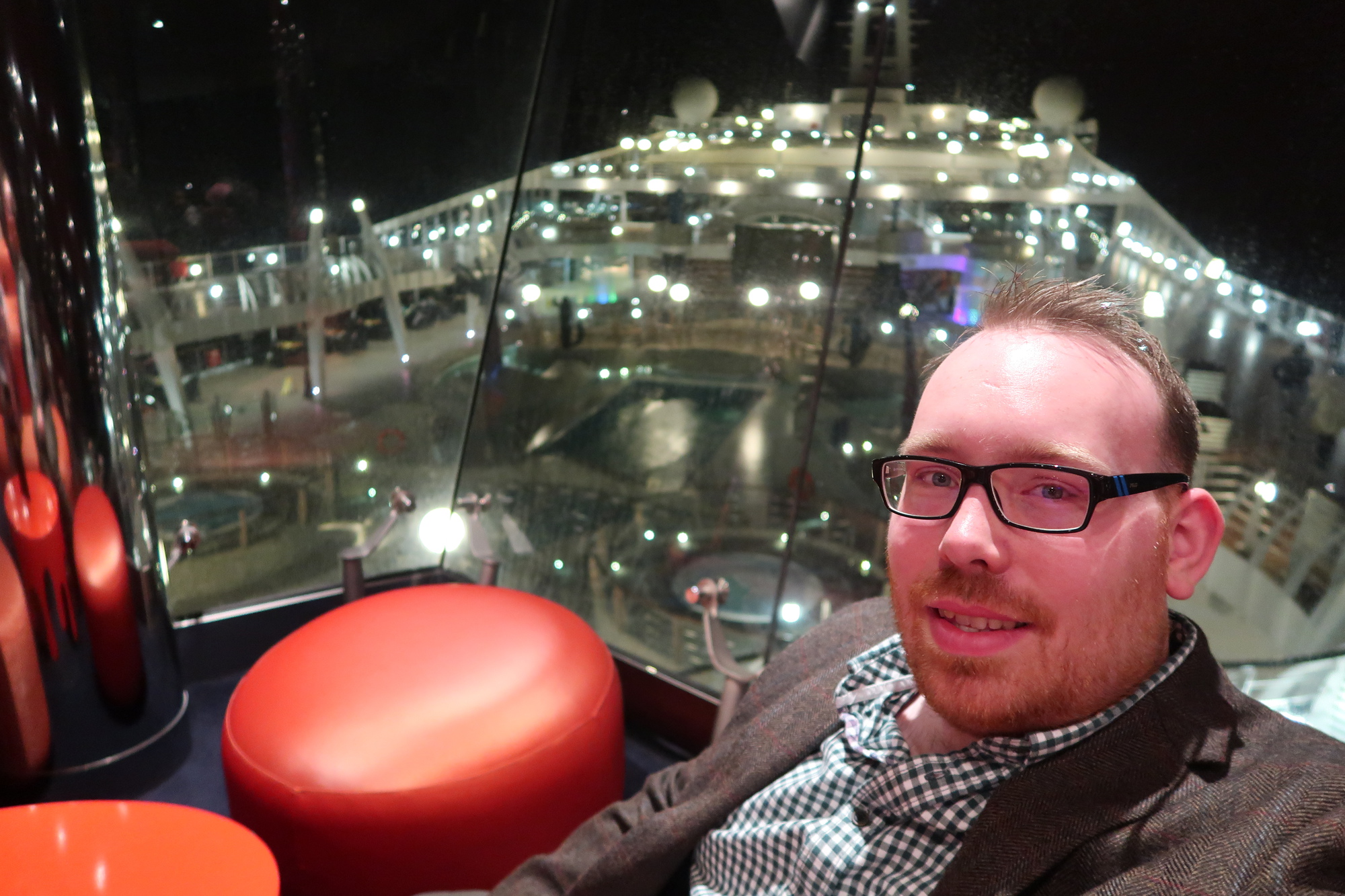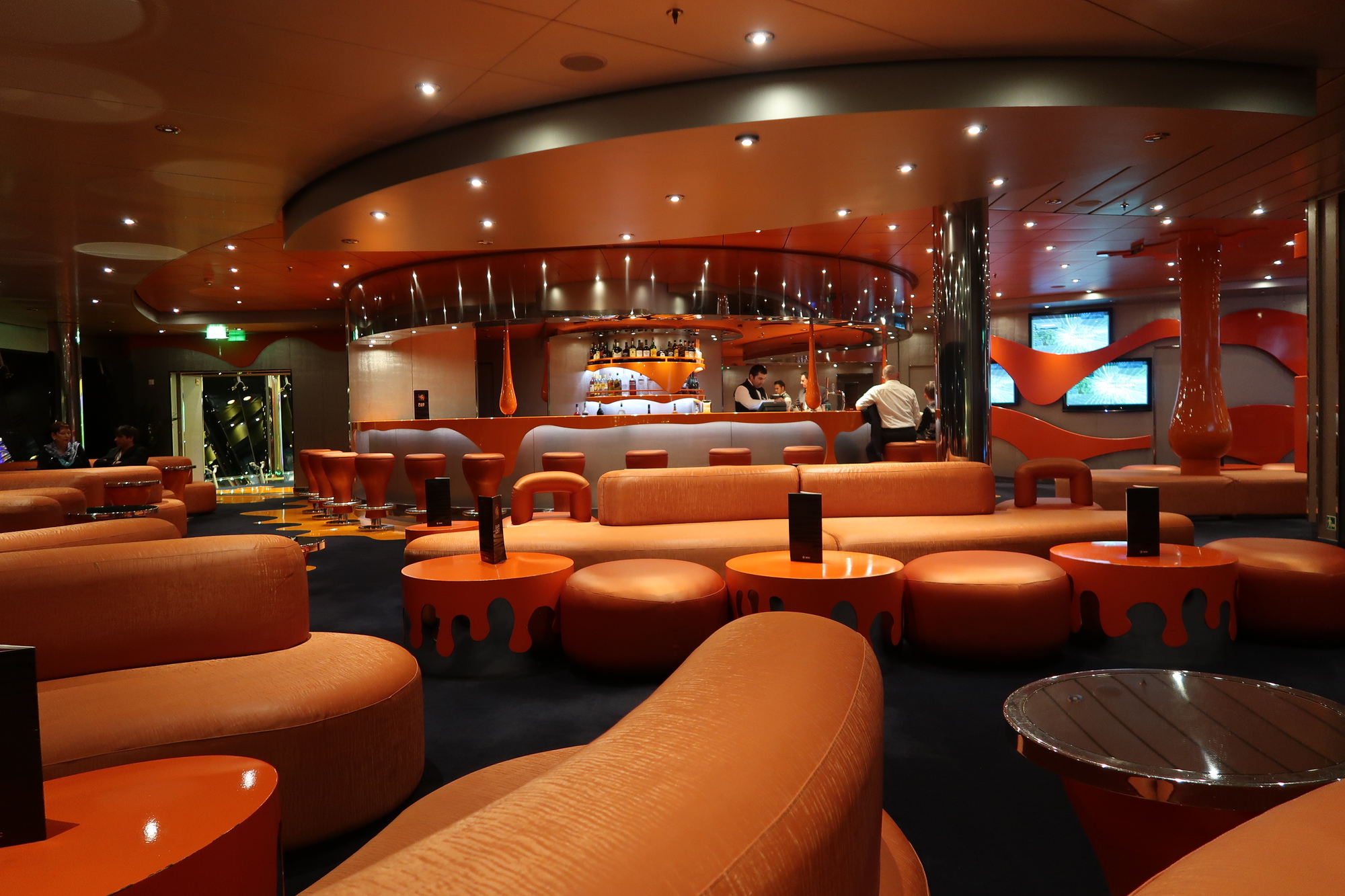 Unfortunately when we arrived at about 23:00 there was a tango class going on, and this lasted until 23:30 when the 'club' music finally started.  I really thought we'd get some decent modern club music, but I was totally wrong.  It was definitely more of the oldie classics.  Now I love that sort of music, but it's what is sung everywhere else on the ship.  In Club 33 it's canned!  Now again, this wouldn't be too bad, but they didn't even get club remixes of the original songs.  Everything they played while we were there was a dodgy cover, and most of them sounded like they didn't know the words.  Entertaining and perfectly forgivable for live music, but pretty abhorrent for canned stuff.  Can MSC seriously not afford a music licence for original music?  Even if they were good, they were certainly not mixed together well by a decent DJ, but had dodgy fades and cuts between tracks that are quite jarring.
Sorry MSC your club just doesn't do it for me!  We decided to give our ears and our eyes a break from the mess and enjoy the nice drinks and service in Top Sail before bed.  The annoying thing is we were enjoying the live music in the other lounge, but gave up our precious seat to check out the club which I'd read was very good.  Oh well!
Goodnight folks – Le Havre tomorrow!  Until then…