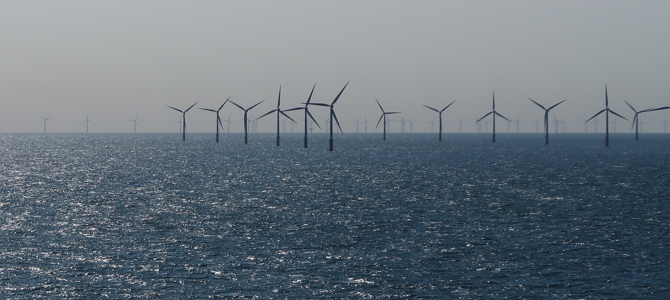 Today was our first sea day onboard and for us a chance to do very little (which is unusual for us). But fear not, I'll use the empty blog to give you a tour of our stateroom and tell you about the Yacht Club afternoon tea.
This morning we were still docked in Amsterdam, with a departure time of 09:00. We spent large chunks of the morning simply enjoying the sail along the canal connecting Amsterdam with the North Sea. This was very relaxing, and we didn't enter the open water until around noon.
When we finally worked up the motivation to go to breakfast, we decided to try the One Pool Deck. This turned out to be warm in the sun, but just a little too windy. We were fine sitting there, but the food got cold much too quickly.
I had some sausages, bacon, and scrambled eggs. It was all tasty enough, but cooled too quickly to be truly enjoyable. I suspect it could easily have been stale had we arrived at the wrong time, as the deck wasn't exactly popular given the temperature.
We also spent a bit of time in the Top Sail lounge where the forward views were fantastic, and a great way to spend the time sailing into or out of a port.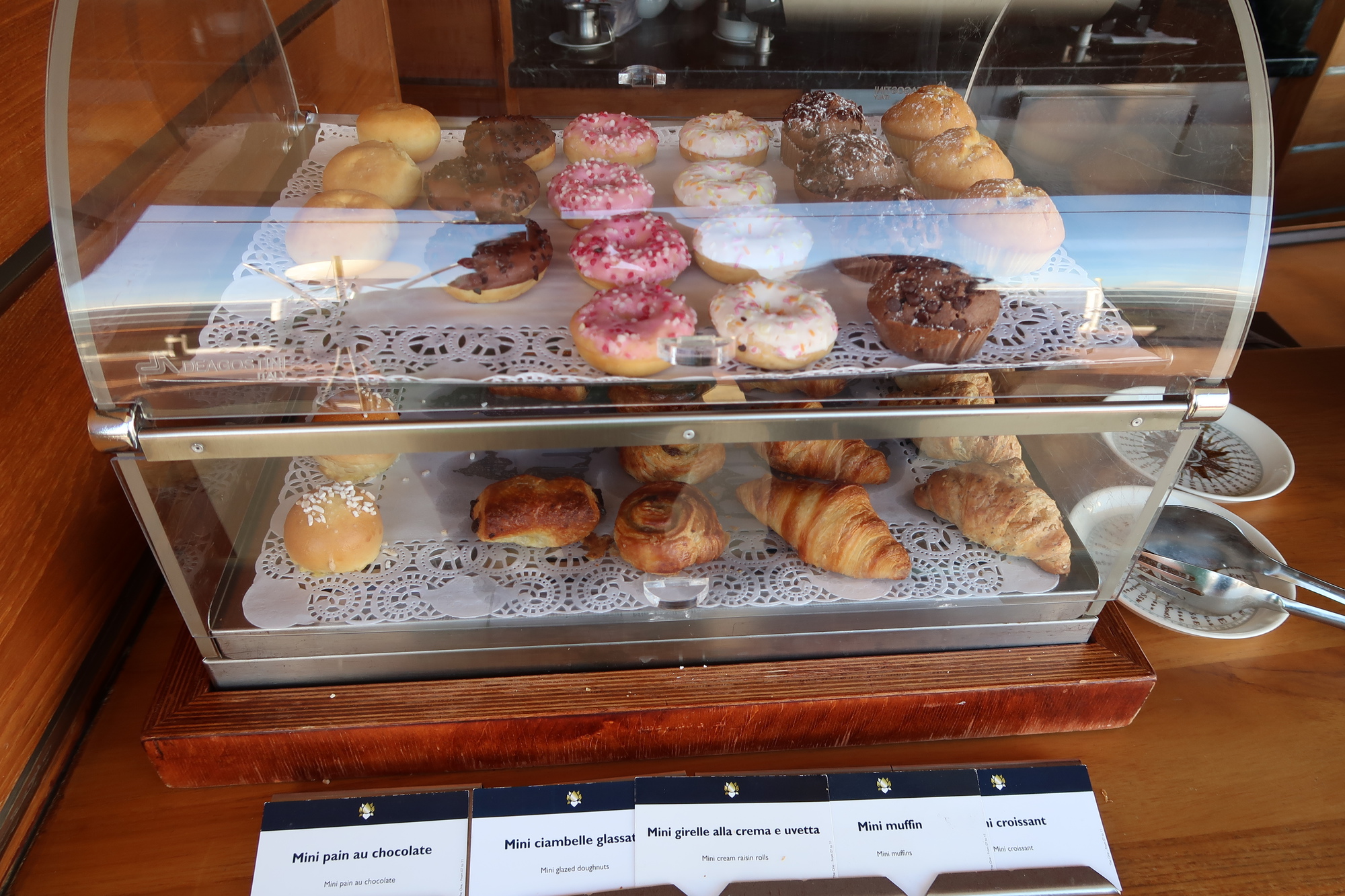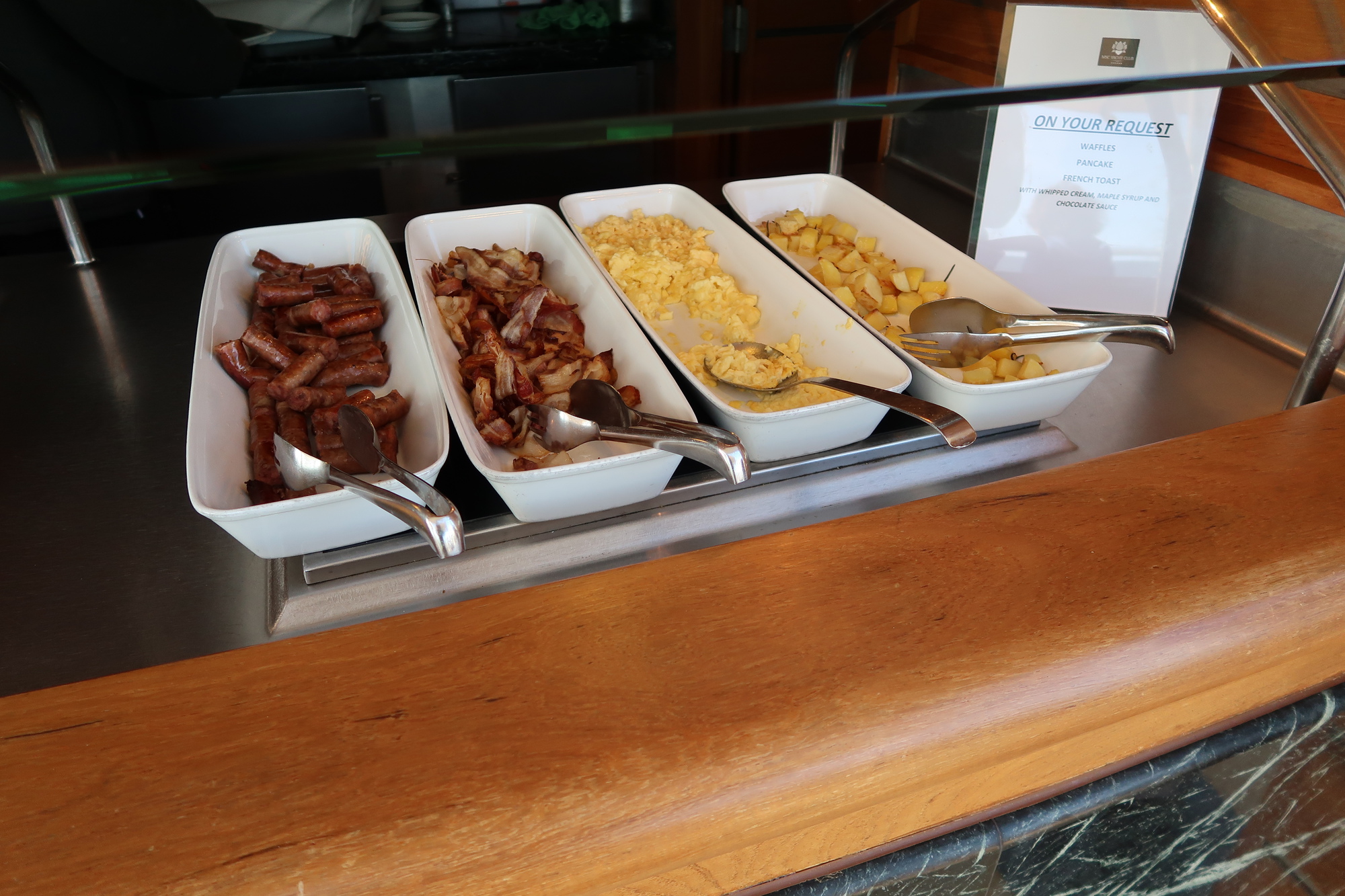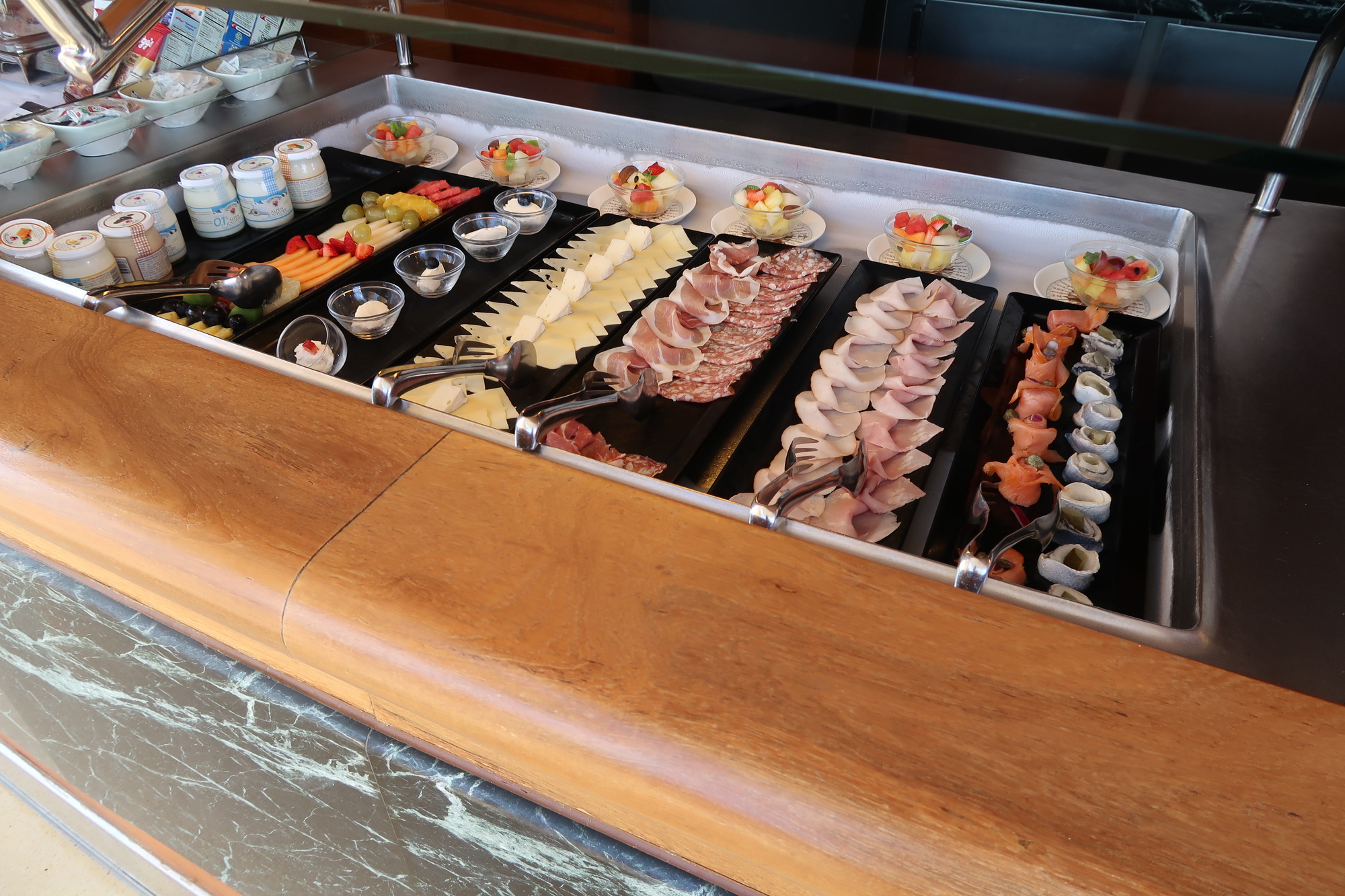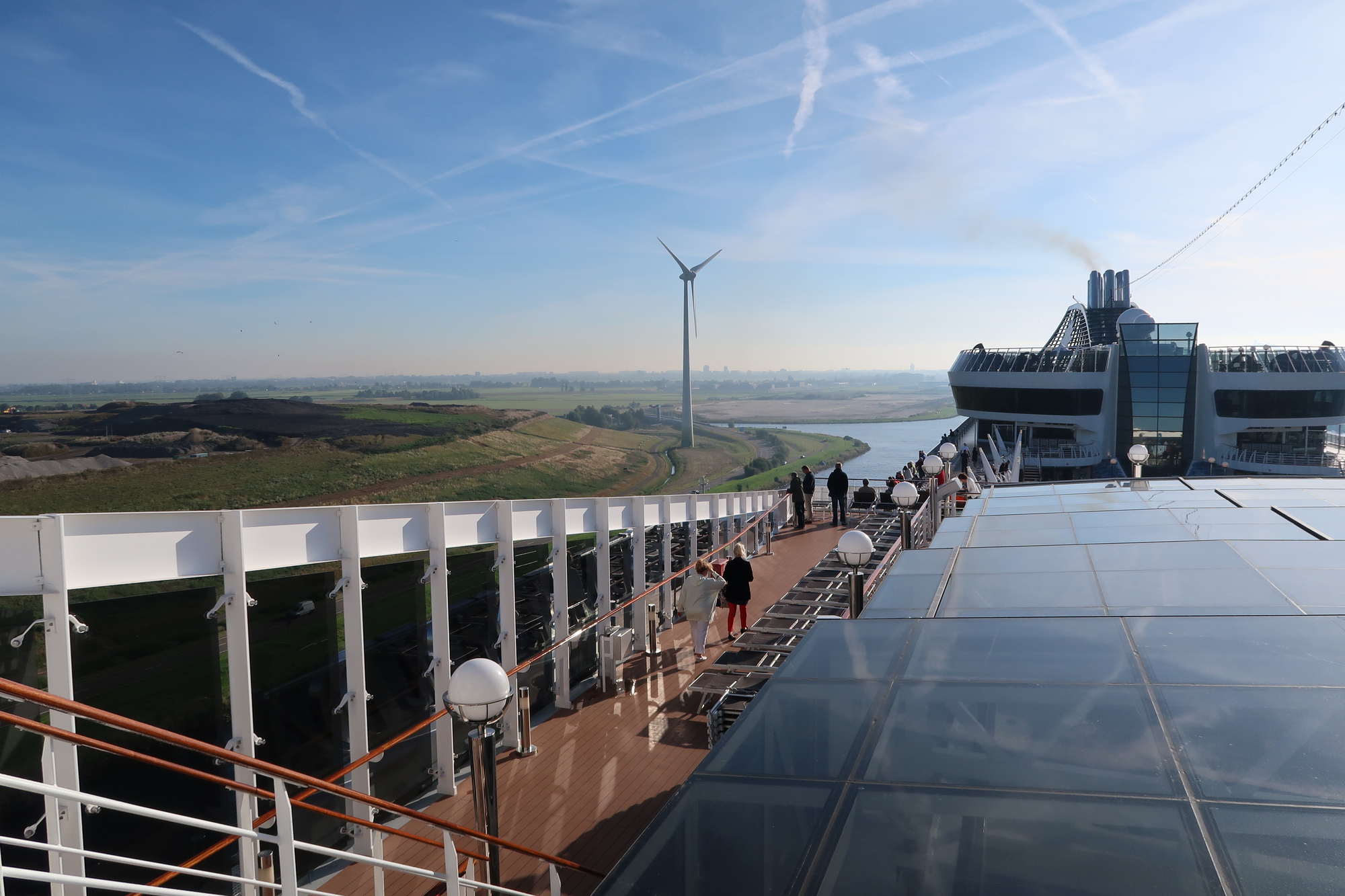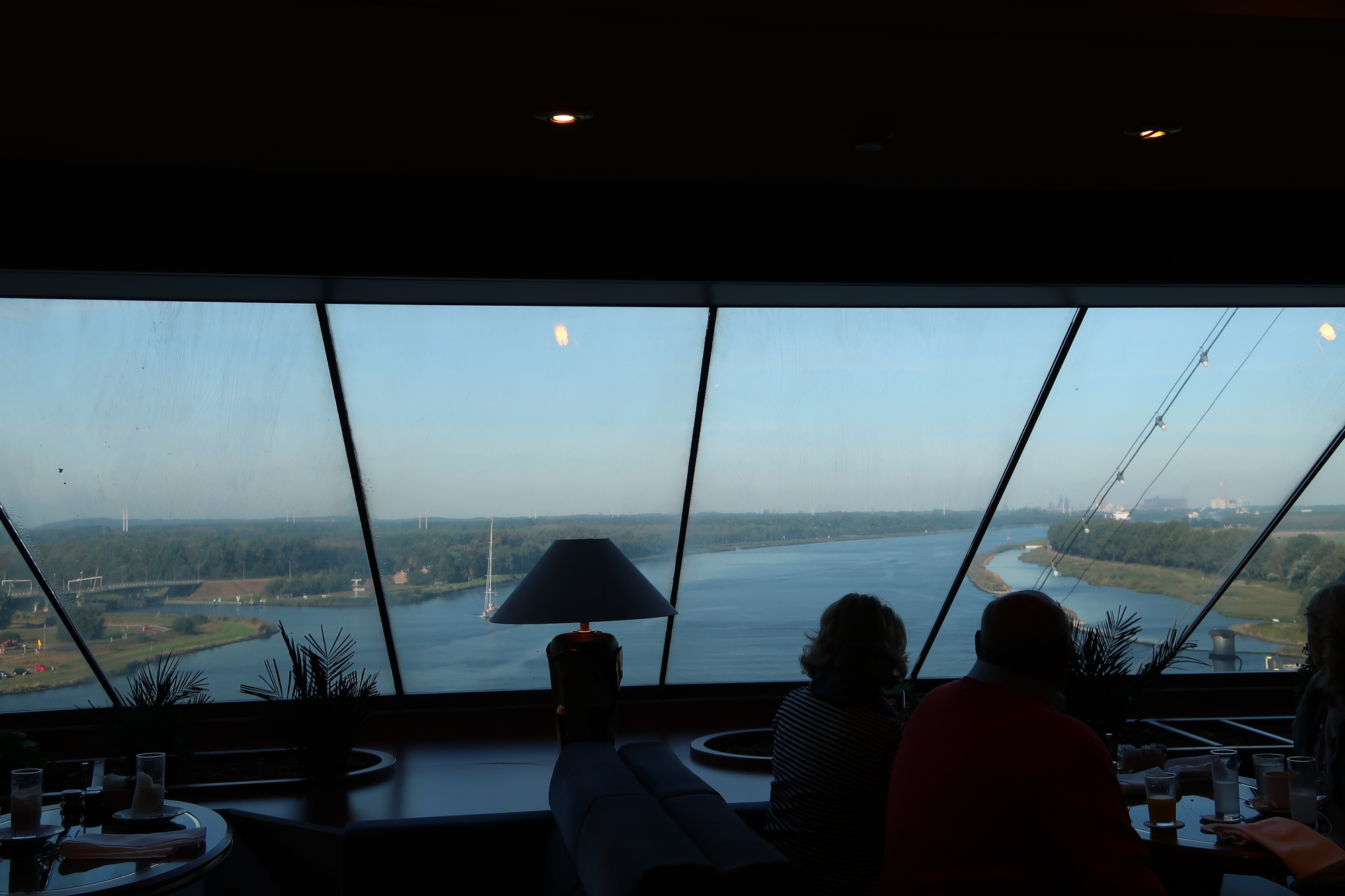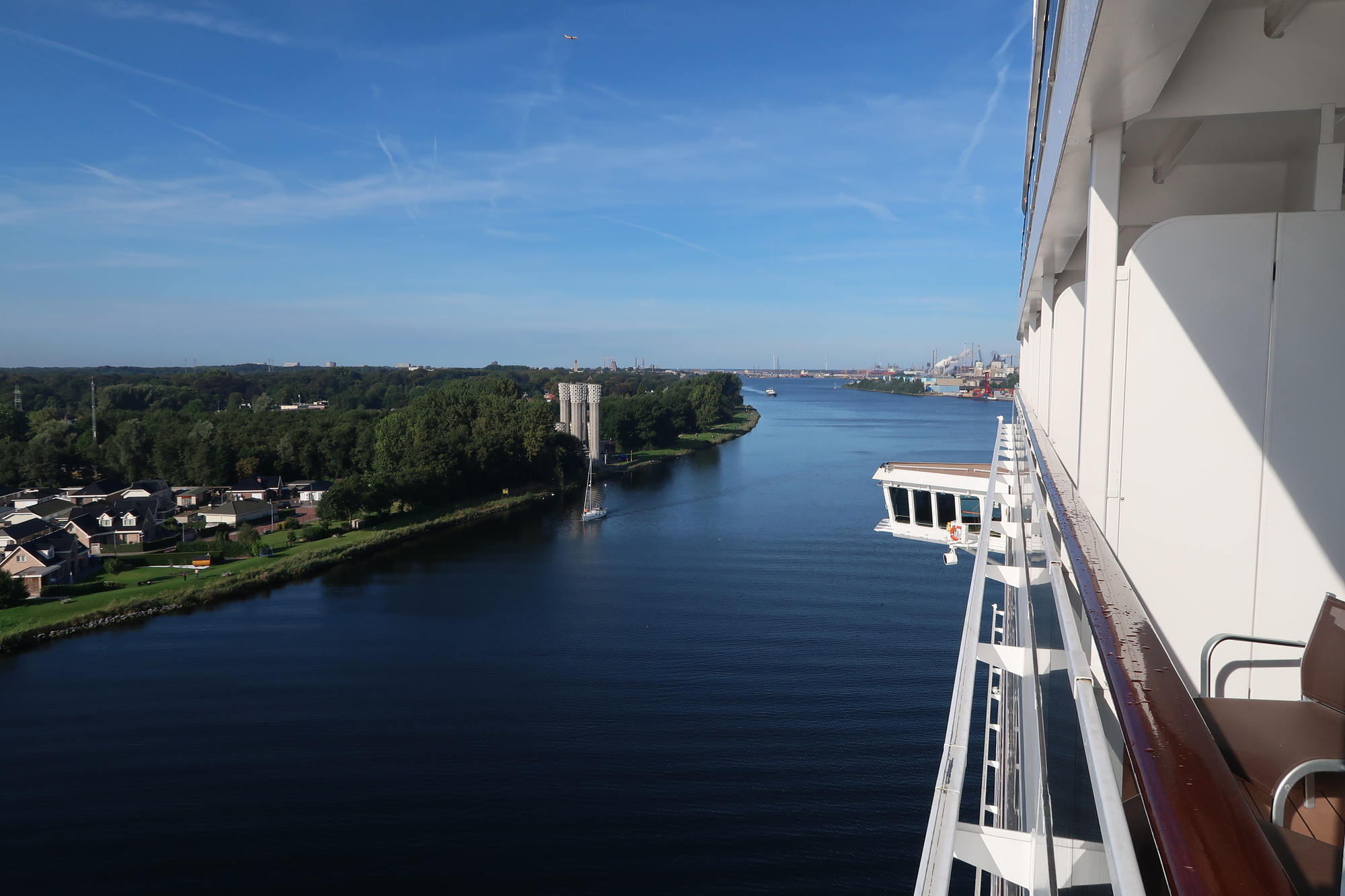 A Waste Of Time
In the daily program there was a notice to all guests disembarking in Hamburg, Le Havre, or Southampton that our cruise was coming to an end and that we should meet in the theatre at 11:00 to hear about disembarkation procedures. Given we'd only been on board for two days at this point and still had two ports and two sea days, this felt a bit like being smashed back to earth prematurely.
I can tell you right now that you do not need to attend this briefing. We suffered so you don't have to. The basic advice was "read the disembarkation program for details".  I've no idea what the point of it was.  Based on the number in attendance I imagine that they were all first time MSC cruisers like us who didn't know better.
One Pool Deck
We decided to spend the rest of the day reading and enjoying the sun, with a few little dips in the pool and the hot tub. Sheer bliss, and despite being fairly warm and a sea day there was no problem whatsoever getting a lounger on the Yacht Club pool deck.
Regular bar service, great pool & hot tub availability, and a tranquil atmosphere means that the Yacht Club pool deck is the place to be on a sea day!  We spent a little bit of time here with our Kindles and while it did get busier, there was no shortage of sunbeds.  I'd be surprised if the sun deck was at 10% capacity.
In contrast, we went for a wander in the afternoon and walked along the sunbathing areas of deck 15.  There were very few sunbeds available other than a few that are in the shade.  The pools were very busy, and the hot tubs were also quite crowded.  Alex and I don't bother with sunbathing too much, so this wouldn't put us off at all.  That said, I don't believe these areas are any worse than other lines we've sailed on, so I mention it only to highlight the sheer awesomeness of the Yacht Club's sun deck.
Another thing to note about the Yacht Club pool deck is that towels are freely available – you just pick up as many as you like and use them however you want.  On the main pool decks, you have to check out pool towels, and you're not allowed to take them back to the stateroom.  You must check them back in, and any towels that are left checked out are charged to you at the end of the cruise.  This isn't a problem (we managed on Royal Caribbean just fine) but not having to bother with it feel much higher end.  It's the little things, you know?
Alex had a little nibble from the pool deck buffet – a small bowl of chilli con carne which he said was nice other than having some gristle in it.
After our time in the sun, we retreated back to the room for a shower and some reading in a cooler environment (via our non-YC meander).
Suite 15027
Are you ready to hear our comprehensive thoughts on the Yacht Club YC1 grade stateroom?  Well, you don't have much choice because I'm doing it now.
Overall the room feels spacious and luxurious.  It is much longer than other staterooms we've had, and a little wider too.  There are lots of mirrors, including one right at the end of the bed which will delight the vein, disturb the self-conscious, and excite the exhibitionists.  Joking aside, the mirrors certainly help the room feel larger than it is, but it's not required as there is no shortage of space.  There are also Yacht Club emblems on the beddings and towels, which is quite nice.
The bed is large, comfortable, and doesn't curve at the ends like those on Celebrity.  This means taller guests can sleep with both feet on the bed!  The standard pillows are very soft and comfortable but if they're not to your liking you can select from alternatives on the pillow menu.  The headboard is a plush suede sort of material which feels lovely.  There are also lights in the headboard behind each of the circular sections for some soft accent lighting.
In the corner is the mini bar with a variety of glassware on the table above, along with an ice bucket which will be filled as required.  Above this are some shelves with various literature like room service menus and the spa price list.  Then above that is the small LCD television which has interactive features.  You can view your account and order room service, though interestingly Yacht Club options are not available for ordering through this system – you have to call.
Attached to the mini bar is the writing desk, and the location of the only four power sockets in the room.  This consists of two 110V US sockets and two 240V EU sockets.  The desk is adequately sized, though the chair found on most lines is a pouffe in this stateroom… and we all know my thoughts on chairs with no back support.  Just imagine the mild discomfort I've endured to bring you this blog!
Storage in the room is excellent.  There is a walk-in wardrobe with a large stack of deep drawers and plenty of hanging space.  Inside are the robes & slippers which are included in Yacht Club suites, as well as the life jackets that you will definitely need for the muster drill, and (less likely) in an emergency.  Opposite the door to the walk-in wardrobe is another full-height cupboard door hiding more shelves.  Such is the available storage space, we have a couple of drawers which are empty, as well as most of the shelves in the full-height cupboard.
The bathroom is also adorned with mirrors – the wall above the sink is a large mirror, as is the wall inside the bath.  This creates a fun infinite mirror effect (also found in the elevators which have mirrors on all four walls) though it can be quite off-putting while using the loo!  There is a shaver socket in the bathroom, a corner shelving unit, and cupboards under the sink unit.  This is the first cruise I've been on where I've had a bath.  I'd have preferred a large shower cubicle, but I can see why some would expect a bath in a suite.  The towels are the softest and fluffiest I've had on a cruise ship.  I wonder if they'd notice them go missing…
You need to insert a card in a slot by the door to activate the lights, though the air conditioning and power sockets remain on so you can continue to charge electronics while away from the room, and have it nice and cool when you come back too!
The balcony is adequate but no more than that.  It's very narrow in comparison to other staterooms I've had, and bear in mind this is my first 'suite'.  There are two low-back chairs and a footstool.  There is no table and no recliners.  Sun worshippers who like to relax on the balcony will be disappointed.  I don't know if this balcony is larger than those in the non-Yacht Club staterooms, but if it is then I dread to think what they're like.  The balcony was glass-fronted, but not all of them are so if this is important to you be sure to compare the deck plan with exterior photos of the ship.
Overall I'd have no hesitation in booking this suite again.  I would definitely look for a suite on deck 15, as the proximity to the Top Sail lounge is very convenient.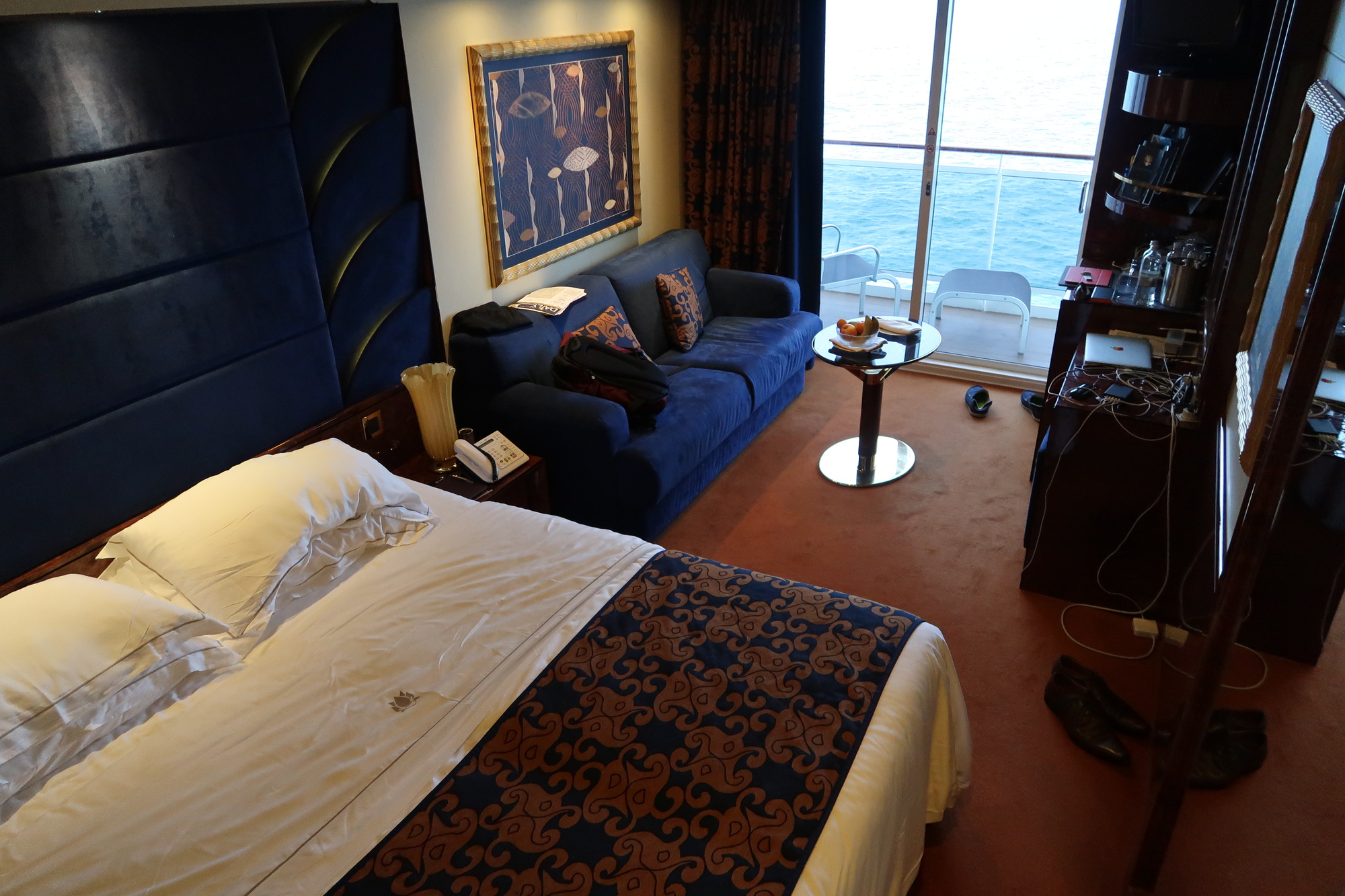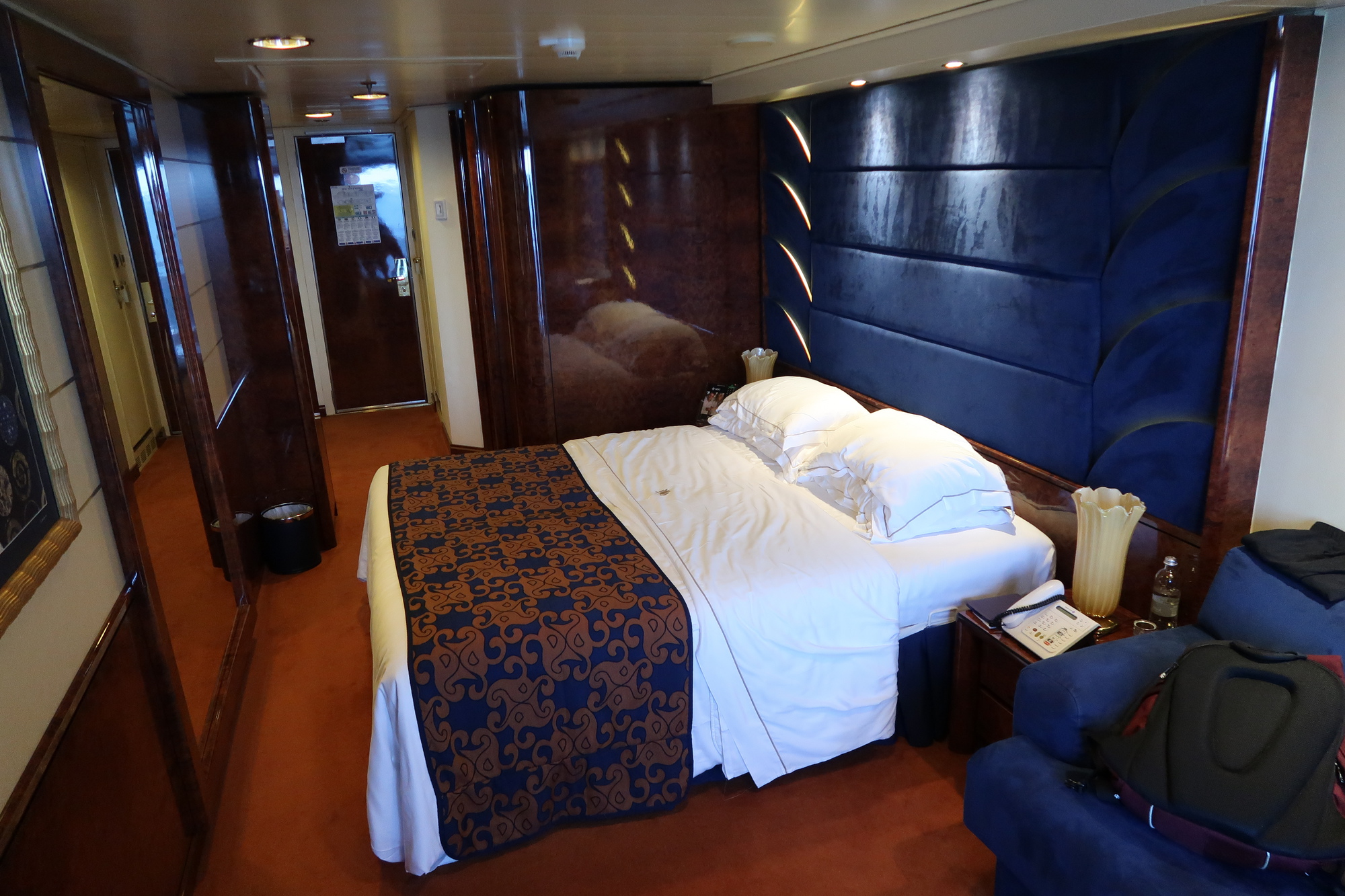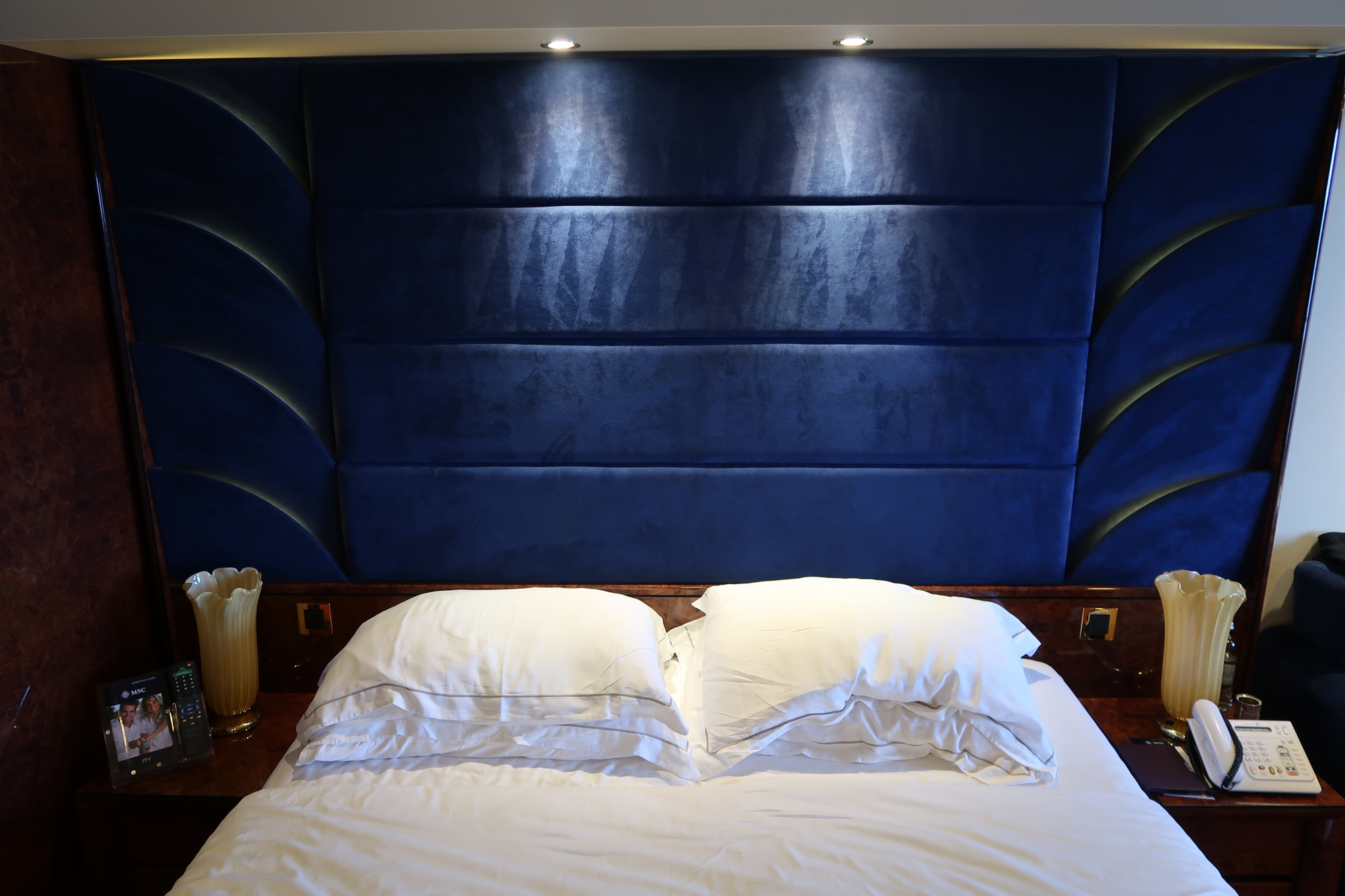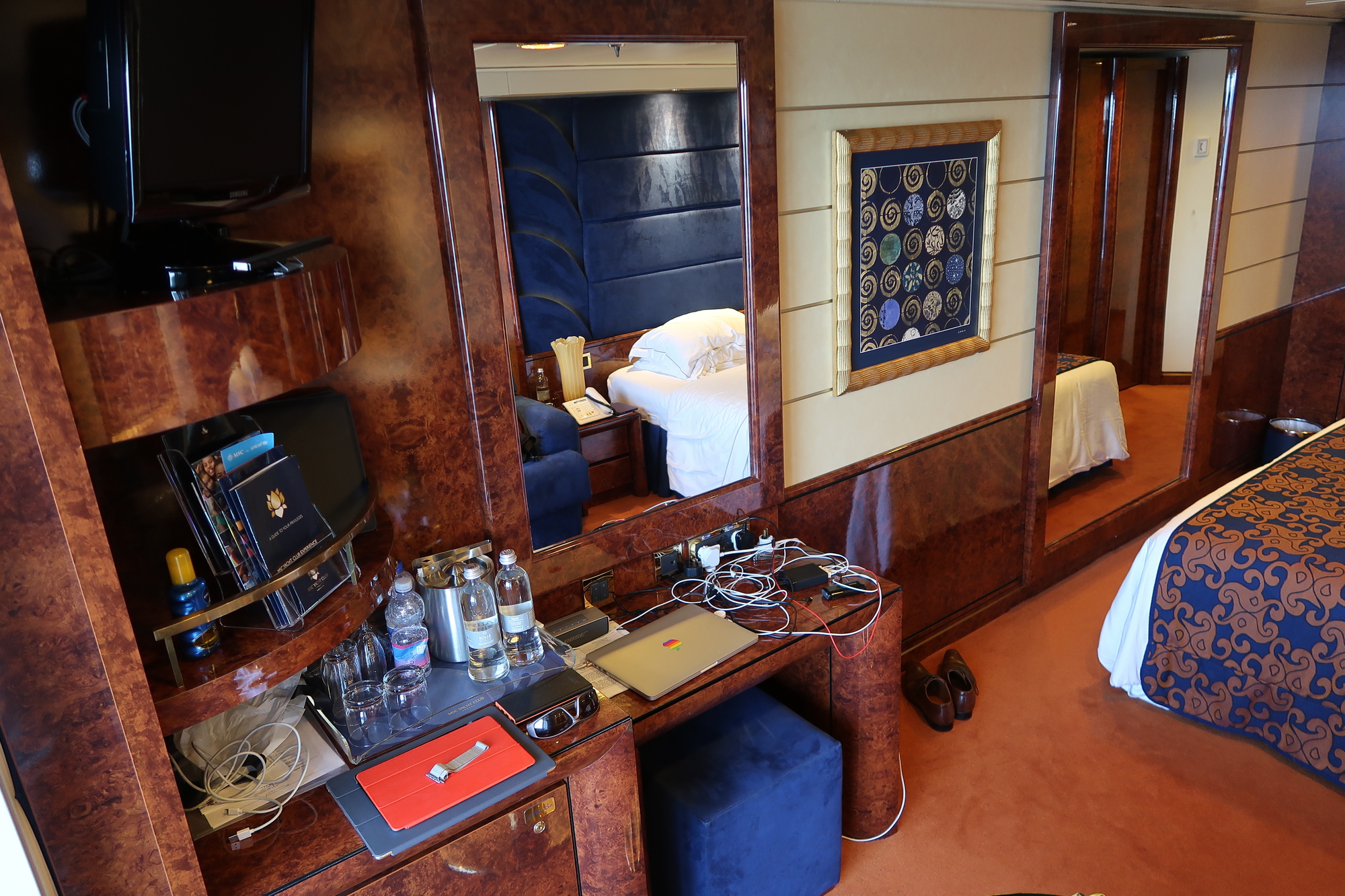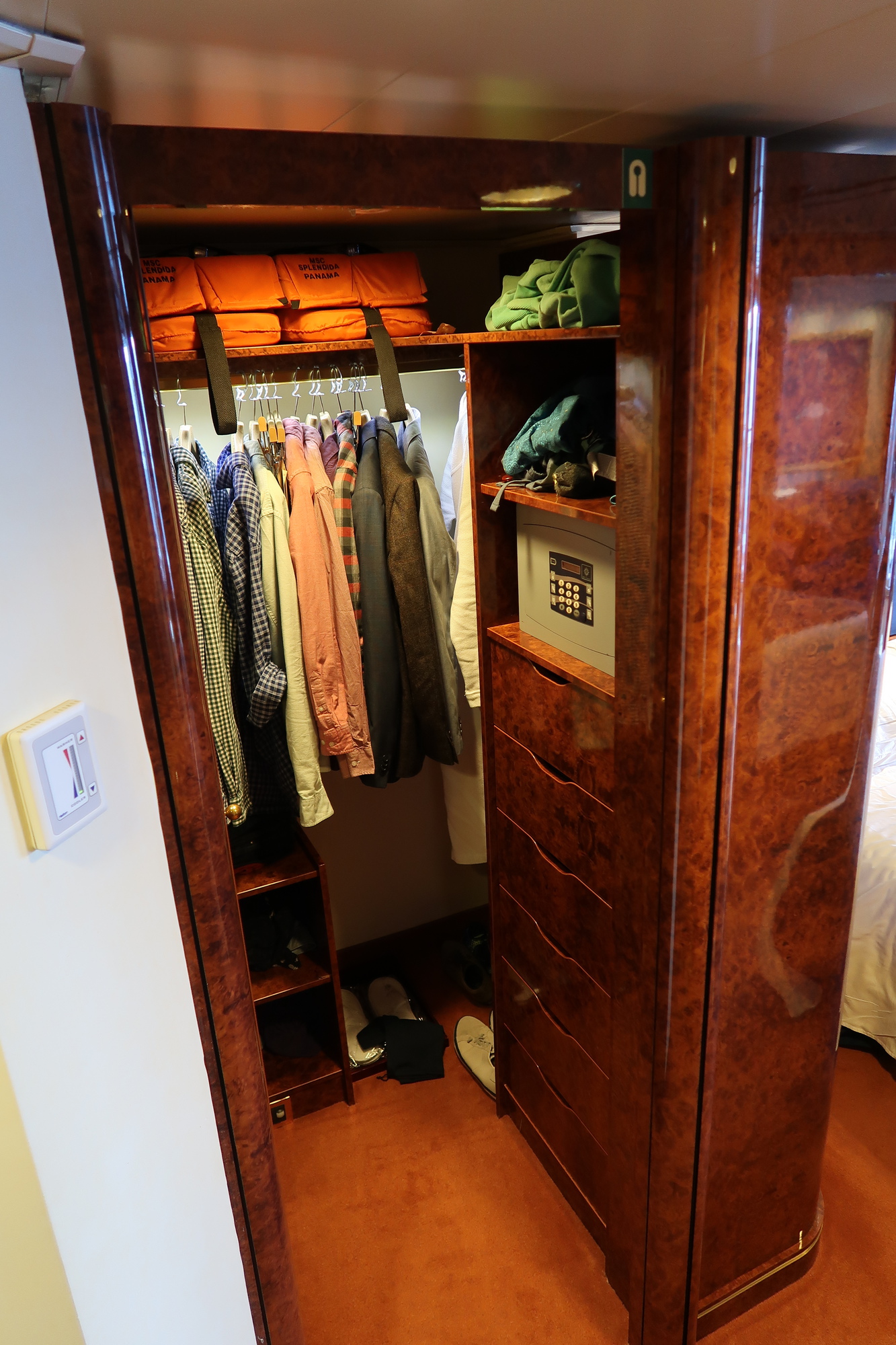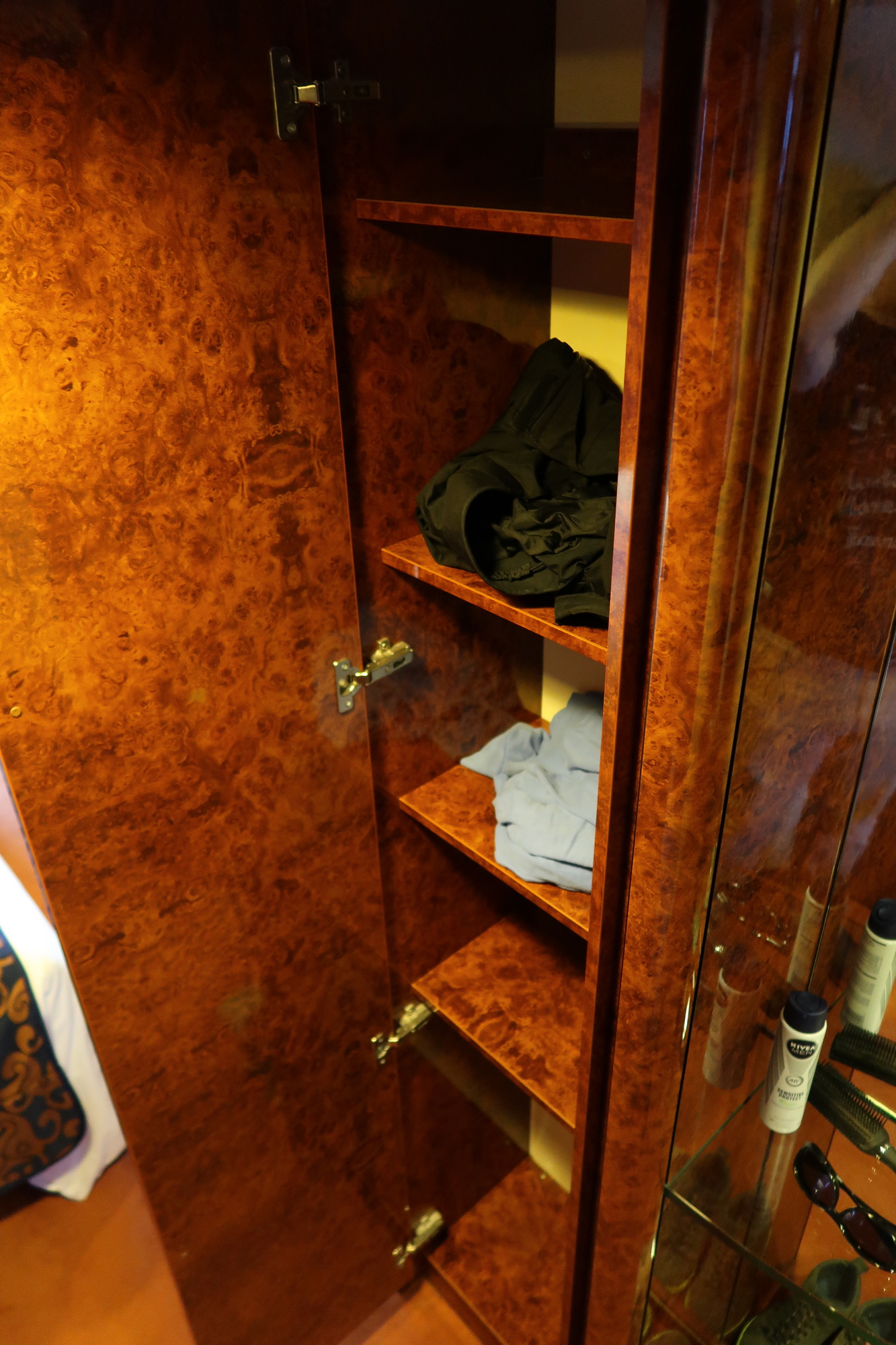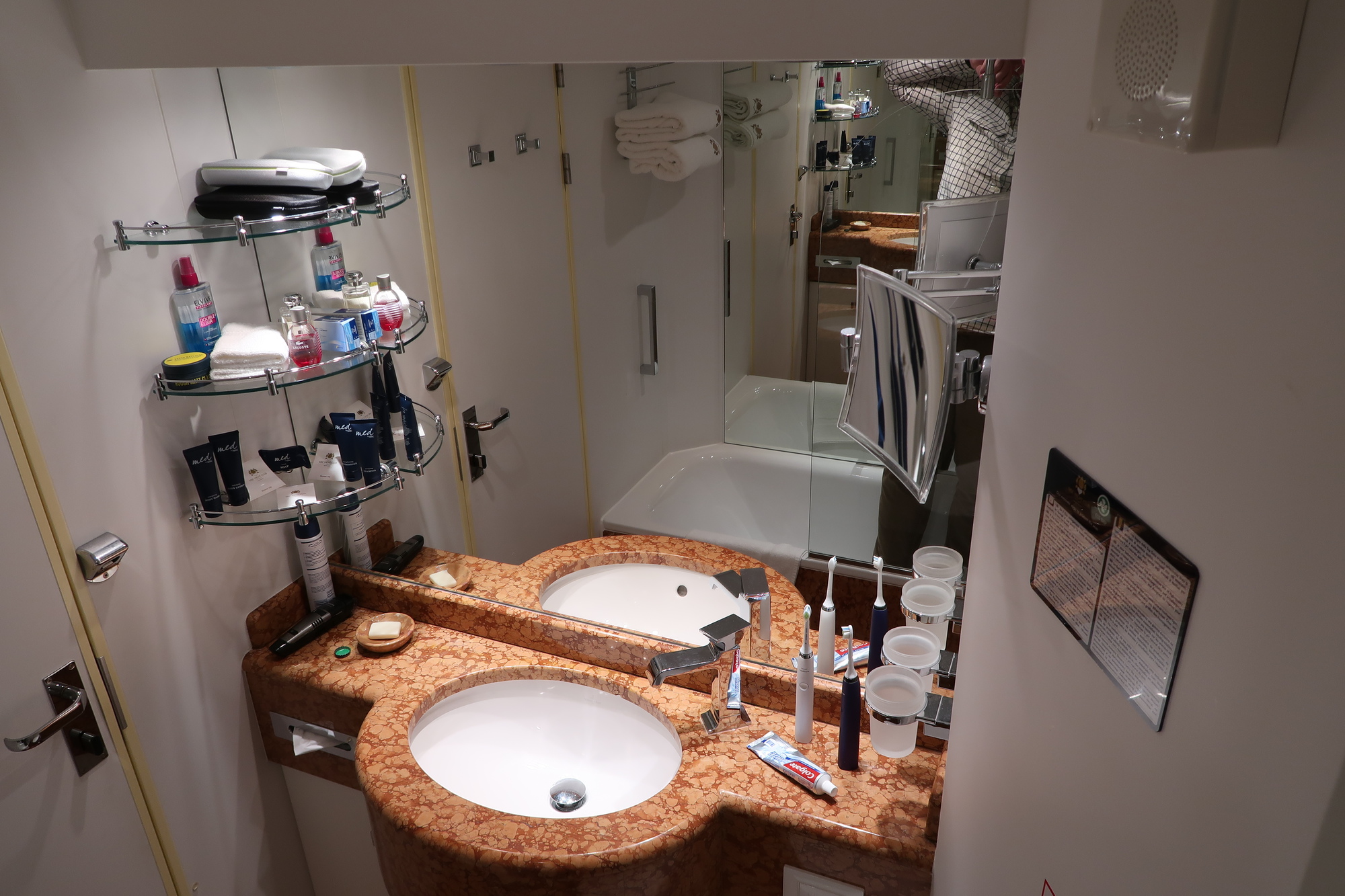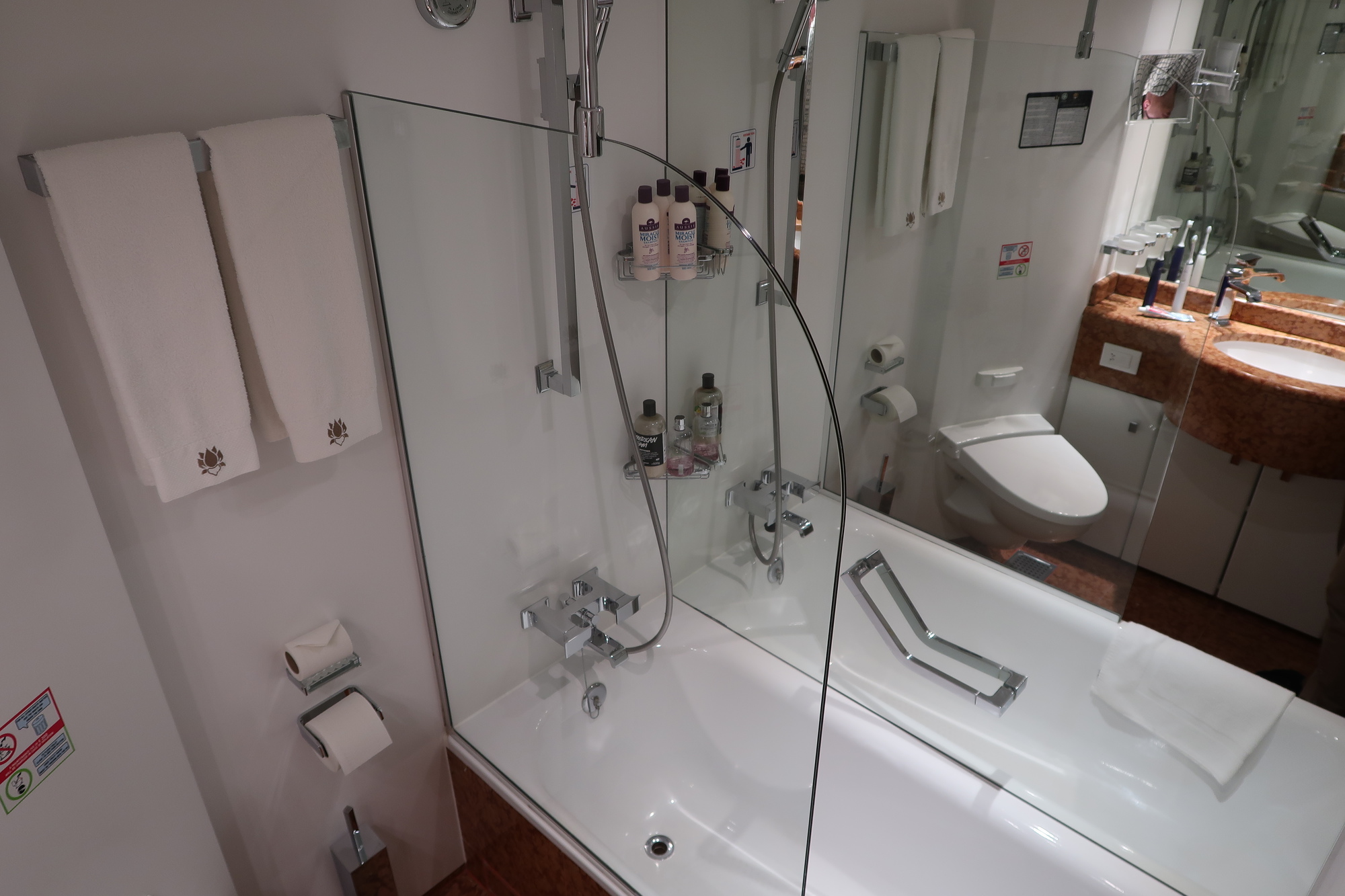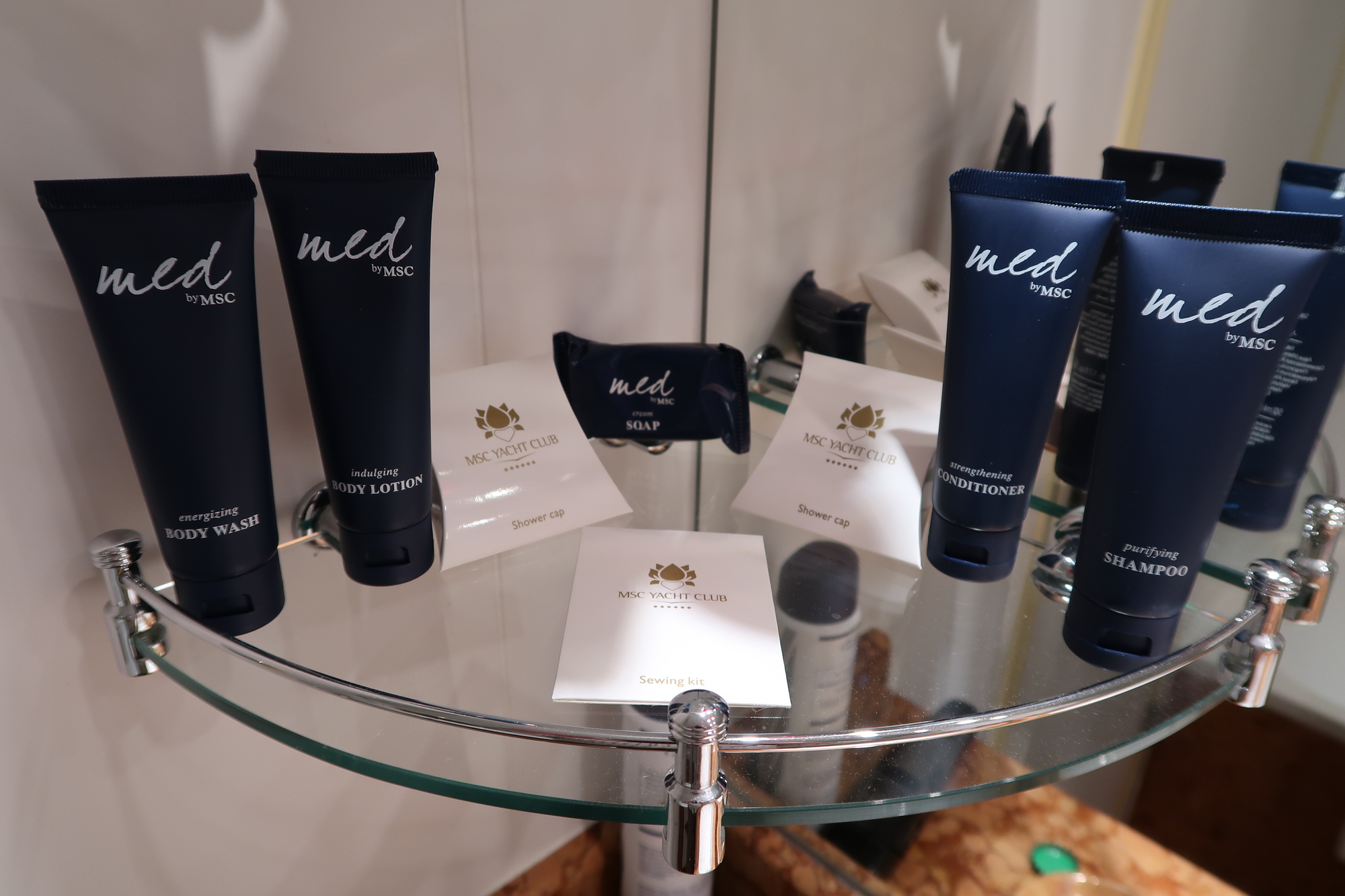 Top Sail Afternoon Tea
As a big fan of afternoon tea, I was looking forward to trying the table service option offered to Yacht Club customers.  The only other afternoon tea I've experienced on board a ship was Cunard's famous offering on Queen Mary 2.  This left me very disappointed, as it was chaotic and not at all relaxed and refined.  This may have been due to everyone on the mini-cruise wanting to give it a go, but either way, it wouldn't be an experience I'd repeat.
The service in Top Sail lounge is a little more personal and refined.  Table clothes are laid over a few of the square tables, but a butler was happy to lay our window table on request.  Tea is served first from a trolly, and there are several options.  I went for earl grey (with milk – I don't care what anyone thinks) and this was prepared tableside.  This is important for tea drinkers as it allowed you to identify how long the tea has been brewing for.  Perfect brew time is aided by the removable tea leaf caddy inside the teapot, meaning your tea will be the perfect strength from the first cup to the last.
The food was served in a traditional three-tier stand, with some savoury items at the bottom (a BLT roll, open salmon sandwich, and a cucumber sandwich), cake in the middle (walnut cake and a mini almond cookie), and the fruit scone on the top.  Jam and cream are served separately in little ramekins.  Well… I say cream, but I think it was American-style churned butter which had the consistency of clotted cream but not the flavour!  My mistake.
The food was pretty tasty, and in a small enough quantity that you won't spoil your dinner if you want to have both.  The selection we were offered was for two, and I'd like to have seen one of each of the savoury options, which were delicious.  The cake was incredibly light and moist.  The scones were the tiniest scones I've ever seen in my life.  They tasted delicious (as did the jam, which was a thick but not set raspberry jam) but their size meant there was rather a lot of crust making a little too dry.  Make these a little bigger, and I'll be happy.
Overall it was a lovely experience and the best afternoon tea I've had at sea.  Far from the best afternoon tea I've had on land, but certainly good enough that I'd repeat the experience.  The wonderful piano music in the background only added to the ambiance of the lounge.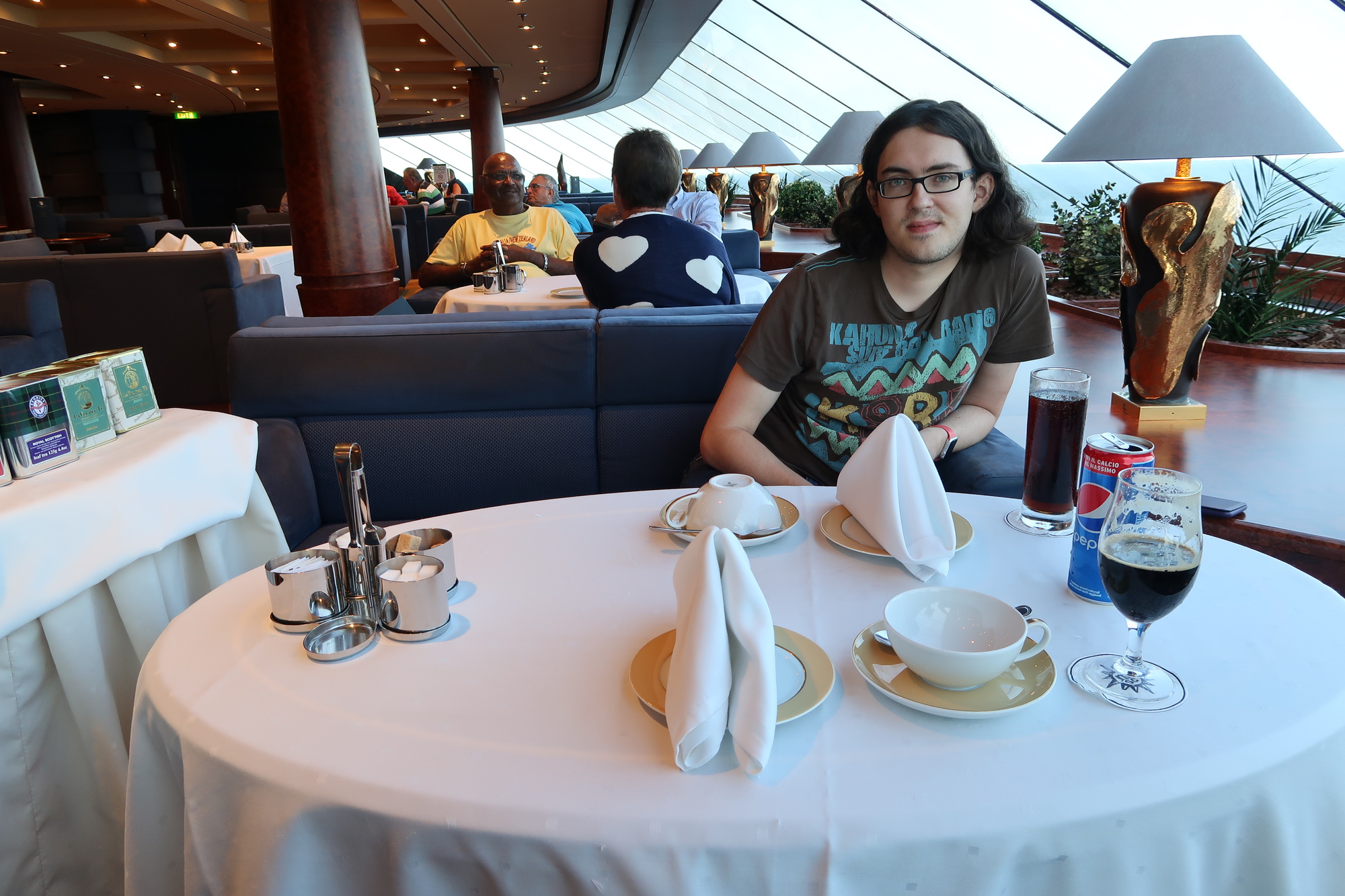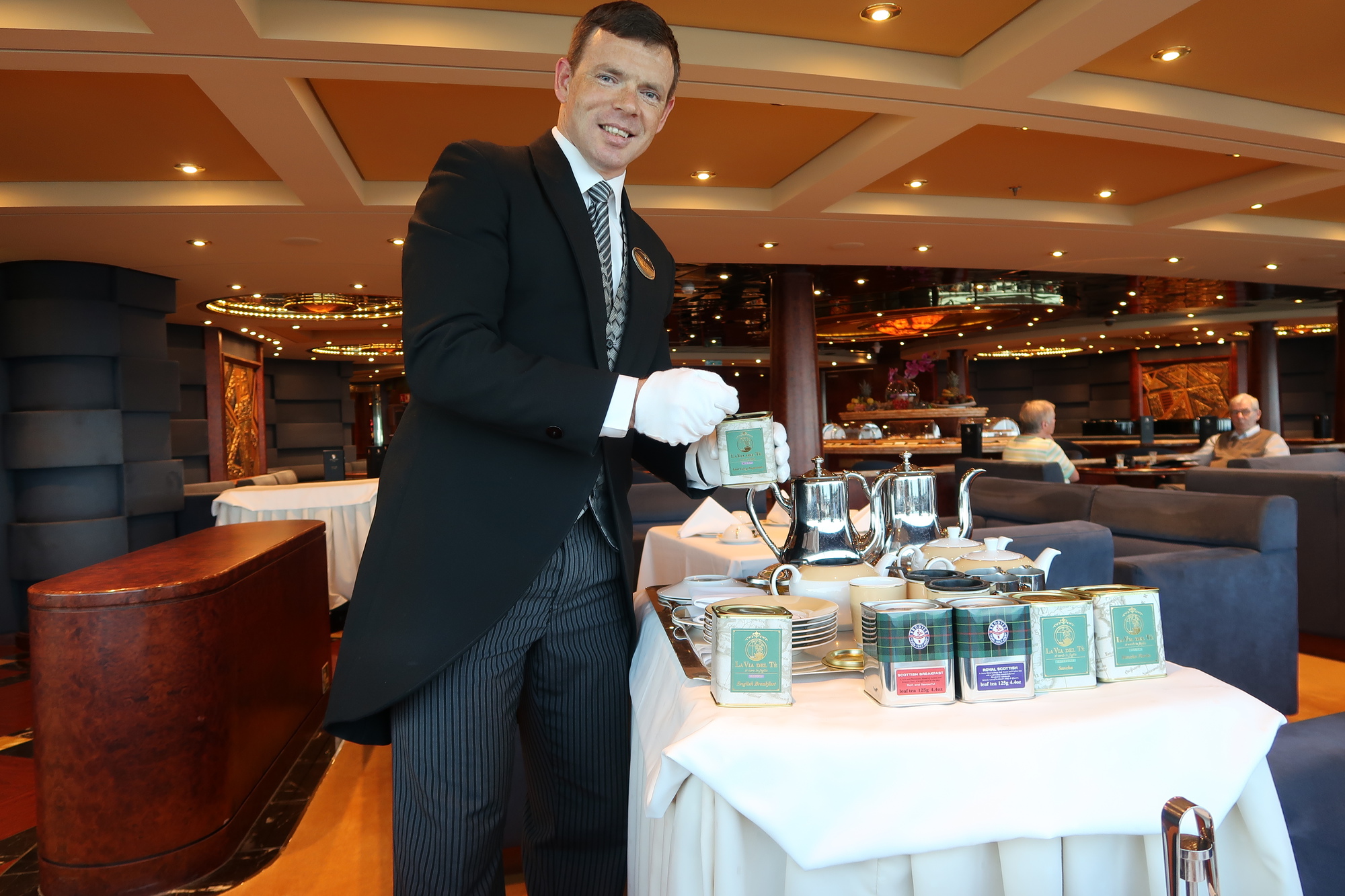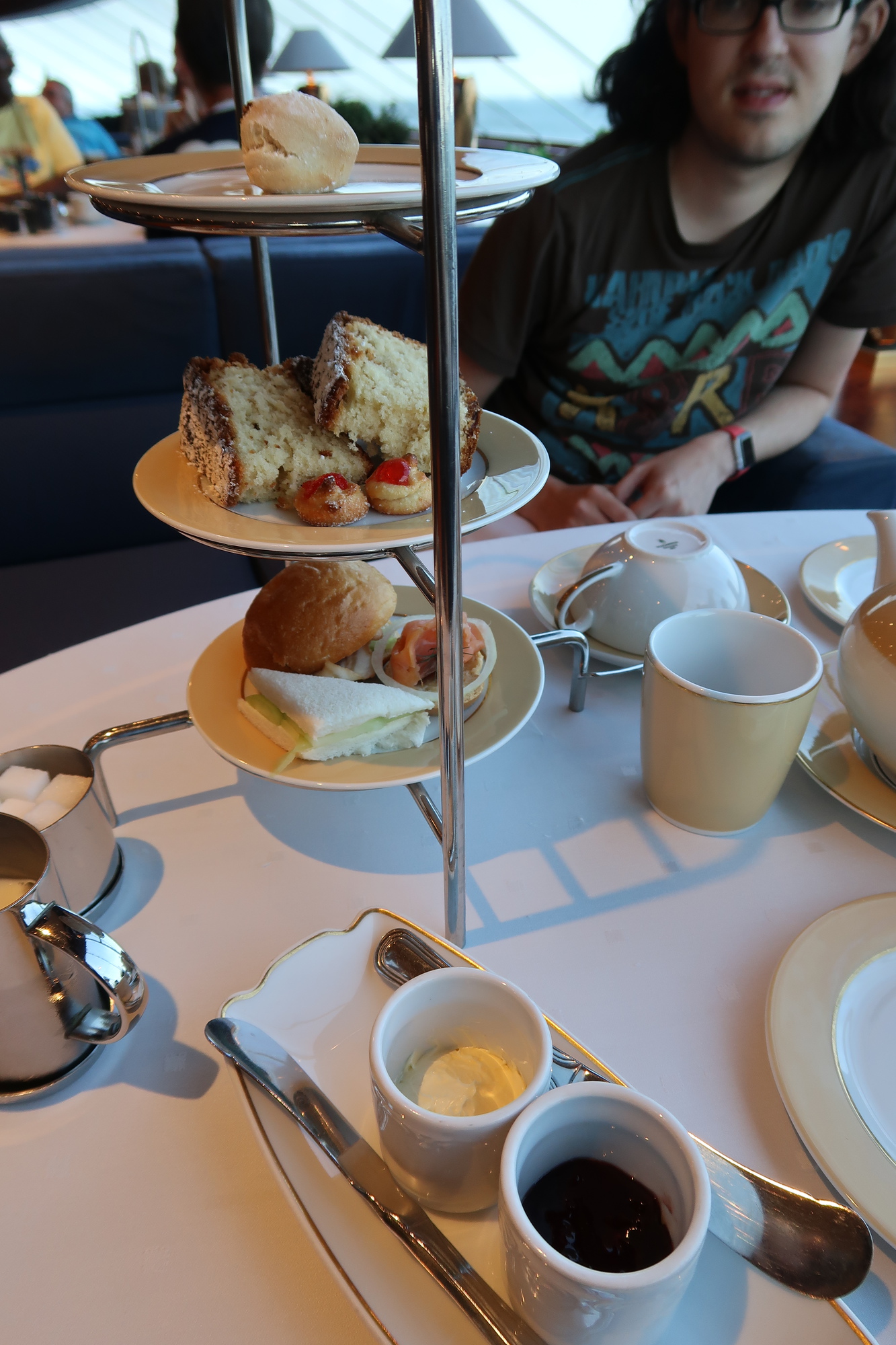 We spent singificant amounts of time afterwords between the stateroom and Top Sail reading and doing as little as possible.  It was a wonderfully lazy day!
#####
Live Music Bars
Into the evening we had a wander around the various shops on board, and discovered the lego and candy store.  Clearly aimed at kids, but big kids can spend their ridiculous amount of Yacht Club OBC there too, which might be exactly what we do if we have enough left at the end.  Alex has fancied the Lego Millennium Falcon for a while now…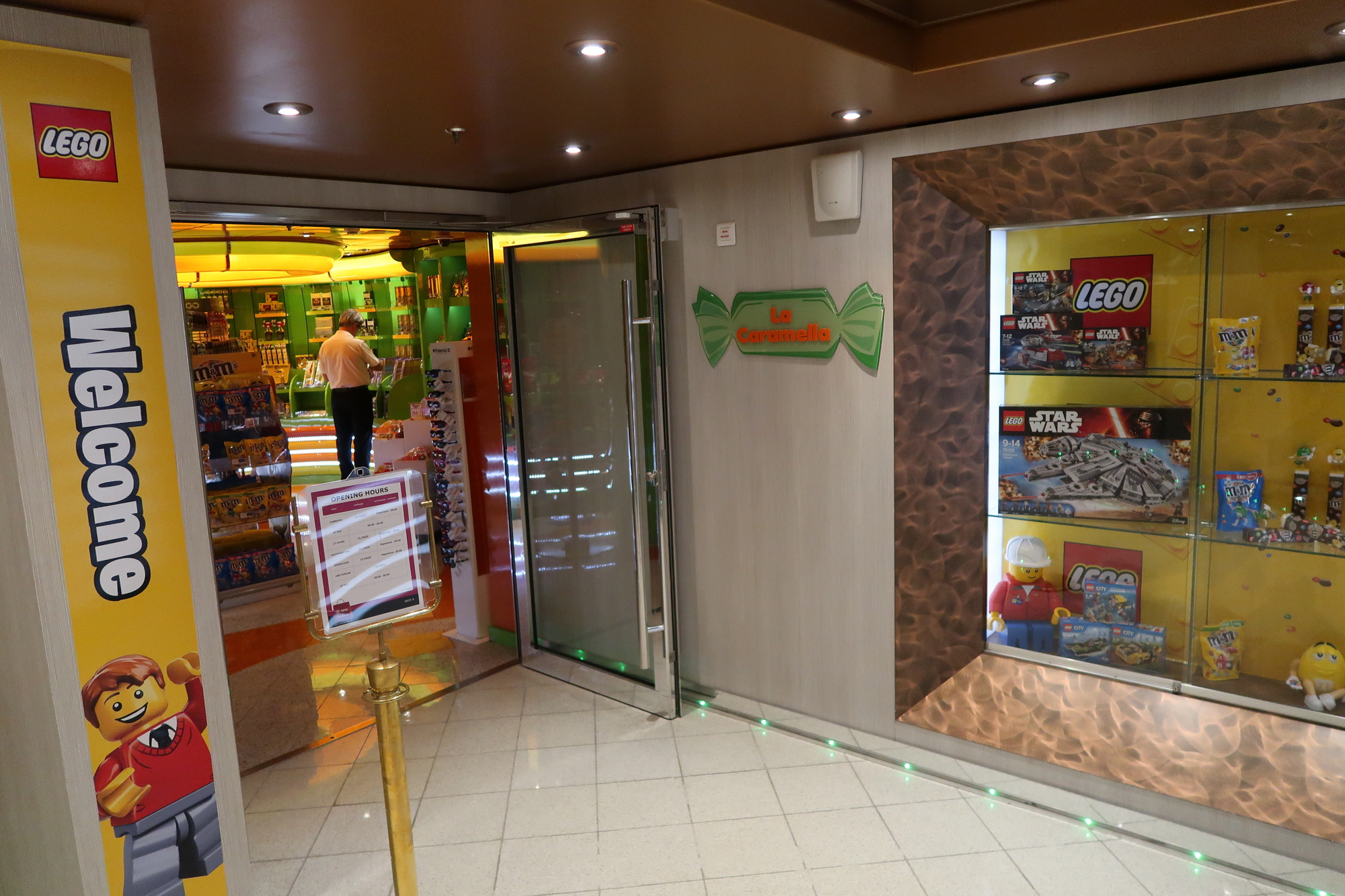 We also passed through the lovely La Piazzetta café area, but it had been transformed into a flea market by the 'inch of gold' style stalls that all cruise lines seem to be obsessed with.  They also had watches, perfumes, and skincare stuff there too.  It made it a much more hectic place, though it'd have been great for people watching had we stopped there!  Credit to MSC, I didn't see any of the horrific $25 watch gift set style things that fall apart after 10 minutes.  The watches on offer were your standard mass market fashion brands, so perhaps bargains are there for the taking if you're looking for that sort of thing.
I took a couple of photos in the cigar lounge just to give the smokers an idea of where they can end up.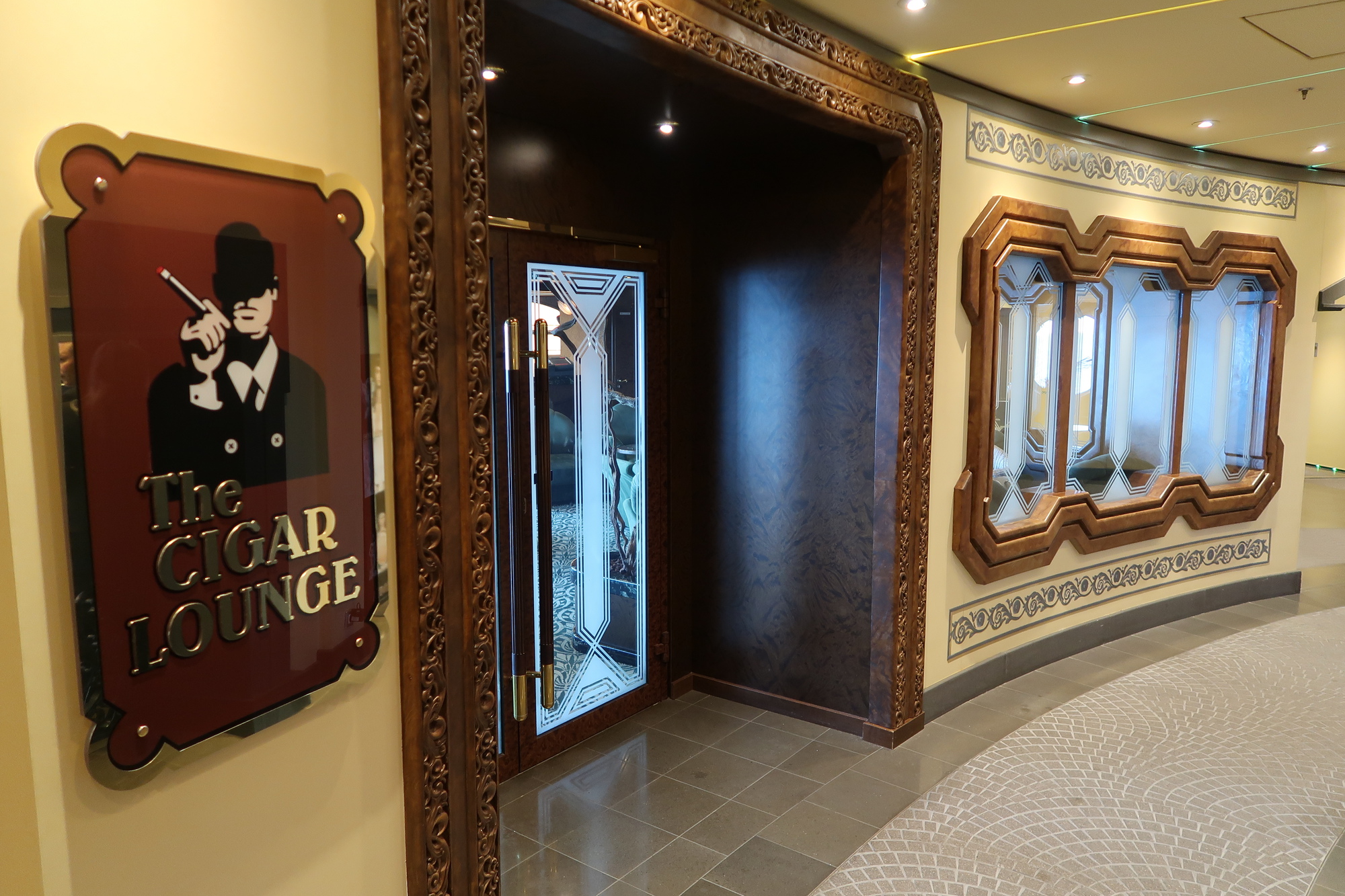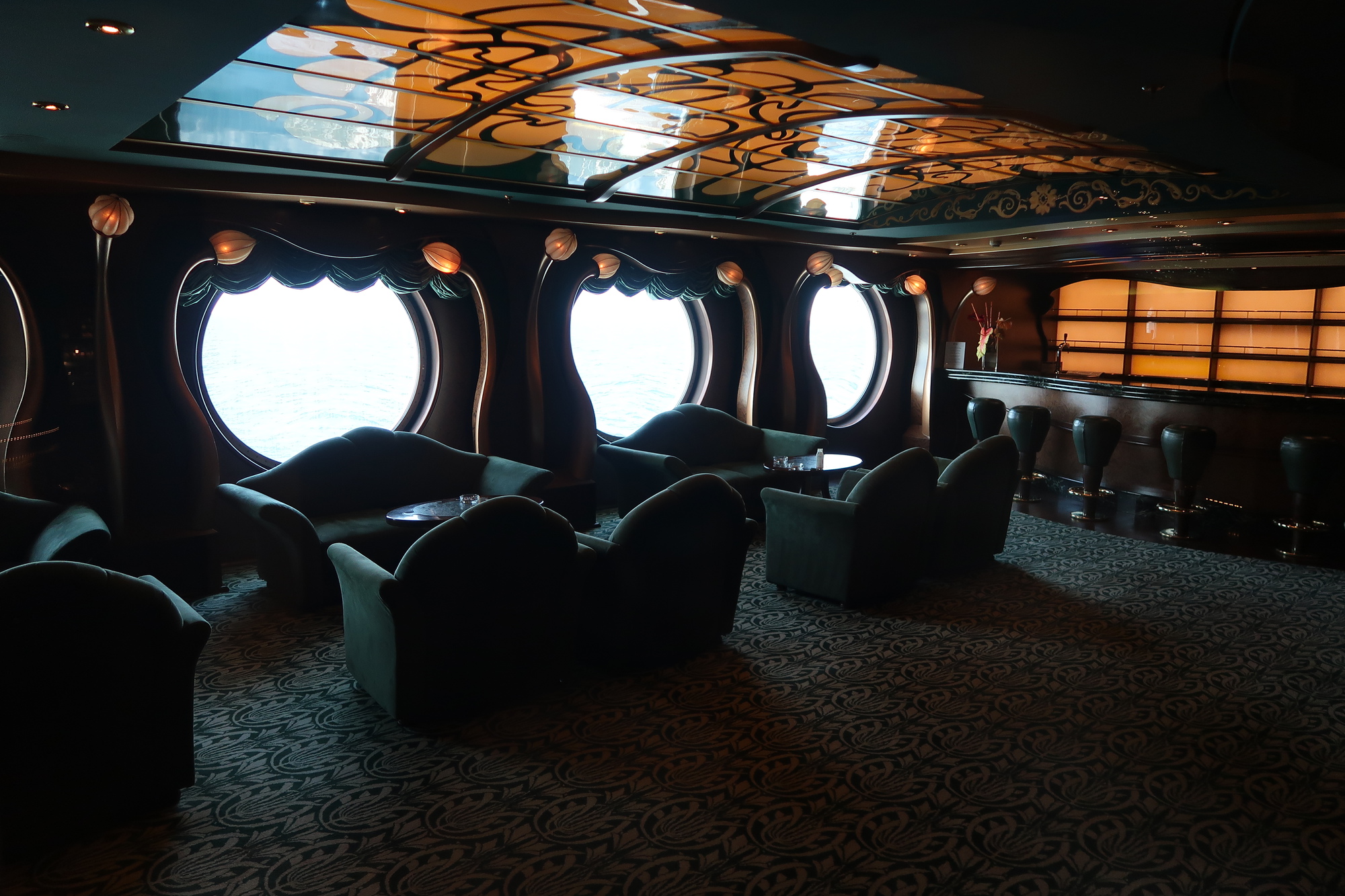 We finally ended up in the La Prua Piano Bar, where (unsurprisingly) there was some live piano music playing!  This is also the designated beer bar on board, and they have a nice little selection of beers.  A decent sized chunk of this menu is available for free in the Yacht Club, but there were some craft beers that weren't, so that's exactly where I started.  I have a scan of the menu for those who are interested.
The bar itself is right up from the casino, and there is a grand staircase linking the two.  It's themed in a sort of ship exterior sort of style, but entirely inoffensive.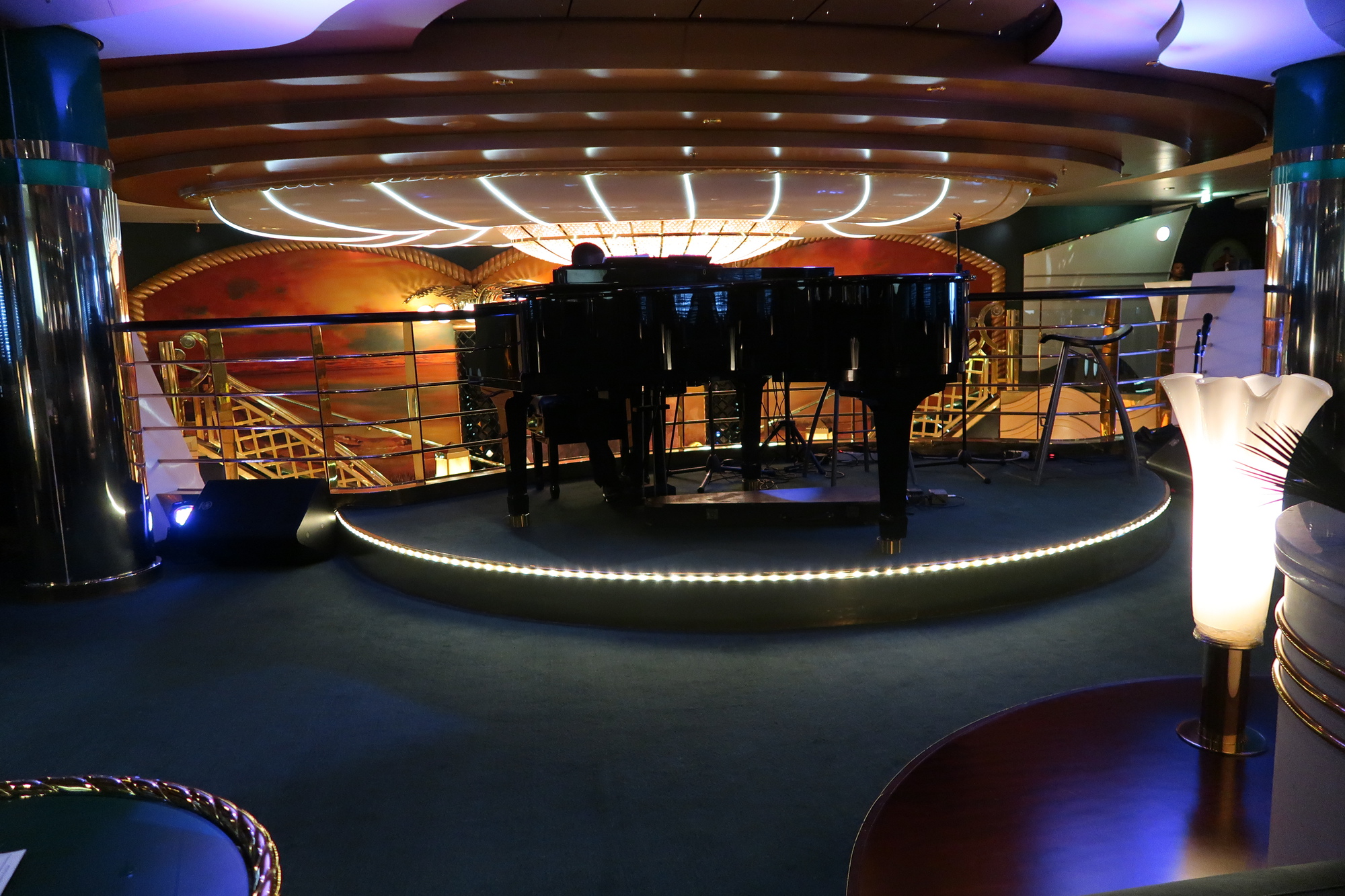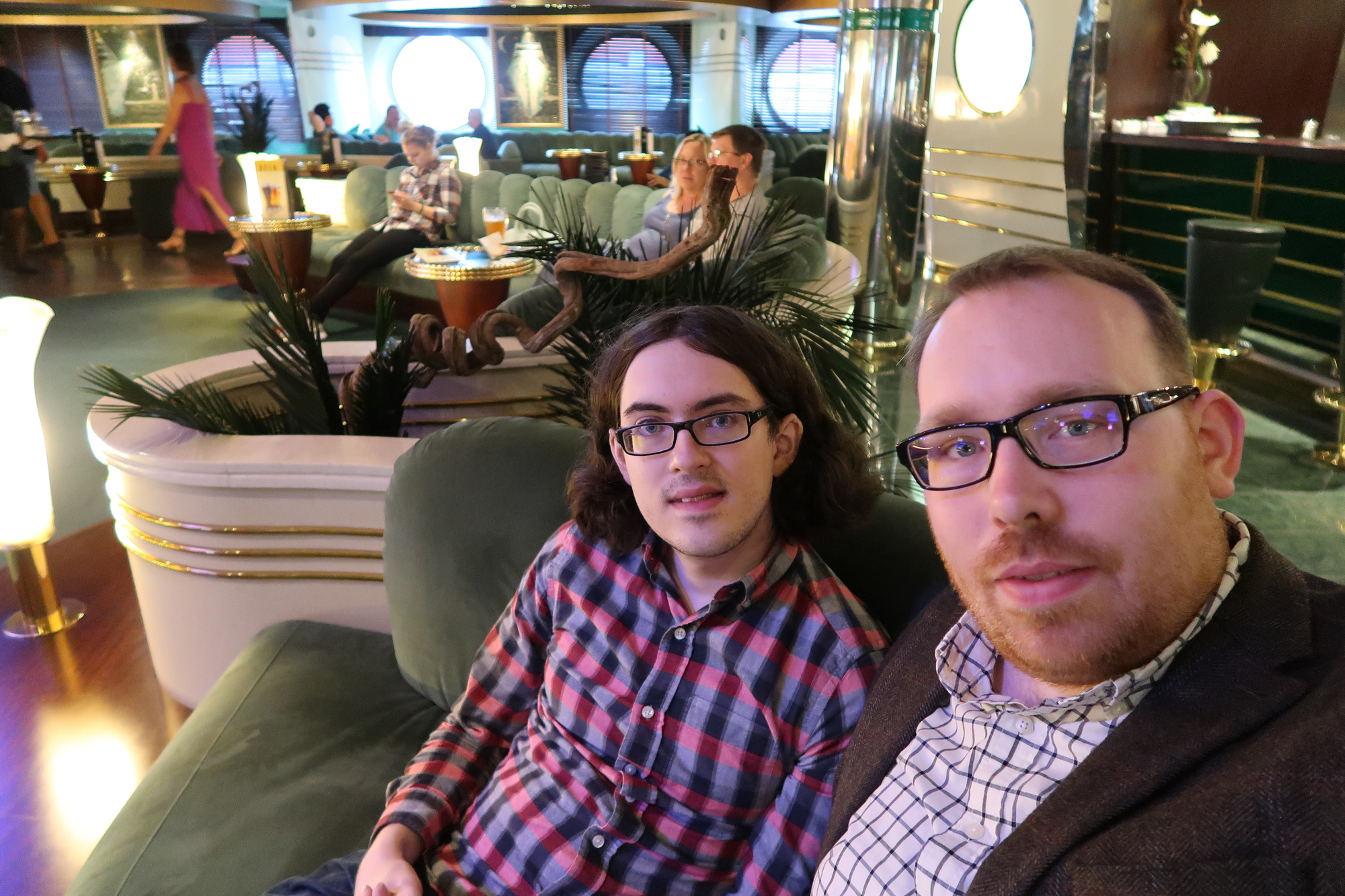 Eventually the piano music finished and we went in search of another bar.  We found L'Aperitivo overlooking the atrium which is labelled as a mixologist bar and offers a variety of martinis and crazy concoctions.  This is quite good fun.  Some of these are available in Yacht Club for the same price as in this bar, so I ordered something that wasn't – a banana split dessert martini.  It was pretty delicious, and we enjoyed it while listening to the music drift up from the atrium.
This bar is also brilliant for people watching, as it's on the edge of a main thoroughfare.  I think one of the restaurants was finishing up while we were there so the atmosphere was busy and fun.  Music from the atrium was string trio sort of music, but they weren't limited to classical music; they played arrangements of modern music too.  Eventually we got hungry and decided to arrange dinner.
Both of the bars we visited today had comfortable seating with proper back support.  Yay!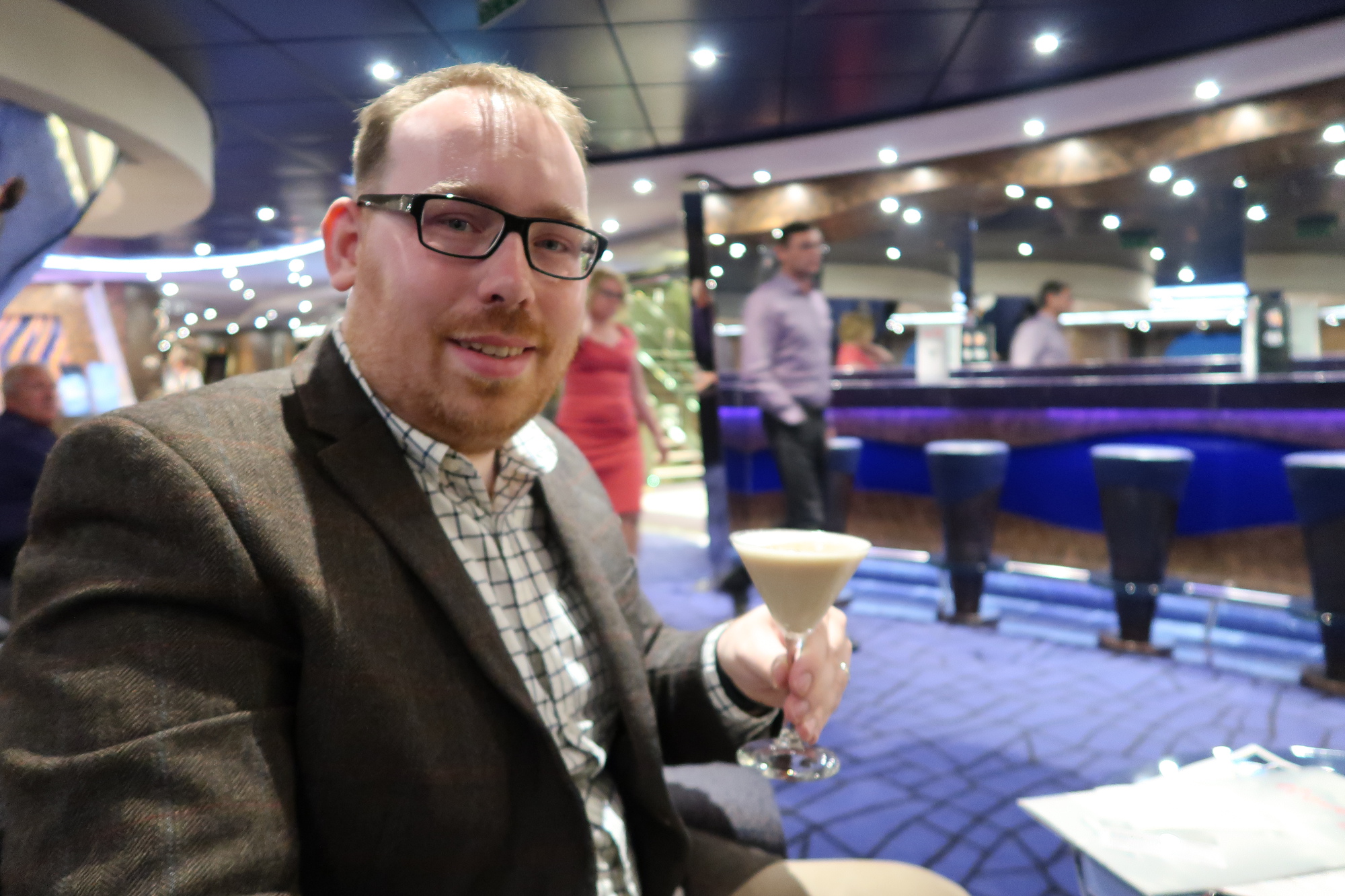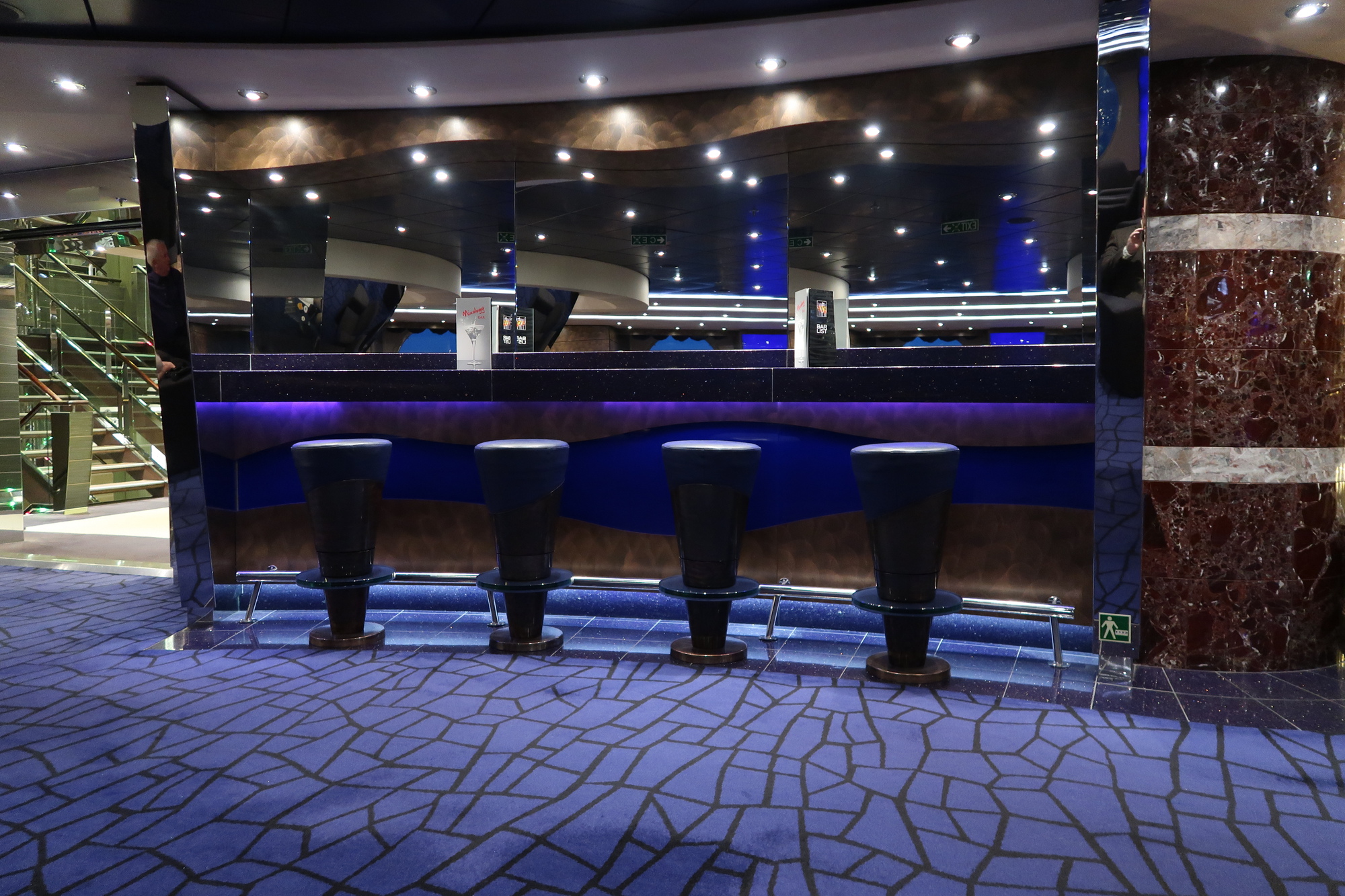 Room Service Dinner
Yacht Club guests are able to order, for free, room service from a special menu.  This includes fancy pizza which I've heard from other blogs is fantastic.  We didn't feel like a big fancy meal tonight (and I wanted to lay into the canapés with a reduced amount of guilt), so decided to give the room service a go.
I ordered the Toscana pizza which had tomato, mozzarella, sausage and pecorino cheese shavings.  Alex ordered some tortilla chips and a BBQ chicken wrap.
The pizza was amazing.  We both agreed that it was better than any room service thing we've had from anywhere before.  It's similar in quality to that available in the buffet, but super fresh and you have the whole menu to choose from.
Alex's tortilla chips were stale and a bit rubbish, though the salsa it was served with was tasty enough.  His wrap was fairly good, but nothing outstanding or exceptional.
Basically, if you want room service on this ship just order the pizza.  It's the way to go!  You can also order any drinks from the Yacht Club menu over room service too, but we were happy drinking the contents of the mini bar.  Awesome, chilled out way to eat on your lazy day of doing nothing.  Especially if you order the pizza.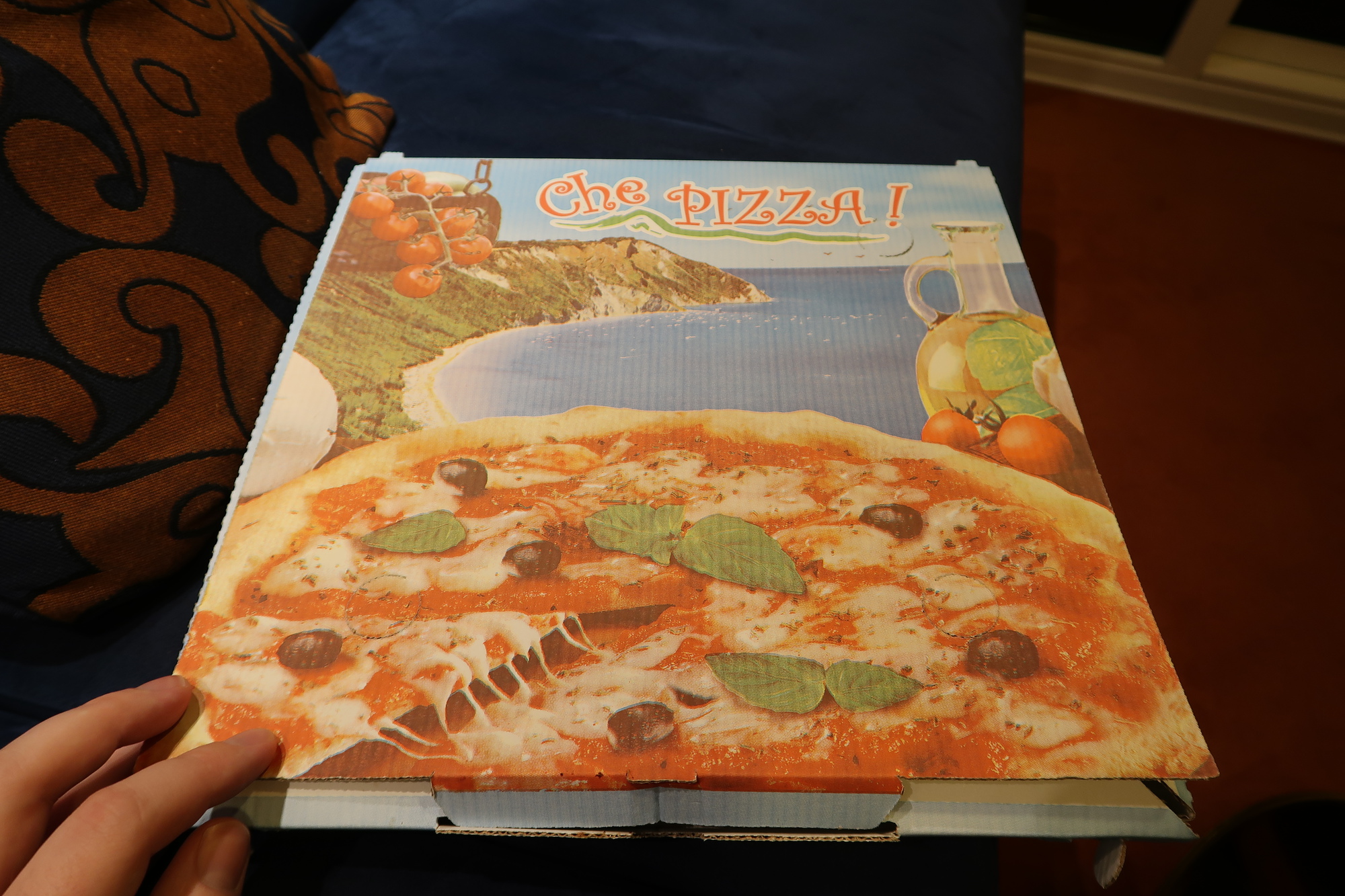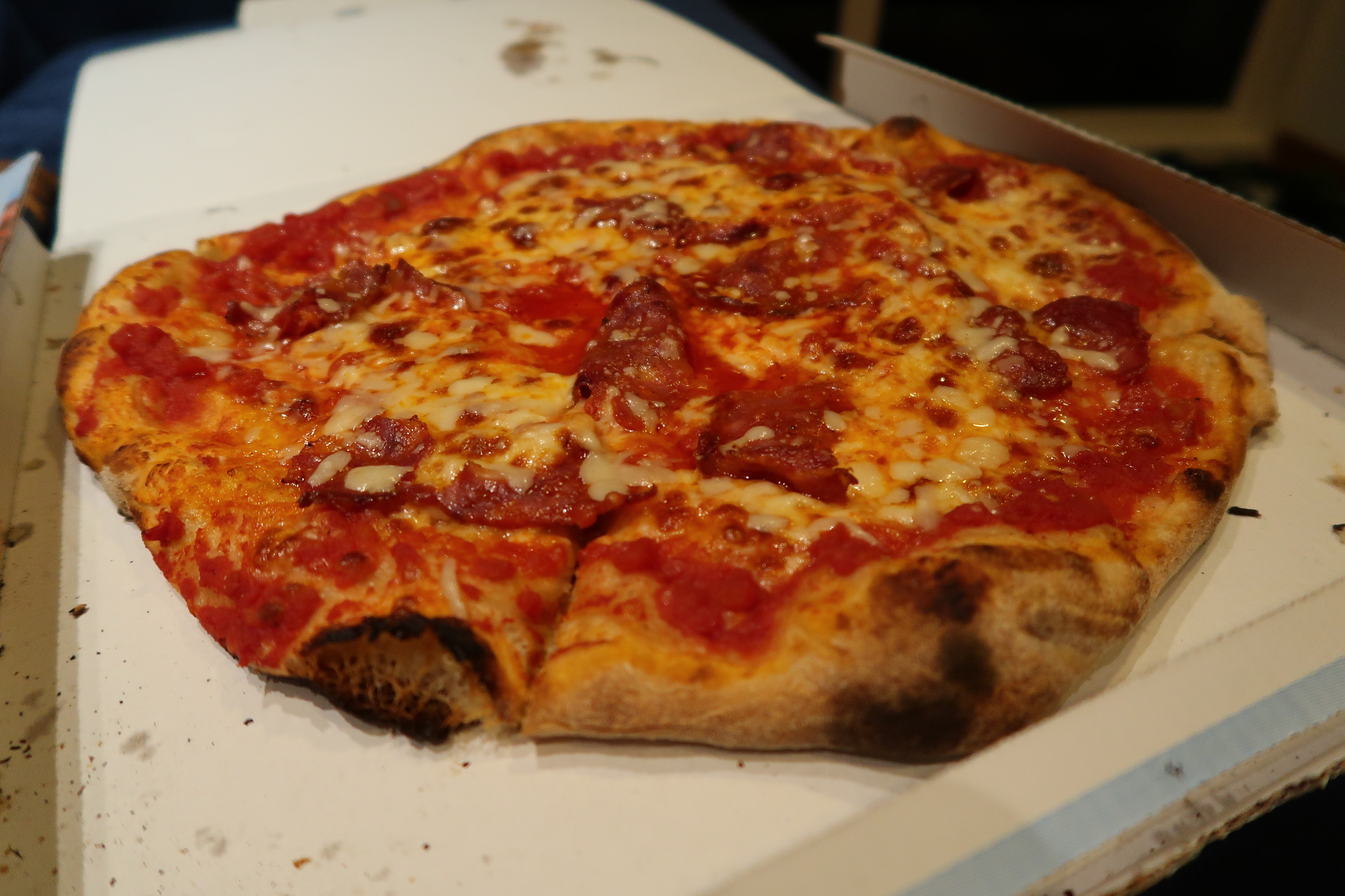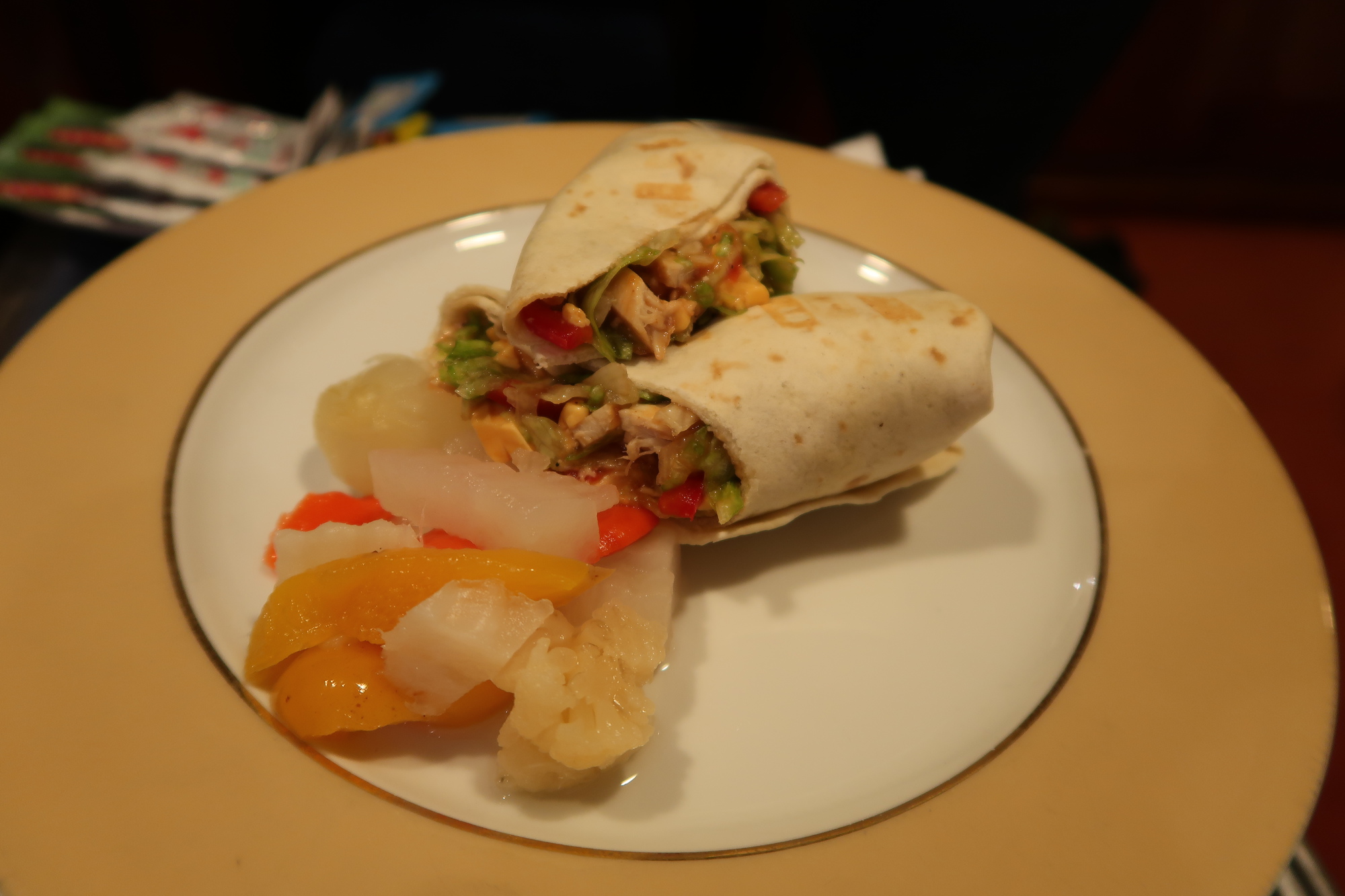 Tomorrow we dock in Hamburg and are planning to set off quite early.  It's only about 22:30 now, but I'm going to end things here and head out for another drink or two before a relatively early night.