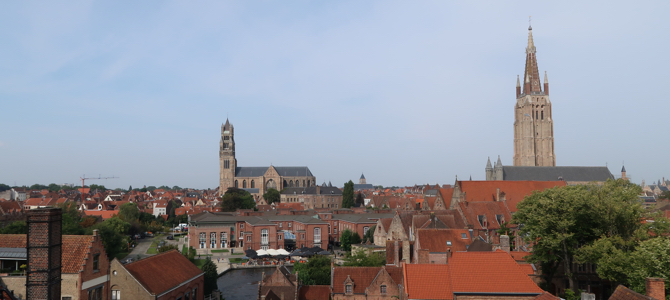 Today we docked in Zeebrugge where we visited Bruges for a boat trip and a brewery tour. Back on board, we enjoyed some live music and some more wonderful Yacht Club food!
Breakfast
The Yacht Club has three options for breakfast, and we'll undoubtedly try all of them at some point. They have a full, table service breakfast in L'Olivo, an outdoor buffet on the One Pool Deck, and a continental buffet in the Top Sail Lounge. We opted for the latter.
I forgot to mention yesterday, but this is the first ship I've been on with excellent coffee. Not surprising given its country of origin. American coffee is still a small drink and lovely and strong. The standard coffee is espresso, so be sure to specify (though the staff seem to ask when the guest is obviously British or American).  I don't know what the inclusive coffee is like elsewhere on the ship, so your mileage may vary.
The buffet consisted of fish, meats & cheeses, delicious breads & pastries, and little doughnuts & sweet treats. In addition, there were several pre-cut fruit options, as well as a massive fruit bowl.
No complaints at all! It was busier in the Top Sail lounge than we saw it yesterday, but still plenty of seating. Sitting with a coffee and a pastry looking right out the front of the ship as it sails into port is just perfection.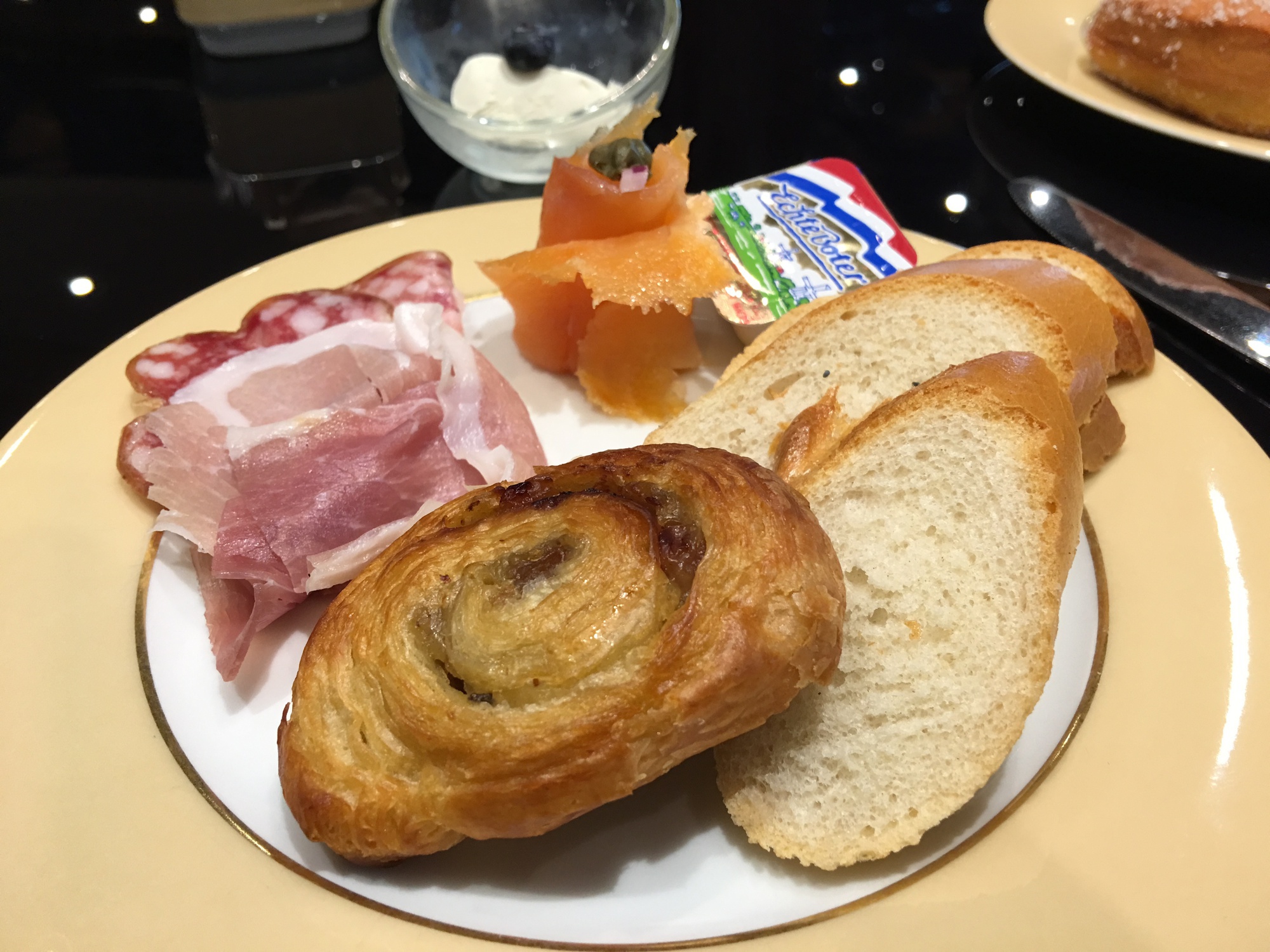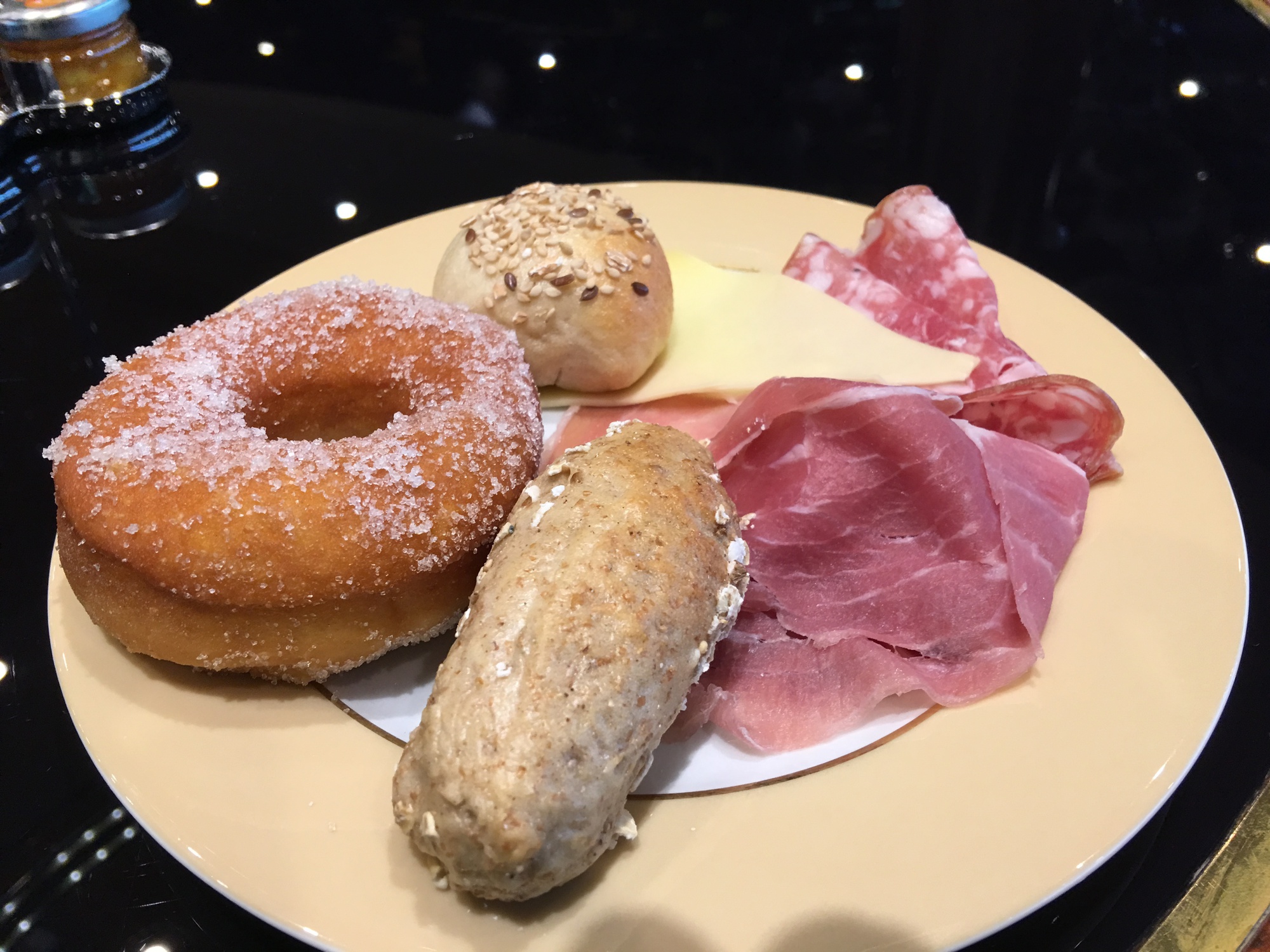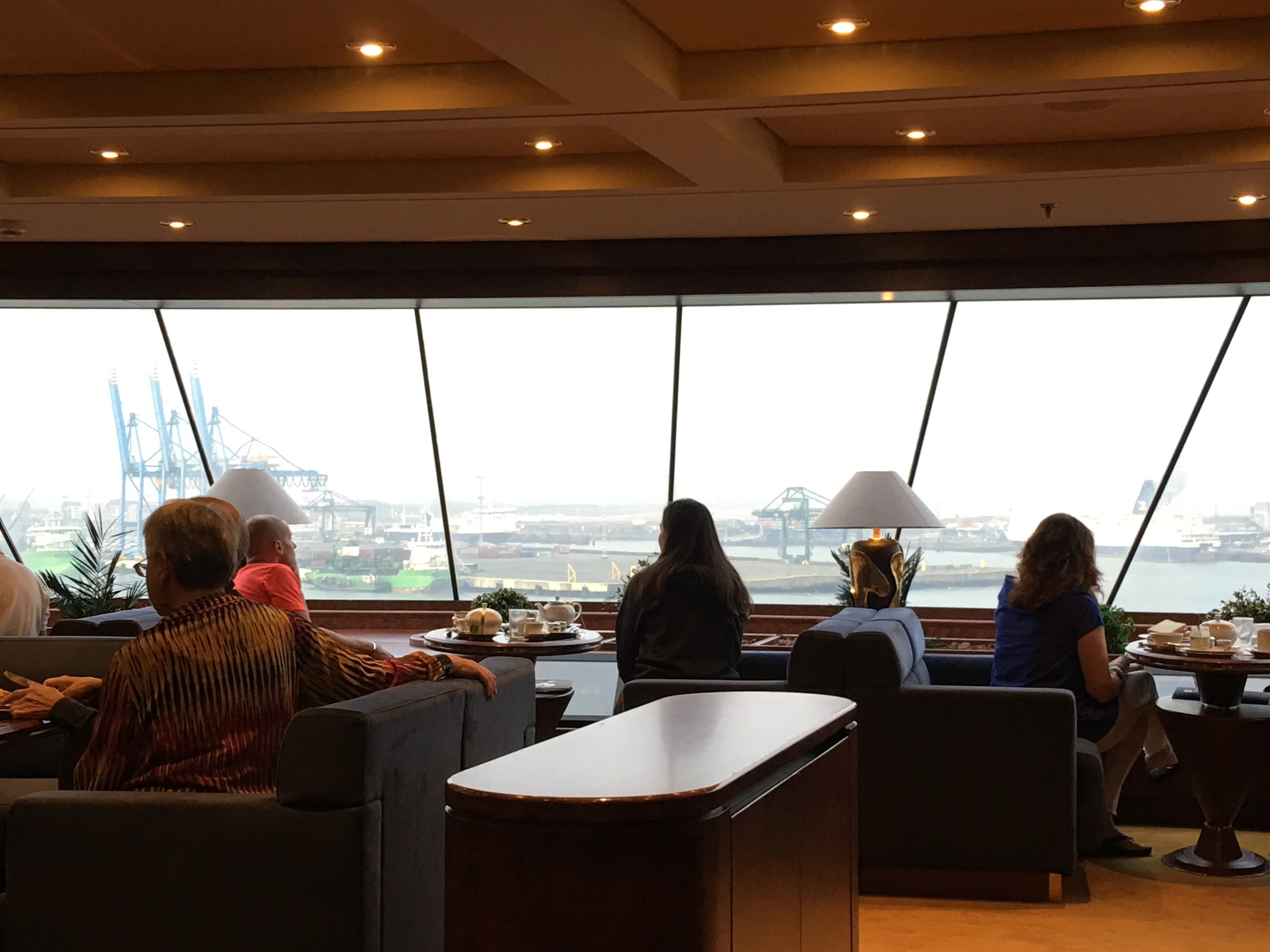 Bruges, Belgium
We had a taxi booked with 6 others from Cruise Critic to take us from the port gates into Bruges itself. The trip was €100 return which was great value split 8 ways… MSC charge for a shuttle bus to Blankenberg where you can get a train to Bruges, but at €15 each for the shuttle bus, we had a better option.  The port authority put on a free shuttle to the port gates (it's only a minute or so drive).
We had a bit of worry as the ship was supposed to dock at 9am and our transfer was booked for 10am. Unfortunately, we didn't dock until 10am (with a much later departure time) and I got a text from the organiser of the taxi saying he and his wife were unable to make the cruise. I finally got in touch with the other party who were booked, and we managed to get the taxi between the 6 of us. Still not a terrible deal, and very very convenient.
After having a wander around, we decided to take one of the famous Bruges boat tours. These aren't too expensive and allow you to see the historic town from a slightly different perspective: the labyrinth of canals that Bruges is built on. The trip costs €8 per person (cash only) and the tour guide expects a tip at the end.  There are multiple places to board these boats, and I believe that the tours are the same price and run to the same standard governed by the central tourist board regardless of where you board.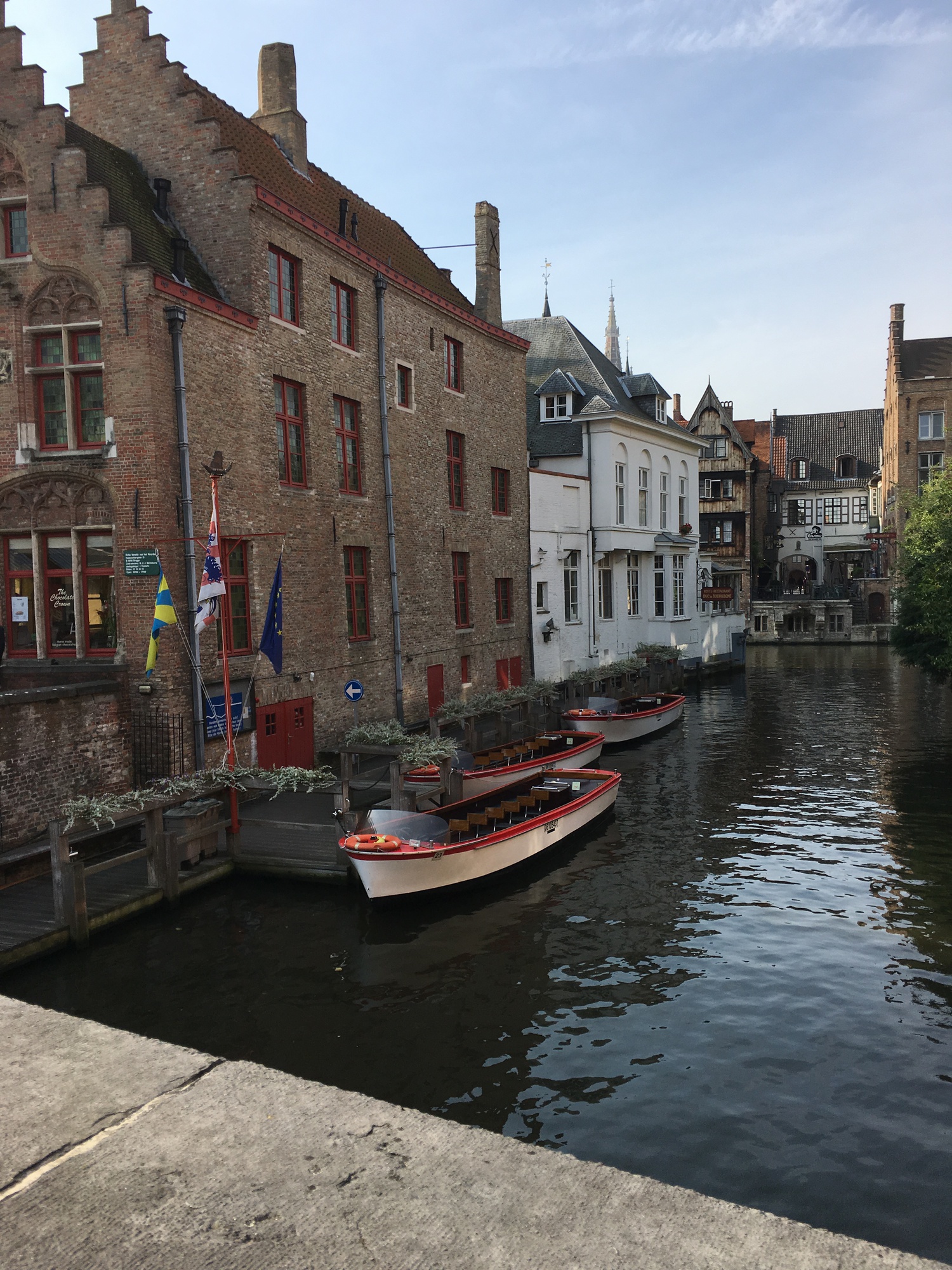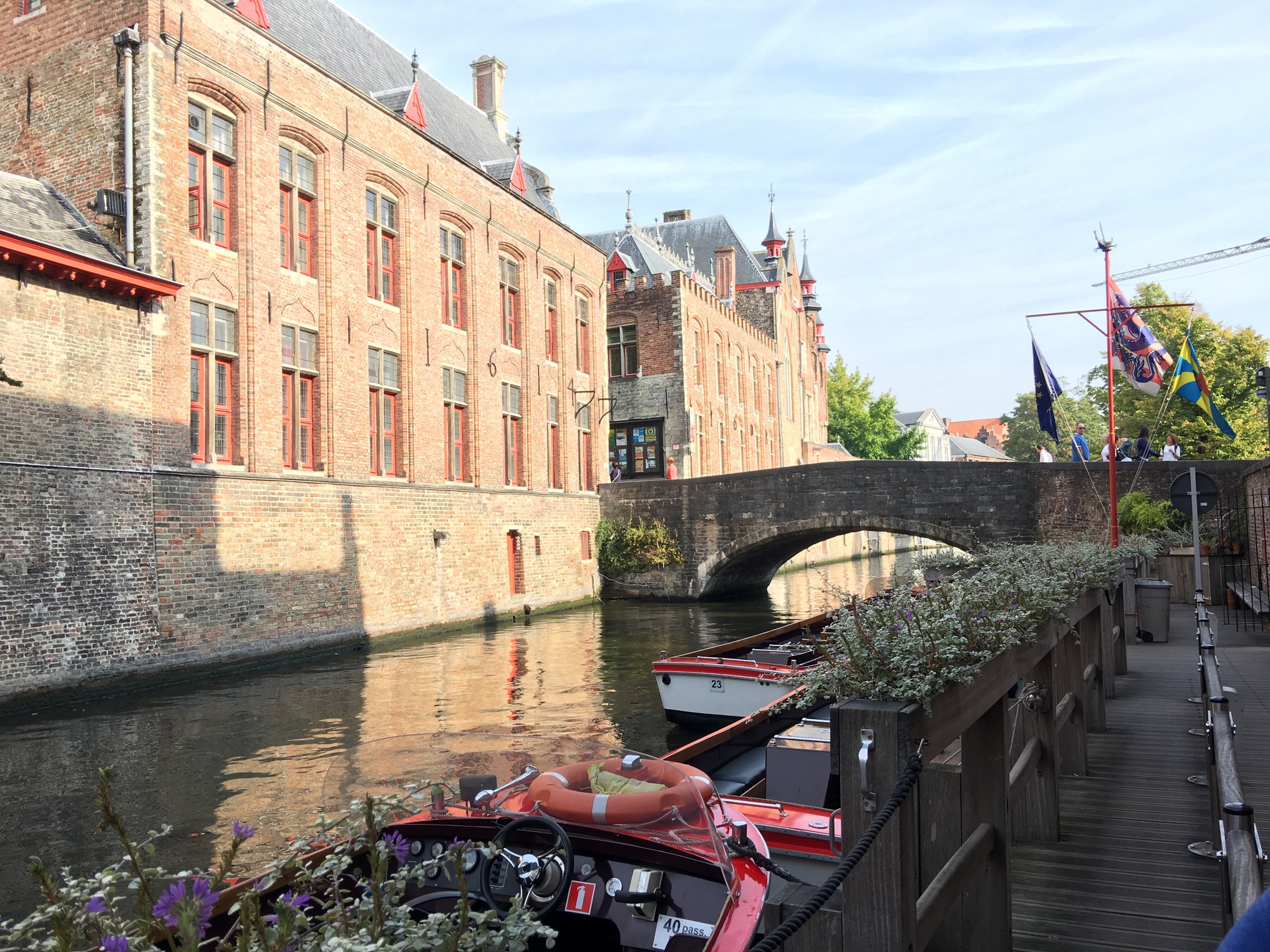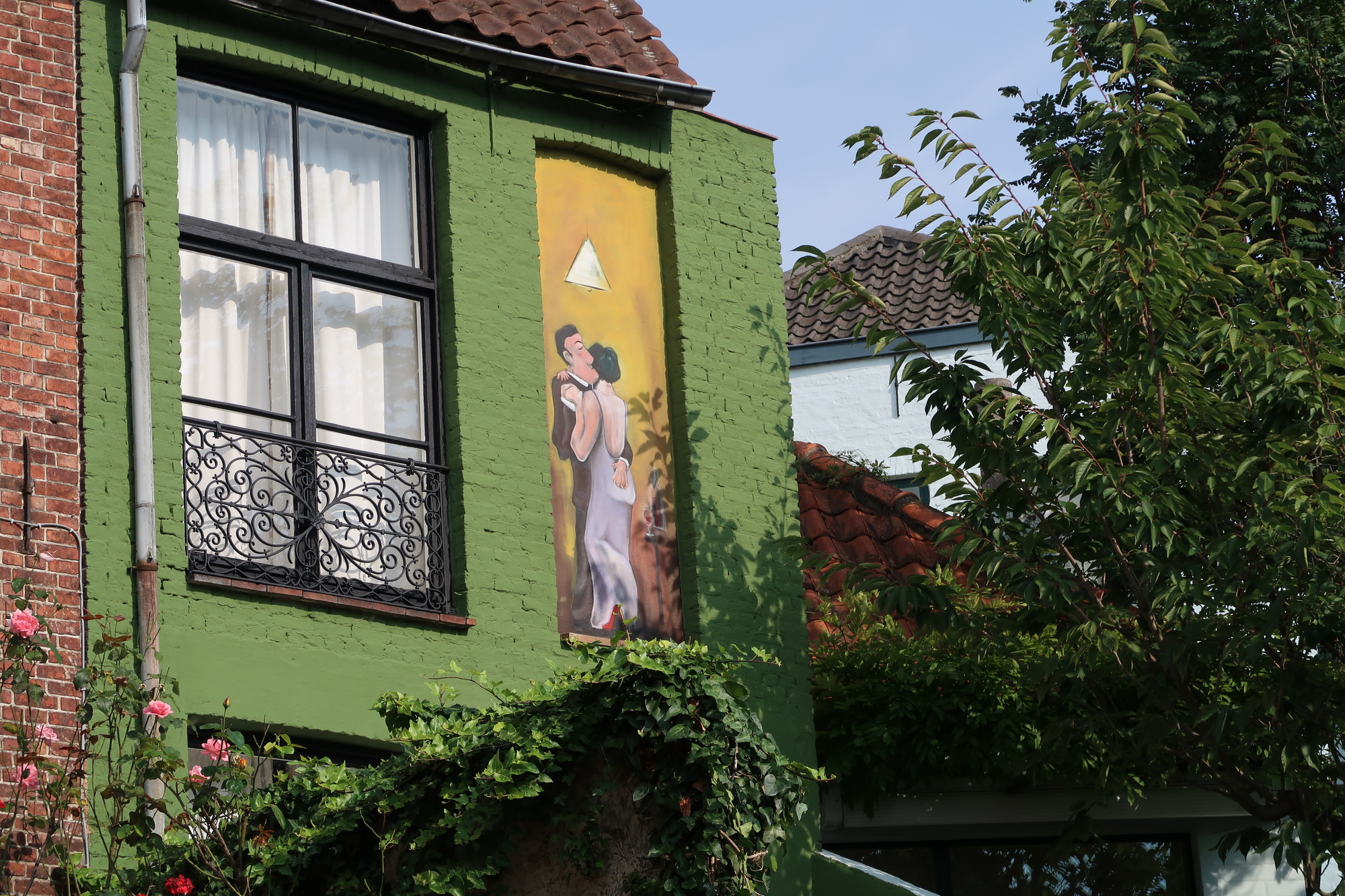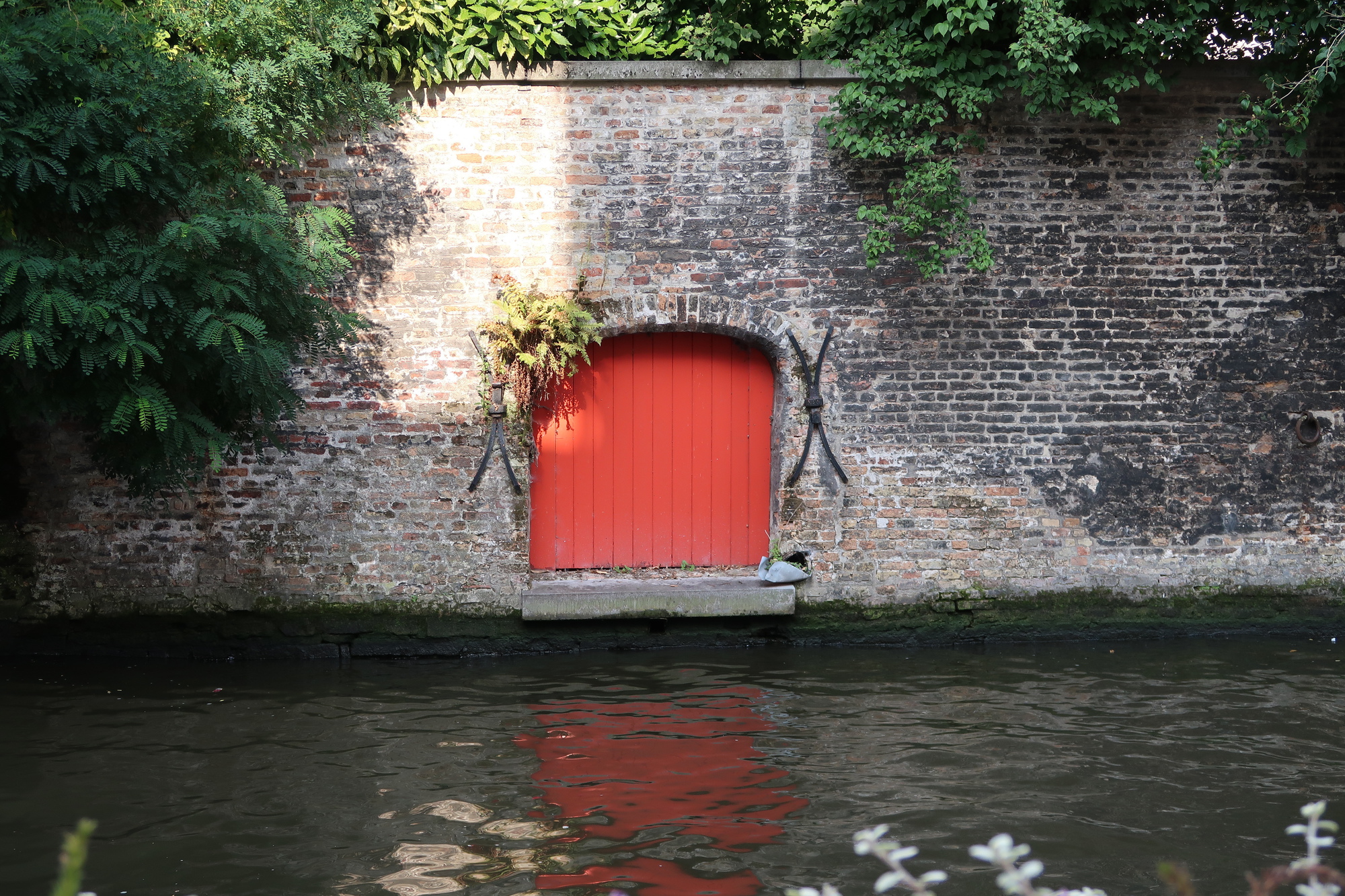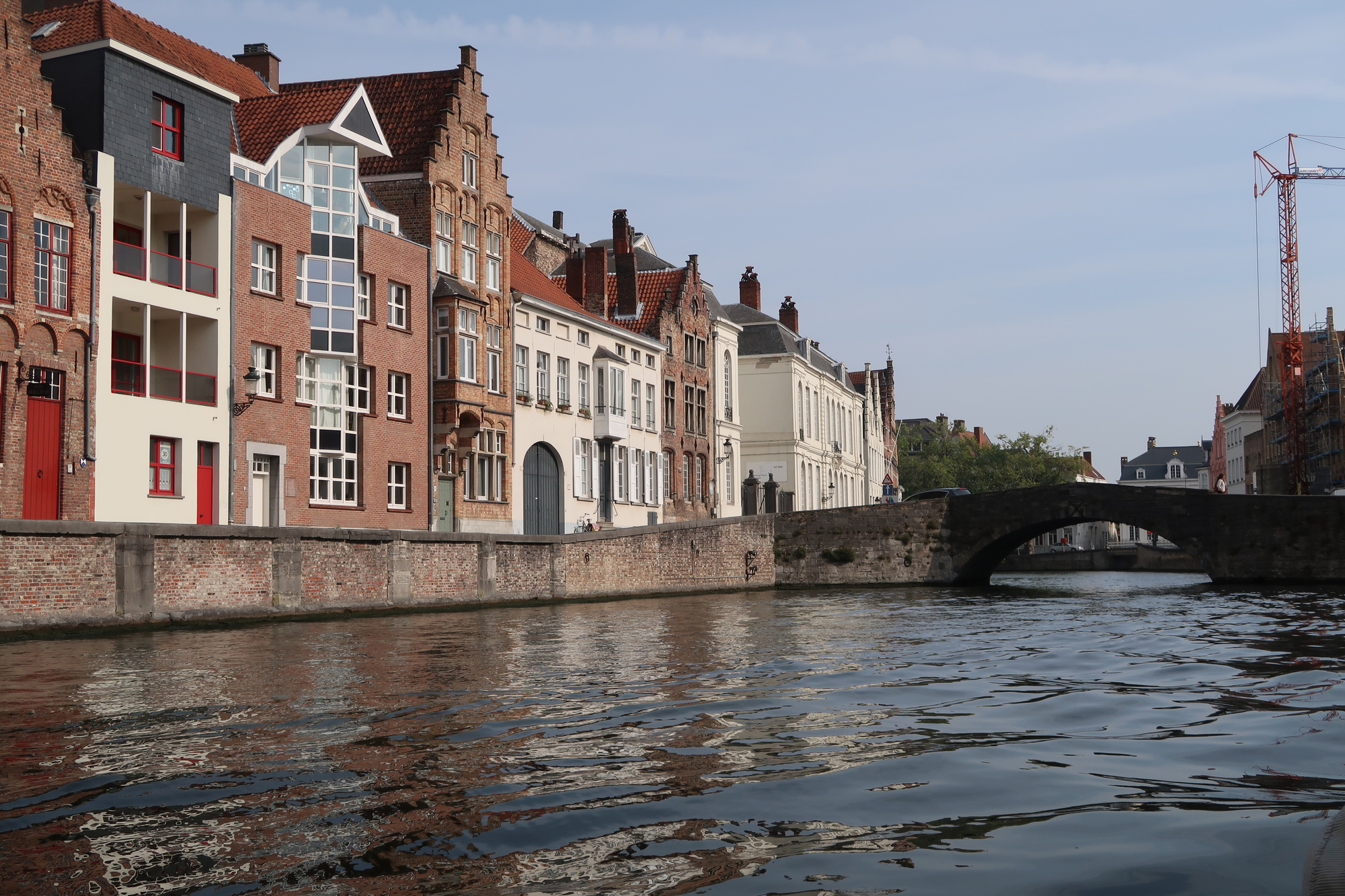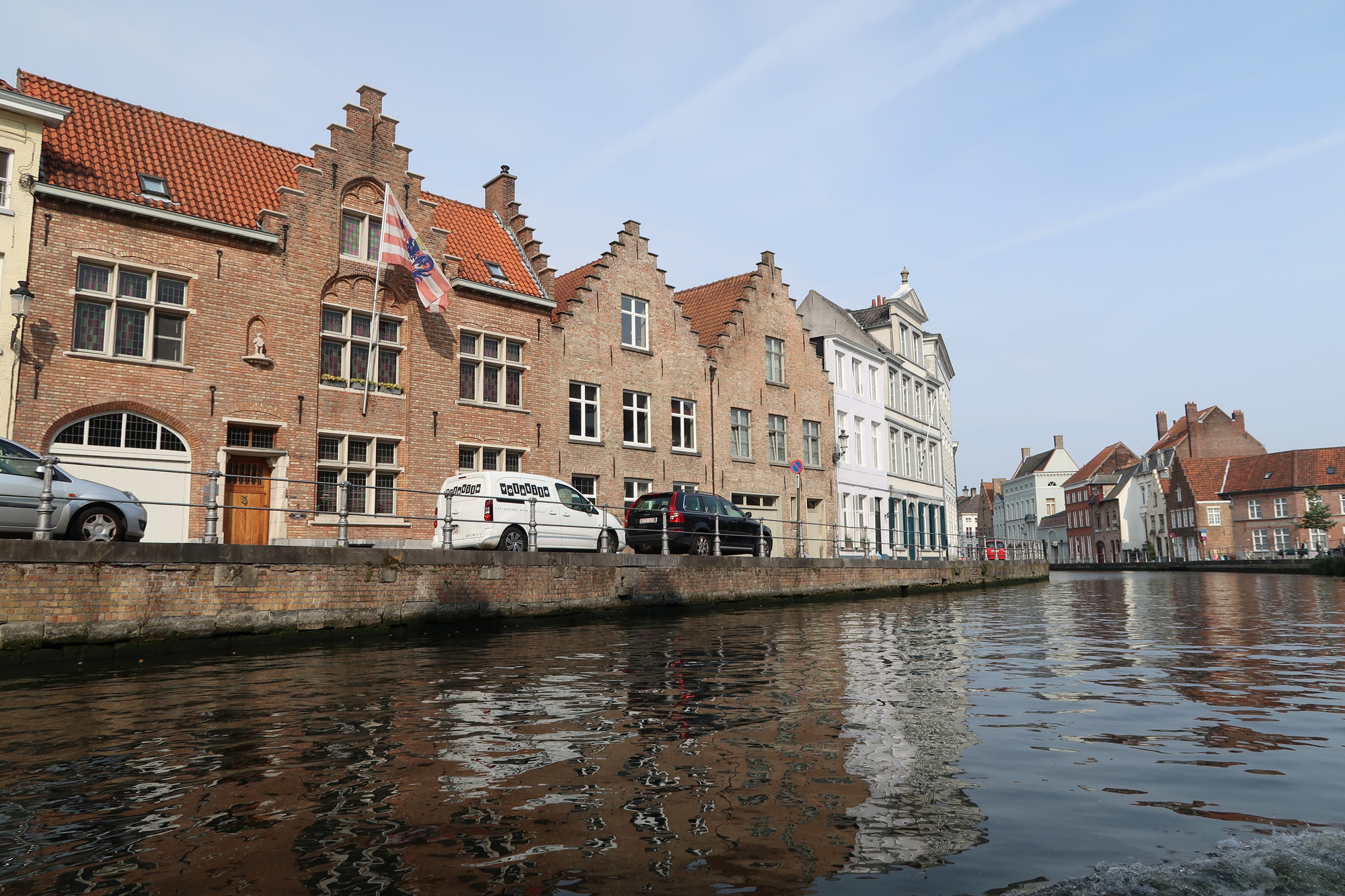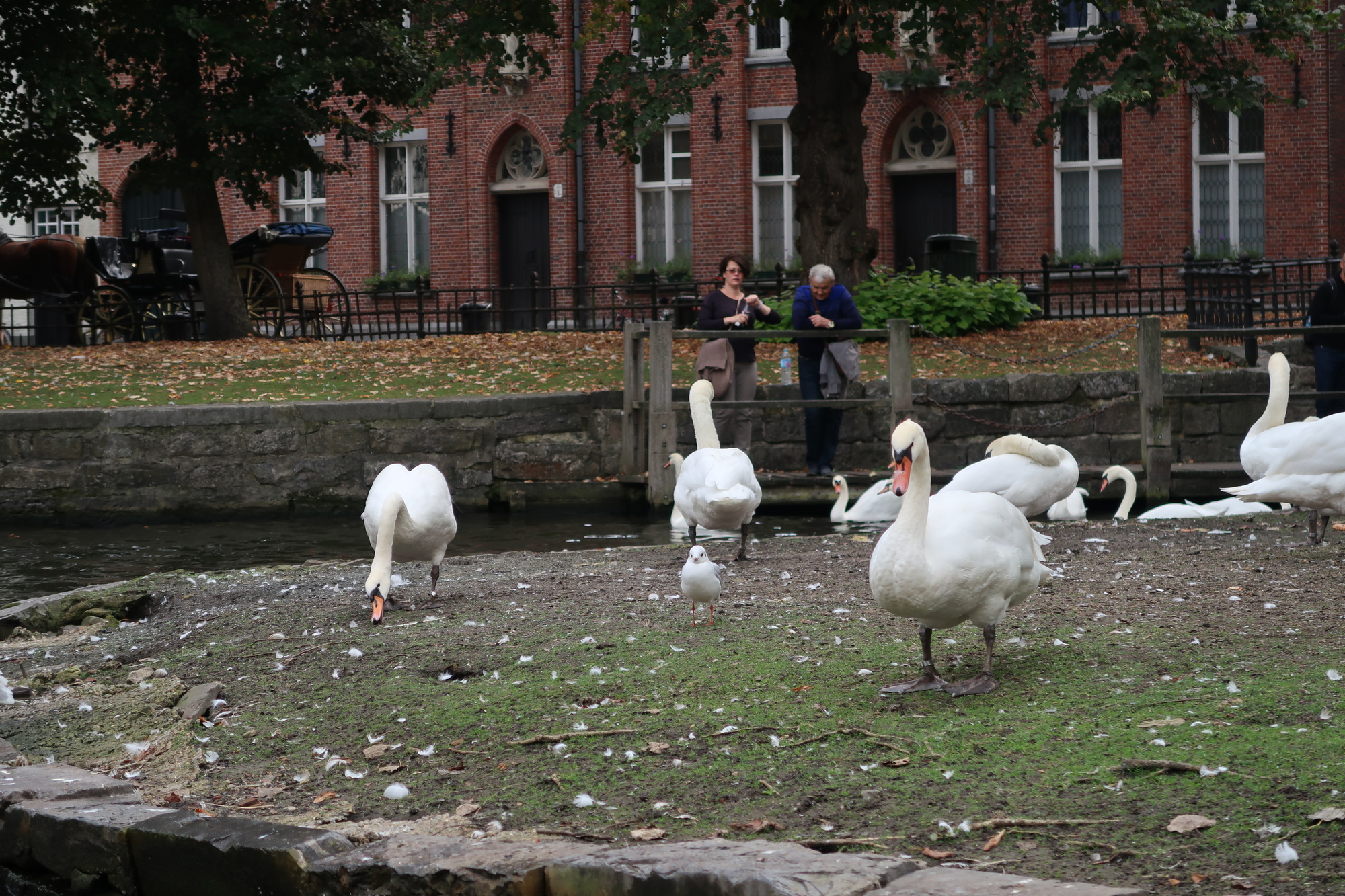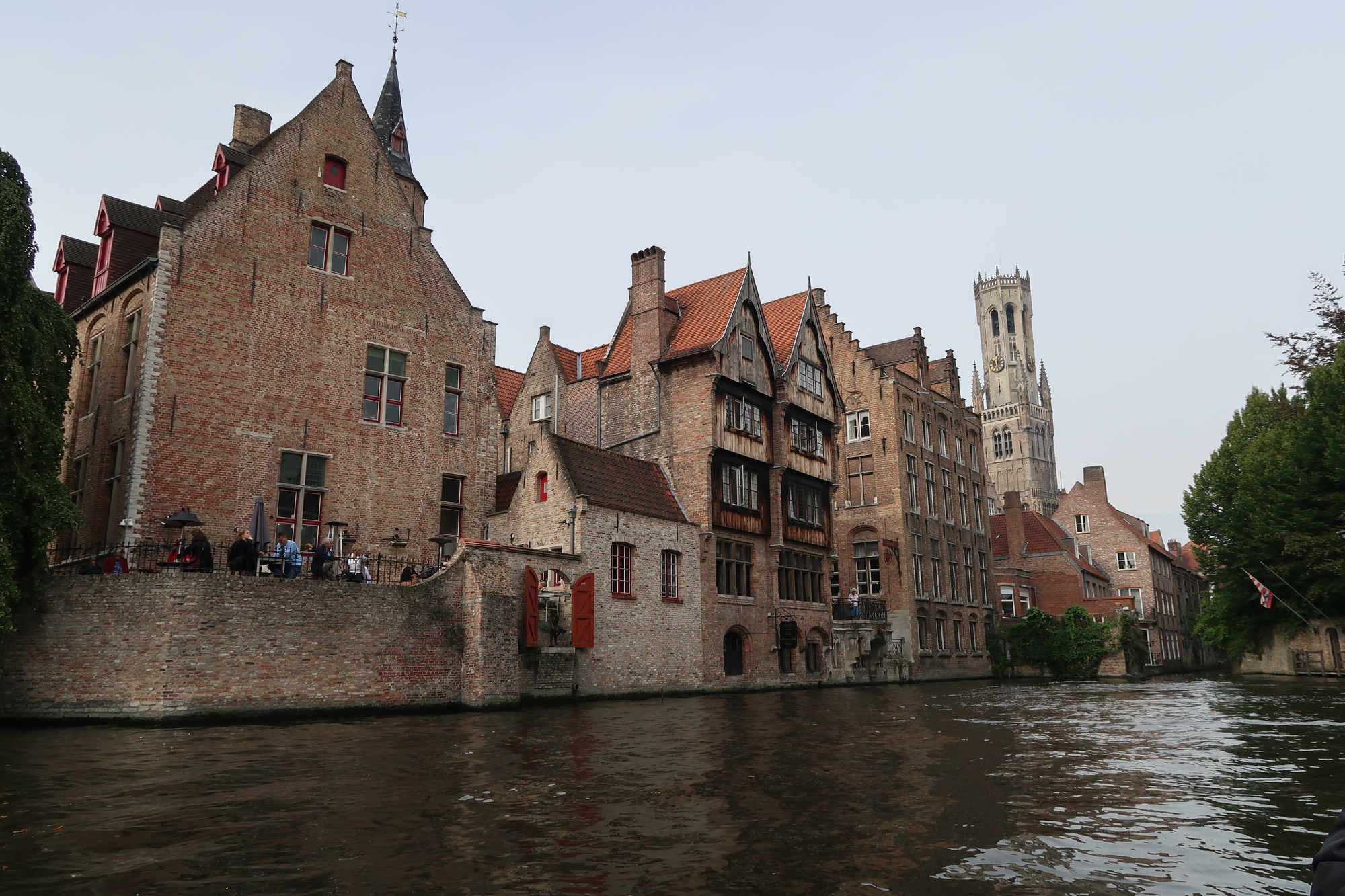 The tour was narrated in a few different languages which occasionally made it difficult to identify the English sections. Even ignoring the commentary the views from the boat are lovely and it's a relaxing way to spend 30 minutes.
From there we had another wander before I was distracted by fresh waffles with milk chocolate and cream. They just snuck up on me, honest! It was absolutely delicious!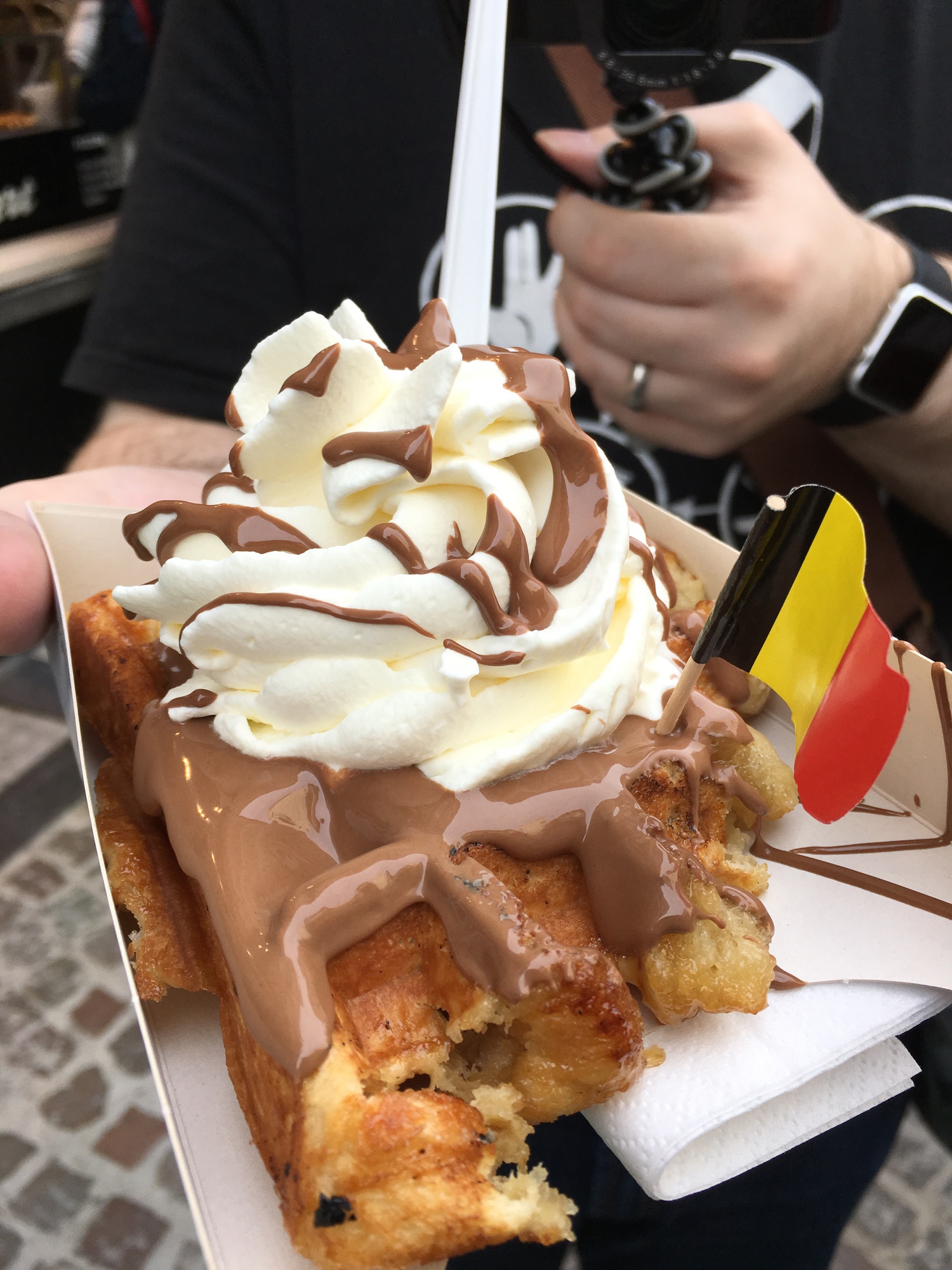 Before heading back to the ship we popped over to the only brewery still brewing in the centre of Bruges, De Halve Maan (The Half Moon in English). The tour lasted 45 minutes and included a beer to taste at the end.
Our guide, Ignace, was absolutely wonderful. He was clearly enthusiastic about the brewery and gave a funny and informative guide as we saw the modern brewing equipment alongside some of the older (and more dangerous) methods used in the past.
I cannot say enough how enjoyable this was, though I had to be very brave as there were many steep and dangerous looming staircases up to rickety wooden platforms. But there you have it… me risking my life for beer and blogging! On a serious note though, this tour would not be suitable for those with mobility problems as there are many steep staircases to climb and descend.  The upside is the outstanding views across Bruges!
It turns out that De Halve Maan has recently completed a 3km long beer pipeline to take the beer from the city centre brewery out to the bottling plant.  Amazing!  I wonder how long before some locals try to tap into the line…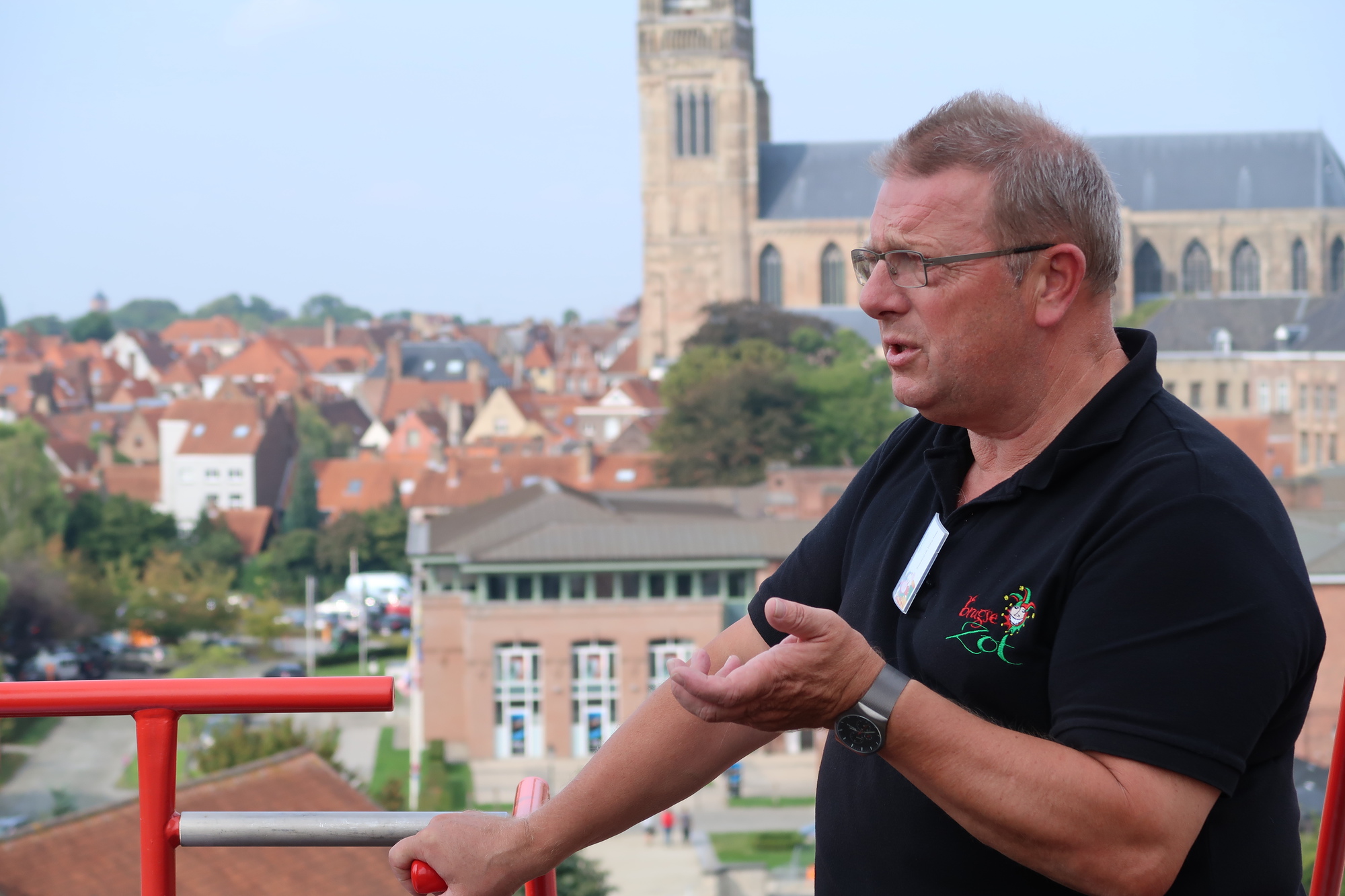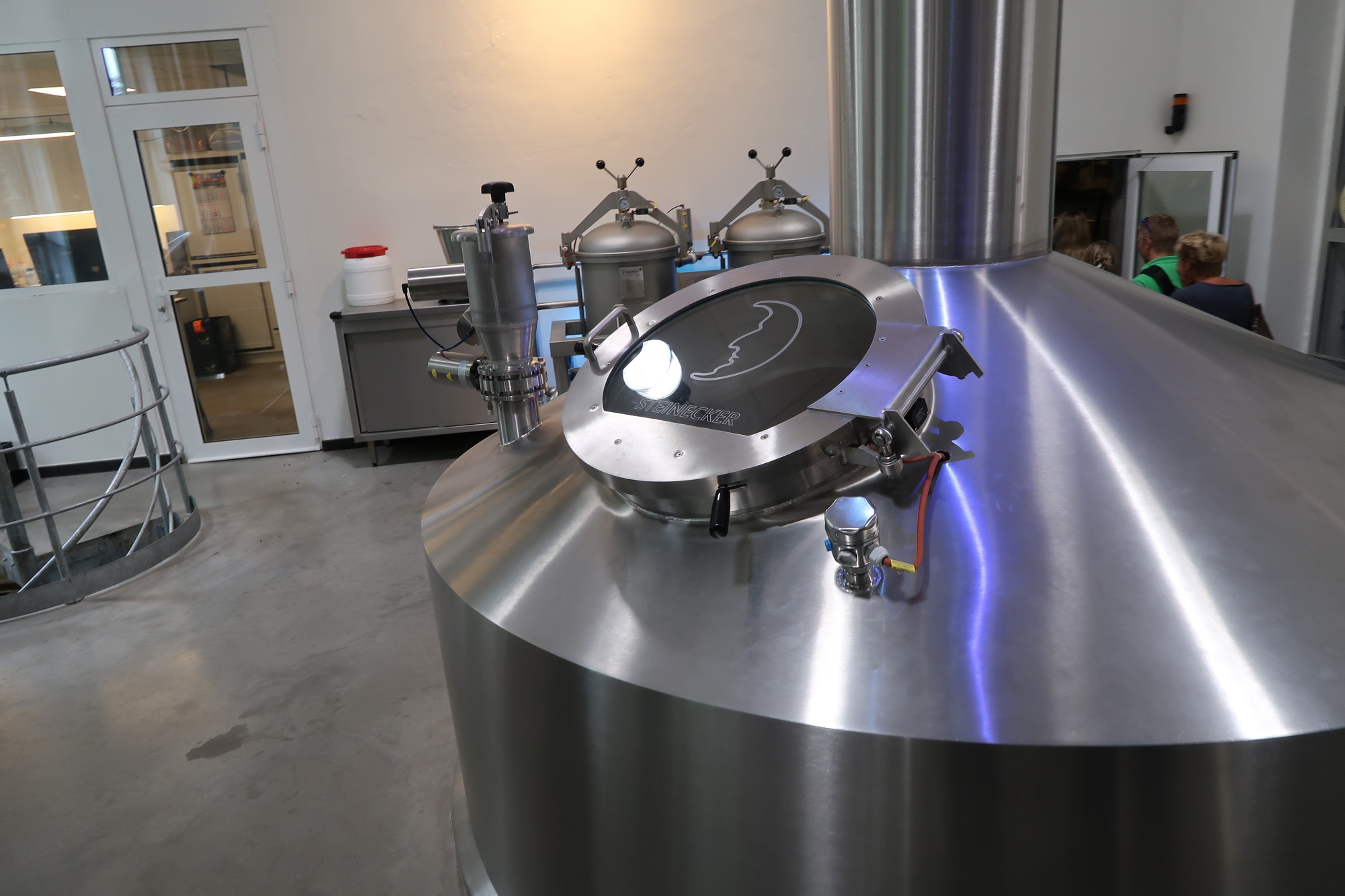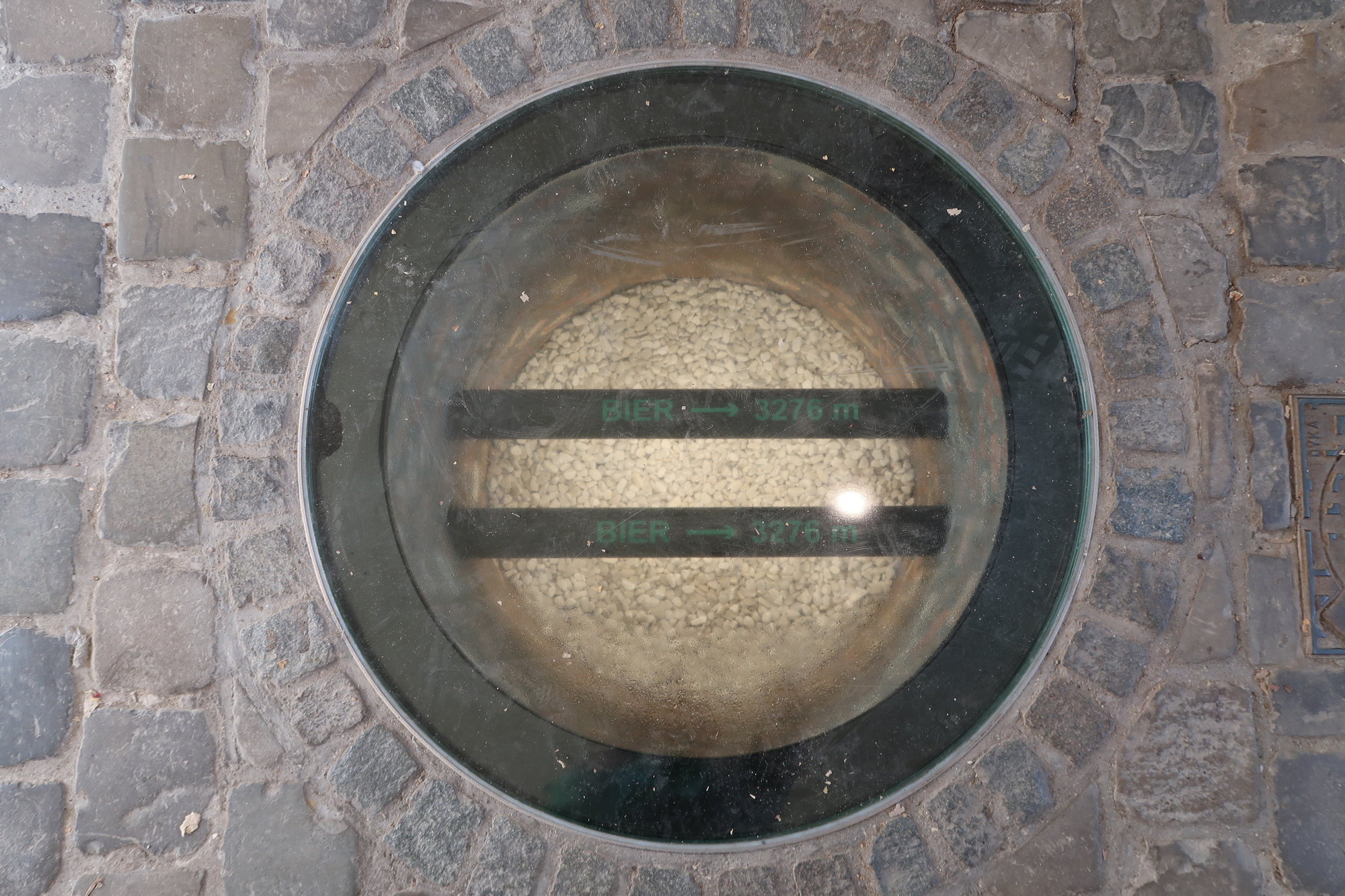 After the brewery, we had a little wander before meeting our taxi for the short drive back to the ship.
One thing that amazed us about Bruges is the number of chocolate shops. Of course Belgium is famous for chocolate, but there are chocolatiers everywhere and I just can't work out the economics of it. How do they make enough money to stay open? I know there are a lot of tourists, but bloody hell…
The last time we were in Bruges the weather was against us, but today it was warm and mostly sunny. A beautiful day to be in a beautiful city, and one which I wouldn't hesitate to come back to.
Back on board we decided to relax in the stateroom before getting ready for an earlier dinner (19:45).  I was told by the concierge that the Yacht Club is almost entirely filled with German passengers, and apparently they like to eat early!  19:45 was the earliest we could get tonight!
Dinner in L'Olivo
Let me explain a bit more about how dinner in the Yacht Club restaurant works. When boarding, you are asked to specify a dinner time. This can be changed at any point, but it helps the restaurant prepare properly.
The menu consists of a total of five courses, but you don't have to have all of them. These are appetiser, soup, pasta/rice, meat/fish, dessert. Each course has two choices, and there are some very safe always available options too. There is also a third main course for vegetarians. The courses are much more sensibly sized than those on US ships, so having four or five courses isn't as gluttonous as it sounds.
In addition to the main courses, there is also a wide selection of freshly baked breads available daily, and the selection is listed in the menu. These are very good, and served with butter as well as olive oil and balsamic vinegar. I know they say "don't fill up on bread" but in this case it's bad advice, because the bread is wonderful!
Beverages are included in the restaurant. A glass of prosecco was offered on arrival, and throughout the meal you have a choice of red and white wine. There seems to be a default wine, but another choice is available. I believe they change the wines being served. Still and sparkling mineral water are also free-flowing.  I understand you can have a digestif in the restaurant too (we saw plenty of limoncello go by) but we'd prefer to retire to the much more elegant surroundings of the Top Sail Lounge.
That brings me to the worst part of L'Olivo in my opinion: the décor!  They've gone with dated curtains, fake plaster pillars, and badly done murals. It just looks incredibly old fashioned, like if you'd gone to a cheap Italian restaurant in the UK in the 80s or something. I'll let the pictures to the talking. Some people may love it, but we both do not.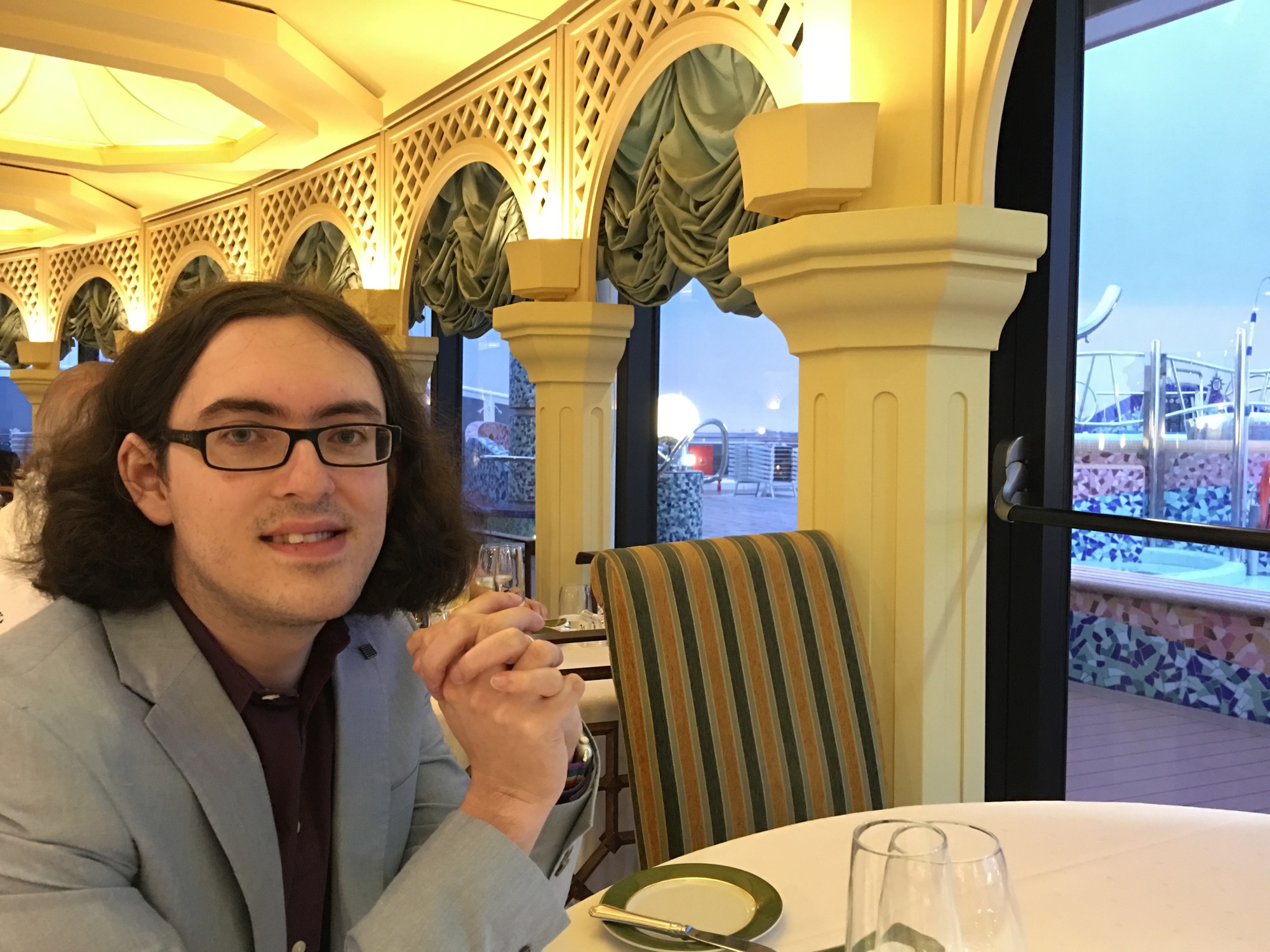 The thing is… it's not offensively bad, it's just a bit cheap and not at all in keeping with the other Yacht Club areas which are incredibly tasteful and modern. A strange choice, and a very minor niggle that wouldn't stop us from booking again, but there it is!
Anyway on to tonight's choices. I had the red snapper ceviche, the salmon ravioli, the lobster, then the tiramisu. The ceviche was a bit disappointing, but mainly because Alex's looked better. The plantain chips weren't as crispy as I'd have liked. The ravioli was perfectly cooked and quite tasty, though I'd have liked the flavour to have been a little stronger.  The lobster was wonderful, and served with a perfectly fluffy baked potato and some asparagus. The asparagus was a bit over-cooked and floppy, but the rest of it was delicious. My tiramisu was fantastic. All in all a tasty meal, if not perfect.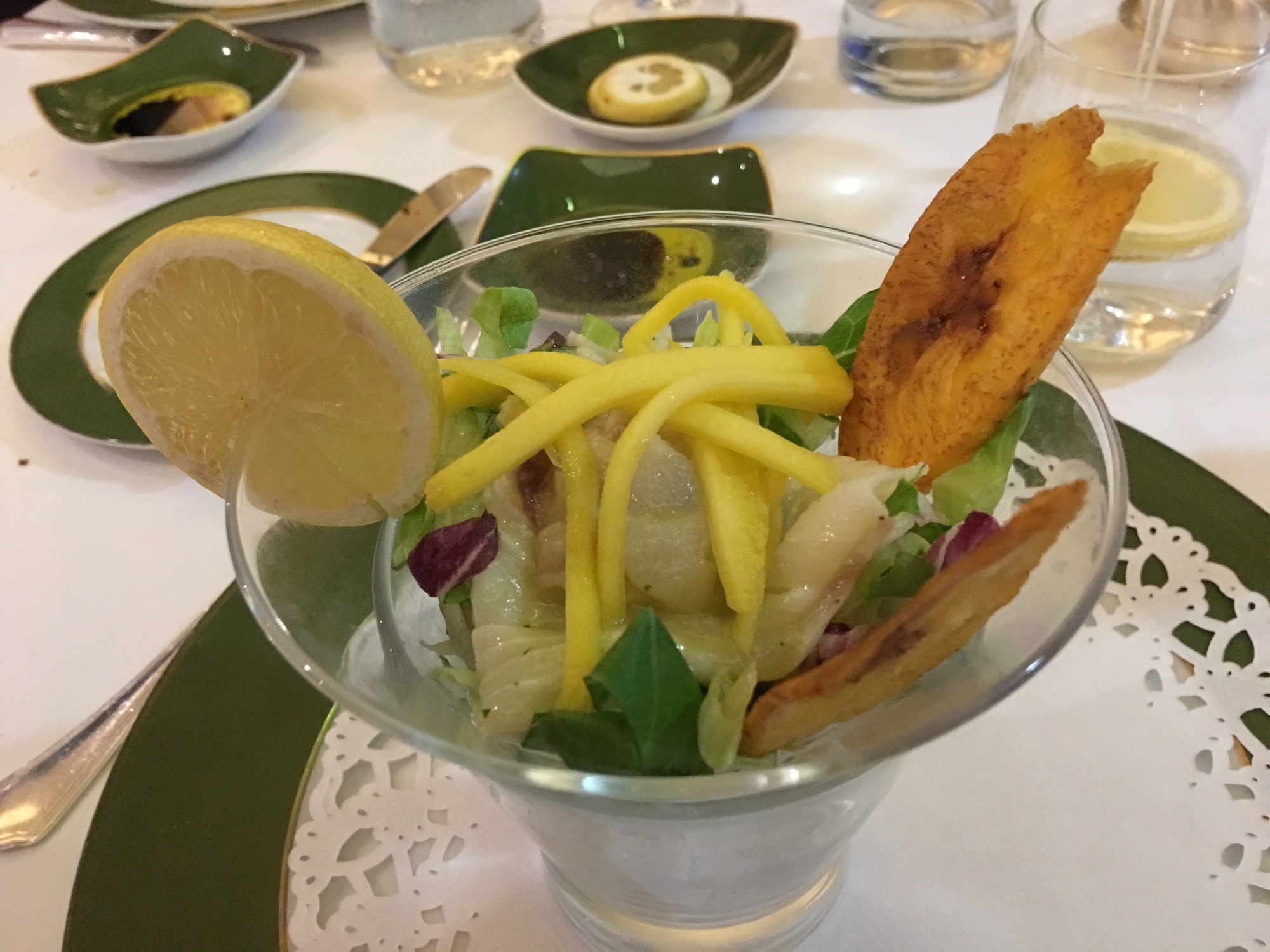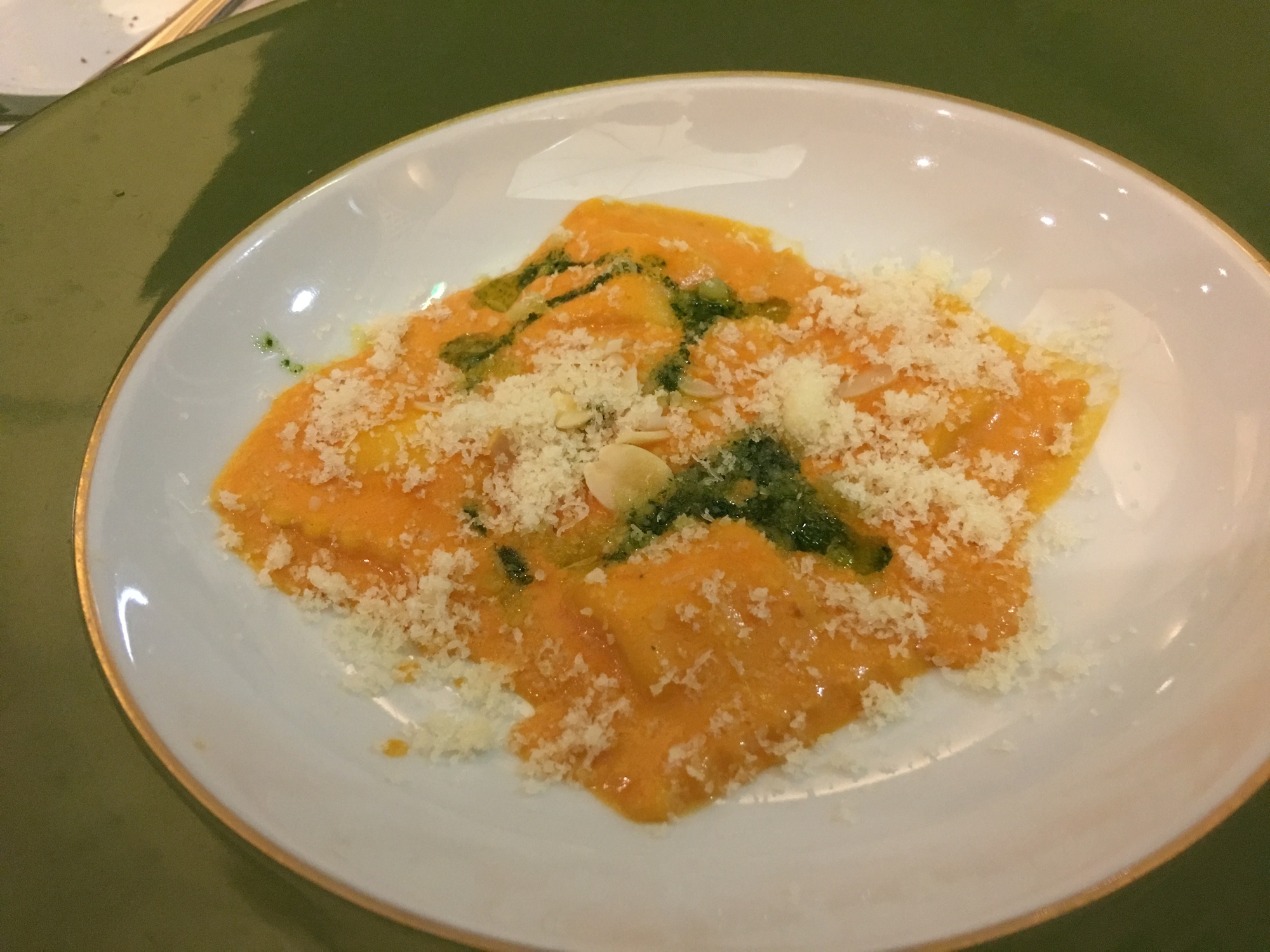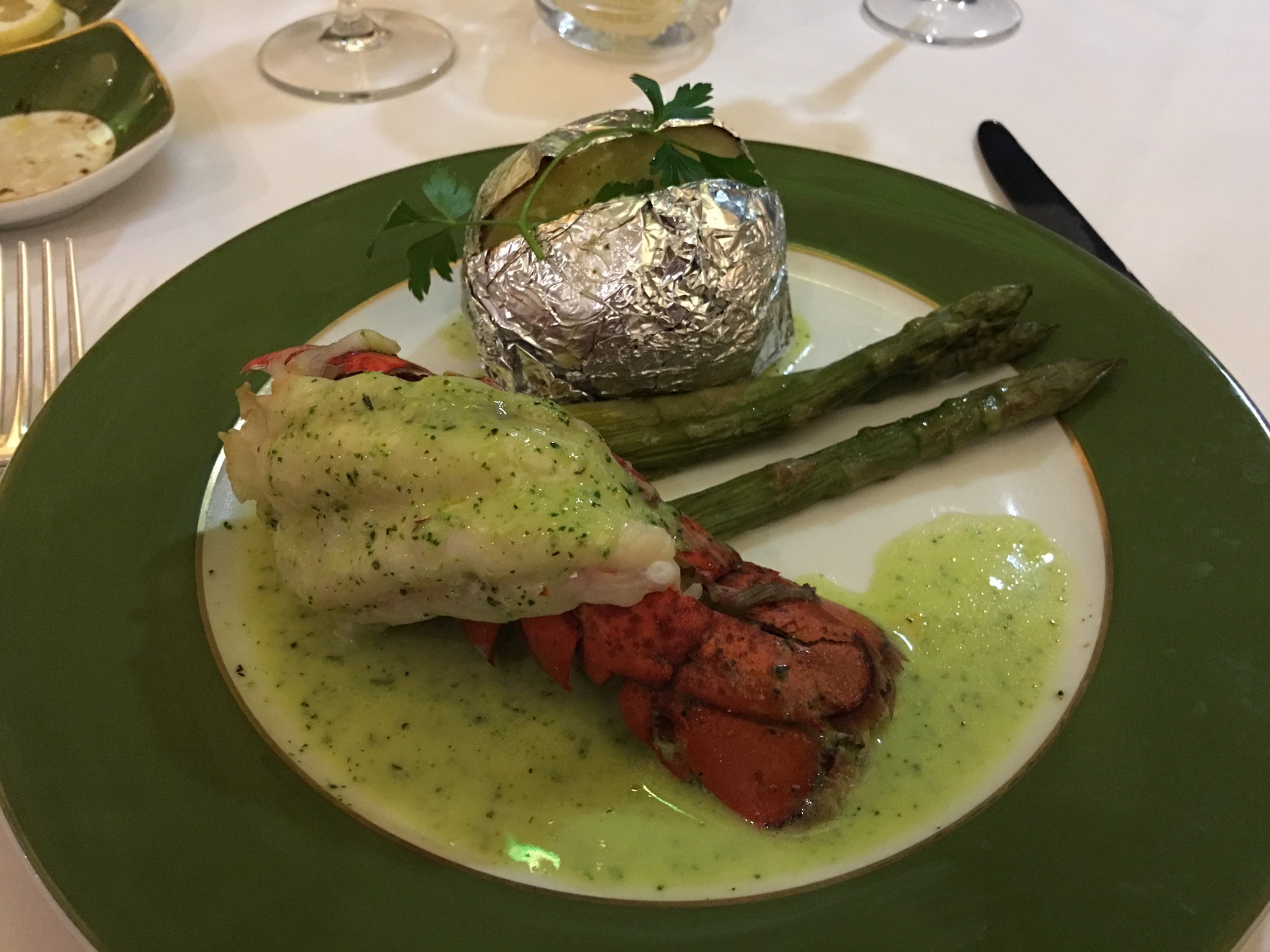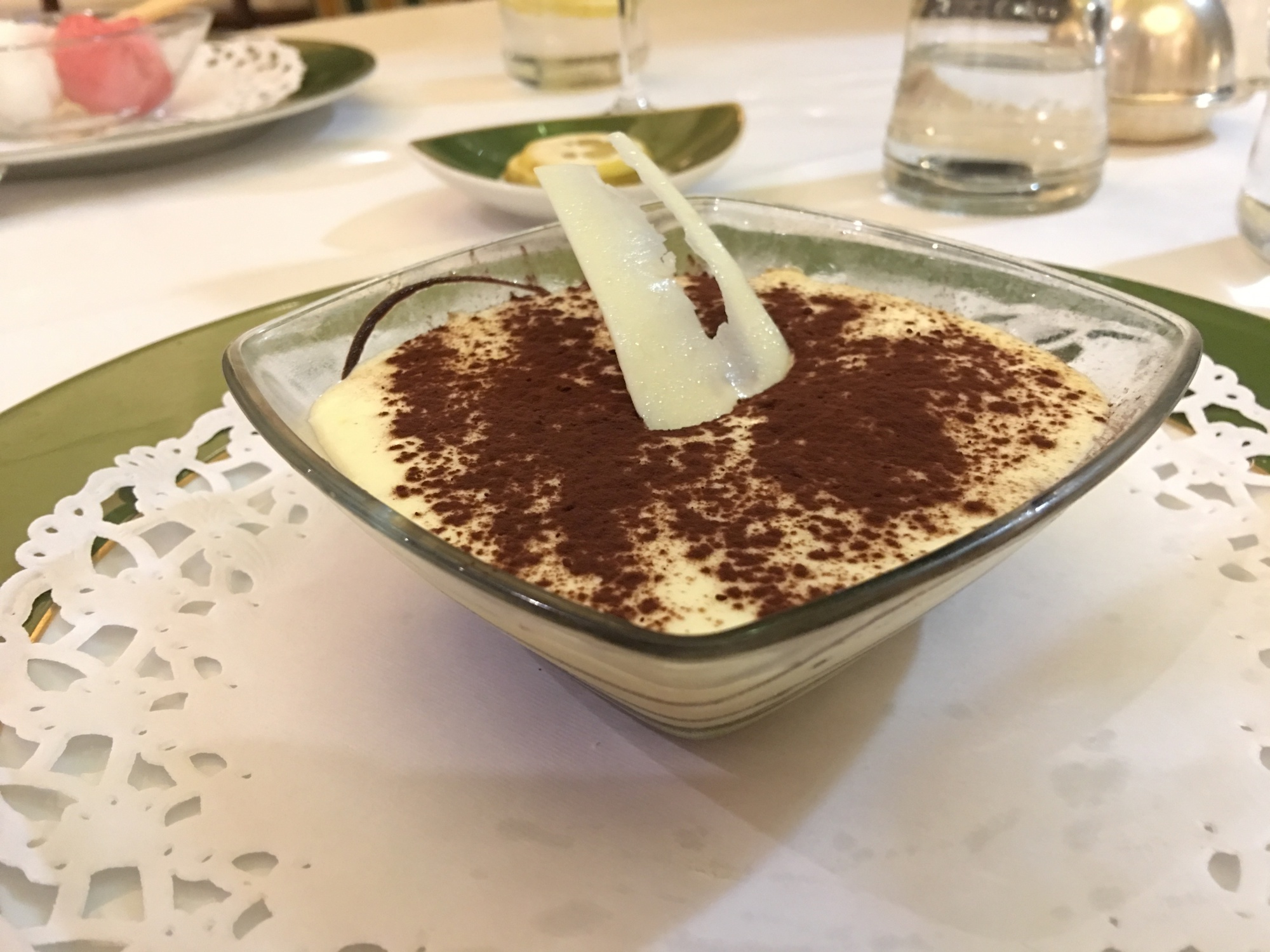 Alex opted for the foie gras which was really delicious (and made me jealous). He then had the beef consommé with pasta things in it (that's the culinary term, I'm sure) which he said was a little boring but still OK. He then had beef fillet which he says is the best beef dish he's had on any cruise. He finished with sorbet which was a bit disappointing and seemed freezer burned.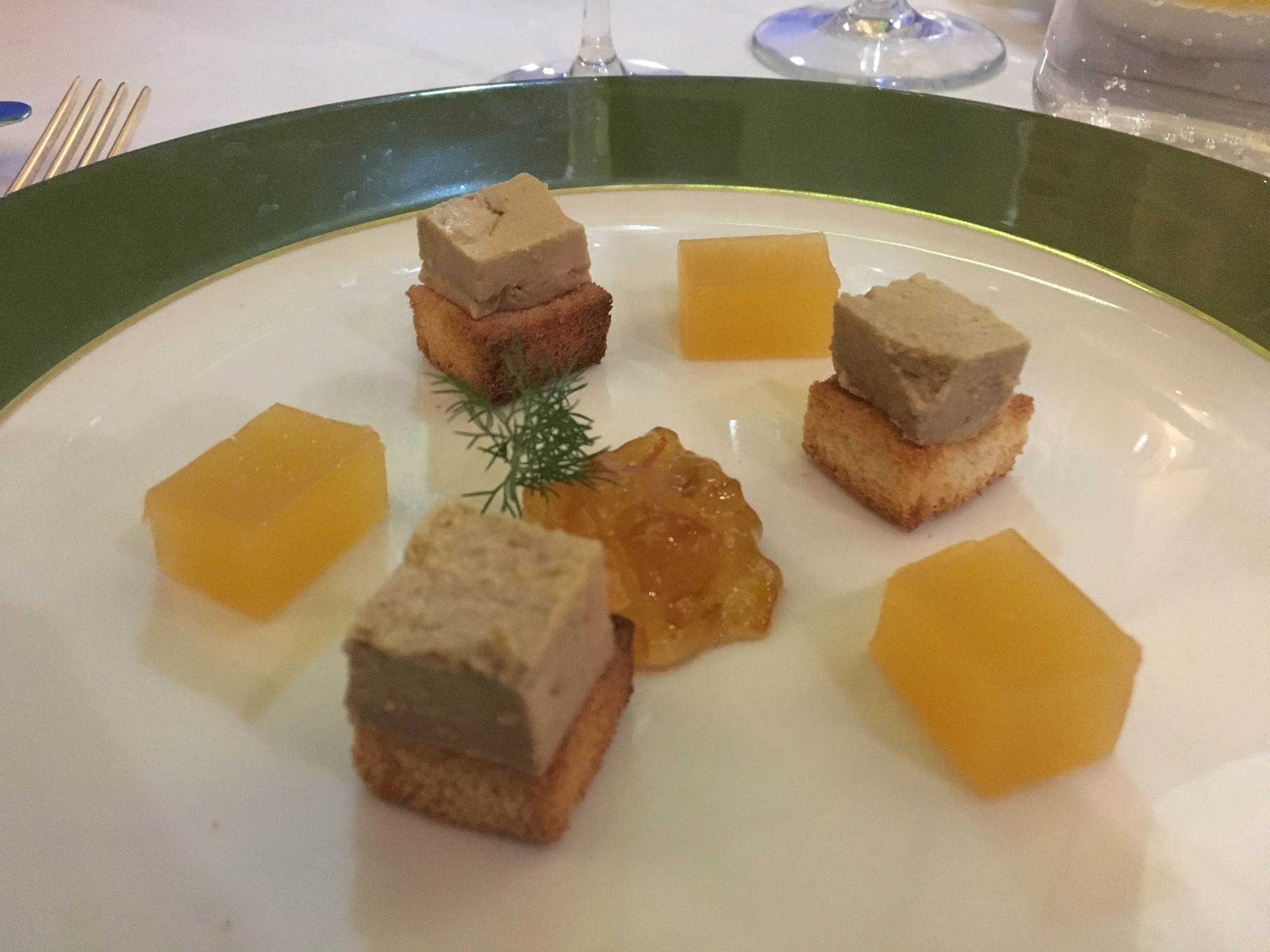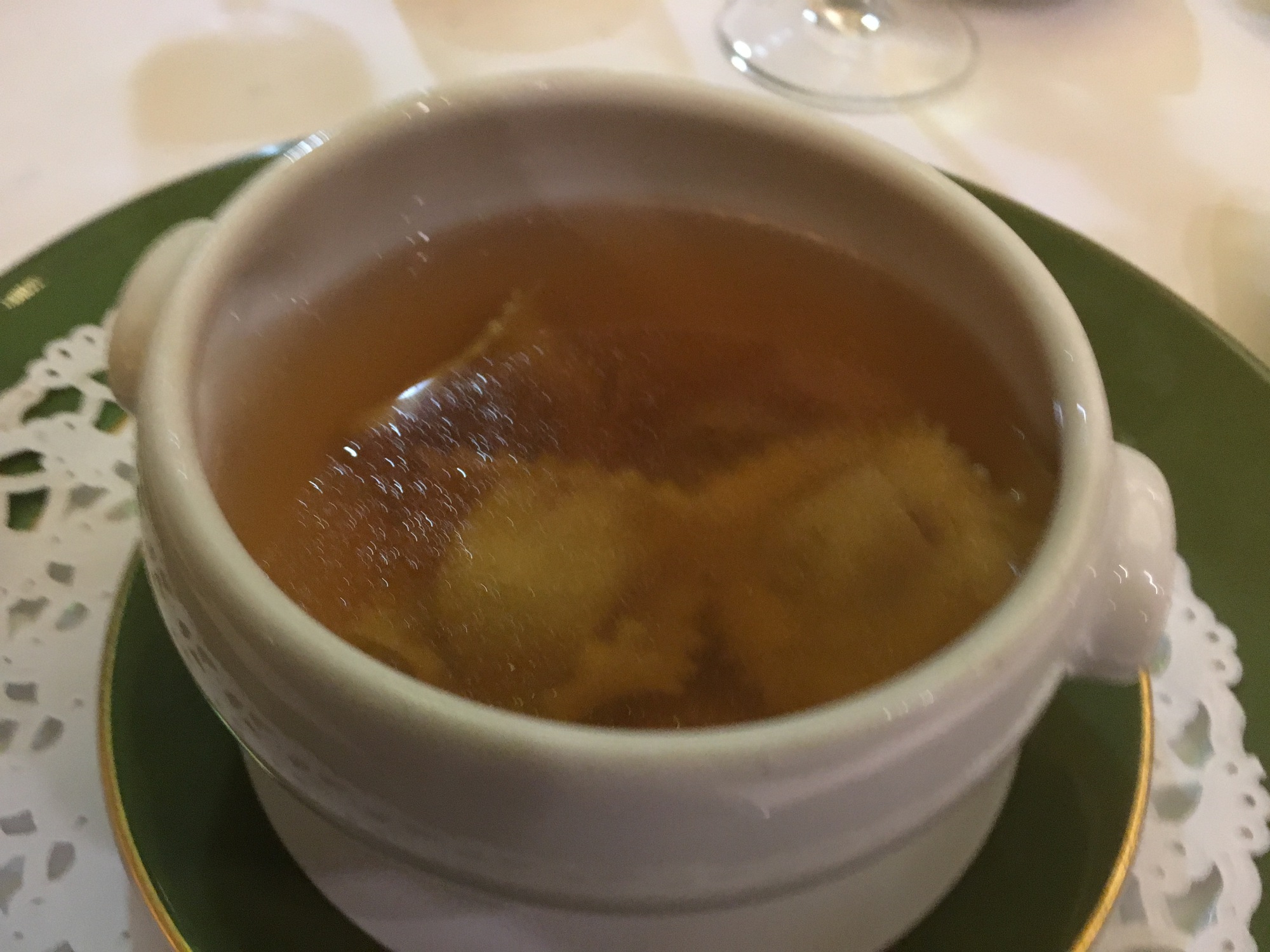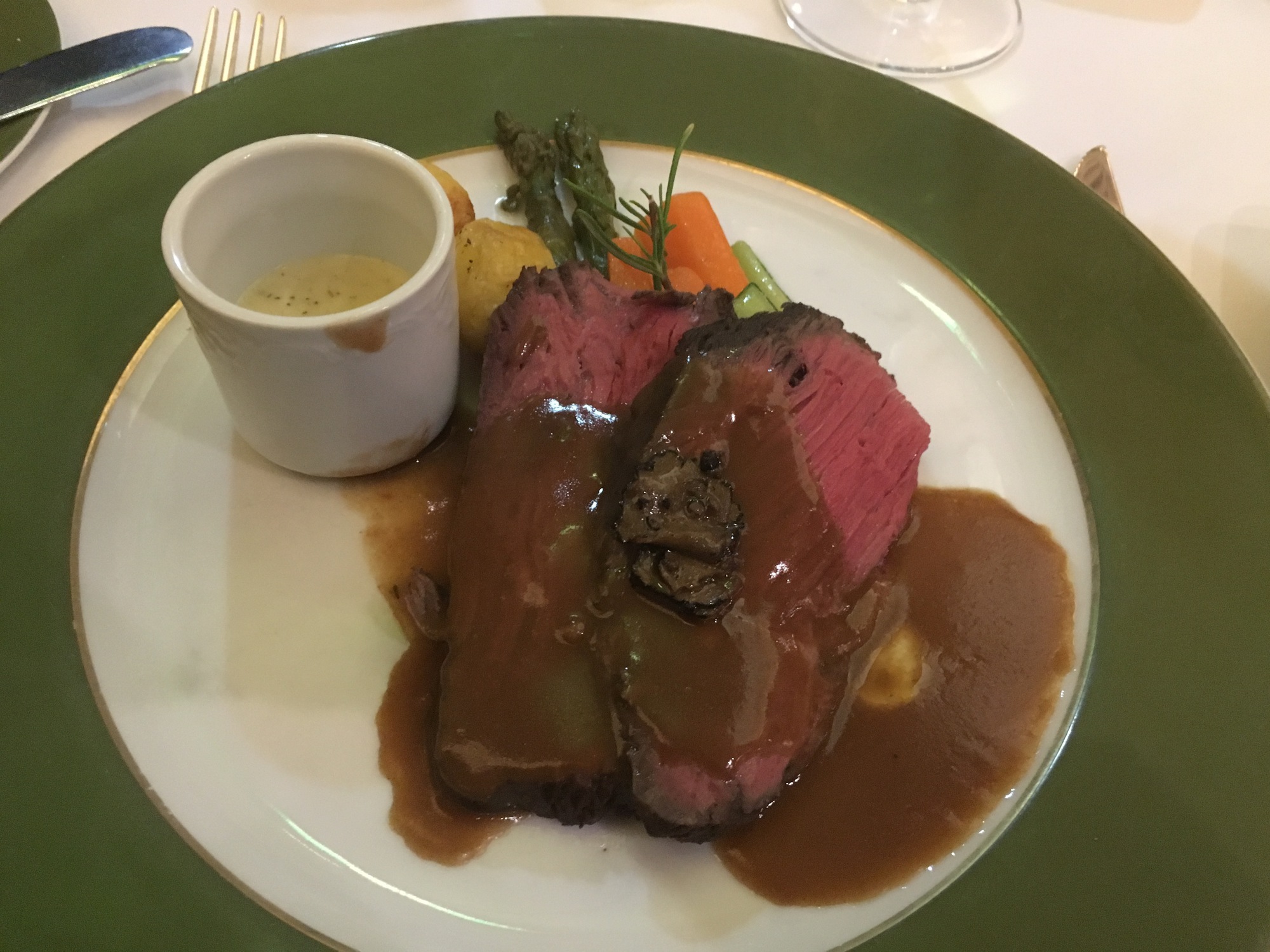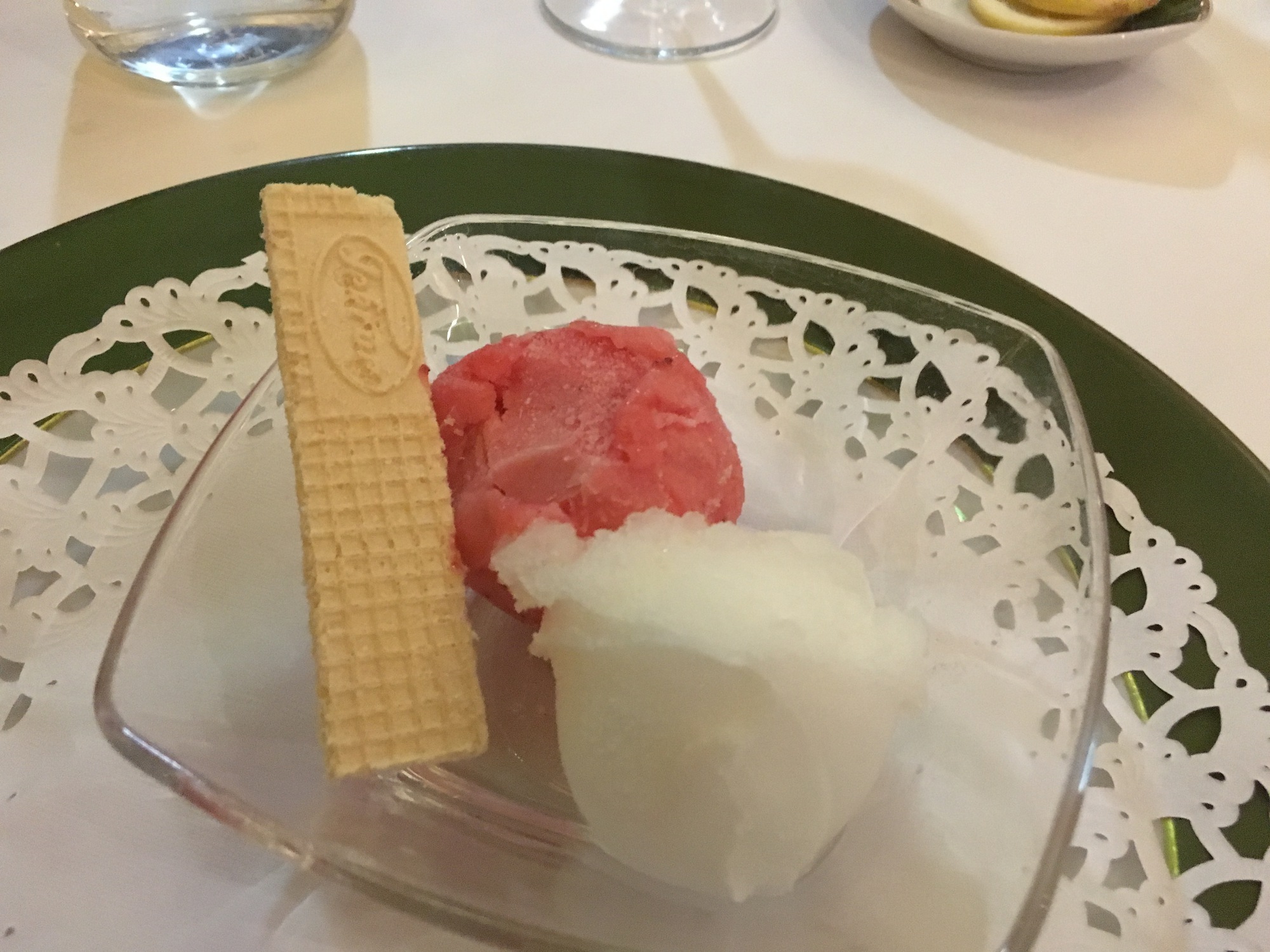 I realise I'm being quite critical of the food, but we both thoroughly enjoyed the meal. It's so good when it's good that the odd niggle really stands out. Comparing with Celebrity's MDR food, I'd say that the very best of Celebrity's food is a little better than what we've had on here, but we've had nothing as bad as the worst food on Celebrity.
Late Night Entertainment
After dinner we returned to the stateroom (with the butler bringing me an Irish coffee) and wrote up a bit of the blog while letting the food digest. When we arrived, we'd been left an absolutely delicious plate of petit fours to accompany the fruit bowl that's always been in the stateroom.  Nice touch, though it's ruined any plans of letting the food digest!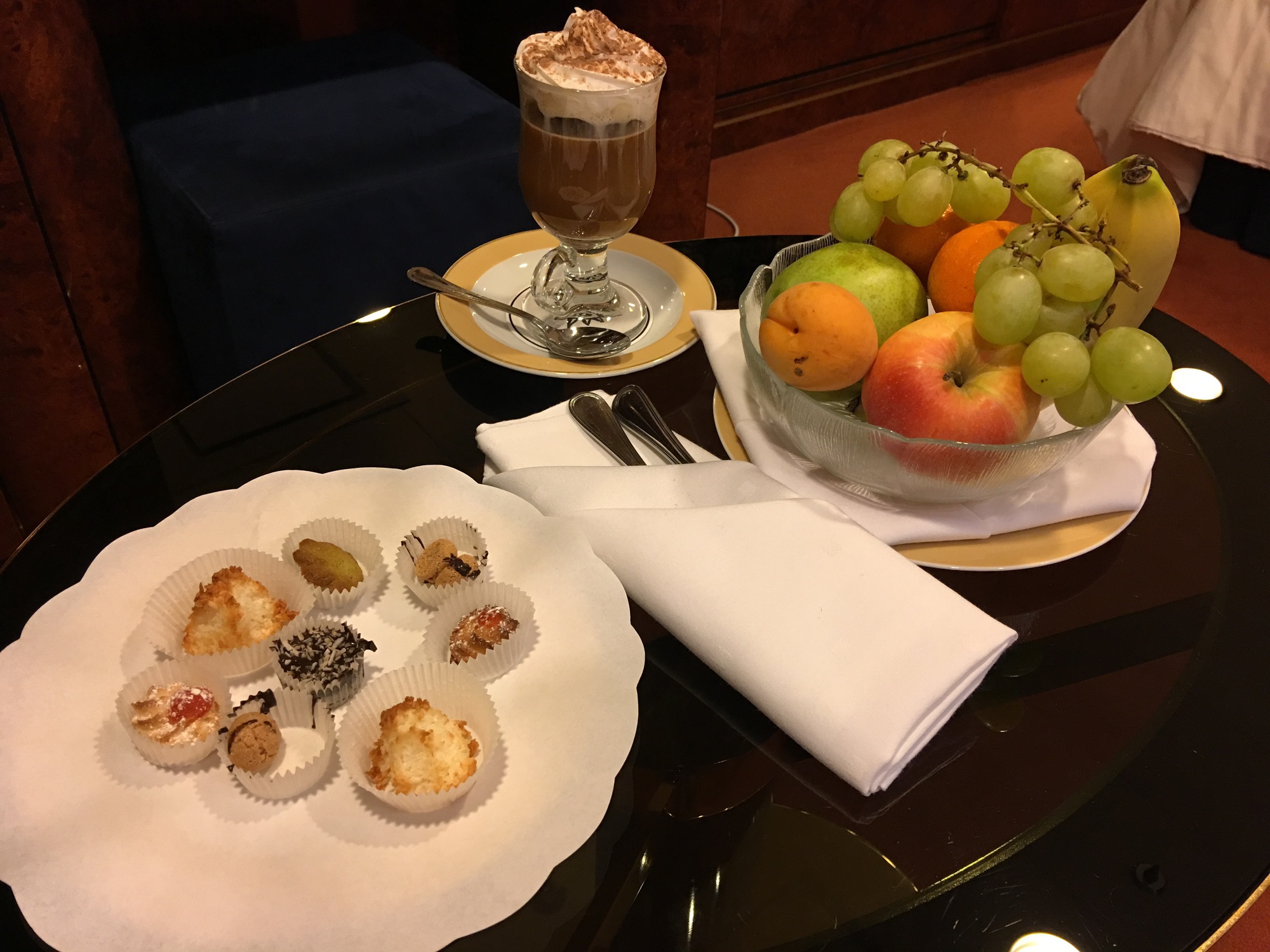 After this, we thought we'd check out some of the evening music and other bars outside of Yacht Club.  We ended up in the Purple Jazz Bar, and while the music wasn't jazz, it was a lot of fun!  It was completely cheesy and the venue was packed – we were really lucky to get a seat!
Bar service was almost unbelievably prompt and efficient, far far better than anything I've experienced on Celebrity.  Given how packed the venue was I have no idea how the wait staff were able to get around people so quickly, nor how the bar staff can prepare the drinks so quickly.  It's an Italian miracle!  They even managed to be super friendly at the same time.
The activities staff (I assume) were on hand to dance with people, and looked like they were having a ball.  It was a fantastic venue with a fantastic vibe!
After our drunken evening we had to soak up some of the booze with a trip to the buffet, where we had some amazing pizza!
Goodnight folks… I'm sure we'll be up in time for lunch in Amsterdam tomorrow!